My Travel Tips For Nusa Lembongan
Outside Bali there are three smaller islands called Nusa Lembongan, Nusa Ceningan and Nusa Penida and here you can come by boat from Bali which takes about 45 minutes. I chose to go from Sanur beach in Bali (where most boats go from) to the island of Nusa Lembongan, which took about 35-40 minutes depending on the weather.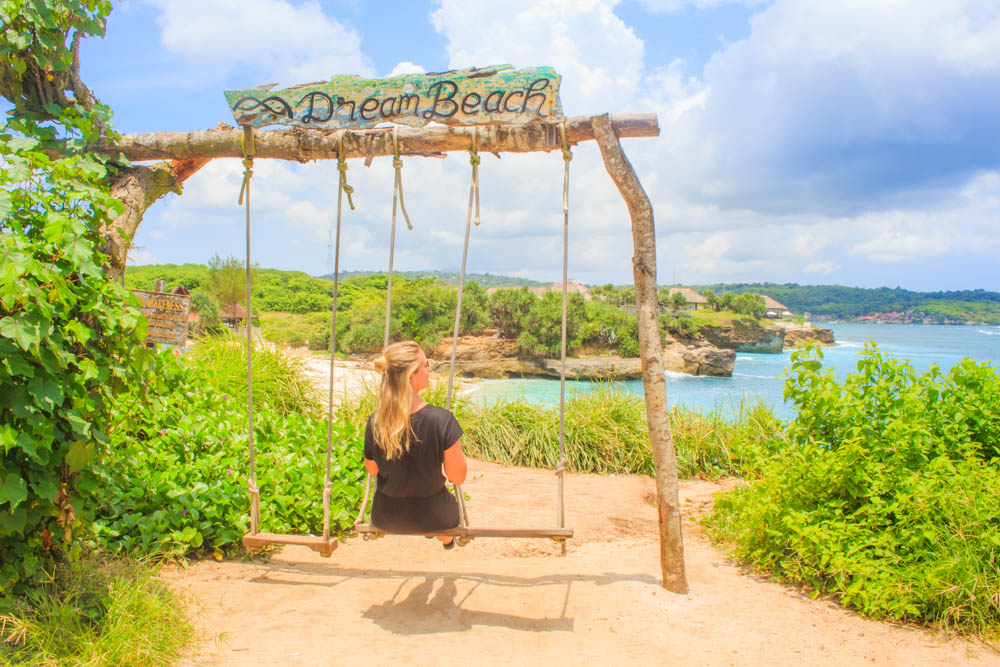 Nusa Lembongan
Nusa Lembongan is a cozy and super charming little island that is really worth a visit. I stayed here for two nights, which was good enough but if you really want to take it easy for a few days I recommend staying here for a longer time.
Package fare to Nusa Lembongan from Bali
I booked this "package" from my hotel I stayed at in Uluwatu and in the morning a driver came and picked me up at my hotel and drove me to the boats in Sanur, where I bought this package for 550,000 rupiah (which is about 35 Euro).
The package includes pick-up from your hotel in Bali, boat ticket for going and coming back, drop of at your hotel you have booked on the island and pick up from there the date you want to go back to Bali, and drop off at your hotel you will stay at in Bali. I think it was really good service! There are lots of companies that do the same, but the company I went with is called Sri Rejeki.
Once I arrived to the island of Nusa Lembongan, I was taken to my hotel called The Cozy Villas and I can highly recommend staying here. It is just 5 minutes walking distance to Dream beach which is the most beautiful beach on this island, according to me. Due to I arrived before check-in time I didn't get my room at once, instead I left all my luggage at the reception and rented a scooter for 80,000 rupees per day (about 5 Euro).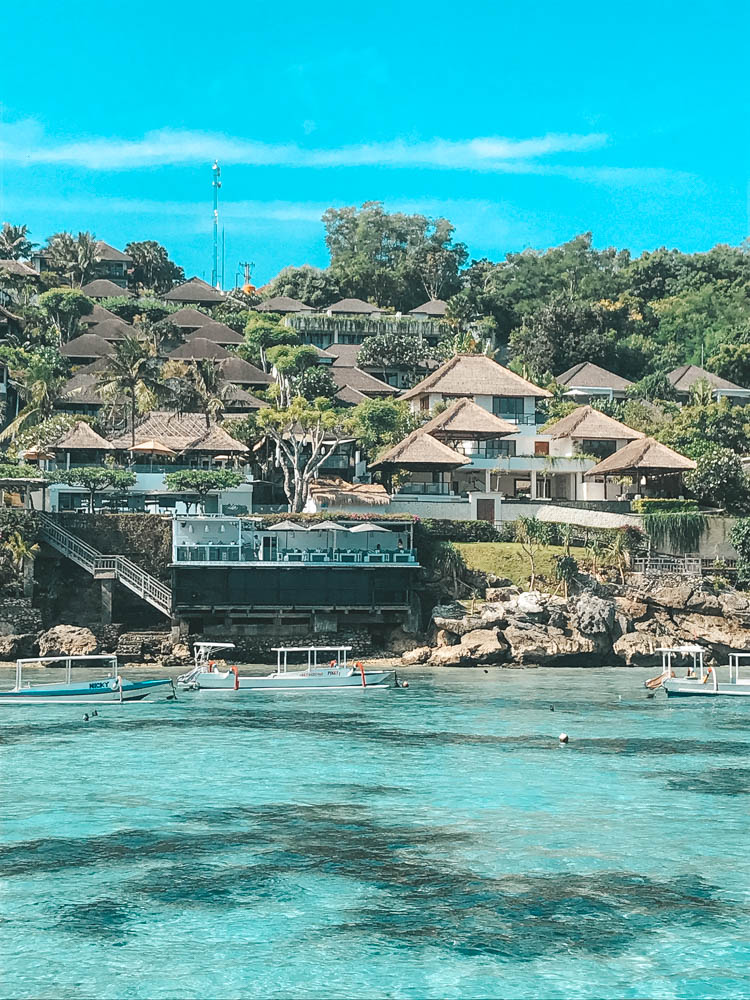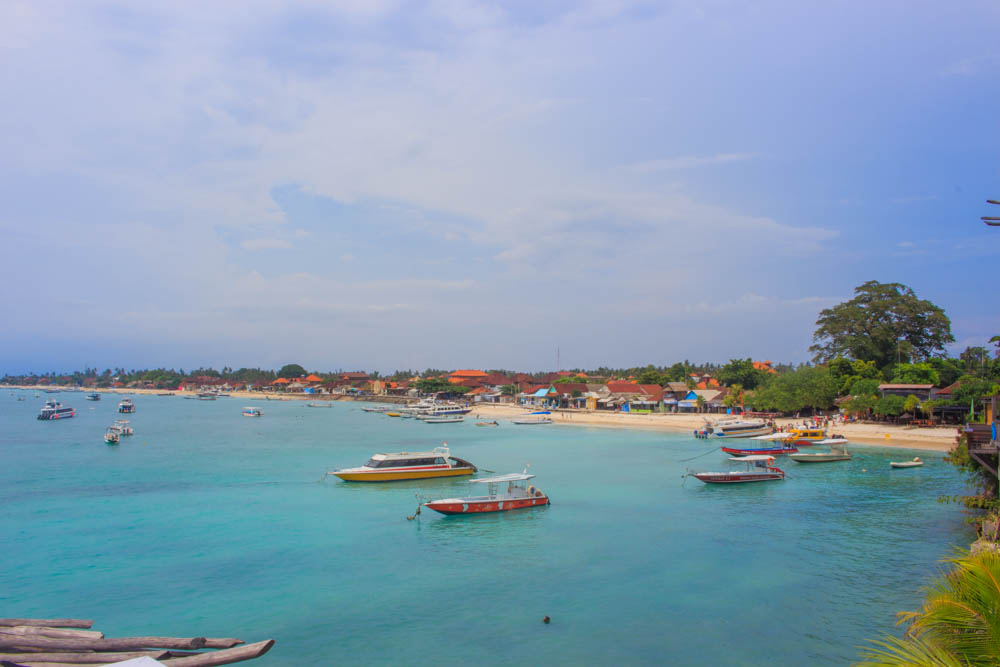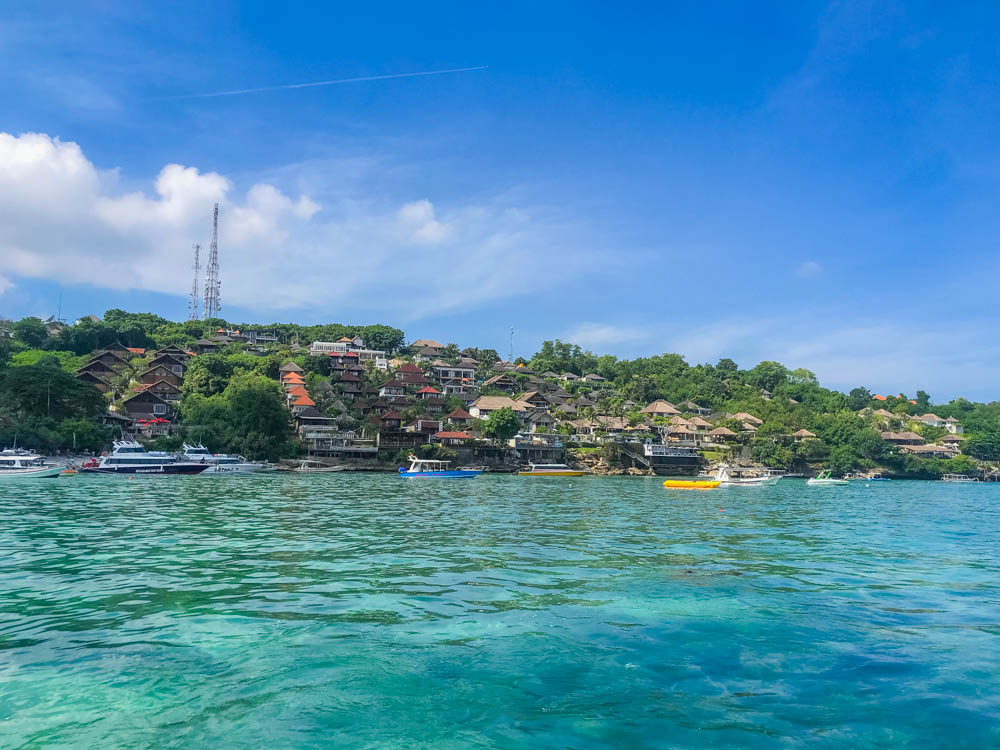 Here's my travel guide to what you should see, do and eat at Nusa Lembongan:
1. Rent a scooter
Renting a scooter is almost a must on this island in order to be able to get around smoothly. There are taxis in the form of large lorries but it´s not so easy to "book a taxi". The roads here are small, very small and simple, hence I rented a scooter for 80,000 rupees a day to be able to see and do what I wanted without being tied to any taxi (which hardly exists). Sure, it is possible to walk as well but it really takes its time, therefore I recommend hiring a scooter to easiest see the island of Nusa Lembongan. Almost everyone here is going by a scooter.
Tips!
Download google maps in offline mode or take a print screen on the beaches or restaurants you want to go to, so you have your map with you on your mobile phone.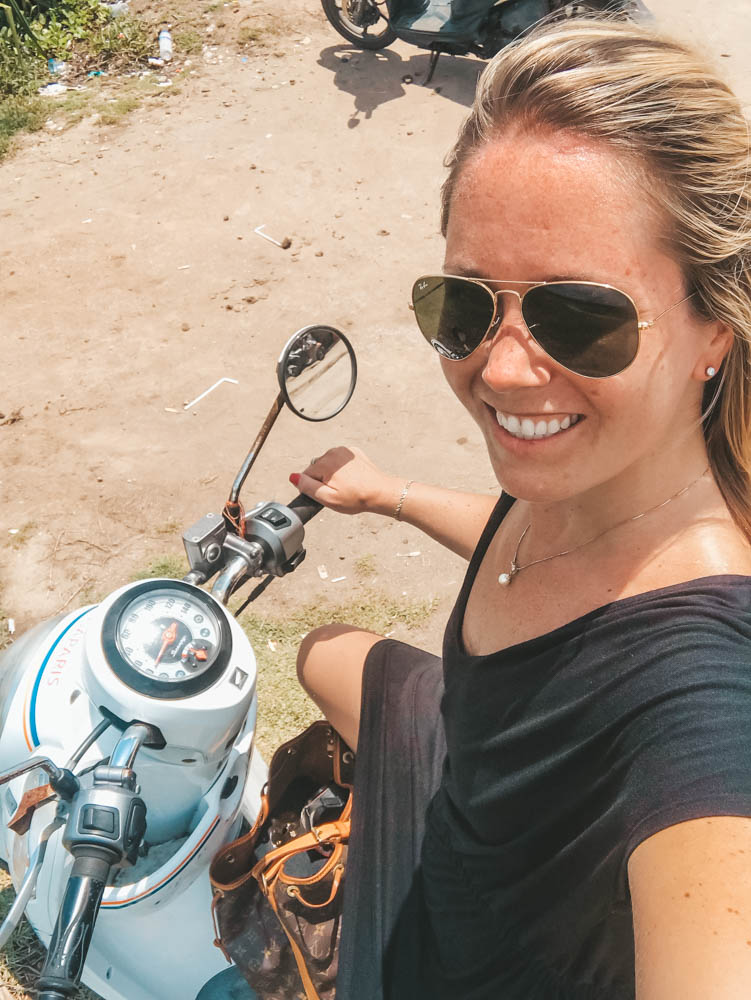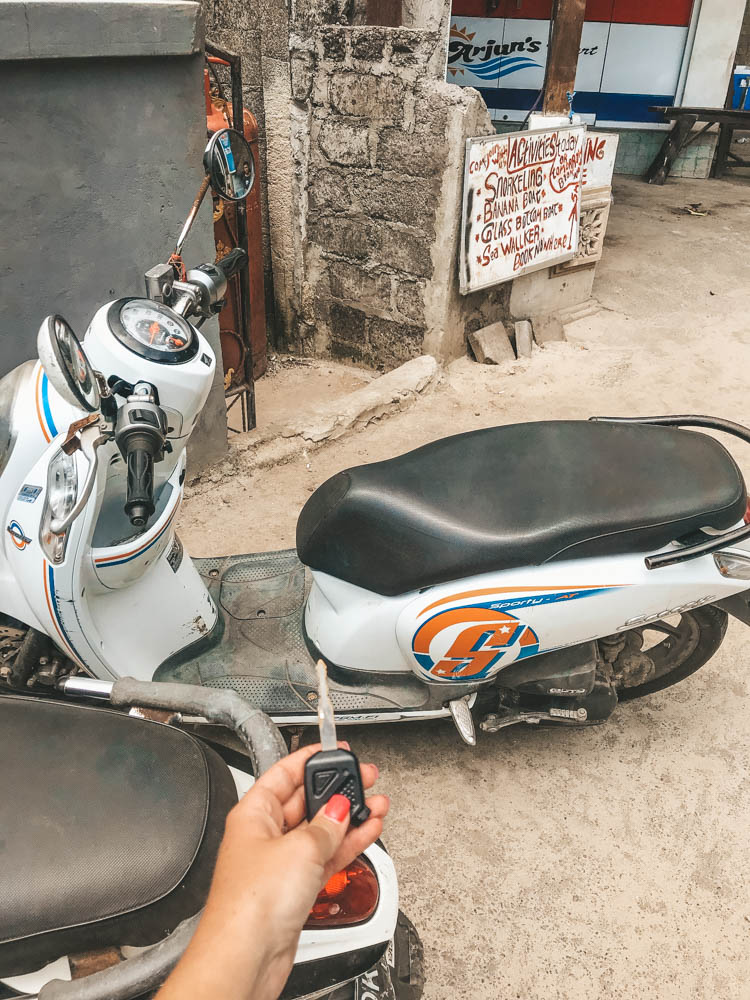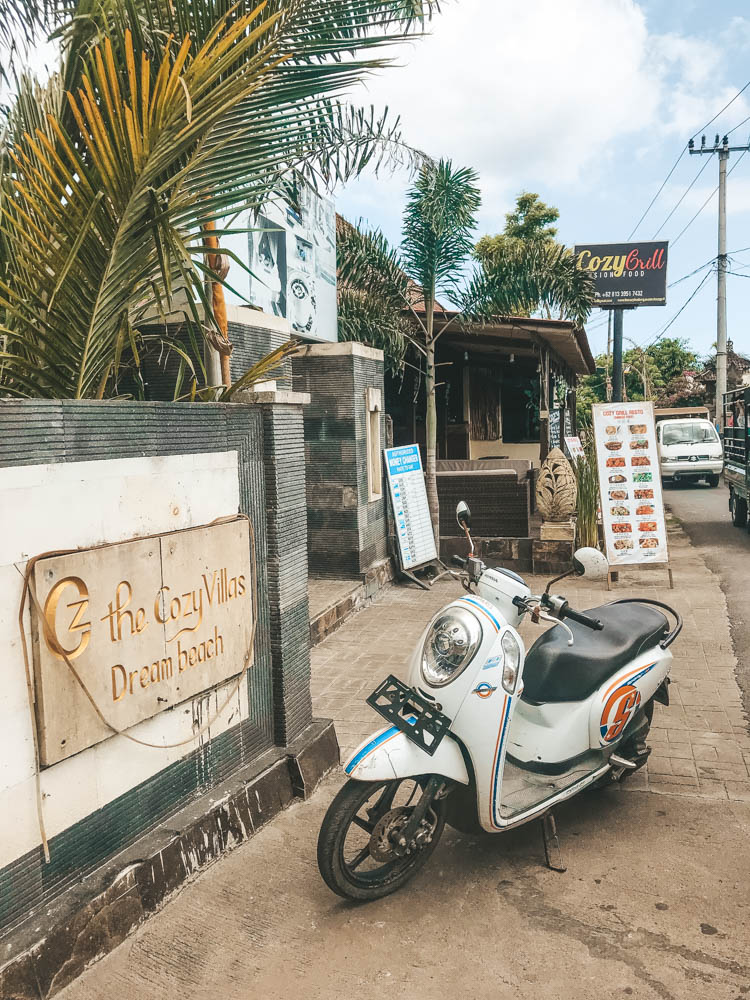 2. Dream beach
Just as the name says, this is a real dream beach! Of the beaches I saw at Nusa Lembongan, Dream Beach is definitely the nicest beach and even the most swim friendly beach. Try to stay in the area around Dream beach as most of the things are within walking distance around in this area. I stayed at The Cozy Villas but if you want to stay more luxurious you do it at Dream Beach Huts Hotel which has infinity pool over this beautiful beach. Here you can lie on the amazing white beach, swim in coral blue water and just enjoy being at Lembongan. A perfect place to spend a day on!
Tips!
Even if you are not staying at the Dream Beach Huts hotel, you can use their infinity pool from 4 pm every day for only 50,000 rupees (about 5 Euro). Soooo worth it!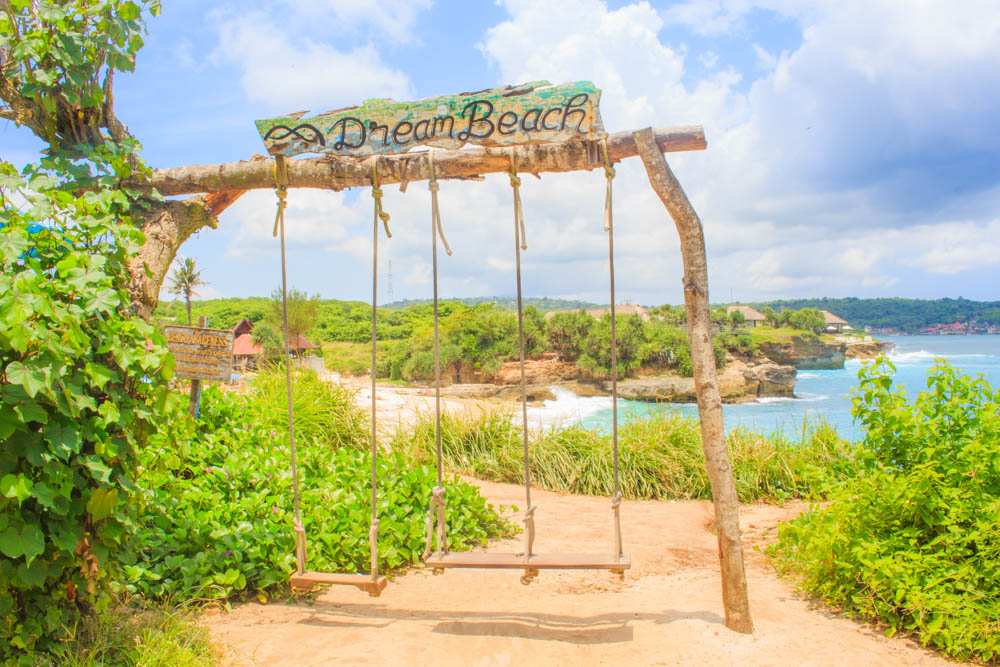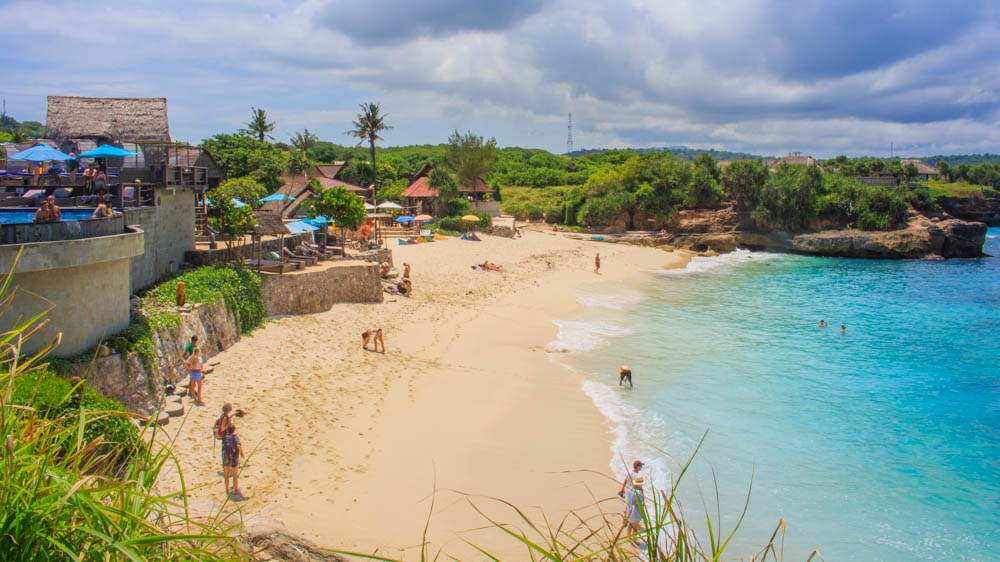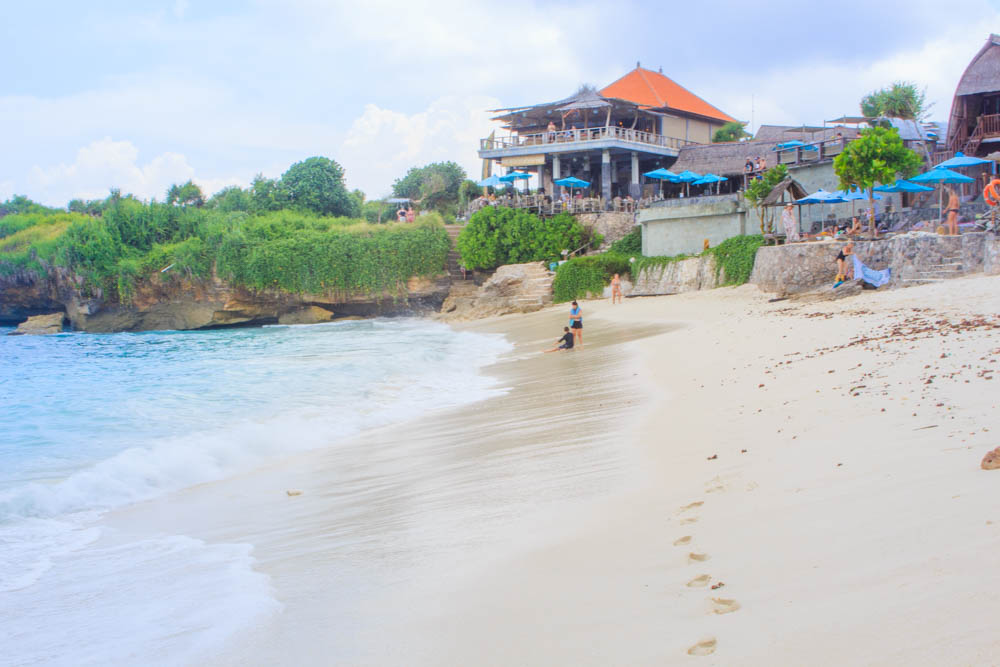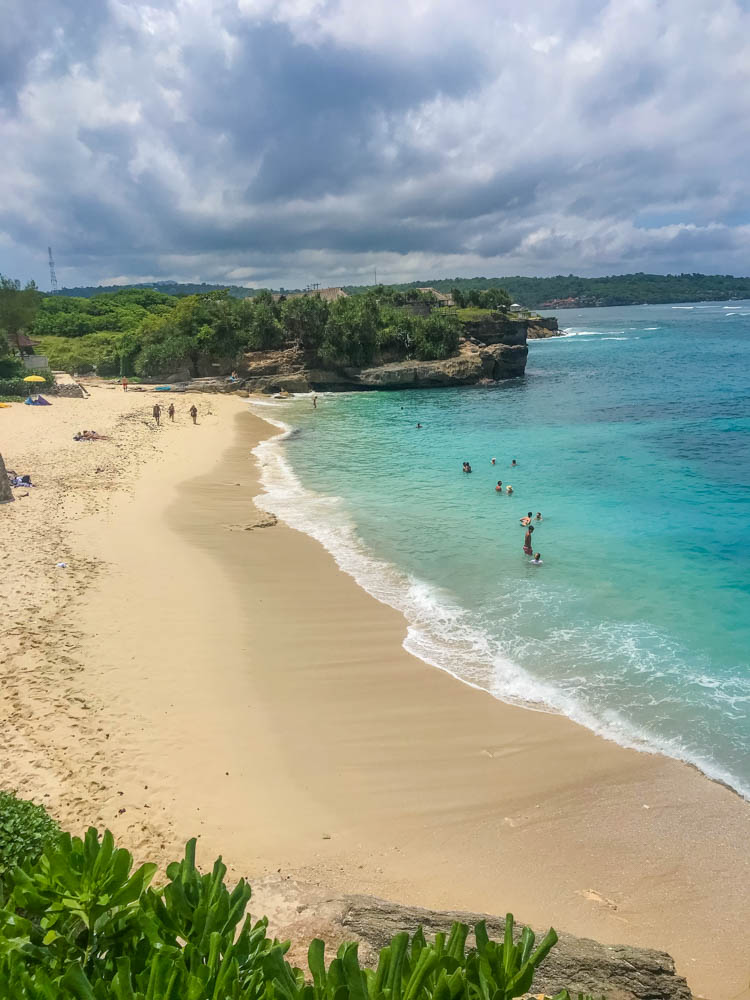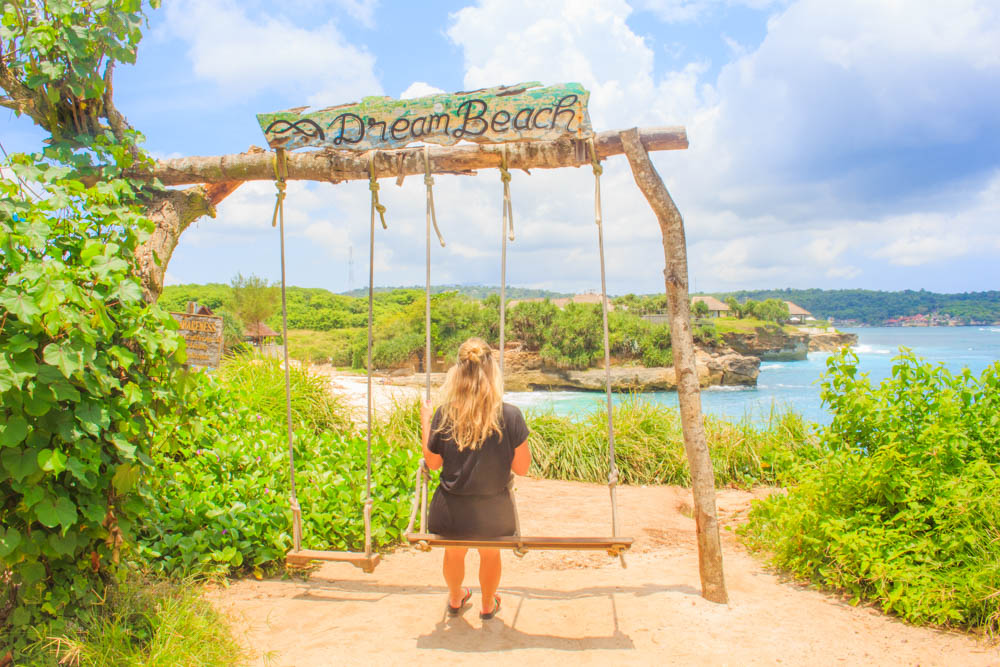 3. Lunch at Dream beach huts restaurant
Even if you are not staying at the hotel located on this beach, you can come here to have lunch at their restaurant called Dream beach hut restaurant, which has magnificent views of the entire beach and pool area over the hotel. It is almost a must to eat here and it is super cheap too!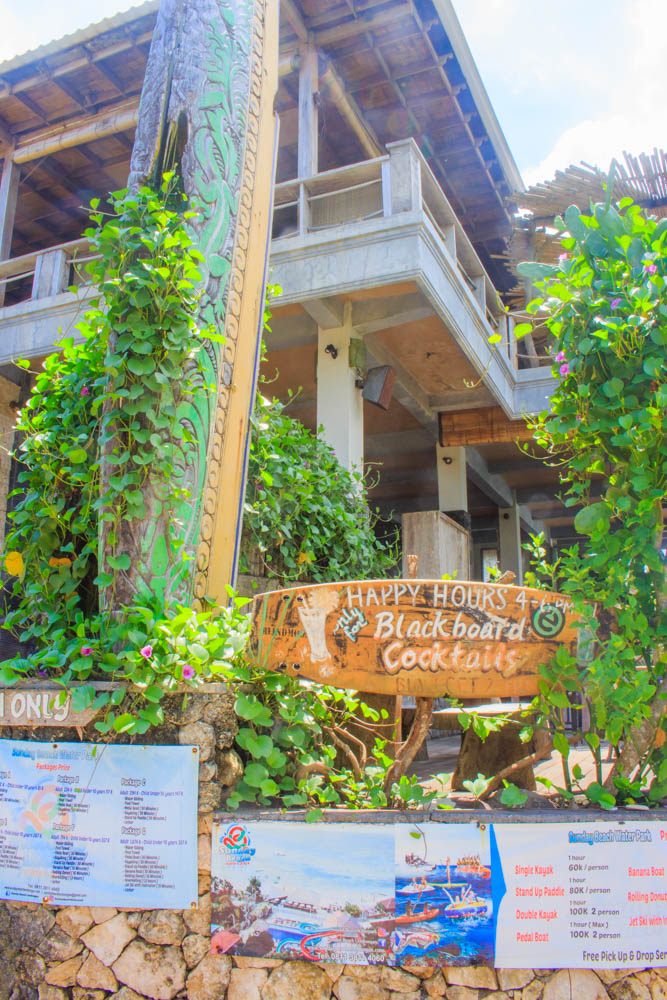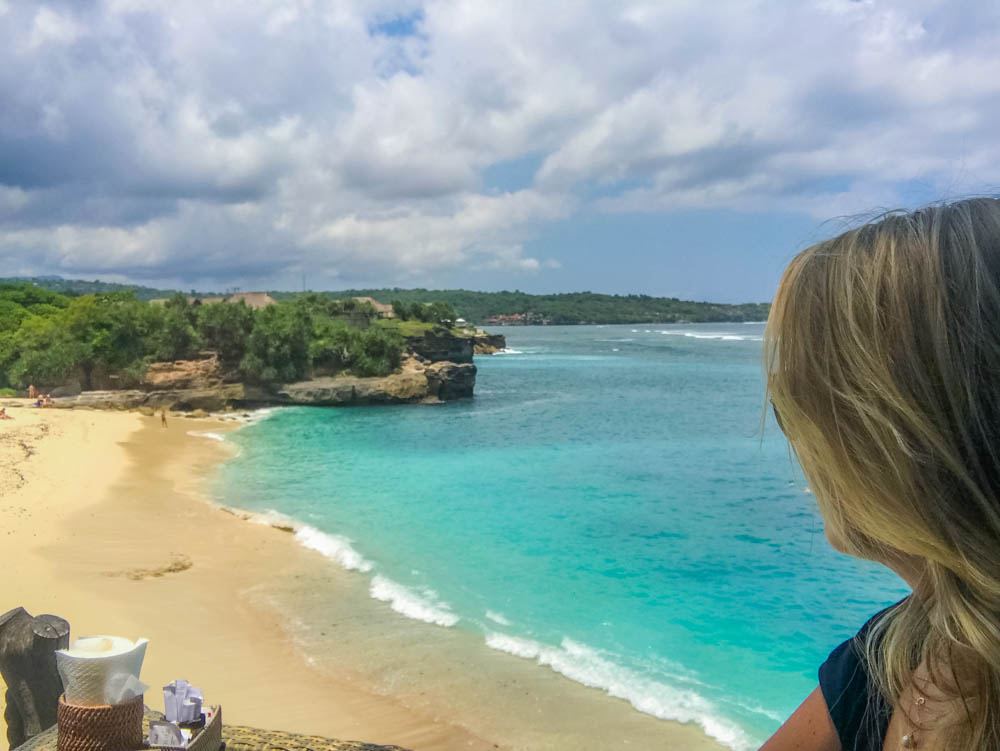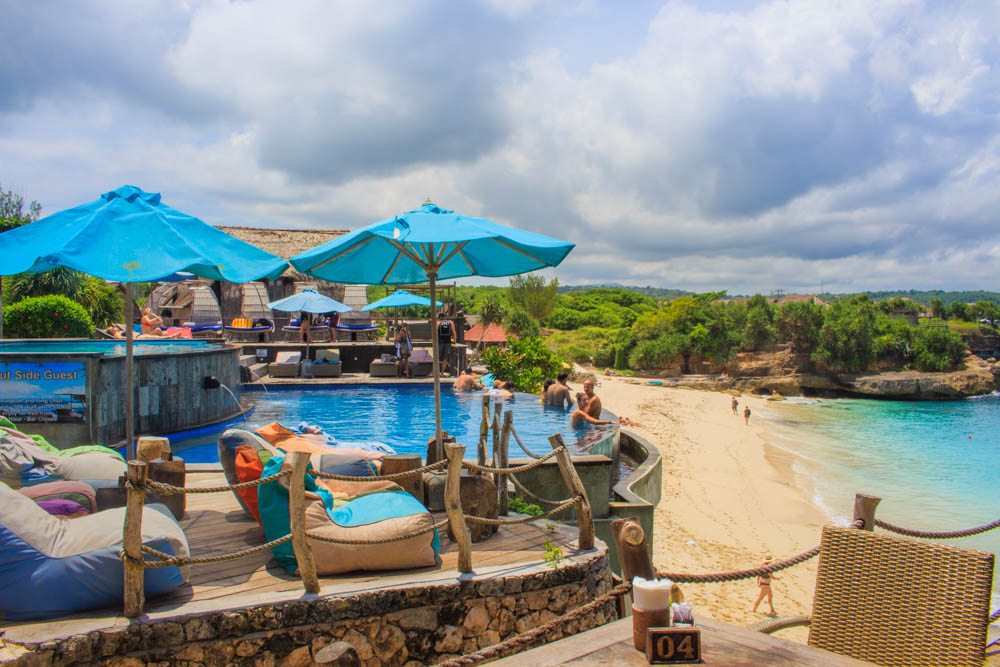 4. Devil´s Tears
Not far from Dream beach, just around the corner, about 5 minutes walking distance you will find Devil's Tears which is a must to visit at Lembongan. When the water reaches the cliff walls, it is sucked into the cave that is present and is thus printed out with a force from the rocks out again, which creates Devil's Tears. When the water completely sprays out of the rocks, it looks like the devil is crying, hence the name. Many tourists come here so be prepared to share the experience with many others.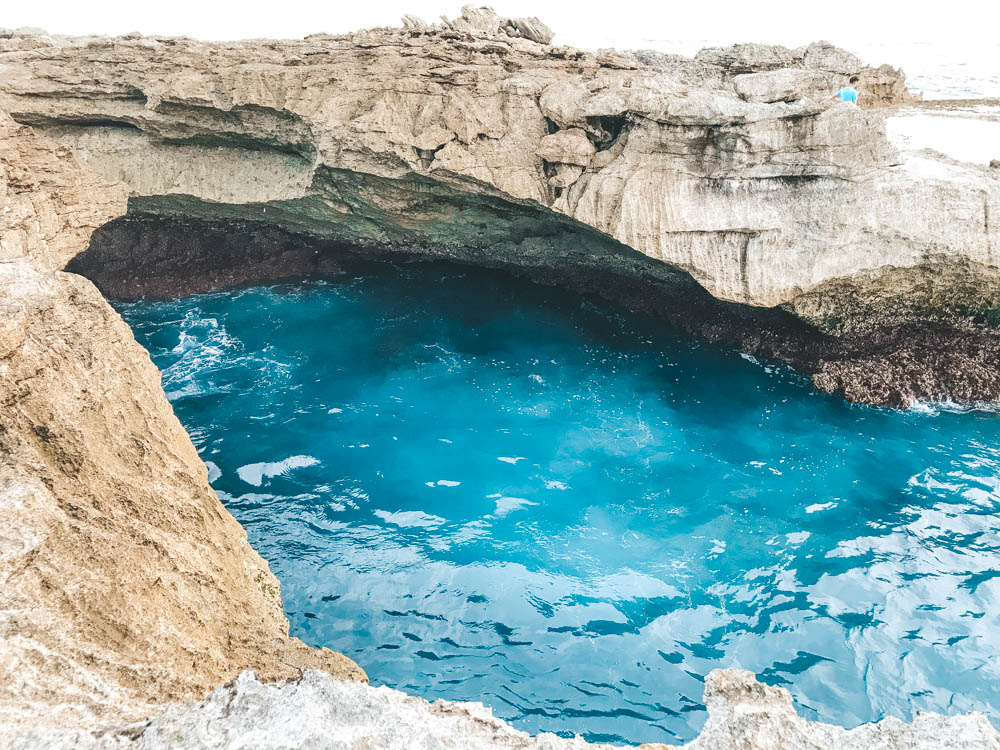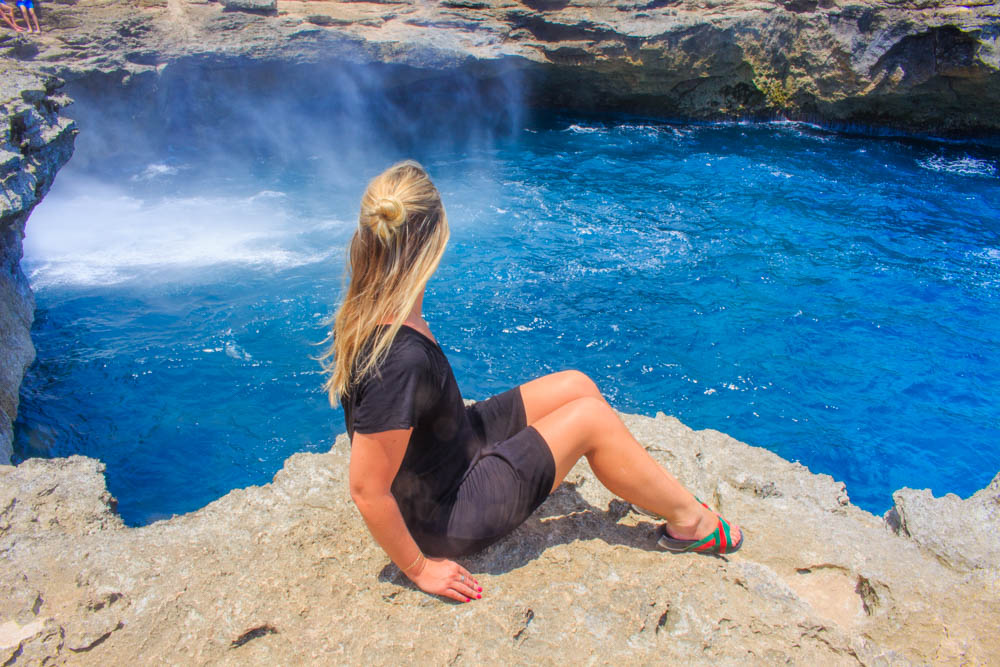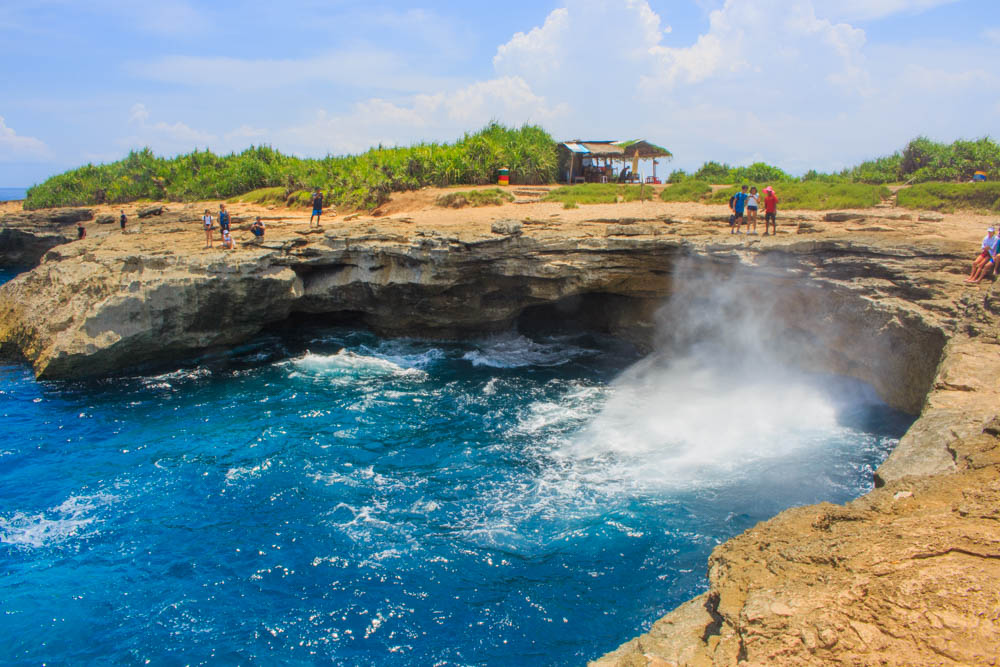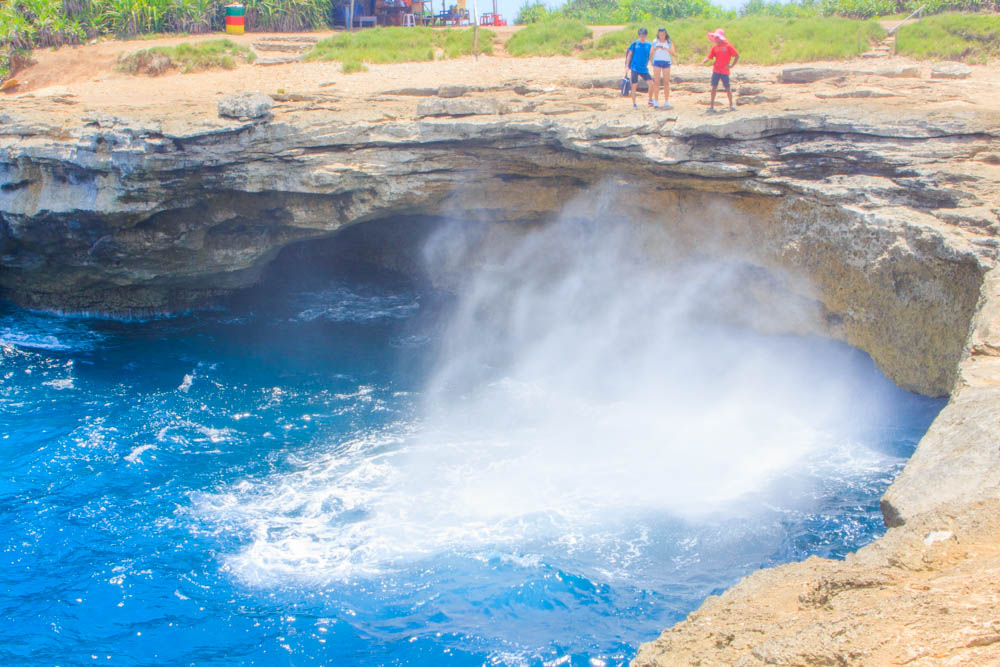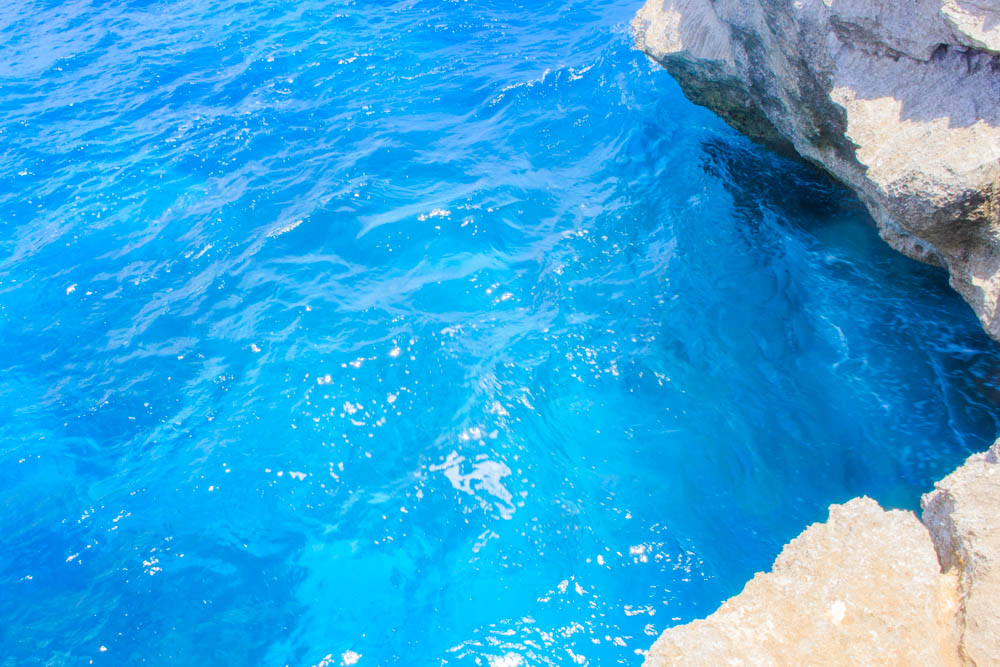 5. Sunset point
Next to Devil's Tears, there are sunset points at Lembongan that have incredibly beautiful sunset from here. Many come here and sit down with some snacks and drinks (which can be bought in the various shops that are right here) and watch the sunset from the cliff. Many people sit down on the rocks, but there are also few benches to sit on for those who want. From here you get an unbeatable sunset, which is a must at Lembongan!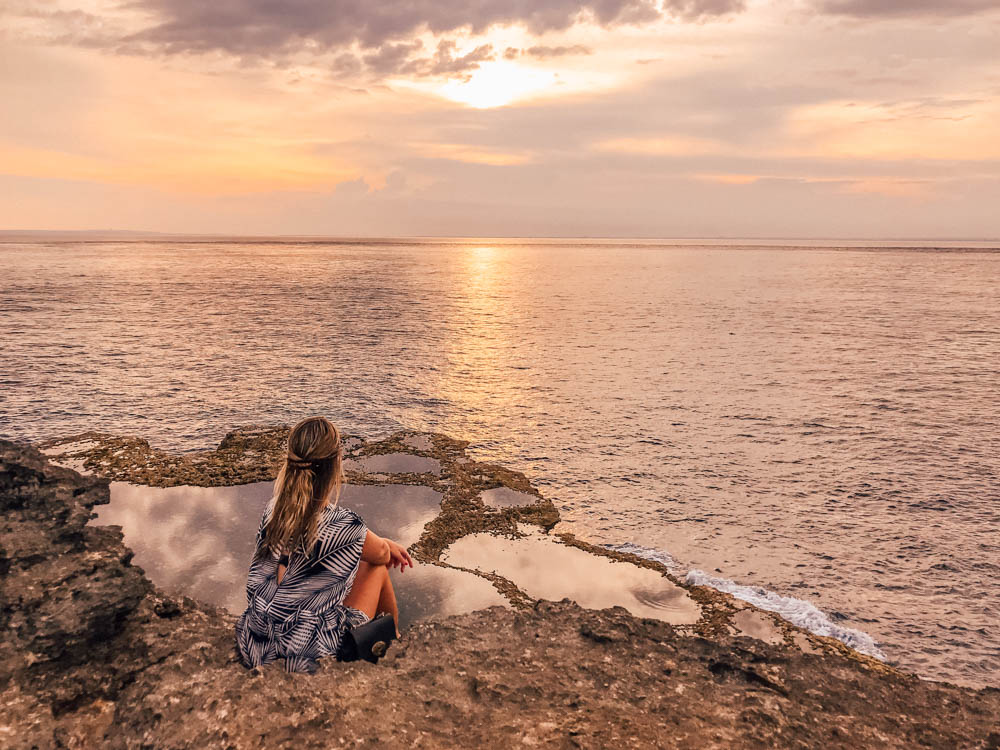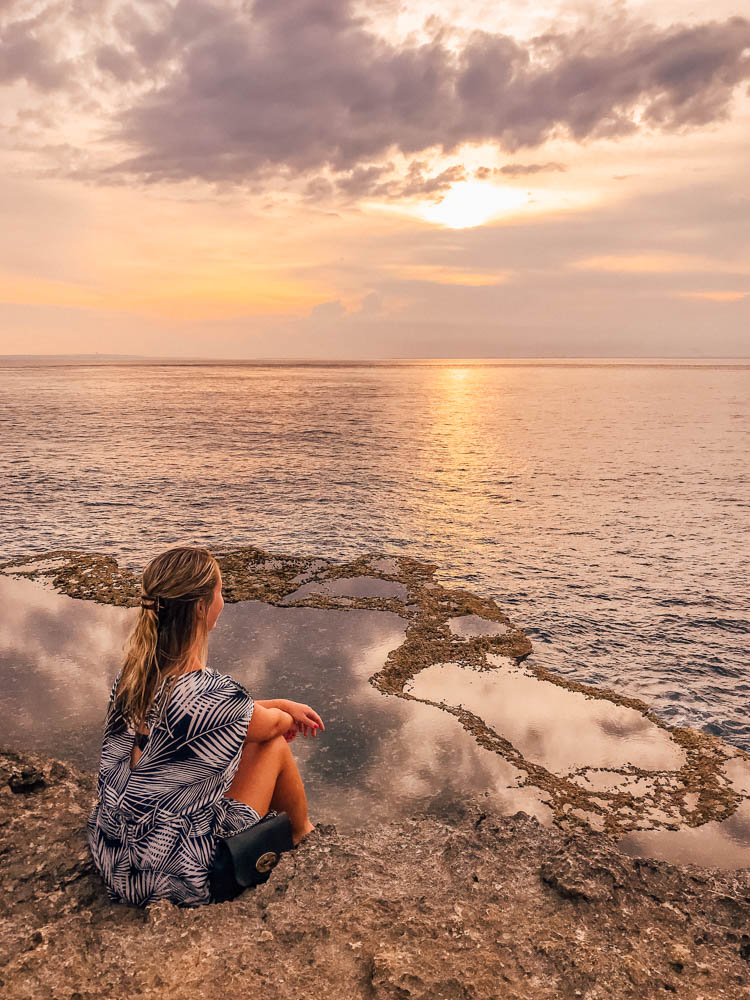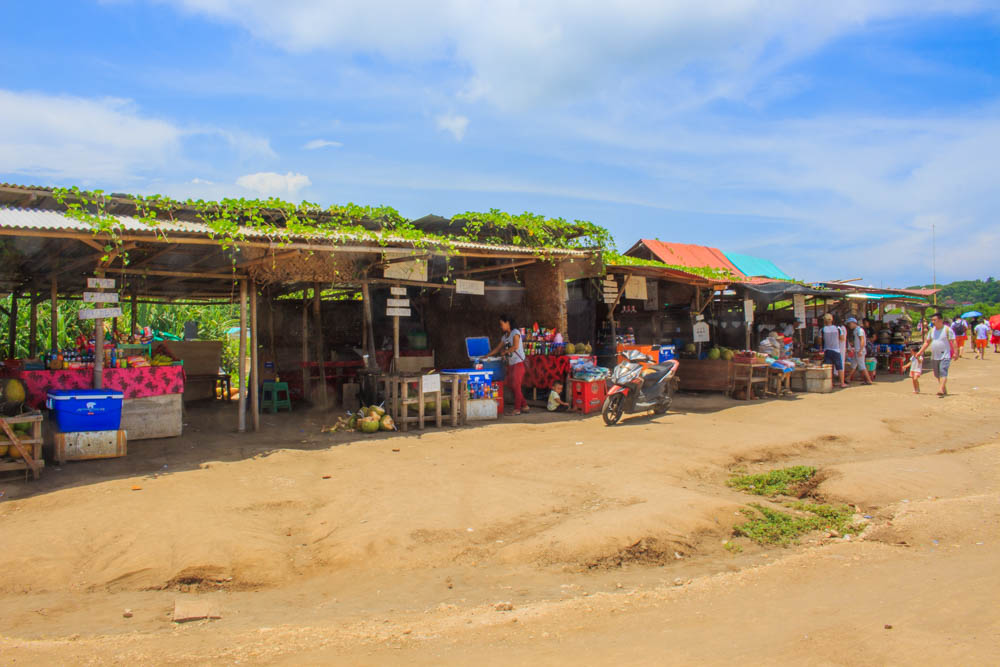 6. Sandy Bay Beach
From Sunset Point you can see directly into Sandy bay beach which is also a nice beach, but not with as coral blue water as Dream beach has. On the other hand, there is Sandy Bay beach club which is one of the most luxurious places on Lembongan. Here you can eat both lunch and dinner or watch the sunset, but be prepared to pay a little more than usual. In addition, they also have huge villas that you can rent for about 400 Euro/ night.
7. Mushroom beach
Mushroom beach is a nice beach but not as nice as Dream beach due to it is not that swim friendly as Dream beach is. At Mushroom beach you do more of water activities such as parasailing, go banana boat or rent a SUP board. Sure, it is possible to swim here but it is not as genuinely cozy as there are too many boats on this beach and is not as big as Dream beach.
However, come here for either lunch, an afternoon coffee or just a bit of a relaxing hours in the bar at any of the restaurants just above, along the beach. It is nevertheless worth a visit to come here and it is very popular among young people who backpack around to get here and chill out.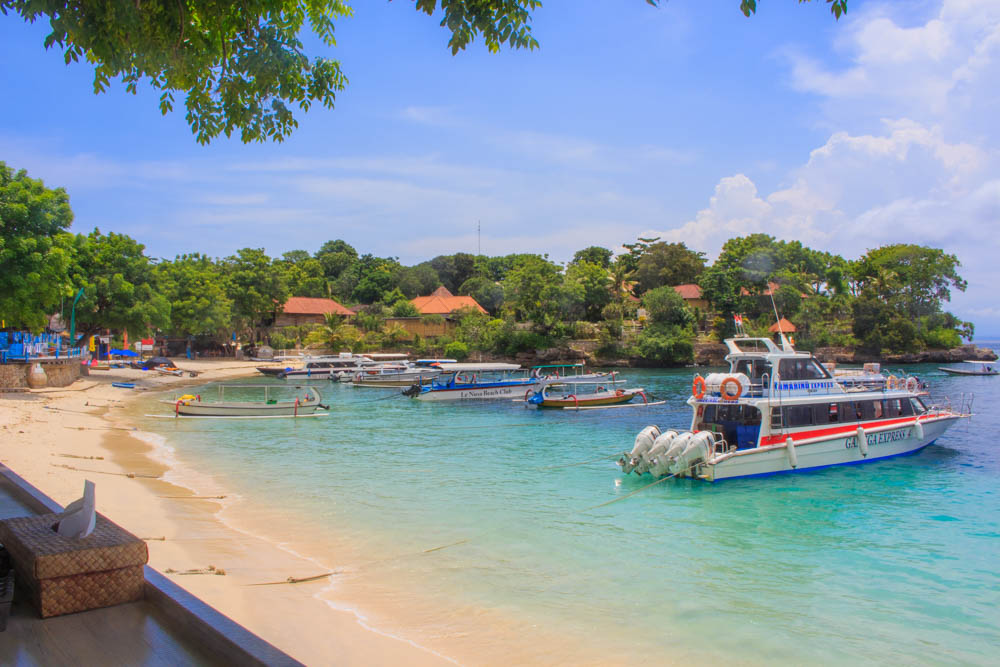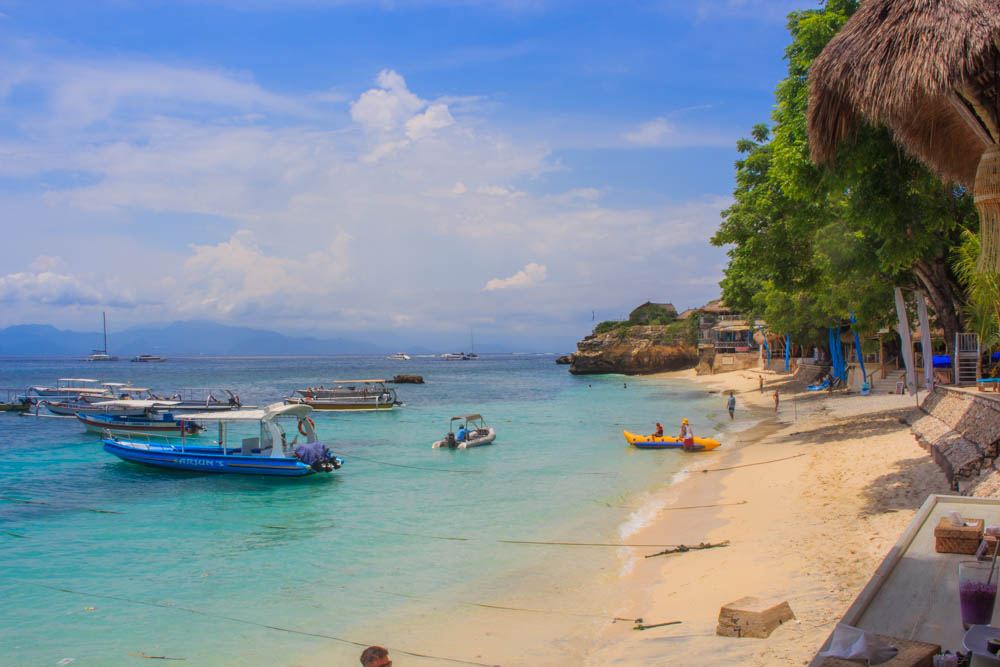 8. The Deck cafe and restaurant for dinner
The Deck restaurant is a must to eat at when you are at Lembongan! The Deck is both a cafe and a restaurant that looks like a Lexington store, ie maritime and white decorated and situated at the very best place, high up on a cliff overlooking the entire Jungutbatu beach (where most boats come in from Sanur ). At the very end of this cliff there are plenty of restaurants and hotels, but The Deck is really something special and is also very, very cozy for dinner! You just have to come here, unless otherwise for a coffee 😉
When you come by boat on the beach at Lembongan, go as far as you can to the right and go up a few stairs and you will come to a couple of different luxury hotels. Walk past the hotels and follow the signs away even more to the right and continue straight ahead until you reach all the restaurants that are in line one after the other. The very last one, the furthest away is The Deck!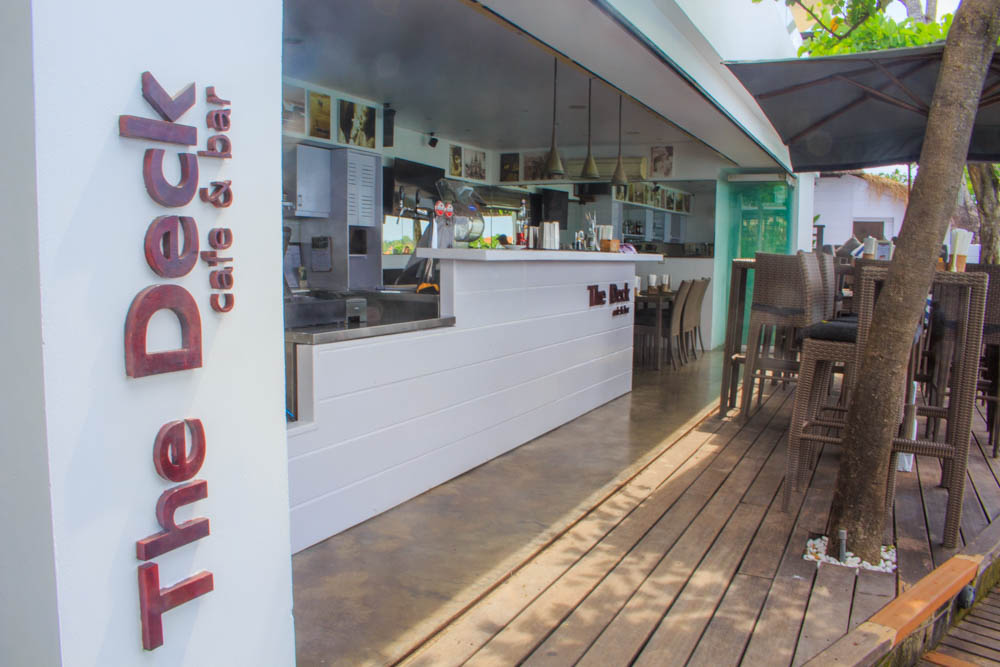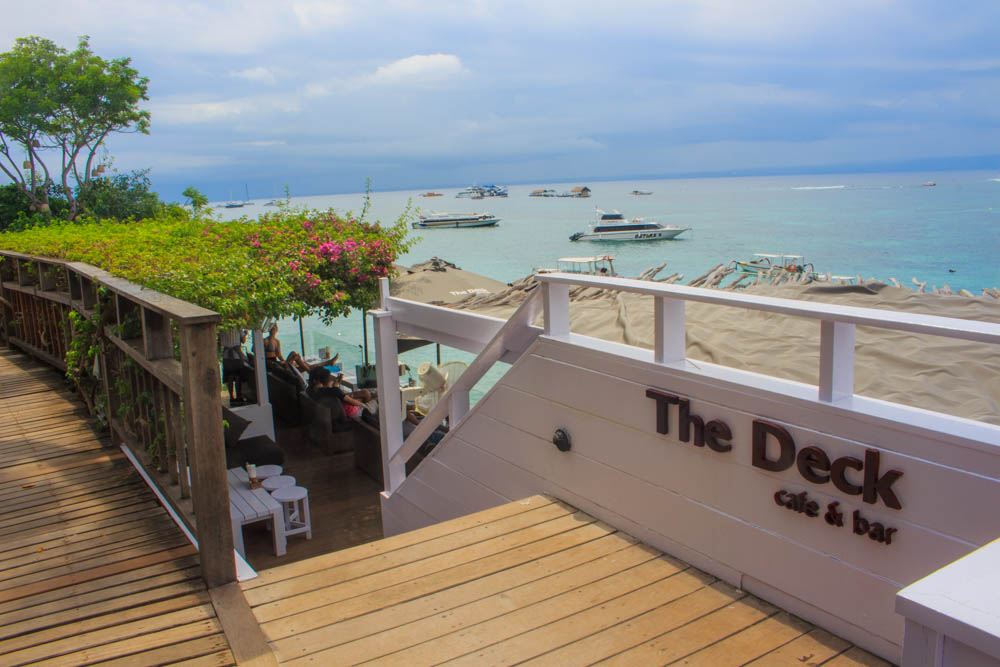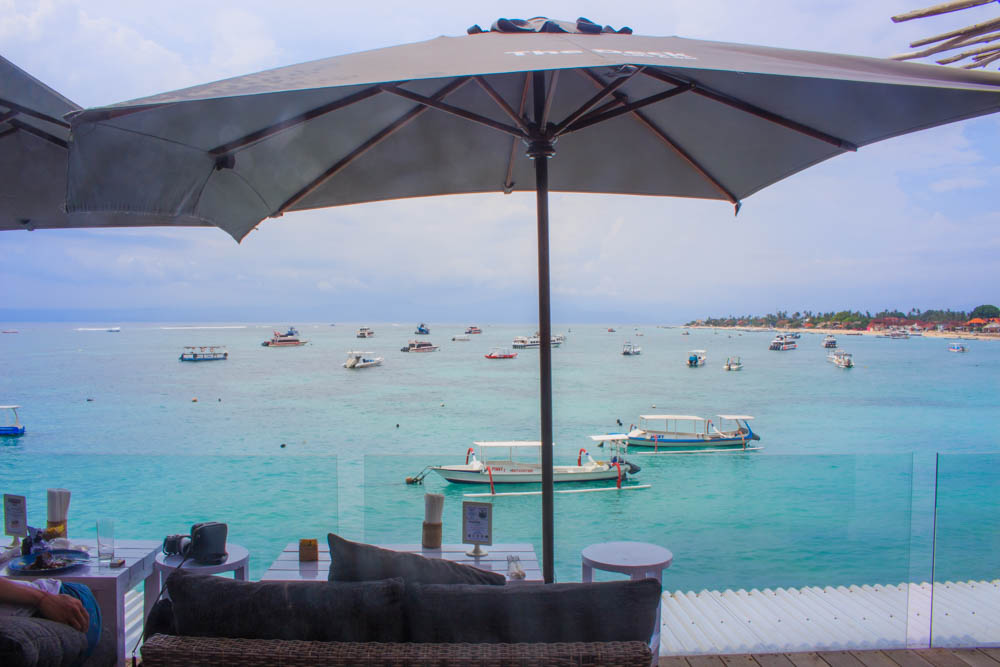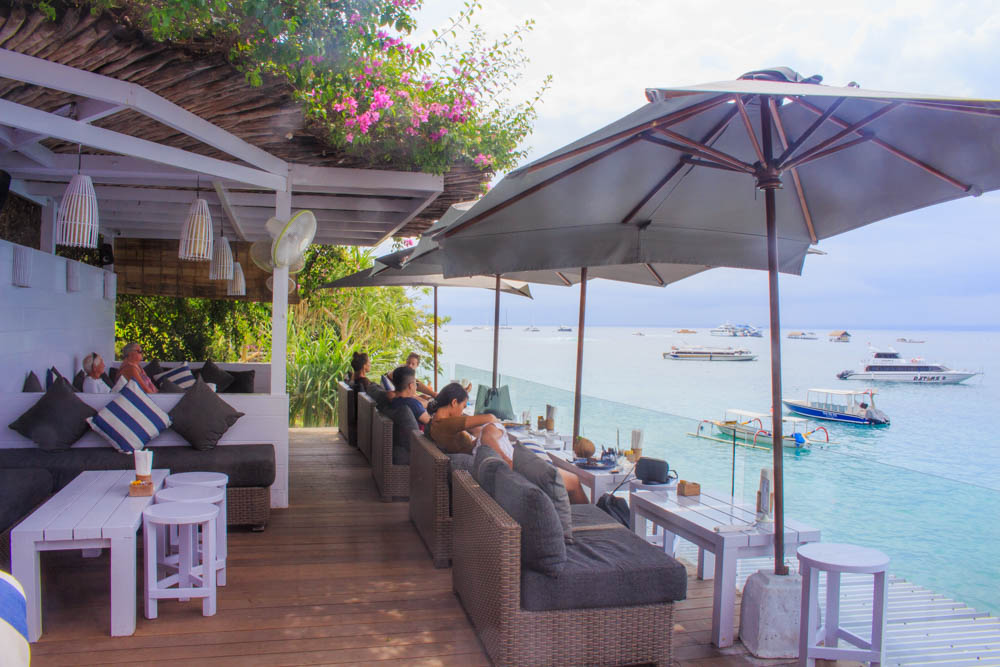 9. Yellow bridge to Nusa Ceningan
From Nusa Lembongan you can cross the iconic yellow bridge that takes you to Nusa Ceningan, a small island nestled between Nusa Lembongan and Nusa Penida. The bridge has a specific landmark with a sad story behind it. In 2016, 6 people died and 20 were injured when the entire bridge collapsed into the water. The bridge has since been rebuilt and given the name "The Bridge of Love". I went on a scooter over this bridge to Ceningan, which goes pretty fast, it only takes a few minutes but on the other hand the bridge is not wide enough for cars, it is only for pedestrians and scooters. It is almost not possible to meet two mopeds at the same time on the bridge, so wide is it.
Nusa Lembongan is a really super cozy island with coral blue sea water to swim in and if you compare with the island of Nusa Penida, which is the largest island of all three of them, I am glad I chose to stay a few nights at Lembongan and not on the Nusa Penida island. That island it, according to me, far too big and had no good roads at all, not for either cars or scooters. Lembongan was more handy for me and I felt that I could find everywhere here with good road surfaces to go with a scooter, something I can really recommend!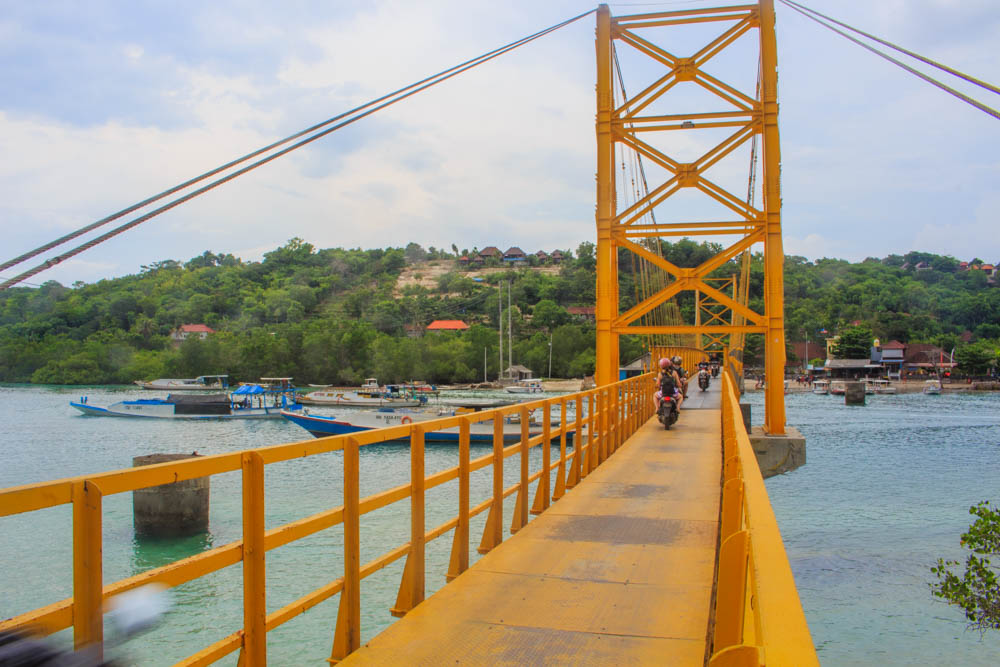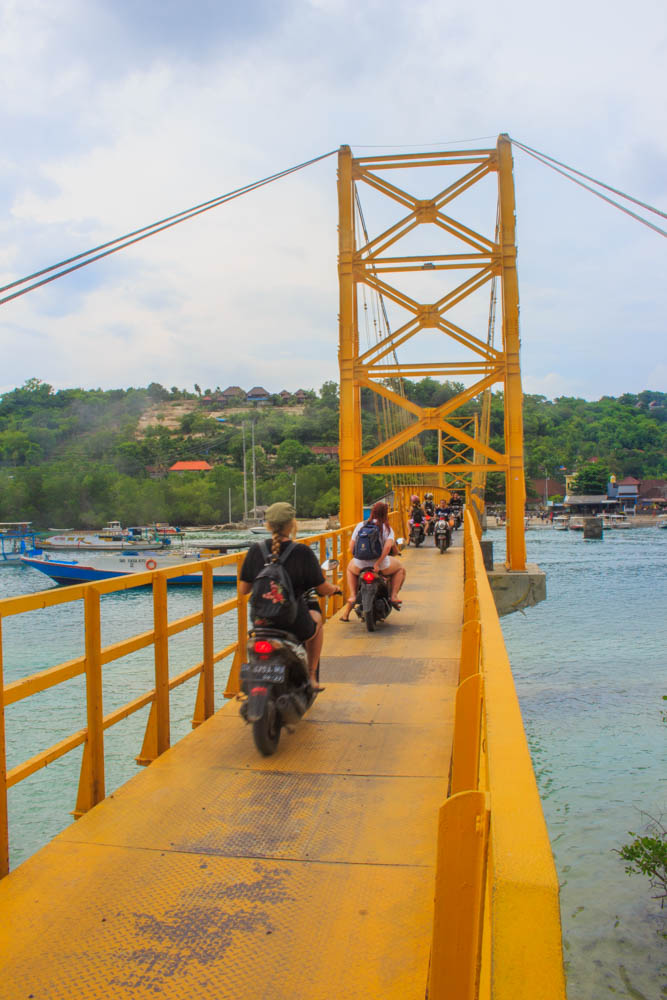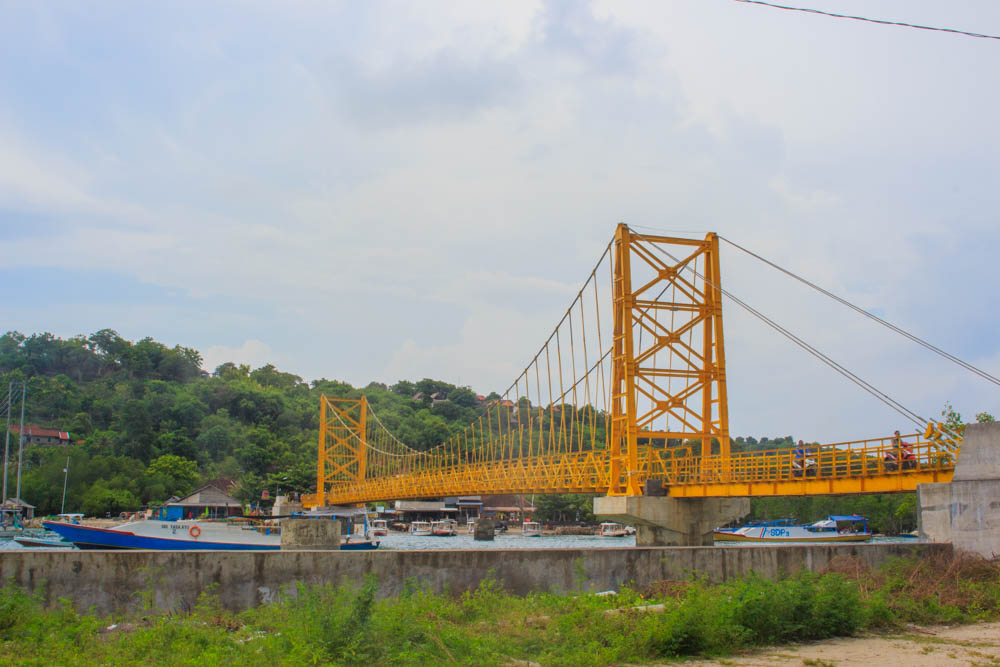 Tips! 
Good to know is that when you arrive on the island and leaving from Lembongan you will have to step into the water to and from the boat, therefore wear shorts or a short dress on you so you don't get your clothes wet. There are no boat ports for the boats.
Almost all hotels offer scooter rental and if you stay longer you can agree on a cheaper day price for the rental. No one checks any driving licenses here (not when I rented at all).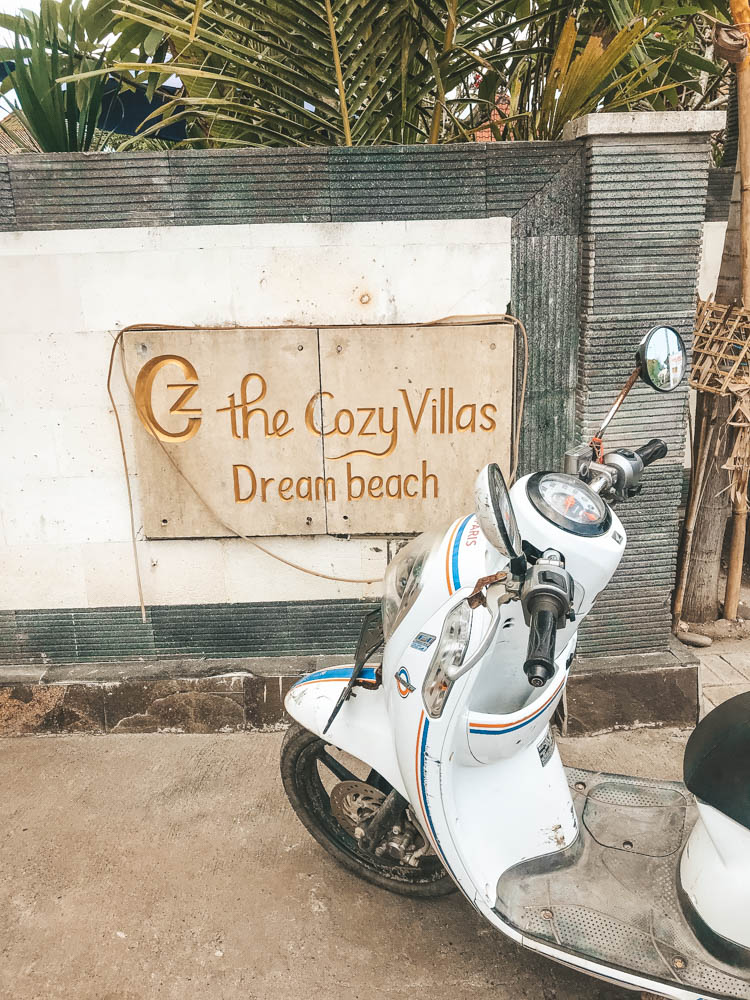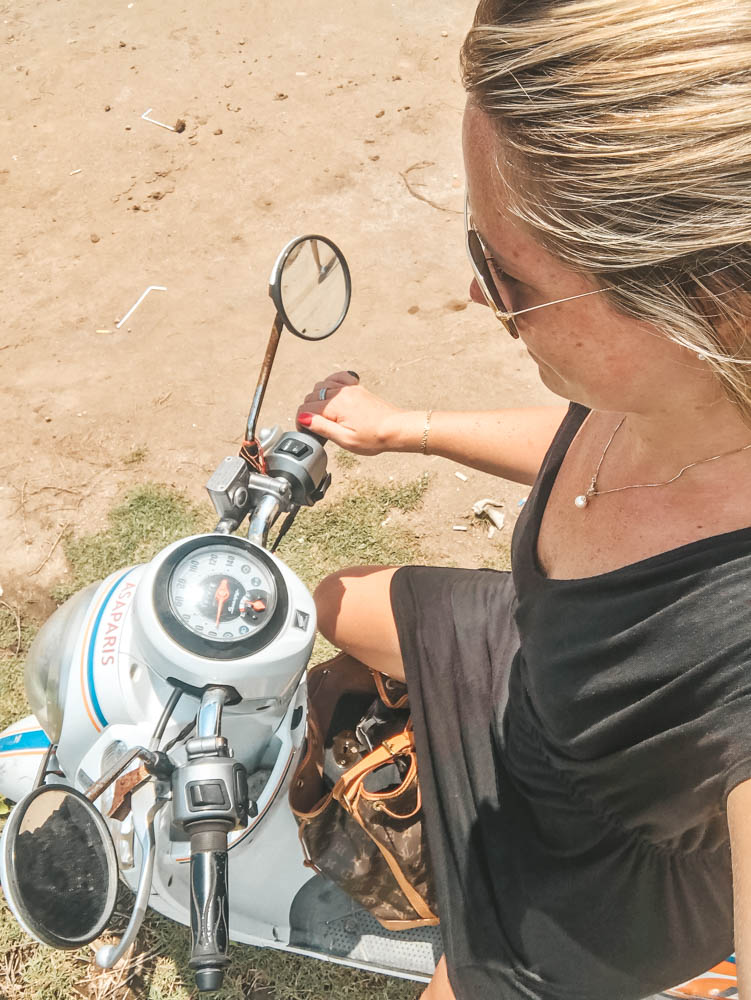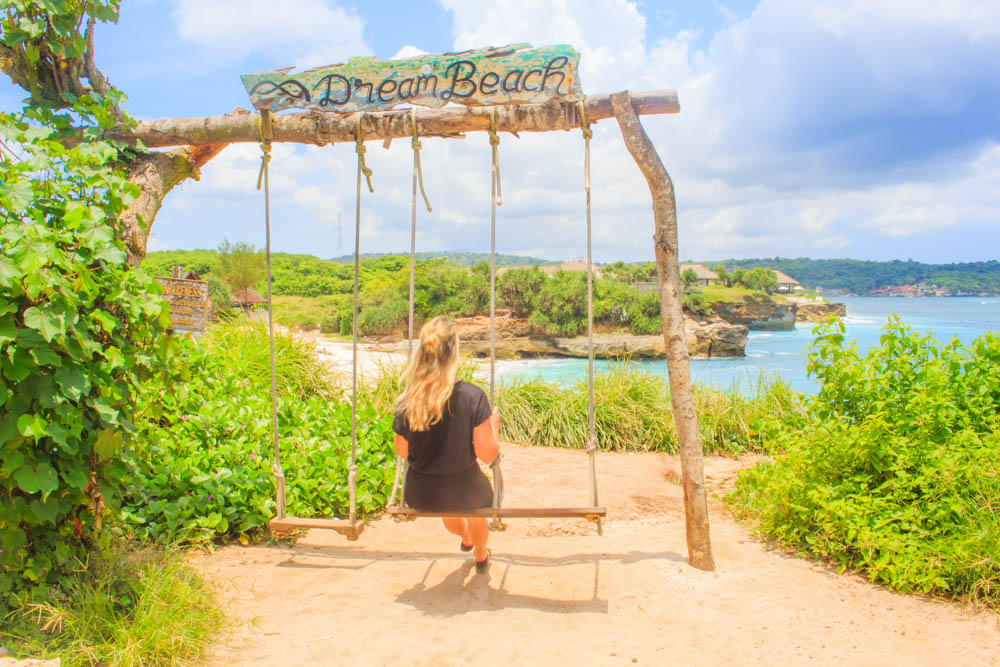 Have you been to the island of Nusa Lembongan, what did you think?
Happy Travels!
// Charlotte