I have traveled as a charter passenger for the first time with one of Sweden's biggest travel agencies, Ving. It's also my first time traveling with a new airline; Thomas Cook Airlines and it's also my first time going to Mexico, a new country for me! This trip will be a whole new experience for me in many ways and now I want to share my tips as a charter passenger for the first time.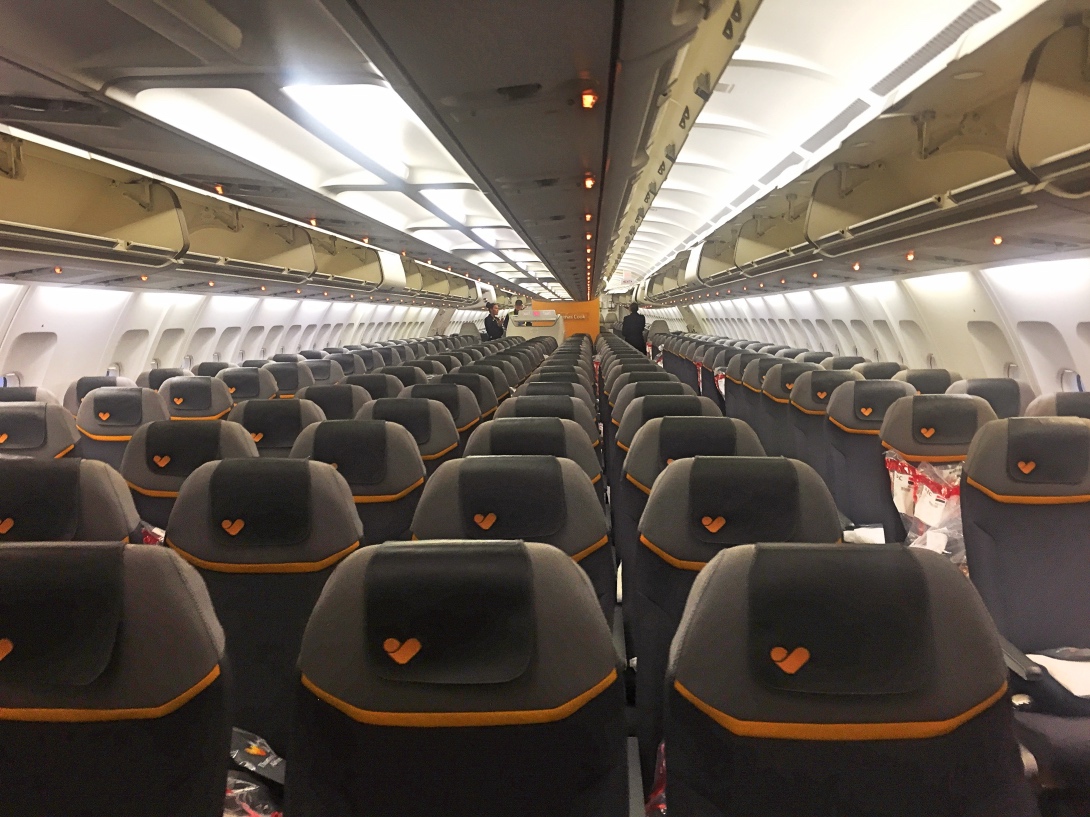 TRAVELING AS A CHARTER PASSENGER – HOW IT WORKS TO CHECK IN AT ARLANDA AIRORT
Since I never been traveling charter before I didn´t really know how things worked, which was actually a weird feeling but also a challenge for me at the same time. It felt good to try something outside my comfort zone and this was REALLY beyond my comfort zone.
As a skilled regular traveler, I can for the first time understand how it is for anyone traveling for the first time. The feelings, the impressions and the confusion that may arise and, not least, how does it work traveling charter? Many questions and many answers that I had and that I want to share with you if you are traveling with Ving for the first time.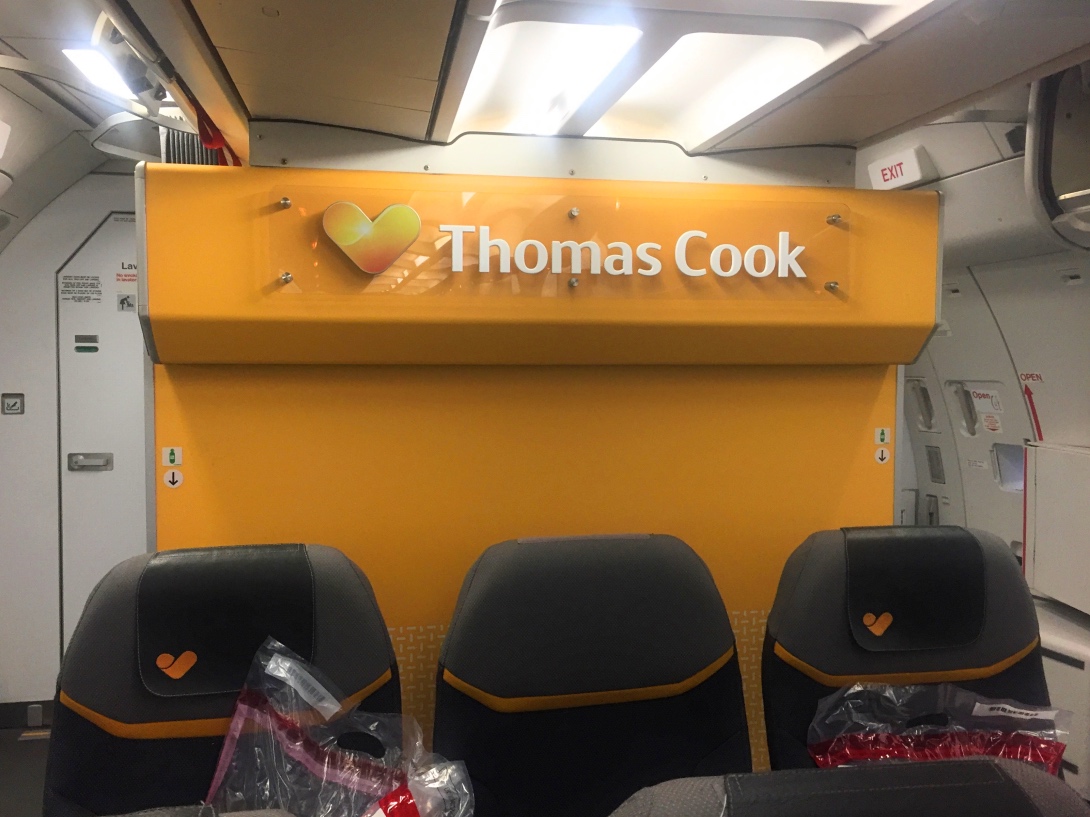 Here are my thoughts I had before and during the departure, as well as practical information that might be useful to know if you are traveling with Ving and Thomas Cook Airlines.
Check in:  
Which terminal at Arlanda should I check in at?
It´s Terminal 5 at Arlanda Airport (It also stands on your ticket when you book with Ving).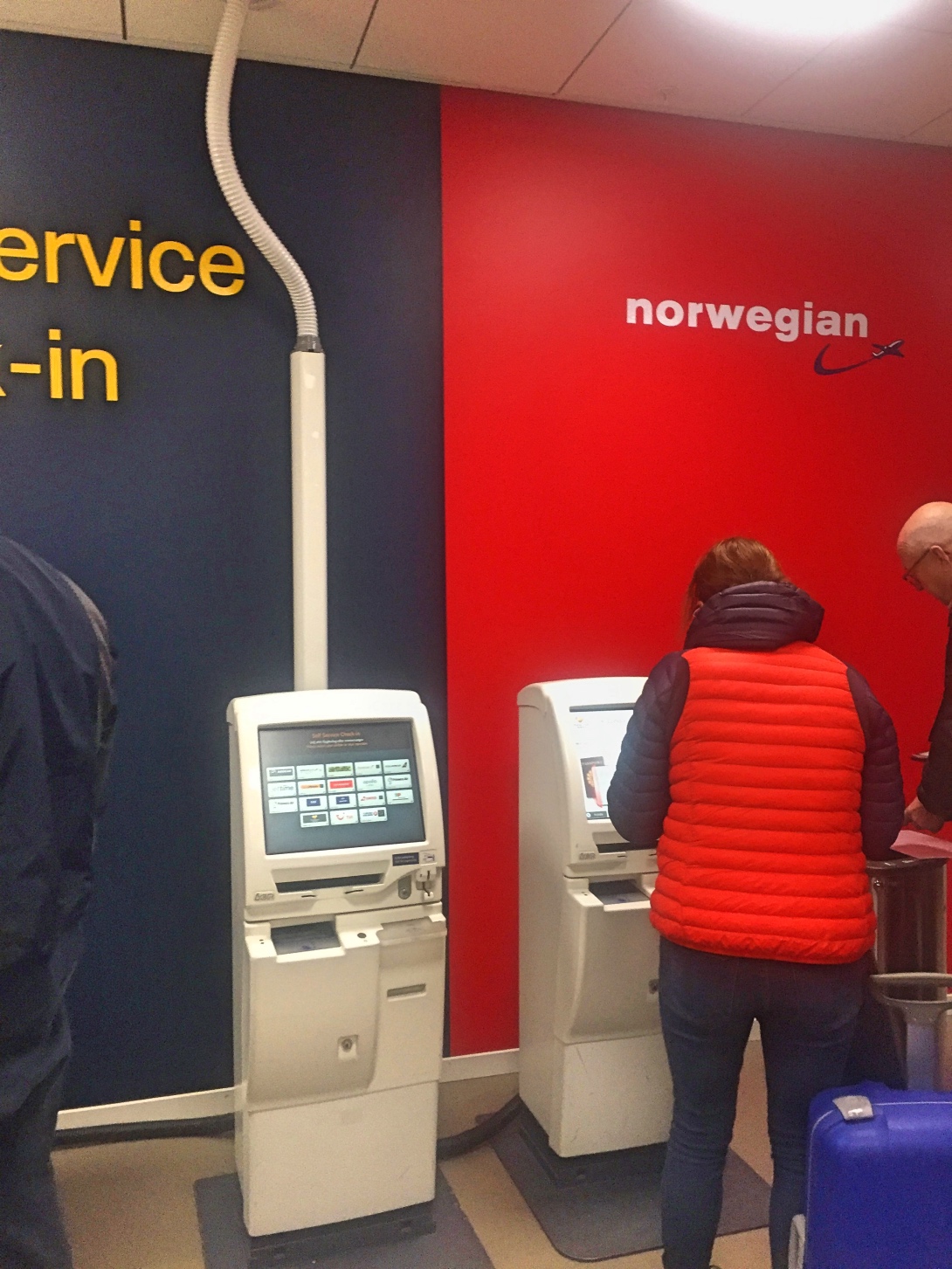 Where do I check in at Terminal 5?
When I arrived to Terminal 5 at Arlanda Airport, my first question was, where do I check in? I know where to go if I travel regularly but charter, where is that? When I get to the counter which says Thomas Cook (which is Ving's airline) a check- in staff tells me to check in on a check-in machine. I ask where the check-in machines are located and gets a bit sloppy referring further down at the same terminal. The check-in machines are located at the bottom on your left side to the windows. Imagine you are facing a "proper" check in counter you will have the machines to your left. On the wall you will se that it´s printed with big letters Norwegian and all walls are painted in red. There is no signs on the walls which more airlines the check-in machines apply for, just you know but it´s there.
First when you reach the screens at the check-in machine it says all the airlines you may check- in to. It was very badly information I have to say. How should passengers know if there is no signs on the walls?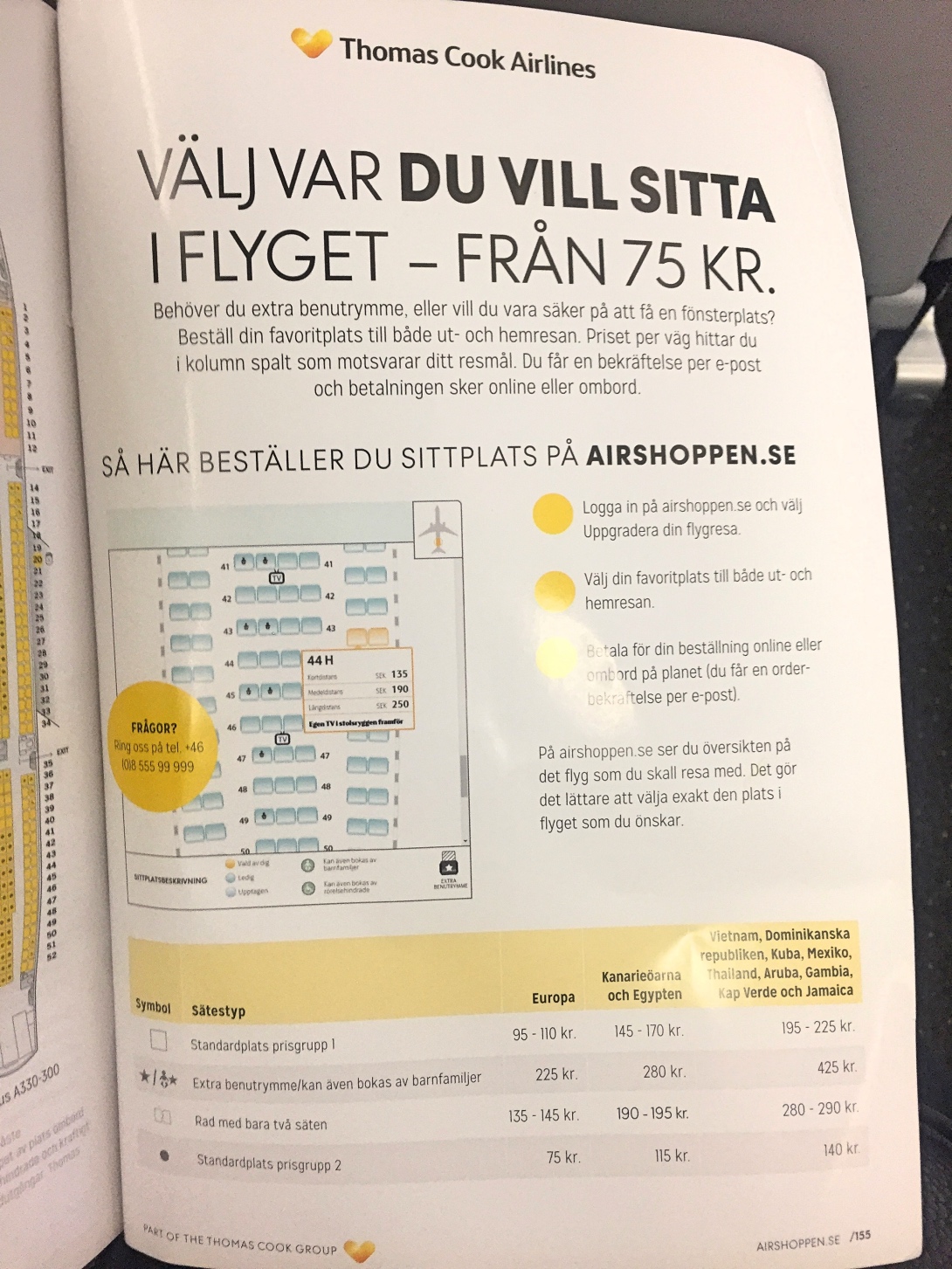 Can I choose my seat on the flight?
No, you can´t choose your own seat on the flight. The machine or travel agency has already assigned you a seat on the flight, which I didn´t like. I know that you can buy your seat on the flight for an extra cost that I never think is worth it because I thought that I could choose a seat when I checked in but no, it doesn't´t work like that obviously. I even came to the airport earlier this morning to be able to choose my seat but I don´t have to do that next time. May be good for you to know too!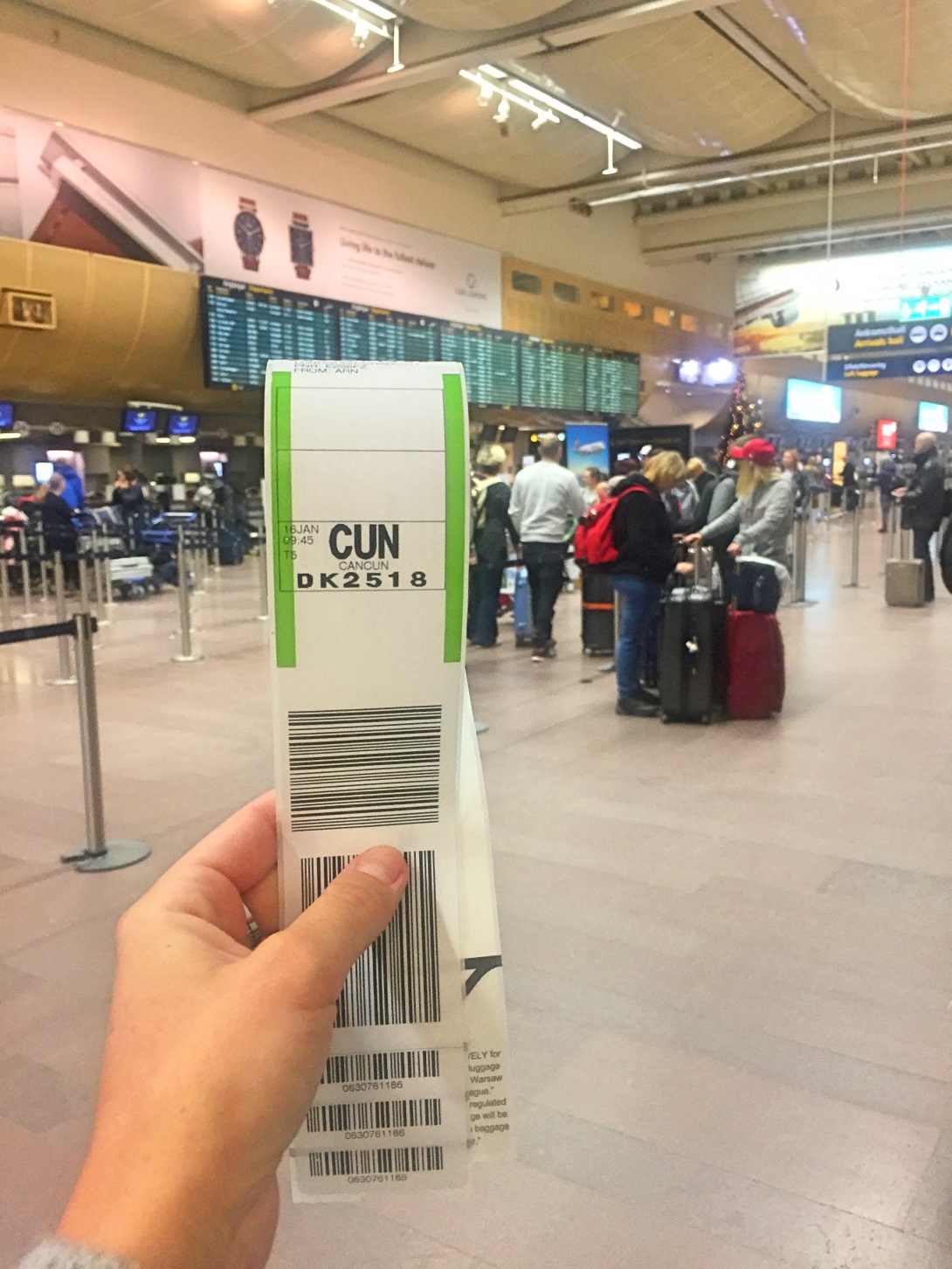 How do I get a luggage tag for my suitcase?
When you check in, you will come to a step when the machine asking you to check in your luggage. Then you will click on how many bags you want to check in and once you have finished the entire process, you will receive both a printed boarding card and a luggage tag (this long white / green slip). You have to put it on your luggage yourself.
What do I do after checking in?
The next step after checking in on a machine, look for a small sign with the name of the airline Thomas Cook airlines. There are no big signs on any TV screens so don´t look up to find it, they will simply stand at your eye level. They are located a bit outside the area where I checked into the machine. You must show your passport to the ground staff standing here wearing the Thomas Cook uniform before continuing to leave your bag at baggage drop.
How many kilos can my checked in luggage weight?
Honestly, I don´t really know, it doesn't´t stand anywhere on my 6 page ticket I printed out, something I think is weird. I chose to buy a the extra service of checking in a luggage when I only bought the flight seat with Ving. However, I can´t find how many kilos of checked baggage can weight either on my ticket or at the counter when I'm dropping off my suitcase. I took a change that it will be accepted anyway. I´m sure it stands on Vings webpage but unfortunately I'm too lazy to take the time to search for it, I expected it to actually stand on my ticket.
Where do I leave my luggage that I have checked in?
When you arrive at a "proper" check-in desk, you can put your luggage on the drop off belt. Then you will also have to scan your luggage tag as you get when you checked in your luggage in the check-in machine. It is linked to the scanner, so when the luggage has been scanned everything is ready. You'll see that your suitcase will leave the belt and disappear.
What am I doing then?
When I had received my boarding card, dropped off my suitcase, I didn´t really know what to do. It felt like something was missing and I began to get a little mentally stressed. IS there nothing more I need to do? No, it is time to go to the security check.
Tips!
If you haven´t already withdraw some cash from an ATM mashine I do recommend to do that on Arlanda Airport. After the security check, I change my Swedish money on Forex to the country's currency I´m going to, to be able to have their currency when I land for a taxi, for example. After that it´s time to go to the gate! 🙂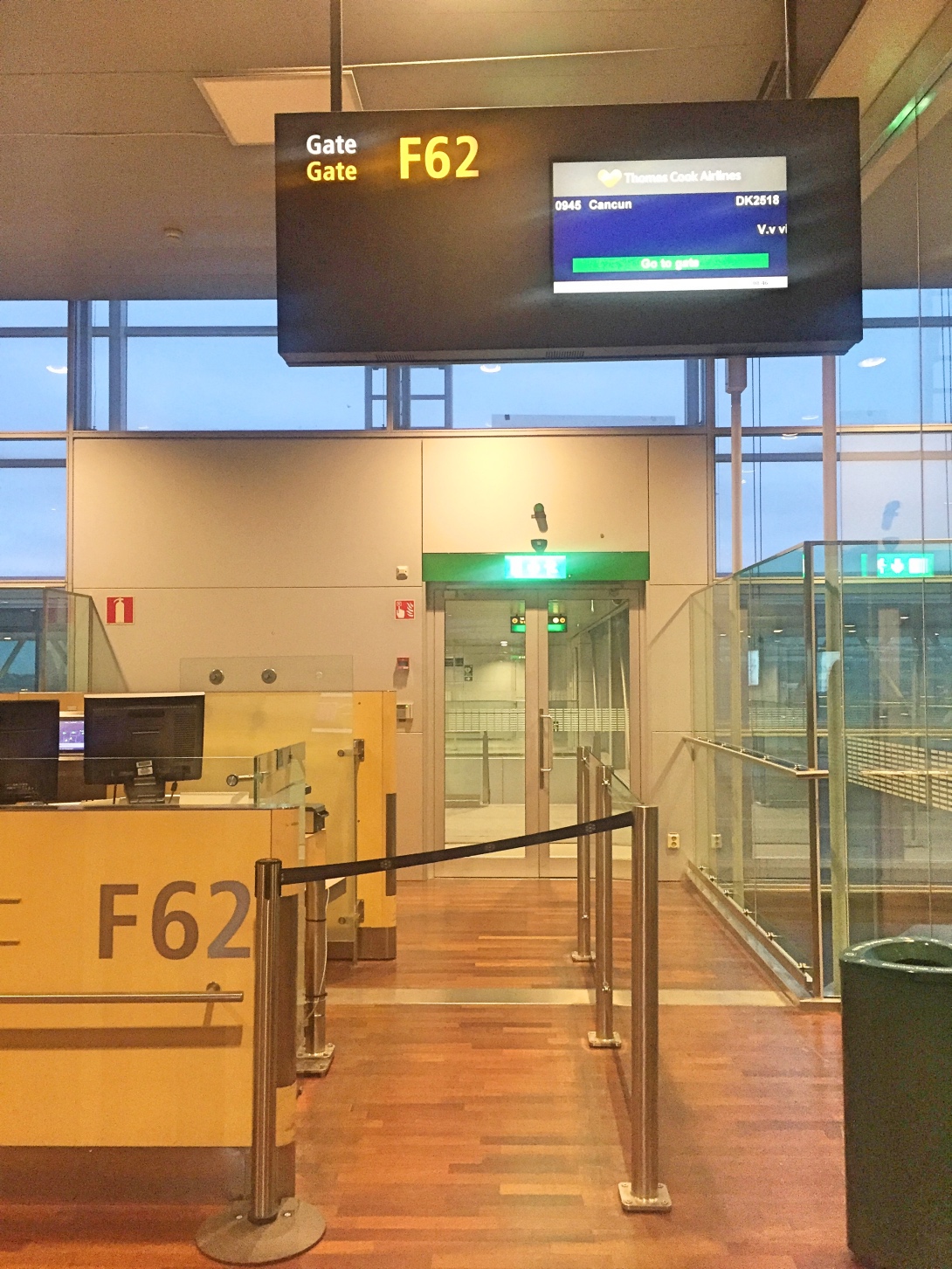 Shortly, this is my step by step guide:
Go to Terminal 5 at Arlanda Airport
Check in at a check-in machine (have the reservation number available in your purse or wallet for a smooth check-in)
Make sure you get a boarding card
Check in your luggage (if you have). Be sure to get a luggage tag to it
Drop off your luggage you want to check in
Go through the security check
Take out money / Change money if you need
Go to the Passport Control (When I traveled to Mexico, I had go through the pass passport check)
Find the right gate
Wait until boarding
Have a nice flight and enjoy!
Hope this can make your trip easier when you are going to travel as a charter passenger. Don´t forget the passport! 😉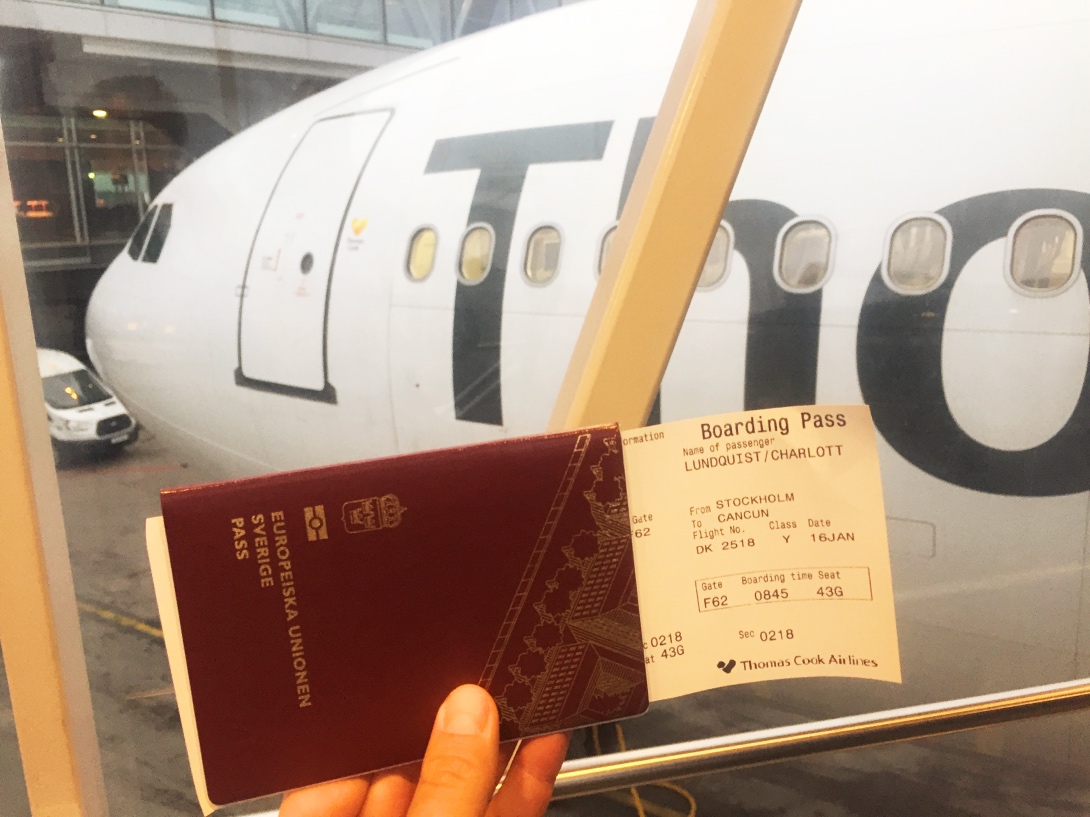 If you want to read more about what including during the Flight to Cancun or how how it works at the Airport in Cancun you can read my blogposts here:
Follow my adventures on Instagram here, Facebook here or at Bloglovin here 🙂
Happy Travels!
//Charlotte