10 Reasons To Visit Dubai
Dubai is a magical city to visit and I think it should be on everyone's bucket list. Dubai is one of the newer cities around the world that is developing rapidly and has become a major tourist attraction during the last decade. I understand why and in today's blog post I want to give you 10 reasons to visit Dubai! 🙂
10 Reasons To Visit Dubai
1. Burj Khalifa
A must to do in Dubai is to see the world's tallest building, Burj Khalifa. It is adjacent to the world's largest shopping mall, Dubai Mall. Pass through the shopping center and you will have Burj Khalifa on the other side. Go with the elevator up to the top (that of course is the fastest elevator in the world) which only takes a few seconds and check out the exhibition that is here as well as enjoy the fantastic view of Dubai. Take the red metro line to the station "Burj Khalifa station" which is only 10 minutes walk away. If you know what day you want to go up here, I recommend to book and buy tickets from home online in advance, it costs about 25 Euro / ticket.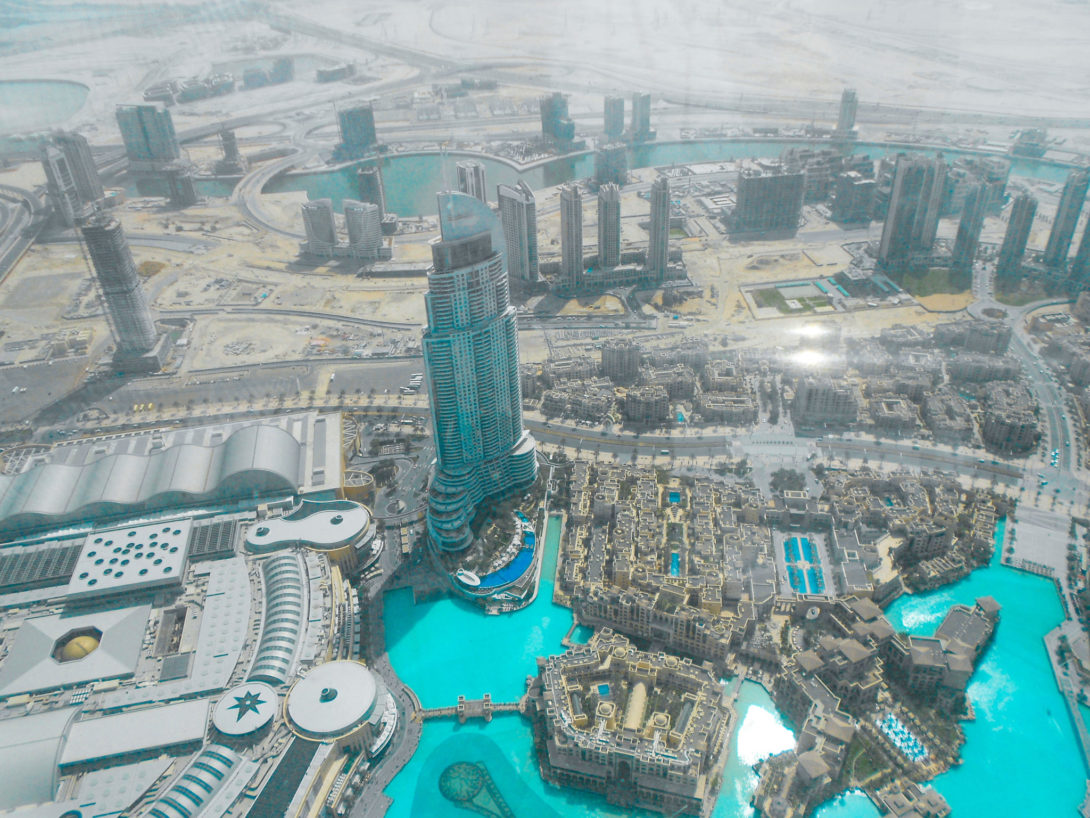 2. Dubai Fontain
The Dubai Fountain is located outside the Dubai Mall, right in front of Burj Khalifa and is surrounded by lots of restaurants, a boardwalk and Dubai Souq. I think it is every half hour that the fountain starts a water show that is synced to music and gives you a spectacular show! It's the same show both during the day and evening and you just can't miss this when you are in Dubai 🙂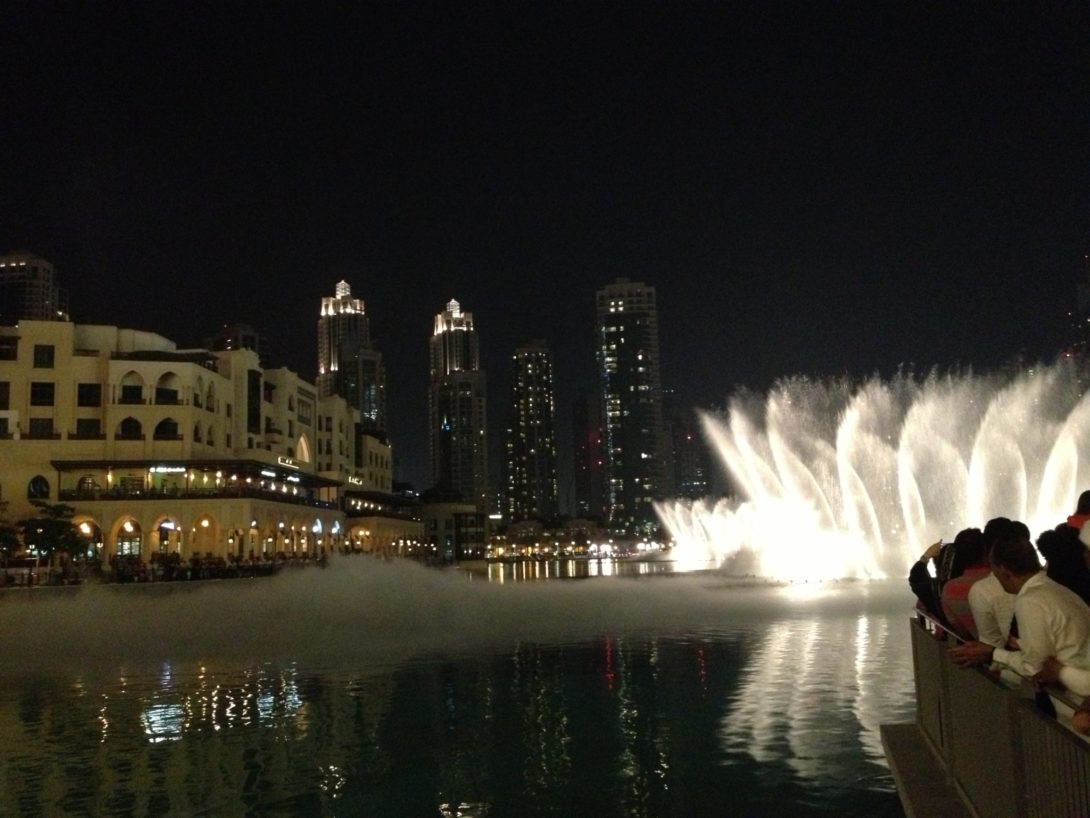 3. Burj Al Arab
Burj Al Arab is the world's only 7 star hotel and is one of the most famous buildings in Dubai that I think you should see. The building is shaped like a sail so you know right away when you find this building. It is difficult to get into this hotel if you don't have a reservation so my tip is to go to Jumeriah Beach Hotel which is opposite Burj Al Arab and sit at their outdoor restaurant or beach bar which I did. From here you have great photo opportunities!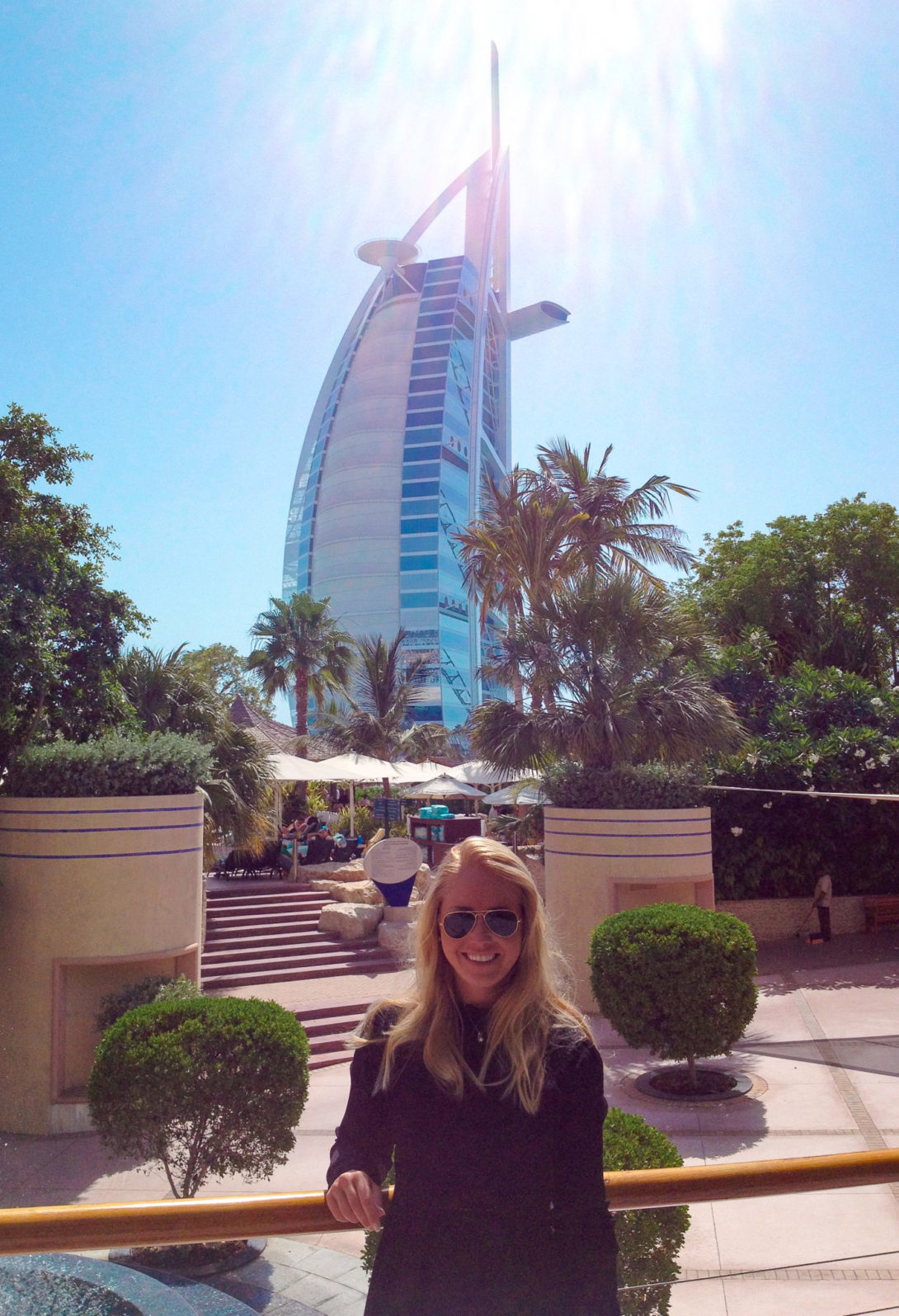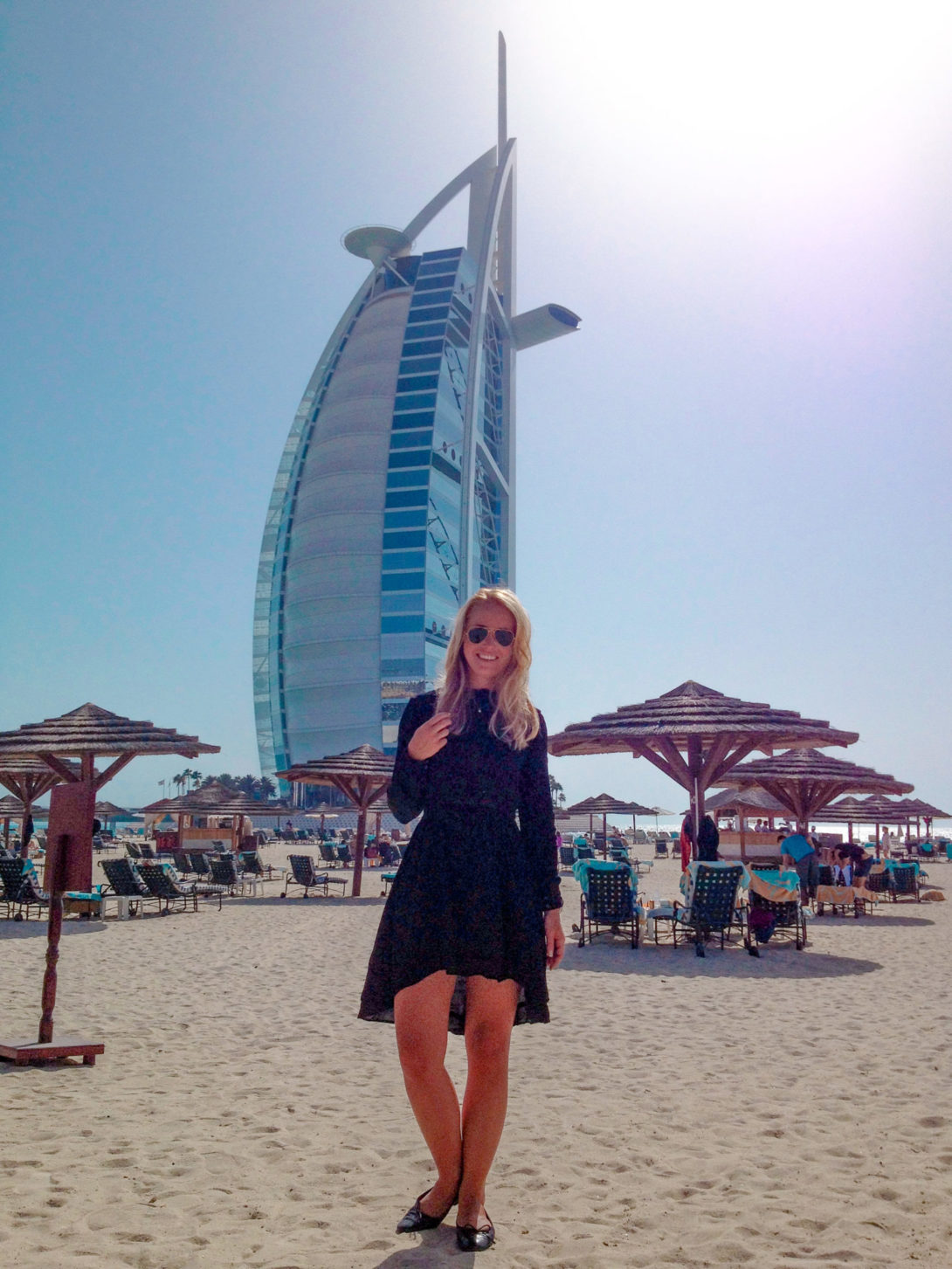 4. Dubai Miracle Garden
Dubai Miracle Garden is probably the world's finest garden I have ever seen! Everything you see is made of real flowers and it was really worth coming here and strolling around this garden! Miracle Garden is a large and creative garden that is made every year and is open to visitors between November – March. However, it is located a bit outside of Dubai city center so I recommend taking a taxi to get here!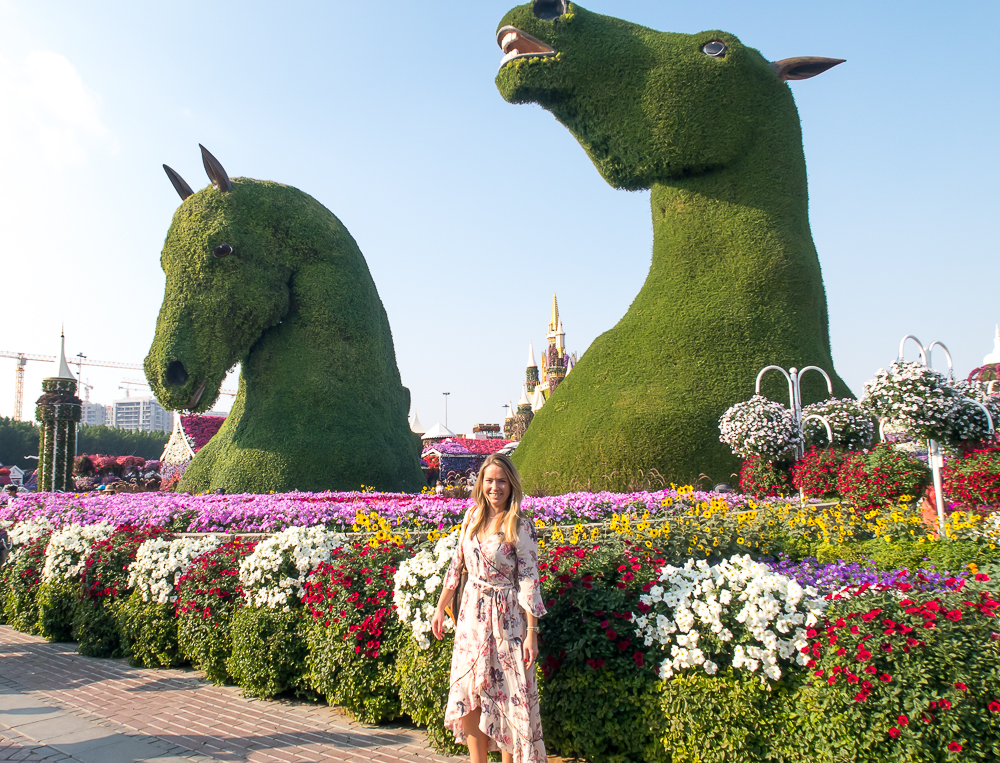 5. Dubai Frame
Dubai's latest addition to experiences is Dubai Frame where you can discover old and new Dubai from the same view point, awesome huh! This building has two parallel towers connected by a glass bridge which forms this picture frame called "Dubai Frame". Yes, you can walk out on the glass bridge 😉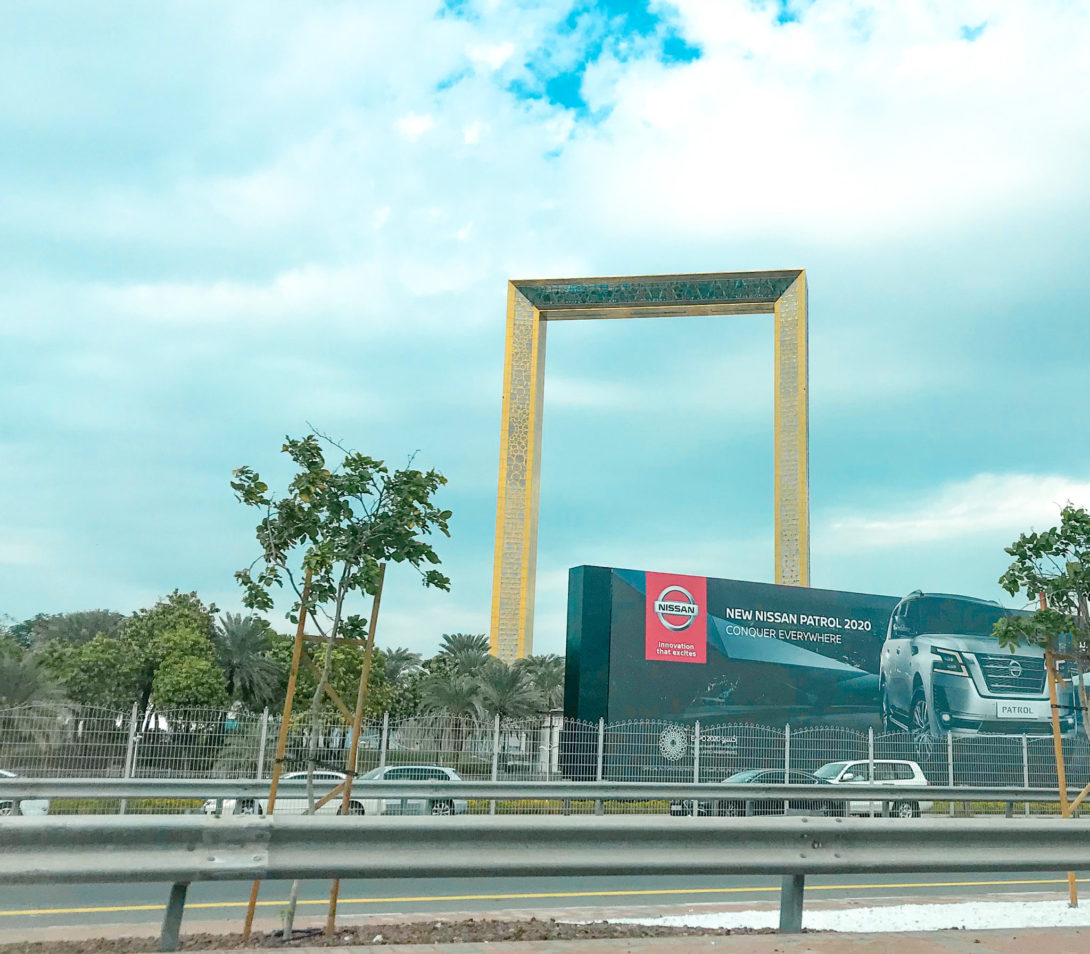 6. Visit Dubai Marina / Jumeriah Beach Residence
Dubai Marina is like a city in the city and is an area that offers beach, luxury hotels, cafes and restaurants and is really nice to stroll around in both daytime but especially in the evening. It is super cozy and I highly recommend staying in Dubai Marina and strolling along the Dubai Marina Walk which has nice walking paths to walk on or why not watch the camels lying and sunbathing on the beach here.
7. Shopping & Skiing in Mall of Emirates (MOE)
Dubai has two major shopping malls which are Dubai Mall (along with Burj Khalifa) but also Mall of Emirates where you can not only shop but also ski indoors for those who are craving for that! Here at Ski Dubai you can rent all the equipments and clothing you need if you want to ski. Ski lessons are also offered here if you feel like you need it.
8. Go by Abra boat in Dubai Creek
If you want to do something different but incredibly fun, you should go on a so called Abra boat which is a small wooden boat where it can seat about 25-30 people and it takes you from the gold souk over Dubai Creek lake for only 1 dirham / person!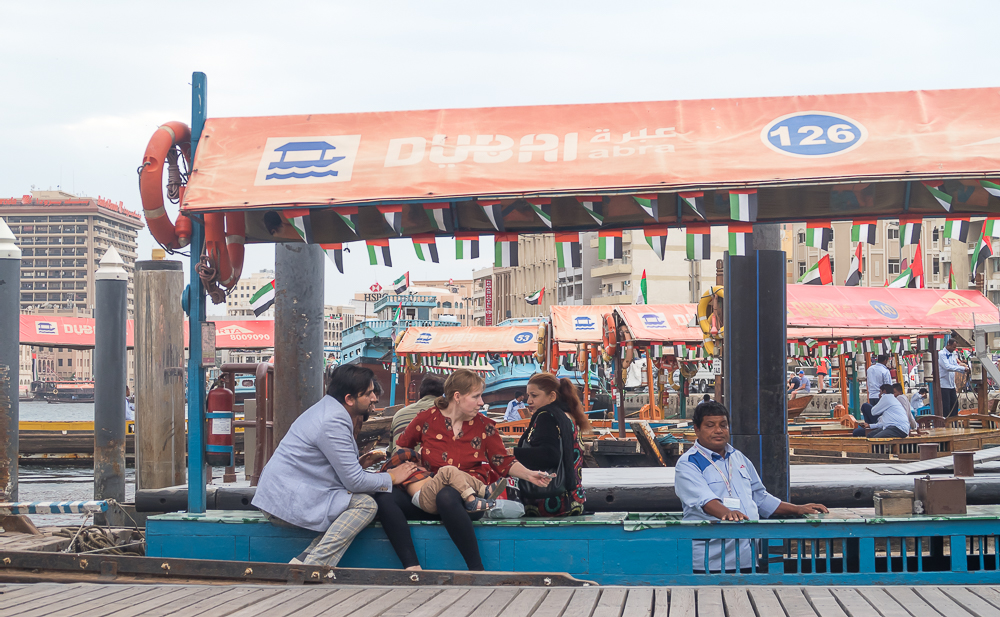 9. Gold souq & Spice souq
Go to old Dubai and discover both the gold market and the spice market. It is very special to stroll around as it gives a completely different impression of Dubai than what you are used to. I think it is nice to walk around the markets and buy some small souvenirs or spices here 🙂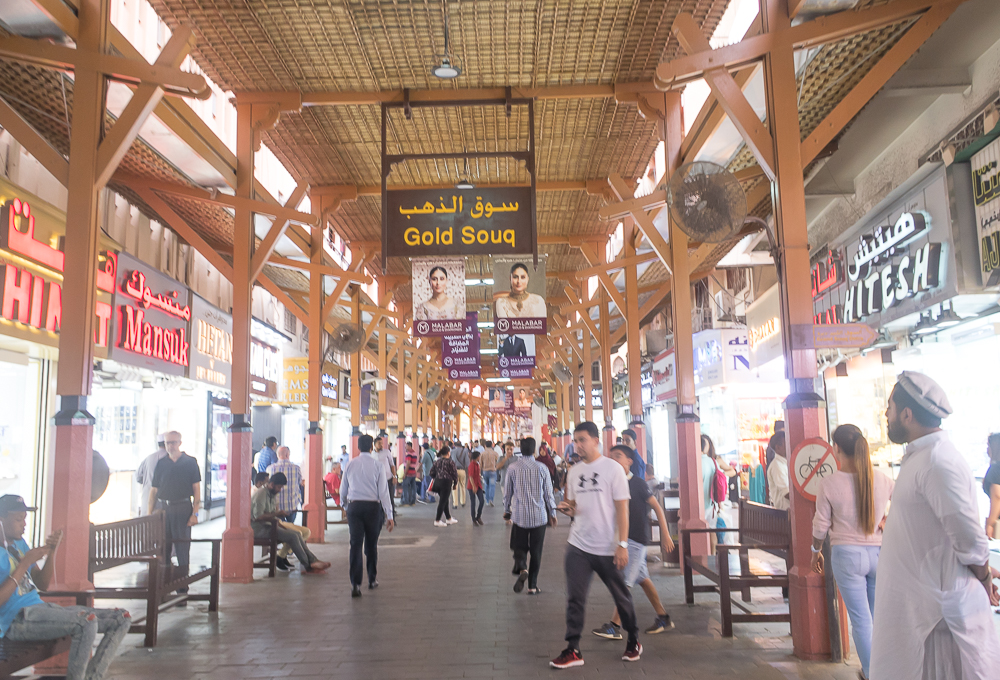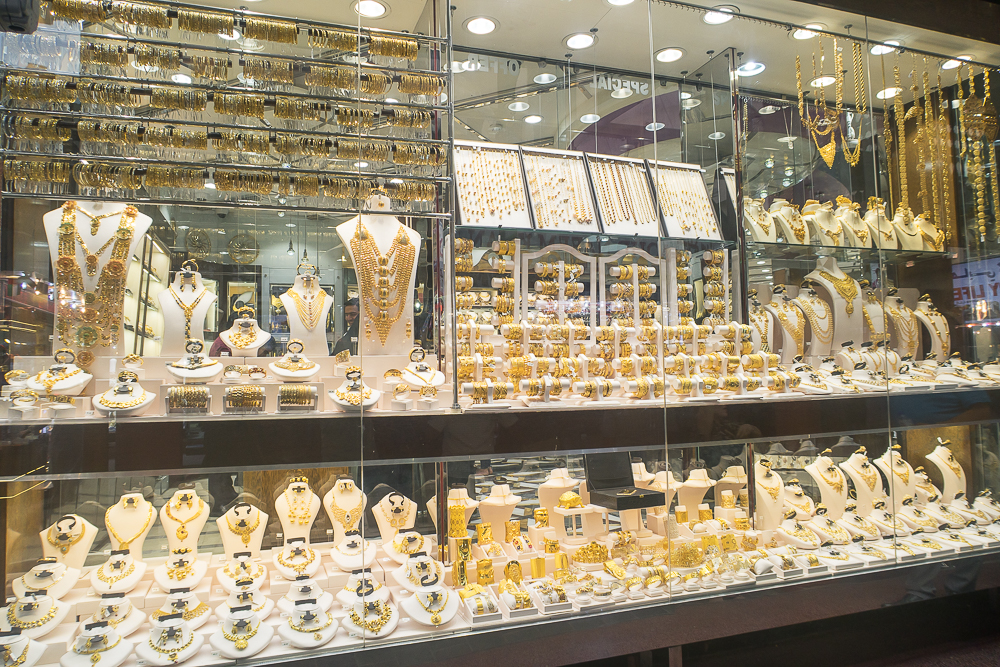 10. Desert Safari
With less than 20 minutes from Dubai downtown, you can go on a desert safari in the middle of nowhere, pat camels and see how the Bedouin's life was once upon a time. There are many companies that offer this, so check with your hotel which ones they recommend. Do a desert safari with off road driving among the dunes, go quad bike and sandboard with subsequent barbeque, henna painting or camel riding. Some companies also offer overnight stay in a Bedouin tent, which is really cool because at night it is absolutely starry! This is a really fun adventure for all ages!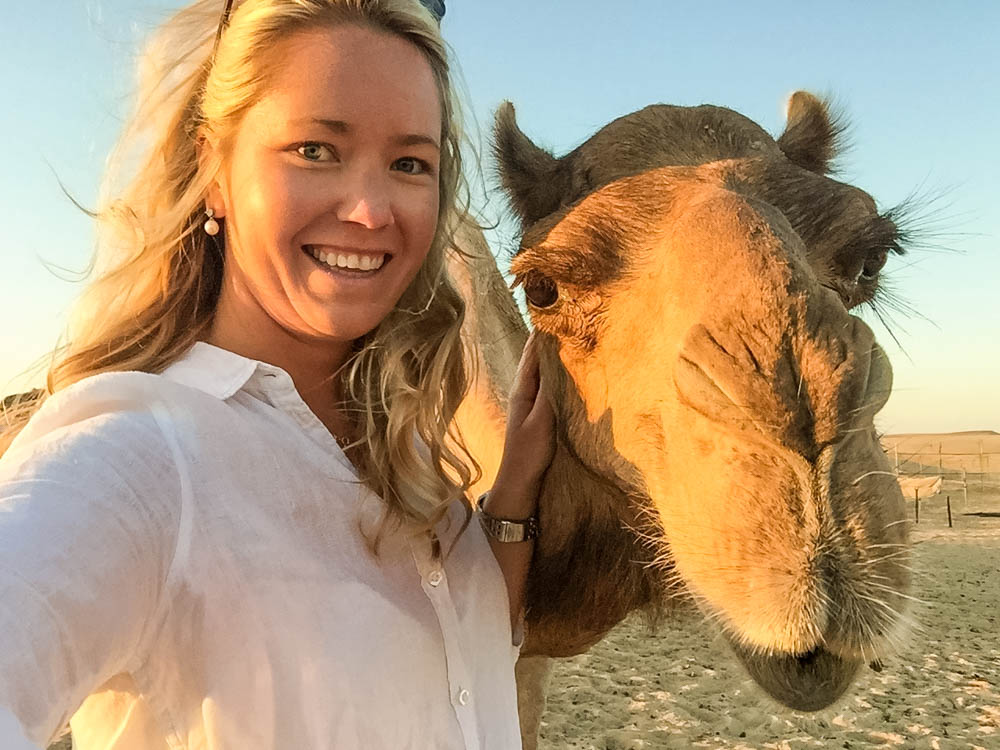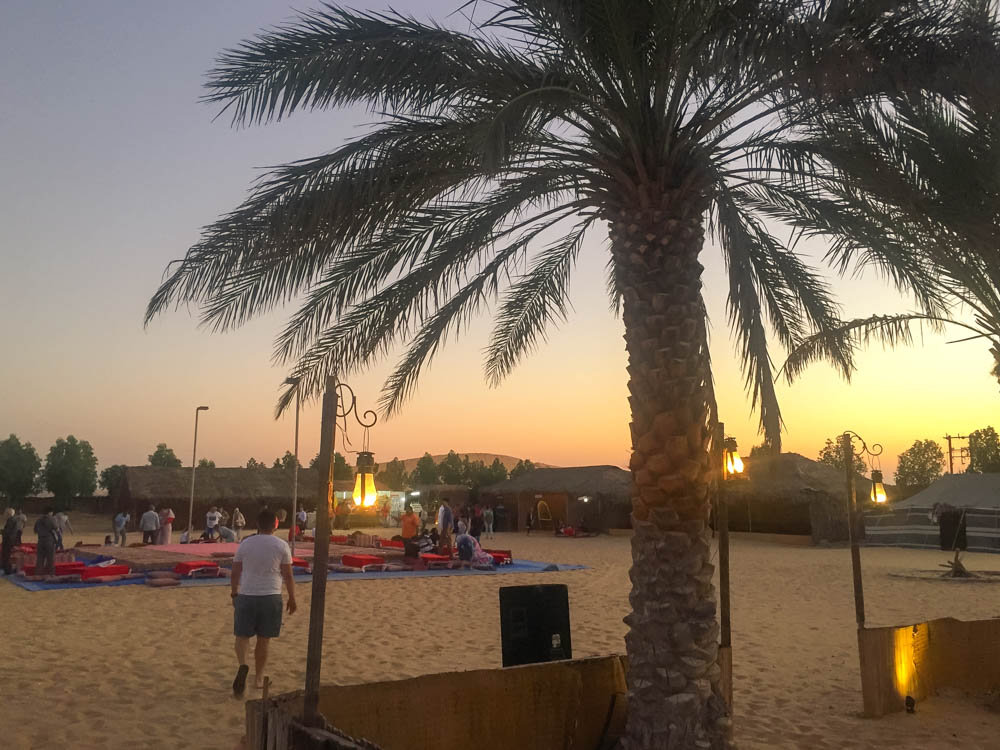 Dubai has become a popular destination to go on for a vacation or just as a weekend trip. It lies only with 6 hours direct flights from Stockholm and has warm weather all year round. It is an interesting city that has a lot to offer and if you want to read more about my Dubai tips, see my movie from there or need tips on hotels and areas to stay at, click here:
Happy Travels!
// Charlotte