7 Beach Clubs in Dubai You Have To Visit 2020
Dubai has many beach clubs where you spend a luxurious day in the sun in a sunbed or sunbathing by the pool / beach and enjoying great club atmosphere, good food and awesome drinks! Hanging out at a Beach Club is something I love to do and especially in Dubai that offers really cool beach clubs and where you can dance barefoot in the sand 🙂
In this blog post I will share my tips on the best beach clubs Dubai has to offer right now! So don't miss visiting one of these beach clubs the next time you are in Dubai and want a different but amazing experience!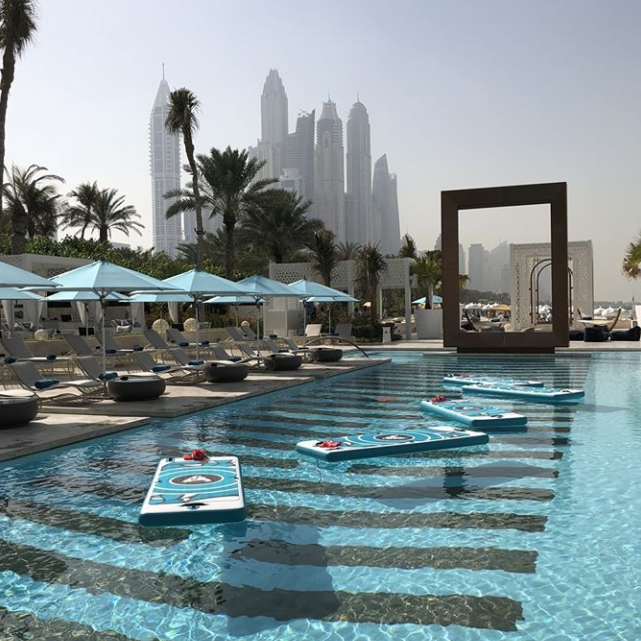 Best Beach Clubs in Dubai 2020
Nikki Beach Club Dubai
My favorite place around the world is Nikki Beach Club and the one in Dubai is really nice. Their concept is to have a completely white interior and stylish sunbeds, a style I love! Here you have entertainment all day and Nikki beach in Dubai offers sunbeds by the pool and beach but they also have sunbeds in the pool, as well as food and drinks, nice lounge music and fantastic service. This is clearly one of Dubai's best beach club!
Zero Gravity Dubai
With the beach, garden, lounge and restaurant, there's really something for everyone at Zero Gravity Beach Club. The venue overlooks the landing zone for those who choose to skydive from Dubai Skydive. Come here during the the day and stay until the evening because then the day party will become a real dance party. This is truly a favorite and a must to visit!
Summersalt Beach Club Dubai
Summersalt is Dubai's newest and most luxurious Beach Club located in the Jumeirah Al Naseem hotel, in the Madinat area. It offers relaxing sunbeds, access to the pool and beach and good food inspired by the old spice route. You also get a really cool view of Burj Al Arab. This is a must have if you want to get some luxury on your vacation in Dubai!
Eden Beach Club
Eden beach club is a relatively newly opened beach club located on the palm. Hanging here means that you have everything you could ask for, namely the atmosphere, the decor, the location, the music, the view, the food, well everything! This is a must to visit and spend your day here! A really delicious place indeed!
Barasti
One of perhaps the most popular and well known Beach Club in Dubai is called Barasti and are located in Le Méridien Mina Seyahi Beach Resort on several floors and here you can enjoy both live music and sports on the big screen. Barasti is definitely the place to go if you want to have a fun day or evening. It is a good place to mingle with other travelers and locals. Feels a little more youthful here while summersalt, for example, feels more mature. There is also free entry here!
Blue Marlin Beach Club
Blue Marlin beach club is located outside Dubai but is one of the best in Dubai. Here you get a lovely Ibiza spirit with a beautiful beach vibe that is replaced by a real party atmosphere in the afternoon. Blue Marlin Dubai Beach Club definitely has great laid back atmosphere and great music as well as good food day and night as well as sunbeds by the pool and a really good beach party! Come here on a Friday for the best party atmosphere and Saturdays if you want a relaxed, nice brunch event. If you want to party at a Beach Club in Dubai, this is the place to come on a Friday!
Azure Beach Club Dubai
At Rixos Premium Dubai JBR, you will find Azure Beach Club, one of Dubai's newest beach clubs. Here you can hang out by the pool or swim with their popular unicorn. Here is a relaxed atmosphere and also family friendly. The sunbeds are on a small plateau a bit into the pool which makes it feel like you are in the pool. Perfect to spend a sunny day here and especially for those who like Asian food. The location is perfect, right next to JBR's The Beach in Dubai Marina. On Mondays and Tuesdays there is also free entry for the first 100 girls!
If you want to read all my Dubai tips, you can find them by clicking here:
Happy Travels!
// Charlotte