A Day at Puro Beach Illetas, Mallorca
During our weekend to Palma de Mallorca we went to Puro beach and their latest place in Illetas for a whole day and had a really good time with both sun, beach and some swimming in the turquoise blue water. If you want some luxury on your trip to Mallorca, I can really recommend coming here because this place is really good, very nice and luxurious!
Puro Beach Illetas
How to get here
Illetas is about 20-25 minutes by bus from Palma city. We took bus no. 4 which went right outside our hotel (Hotel Saratoga which you can read more about in this blog post) and stopped at the station called Bonanza where you should get off. From here it may take 5-7 minutes to walk to Puro beach. However, be observant of the sign because it is hidden along the road. You see a sign saying VALET parking with capital letters, then you have come to the right place! 😉
Of course you can also take a taxi here, but for 2 euros / bus ticket we thought it was just as good to take the bus.
What does a day at Puro Beach cost?
There are many different "packages" to choose from and we booked our sunbeds online on the Puro beach website which you can find HERE. There you can choose whether you want to be on the Oasis side or the beach side. The Oasis side costs 40 euros per person and then only the sunbed is included.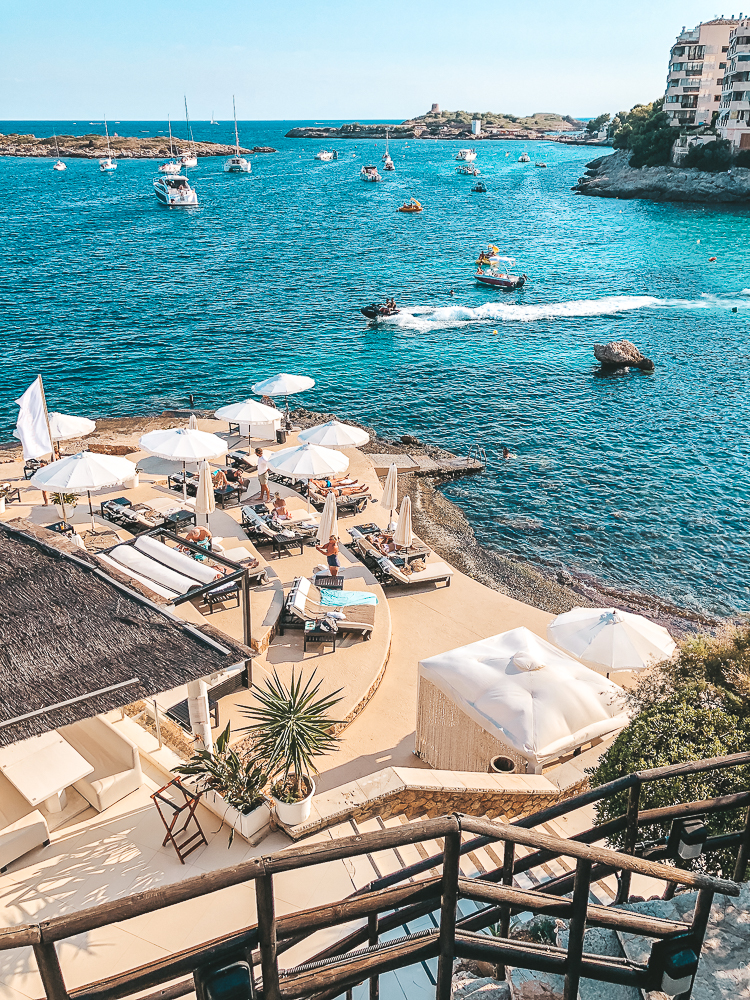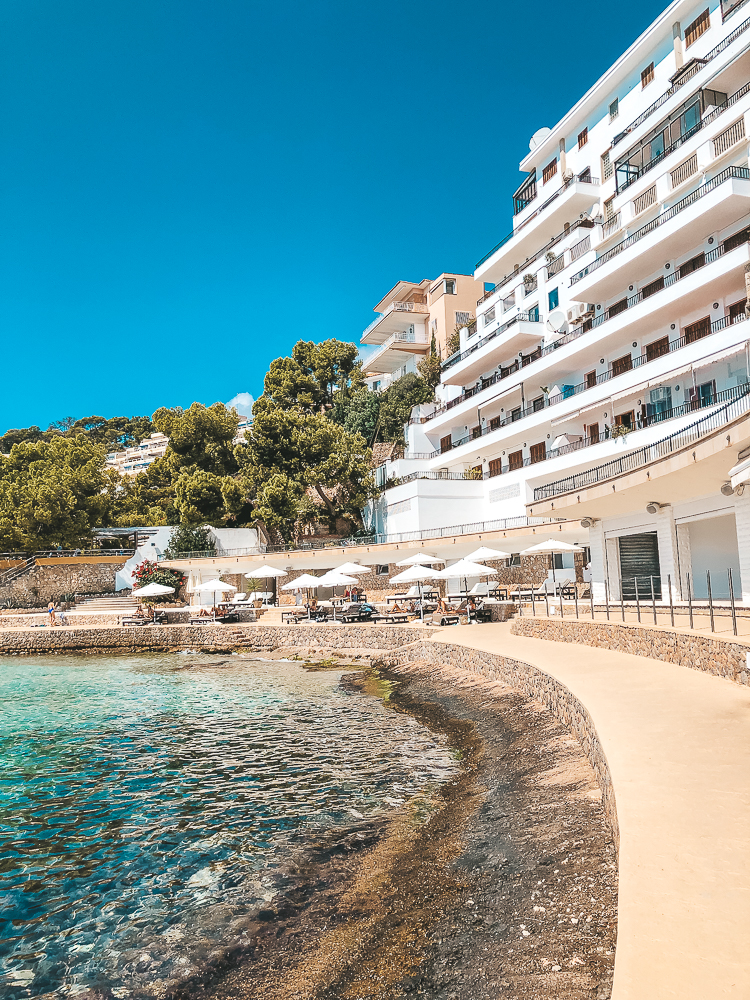 However, we chose to stay on the beach side for 45 euros per person and then breakfast was also included, which we thought was very reasonably priced! You can choose from a salmon bagel or scrambled eggs with avocado and tomato sandwich, which I took while Runwaytoadventure to the salmon bagel. For this we also got coffee and orange juice which may have been the absolute best orange juice I have ever drunk! 🙂 As I said, it was very affordable and you can find our package on Puro beach here.
What to think of
Since we are in COVID-19 times right now, you have to wear a face mask all the time except when you are lying in the sunbeds, going to swim or sitting down in their restaurant to eat. If you are going to get up and do something, go to the toilet or order something at the bar, you must wear the face mask.
There are several toilets which I thought was heavenly good. Partly up by the restaurant but also behind us where we were on the beach side and there were also behind those who were on the oasis side.
I would also recommend pre-booking your sunbed at Puro beach Illetas as it quickly got full here. Many wanted to lie on the Oasis side but honestly I was glad that we were on the beach side, partly because there were not as many sunbeds here and thus not as many people, it was quiet and nice and partly because many came to us to step into the sea where there was sandy beach, which we had right under our feet. Otherwise you step in from a ladder next to Oasis side.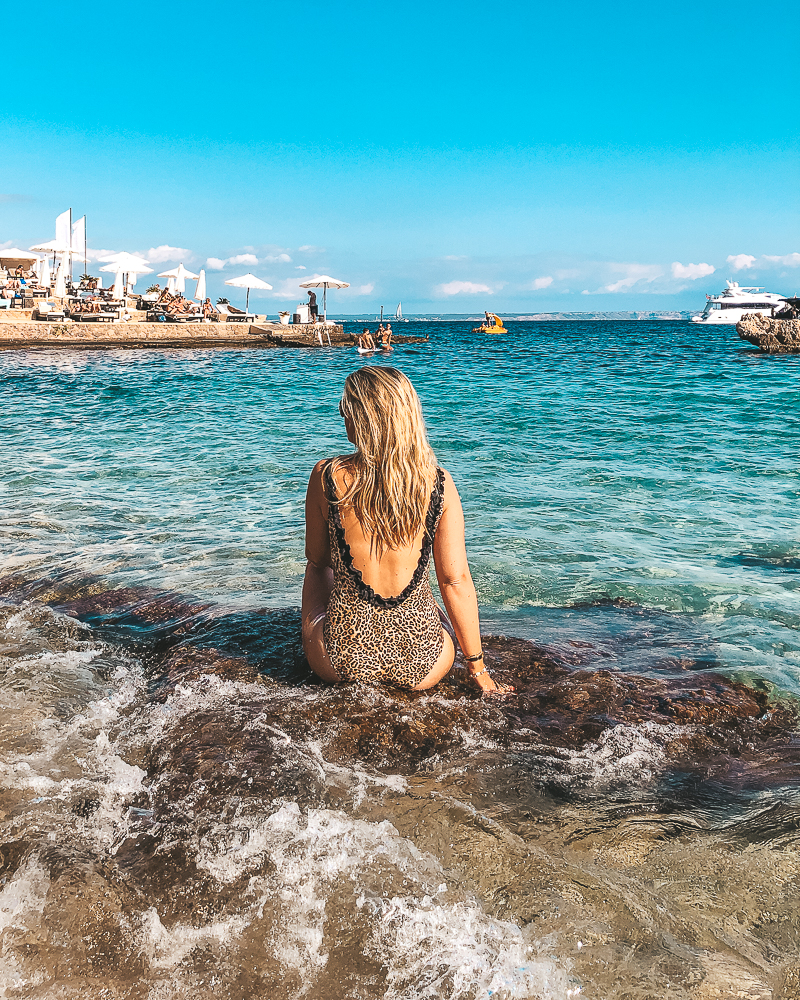 Food supply
The latest thing I noticed both when I was in Portugal and now everywhere in Palma, and also here on Puro beach is that restaurants have changed their physical menus to be QR coded. So you have to take a picture of a QR code and it will appear on the phone and there you can see the Puro beach menu for food and drink.
We were quite full after our breakfast which was included but later in the afternoon we chose to order a Gino each which was delicious and filling! I can really recommend eating their Gino here, also on the Puro beach which is at Palma airport,  but I can also recommend sharing a Gino because they are very big! 🙂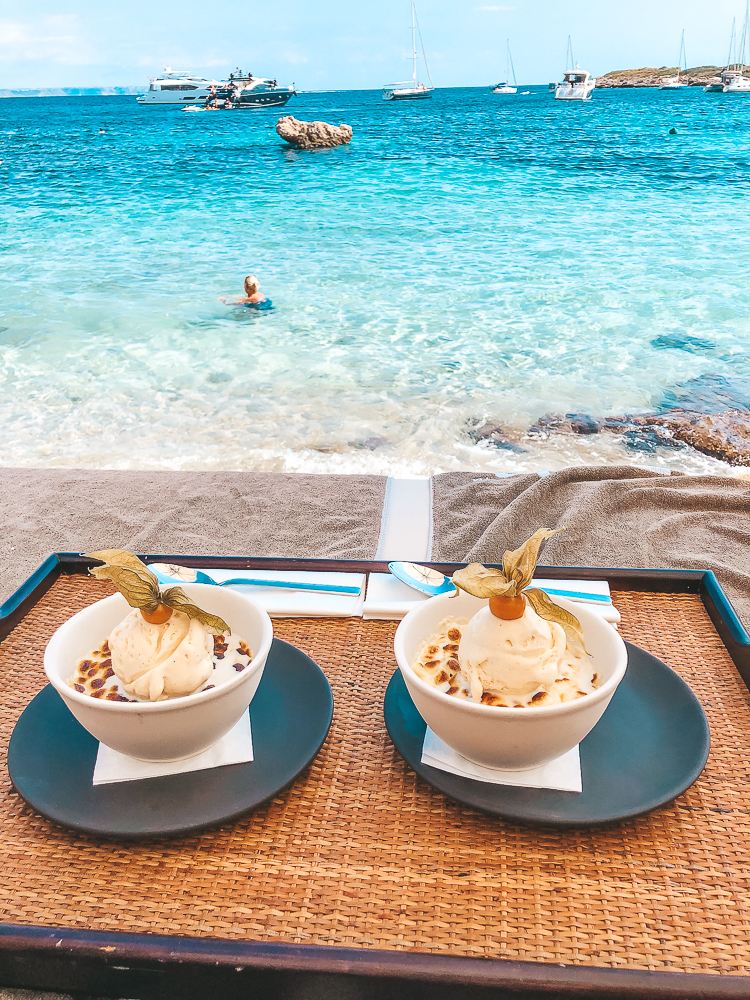 They also have a large restaurant you can sit at and eat your lunch if you would rather sit at a real table but remember to wear the mask when you go to the restaurant.
No swimmingpool
On Puro beach in Illetas there is no pool to swim in, here you swim directly in the sea which is not entirely wrong as the sea here is absolutely wonderfully warm and nice while the Puro beach which is located at the airport in Palma has only one pool to swim in and there you can't jump into the sea. This can be good to know depending on what you prefer, unfortunately you can't get both, which I had thought fit well on this Puro beach in Illetas.
What was less good about Puro beach?
The only thing I didn't like about this Puro beach located in Illetas is that there is a beach for the public just around the corner and no borders or fences that separate Puro beach from that beach, which means that anyone can step in here and swim or eat at the restaurant. What annoyed me was that many children came from that sandy beach and wanted to hang out by our beach instead and snorkel and swim by the rocks with us. This made the atmosphere loud and screaming, which ruined a bit of our experience here, something I thought was a shame.
In addition to that, I can really recommend hanging out on Puro beach for a whole day and enjoying it here because this is putting a golden edge on life in my opinion 😉
Happy Travels!
// Charlotte