Lufthansa Business Class A380 from Frankfurt to Delhi
Do you read an airline review before you travel? I want to introduce you onboard my flight with Lufthansa A380 to New Delhi, India. I flew in Business Class on their Airbus 380 which is my absolute favorite airplane! I'm a super nerd when it comes to airplanes and love to fly as many different flight models and classes on board as possible. Airbus 380 is the airplane that has two floors and four engines 🙂 I love it!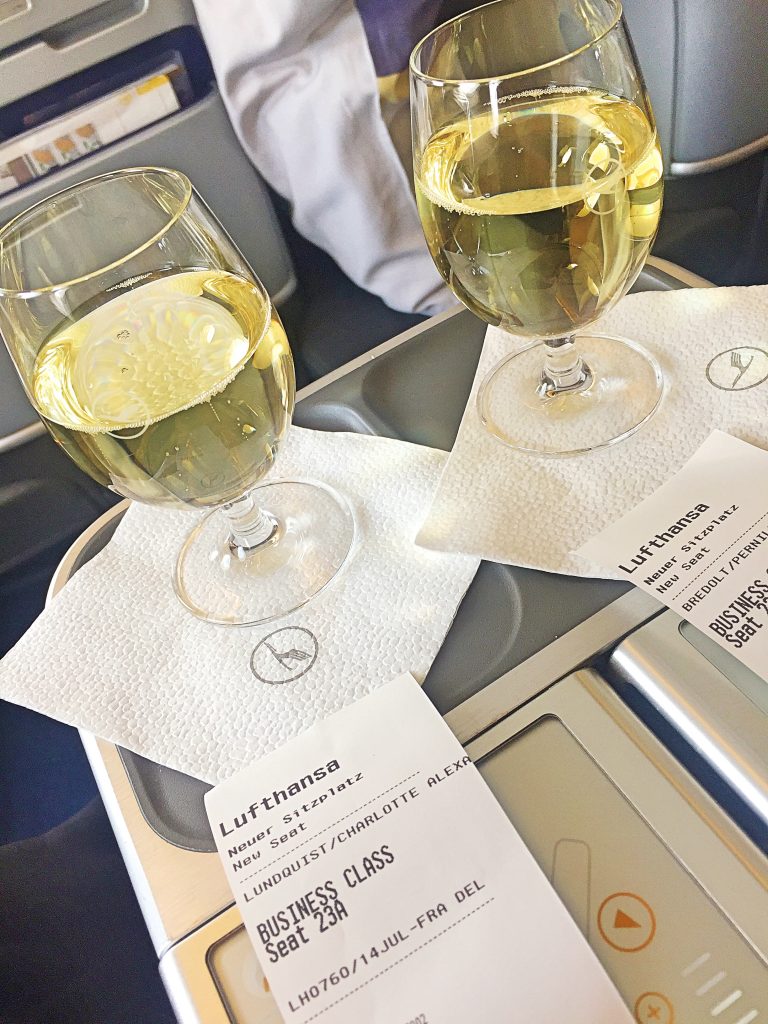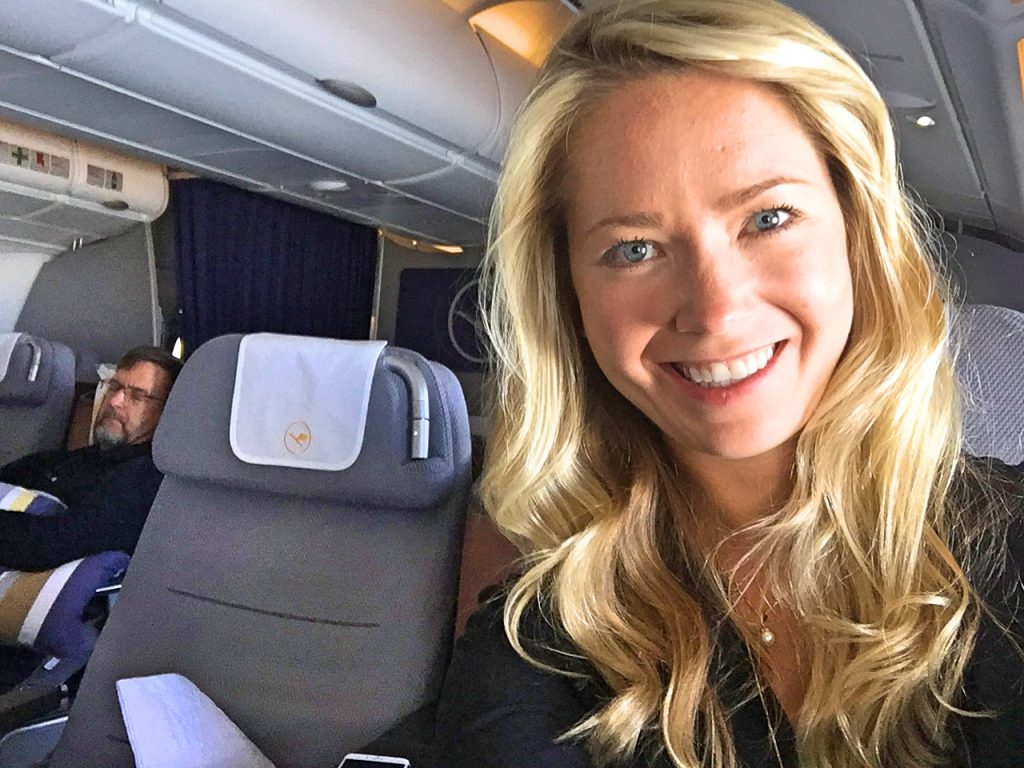 Lufthansa Business Class A380
A few years ago I flew with Lufthansa in Business Class onboard their A380 to Miami and I remember how good it was then. That's why I was very excited to fly with Lufthansa again in Business Class to Delhi and the best of all was that it was their A380 aircraft that now flew me to Delhi! 😀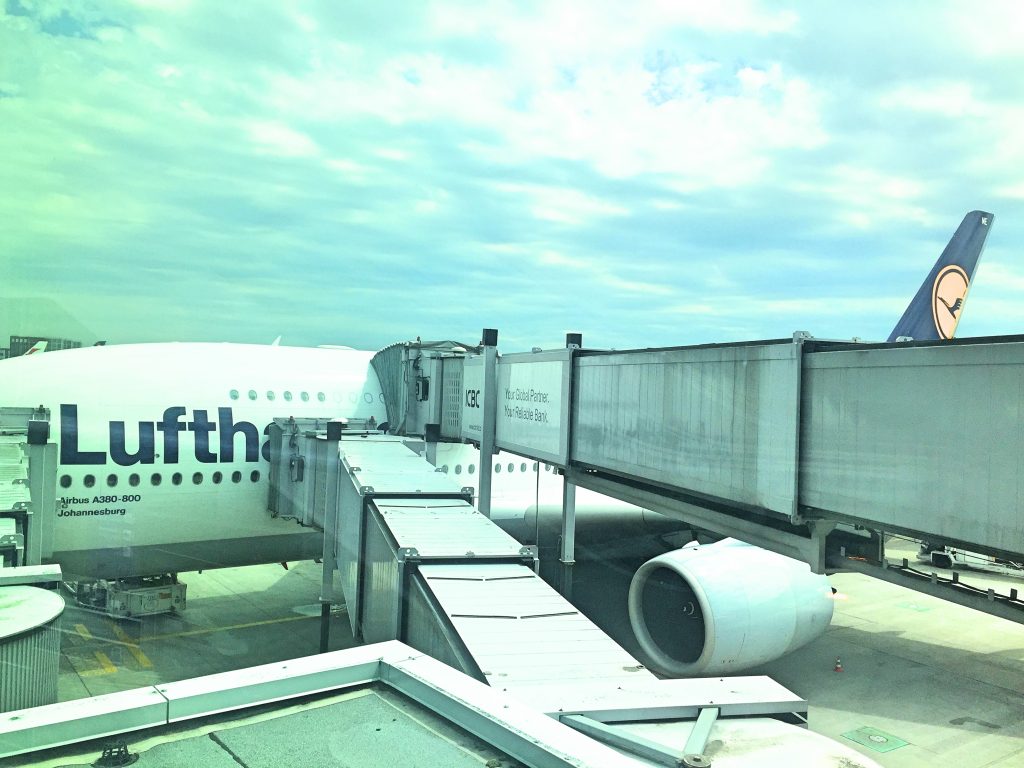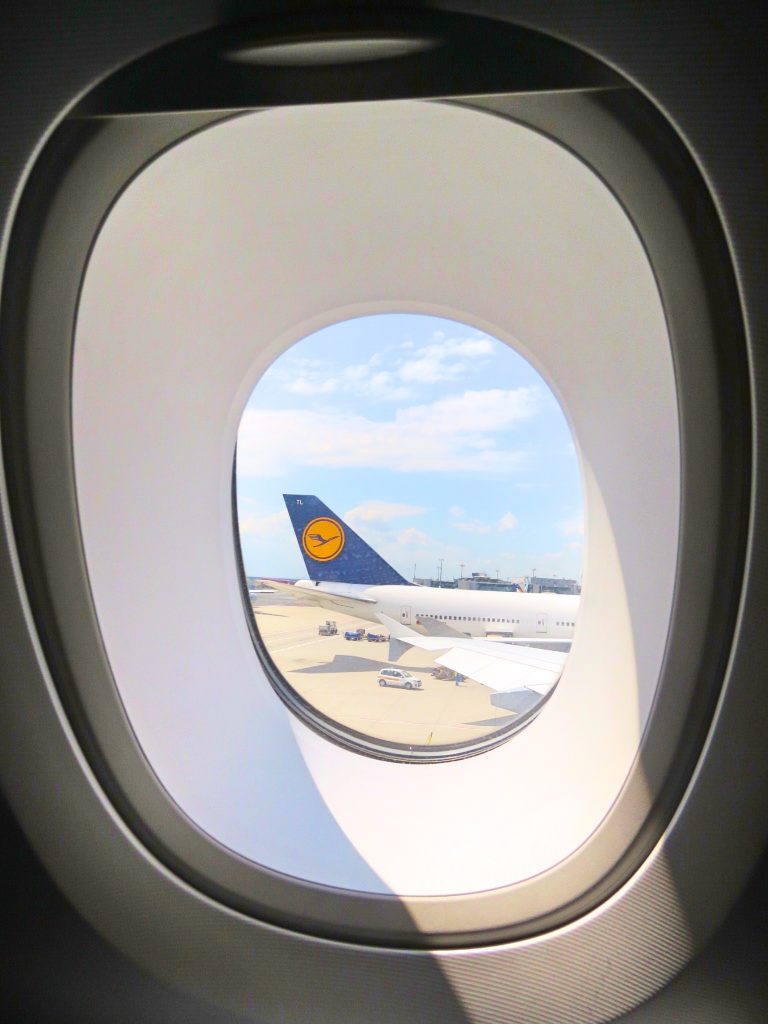 My Experience
Flying Business Class on a long haul flight is both amazing and exciting. There is so much to see and do in Business Class, so it's perfect to sit here when you flying a long flight so you have time do everything you want 🙂 For example, I want to watch movies, drink both champagne and try their wine selection, eat 3 course dinner, sleep in the very comfortable seat, go for a discovery on both floors and talk to the cabin crew in the galley.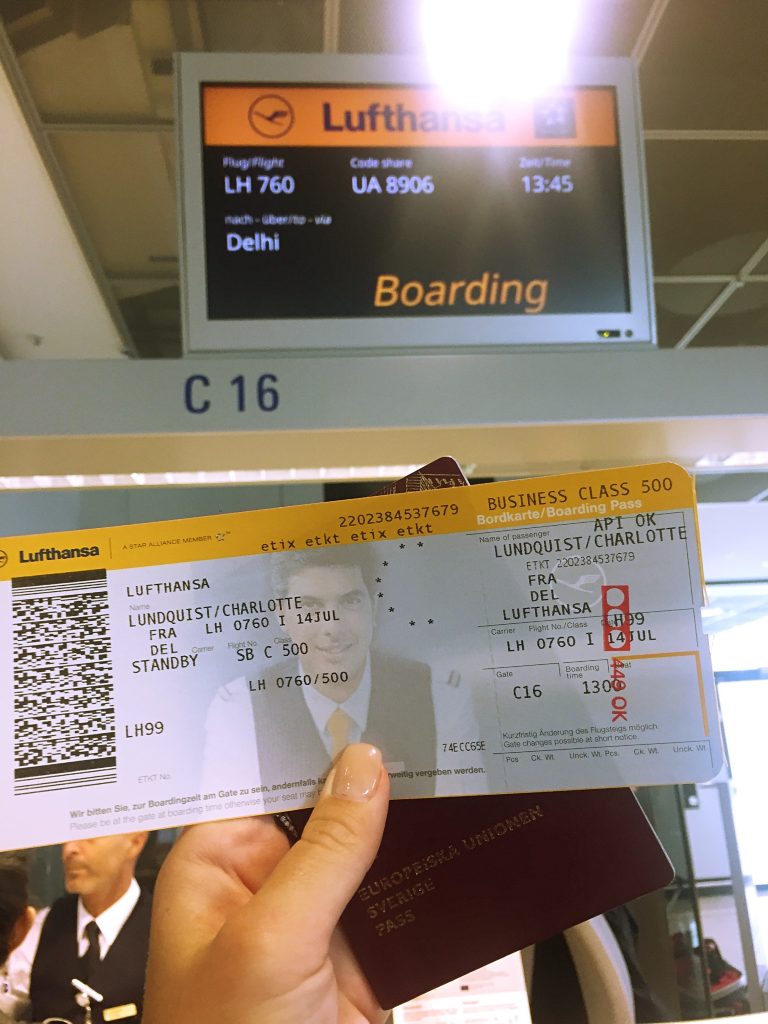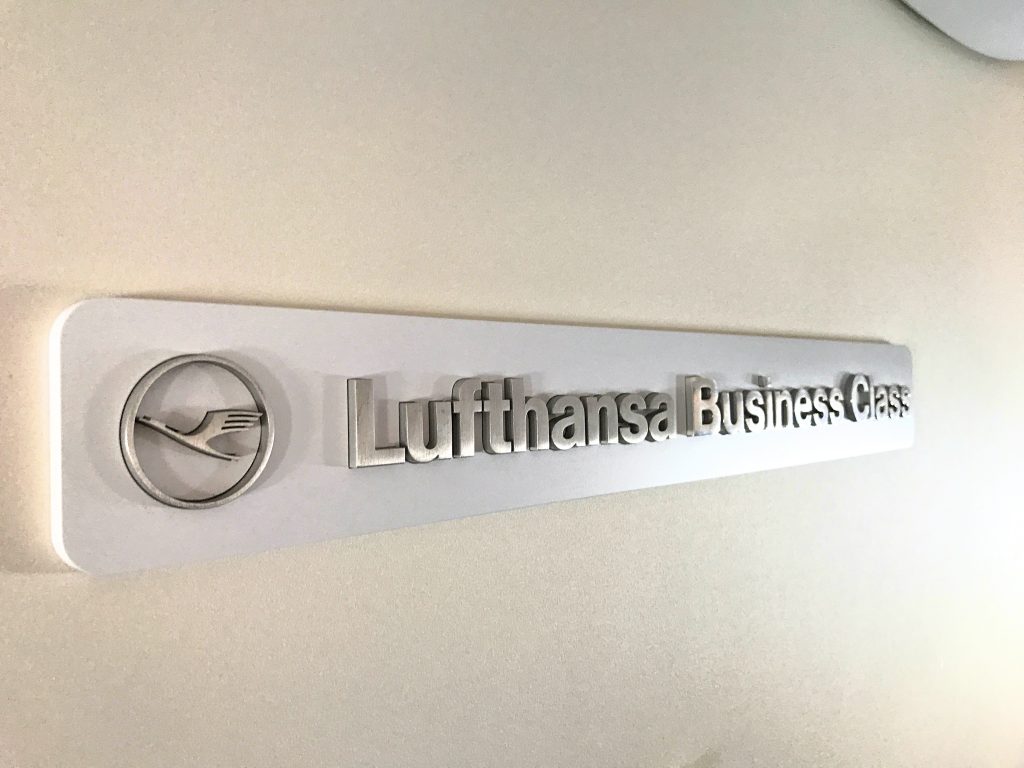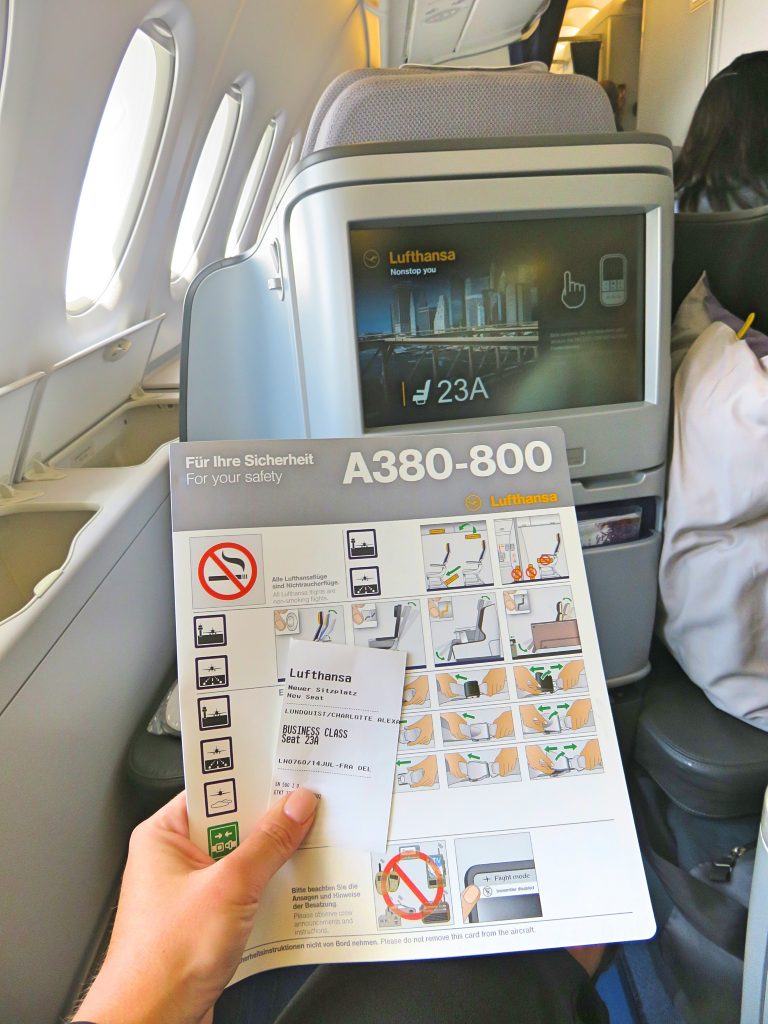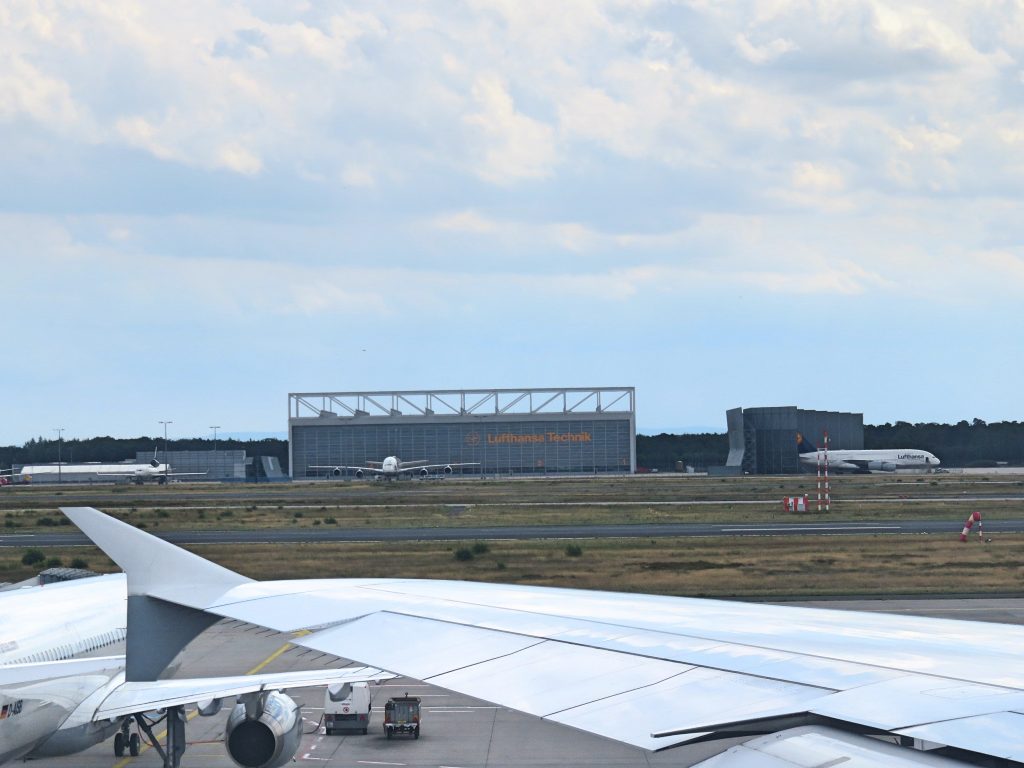 In Business Class, the seat are divided 2-2-2 with two aisles in the middle so it's good to sit as couples no matter what chair you get. I always prefer window seat when I travel due to that I love to watch other aircrafts at the airport and I want to take pictures when we taking off.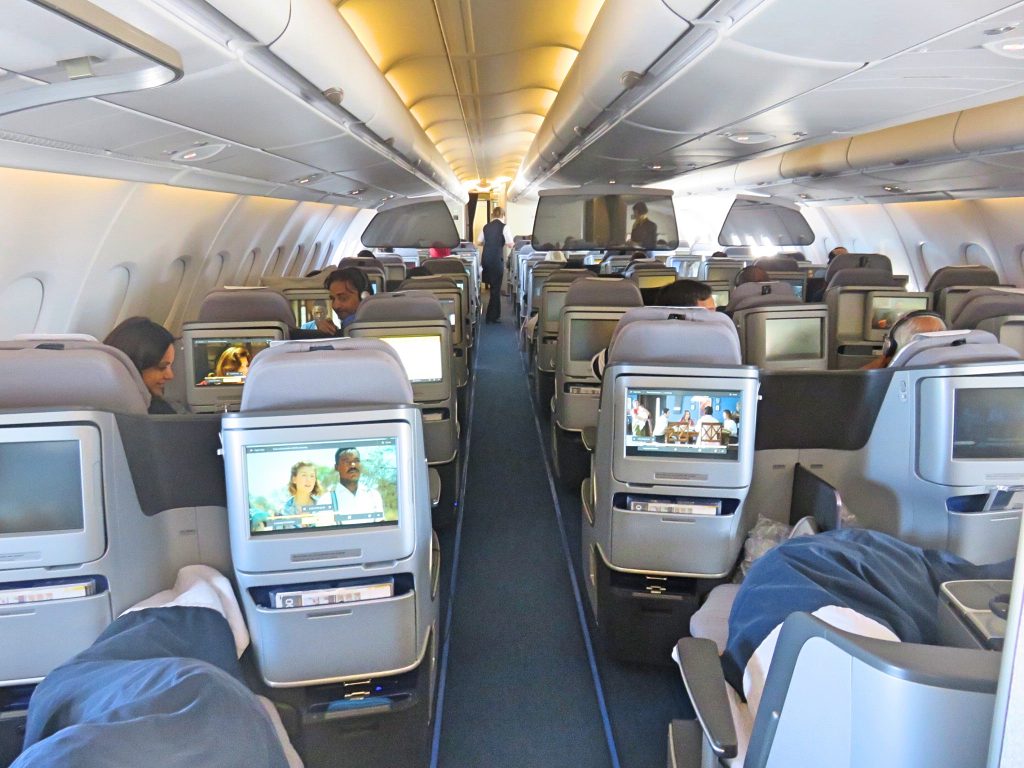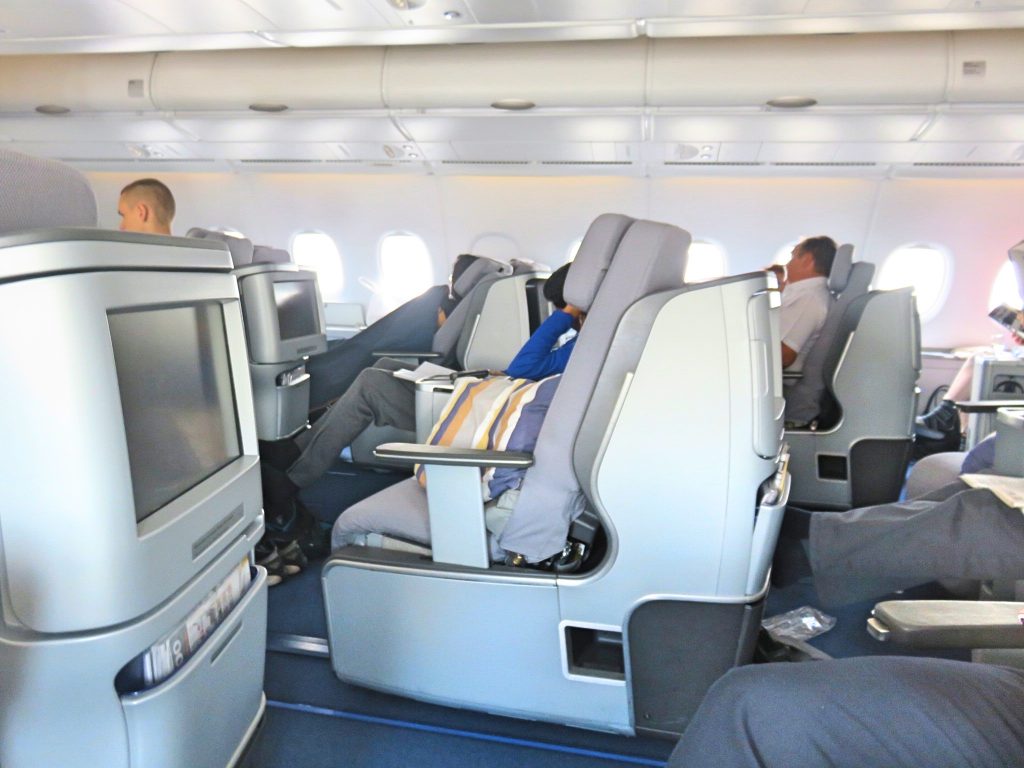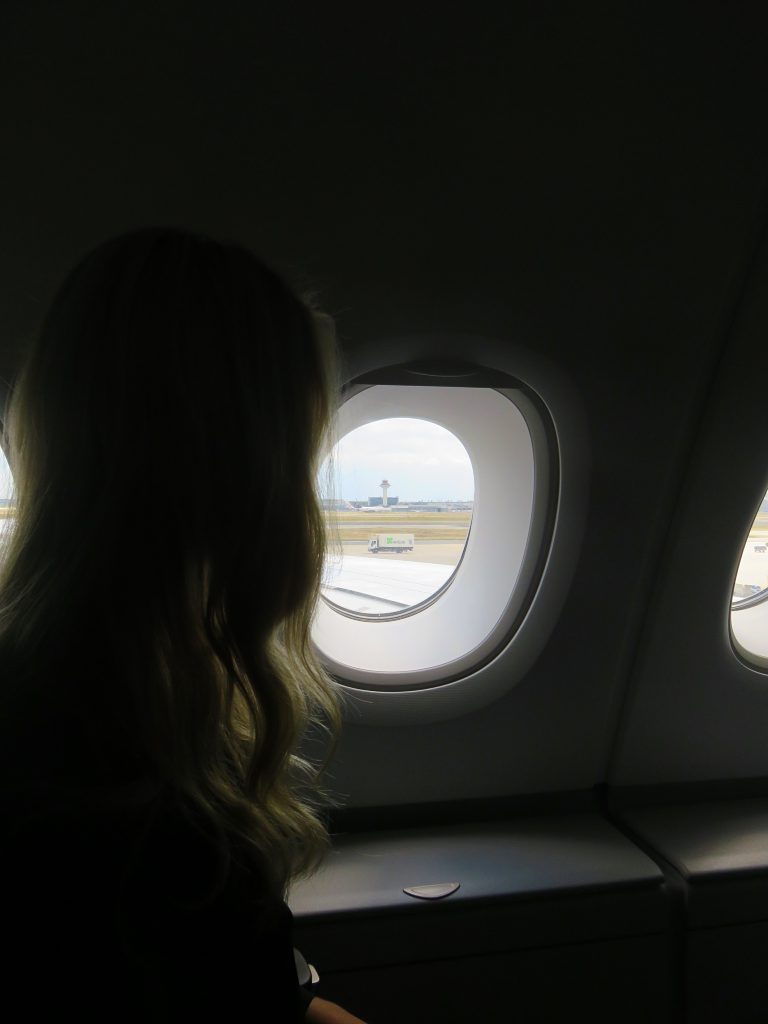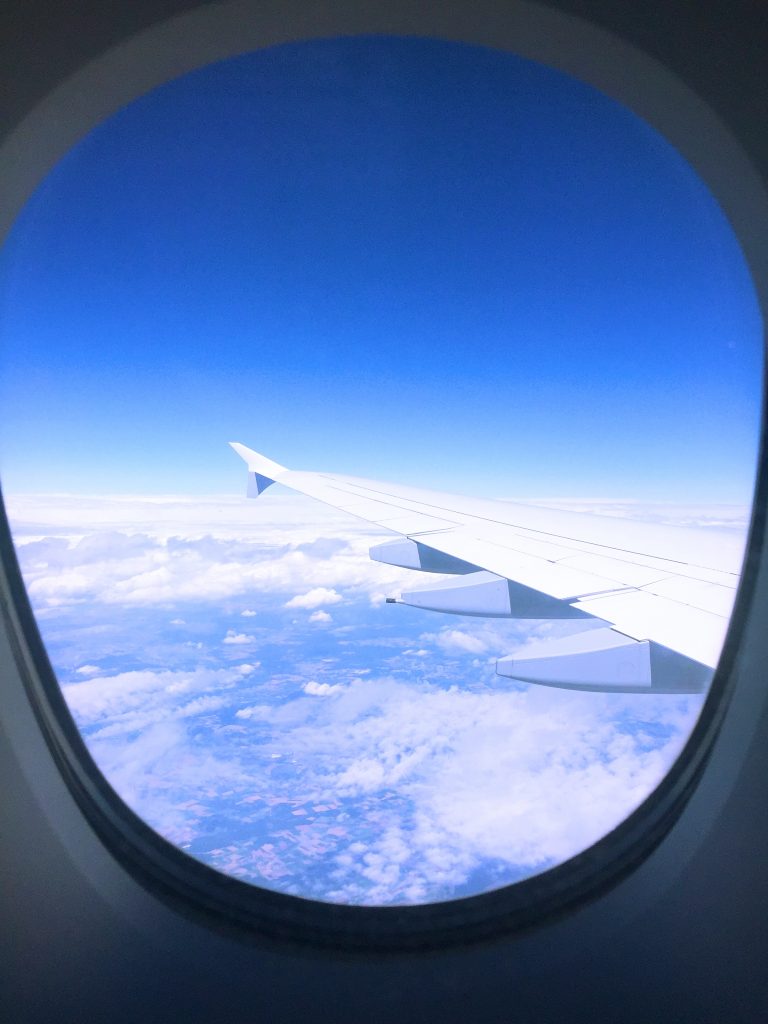 Lufthansa A380 in Business Class is by far very suitable for couples because all seats are made two and two. Even the design on the aircraft is very fresh and very nicely decorated. It feels very comfortable to sit here and it also suits well for solo travelers 🙂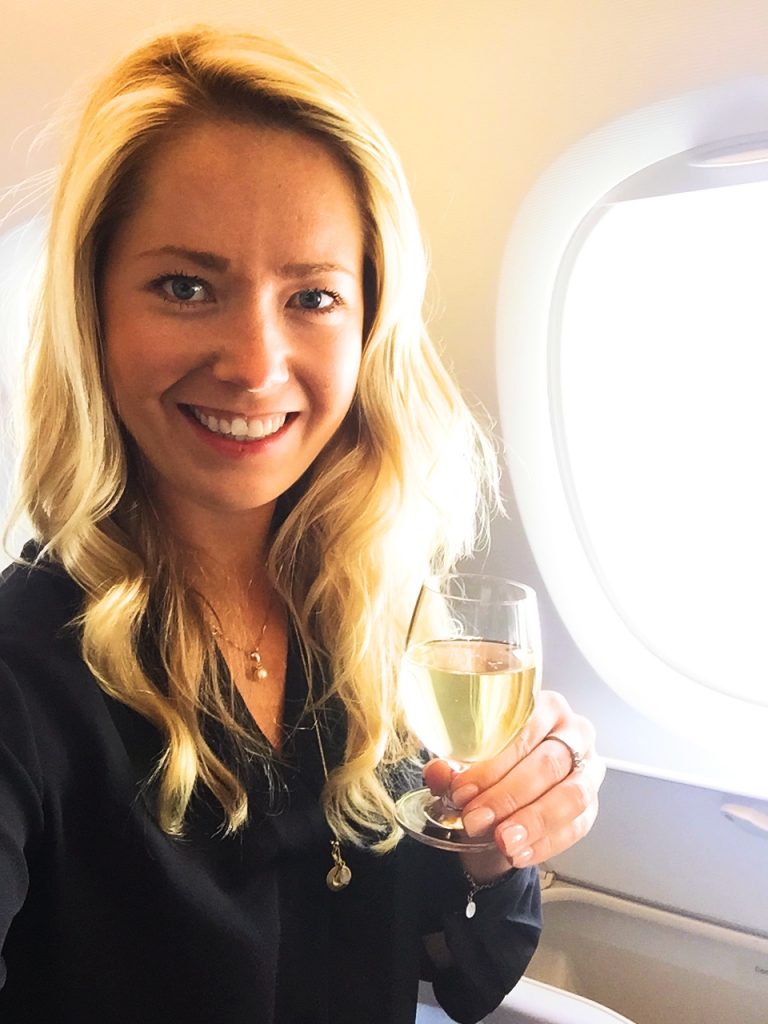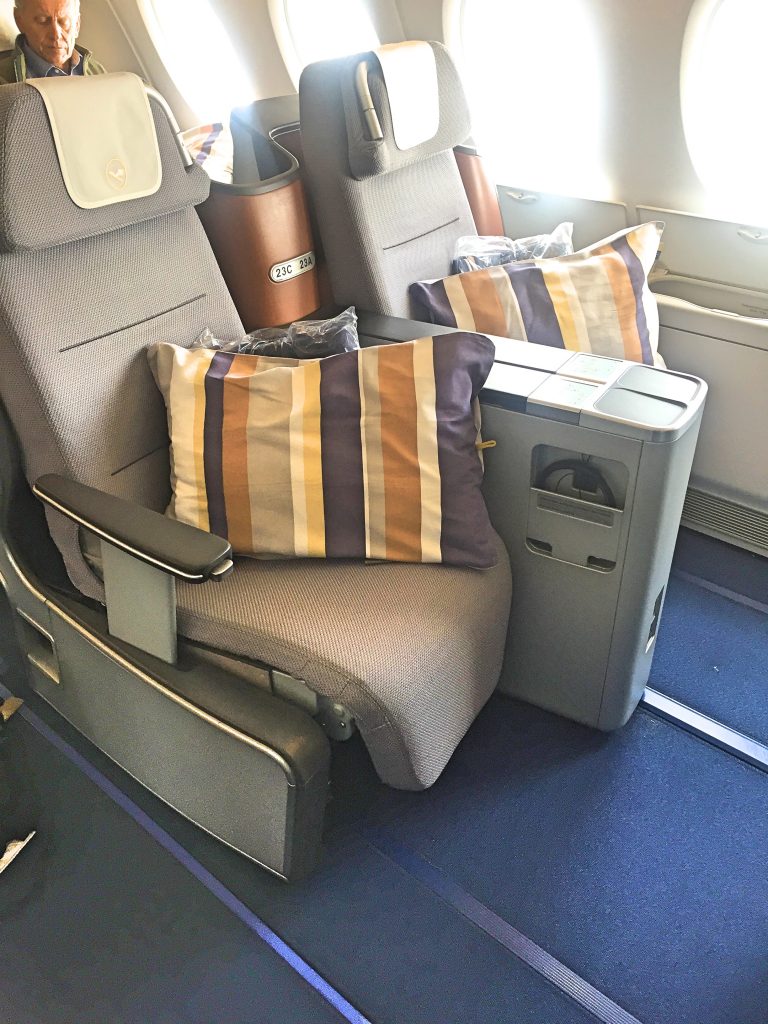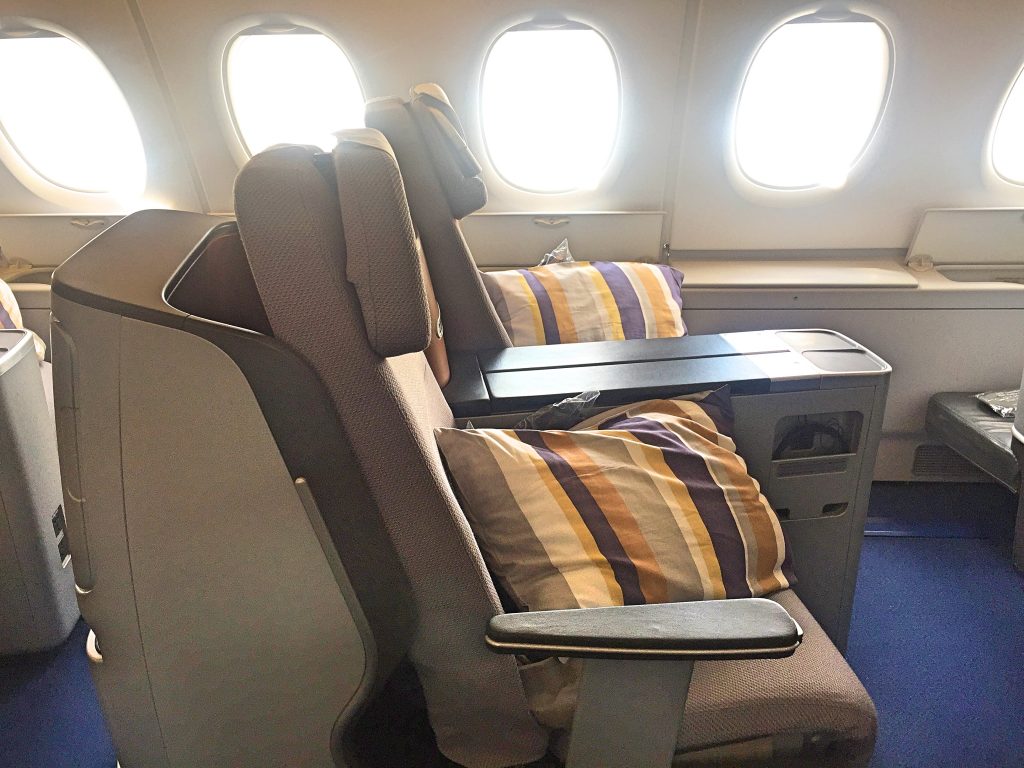 Free Goodies
When you sit in Lufthansa Business Class, you will also get this that is included:
An amenity kit containing a blindfold, socks, toothbrush and toothpaste, earplugs, hand cream, etc.
Razor and toothbrush in the toilets
Waterbottle
USB socket in the seat
Bose headphones
Slippers
An extra large screen that can also be angled and pushed to the sides
A really nice pillow and a thick lovely covered
If you have a window seat, there is also extra luggage space to keep your things in. Very practical!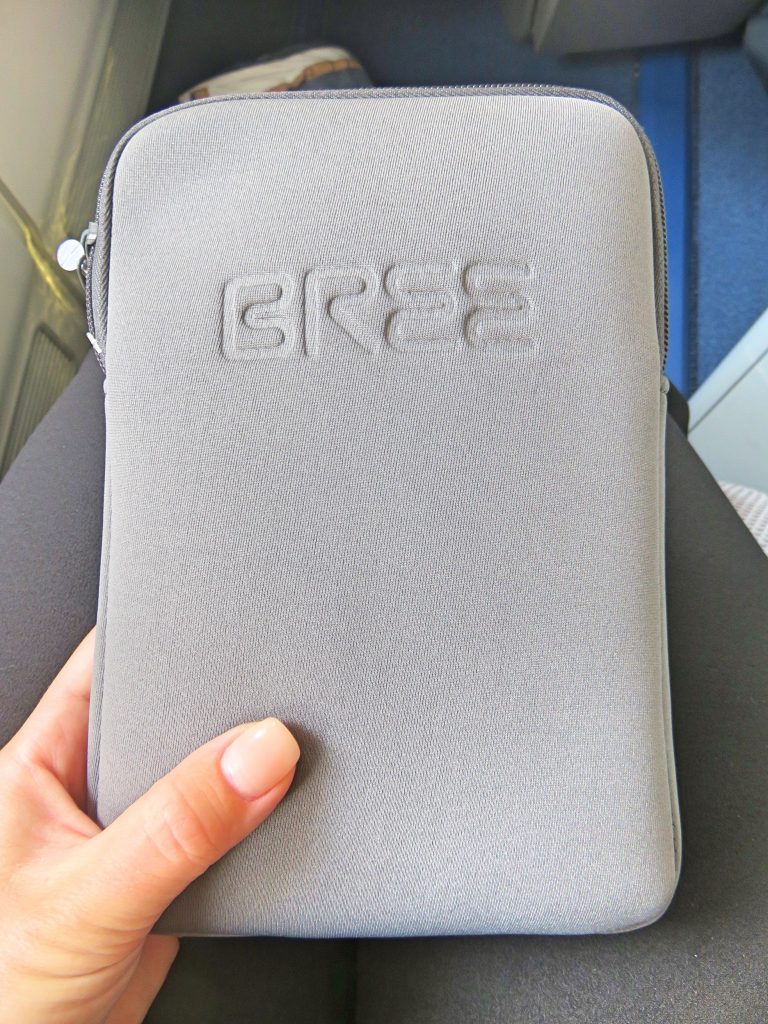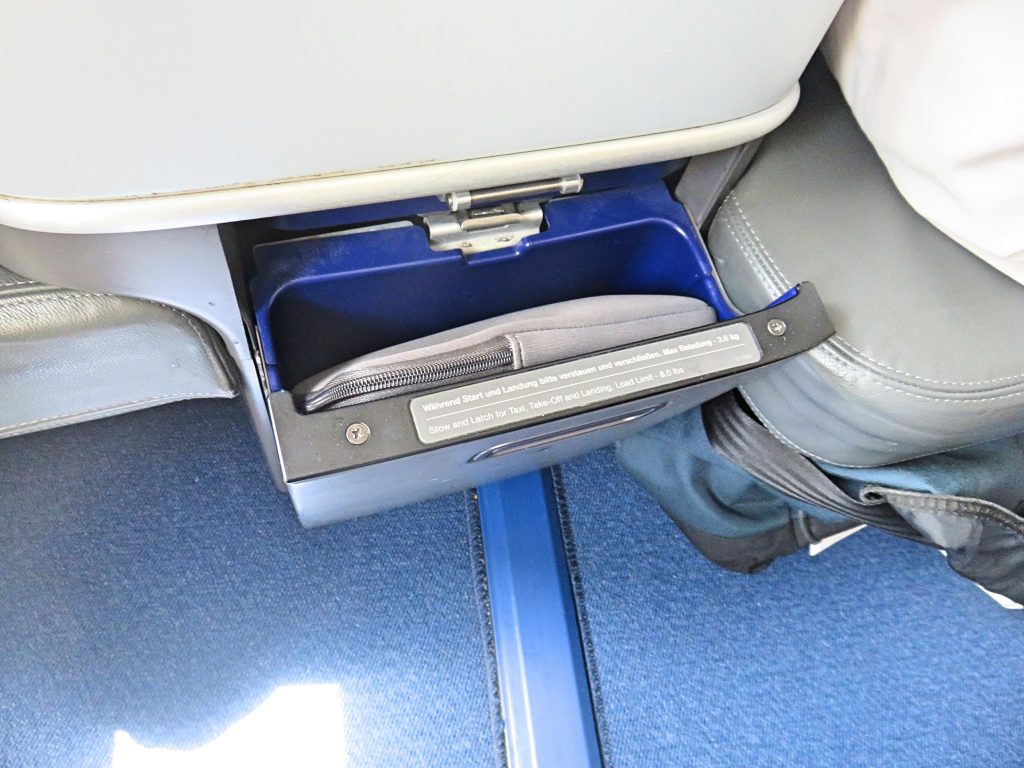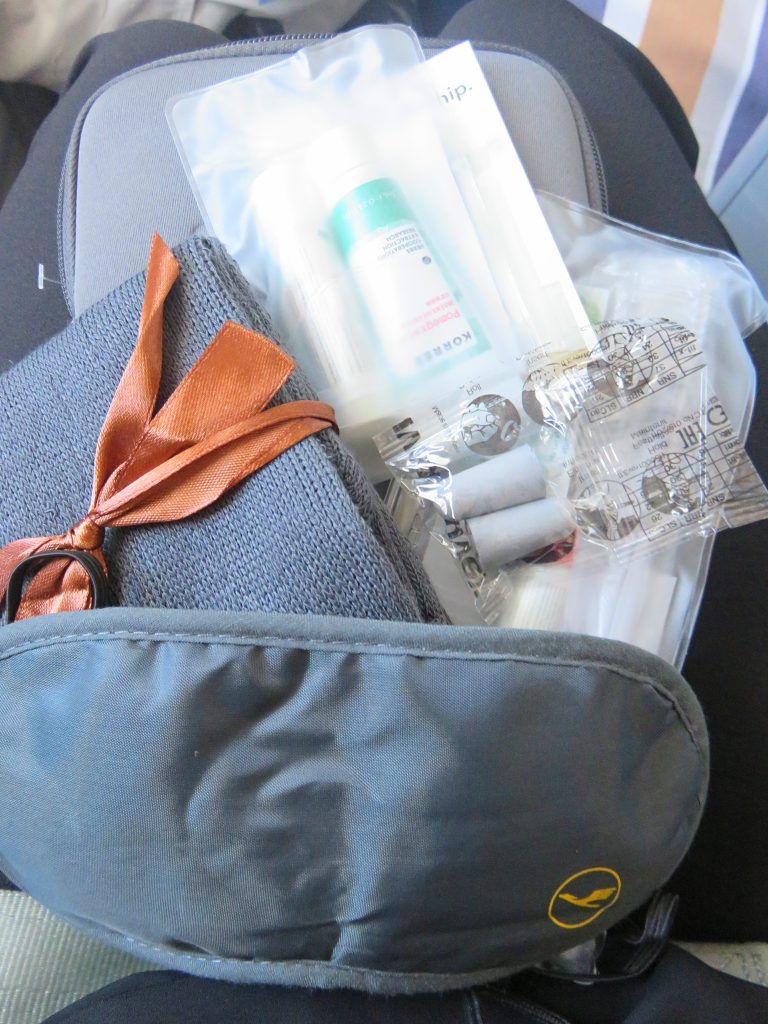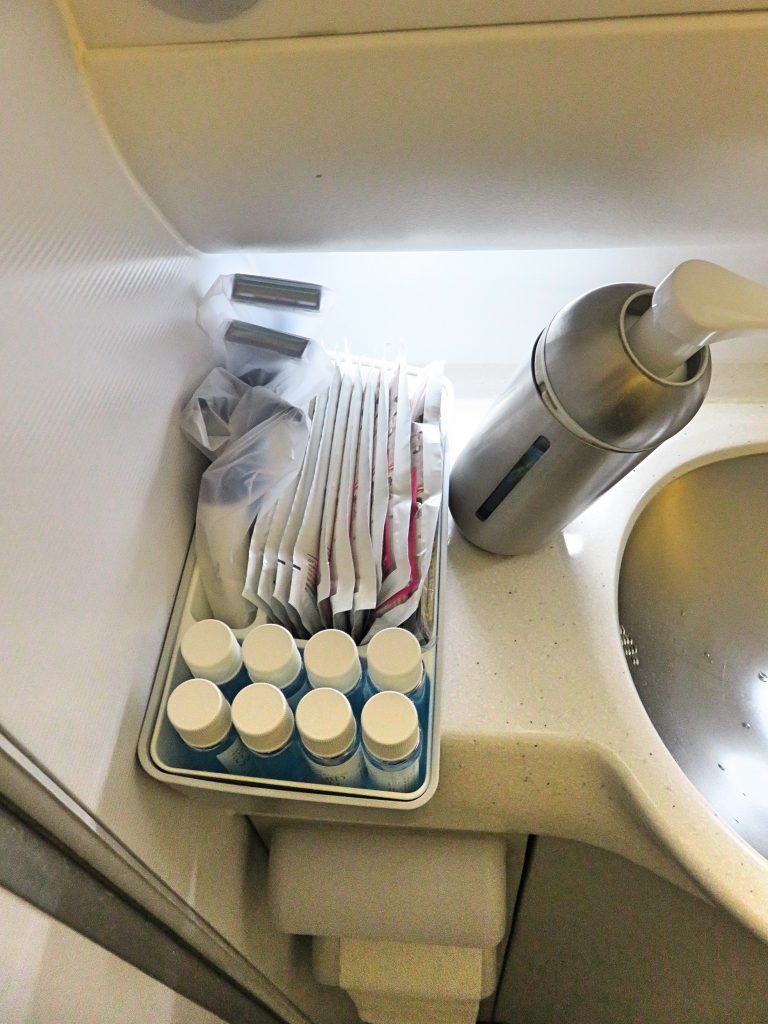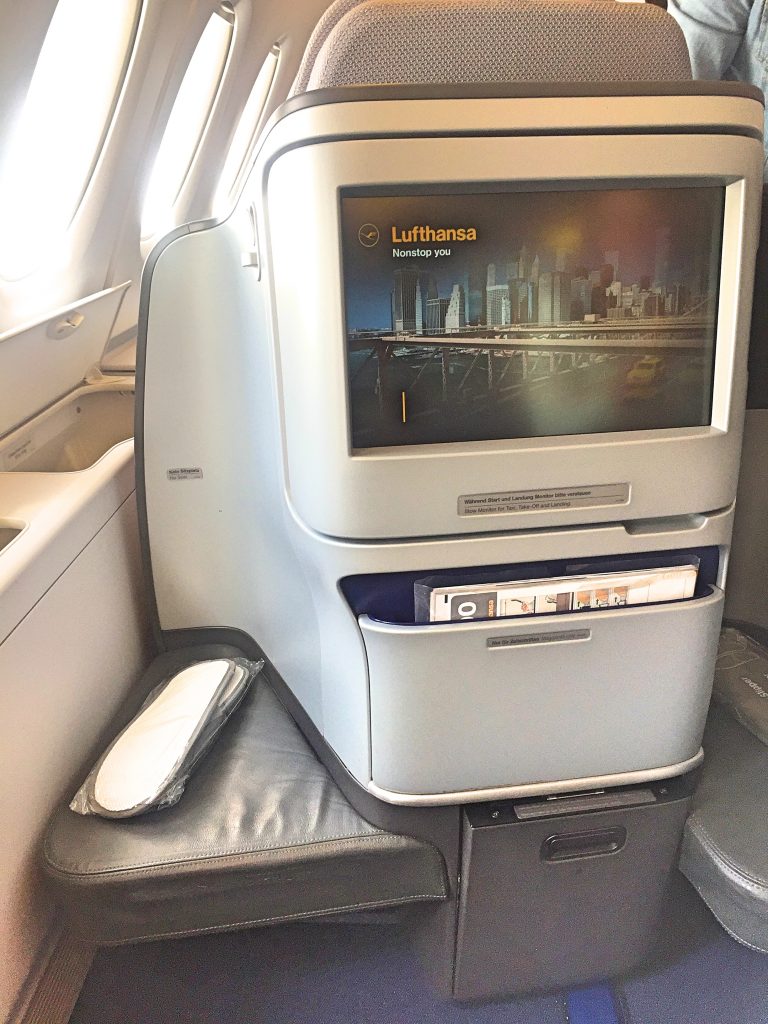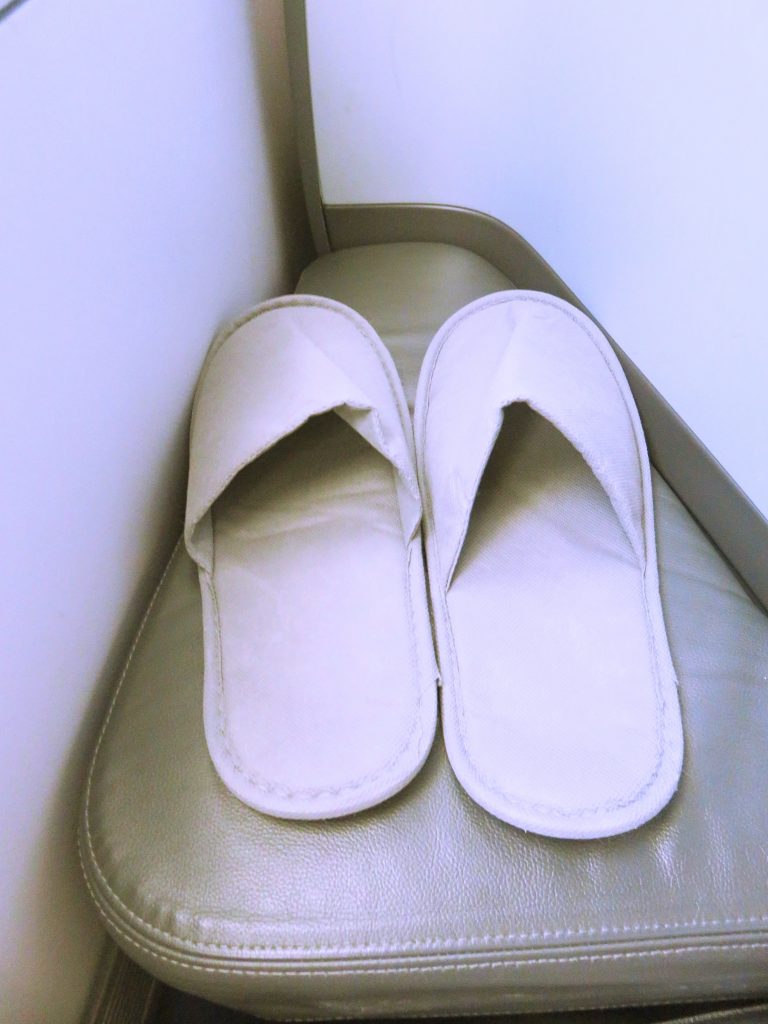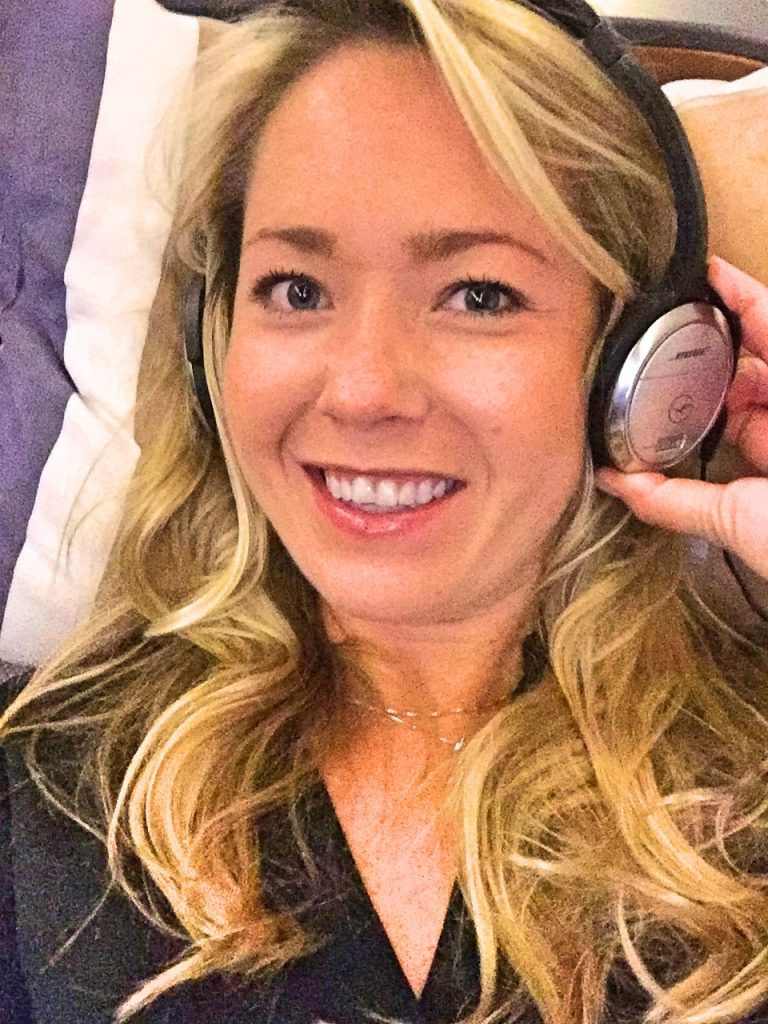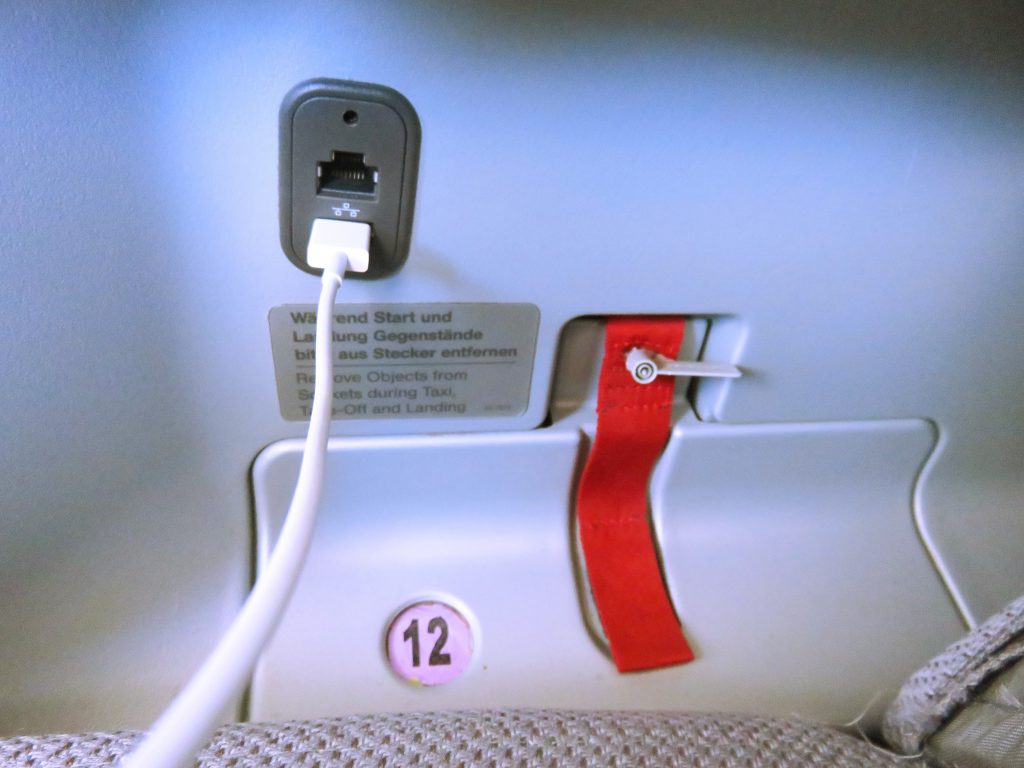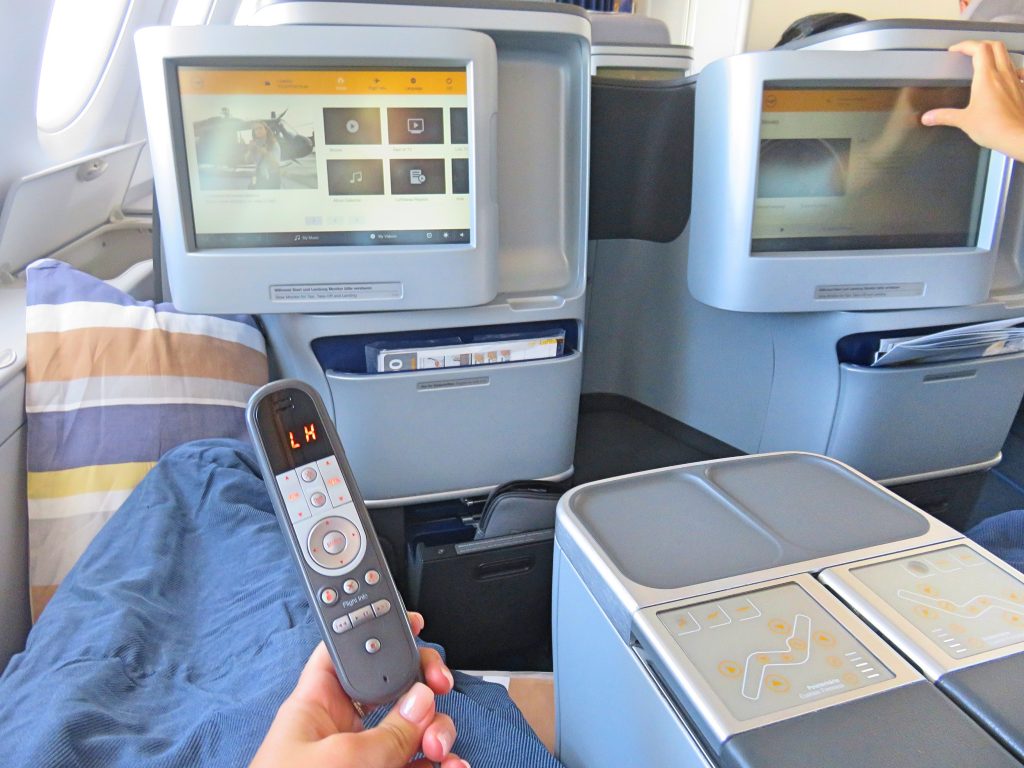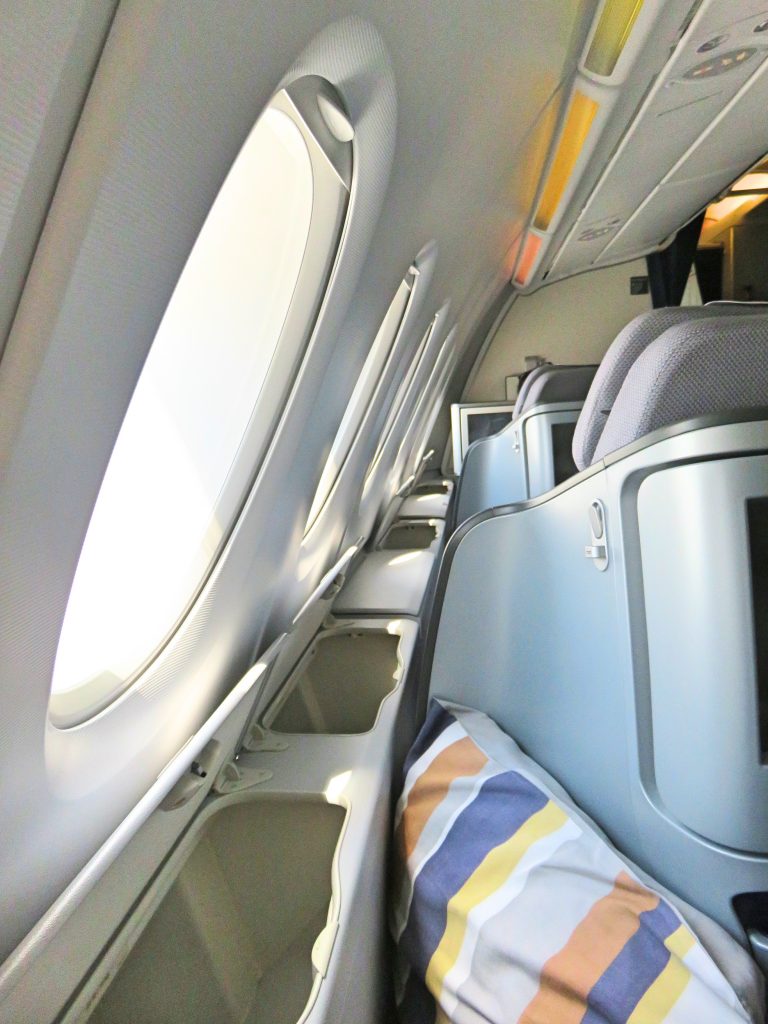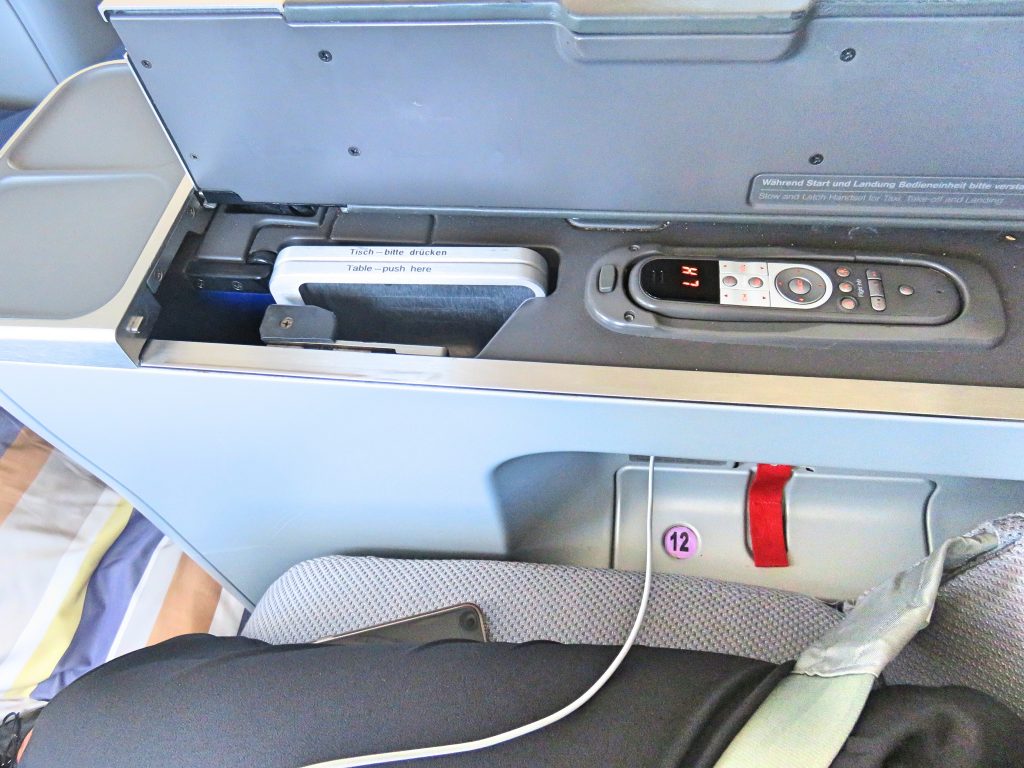 The entertainment offer onboard Lufthansa in Business Class is also very good! There are many TV shows and movies (in different languages) to choose from. Many movies are the latest ones in the cinema so I watched a movie I haven't seen.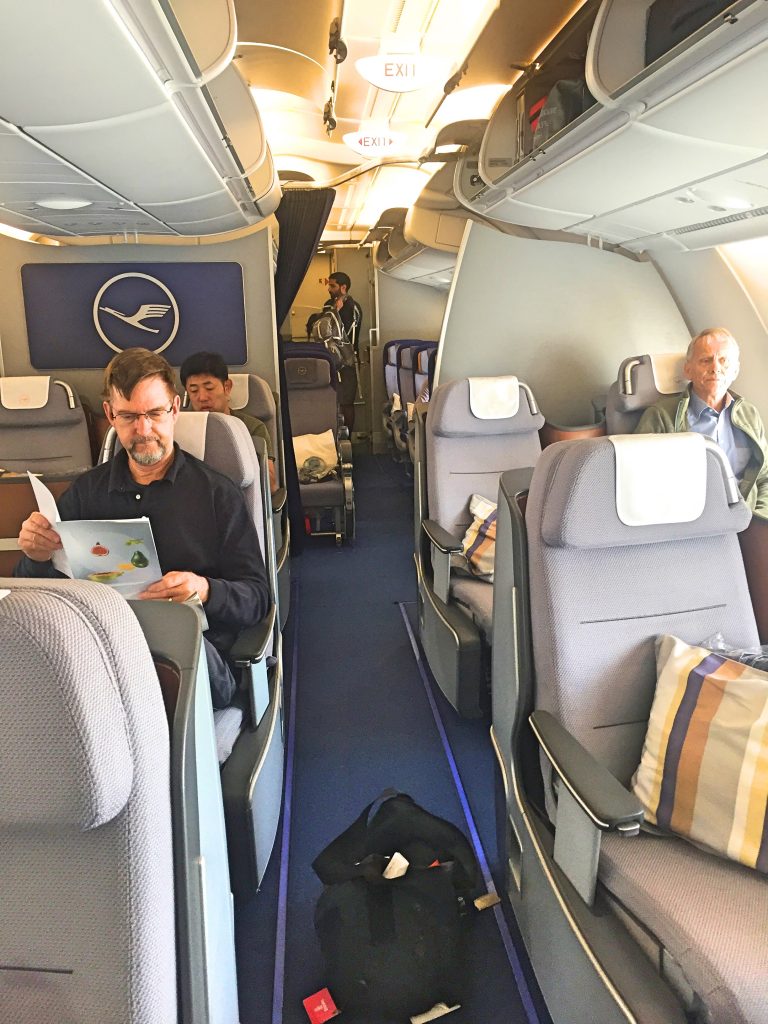 Both on ground during boarding and after take off we got champagne served 😀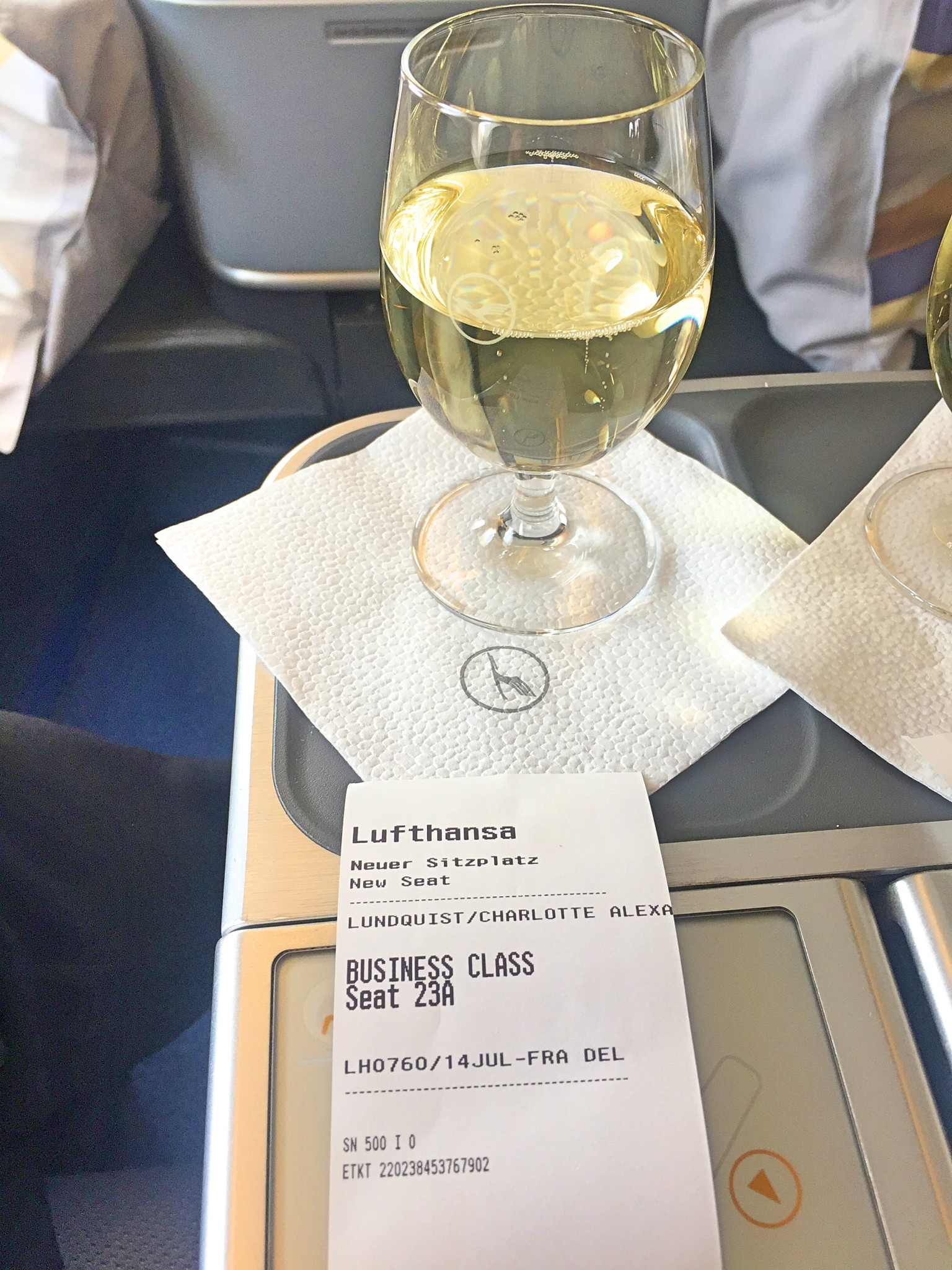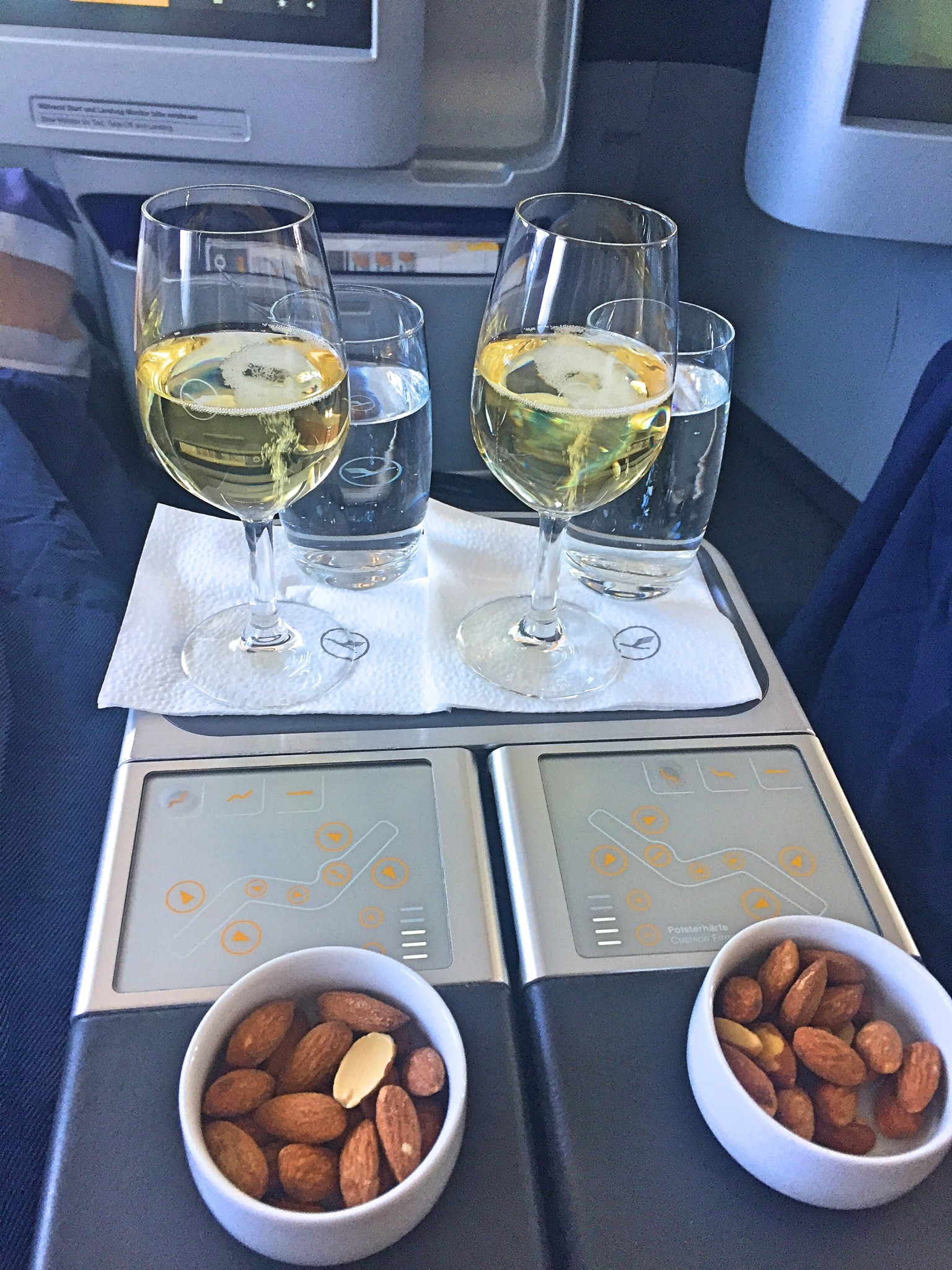 Personally, I think the meals onboard Lufthansa Business Class were really good. I'm not particularly fond of aircraft food and have never been, but I wanted to try the food in Business Class this flight and it will really get a good rating from me! 🙂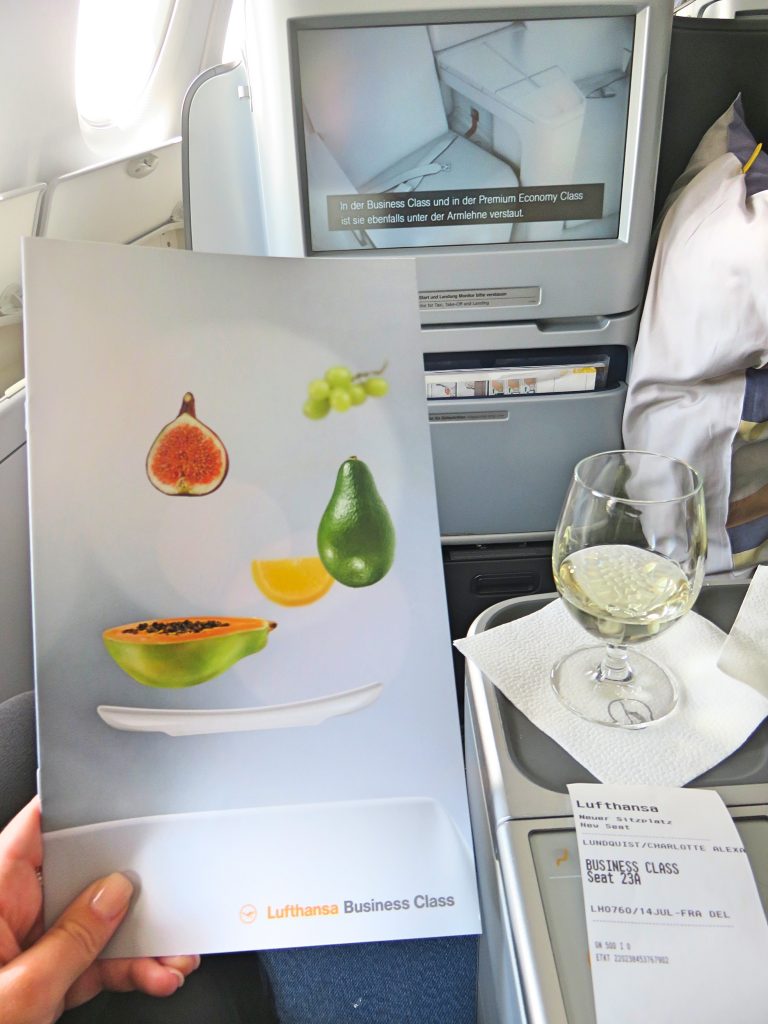 You can choose for both alcoholic and non-alcoholic drinks and the offer is very large on both. You will not be thirsty or either hungry when you get off the flight, I can promise you that! 🙂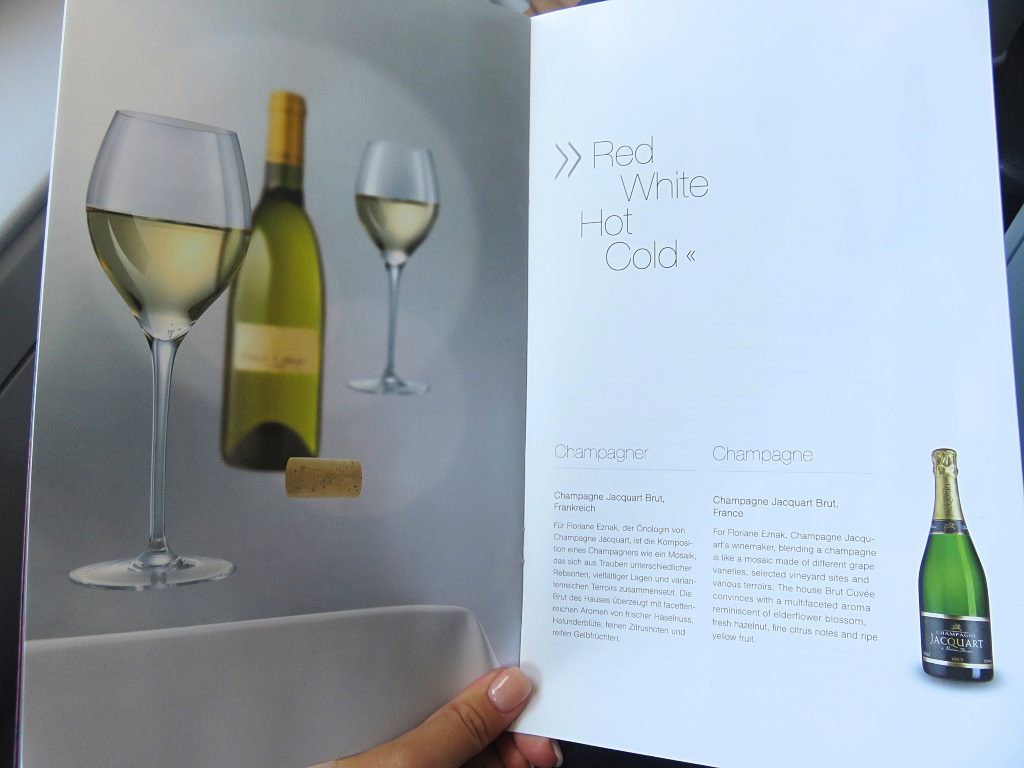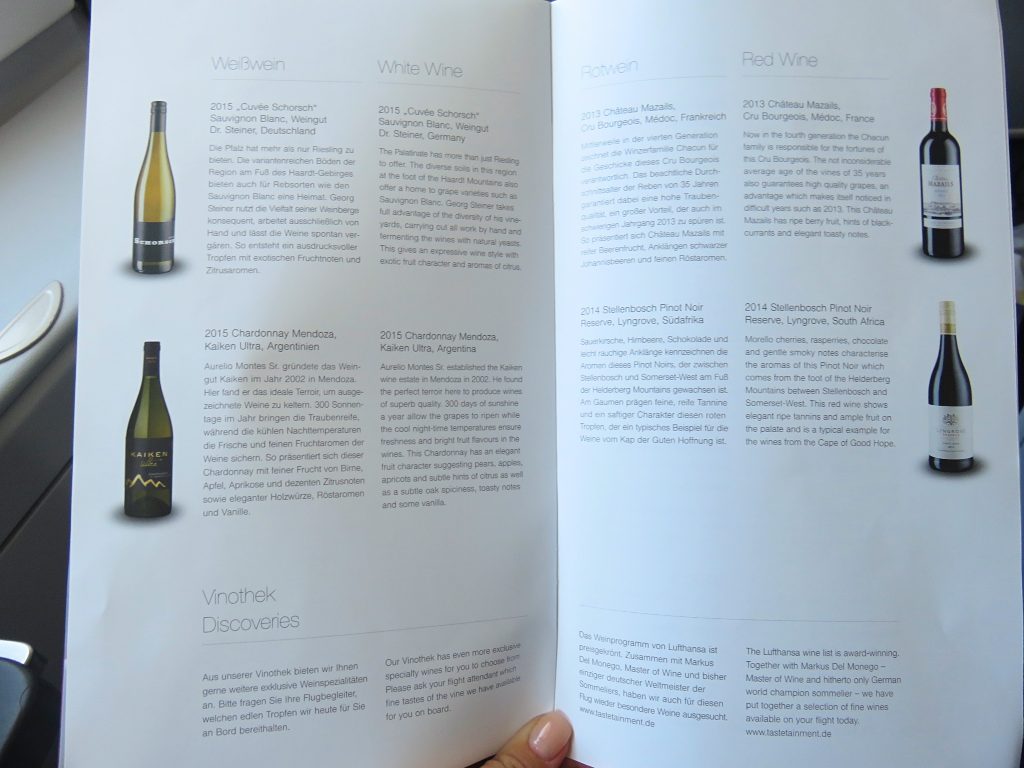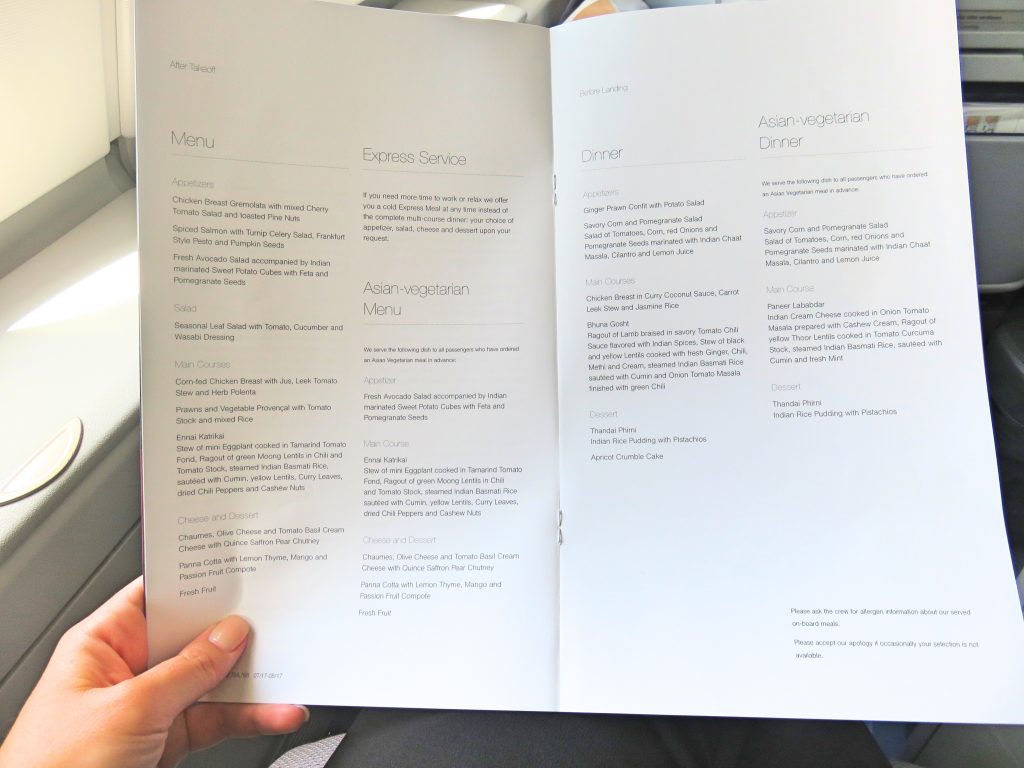 Food (Meal No. 1)
As first meal service we got a 3 course lunch. For a starter I took the avocado salad with sweet potato that was super good!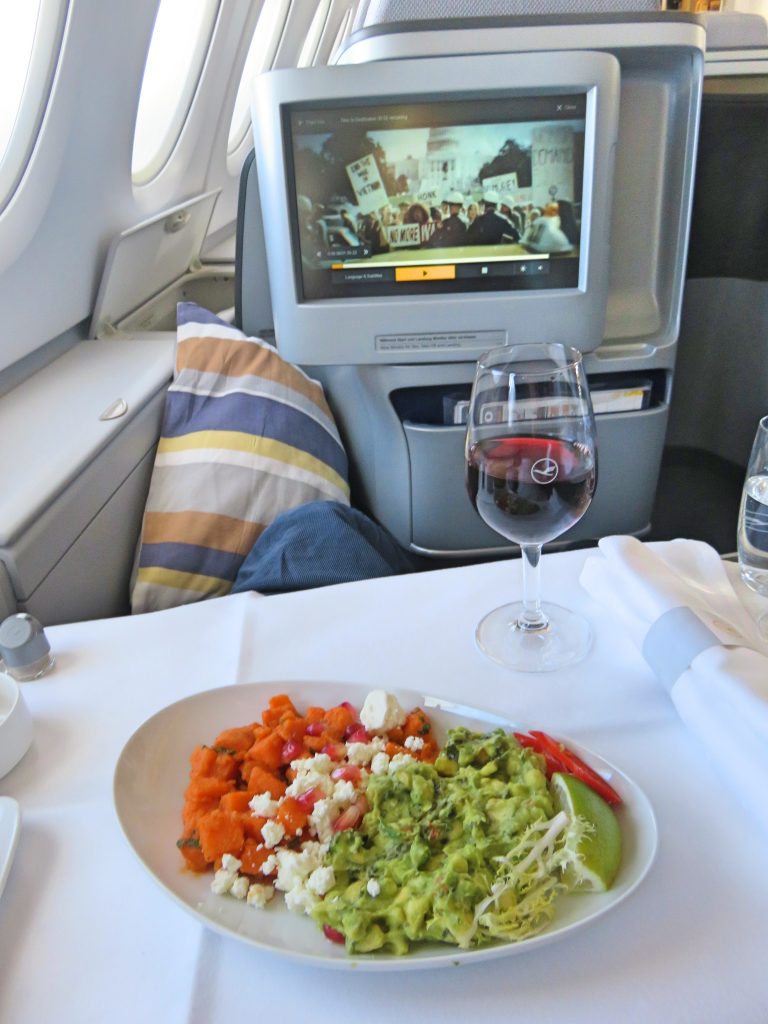 After that, I had scampi with jasmine rice as the main course. Also very good!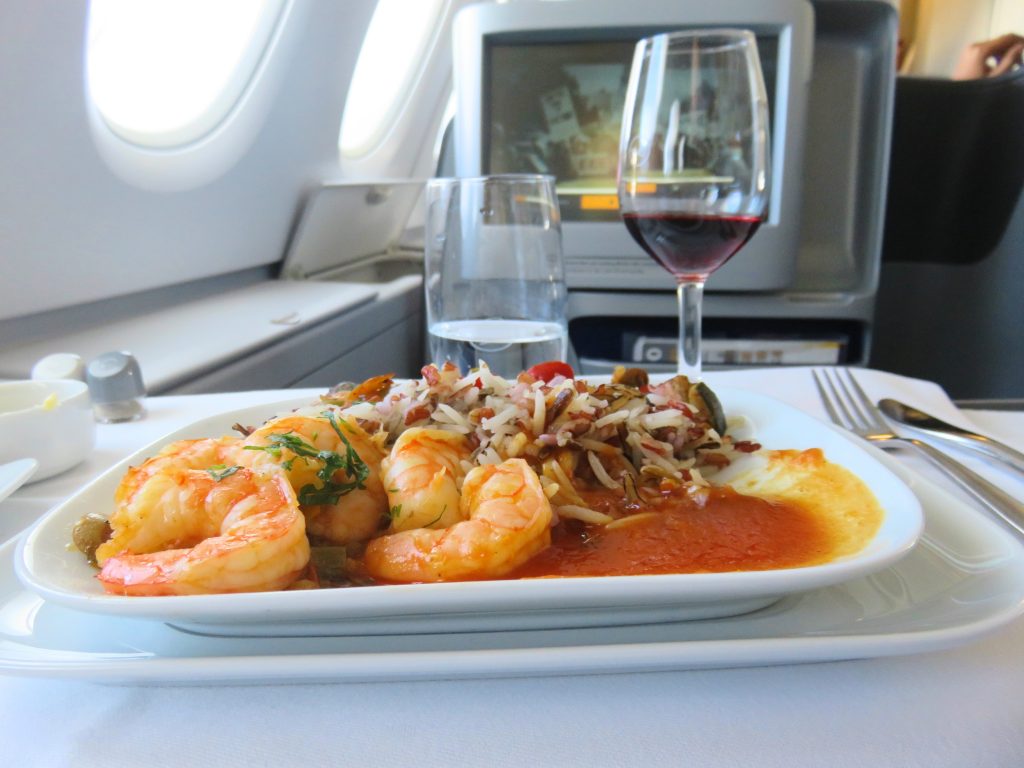 And for dessert I had pannacotta but it was unfortunately no hit for me. That's why I took a coffee and Bailey's while I watched a movie. Perfect combo! 🙂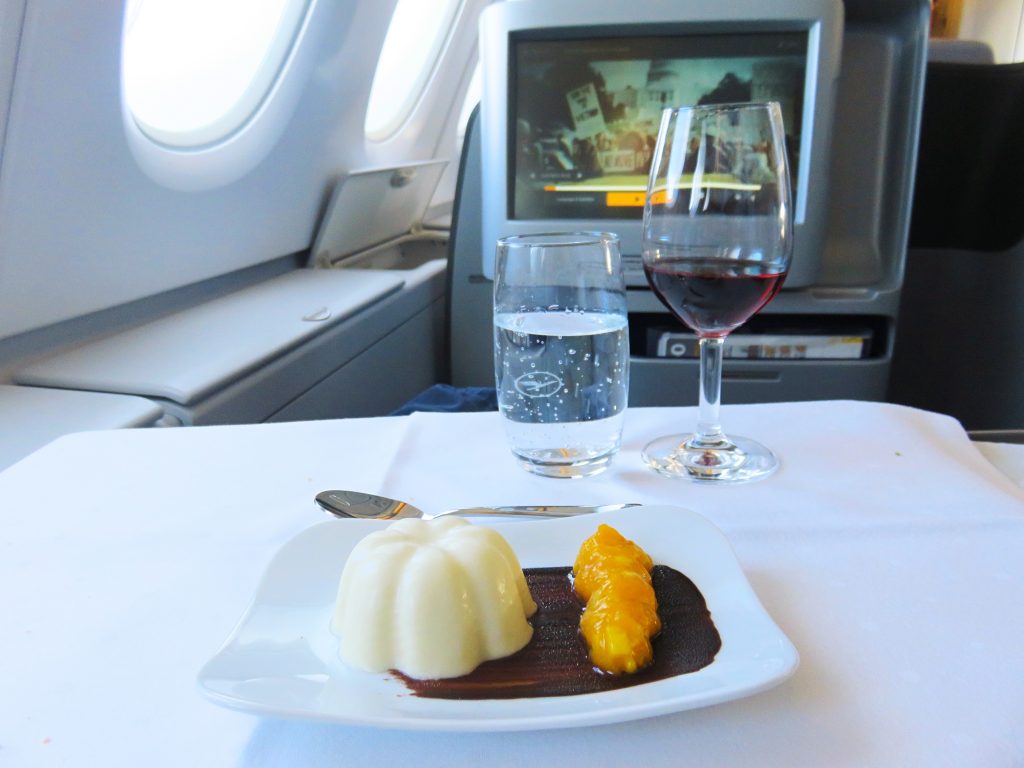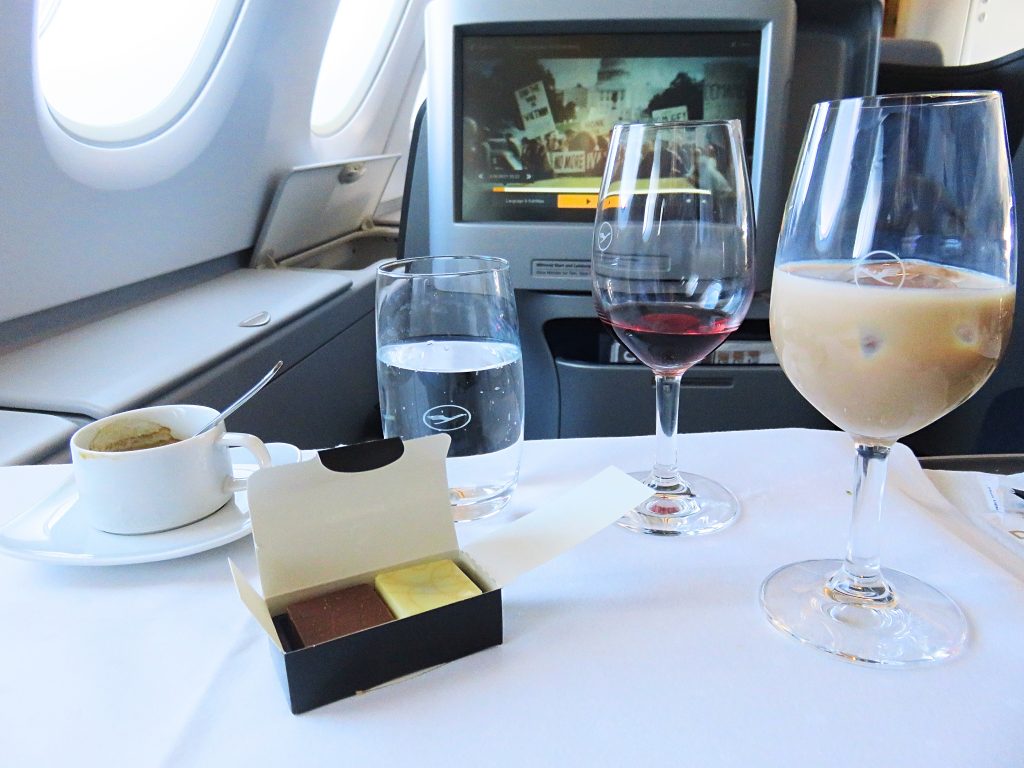 Food (Meal No. 2)
Just before landing to Delhi we had a lighter dinner in form of chicken and rice.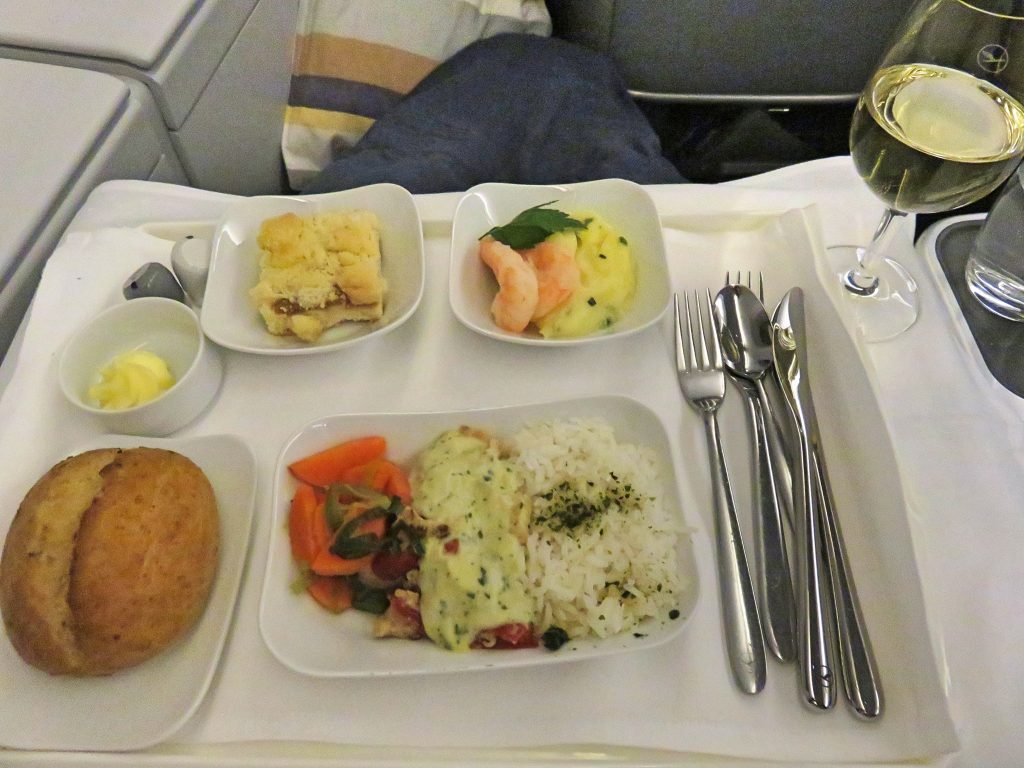 In addition, Lufthansa Business Class has incredibly comfortable nice seats. You press a button on the armrest, so the seat folds down to sleep mode and you really feel like you were in your own bed. Really nice! However, I really tried to sleep because I know I had a long day ahead of me, but I was honestly speaking too excited and didn´t get any sleep at all unfortunately. This was really like christmas for me 😀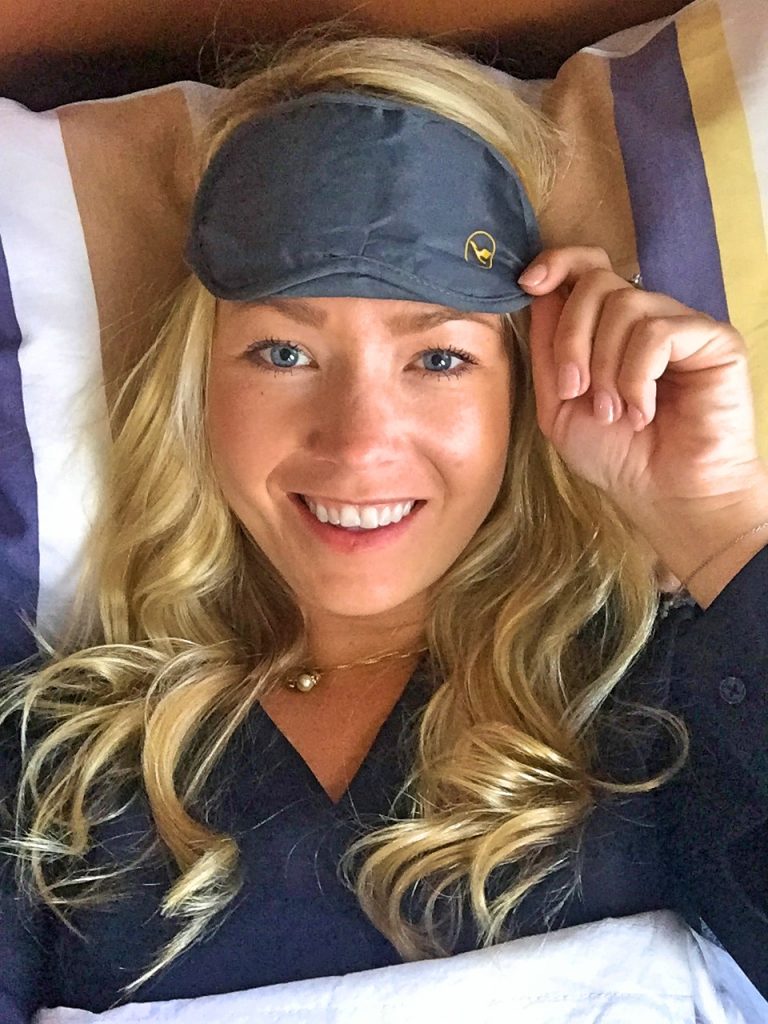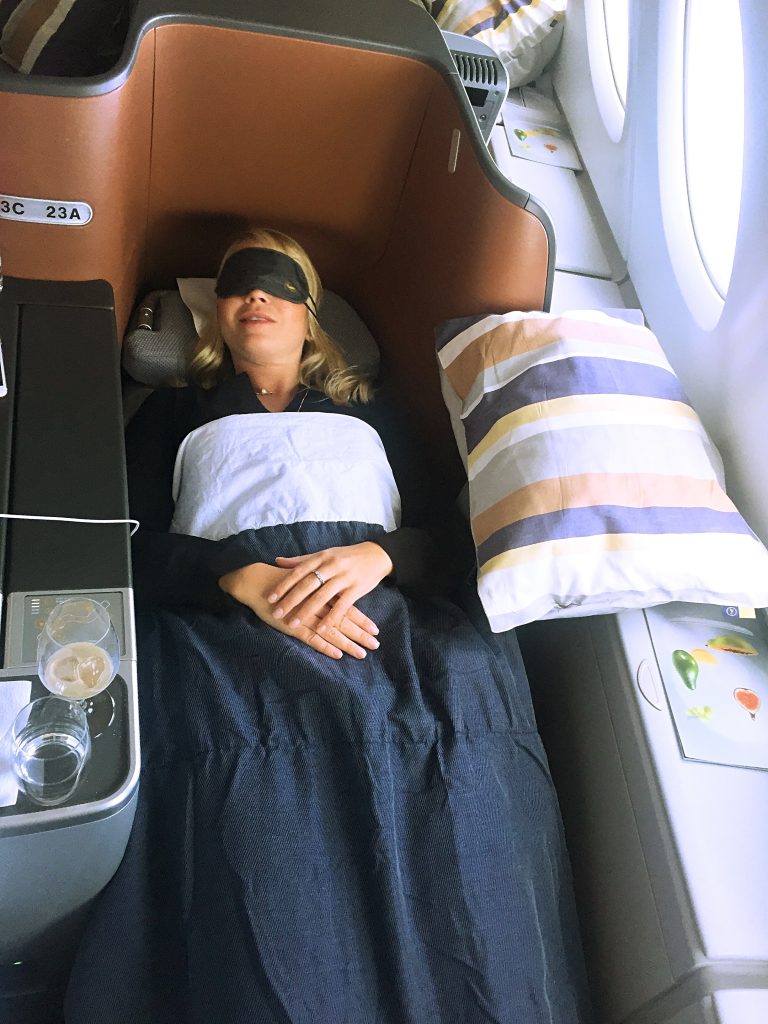 Throughout the trip we had an incredibly nice and good purser who served us. She also made sure that we had to come and sit in the First Class for a while. I thought I was in heaven 🙂 So incredibly beautiful and stylish in first class. It's really on my Bucketlist to sit here one day and I will, I'll work hard to experience this!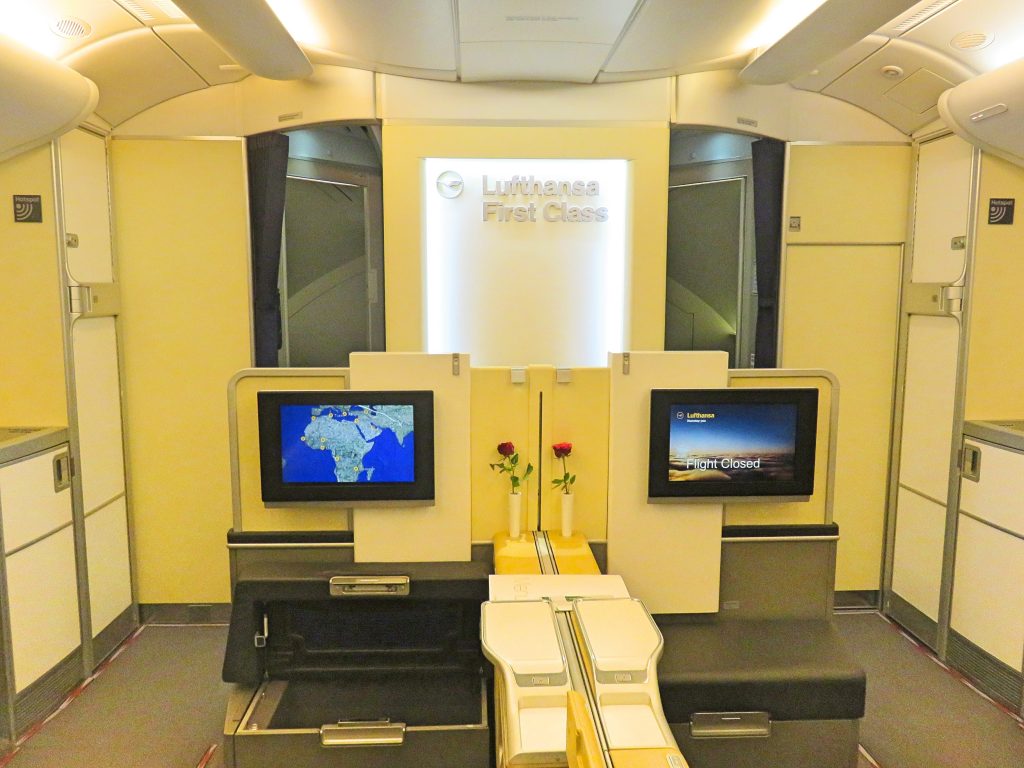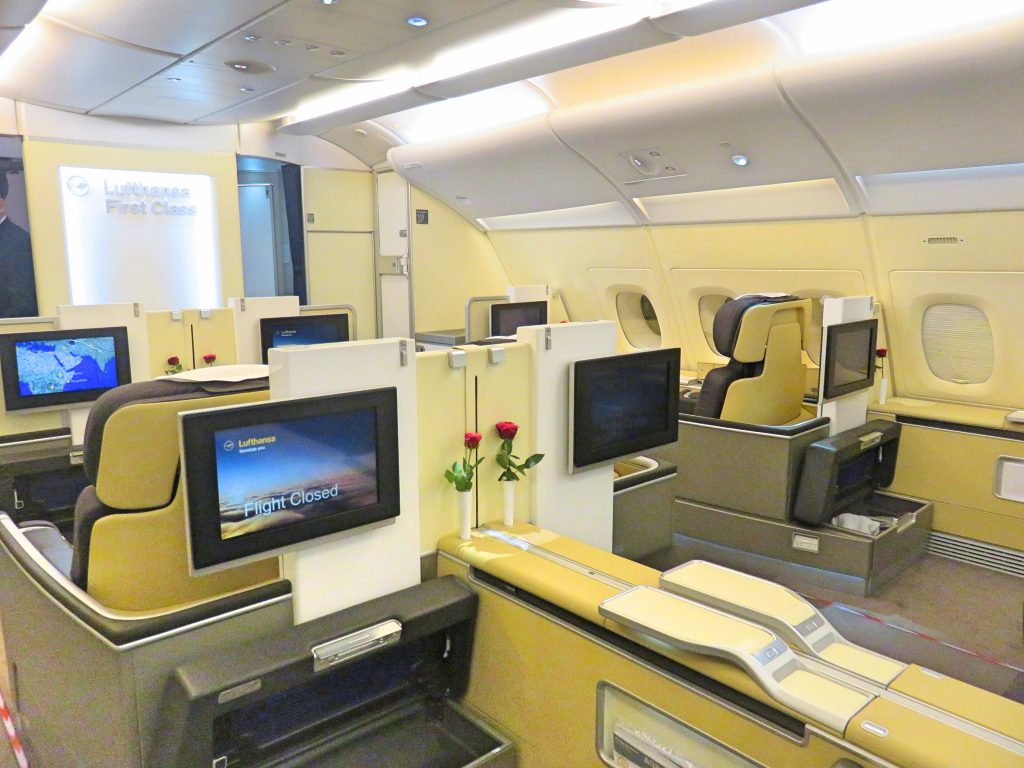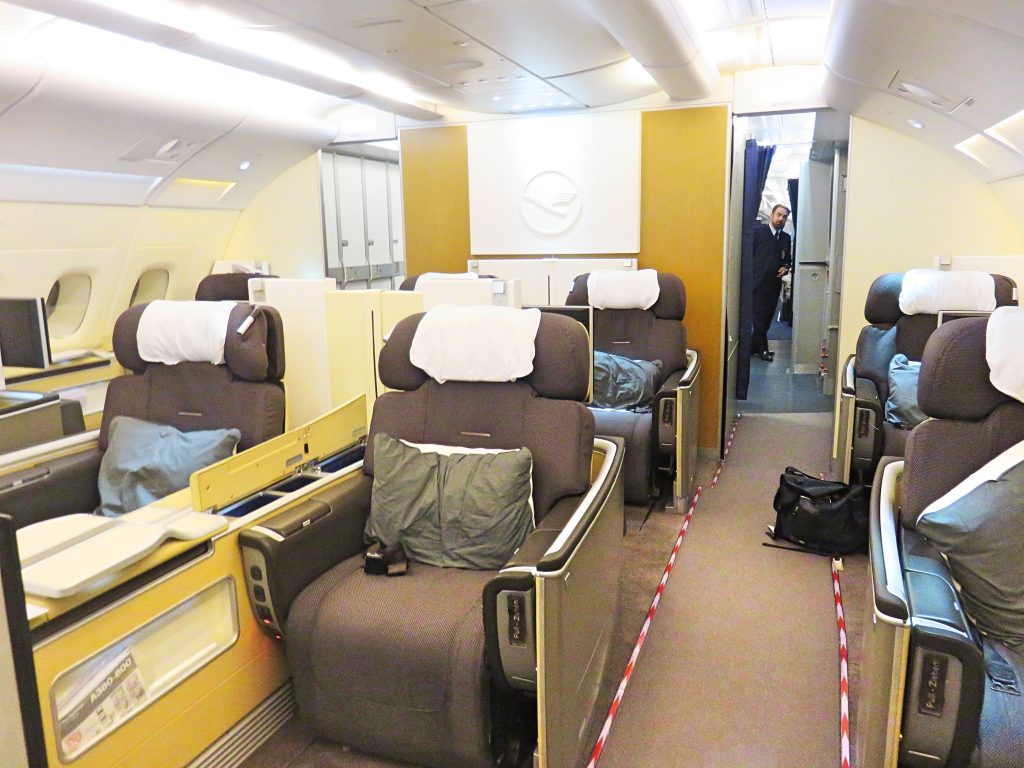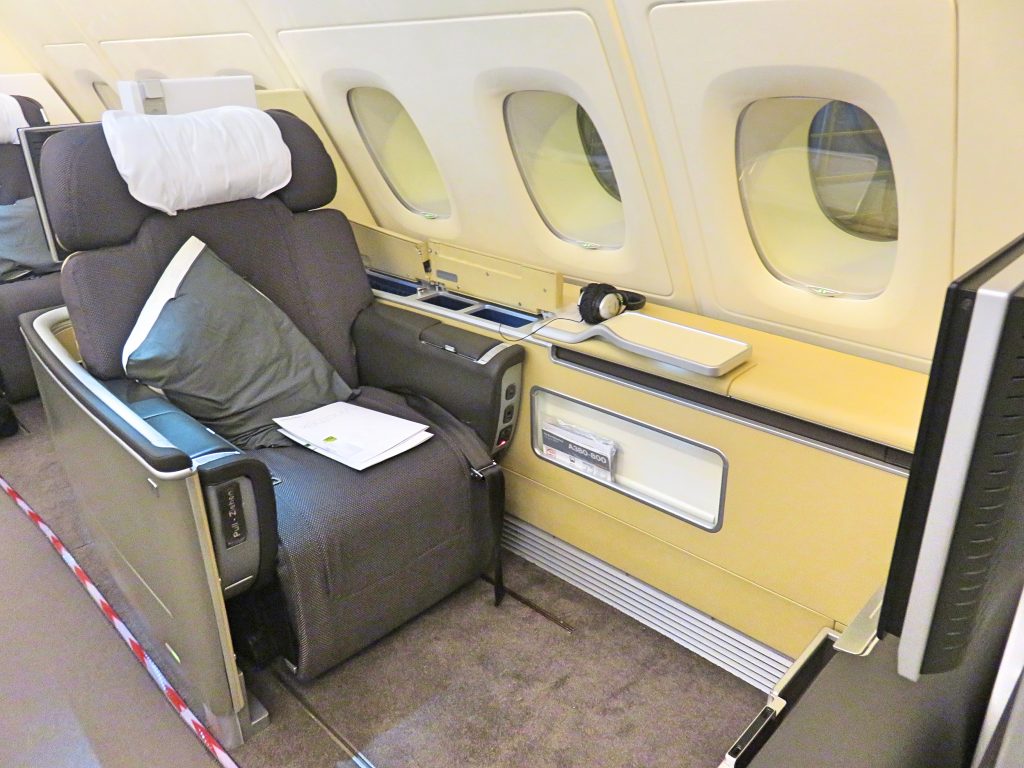 I have flown with Lufthansa many times, both in economy class and business class. Therefore, I can really recommend to fly with Lufthansa as an airline to 100% and I always feel that they are reliable, which makes me safe. So far, I've never experienced anything as good as I did during this flight!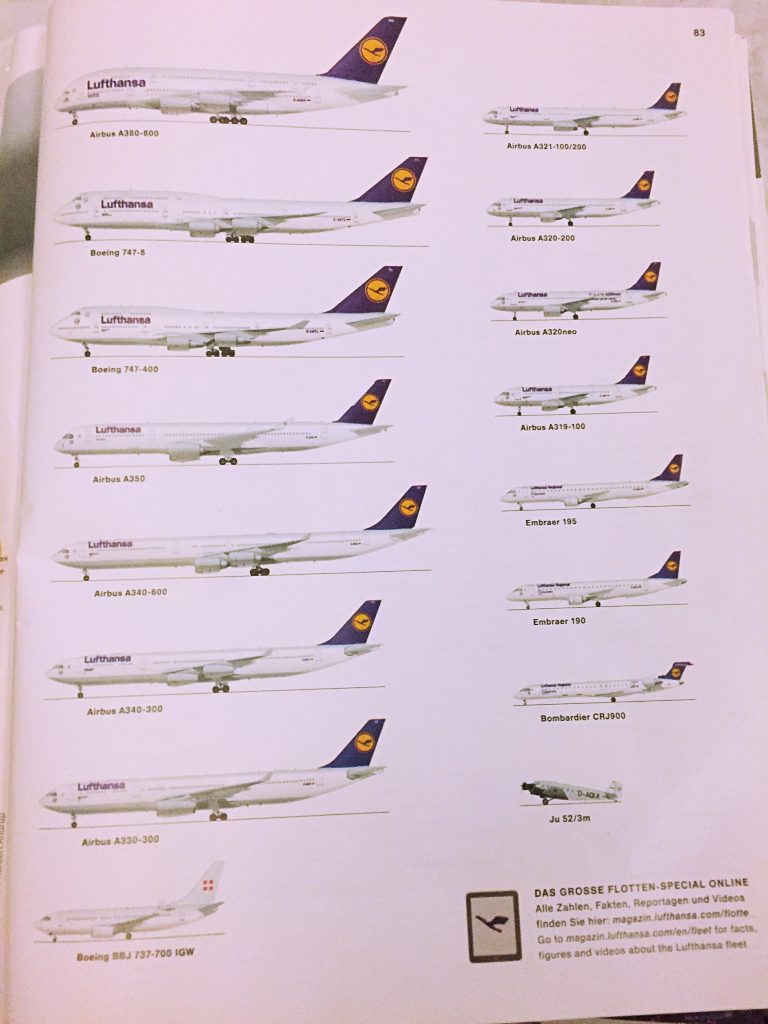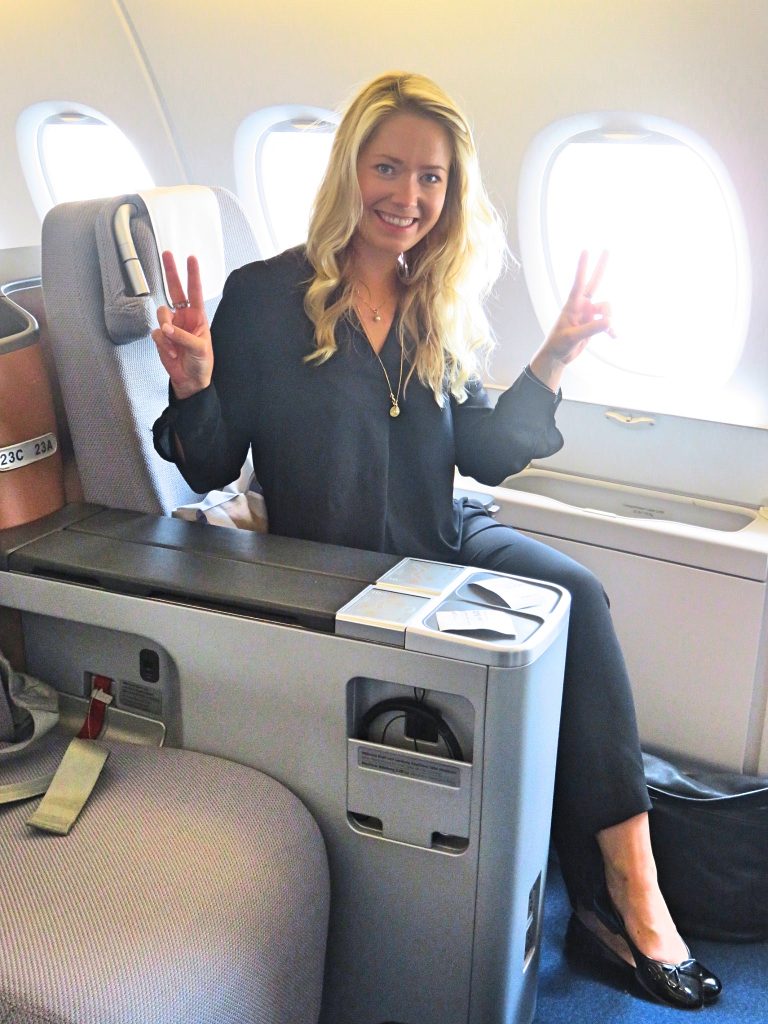 Have you ever flown with Lufthansa before? I hope you do after my airline review and have a great time as I did.
Dont forget to check out my other airline reviews here.
Happy Travels!
//Charlotte