Luxury Hotels on Seychelles
Seychelles is among my top best destinations in the world as it is so beautiful here! Seychelles consists of 90 islands in total but only some islands are inhabited. There are many hotels at Seychelles and you visit this destination to get some relaxation and to discover the world's most beautiful beaches. If you are traveling to Seychelles, you should therefore stay in a luxurious hotel.
Here are my tips on 4 and 5 star luxury hotels I recommend to stay at when you visit Seychelles!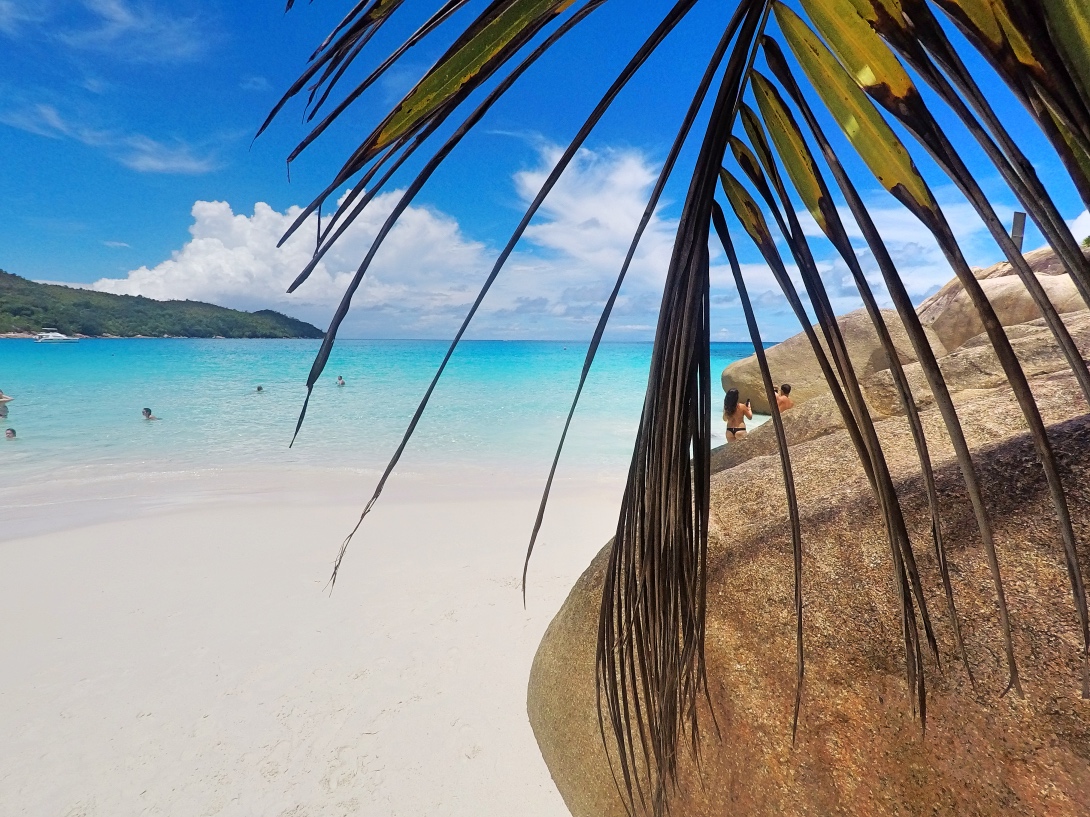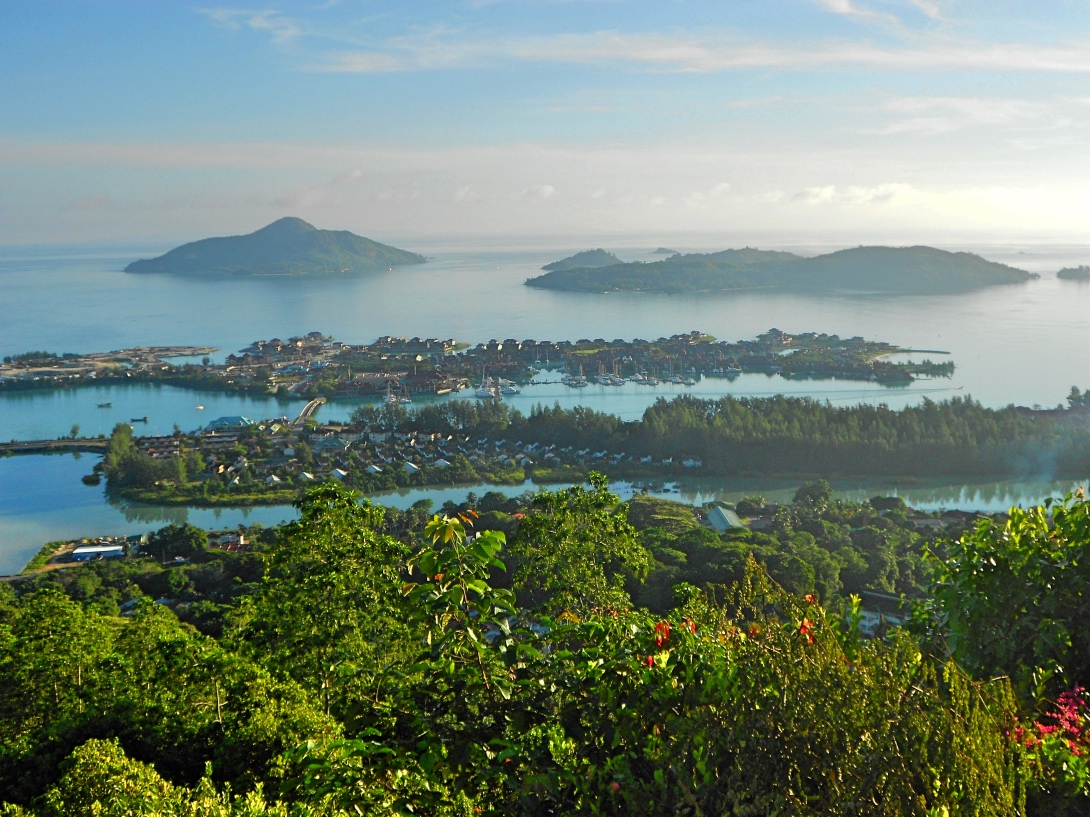 Luxury Hotels on Seychelles
The largest islands on Seychelles are Mahe with its international airport, Praslin Island and La Digue Island. These islands are also the most touristy islands to visit when you travel to Seychelles. Therefore, I will recommend some luxury hotels on these three islands in this blog post.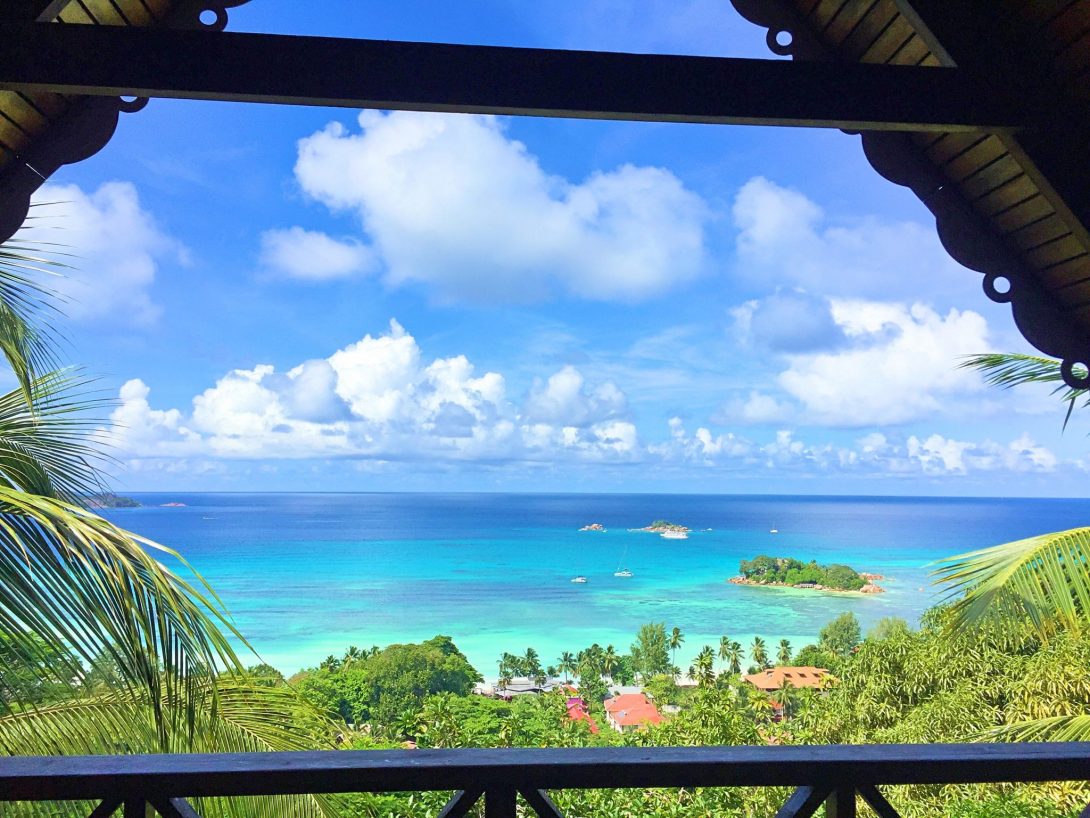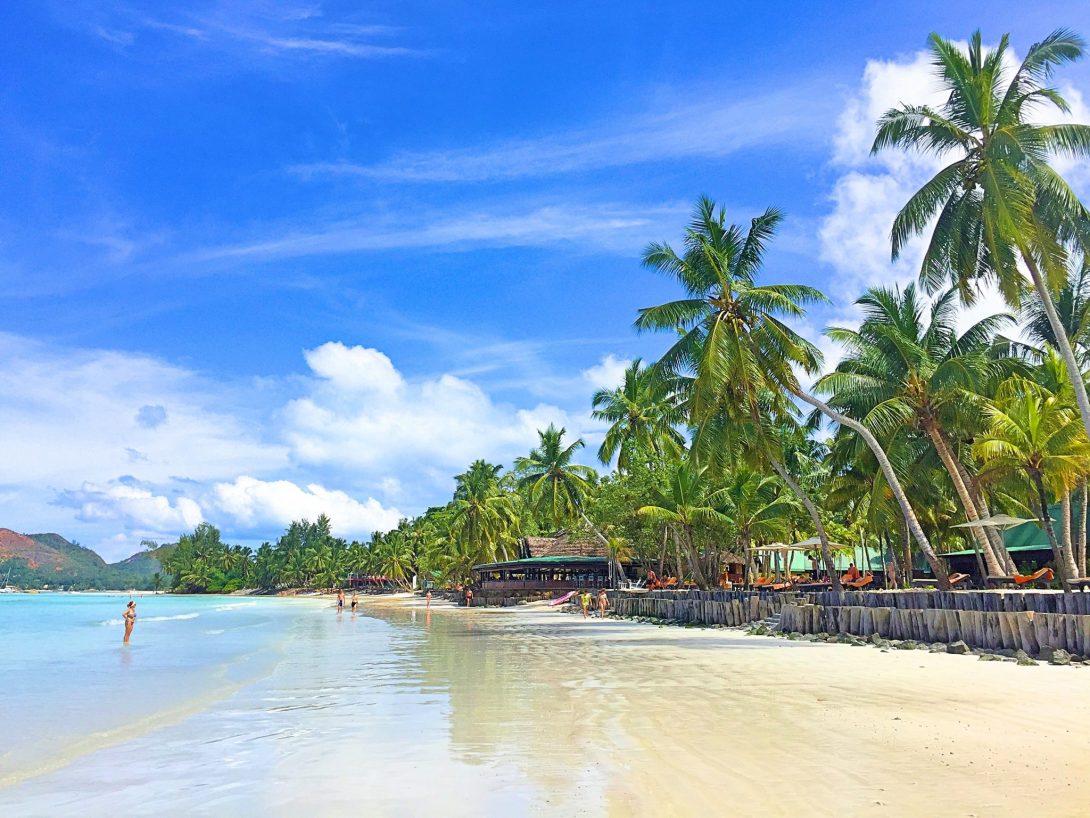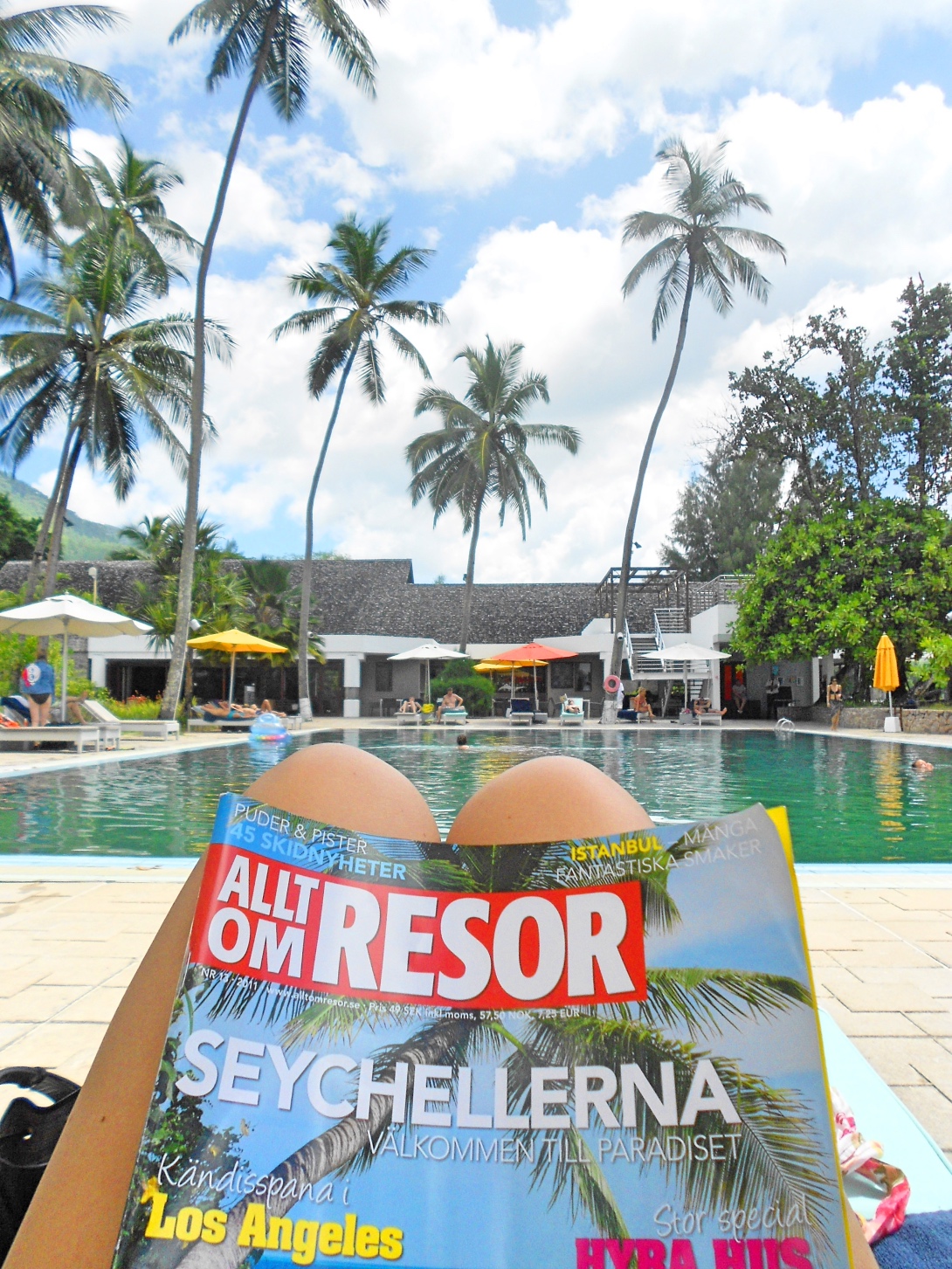 Hotels to stay at Mahe:
Seychelles – Mahe
Mahe is the main island at Seychelles and it is probably at this international airport you will arrive at when going here. The capital is called Victoria and is about 20 minutes by car from Mahe Airport. Personally, I don't think Victoria was something special to discover, a pretty boring capital, so don't spend too much time here unless you decide to rent a car and drive around this island, because the island itself is the largest and worth discovering for few days. I definitely think you should stay a few days here and drive around the island among all the jungle and greenery because it is incredibly beautiful.
Hilton Seychelles Northolme Resort & Spa
Stay in a villa at the Hilton and have access to fine dining, a luxurious spa and infinity pool. This is a really nice hotel with luxurious wooden bungalows with magical view. It is peaceful and quiet. The hotel has very responsive staff and great service. It is a little secluded with its own beach but the villas have a view over the sea!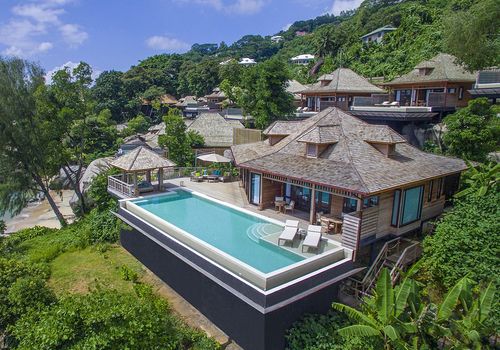 Kempinski Seychelles Resort
Kempinski Seychelles Resort is located on the beach in Mahe and has beautiful nature experiences in the area around Takamaka Beach and Grand Anse Beach. The hotel has a beautiful location and nice beach. This is a nice but quiet and harmonious resort that lives up to its 5 stars. It is an extremely good hotel located on the southern part of the island.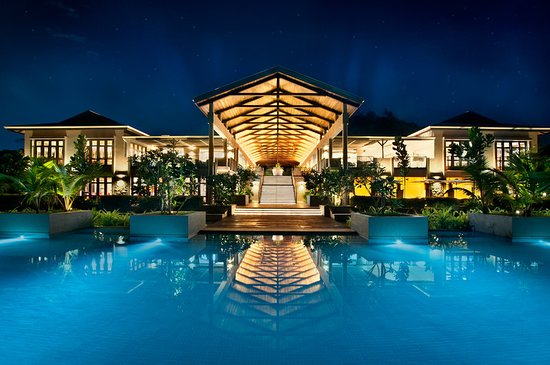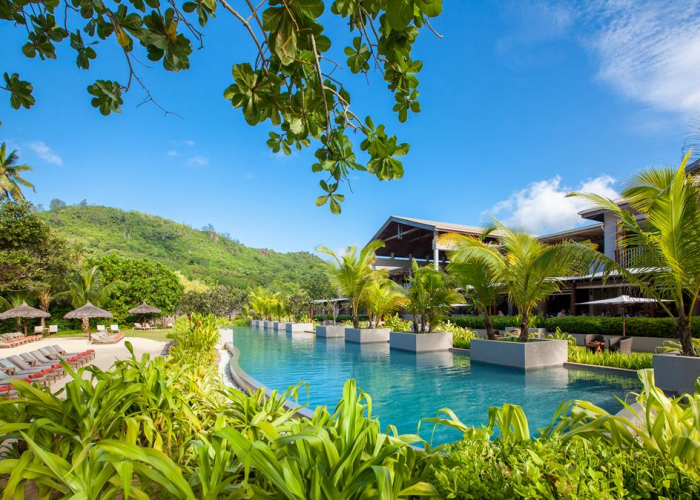 Le Meridien Fisherman's Cove
Le Meridien is romantically located with a beautiful little pier where you can enjoy the sunset. They also have a swing set up here which is cozy to sit on at sunset. The breakfast is absolutely delicious and also the lunch not to mention all the good drinks they have. The rooms are spacious and luxurious and it is only a few meters to the beach from the pool. The hotel is well located within walking distance to the capital Victoria for about 10 minutes.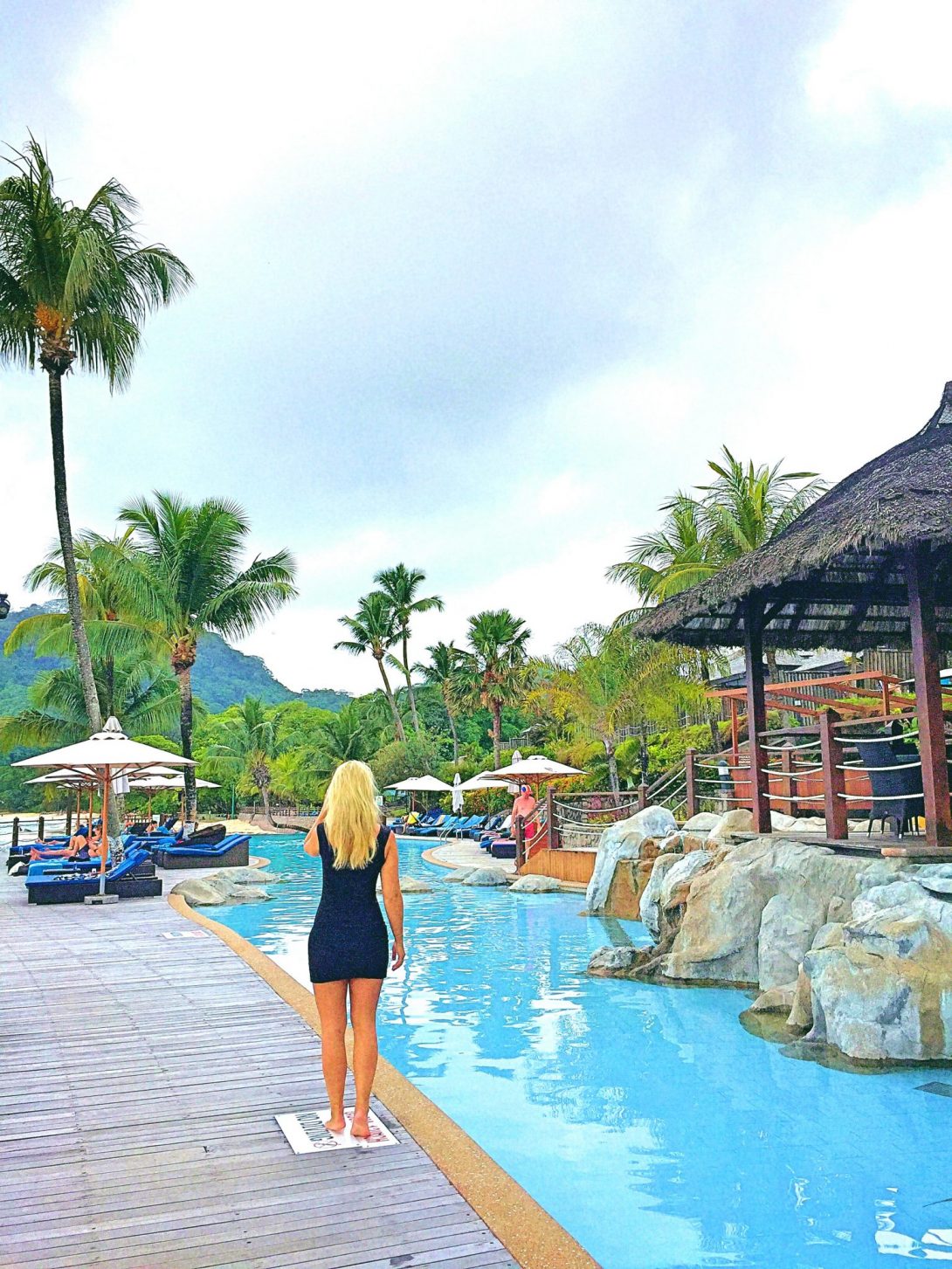 Banyan Tree Seychelles
The Banyan Tree in Seychelles has a perfect location with 60 beautifully designed rooms. The breakfast is fantastic and the resort itself has breathtaking views from the villas. The hotel really blends in with nature and the lush jungle. A really great and amazing hotel!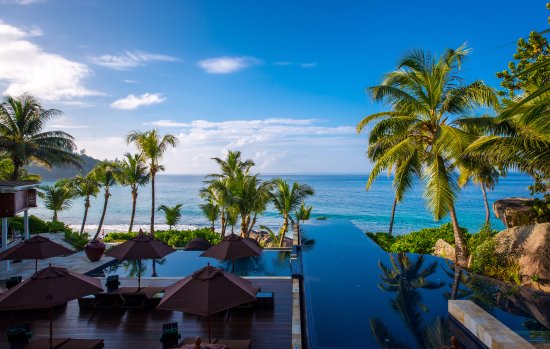 Savoy Resort & Spa
The Savoy resort on Mahe is luxurious and comfortable in every way and provides a fantastic luxury hotel experience! The dinner restaurant Grand Savoy restaurant has different themes every night. The hotel is on the "other side" of the island and thus also far away from the stress and crowds of the capital Victoria.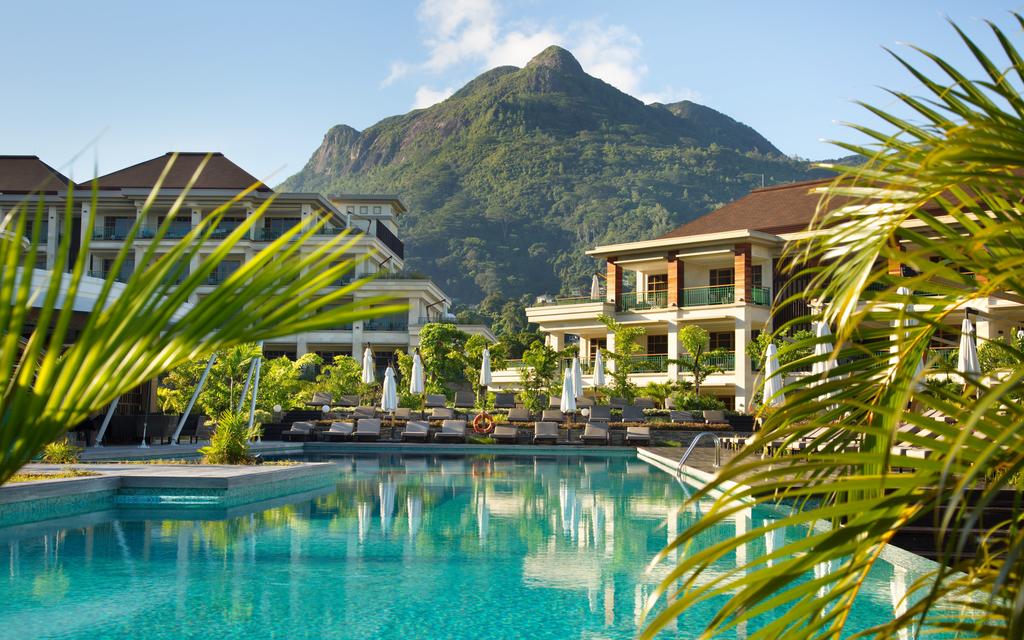 Hotels to stay at on Praslin Island:
Praslin Island
Praslin Island is an incredibly beautiful island with the finest sandy beaches I've ever seen! This is the island you have to stay at when you visit Seychelles! I strongly recommend to stay at the north part of the island, either in Anse Volbert or close to Anse Lazio beach if you want sunrise and the south part of the island, Grand Anse, if you want sunset. Here are som hotels I recommend if you stay at Praslin Island.
Mango Lodge
Mango Lodge is a super nice accommodation where you have your own wooden bungalow with kitchen, bathroom and a large balcony with the most beautiful view I've seen. It beats most views around the world! Leslie who owns the place is incredibly helpful with everything you wonder. However, this lodge is high up on a hill, so a car or taxi is recommended to get here. There is no pool but it only takes 5 minutes to the beach which is among the most beautiful beaches I have ever seen!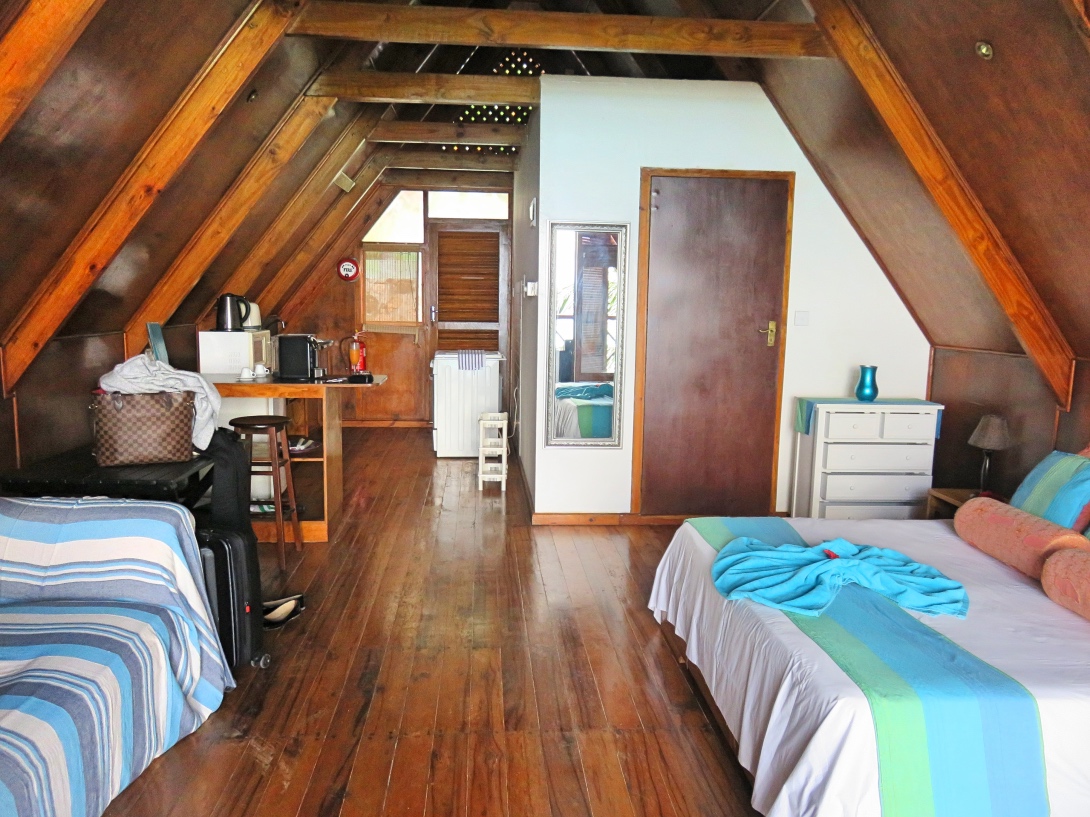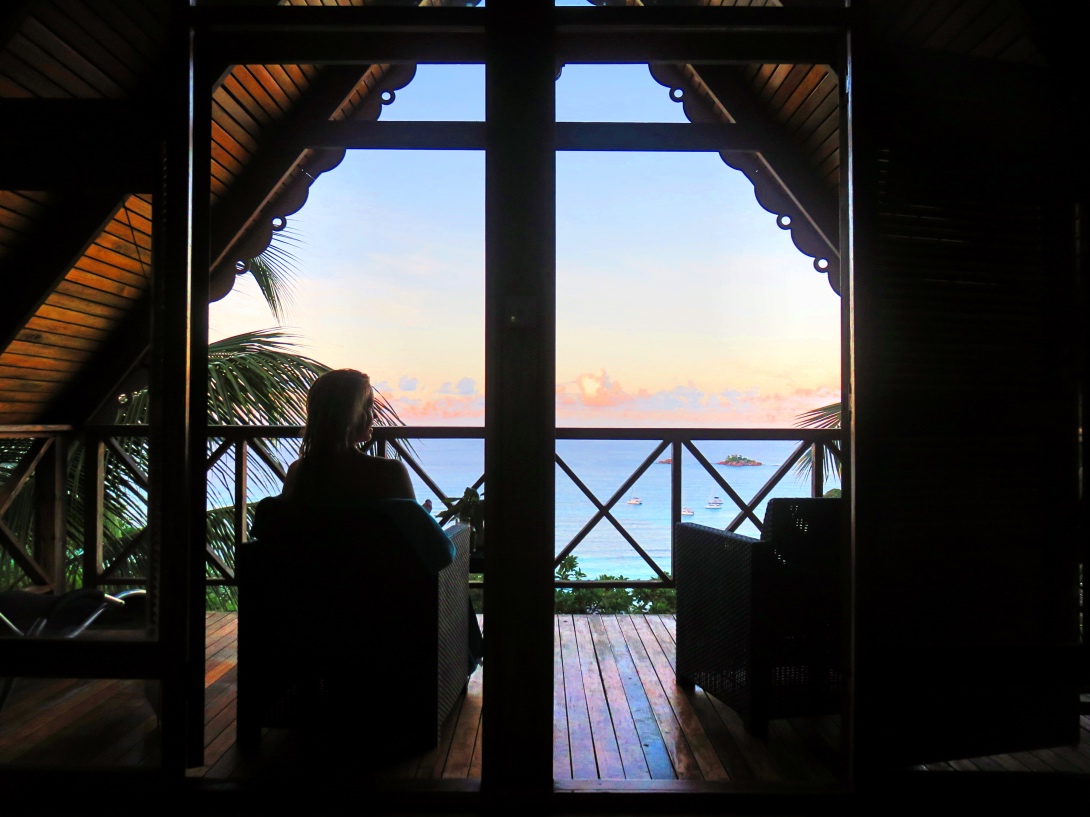 Raffles Seychelles
The hotel Raffles in Seychelles is stunningly beautiful and each villas have their own infinity pool overlooking the sea which is absolutely wonderful! You should stay here if you go on honeymoon for example 😉 A must to stay here, you will not be disappointed! Situated in Praslin, this luxury resort is 1 km from Anse Takamaka Beach and within 5 km of Anse Lazio Beach and Anse Volbert Beach. In other words, Raffles has a very good location on Praslin Island!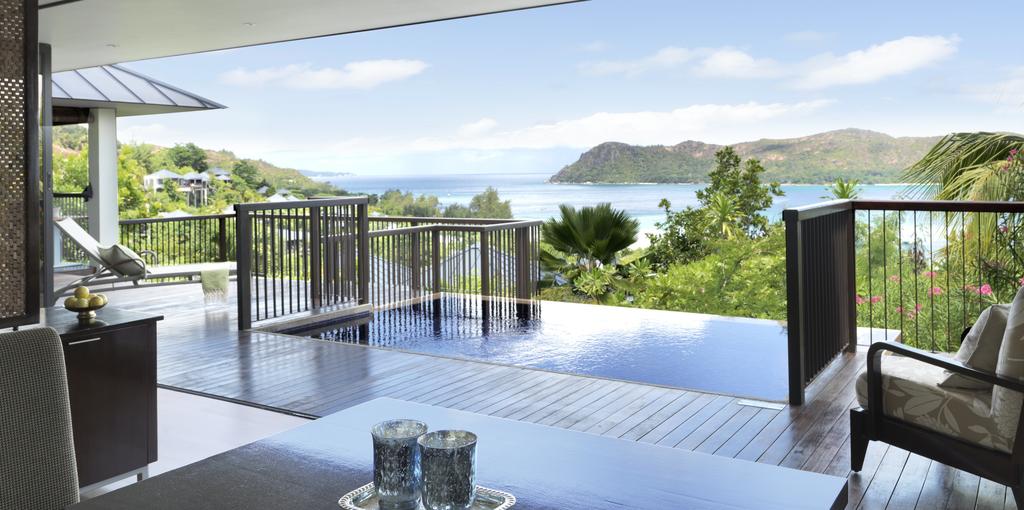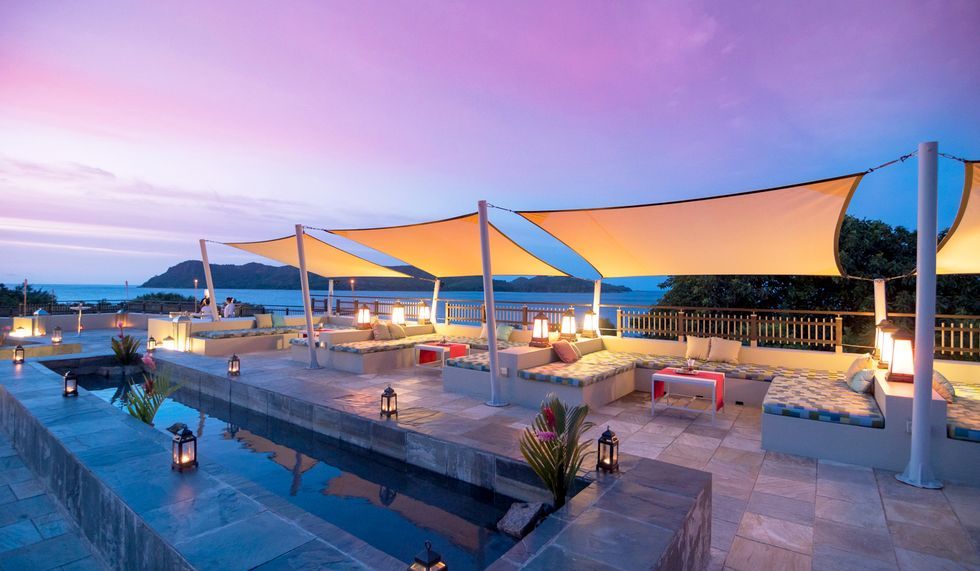 Constance Lémuria
The hotel Constance Lémuria is located on Praslin island and is a luxurious hiding place which you will find between soft granite blocks and waving high palm trees. The resort offers a 3 level pool as well as spacious suites and villas. It has a great location with amazingly beautiful beaches and a fantastic golf course next to the hotel.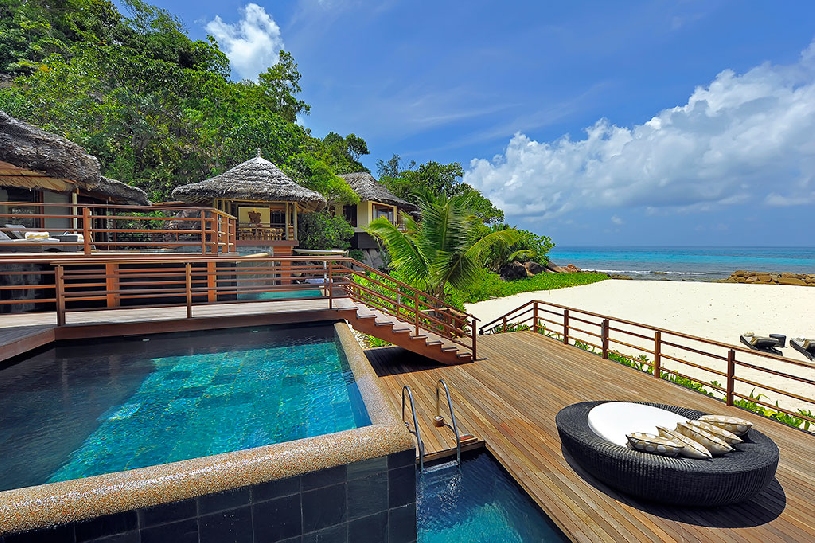 Paradise Sun Hotel
Located on the sandy beach of Anse Volbert on Praslin island, Paradise Sun hotel is a 4 star spa resort. The accommodation is excellent with a large balcony overlooking the sea and palm trees. It is literally on the beach itself and close to several different restaurants for those who want to test the food selection. A modern and neat hotel that is worth staying at!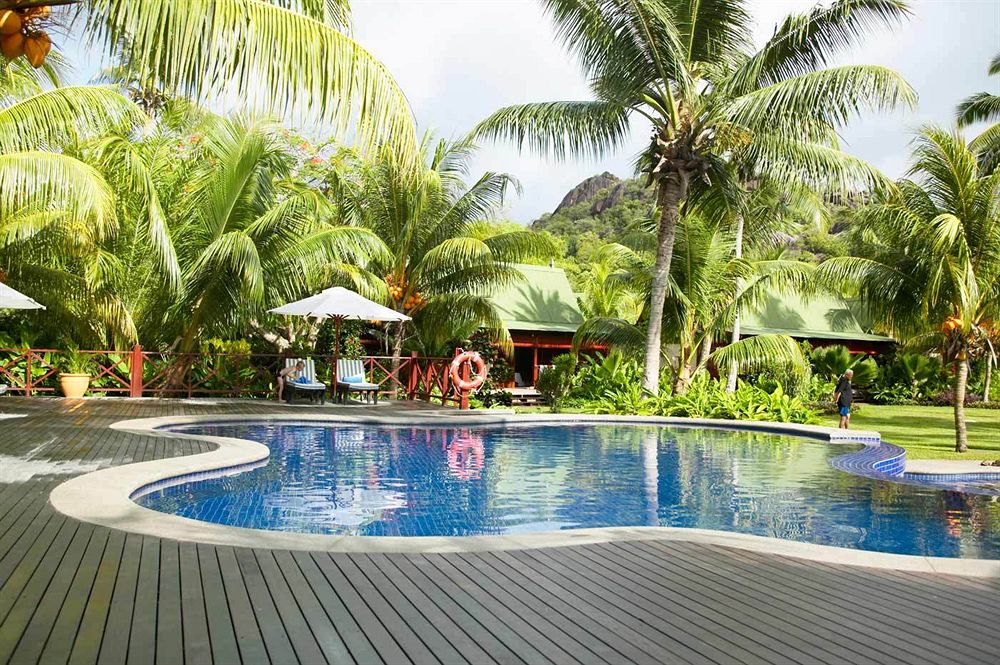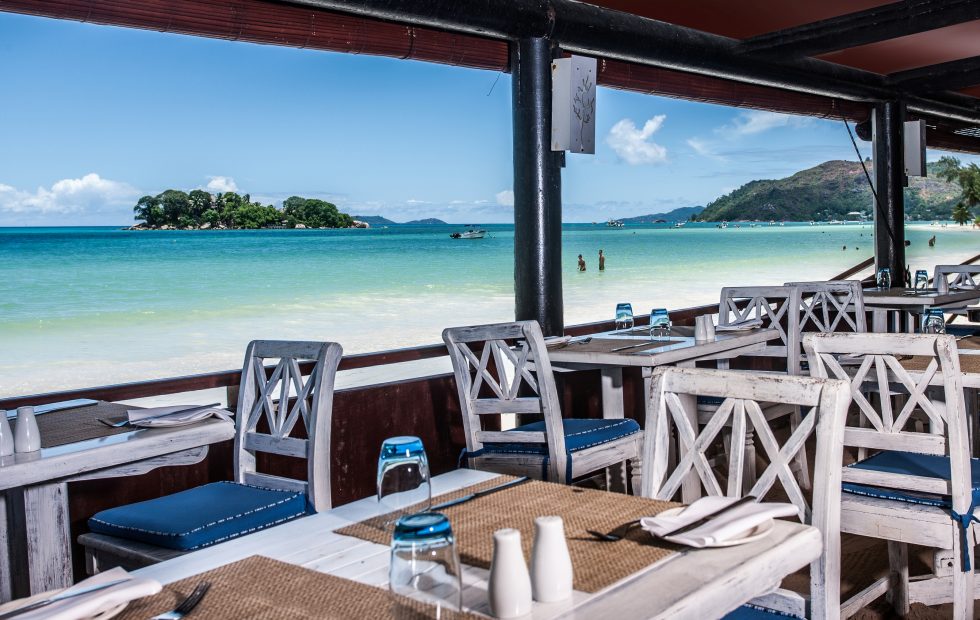 Seashell Beach Villa
Seashell beach villa on Praslin island is a brand new and modern hotel, as well as being a few meters from the sandy beach. If you want to experience the sunset on the beach this is the hotel to recommend. In addition, the airport is within walking distance, which means you can also see the aircraft take off and land from the hotel but without being disturbed. Here you have your own kitchen so self service applies here, you could say it is a more luxurious bed and breakfast.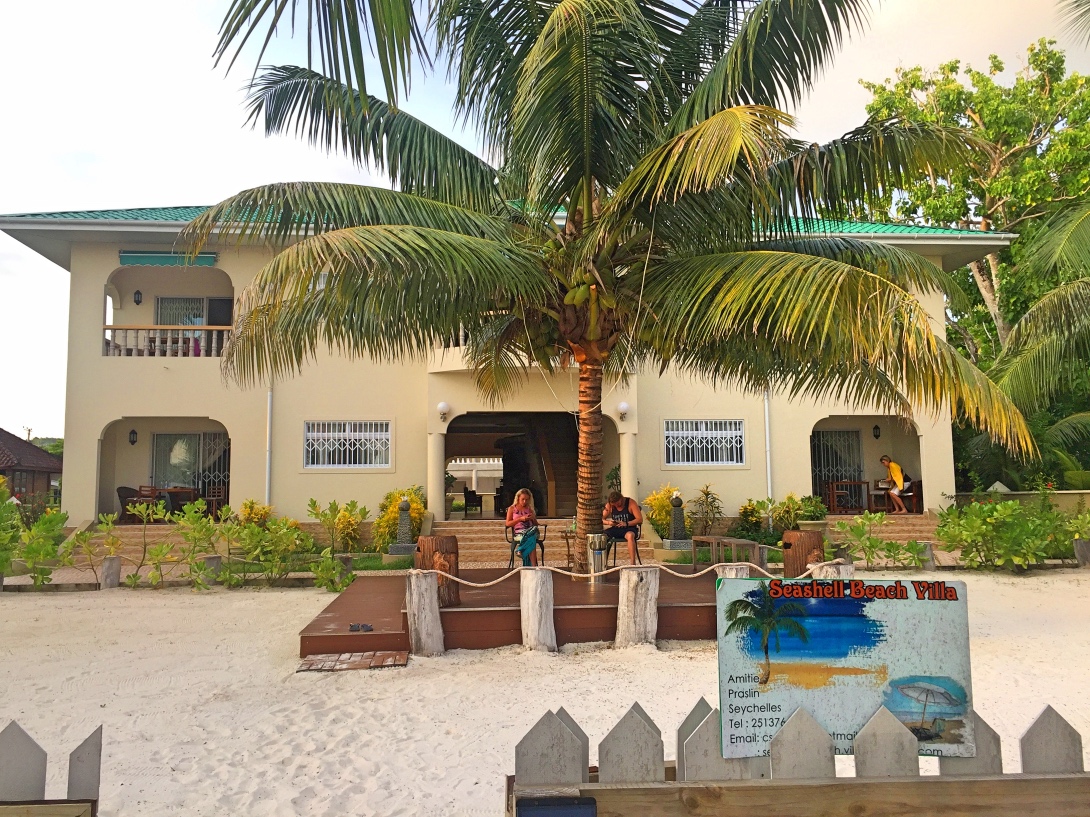 Hotels to stay at on La Digue:
La Digue Island
To La Digue Island, you can only arrive by boat from Praslin Island. Other options are unfortunately not available. There are also no cars on this island, so you have to go by bike to get anywhere on this island, which I think is really charming! Even if it is a small island it is definitely worth going here for few days and enjoy the beautiful beaches. Here are some hotels I recommend to stay at when you visit La Digue island.
Le Domaine de L'Orangeraie
Le Domaine de LÓrangeraie is the hotel you should stay at when visiting La Digue Island in Seychelles, especially if you are looking for luxury luxury luxury!! Then you can't miss out this hotel! It is located near the ferry and La Digues main street. This hotel is absolutely wonderful and they deliver high quality in all categories! Living in the villas at the top of the mountain is truly an experience as it is luxurious, romantic and has a wonderful view and atmosphere from there. The food at the hotel is good but may not hold the same extreme flawless level as the accommodation.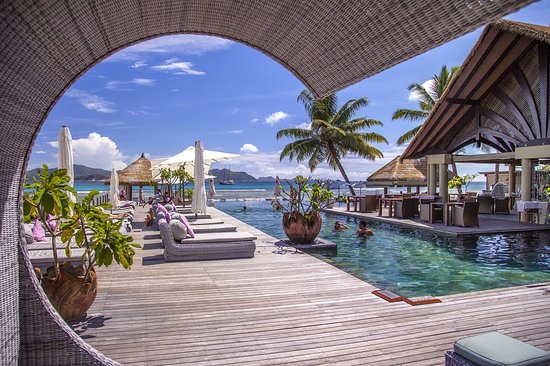 Patatran Village
In La Digue, Patatran Village is located on the beach, a five minute walk from both Anse Patate Beach and Anse Severe Beach. The hotel has huge bungalows and perhaps the finest view of the whole island, it is unbeatable! The beach below the hotel is super nice, however there are many stairs down to the beach but it weighs up with a really nice pool and superb restaurant!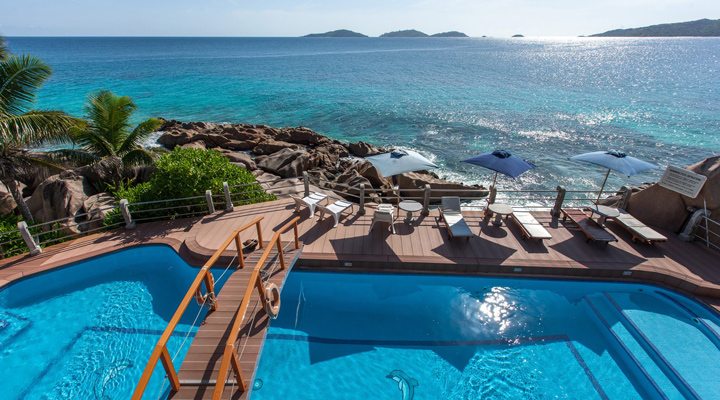 Hope you will enjoy your stay at one of these islands on Seychelles 🙂
Happy Travels!
// Charlotte