My Technical Travel Equipment 2020
I often get questions about what kind of technical equipment I have when I travel and what's the name of my camera or selfie stick I use. I have recorded a Youtube video where I go through all my most important technical gadgets I always carry with me on my travels and which you will find here if you don't want to read this blog post 🙂
In this blog post I will share in detail what kind of technical travel gear I use on my trips and some tips and tricks from me that can help you if you are traveling solo for example 🙂
Here is my technical travel equipment that I always bring with me on my trips:
Camera
I use a Canon Powershot G7 X Mark 2 which I think is the best camera for both photography and videotaping for my Youtube channel. I used to have a big system camera that I sold unfortunately but I found it both clumsy and heavy to carry with me everywhere I traveled and wanted a camera that has the same features fixed in a smaller format and I think this camera have all that for my needs! I am super happy with this camera and can really recommend it!
Adapter
I have a multi adapter that can be used wherever I am in the world and it is a really good investment for you who travel a lot. I love this one from Skross which has several USB sockets and you can choose which socket you need depending on which country you are in. Clearly the world's best adapter that is always with me in my handbag and is great to have in your handbag due to you never know when you need it, maybe already at the airport 😉
Bose headphones
Although they are relatively large headphones, Bose noice cancellation is by far the best headphones I have ever had and these I have had for many years. They are not the latest ones, they are wireless but mine still hold today, several years later and have great quality! Here we are talking about a really good investment for you who want to exclude all the sounds around you and are perfect to have on the flight, bus or train. I always have mine with me even when I'm sitting at airports.
Rechargeable battery
A rechargeable battery has saved me many, many times! It's something that always, always accompanies me on trips and is in my purse. I would have a hard time getting through without an extra battery for my phone. I make sure it is fully charged the night before I travel because I use my mobile a lot when I fly and then it is great to have an extra battery with me until I find an outlet to be able to charge my mobile if needed. The one I have is a few years old and there is much better on the market today but it is definitely worth putting a few bucks on an extra rechargeable battery for your mobile!
SD card reader
It happens very often that I want to be able to post pictures on instagram that I have taken with my camera. For that I have an SD card reader that is adapted to my mobile where I remove the SD card from the camera and insert into the card reader that I plug into my mobile so I can upload the pictures I want that I took with the camera directly to my phone and post on instagram. It is very small and very flexible to carry and a purchase I am very pleased with!
External hard drive
If you want a durable and reliable external hard drive, buy La Cie external hard drive that can withstand travel. It has a rubber band around so it can withstand a little shaking when traveling. This is great to have, especially if you shoot a lot and want to save everything on a physical device and not in the cloud 😉 It costs a little but is definitely worth it!
Macbook multiadapter
Since I have a macbook that doesn't have "normal" inputs on the side of the computer, I need an adapter to be able to have both SIM card, charger or usb stick. I need this if I want to transfer or add something to my external hard drive or if I need to transfer pictures from the camera's SD card. A must have if you have a computer like me 🙂 The one I have is called Plexgear and can be bought at Kjell & Co among others.
Steamer
It is often seen that the hotels don't have irons in the room anymore because of a lot of reasons according to them themselves so nowadays I always have my own steamer that acts as a small iron you can say. It is adapted for just travel and is called Travel Steamer which I bought at Åhléns and is very practical. You add water to the small container that can be used as many times as you want! The size is perfect to be able to carry in your suitcase and weighs almost nothing. I am super happy with this purchase!
Curling Iron
Since I have very straight hair, I find it fun to style myself when I travel or want to dress up for something special and then a curling iron always accompanies me on my travels. I have several different sizes at home so when I travel I choose one that will make my hair look nice. The one who usually accompanies me is Cera Wand and is available to buy at Åhléns.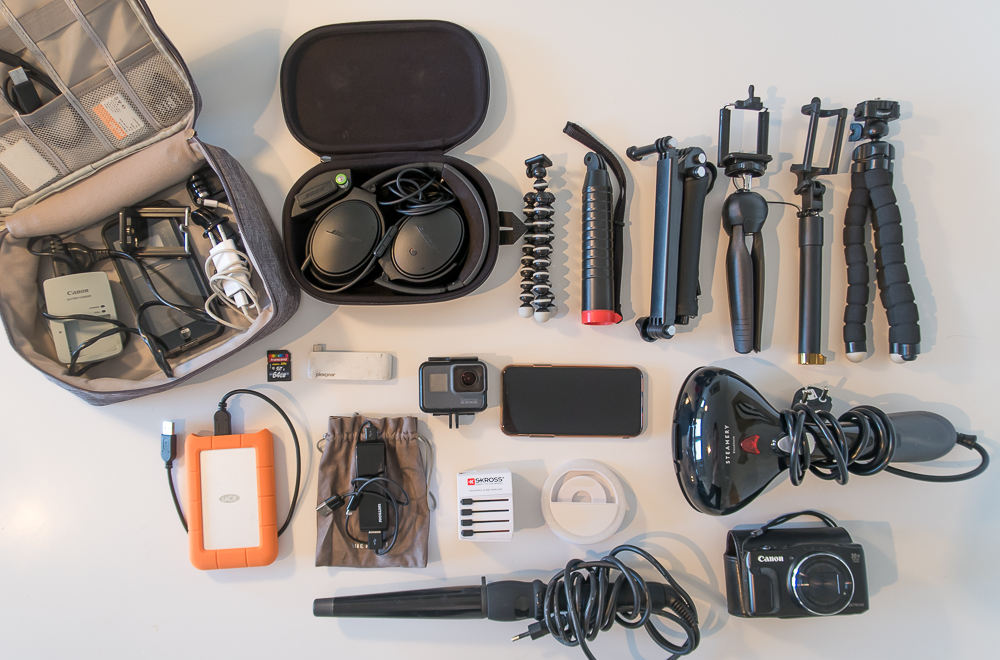 GoPro camera + tripod
Depending on where I travel, for example beach and swimming destinations, my GoPro camera comes with me. It is water resistant and with it I take photos and videotape underwater. Ideal for those who want to dive and see corals, swim with dolphins or swim with turtles like I did on Zanzibar. It is small and flexible and doesn't take up much space at all. I have both a water resistant handle but also a tripod that is adapted for the particular GoPro camera. My GoPro is called GoPro Hero 4 and is not the latest on the market but works great for my needs and occasions 🙂
Tripod
To be able to take pictures on myself when traveling solo, tripod is my solution! This is my best tip if you can't find someone who can take a photo of you or if you don't want to leave your camera in someone else's hands then a tripod is a great tip to invest in. I use a tripod for both my camera, both when I photograph and film but I also have a tripod that is adapted for my mobile phone. I also have a third tripod designed exclusively for my gopro camera. In addition, I have a tripod in a slightly smaller size so I can carry it in my handbag if I'm going out at night or have a small bag and where my big one doesn't fit. I have bought all my tripods abroad and no one is a special brand.
Selfiestick
Likewise, my selfie stick is purchased abroad and is not a special brand. But my selfiestick always accompanies me on my travels nowadays when I started getting used to it quite late. At first, I was against selfiestick, but when I finally got one myself I couldn't travel without it! Super practical indeed! My selfiestick has a cable that I have to connect to my mobile. I have tried wireless selfiestick but I think it was too complicated and it made me annoyed so I have an "outdated" selfiestick 😉
Organizingbag
If there is something I love, it is organizing and to organizing things, especially my suitcase. There everything is in order and so is my home. When I travel, I have a lot of cables with me for both the computer, mobile, camera, tripods, SD card reader and a lot of loose things that I don't want to disappear or lie anywhere in the suitcase. Therefore, I bought a small soft bag where I have all my technical gadgets stored in. Here I have collected all the loose technical gadgets that I need and when I travel I just pick out what I don't need and let the rest follow in the bag. In this way, I check that this bag is only for technical loose gadgets. I bought mine on Aliexpress.
To see what all my tech gadgets look like, you can find my Youtube movie here:
Happy Travels!
// Charlotte