In partial collaboration with Saratoga Hotel. 
My Stay at Hotel Saratoga in Palma de Mallorca
Saratoga Hotel in Palma de Mallorca is a really nice 4 star hotel I have stayed at several times and is really a hotel in Palma that I can recommend to stay at, if you are staying in Palma for a few nights. Their pool on the rooftop terrace means you hardly want to leave the hotel and the food here is superbly good! 😉
Hotel Saratoga
The 4-star Superior Hotel Saratoga has a fantastic history. It was the first urban hotel built in 1962 in the heart of the city of Palma. A flagship hotel in Mallorca that year after year, with constant work and innovation, has grown, updated and adapted to each customer's needs. Their main goal is for us as guests is to enjoy a luxury stay in Mallorca, which suits me very well and it was really luxurious here at the hotel! 🙂
Interior
Even when you step into the hotel, I think you feel how luxurious this hotel is, even if it is not as big as for example St Regis or Four Seasons, this is a luxury hotel that is large enough and with a perfect location in the middle of Palma city.
At the reception there is a large lounge area and with one of their pools just outside. Instead, take the elevator up to the 8th floor and step right out to a spectacular view of Palma, the cathedral and the marina. There will be no better view than this of the city of Palma.
The Room
Our room was a deluxe room superior and the difference from a regular deluxe room (double room) was that we also had a balcony overlooking the marina. I have stayed in this hotel before and then the room looked exactly the same, only that we got a balcony this time, which I can actually recommend if you are in the hotel a lot. It was incredibly nice to step out there in the morning and watch Palma come to life, but at least as cozy to sit there with a glass of wine and just enjoy the warmth and atmosphere late in the evening.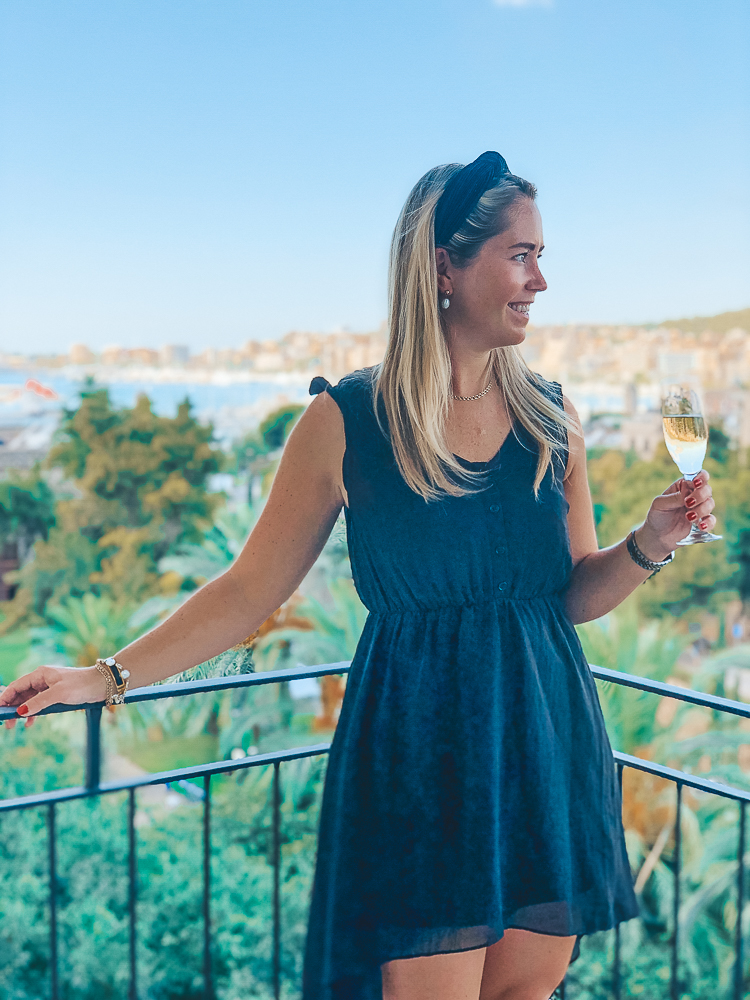 The room itself was not huge, it was perfectly okay in size but if I had wished I would have wanted a little more space to move on and also I would have preferred a real toilet door. Here was a sliding door and all of you who know me now know that I don't really think it is comfortable with only a sliding door to the toilet. However, the bathroom was large and really fresh not to mention the shower which is quite special with its blue light 😉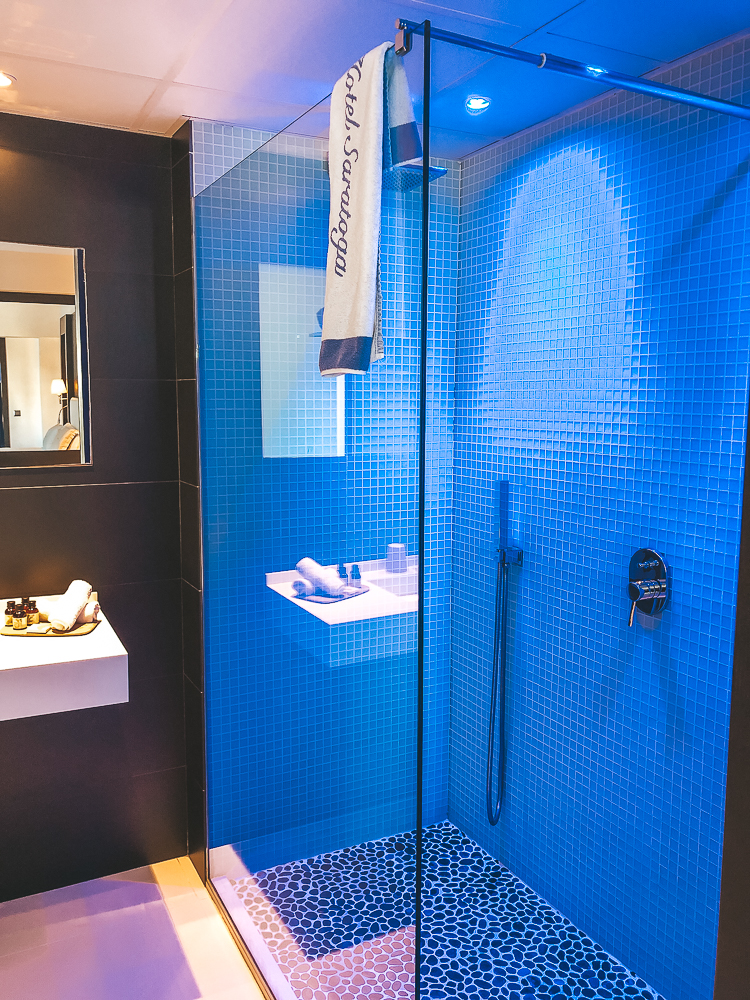 Rooftop pool Hotel Saratoga
We started with a welcome drink that was included and we enjoyed it by our sunbeds by the rooftop pool and then we stayed here the rest of the day, which was really nice and best of all was that there were not many hotel guests here at all. We became a total of maybe 8 people who were here at the same time, something I thought was incredibly nice to avoid being crowded and fighting for sunbeds 😉
Thus, this rooftop pool makes up almost the entire hotel. Apart from the fact that the hotel is 4 star and incredibly fresh with a perfect location in my opinion, this rooftop pool is something out of the ordinary to be a hotel. It is so good that you actually don't want to leave so we chose to also have lunch here but we were not allowed to do that at our sunbeds, we had to sit at the table but it didn't matter to us.
What can be good to know is that at 18.00 pm the pool closes and you can't be here anymore even though the sun is still up because the staff needs to turn everything into dinner and set up dinner tables where all the sunbeds stood, which also looked really nice but we didn't feel like eating both lunch and dinner here, we preferred lunch. However, if you stay several days, I can also recommend having dinner here at the hotel because it looked incredibly cozy! 🙂
The staff here were very nice and helpful with everything. There is a lot in the room but not everything and I called for an iron and they arrived within 5 minutes with both iron and ironing board, which I thought was a quick and good service.
I can really, really recommend Hotel Saratoga in Palma for 2-3 nights if you want to stay and discover Palma as a city because the proximity from here to everything made it incredibly convenient to be able to go where we wanted. Even though the hotel is only 4 star, I can give it 10 stars for the location! 😀
Happy Travels!
// Charlotte