My Travel Guide to Phnom Penh, Cambodia
I would say that Cambodia is a little undiscovered gem that not many people thinking of visiting when they go on vacation. I traveled around Cambodia for about 10 days and in this blog post, I want to share with me what I saw and did in Phnom Penh, the capital of Cambodia. These are my tips on sights that I think you as a tourist should see and do when visiting Phnom Penh.
If you are going to Cambodia, I have previously written 8 practical tips to think about before your trip there that you can read here.
Here are my tips on what to see and do in Phnom Penh:
I flew to Phnom Penh, a city I actually find difficult to pronounce, no matter how many times I practice 😉 and here I spent few days to see what Phnom Penh has for sights to discover before I went to Angkor Wat in Siem Reap.
1. Royal Palace
The Royal Palace is very central in Phnom Penh and consists of several huge palaces covered in gold and are very nicely decorated. It's a big area with a lot to see here. Entry costs $10, which I thought was a little bit overpriced actually. I think $5 would be enough. There are no signs or information boards about anything about the palace, so I recommend a guide here if you are interested in history and all of these buildings. A guide is available to buy right next to the palace when you are buying your ticket.
I am very happy that I came here because it was a calm and harmonious atmosphere here. Some palaces were allowed to enter, but then you had to take off your shoes while others you just had to stick your head in to see what it looked like but definitely not step inside. You are also not allowed to take pictures when you look into those houses.
Keep in mind that if you come here you must cover your shoulders and knees, otherwise you will not enter. In addition, the siesta closes between 13:00 -15:00 in the afternoon so it is important to plan your visit. It took me about 1-1.5 hours to walk around here. It is an incredibly beautiful sight for the eye with a lot of gold and decorations as well as nice details on the house knots or I mean the palace knots and it is definitely worth a visit here! 🙂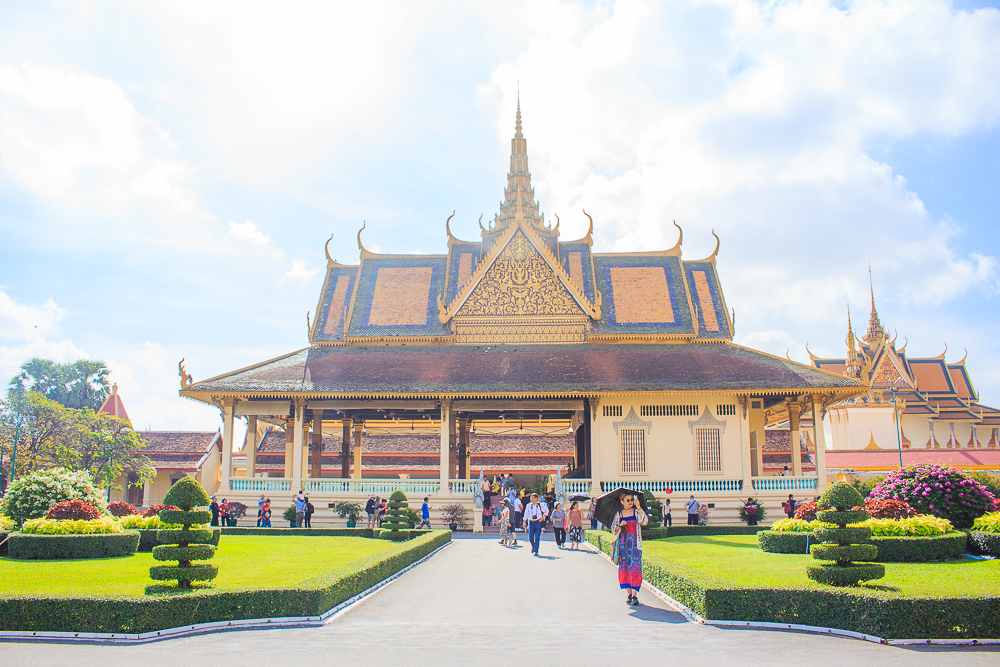 2. Silver Pagoda
The Silver Pagoda is right next to the Royal Palace and is a silver colored monument statue you could say. The Silver Pagoda is known as the Temple of the Emerald Buddha because the primary Buddha statue is made of emerald and a certain type of crystal. Around the Silver Pagoda there is a very beautiful garden and a lot of statues to view. Since it is located next to the Royal Palace it isn't hard to miss but really nothing more remarkable than having seen it, according to me 🙂
3. National Museum of Cambodia
Are you interested in Cambodia's history in general and during Angkor's heyday and even before that, the National Museum of Cambodia is a great opportunity to visit when you are here. I would recommend buying an audio guide, ie a tape recorder with headphones, otherwise you will miss lots of information about the story which may be interesting to know. If you want to listen to everything, it probably takes all day, but you can fast forward if you want.
Personally, I think that if you visit Phnom Penh as a tourist, you should get an idea of the ancient Khmer kingdom before visiting Killing Fields and this museum is a good opportunity to do so. Walking around the museum takes about two hours.
4. The Central Market
If you are looking for shopping in Phnom Penh, then the Central Market is the place you should go to. I think this is the best market in Phnom Penh! It is incredibly big and you will get lost but what a great shopping there is here! You should go here if you want to buy branded copies very cheap, and you can also sew your own clothes, dresses and jackets here. You can also buy jeans, handbags, shoes, jewelry, jewels and t-shirts. I figured out that I spent three hours here in total! 😉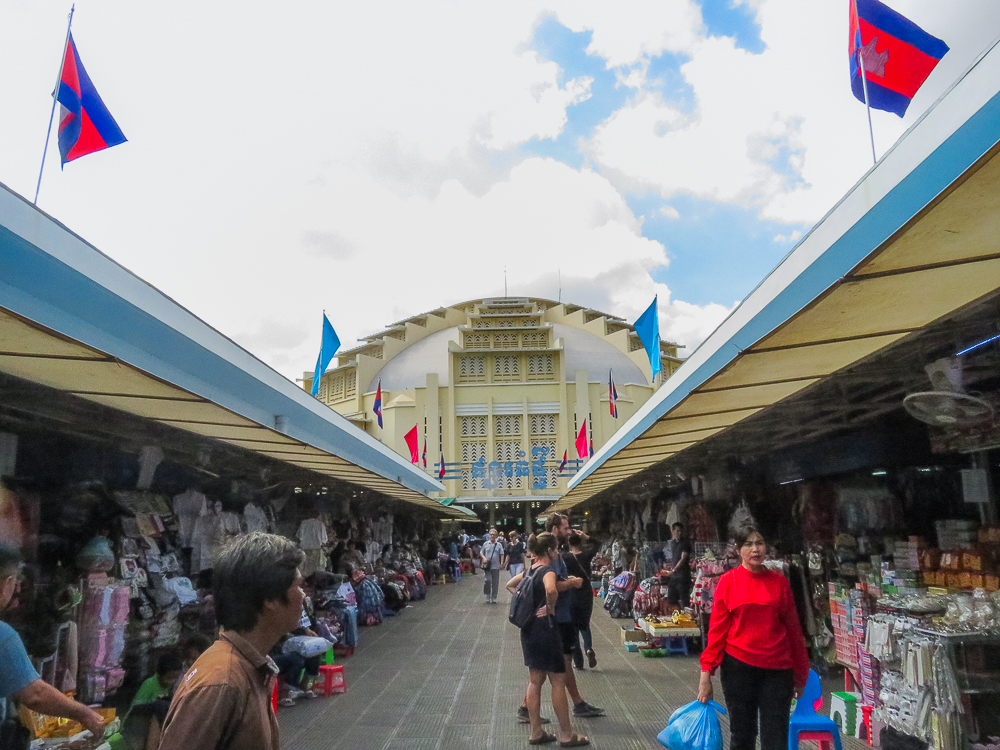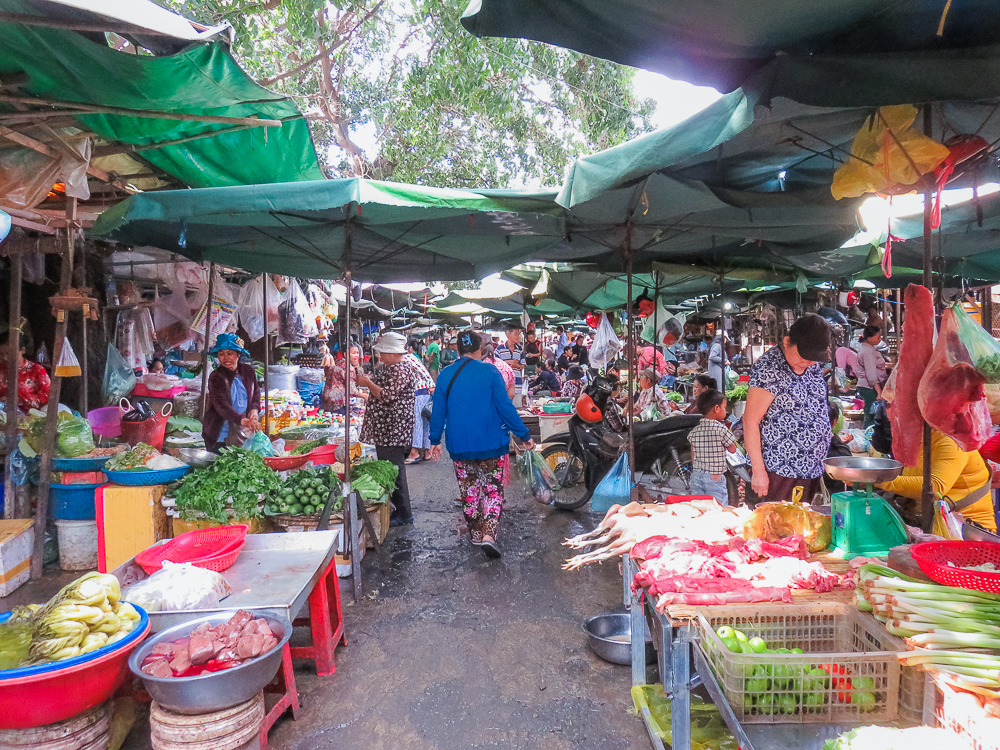 5. The Russian Market
Another good market in Phnom Penh is the Psar Tuol Tom Pong Market, also known as the Russian Market when the Russians traded here during the 1980s and made the market very popular for tourists. This is a lively market with good prices and a lot of stuff but also some shitty stuff I would say. It is crowded and hot here so I would recommend taking water with you when you walk around here. Don't forget to bargain on everything you want to buy, this also applies to the Central Market market!
Here you will find everything from food where a whole pig is cut in front of you to statues, jewelery but also a whole department for the workshop, for example if you are looking for bicycle parts then this is the place to go to. Stroll around for an hour or two, it is a fun experience indeed and they actually have good and cheap food here 🙂
6. Phnom Penh Night market
Phnom Penh night market is an outdoor night market that is nice to walk through. Even if you are not looking to buy anything special, it is still nice to go through the market and see what is there to eat and feel the atmosphere. It is a charming market with happy people and no intrusive salespeople. Try different dishes if you like, otherwise sit down and watch the live music being played and people dancing 🙂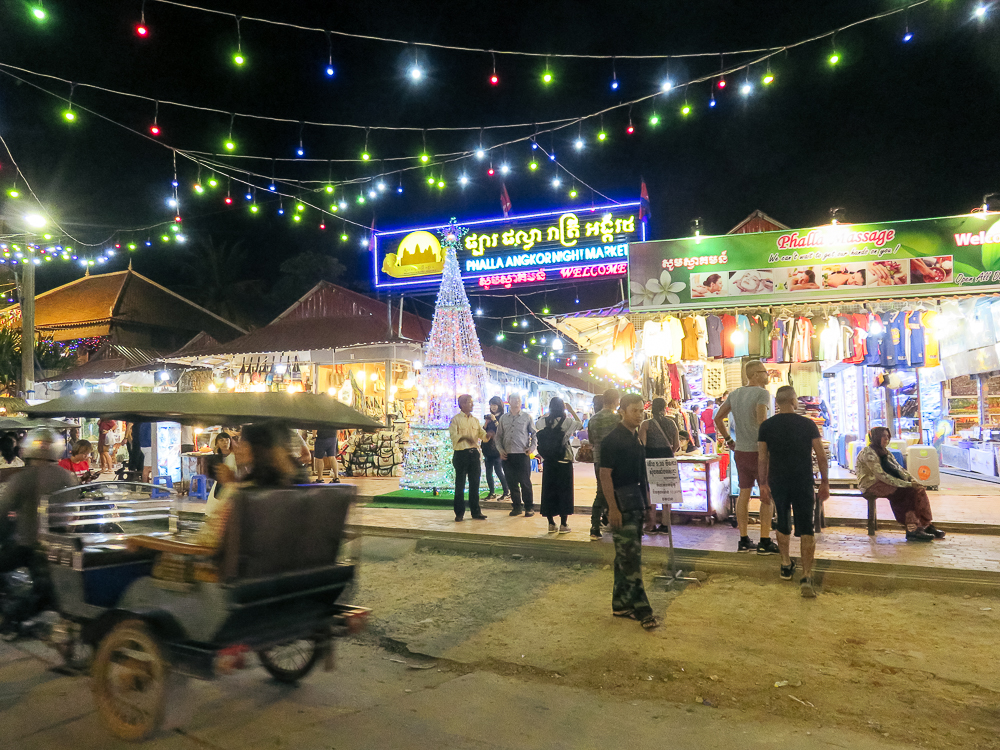 7. S-21 Tuol Sleng Genocide museum
Tuol Sleng (also known as S-21) is one of three security prisons where the prisoners were tortured by the Red Khmer. Between 12,000 and 20,000 people are believed to have been imprisoned here (including women and children), of whom only 12 survived. After being tortured they were starved and then executed after 2-4 months at the "Killing Fields".
The building was inaugurated in 1980 as a museum of the Cambodian genocide where you can see the prison as found when Vietnamese troops entered Cambodia and overthrew Pol Pot's regime on January 7, 1979.
Entry costs $5 and you want audio guide here, which I bought for a total cost of $8 all together . The audio guide is available in 15 languages and is worth listening to while you walk around here. You must cover your shoulders and knees when you visit this place and you can't talk too loud and also you are not allowed to smoke when you visit the Tuol Sleng prison.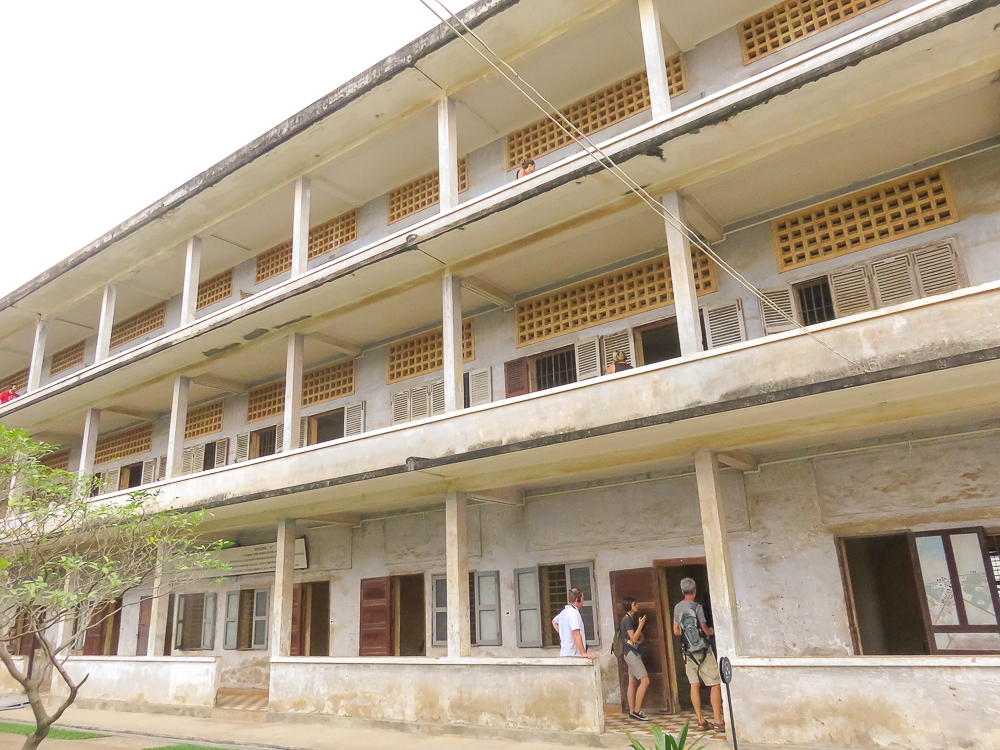 8. Killing Fields of Choeung Ek
The Killing Fields or Death Field as it is called is located a bit outside Phnom Penh but a must to visit as a tourist, I think! I arranged my transportation there through my hotel which cost $17 back and forth and then I had my own driver. Choeung Ek is the most famous of over 300 killing fields throughout Cambodia.
Pol Pott was the one who ruled this place from April 17, 1977 to January 7, 1979. They killed a total of 3 million people whom they tortured and laid in mass graves here in the killing fields, which is absolutely sick. If you go to Cambodia, it is really worth seeing and experiencing this, even though it is sad.
The entrance to the death field costs $6 and it is included an audio guide with hearing aids so you can listen to the tour. There are 15 languages ​​to choose from and Swedish is included so I took that. They also have a brochure of the area in Swedish. This tour took me a total of 1.5 hours to walk around and listen while taking in all the impressions I got over time, horrible to see and hear but so important! When you have completed the tour, there is also a small museum just before the exit and there is a film of about 10 minutes worth of seeing the killing fields.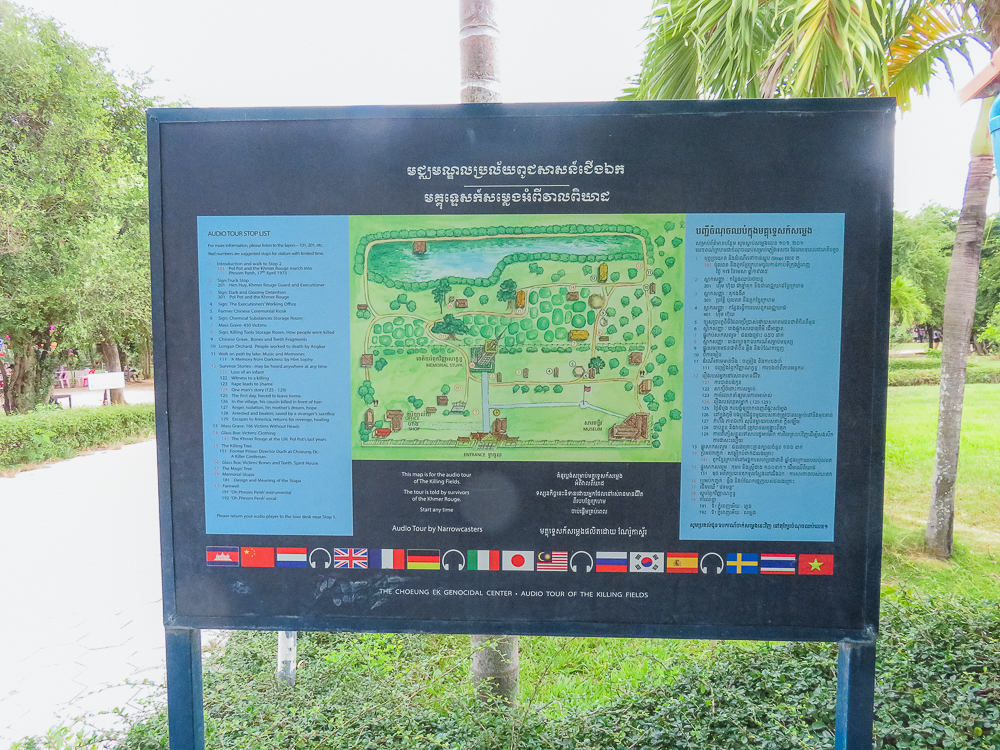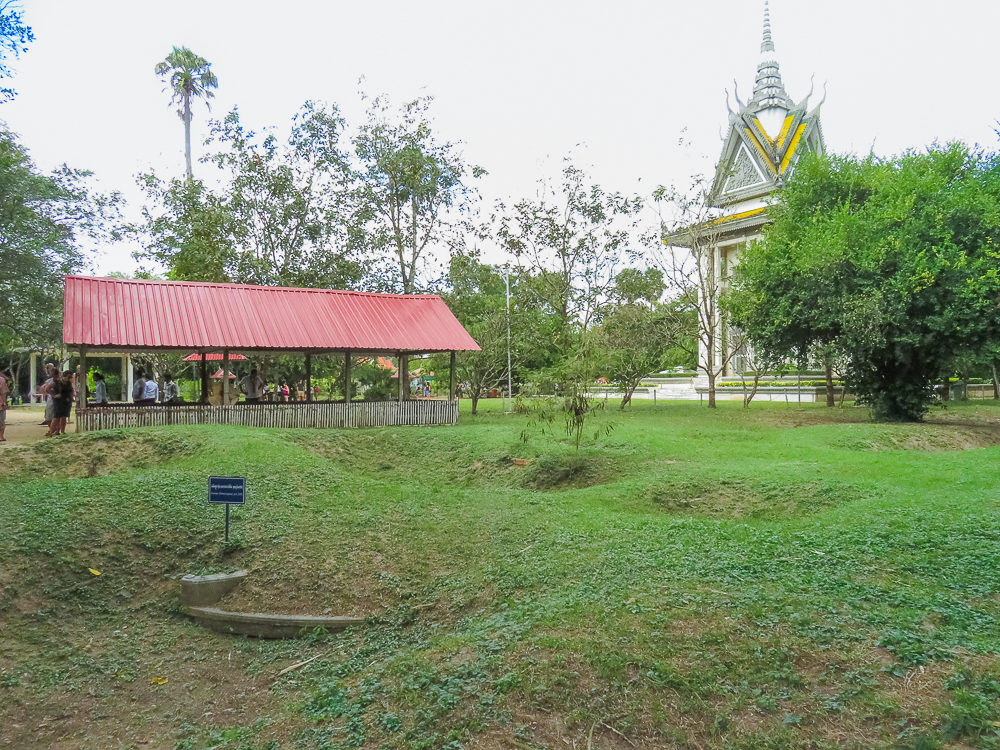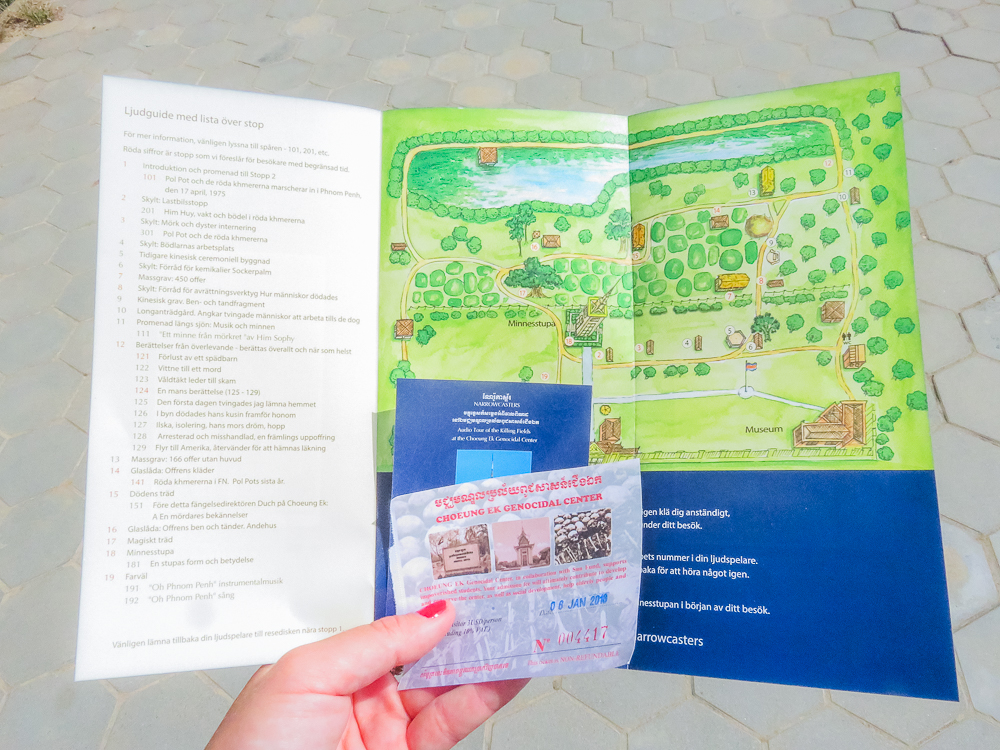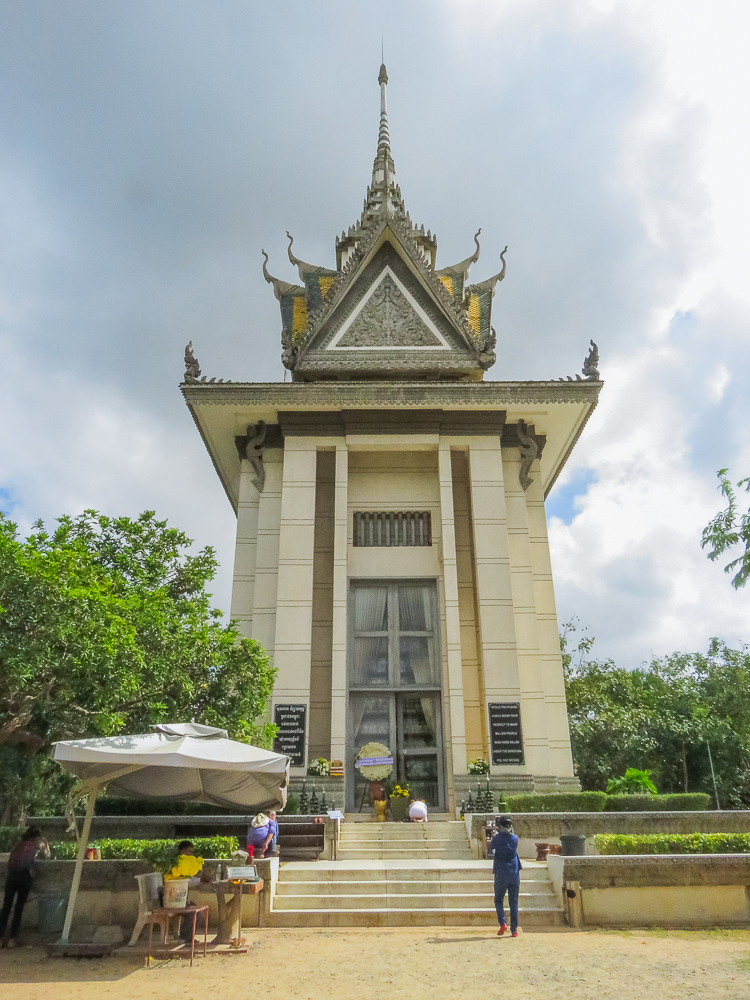 Rooftop bars in Phnom Penh:
Even Phnom Penh has some really good rooftop bars I can recommend!
Le Moon Skybar
I visited, among other things, Le Moon skybar which is located right at the Royal Palace along the river. From here you have a very nice view of the city. Don't worry if you feel you've got it wrong, because I thought so. I was very hesitant when I arrived and asked the driver 1, 2 and 3 times if we were really in the right place. After stepping into the hotel that the rooftop bar is located at on the top, you see a sign that says "Le Moon" skybar. You take the elevator up to the third floor but then there are no signs and the place feels a little messy but you take some steps up and you will see a white door that you must open and suddenly a completely wonderful sky bar with nice music is right in front of you! The rooftop has one big bar and a huge patio to sit on not to mention the views you get from here! I was very pleasantly surprised, I must say, and it is really worth coming here. A mojito costs $5 and I thought it was affordable with the view I got at the same time!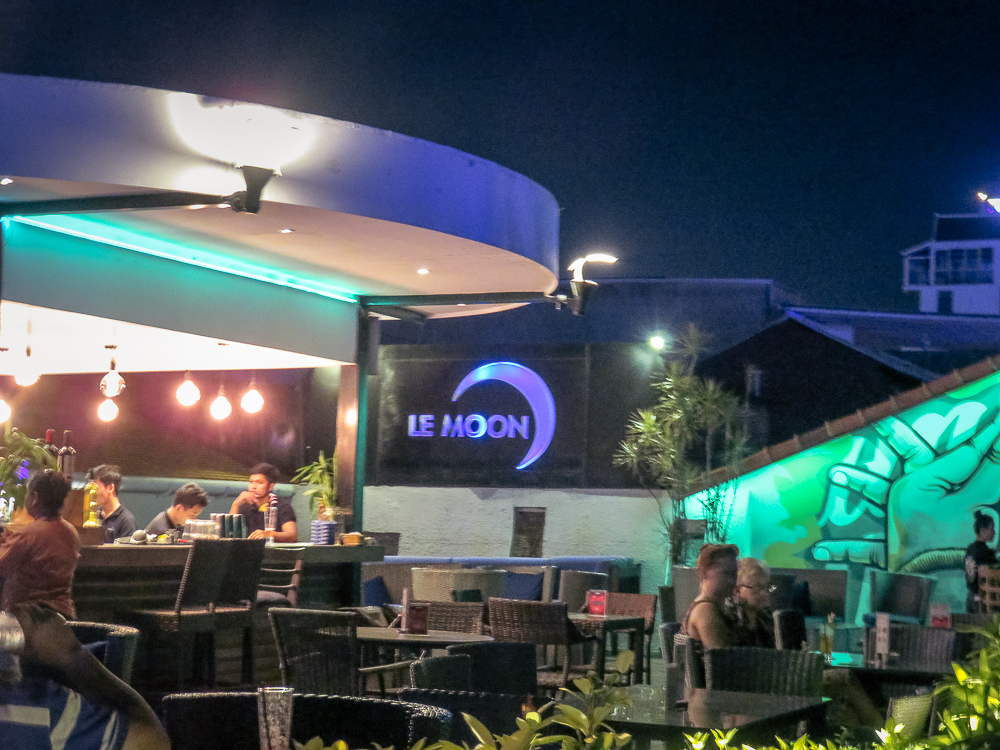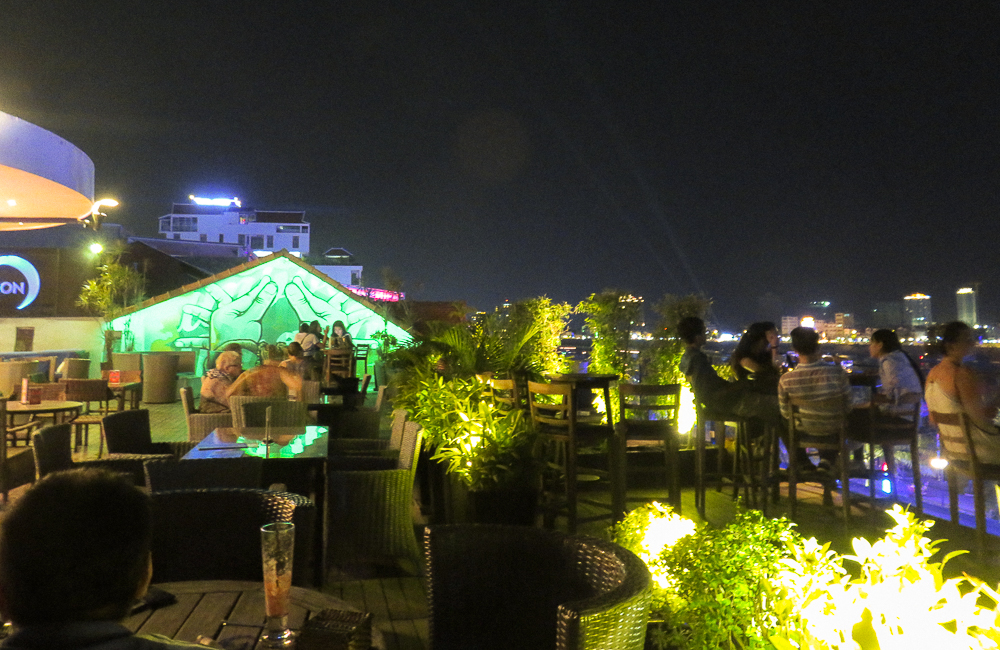 Eclipse Skybar
The Eclipse rooftop bar is located on the 23rd floor of the Phnom Penh tower and is the highest rooftop bar in Phnom Penh. This is a really a cool place and you can also have dinner with a 360 degree view over Phnom Penh. If Le Moon roof bar is cozy and charming, Eclipse is a really cool rooftop bar! This rooftop bar is surrounded by glass panels and has a large patio with food and drinks. Here is plenty of space and is definitely a must visit if you like roof bars as much as me! 🙂
It is happy hour every day between 5pm and 7pm and the best time to come here is at sunset.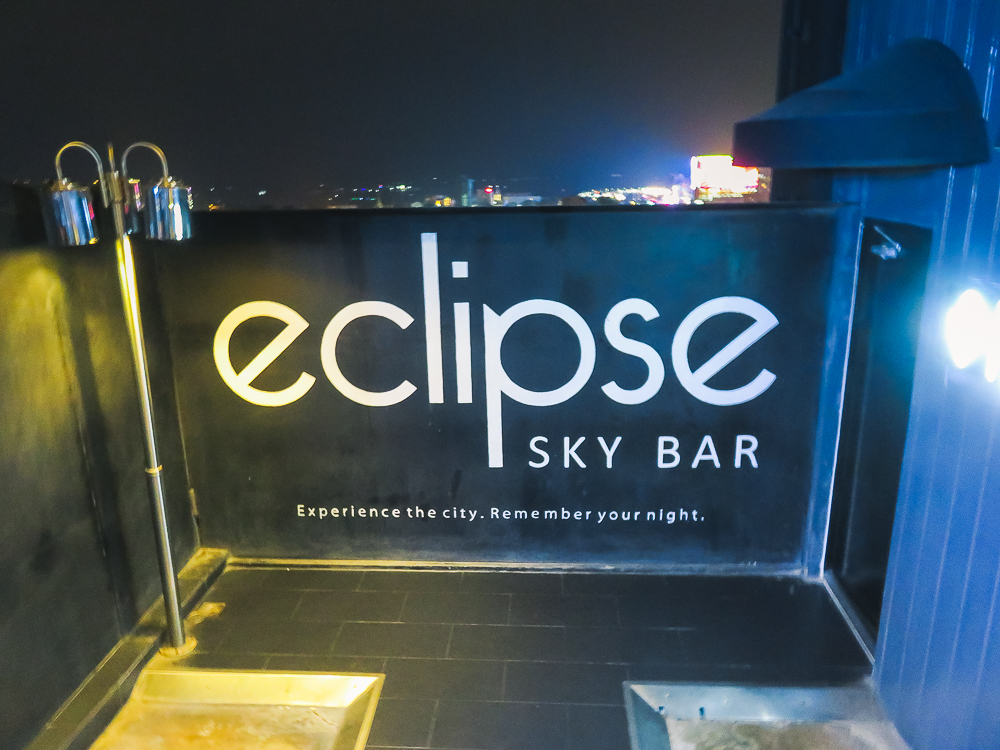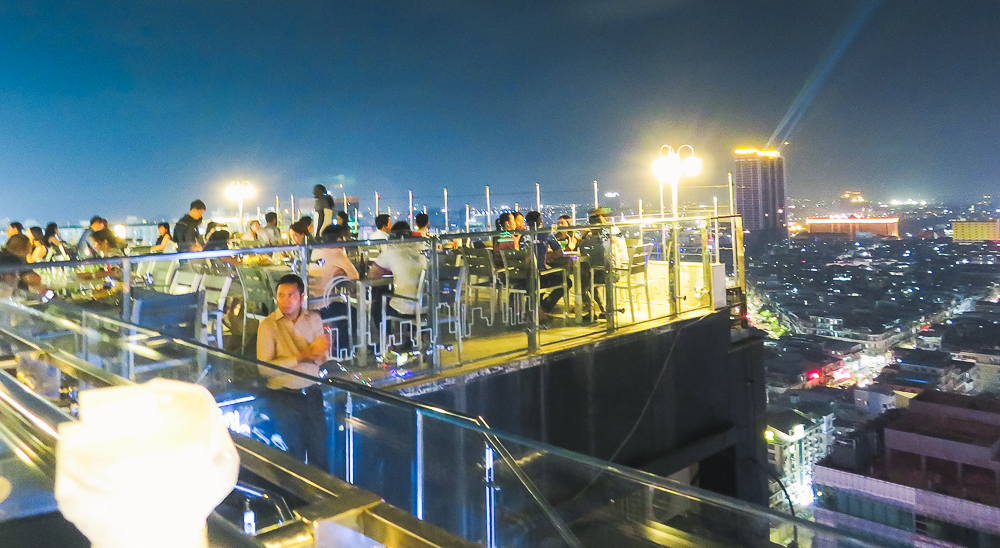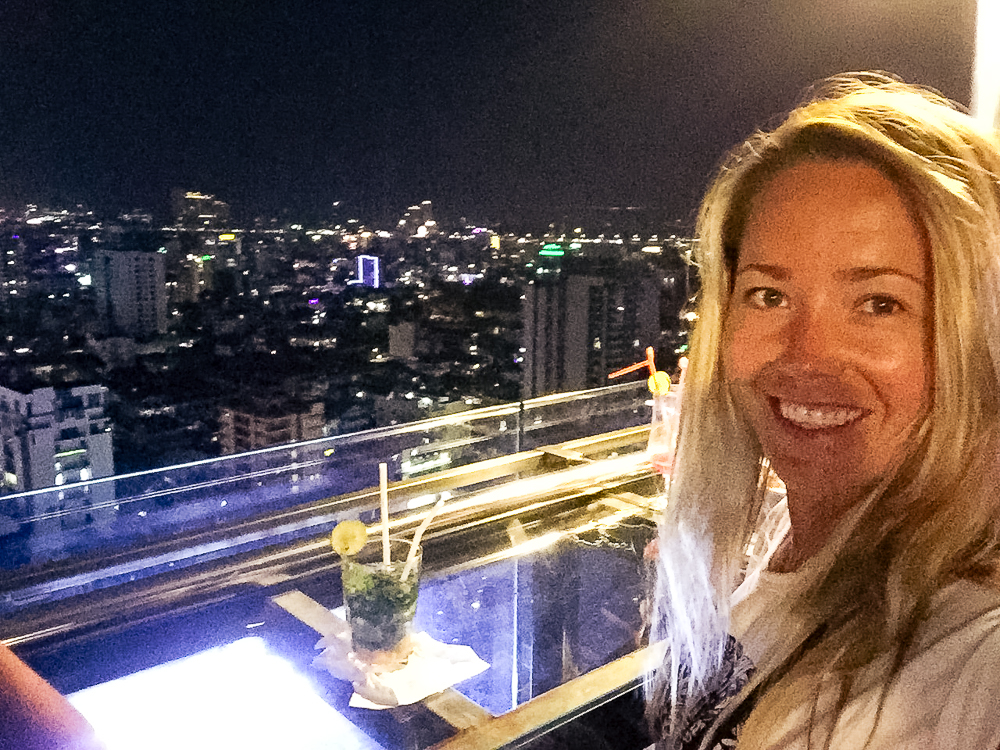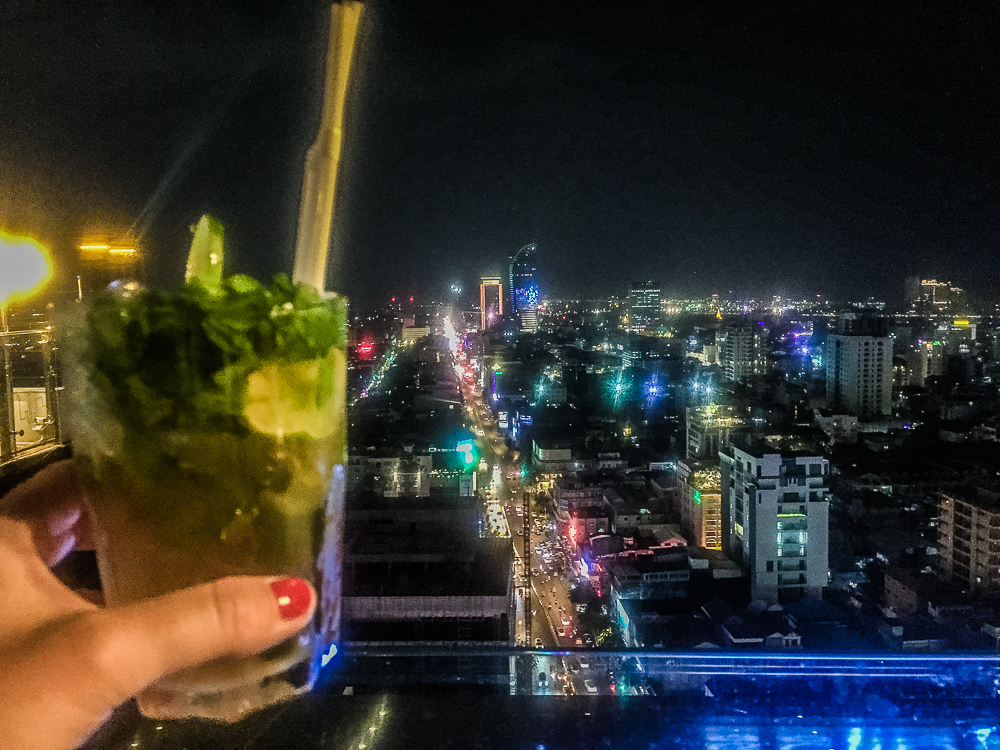 About Phnom Penh:
My Tips!
Phnom Penh is not a city you walk around in, here you take a Tuk Tuk taxi everywhere, which is super cheap! However, there is a walking distance just outside The Royal Palace that I walked and which is the furthest from the river. Here I found an outdoor gym, ice cream parlors, cafes and restaurants. It was actually a nice walk but it was really hot outside and I was sweating like crazy so in the end I went into the shade and there it turned out that I had landed in the middle of a market. A local market where I was the only foreigner, which was actually a bit of fun to see and walk around at.
It was apparently their Sunday market that I had ended up in and it was full speed here to sell fruits, vegetables, fish, meat, chicken, shoes, clothes, yes everything in the middle of the street. I walked around here for a while because I thought it was so fascinating and suddenly I came to the local hairdressing department as well as the spa department. It was really interesting to see in the middle of all the dirty that was around. In the midst of all this, the hair was washed, the hair was blown, as well as people who got massage and everything else possible in skin care. I found a girl who made me a manicure for $1!
My Hotel in Phnom Penh
When I was in Phnom Penh I stayed at
V Hotel Phnom Penh
which is a 4 star hotel in the middle of the city. Very refreshing hotel with a rooftop pool and views of the entire city. One evening I ate dinner up on the roof by the pool and have to say that the food was really good! Fresh rooms, good breakfast and I had wifi in my room. They also helped me arrange excursions and shuttles to and from the airport. I can really recommend staying at this hotel if you are looking for affordable accommodation in the middle of the city!
Have you been to Phnom Penh and maybe have easier to pronounce the city than I have? 😉 What did you think of this city, please tell me!
Here you can read more blog posts I have written about Cambodia:
Or subscribe to my Youtube channel where you can also find my movies from Cambodia:
Happy Travels!
// Charlotte