I've previously written a blog post where I answer all of your questions about how it is to be a flight attendant in general, how to become a flight attendant and a lot of other tips from my time as a flight attendant, which you can read more about in this post. Since you also had some questions specifically about how to be a flight attendant for Qatar Airways, I have written this blog post with answers to all your questions about my life as a flight attendant for Qatar Airways.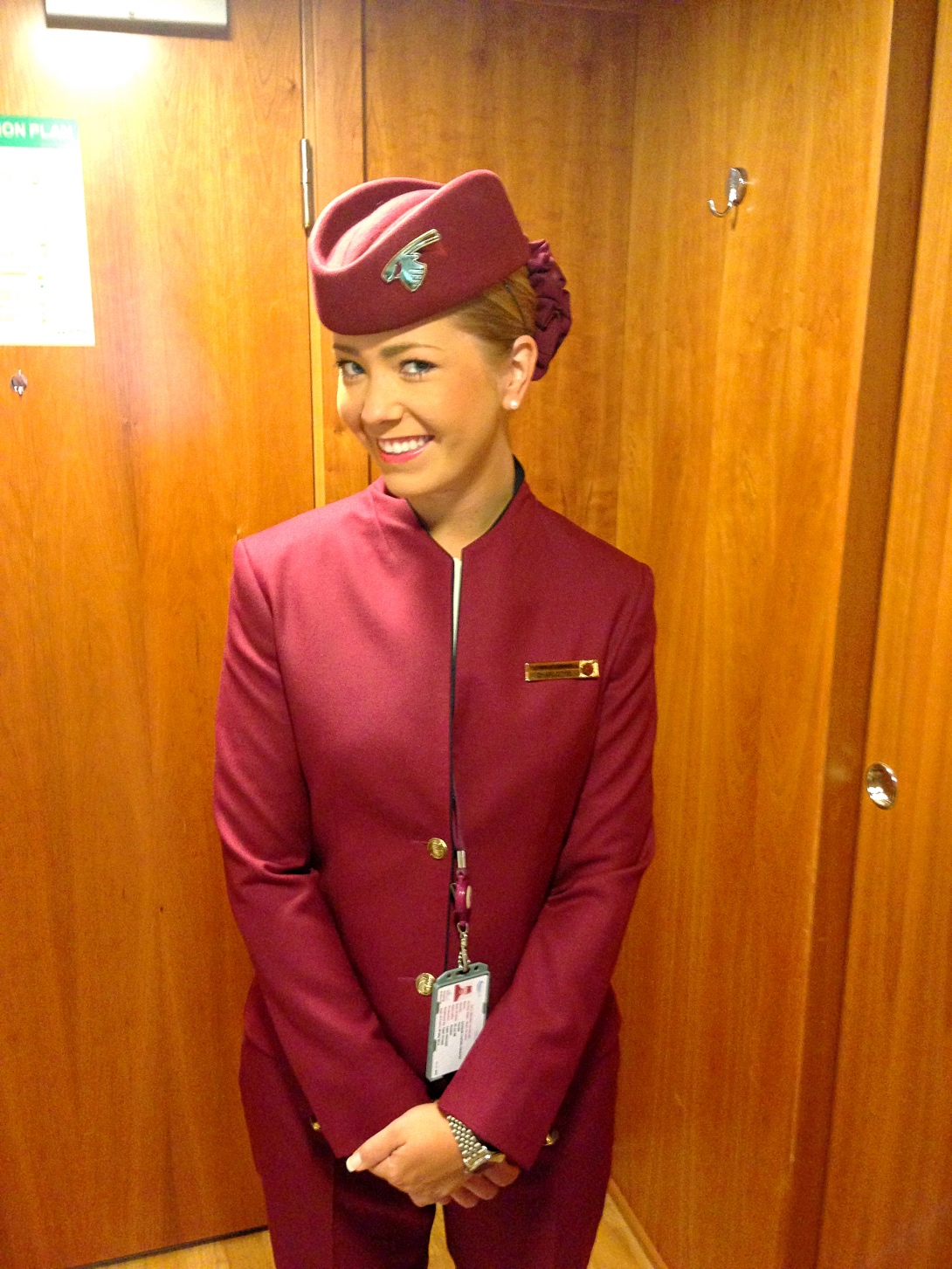 Questions and Answers About My Life as Flight Attendant for Qatar Airways
Are you curious about how life generally is to be a flight attendant, how it work as a flight attendant or how to become a flight attendant, you can read my answers to those questions in this blog post.
In addition to a number of general questions, there were also questions about my life as flight attendant for Qatar Airways. Qatar Airways is an airline that I prefer to fly with when I'm flying far away outside Europe.
I started my career as a flight attendant for Qatar Airways at the beginning of 2011 after being chosen together with two other girls out of 100 people! I tried the life as a flight attendant at the age of 24 and have not regretted it for a single second. I am incredibly proud of myself that I did this adventure!

Here are my answers to the most frequently asked questions you asking me about the life as a flight attendant for Qatar Airways:
Why did you become a flight attendant for Qatar Airways?
It was actually a coincidence that it just became Qatar Airways. It was those who came to Stockholm (at that time 2011) to recruit flight attendants. It could have been Emirates or Etihad Airways who came, I didn't know which was which airline, at that time. So it was a coincidence that it just became Qatar Airways.
How was it to work as a flight attendant for Qatar Airways?
Awesome! First of all, the whole course was in English, all course books, classes, programs, tests, well EVERYTHING was in English. Learning the english language within aviation was something new to me but I learned English very well! The job itself was quite tough as Qatar Airways is a 5 star airline, so it was necessary to live up to it too, which meant a lot of pressure on me as a flight attendant. However, it should be added that it was a great job and fun to see the world and get paid for it! 🙂
How was it living in the Middle East as a blonde woman?
It was really good! I was taken care of very well, in my spare time I spent my free days with friends and as a blonde woman I was appreciated very much by men. For me, it worked very well to live in Doha, Qatar, I really enjoyed me life there! 🙂
Is it true that Qatar Airways has strict rules for cabin crew, what was it?
Yes it is true. There were a lot of rules during my time (2011-2013) that I know that they have "relieved" a little bit now, but not much. I was controlled when I came and left my apartment, partly with video surveillance but also that I had to swipe my ID card in a machine that registered my times. I could never sleep overnight at someone else place, I had curfue, which meant I had to be home no later than 02.30 at night every day, whether I had a day off or not. I was not even aloud to stay with my parents when they came to visit.
Girls lived in their own buildings and men in separate buildings. You were alcohol tested before each flight to see that you had no alcohol in your body, so a rule was that you didn't were aloud to drink alcohol 12 hours before a flight. In addition, you also had to be home 12 hours before a flight to rest. You couldn't even leave your apartment during that time.
Did you have to wear abaja/ shawls while staying in Qatar?
No, I didn't need that. I could go dressed more or less how I wanted but a good idea was to cover my shoulders and knees but there was no rule that I had to wear it like that.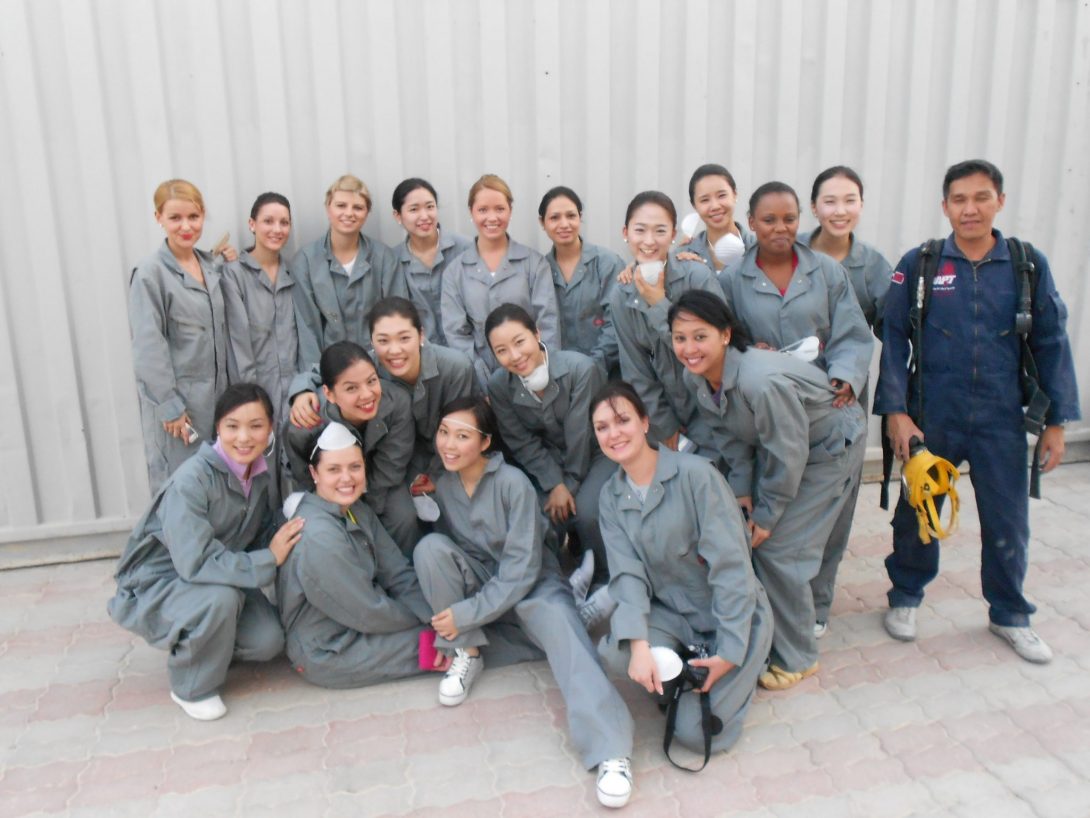 Wasn't it difficult with the culture and another language in Qatar?
At first it was absolutely hard, but in a strange way I adopted myself very quick, so I didn't think it was so hard at the end actually. I was more frustrated not to understand the Arabic language, it had been really great to know that language!
How was your life in Doha when you didn't flew?
Most often I was with friends or went to some beach or hotel that had a beach to have a relaxing day by the pool. I party a lot and went out to the desert to hang out with friends, to ride a quad bike or ride camel or just relax. I had dinners on the souq with friends, which is a popular market to be on.
How much did you flew every month?
It was very different from month to month, depending on the type of flight and destination I got on my schedule. If I flew long haul flights to the United States, South America or Australia, maybe I flew 1 or 2 times a week while other months I could do 3 flights a week if there were short flights to Dubai back and forth. As I said, it could differ a lot from month to month. Then there is also training that you have to do a few days a year, which means you may not fly in one week to get time to study and rest up before the training and before the next flight thereafter.
How many days were you off during one month when you flew for Qatar Airways?
I had days off quite a lot, sometimes I could get 4 days off in a row, did a flight where I was gone for 2 days and then I could be off 4 days again after that. Usually you have at least 2 -3 days off after a long haul flight to recover your body's sleep and jet lag before the next flight.
Do you speak Arabic?
No I don't, but I wish I could speak Arabic.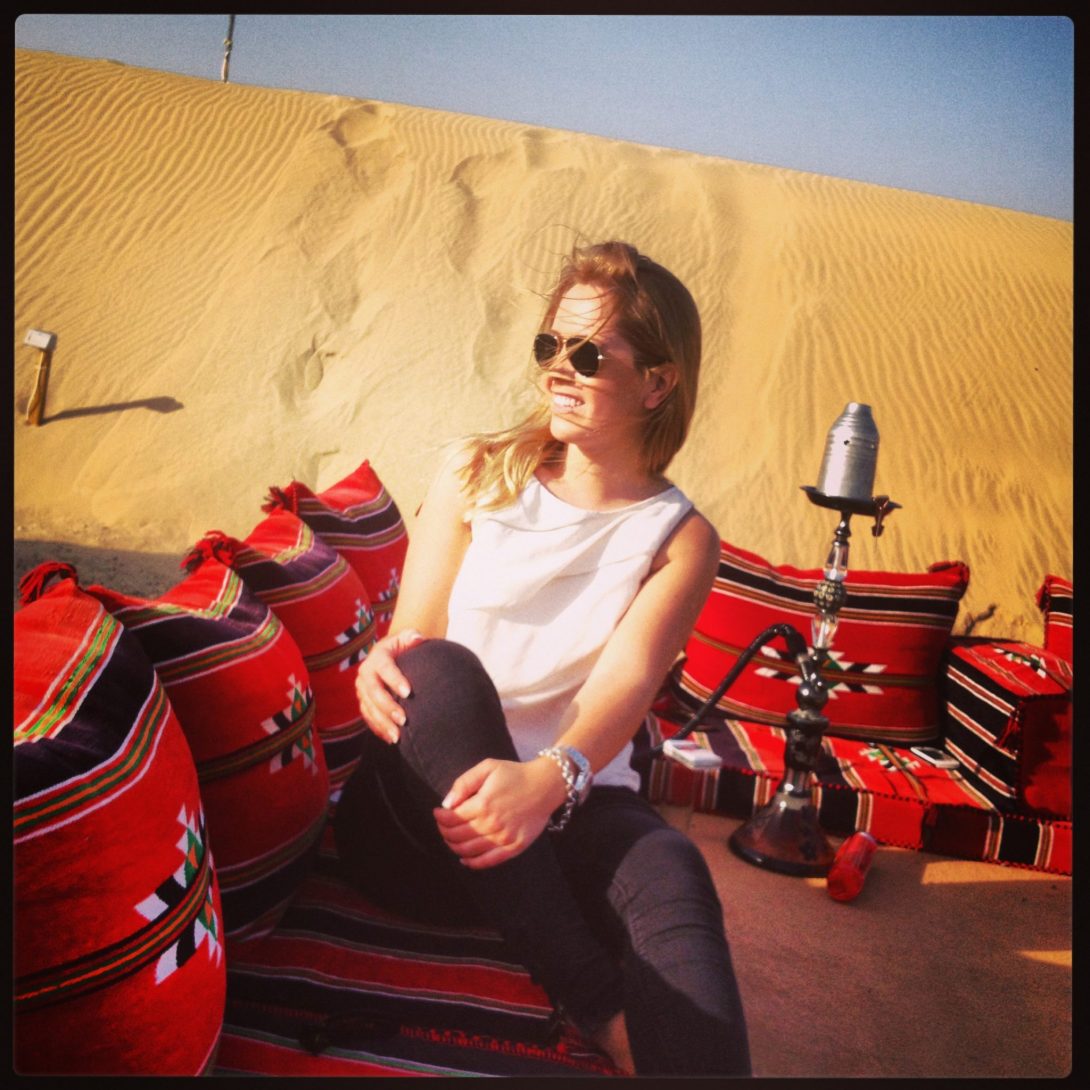 How many days did you stay at each destination you flew to?
Oh, it could vary but at least 24 hours at each destination. Some even 4 days but it was rare. Usually it was between 36 hours – 3 days.
What was your best destination with Qatar Airways?
I have plenty! During my time when I flew for Qatar Airways 2011-2013, the Maldives were really cool to visit, as well as Australia and the Seychelles. I was also able to fly to my beloved Shanghai, where I lived in 2009, so I could visit some friends when I was flying there. It was perfect!
What is the worst that have happen to you during a flight?
Many people are surprised that I don't respond turbulence on this question, but the worst thing I had during a flight with Qatar Airways was a flight from Doha to Tokyo, which is a 12 hours flight where a passenger suffered a heart attack and died unfortunately. We performed cardiovascular and pulmonary rescue but unfortunately we couldn't save the passenger's life and we had to do an emergency landing in China and then continue the trip to Tokyo – that flight was not fun, but I also became an experience richer.
How could a day look like at Qatar Airways?
You put on the uniform, being picked up by a minibus about 1 hour before it's time for your checkin,  the bus is driving you to the airport and picking up other cabin crew members at the same time. You enter the "office" where you register on a computer that you are there and then you look for your briefing room where the entire crew is gathered to go through today's flight.
You have biefing for about 40 minutes where everyone presents themselves, gets assigned a position in the airplane, which becomes your job position on that flight. Then we went to the plane in another minibus where the entire crew for that flight was collected. Everyone gets on board the flight and takes the position assigned to you (it's important to know what's in the position you're assigned to, but you'll get to know it quickly). You set up your station and prepare for all passengers, then just wait for the passengers and start performing your moment during the flight! 🙂 When you get home from a flight you check out on the same computer at the office and then you wait for a minibus to drive you home to your apartment you have been awarded by Qatar Airways.
How did you live? In a house or an apartment?
Qatar Airways provided me with a 2 bedroom apartment together with another girl I didn't know. They put you together without knowing who the other person is. I was lucky living with a Italian girl in my age and we had a lot of fun! 🙂 And no, I didn't have to pay rent.
What was the best thing about being a flight attendant for Qatar Airways?
The flight routes! Qatar Airways flew all over the world, already at my time 😉 I really got to discover the world and got paid for it!
How many Cabin Crew are you working on a flight with Qatar Airways?
We could be a lot of cabin crew during one flight. Due to Qatar Airways is a 5 star airline, they also prefer a lot of crew members to really provide really good service. In addition to 2 pilots (sometimes 4 if we flew to Australia) we could be up to 19 in the crew. Like a whole school class 🙂
How do I become a flight attendant for Qatar Airways?
I found an advertisement in the newspaper Metro that Qatar Airways was looking for flight attendants but the easiest way is to go to their website is www.qatarairways.com and go to their career page. You find the direct link if you click here. There you will see the date and place when they recruit new staff. Good luck! 🙂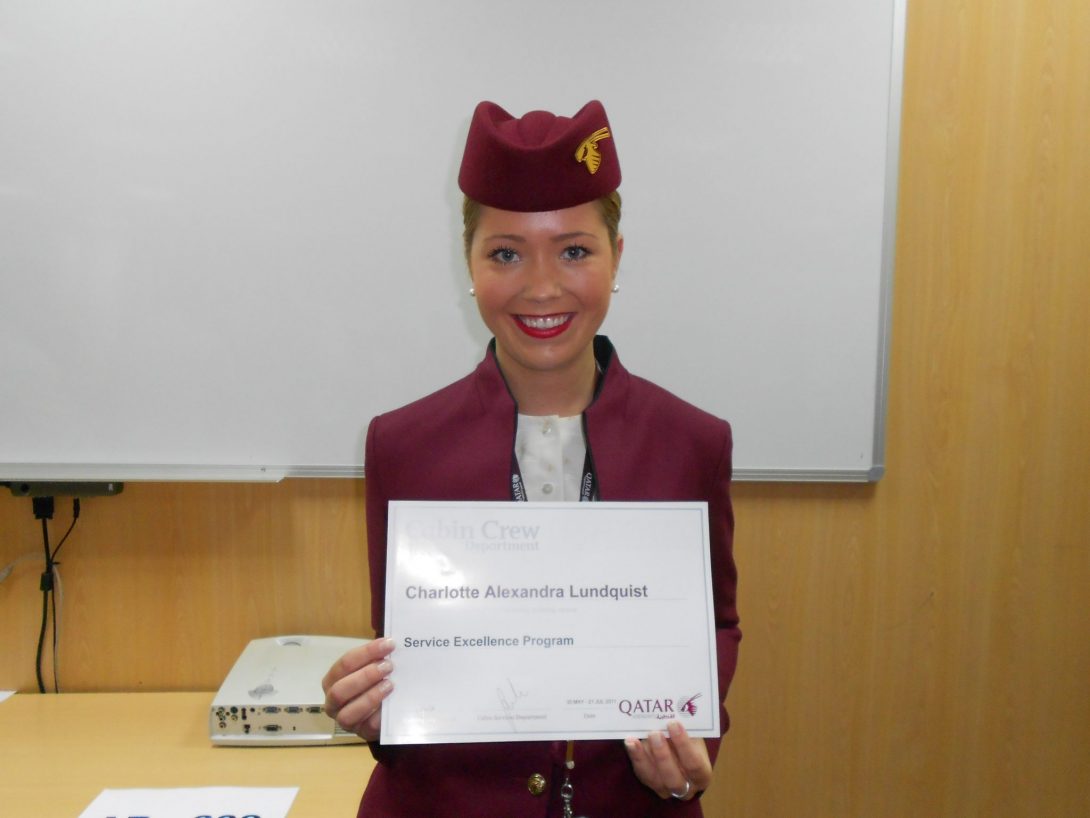 Do you have more questions about my life as a flight attendant for Qatar Airways, please comment! Would you like to read more posts I wrote about being a flight attendant can you click in this link to come directly to the category "Flight Attendant".
You can also follow my adventures on Instagram here, Facebook here, Bloglovin here or sign up on my Youtube channel here! 
Happy Travels!
// Charlotte