Lufthansa Business Class A350 from Delhi to Münich
Today I'm gonna introduce you to my flight with Lufthansa in their Business Class on Airbus 350. It's an aircraft model I've never tried to sit in Business Class with and therefore I very much look forward to this flight. I have flown Qatar Airways A350 in economy class earlier but never Lufthansa A350 Business Class.
The A350 aircraft model is the latest model in the aviation world. It differs slightly from other aircraft models, for example, this one is not that loud when you take off and the feeling is very smooth. A very nice feeling! 🙂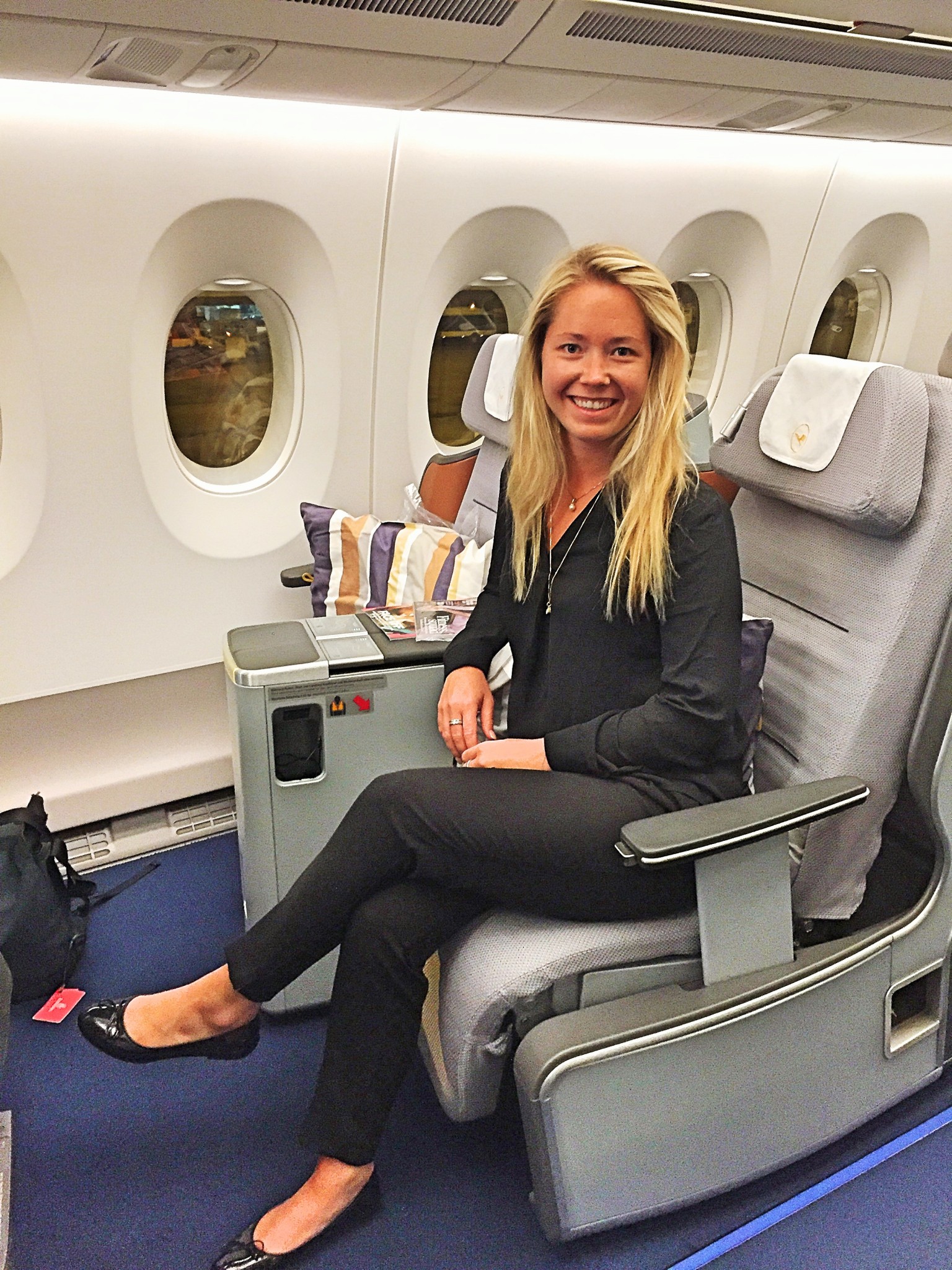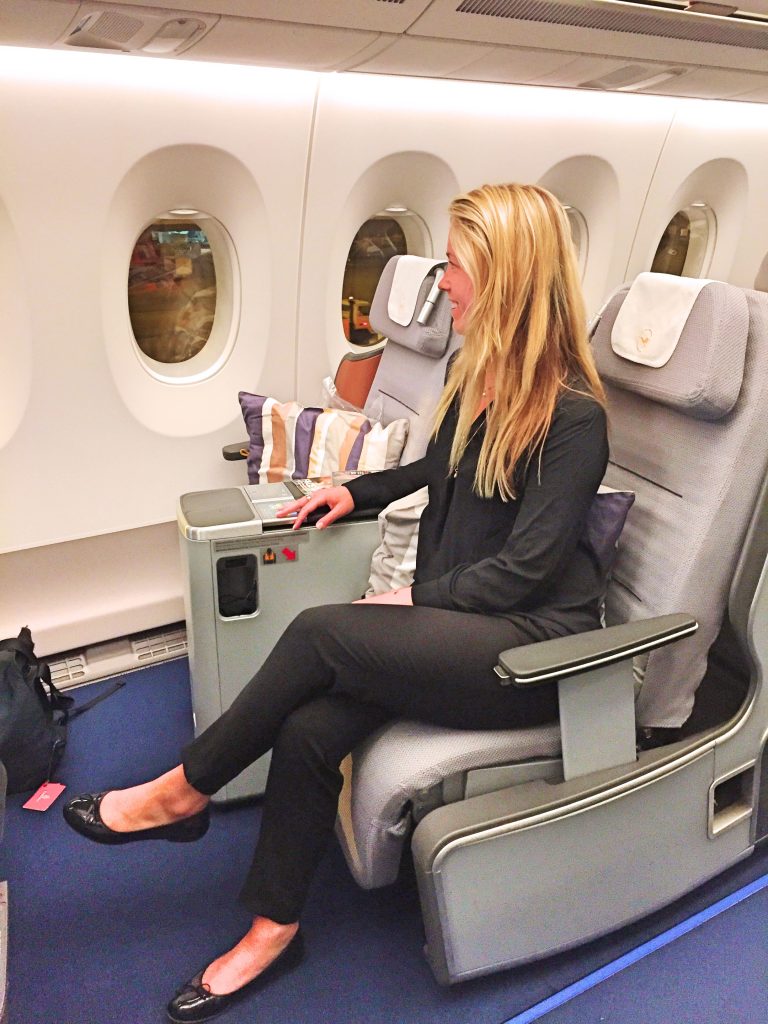 Lufthansa Business Class
I flew with Lufthansa in their Business Class A380 from Frankfurt to Delhi, which you can read more about here. On our way home from Delhi we flew through Münich and then to Stockholm. I was really excited to sit in their A350 Business Class as I had been flying in their A380 and I can compare the flights with each other. Which was the best? I'll tell you later in this post 😉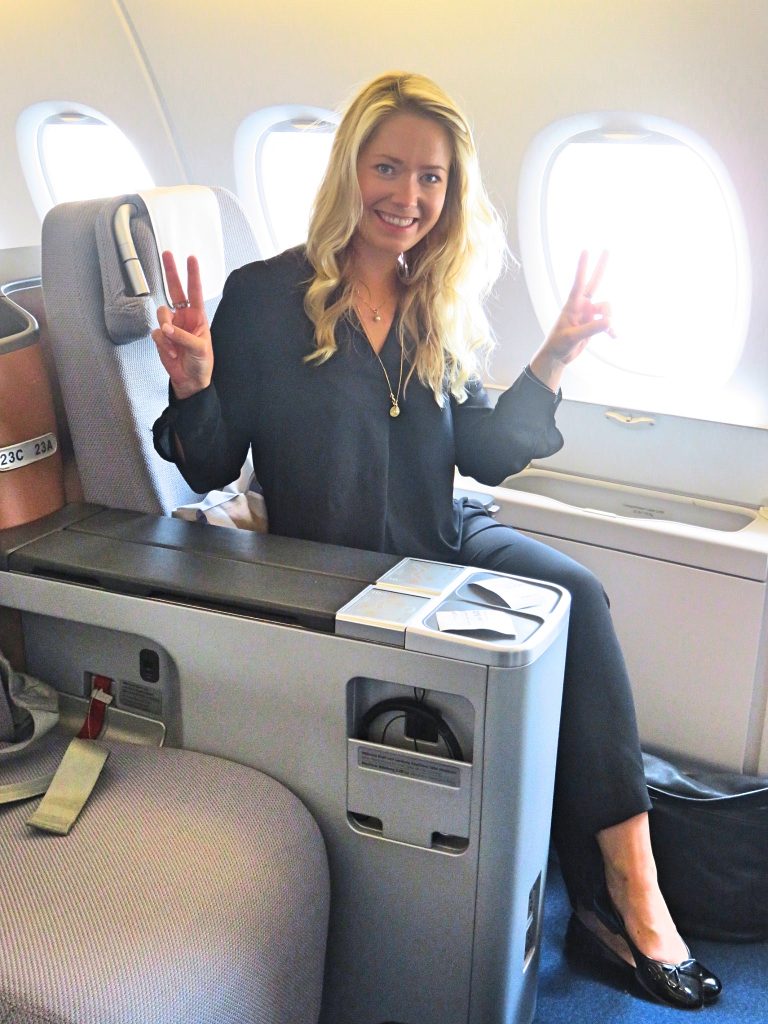 How it looks
Lufthansa Airbus 350 has only one floor instead of two floors as the Airbus 380 has. The seats are divided by 2-2-2 with two aisles on both aircraft. However, there are fewer seats in the Business Class on their A350 than in the A380, which is understandable due to it only has one floor.
We got our seats at row 2 in Business Class, which I like, because then I will be one of the first to get out of the aircraft after landing 🙂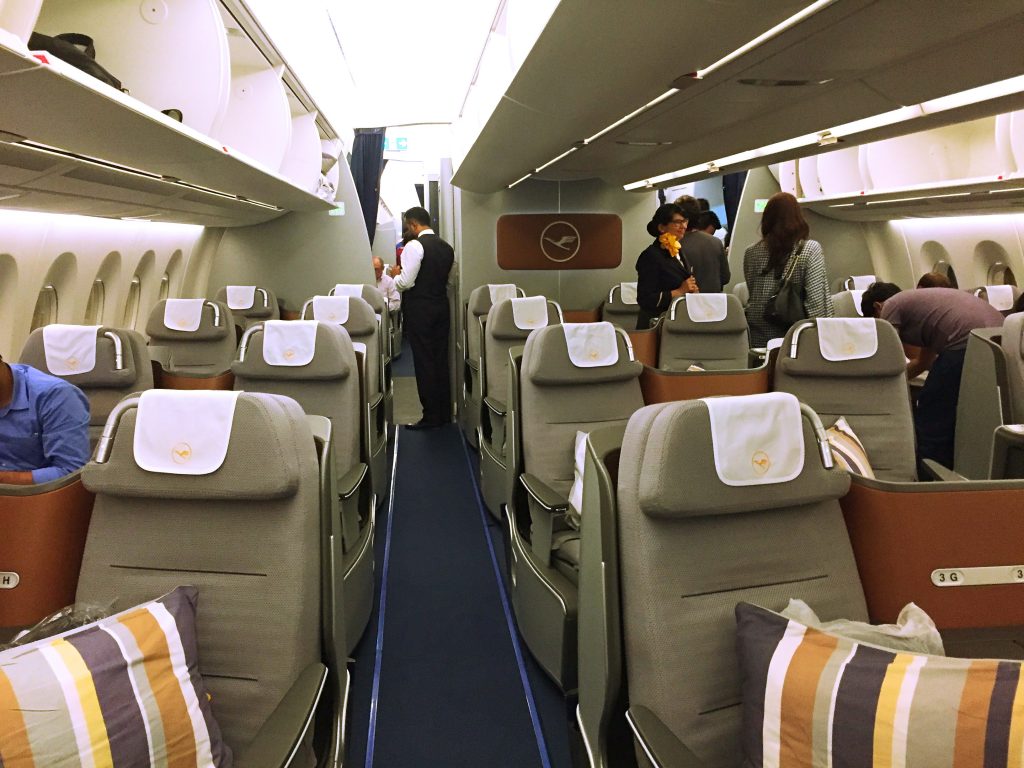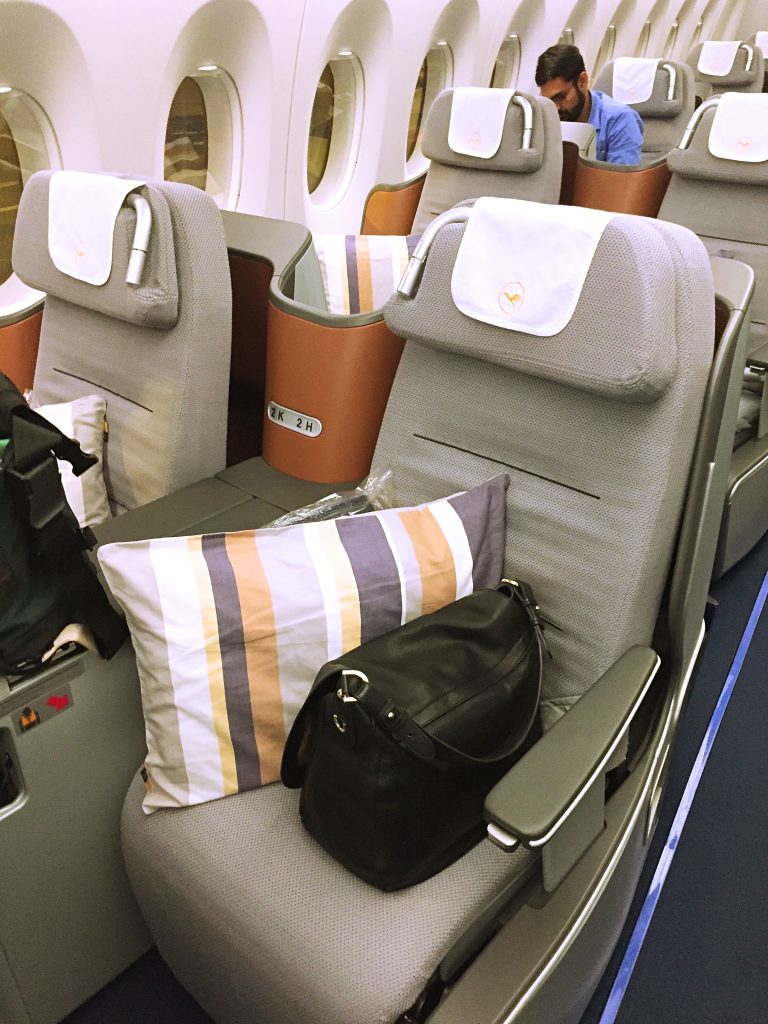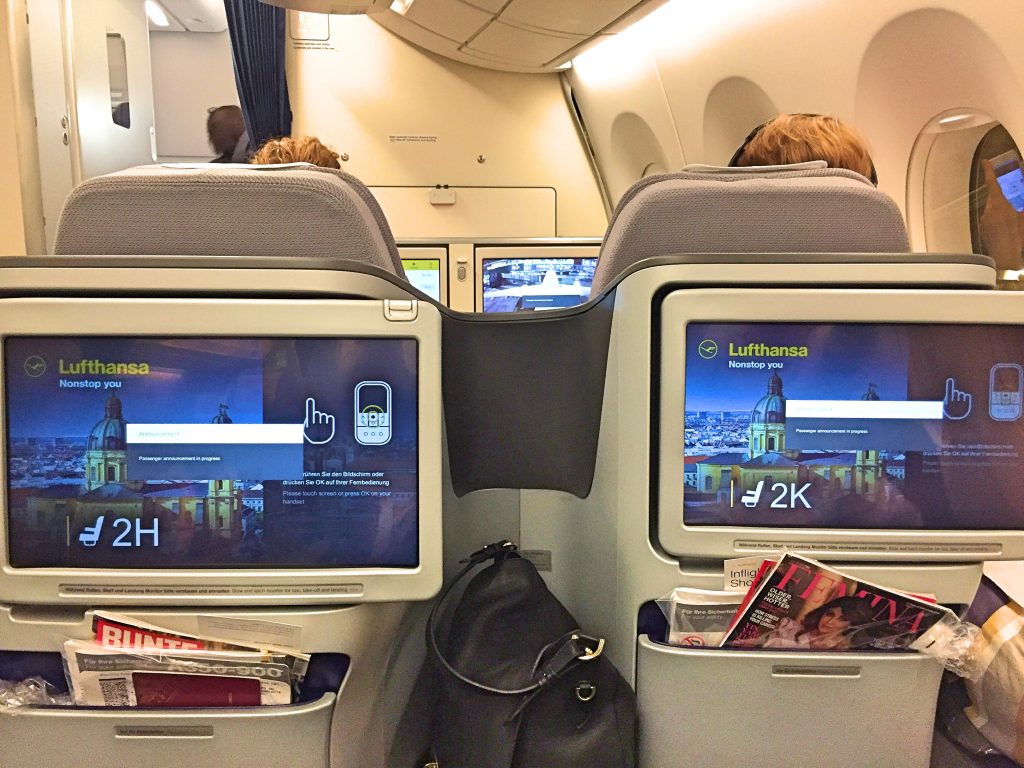 What I do during the flight
We flew a night flight with Lufthansa from Delhi to Münich and the flight took about 6.5 – 7 hours. Plenty of time to watch movies, eat, sleep and stroll around the airplane and see how the interior and the different classes looks like. To do all this is very entertaining for me when I travel in this class and I enjoy it a little more than I otherwise would do 🙂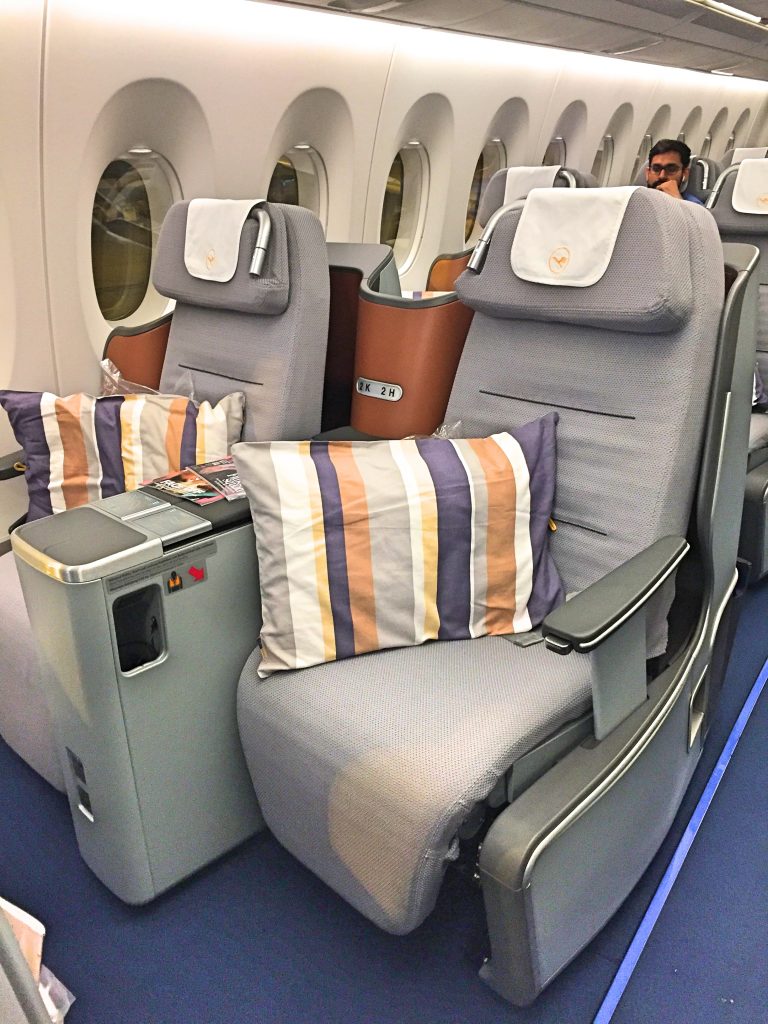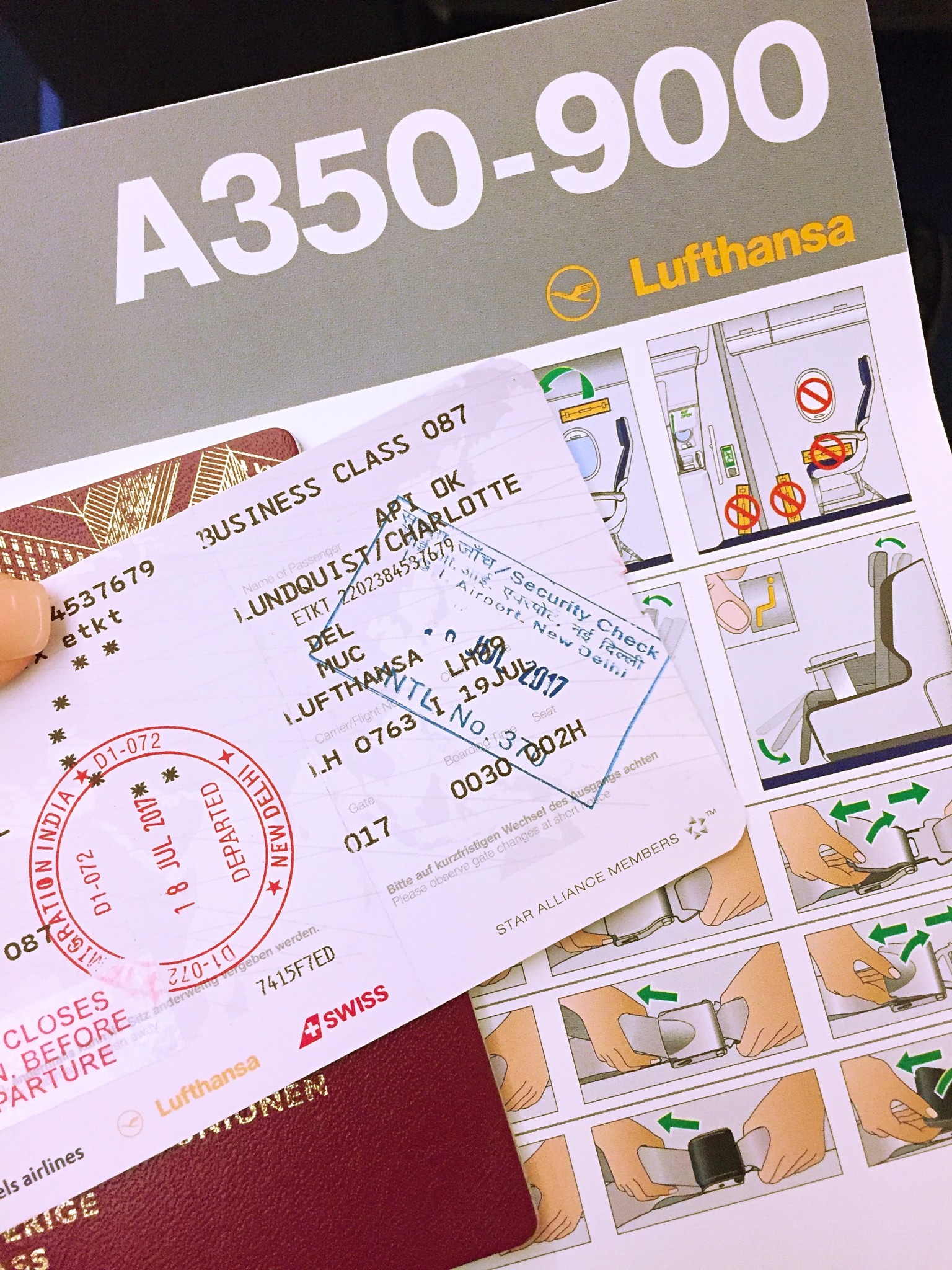 On the A350, there is no first class, but it did have a first class on the Airbus 380 I flew, which you can read more about here. We were served a glass of champagne when we boarded and I chose to continue on that even after take off. Although this flight was in the middle of the night, I wanted to enjoy every minute I had in business class and everything they had to offer 🙂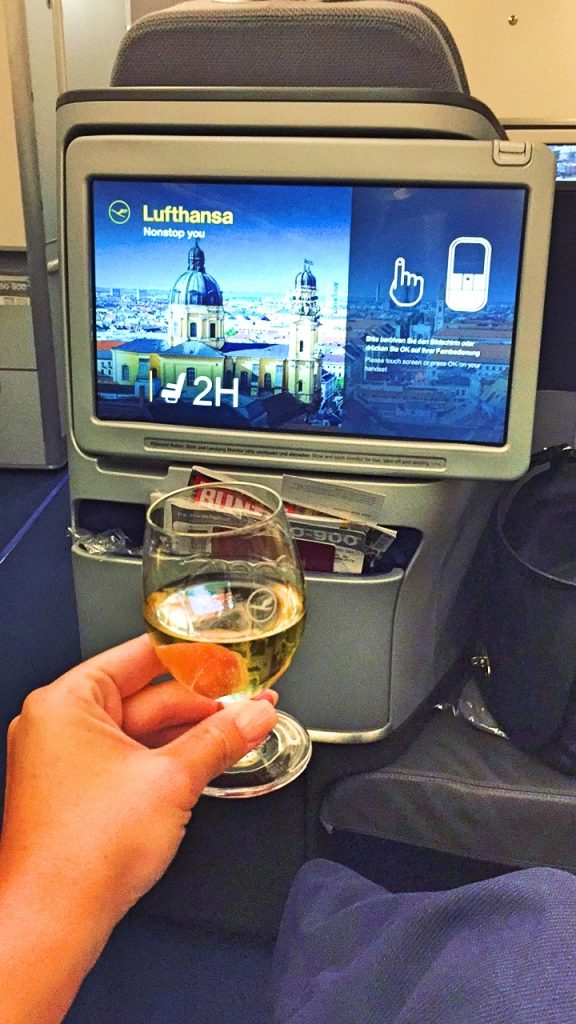 I discovered something new in Lufthansa A350 aircraft. Something I have never seen in any other airline or aircraft type before. They have changed the smoke symbol, it was new to me. Here is a mobile icon with a cross over it. An updated security sign! Have you seen this panel on any other airline?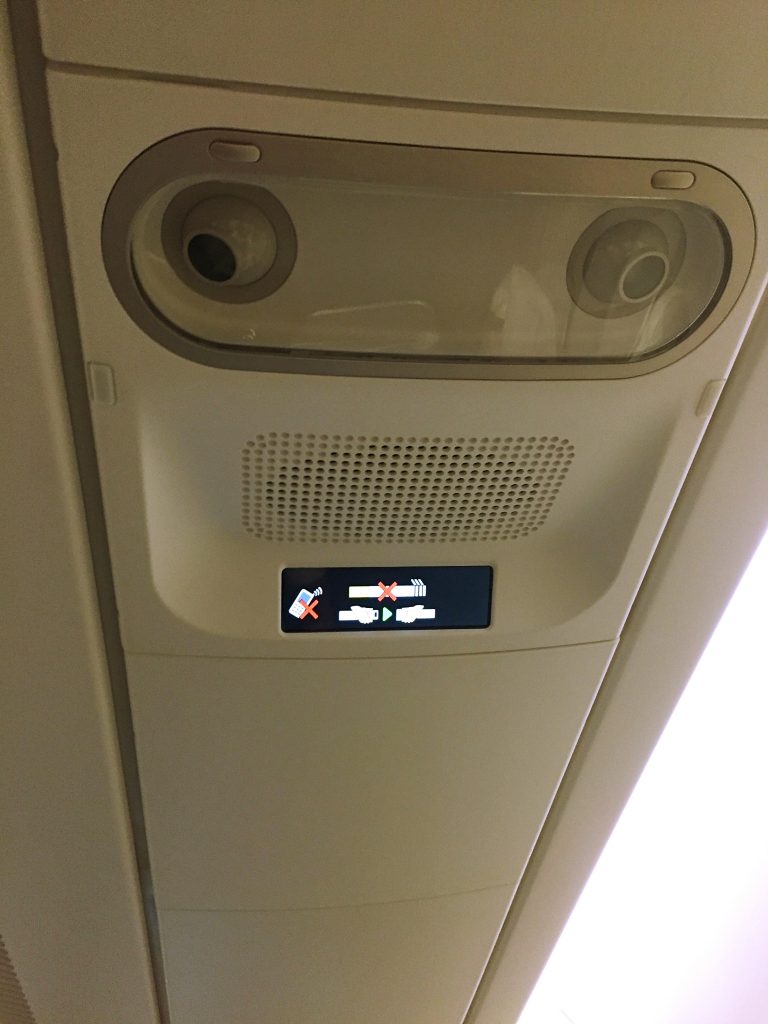 THE FIRST THINGS I DO
The first thing I do when I sit down in my seat is to feel and squeeze everything in and around it 🙂 I make sure I know where my life vest is located. I check where my headphones are and I try to press the buttons that belongs to my seat to see if they work as they should.
I don´t want to find out when it's time to sleep that my seat don´t work, because it has happened to me! Hence, there were other vacant seats this flight, but you don´t know that before the aircraft is geting fully loaded.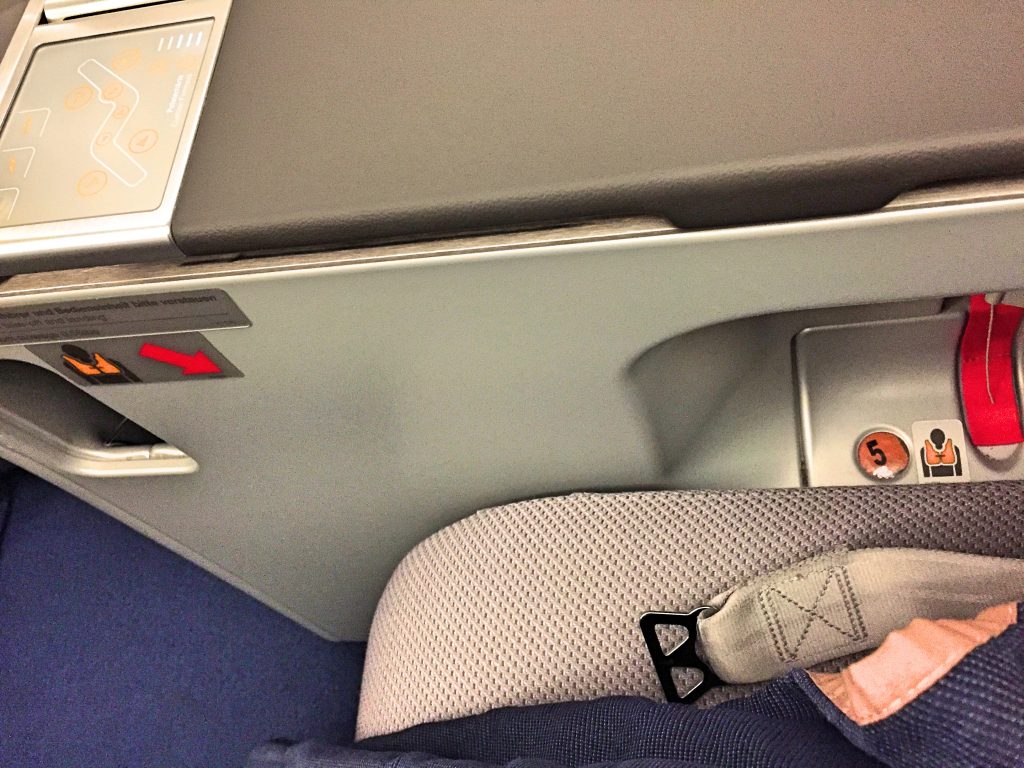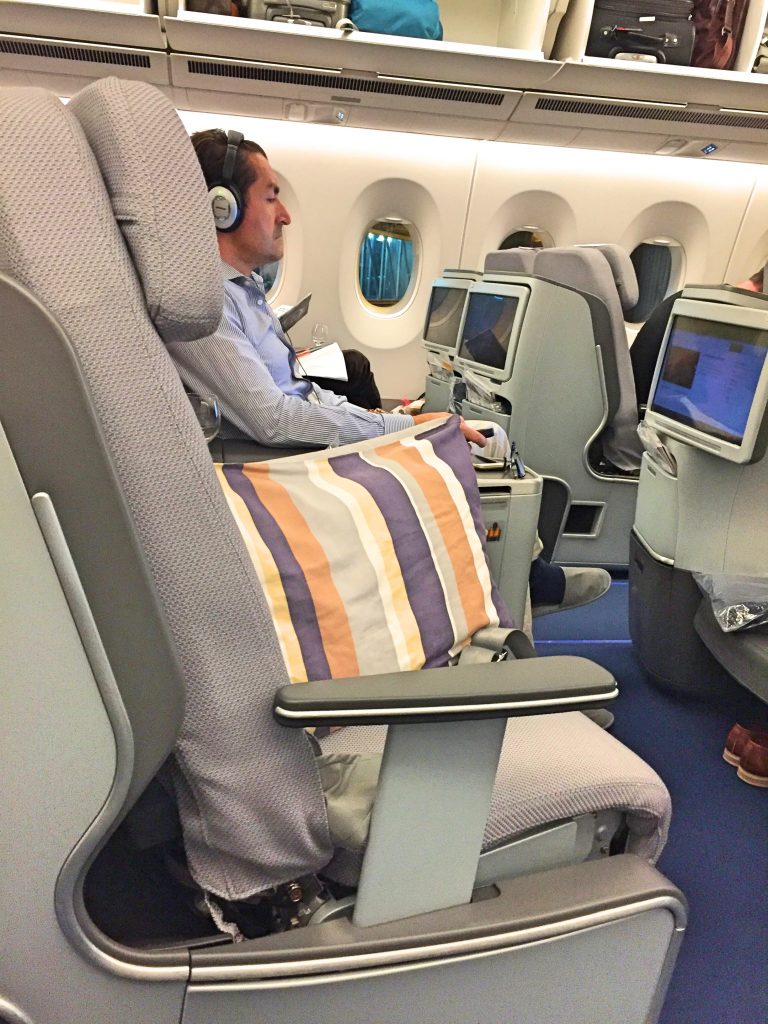 The Airbus 350 has incredibly big windows. They feel very very big against what I'm used to see in other aircrafts. Hence, it also makes a feeling that you have a lot of space in Businees Class. The whole space around me is very big and the cabin feels great thanks to these big windows. Well done Airbus! 😉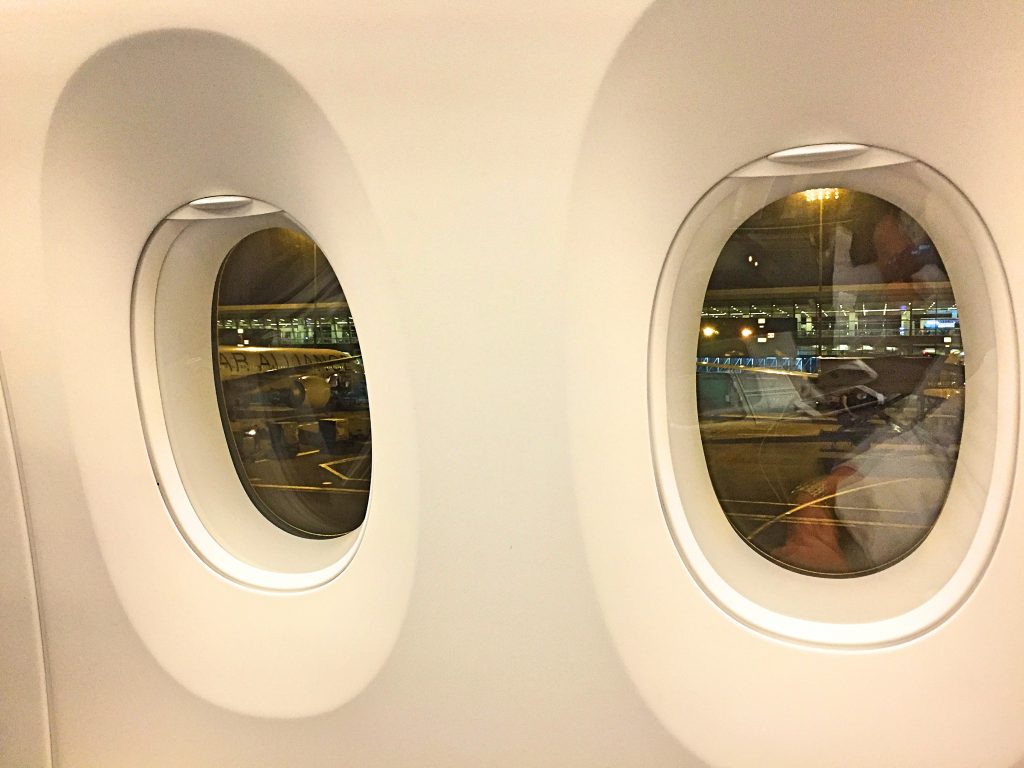 This also includes onboard the Airbus A350 in Business Class with Lufthansa: 
Amenity kit consists of toothbrush, toothpaste, napkins for your spectacles, hand cream, socks, blindfold, etc.
Large cozy covered
Big nice pillow
Slippers
Bose headphones
Waterbottle
USB socket in the armrest
An extra large screen that can also be angled and pushed to the sides
Place to put your bag next to the TV screen
Meal No. 1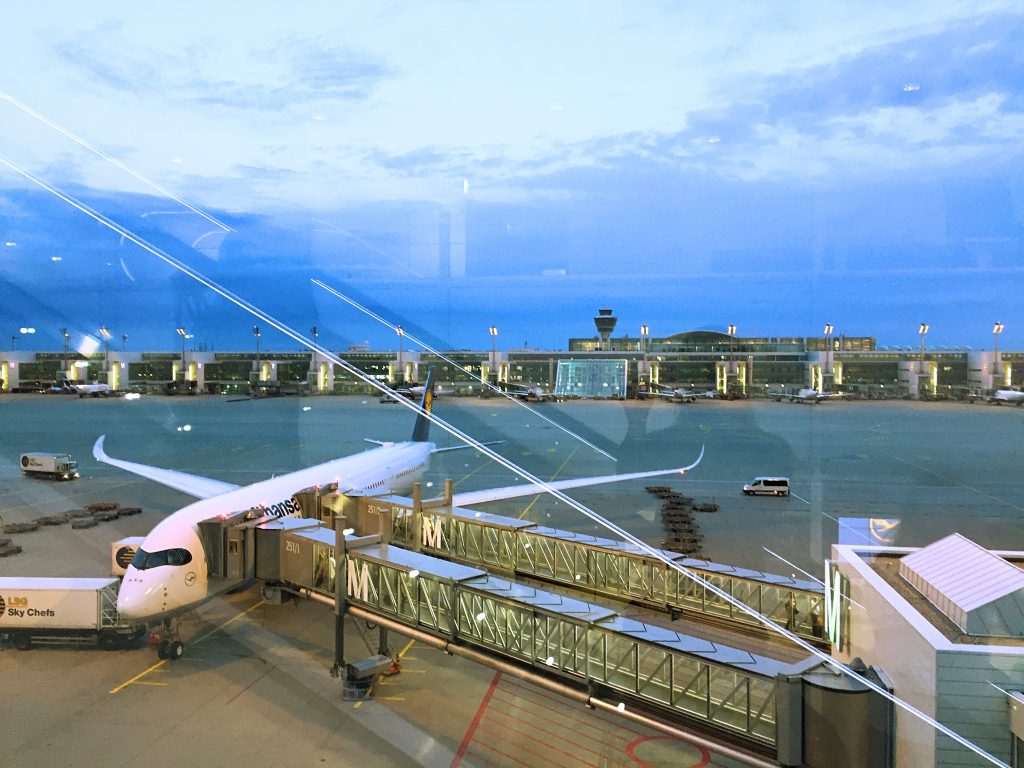 After take off which was in the middle of the night, they served us a lighter dinner. Here there was a large selection of both alcoholic and non-alcoholic drinks and before landing into Münich. Later, breakfast was served. Unfortunately, the food was not my kind of food on this flight.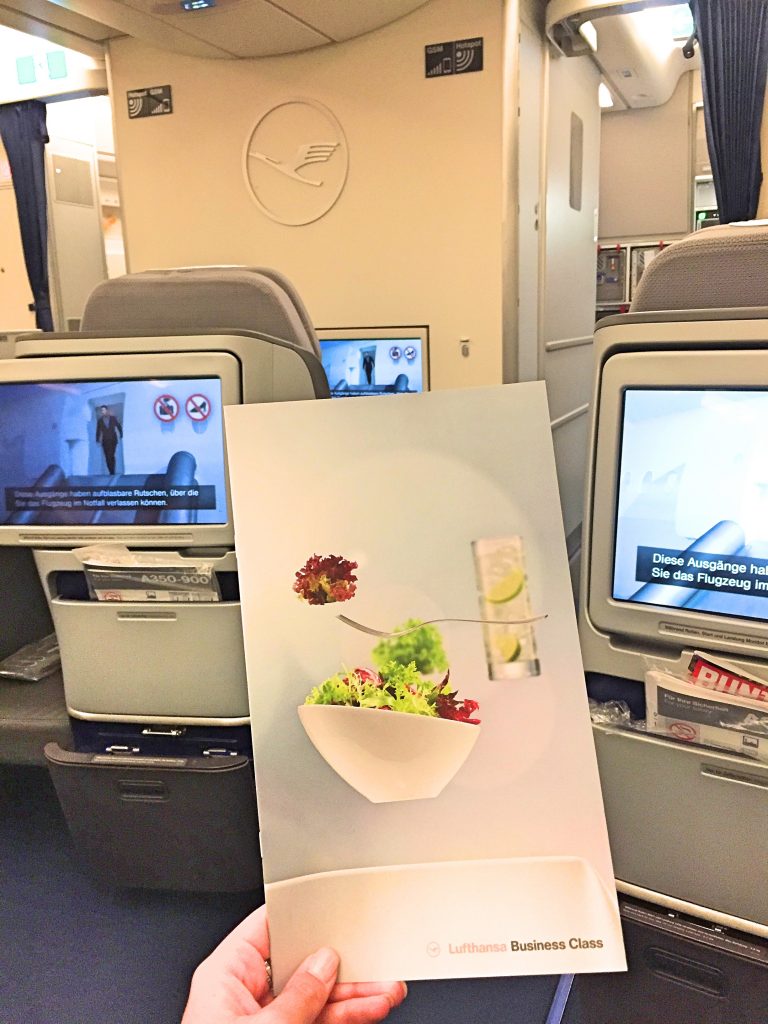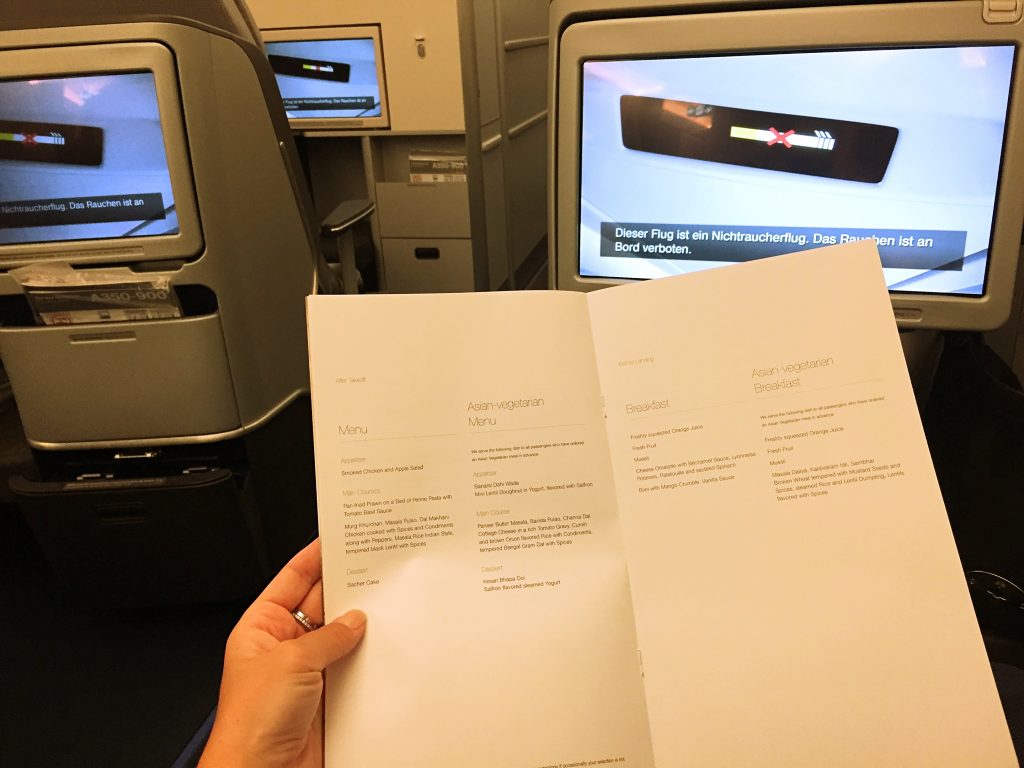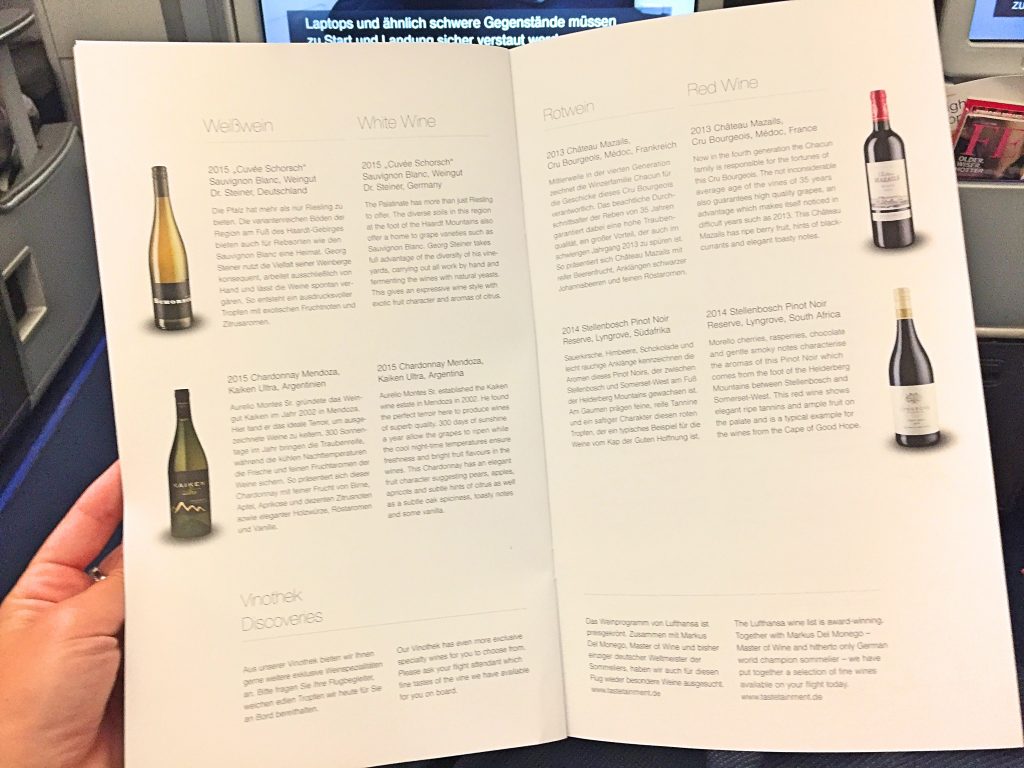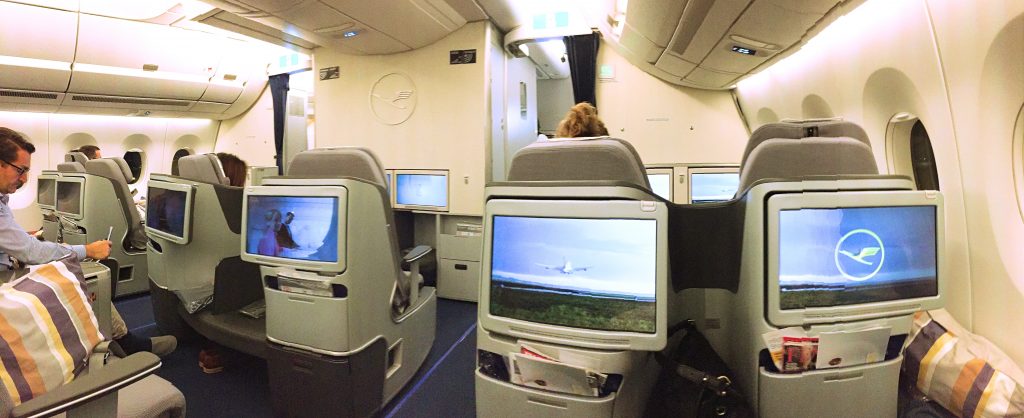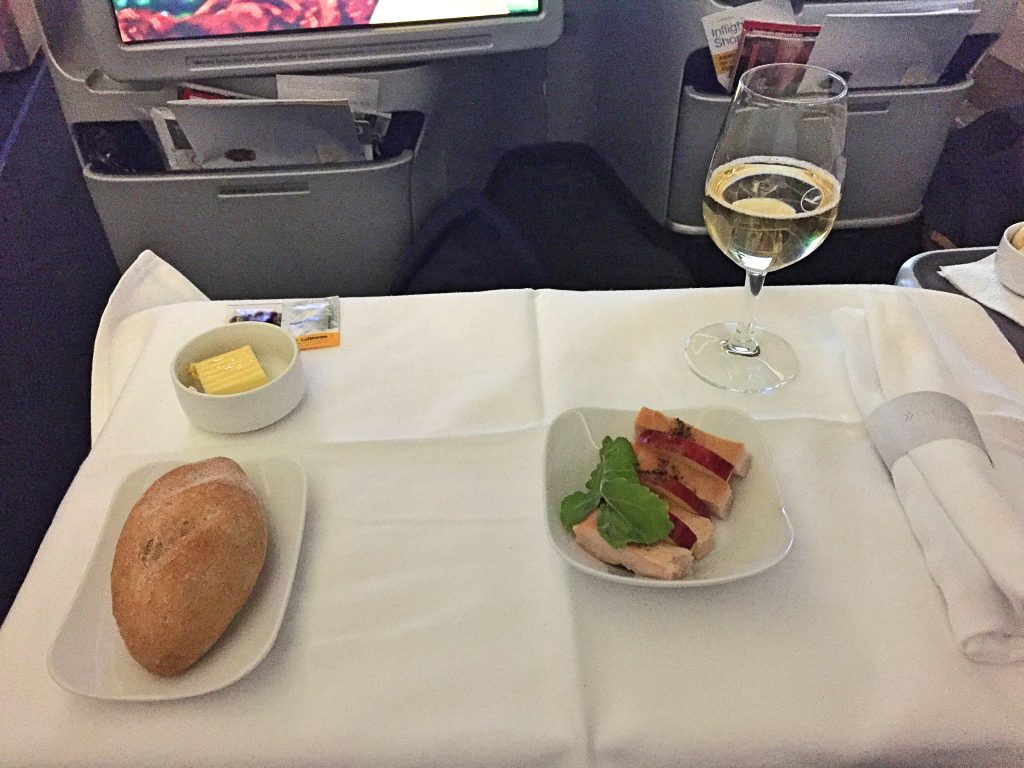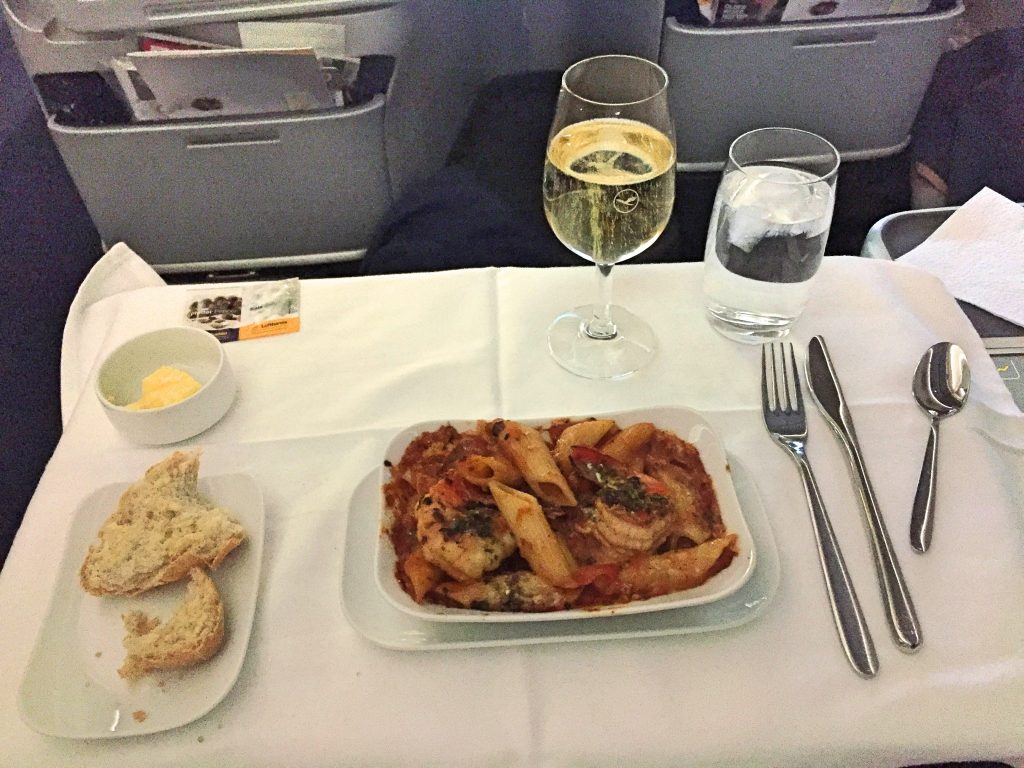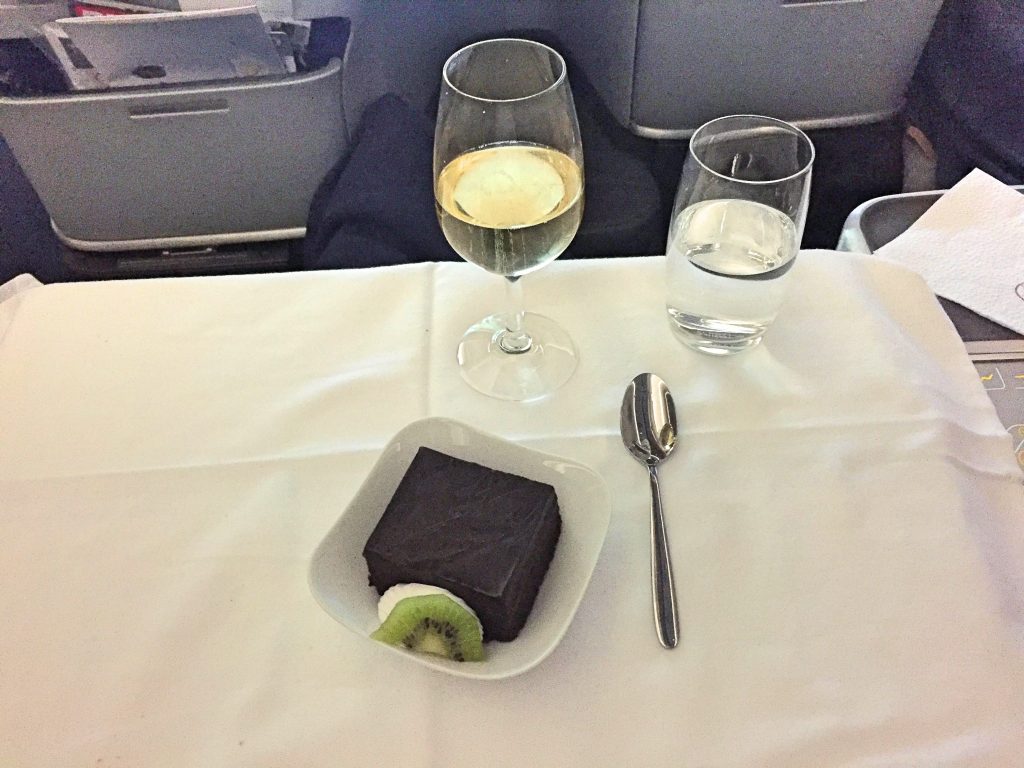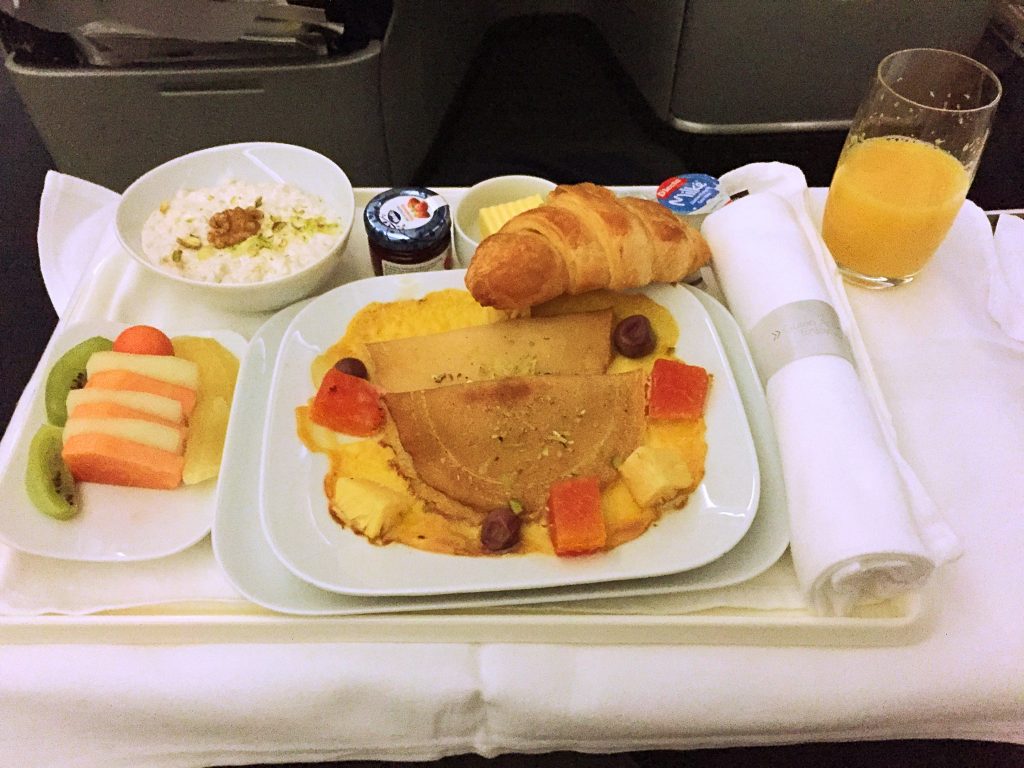 When we landed in Münich it was early in the morning and the sun was going up. Perfect for taking a photo on Lufthansa Airbus 350 that I was flying with. What a beauty! 😉
Overall, I am very pleased with Lufthansa as an airline. Unfortunately, this flight was a night flight, which meant I was not as excited as I would otherwise be. I fell asleep after a few glasses of champagne and far too little food in my stomach.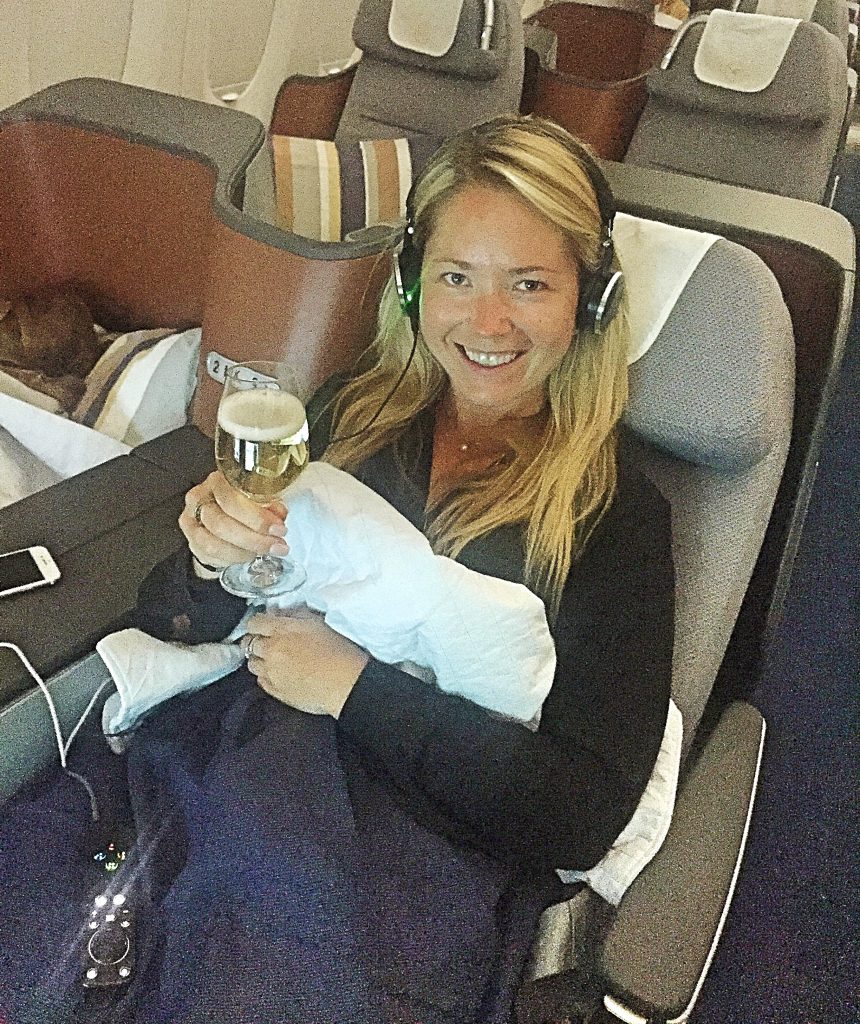 So which aircraft model did I thought was the best?
Lufthansa Airbus 380 is my favorite airplane and has been since it was released on the market. Just because it has two floors and is really cool to sit in Business Class. It was also a day trip, which made me excited and I enjoyed every minute. I love the feeling of seeing and feeling an airplane taking off. Especially when it's so heavy and weighs as much as Airbus 380 does when it's fully loaded.
Lufthansa Airbus 350, on the other hand, was very quiet and smooth during our take off, that gets many plus points from me. I barely felt when we took off, so quiet and smooth it was! Unfortunately, Lufthansa Airbus 350 didn´t have any first class. Therefore, I think the Airbus 380 is the best aircraft of these two! 😀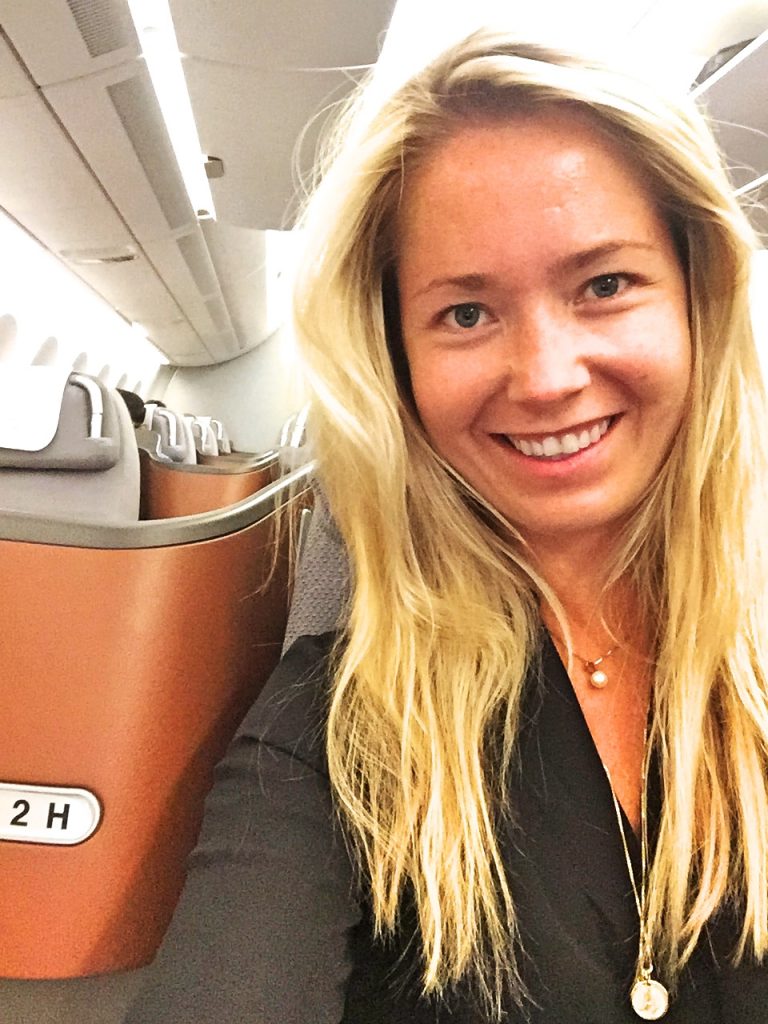 Have you flown with Lufthansa A350, what did you think of that aircraft model? Have a look what Lufthansa has to offer today, maybe they have something special for you! 😀
Happy Travels!
//Charlotte