Stockholm's Hottest Rooftop Bars Summer 2019
For those who have followed me for several years knows that I LOVE rooftop bars regardless of where in the world I am. To my great pleasure, Stockholm has realized how fantastic it is with rooftop bars and more and more of them are being built here for every summer that comes! 🙂 This year several new amazingly beautiful rooftop bars have opened in the middle of Stockholm City which is really hot and popular to visit and a must when you are in Stockholm!
Therefore, in this blog post I want to share the latest, hottest and trendiest rooftop bars in Stockholm that you just have to visit if you like rooftop bars as much as I do! 🙂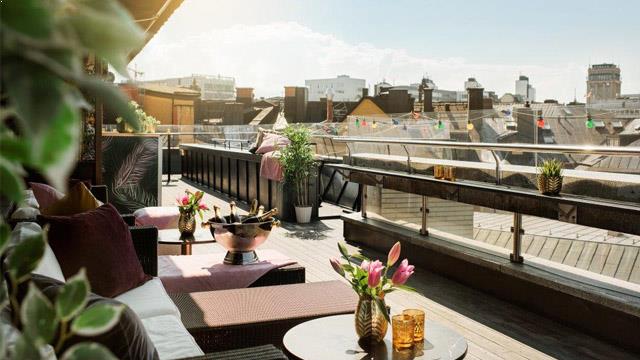 These are my favorite rooftop bars in Stockholm:
Le Hibou at Bank hotel
Stockholm's latest and hottest rooftop bar is called Le Hibou and is located at the top of Bank Hotel. The rooftop bar has its own entrance which is just before the main entrance to the hotel. This rooftop bar is really neatly decorated and not only has one but two (!) Terraces on either side of the hotel. The indoor bar and lounge are complemented by two roof terraces. One with comfortable lounge chairs for the really comfortable relaxation in the sun, and opposite with more ordinary chairs and tables.
When you step in here, it feels like you are entering someone's living room that has really good interior flavors! Unfortunately, dogs are not allowed to come here. This place is really worth a visit for anyone looking for a good and luxurious break after shopping or sightseeing in central Stockholm.
You can read more about my visit from Le Hibou in this blog post.
Address: Arsenalsgatan 6 (close to Nybrokajen)
Mall of Scandinavia Rooftop bar
In June 27, 2019, the Mall of Scandinavia opened its 1600 square rooftop terrace overlooking the Friends Arena. Here you will find sun loungers, boules, ping pong tables and five different food trucks. Perfect for those who come here for shopping! 🙂 When visiting this place you don't need to fight to get a place, which I think is nice. It is big enough for everyone.
Address: Stjärntorget 2, Solna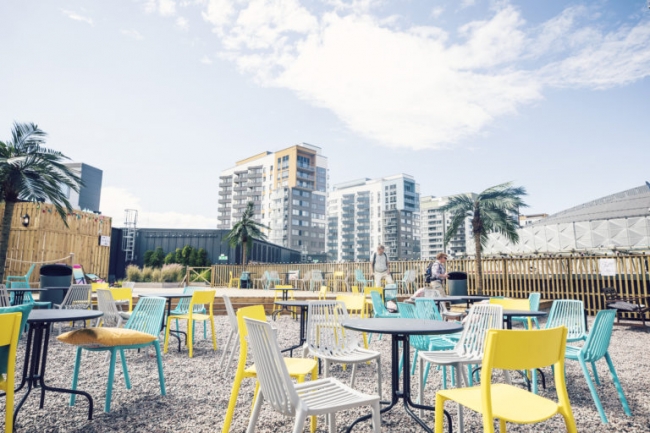 TAK Stockholm
At Brunkebergstorg in Stockholm city, TAK is located consisting of two floors with a total of 1000 square meters. Here are 160 places both indoors and outdoors for nicer weather. Tak Stockholm is part of Urban Escape Stockholm, where also Nordic Choice hotels At Six and Hobo are included, perfect for those who stays in any of the hotels!
Address: Brunkebergstorg 2-4, Stockholm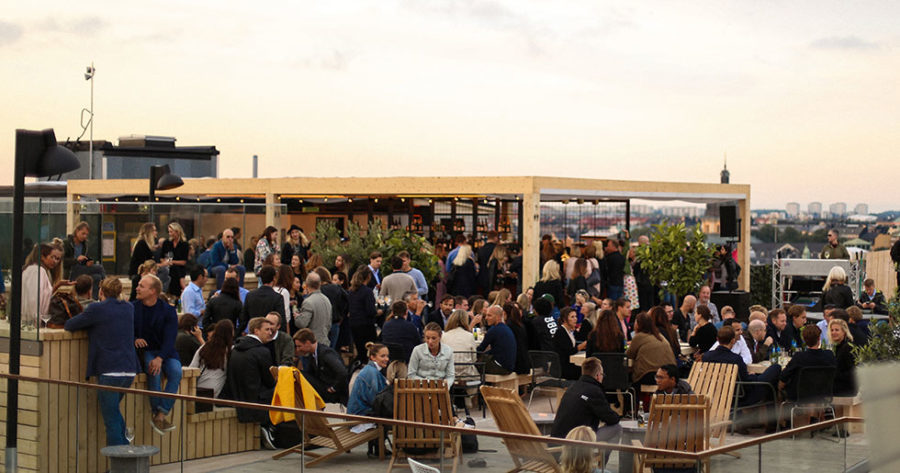 Stockholm under Stjärnorna (SUS)
Stockholm Under Stjärnorna (Stockholm Under the Stars) is the next adventure in the neighborhood around Brunkebergstorg. A few steps down the square you will find the entrance, take the lift up and walk over the bridge to get to the 1200 square meter rooftop park. (Same entrance as to TAK rooftop terrace) When you find yourself here it feels like a very long summer festival. A sense of freedom.
Address: Brunkebergstorg 2-4, Stockholm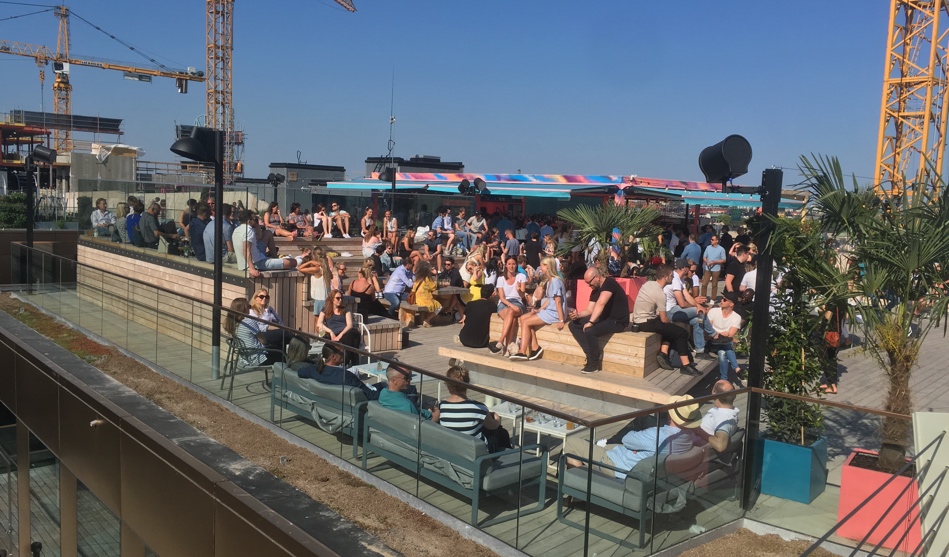 The Nest at Downtown Camper
The latest hotel in Stockholm with a rooftop bar that has both bar and wellness department is the nest at Downtown Camper. The location is in the middle of the city, by newly renovated and refurbished Brunkebergs Torg (opposite TAK Stockholm). Here you get one of Stockholm's best prospects with fantastic and magnificent views over Stockholm. The best thing about The Nest is the luxurious 2 x 8 meter rooftop pool. One of the very best rooftop pools in northern Europe. The pool is heated and can be used all year round!
Address: Brunkebergstorg 2-4, Stockholm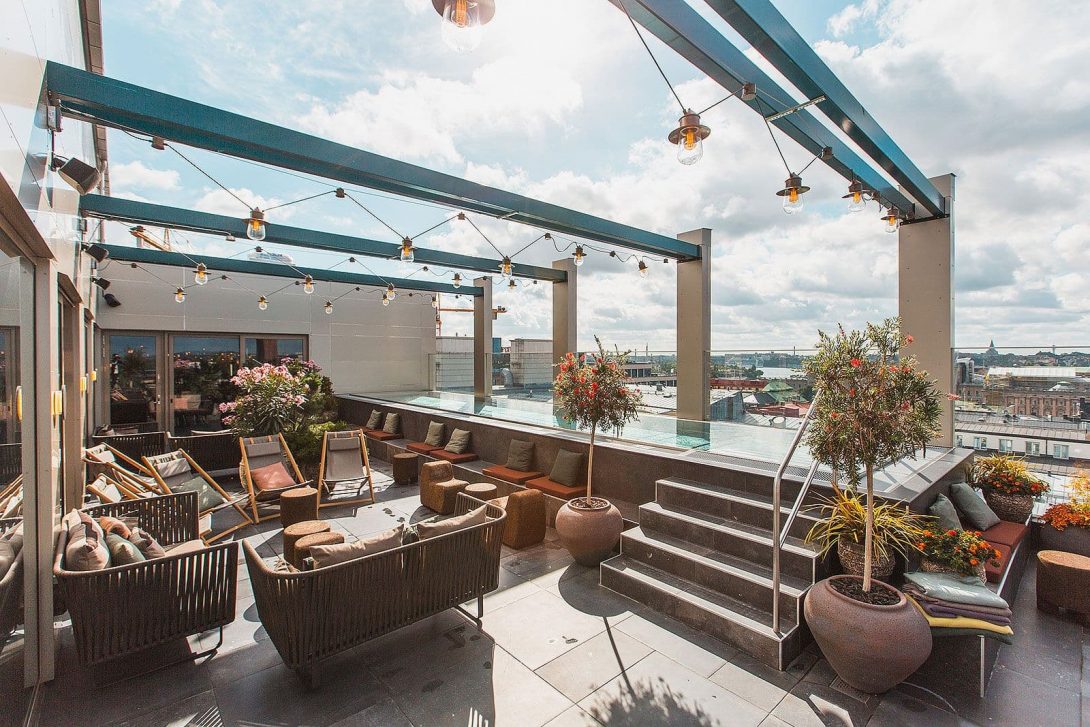 Blique by Nobis
The very latest hotel that has been opened lately in Stockholm is Blique by Nobis and is located in Vasastan (don't mix it with Nobis on Norrmalmstorg). Eleven floors up is the smaller tavern and the bar named Arc. Here you go for snacks, and a large serving where Korean flavors are in focus. The rooftop bar is on the same floor, adjacent to the restaurant and is spread over two floors with a 360 degree view of Stockholm!
Address: Gävlegatan 18, Vasastan in Stockholm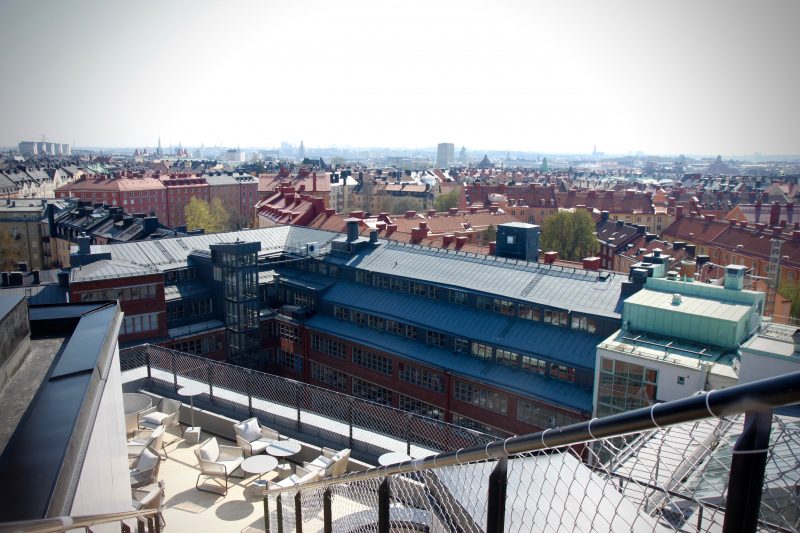 Takpark by Urban Deli at Sveavägen
Popular Urban Deli has since some years ago expanded with a rooftop bar at the top of their building on Sveavägen. Take the lift up to the ninth floor and you will find the lush art park with fantastic views over Stockholm. Go here for the food, drinks, views and sculptures!
Address: Sveavägen 44, Stockholm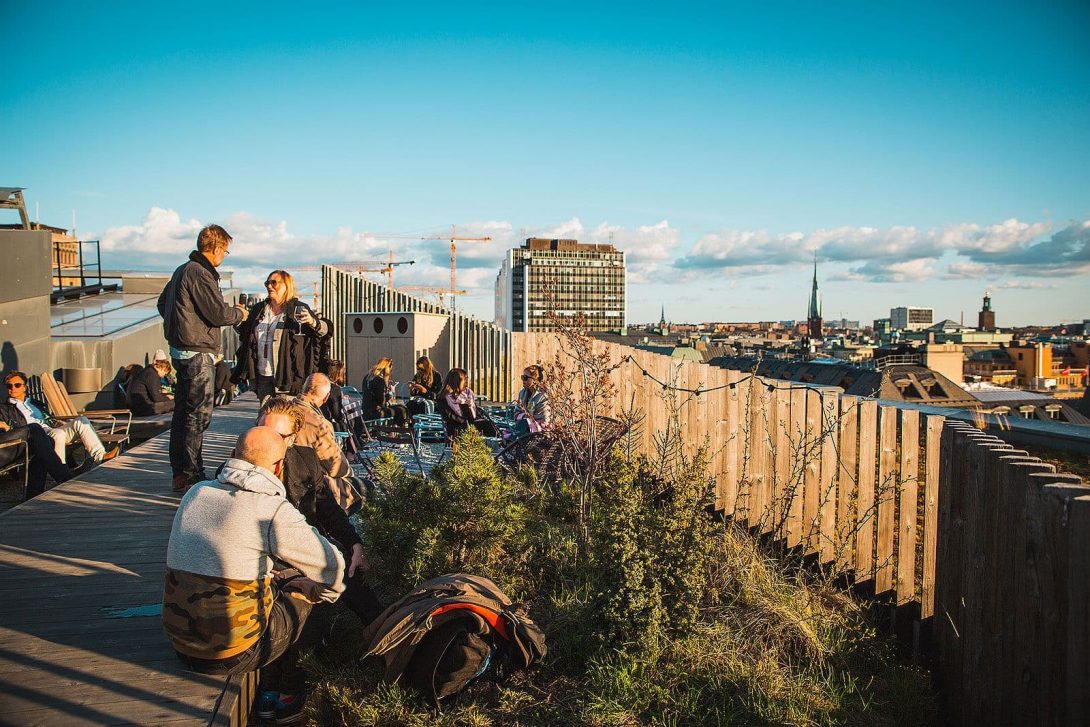 The Rooftop bar at Scandic Anglais hotel
Stureplan's hidden rooftop bar hides on Scandic Anglai's terrace on the seventh floor. One of summer Stockhholm's best rooftop bar hangers with DJ's and a view of Stockholm. It is small and crowded but still very cozy. However, you need to count with a standing table, hence the seating is limited here.
Address: Humlegårdsgatan 23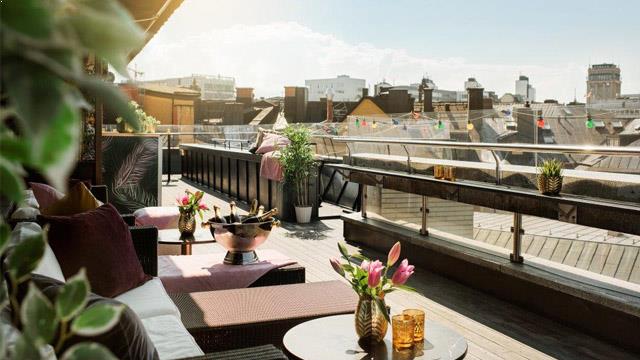 Capital at Scandic Continental Hotel
Capital is at the top of Scandic Continental hotel right at the Central Station in Stockholm. From here you have spectacular views of Riddarfjärden both from the bar and the terrace and is a must for those who stay in the hotel but also for anyone who wants to discover a hidden little gem to rooftop bar, which unfortunately may be forgotten among everyone else 😉
Address: Vasagatan 22, Stockholm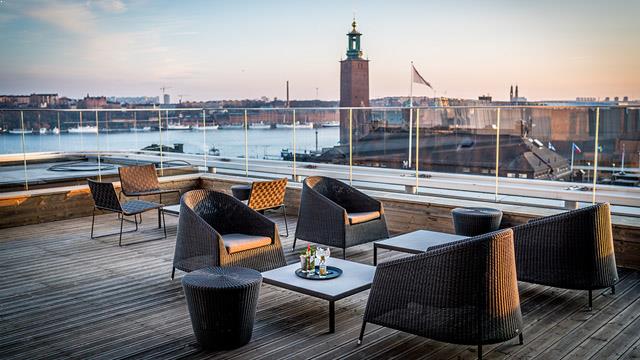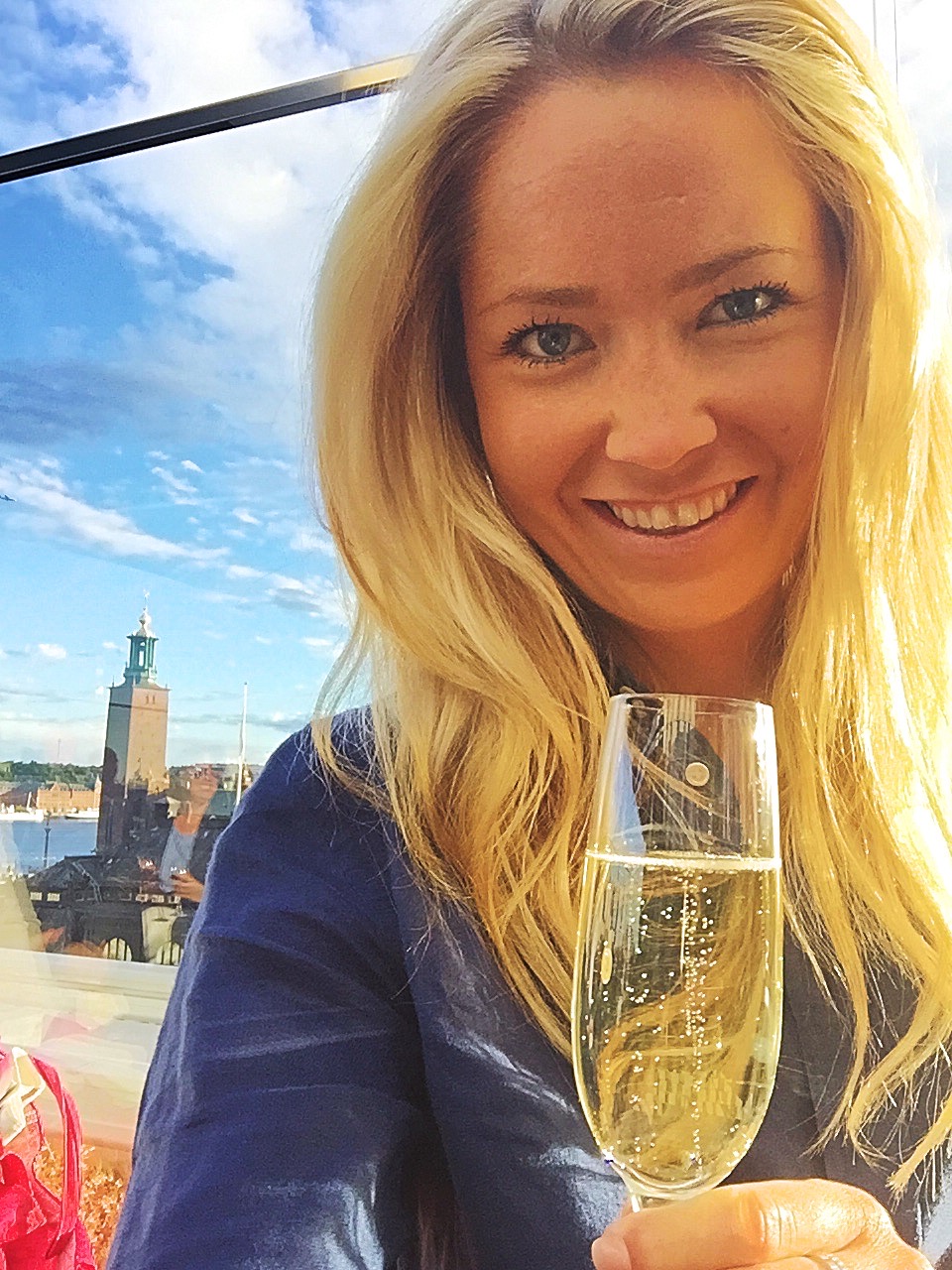 Strömterrassen
Strömterrassen is a summer restaurant with Stockholm's best views from the Royal Opera. Don't worry, you don't have to eat here. Take left when you come up here to hang out at the bar for only a drink if you prefer that instead. It offers the same amazing view! 🙂
Address: Operahuset, Karl XII:s torg
Here you can read more Stockholm tips from me!
Happy Travels!
// Charlotte