Are you traveling as a charter passenger, you might wonder how it works during the flight itself or what's actually included on the flight. This is how my flight was and I will explain what was included and not during the flight to Cancun, Mexico. I have also written a step by step guide regarding how to check in as a charter traveler at Arlanda Airport, which you can read about or how it works on arrival at Cancun Airport, as you can read here.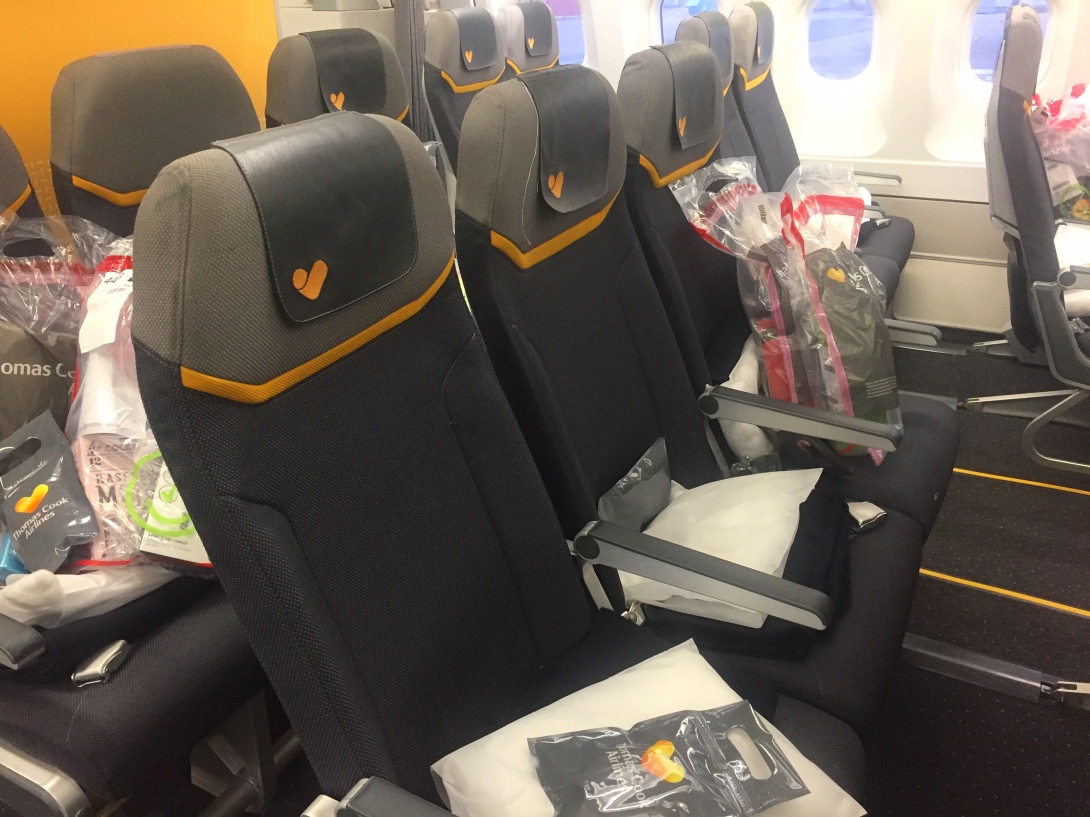 What is included on The Flight with Ving To Cancun, Mexico
Honestly, I had zero expectations of what was included on my flight to Mexico or how smoothly the flight actually went. I had many questions and got many answers during the flight which I hope can help you when you are traveling with Ving and Thomas Cook Airlines to Cancun, Mexico.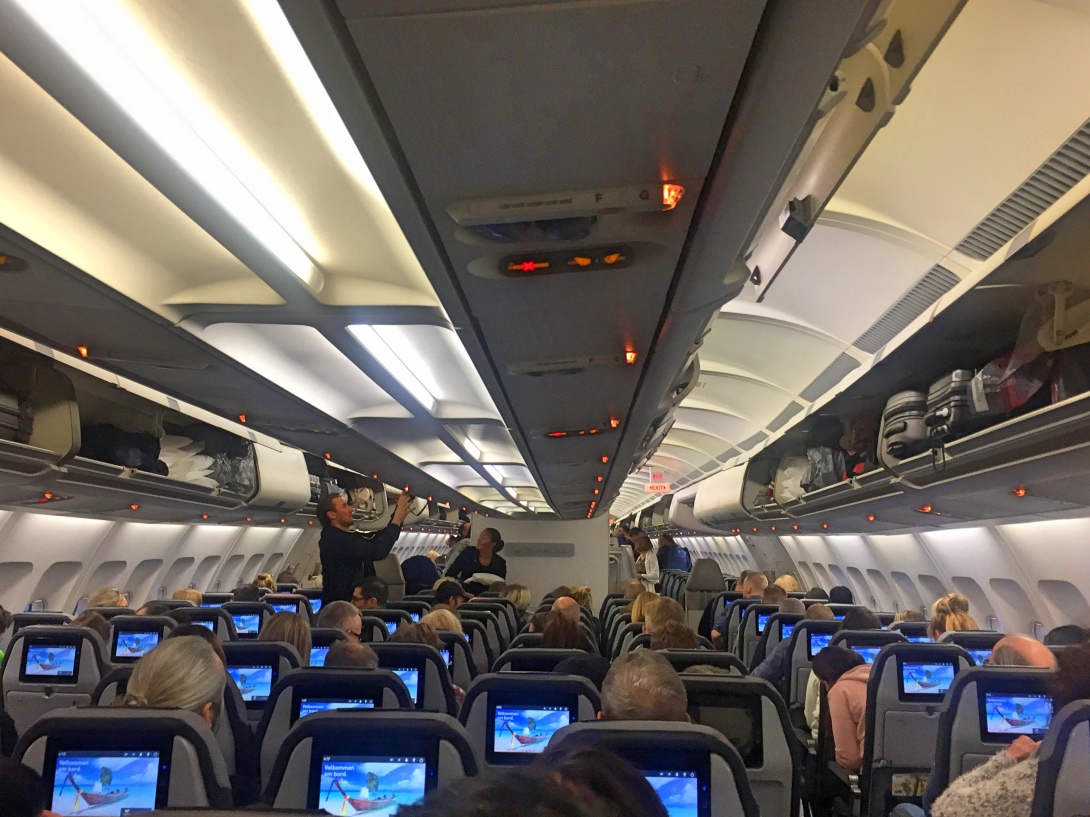 During the Flight:
Who are aloud to get onboard first?
As a regular traveler, I'm used to the fact that either families board first or that the airline's own gold, diamond or silver (whatever each airline has as loyalty membership) may board the aircraft first. Instead, row 1 – 7 and row 29 – 44 was aloud to get onboard first. Because I had row 43, I was quick to get on board first due to I want to take my photos inside the airplane and how the seats looks like. Thus, it was not divided that families with children or those with disabilities got to enter the aircraft first, which surprised me.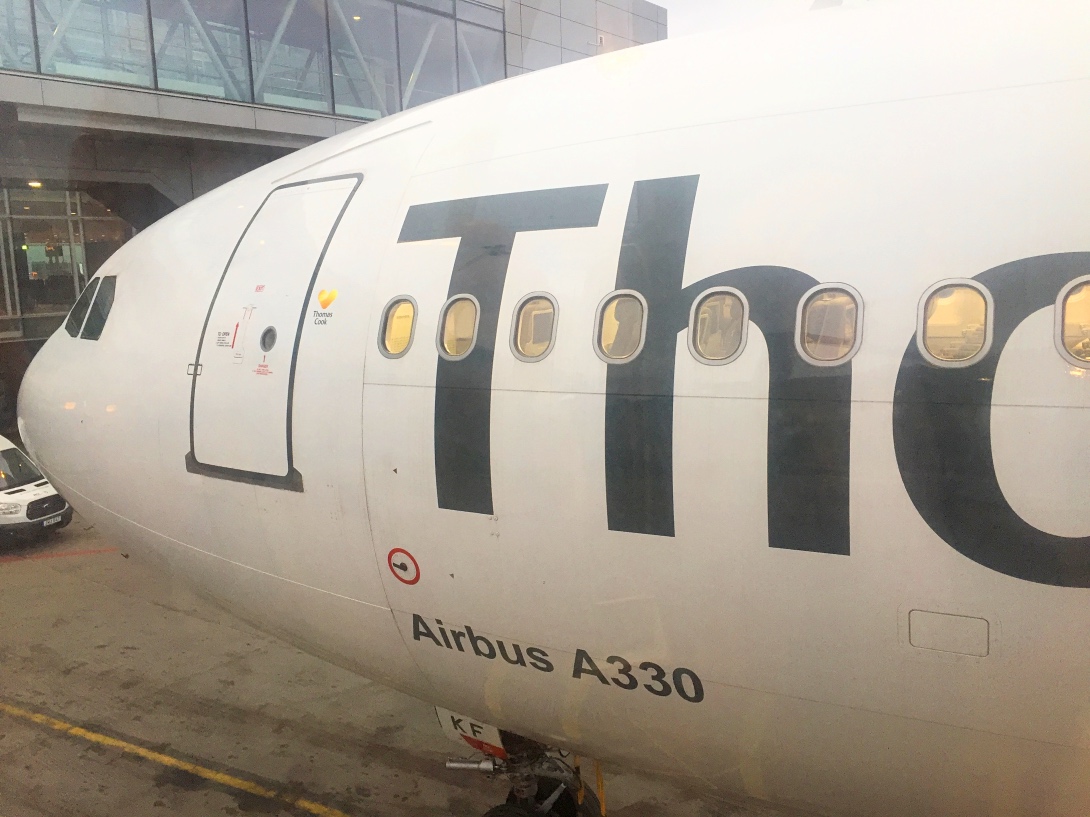 What aircraft type are operating from Stockholm to Cancun?
The flight from Stockholm Arlanda to Cancun Airport in Mexico I flew with was with Thomas Cook Airlines, with an Airbus 330-200. The seats are divided 2 – 4 – 2 but from line 40 – 44 it is configured 2 – 3 – 2. I got the seat of the latter configuration and was actually very surprised by how good the seat actually was. There is plenty of space and not as crowded and disgusting as I actually imagined. Fun with positive experiences when the expectations are low! 🙂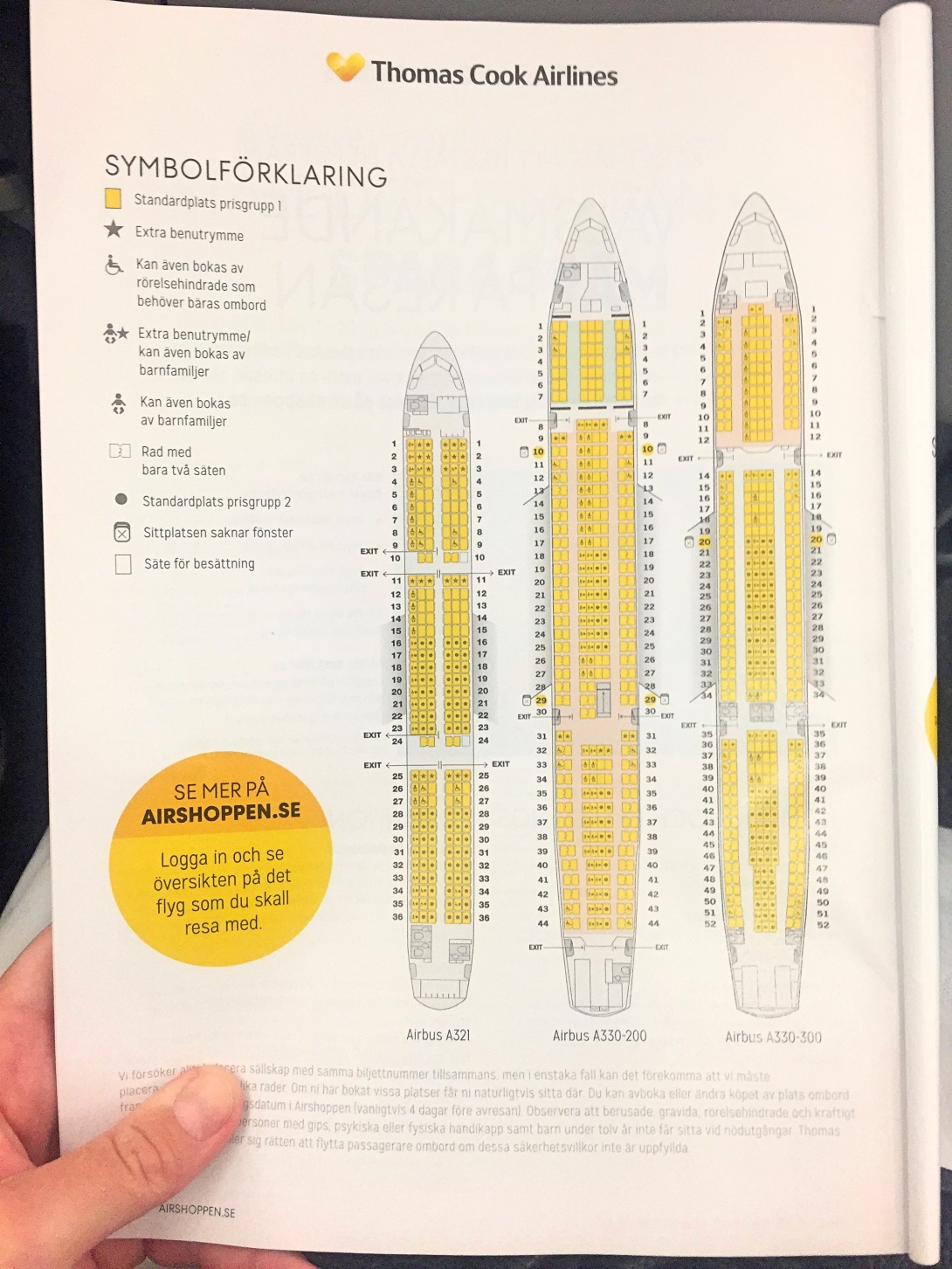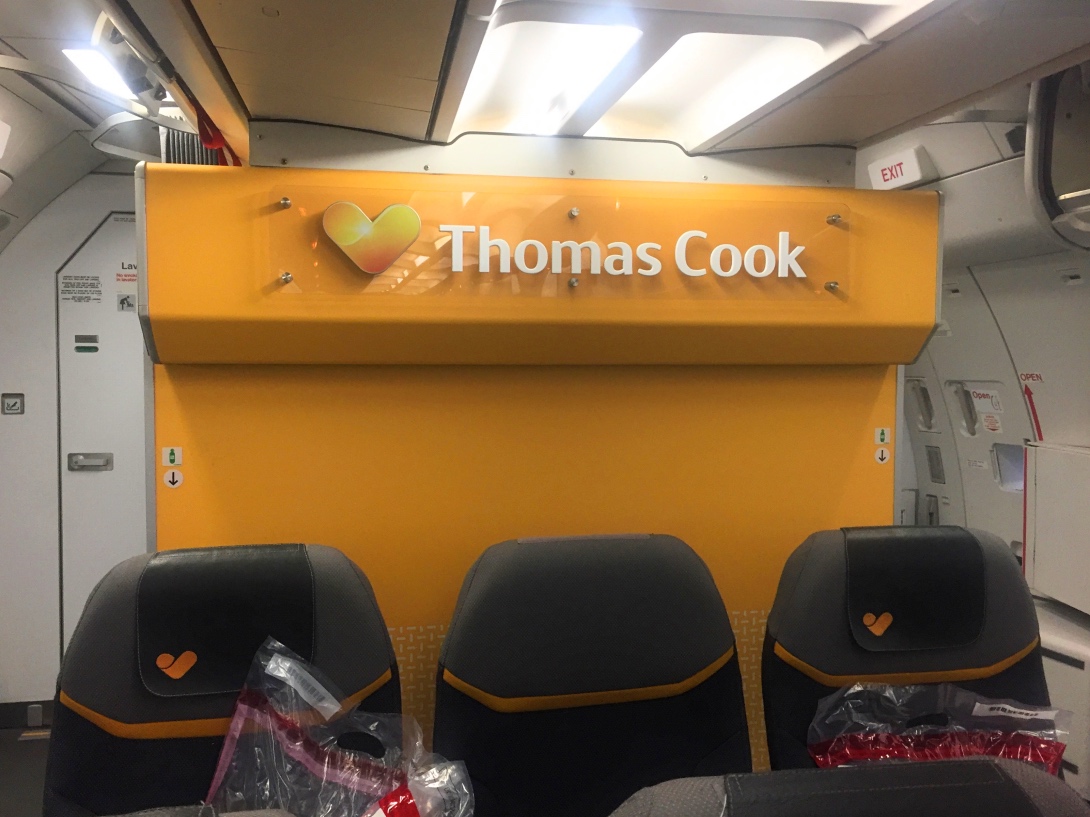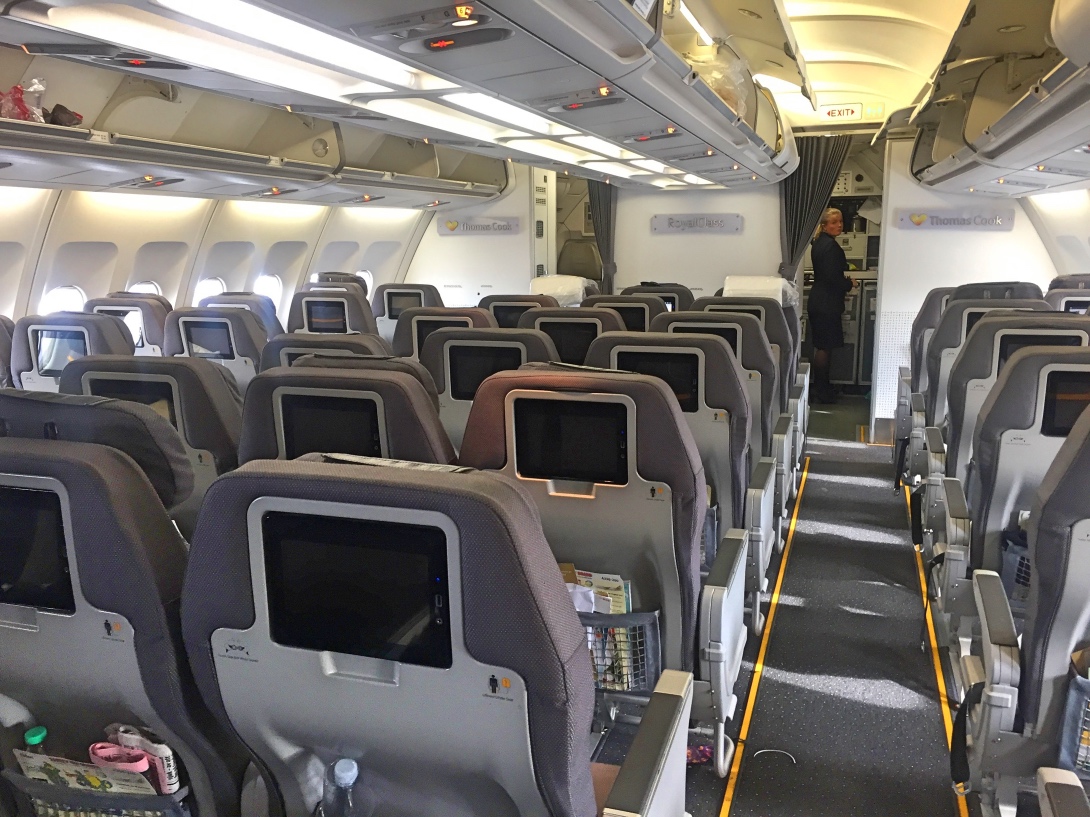 What is included on the flight?
Row 1 – 7 is Vings premium class. On this flight I was seated in their economy class, on seat 43 so unfortunately I don´t know what's included in that class but I will refer to their economy class. When I arrived at my seat there was:

A blanket
A pillow
One amenity kit containing:

A pair of socks
Earplugs
Toothbrush and toothpaste
Lip balm

Also free access to the entertainment system is included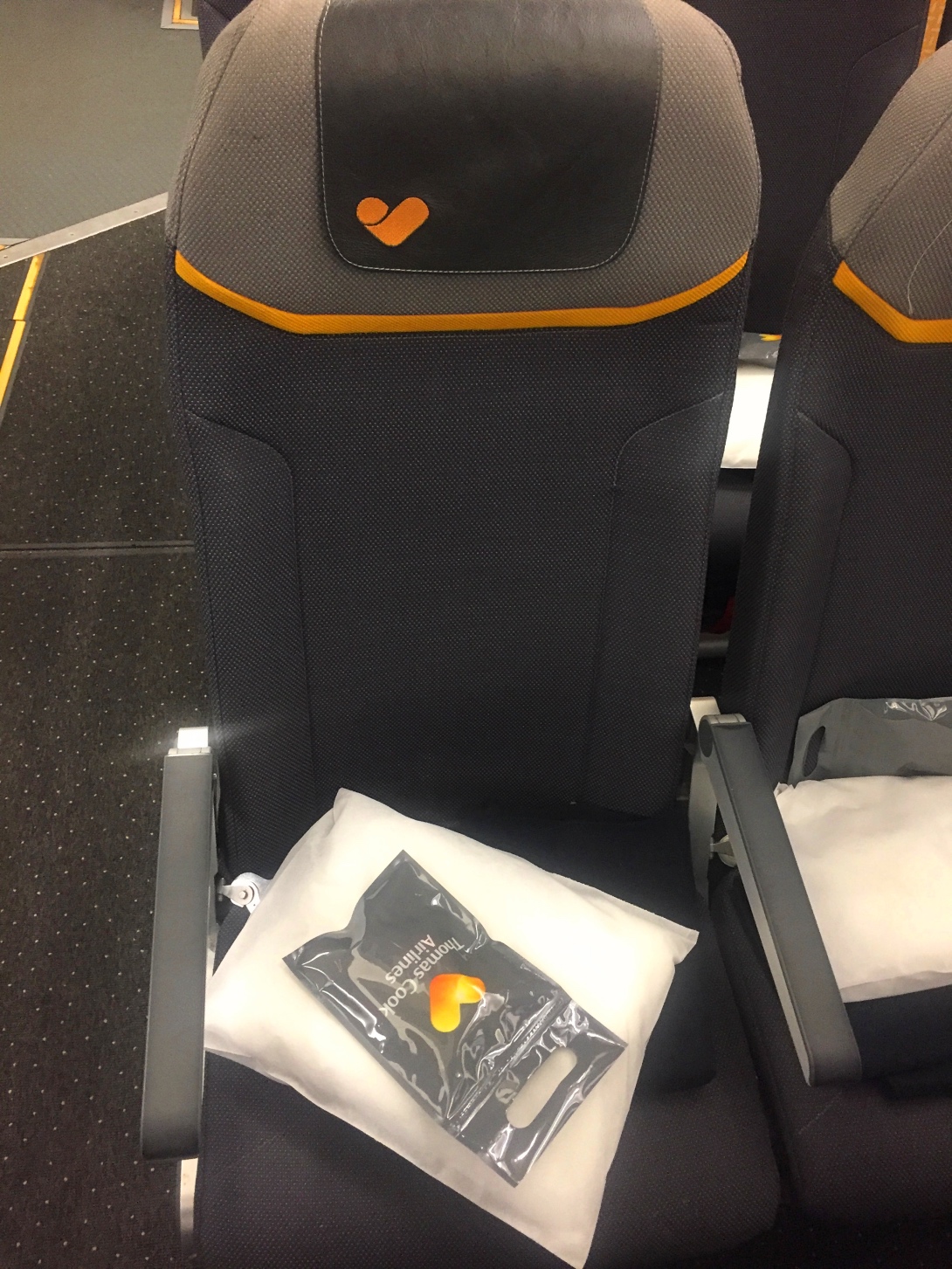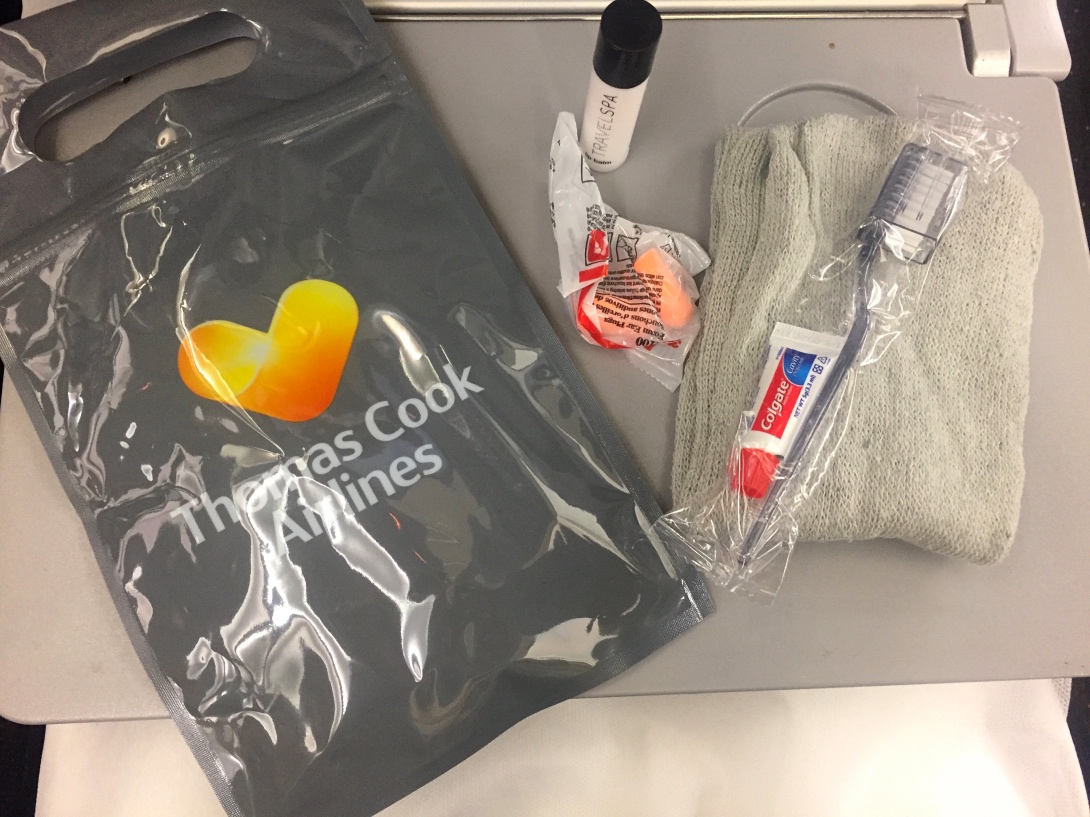 I was very surprised in a positive way! I never thought I would get a amenity kit on a charter flight actually so I had prepared myself with both both earplugs and socks. Nowadays I always fly with compression socks but it's good to know that you'll also get a pair of regular cotton socks on this flight.
What else is included?
Food is included on the flight. You can choose to upgrade your food or pre-order special food if you want to, then you have to visit Ving's website before departure. I chose to eat their standard food. Also here, I was surprised that the food was included in the flight price, I had expected to pay extra for it.
It is also served a cold dish before landing, which I became even more surprised over as it was included. This experience is getting better and better!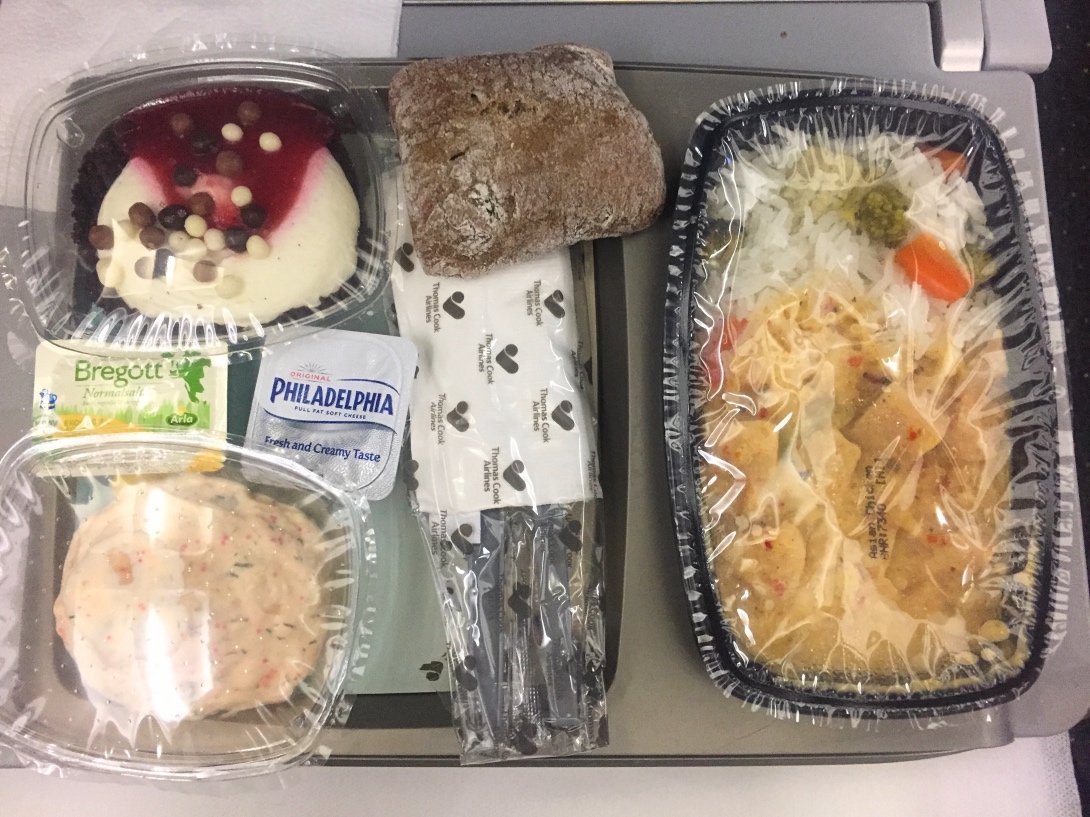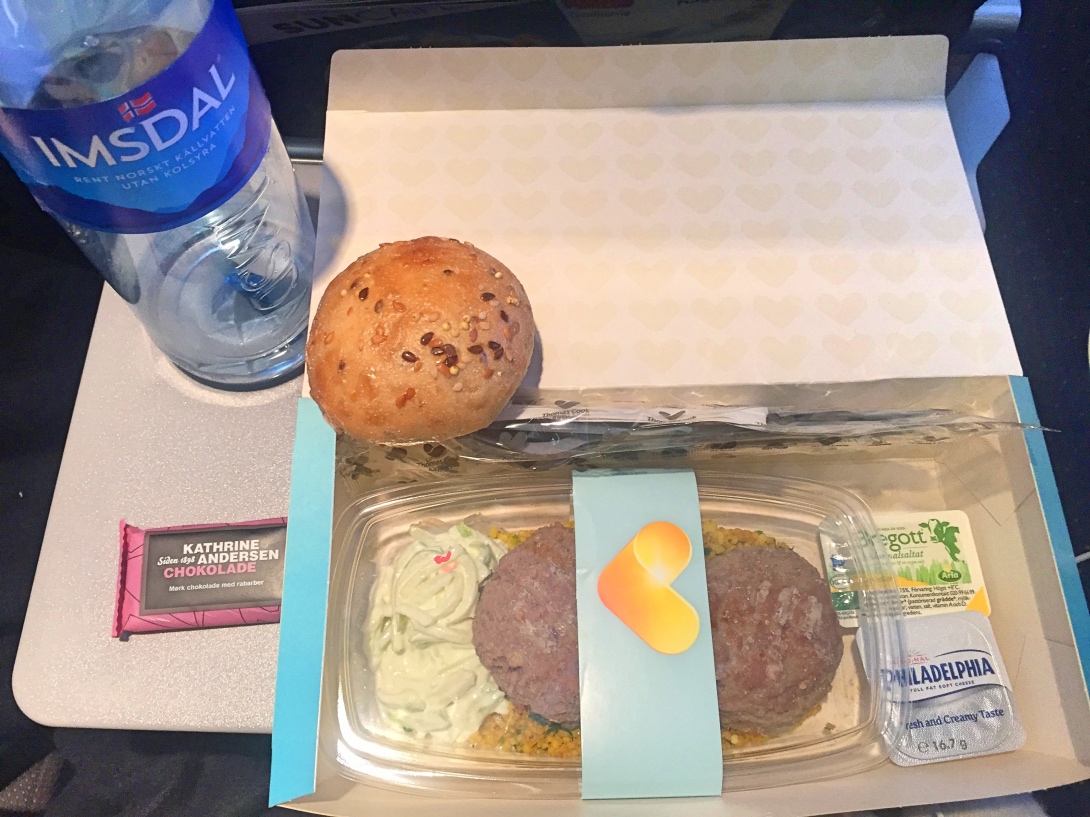 You will get 2 landing cards to fill out before you land into Mexico. These documents have to be filled in with your passport information, to get a visa.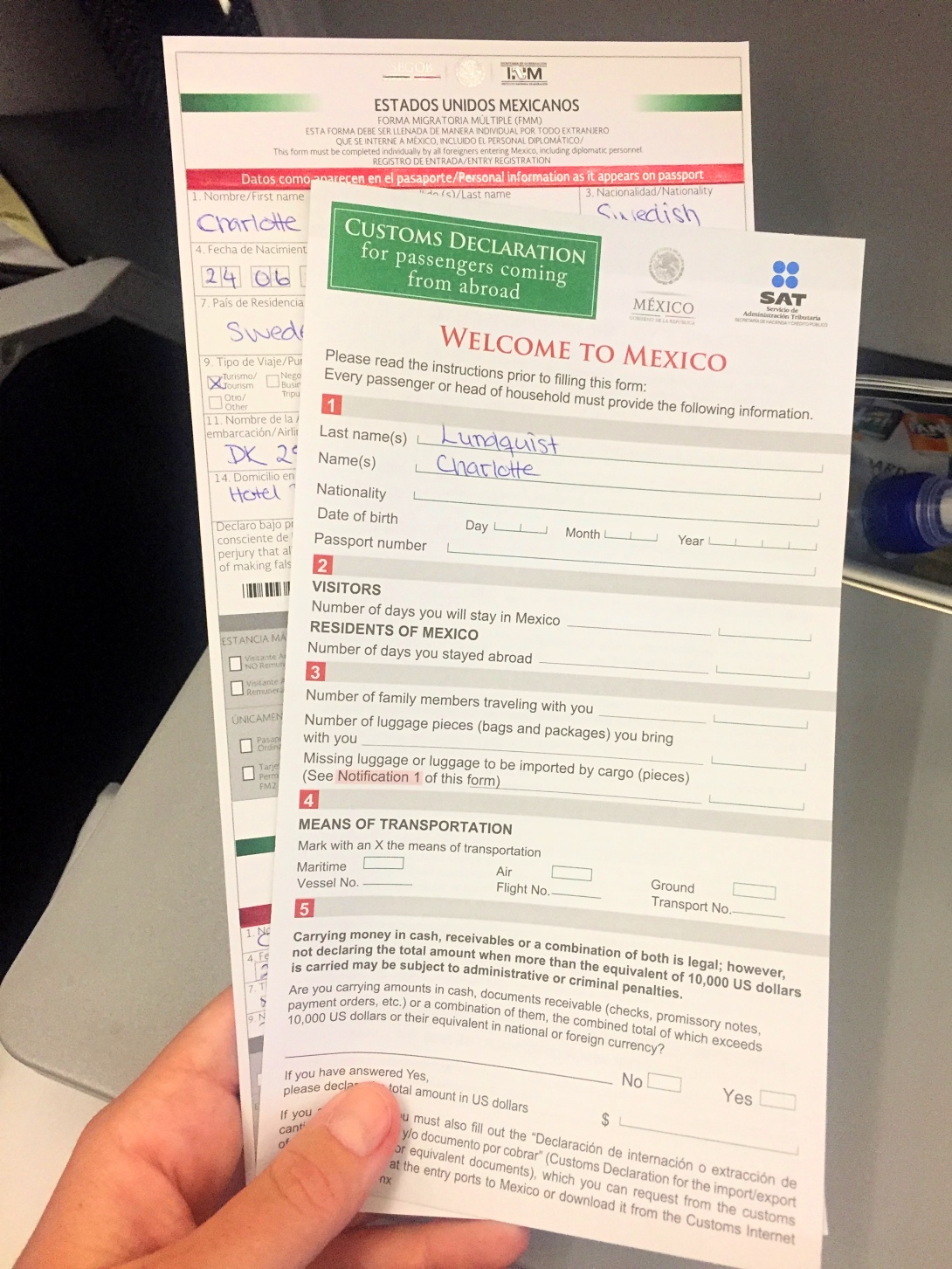 8 days before departure, you must register some information on a separate webpage, which Ving will email you about. Because you will fly over American airspace to get into Mexico, some information about you is needed. The email contains a link you click on to get there. It's very easy and takes only a minute, there is not much information to fill in but follow the instructions carefully. This is something you MUST do as an extra touch after you booked your trip. As a traveler, it is your responsibility to ensure that this is done. Ving helps you remind via e-mail but doesn´t do it for you!
What is not included on the flight?
There are also some things that are not included on the flight when you fly charter with Ving. For example, headphones are not included, you will pay 50 SEK ( 5 Euro) extra for each pair. They told us that when you pay for a pair of headphones, access to their entertainment system is included on the TV screen. However, I tried to plug in my own headphones and it was equally good to both see and listen to their entertainment system. You don´t need to buy a pair of headphones to watch and listen to movies or music during the trip.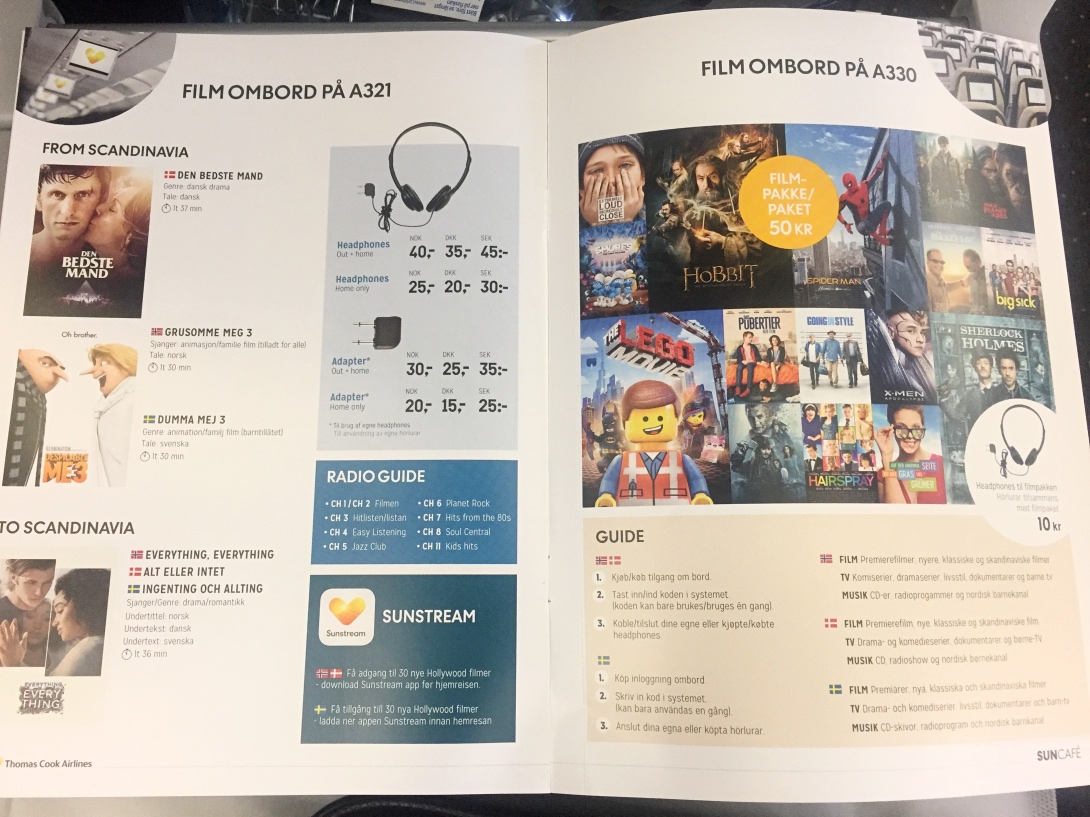 Drinks are not included. The flight attendant will come out with a beverage cart about 1 hour before the food is served. Then be sure to buy drinks both before the food and to the food if you wish, no compulsion. Because I didn´t know if even water would be included on this flight, I had already bought my own bottle of water before boarding. I would recommend buying water, Coca Cola, or whatever you like before boarding, if you want to think about your costs.
Generally things to know:
It is possible to regulate the back rest, but I should be honest, it was a hidden button that I couldn't find. On regular flights, the button usually are placed somewhere on the armrest, but not on this flight. It was only when I saw another passenger who could angle down the backrest of the chair as I observed how he did. Under the seat, either on the right or left side, depending on the seat you have, a small flap has to be "lifted up" and then you can adjust the backrest. Must actually admit that the chair was surprisingly comfortable and with good legroom already when I sat down. Once again, I'm very positive surprised!
As I mentioned earlier, you must register your details on a separate webpage, which Ving will email you about 8 days before departure.
You will get a visa on arrival, if you have filled in the landing cards correct.
Toilets are available in the middle of the aircraft and there is also one toilet at the back in the aircraft.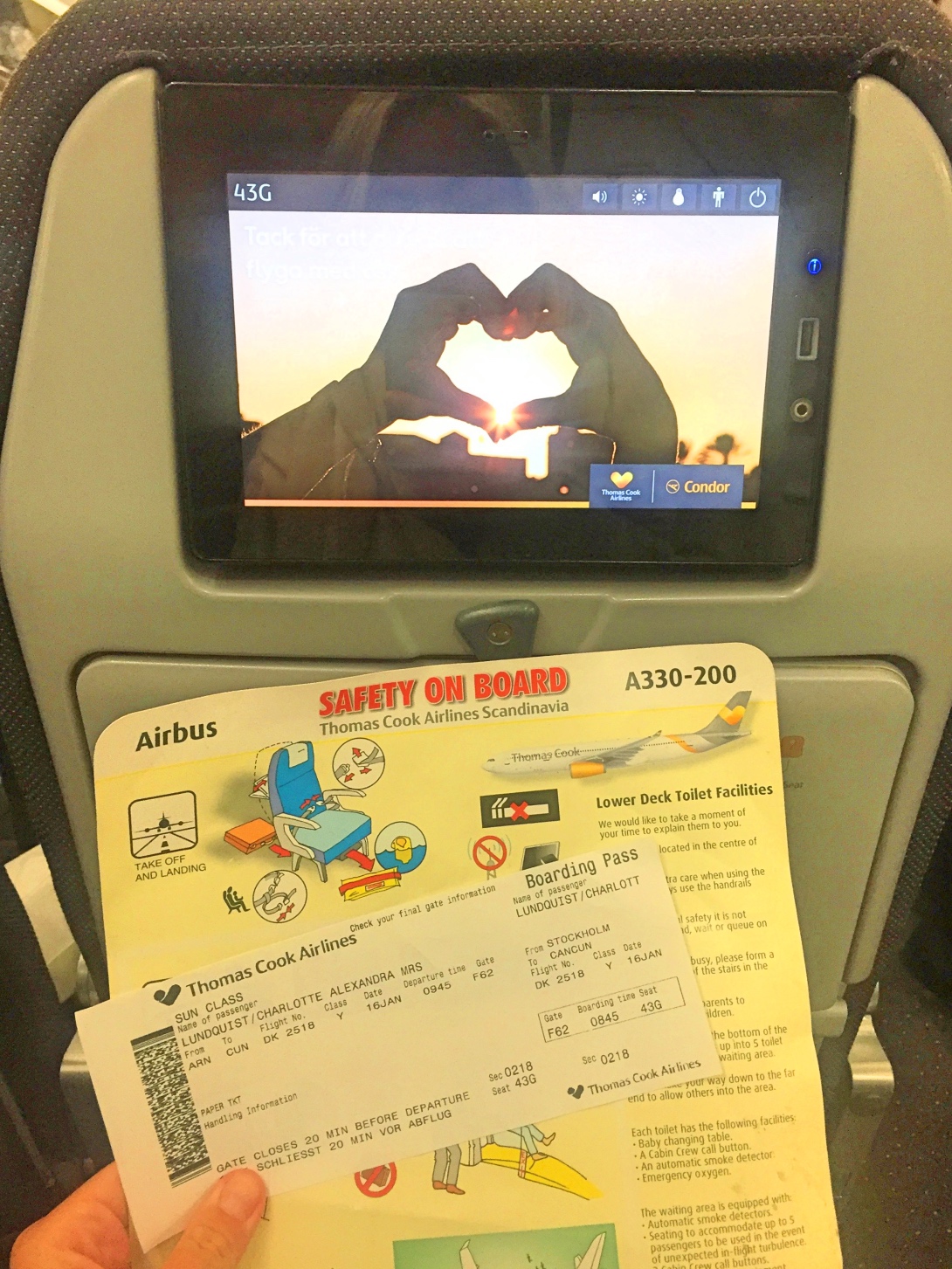 Do you want to know how it works on arrival at Cancun Airport, you should read this blogpost. I can really recommend flying with Ving and Thomas Cook Airlines. If you want to book your next vacation with Ving I recommend you to visit their website here 🙂
Follow my adventures on Instagram here, Facebook here or at Bloglovin here 🙂
Happy Travels!
//Charlotte