Flight Review – Air Baltic From Stockholm to Abu Dhabi
I love to evaluate my flights with different airlines I travel with. All my reviews for Qatar Airways, Lufthansa, Norwegian and SAS, just to name a few, can you find by clicking here. When I traveled to Abu Dhabi, I flew with Air Baltic for the first time. They depart from Stockholm and have a stopover in Riga, Latvia first where they have their base before continuing the journey to Abu Dhabi.
Stockholm – Riga
The first trip from Arlanda to Riga was in a small propeller plane called Q400 and which has the seating configuration 2-2 with a center aisle. This is, as I said, a small airplane where it is quite cramped and lack of space so it is not for those who are frightened as it may feel like the airplane shakes more than it usually does in the air.
It took almost an hour to fly between Stockholm and Riga and I thought my chair in economy class was perfectly okay to sit in and comfortable for the short trip. During the flight I got nothing to eat or drink but Air Baltic is classified as a low cost airline so I hadn't counted on that either.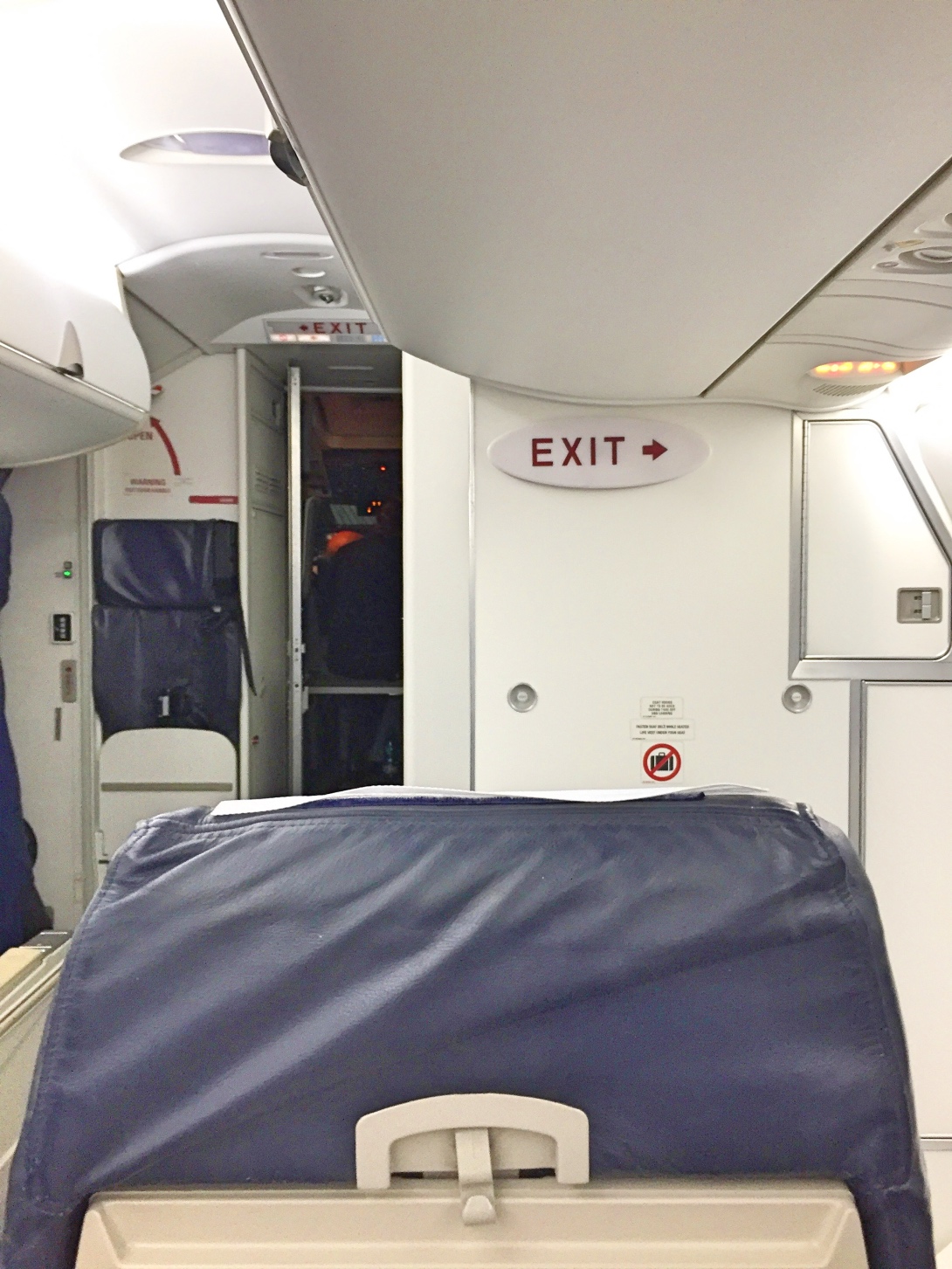 Riga- Abu Dhabi
The flight from Riga to Abu Dhabi was a night flight and took a little more than 5 hours. I flew in Air Baltic's aircraft model CS300 with seat configuration 3 -2 and with a middle aisle. My first impression of the aircraft was that it was really modern and fresh, it felt very new! I got the seat in the row in front of the emergency exit, something I can't recommend at all since you can't fold down the chair back because of the emergency exit behind you. Talk about fail! So when booking your seat with Air Baltic, don't sit on the line in front of the exit line. So this is how I would sleep during the entire flight, in a sitting position without being able to fall my chair backwards.
The seats
The seat itself was not very comfortable, it had worked for a few hours of traveling during the day, but traveling over a whole night in this economy class chair is unfortunately not something I can recommend. I have to admit that this is the first time I was really uncomfortable in an airplane seat. I have traveled in many aircraft seats but this was definitely the worst actually, hence the aircraft itself is very modern.
Air Baltic Business Class
For travelers who sat in Business Class aboard Air Baltic to Abu Dhabi, the seats were exactly the same as in economy class. The difference here was that you got an empty chair in the middle and that food and drink were included in the price. I am actually glad that I didn't choose to pay more to sit in their Business Class as you don't get value for money according to me. It was exactly the same chair as in economy class.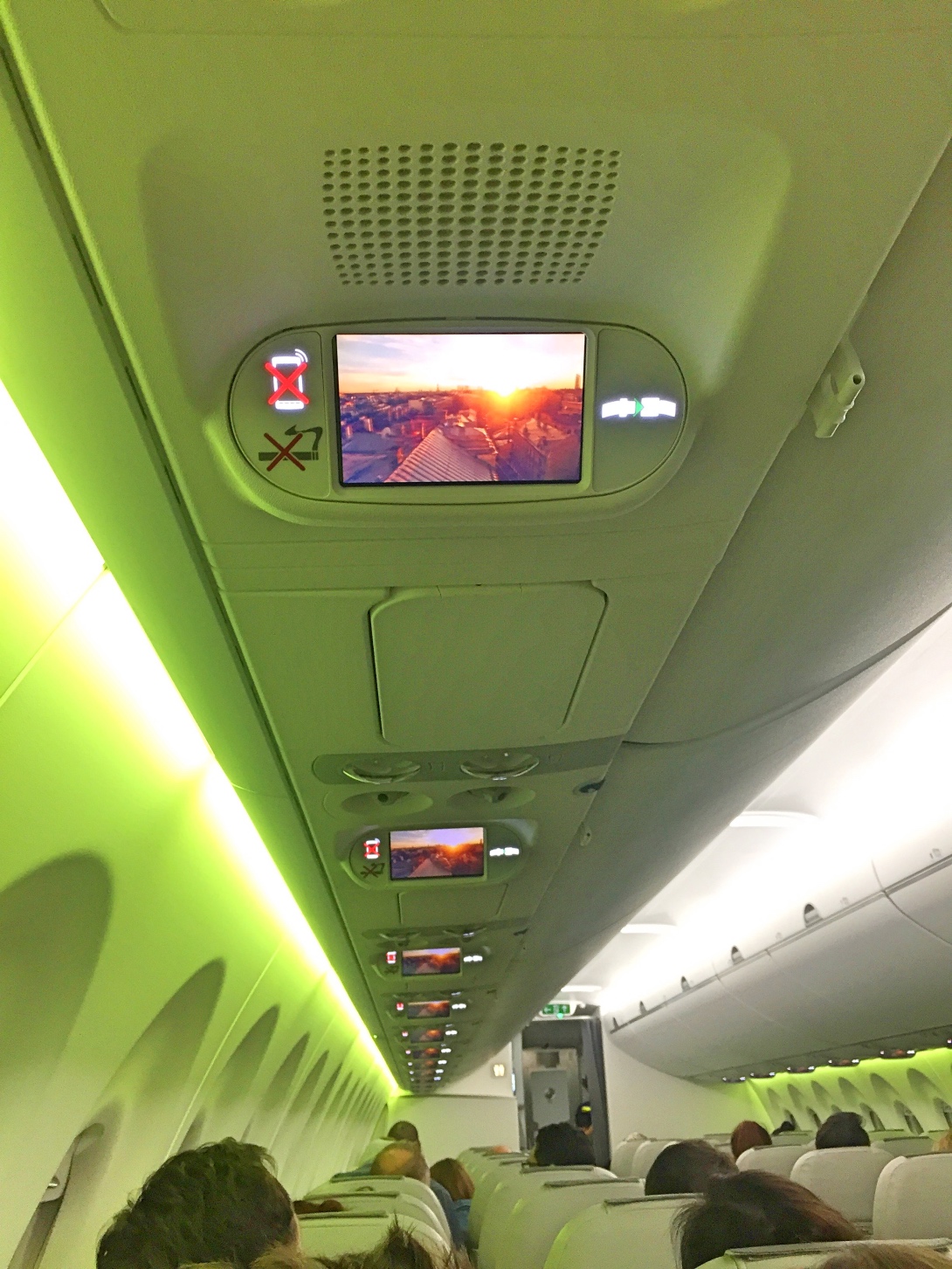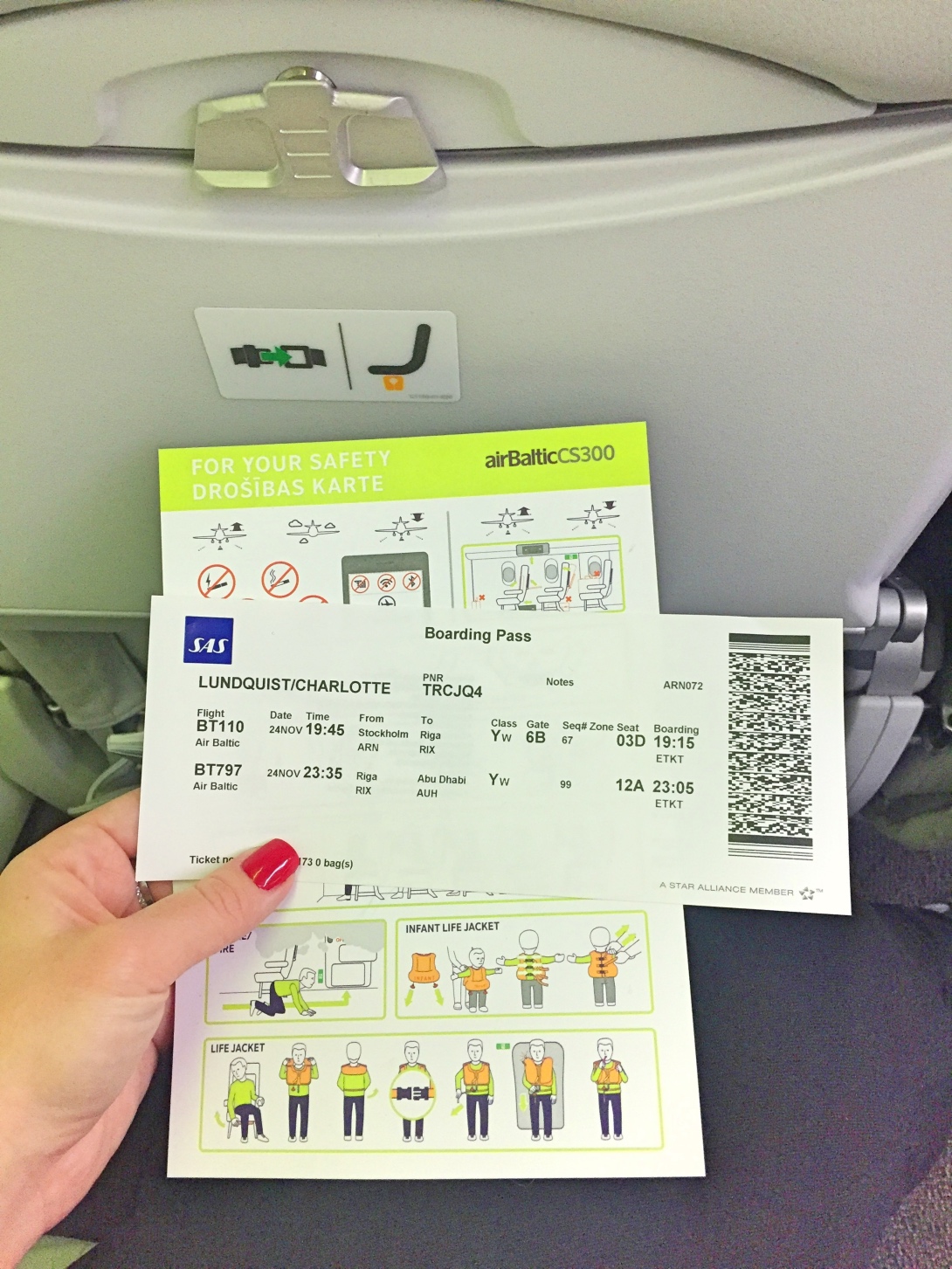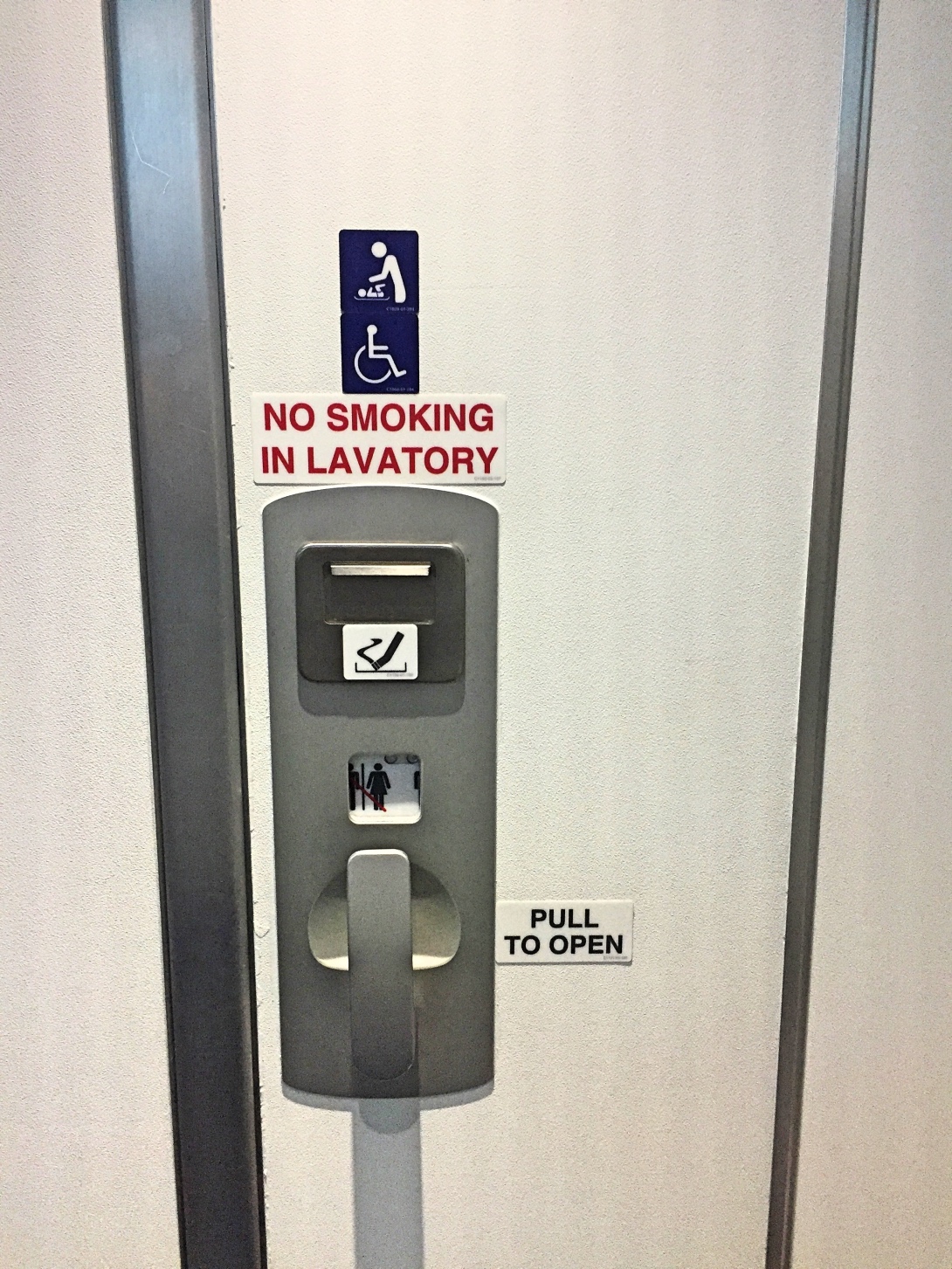 Air Baltic as Airline
As an aircraft model, the Air Baltic's Bombardier CS300 was really fresh and modern, I liked that. The aircraft itself was large and with plenty of space around the seat and plenty of space for the legs, even for those who has longer legs. Also, it was incredibly quiet during take off, which made me compare to the Airbus 350 which is exactly the same, it is also quiet at take off. When I traveled in economy class with Air Baltic, nothing was included, no pillow or blanket and absolutely no food or drink, you had to pay for it yourself if you wanted something during the flight. For the first time in my life, I now know how it feels to travel with a low cost carrier, something I try to avoid doing in normal cases.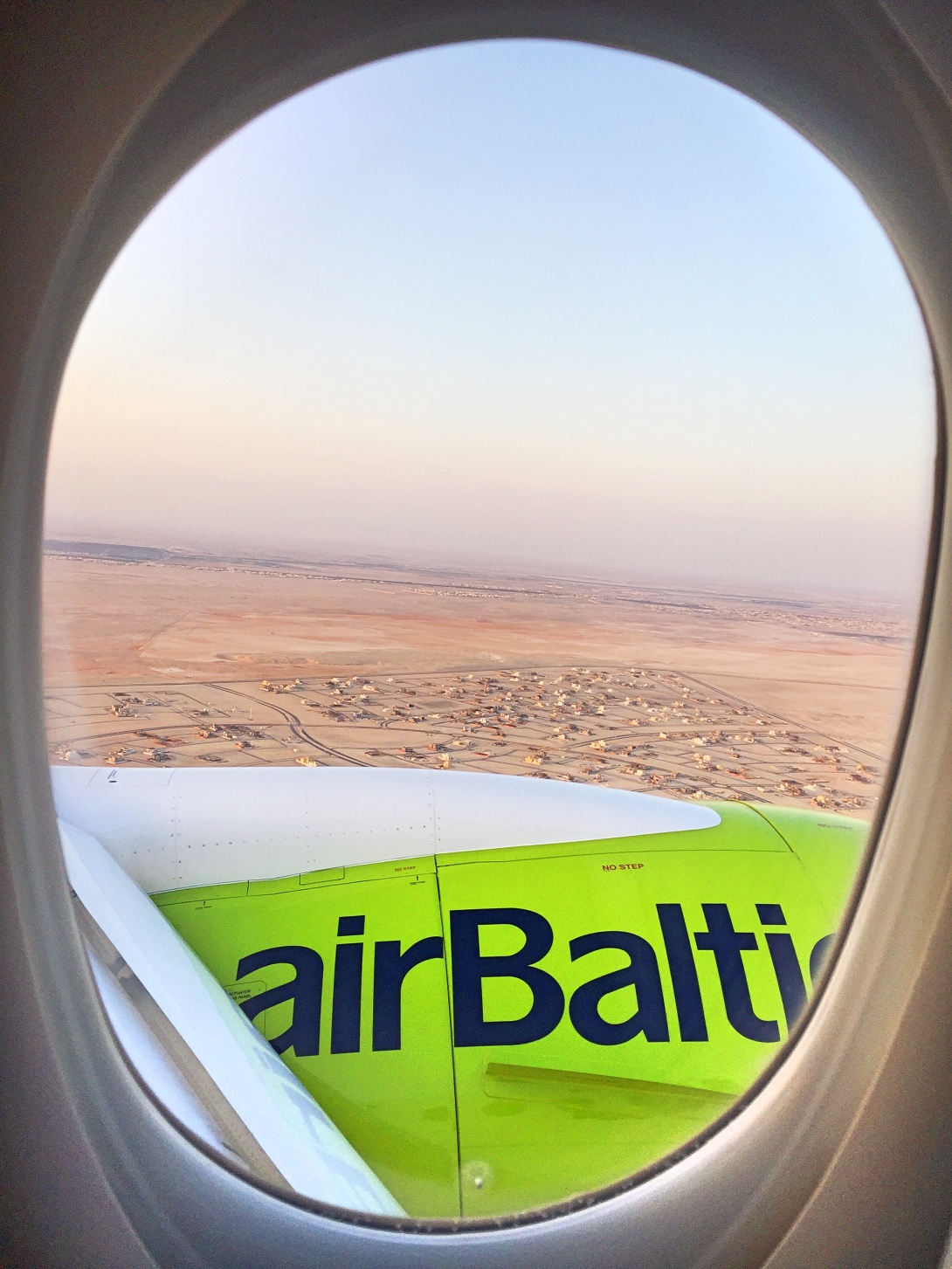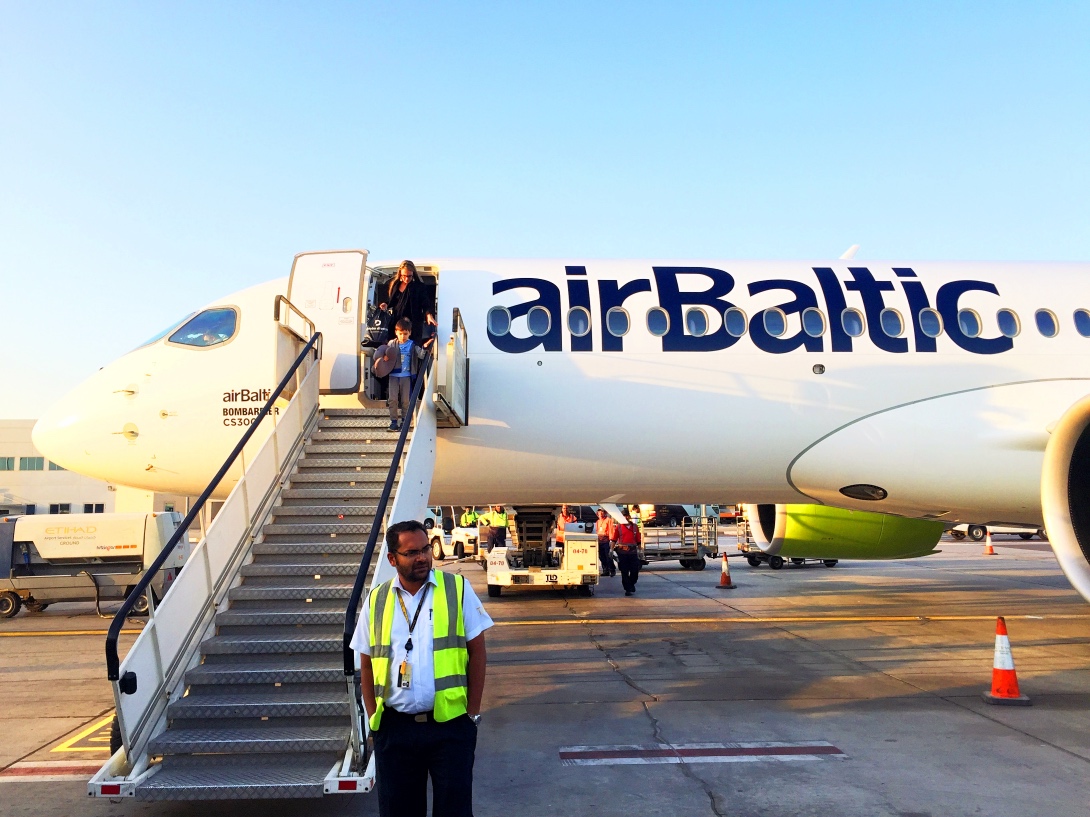 My evaluation of Air Baltic
To fly with Air Baltic as a night flight in a really uncomfortable seat where not even a pillow is included makes me really disappointed. Unfortunately I can't say that I want to fly with them again. I chose this airline just because it was only one stopover to Abu Dhabi, good flight times (I like night flights) and at a really good price, but I now understand why the airline ticket was so cheap! 🙂
If you are a picky person, just like me when it comes to flights, unfortunately I cannot recommend traveling with Air Baltic. If, on the other hand, you don't care which airline you travel with, then Air Baltic is definitely worth flying with. I like comfort when flying, it was definitely not on their machines. But as you say, you get what you pay for and that is so true! 🙂
I traveled with only hand luggage to Abu Dhabi so unfortunately I don't know if it costs extra to check in a suitcase with Air Baltic, but I would actually think it costs a little to do that.
Have you flown with Air Baltic, what did you think of them as an airline?
Happy Travels!
// Charlotte