My Best Travel Tips For Seminyak, Bali
The area Seminyak in Bali is the area I liked best. Besides surfing on the beach, there are plenty of restaurants, beach clubs and attractions here. Seminyak is easy to stroll around in and here you don't need to rent a scooter to get around if you don't want to, Seminyak is very easy to walk around, which made me walk everywhere here.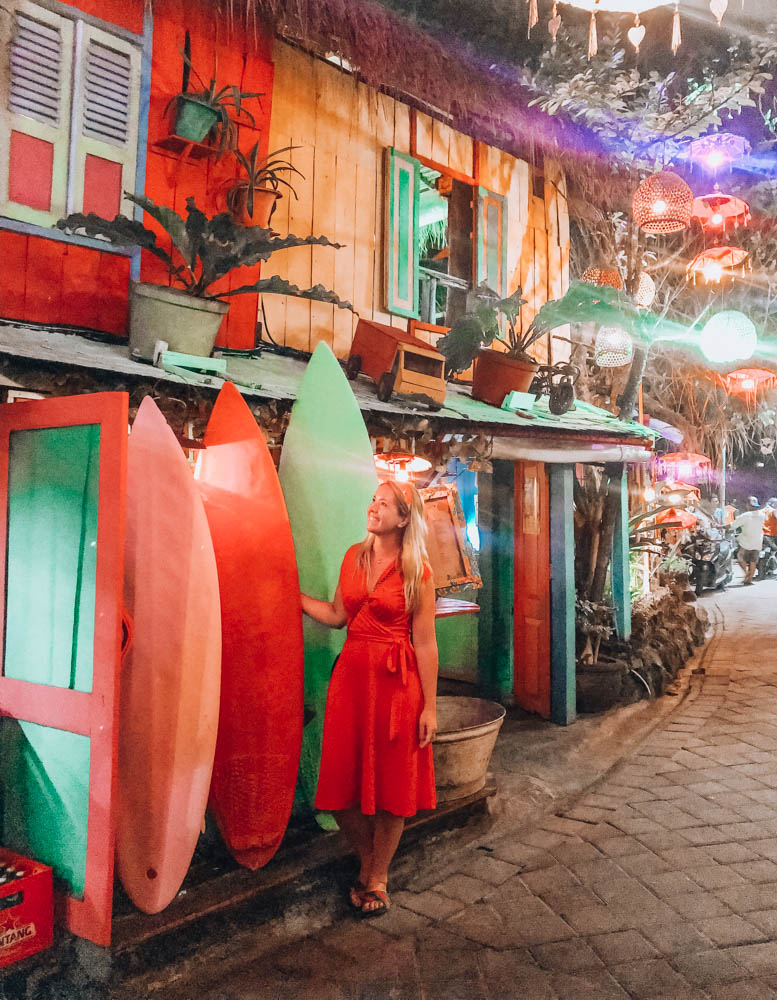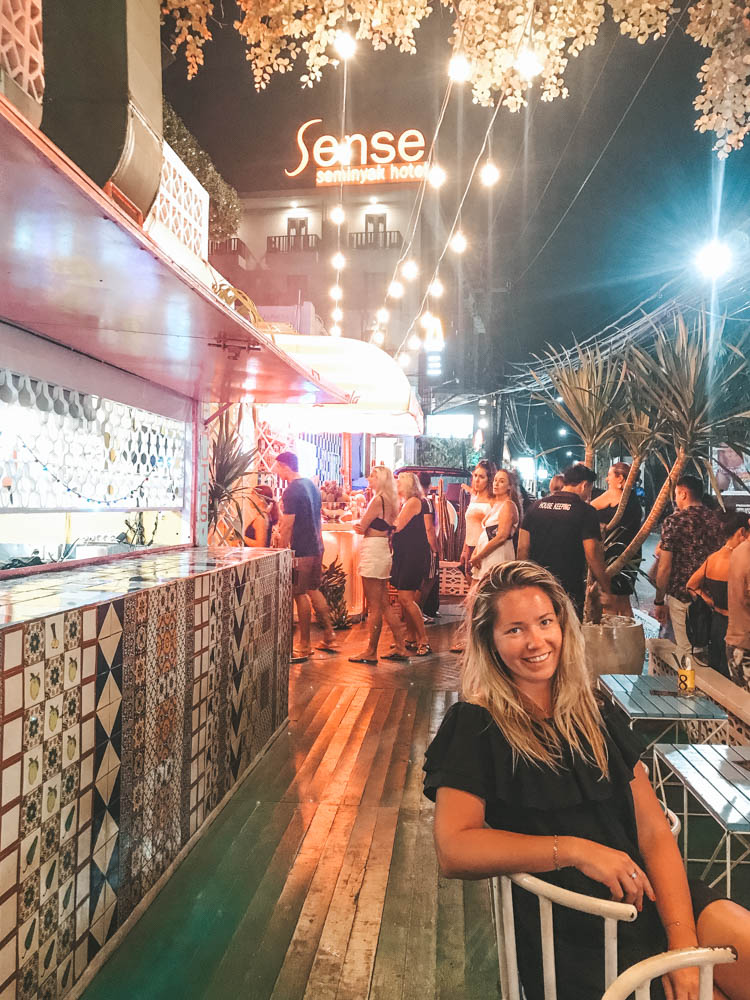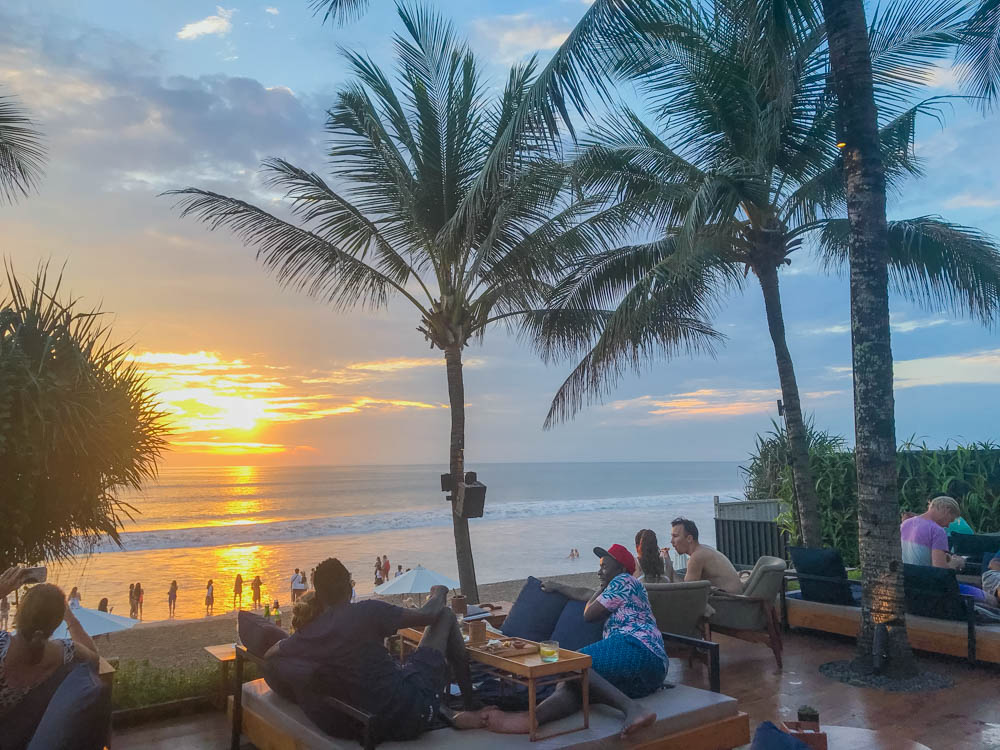 My Best Travel Tips on what to see, do, eat and party in Seminyak, Bali
Walk in Seminyak
I prefer to walk wherever I go and to do so in Seminyak made me discover lots of fantastic places and attractions during the road.I would say that Seminyak has a great selection of everything. Here is something for everyone with everything from beach to beach clubs, nice coffee shops to cozy restaurants and below I've listed my favorites on what I recommend to see, do and eat in Seminyak.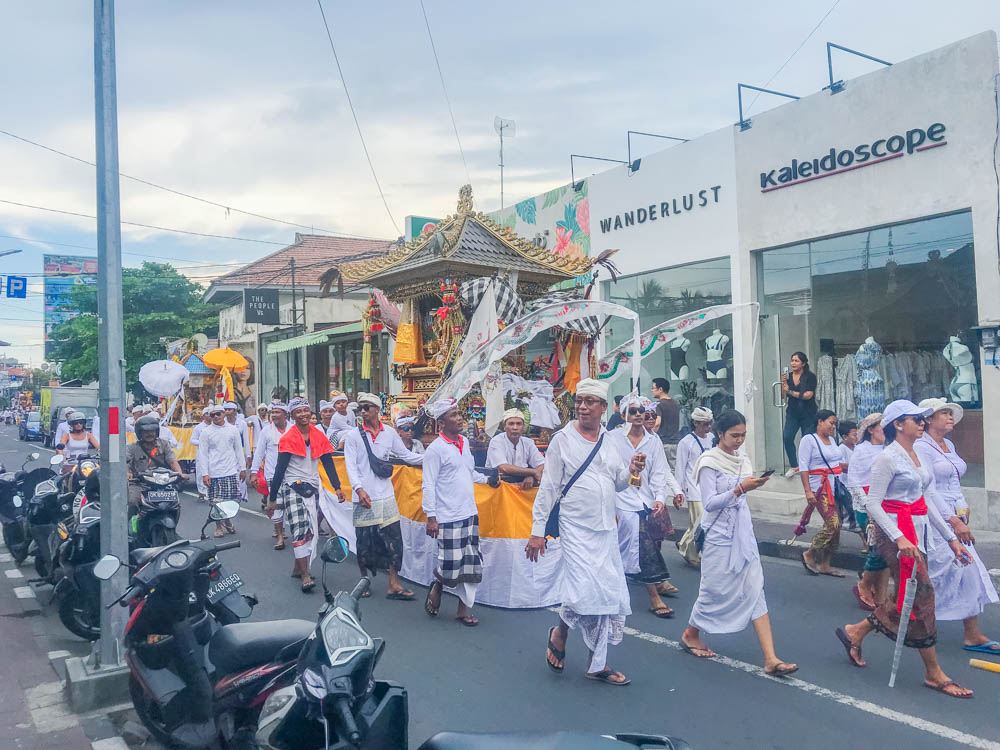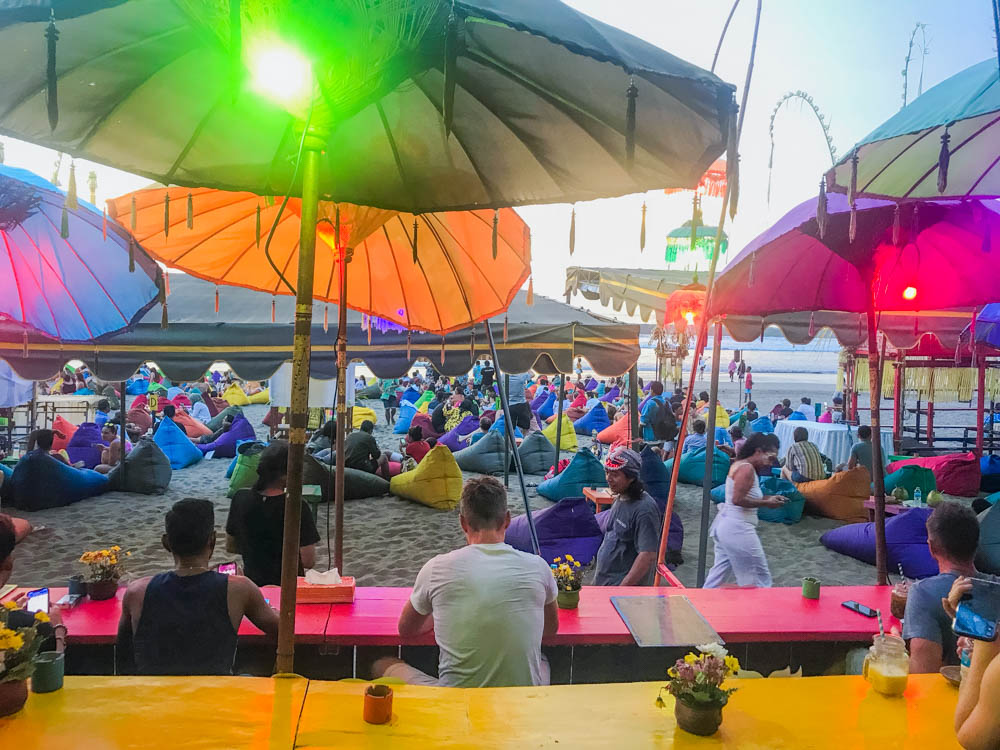 Beach clubs in Seminyak
Potato head beach club
Tropicola
CooCoo
Azul
La Plancha beach club
Potato Head Beach Club
Potato Head Beach Club is a popular beach club in Bali and I understand why! This one is really cool and is not like a regular beach club. Here you see everything from families with small children (not so many though but still few) to retirees who party. Yes you heard right! 🙂 It is a wonderful atmosphere here. If you want to be sure to get a sofa right by the infinity pool, I recommend booking it in advance, otherwise you should come when they open at 11.00 am. However, you must spend a minimum amount of 1,000,000 Rupiah (about 70 Euro) to have the couch.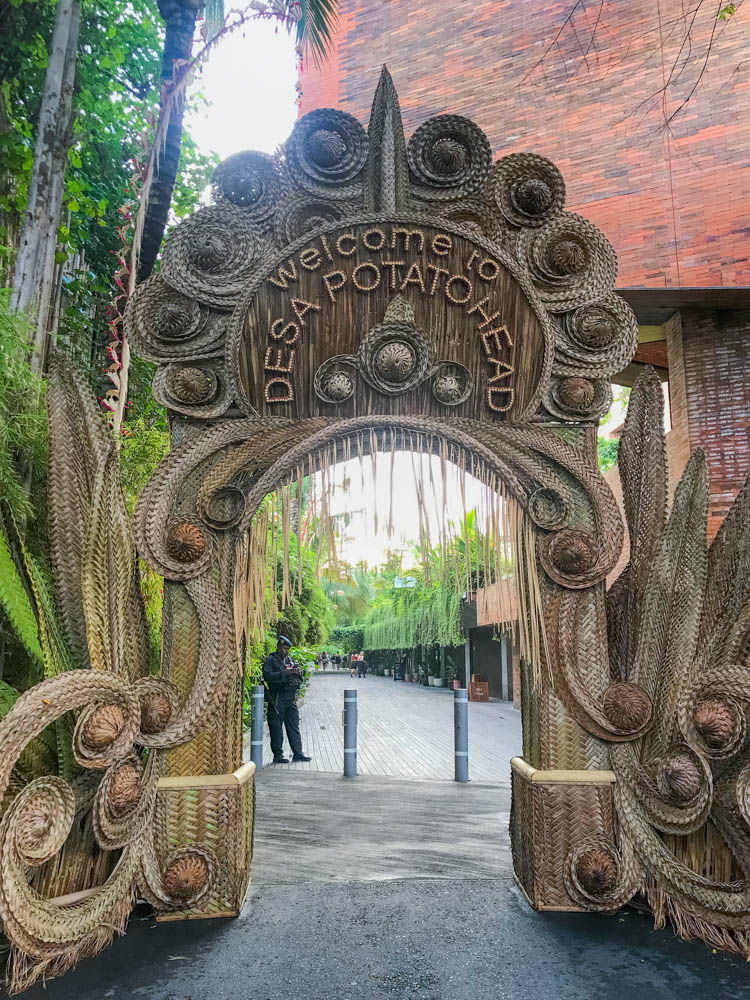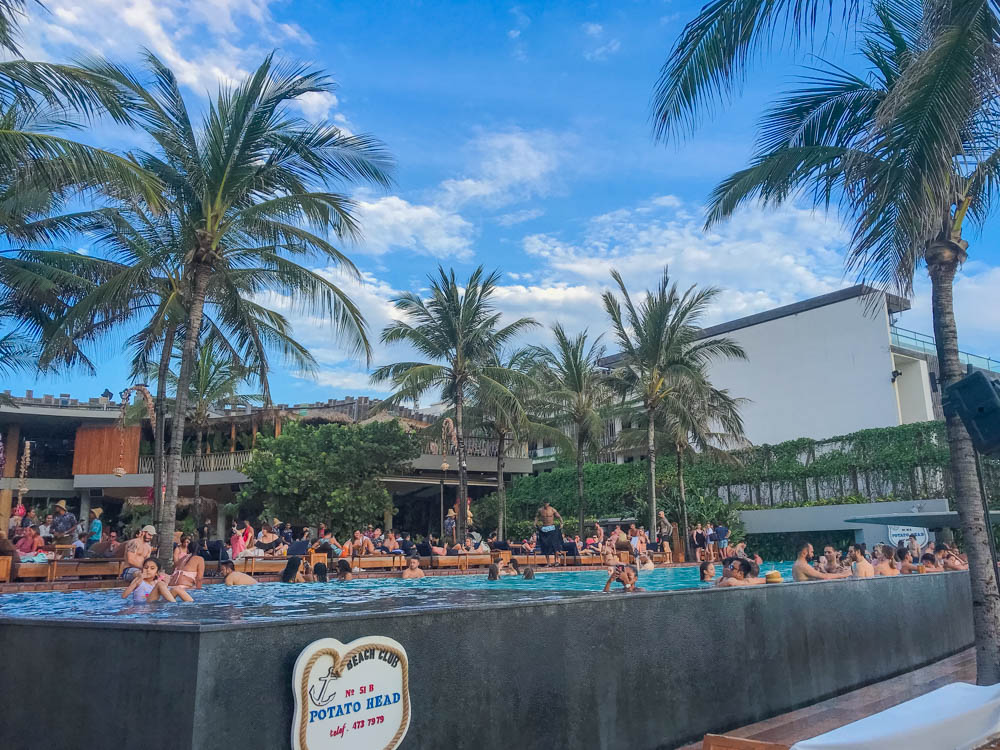 Otherwise, you can do as I did and get here for the sunset and bring swimwear to enjoy a drink in the really cool infinity pool located above the beach. If nothing else, I recommend coming here for an afternoon drink at sunset some evening, even if you don't want to swim. Entry costs 150,000 rupiah (about 10 Euro) and for that you get food or drink in the bar inside the beach club with a receipt you receive when you pay the entrance fee. (However, it will only be enough for one drink though).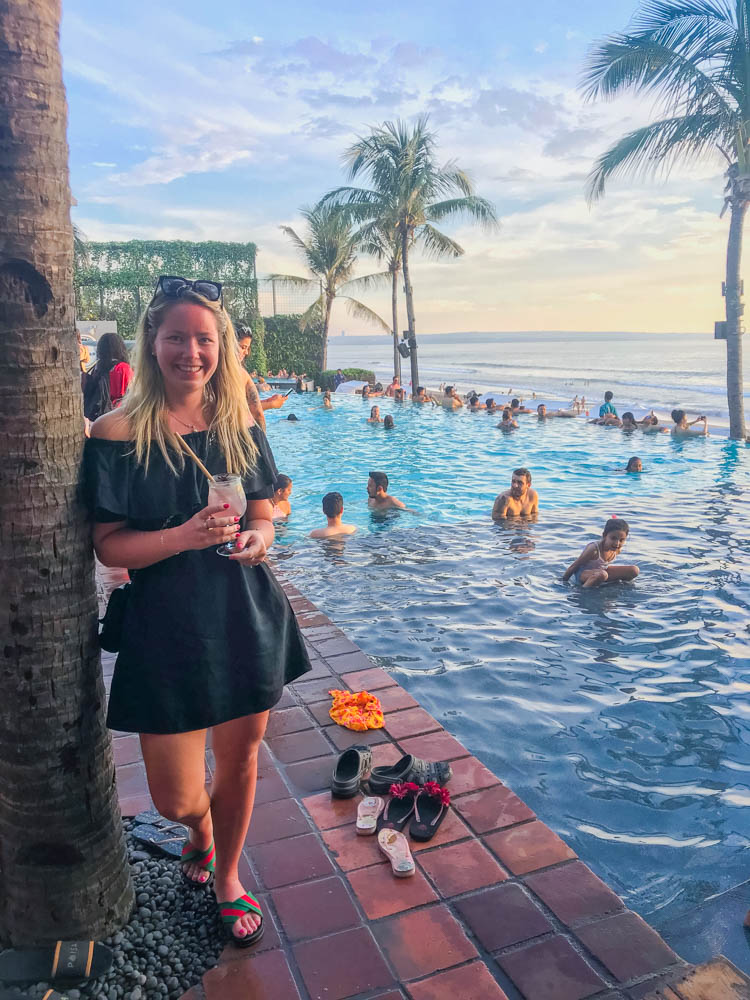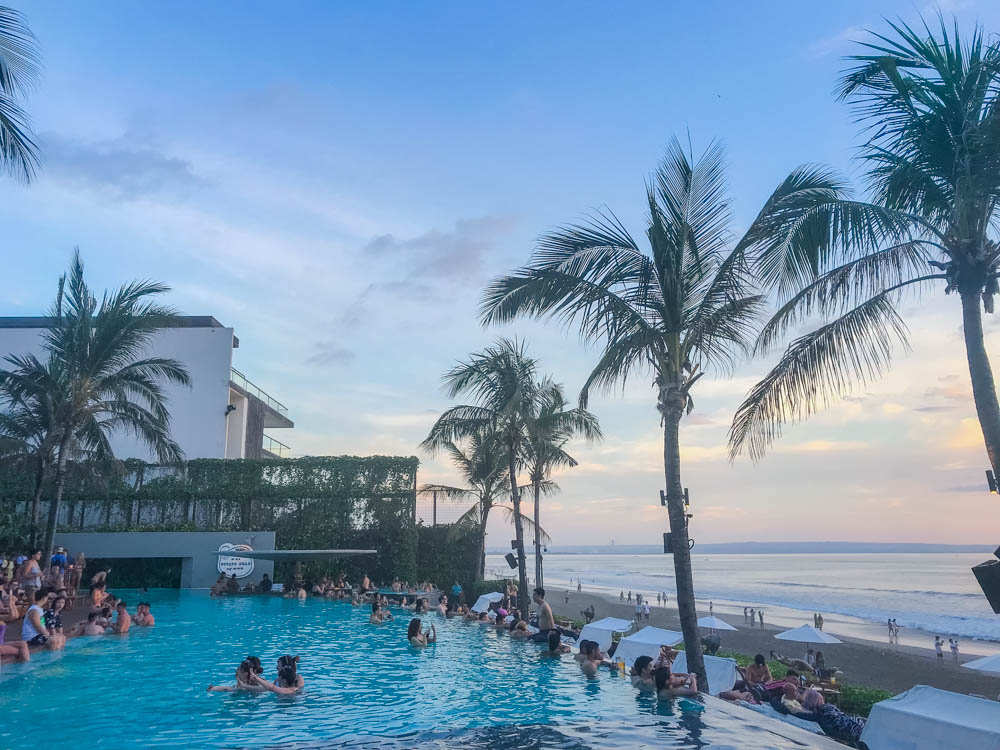 What I like about potato head beach club is that you can hang out here for a whole day if you want or just get ready for the sunset with a drink in your hand or just hang out here or have dinner in their separate dinner restaurant. It is incredibly fresh and very nice place and I can really recommend coming here!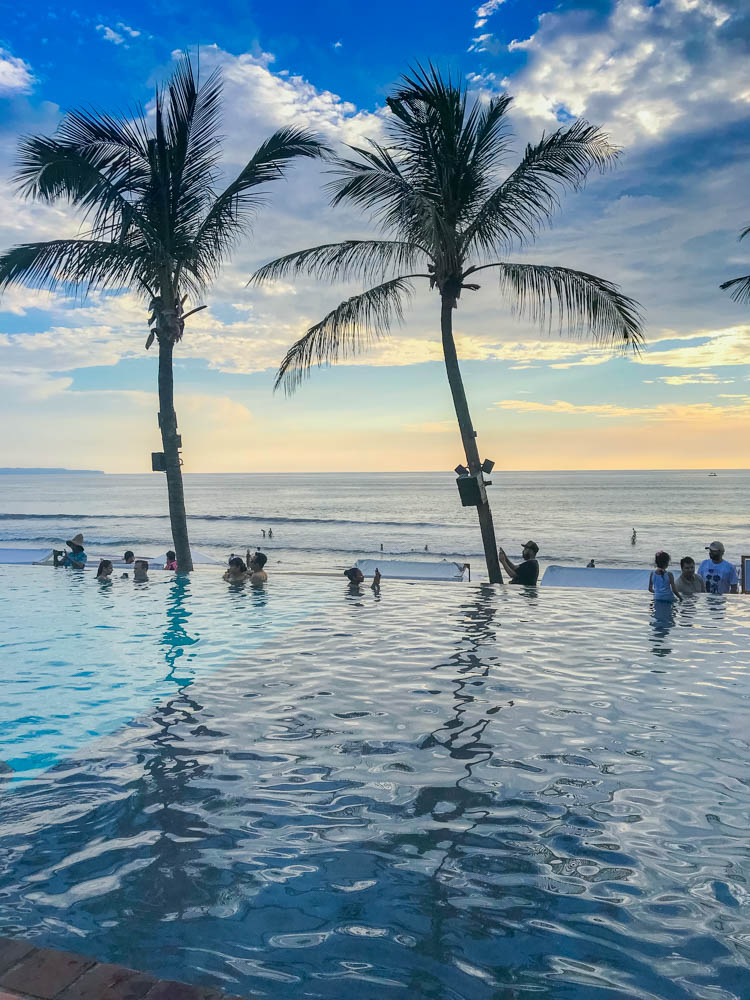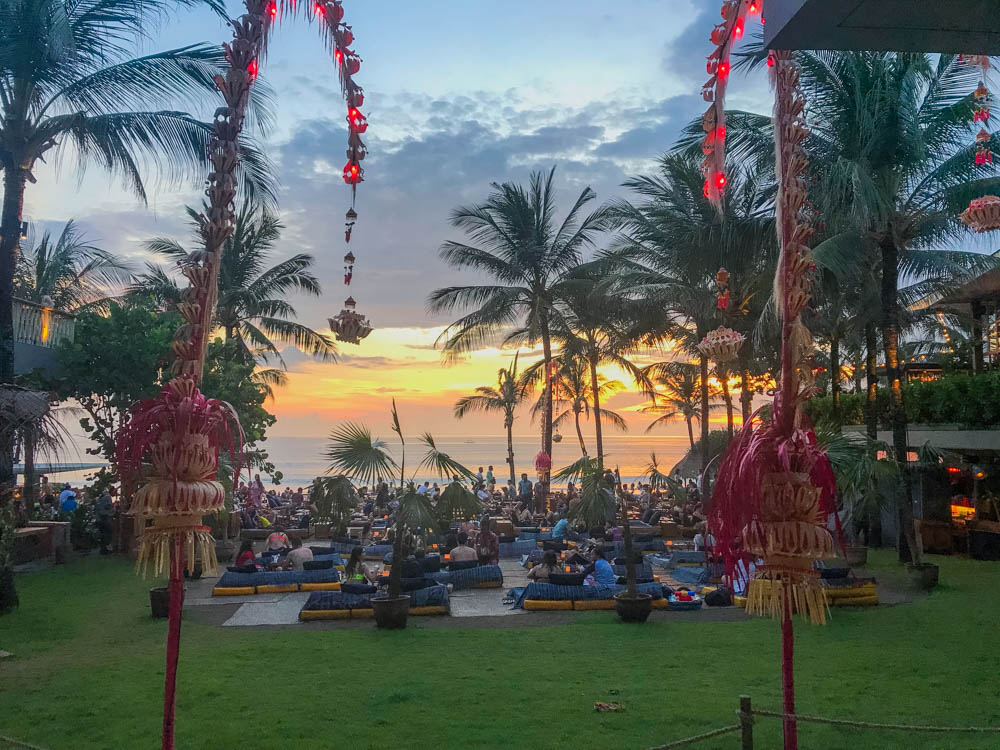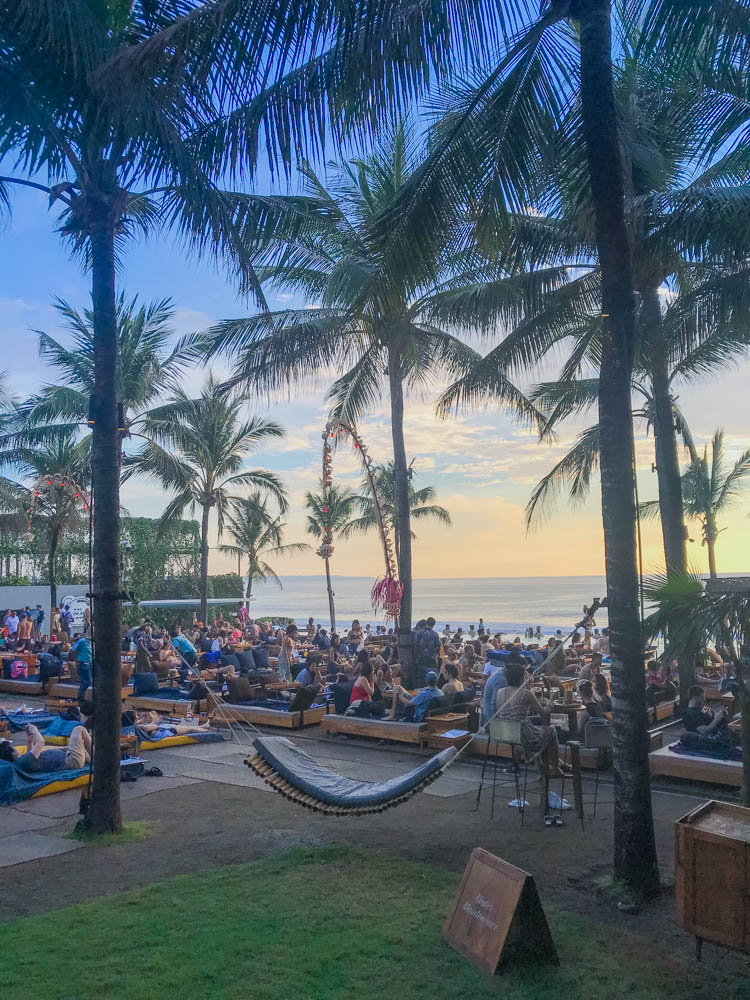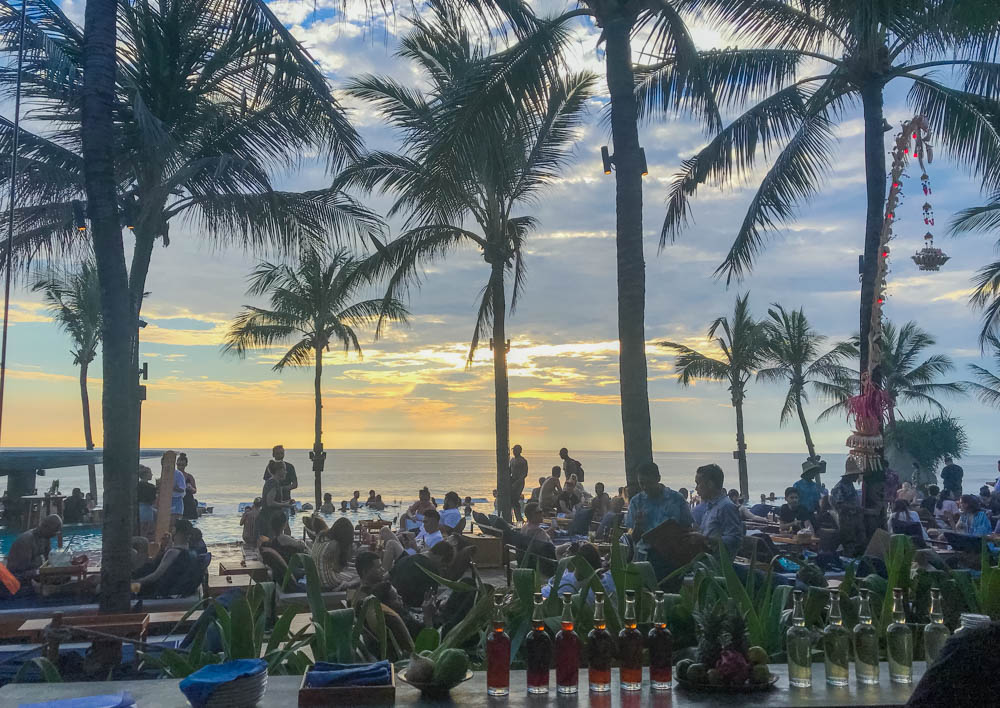 Tropicola Beach Club
Tropicola is a relatively newly opened beach club located right on the beach in Seminyak. Now I was here on a Monday and there were not many people here at all but apparently it is on the weekends you should be here! 🙂 Then the party is in full swing and there is more pool party atmosphere here than at the Potato beach club. I got the impression that Tropicola is more for young party people more than families or couples.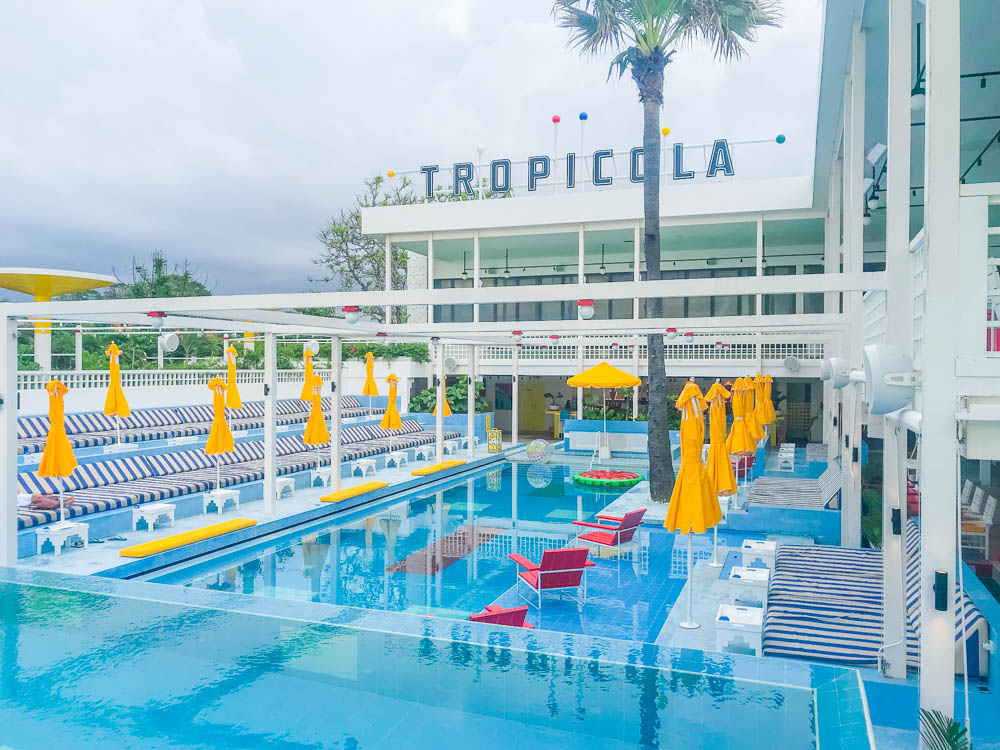 Azul Beach Club
Step straight up to this super cool bamboo bungalow from the beach in Seminyak and enjoy happy hour at Azul beach club. From here you have magical view of the beach and the sunset that take place with their incredibly beautiful colors. Come here before sunset and enjoy a happy hour drink and watch the sun goes down. It's not as festive atmosphere here as it is on a "real" beach club, this is more calmer but still very nice to hang out in.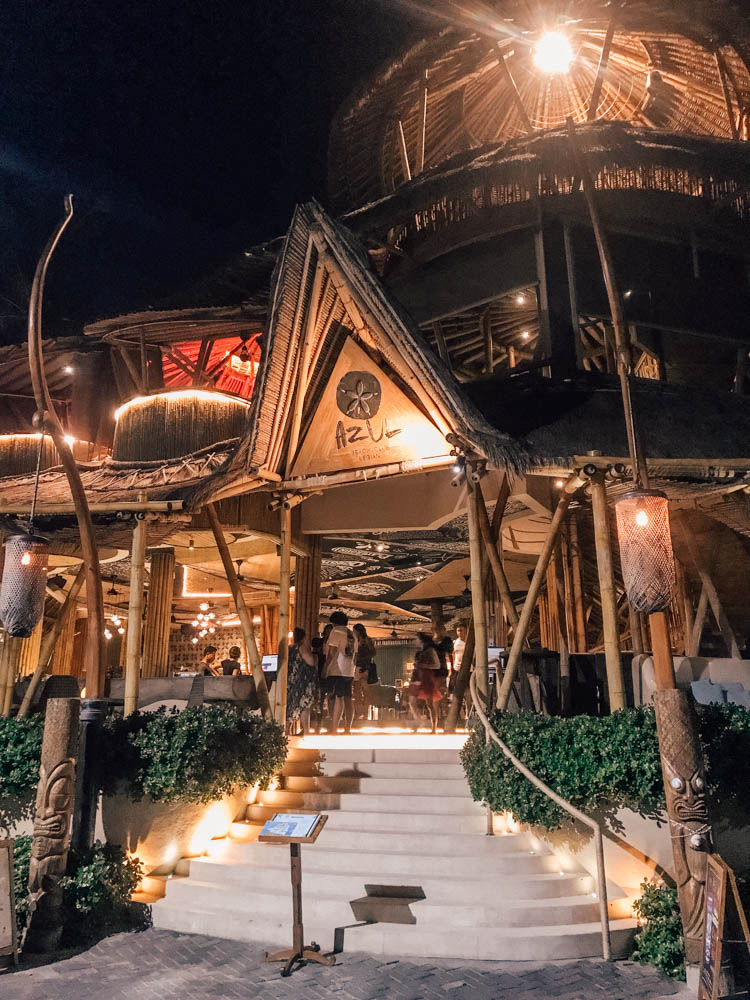 La Plancha Beach Club
At La Plancha beach club you can come just as you are and look just like you want. Here you have bean bags in lots of colors and there is a lot of people everywhere here who wants to enjoy the sunset. Skip your shoes and come barefoot, you are hanging on the beach here! Sit down in a bean bag, relax and just enjoy the atmosphere around you. The sun goes down at 6.30 pm (month of march) and I arrived at 5 pm and there were a lot of people, so come here on time if you want a place to sit, without having to fight for them 😉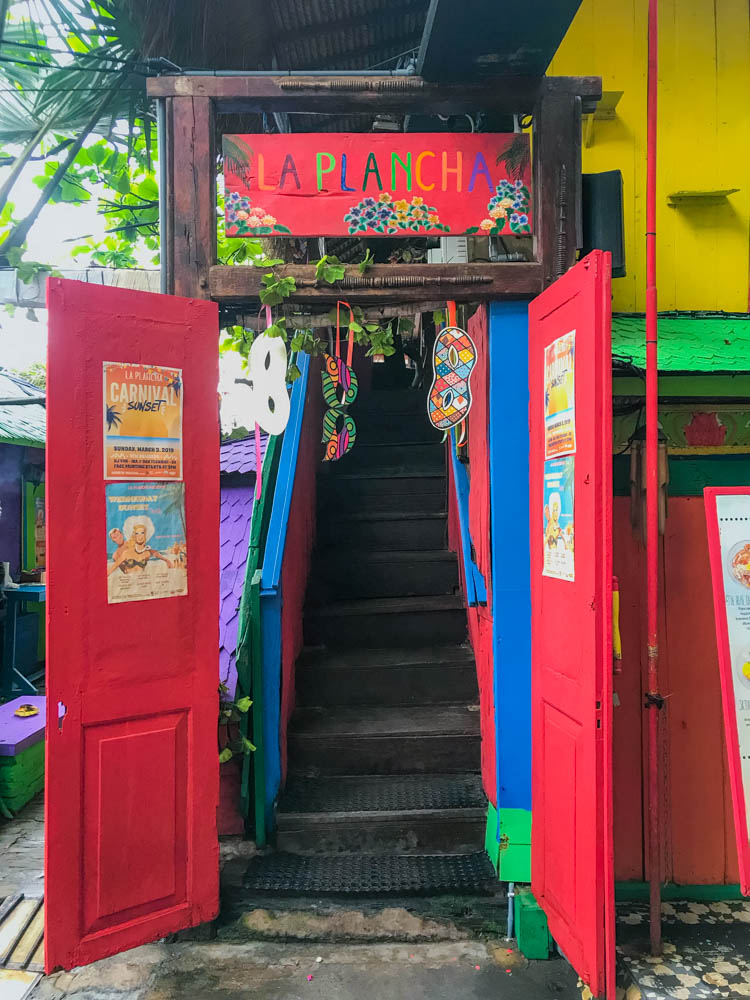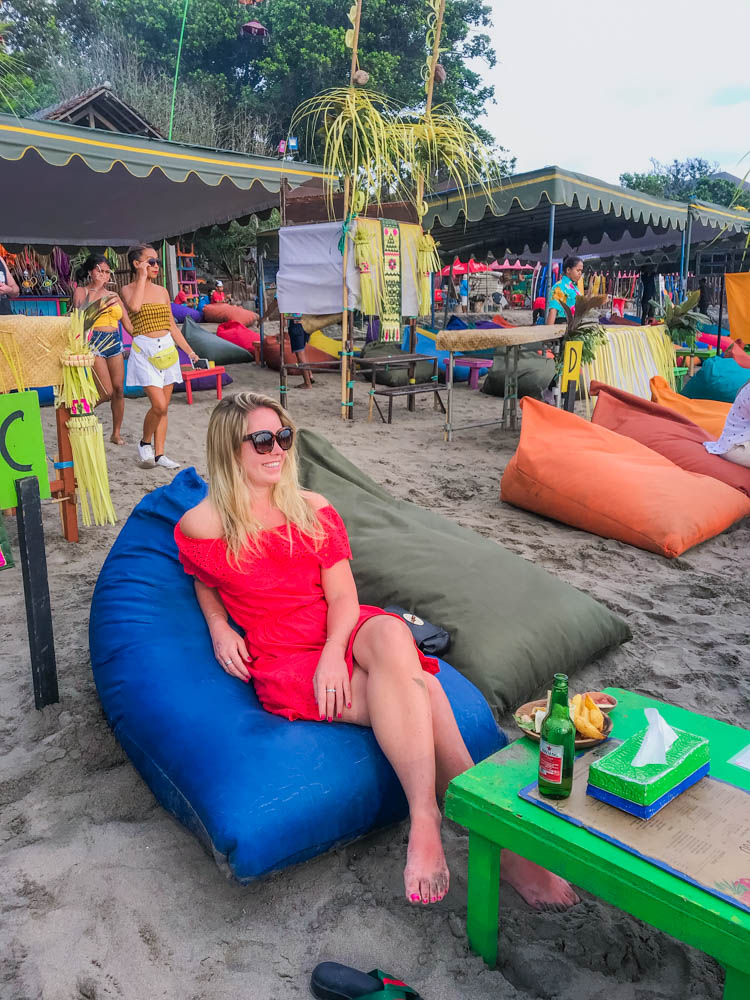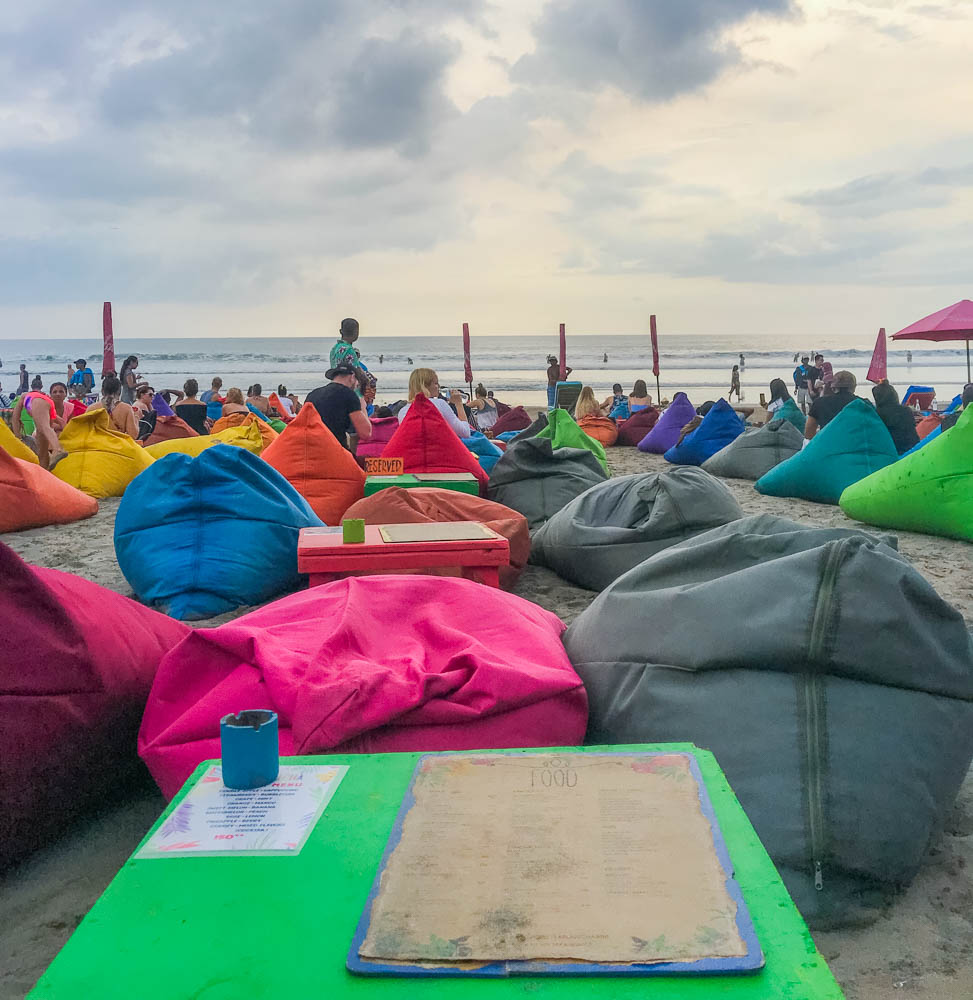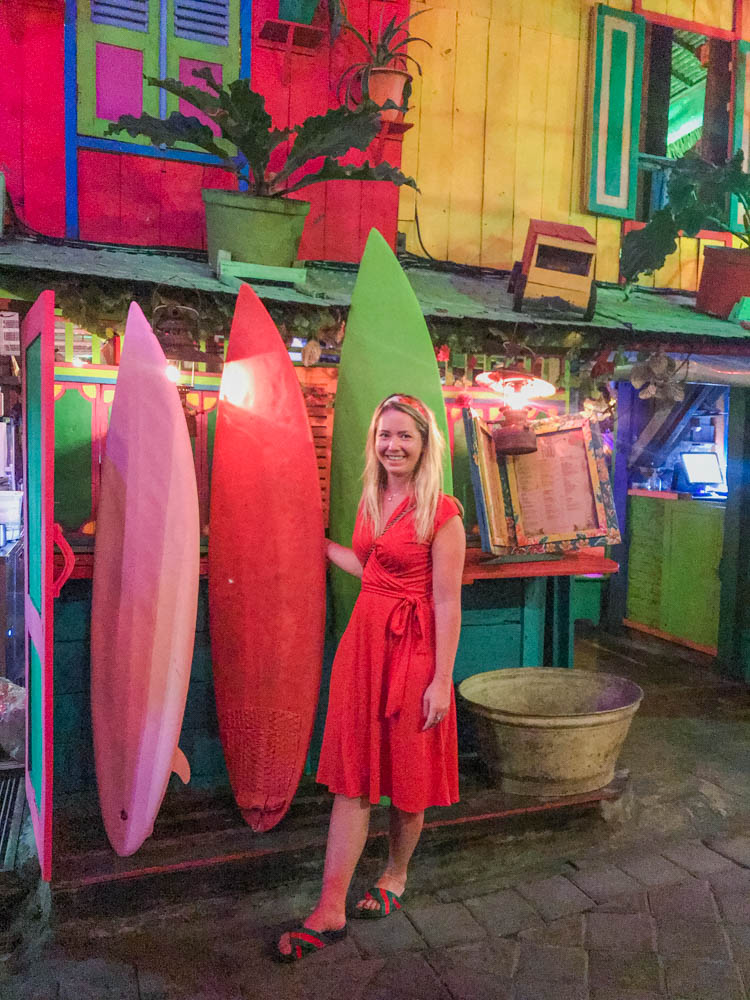 Dinner restaurants in Seminyak
Bikini
Bossman hamburgers
Motel Mexicola
La Favela
Da Maria Italian restaurant
Jackson Lily´s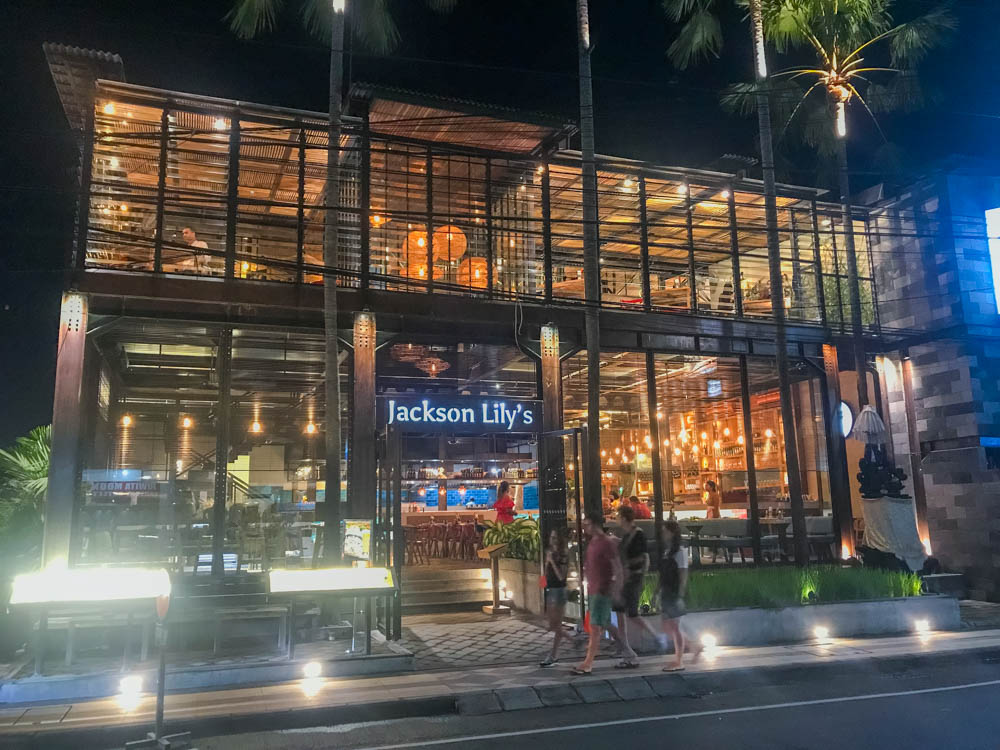 Bikini
Bikini Restaurant is a little nicer, fine dining restaurant in Seminyak. Here everybody is dressed up and you need to count with that the price here is higher than otherwise in Bali.
BO$$MAN Hamburgers
If you love hamburgers, Boss man is a must to go to! It is located just beside the Bikini restaurant in Seminyak and here you can get dressed just the way you want. Suitable for both lunch and dinner and they have the very best burger I have eaten! They are also available in Kuta.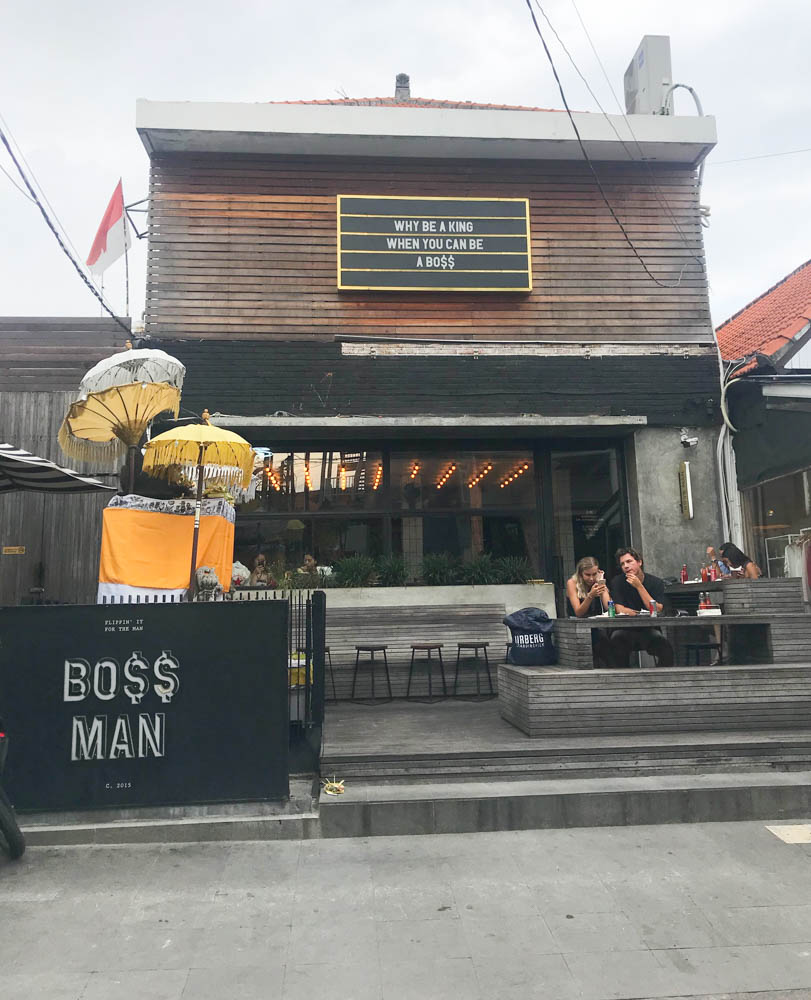 Motel Mexicola
Motel Mexicola is a cool and very different restaurant in the middle of Seminyak. This place is perfect for group dinners if you are a bunch of several people but are also perfect for solo travelers as for couples. The place has fantastic colorful decor, wonderful good Mexican food (among the best I have eaten!) Super tasty margaritas and very lively Mexican music on weekends.
What I like about Motel Mexicana is that it goes from being a calm dinner restaurant to becoming a lively nightclub where people are standing on the tables and dancing. I was here on a Saturday and had my best evening ever in Bali! So, if you are looking to meet people, have fun and experience something totally different in Bali, this is where you should go, especially if you want to party! 🙂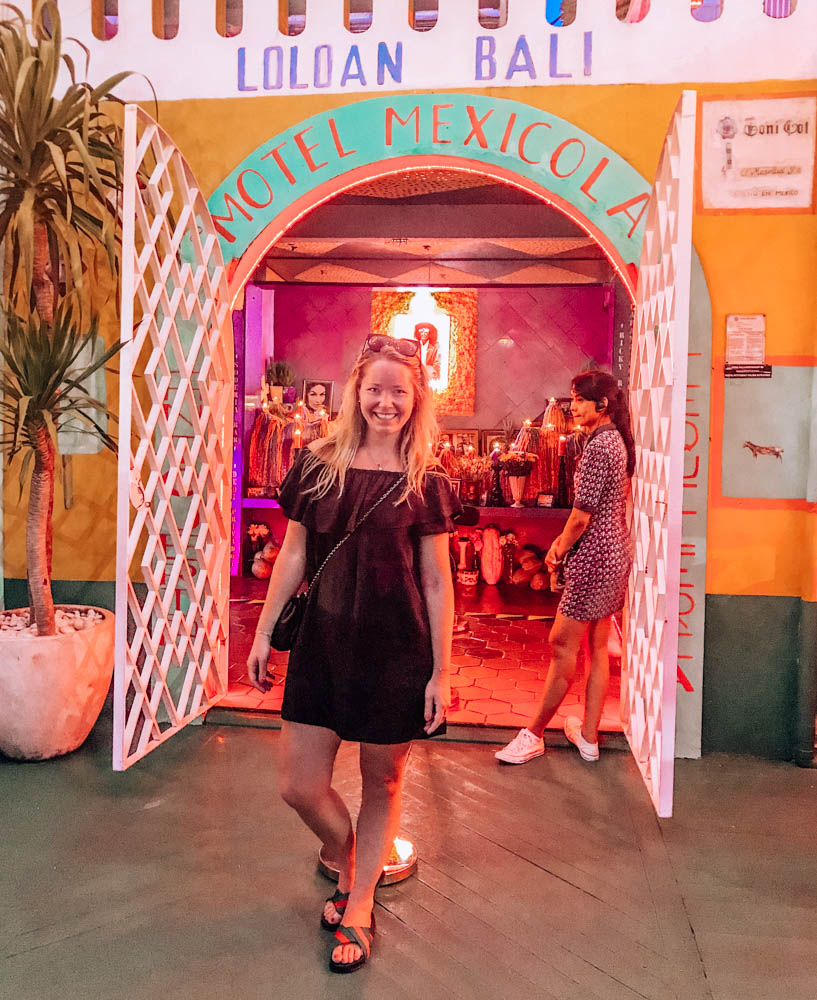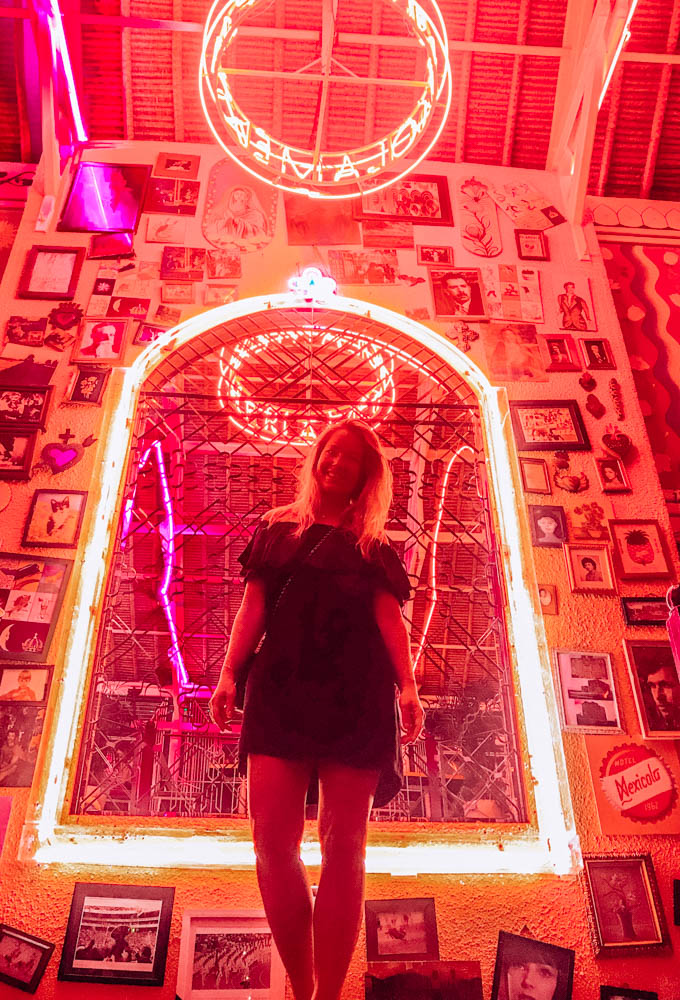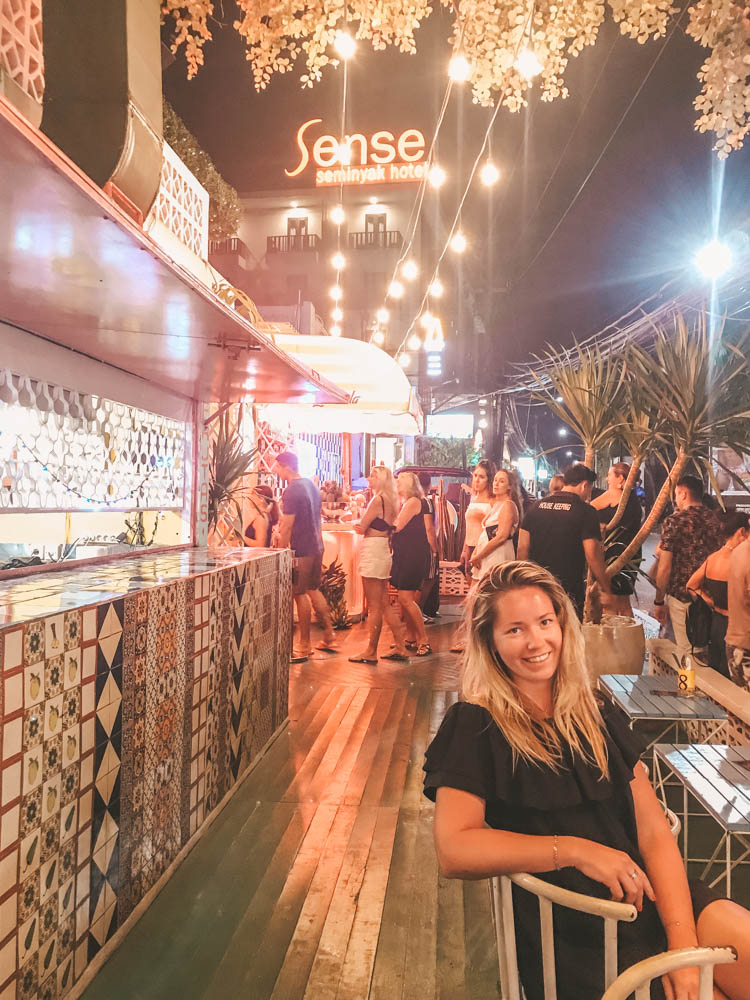 La Favela
La Favela is Bali's trendiest place and I fully understand it! This is a cozy and genuinely awesome place! When you step in here, it feels like you are stepping into a Hollywood movie that is being recorded. It is so cozy here with its outdoor tables under the sky and it is so big that you lose yourself walking around in here. It feels like you are sitting in a cozy little jungle while being in Paris – so incredibly romantic!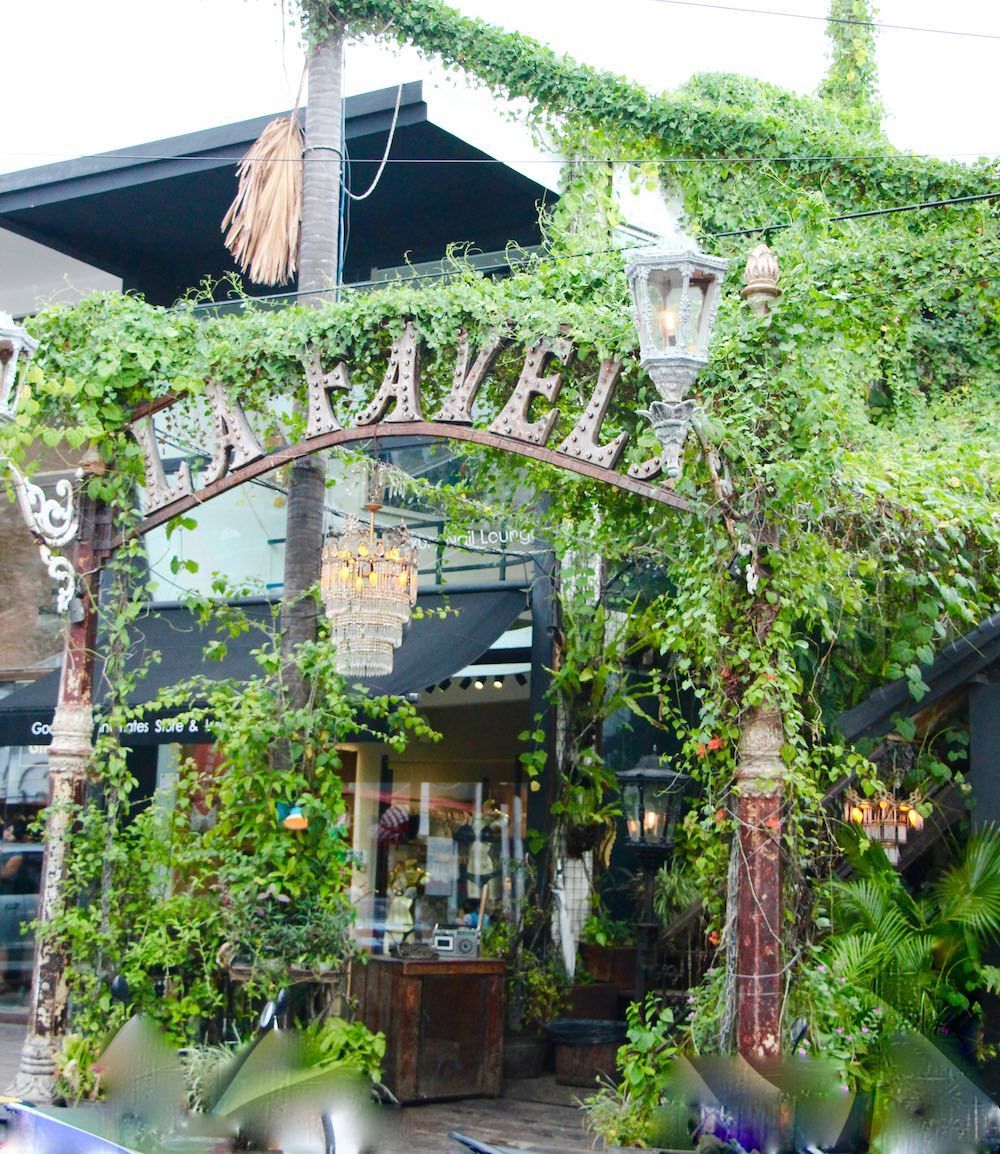 La Favela consists of 4 floors and there are similar concepts here as at Motel Mexicola, however La Favela is larger and in an outdoor environment. This is really a super cozy restaurant that is suitable for a date night but later turns into a nightclub both indoors and outdoors so you should be prepared for that. If you only want to come here for drinks and party, then you should show up at 11 pm in the evening and they don't close until 5 am in the morning but as I said, you can have only dinner here if you just want that 🙂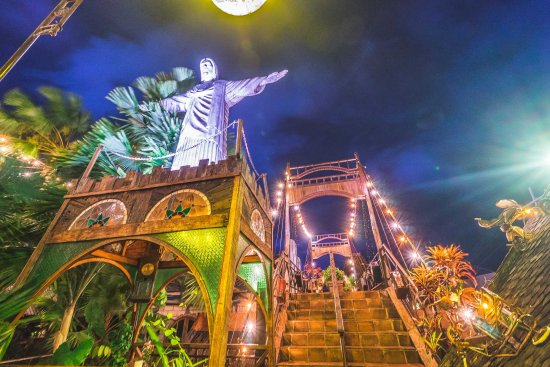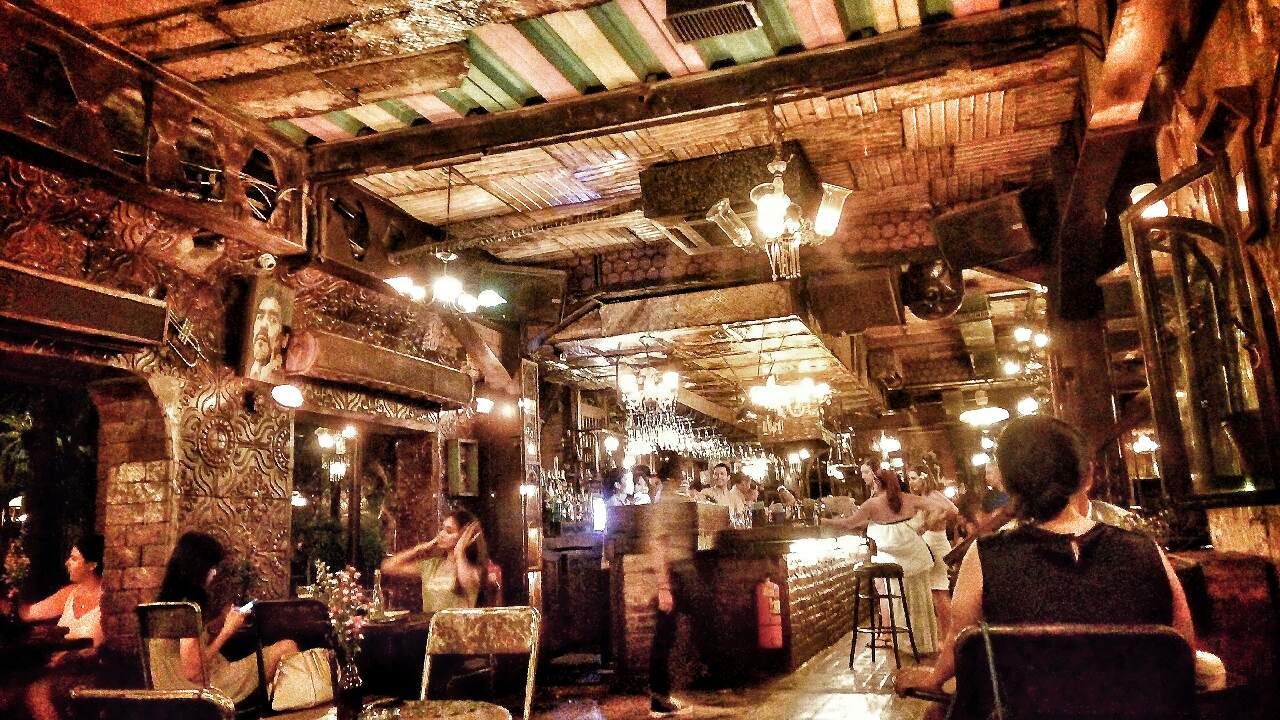 Bars in Seminyak
Read carpet
La Favela
Motel Mexicola
Rosé winebar
Red Carpet
Red Carpet is a champagne bar located on the main pedestrian street in Seminyak. Here, Moët champagne is served and it is calmer and sensory atmosphere here than at a nightclub. This is a really nice bar I have to say so come here for a glass of champagne before you heading to your dinner restaurant!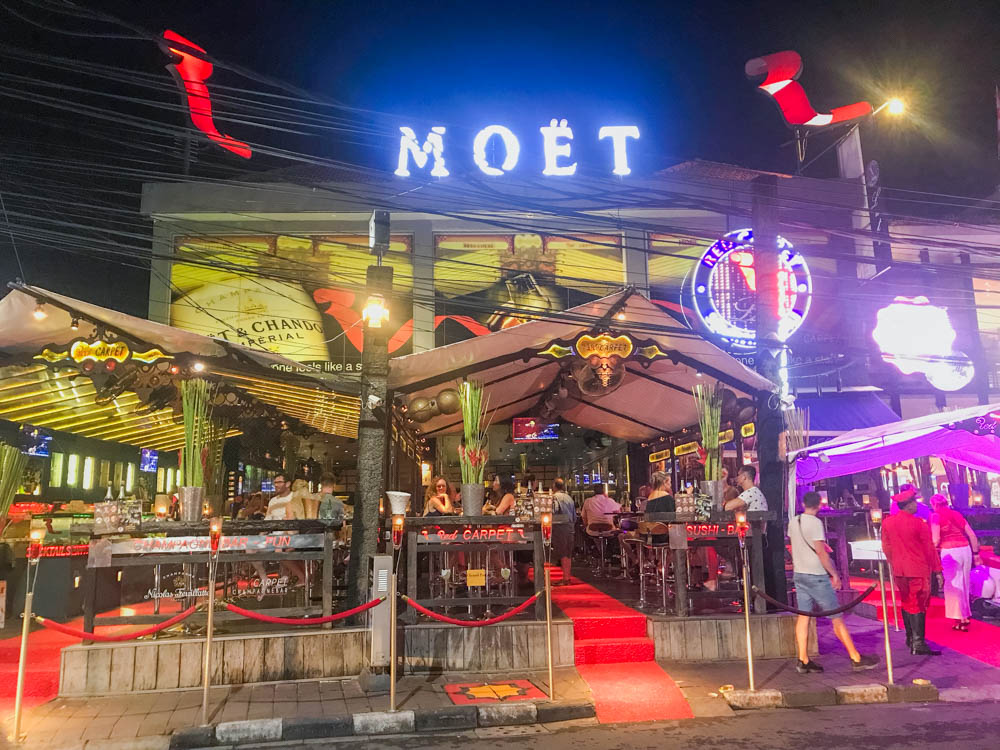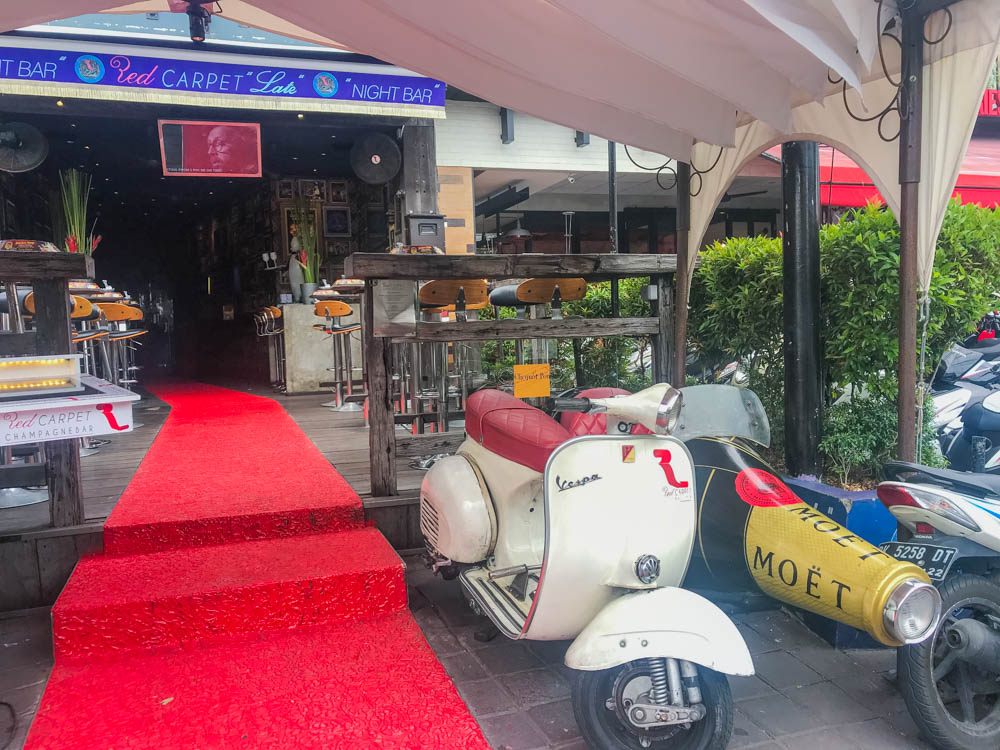 Rosé Winebar
Just next to Motel Mexicola, there is a wine bar called Rosé wine bar which is located almost in the middle of the road. Super soft and really charming wine bar that is perfect for a pre dinner drink!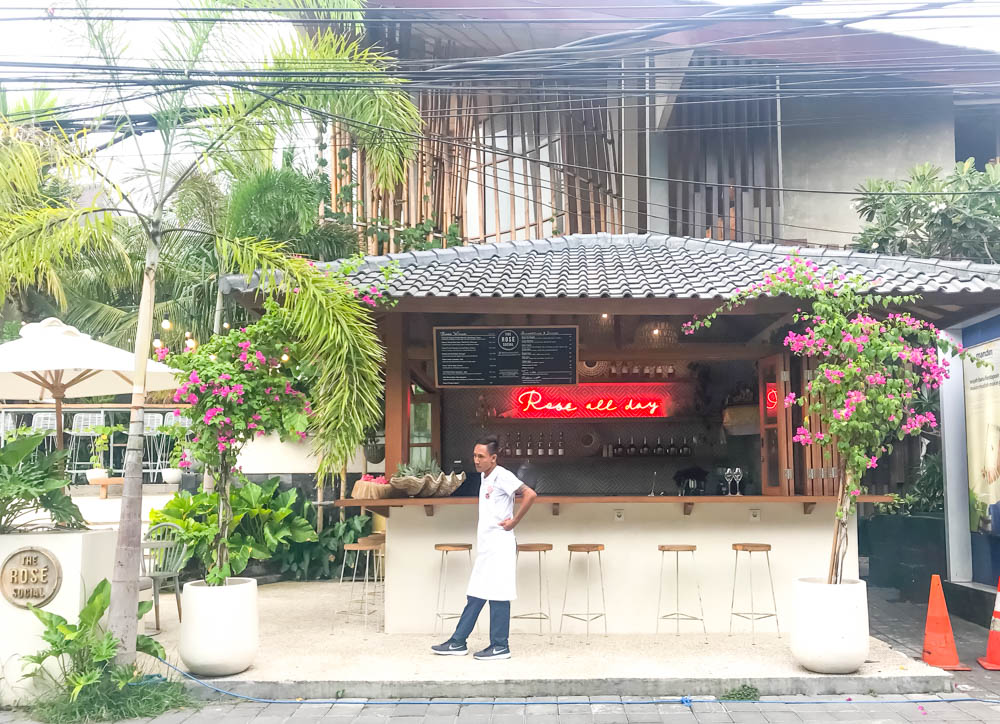 Lunch restaurants in Seminyak
Bossman hamburgers
SeaCirkus
Shelter & Nalu Bowls
Café Seminyak
SeaCirkus Bali
Sea Circus is a perfect and different and very colorful lunch or brunch place! 🙂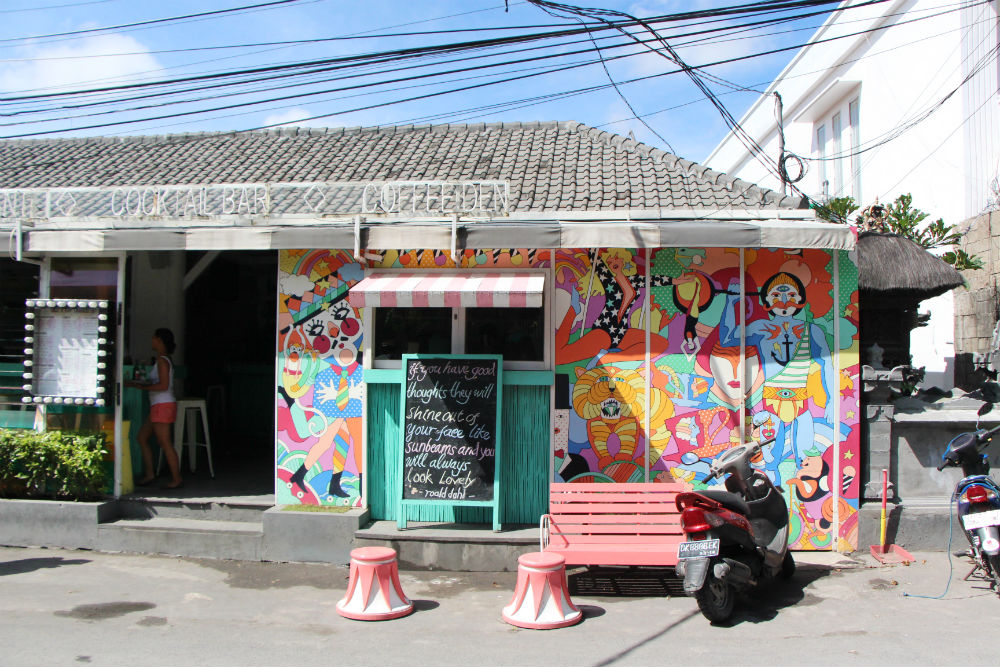 Shelter & Nalu Bowls
Shelter is a really cozy cafe in the middle of Seminyak and that quickly became my favorite one. Shelter is connected with the Nalu Bowls that makes really good smoothie bowls. This is the perfect place to eat breakfast, having lunch or to work from. Nalu has opened in several places around Bali and is now available not only in Seminyak but also in Canggu, Kuta, Uluwatu and Berawa. Here you really have to go for breakfast or lunch! 🙂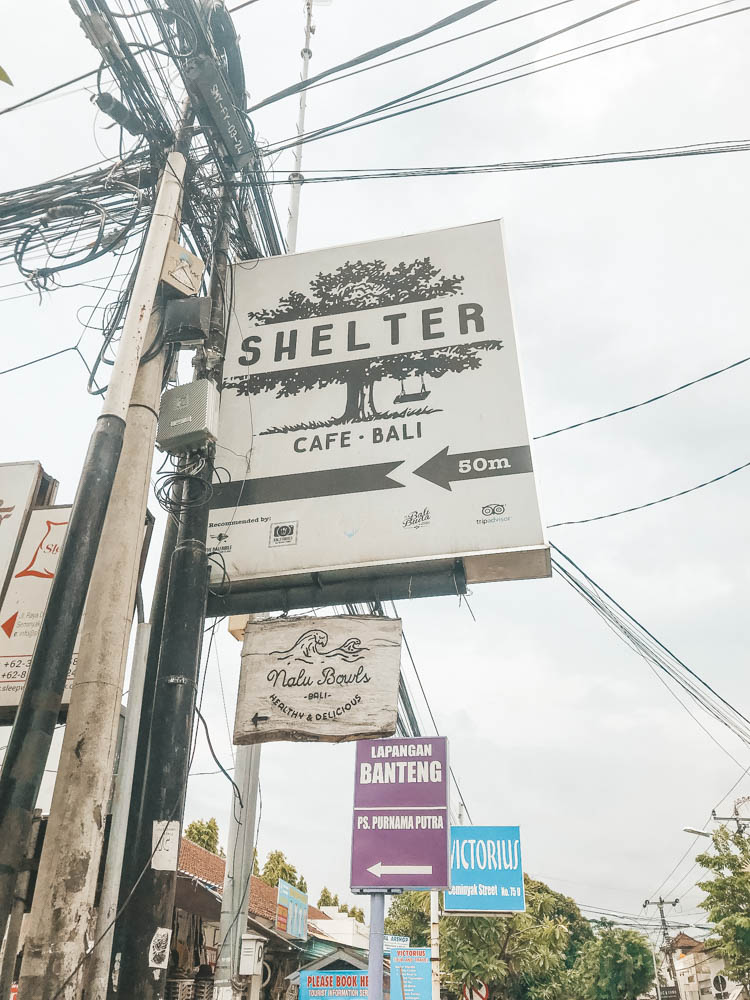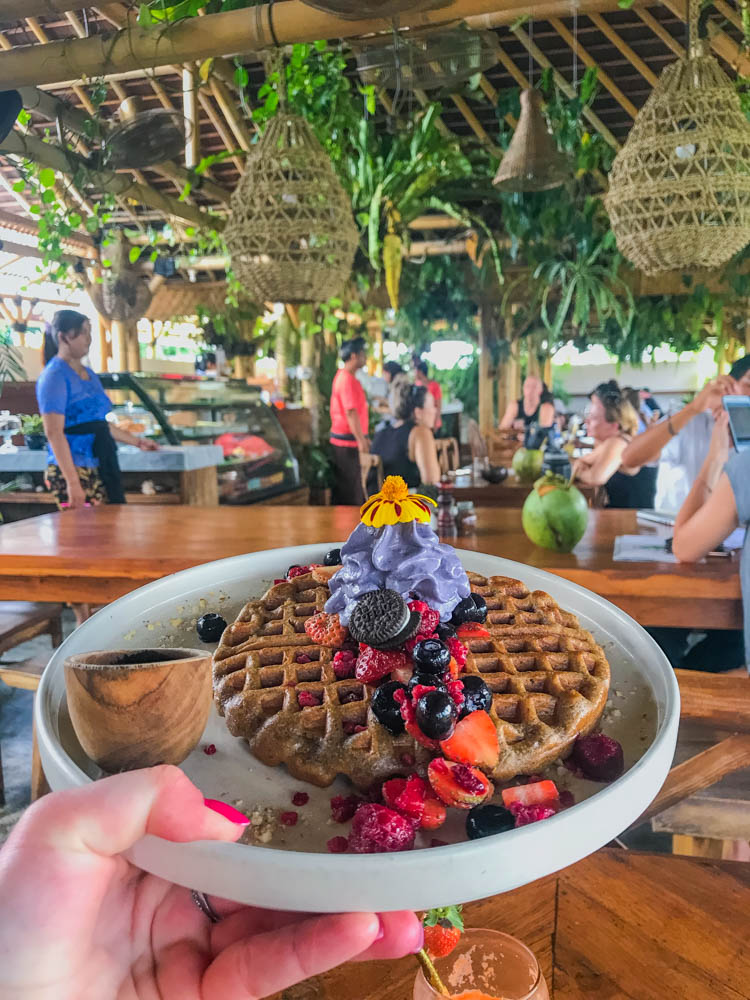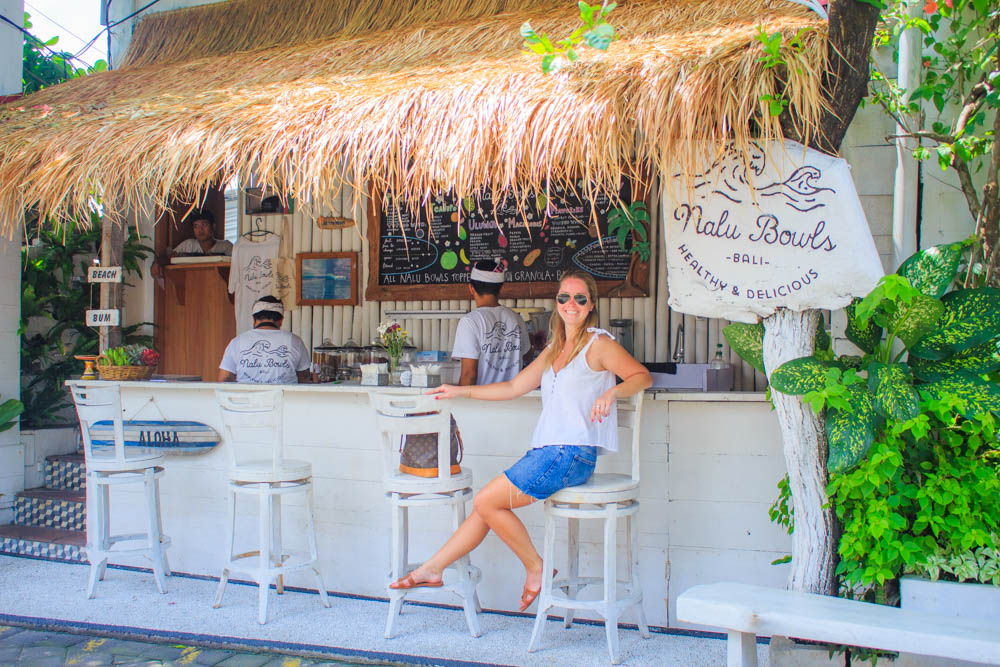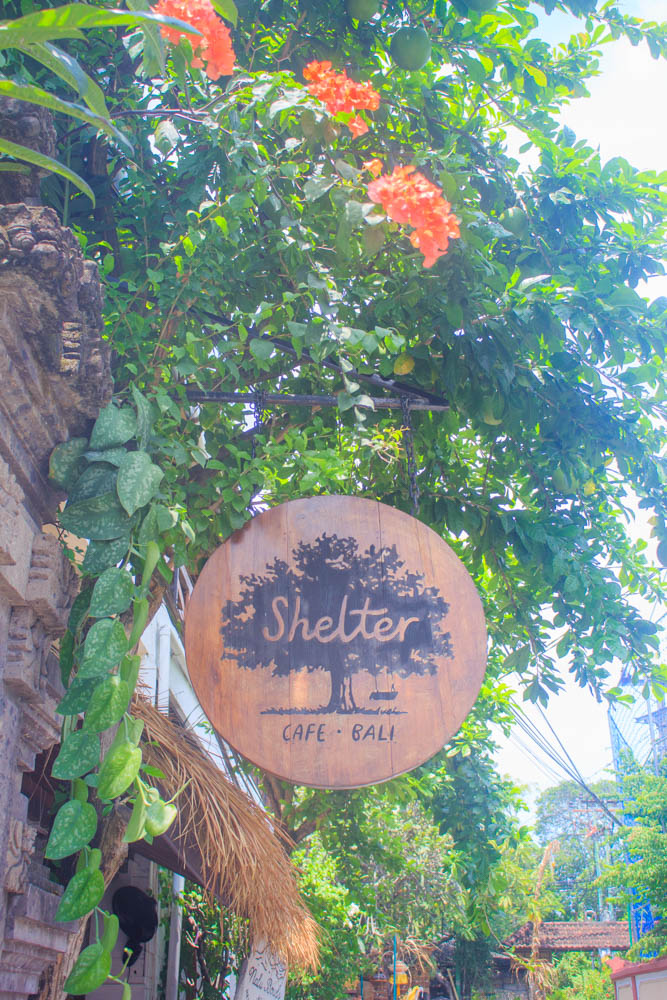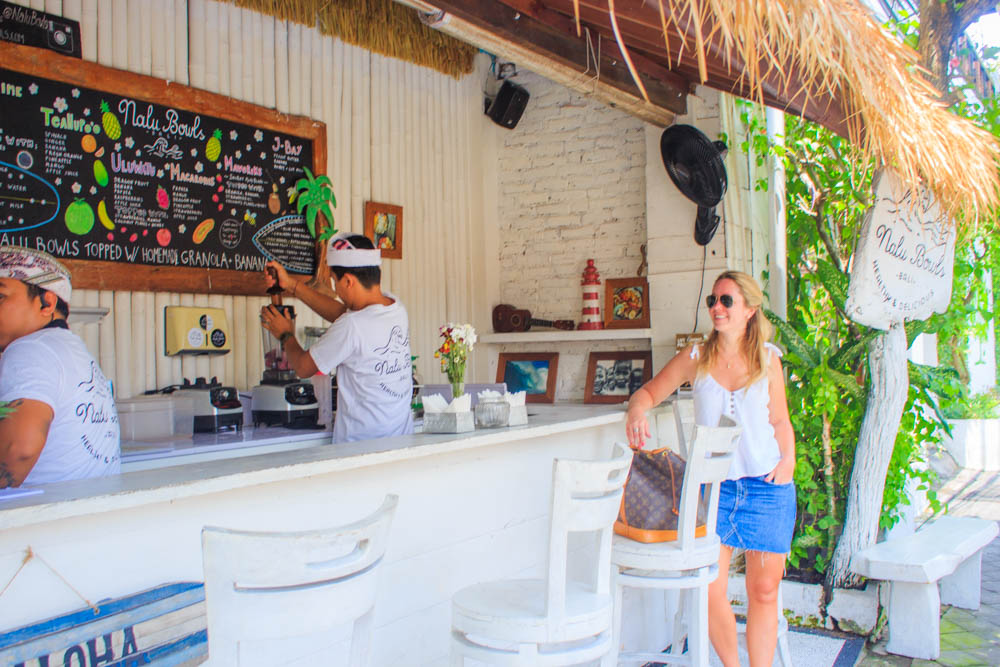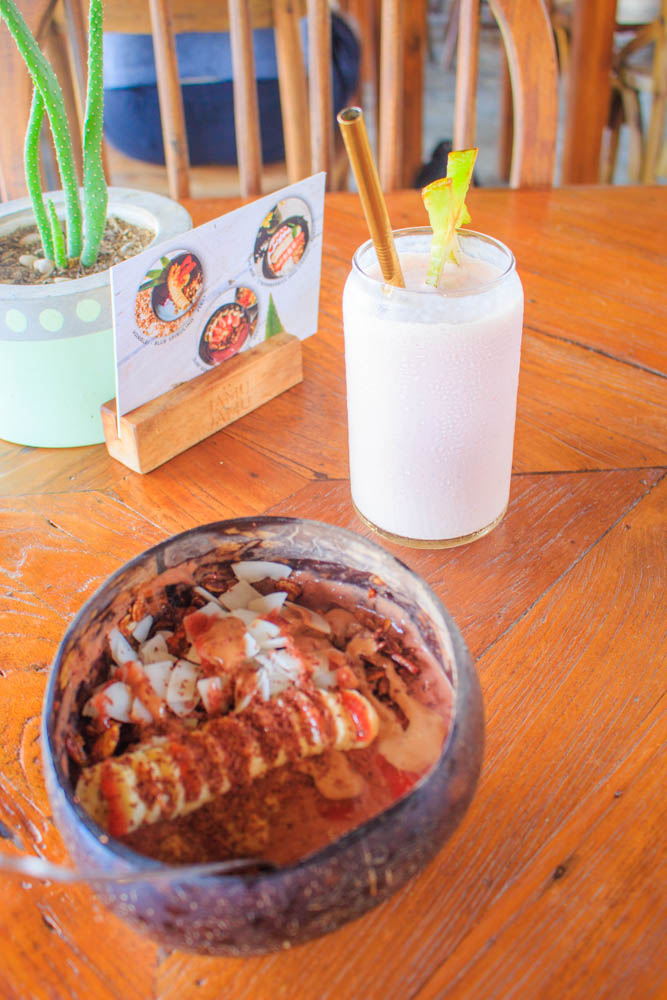 Café Seminyak
Café Seminyak is a perfect lunch place or why not sit down for a coffee break. Here they serve extremely good avocado sandwiches!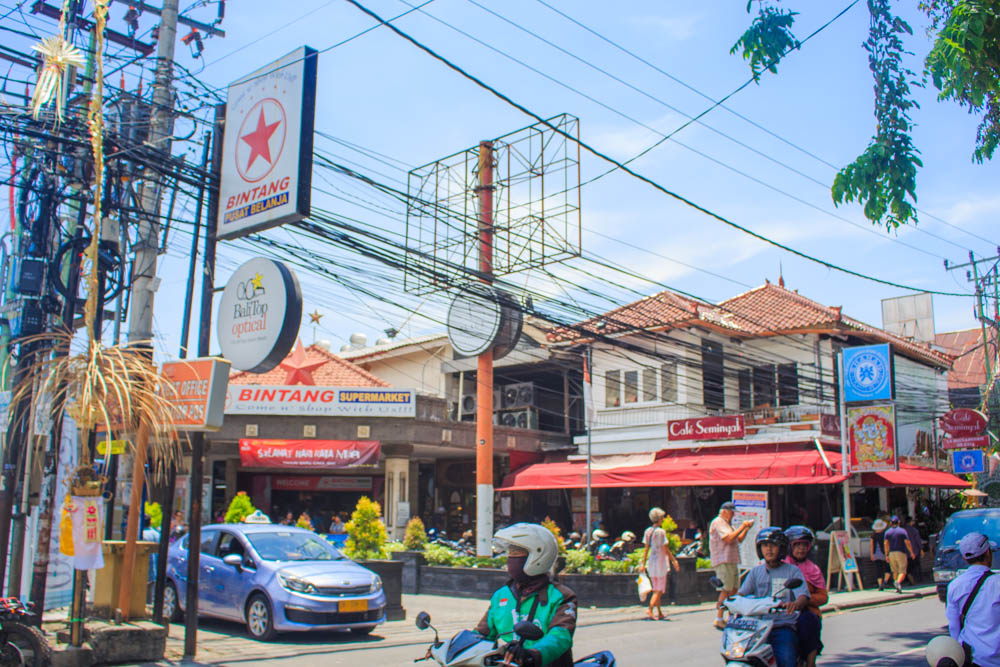 Have you been to Seminyak in Bali, what did you like best about here?
Here you will find more Bali guides from me:
Happy Travels!
// Charlotte