My Ultimate Travel Guide to The Algarve Coast in Portugal
I flew directly with SAS to Faro, Portugal and traveled by car along the Algarve coast which is the southernmost part at the bottom on the map of Portugal. I spent a long weekend with 4 nights and 3 full days. Here is my travel guide to the Algarve coast in Portugal. This is what I did and what I recommend you to do when you are here 🙂
Here comes my Top 10 Best Travel Tips for The Algarve Coast
Many people travel primarily to this city to play golf because there are many nice golf courses here. You can say that this is every golf dreamers mecca 🙂 But if you don't want to play golf, here's my travel guide on what to see and do on the Algarve coast.
1. Eat breakfast at Vilamoura boat harbor
In Vilamoura there is a very cozy boat harbor that is nice to have breakfast in the morning while watching the harbor waking up to life. Feel free to look out over the boats that are in front of you. This is a great start to the day!
2. Stroll around in old town of Vilamoura
Personally I think Vilamoura was the most cozy place in Algarve. If I´m coming back here, it will be Vilamoura I'm going to! Cozy little town to stroll around in and many nice restaurants and lovely to have the beach and beachclubs so close. And especially for those who love to play golf, it's definitely Vilamoura you have to go to. There are plenty of nice golf courses, wherever you go there are golf courses.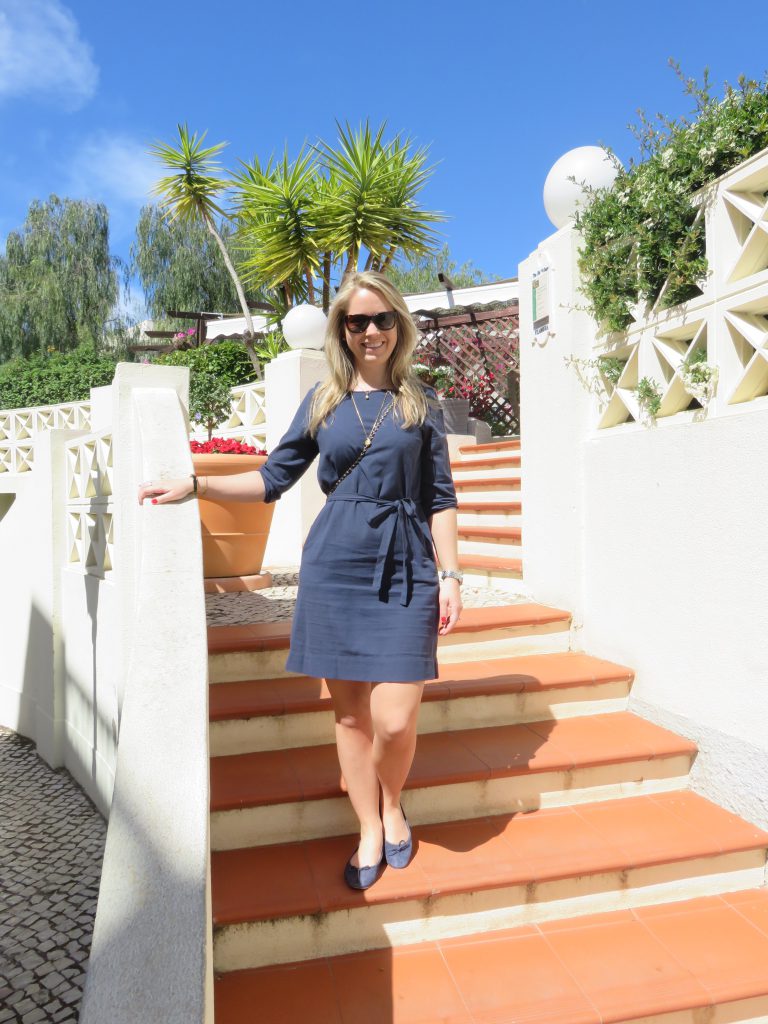 3. Take a beachwalk along Vilamoura and Quarteira
There are many nice beaches along the Algarve coast. My personal favorite became the beach between Vilamoura and Quarteira. Here you can rest on benches while looking out over the ocean, or why not cool down with something to drink in one of the beach restaurants located on the beach. This beach reminds me very much of Mallorca 🙂
Walk to the Maria's restaurant which is right on the beach for a sunny lunch. I highly recommend it, very good! But make sure to book a table or come on time, there were very many people here.
4. Faro
Visit Faro city, which is the largest city in Algargve for a short city walk. There is honestly not that much to see here but fun to have seen it. For those who love airplanes, this is a perfect viewspot to watch all the aircrafts that takes off. The aircraft will lift just above your head when you standing here at the Faro sign.
5. Albufeira
A bit further away, along the Algarve coast there is an area called Albufeira. Here are a lot of tourists because it is a famous seaside resort. There is a huge long sandy beach that everyone can swim at and plenty of restaurants and souvenir shops. Lovely place to eat lunch!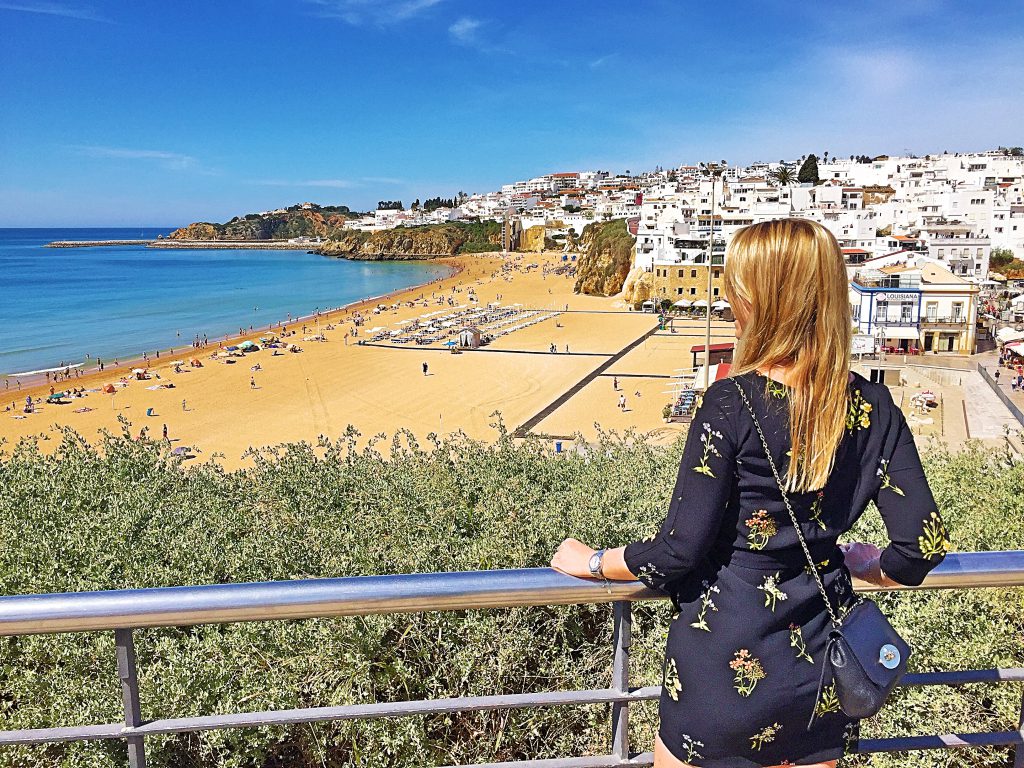 6. Fiesa sand decorations in Péra
When you are in Albufeira, be sure to go to a small town called Pèra. Here is a sand culture festival which is held every year until 31 October. It is really cool to see! It's over 45,000 tons of sand that they have built and created different sculptures. The theme for this year is musician / musicband. You can read more about the event here.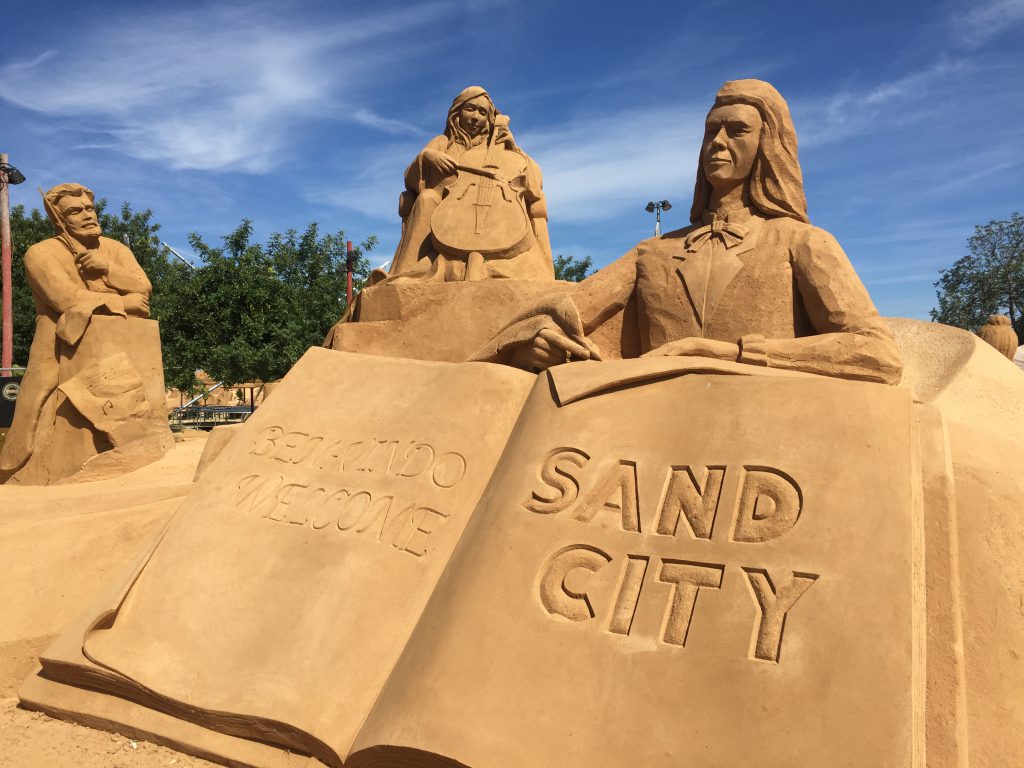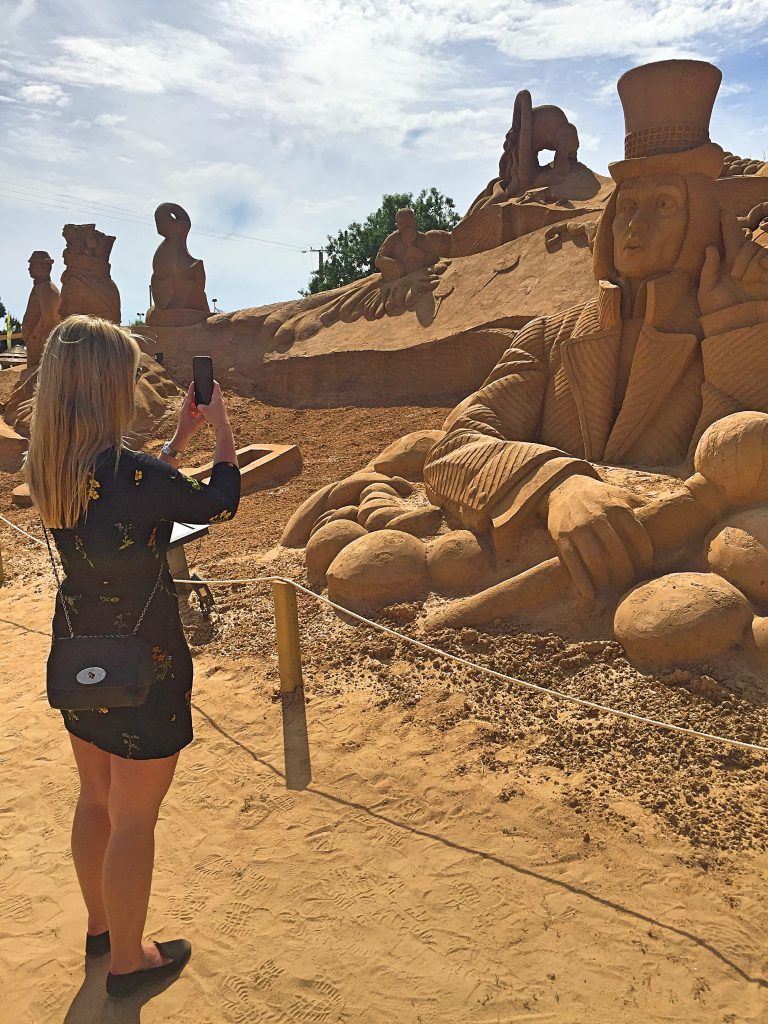 7. Swim at cliffs along the Algarve coast
Not far from the sand sculptures there is a small seaside resort with cool cliffs that you can swim at. With coral blue water you can paddle surf into the caves. I saw several people doing that- looks really cool!
When you get here you will see a large parking lot full of cars. You park over there and then walking down to the cliffs. It takes a little while but suddenly you see the rocks. As you can see in the picture, the fence is set, which is very good because it is quite steep.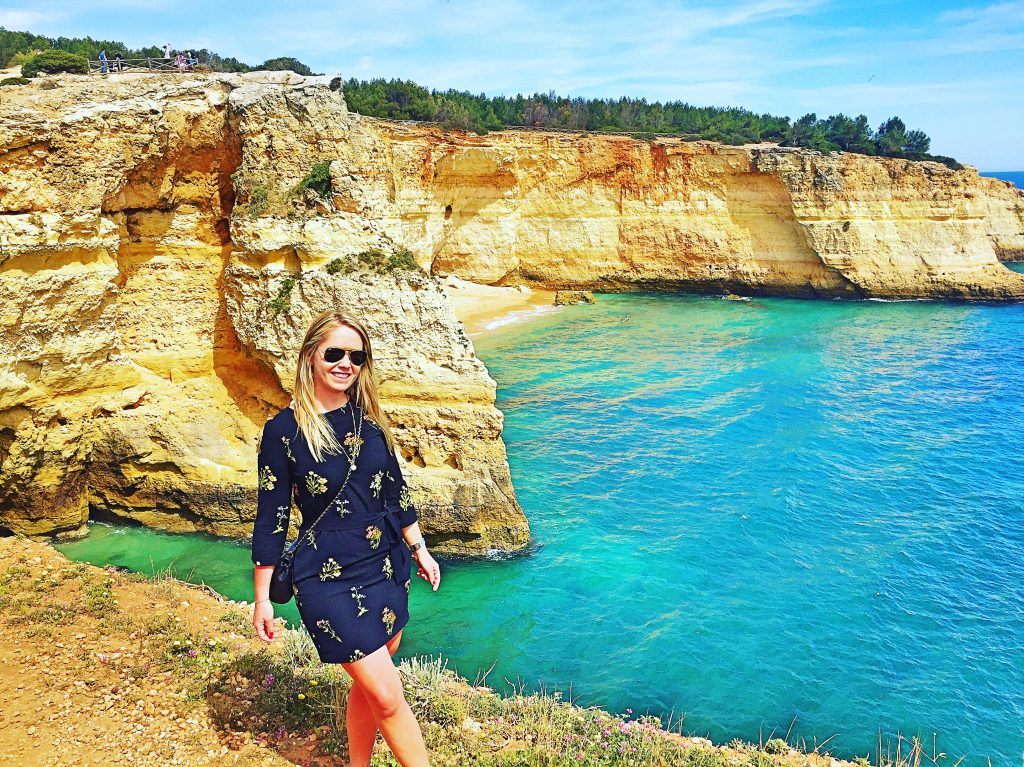 8. Vilamoura harbor by night
If there is somewhere you will be in the evening, I recommend spending the evening in Vilamoura boat harbor. Watch the sunset goes down and enjoy lots of restaurant choices by the harbor. Here you will find all kind of restaurants, ranging from fancy Akvavit to simple Thair restaurants, pubs and bars. There is something for everyone! 🙂
9. Beachclubs in Algarve
There are many beachclubs along the Algarve coast. The one I liked most of them is called Adriana Beach club and was very nice. What I liked most was that there was a DJ that played good lounge music at right music level, not to loud but not to low either. Order a bottle of rosé wine for 30 Euro and enjoy good food and views. A very good place I recommend!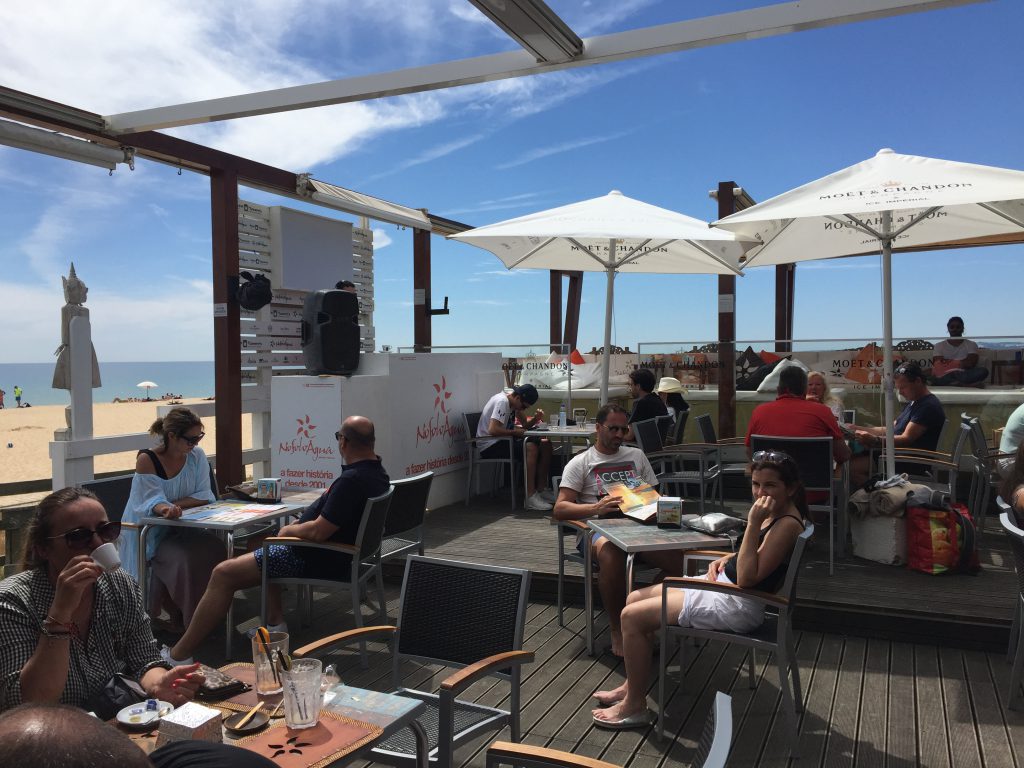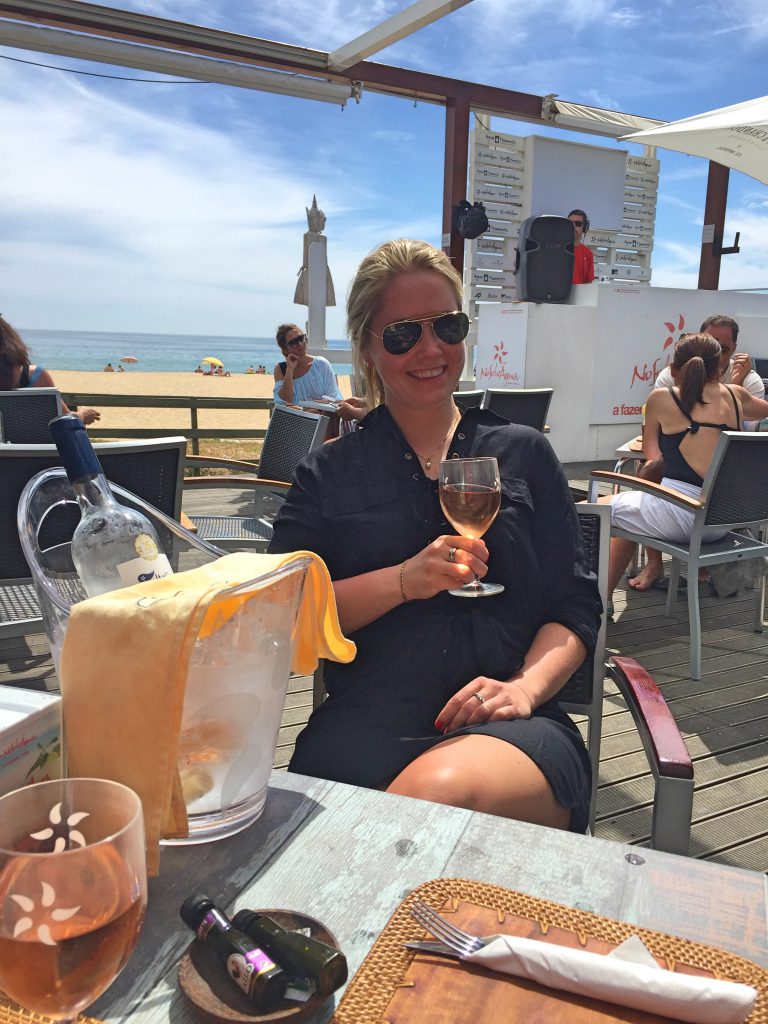 During summer time, Purobeach club is open in Vilamoura. It is a little bit away from the Adriana Beach club, just behind the harbor on the other side facing the beach and is a place I definitely recommend and will spend time on next time I go here. However, it was not open when I was here over Easter.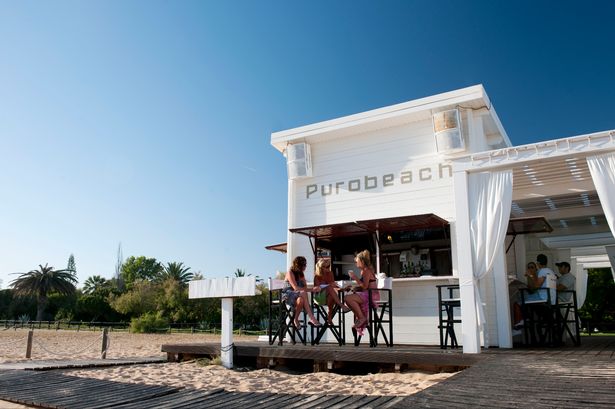 10. Golf courses
Vilamoura, the golf of mecca! This is why many travel here, for golf in Vilamoura. There are several nice golf courses to play on but also to have lunch and just enjoy the warm weather and nice beach views. Golf courses that are recommended to play here are:
Victoria
The Old course
Quinta do Lago
Vale do Lobo
Millennium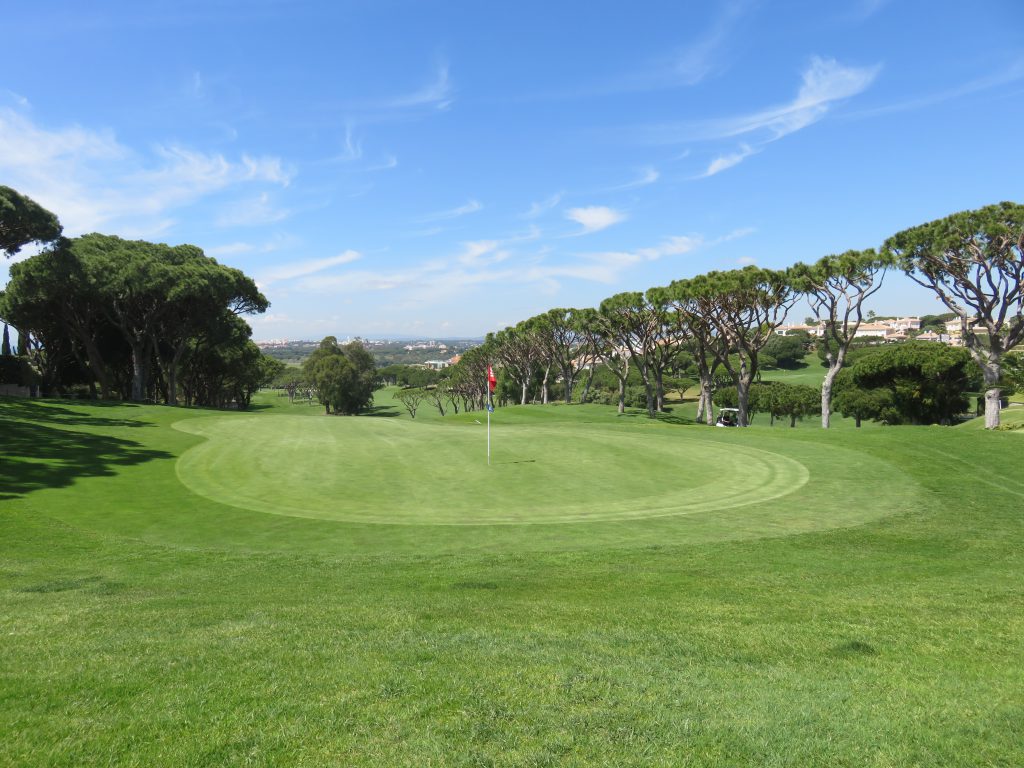 There are not many hotels adjacent to a golf course. Many people that comes here to play golf even rent a house or have an apartment here. But one hotel that, as I heard very much of and recommended, is Hilton hotel. It is located right next to a golf course and is a great place to stay for a few nights if you go here only to play golf.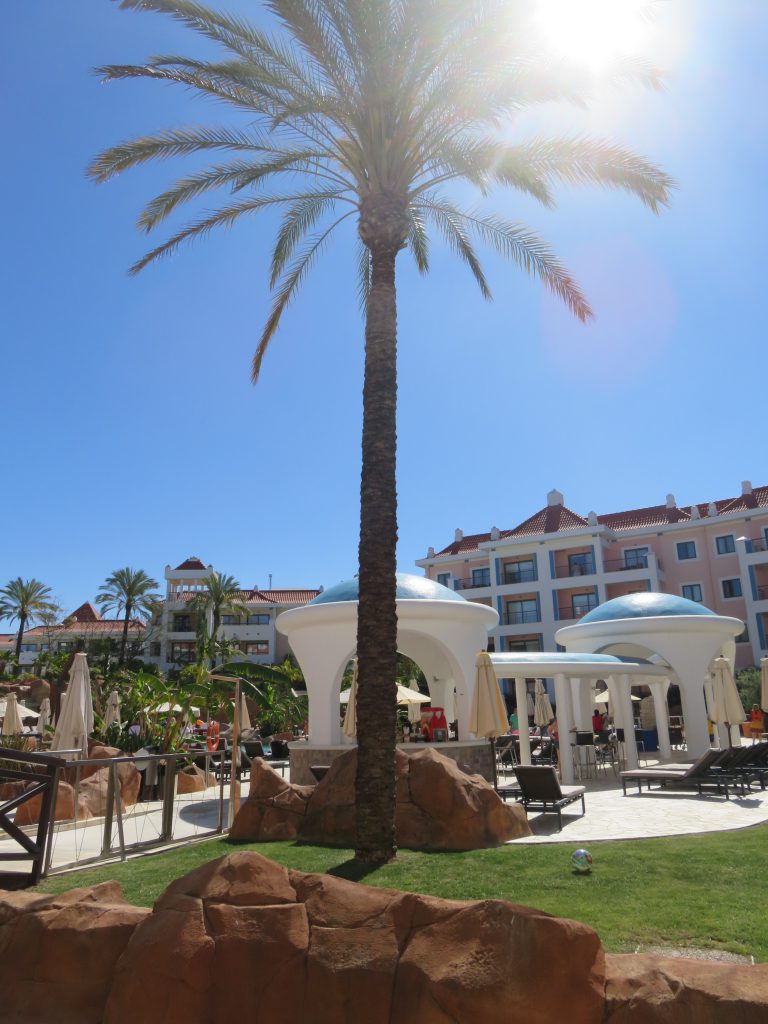 Of all the places I visited, I chose to stay in Vilamoura, a very cozy little town in Algarve, 20 minutes drive from Faro airport. There are certainly lots of things to do in the Algarve coast but I will do them another time. If you going here you should spend at least 1 week to have time to drive through the entire Algarve coast. But if you only go to the Algarve for few days, this is my Top 10 Tips that I recommend you to do!
Have you been to the Algarve coast, what did you like best?
Happy Travels!
//Charlotte