A Day at Saadiyat Beach Club in Abu Dhabi
If you have a day over in Abu Dhabi, I really recommend going to Saadiyat beach and their beach club located on Saadiyat island. This is a perfect place to relax on for a day and enjoy good food and an incredibly cool infinitypool with associated cabanas for rent.
If you are looking to do something different besides visiting all the sights you should see and do in Abu Dhabi city and the desert, I highly recommend spending a day at Saadiyat beach club. From here you will also watch one of the world's most beautiful sunsets and you won't be disappointed, I promise! 😉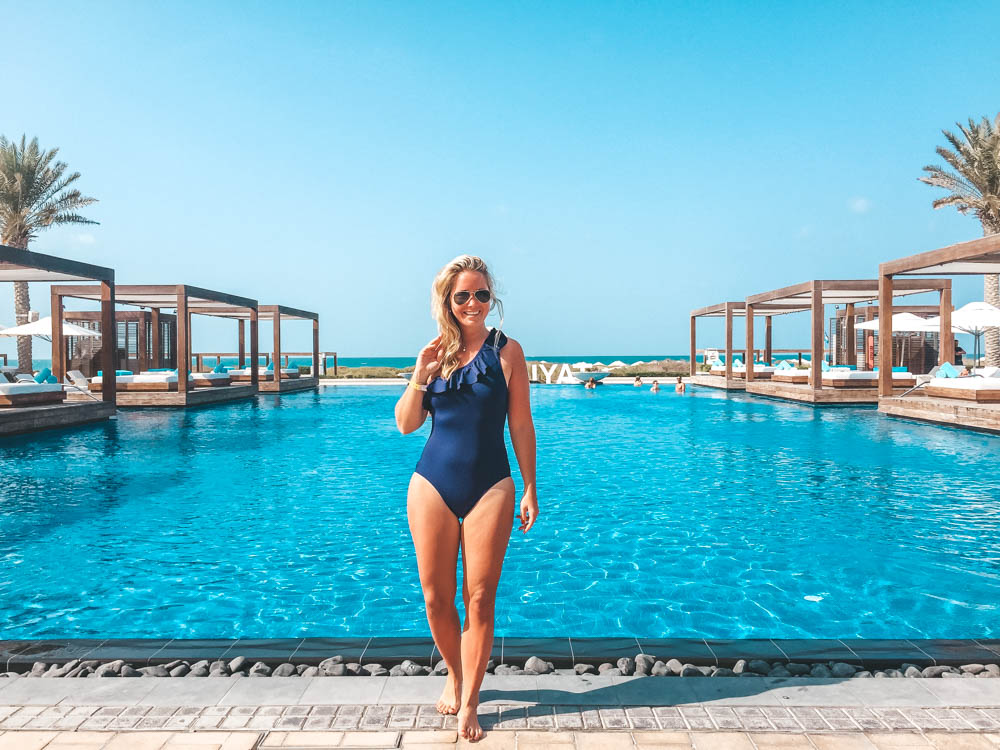 Saadiyat Beach Club in Abu Dhabi
I can really recommend you to get away from your hotel for a day, relax at a beach club and enjoy a fantastic sunset on the beach in Saadiyat beach club in Abu Dhabi. I fell in love with this place and never wanted to leave so I will definitely come back here next time I visit Abu Dhabi 🙂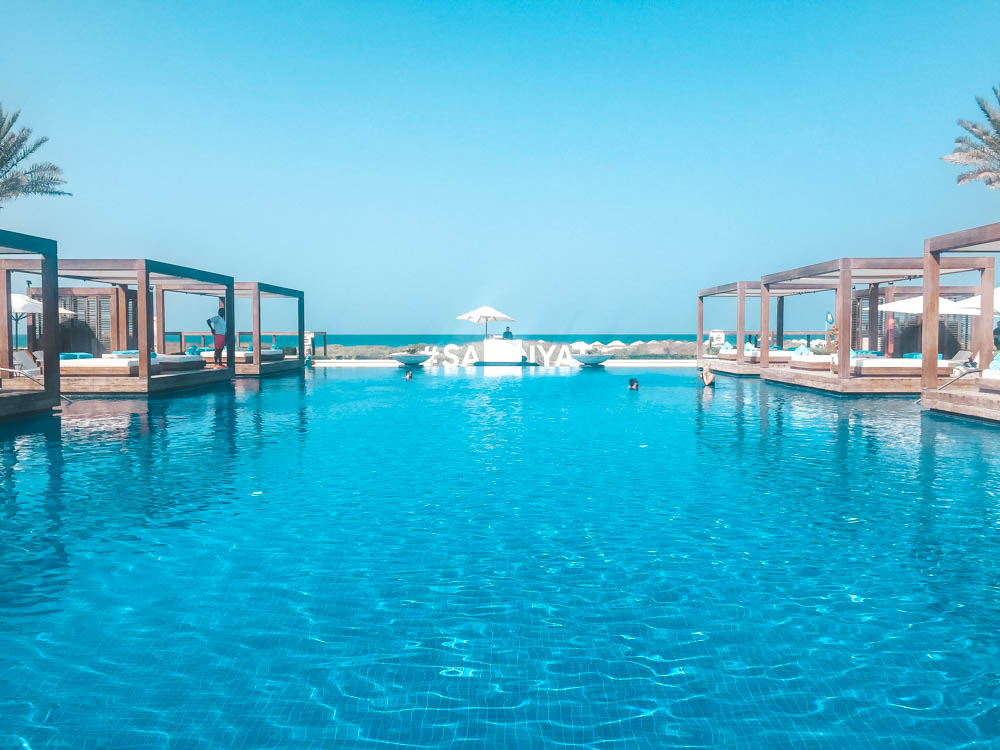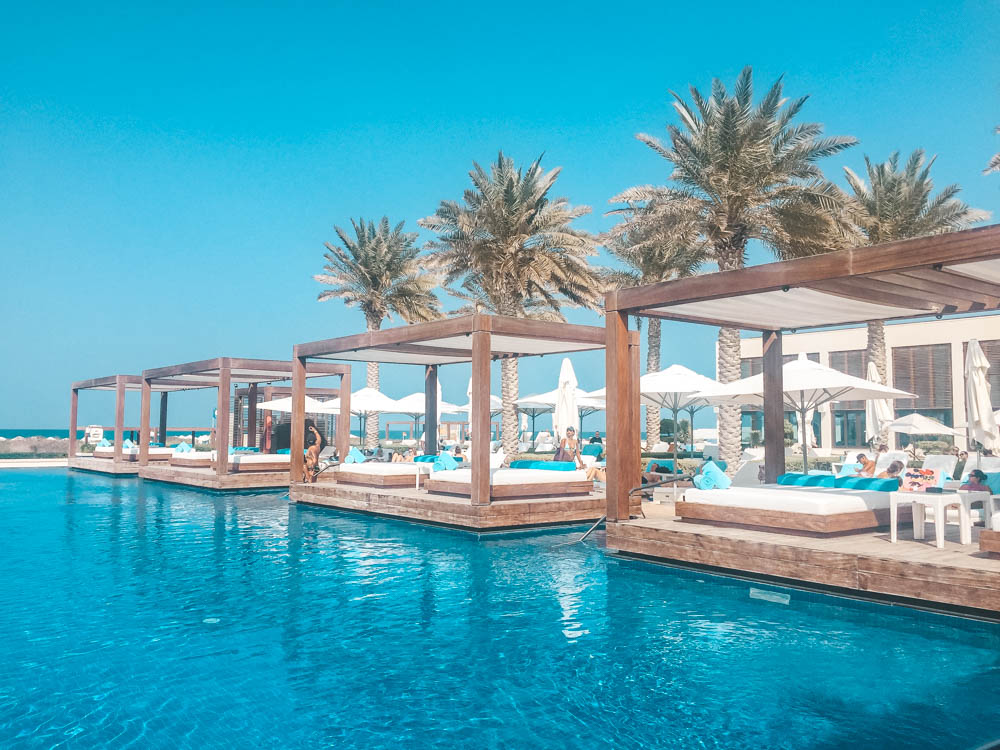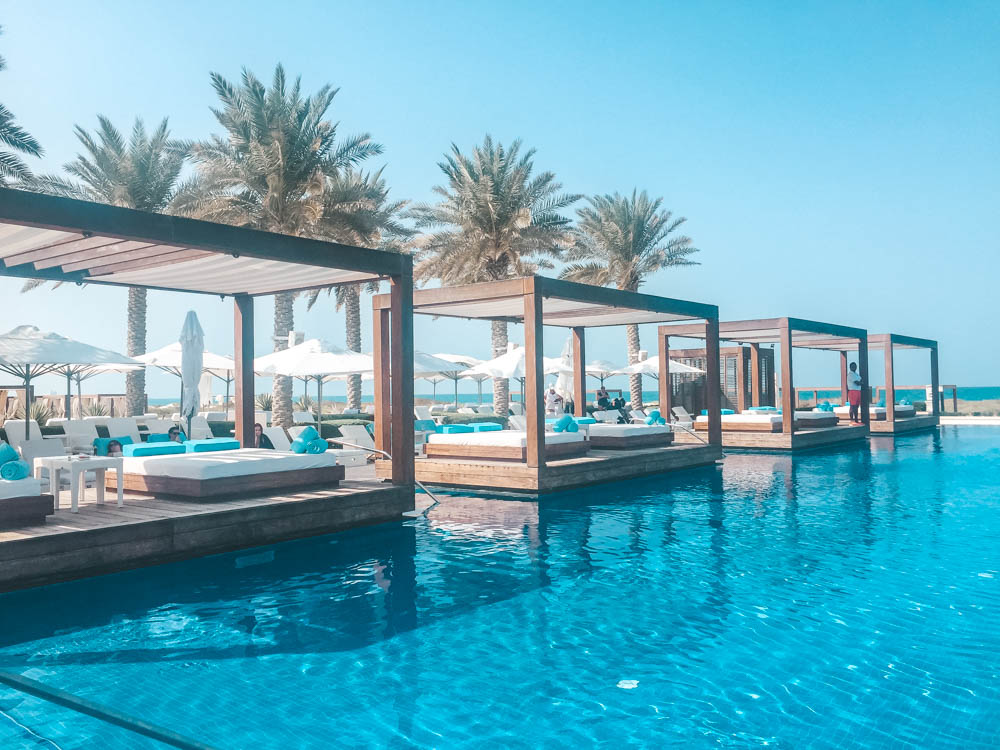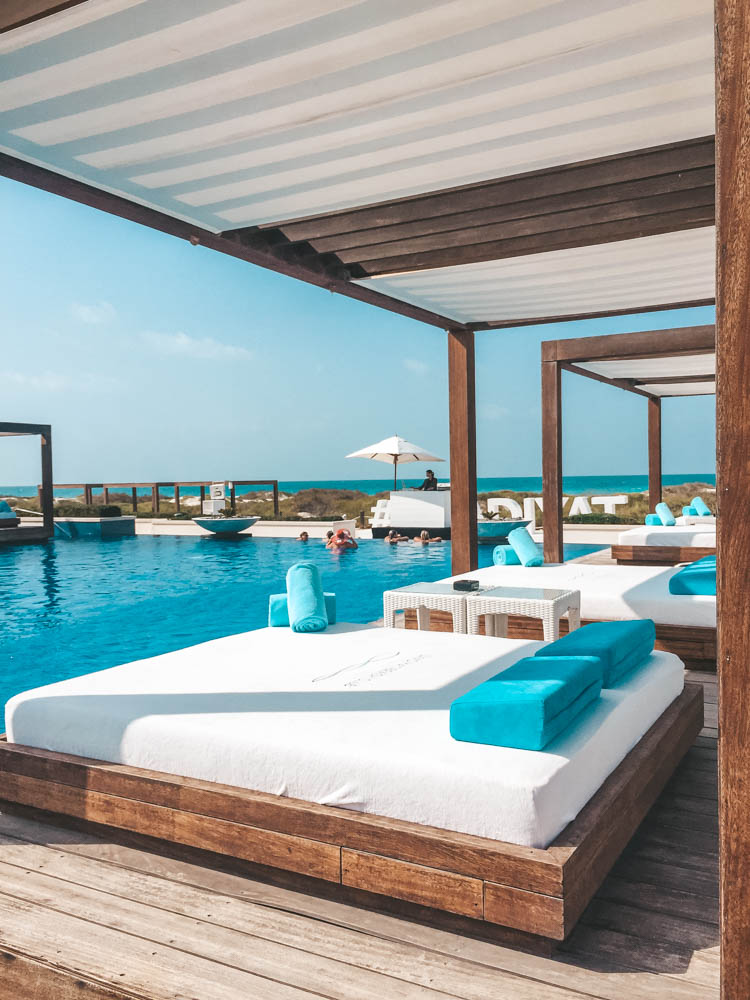 You can rent these sunloungers which is also called cabanas that are closest to the pool. Otherwise, it is the sunbeds that are in several rows behind the sunloungers that are included in the price when you come here.
When we arrived, all the cabanas were booked so we had no choice but to lie on a sunbed behind them. Here it is first come, first serve. You can simply choose which sunbed you want but I recommend you to come here when they open to get a good sunbed because there are a lot of people here! 🙂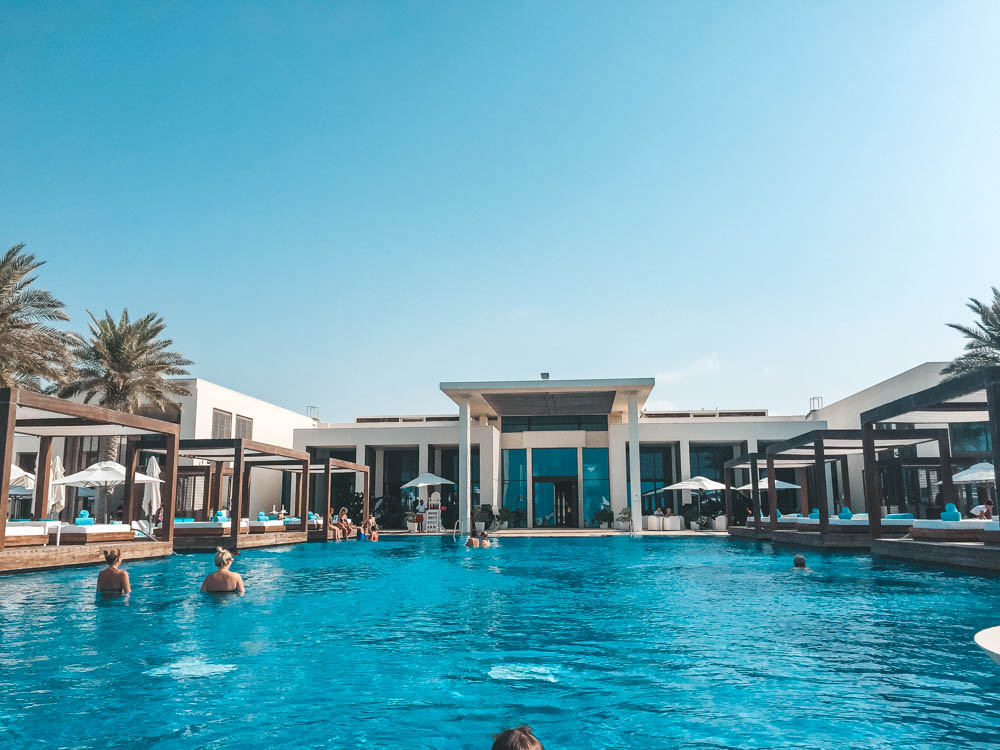 During the day we spent here, several sunbeds were available which I thought was a bit strange considering that the staff said that they were booked but in the afternoon they became full with people in them. In addition, a saxophonist came and started playing in the afternoon and Saadiyat beach club became alive 😉 It was so nice atmosphere here among all the guests 🙂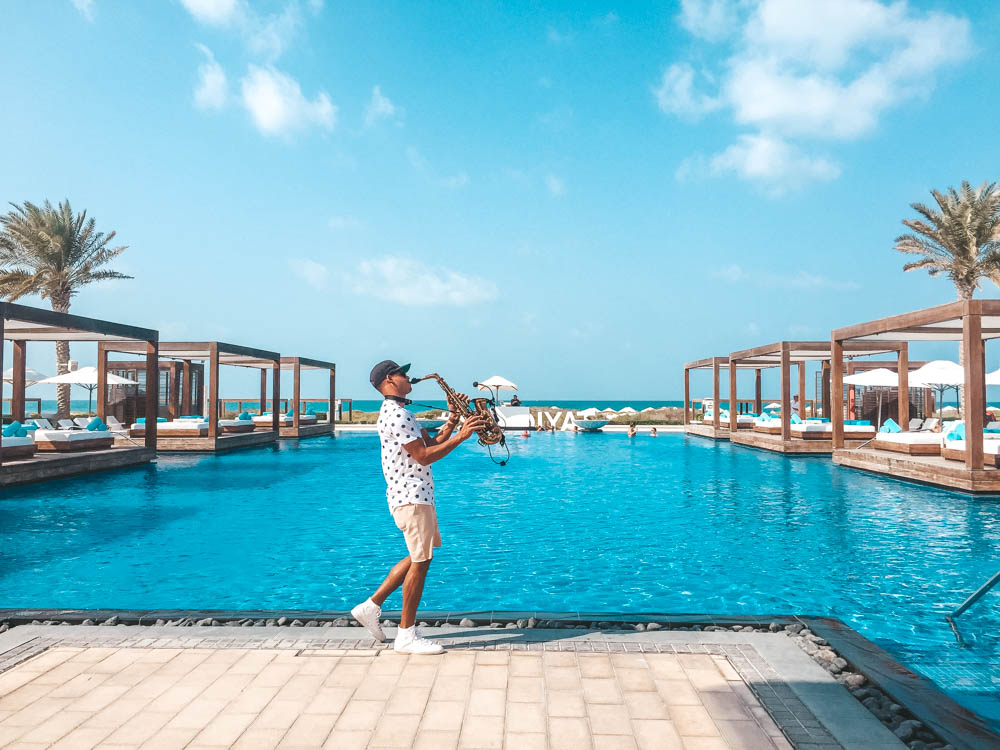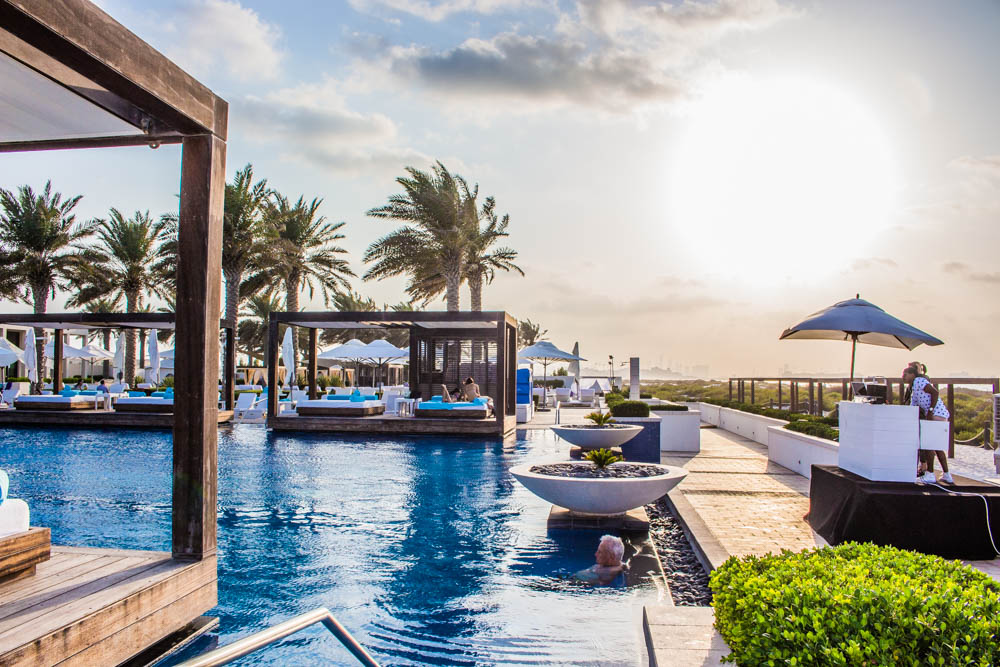 Prices at Saadiyat Beach Club:
Depending on what day you come, as well as whether you come by yourself or in a company, the prices at Saadiyat Beach Club vary. We came here on a Monday and had no idea it was "ladies day" which we were surprised by. The price was better than we expected as we were going to hang out here anyway on our last day in Abu Dhabi and didn't have much else for us since the flight would be later that night. I have to say that I thought there would be a lot of girls here when they said it was ladies day but surprisingly it was a lot of men and ladies and not only ladies, which was nice.
Below are the prices for Saadiyat beach club. I downloaded them directly from their website here (September 2019). 
Day Pass
Weekday:
Single: AED 250
Couple: AED 350
Ladies Day
Monday AED 90
Tuesday AED 150 (incl. beverages)
Weekend:
Single: AED 375
Couple: AED 525
Actually, "ladies day" means nothing more than that girls are allowed to come here for a reduced price than normal. Now we were here on a Monday so we still had to pay for food and drinks but the sunbeds and towel were included in the price. They also have an incredibly nice dressing room where we showered and prepared ourselves before heading to the airport later in the evening. In the dressing room there are also storage rooms and lockers with locks for those who want to lock in their valuables while showering or bathing.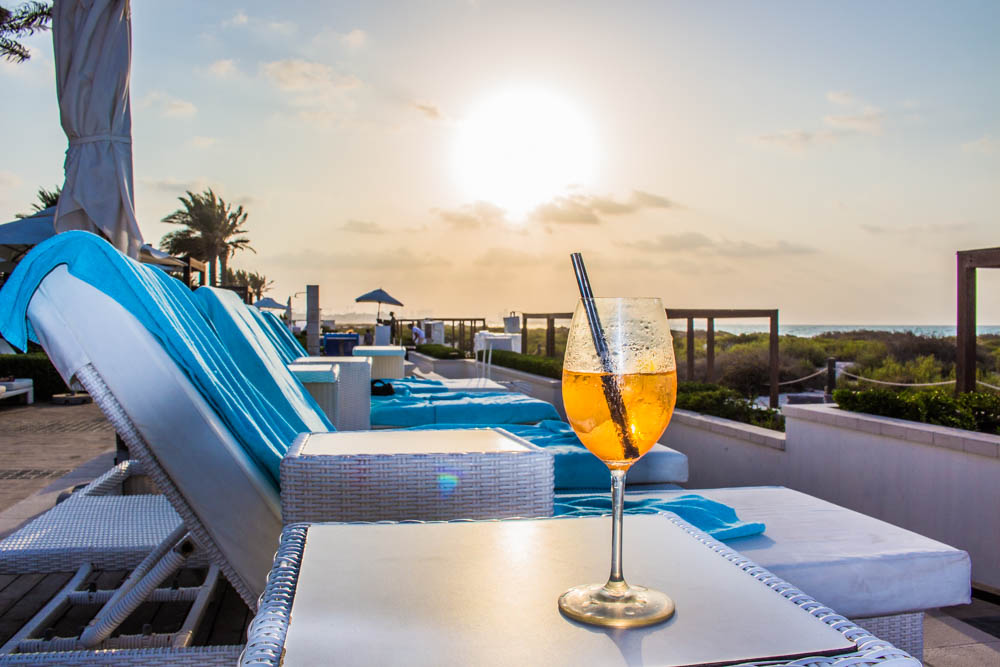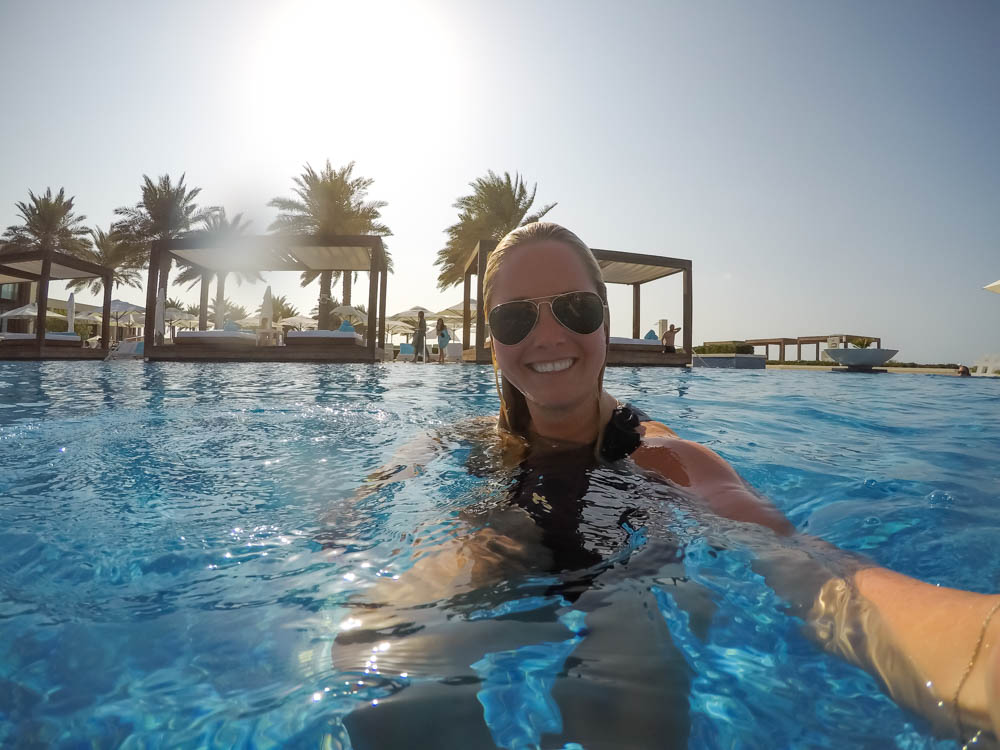 This whole place is so incredibly amazing and very nice, which is why I think it is a must to visit Saadiyat beach club if you have nothing else to do in Abu Dhabi! 🙂 I can recommend this place to 100% even though I don't get paid for this blog post 😉 It's a must to visit this place!
My last day in Abu Dhabi couldn't have been better then spending it here on the beach with the most beautiful sunset ever!
Happy Travels!
// Charlotte
Here you can see my video I made from when I visited Abu Dhabi 🙂