How To Spend a Day in Florence, Italy
From Pisa you can take the fast train for 50 minutes to Florence, the capital of Tuscany. Since I had a day leftover, I decided to discover Florence and what this city has to offer. There were a lot of things to see and do! So much that I would like to come back here again, I felt that one day was not enough 🙂 Florence is a good weekend destination to spend few days in.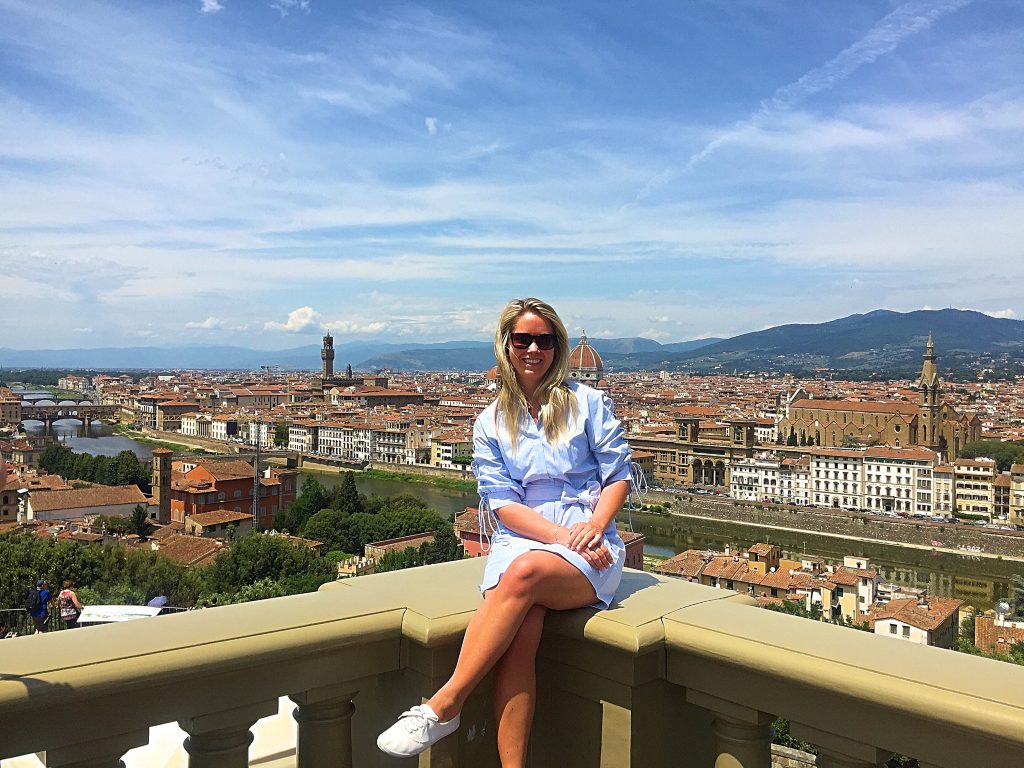 A Day in Florence
I really recommend you to start your walking tour from the Piazza Michelangelo viewpoint. Take the bus from the central station if you arrive by train. The bus makes a lot of stops but it´s easier to take it from the central station, next to the tourist information house.
However, bus tickets can not be bought on the bus, you buy it in a tobacco shop found on most streets around the city center. The bus route takes about 30 minutes.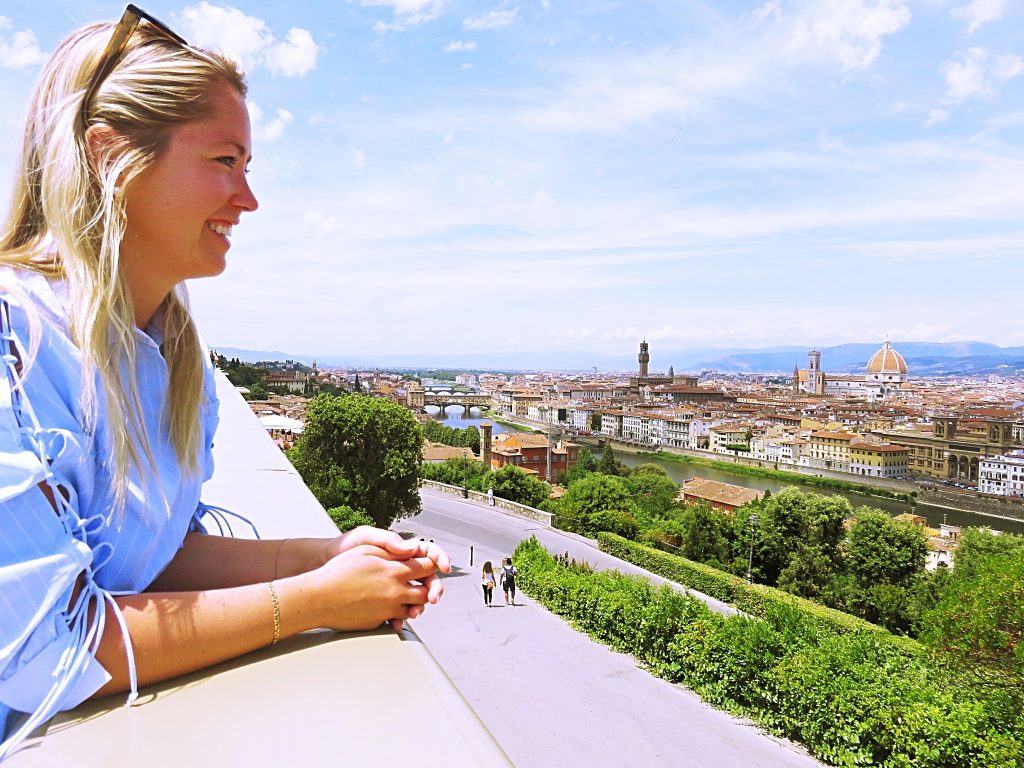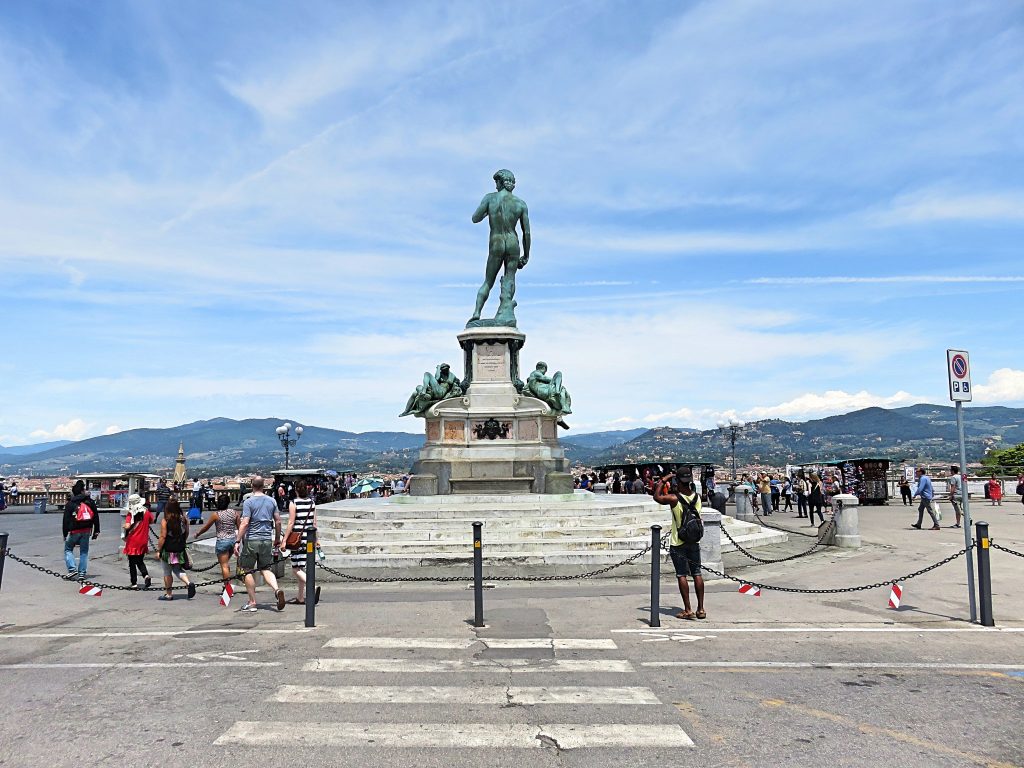 Piazza Michelangelo 
You will get this view when you get off the bus. It´s a large square and here you will find plenty of souvenir shops.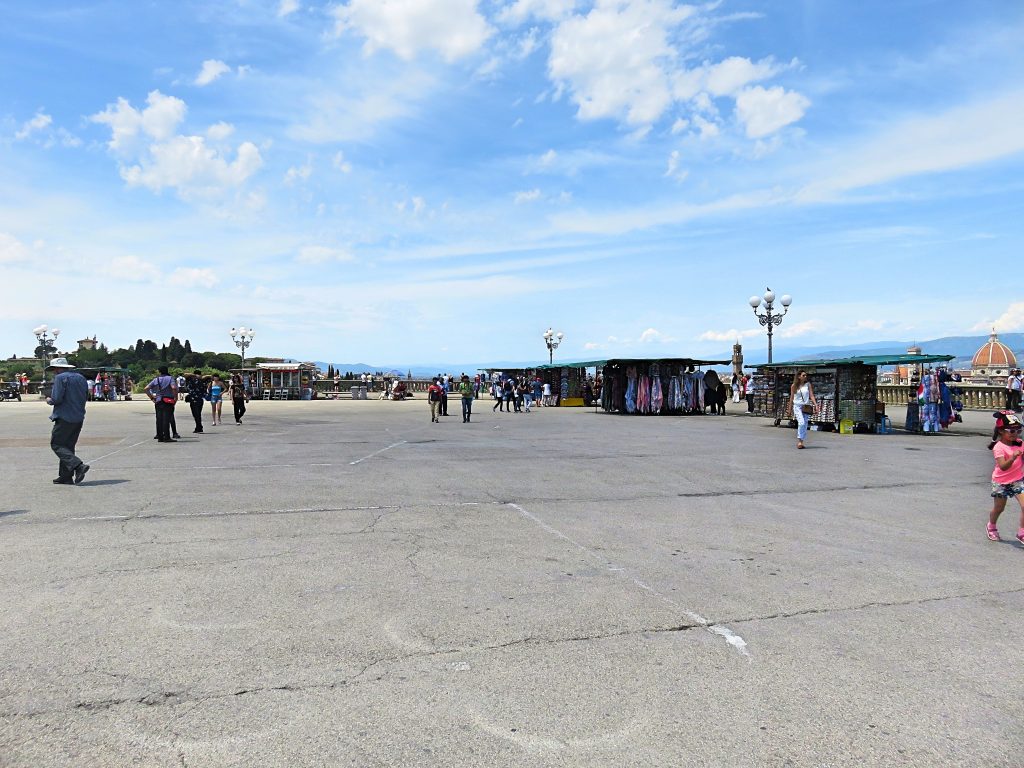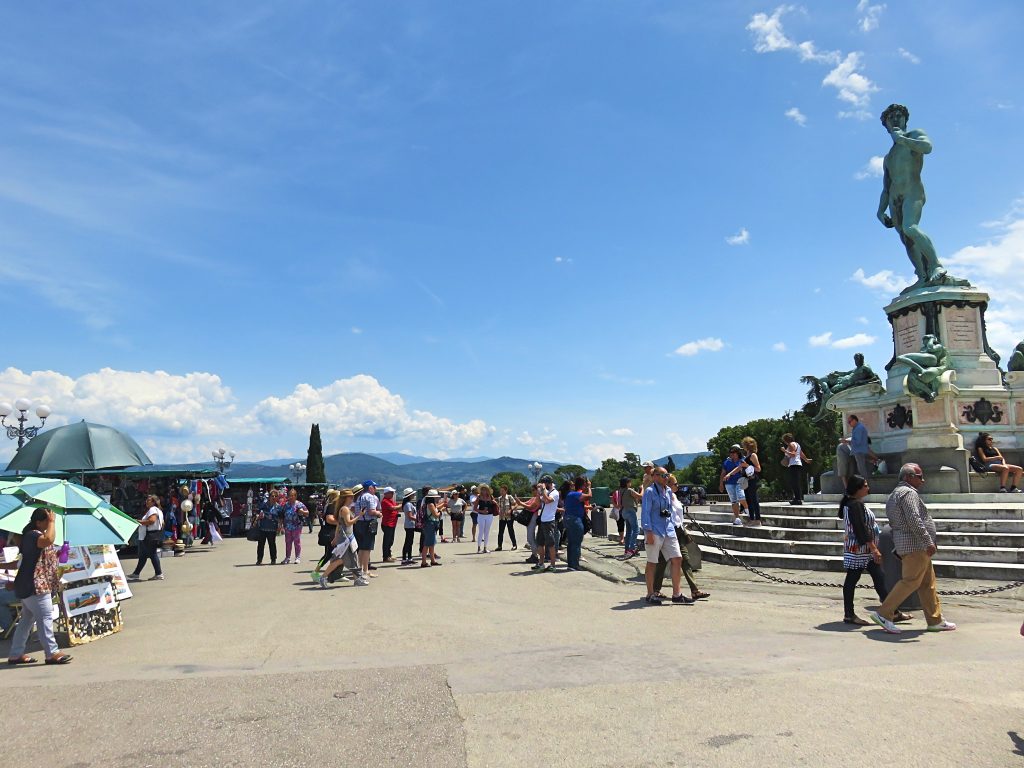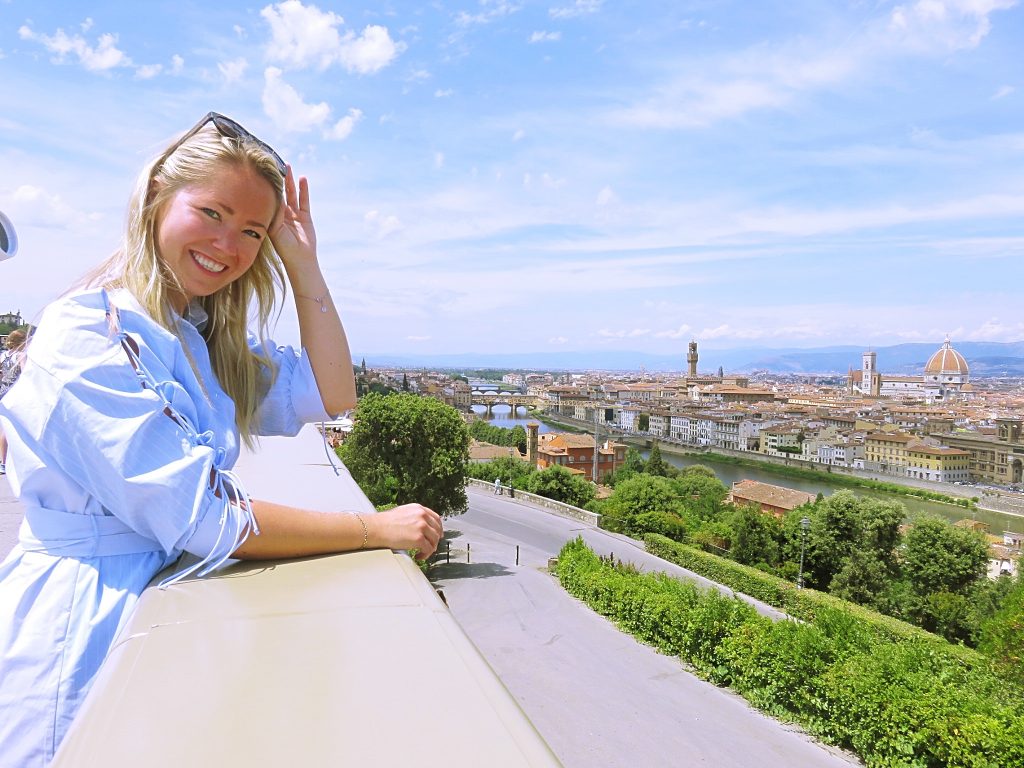 The view of Florence
You can't find a better view of Florence I think. It´s so beautiful from here!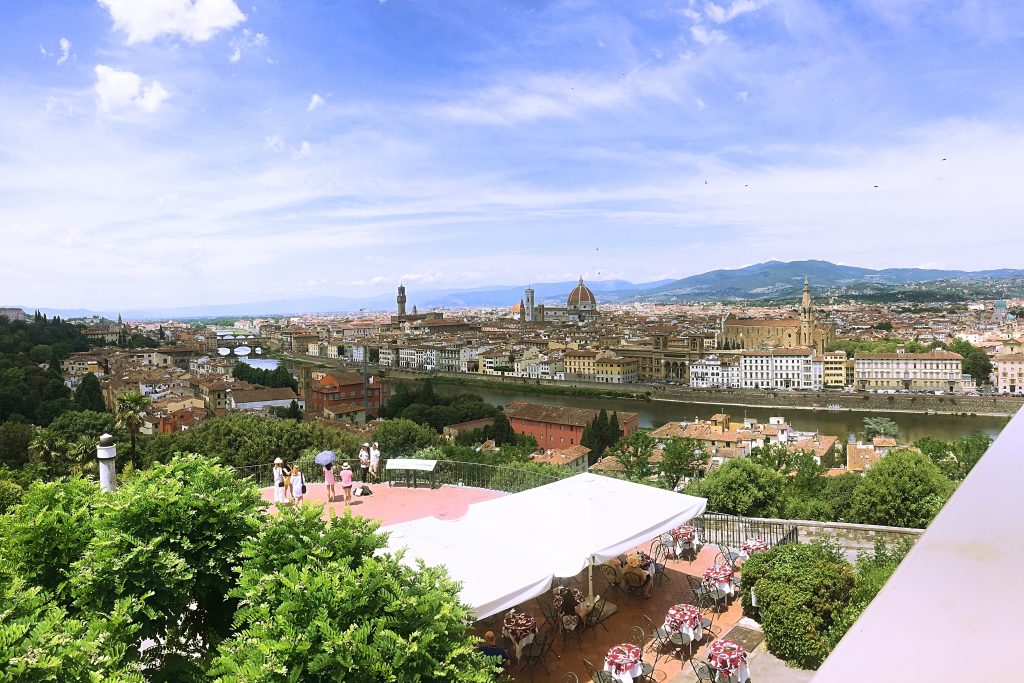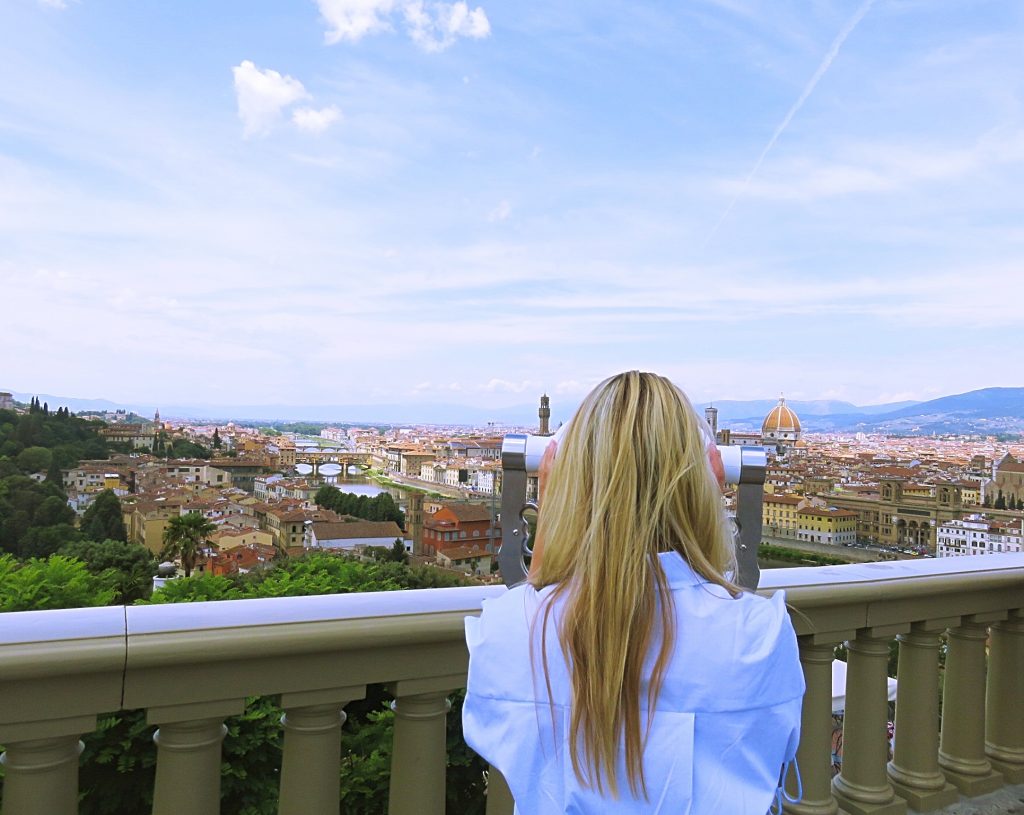 Because it's my first time in Florence, I was standing here for a long time enjoying the view. Traveling yourself has its pros and cons. Here I could stand for as long as I wanted and experiment with my camera to take pictures at all possible angles 😉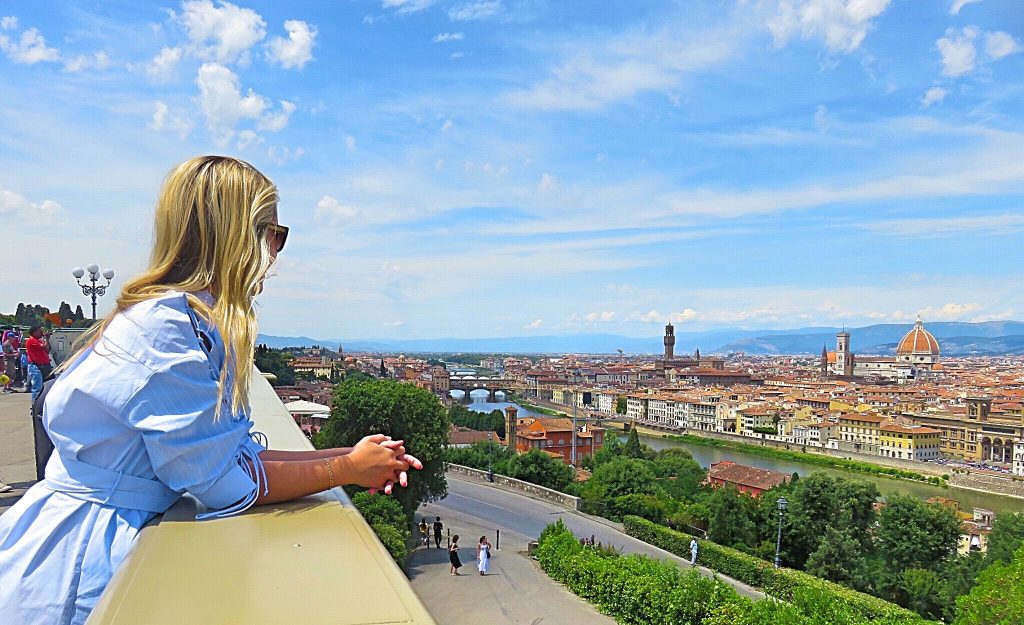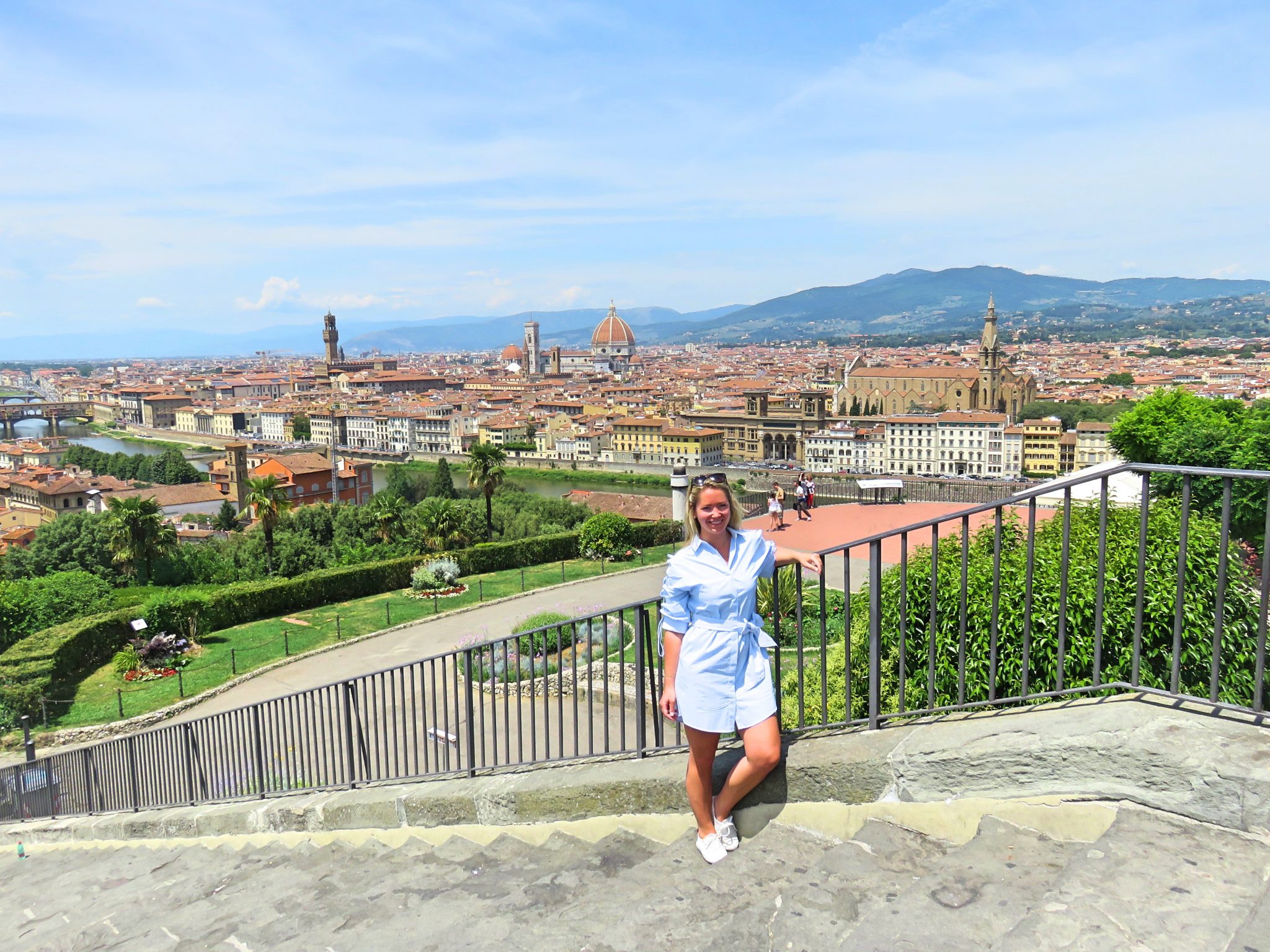 Continue to Florence city
Furthermore, I took the stairs down to a small area that also had a map of Florence that showed the named of all buildings. I stayed here for a lighter lunch and got a table right away. Many tourists stop here to have something to drink, others just to eat an ice cream and some for lunch. A perfect stop for any of it 🙂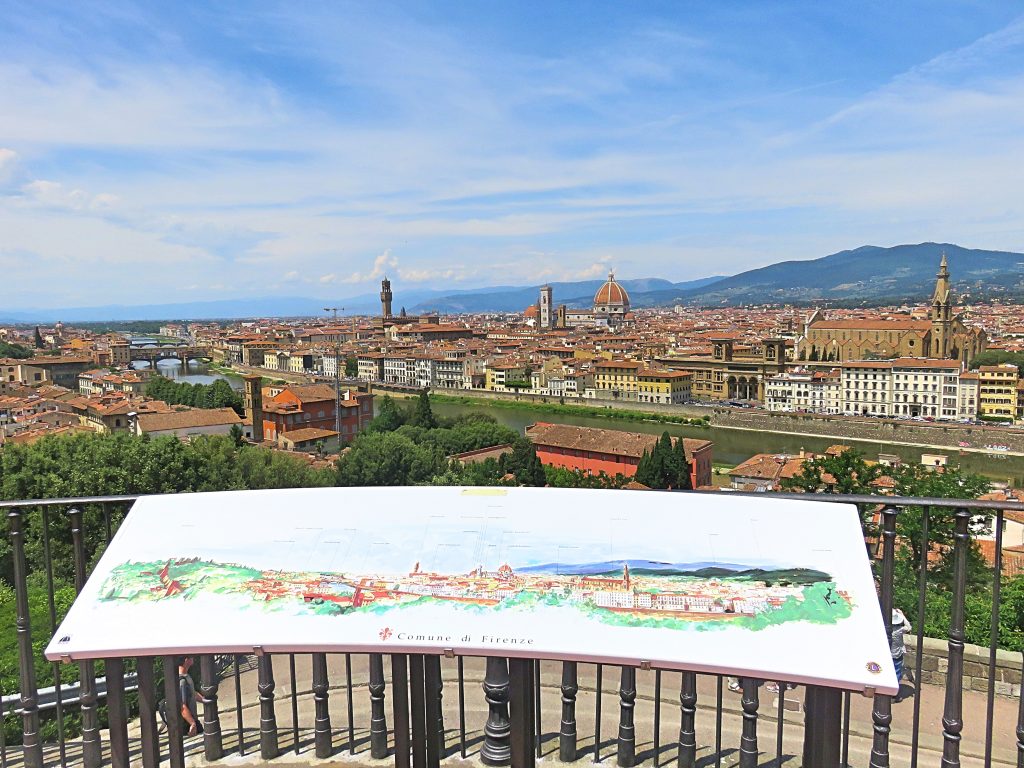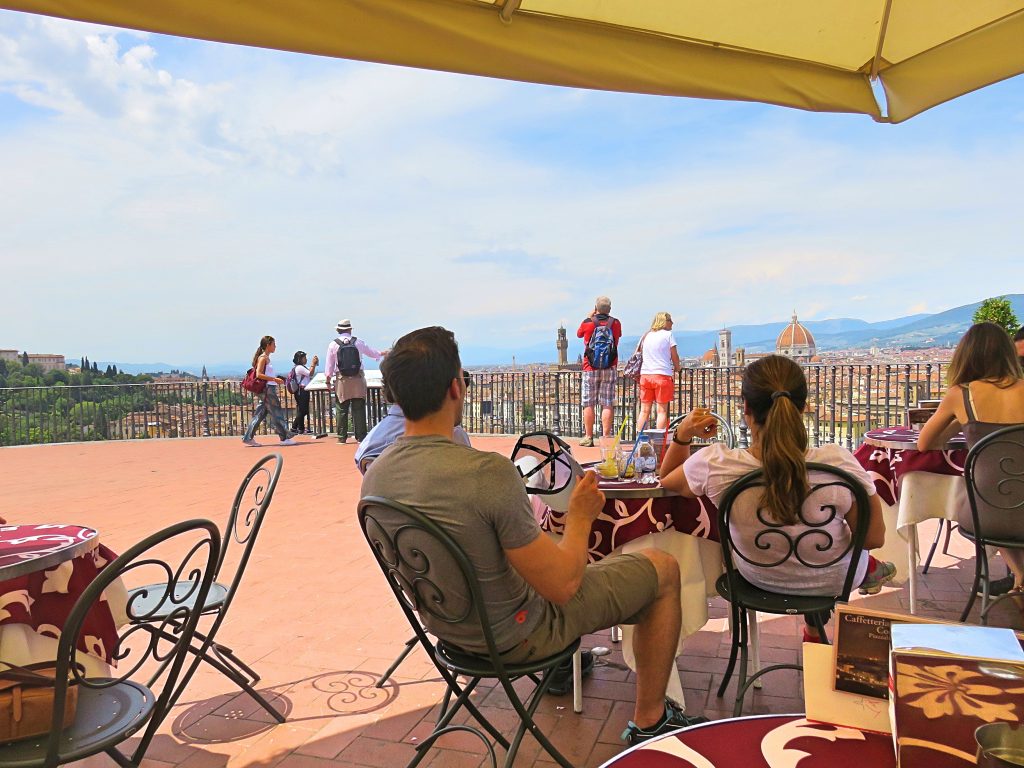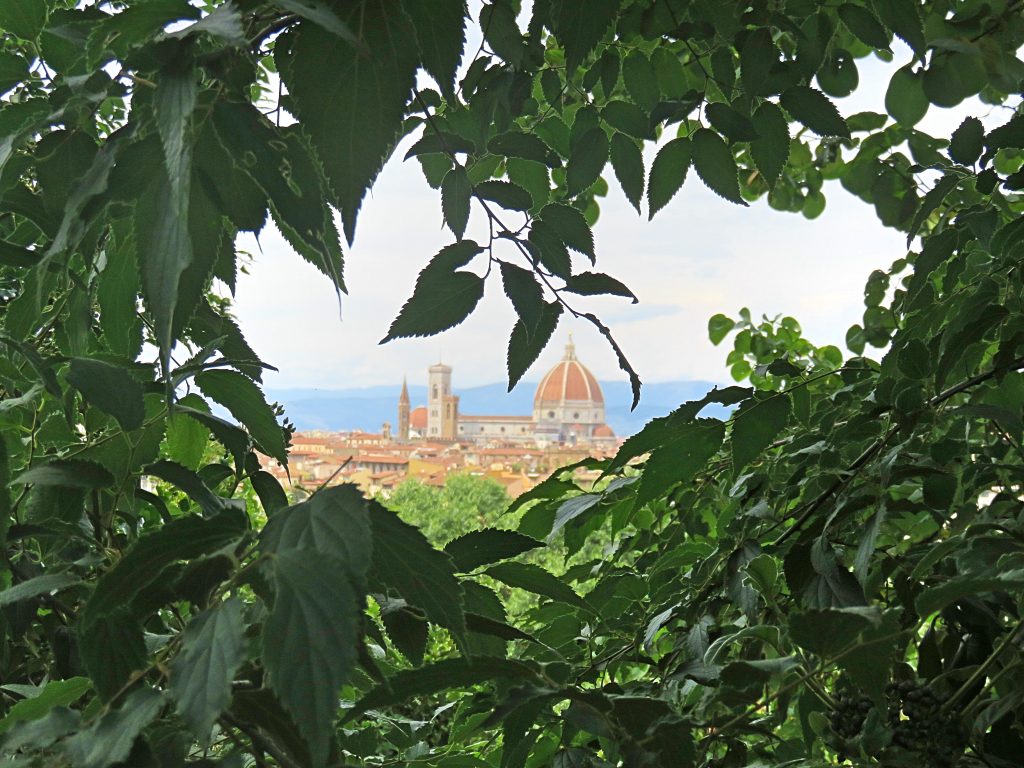 Because the Michelangelo piazza is up on a mountain, there are proper hiking trails down to the city that I walked on. At the end of the road I meet with unbeatable views that are very photo-friendly 🙂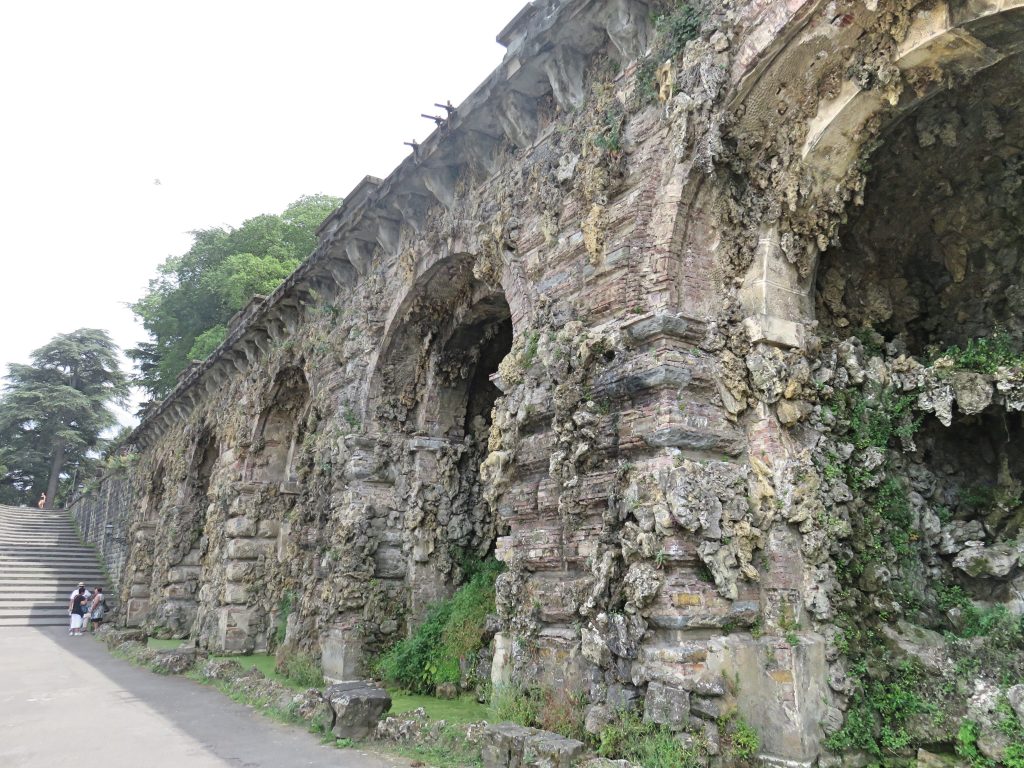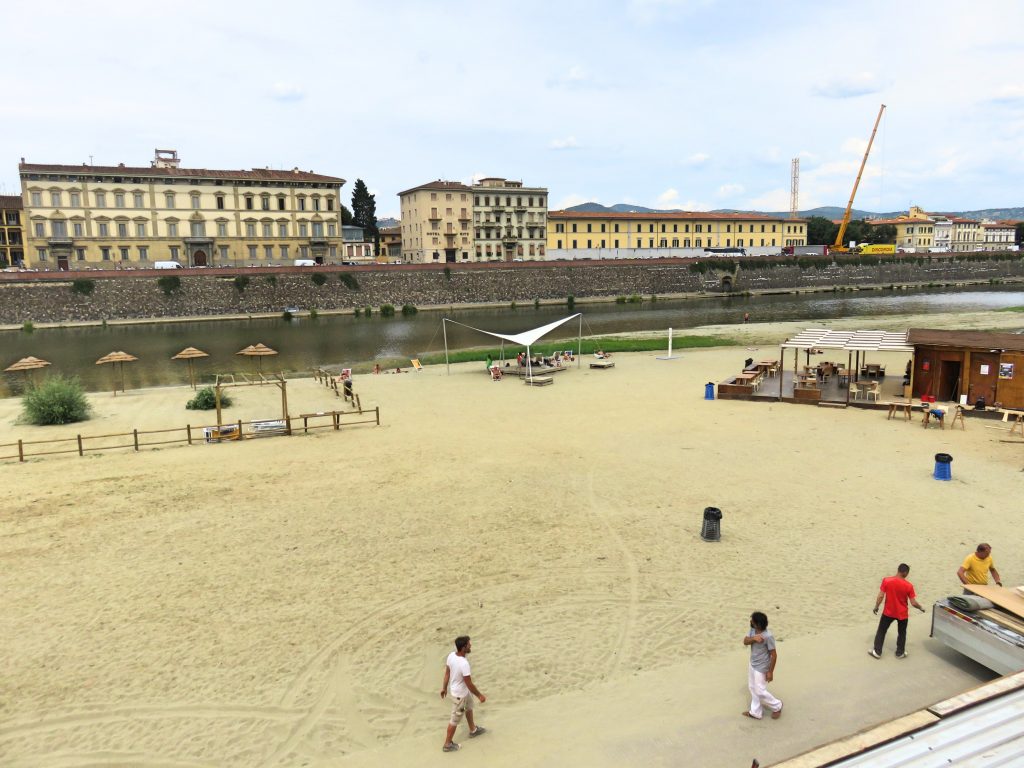 Once I got down to the main street I had a beach in front of me with people sunbathing and playing volleyball. I didn't know there was a beach in Florence, it was new to me!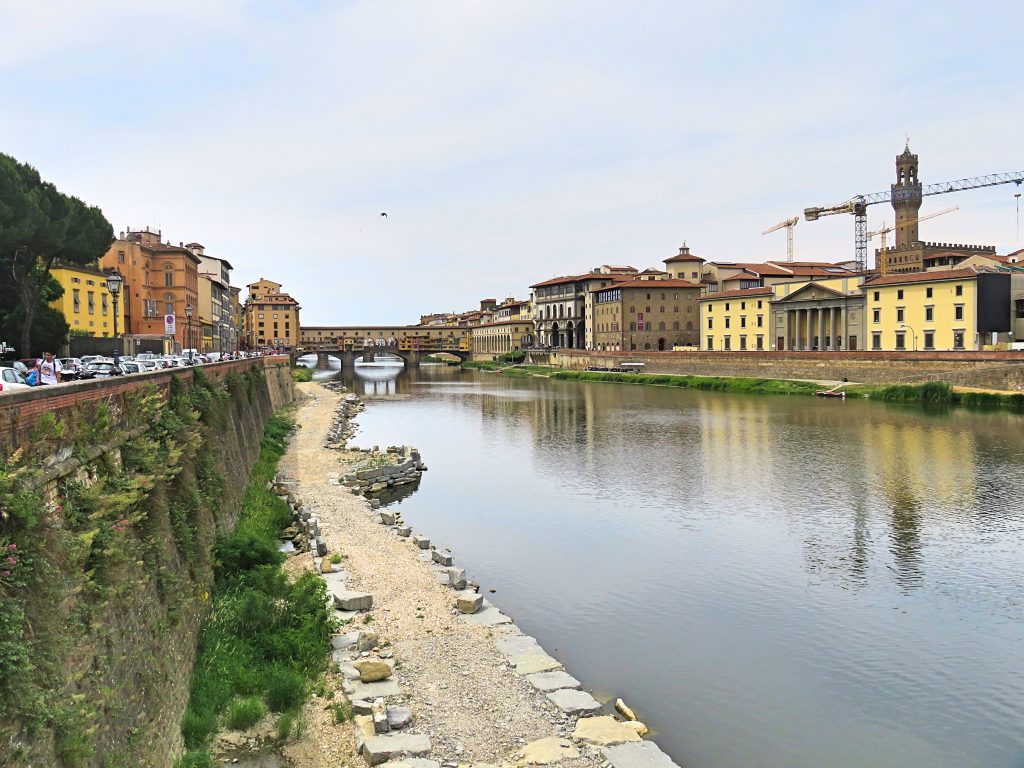 Ponte Vecchio
I followed the road towards the famous bridge, which is the most famous landmark in Florence, Ponte Vecchio, as it is called. It is filled with tourists, small souvenir shops and, not at least, lots of goldsmith shops.
Many tourists became crazy of all the gold they saw and a lot of tourists bought their souvenirs here. Every second person I passed also took a selfie at this bridge 🙂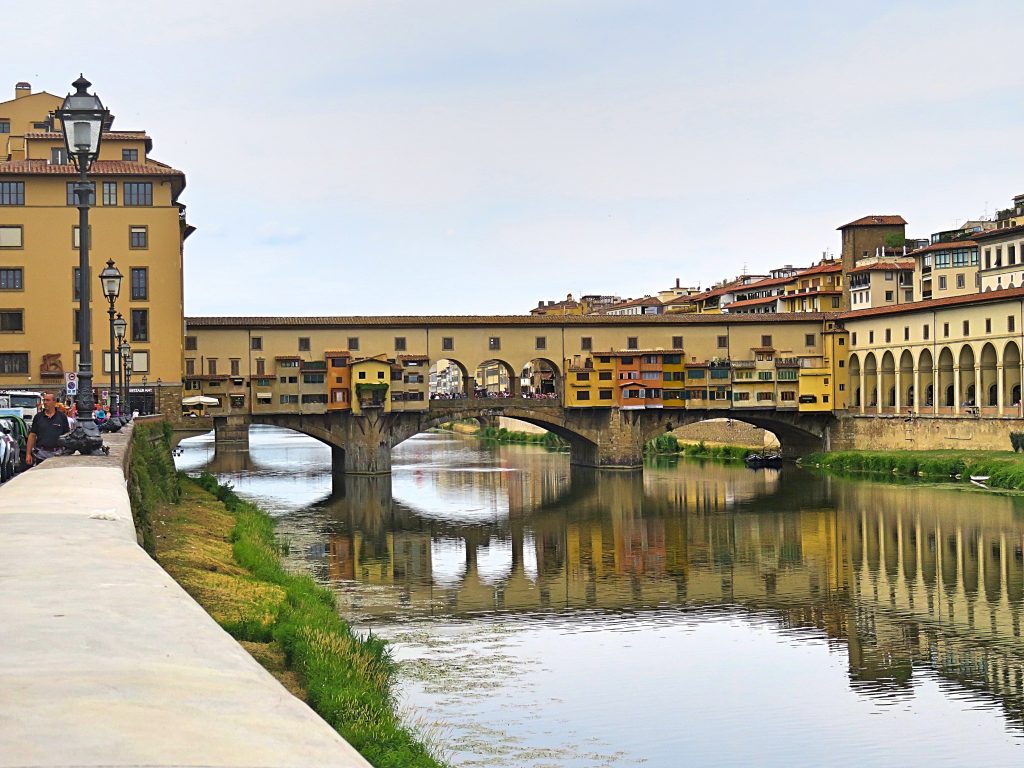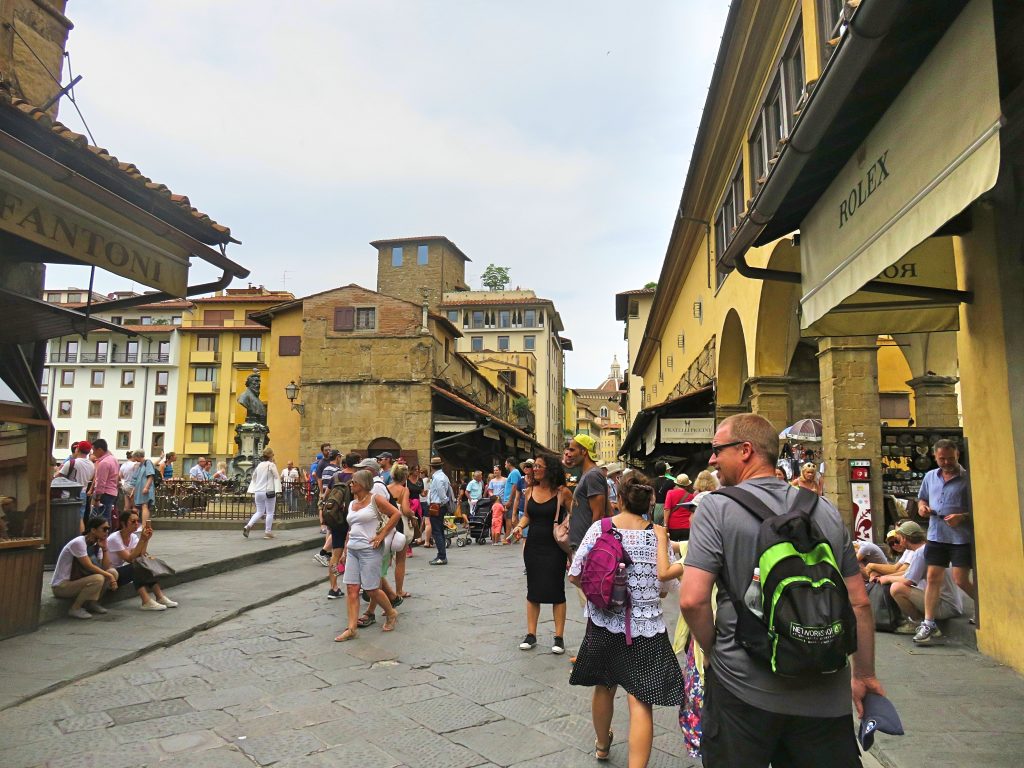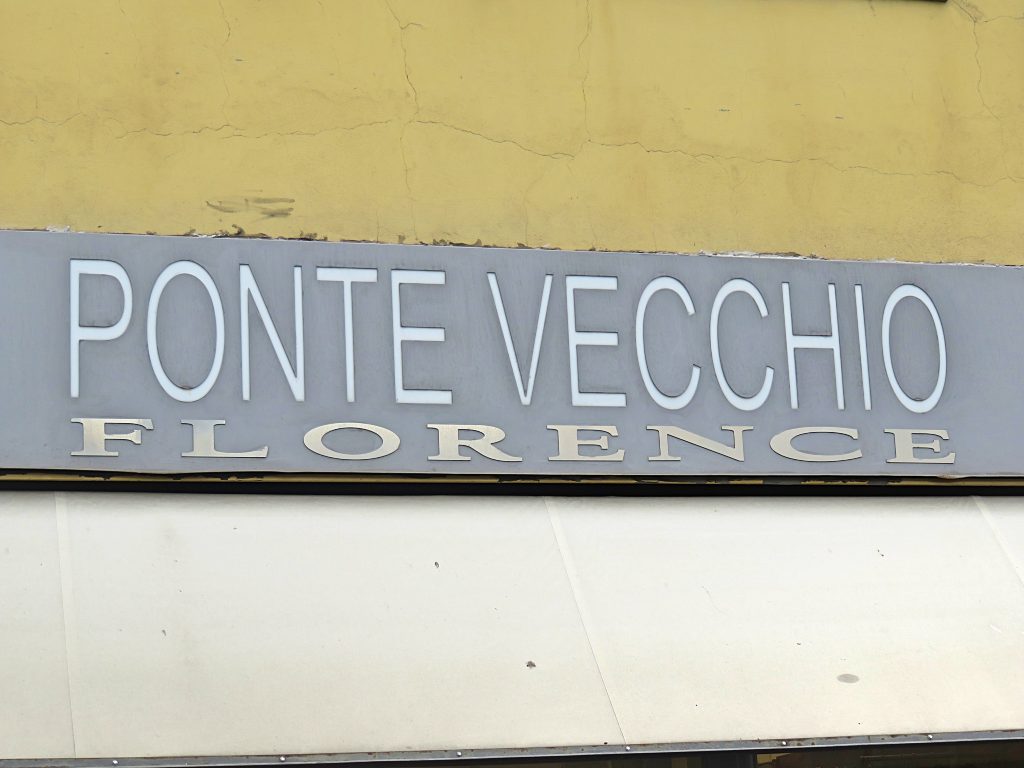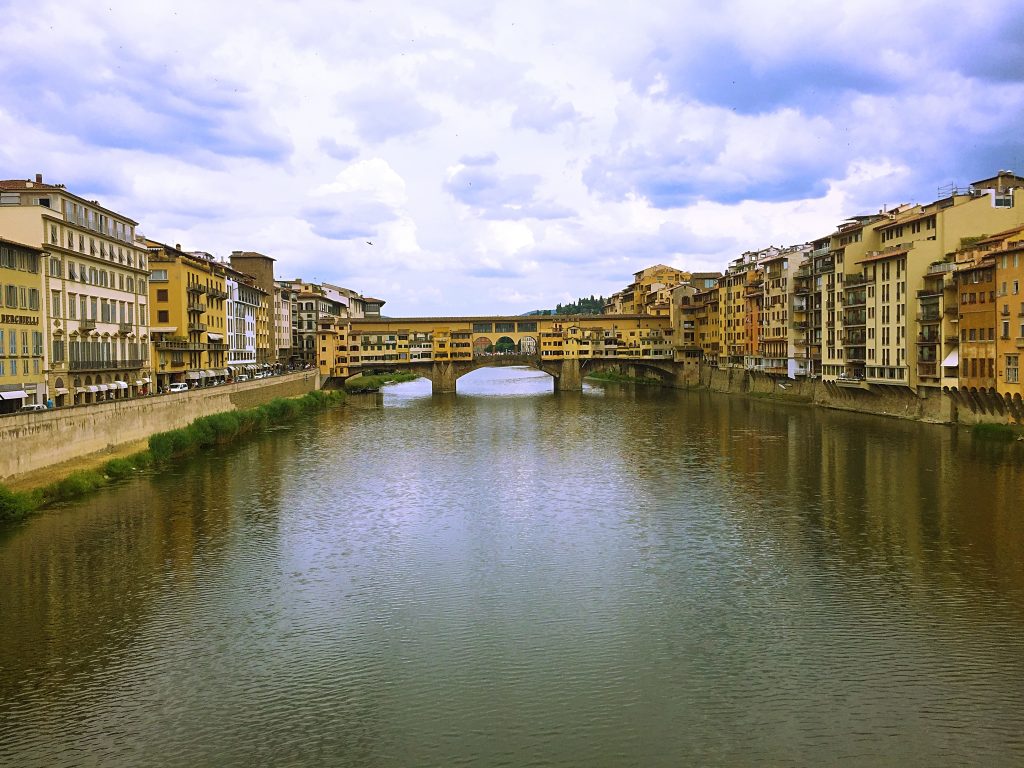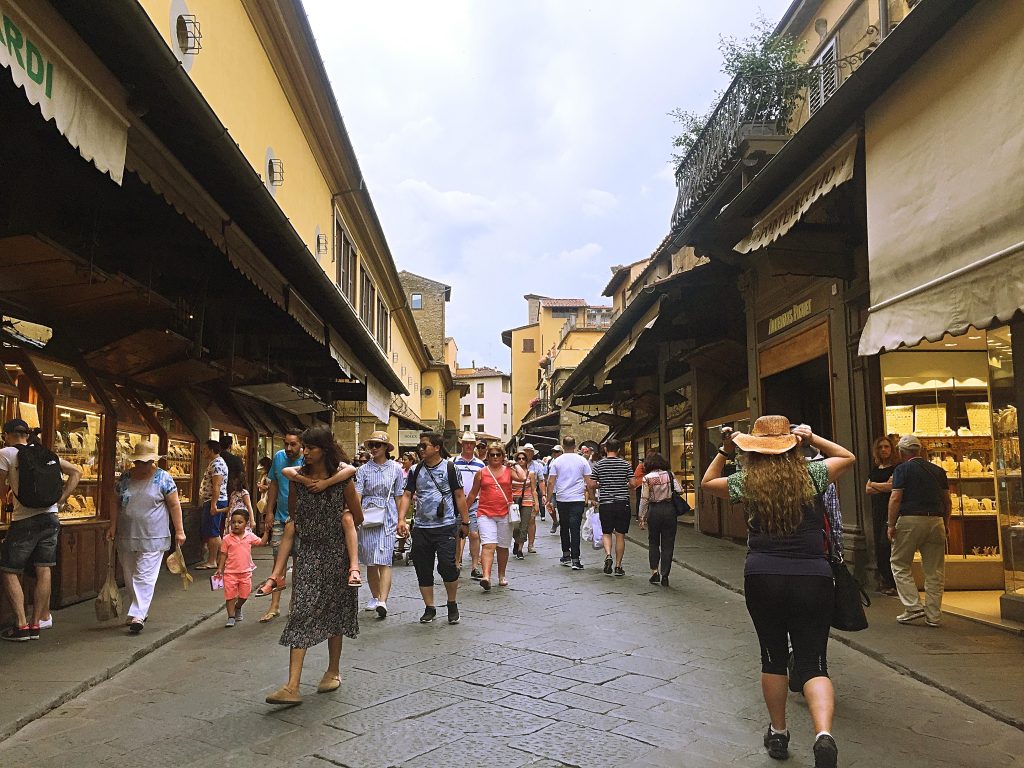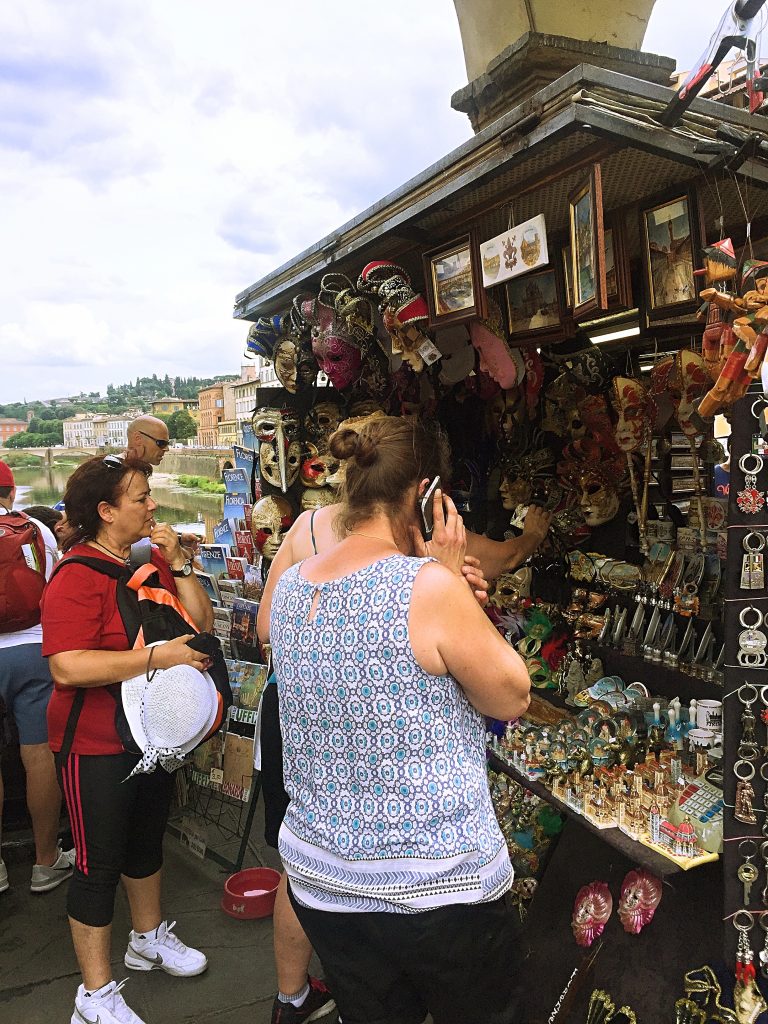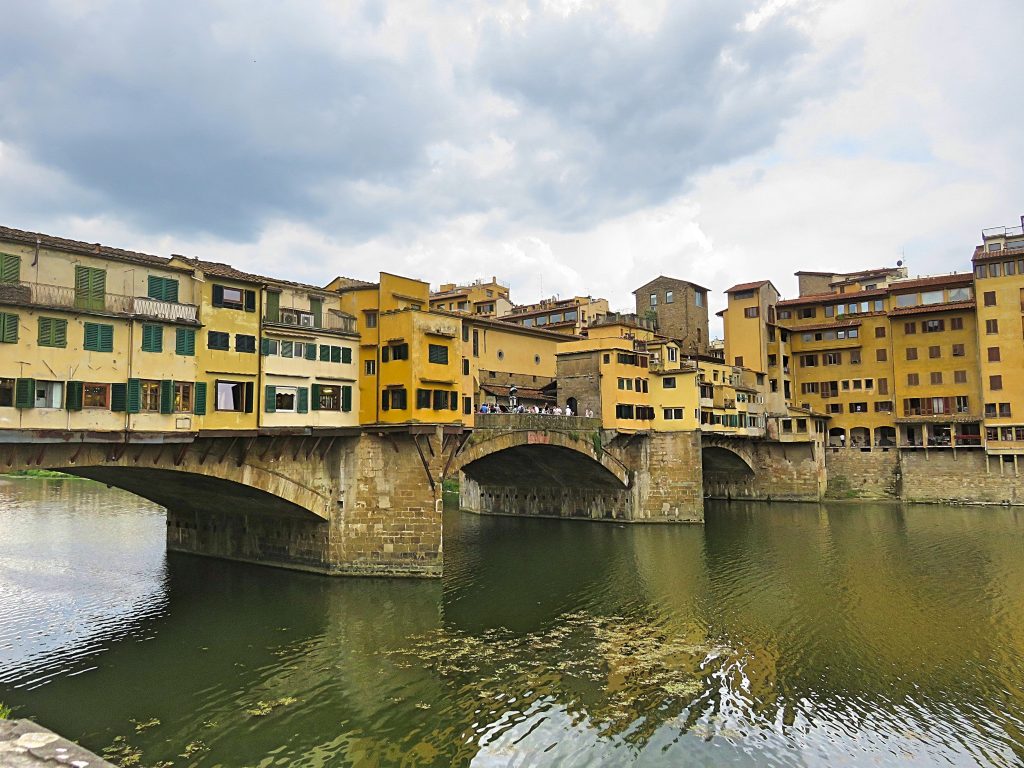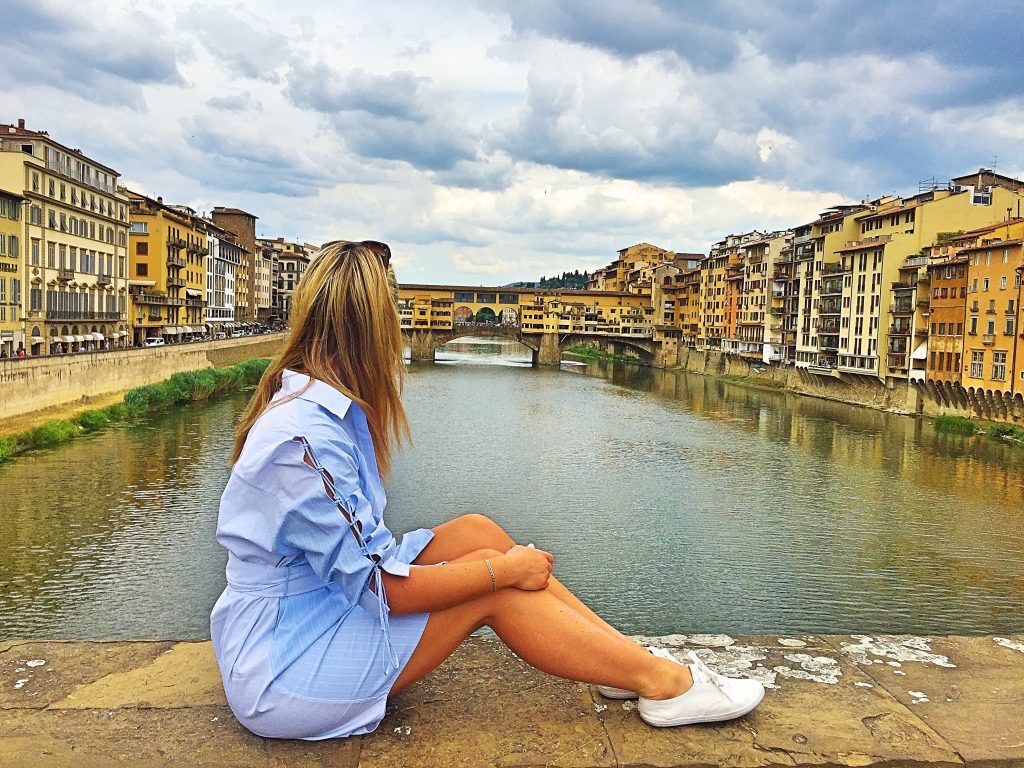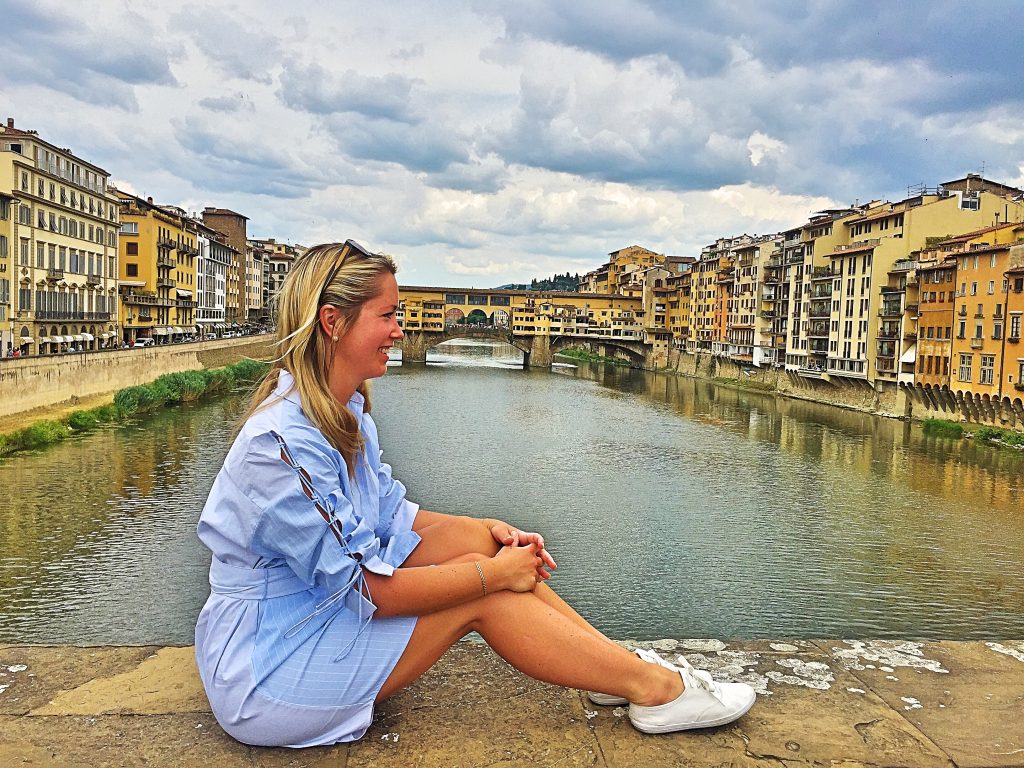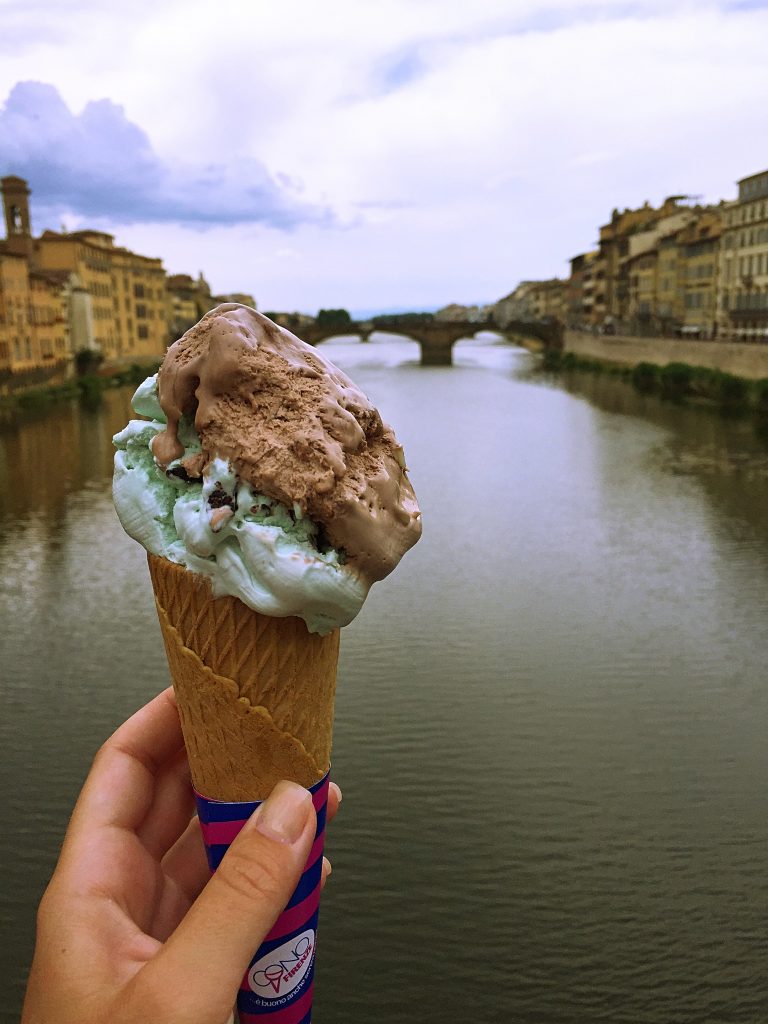 Have an Ice cream in Florence
You just have to eat an true Italian ice cream on the bridge Ponte Vecchio. I really recommend the ice cream here, but I think it´s too expensive though. Be careful so you don´t get fooled by "tourist fare" on the ice cream.
My tip is to ask first what the ice cream costs!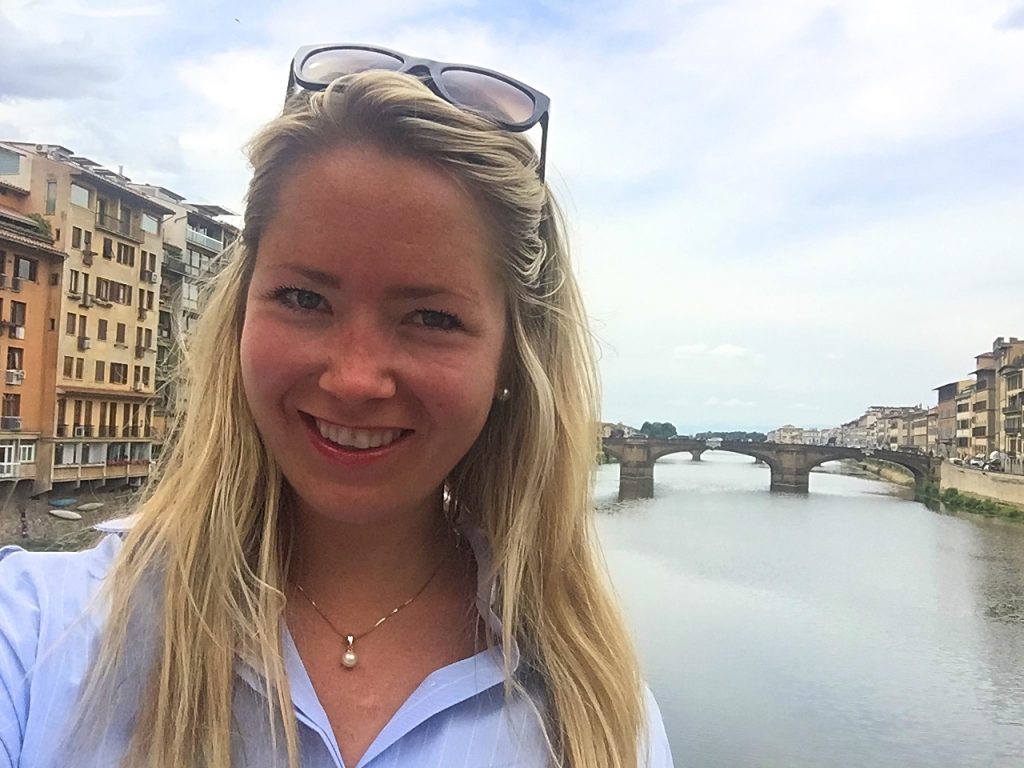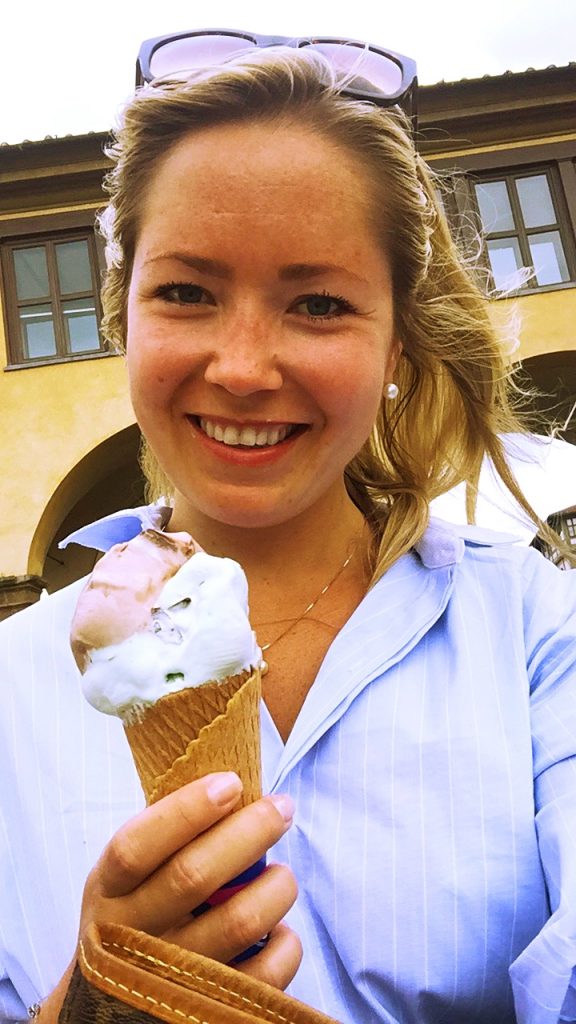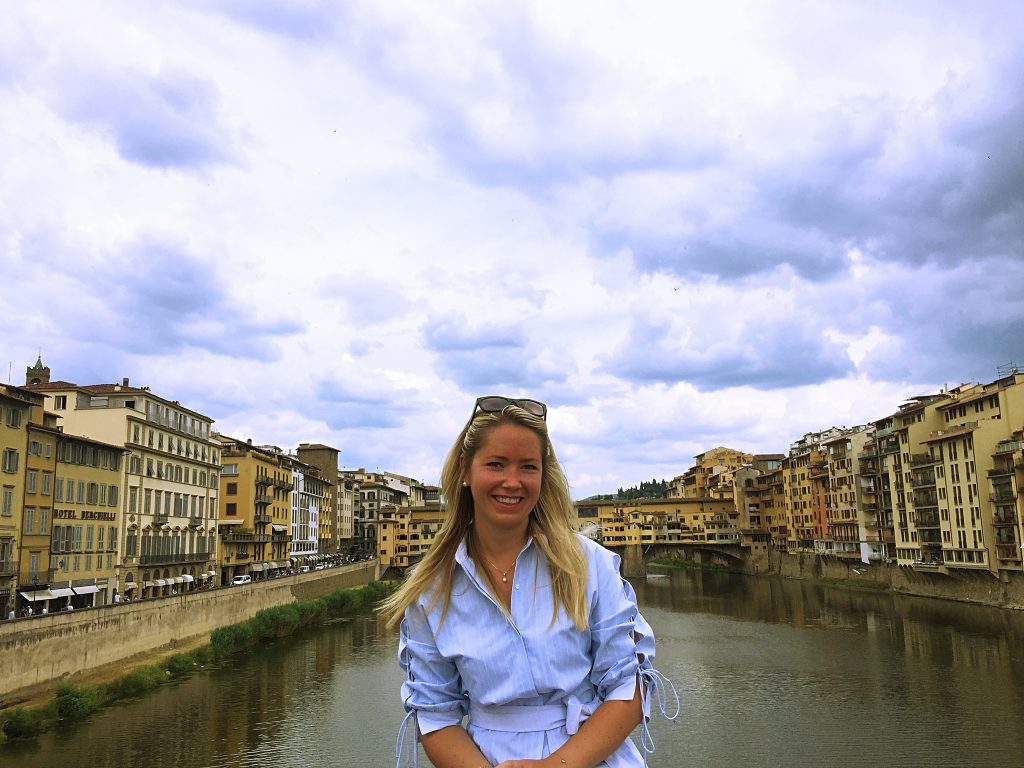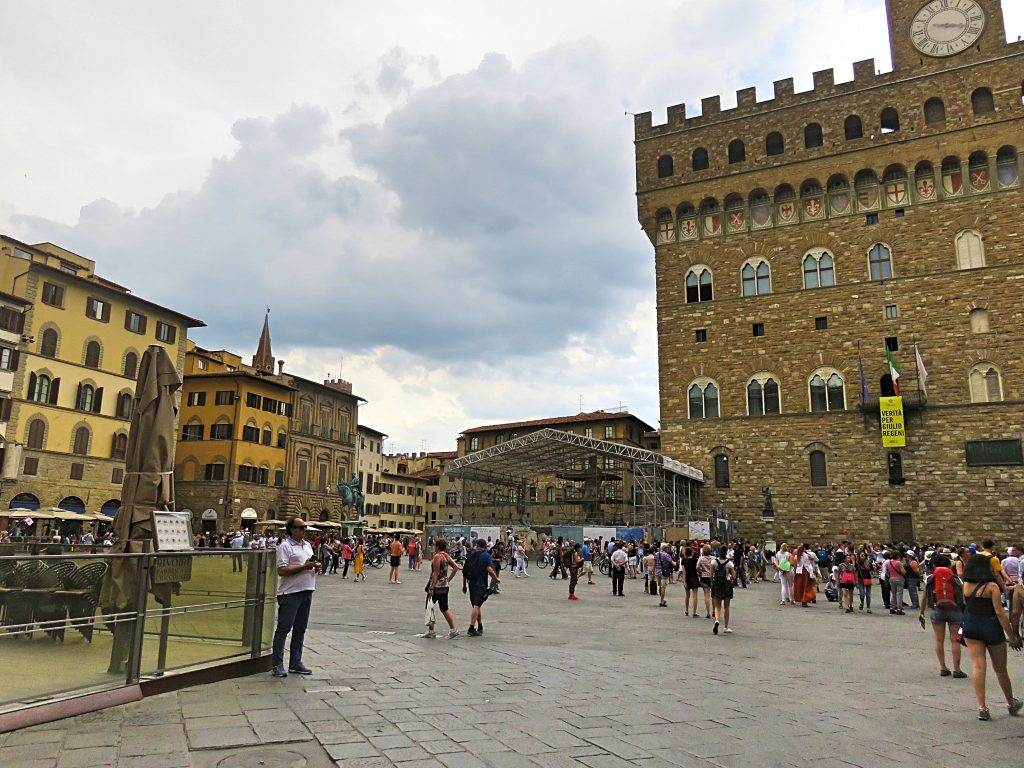 Then I continued towards the town and took some little alleys until I reached Palazzo Vecchio. Nothing special, I think. This is more a restaurant square with many restaurants and few monuments.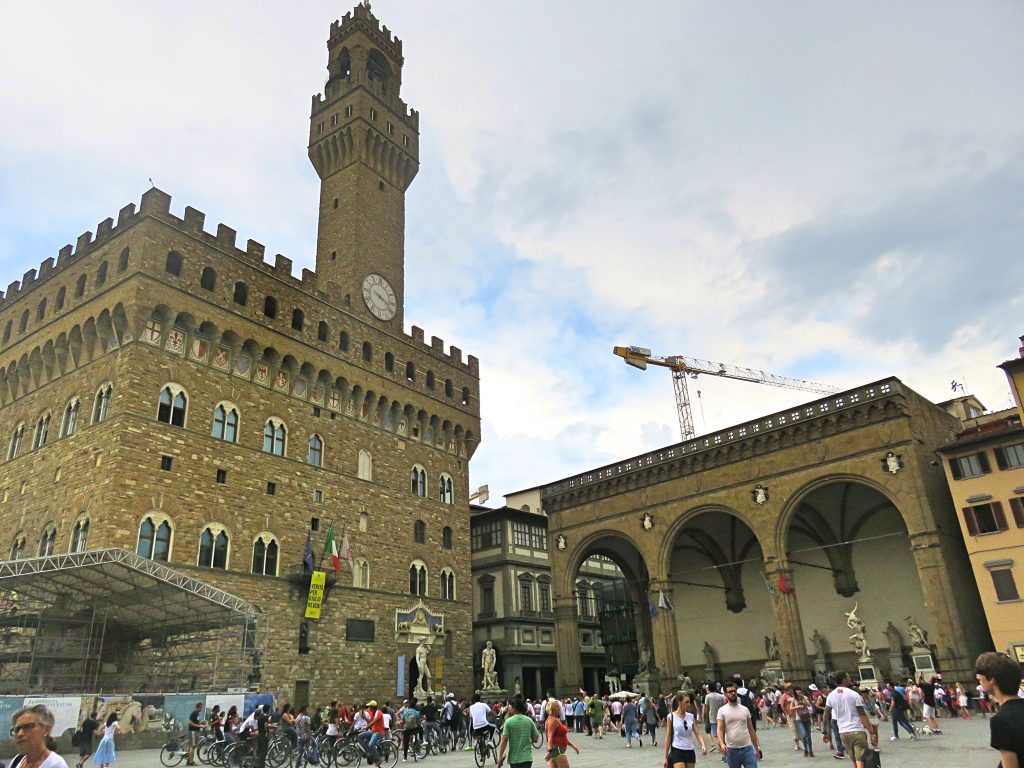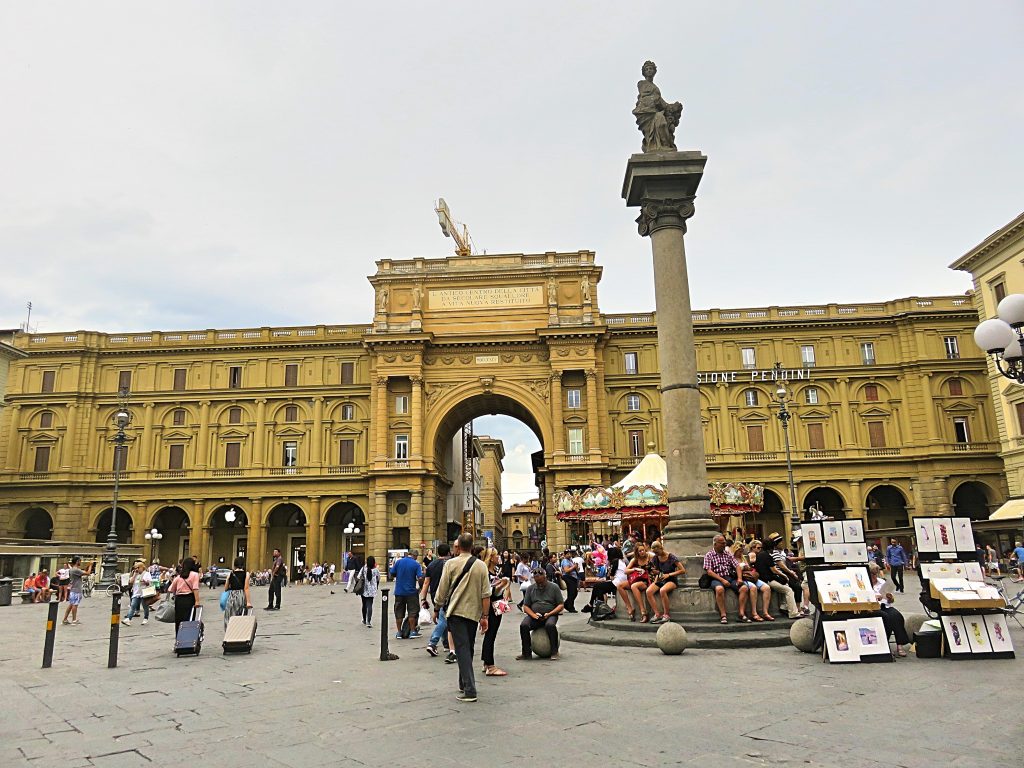 Piazza della Republica
I continued the small alleys and passed by the Piazza della Republica where many artists are hanging out.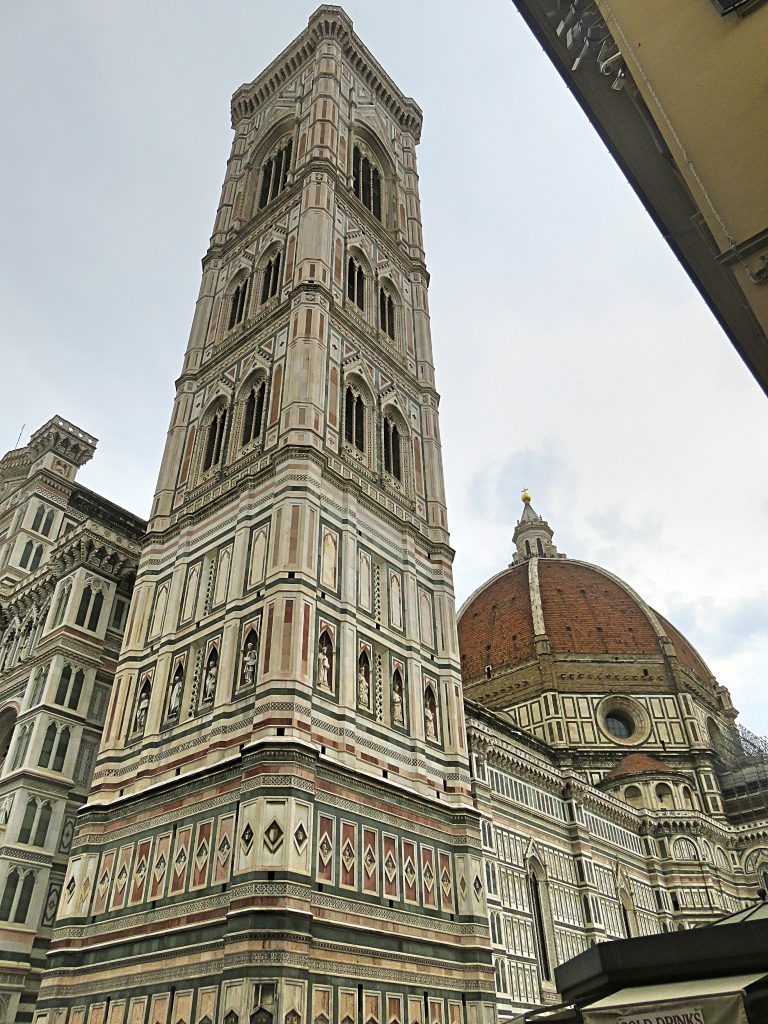 Florence Cathedral
Finally I arrived to the Cattedrale di S.Maria del Fiore – the famous cathedral of Florence. I'm just saying wow what a building! I am very impressed by this cathedral. It's much bigger than I thought and so beautiful!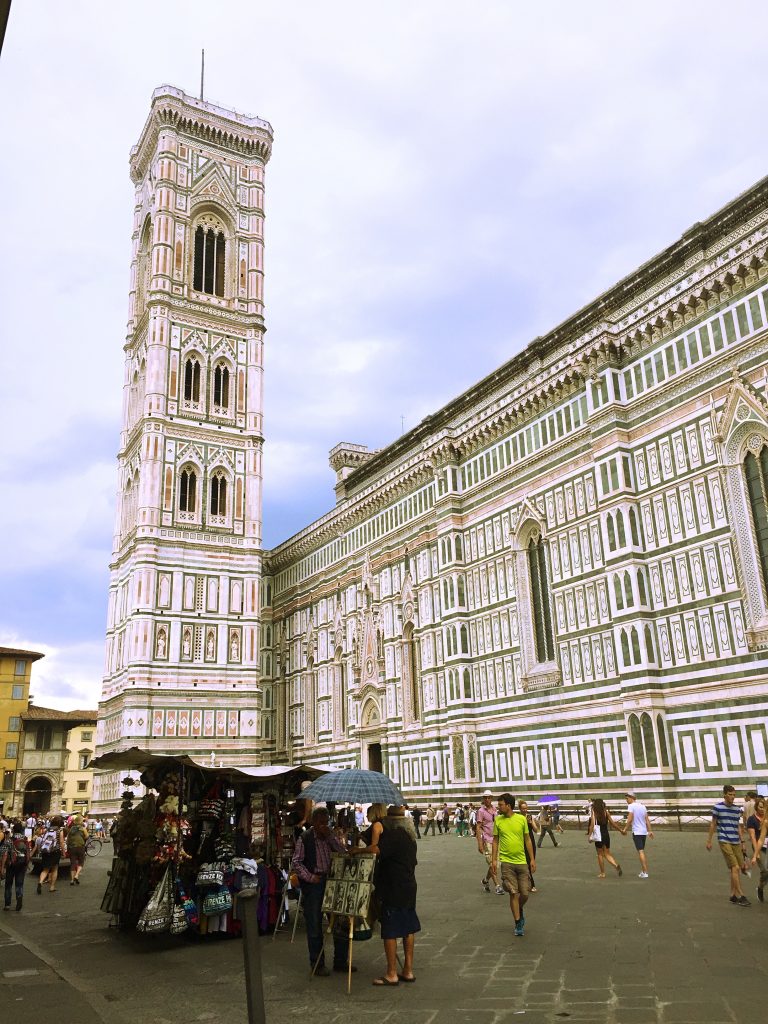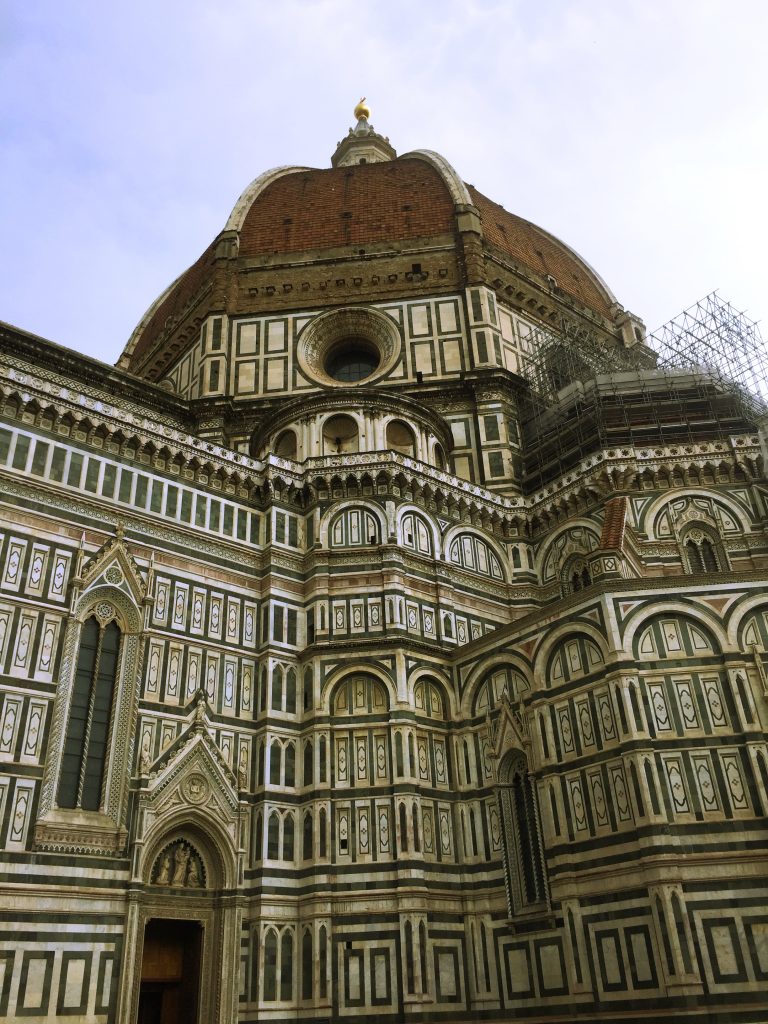 My Travel Tips for Florence
My tip is to take a walk around the entire building. You can also choose to enter the cathedral but the queue was way too long so I recommend doing it early in the morning if you don't want to wait.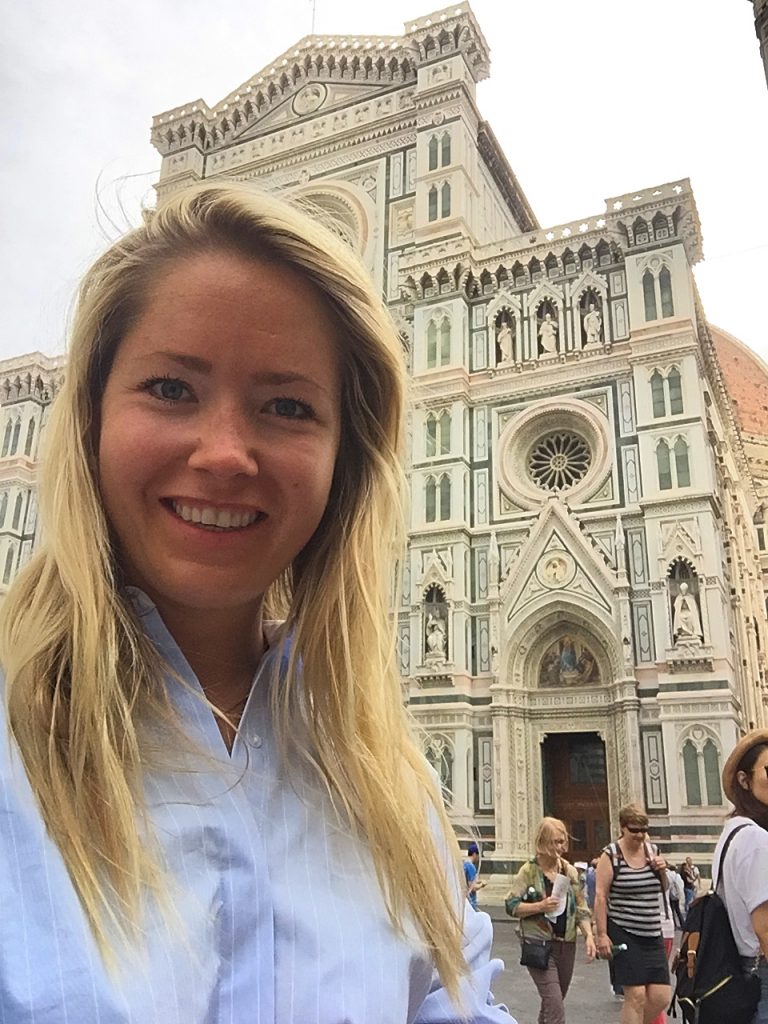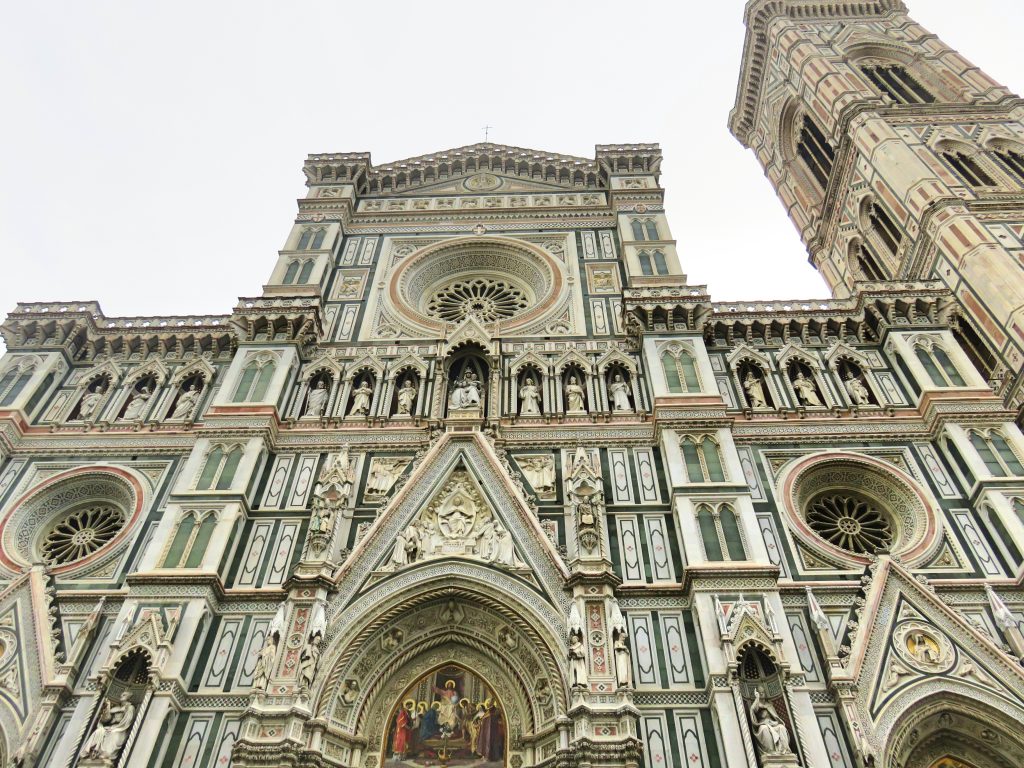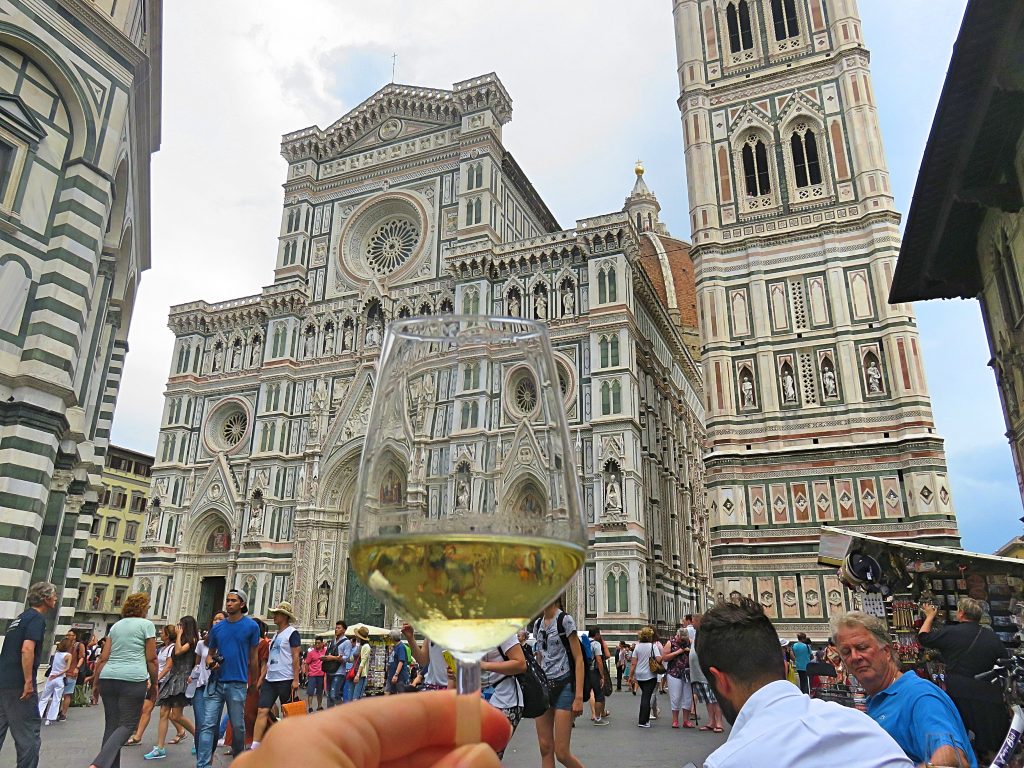 On the other hand, I settled down at one of the cafes just in front of the cathedral and enjoyed a glass of wine and viewed both the cathedral and all the people. It´s a huge beautiful building I have to say 🙂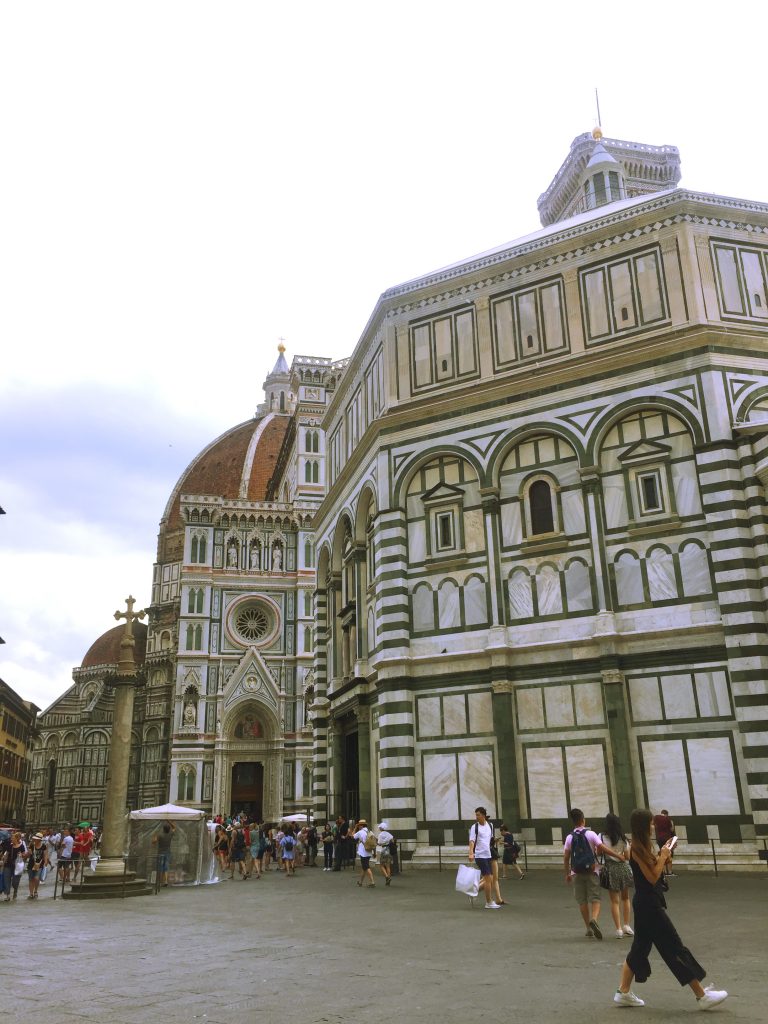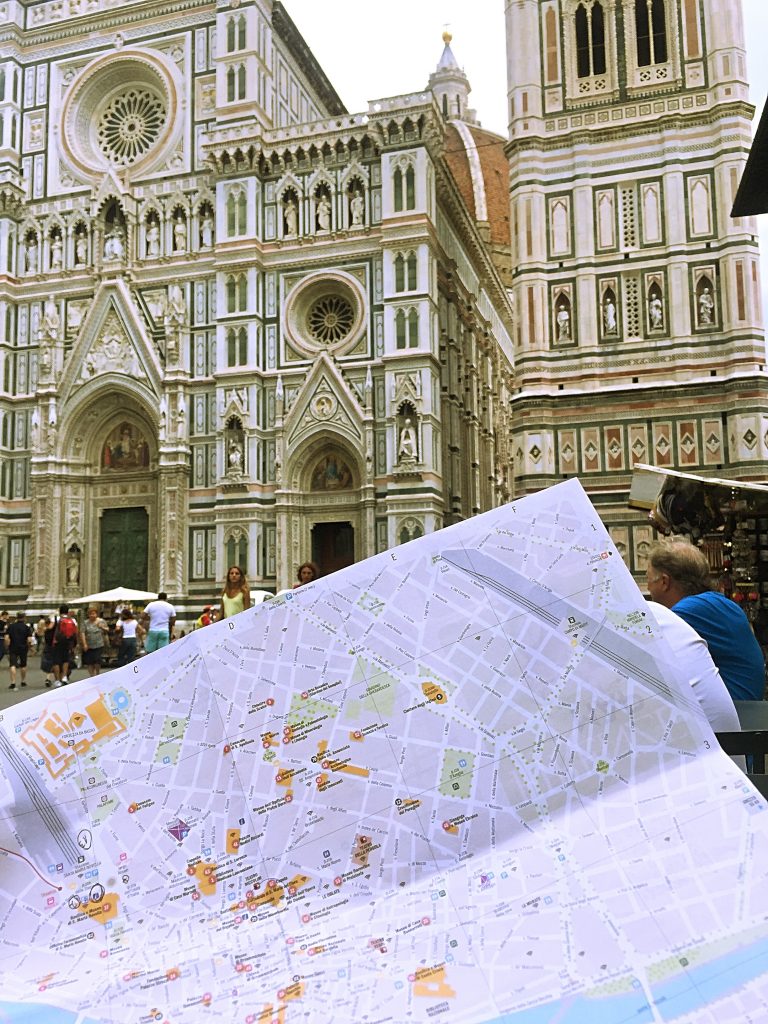 My tips to experience Florence in one day:
Start with the Piazza Michelangelo viewpoint and walk down to the town from here
Have lunch or a drink at Piazza Michelangelo
Eat an ice cream on the Ponte Vecchio Bridge, but don´t get fooled by the price!
Zigzag among the alleys to the cathedral – there are many hidden cozy streets to discover
Sit down on a cafe outside the cathedral and enjoy the beautiful building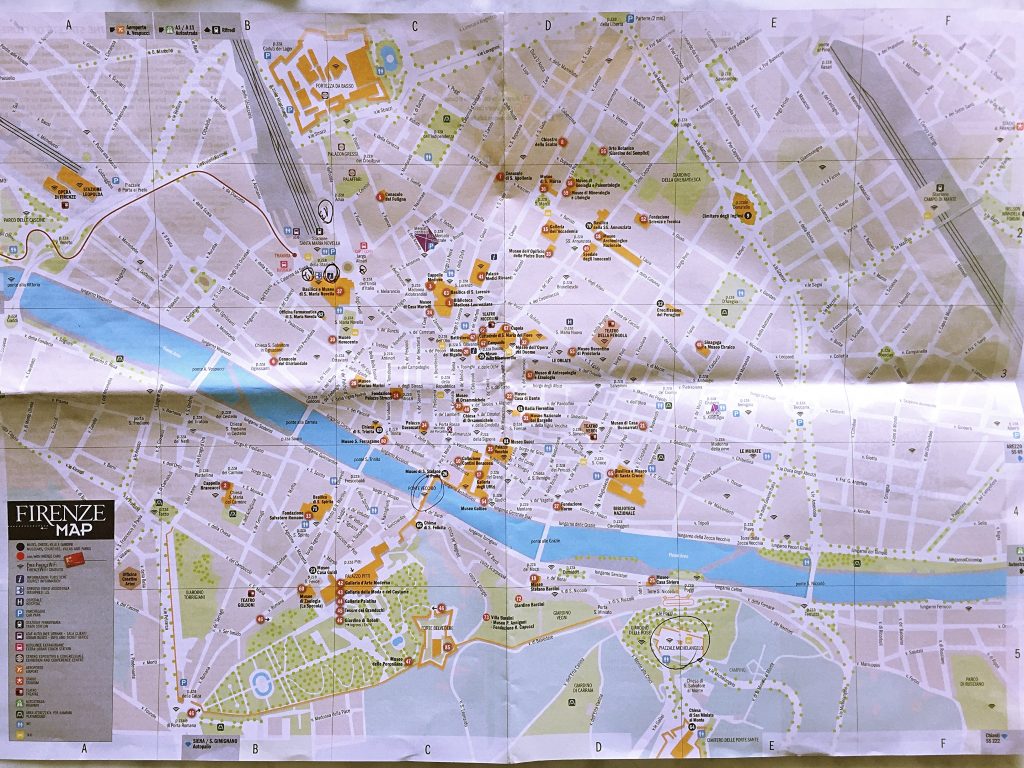 I love to mark the things I want to see or do on a map for each destination I visit. Here you can see that I marked the places I mentioned in this post. Florence is a big city and I don't feel I've completed this city in just one day. I would definitely go back here and explore what Florence has more to offer 🙂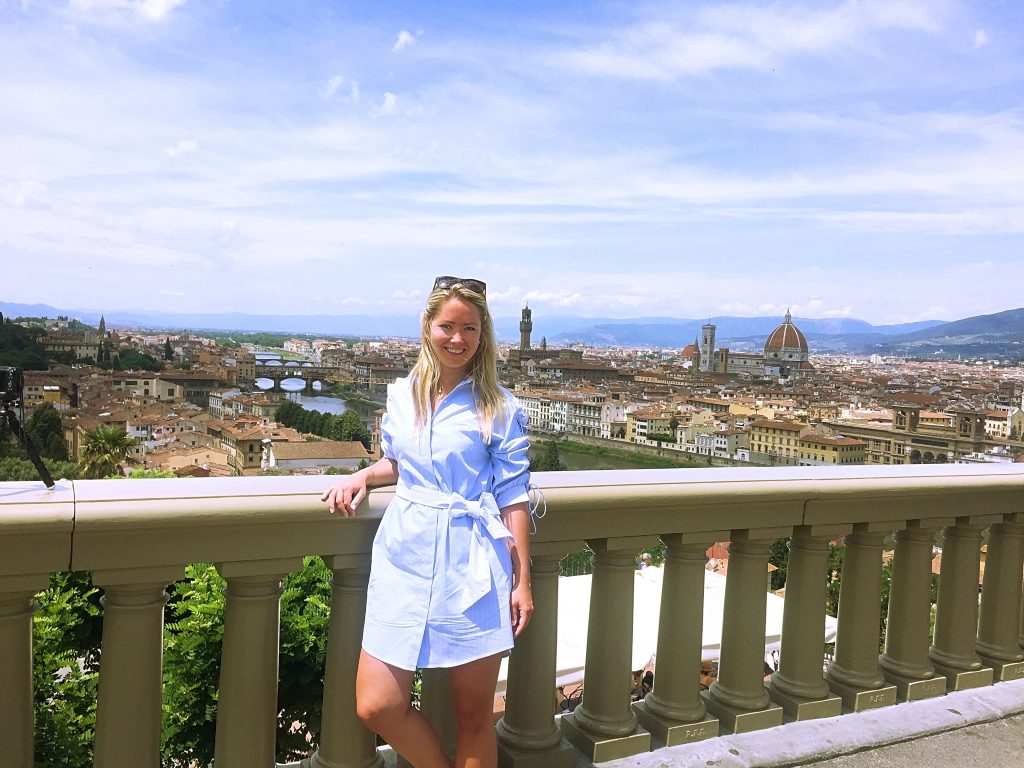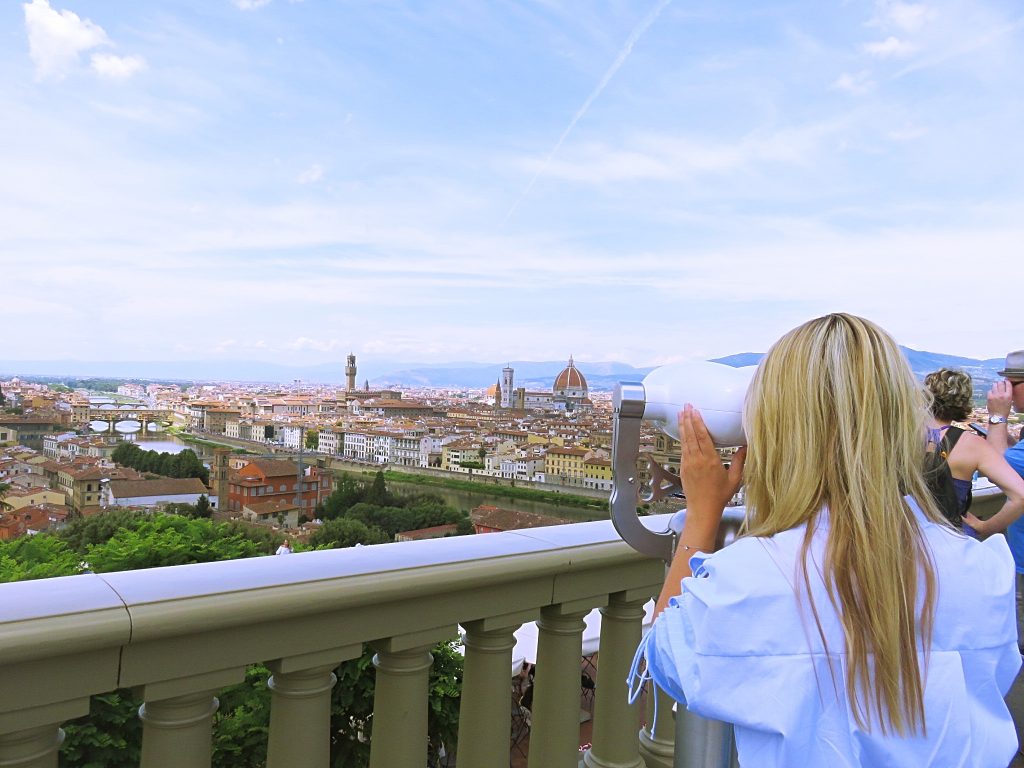 Have you been to Florence, what did you like the most?
Happy Travels!
//Charlotte