My Tips of Things To See and Do in Dubai
There are lots of things to see and do in Dubai but what should you focus on if you have limited time of days or never been to Dubai before? Here are my tips on what I think is worth spending time on when visiting Dubai! 🙂
Burj Khalifa & Dubai Fountain
Burj Khalifa is among the most famous buildings in the world and if you visit Dubai you have to go up in Burj Khalifa for an unbeatable view over Dubai. The first time I was in Dubai I did it and I bought a ticket at the entrance in their express queue. It cost a little extra in addition to the usual price but I thought it was worth it to come up at once when I was there. The normal queue was extremely long that's why I did it.
I recommend coming here both daytime to see the water show that takes place in the fountain in front of Burj Khalifa and also evening time for the light show which is at the Burj Khalifa building itself and which is nice to watch.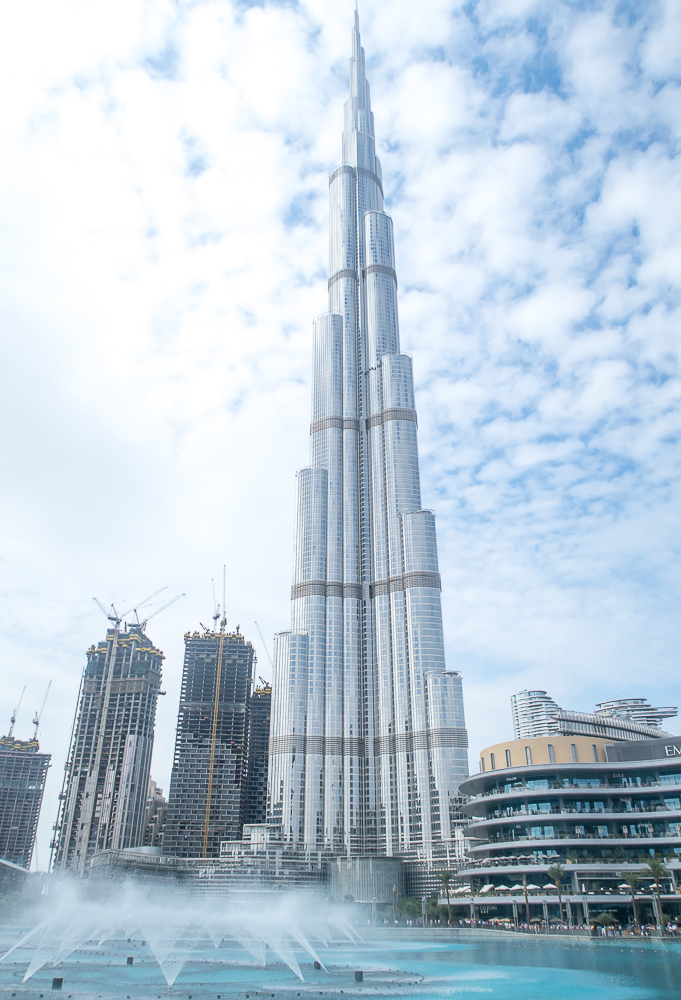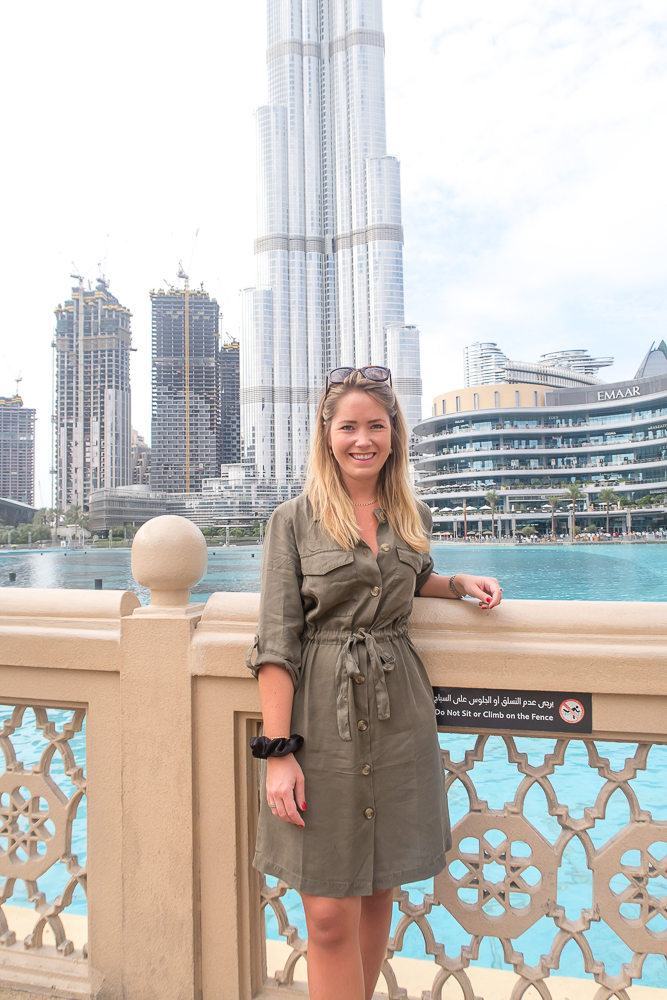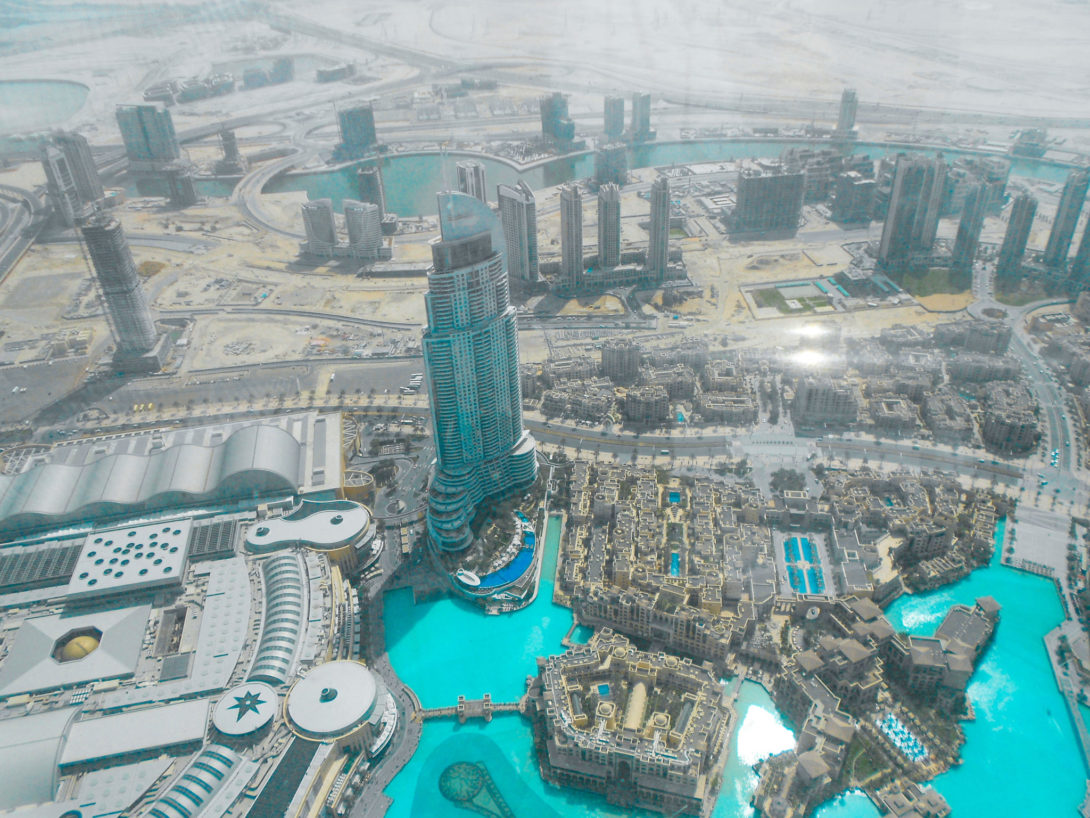 Shopping in Dubai Mall
Adjacent to Burj Khalifa you have one of Dubai's largest shopping mall, The Dubai Mall. There are plenty of branded shops, restaurants and cafes here and If you want to spend time in this shopping mall I would expect it to take at least a couple of hours to walk around. It is among the largest shopping malls I have seen and I have seen a lot around the world. Since it is so close to Burj Khalifa I usually eat either lunch or dinner here depending on when I come to see the fountain show.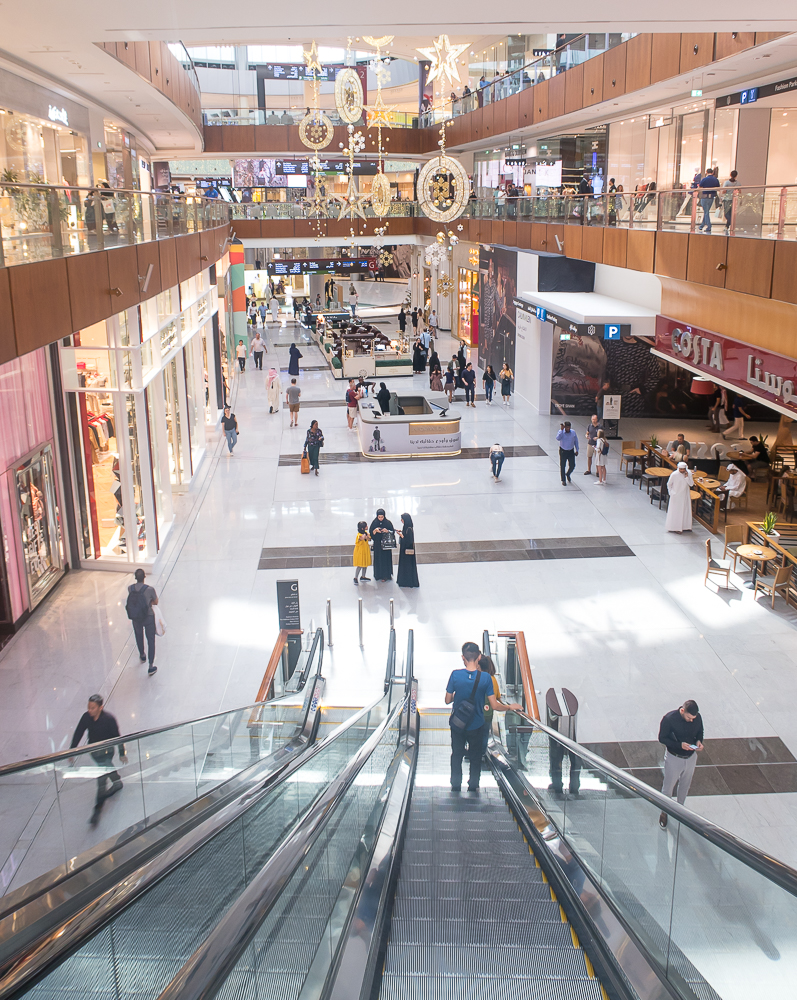 Visit Miracle Garden
If you want to see a magical garden with as many flowers as possible, this is the Miracle Garden you should visit. Even if you are not so interested in flowers (like me), this was really cool to see! We took the metro, the red line to the Mall of the Emirates station and then a taxi from there, which took about 20 minutes. The entrance fee cost 52 AED (which equals about 13 Euro) and you can stay here for as long as you want.
Dubai Miracle Garden is only open between November – March every year so if you go within this period a visit here is really worth it!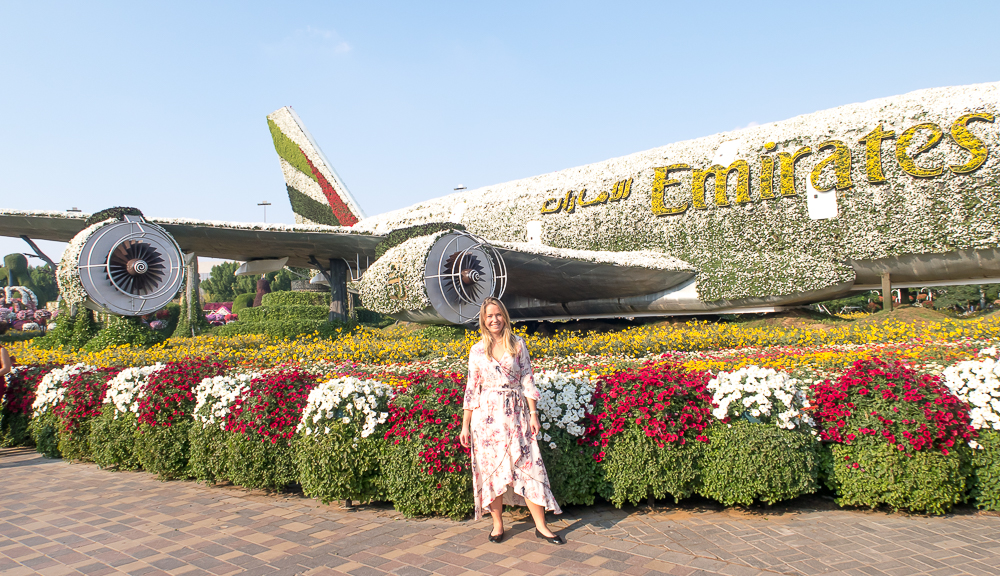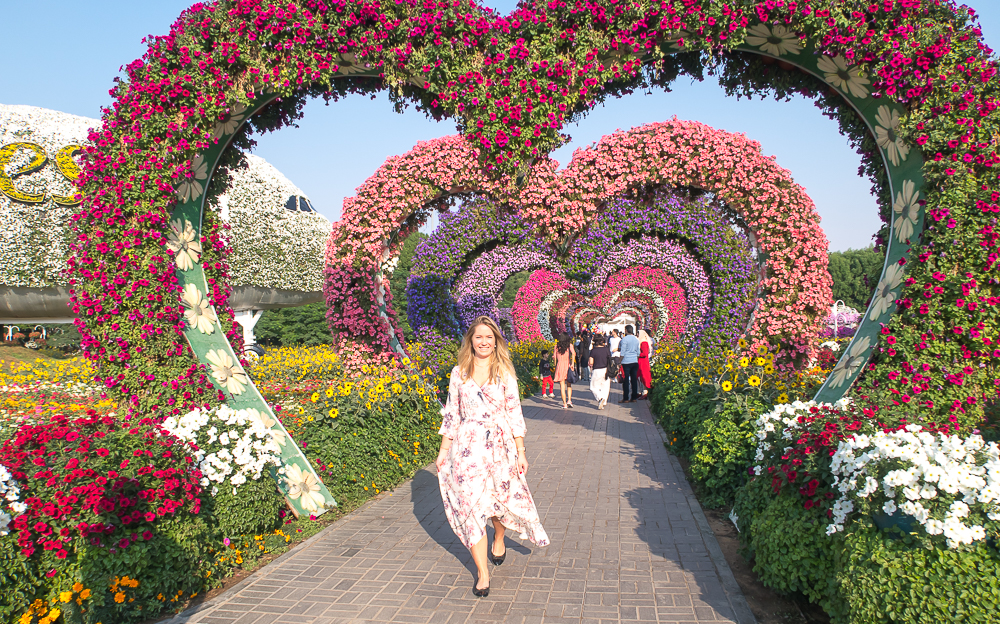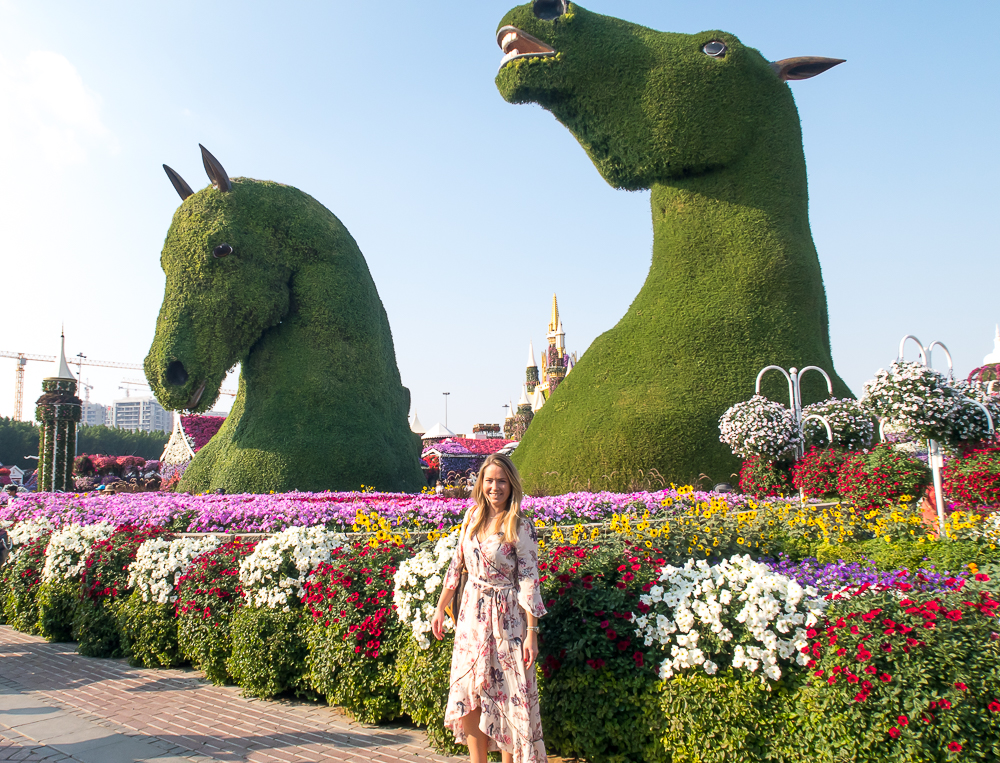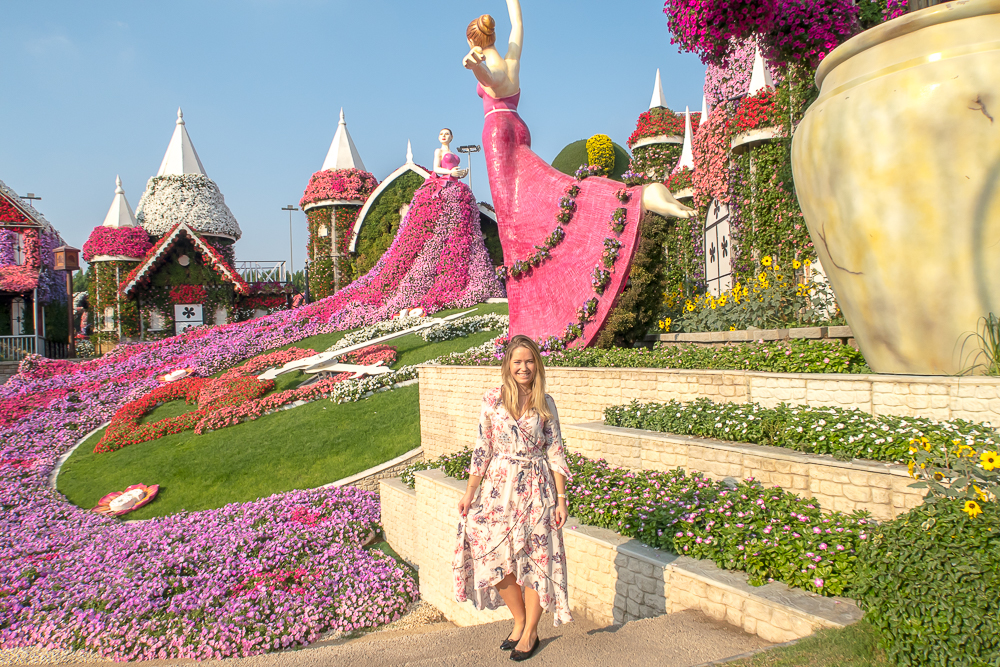 Shopping in Mall of the Emirates (MOE)
Another major shopping mall in Dubai is also the Mall of the Emirates which is a bit away from the Dubai Mall. In this shopping center you can ski, if you want. I haven't done it so I don't know what it costs but it would have been fun to test at some point and see if it is the same as at home in northern Sweden 🙂
Gold Souk & Spice Market
If you want to discover old Dubai you should go to the Deira area and there you will find Dubai's gold souk and their spice market. There are two different markets but which are just next to each other. In the gold souk you will see lots of gold everywhere in all shop windows, where there are more stores while in the spice market there are more stalls where the spices are lined up outside the shops so it is easy to test on the different spices. Besides spices you will also find souvenirs, clothes, shawls and much more here. Even if you are not going to buy anything, it is fun to walk around here and see what it looks like.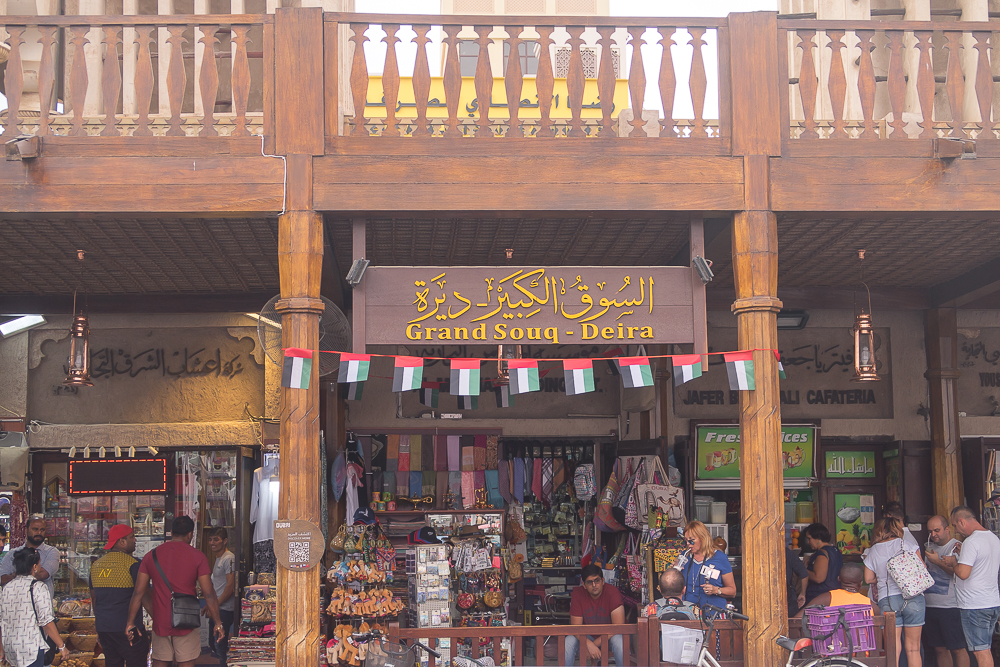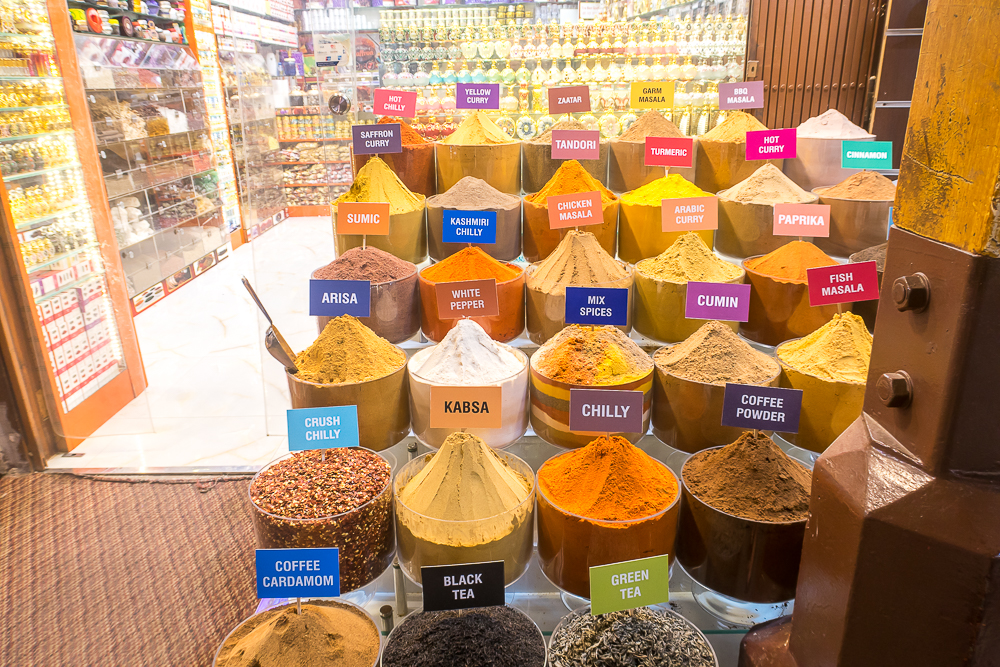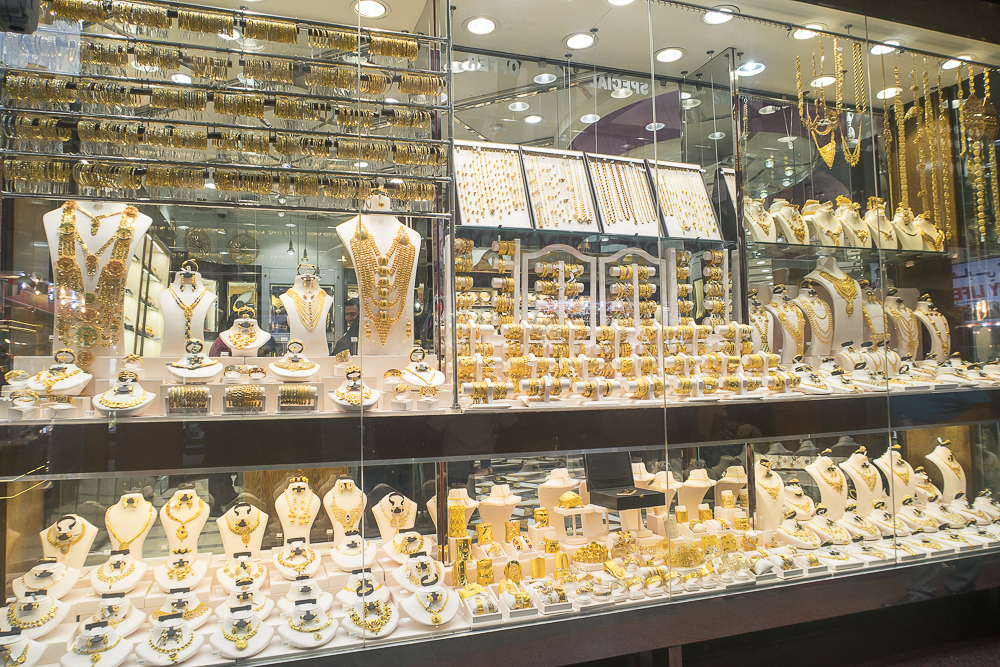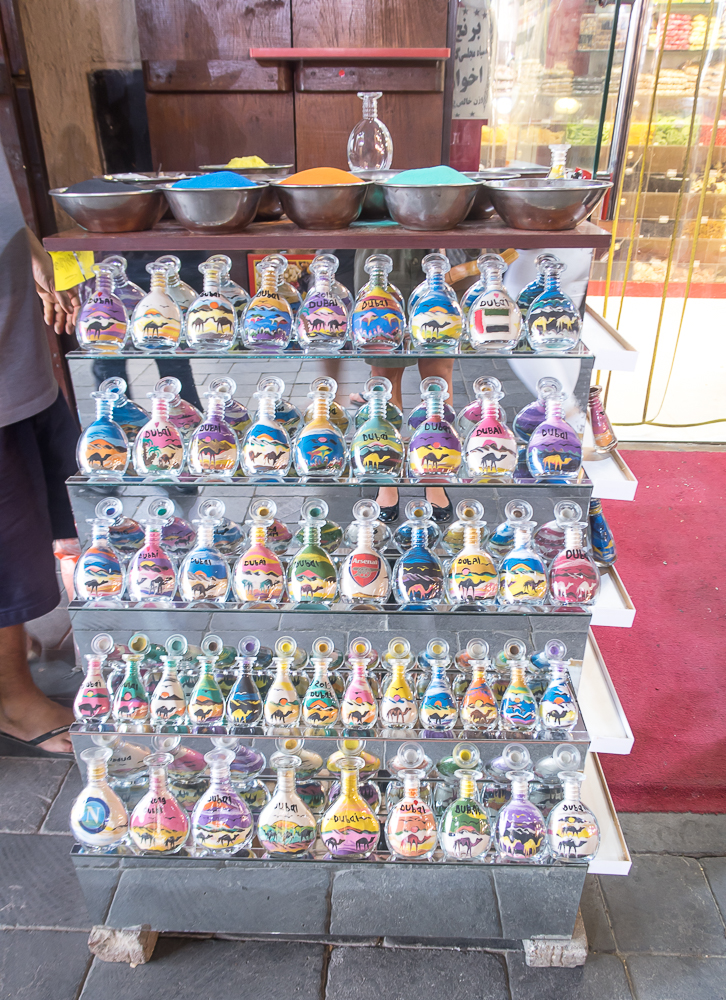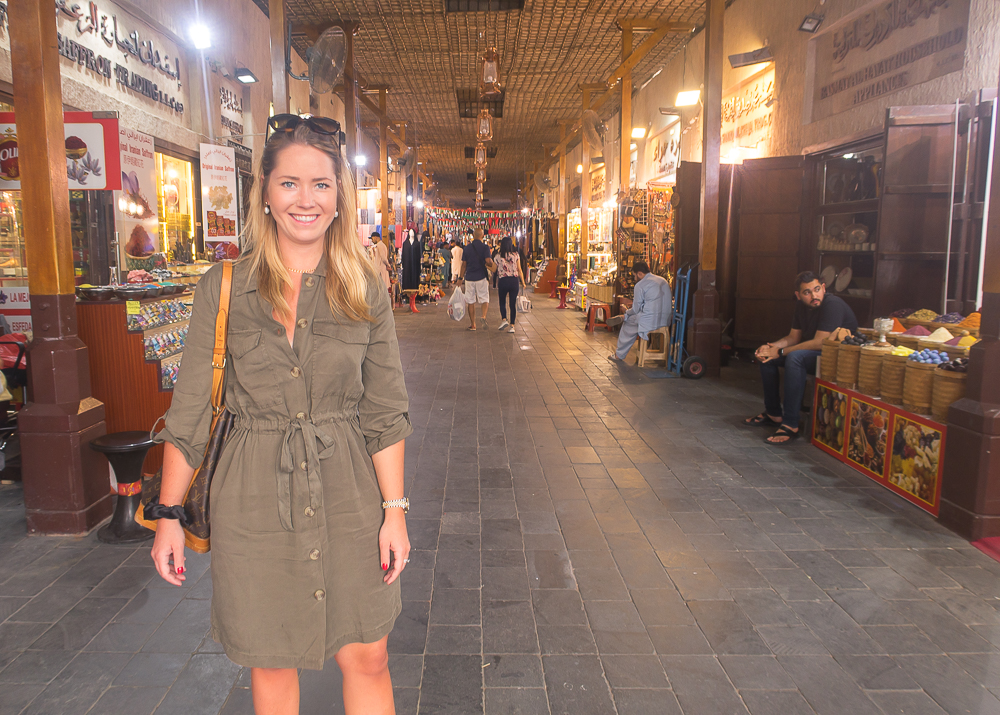 Abra boat between Deira & Bur Dubai
When you are done with the gold or spice market (which is located in old Dubai), you can take the boat back to new Dubai. Right on the road, before you walk to the gold souk there is a small lake and here you can take a wooden boat called Abra, which takes about 20-25 people. It costs 1 AUD per person and the boat trip doesn't take more than 5-6 minutes and is a different and nice thing to do. This was really popular, not just among locals but also among tourists. There was a queue to take this type of boat that takes you between old and new Dubai. One of my best tips in Dubai!!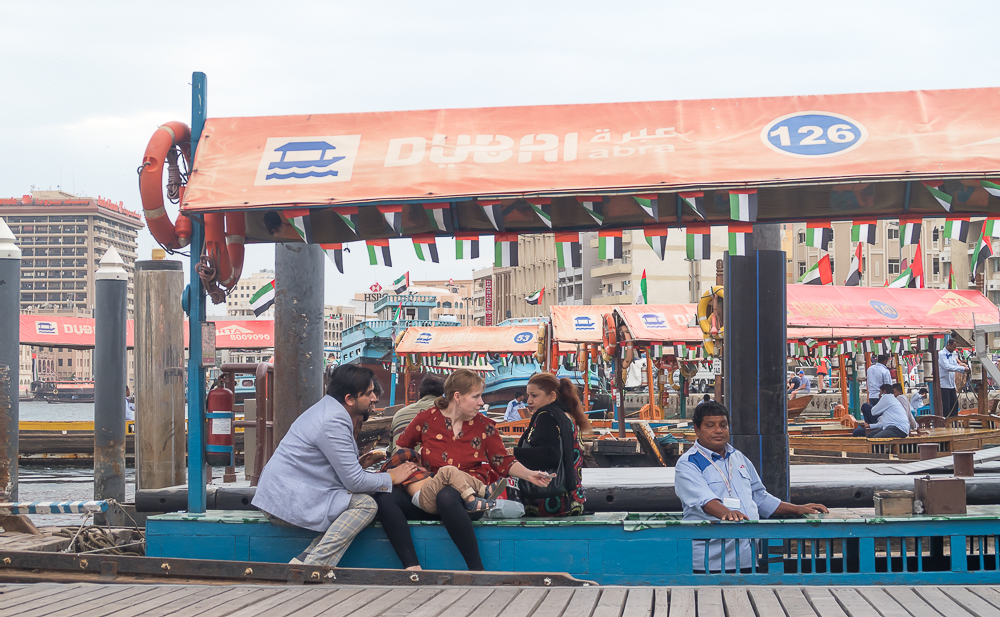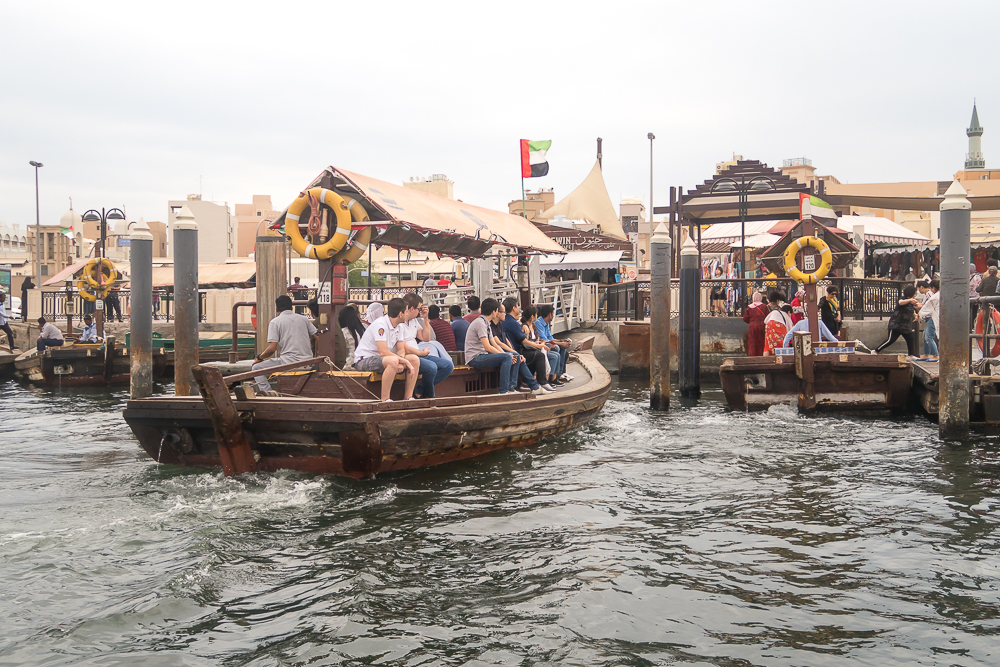 Hop on hop off bus
Something I always do when I visit new countries or cities is to take the hop on hop off bus because then I get an overview of the city and I know where things are better located on the map and based on that I can plan what I want to do and focus on. It is a smooth transport that will get you where you want and you decide when you want to get off at a certain station and not. The buses usually go every half hour, every day and even Dubai has this type of bus. I took it the first time I visited Dubai and thought it was great!
Burj Al Arab
Something Dubai is also famous for is their 7 star hotel which looks like a sail, Burj Al Arab. Not everyone comes in here, you must have booked a room or table at one of their restaurants to enter here. But you can still come here and see what the building looks like or go to Dubai Public beach which is just to the right of this hotel. This is a public beach and it doesn't costs anything to be here. From this beach you get nice pictures with Burj Al Arab in the background.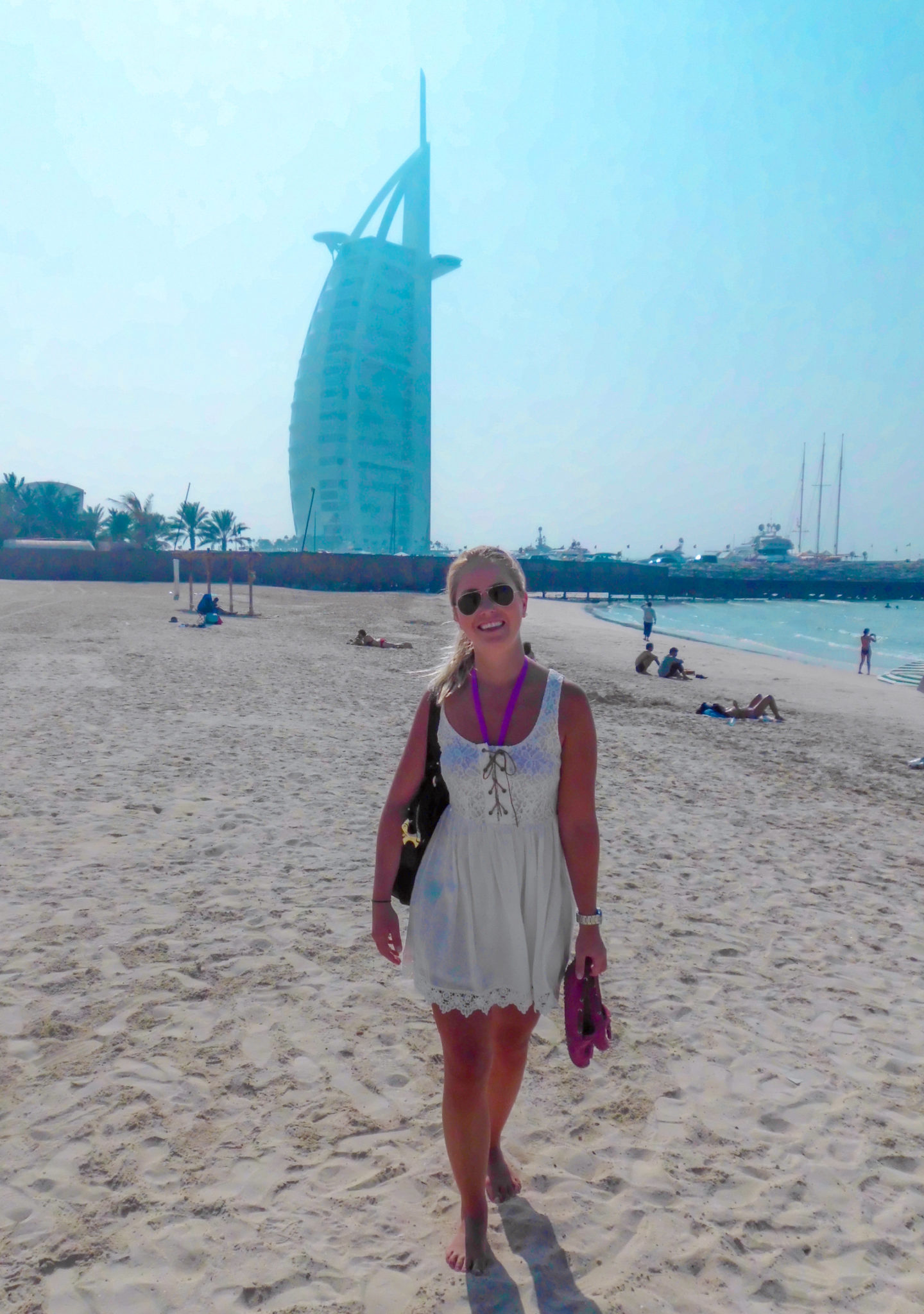 Take a swim at Jumeriah beach
If you don't want to swim on the public beach but still be close to Burj Al Arab, I recommend going to Jumeriah beach which is located at Jumeriah hotel, ie right next to Burj Al Arab. On this beach you have to pay for being here but what a view you get then! This may be the best view you have in front of you in Dubai. It's a real wow experience!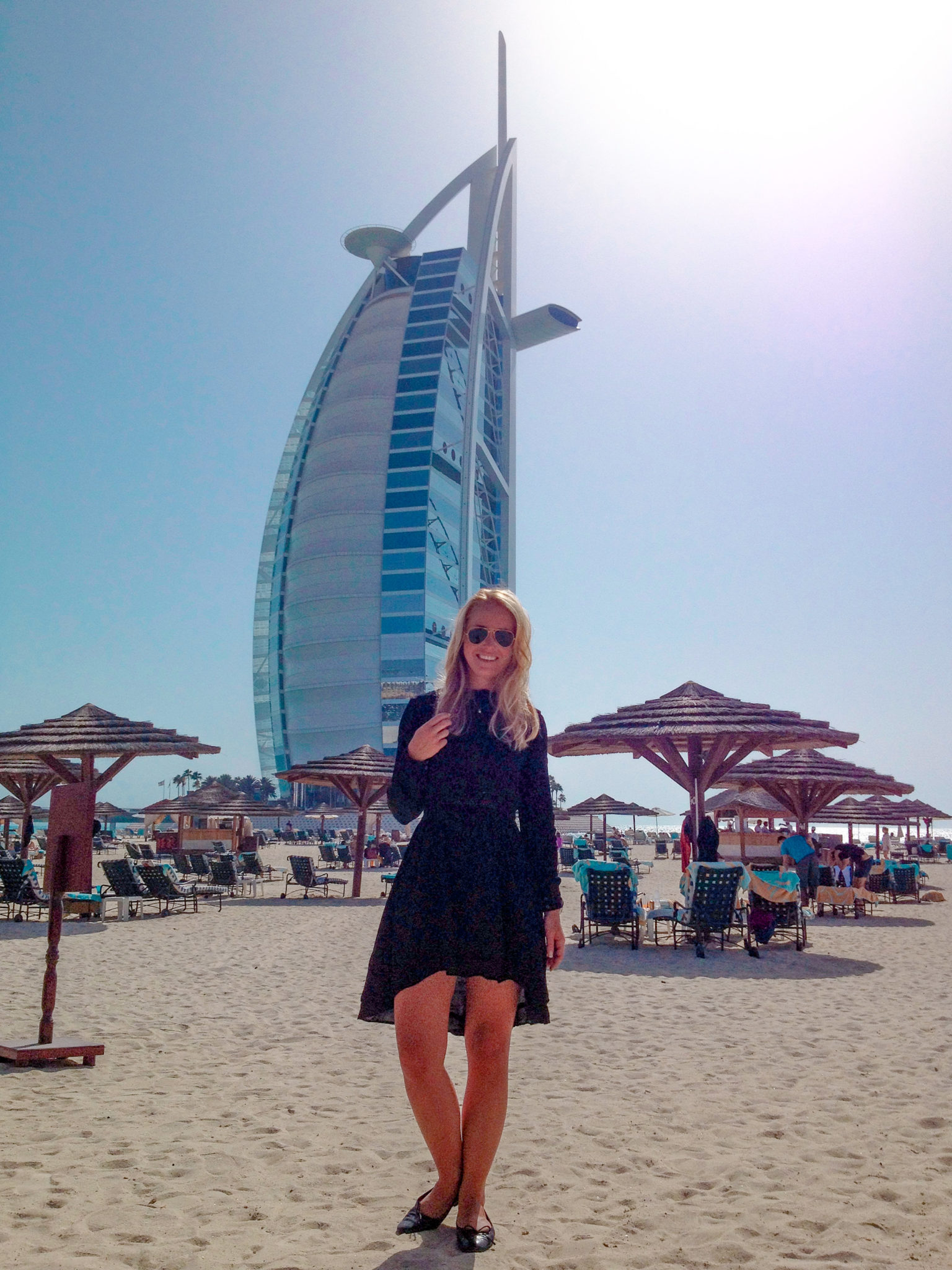 Souk Madinat Jumeriah
Something that is really nice to do in Dubai is to go to Souk Madinat Jumeriah, it is next to Burj Al Arab and inside there is a fresh and upscale market with souvenir shops, clothing stores and restaurants. This is a really nice souk and quiet to be a souk I would say. I would recommend coming here late afternoon, before the sun goes down and staying over dinnertime, eating at my favorite restaurant Traders Vicks! 🙂
Sunbathing & Swimming
You may want to go to Dubai to sunbathe, swim and just relax. That's not wrong with it either and I love lying on the beach reading a book or just enjoying the heat! I have stayed at different hotels and different areas when I have been in Dubai but one area I like to stay at is partly in Dubai Marina but also where a hotel has a private beach, for example as here in the pictures below, from Hotel Le Meridien Mina Seyahi Beach Resort & Marina which has private beach. Dubai has some public beaches that works great but I personally think there are usually too many people on them.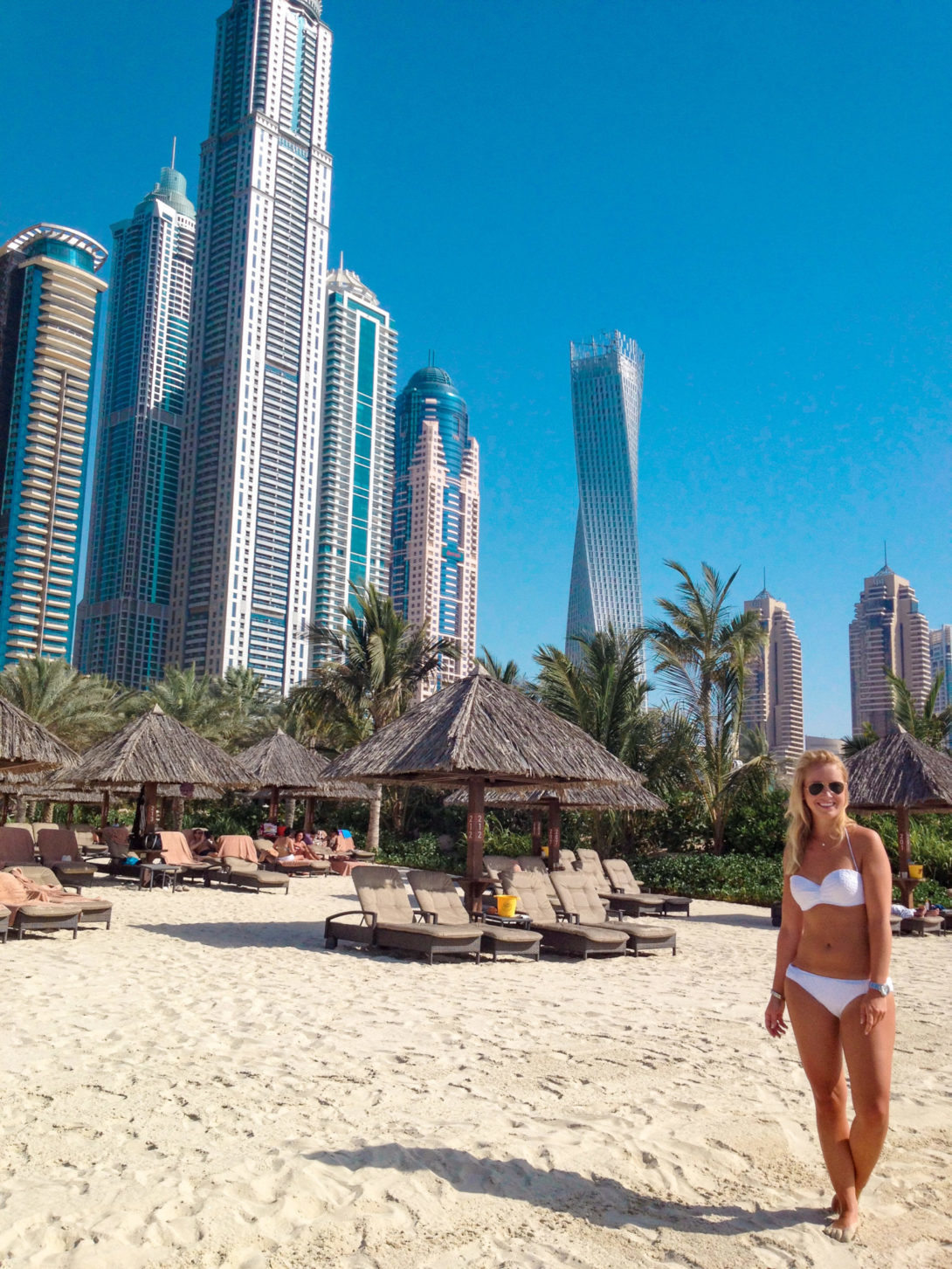 Desert safari
Most of the people visiting Dubai wants to go on a desert safari and I definitely think you should do this, especially if you have several days in Dubai, then this is a must! Check with your hotel what different types of packages are available, usually they include that you also go sandboarding and having some barbeque in the evening or something else that is included.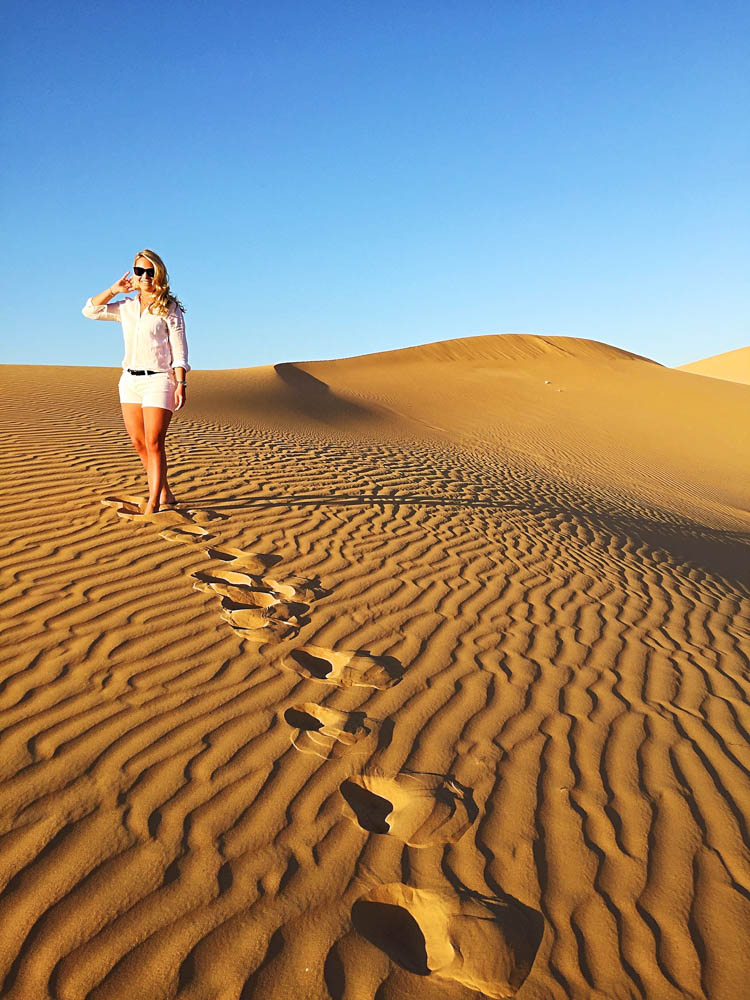 Dubai Frame
One of Dubai's most recent and probably coolest experiences is called Dubai Frame and is a gigantic frame in gold that you go up in. From here you see new and old Dubai that is the idea and there is also a museum with pictures of how Dubai has developed. This is something I will definitely do next time I visit Dubai as I love going up in such buildings like this! 🙂
Youtube video
Here you will also find my Youtube video from when I visited Dubai. Don't forget to subscribe on my Youtube channel (HERE!) for upcoming videos around the world! Enjoy! 😉
Have you been to Dubai, what did you like best? 🙂
Happy Travels!
// Charlotte