My Ultimate Travel Guide To Doha, Qatar
Many of you have asked me what to see and do in Doha, Qatar, a small country that is neighbor to Dubai. I have lived in Doha, Qatar for almost 3 years and now I have written my own travel guide to this small country in the middle of the desert, which I hope you will enjoy!
This is my Travel Guide to Doha, Qatar!
1. Doha Corniche
2. Doha mosque
3. Camels
4. Desert safari
5. MIA
6. Clay Pigeon Shooting
7. Beaches
8. Pearl Island
9. Souq Wakif
10. Villagio Shopping centre
1. Doha Corniche
Doha corniche is a must to see and take a walk on. From here you have stunning view over the skyscrapers and is a must to see both in daylight and at night time! You will se a lot of people taking a walk, running, cycles or going for roller skates here.
 2. The Mosque
Doha mosque is a must to see when you are in Qatar.  The mosque for arabs are the same as the church for us Europeans, you come here to pray. The muslims prat 5 times a day, that can be good to know. To this mosque it is separate entrances for men and women, where women are upstairs and men downstairs. I tis important to take off your shoes before you enter the mosque!
My Tips! If you don't want to participate for a pray, at least go to a mosque and look outside the entrance and you will see a lot of shoes! I have never seen so many shoes at one place at the same time before!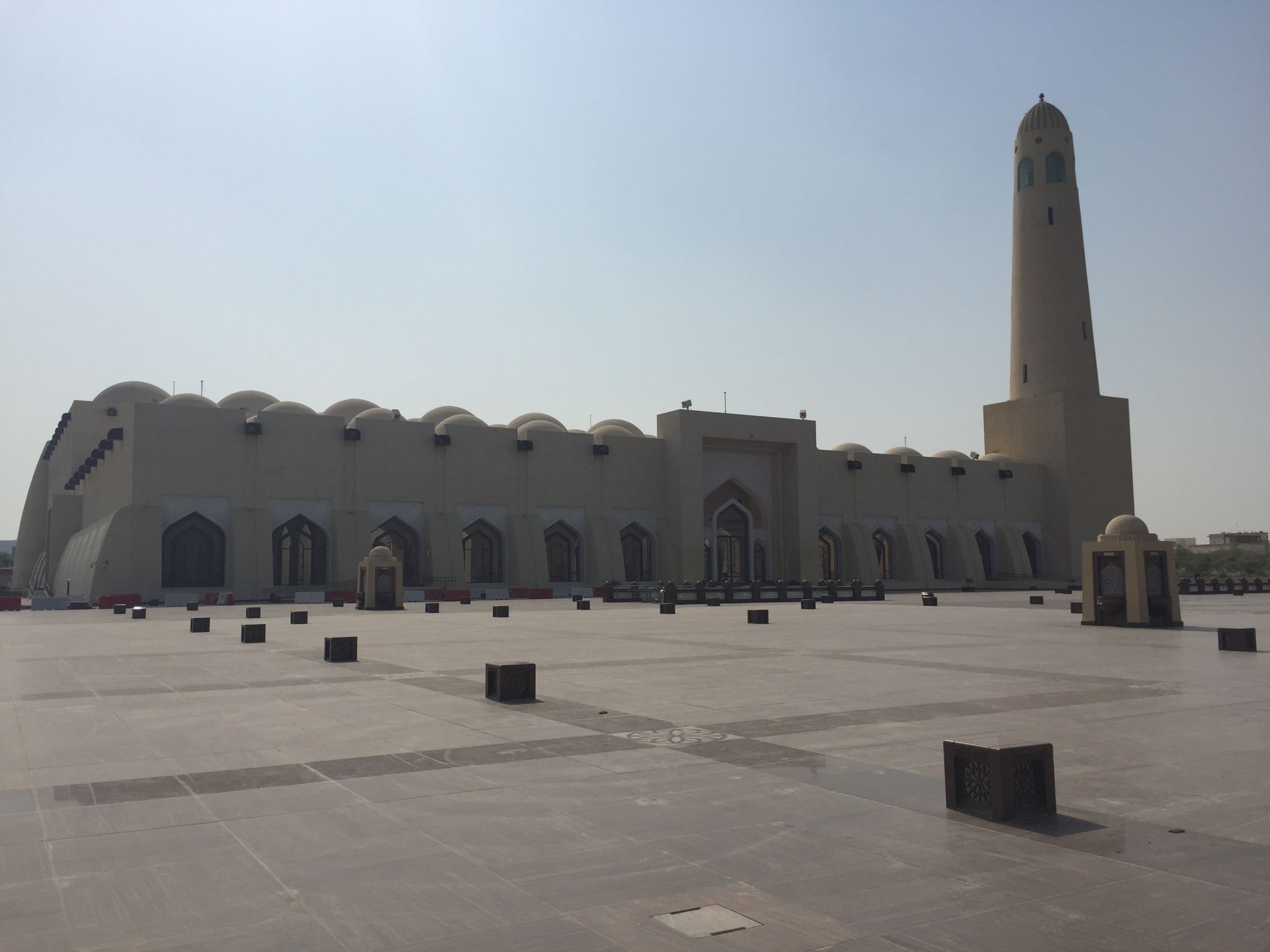 3. Camels
Camels are an animal you have to see when you are in the desert, that's my opinion. You can find the camels at 2 places here in Doha, Qatar.  Either outside Souq Waqif  or outside Sealine Beach resort that is located about 1 hour drive south of Doha. If you don't know anyone that has a car, I strongly recommend to rent a car for one day and drive out here.
My Tips! Don't take a taxi to Sealand Beach Resort. There is no taxi standing there that can drive you back home again, if you don't want to hitchhike.
If you don't have the possibility or time to drive to Sealine Beach Resort you can look at the camels outside Souq Waqif that is located in central Doha.
My Tips! You can't ride the camels outside the souq, only watch them , If you want to ride a camel you can only do it at Sealine Beach Resort, which I recommend you to do.
4. Desert Safari
If you decide to drive out to Sealine Beach resort to ride a camel I recommend you to also try quad biking among the sand dunes, which also is called desert safari. It is very fun to do and something that everyone can do, no matter the age. It is worth renting a car for one day and drive here to go for quad biking, riding a camel and drive around with your won car among the sand dunes if you like that.
My Tips! You can drive at the sand dunes, just be sure that you have a car that can make it!
5. MIA 
Museum of Islamic Art is Dohas Museum. Right now, however they are building a new, larger museum just opposite the existing museum. Here you can visit an exhibition or just enjoy the view from here over Doha and Doha corniche.
If you go outside the museum and keep to the right you will find a walking passage that takes you to a coffee ship at the end of the cape.
My Tips! It is really nice to sit here during a sunset! 
6. Clay Pigeon Shooting
Take the chance and do something different when you're here in Doha, Qatar. Try Clay Pigeon Shooting! The are for clay pigeon shooting is a little bit outside Doha, in a city called Lusail City. The easiest way to go here is by car, either if you rent a car or have a private driver who can drive and wait for you in the meantime. Check with your hotel.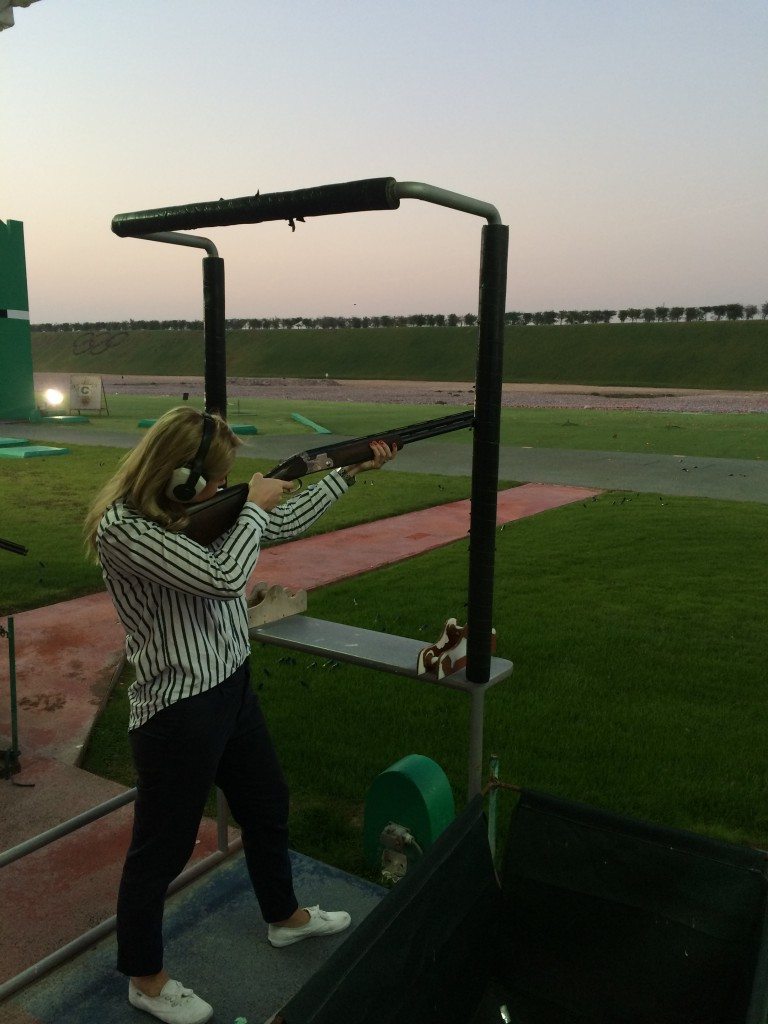 7. Beaches
There are a lot of beaches here to stay on, adjacent tot the luxury hotels locates on the waterfront in Doha. Almost all hotels have swimming pool averrable if you don't wan to swim at the beach. As a tourist, it is no problem to swim in a bikini, bathing suit or swum trunks, but do not be surprised if you see local women swim i fully covered in something called burkini.
My Tips! Don't stare and point at the women swimming in burkini, it is considered as rude to do so.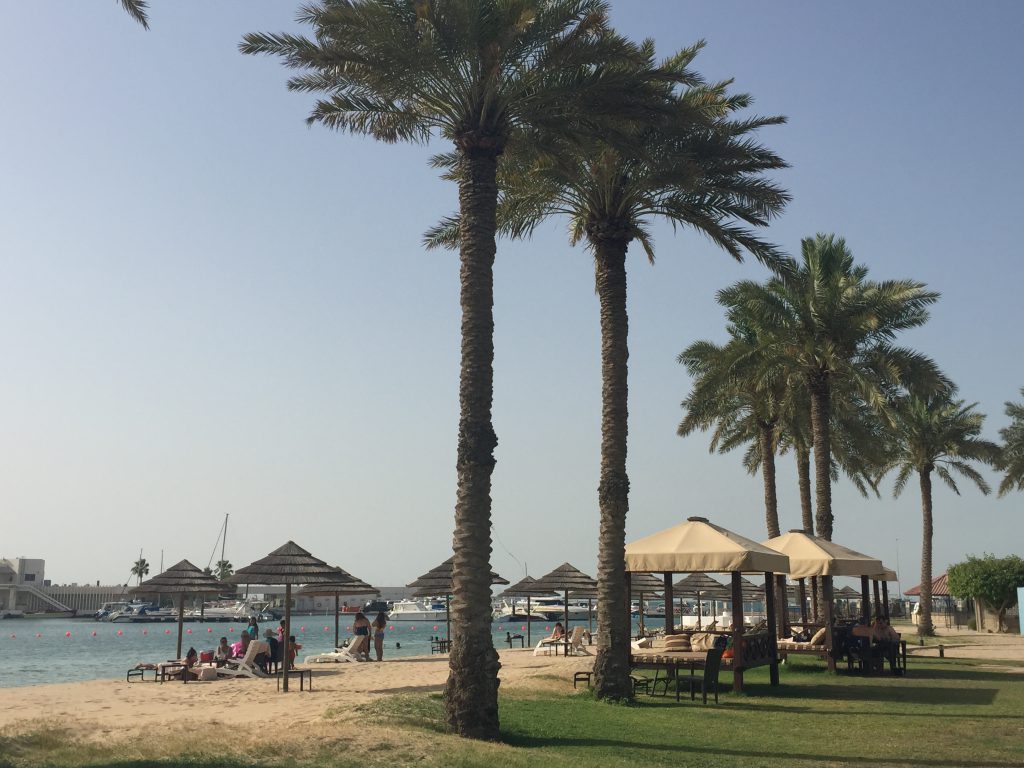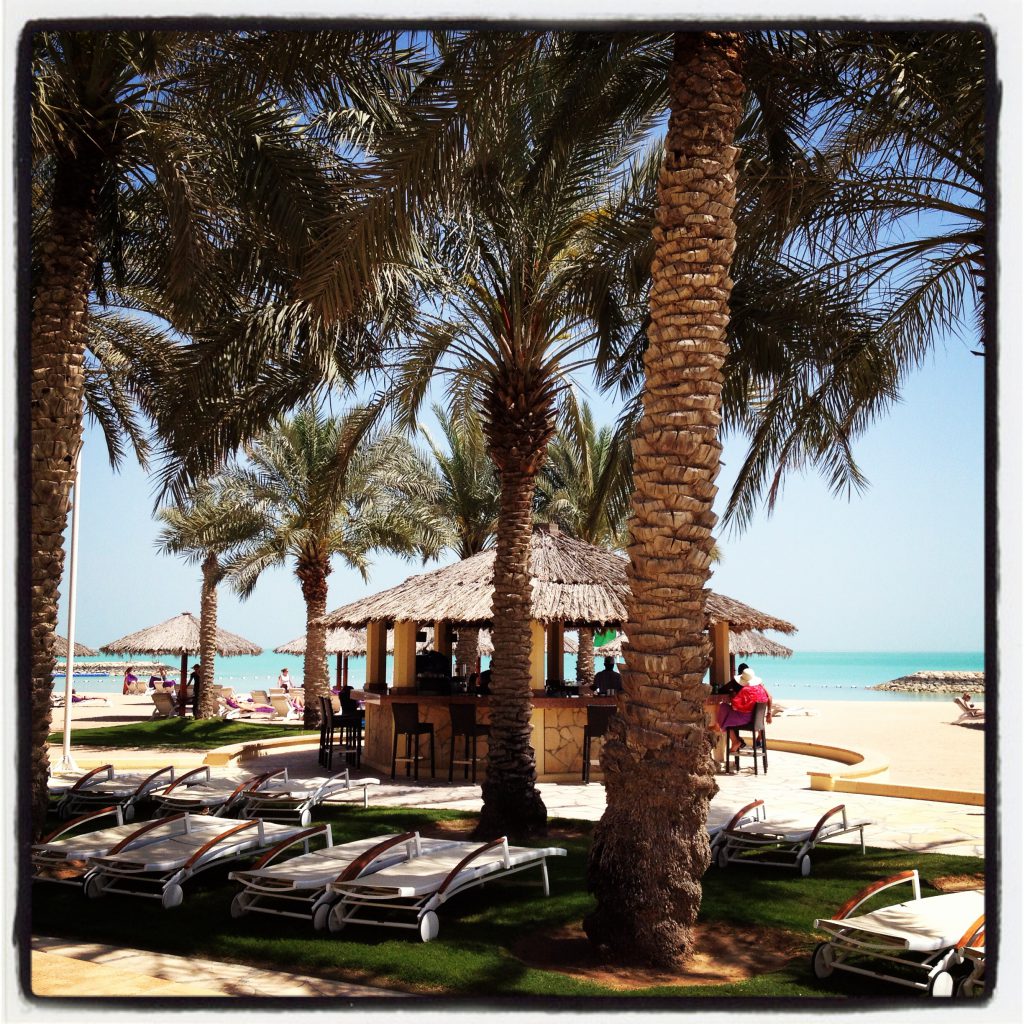 Private beaches
There are 2 private beaches here in Doha, Qatar, which is for those who live in this country and that is very popular to visit especially on Fridays when the weekend starts here. One beach is called Venice Beach and is located on the island called Pearl Island. This beach is for those who live in the apartments/ houses just placed here in the area and are usually those who sunbathing here too. But you can go here even if you don't live here.
The other beach is called Nikki Beach and is also located on the artificial island Pearl Island but at the end of the Pearl Island. You drive all the way out as far as you can come by car. This is where those who live in the apartments on the island always go for a swim. It is a lot of apartment houses here so it is a risk that it will be full on the beach on a Friday when everyone id free from work. Tip! If you come here on a Friday, be sure to arrive early do you can get an umbrella. I promise, it can be up to 50 degrees, you want an umbrella! Both beaches are free to stay on.
Personally, I recommend the beach located at the Intercontinental Hotel. From here you have a fantastic view over the entire Doha and the beach is not crowded. In addition, there are staff that walks around here and take your order of food and drinks. Really goos service!
8. Pearl Island
Pearl Island is an artificial luxury island where many foreigners who work in Doha, Qatar live. Especially westerners and others who work in Qatar, living in apartments here. At Pearl Island, there are many restaurants to choose from and great, nice luxury yachts in the harbor that you can watch. If you come here during daytime it is almost empty of people because of the heat, but if you come here during the evening it is almost full of people everywhere who eat dinner or just strolling around. Perfect are to enjoy lunch, dinner or just have an ice – cream from Haägen-dazs.
9. Souq Waqif
When in Doha, I recommend to go (take a taxi) to Souq Waqif that is a local market in Doha. Here you can buy everything from souvenirs to scarves, spices, clothes, shoes, well everything is possible to buy here. There are also many restaurants and if you want to eat Arabic food, you´ve come to the right place!
10. Villagio Shoppingmall
Villagio shoppingmall is a large, popular shopping center in Doha, Qatar. This is where all people shopping their clothes, food, or go for a coffee, or SPA salon or let the kids play around in the amusement park. If you still have time left in Doha and don't know what to do, I recommend spending an afternoon here for shopping or let your children go for carousels. There is also an ice rink here if you want to ice skate and a large area where all the restaurants are located and fast food places.
My Tips! It is easy to take a taxi here, but if you want a taxi home you have to be prepares to queue and fight to get your taxi as there may be chaos.
Direct Flight to Doha from Stockholm
There are direct flight from Stockholm Arlanda to Doha Hamad International Airport. There is about 10 flights/ week. You can book your flight tickets with Qatar Airways here.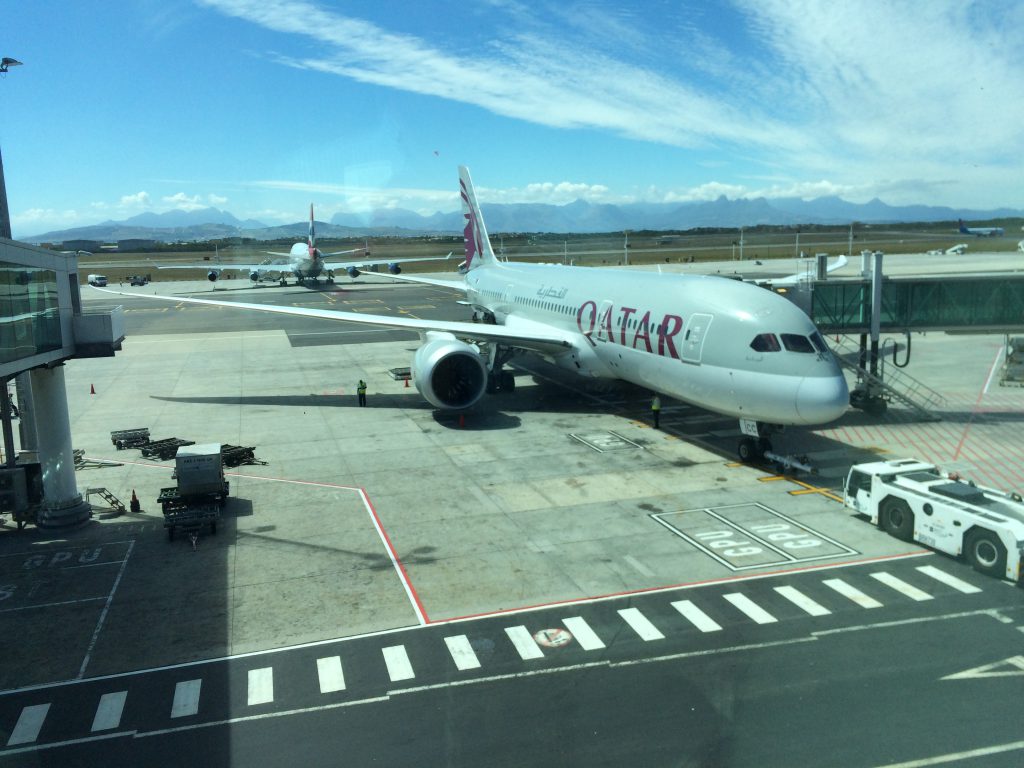 Extra tips!
Drive around in Doha and look at all the buildings and skyscrapers that exist. It´s cool to see them so close!
Falcons in Souq Waqif
Or go and look at the falcons in Souq Waqif!
Have you ever been in Doha, Qatar? What did you think about it? Is there something else you want to know about Doha, please let me know!
Happy Travels!
// Charlotte