My Travel Tips For Abu Dhabi
There are some things you need to think about when you are in Abu Dhabi and that differ from, for example, Europe where you cannot dress how you want or behave as you might do at home. In Abu Dhabi, sharia laws apply that you as a tourist have to adapt to.
In this blog post I want to share with you guys some of my travel tips to Abu Dhabi which may be good to know before you come here but also while you are here. For those of you who have never been to Abu Dhabi before, I recommend reading this blog post carefully so you won't get surprised when you are here 🙂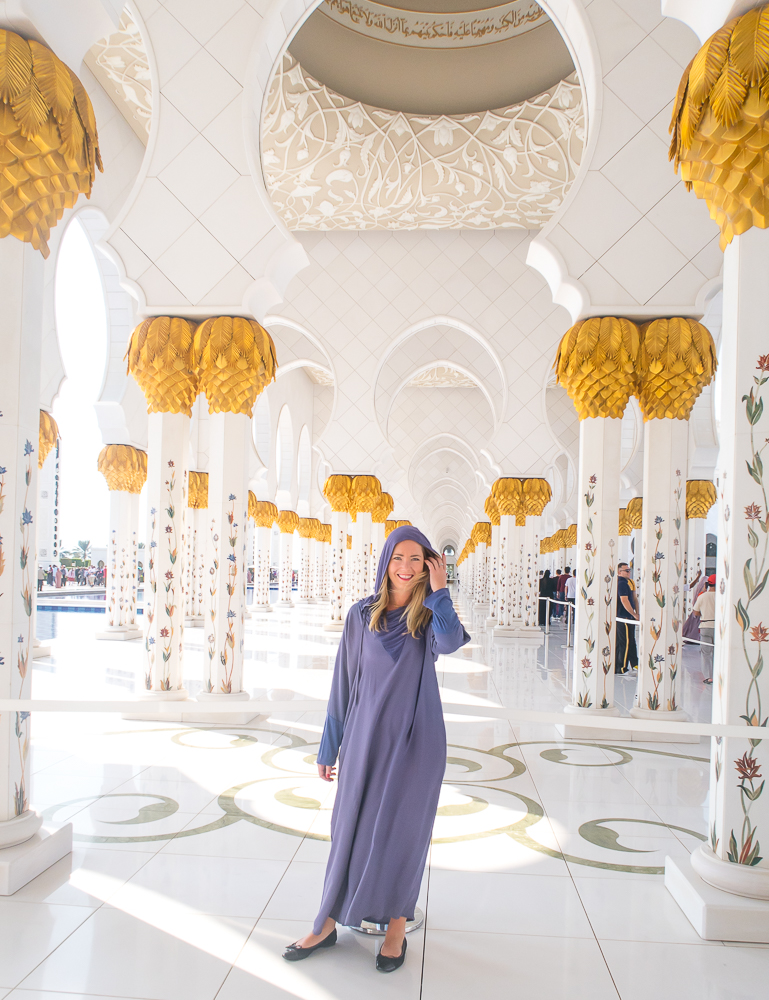 Here are my best travel tips to consider for Abu Dhabi
Attire
As a woman, you shouldn't walk around in too tight or short skirts or transparent clothing. Should you visit a mosque or palace, you have to cover your arms and legs as the culture demands it. My tip is to also have a scarf that you can cover your hair with, because it is required at some tourist attractions, for example if you want to go into the Sheikh Zayed Mosque.
Common sense applies whether you go to a hotel, restaurant or shopping mall, it applies to both men and women. Think "office wear" and you will be safe. If you wear flip flop, wear a linen or show your stomach, you may be prohibited from entering a hotel, mall or museum. Once in your hotel you can of course wear bikini or swim shorts on the hotel's private beach or pool area but outside you should have decent clothing.
Transportation
In Abu Dhabi, taxis are cheap and most common to go with here. It is easy to find a taxi car and it is usually available wherever you are. I have never tried the local bus unfortunately but on the other hand hop on hop off bus which I can really recommend if you want to see the whole of Abu Dhabi and avoid taxi costs all the time.
Alcohol
Alcohol is only available at restaurants belonging to a hotel. Nightclubs in Abu Dhabi are also located in hotels so they can serve alcohol. Outside the hotels, you can't buy either a beer or a glass of wine but you can buy alcohol free beer in the local shops.
Adapter
I always have an adapter with me when I travel and it is my best travel tip no matter where you are in the world. Preferably buy a multi adapter with USB sockets as well. You gonna need an adapter in Abu Dhabi which has three holes in the wall sockets.
Kisses and hugs
When you are in a country with Sharia law, you are not allowed to kiss or hug in public, especially in public places such as mosques or tourist attractions. If you want to be close to each other, you may be in your hotel but not among people, unfortunately. This also applies to holding hands, you can be told by guards or police not to do it, in the worst case you can be fined.
Language
Arabic is the main language in Abu Dhabi, but it also occurs in English and Arabs are good at talking and understanding themselves in English.
Currency
In Abu Dhabi you pay with Dirham (Dhs) as currency and when I write this (2020) 1 Dhs = 2.8 SEK and yes food and drink I would say is more expensive here compared to Sweden while taxis and other means of transport are cheaper in Abu Dhabi. I recommend having cash when you are in Abu Dhabi for taxis, drinks, entries, etc. Certainly restaurants and most shops take Mastercard or Visa cards but in Abu Dhabi it is always good to have cash.
Climate
Abu Dhabi is warm all year round but the hottest is in the summer when the temperature can rise up to 50 degrees. The best time to go to Abu Dhabi I would say is our winter time, between October – March for the most comfortable temperature.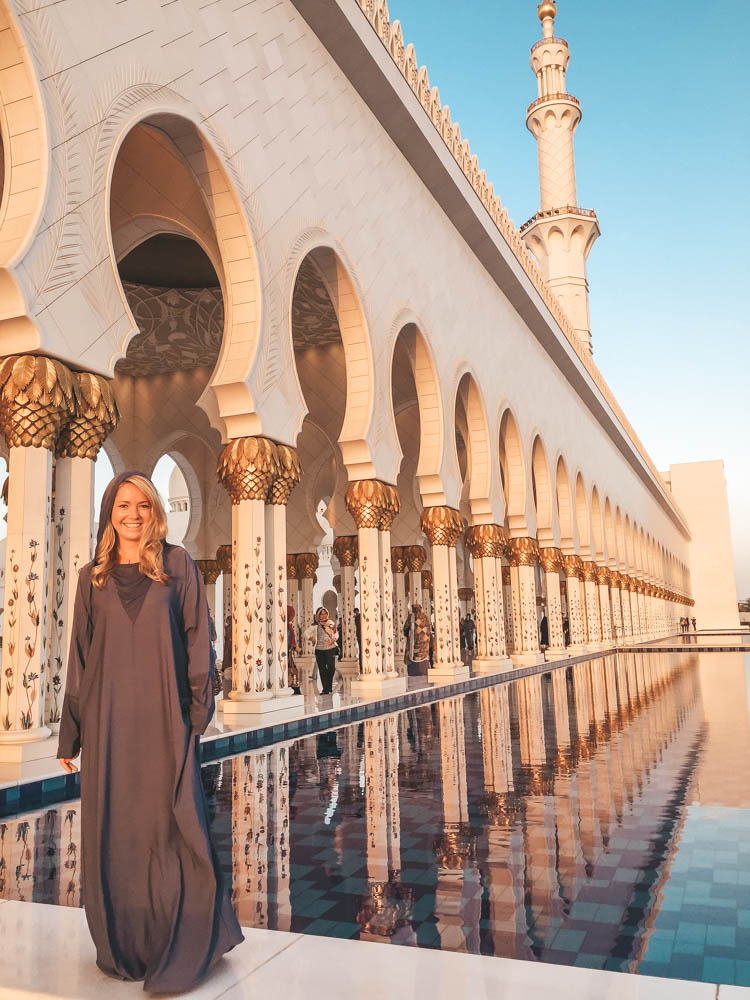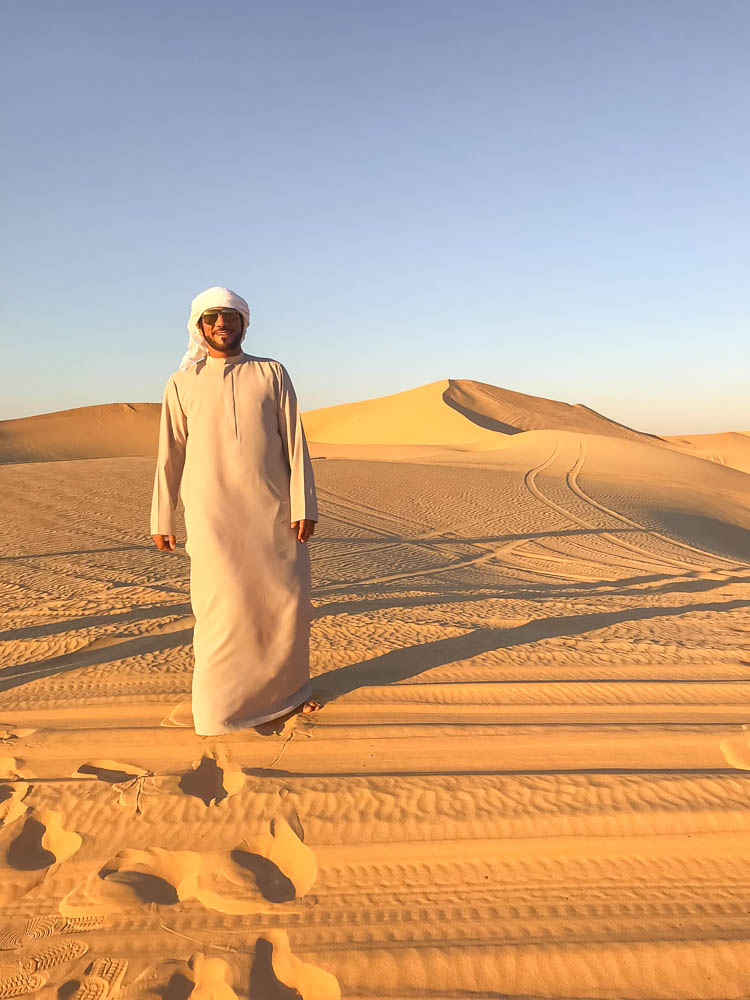 I hope this can be helpful when you visit Abu Dhabi 🙂
Happy Travels!
// Charlotte
Here you can read all my posts and tips for Abu Dhabi: