Qatar Airways QSuites Business Class Airbus 350
As you know, I prefer to fly with
Qatar Airways
when I travel outside Europe and preferably in their eminent Business Class which I think is absolutely fantastic! On my last flight from Doha home to Stockholm, I finally got to experience Qatar's new QSuite, which has even won awards for Best International Business Class. This has been a dream for me since they launched this concept and now it was finally time! I was like an excited child on Christmas Eve throughout the flight 😉
Here comes my flight review of Qatar Airways QSuite Business Class!
QSuites
As with other Business Class flights with Qatar Airways, a flight attendant will always come to you as soon as you get onboard the flight and are sit down in your seat, to offer you something to drink. You can choose between both alcoholic and non-alcoholic beverages. I took the opportunity to take a glass of champagne and also you will get to choose if you want a hot or cold towel for your drink. Due to the warm weather in Doha, it was nice to cool down in a cold towel.
In Qatar Airways QSuite, each seat is like a private suite where the seats in the cabin are divided 1-2-1 with two aisles. If you travel with some company, I would recommend to book the middle seats, because then you can convert your two seats into a double bed in your own suite, how awesome isn't that!
If you travel a whole family and are seated in the middle, you will sit two and two opposite each other. You can then fold down a screen that are set up in between you, in the middle part and suddenly you can all see each other, the four of you. Instead of just a normal seat, it has become a 4 – person suite where two are facing forward in the direction of the flight and two people are sitting backwards, as in a group.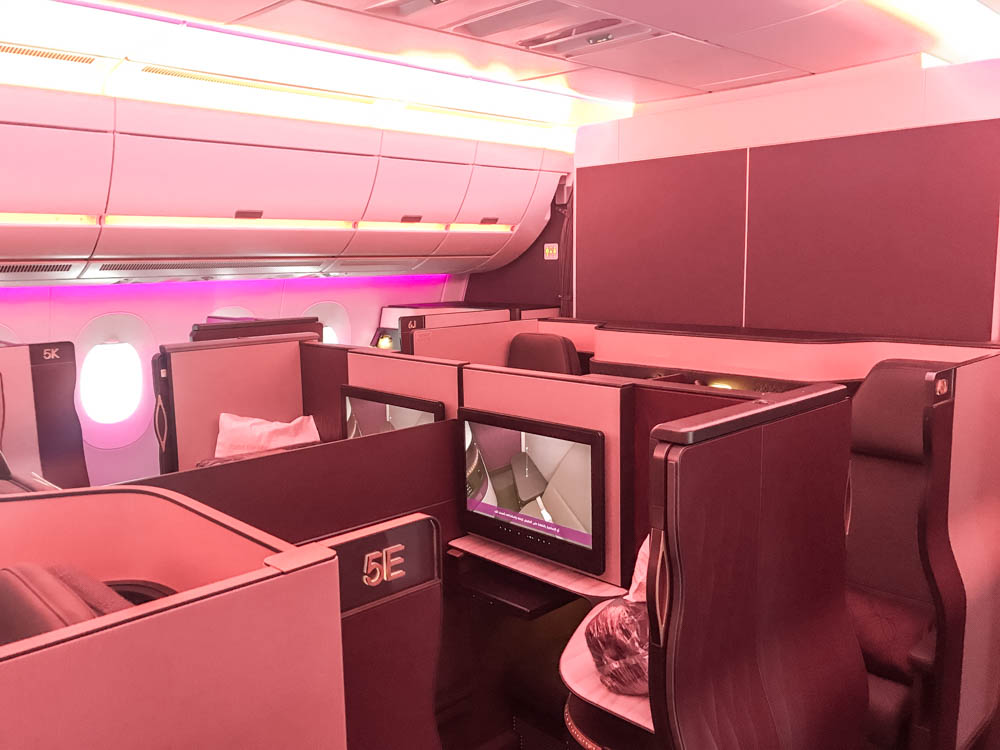 The Control Panel
Each suite has a giant control panel with, among other things, both a USB socket and a universal socket. Beside your seat cushion there is an extra space that looks like a chair but it is a hatch you can open with a large storage space to be able to put your bag, computer or jacket. Here you will find both your water bottle and a couple of noise-canceling headphones.
You can also choose to get massage whenever you want, which I thought was absolutely wonderful and when I wanted to sleep I could fold down the chair so that I was completely lying down and the flight attendant came to do the bedding for me so it became a real bed!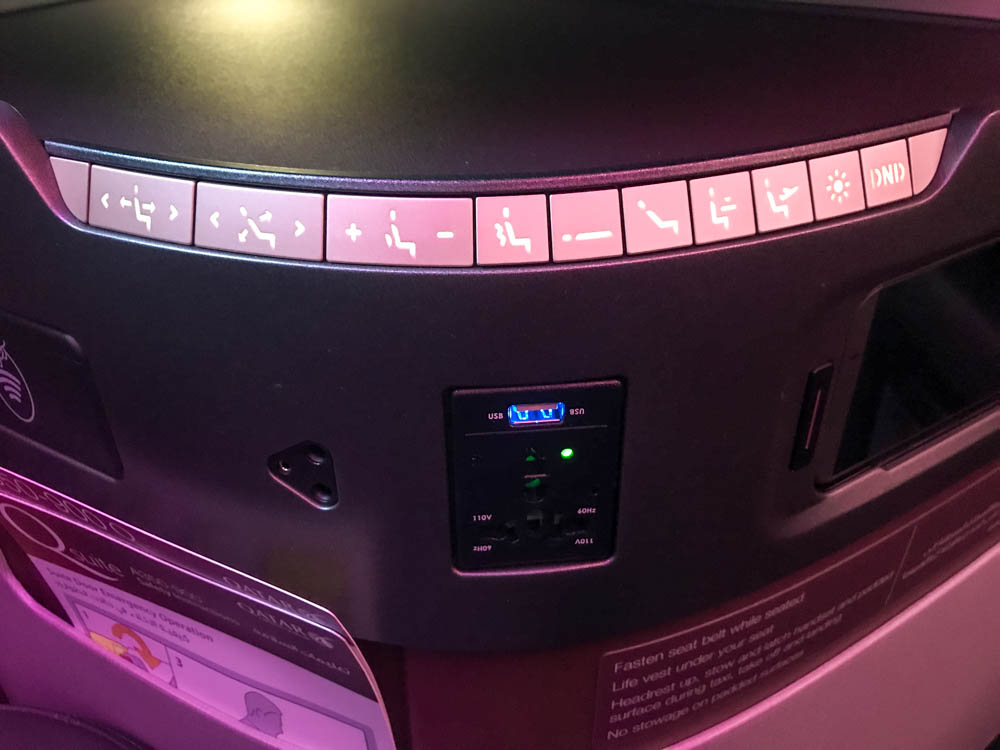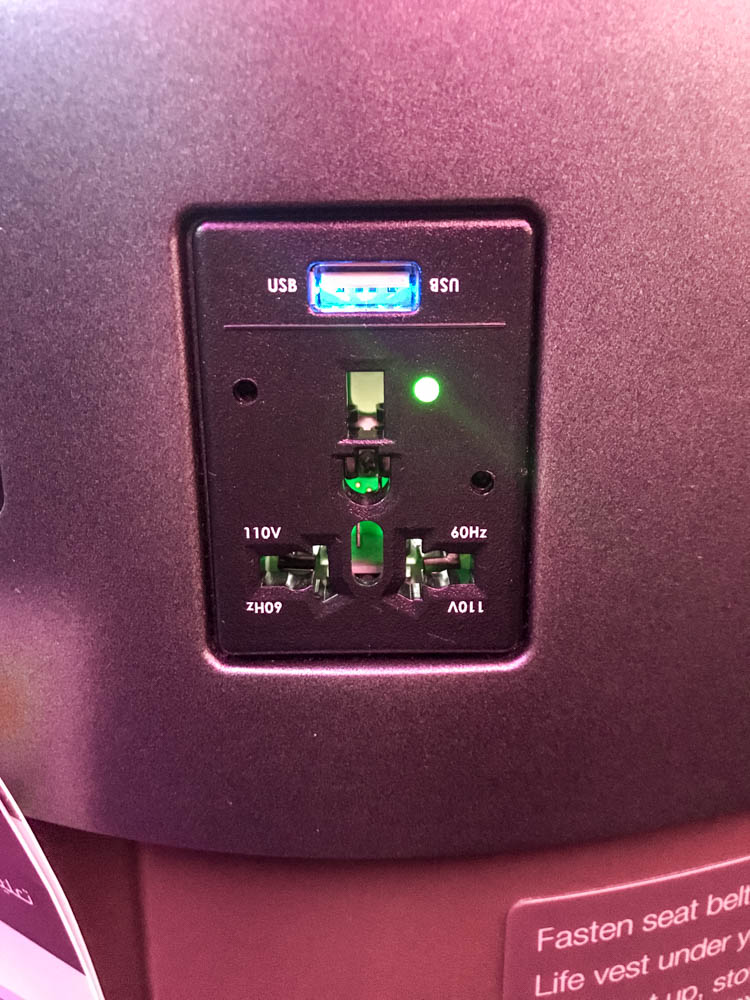 Food + Beverages
Since I had an evening flight from Doha to Stockholm, dinner was served on board. The best thing about Qatar Airways serving is that you can decide when you want to eat and drink during the flight. You don't need to eat at once after takeoff and you can also choose in which order you want your food. If you want, you can start with desert and finish with an appetizer, it is completely up to you. Likewise, you can order drinks whenever you want during the flight. The flight attendants are also diligent about walking around and filling up your glas very often 🙂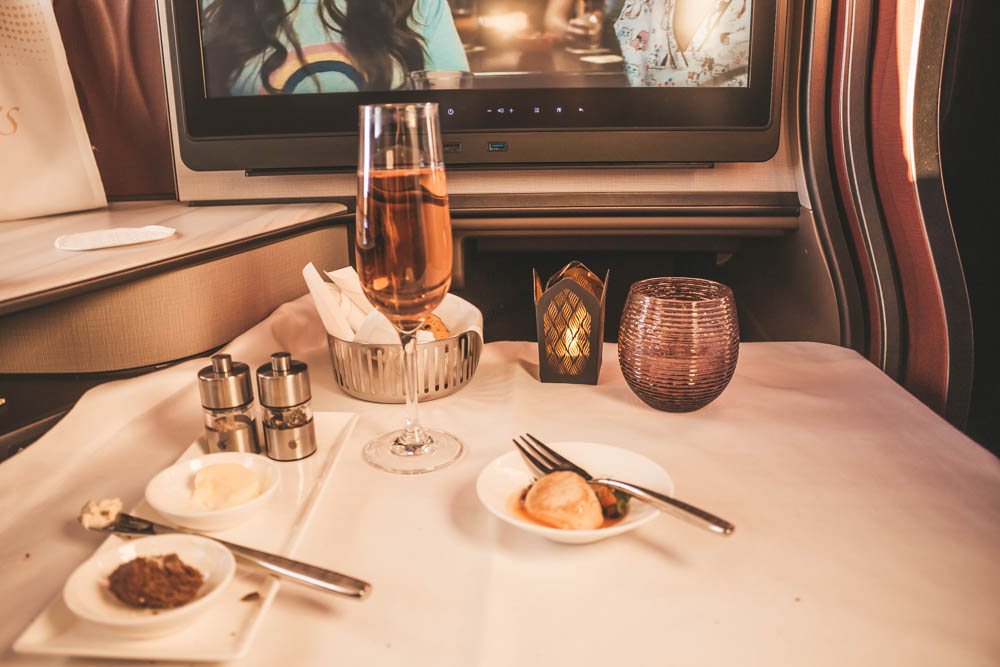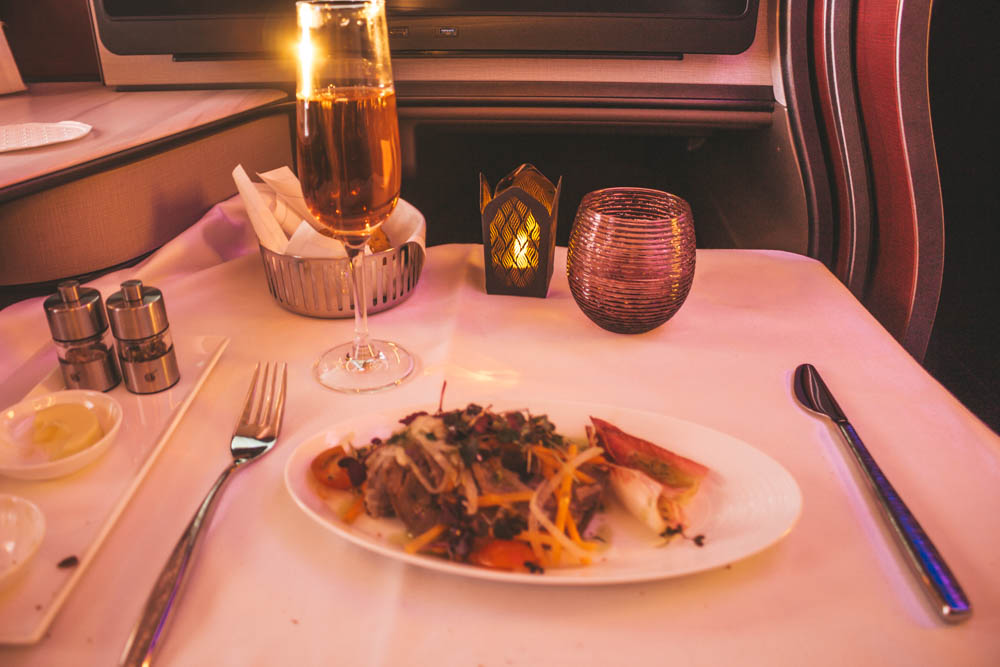 The range of both food and drinks is huge and you will not go hungry or thirsty when you get off the plane. Here you can choose between two different champagnes and six (!) different wines, which is a great range to be in Business Class.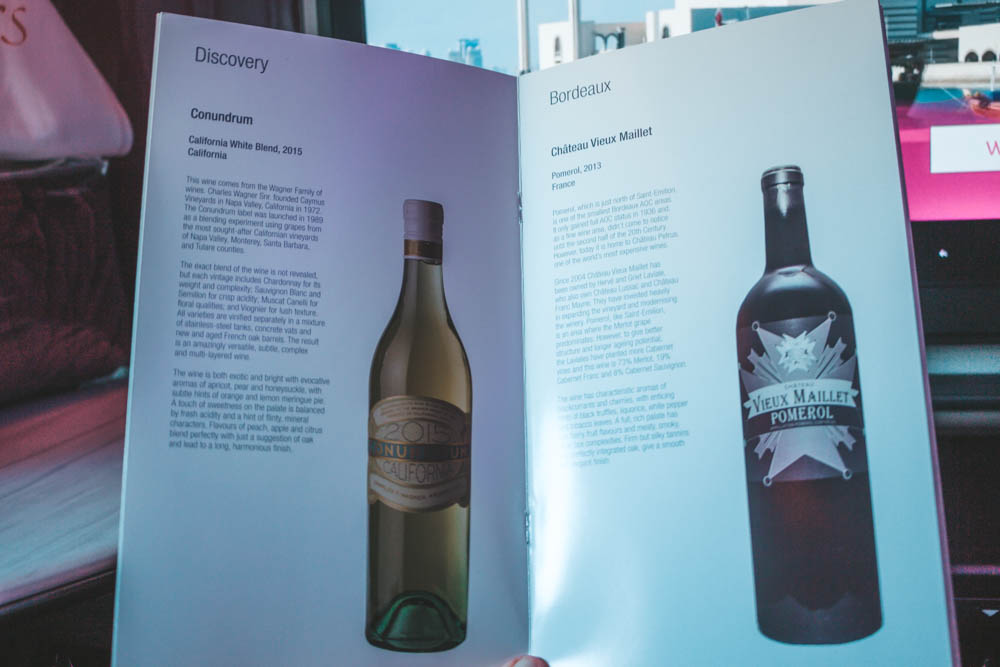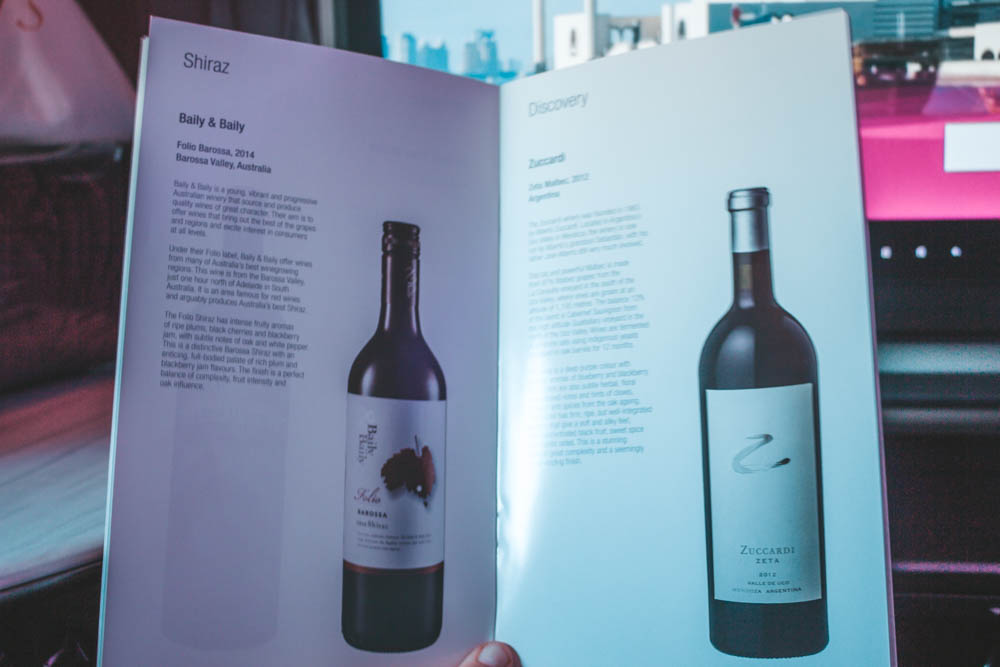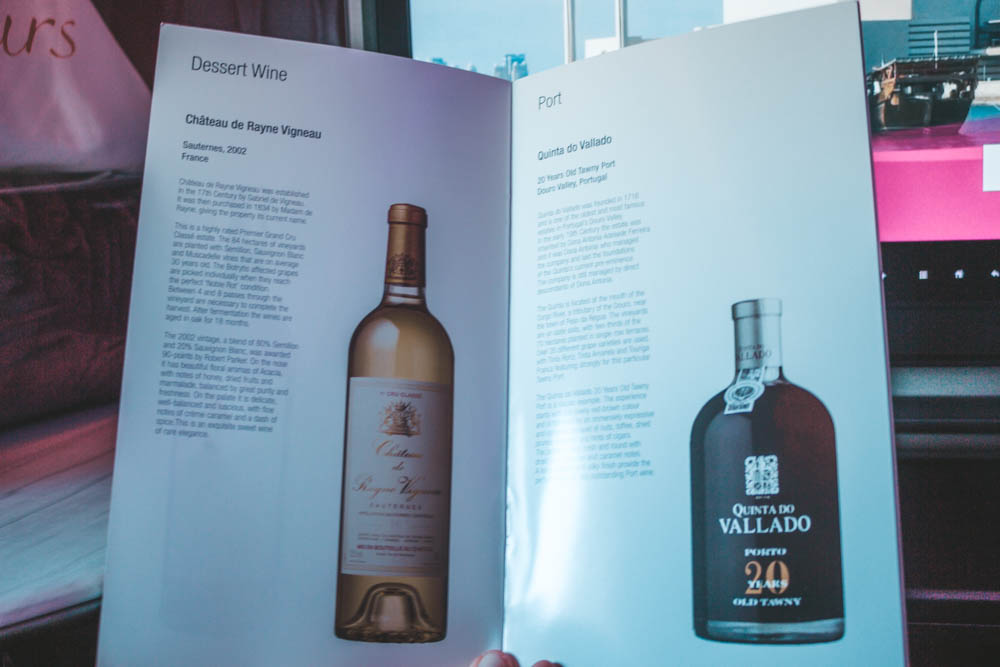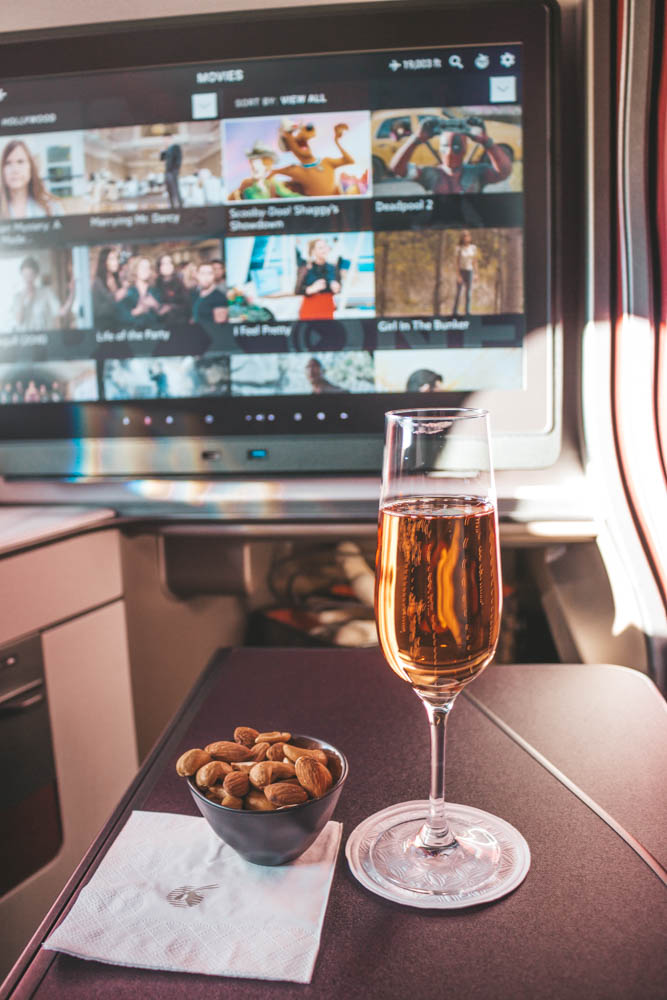 Some notes I was thinking about while flying the Qatar Airways QSuite Airbus 350-900
The TV screen is big
The TV screen is close to you (compared to Qatar Airways Boeing 777) and also has touch screen so you can touch your finger on the screen and navigate around.
It feels like I was sitting in a bunker, very trapped with high walls around me.
Perfect for those traveling by themselves
Good for families with children who can sit together all four in the middle
Each uneven row sits backwards in the aircraft's direction of travel. For example, row 1,3,5,7 etc.
You have a separate door that can be closed and opened.
There are far too high walls to even see your neighbor on the other side.
You can get massage how often you want in your seat.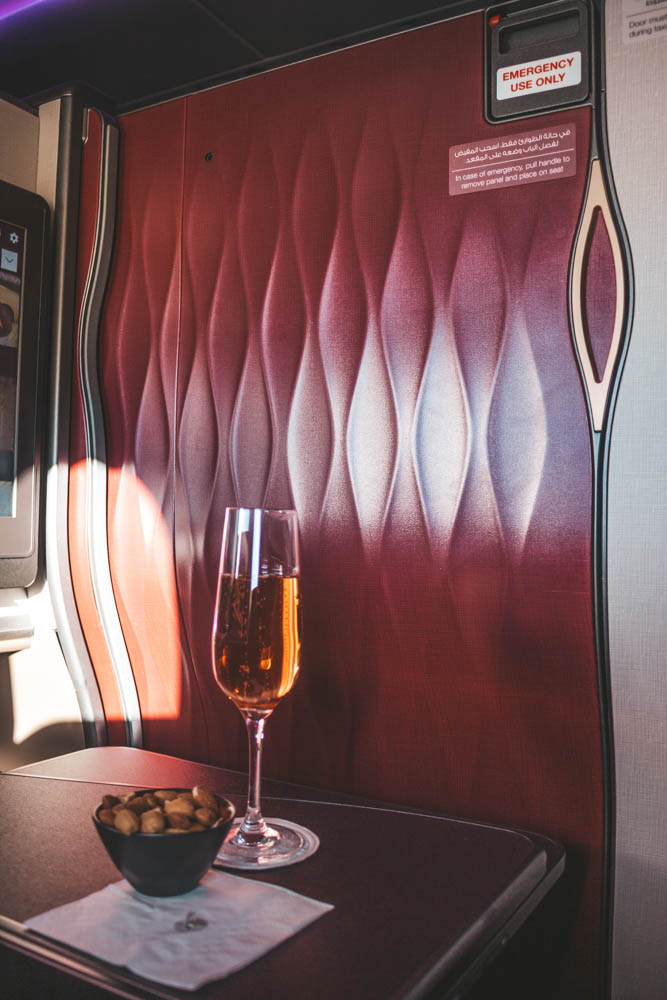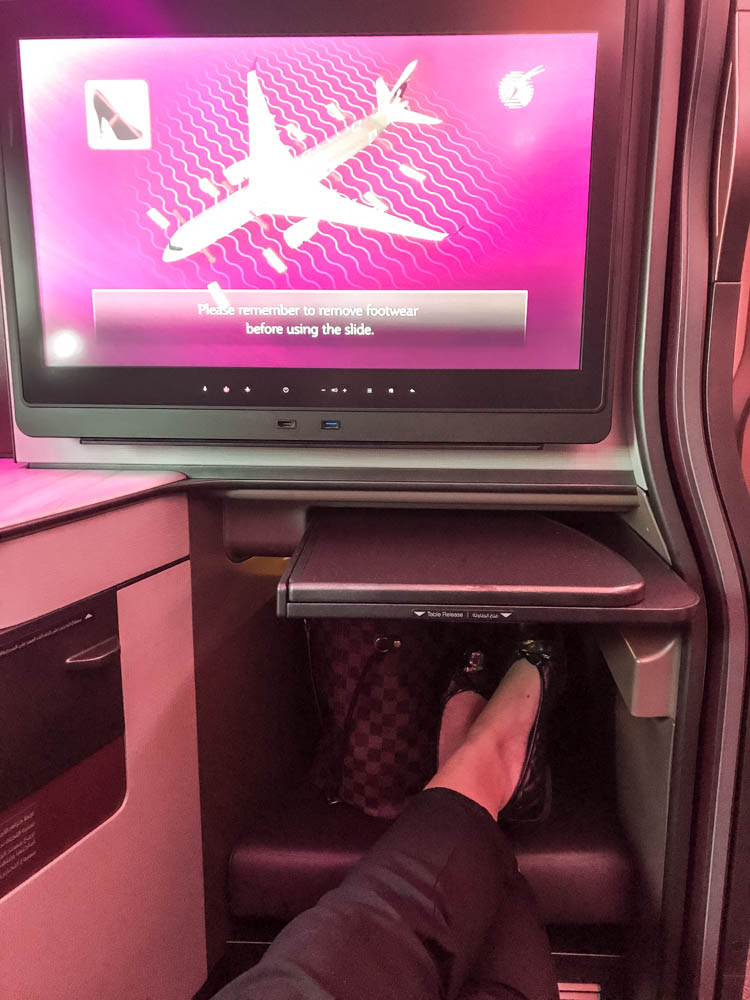 If you also want to travel with Qatar Airways QSuite, here are some examples of routes you can choose from:
Europe
Amsterdam (Flight no: QR 273, 274)
Berlin (Flight no: QR 77/78, QR 81/82)
Frankfurt (Flight no: QR 67/68, QR 69/70)
London (Flight no: QR 1/2, QR 5/6, QR 7/8, QR 15/16)
Paris (Flight no: QR 37/38)
Stockholm (Flight no: QR 171/172)
Zurich (Flight no: QR 95/96)
Munich (Flight no: QR 57/58, QR 59/60)
Asia
Bangkok (Flight no: QR 830/831)
Bengaluru (Flight no: QR 572/573)
Canberra (Flight no: QR 906/907)
Colombo (Flight no: QR 668/669)
Hong Kong (Flight no: QR 816/815, QR 818/817)
Maldives (Flight no: QR 672/673, QR 674/675)
Mumbai (Flight no: QR 556/557)
Shanghai (Flight no: QR 870/871)
Sydney (Flight no: QR 906/907)
Singapore (Flight no: QR 944/945)
America
Chicago (Flight no: QR 725/726)
Houston (Flight no: QR 713/714)
New York (Flight no: QR 701/702)
Washington (Flight no: QR 707/708)
In Conclusion
Qatar Airways QSuite has an incredible WOW factor! With its incredible entertainment system with over 4,000 movies and series, you have your private suite without being disturbed by anyone else. QSuite is really an experience out of the ordinary in Business Class and I can promise you will like it as much as I did! 🙂
Have you flown Qatar Airways QSuite? What did you think of it, tell me!
Happy Travels!
// Charlotte