How To Visit The Mahanakhon Building in Bangkok
The Mahanakhon Building is Bangkok's tallest and latest building, also called King Power Mahanakhon and is 314 meters high with a glass floor at the top that you can walk on. This skyscraper differs from the others in its architecture which is special and you can see this skyscraper from anywhere, no matter where in Bangkok you are.
Here comes a lot of practical information on how to get here, how much it costs, what it looks like and what is acceptable and not when visiting this building 🙂
How To Visit The Mahanakhon Building in Bangkok
I visited Mahanakhon building in early January 2020 and went here on a Saturday. I was thinking to book my ticket on their website but it was fully booked for several days so I got a little nervous that I couldn't make a visit to this building.
So instead of booking online, I decided to go to the Mahanakhon building on Saturday morning, the same day I had planned from the beginning, by subway, the blue line, to Si Lom station. I knew that Mahanakhon opened at 10:00 am every day so I wanted to try and be there when they opened. From here you can then switch to the dark green line which is a skytrain (BTS) that goes to Chong Nonsi station, only two stations from where I got off but there and then I didn't know about it until afterwards when I left from there 🙂
However, I jumped off at Si Lom station and got help from a tuk tuk man who drove me to a travel agency, you can say, that provides all excursions around Bangkok and from this travel agency I bought my ticket to the Mahanakhon building. My idea was to actually go directly to the Mahanakhon building, which I thought I had done but didn't know that I would switch to the skytrain, which was bad research by me 🙂
After buying my ticket, the tuk tuk man drove me to the entrance to the Mahanakhon building and dropped me off there. For all this he got 100 baht from me.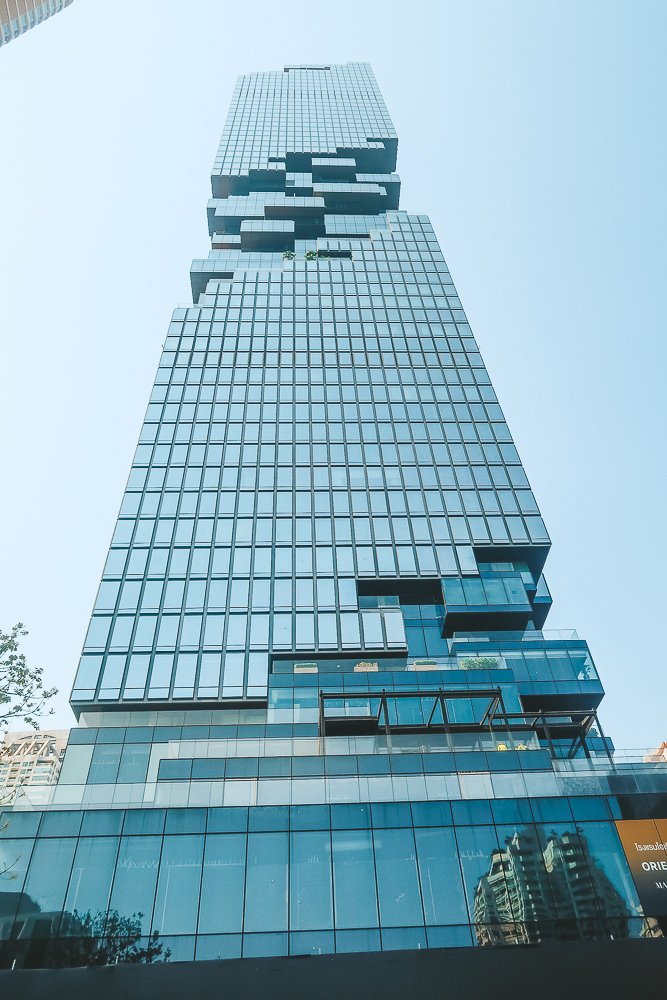 Mahanakhon Building
Tickets
I went to the ticket office and showed my receipt and got back an entrance ticket and a drink ticket that I could redeem at the bar at the top of the glass floor when I wanted. I paid 1000 baht for this at the travel agency and here at the counter one ticket cost 880 baht but then no drink is included at the bar on the top.
You are not allowed to bring water or food when you visit the Mahanakhon building. I had to dump my water bottle before the security check, which everyone had to go through and leave their bag on a band that is being scanned. Then I got, with other tourists, referred to one of the lifts with a person working there who took us up to floor 74.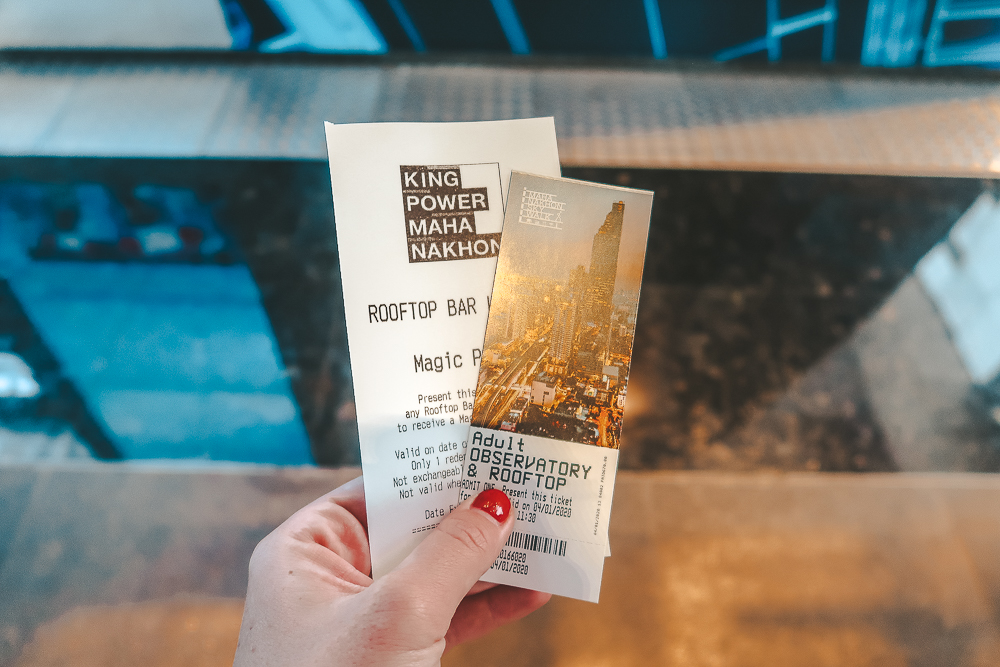 Floor 74
On this floor you see as soon as you step out of the elevator an observatory deck where you can see Bangkok from all four dashes. Here I walked around before taking the escalator up to floor 75, where I was given shoe covers that I had to put on before I stepped out on the glass floor. Once you have the shoe cover, there is either a spiral staircase or a glass elevator that takes you up to floor 78 where the viewpoint is.
Floor 78
So this is where you should go if you want to be outdoors at the Mahanakhon building and go out on the glass floor to have Bangkok city under you. It was 11:30 and it was 33 degrees outside, radiant sun and perfect view to see the whole of Bangkok. I love buildings like this! 🙂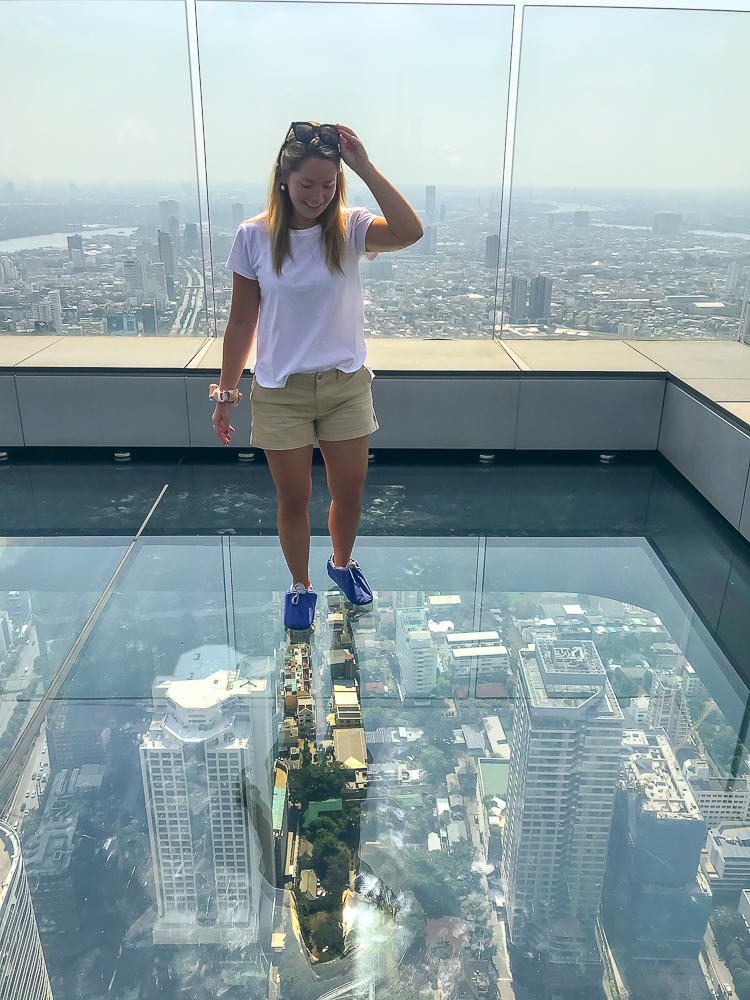 Mahanakhon skywalk
To go out on the glass floor, ie the skywalk itself, you have to put on the shoe covers you got on floor 75, leave your bag and all the accessories on a shelf. You are not allowed to bring any camera, mobile phone, selfie stick or any other loose objects with you. I had to ask one of the staff to photograph me and you can only do this behind a railing a few meters away from the glass floor. It is very clearly marked where you are allowed to stand as a photographer.
At this time there were not so many people here at the same time, which was really nice. No queues and no congestion, maybe because it was in the middle of the day and very hot. From the beginning I had intended to come here in the afternoon when they open up their rooftop bar but then I think there will be a lot more people, so if you want to come here I recommend to come as soon as they open due to least people.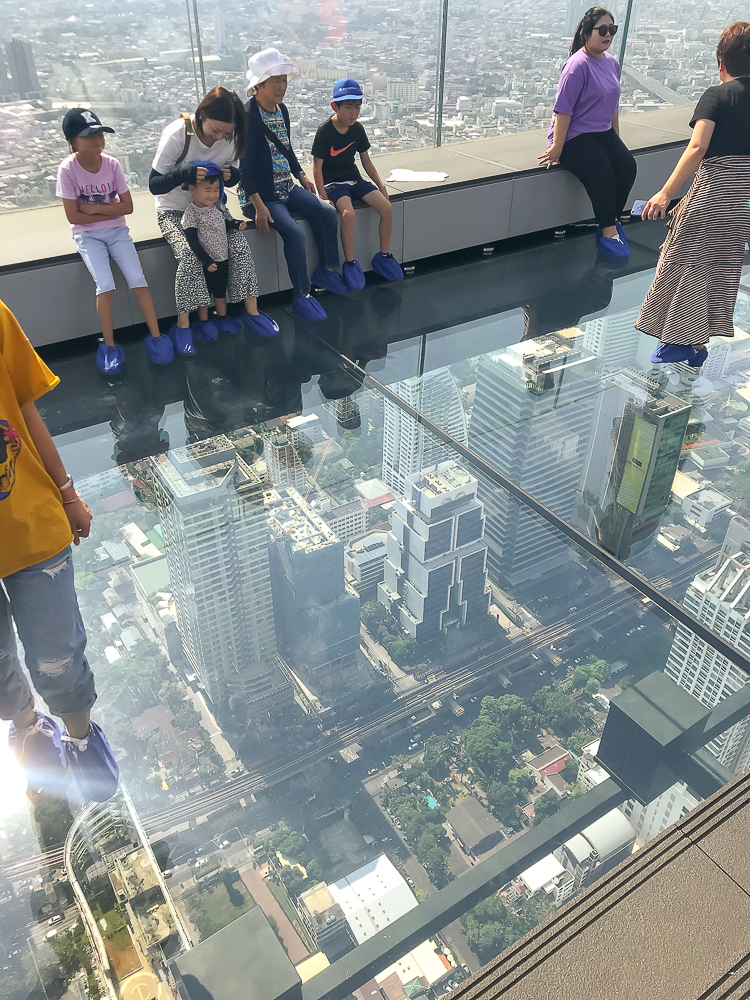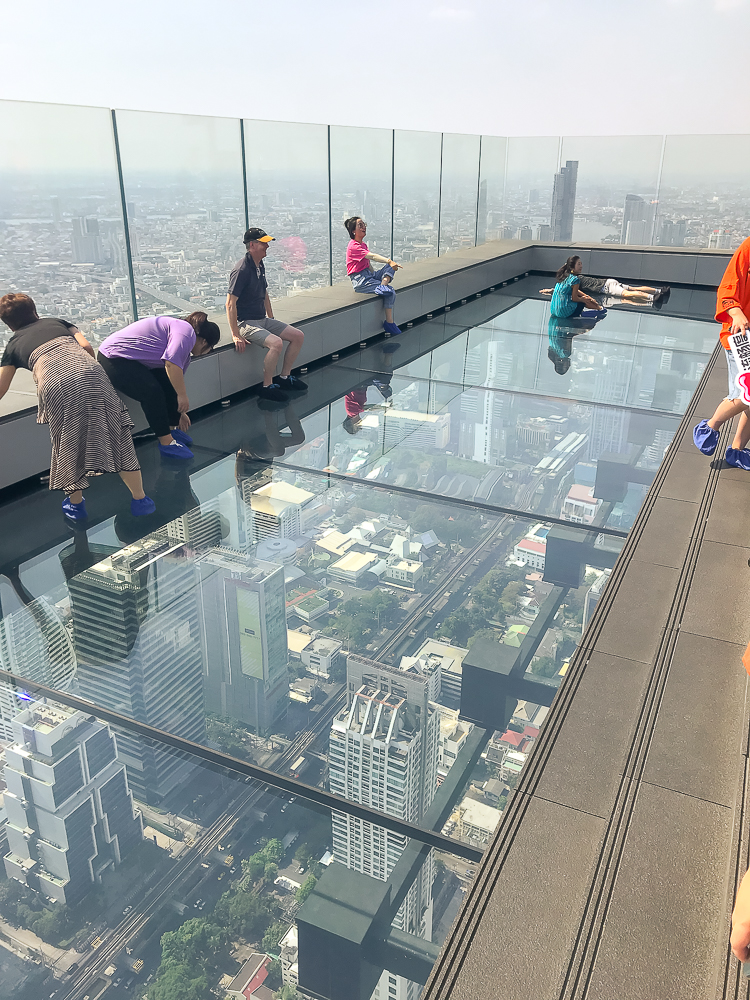 Scary
For the first time in my life, I became really shaky when I looked down at the same time as I was stepping out on the glass floor. This is something I have never felt before and I am a person who loves these things and go to the top of all the tall buildings around the world. I don't know if it has to do with age but I got really shaky in my legs and arms but as soon as I looked straight out it went well and I could get out on the glass floor.
When I was done with the glass floor and all the photos had been taken, I went upstairs to their lounge area where they also open a rooftop bar just in time for the sunset. But when I was there it was only chairs and couches, no bar, so I sat down on a sofa and just enjoyed being in Bangkok and looking out over the city in peace and quiet.
Then I went down to the same floor as the glass floor is, a bit away, right by the elevator, because there is a bar that only serves drinks and because it included one drink in my ticket I took a soft drink to quench the thirst and be able to enjoy Bangkok even more. A soda here costs 190 baht so I was glad it was included in my ticket.
This was really cool and I am so happy that I got here, that there was space enough for me and that I could get out on the glass floor! But my recommendation is to book tickets in advance on their website or come here mon- fri, as it is not as fully booked as on a weekend. It's really worth it for those who dare! 😉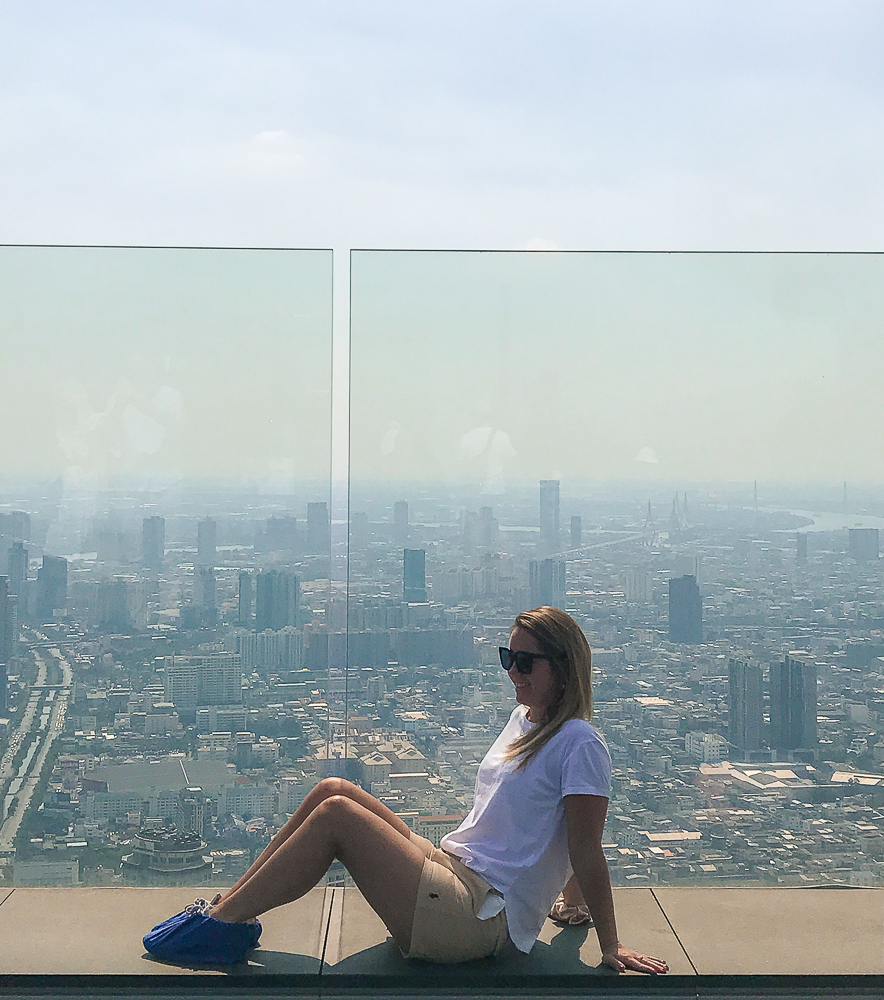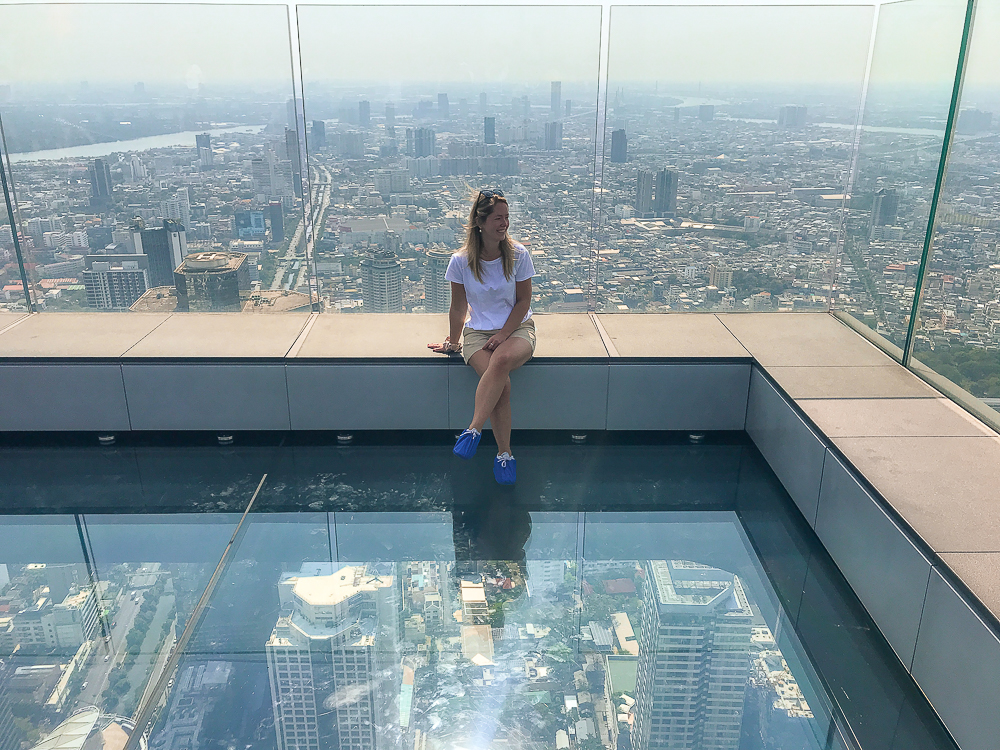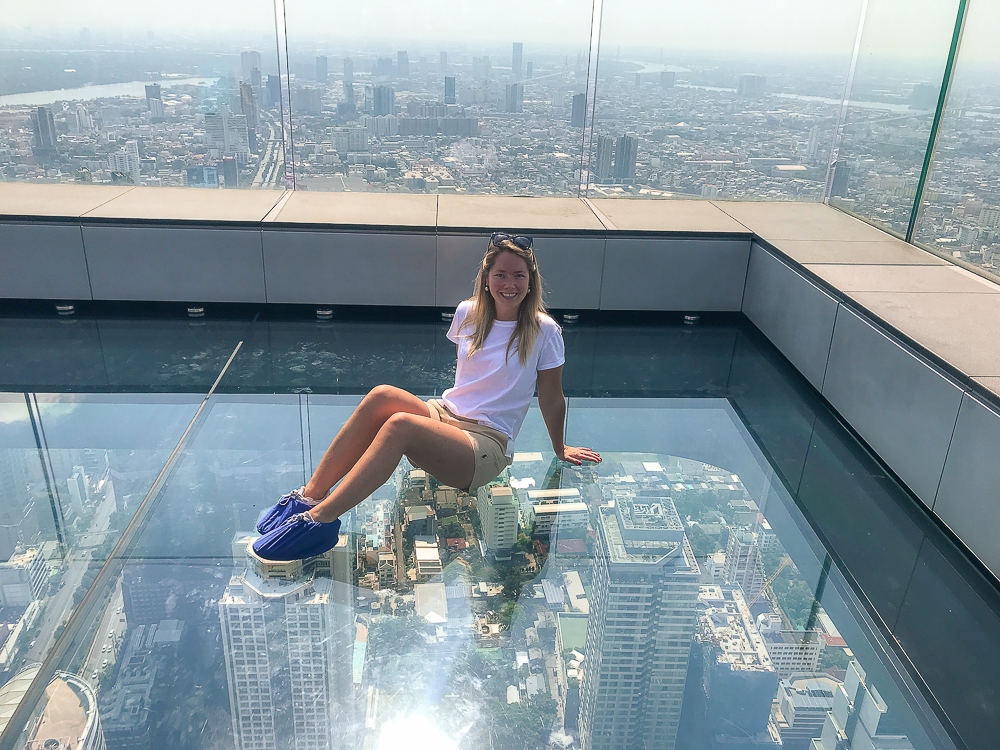 Practical information:
How to get to Mahanakhon Building in Bangkok?
The easiest way is to go to Chong Nonsi station, which is on the dark green line. Mahanakhon building is right next to the station.
How much does the entrance ticket in the Mahanakhon Building cost?
It cost 880 baht per person and adult to visit the Mahanakhon building in Bangkok. It is cheaper for children and if you come as a family.
How to buy ticket to Mahanakhon Building?
You can either buy tickets on their website, then you can choose which day and time you want to visit the building, they are open every day 10: 00-24: 00. It is cheaper for children and even if you come as a family of two adults and two children, then there is a family price. Here you can buy tickets. 
I bought my ticket through a "travel agent" locally in Bangkok just a few blocks from the Mahanakhon building. It is a local agent who sells tickets to all sorts of different excursions and attractions around Bangkok and I paid 1000 baht for a ticket.
You can also buy tickets directly at the counter when you arrive. Expect it to be a queue and you may not be able to get up at once. There are times when you have to get up and there is a limited number of people in each group for each time. Even if you arrive at 10 in the morning, you may not get up until 13, just so you know. I had between 11: 00-11: 30 so within that time I must have passed the gate but once I'm up there I can stay as long as I want.
What not to bring?
You are not allowed to bring water or food with you if you are going to the building. When you go out on the glass floor, you are not allowed to bring your camera, mobile, selfie stick or any loose objects. You can put your bag on a shelf that is there with staff who guard it.
How long can you stay there?
You can visit the Mahanakhon building for as long as you like. There is no time limit once you have entered the building.
When to Visit Mahanakhon Building?
Now I was there in the middle of the day and there were not so many people, which I thought was nice but very warm. I would recommend coming here in the afternoon and staying until sunset which I think is magical to see from here but then I also think there will be a lot of people. So it all depends on what you are feeling 🙂
Is there a restaurant?
Yes there is a restaurant on floor 76, a staircase up from where you get your shoe covers. Here you can both eat and drink, perfect for lunch for those who come here in the middle of the day. Then there is a bar at the top, just before the glass floor where I sat down and had a soft drink that was included in my ticket but there is only bar serving with lighter snacks.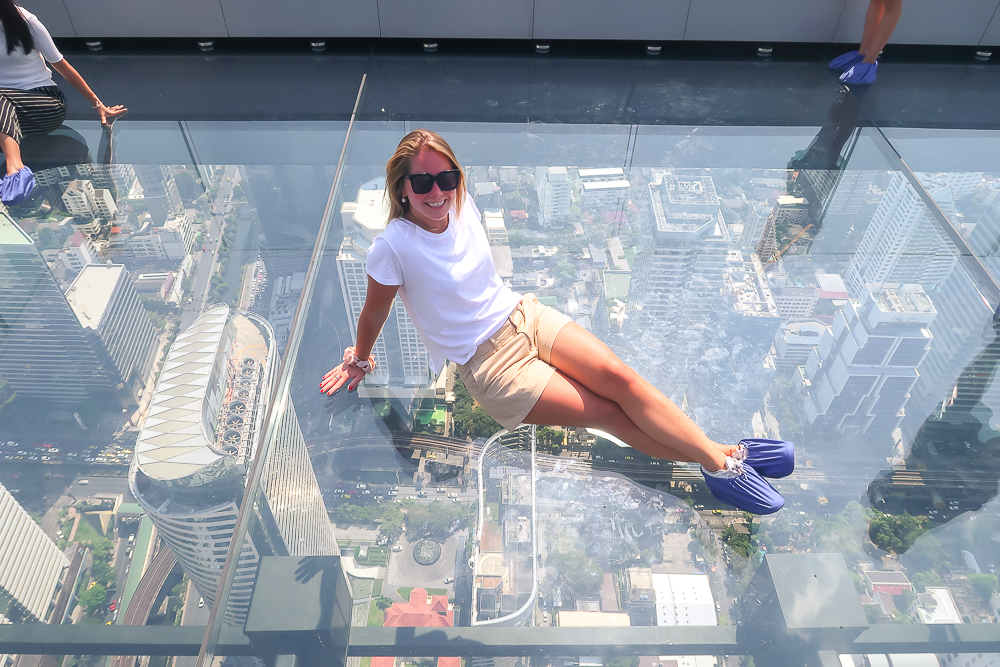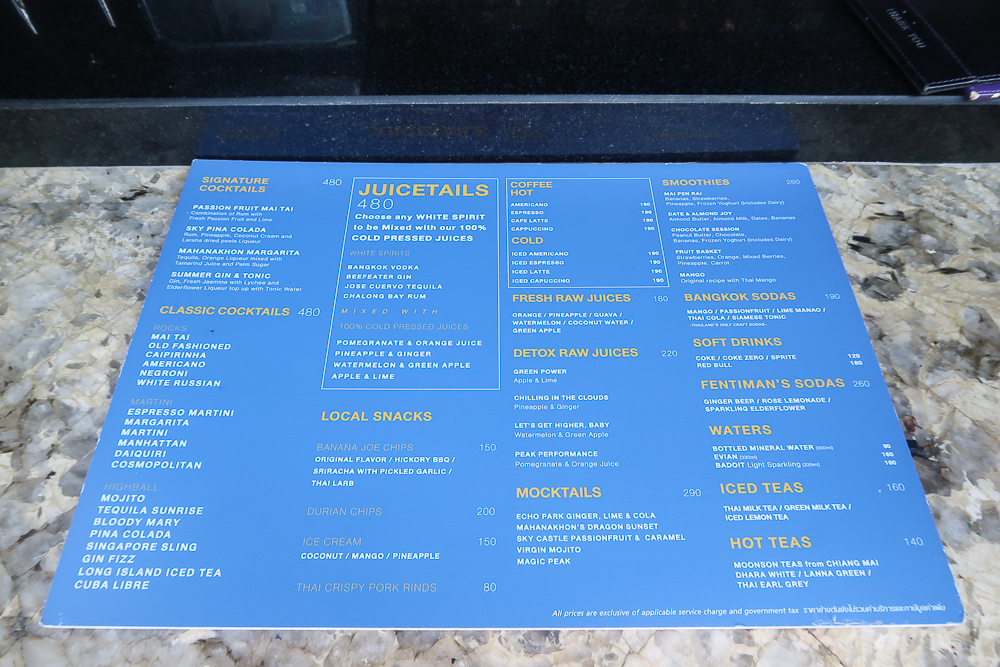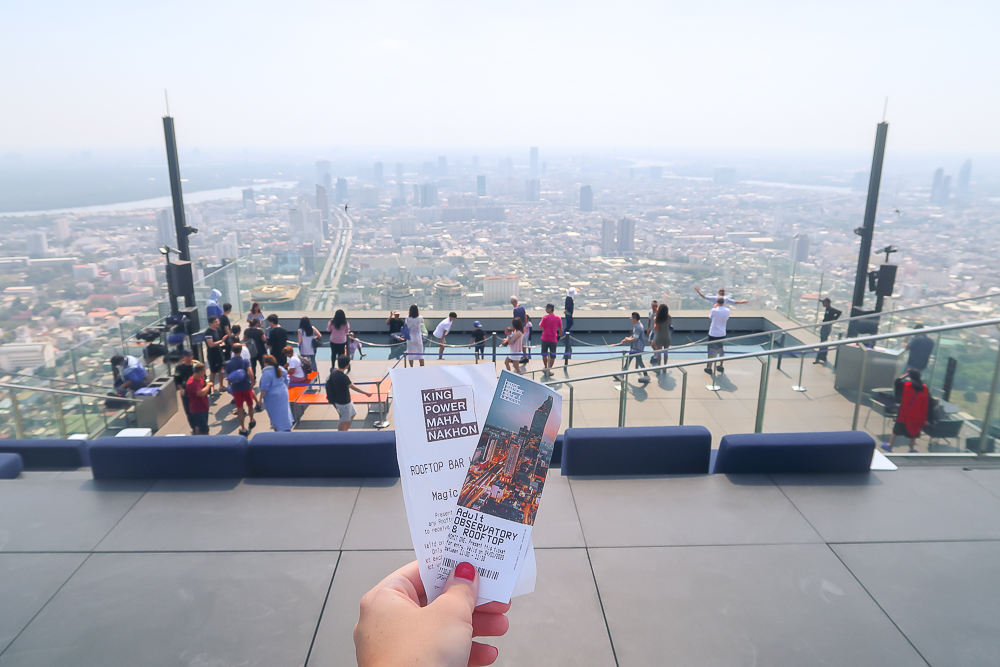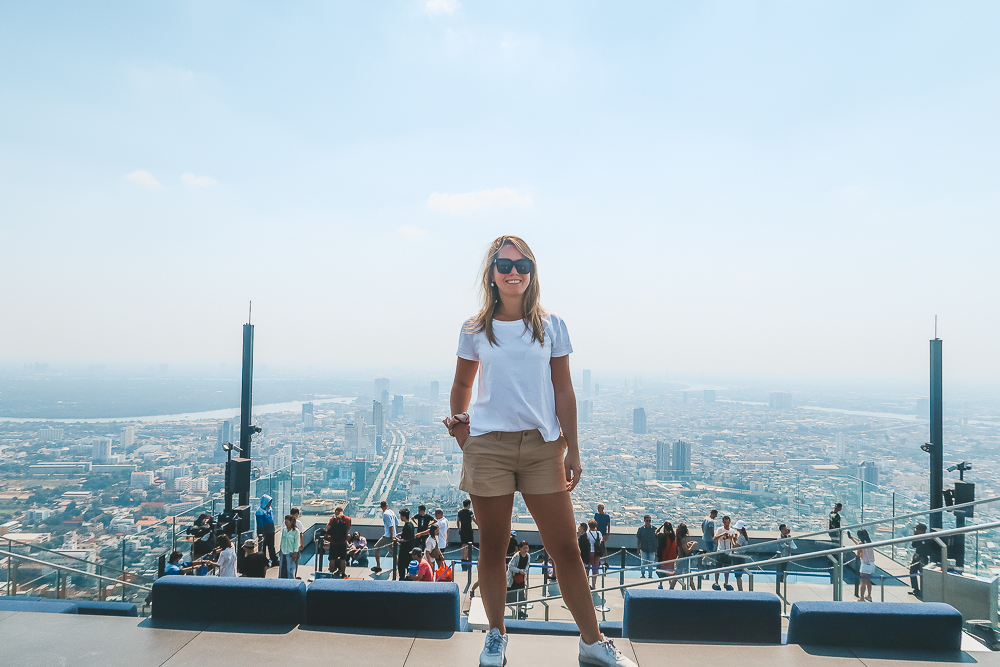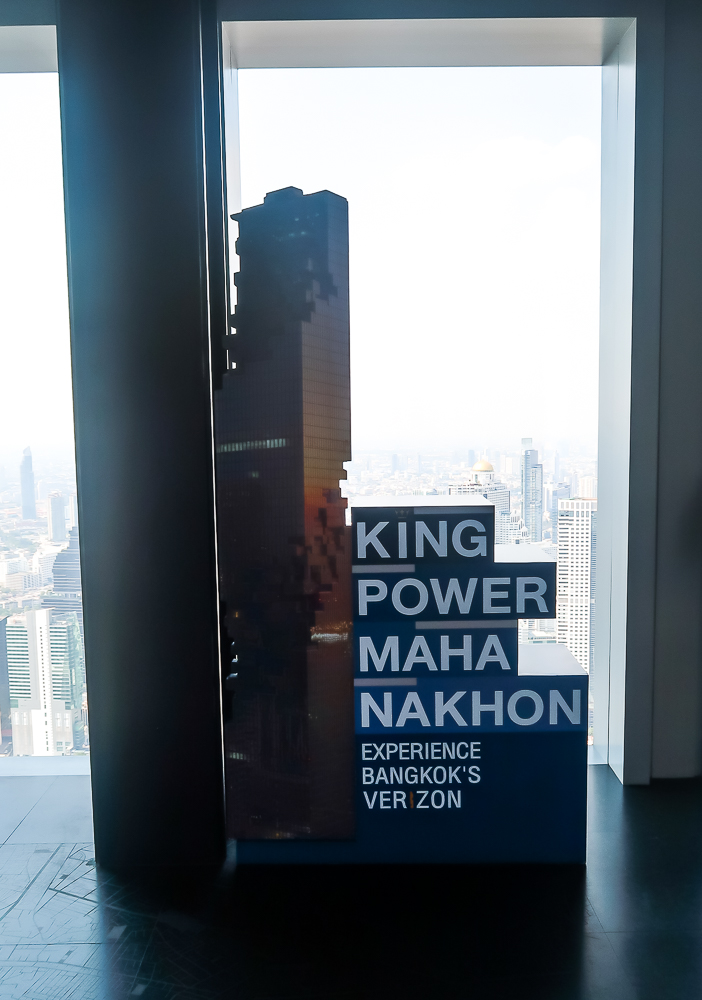 Have you been at the top of the glass floor of the Mahanakhon building in Bangkok, what did you think? 🙂
Happy Travels!
// Charlotte