In collaboration with Visit Tirol. 
St Anton am Arlberg – An Austrian Gem to Ski Resort
I have experienced something magical, absolutely fantastic and very wonderful. I have seen the most exceptional views I could only dream of and not any views, but the Austrian Alps and its ski resorts St Anton and Ischgl. Ski resorts I heard so much about but never visited before, so this was experiences beyond the ordinary that I am used to otherwise 🙂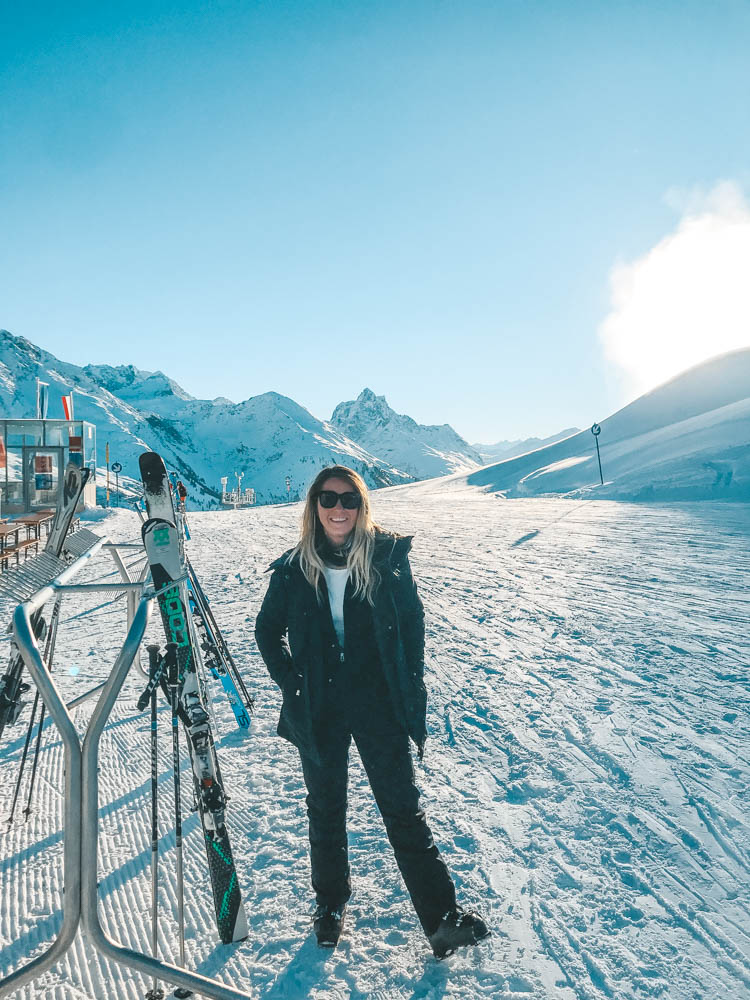 St Anton am Arlberg
With only 50 minutes by car from Innsbruck Airport you end up in the middle of one of Austria's most popular and famous ski resorts, namely St Anton. The road going to St Anton was smooth and not winding at all as it can be in many other places, instead it was straight line almost all the way which made it comfortable to go by car. But relax, you don't have to go with car if you don't want to, there are also trains to St Anton. There is a train station in the middle of the village that you can take from many nearby towns and cities.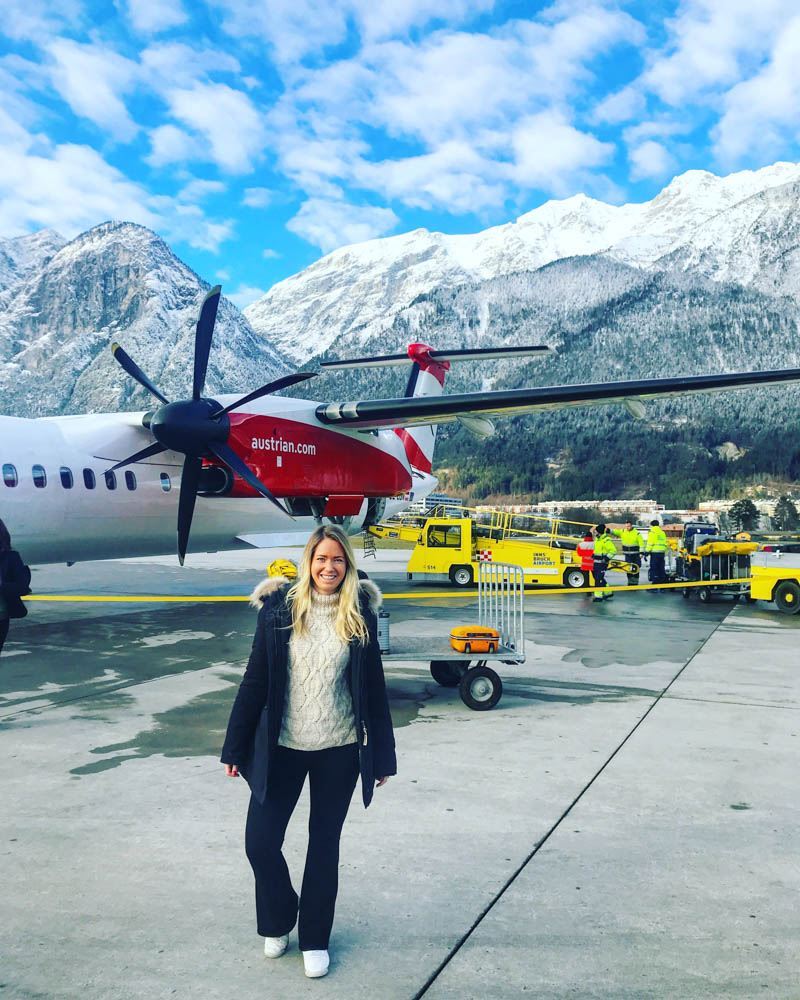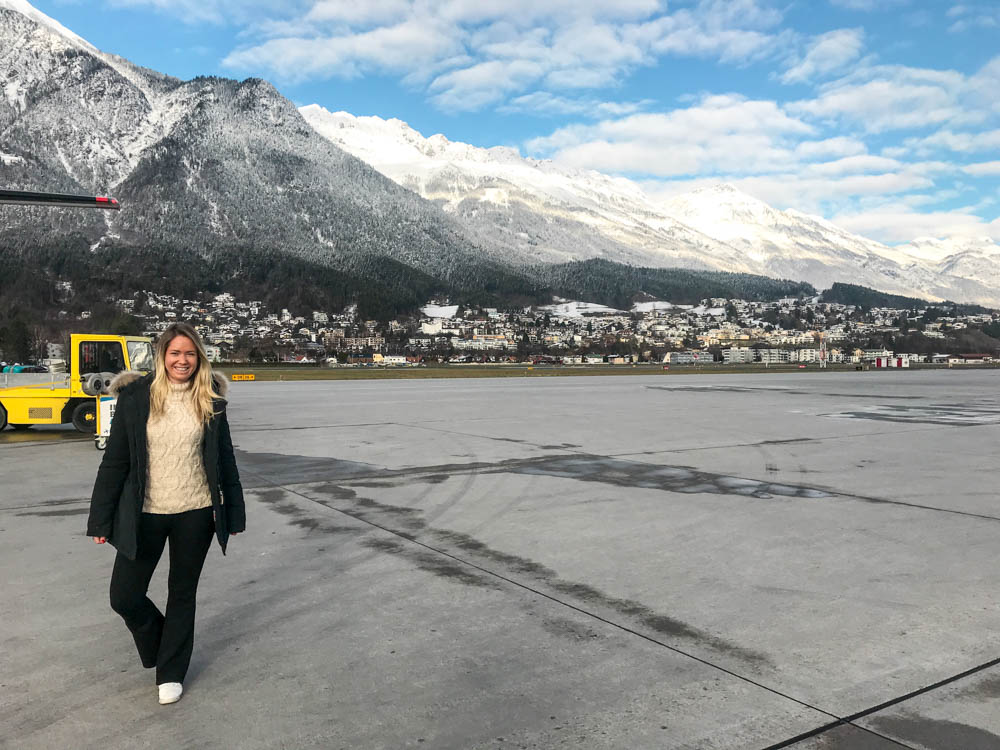 St Anton Ski Area
St. Anton am Arlberg is one of the best ski resorts in the world and I understand why. The ski resort has 280 km of ski trails and is connected by 87 cable cars and lifts. The area in and around St. Anton consists of two parts: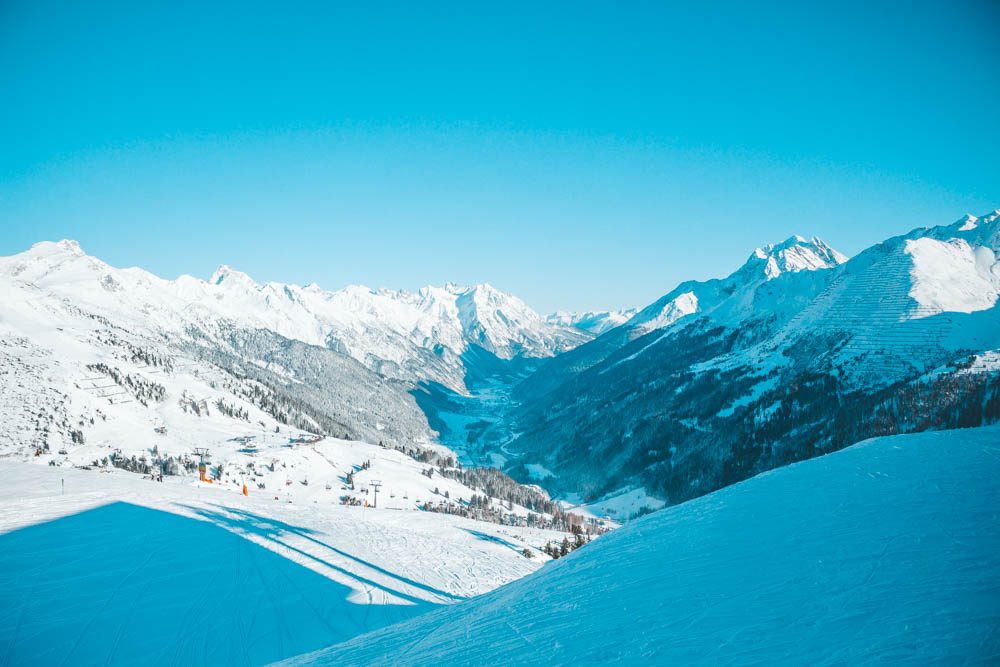 Kapall and Galzig
The first part is the mountain called Kapall. From here to St Anton you have the whole color of range with pistes. At the top of the mountain there is an open ski area which take you down through pistes through the forest down to St. Anton. The other part is the northwestern part down from the mountain Galzig and around there are mostly nice pistes. From Galzig it is possible to go further up through the lift system to the mountain Valluga which gives you a wonderful high altitude feeling. Not too far away is also the Wall of Fame – it is like a small museum with lots of pictures of celebrities who have been skiing around here.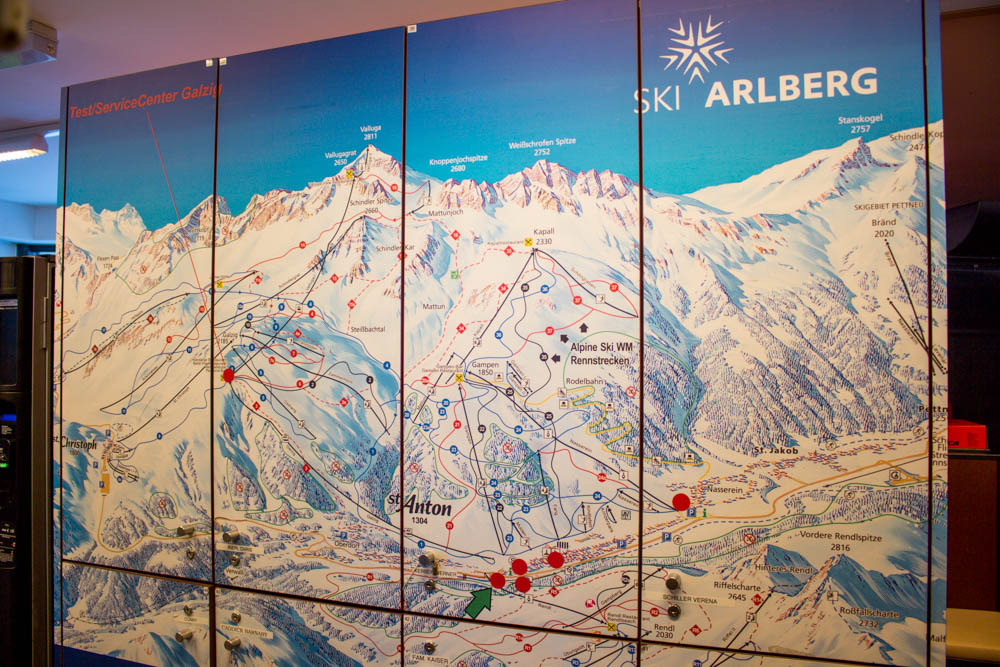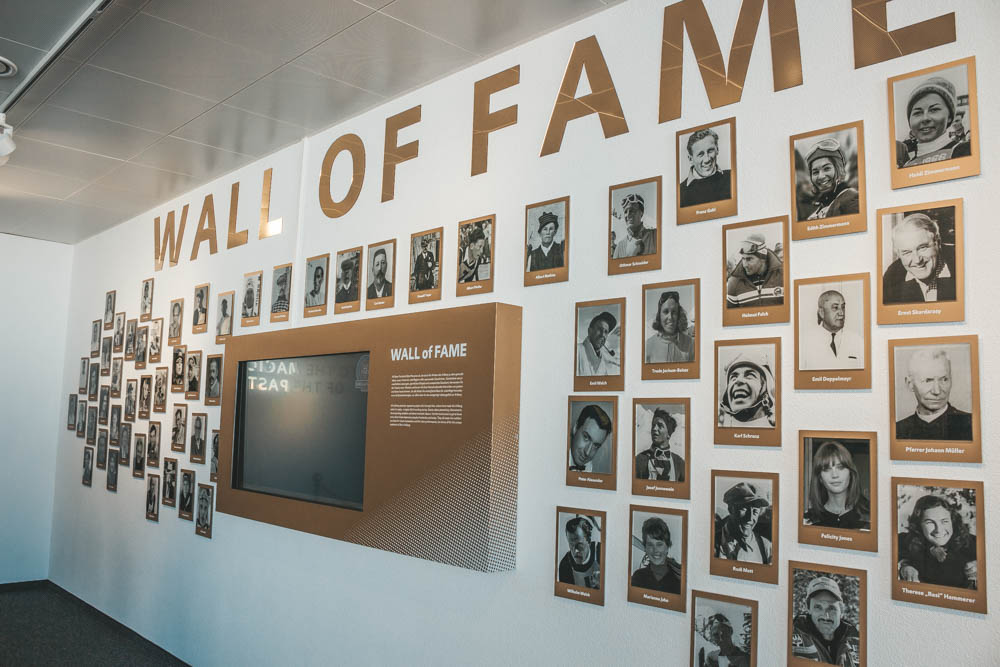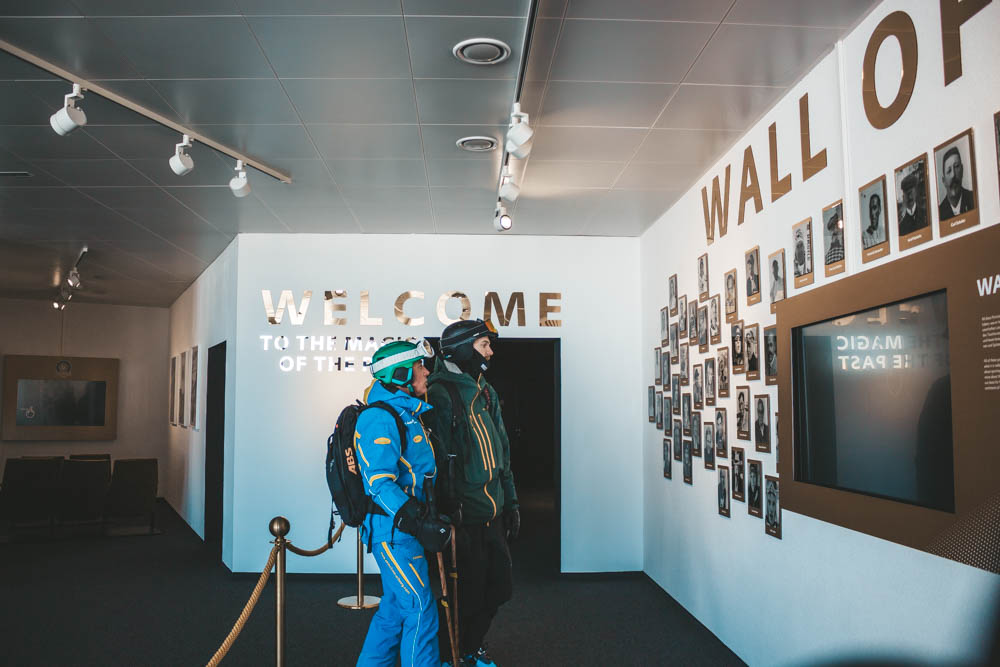 The area in St Anton is very large with a lot of snow, which makes it known for many skibums around the world to come here to do a "season" over the winter for work and skiing. Unfortunately, it has never been my thing to do but I can understand why they choose to come here to St Anton 🙂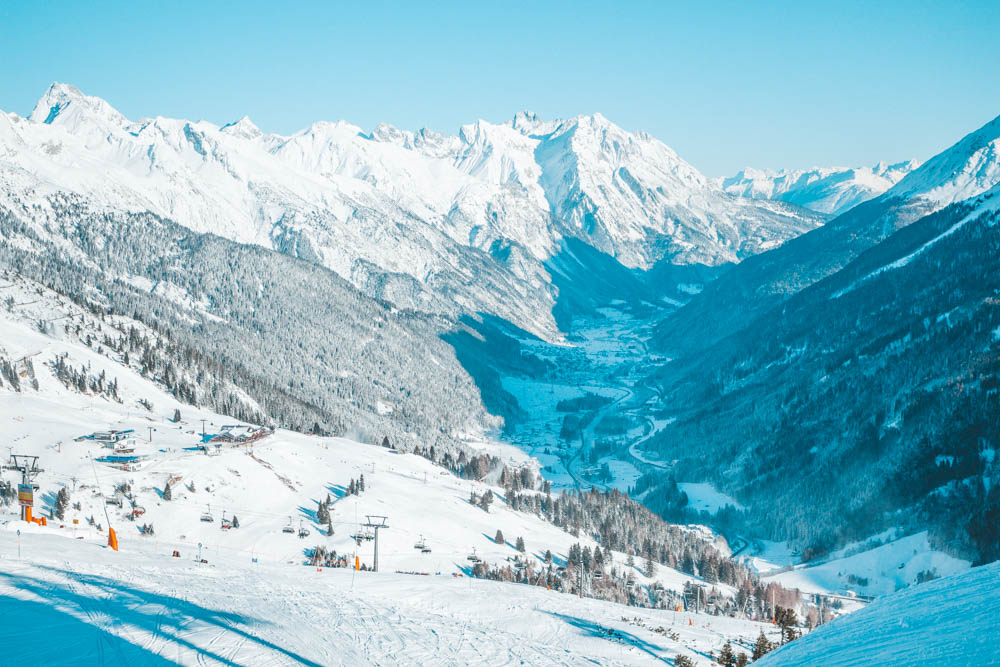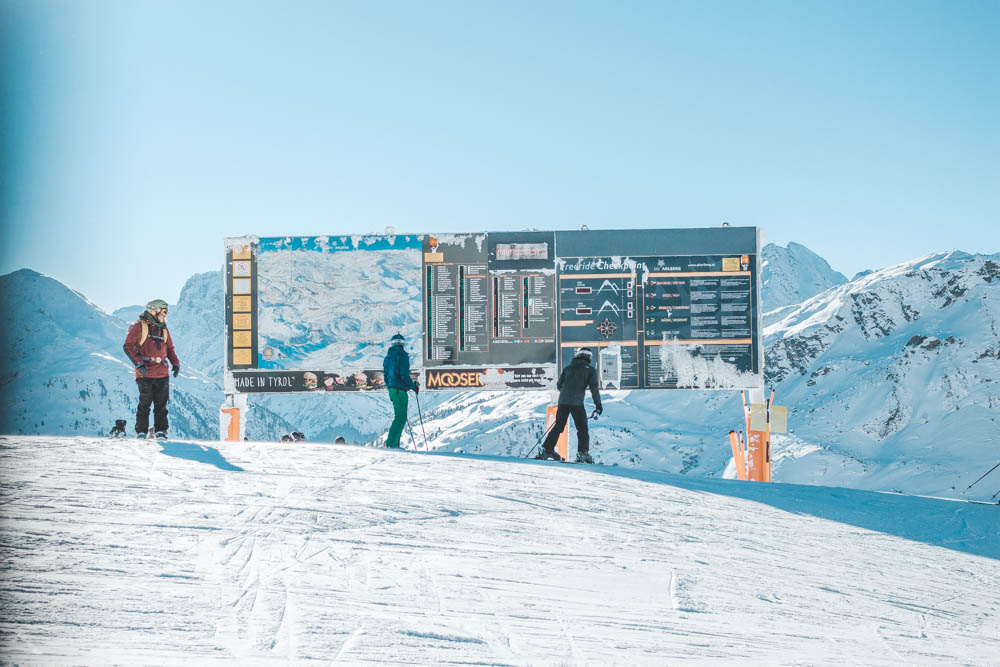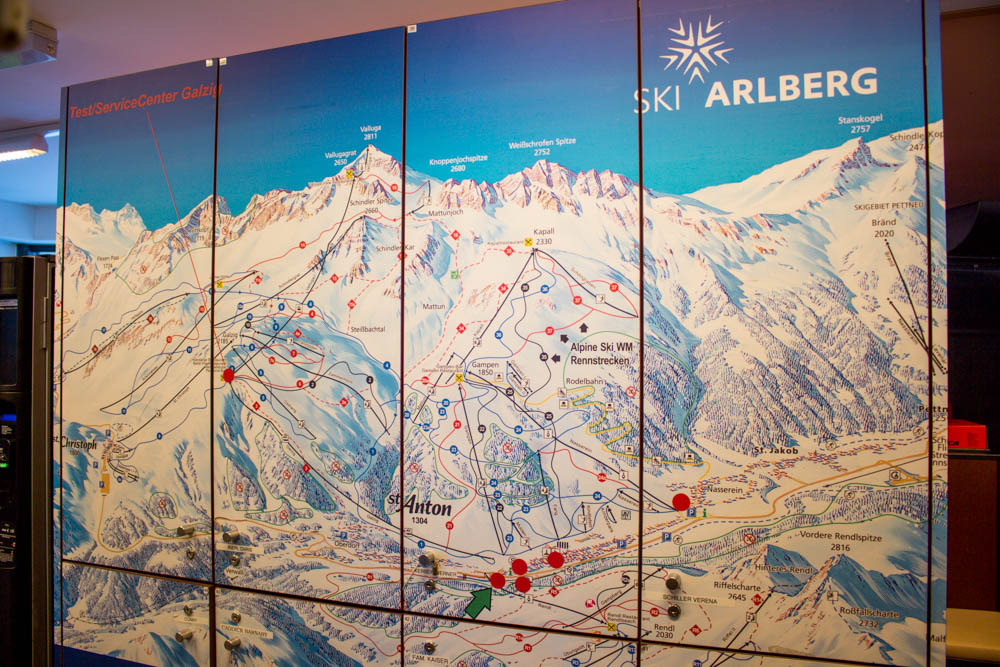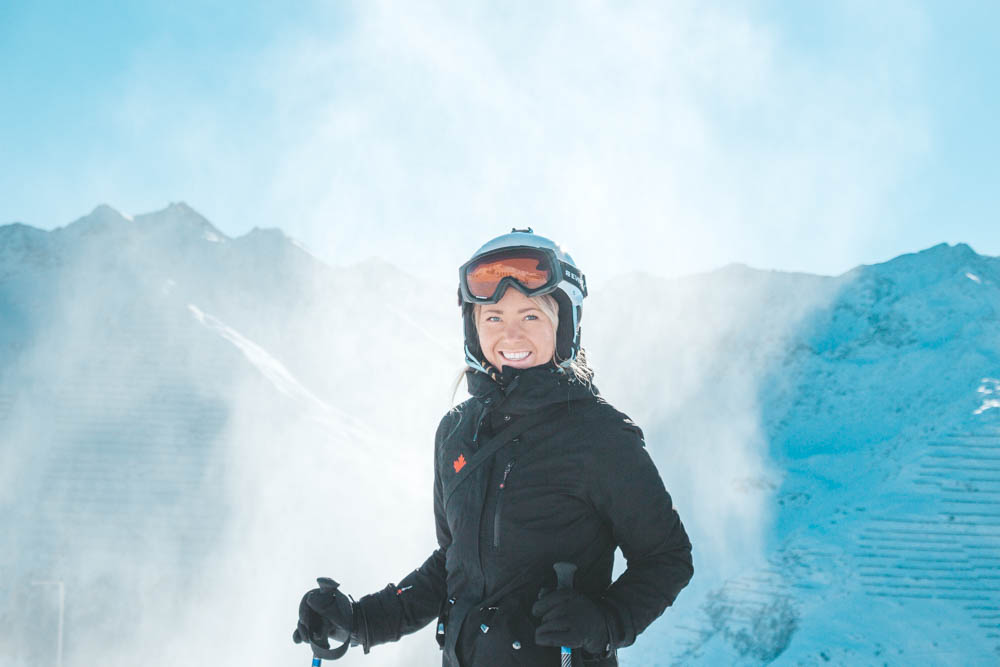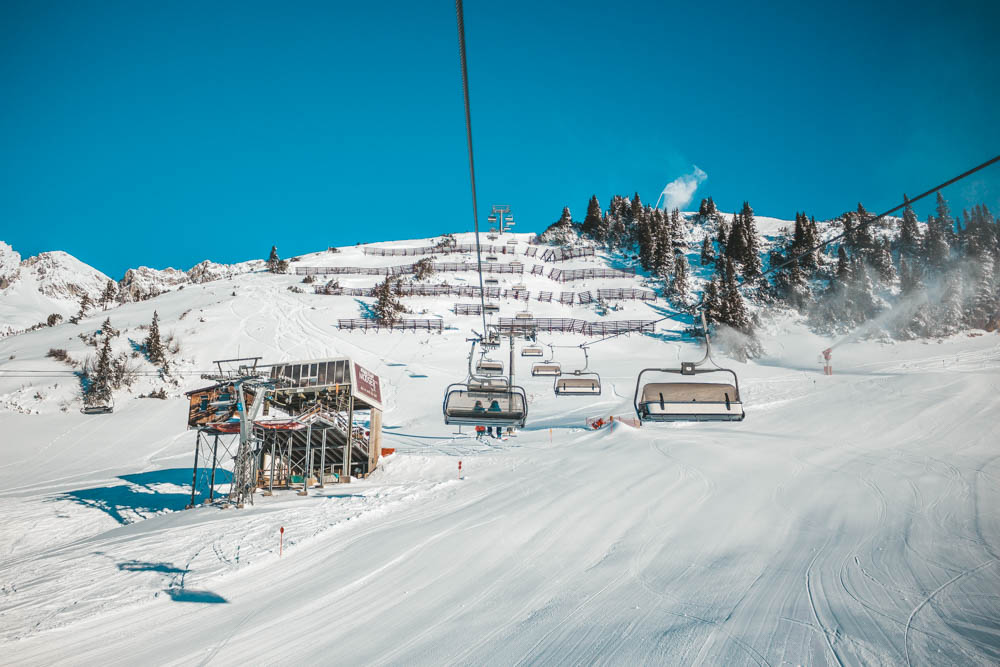 The Range in St Anton
St Anton does not only offers the very best ski slopes in Austria, it is also a very cozy and charming little village that I was really attached to as soon I arrived here. Here you will find restaurants, shops, hotels, ski rentals and grocery stores – all gathered on the same pedestrian street. The entertainment range is large and for all budgets, tastes and ages.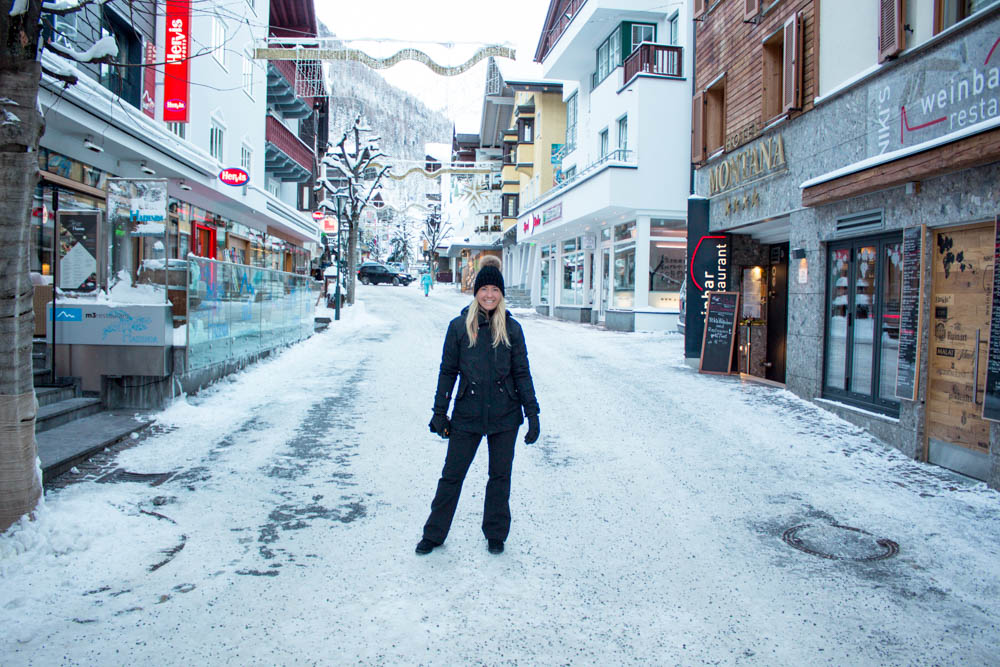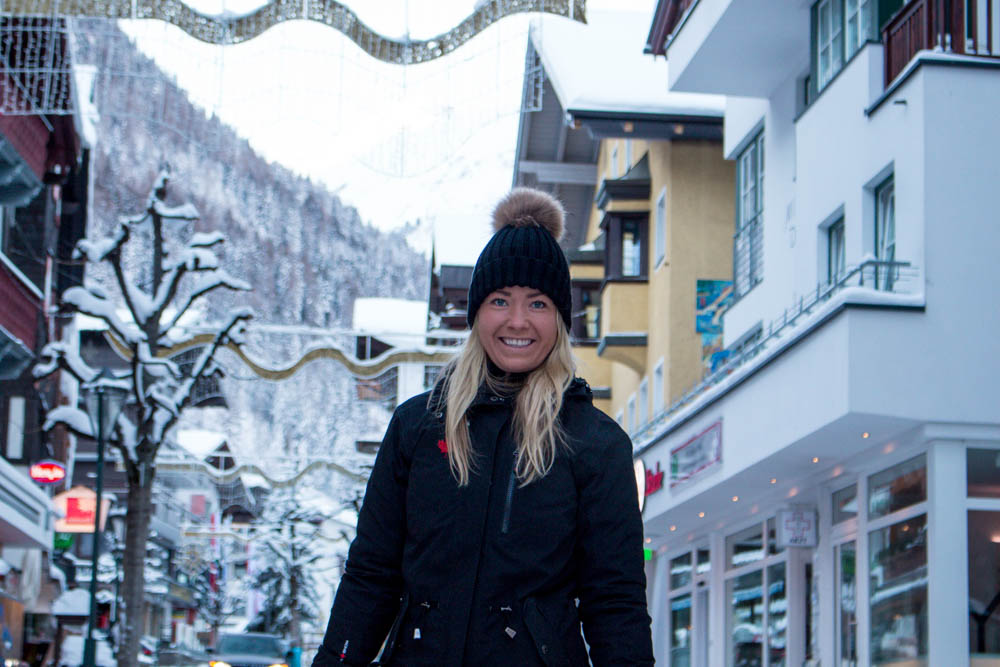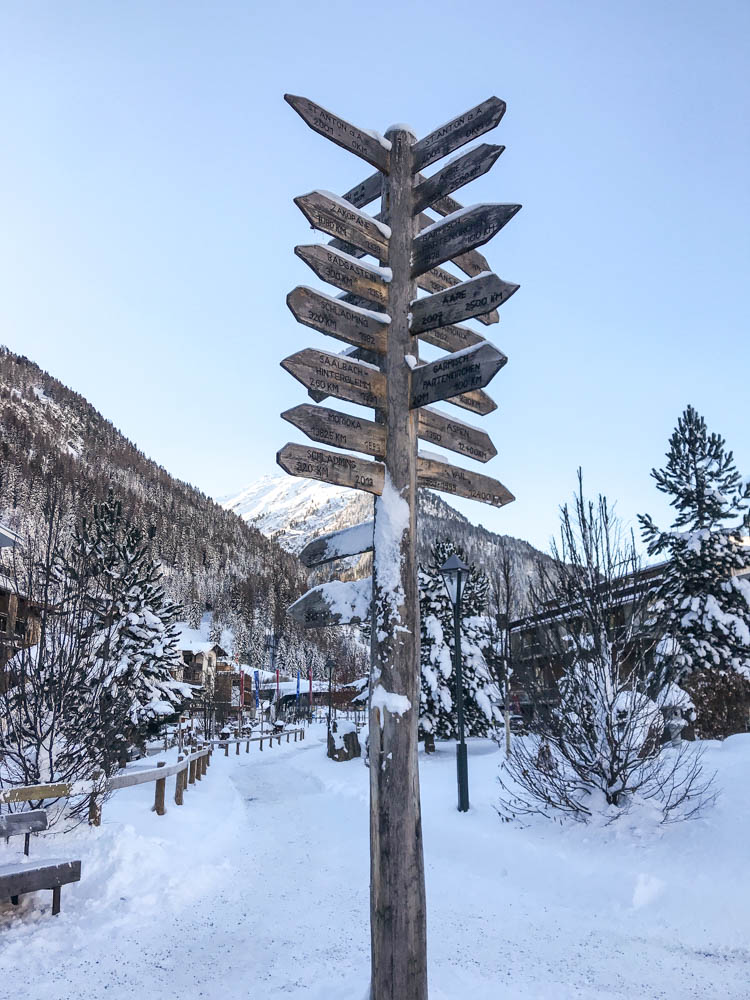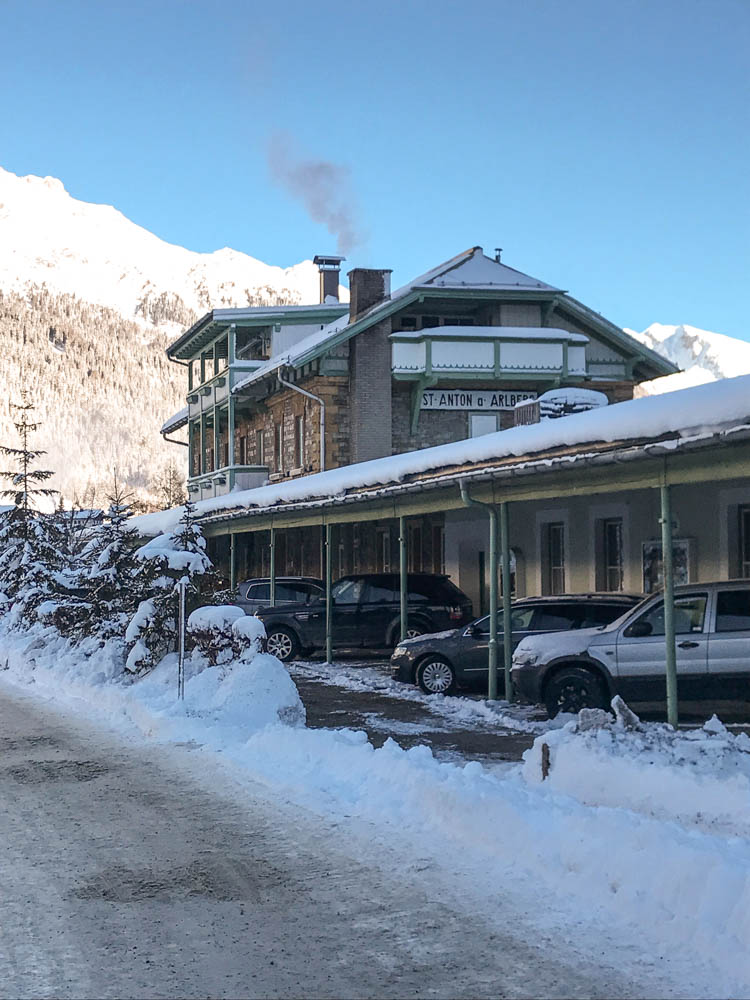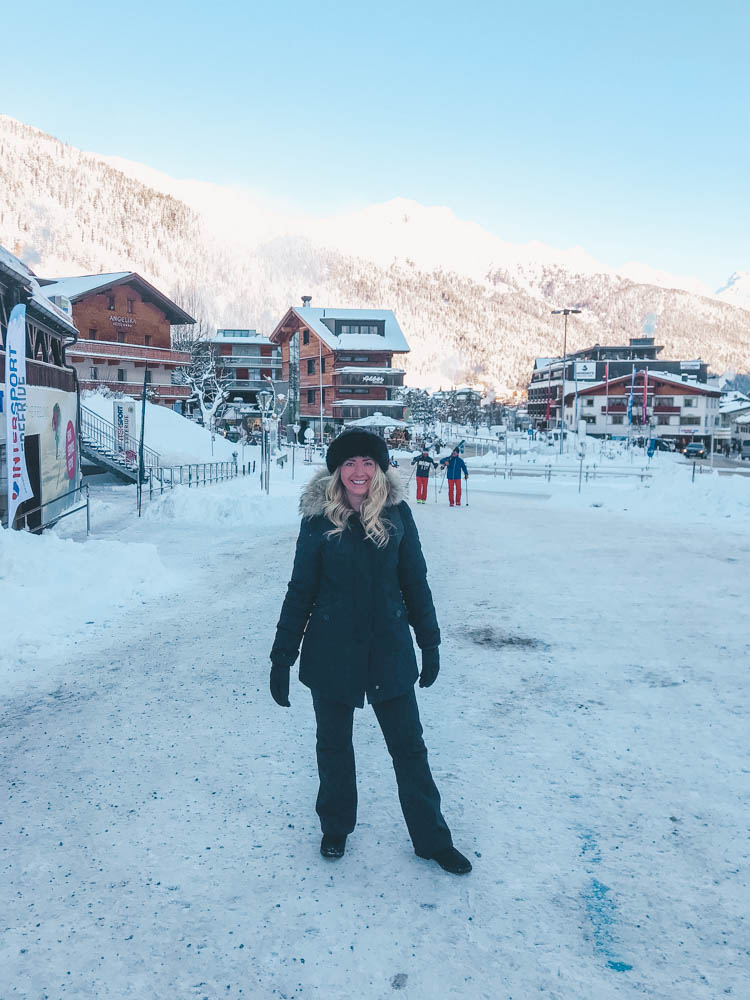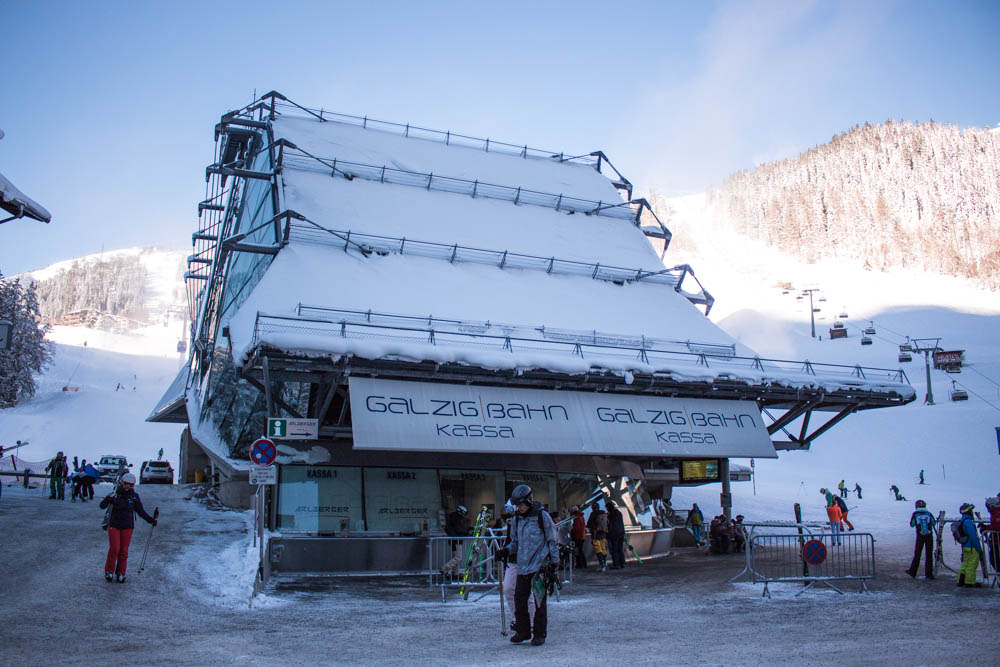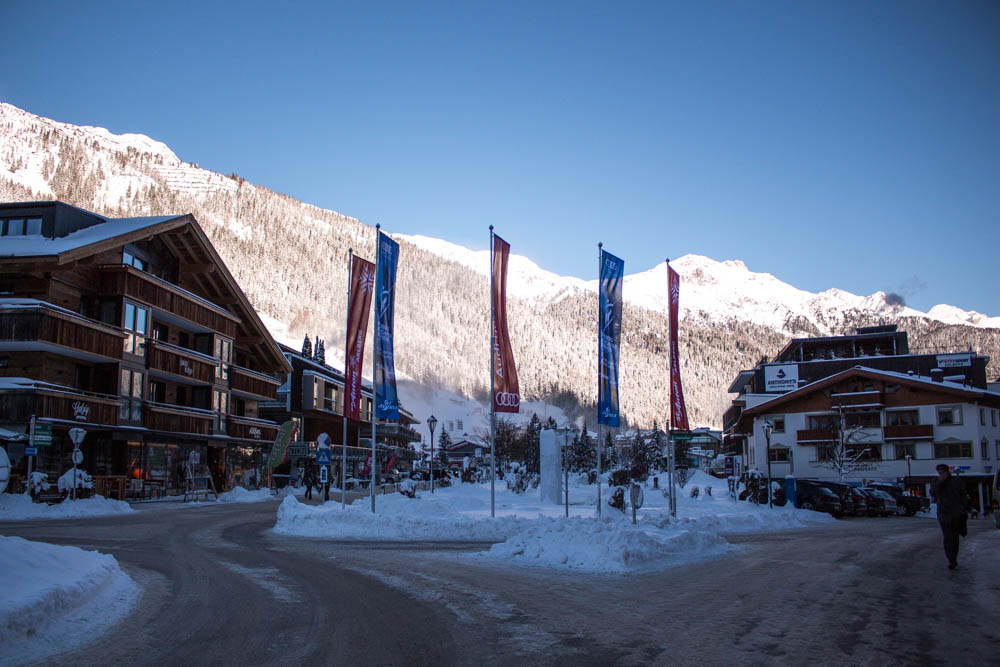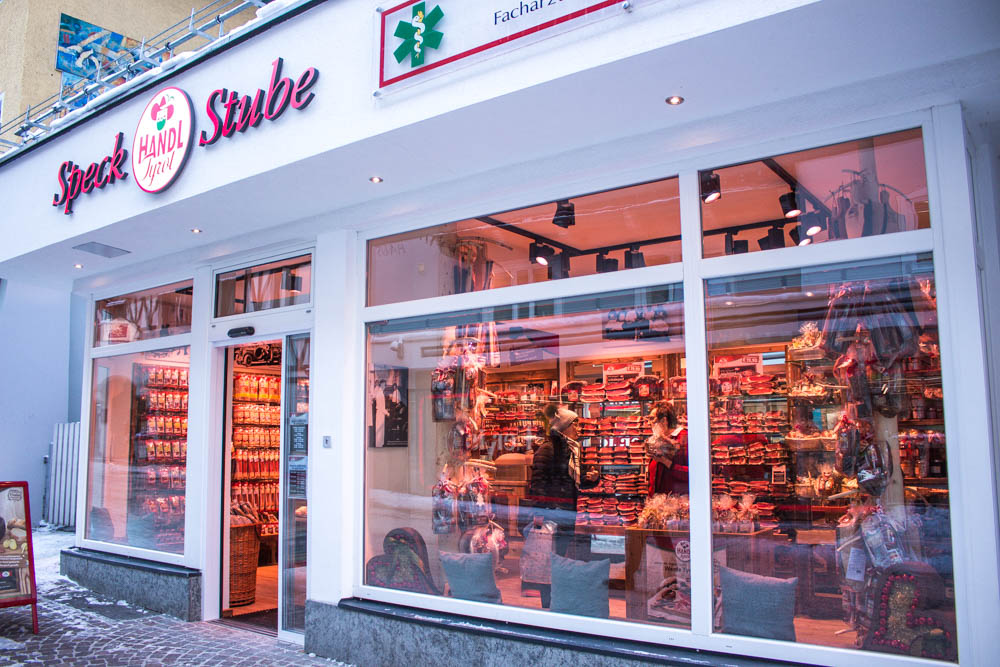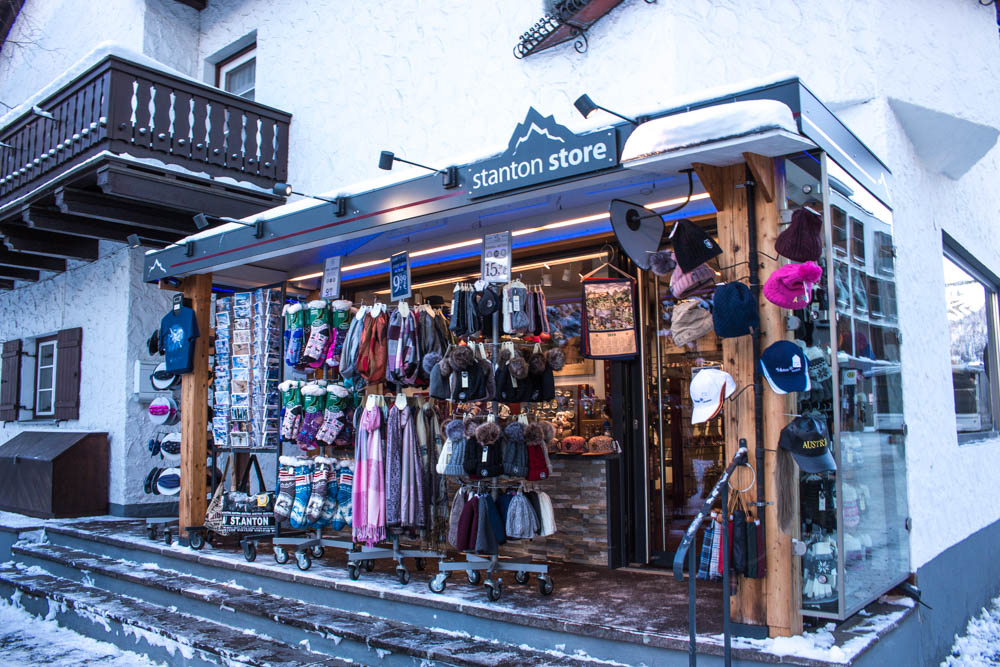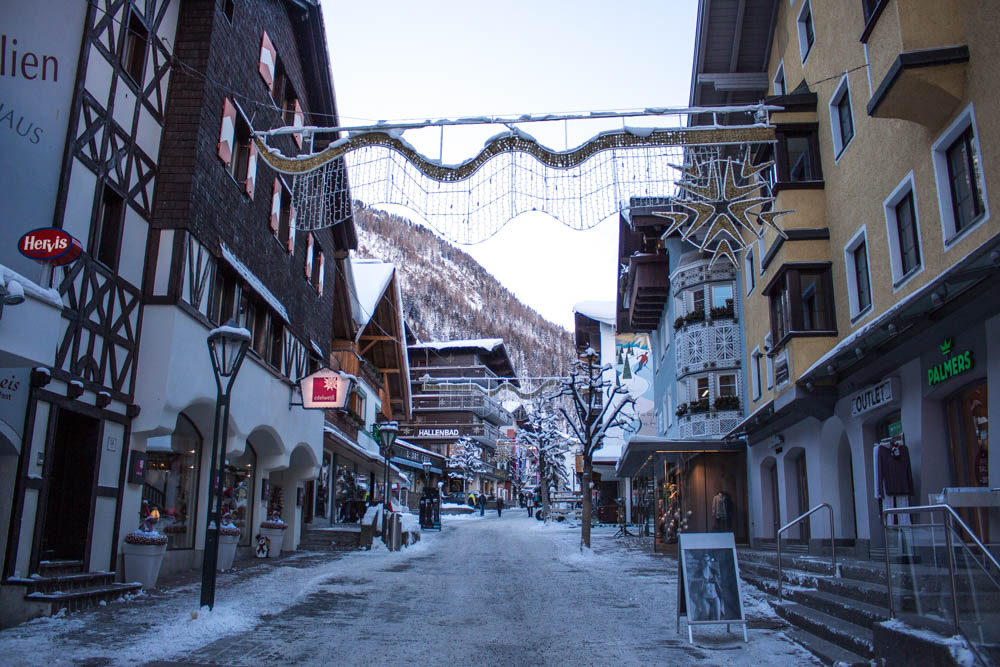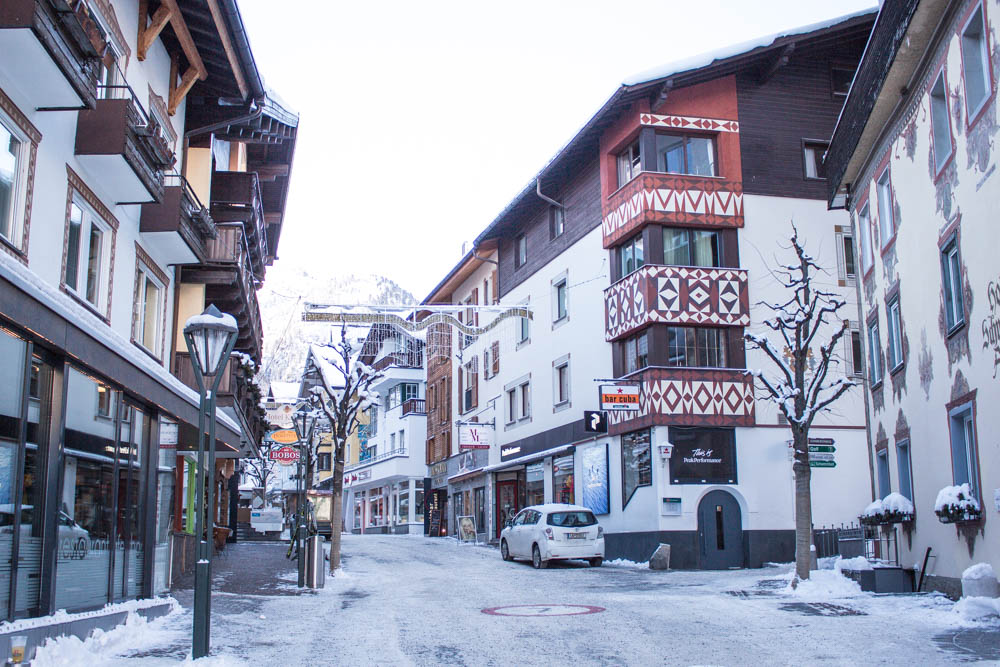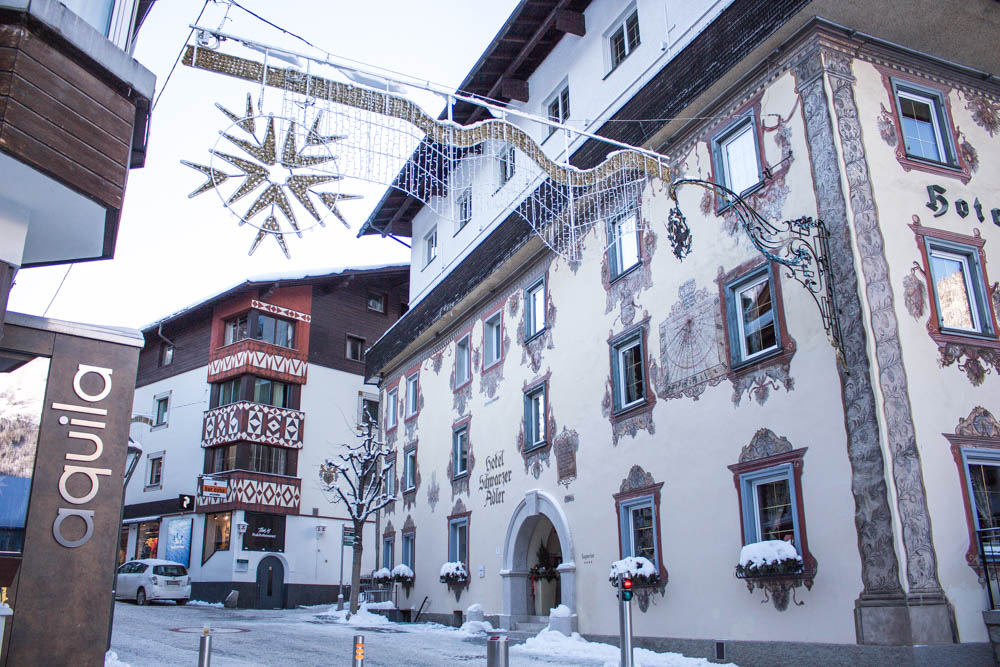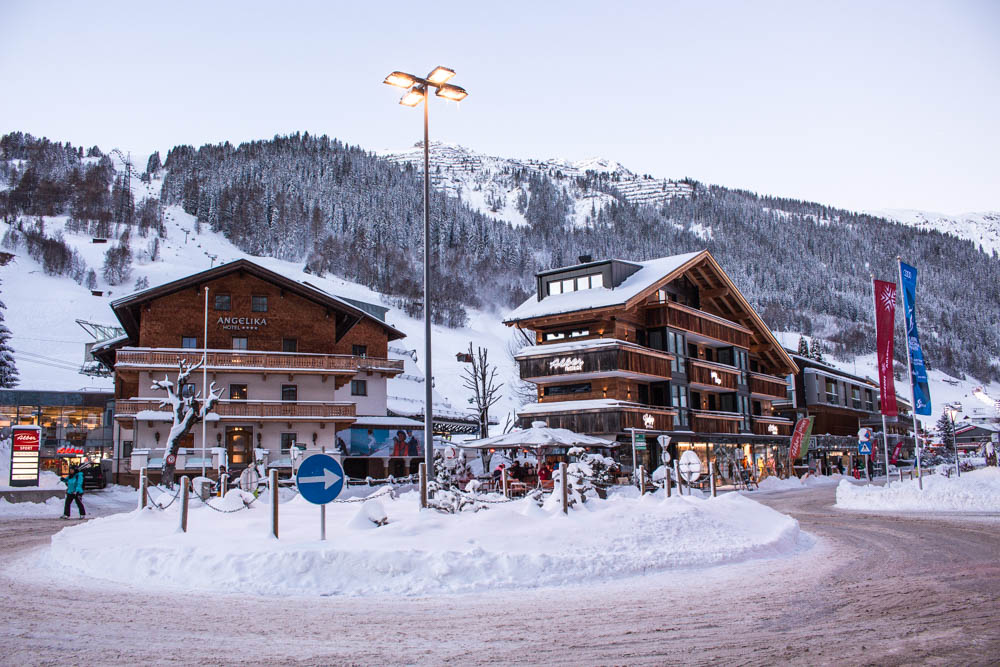 In the slopes there are classic after ski places such as Mooserwirt and Krazy Kanguruh. Down in the village there is a plentiful selection of restaurants and pubs with live music for those who prefer that instead. Many brand sports stores are located on this small pedestrian street in the middle of the village with a large selection for all ages and in all price ranges.
In St Anton everyone speaks English almost everywhere, due to many tourists come here from all over the world so English is not a problem here, unlike Ischgl where only German is spoken and very little English.
Hotels in St Anton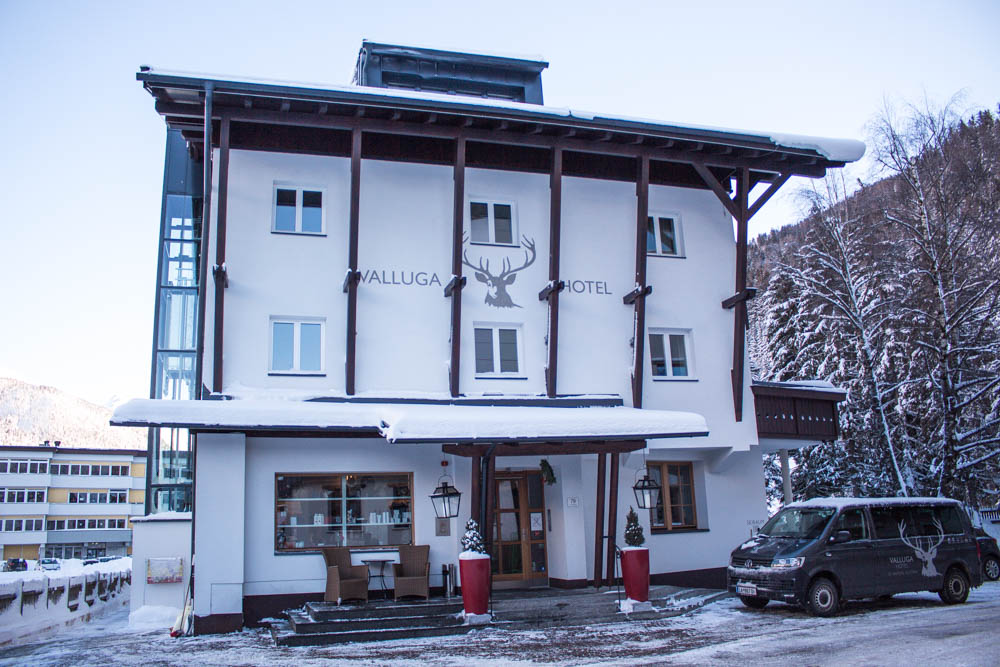 Valluga Hotel
In St Anton I stayed at Hotel Valluga which is owned by Swedish Mikael Landström, who also runs several hotels in Mallorca. A wonderful person who loves to talk about life and who knows how to take care of his employees. He has once been a "skibum" and knows what his employees are doing when they work for him at hotel Valluga over the winter season.
Valluga hotel is named after the highest mountain in St. Anton am Arlberg, a beautiful, charming village in the Austrian Alps and is located in the middle of the village with only 10 minutes walking distance to the lifts, ski rental and tourist information.
Hotel Valluga offers breakfast and dinner in a package, with a new dinner menu every evening. They also have a SPA with both sauna, pool and a lot of treatments for the one who is craving for that. I will write a hotel review of the hotel after this post but if you are already eager to read more about the hotel and want book your room, you can click here.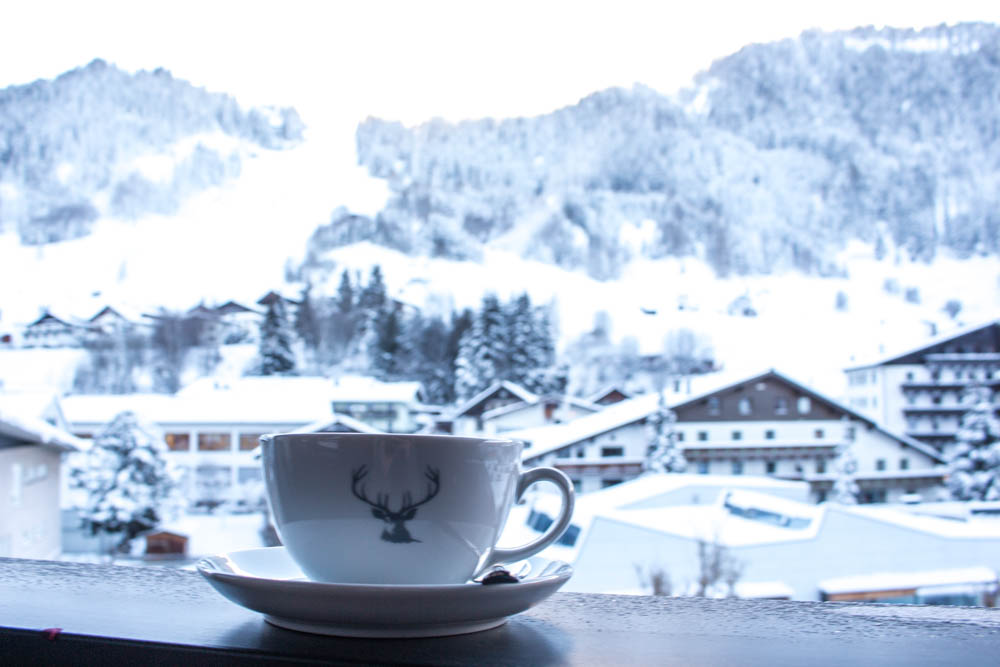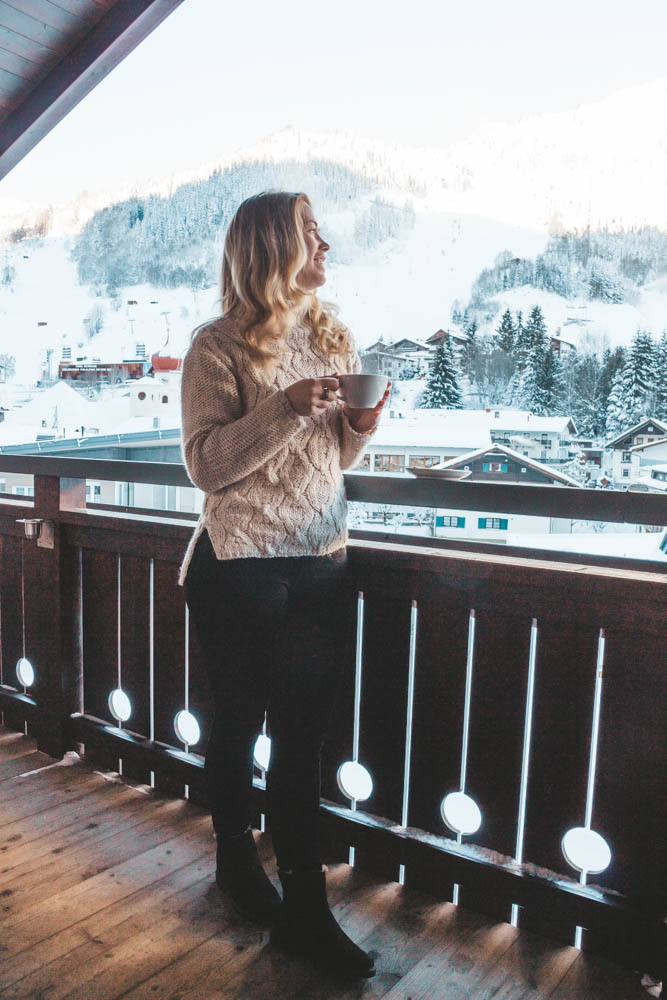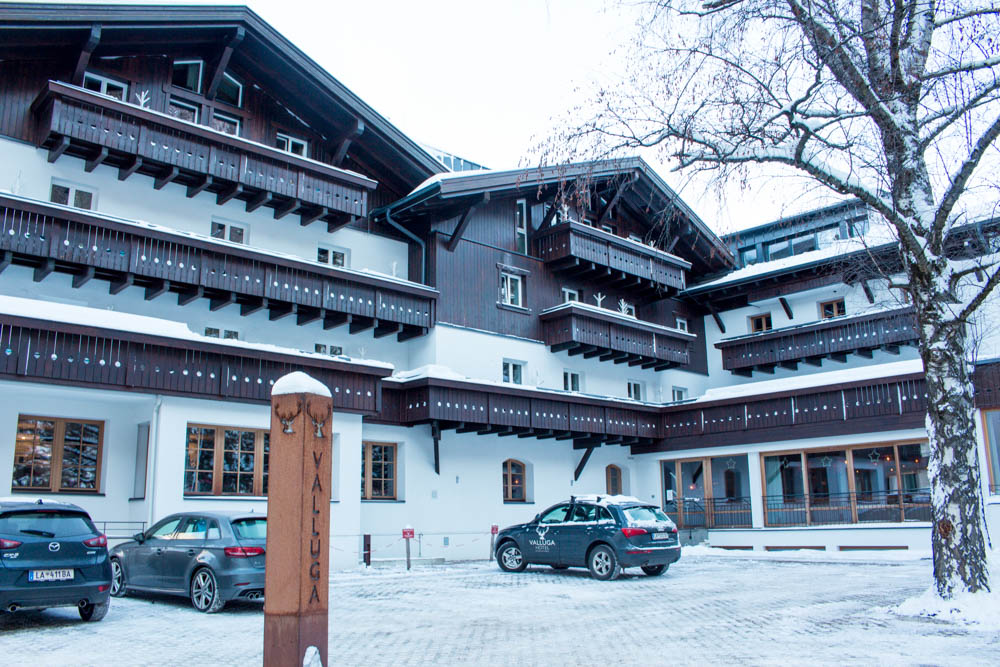 After Ski in St Anton
In addition to having a huge selection of ski slopes that are absolutely incredible, St Anton also offers a lot of After ski places, most of them are located in the middle of the slopes.
I would say that St Anton has a clientele that is very young and this is noticeable not least on the After ski places. But of course it depends on where you go. There are three popular After Ski locations that are adjacent to each other, in the middle of the slope and of course I had to try them all 🙂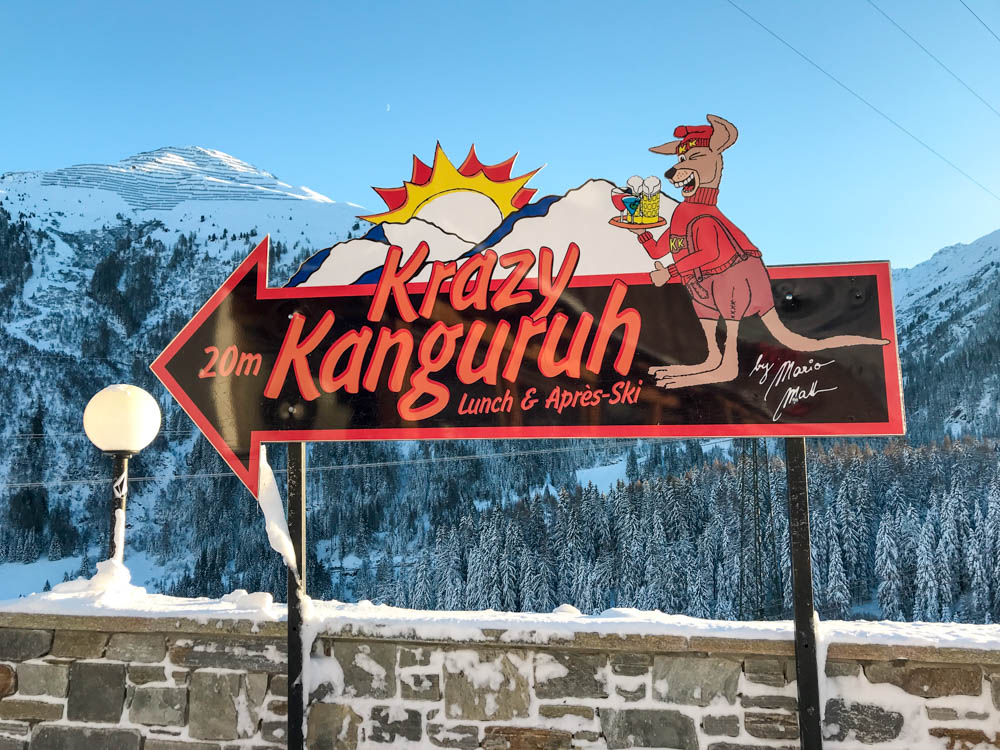 Krazy Kanguruh
The most talked about and popular After Ski place I heard of before I came to St Anton is called Krazy Kanguruh and of course I wanted to go here. Since it was early in the ski season when I was here (mid December 2018) it was not as high pressure as I can imagine that is when the high season sets off. This is a targeted youth place that has its charm, definitely!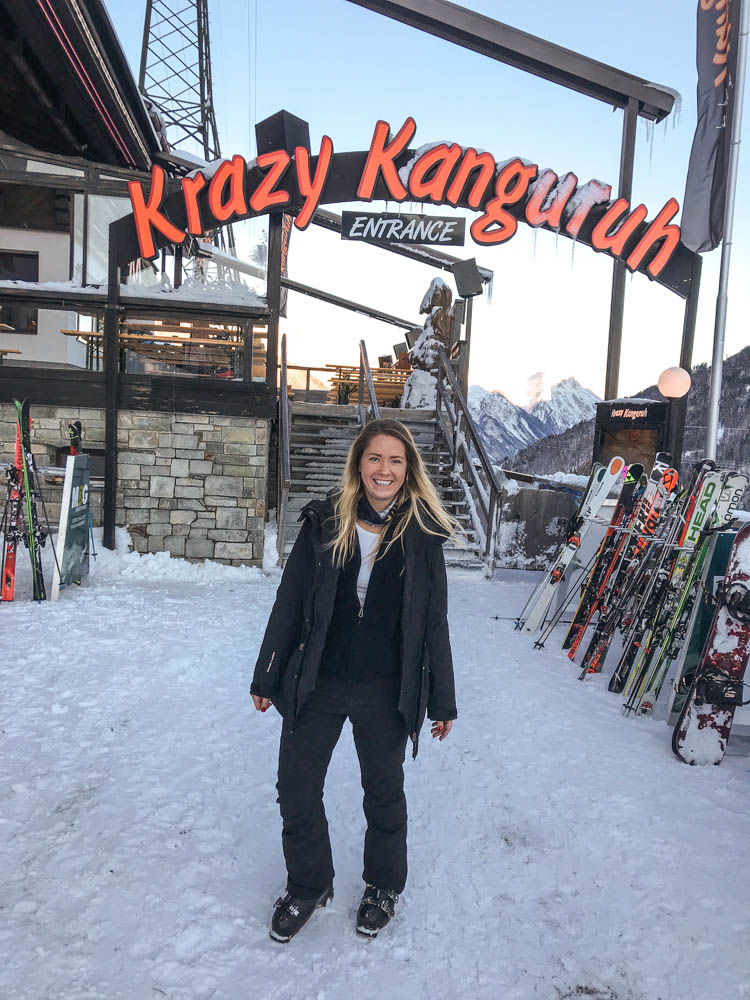 Taps
I was told that Taps is the After Ski place that applies on Thursdays so I understood immediately that this is where I should be, because I was in St Anton on a Thursday! Going to Taps from Krazy Kanguruh, I got a shock how Austrians run After Ski.
It was full house, the smoke machine was running, a DJ was standing in his booth and played music at the highest volume, the bar had After Ski prices which made the bar very crowded. Finding a table was not easy, but it ended up with a little elbow fighting. Nice to get rid of mittens, hat, scarf, helmet and ski goggles not to mention the jacket. There is a lot to be taken off and kept track of so it was nice to be able to sit down and rest for a while. Here it was a huge party among the young people and it was really nice after ski mood. I couldn't have had a better after ski experience in St Anton!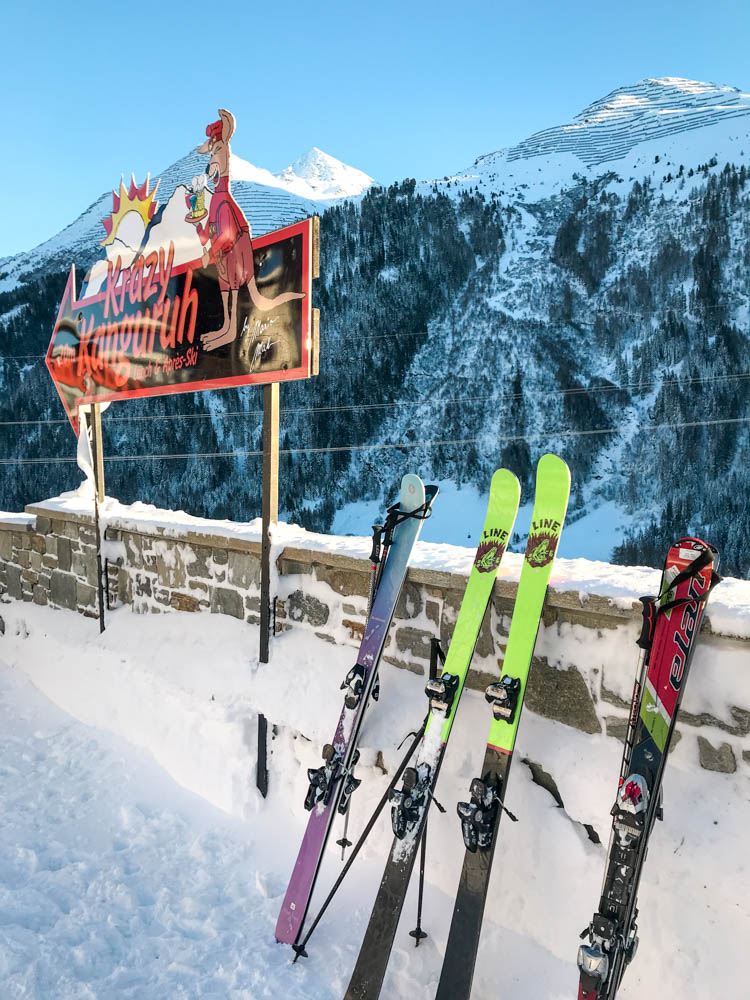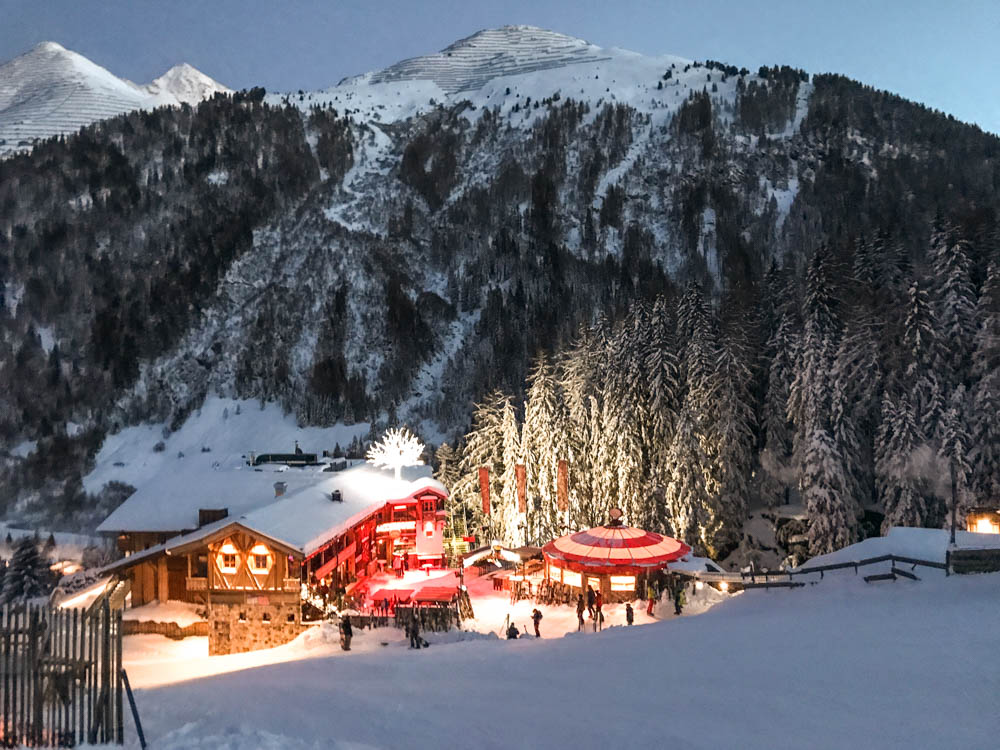 Mooserwirt
A couple of hours later, I looked out into the cold and the fresh air to take on the skis and went down the hill to the next After ski place, Mooserwirt. For those of you who know me by now, knows that I like to visit as many places I can, for example, rooftop bars when traveling. The same thing applies with After Ski places, and I only had one afternoon for After ski places to visit.
The third and last After ski place I visited in the middle of the slope in St Anton is called Mooserwirt and got it recommended by a friend while I was at Taps. So I just had to go here as well. Here the people was considerably higher in age, which felt more "mature" for me. Taps were fun in their own way but very youthful and the Mooserwirt was unique in its way with adults and a singing karaoke DJ. Here you get English music that is dubbed to German, something that sounded very special in my ears but definitely an experience out of the ordinary! Here was the Austrian "apres ski" atmosphere at absolutely the highest level 🙂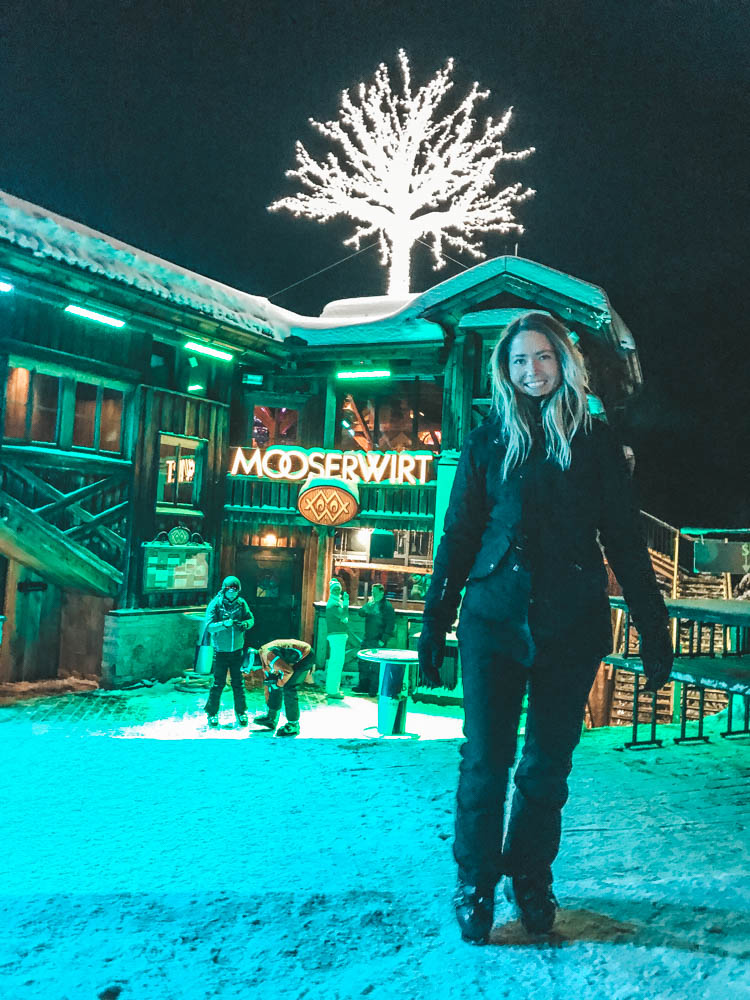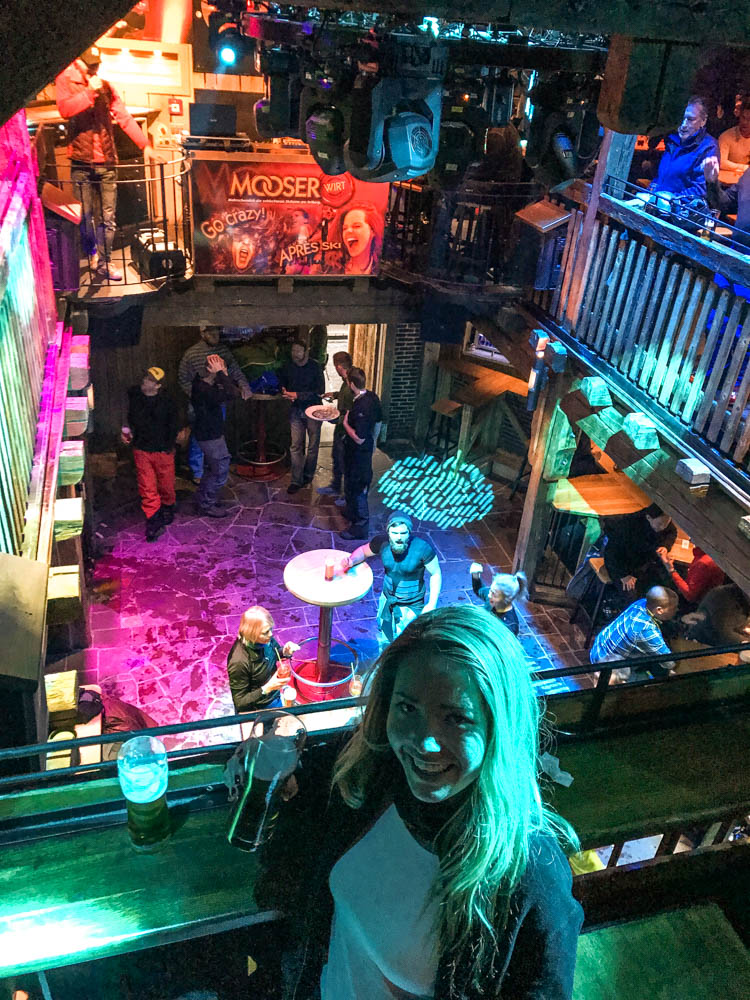 Skiing in St Anton
I was completely breath-taken when I got to the top in St Anton after taking different seat lifts and various cable cars. Looking out for the first time over the Austrian Alps was absolutely incredible. It is really "breathtaking" to see all those mountains that surround you and with radiant sun that illuminates the powdery white snow. MAGIC is really the right word!
The only thing you see is mountaintop after mountaintop covered with snow as far as the eye can reach. Standing at the top of one of the mountains and looking out over the view that is in front of you really made me so amazed. All these people look like small ants that are moving down the slopes.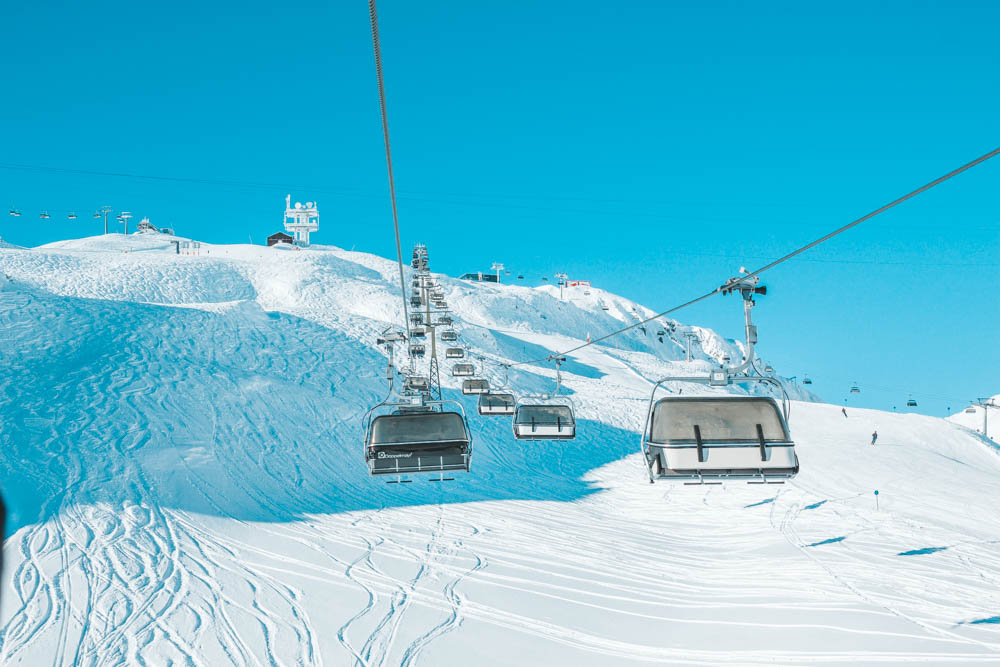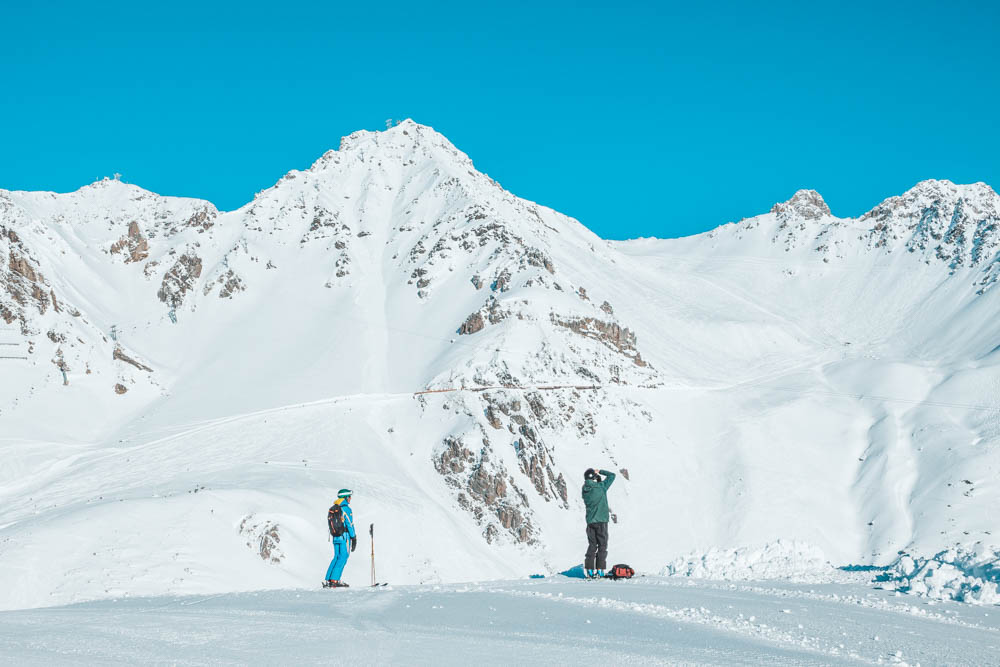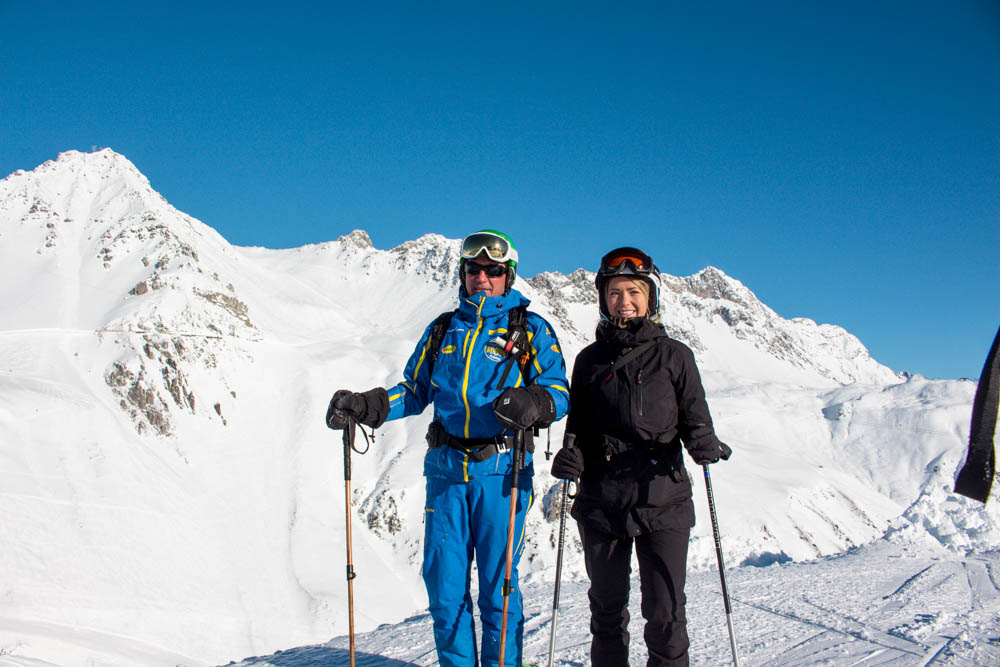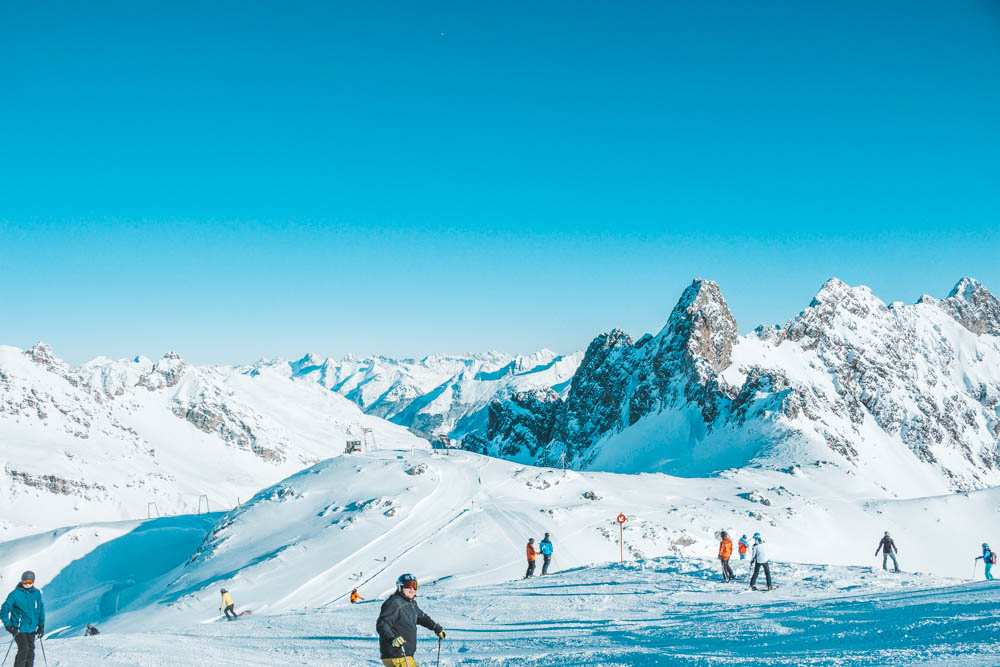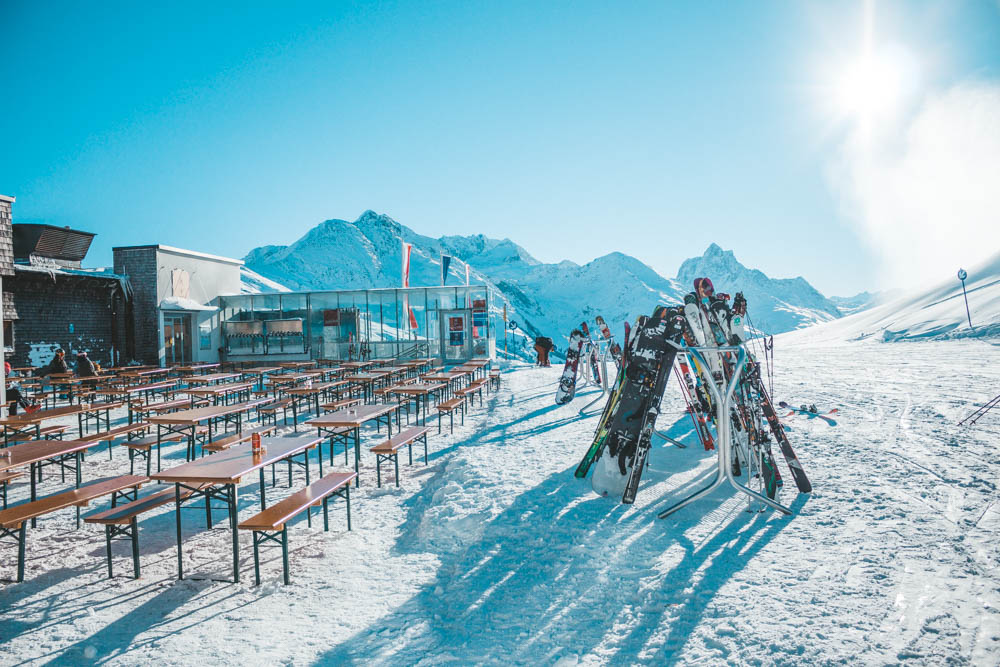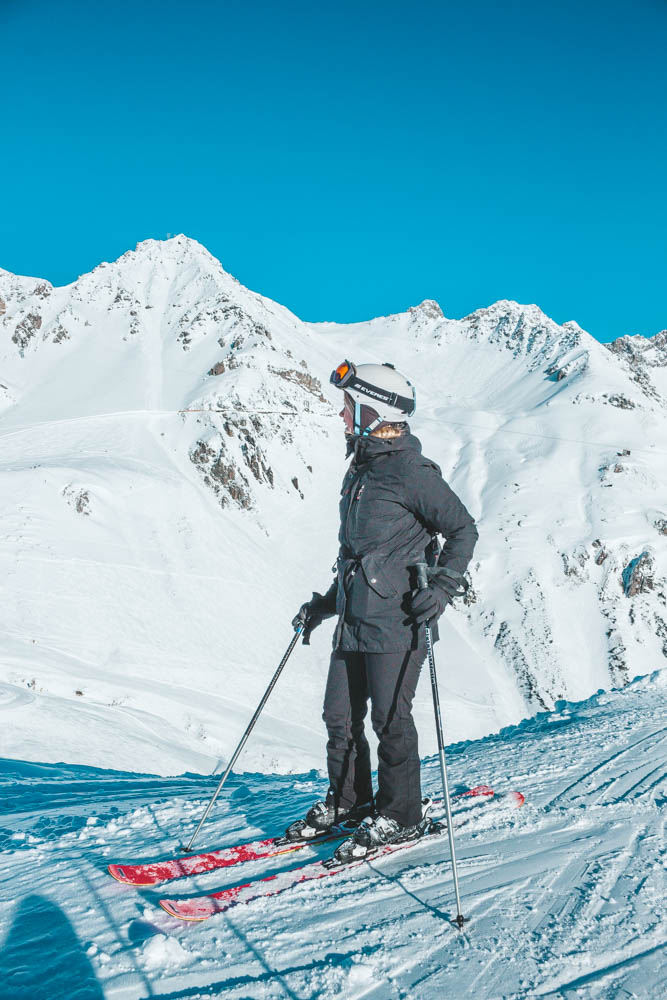 St Anton is a popular ski resort but despite its popularity, St Anton is enormously huge and has many slopes to offer. My feeling and perception in St Anton is that you cannot ski a single slope twice because there are infinitely many slopes and lifts that also take you to other villages such as St. Christoph, Lech, Zurs, Warth or Stuben. Together, these villages are Austria's largest interconnected system and call themselves "Best of the Alpes".
I'm glad I went with my ski guide Gerhard, because without him I had never really found back to my home. Sure, I'm used to reading maps but it's city maps, not ski maps. It's a whole new world to me. Suddenly I am in St. Christoph and have lunch and if I had been by myself, I would have had trouble finding home again, so big is this ski resort in St Anton.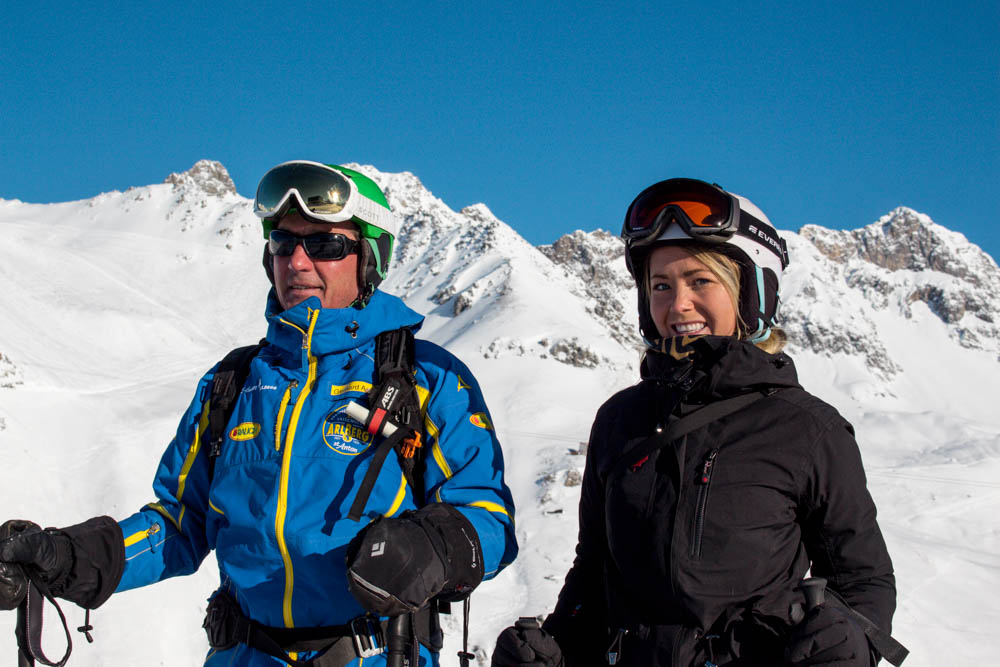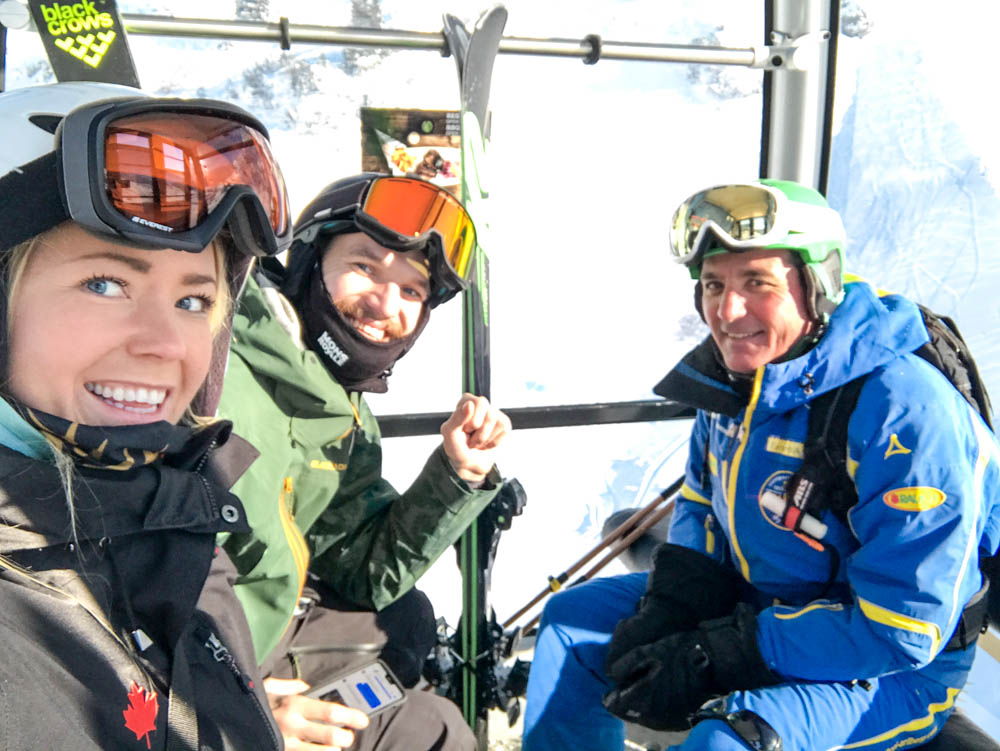 Lunch Break in St Christoph
We stopped for lunch in the nearby village of St Christoph and at the Hospiz Alm restaurant. Here the staff are dressed in Austrian outfit and believe it or not but this restaurant had a huge wine cellar with the largest wine bottles I have ever seen!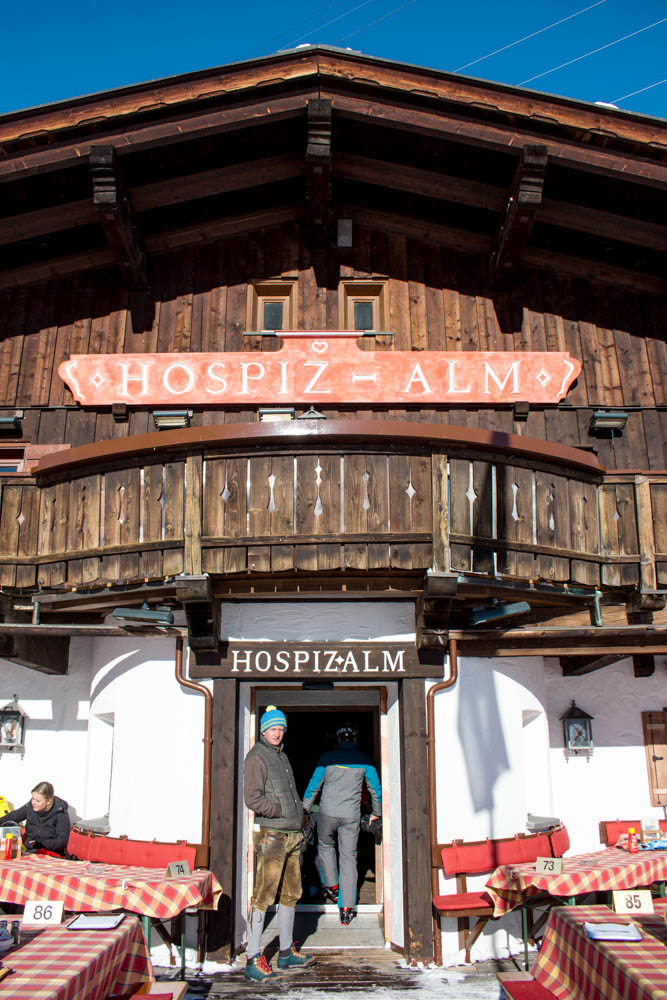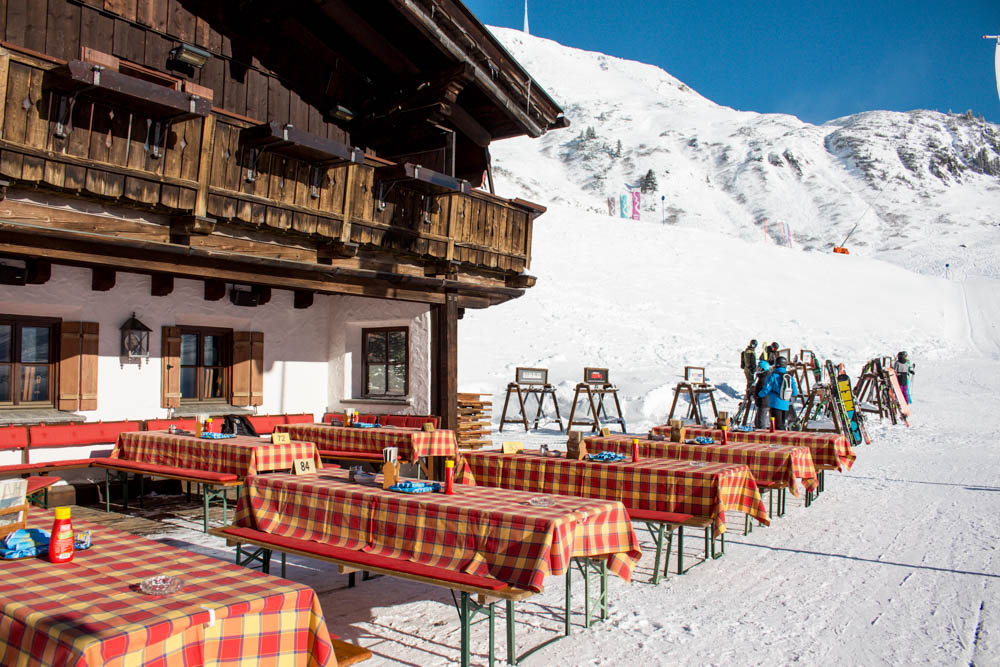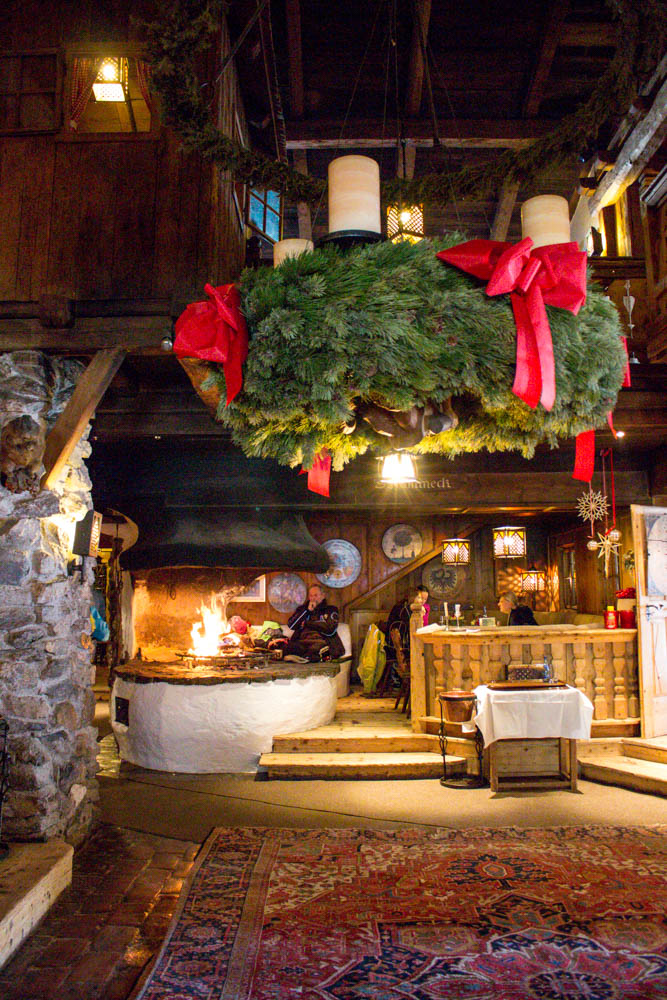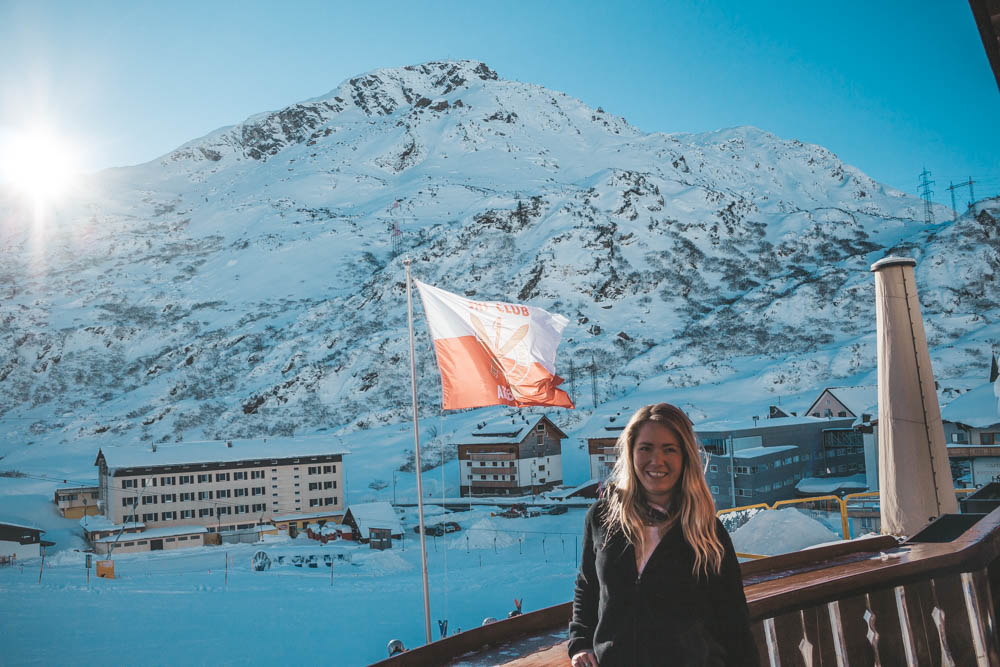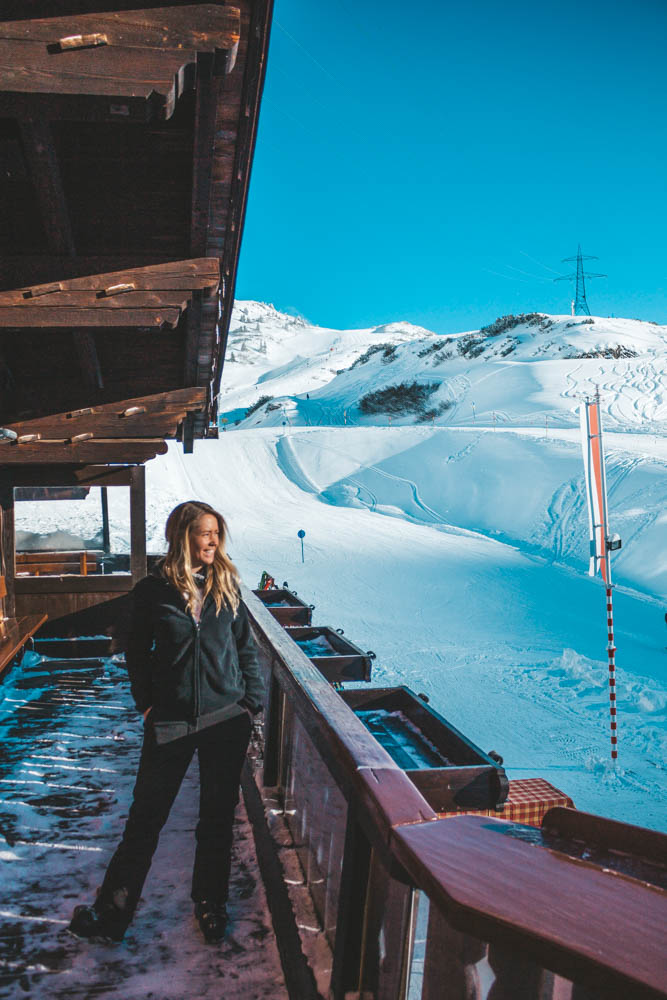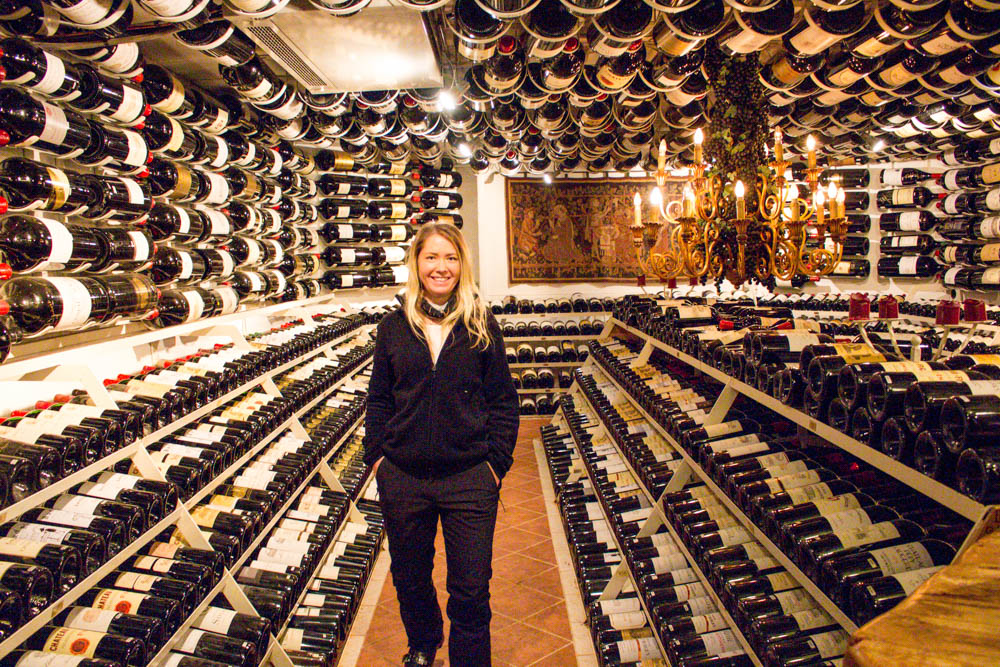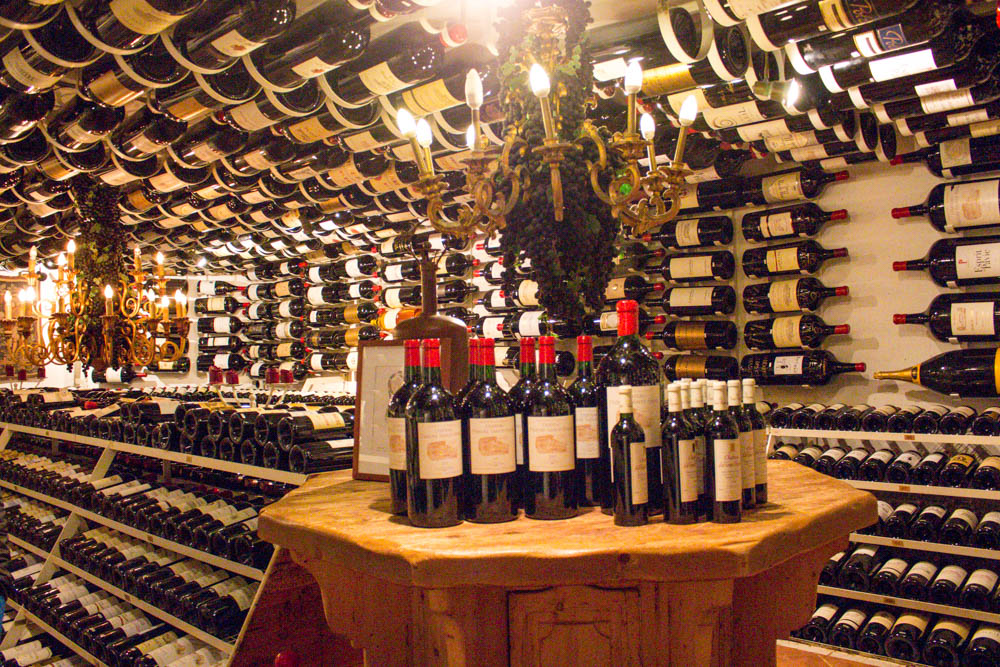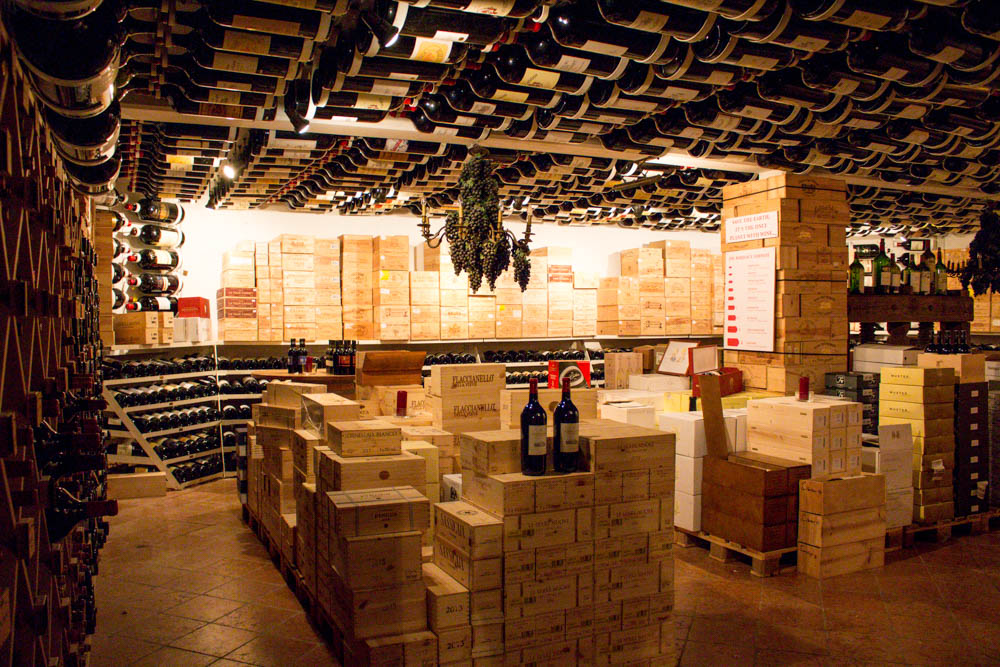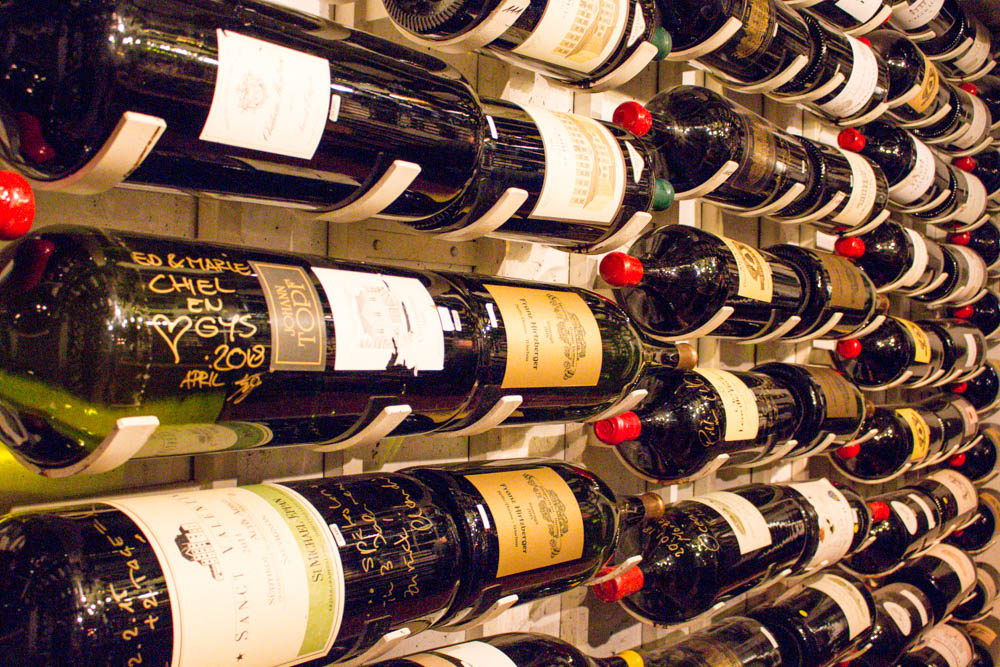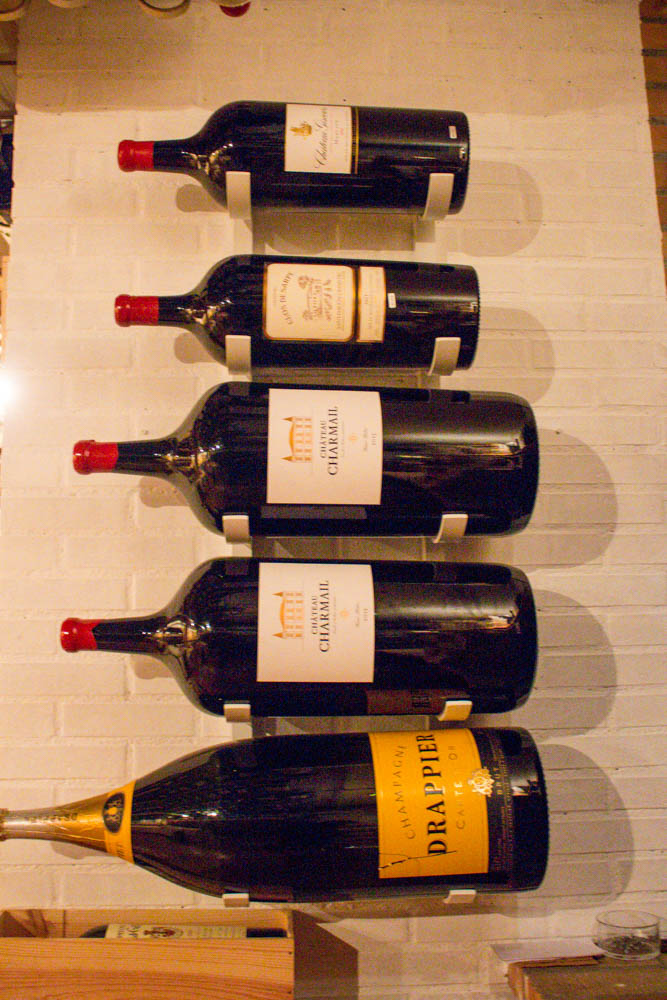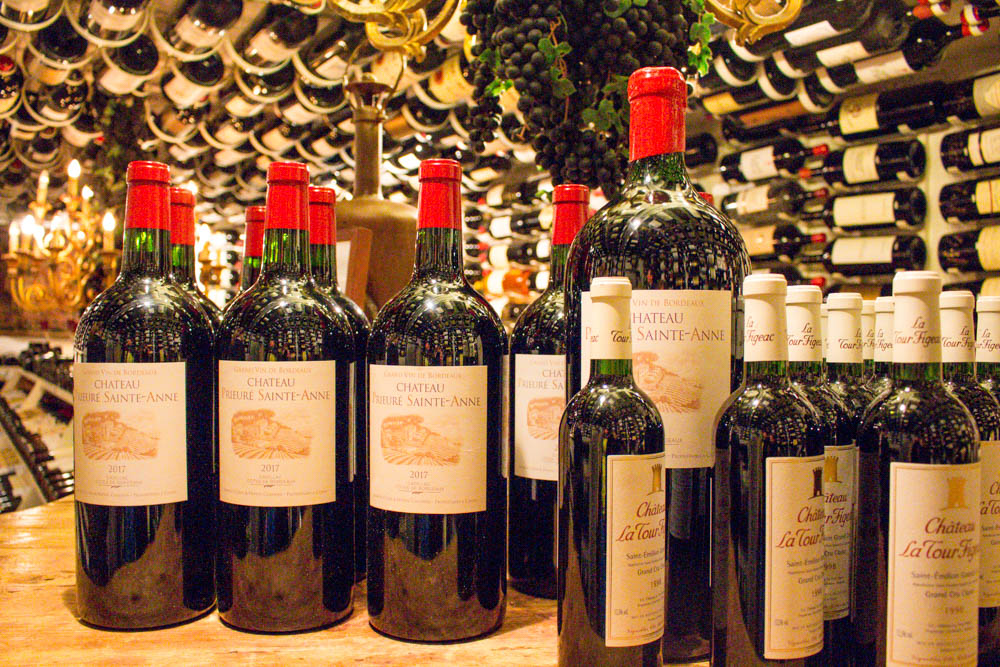 Summary
St Anton became my first ski resort in the Alps which I spent two days in, and which is far too short if you want to see and do St Anton properly, as it is a classic ski resort that has top class skiing with good lifts and pistes. It holds high class and the village is very nice and charming and there is a lot to look at here. There is something for all ages and in varying prices.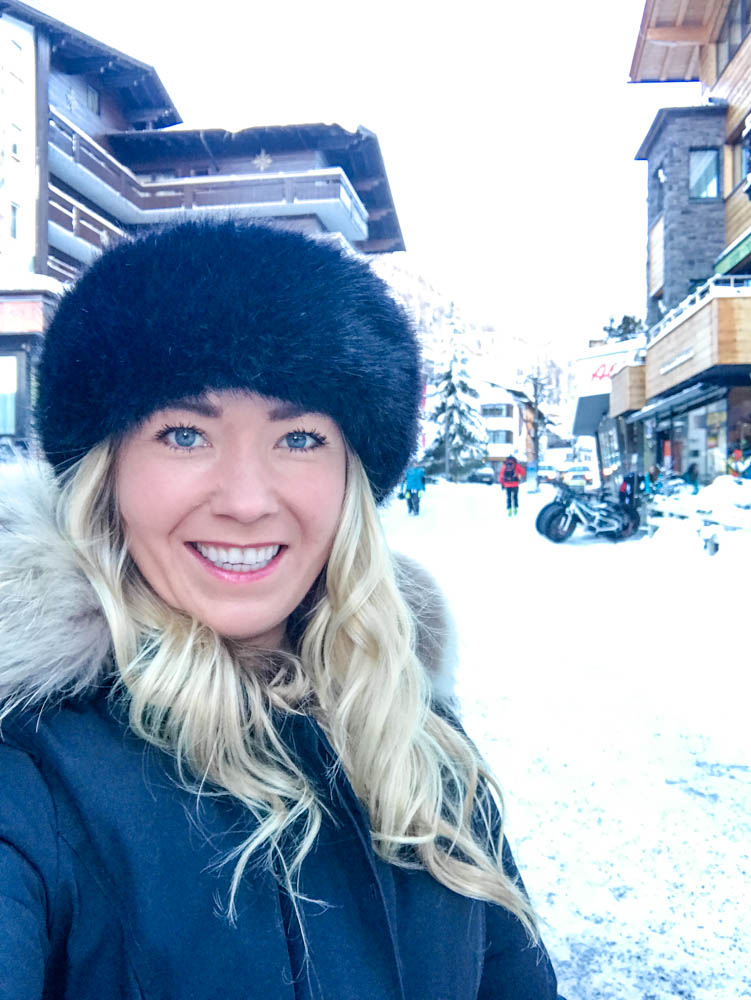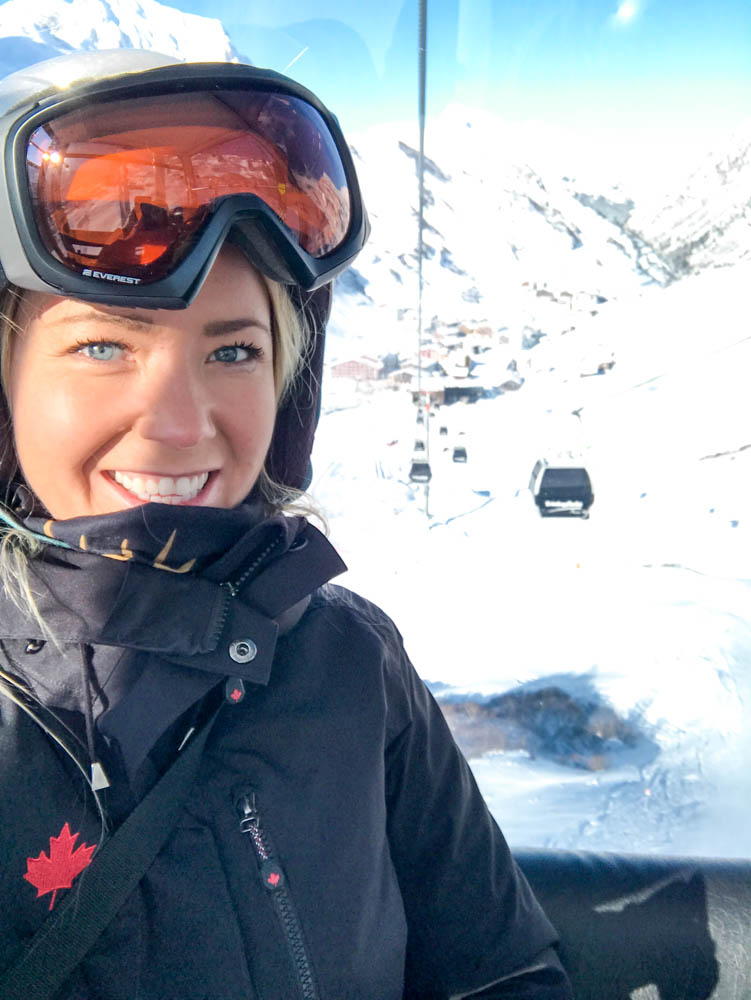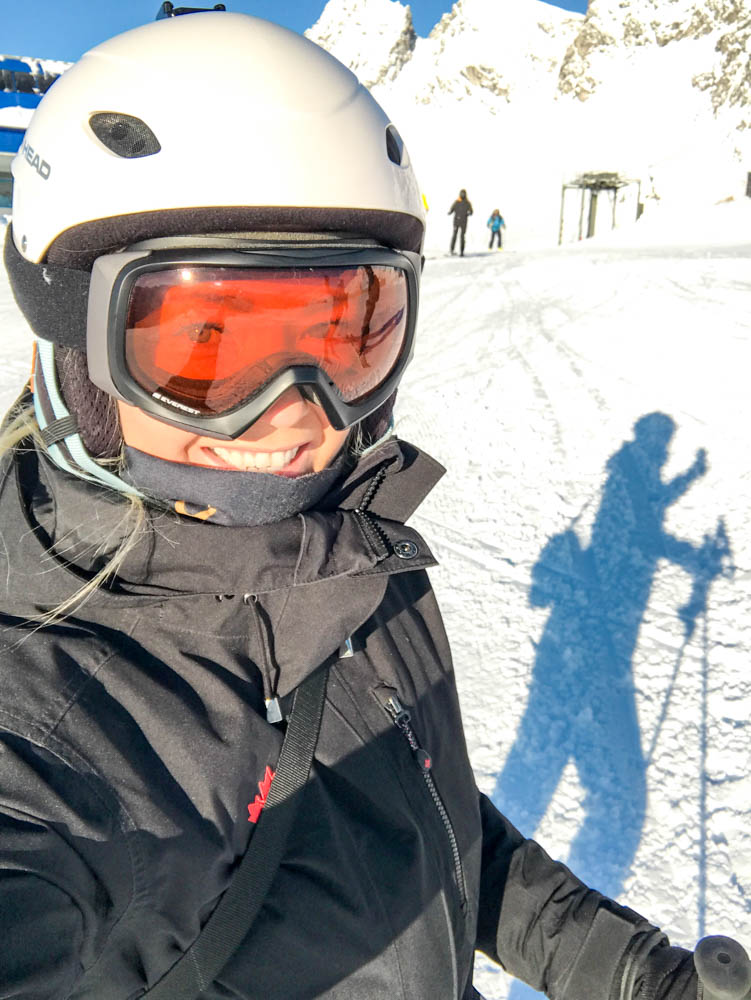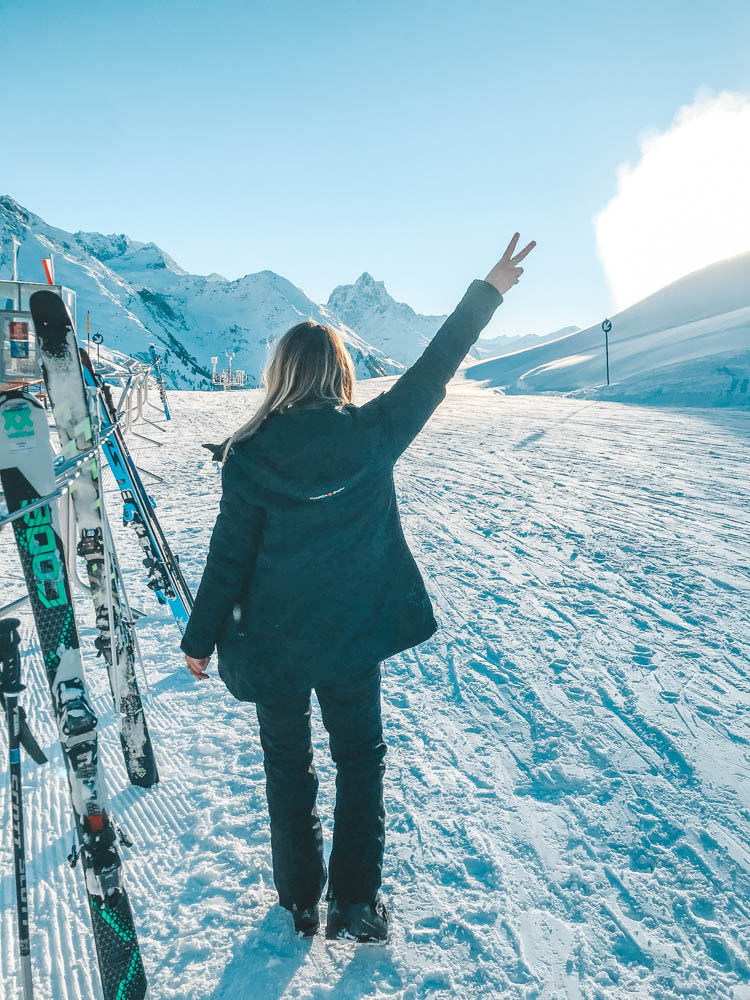 In addition, St Anton has good rail connections and close to the airport in Innsbruck. I would say that St Anton is a classic ski resort that every ski enthusiast should visit at some point and I can really recommend going here because it is a very nice ski resort with good skiing and a plentiful supply of shops, entertainment, restaurants and service.
Happy Travels!
// Charlotte
#feelaustria
#lovetirol