In advertising collaboration with Radisson Blu Hotel. 
Staycation at Radisson Blu Hotel in Uppsala, Sweden
Radisson Blu Hotel in Uppsala is a first-class hotel with modern design and with the best location, in my opinion, namely opposite Uppsala Central Station. You reach the hotel with only 17 minutes by train from Stockholm Arlanda airport and 40 minutes to Stockholm central and I must say that the hotel was really fresh, luxury and had fantastic sweet staff!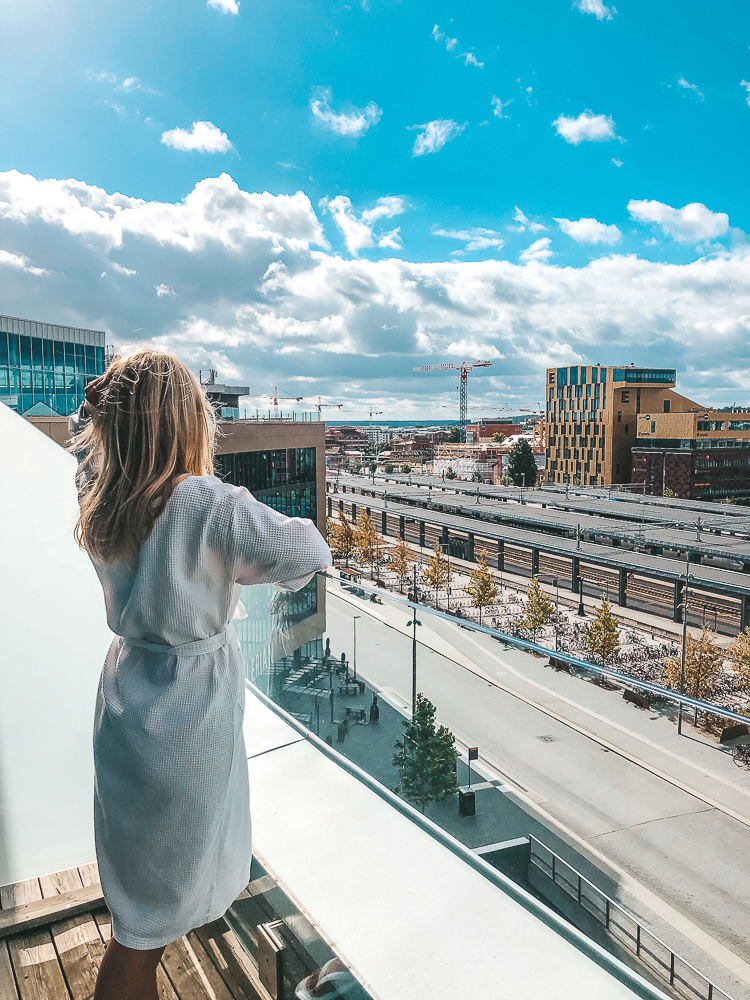 Exterior and interior
It is not difficult to miss the hotel when you enter Uppsala Central Station, because the hotel is located directly opposite the railway and is shaped like a crescent moon and with a large logo on the house wall. The reception is very welcome and it is cozy to sit and hang here in their lounge area which has really comfortable sofas and with modern, Scandinavian decor that is bright and iconic.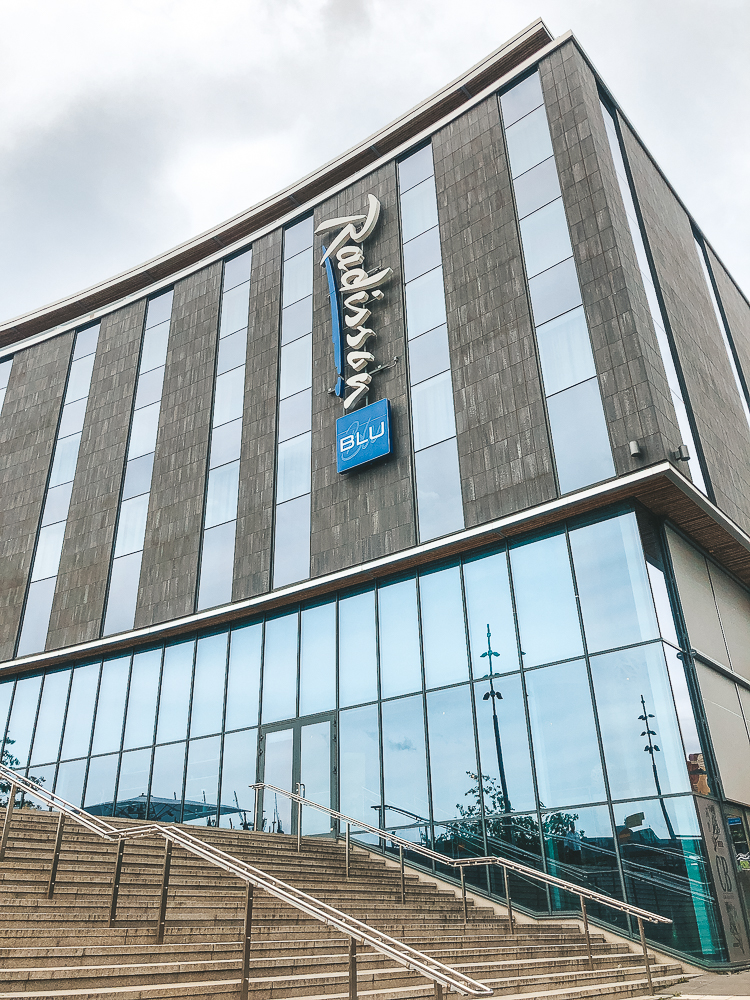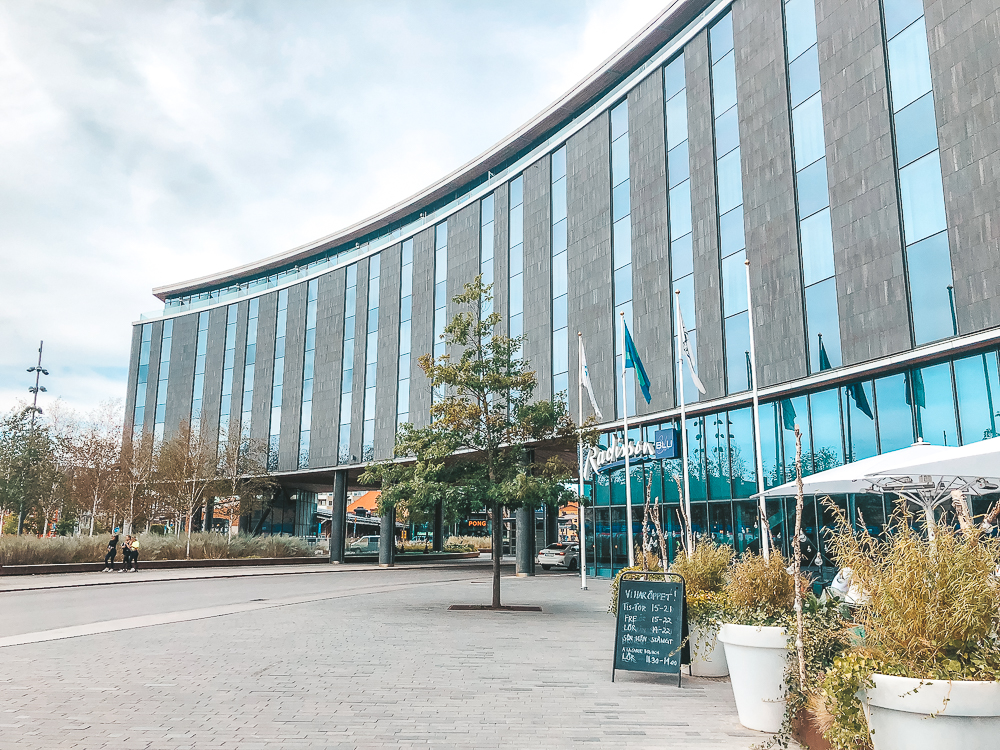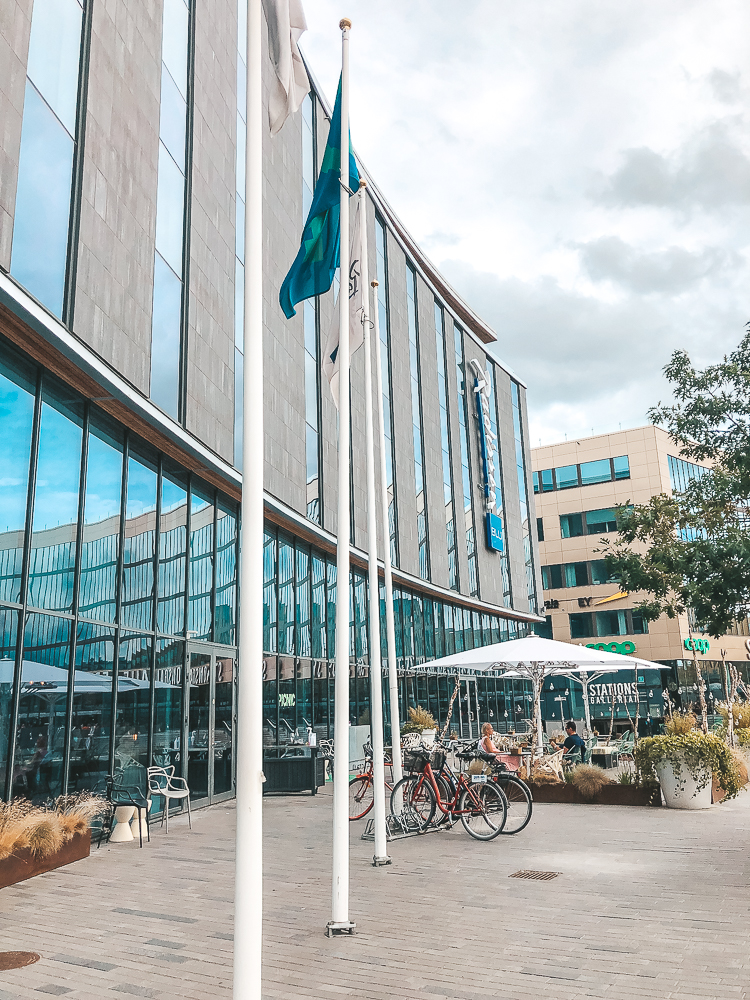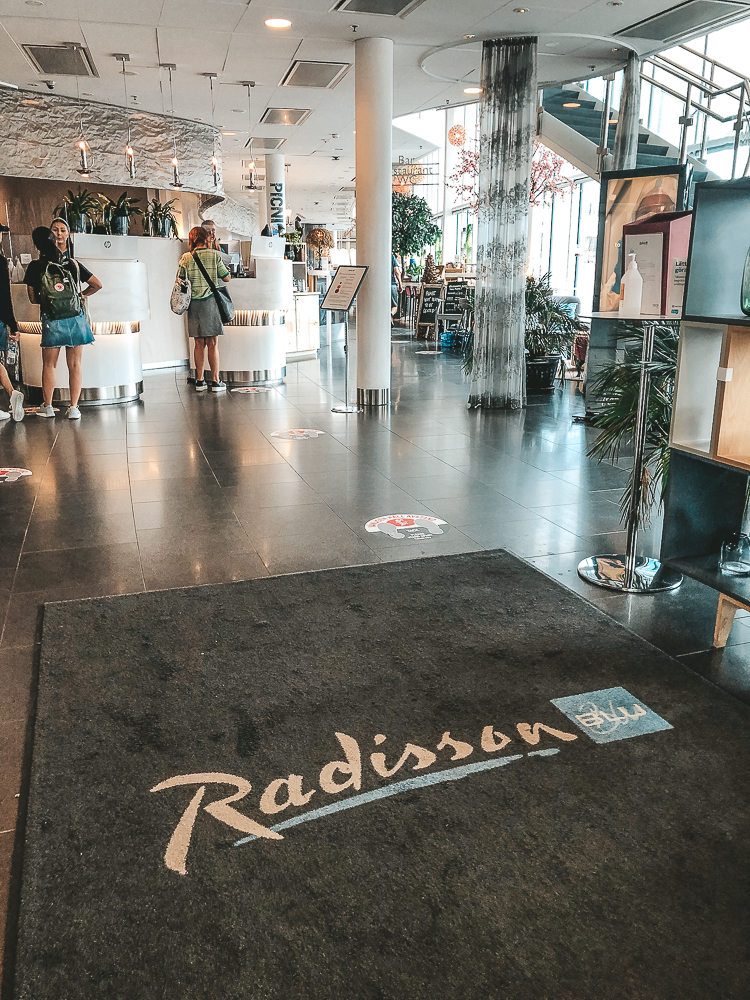 Our room
Radisson Blu hotel in Uppsala offers many different room options, also for families. We stayed at the top floor, on the 7th floor and had a balcony with a view of Uppsala city where we could see Uppsala Castle and Uppsala Cathedral in both daylight and darkness, which was at least as beautiful as I thought! On the same floor there was an ice machine, something I haven't seen or noticed in the other hotels I have stayed in but which is an extra plus I think!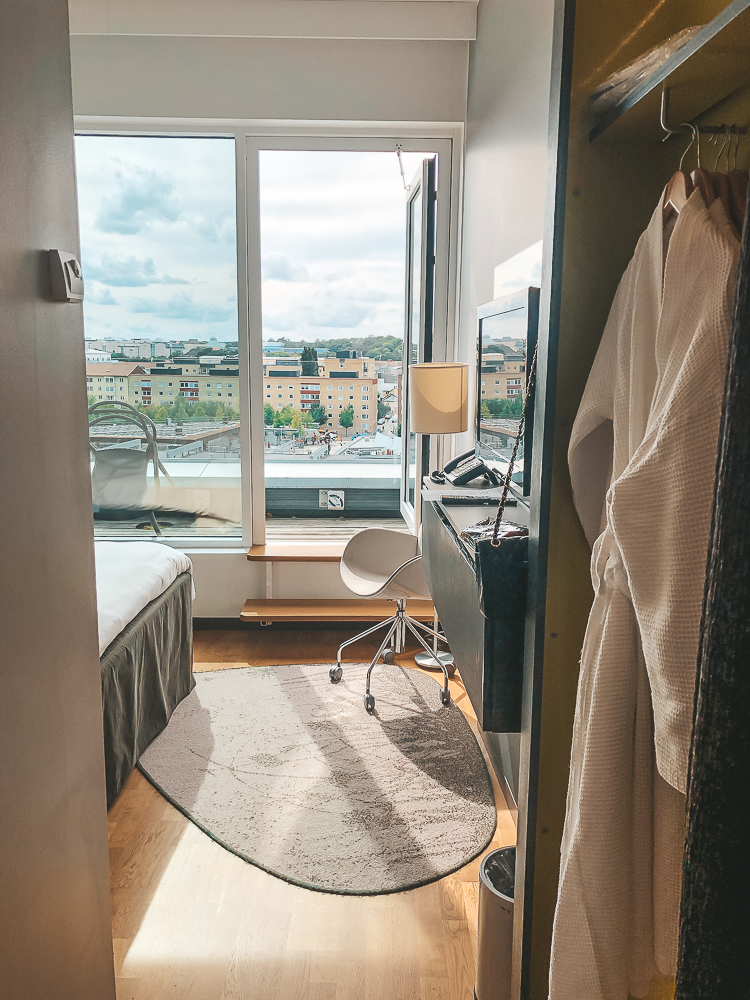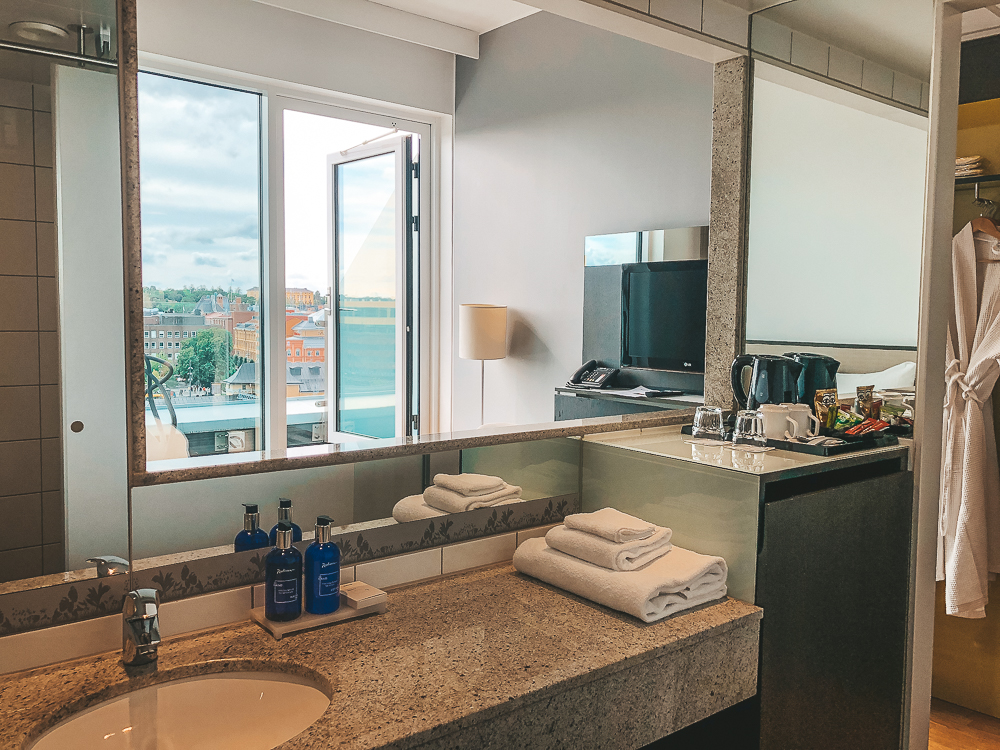 The room was compact I would say, but still it fit everything you could wish for. Both iron and ironing board, slippers and bathrobe, as well as a refrigerator that was located in the bathroom.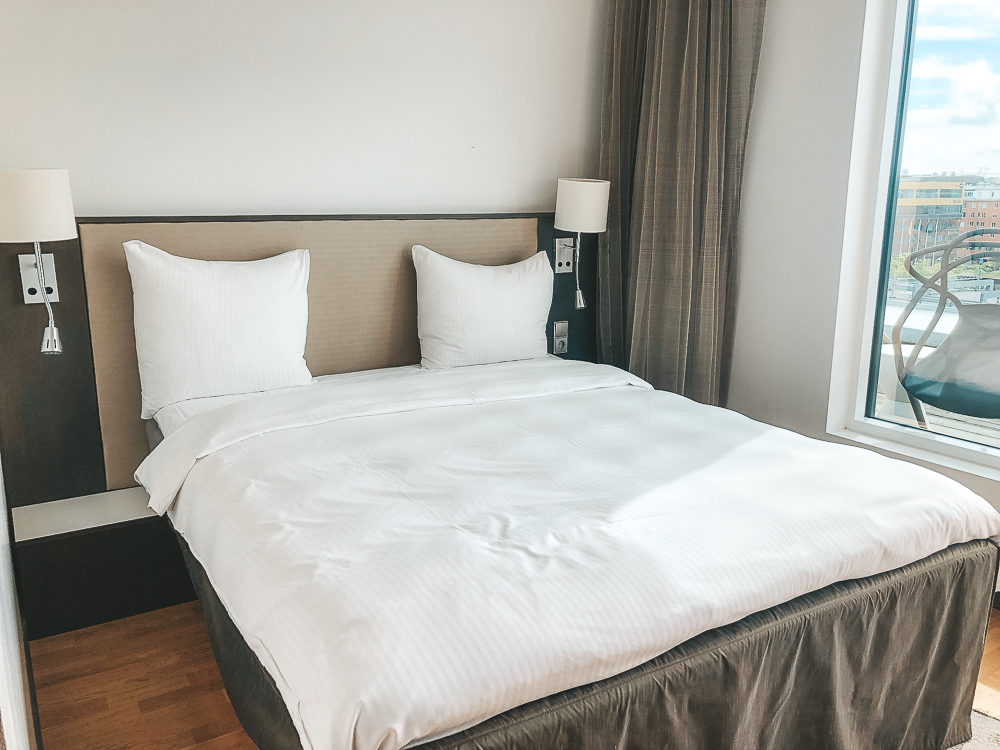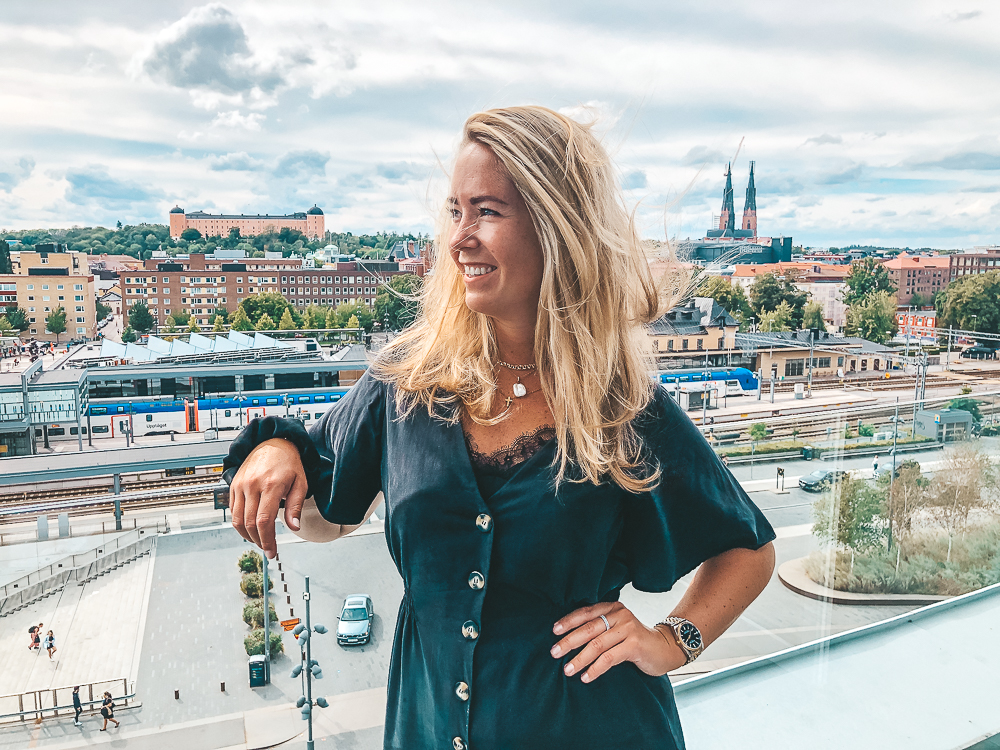 Speaking of the bathroom, it unfortunately didn't feel very comfortable with such an open floor plan as it was in our room. Being so open to the bathroom, with neither a proper door to close on the toilet nor a wall between bathroom and bedroom was unusual and even quite uncomfortable for me.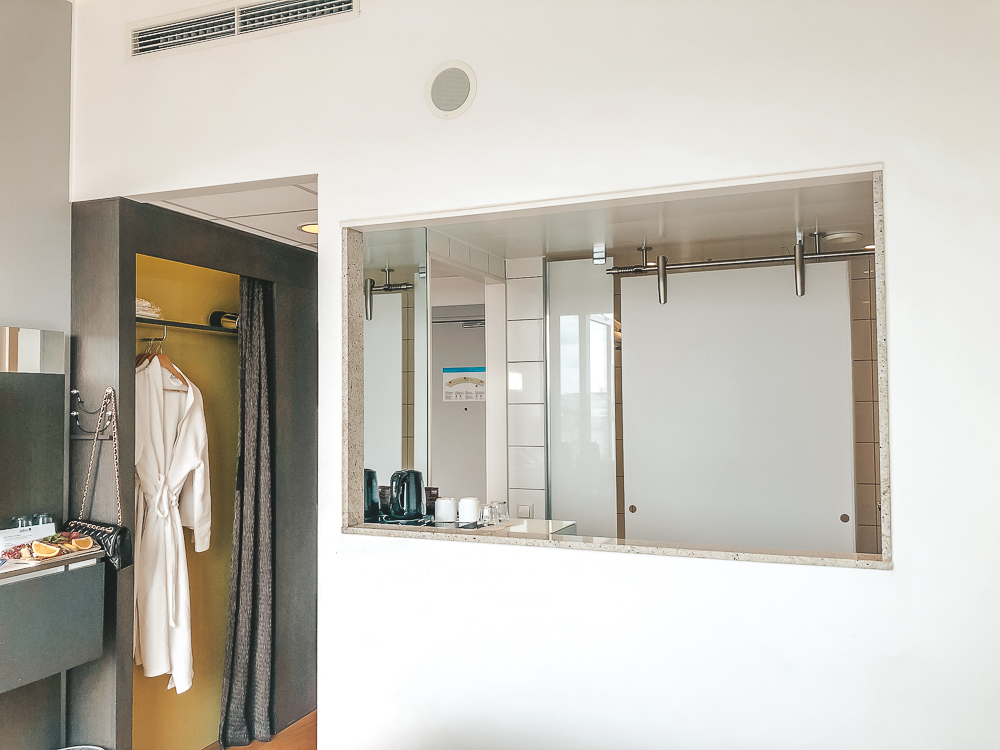 There was only a sliding door between the toilet and the shower that could be pulled back and forth between them.
Relaxation department
On the 7th floor you will also find the hotel's relaxation area. I thought maybe there would be a jacuzzi or a smaller pool here but unfortunately not. There are separate changing rooms for men and women and a large lounge room with table and armchairs to sit and relax in. You will also find a sauna in the changing rooms here. A tip is that if you live in a room that doesn't have a balcony, you can always come up here to the relaxation area because here is a large balcony with space for several people. Buy something to drink in the restaurant and bring up here to the relaxation area and sit outside on the balcony and enjoy the view 😉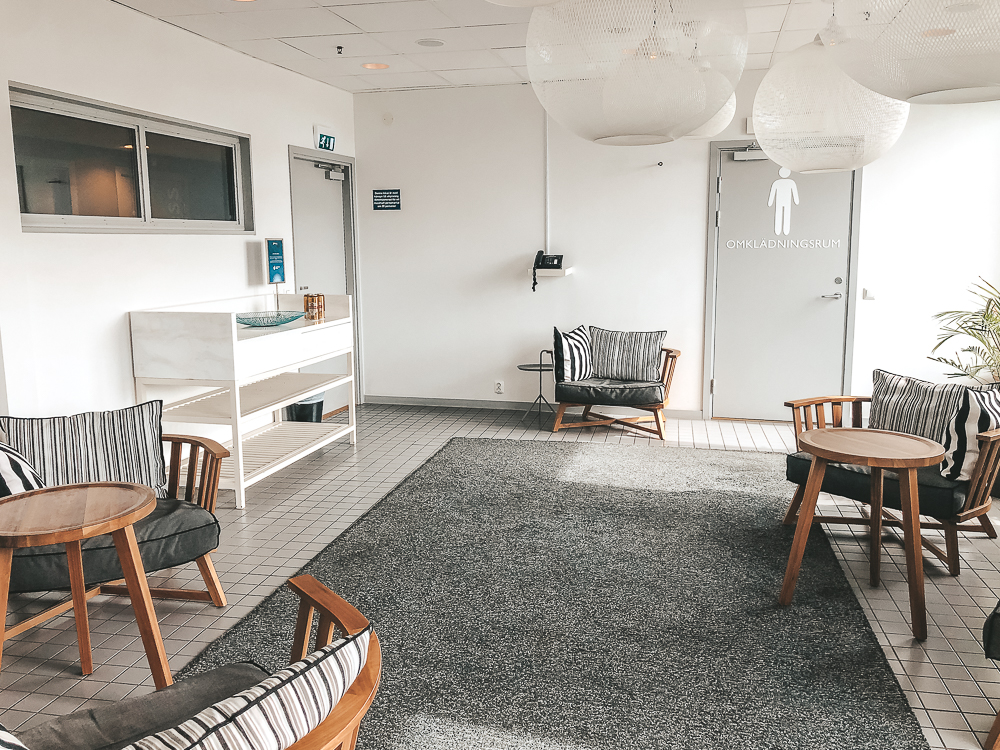 Opposite the relaxation area there is also a gym with the most important machines and some weights and Pilates balls. What I liked most about the gym is that there was a fridge with cold towels, a very positive surprise! 🙂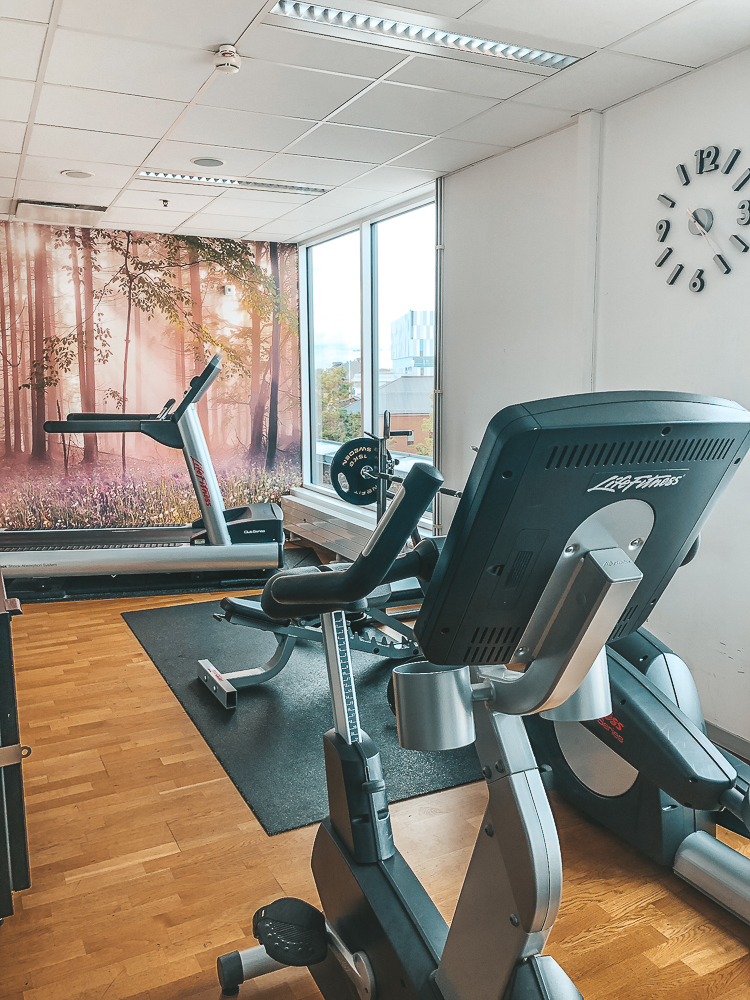 Restaurant Picnic
The hotel's restaurant is called Picnic and offers culinary dishes in a unique setting. They serve breakfast, lunch and we had our dinner here as well. The environment is absolutely fantastically cozy and there are a few pink trees here and there, a very nice detail I think. However, the selection of dinner dishes was not many but it was incredibly good! And for God's sake, don't forget to take their Sundae for dessert, because it was magically delicious! 🙂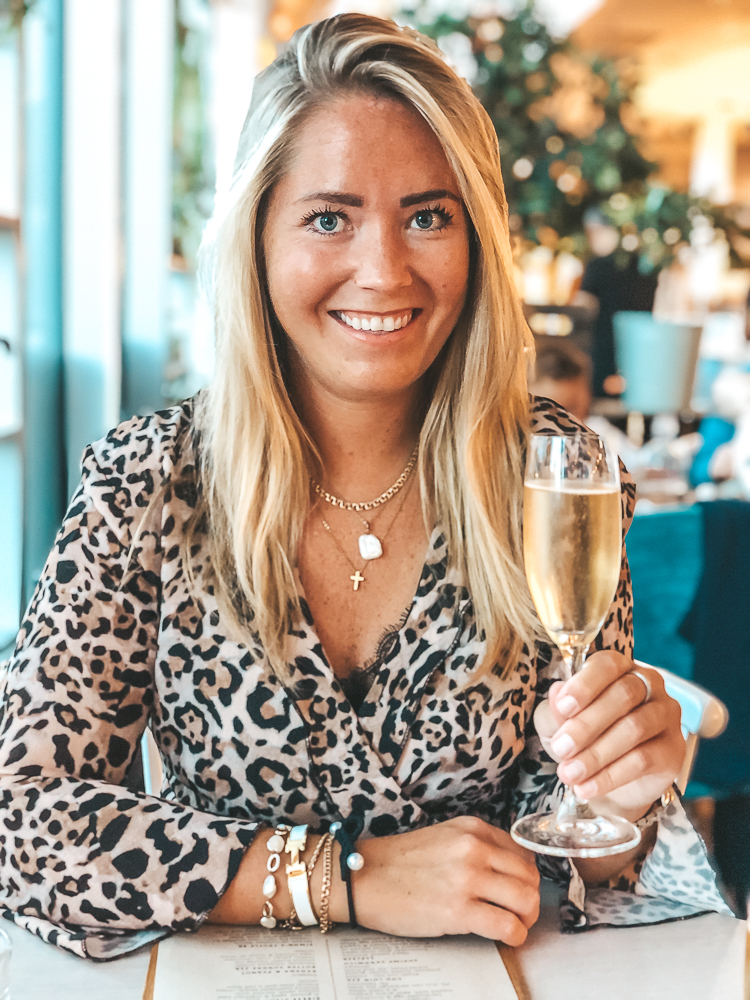 We started with a glass of champagne and went straight to the main course which consisted of Ribeye steak and was perfect! Really good with both béarnaise sauce and red wine sauce, my god! 😀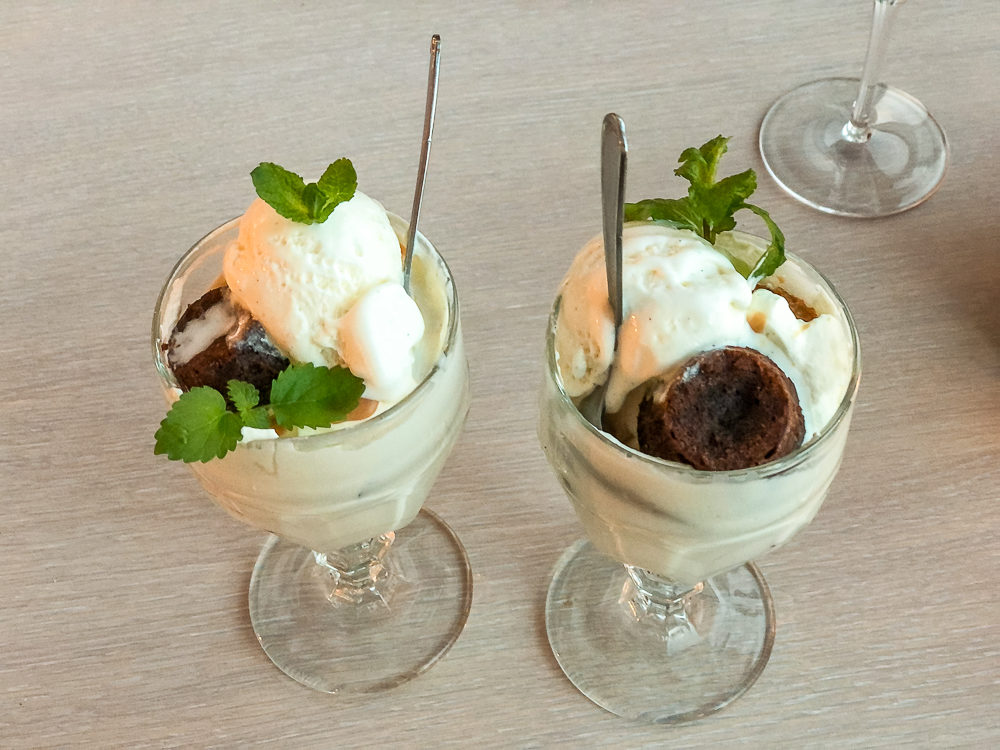 Breakfast
The breakfast was super fresh and served as a buffet and it was good with distance between all people and that it was possible to spray your hands and gloves to put on. In addition, the staff was constantly attentive to cleanliness, keeping distance, etc. It was a good and varied breakfast with both hot and cold dishes.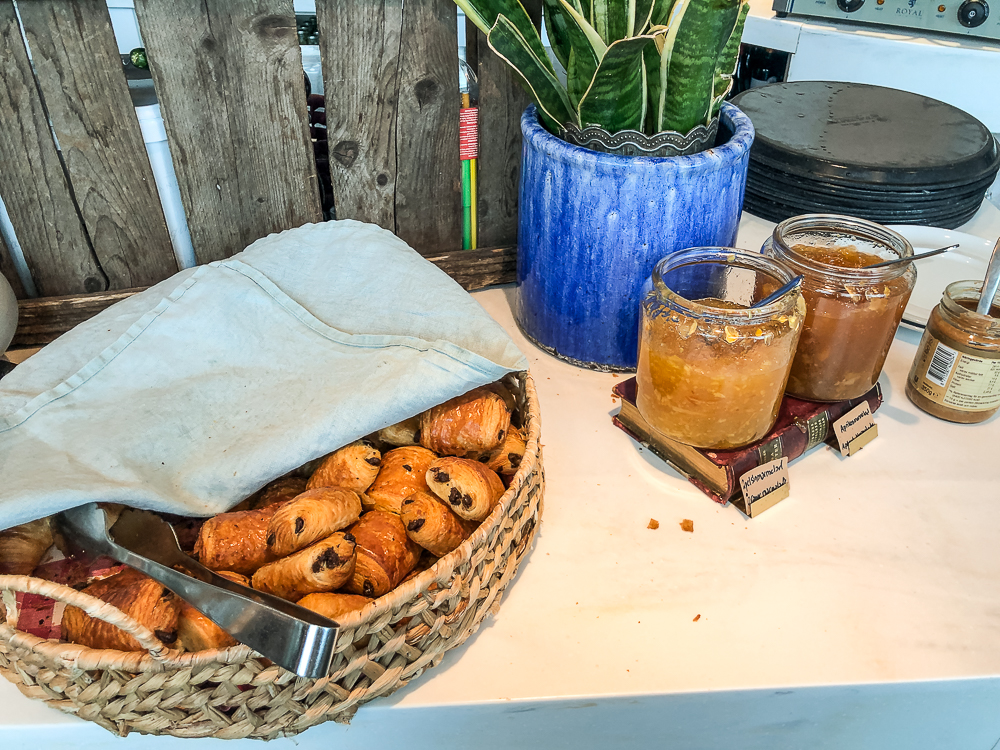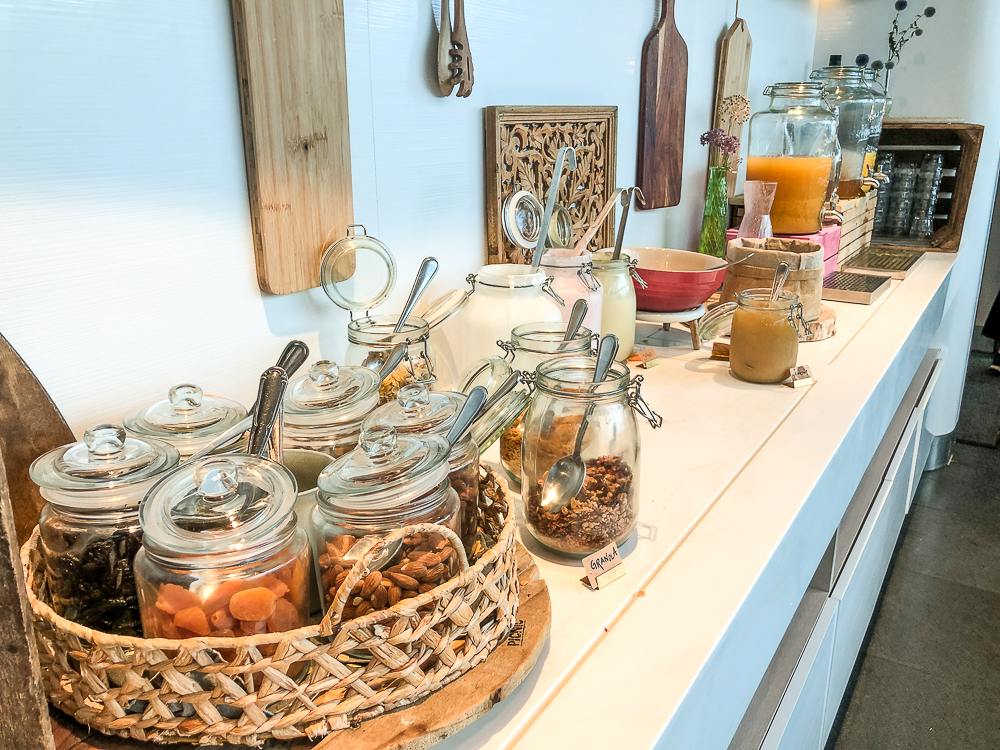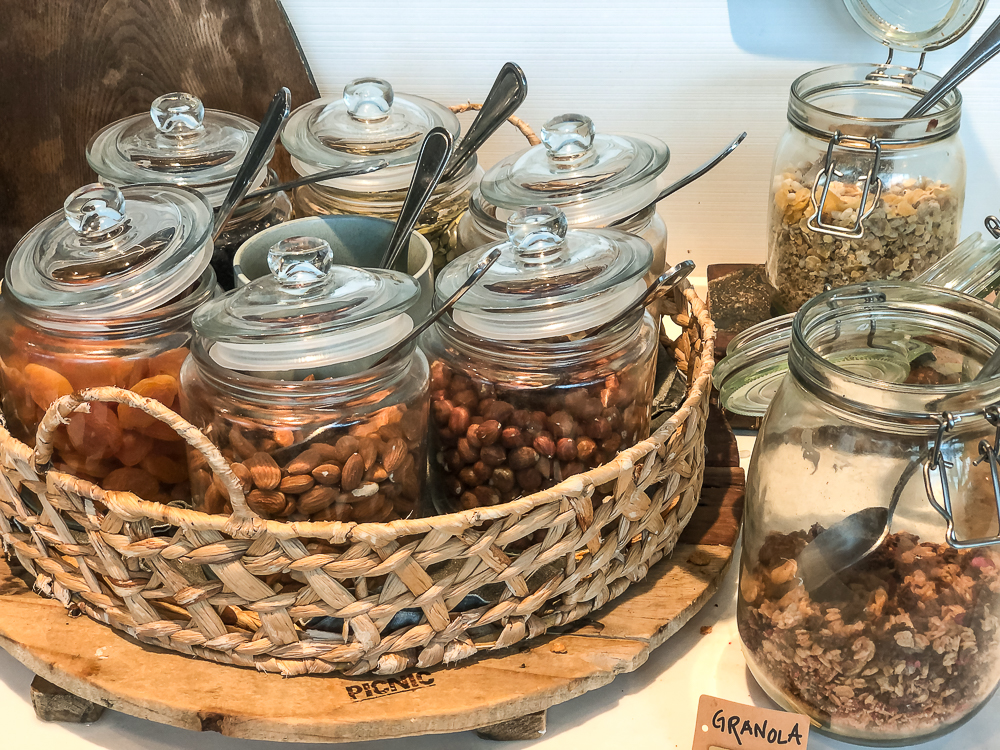 Summary
I can definitely recommend staying at the Radisson Blu hotel in Uppsala if you want to discover Uppsala for a day. The proximity to all the sights can't be closer than from this hotel as it has a really good location! The staff were wonderfully nice and the bed was incredibly comfortable, something I think is important when I stay in hotels not to mention the view from the terrace which was clearly the best thing about our stay!
Aktivt uteliv
The next day I was picked up by Erik who owns Aktivt uteliv to paddle SUP (Stand up paddle) in Fyrisån. Something I've never done before and it was really fun! It was much easier than I thought it would be and it went really well even though we had a little headwind. His company organizes activities for both kickoffs, bridal showers and other events and offers many different outdoor sports 🙂
I hope you will be as happy with your stay here as I was at this hotel! 🙂
Happy Travel!
// Charlotte