In collaboration with Tofta Herrgård. 
Staycation at Tofta Herrgård, Sweden
Between Marstrand and Gothenburg in Sweden, you will find Tofta Herrgård which is an absolutely lovely mansion surrounded by nature with the sea, the cliffs, the forest and the meadows. At Tofta Herrgård you can have a conference with colleagues but also a romantic weekend for two and why not take the opportunity to play golf at Lycke Golf Course, just a minute away from Tofta Herrgård.
Tofta Herrgårds different packages
Tofta Herrgård offers different accommodation packages all year round. Among other things, they have activities such as golf and riding packages, but also hiking packages for those who want to hike around Tofta Nature Reserve. The estate is surrounded by very beautiful nature and rich wildlife with both birds, deer, rabbit, as well as horses and cows grazing. Here you will find bare cliffs and vast sea as well as lush forest and open fields.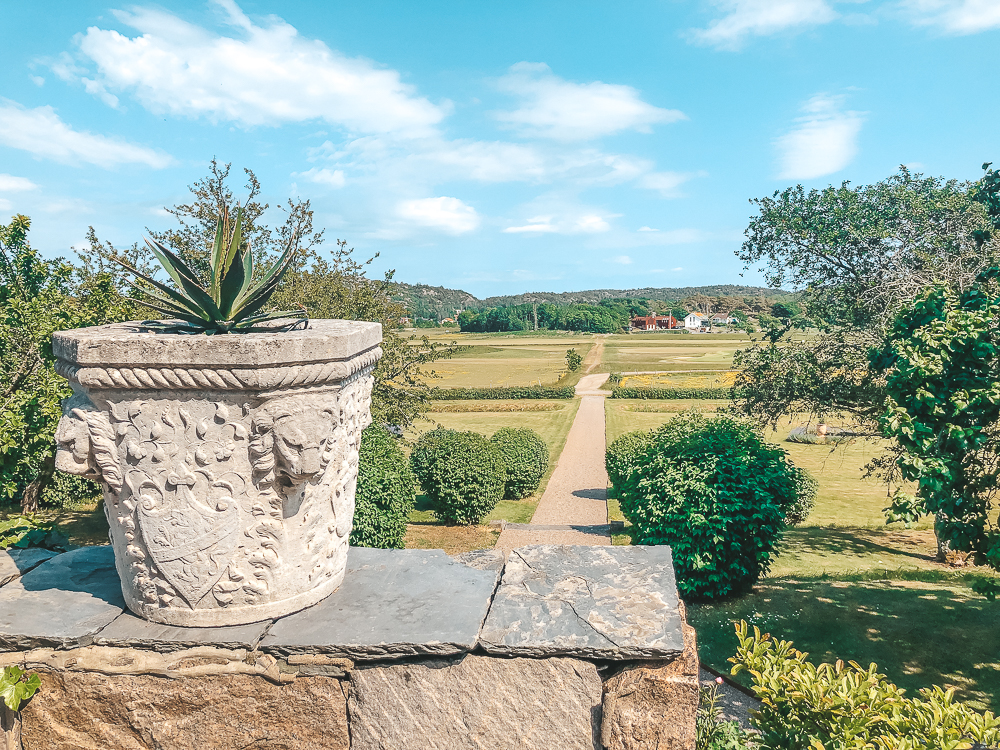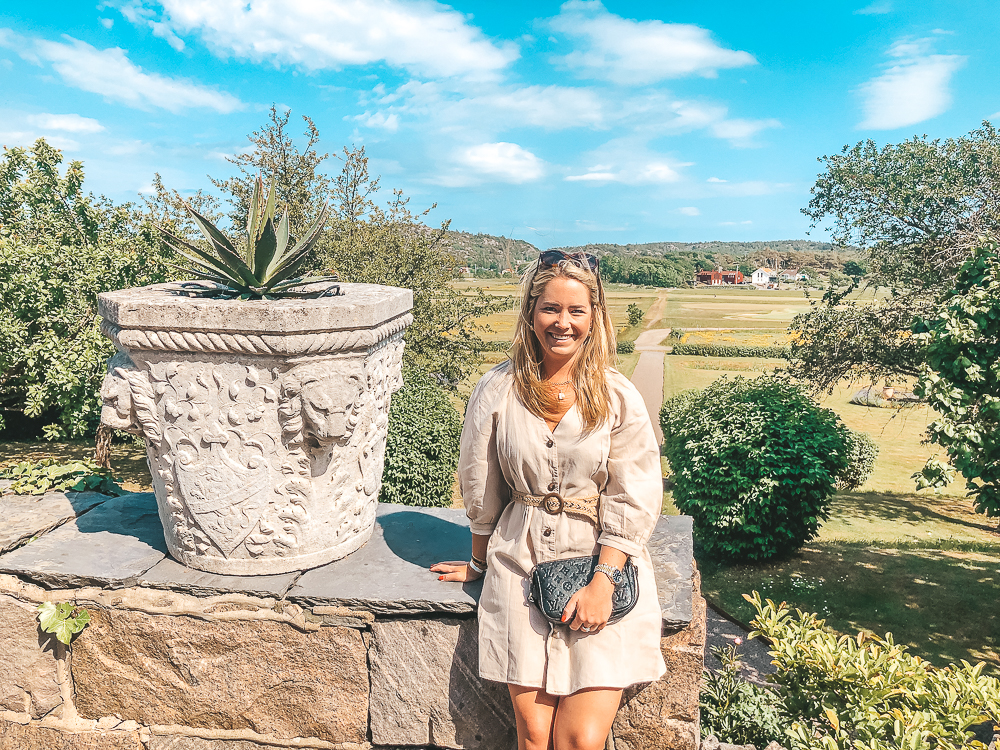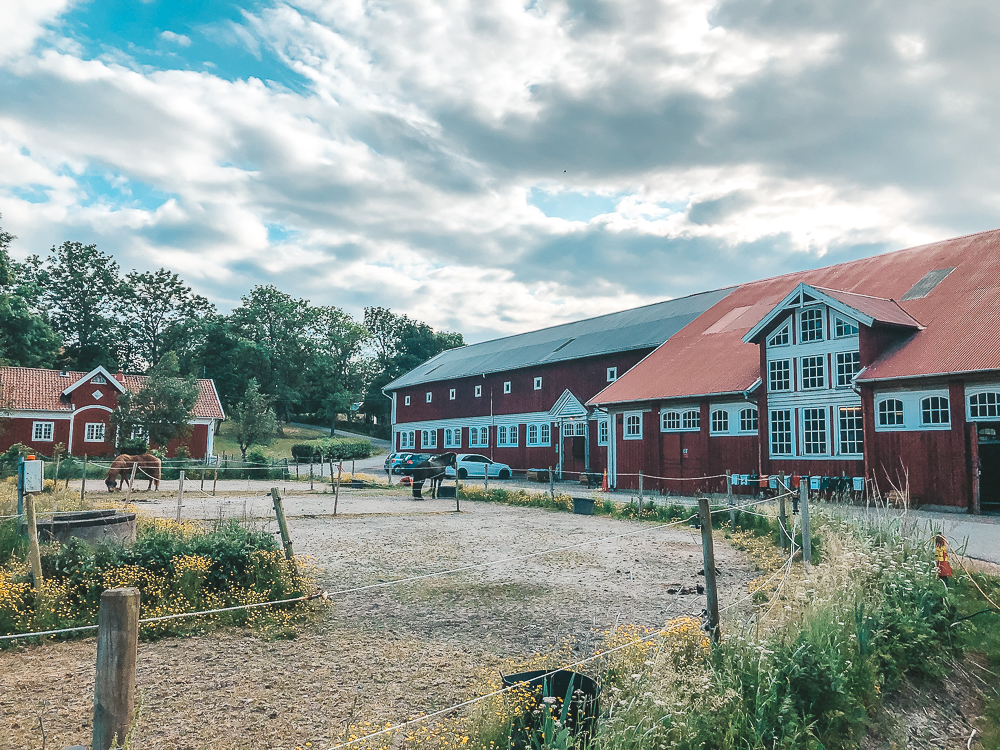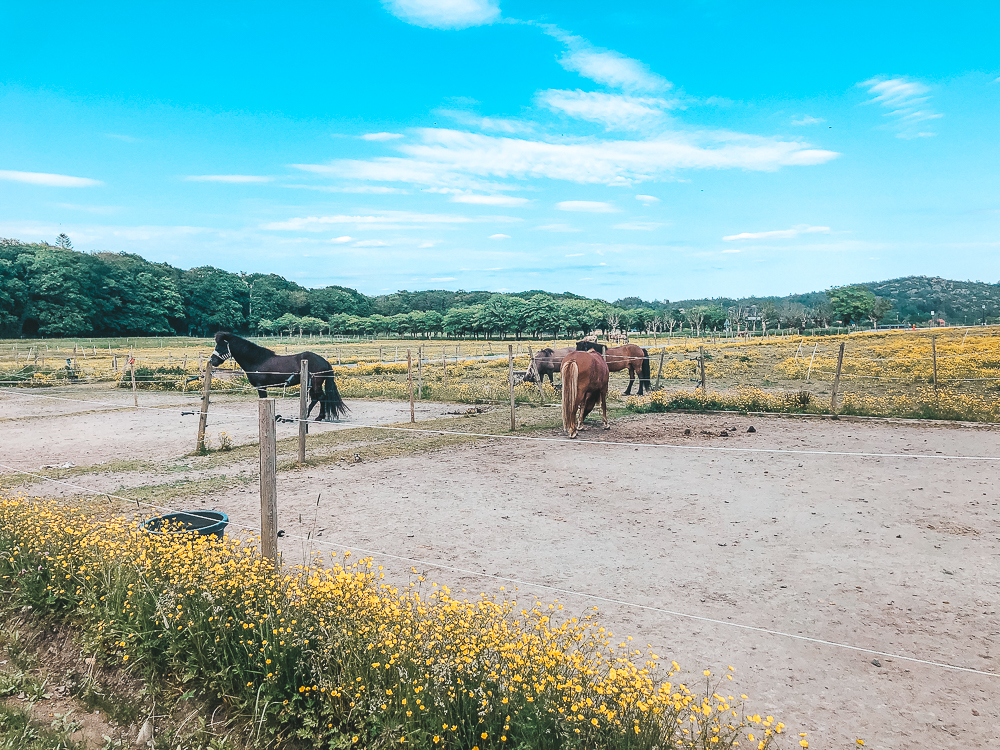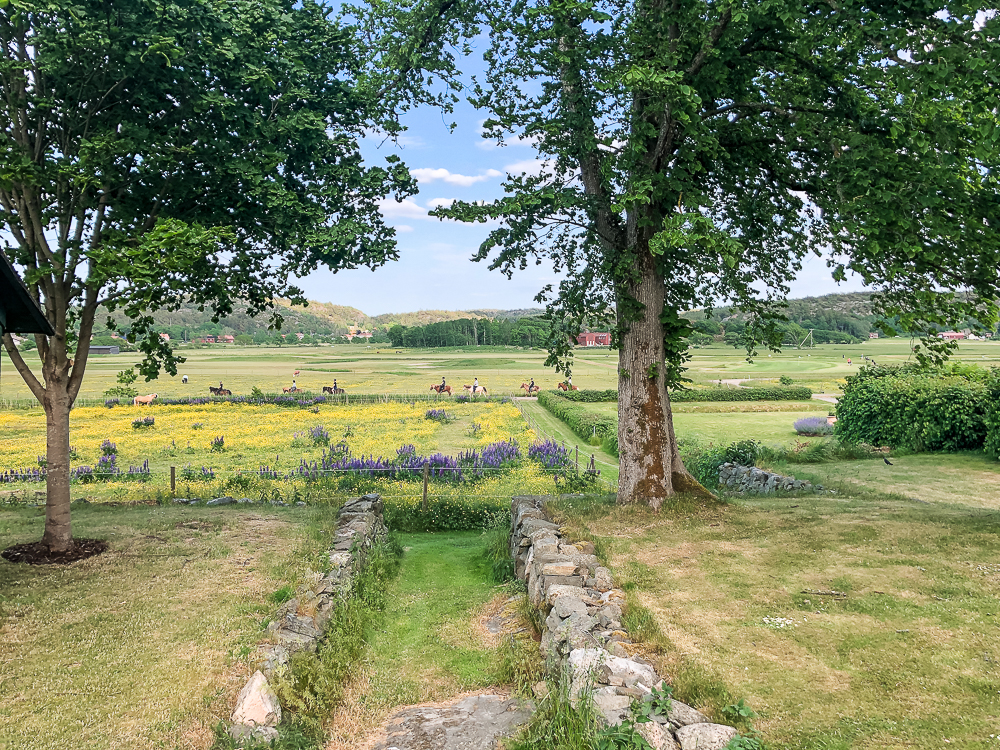 Tofta Mansion (Herrgård)
An incredibly beautiful avenue leads you to Tofta Herrgård which is beautifully elevated on a terraced courtyard. The gray main building was given its current appearance in 1782 and a few years before the two independent wings were erected. But the history of the mansion is much older than that. The origin of the farm is unknown, but during the 15th and 16th centuries it was a salary for the lawyer and later it served as a resting house for Bohuslän Gröna Dragoner.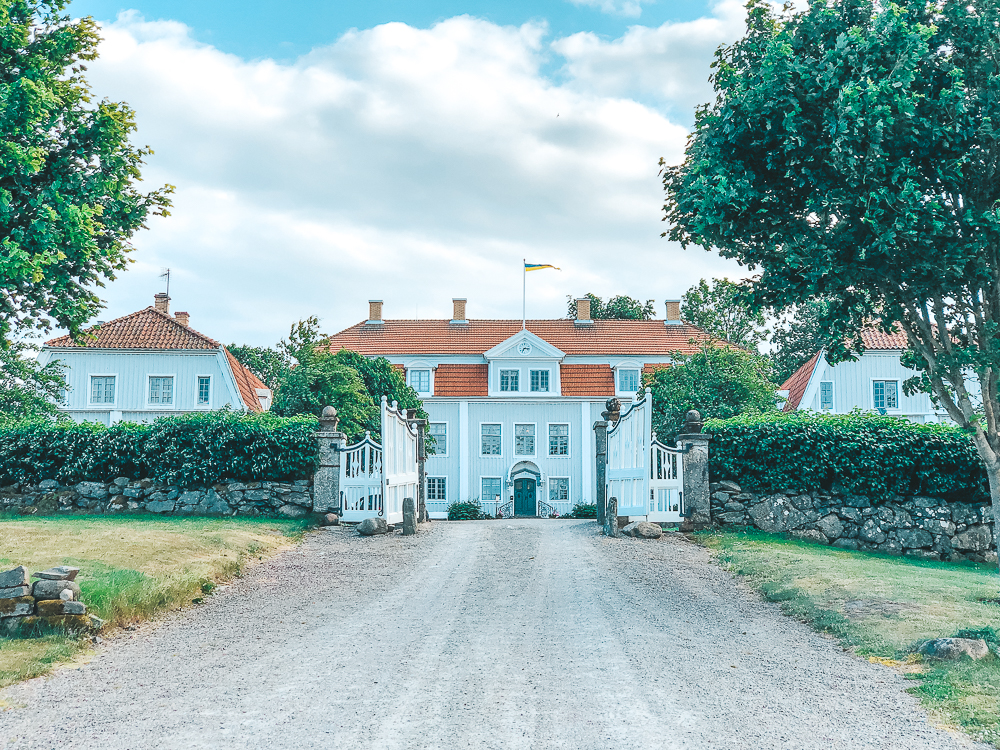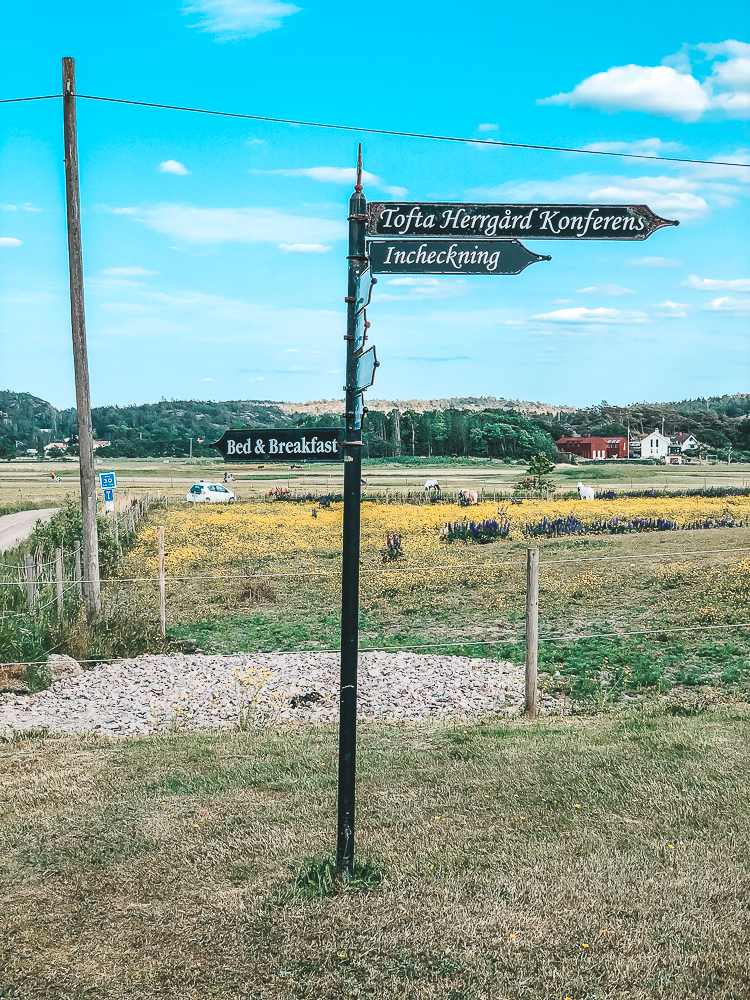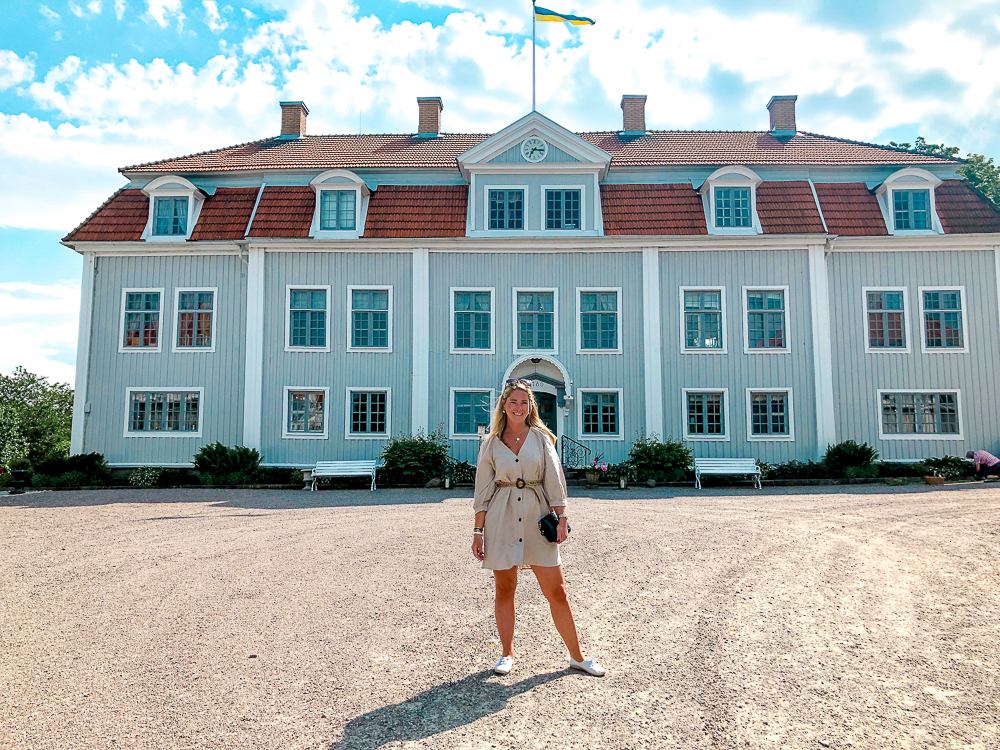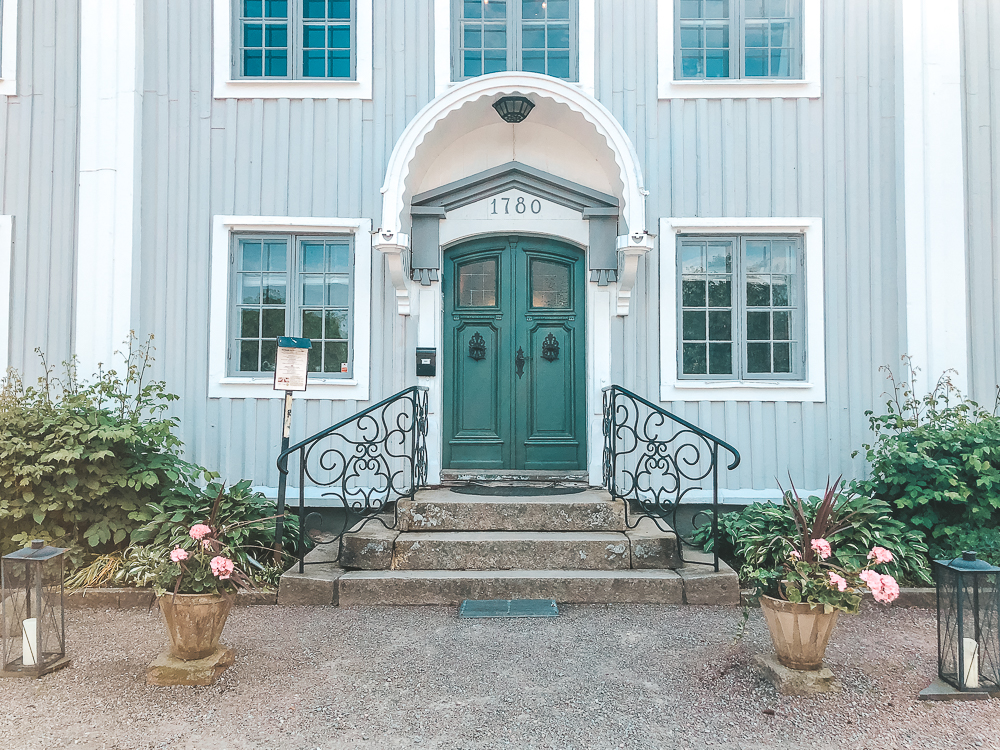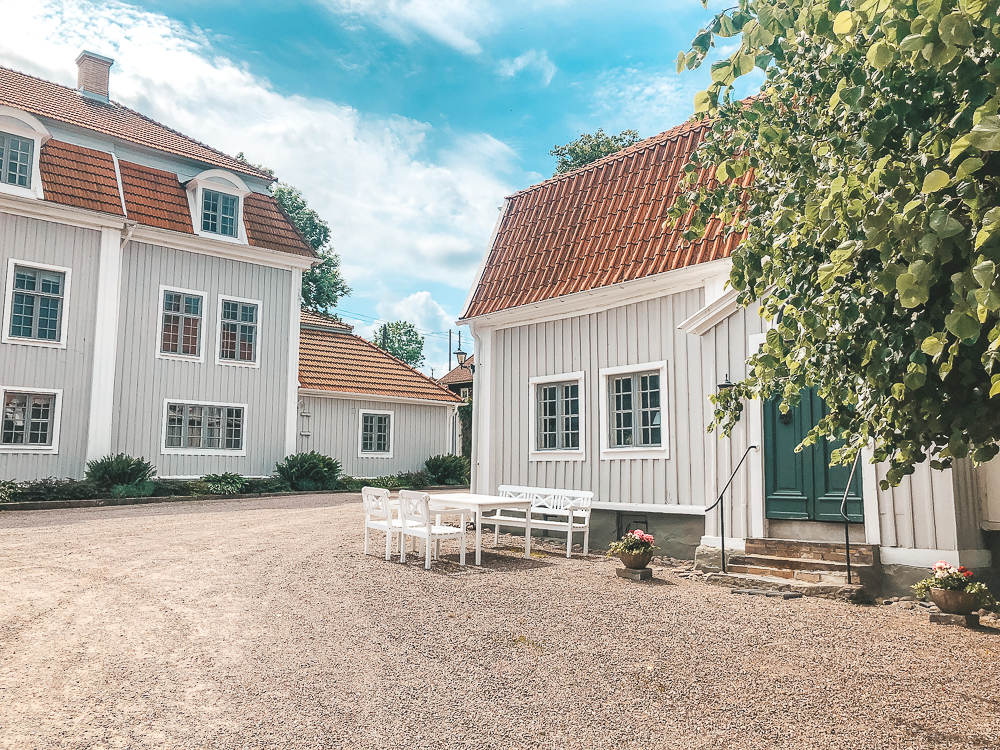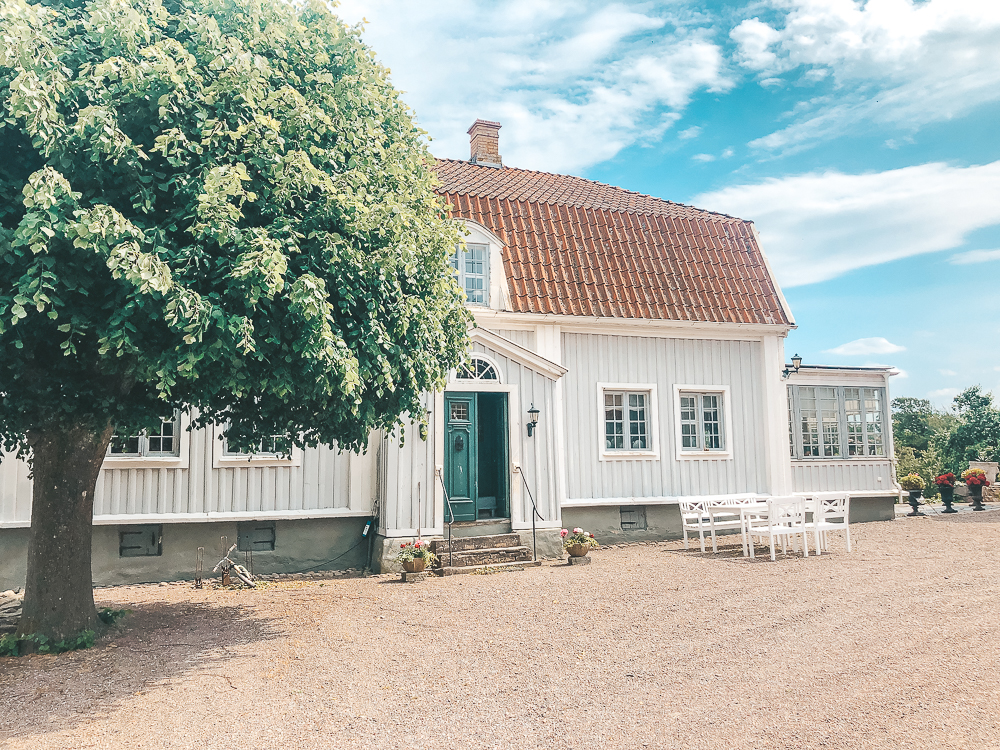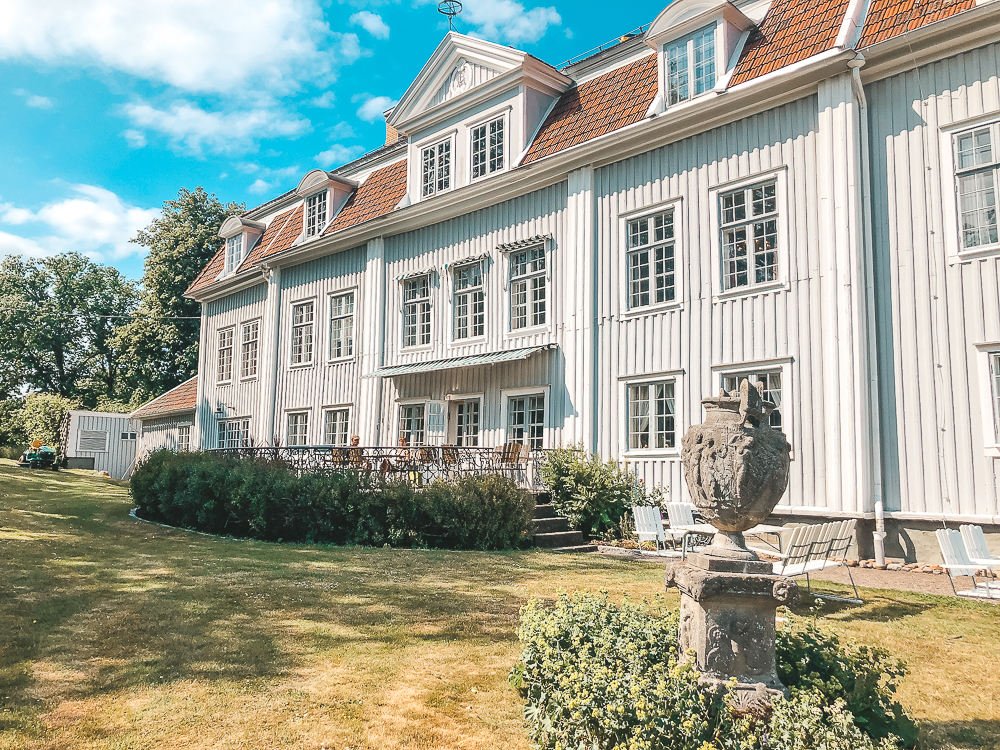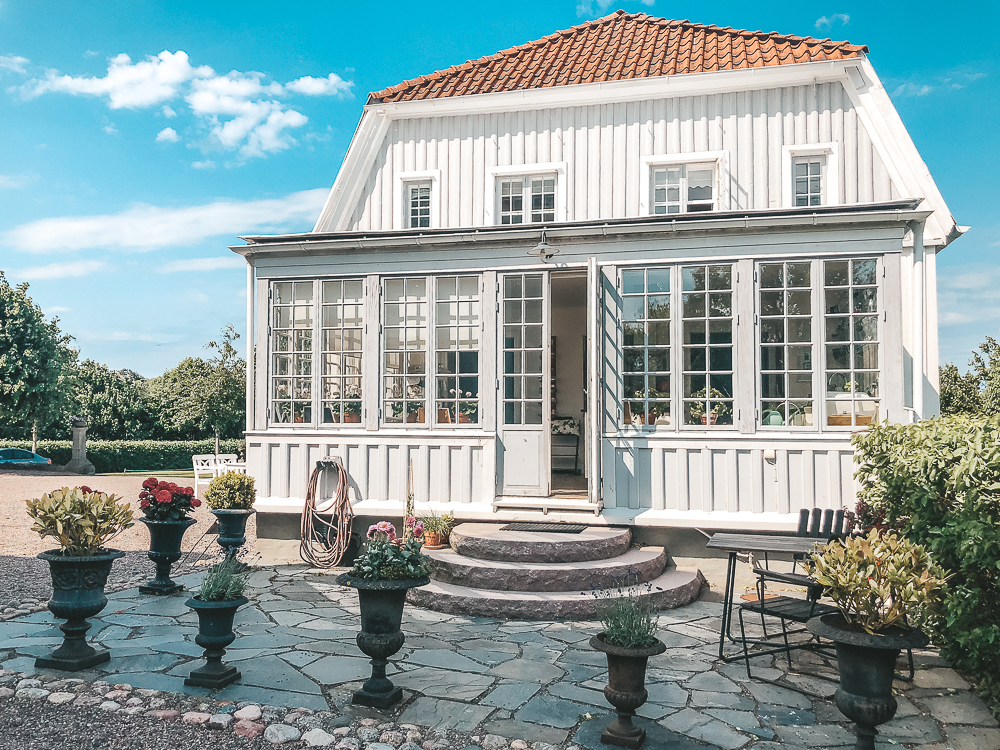 Tofta Nature Reserve
There are two swimming spots here. One is Hjelm's jetties and the other is Sjöbodarna. In addition, there are three walking paths. The red trail is about 6 km. The green trail is about 4.5 km and the Blue Trail is across the nature reserve. There is also a purple path which is the riding path through the forest.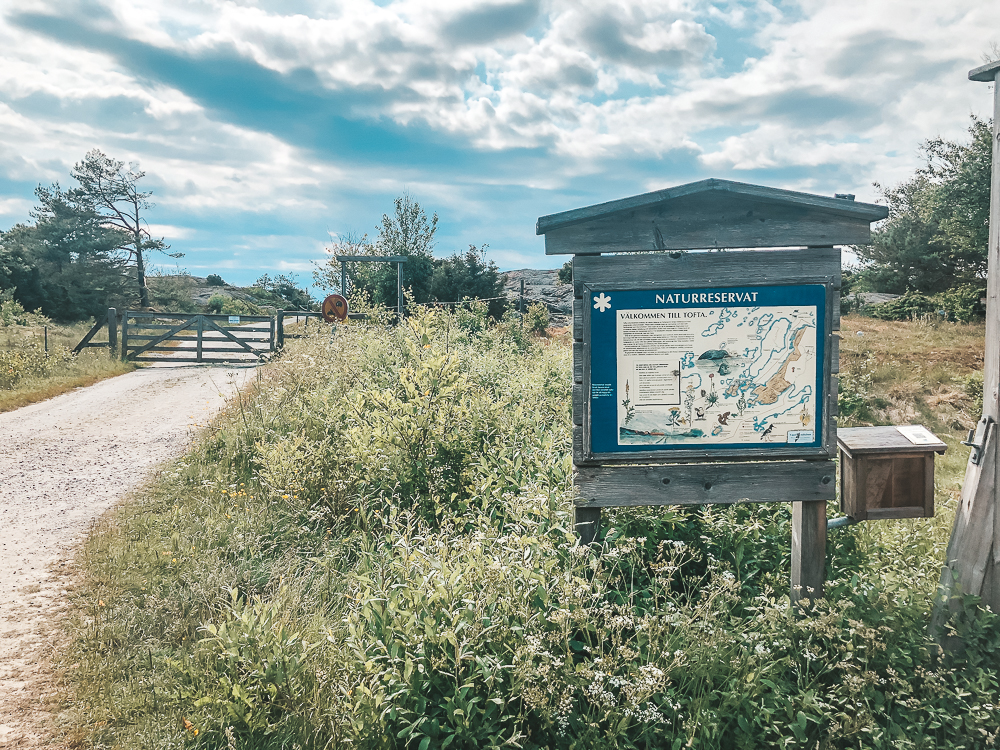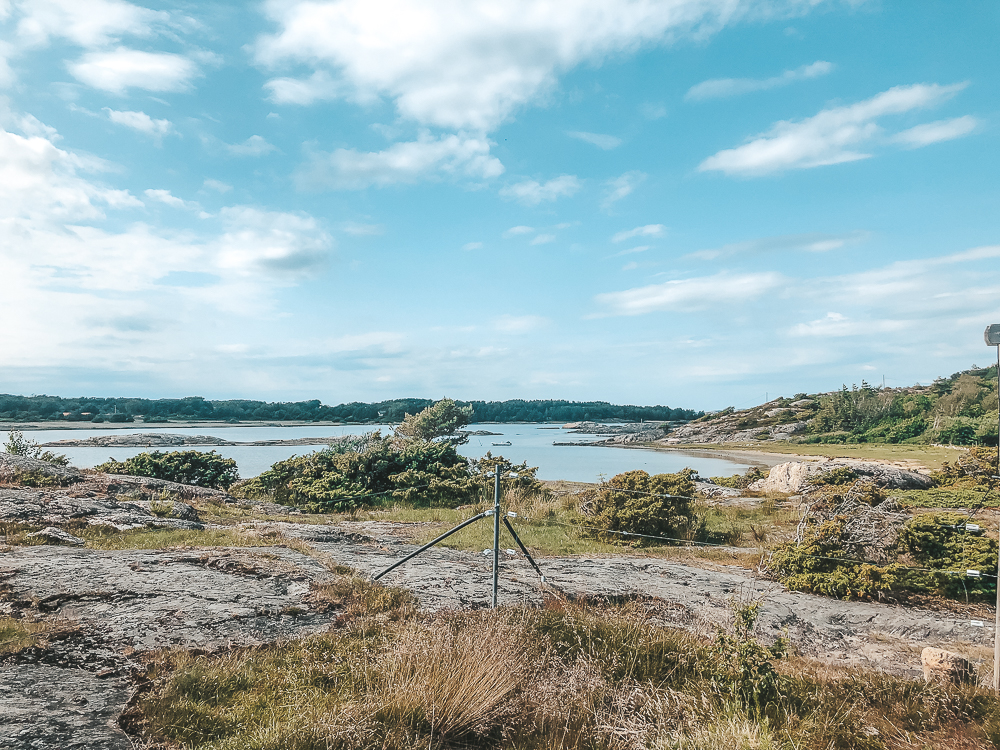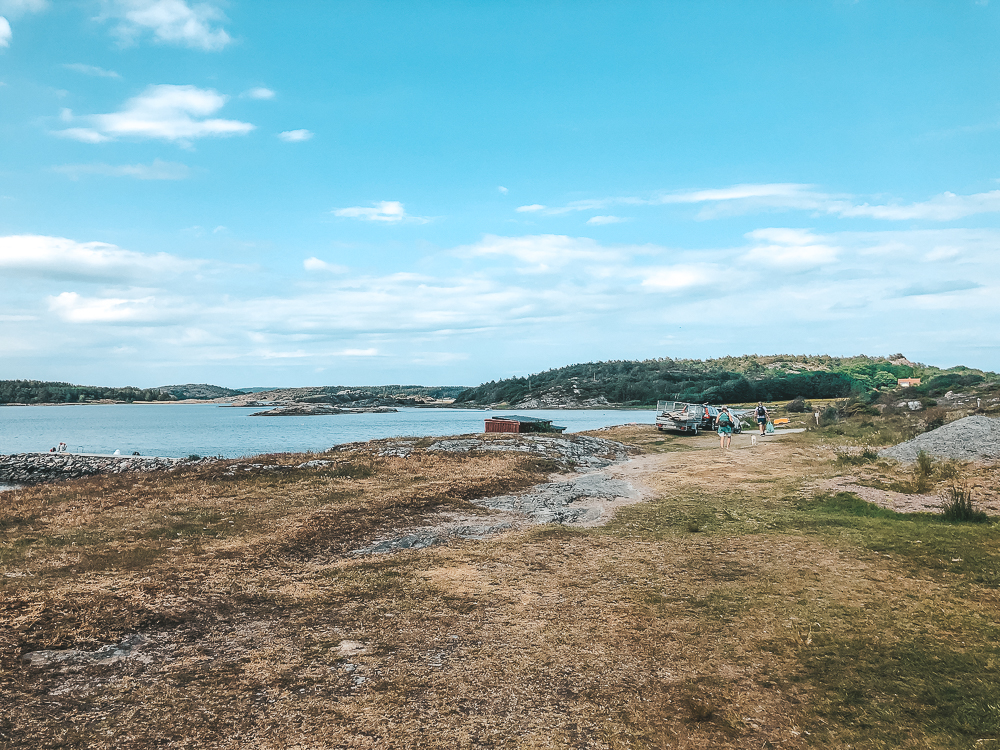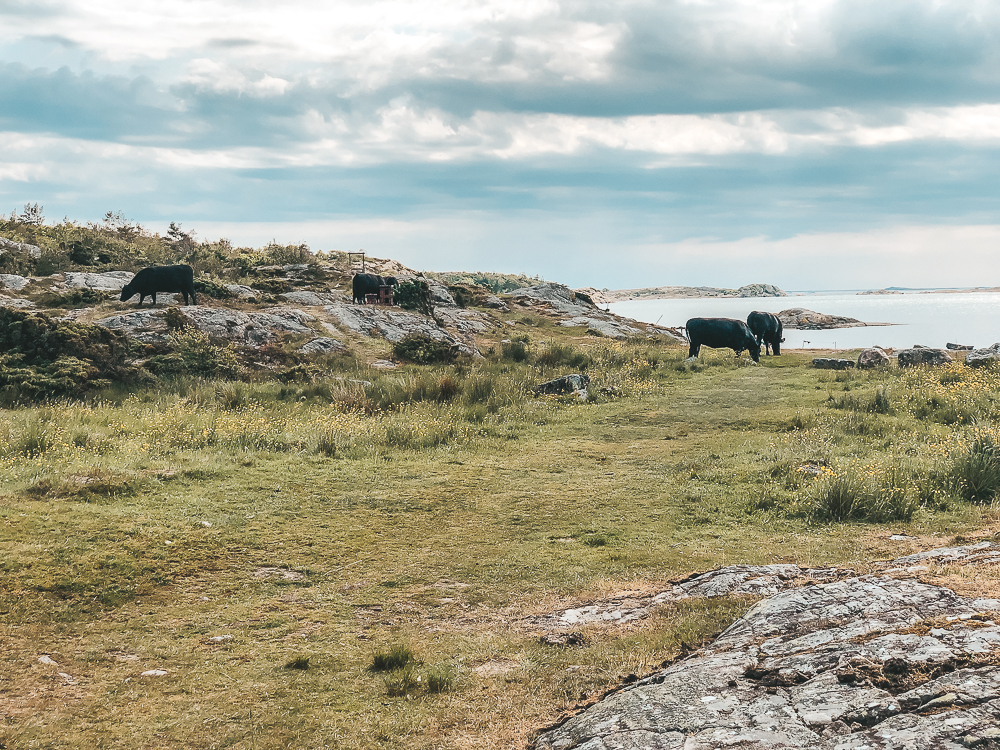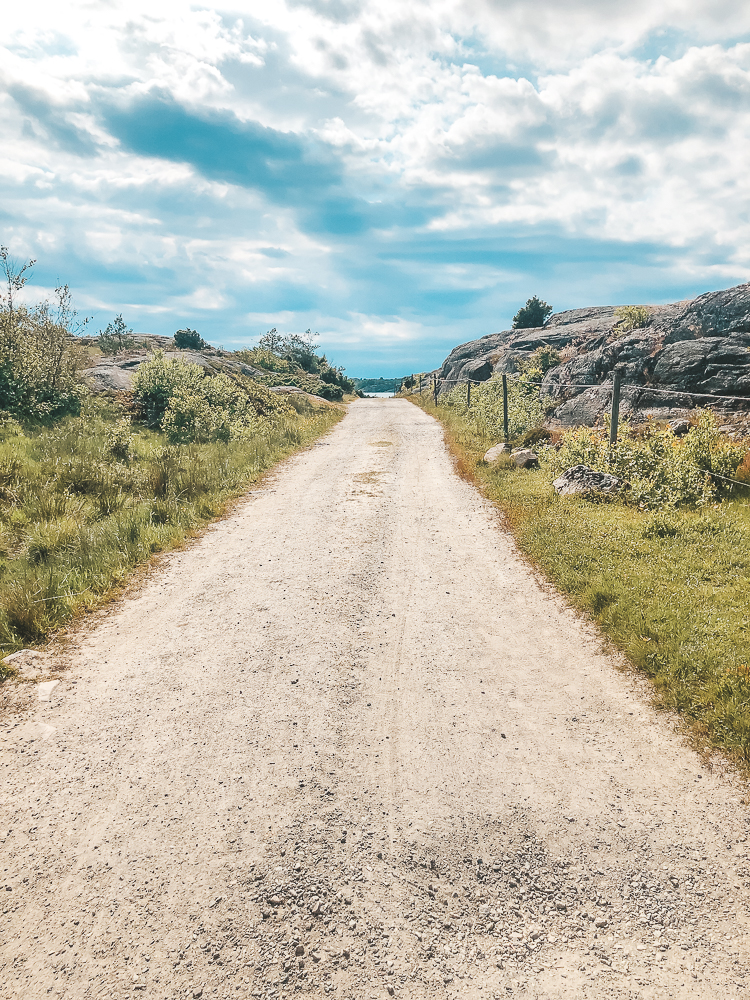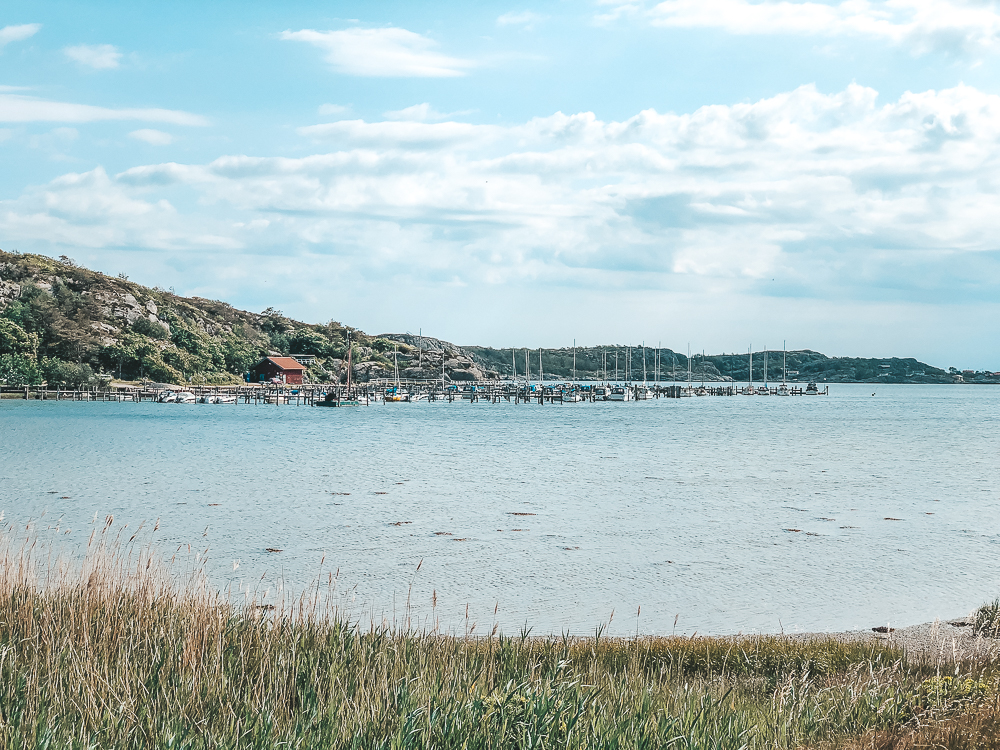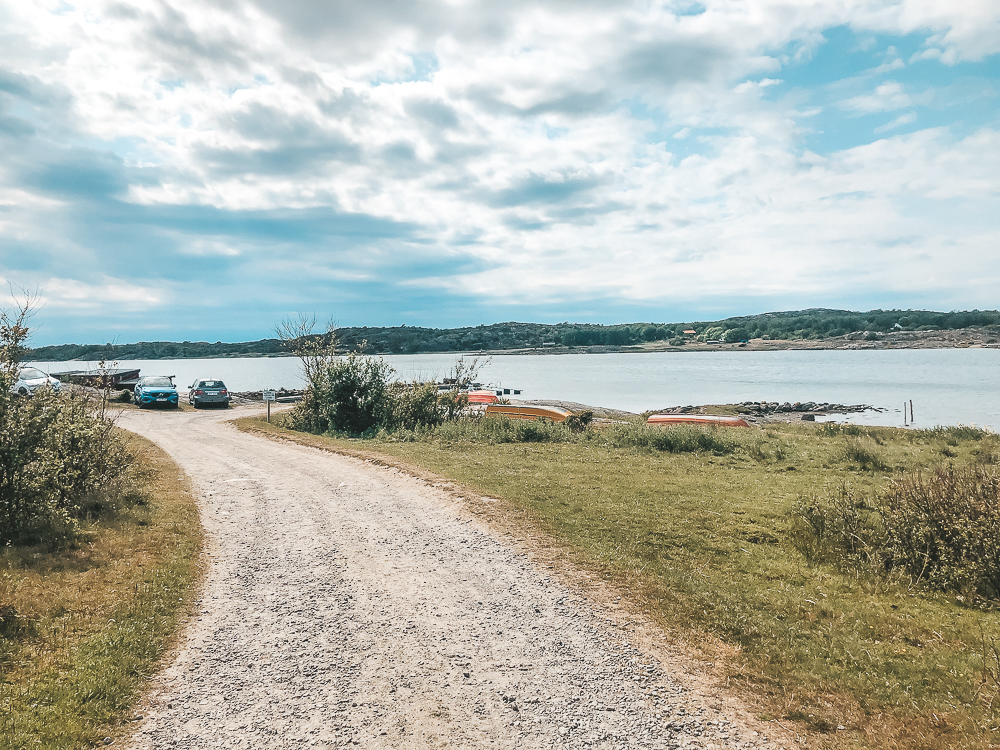 The Rooms
Since the gray main building is Culture-marked, there are no hotel rooms here, but instead you live in the annex Smedjan or Mejeriet, which is located about 100 meters from the manor's main building. We stayed at Smedjan in room number 11 called Åkerman's room and all rooms are individually decorated with light and rustic interior style with modern design and comfort.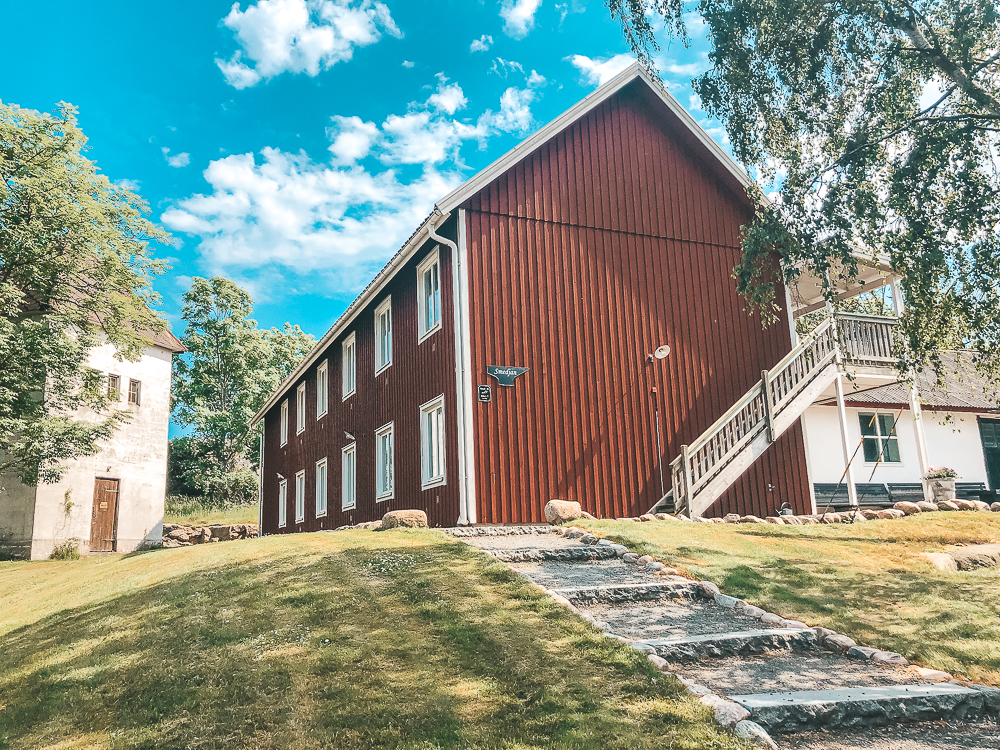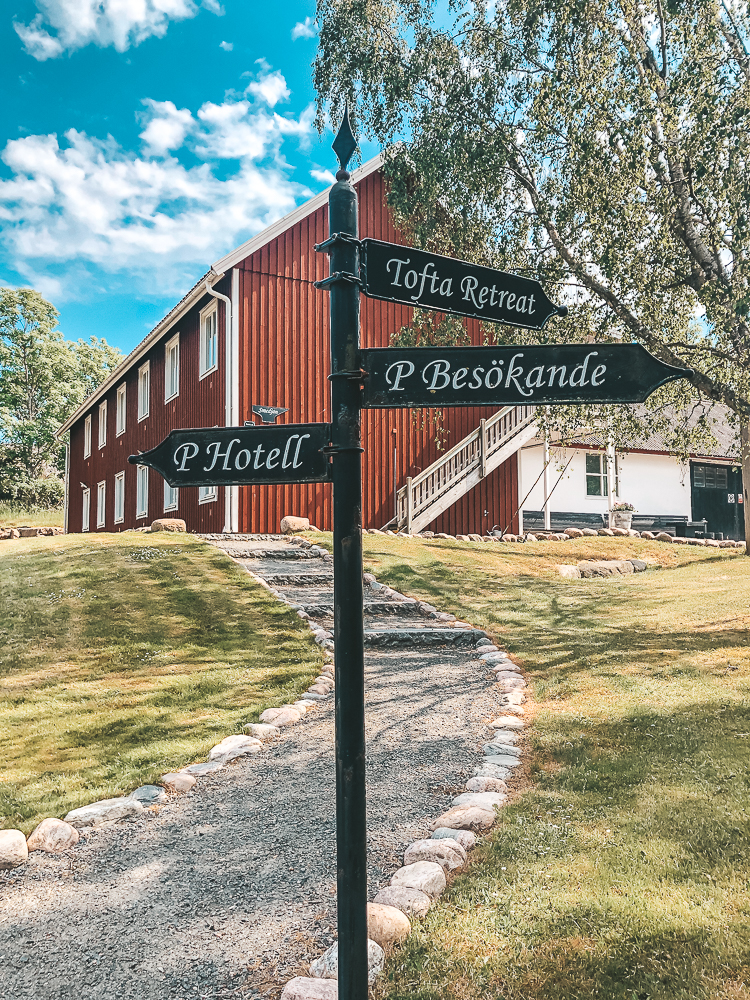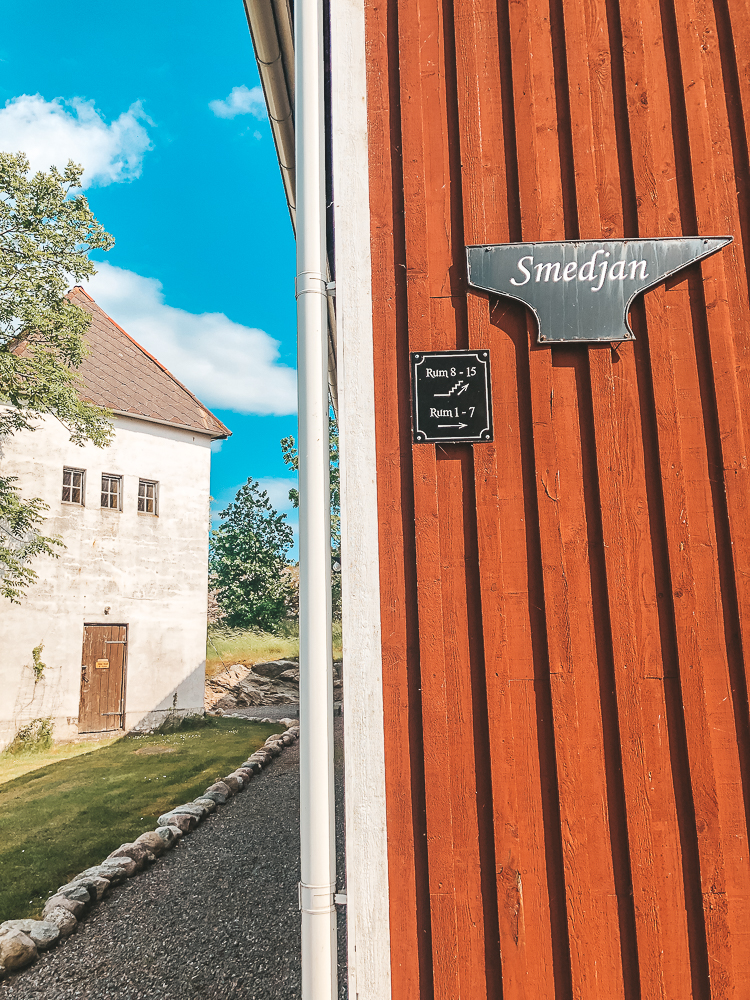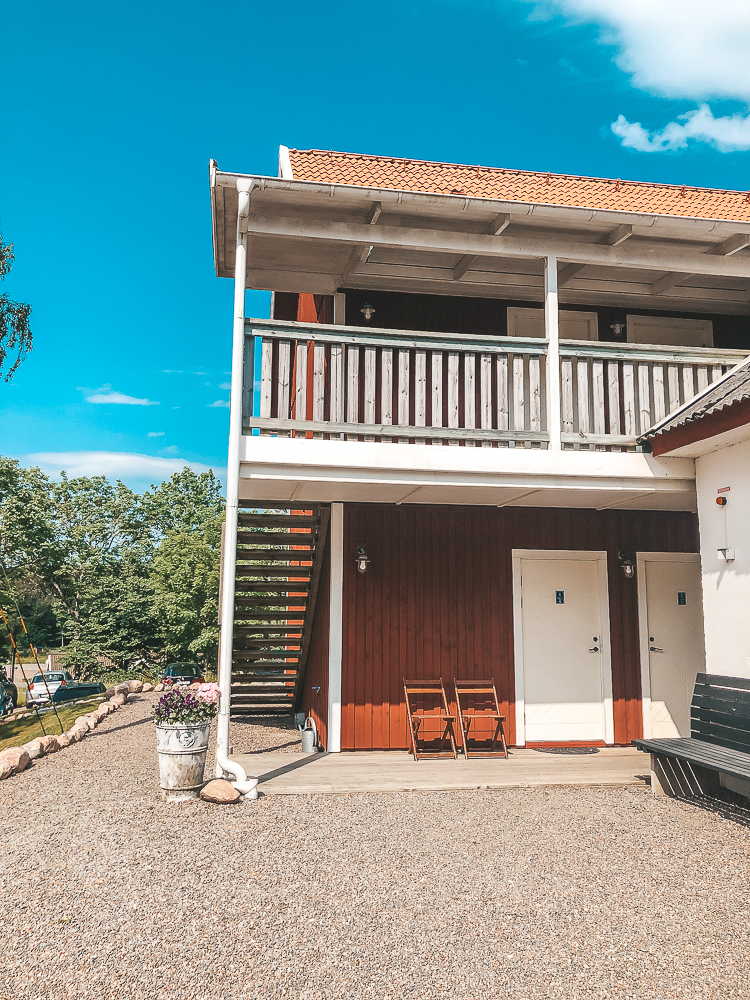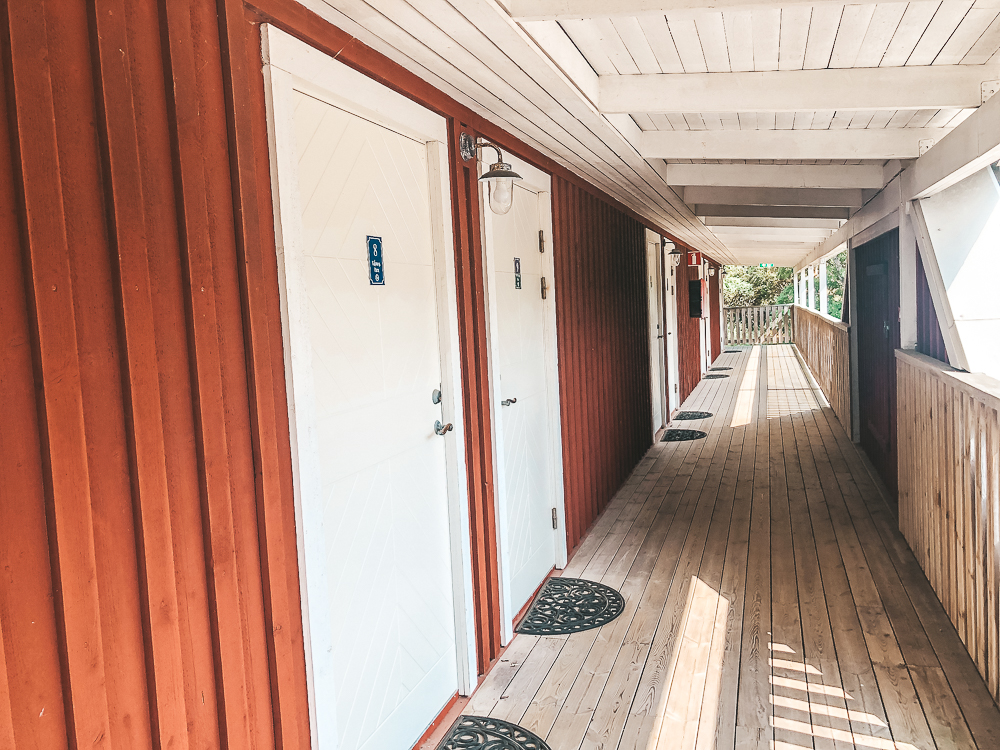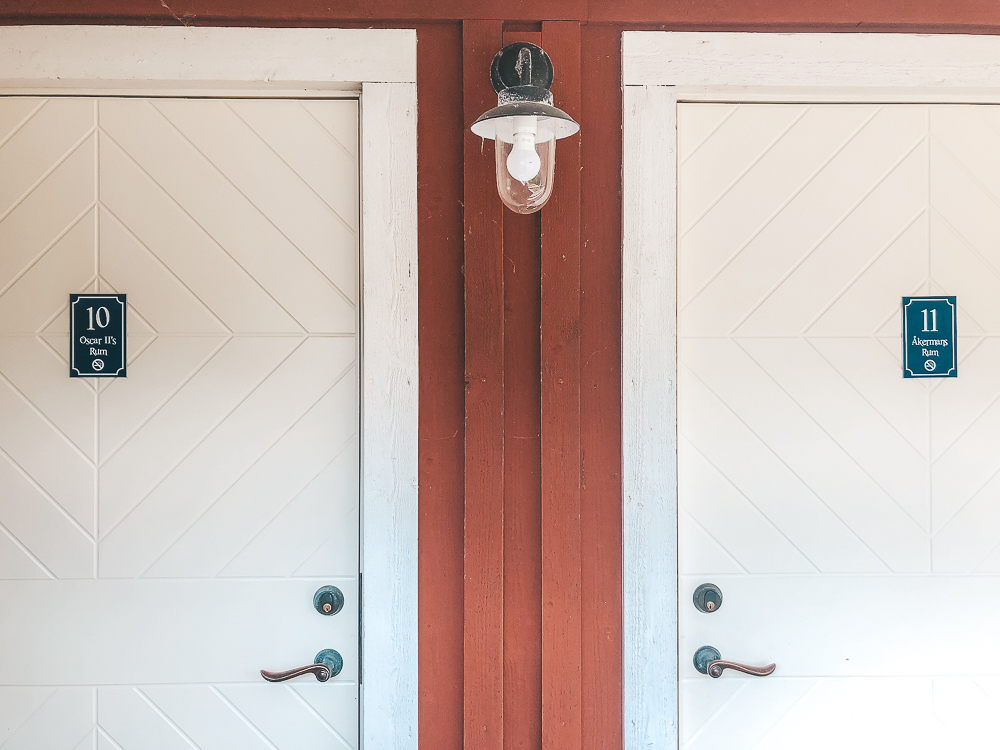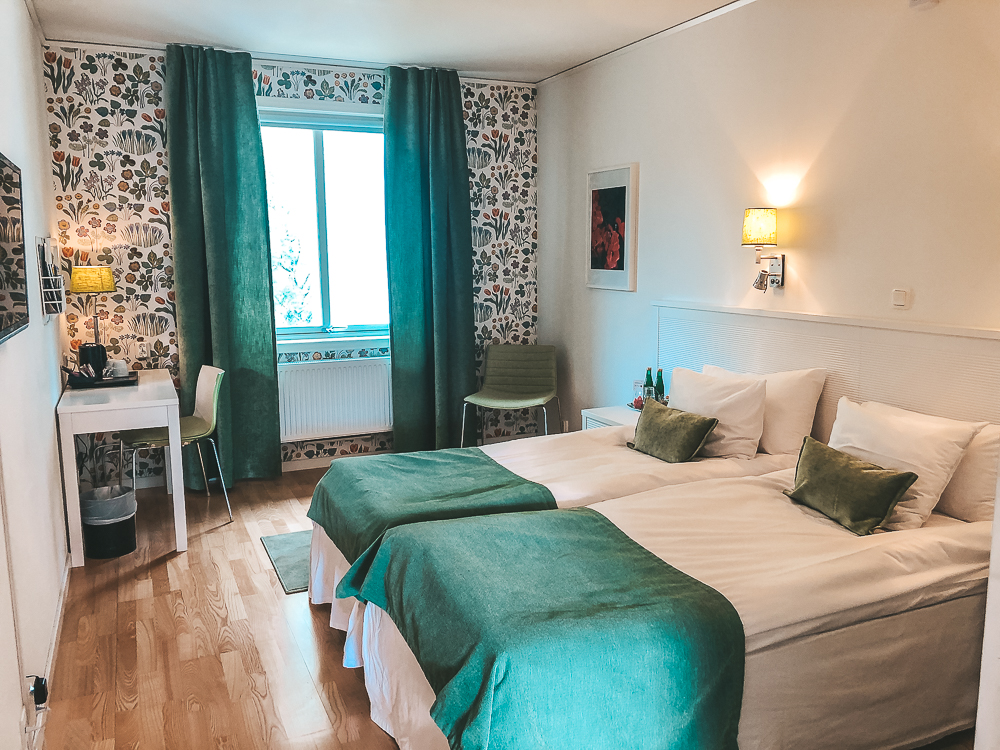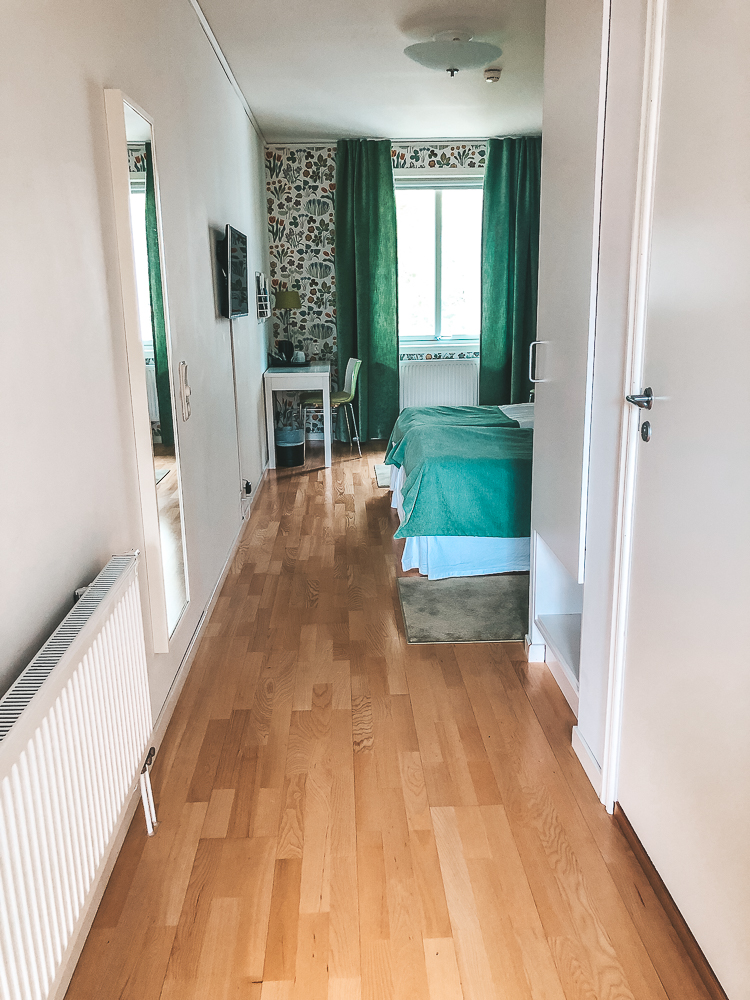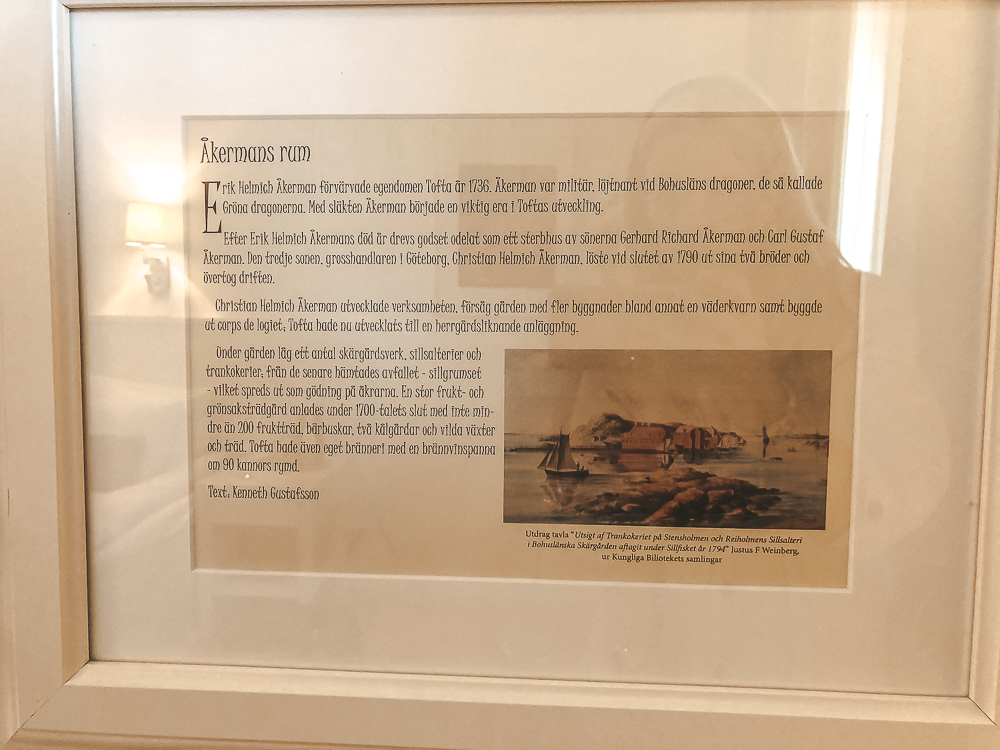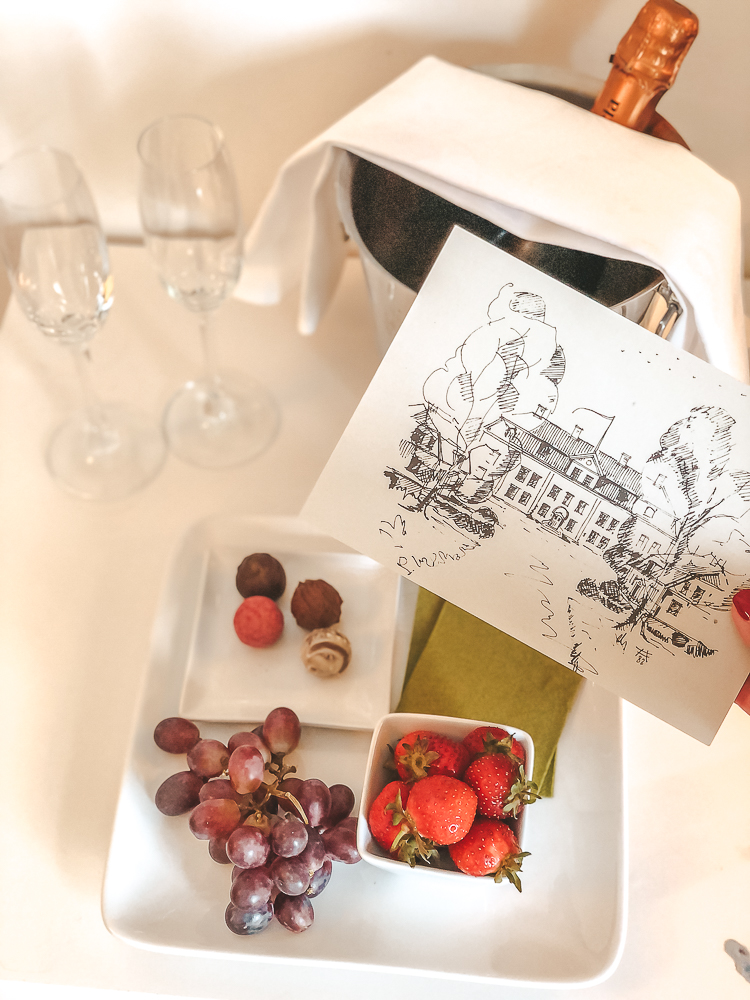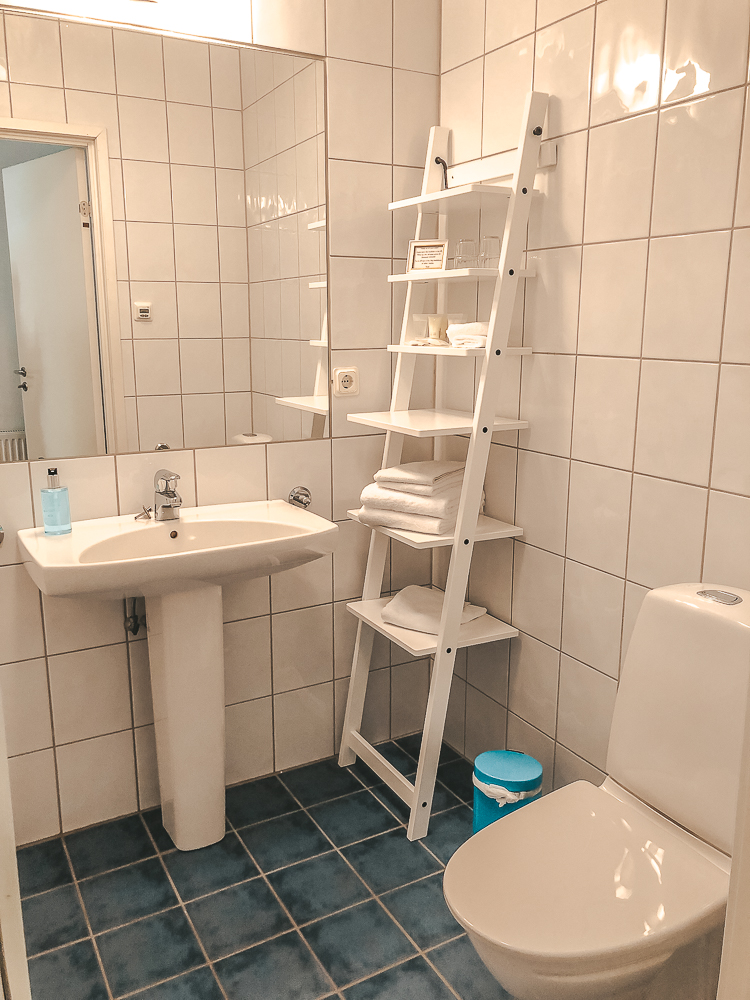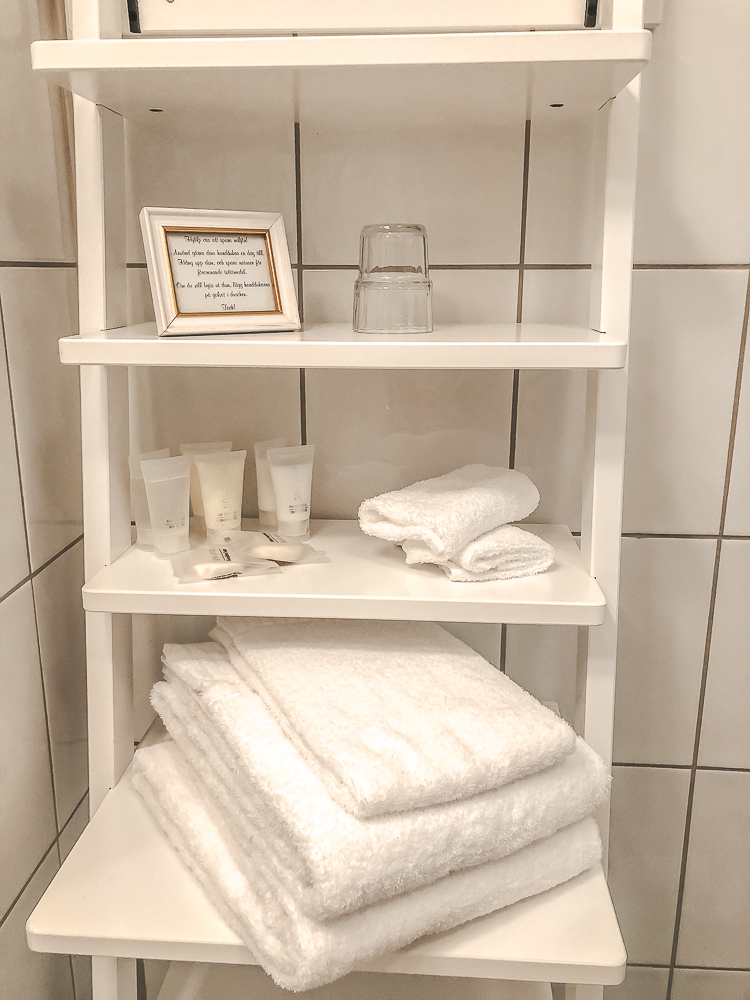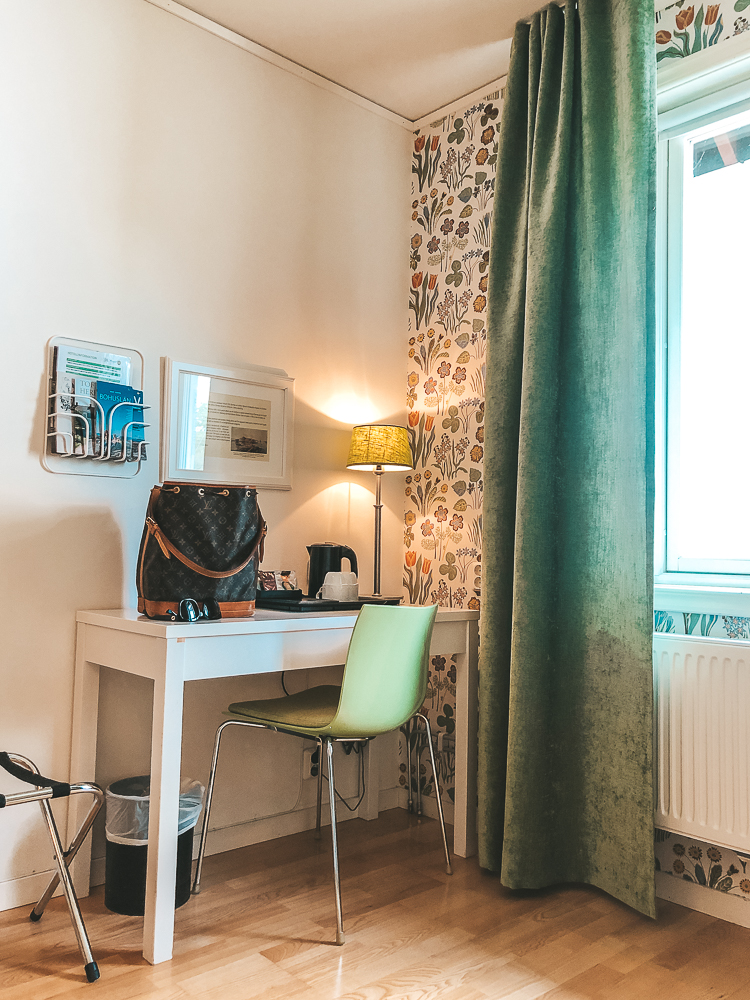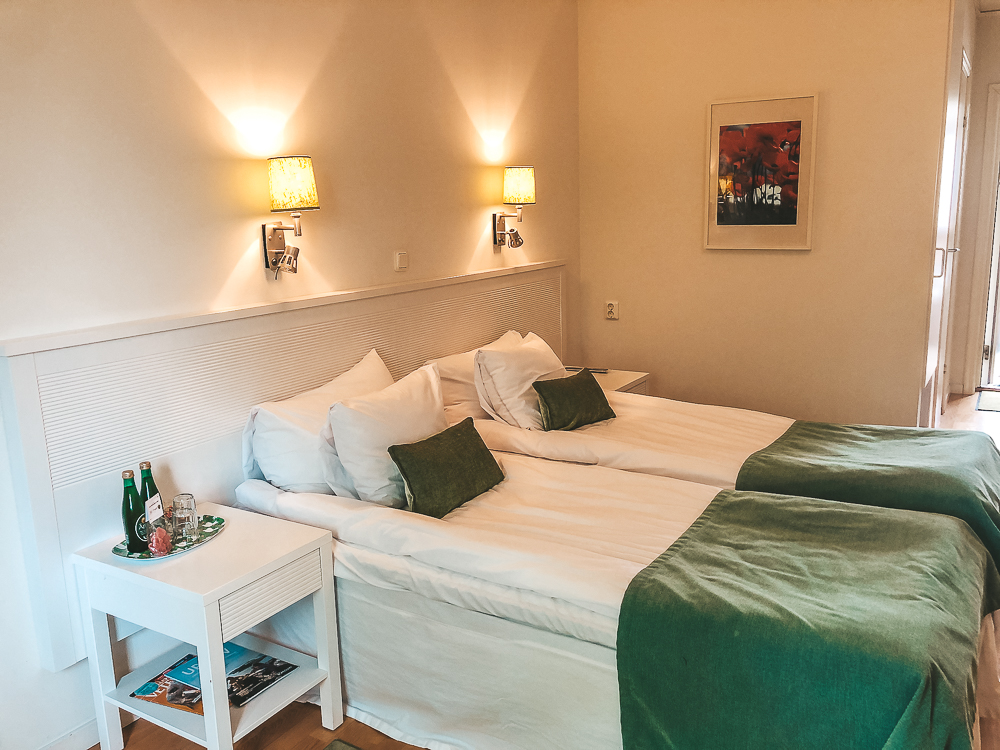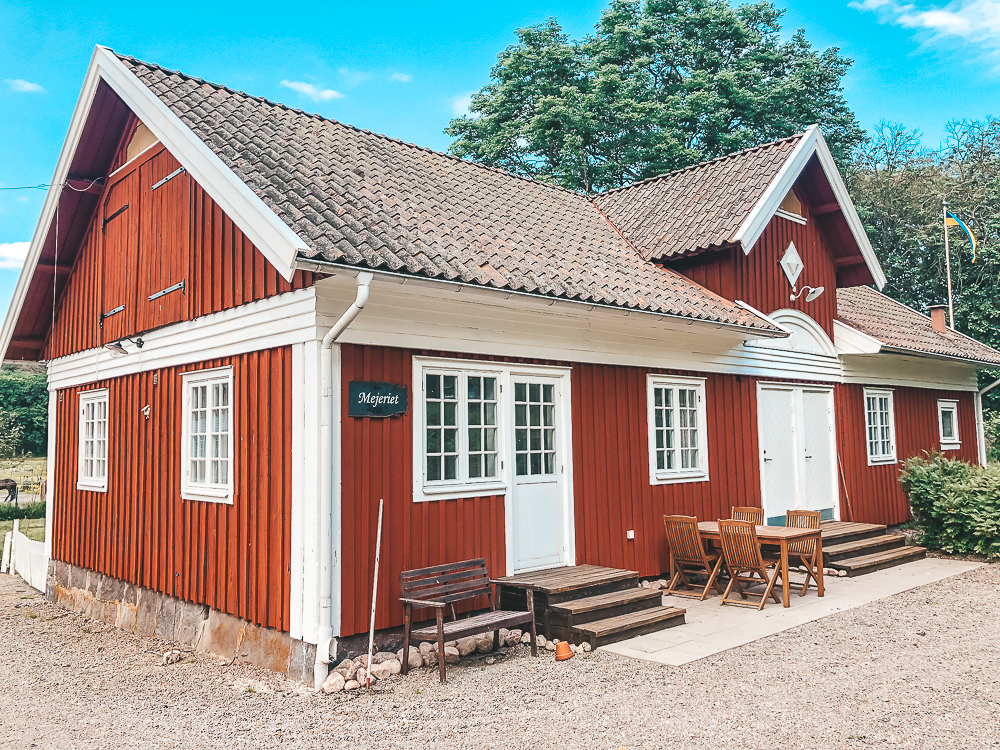 Interior of the main building at Tofta Herrgård
Since the main building is K-marked, there are no hotel rooms here, but instead there are lots of nicely decorated rooms where you can enjoy your afternoon coffee in or read a book in their little library. To the right of the fireplace you will find the reception. Do you see how cozy it is here! It is really enriching and charming here at Tofta Herrgård! 🙂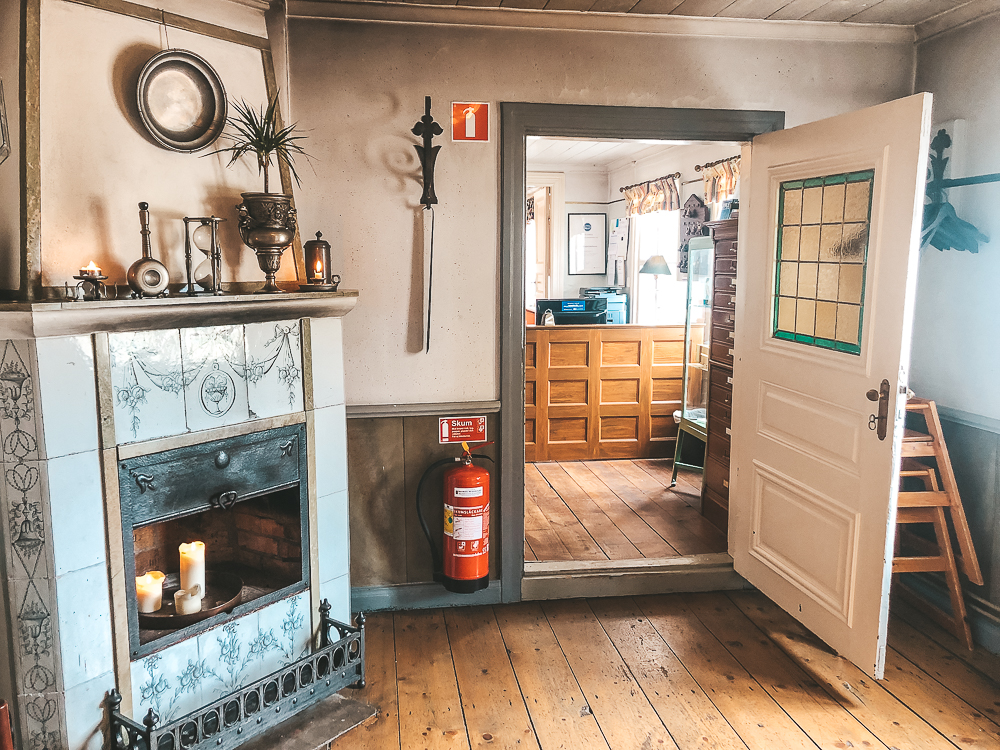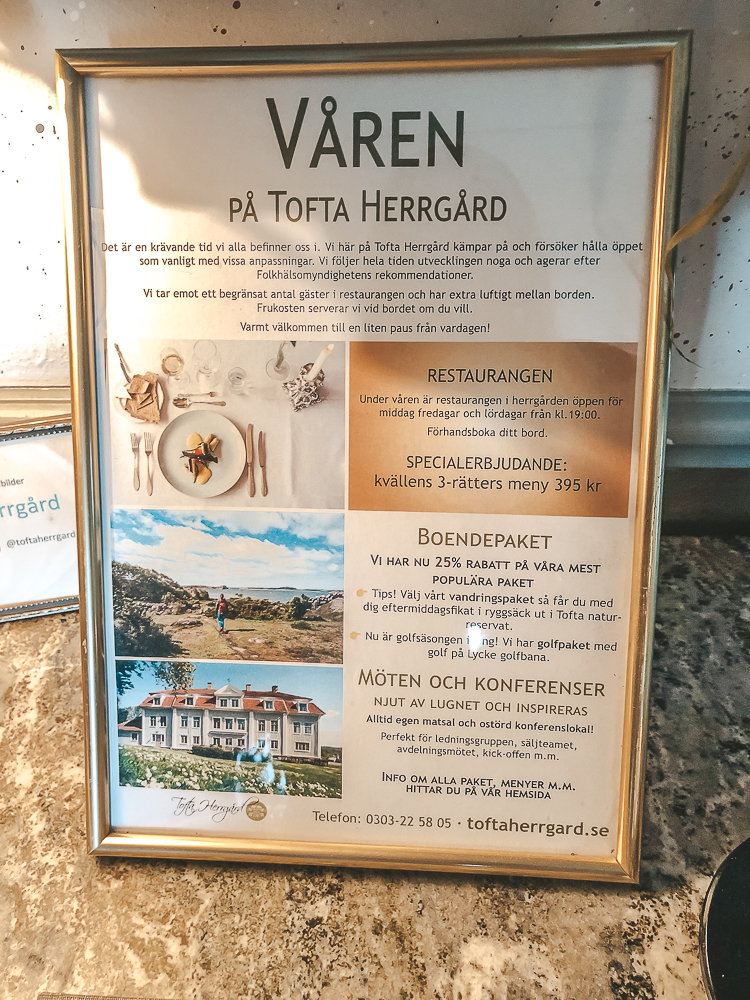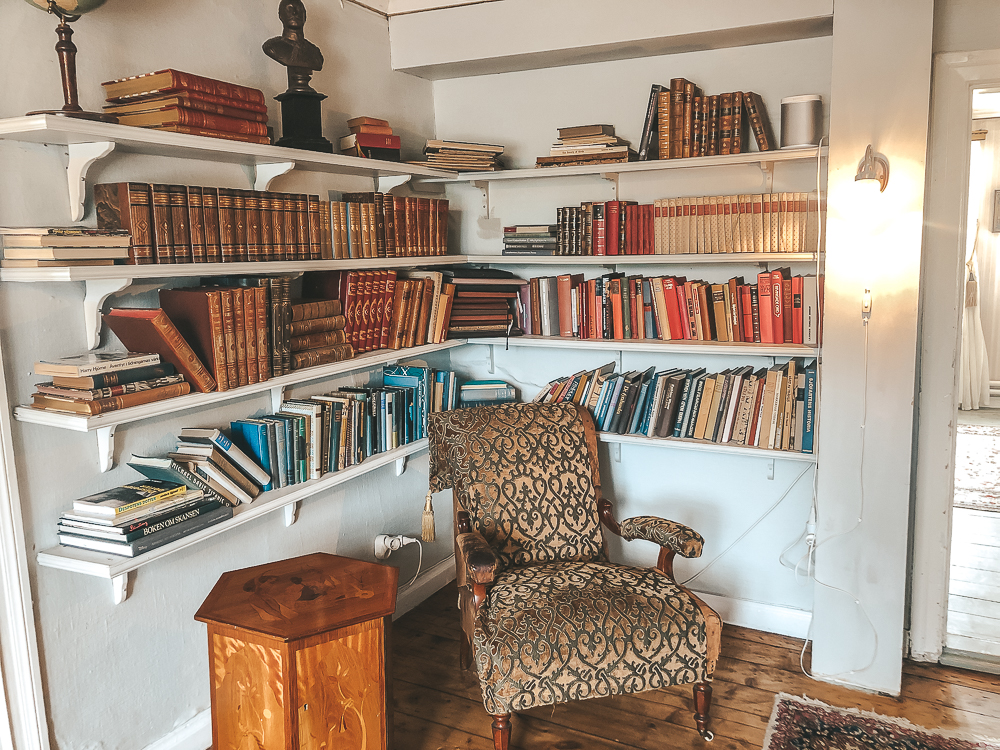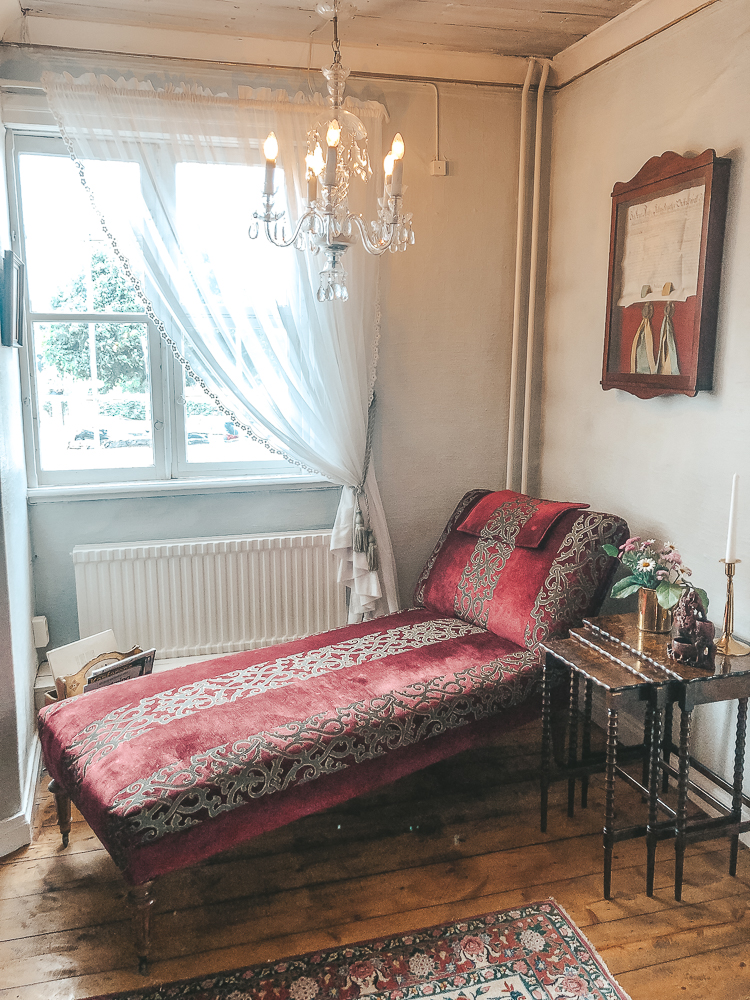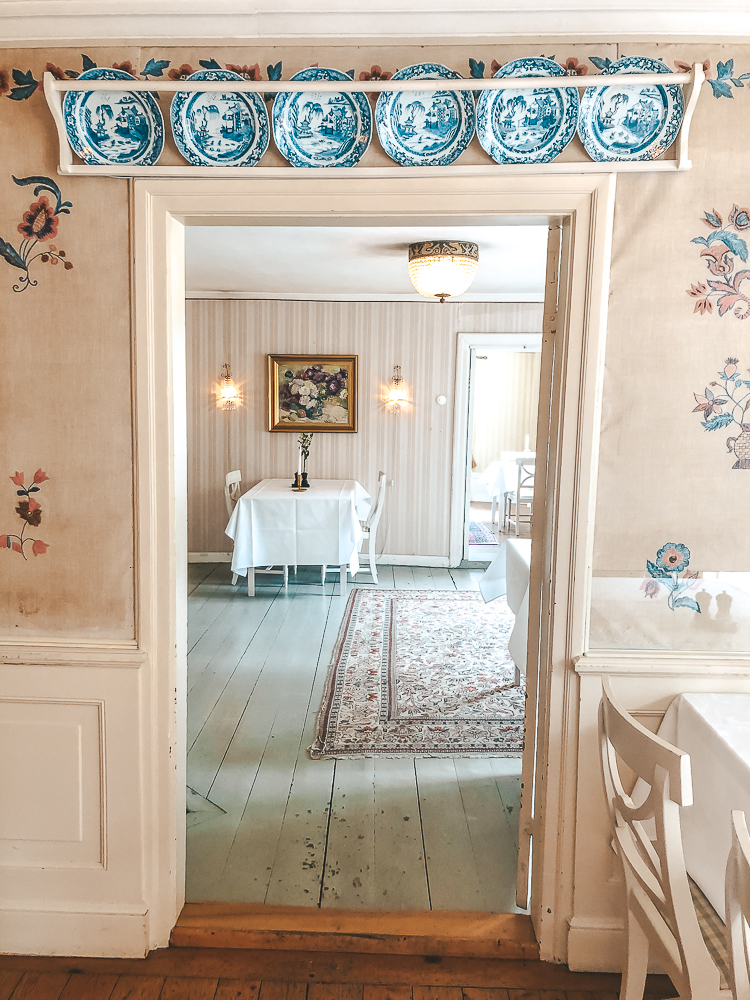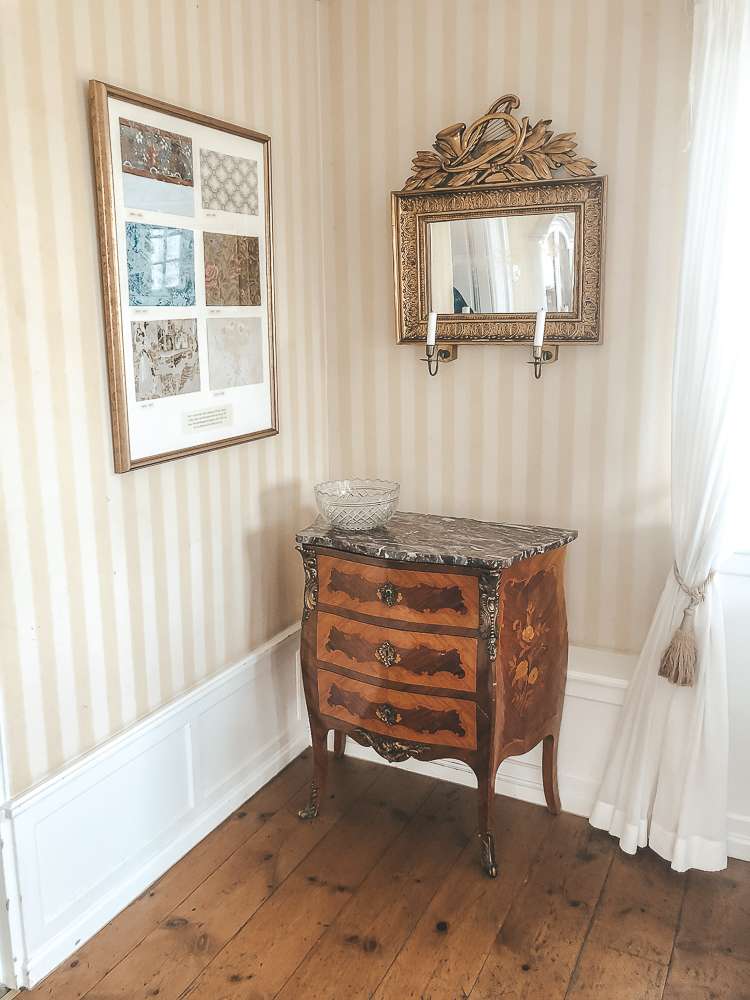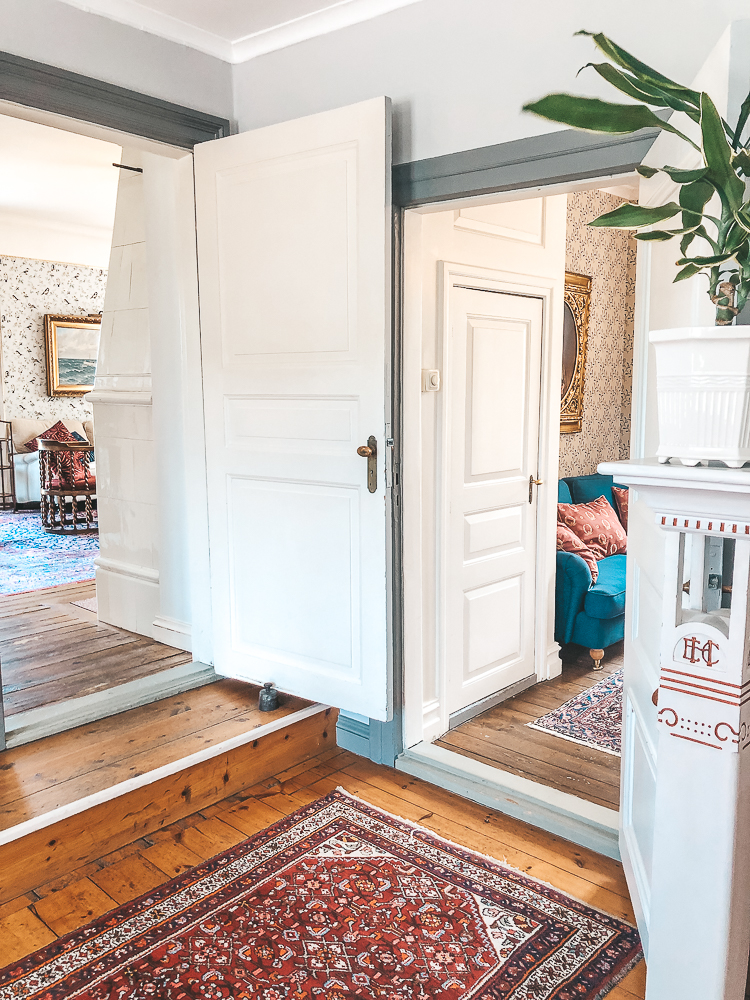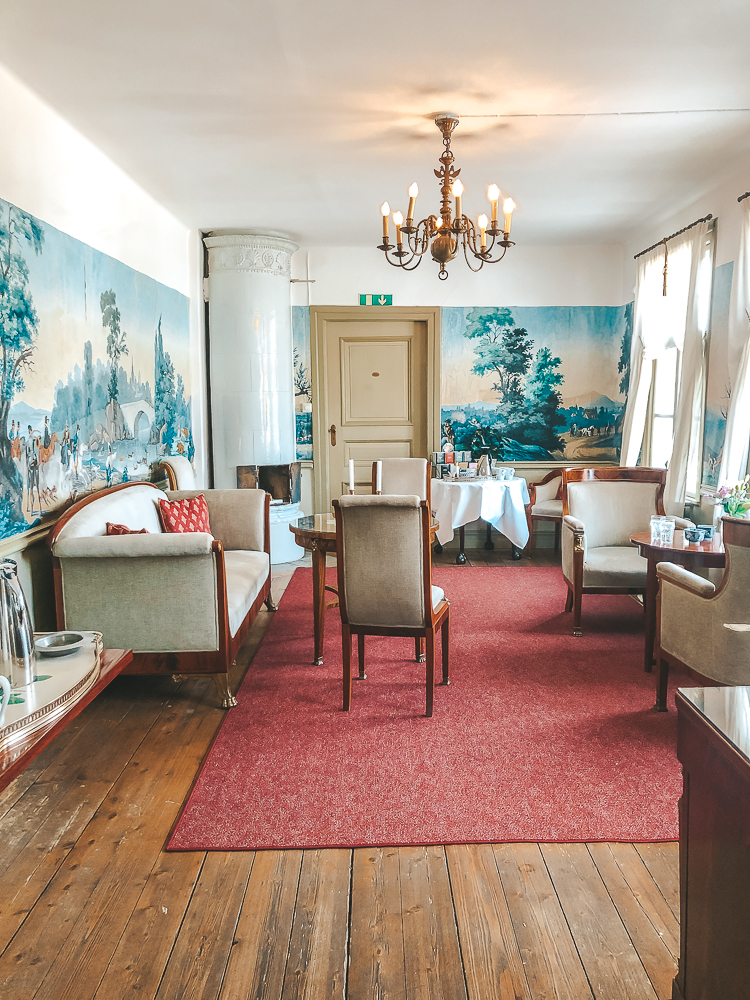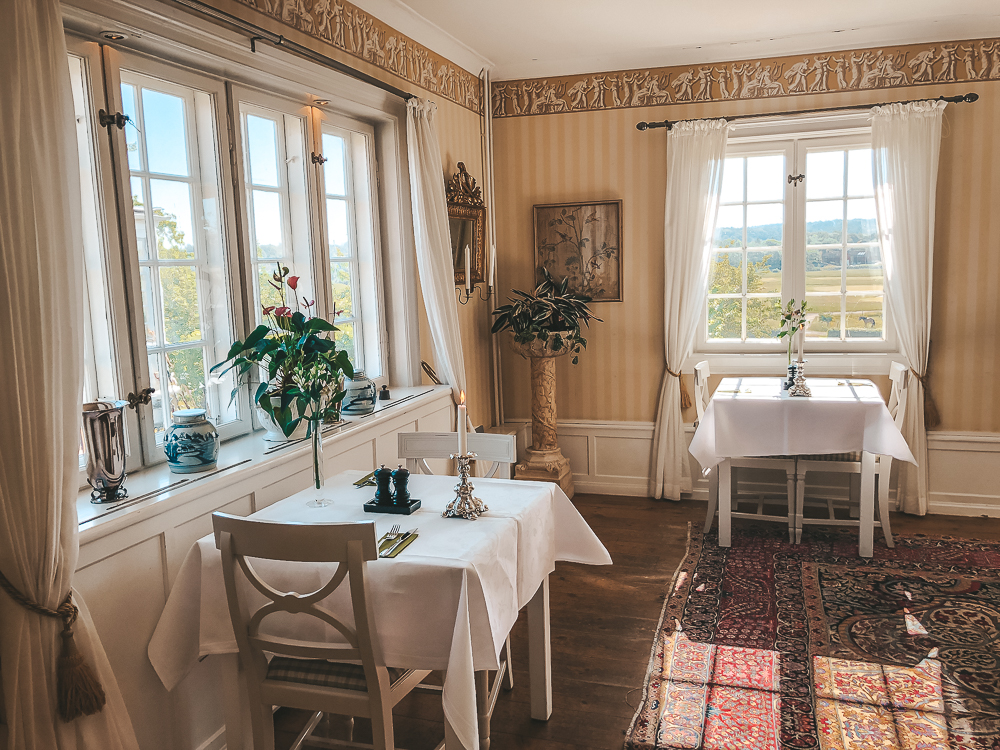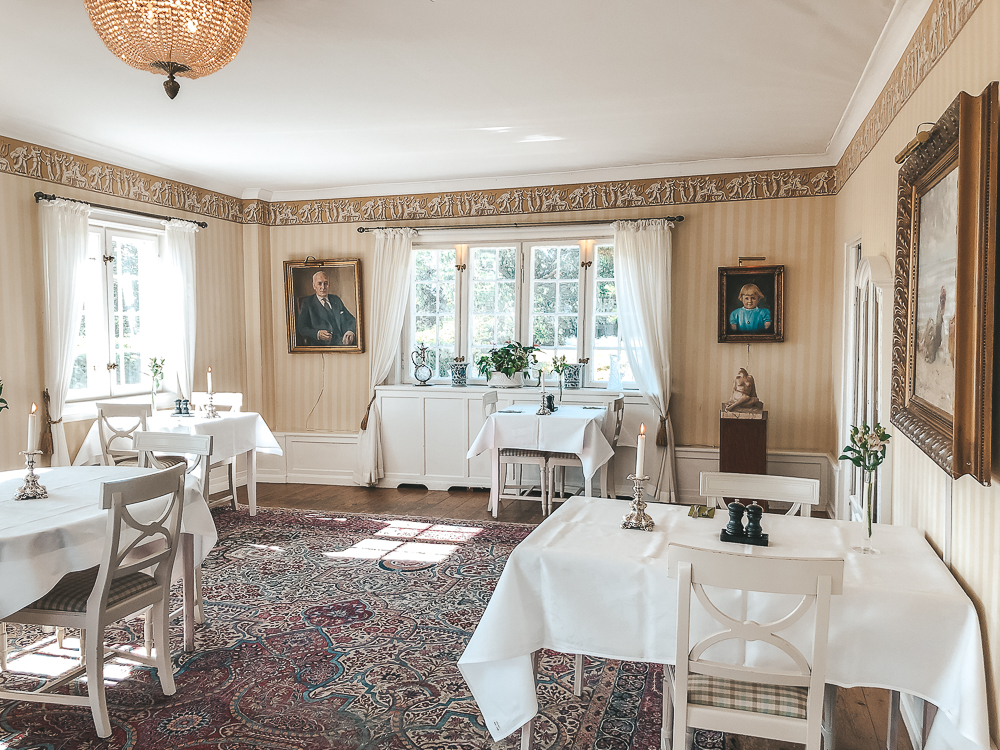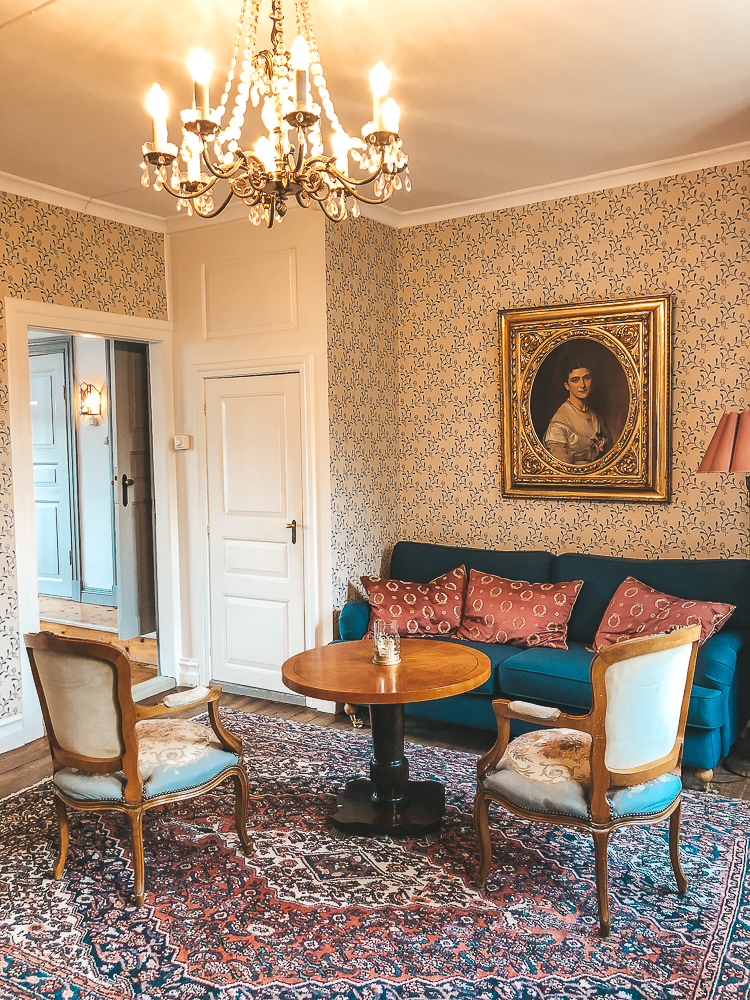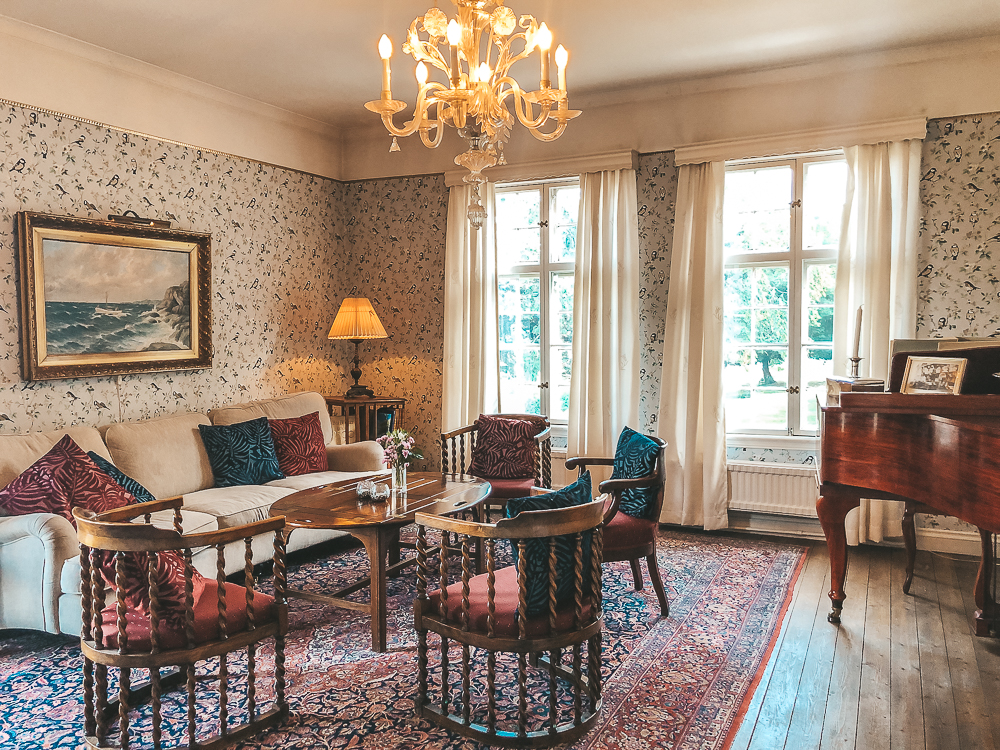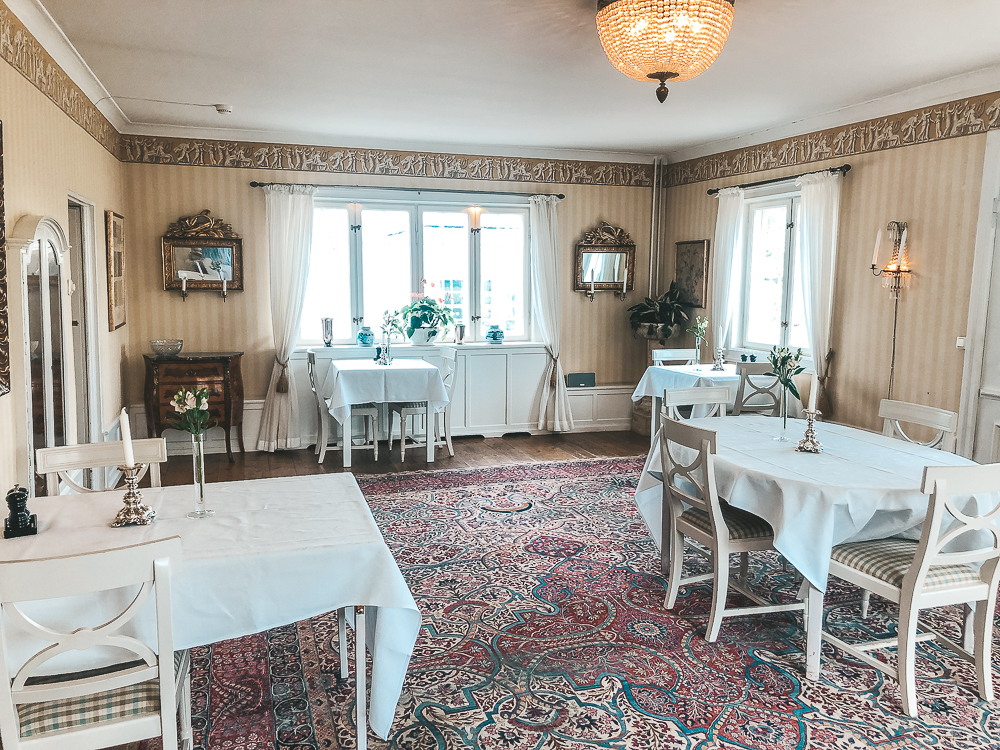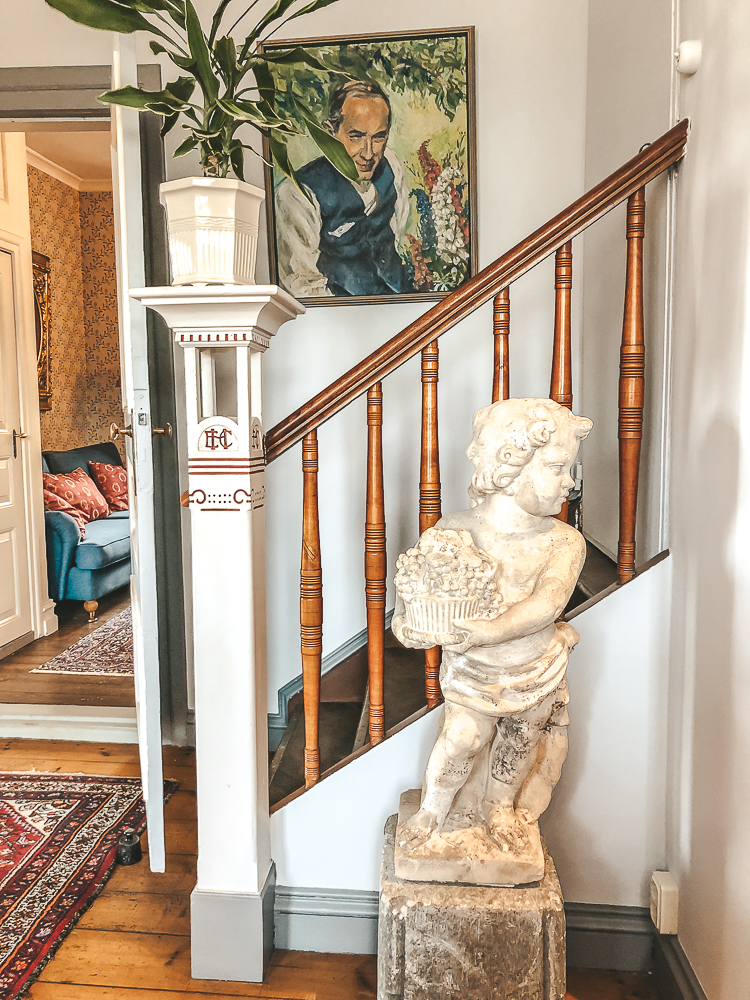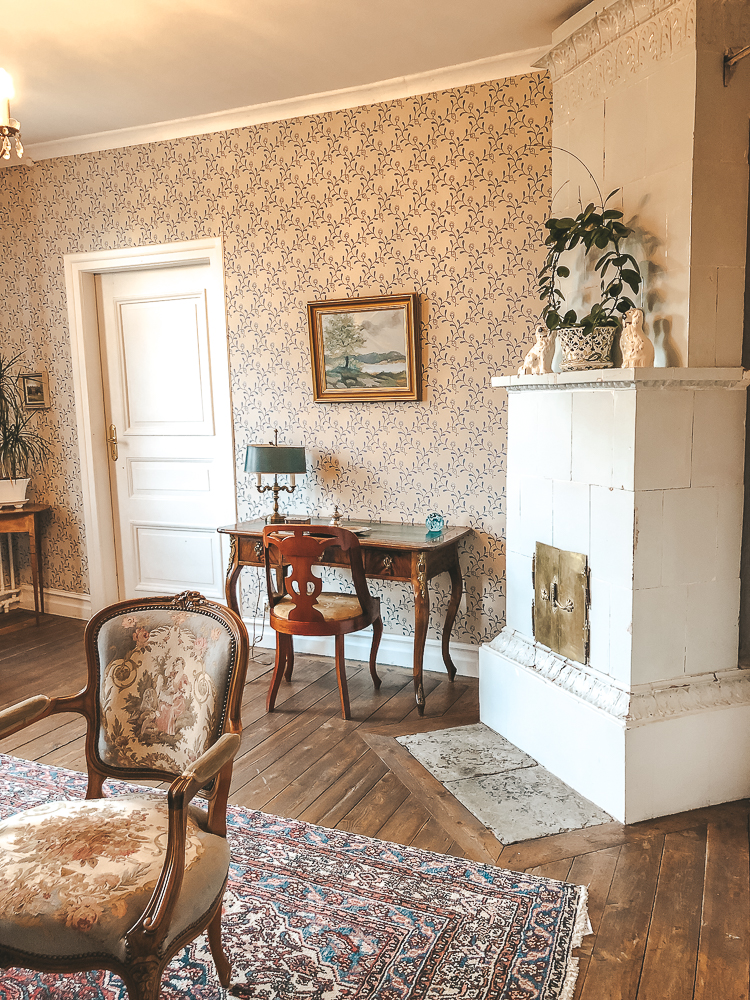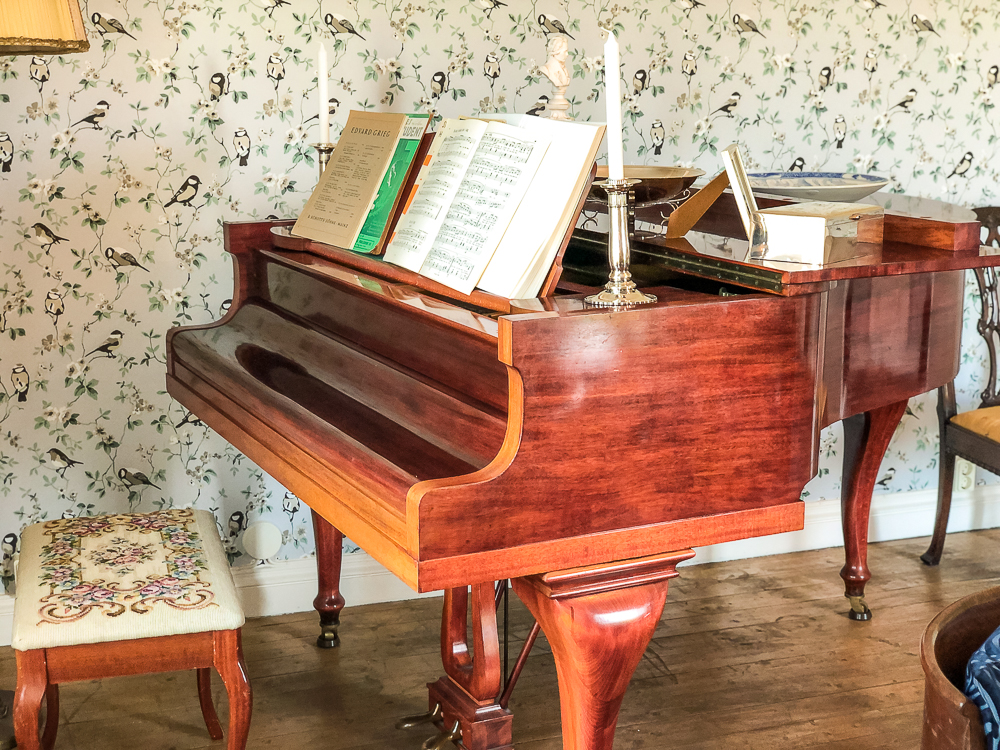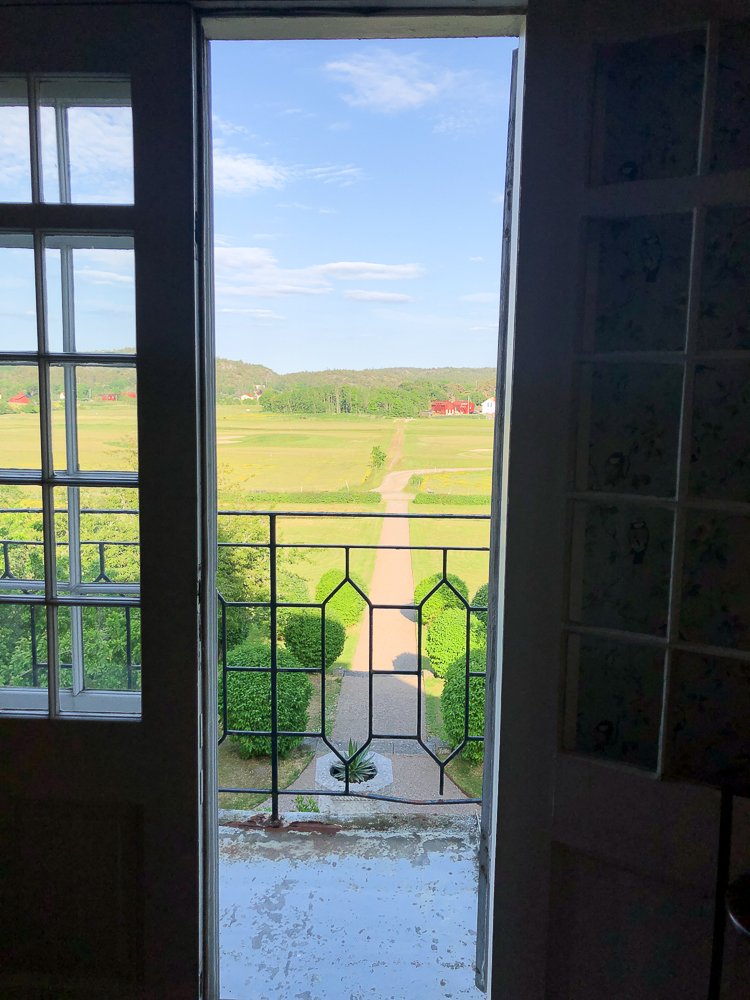 Afternoon coffee with cookies
At 15.00 the afternoon coffee that is included with cookies is served in the main building. Here there are also rooms to sit in but we had nice weather and chose to sit outside in the back of their terrace instead. You can do as you want 🙂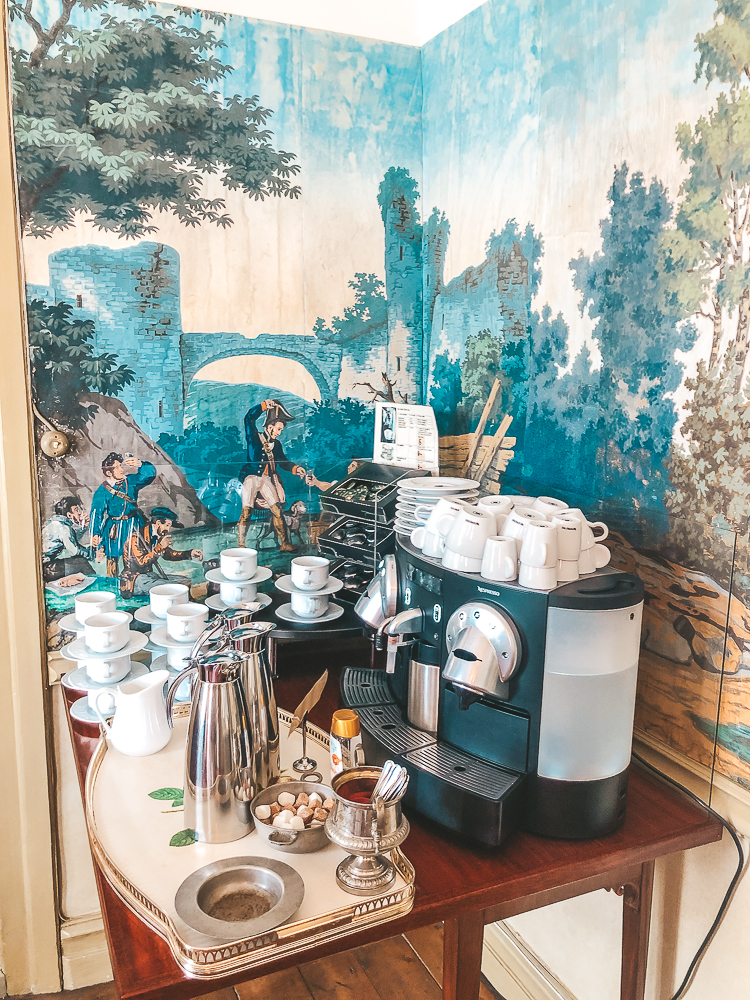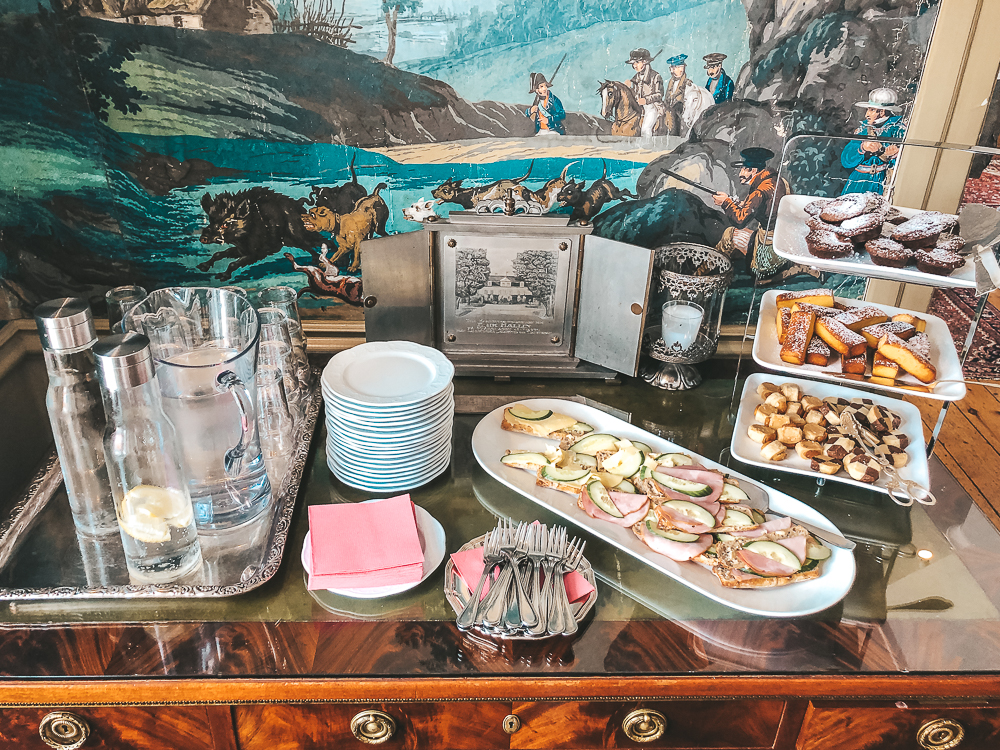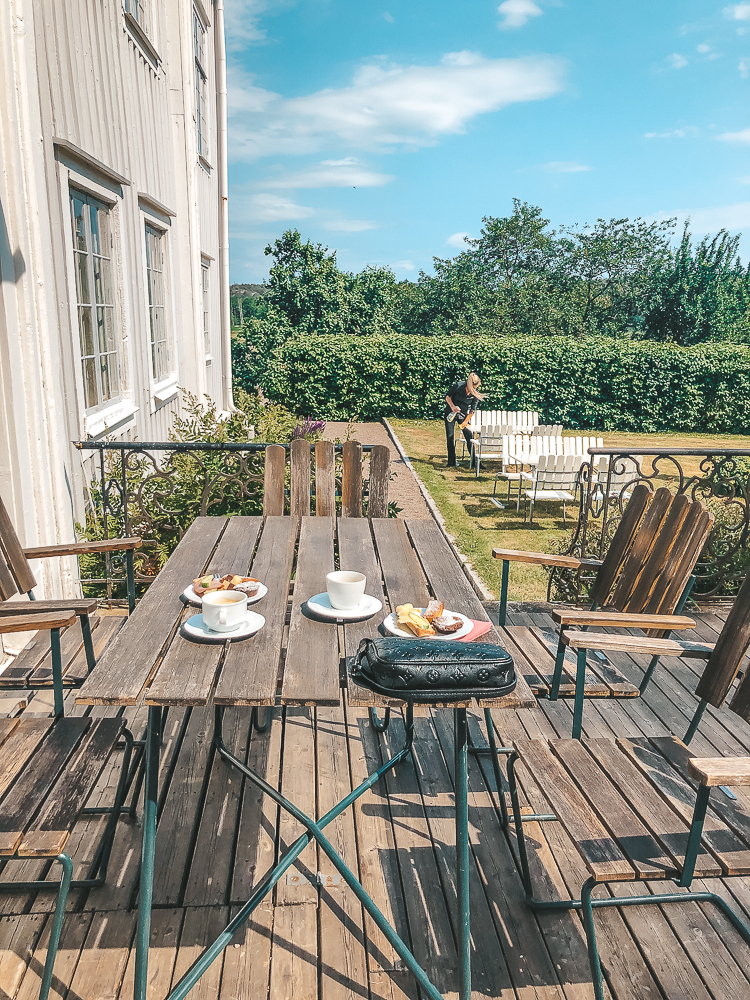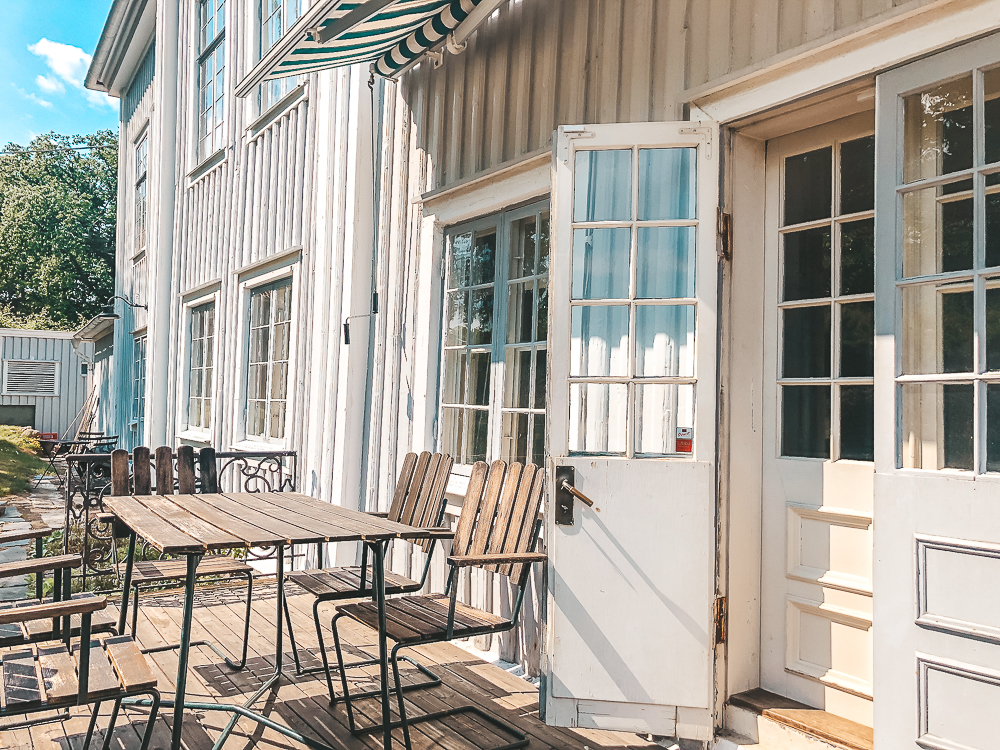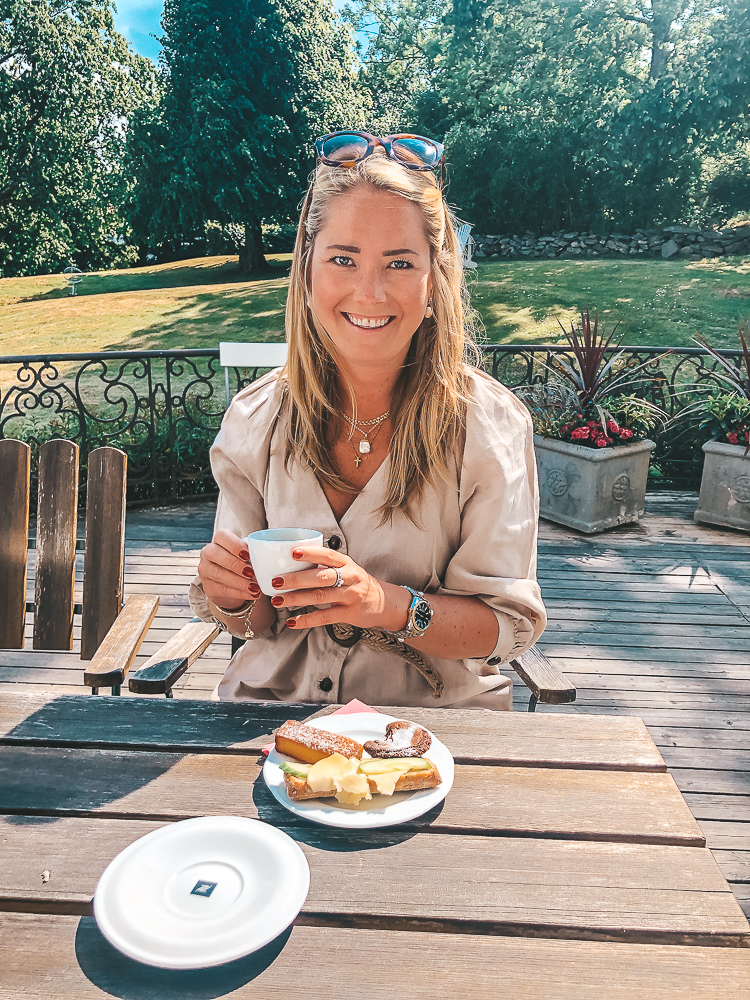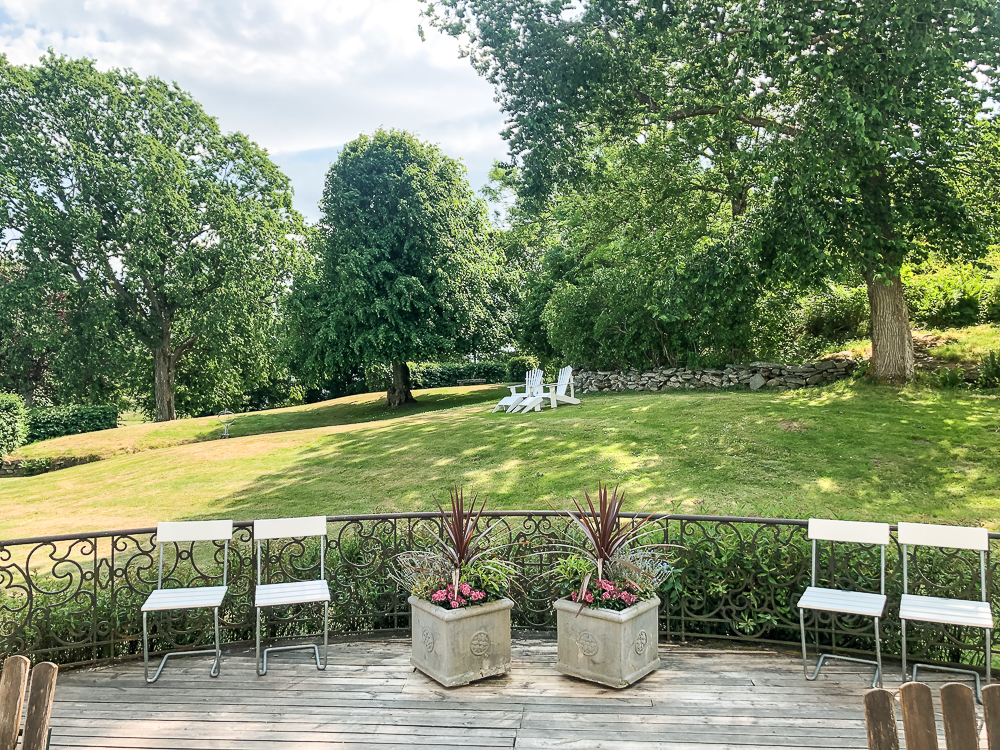 3 course Manor House menu
At 18.30 a glass of sparkling wine is served and because we had the brilliant sun all the guests sat on the terrace, which was absolutely fantastic! At 19.00, a 3 course mansion menu with matching wines was then served. What I like here is that it is the same time that applies to all guests, which means, this time is when the dinner is served, not later and not earlier. It's the same for everyone 🙂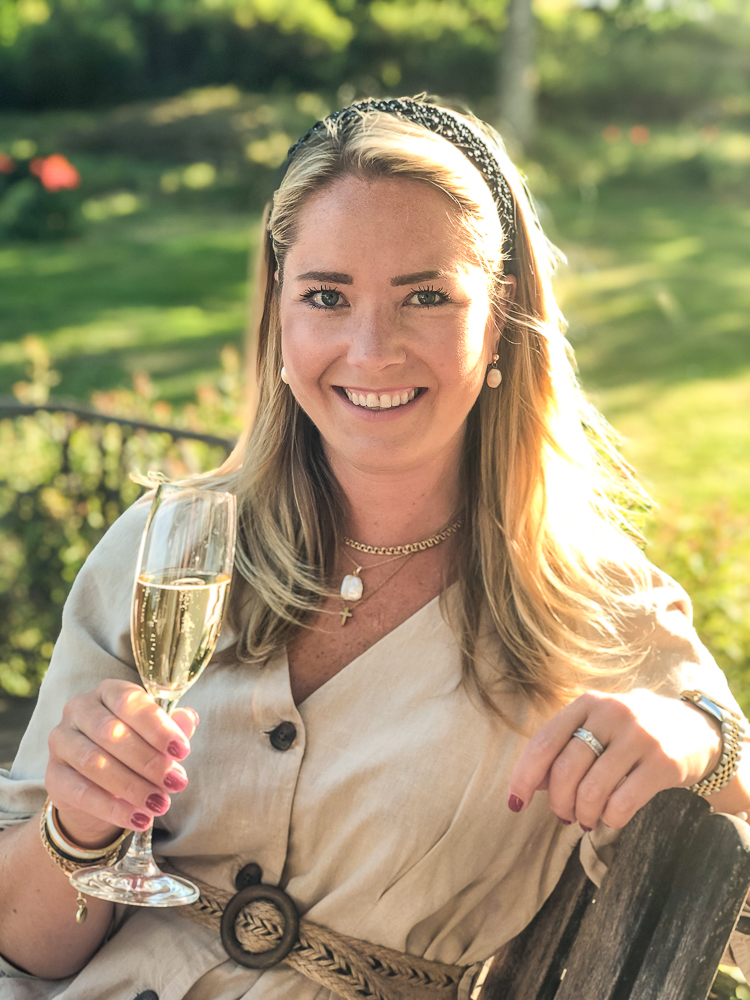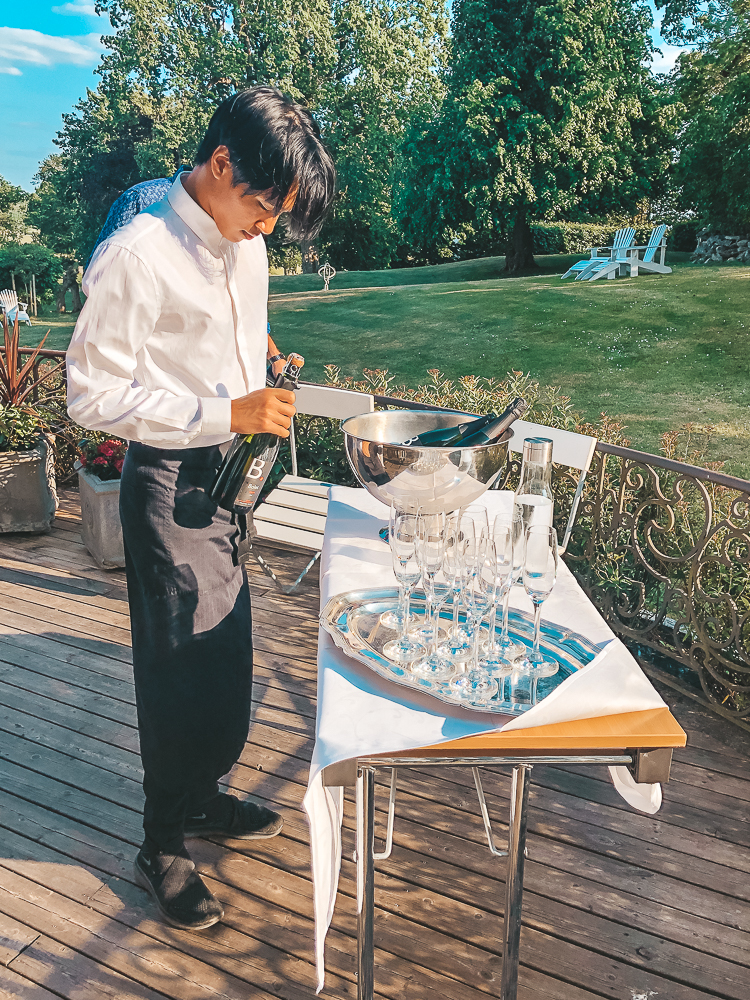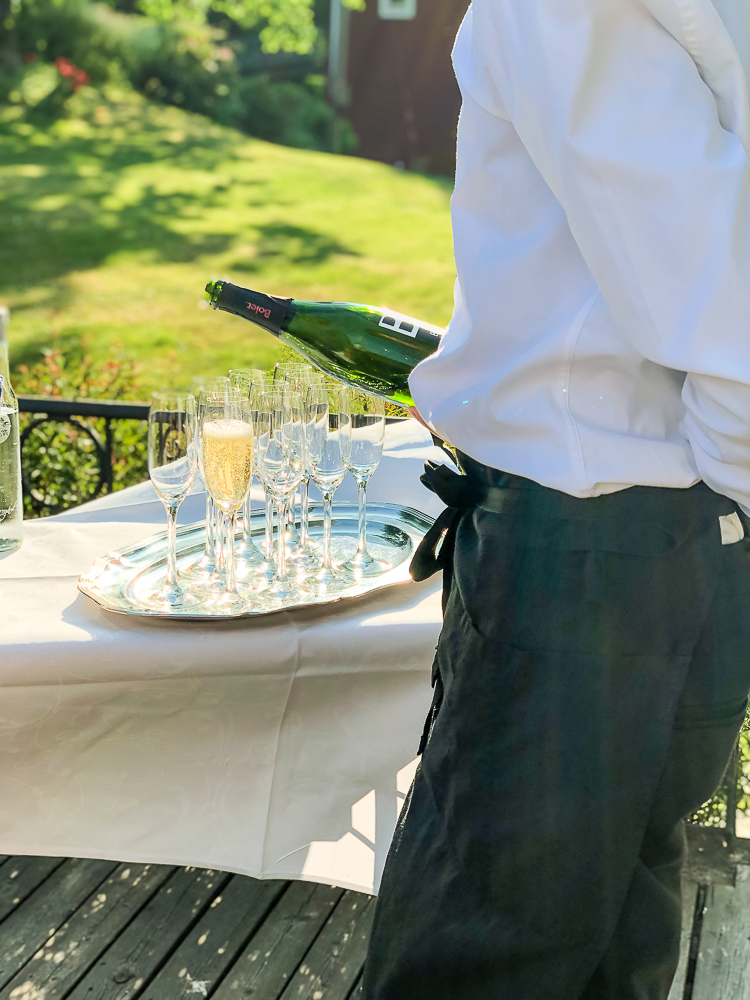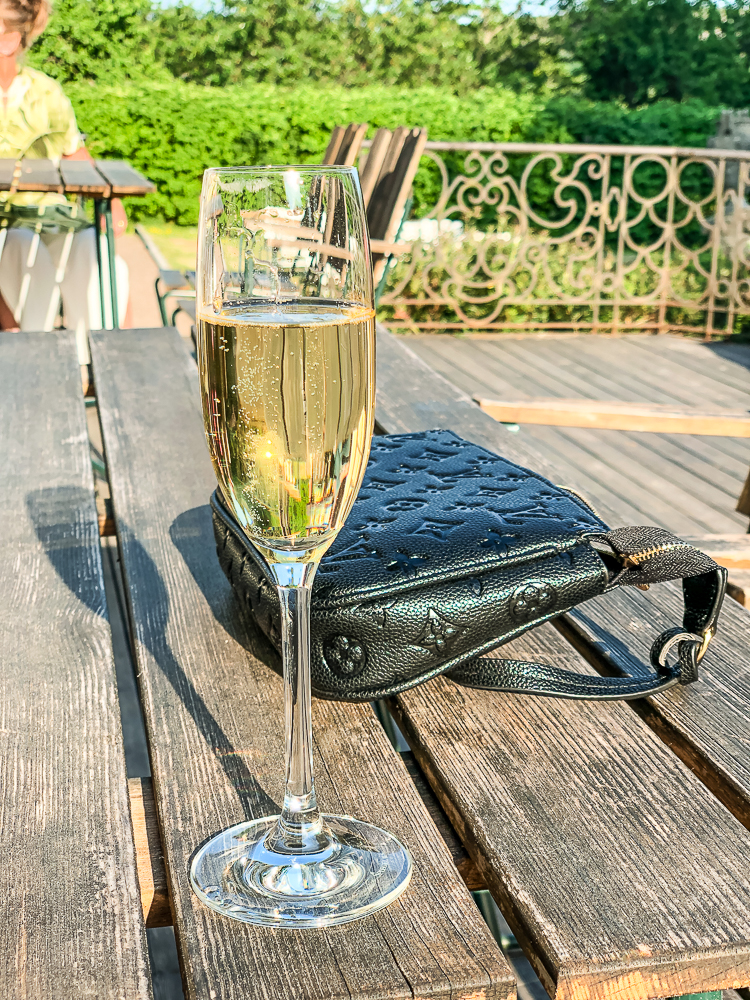 Here you have tonight's manor menu which was an amazingly delicious dinner menu with very good matching wines!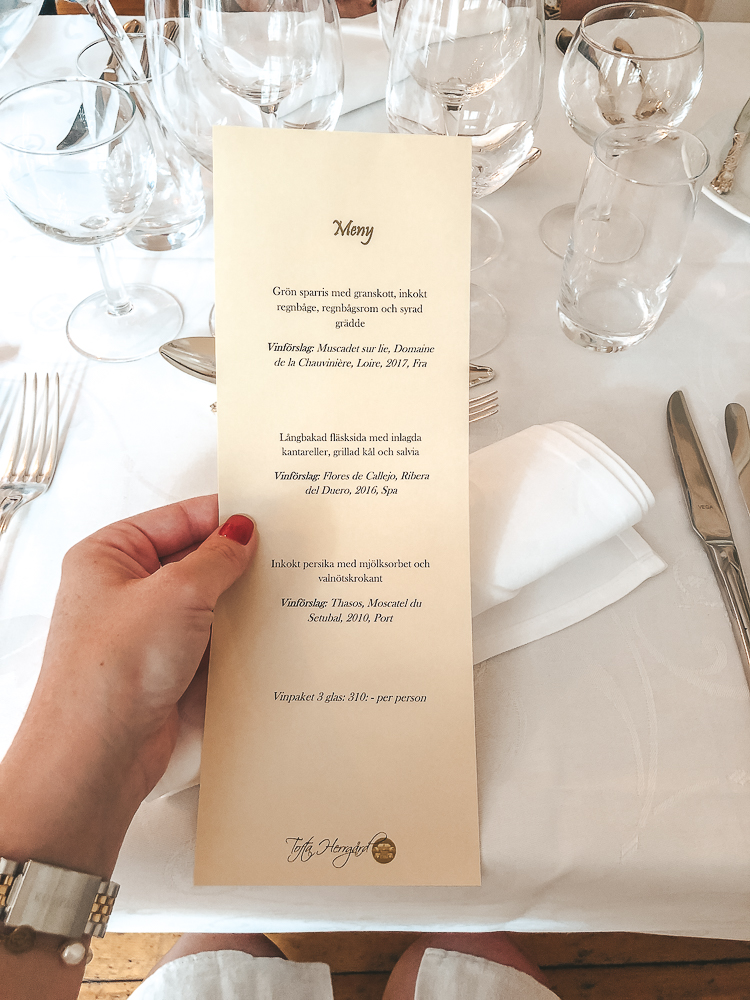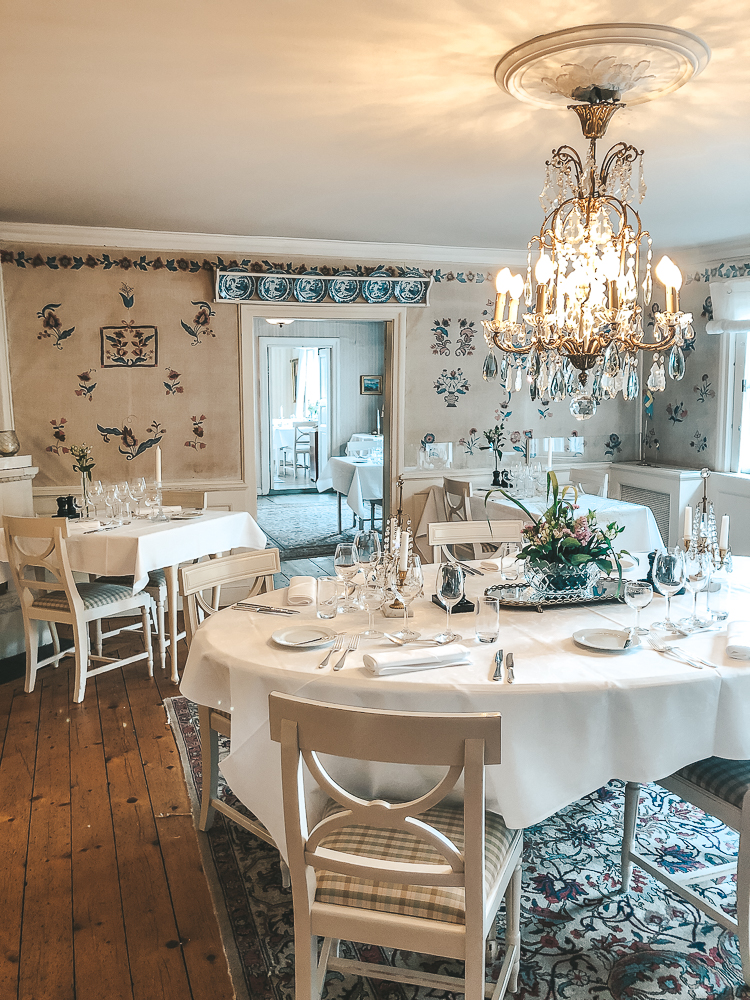 It was amazingly beautiful table settings! It is a county dining room that is charmingly decorated!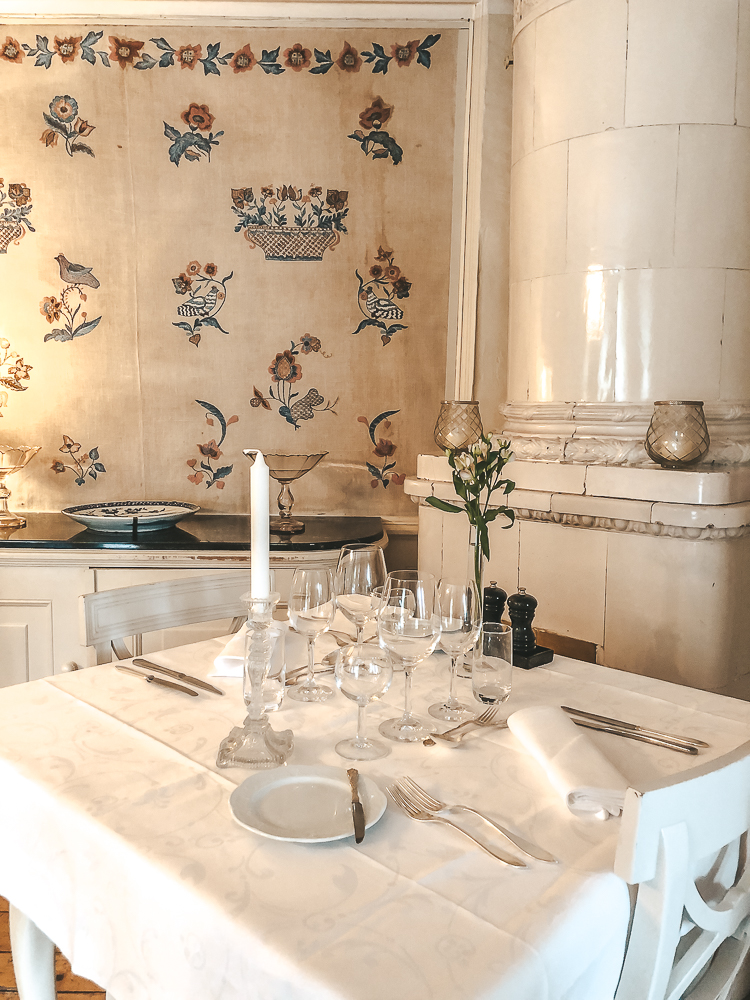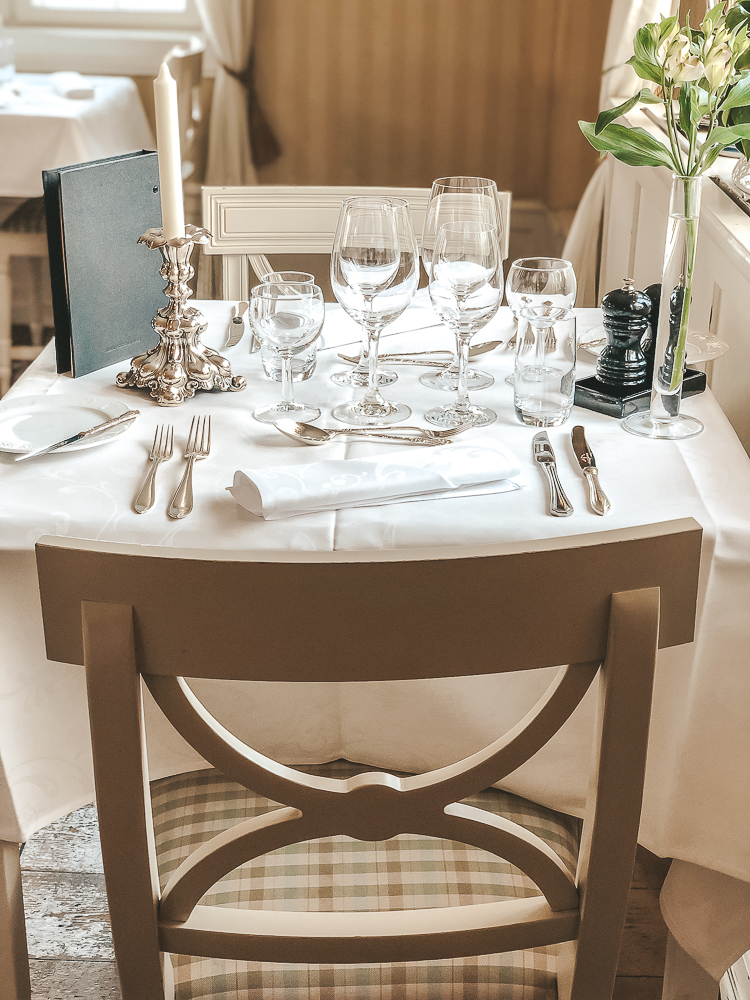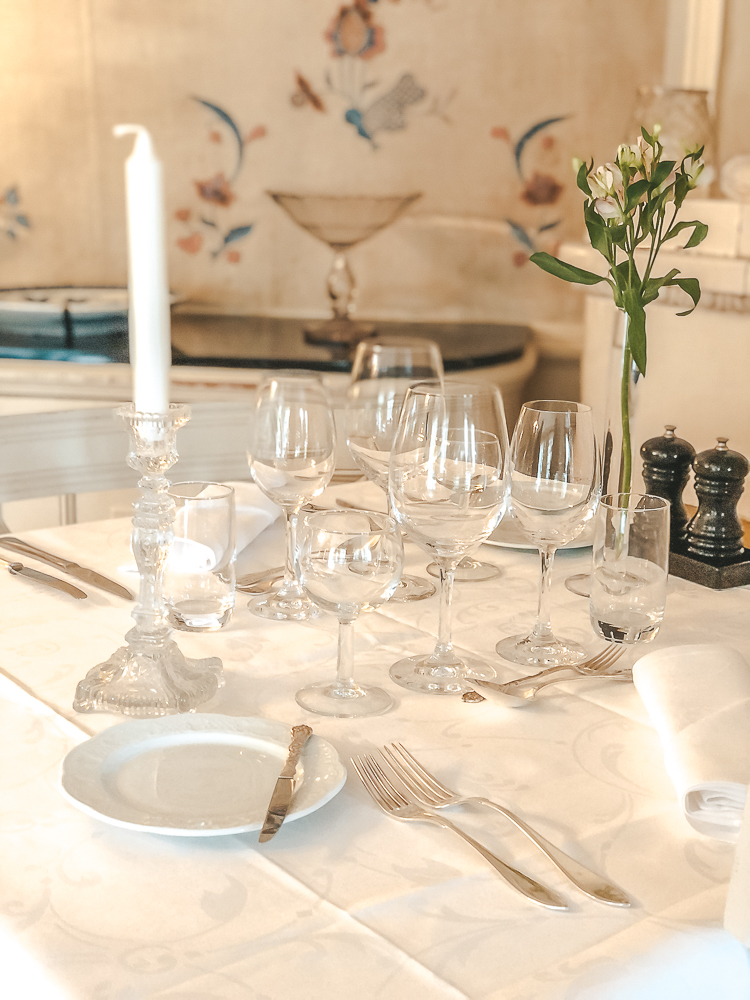 A small appetizer was served before the starter consisted of yogurt and beets, among other things. Delicious!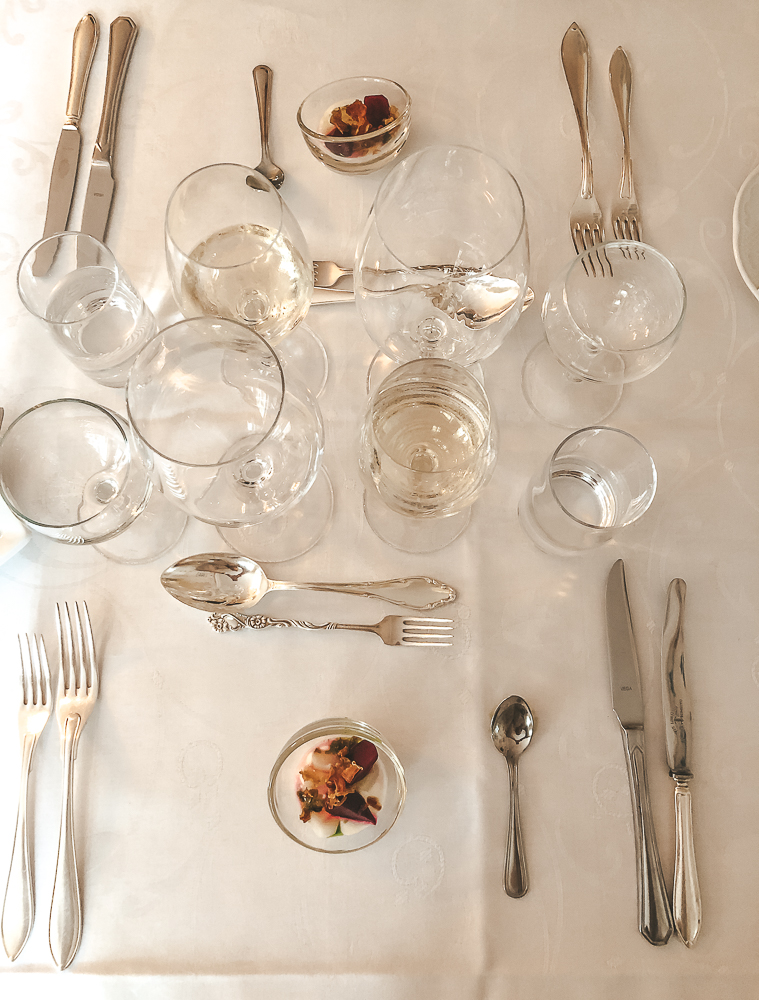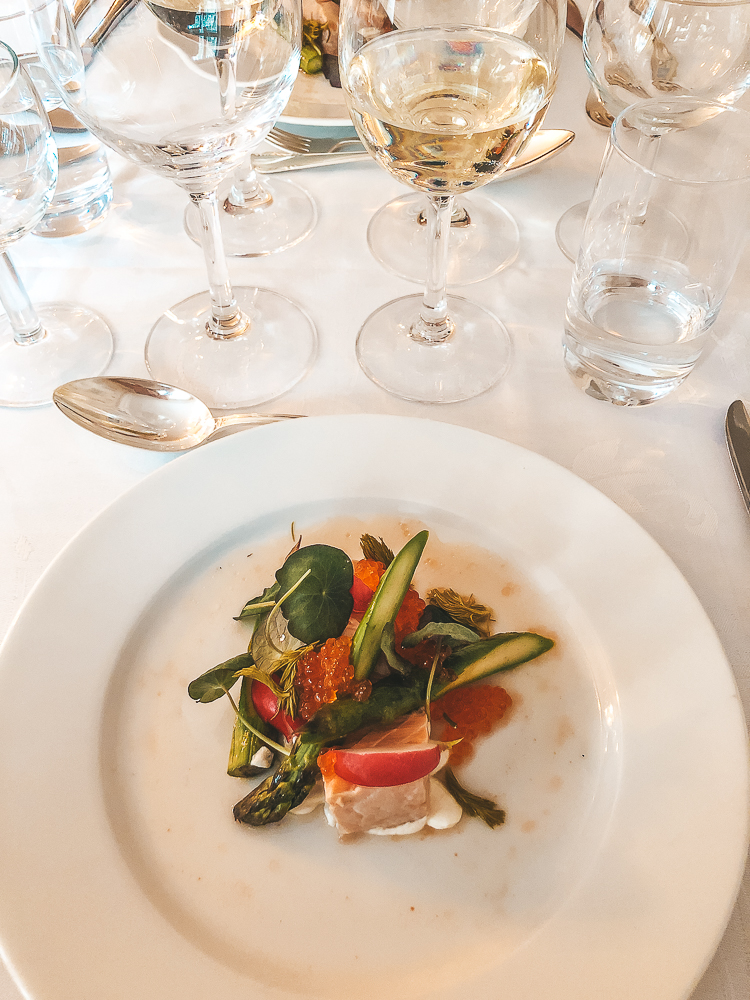 For starters, green asparagus with boiled rainbow salmon was served. The white wine was a natural wine from western France and is called Loire. Also very tasty and suitable for the starter! 🙂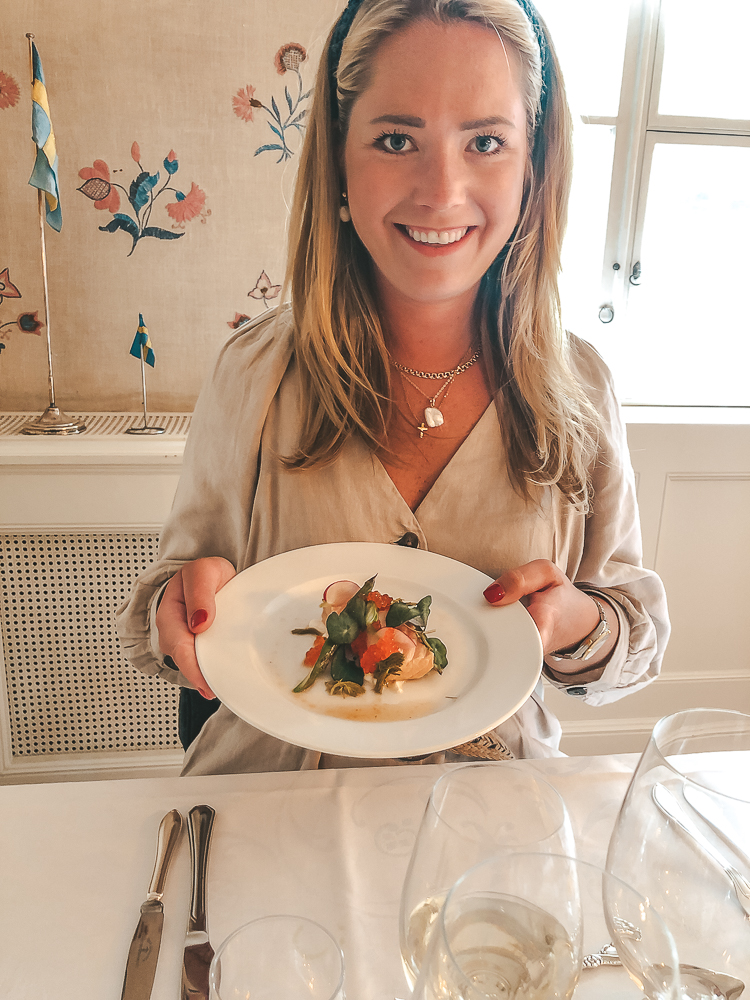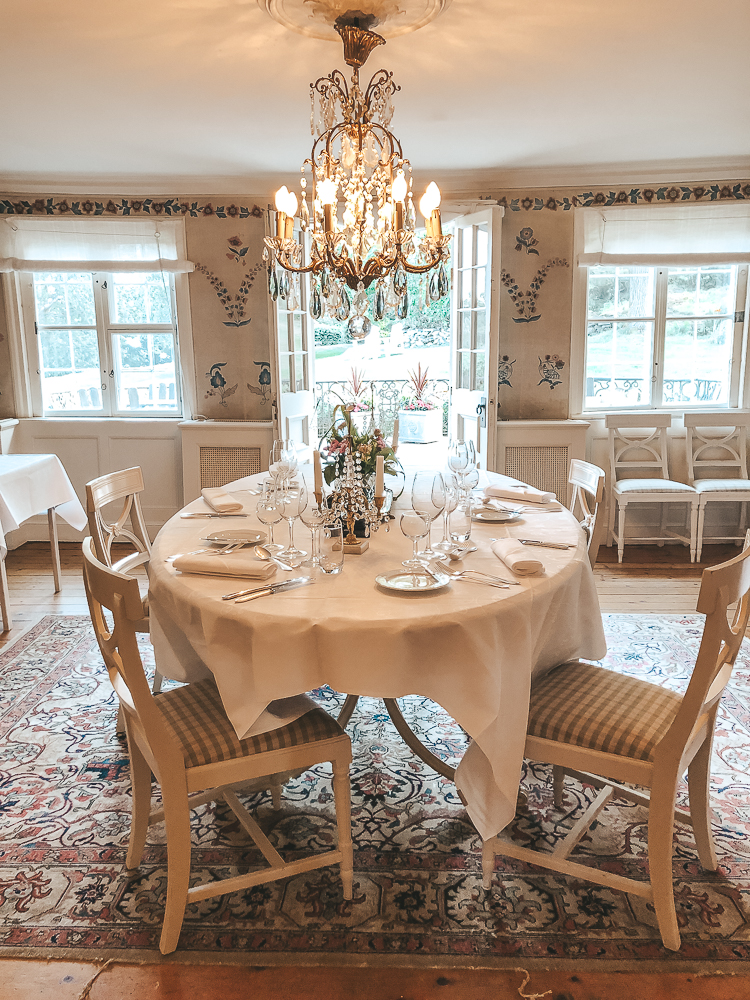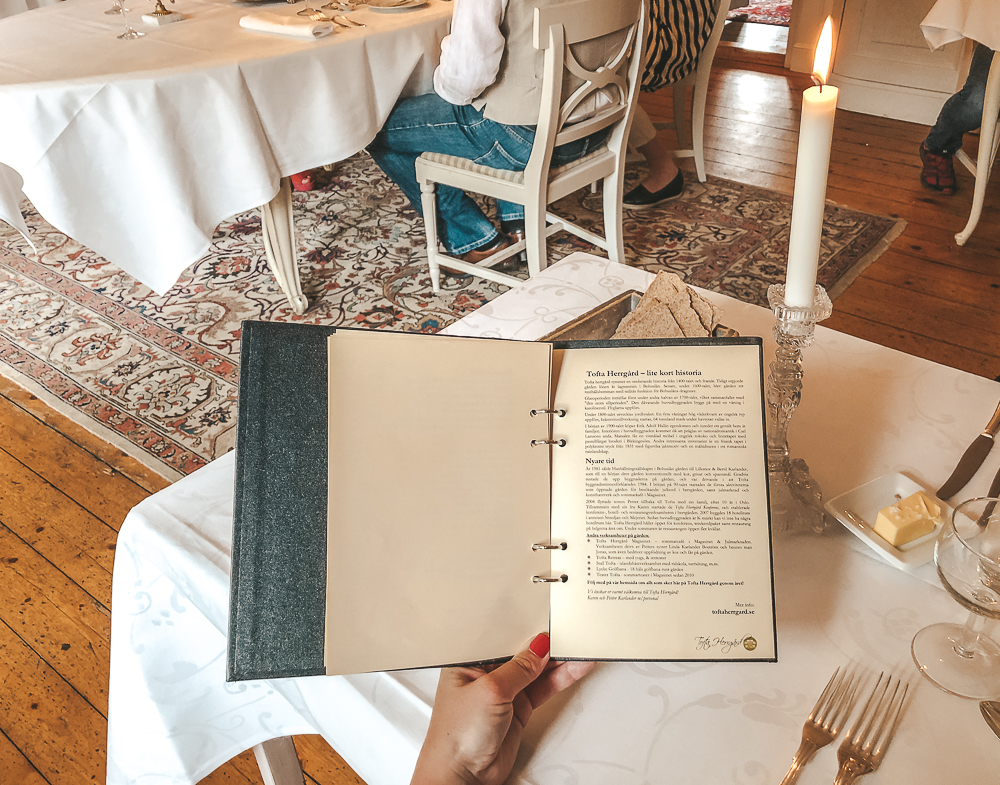 Between the dishes it was fun to read a little more about Tofta Herrgård which I found in the regular wine list. Fun done!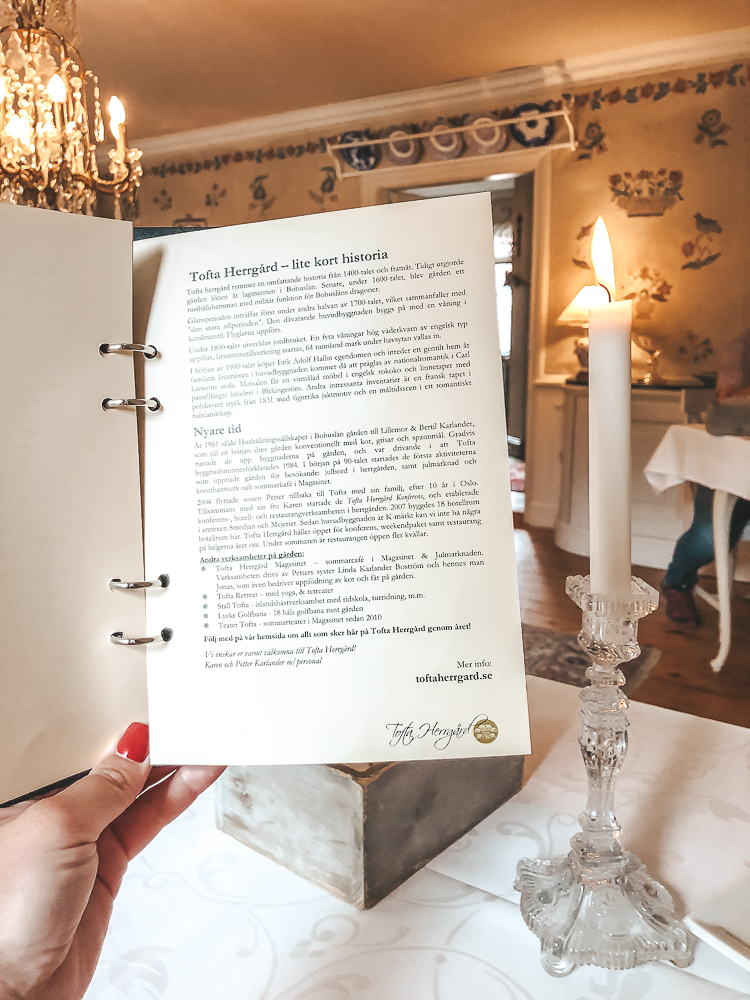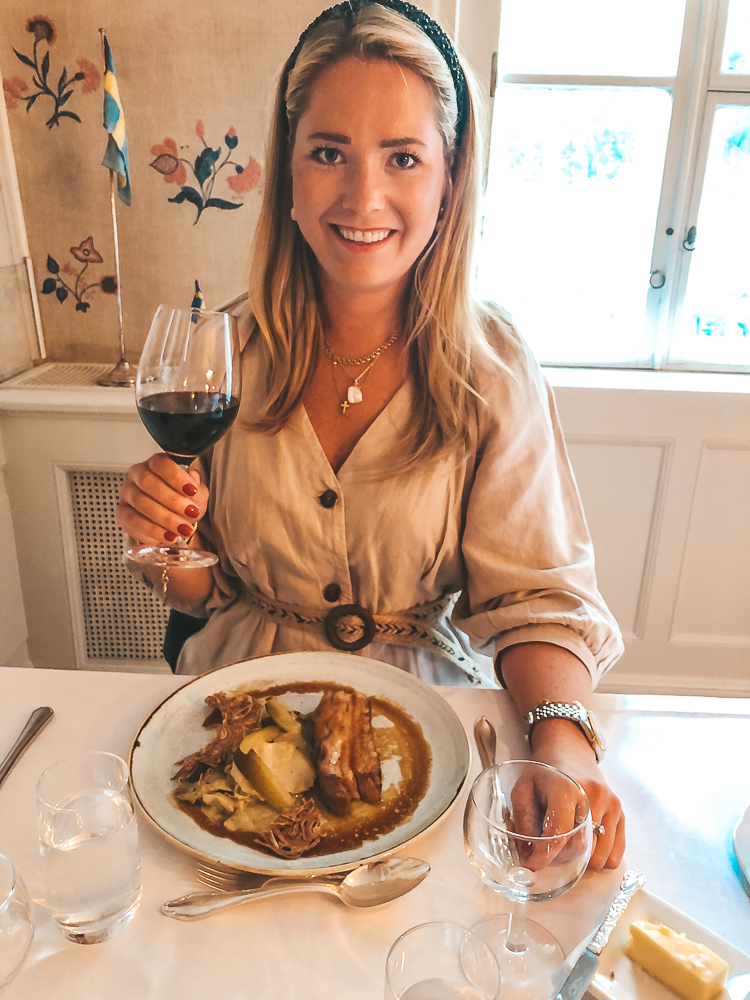 The main course was served long baked pork side with pickled chanterelles and cabbage. The red wine for the hot dish was organic and very good!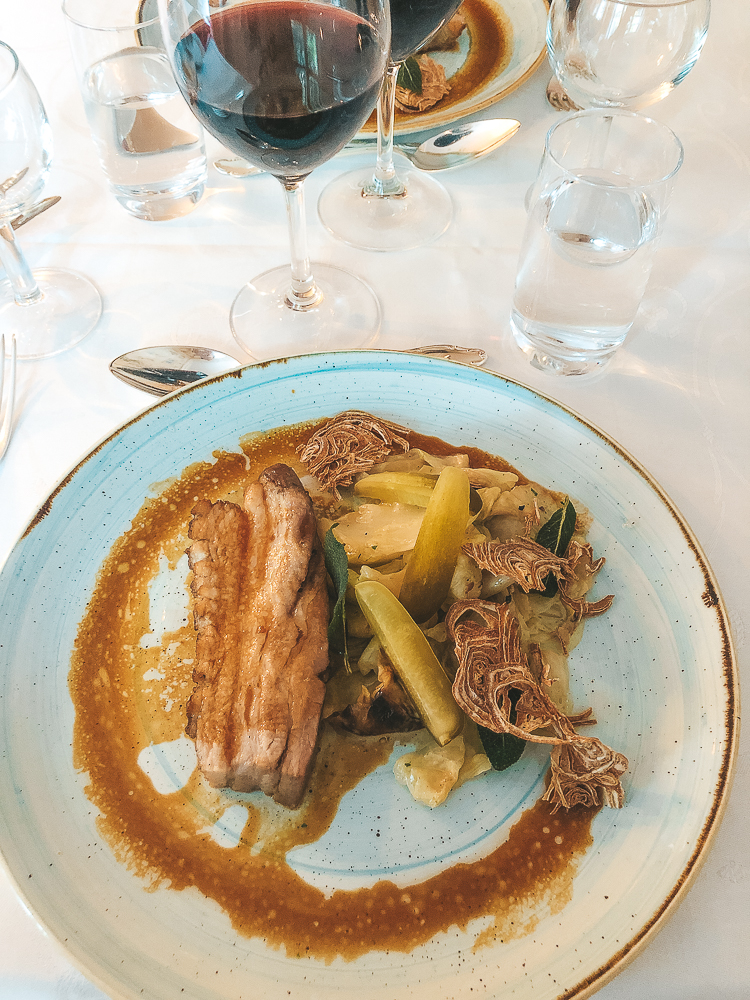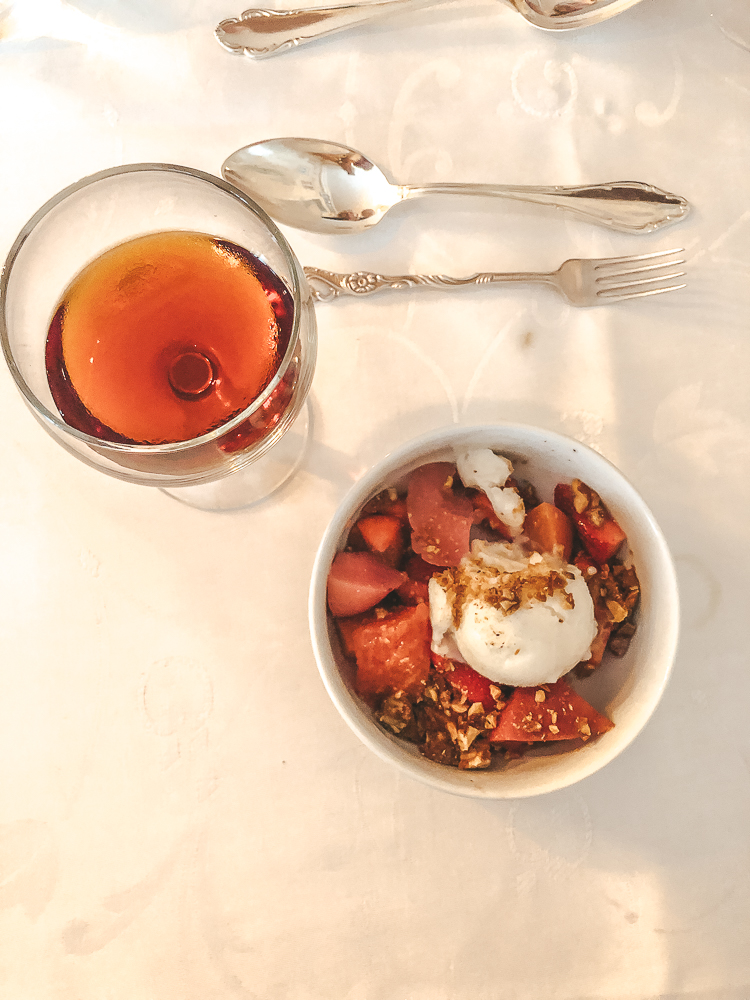 The dessert consisted of cooked peach with milk sorbet and strawberries. To this was served a port wine from Portugal.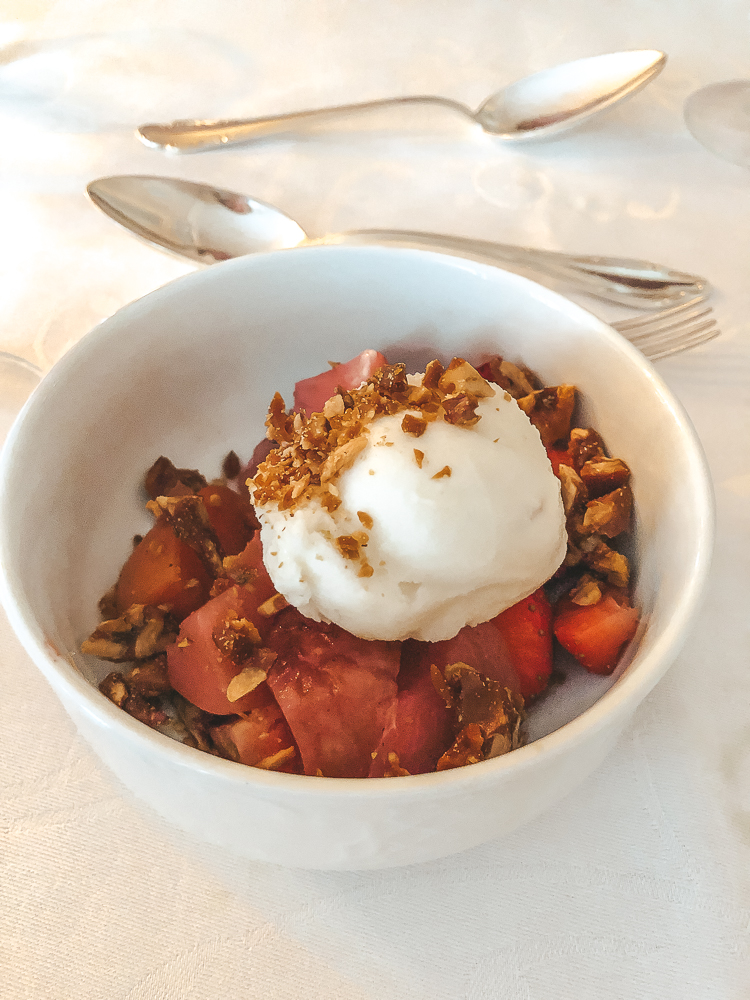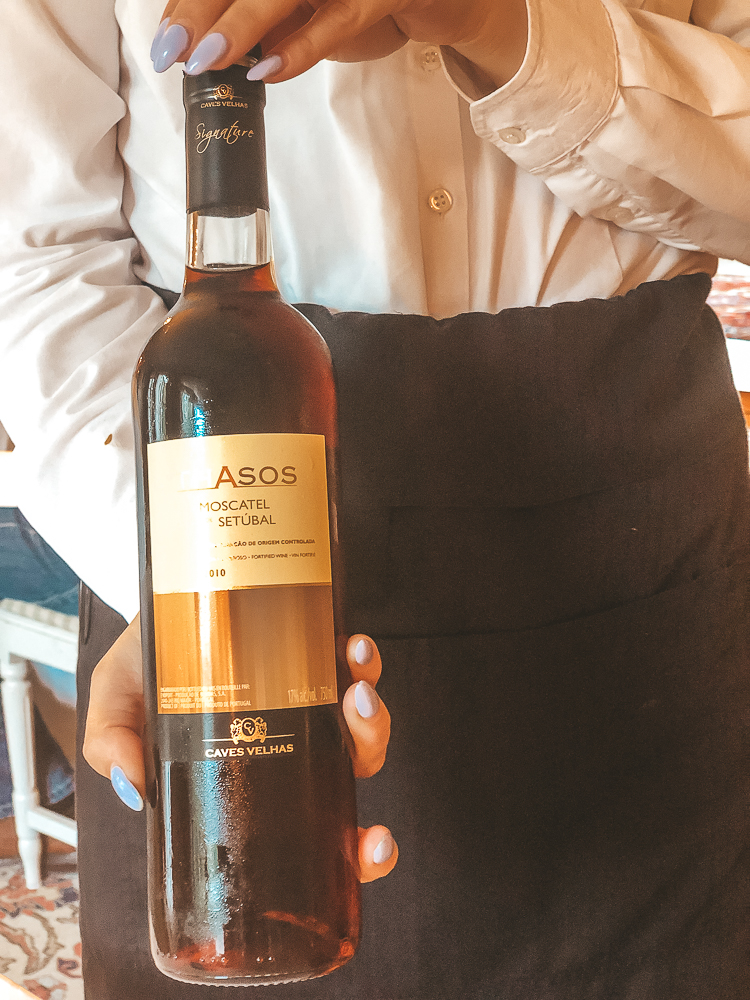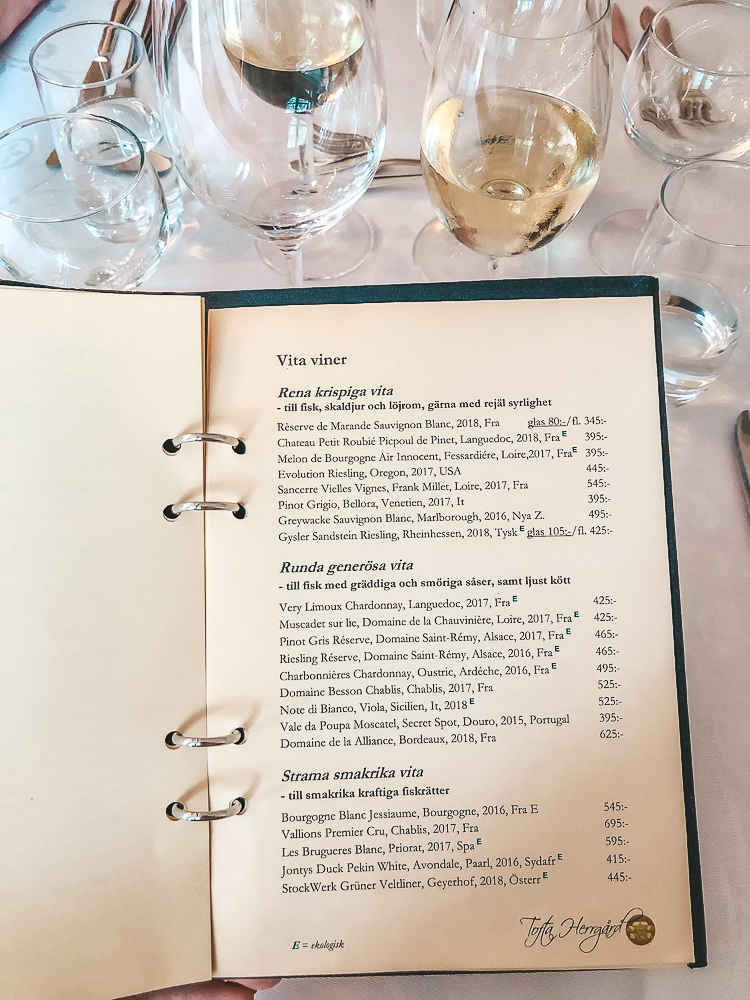 In the evening menu there are recommended wines for every dish, which I thought was exciting to try but for those who want some other wine for their food there is also an ordinary wine list where each color of the wine is divided according to what you think about the type of wine. Very smartly done and nothing I've seen anywhere else!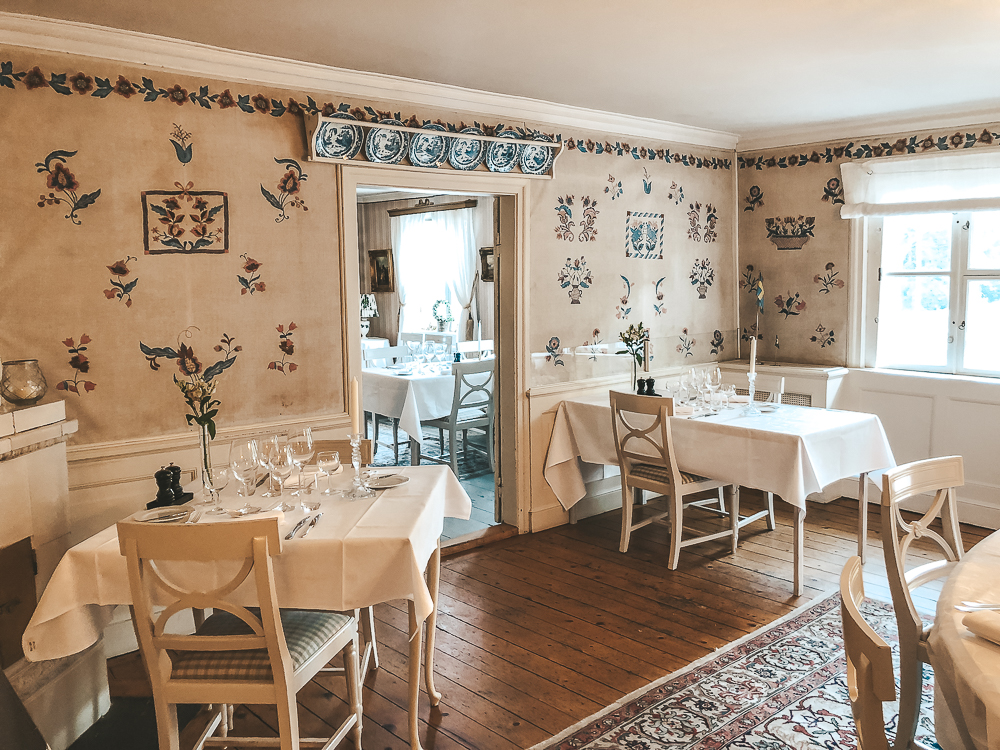 Breakfast
Breakfast was served in the same room as the dinner. Here it was nicely turned up and lots to choose from! We had very nice weather and chose to sit outside but there were lighted tables with lit candles indoors for anyone who wants to sit inside. Really nice cozy factor and something I like, which I think raises the mood.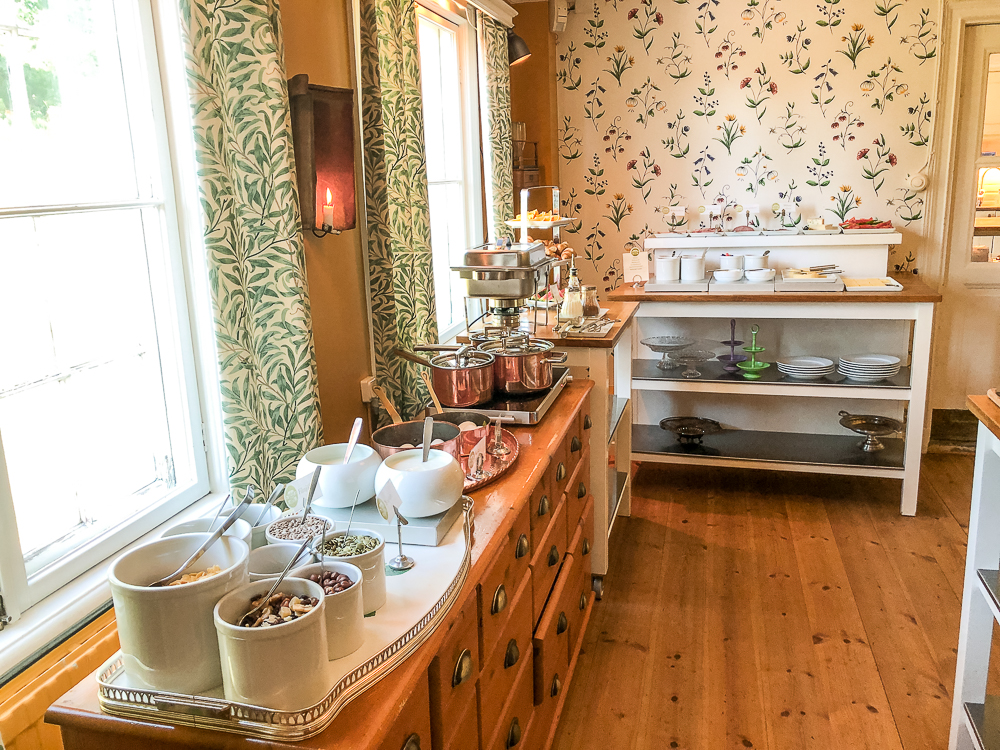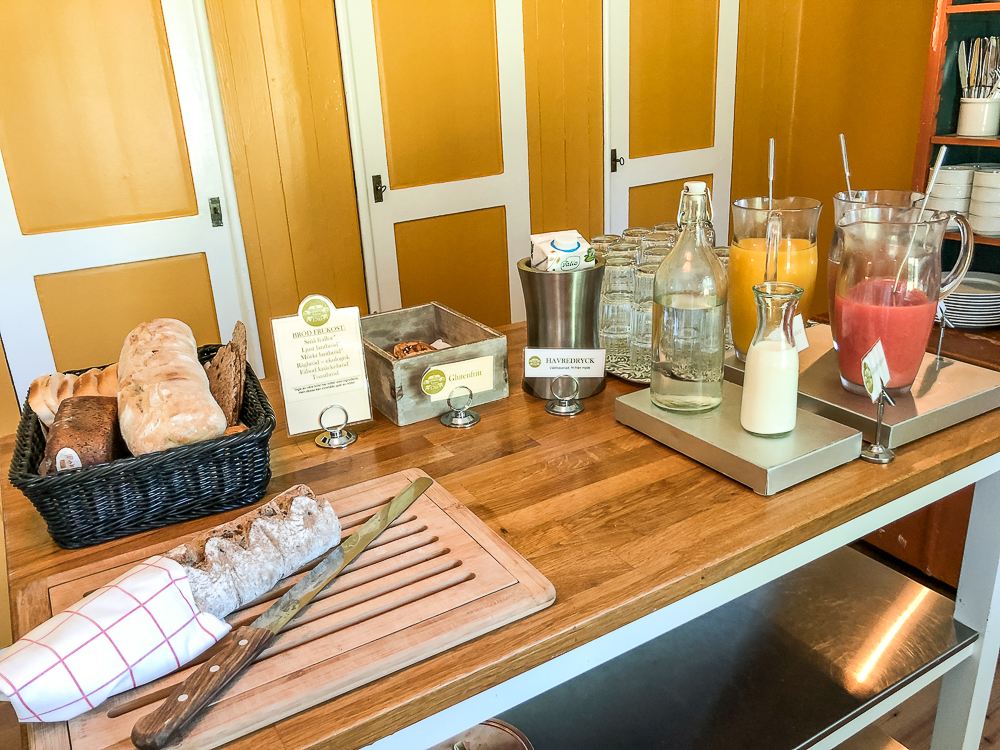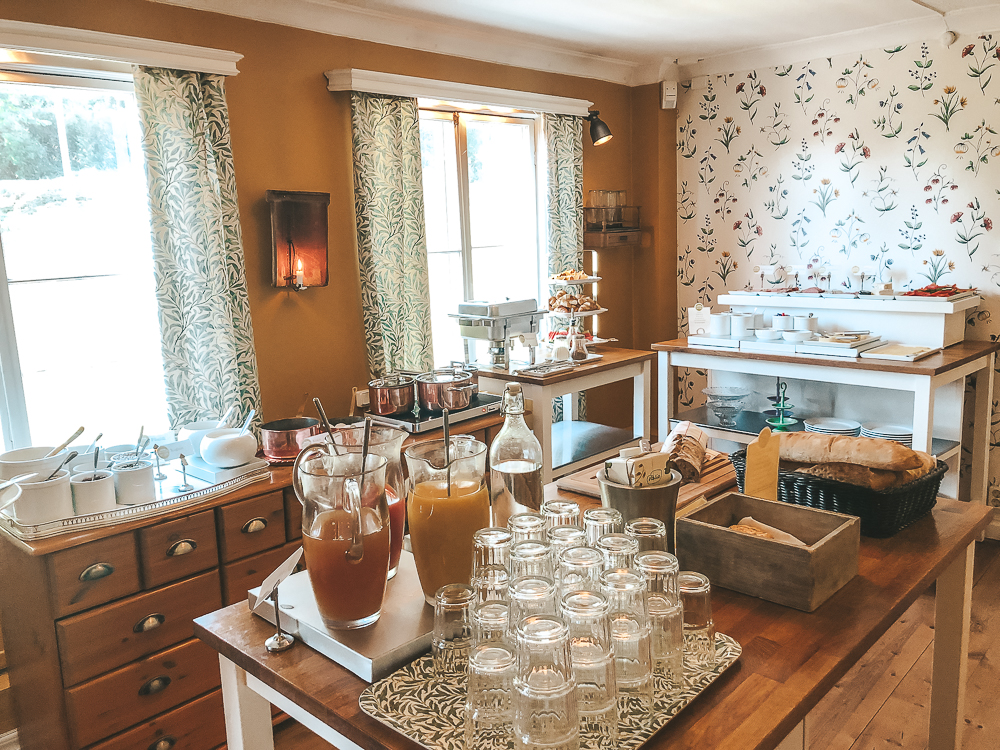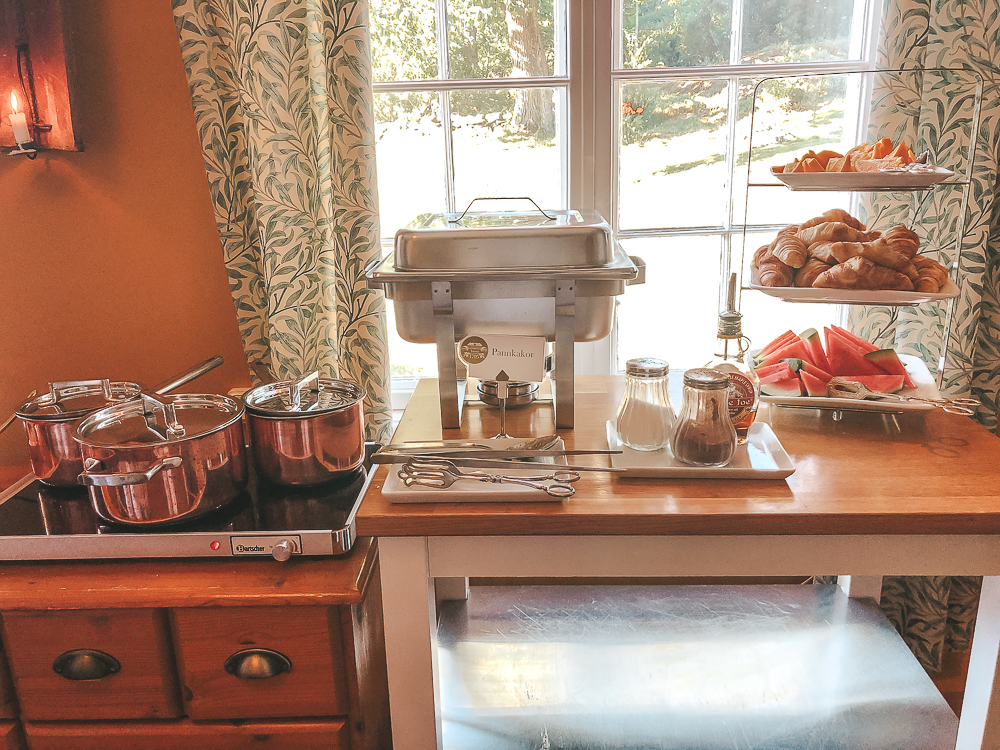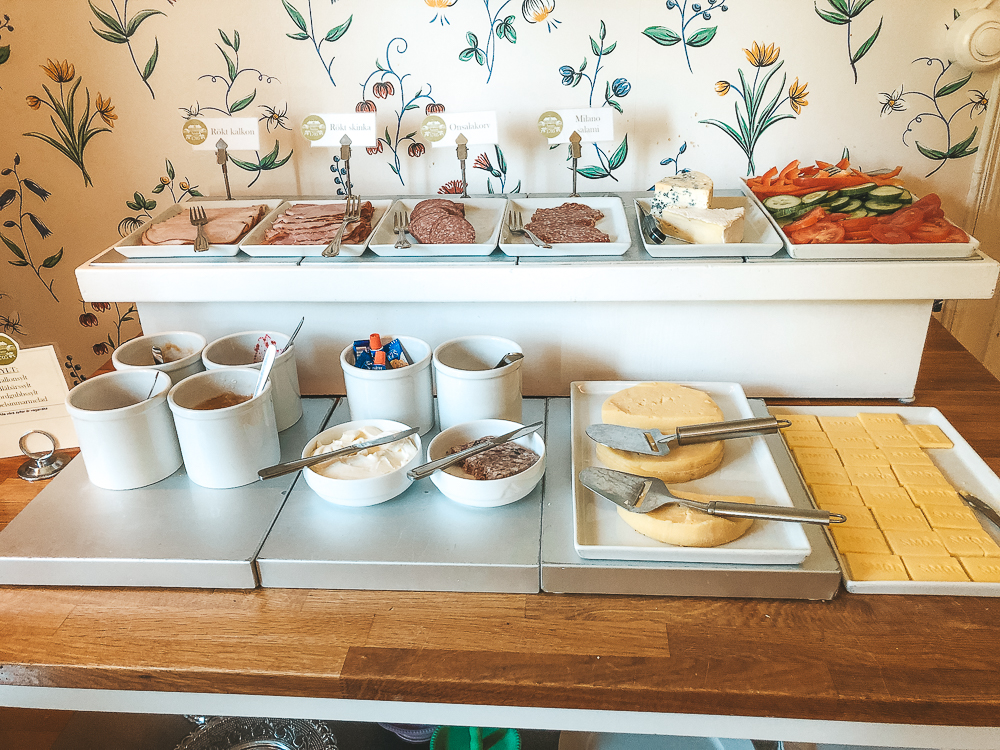 Summary
Tofta Herrgård has really high cozy factor and it is really soothing here. The manor is located right next to the Lycke golf course and there are horses grazing outside the window. The dining room is county and I like that there is candle light on both the dinner table and the breakfast table for the person sitting indoors.
Tofta Herrgård is really a balm for the soul and the owner Petter himself served the dinner due to he is a sommelier and presented the wines we drank, which I think is very nice done! This mansion is not just for the older generation, we were several of the younger generation and then I mean 30+ age here, which was fun to see.
This is a perfect place for those who want a cozy, relaxing and romantic weekend with good food and not least for those who are interested and enjoy fine art and antiques, then you must come here! I didn't see any families with children, which I personally thought was nice so I would say that Tofta Herrgård is suitable for conference guests and couples. However, we didn't have any air conditioning or a fan in the room, as our overnight stay was a warm and comfortable summer day and we slept with full open windows instead.
Overall, I think the whole stay felt warm and welcoming and I can really recommend a visit here! 🙂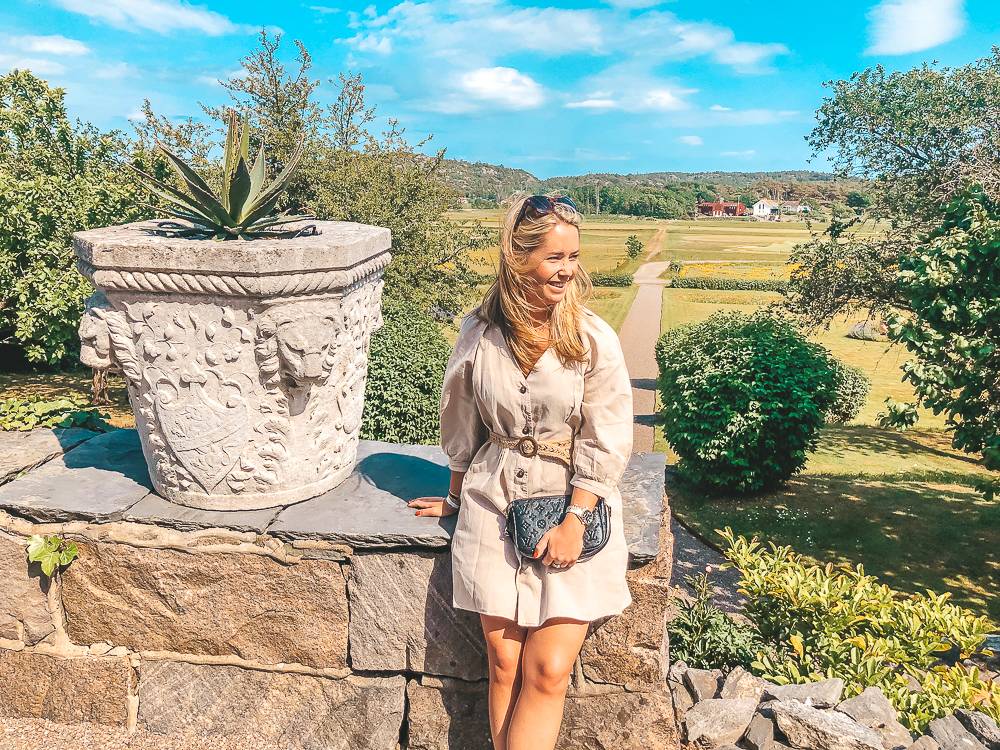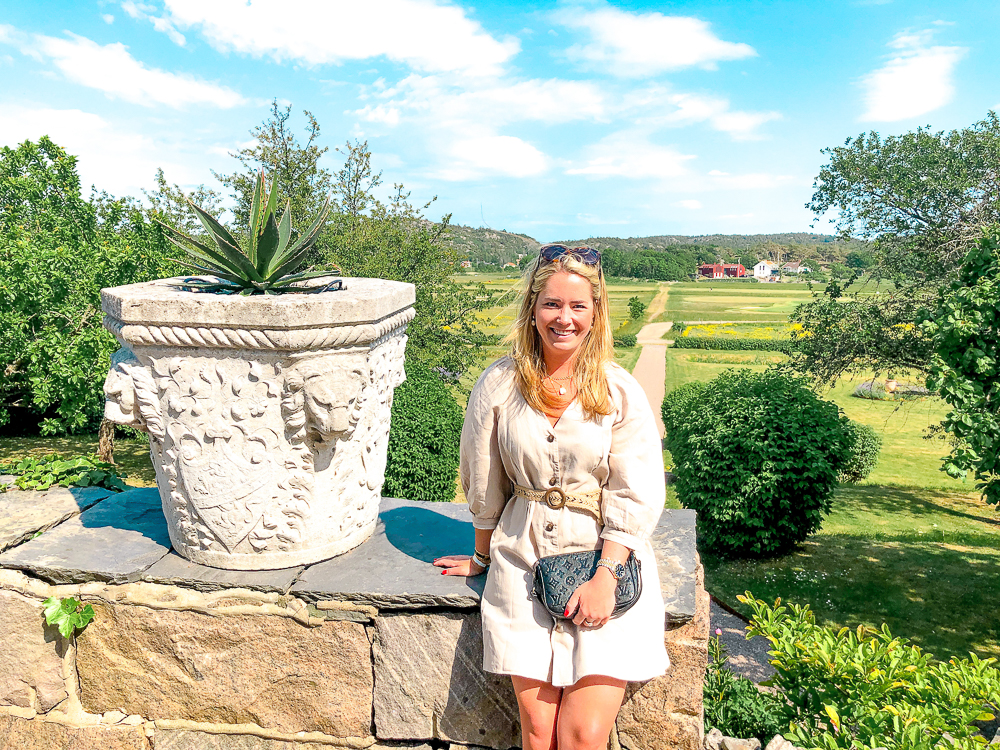 How to find Tofta Herrgård
Tofta is located in Kungälv municipality just south of Lycke church. Take the E6 north of Gothenburg at Kungälv off road 168 towards Marstrand and Ytterby. At Tjuvkil, take road 570 and follow the sign for Tofta. The road to the nature reserve passes the culturally interesting Tofta Herrgård.
Or you turn on the GPS on your mobile and enter Tofta Herrgård, Lycke.
If you want to read more about Tofta Herrgård and maybe book their golf package, you can click here to enter their website.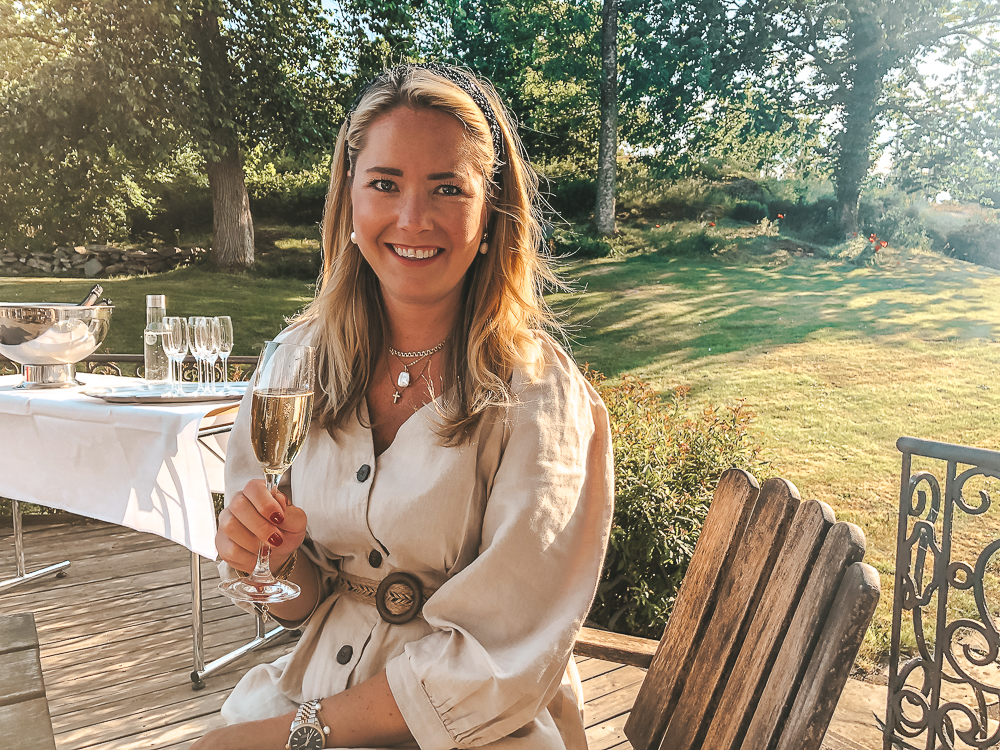 Happy Travels!
// Charlotte