In collaboration with Trosa Stadshotell & Spa. 
Staycation At Trosa Stadshotell & Spa
I have found Sweden's most wonderful and picturesque gem as a summer town, namely Trosa and Trosa Municipality. Well here I have also found Sweden's perhaps most charming and cozy city hotel, Trosa Stadshotell & Spa, which is perfectly located right next to Trosa lake in the middle of the town.
Here you will not only find Trosa Stadshotell, if you exit from their main entrance you turn left to enter a small street. From here you will also find old charming houses along the river and with its nice walking paths that meander from the square down to the harbor there are many small shops with fashion and decor, gifts and delicacies as well as cozy cafes and a bookstore. It's really worth strolling around for a while here in Trosa and preferably in the morning after breakfast at Trosa Stadshotell for the best experience 🙂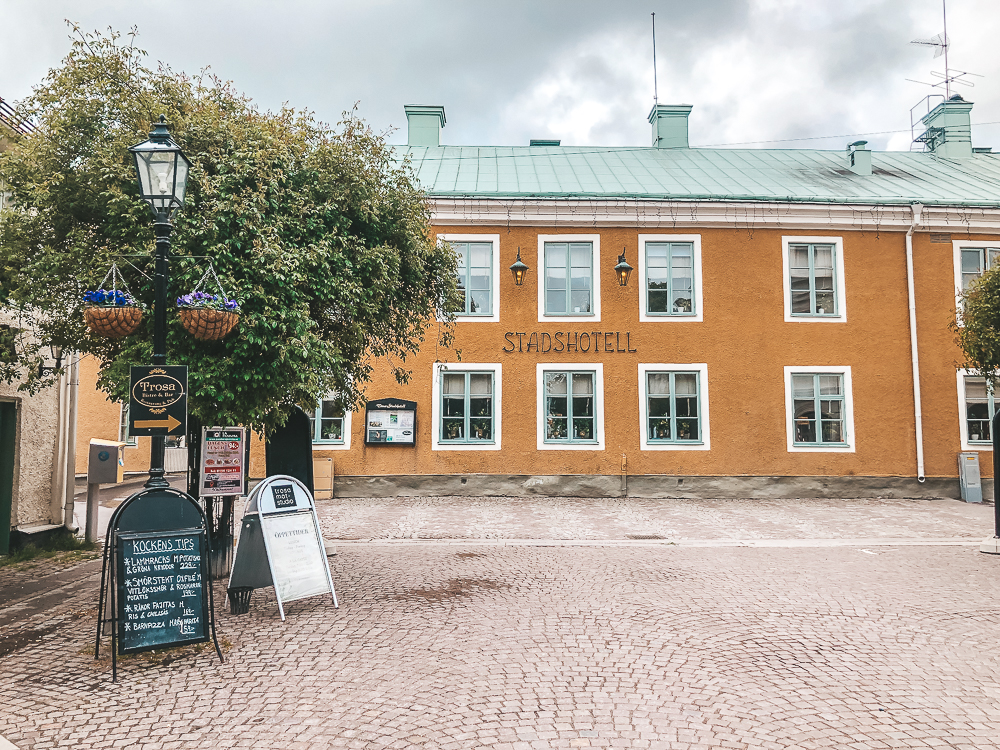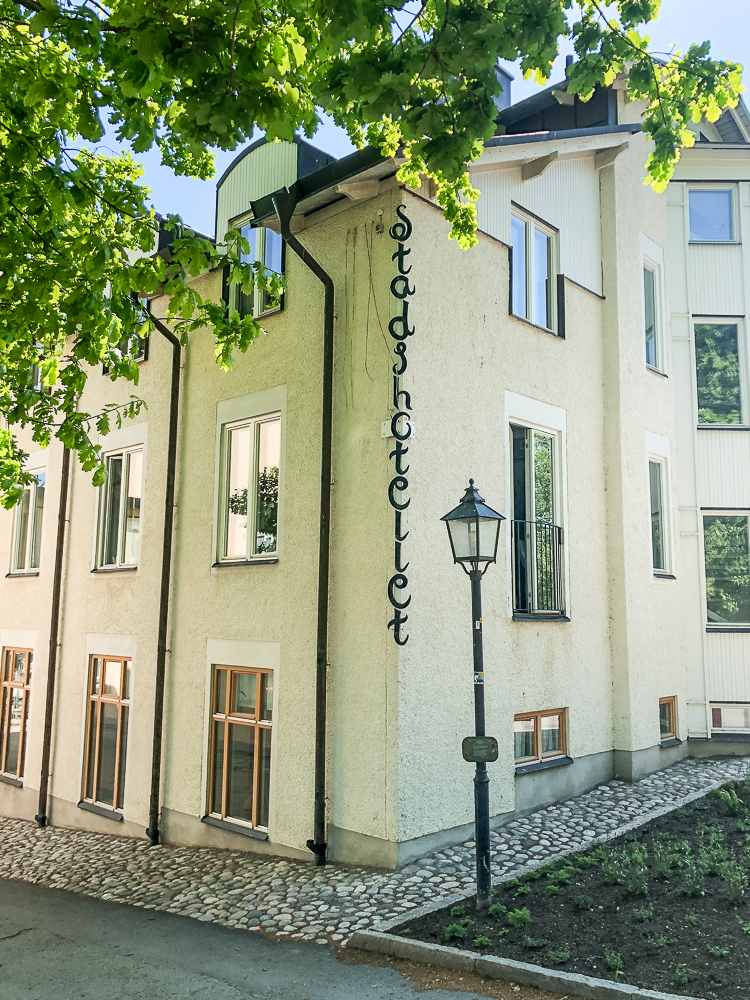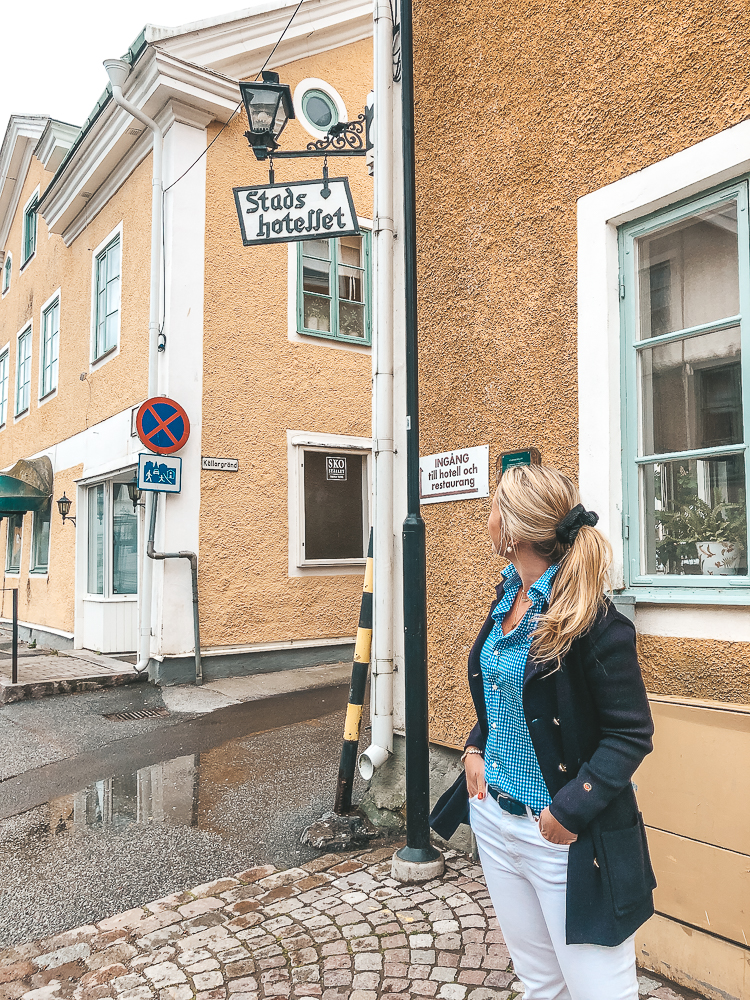 Trosa Stadshotell & Spa
Trosa Stadshotell is truly the most charming and cozy hotel I have honestly visited. You feel really welcome and everyone, I mean everyone who works here has been very family-friendly throughout my stay. All staff from the front desk to the spa department to all the service staff, every one had a smile on their lips all the time and was really nice. That made my stay very positive 🙂
Trosa city hotel is both atmospheric and romantic but is still suitable for a group who wants to play golf as well as for those who want their conference here. It is unique in many ways in that the hotel has atmosphere, it is personal and in addition they offer Afternoon Tea which I think is unique.
There is also a large patio to enjoy something to drink or why not have your breakfast here. If nothing else, there is a large lounge area with really comfortable sofas indoors.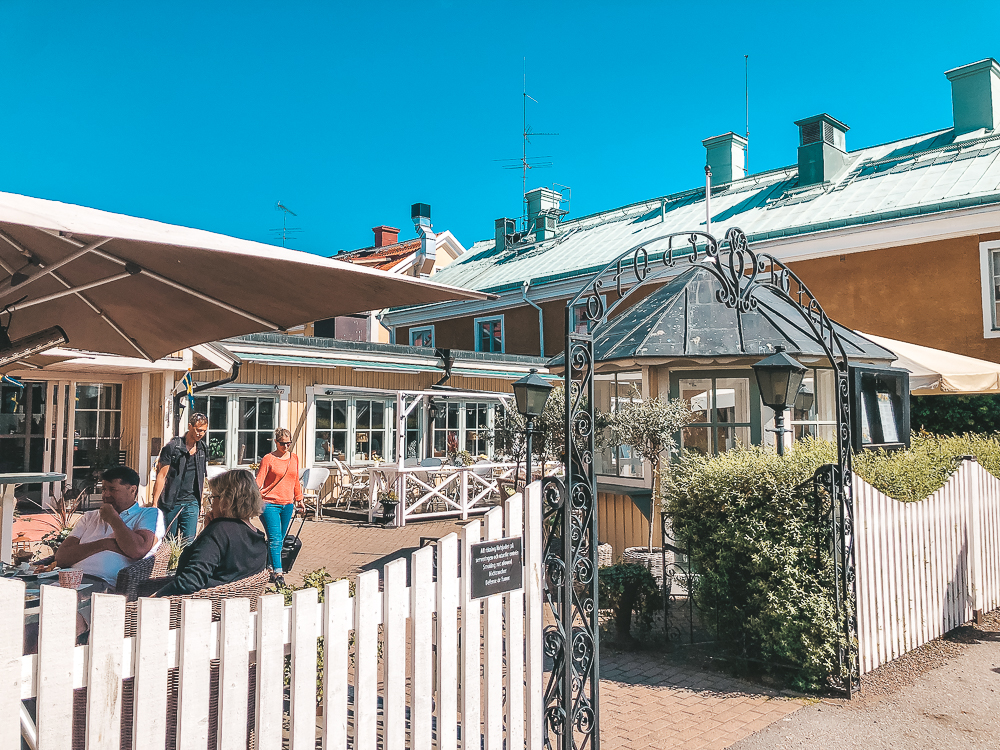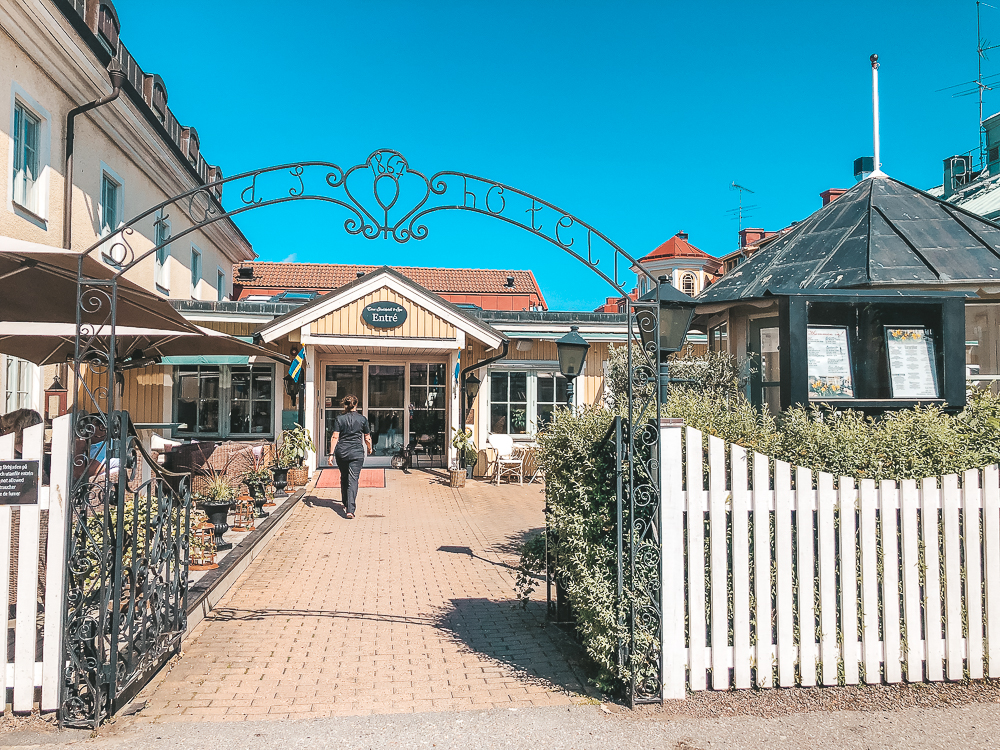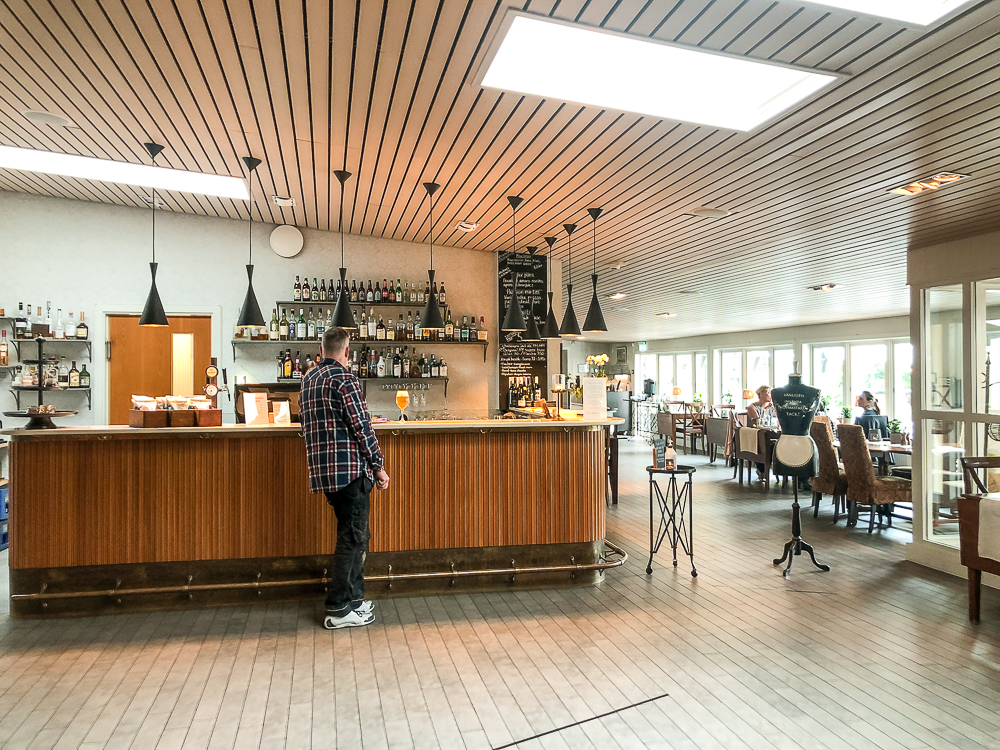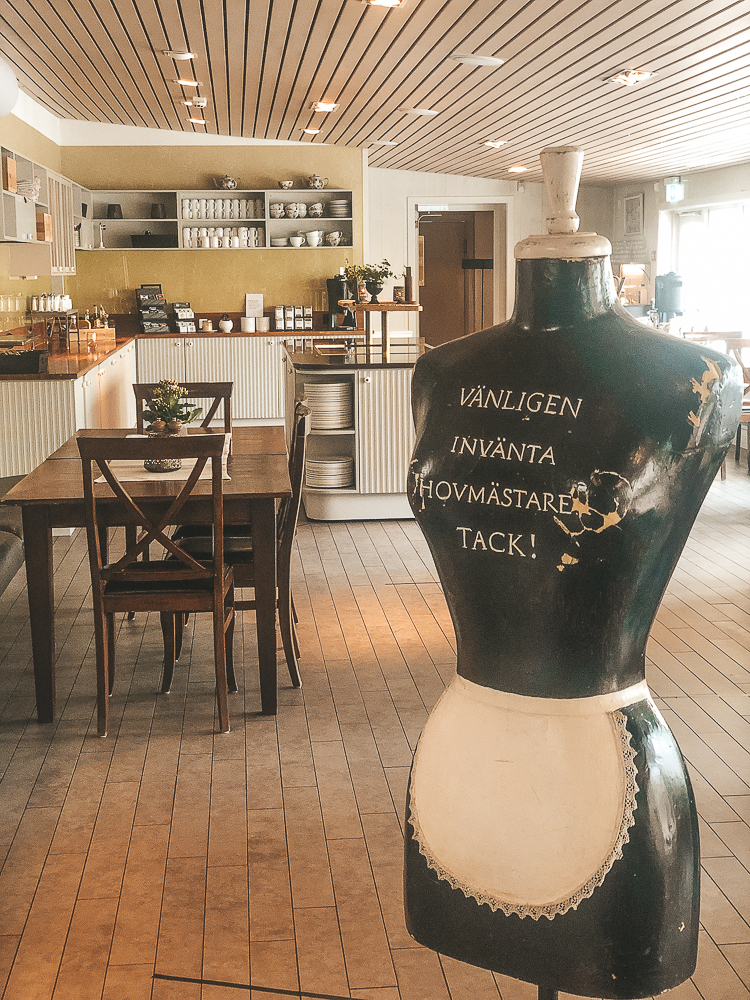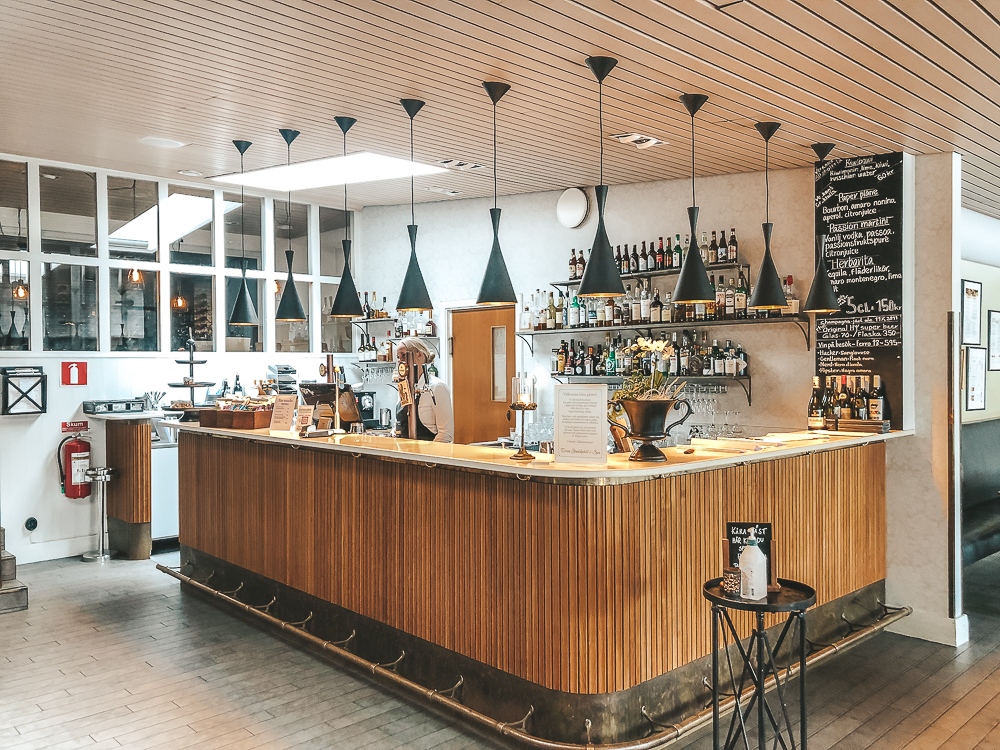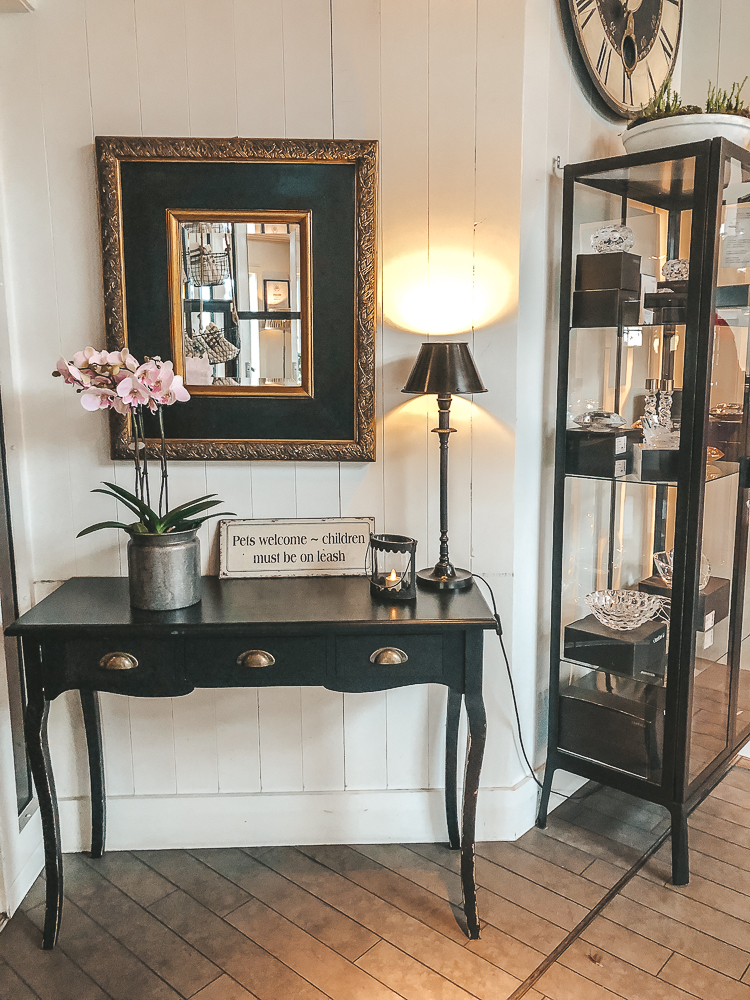 The Rooms
It offers cozy and personally furnished rooms and suites. I stayed in their mini suite, room 114 which is also completely newly renovated and located just above the spa area. It was really so nicely decorated and it did well with many windows along the one side. We were welcomed with bubbles and chocolates, which really put a golden edge on my stay.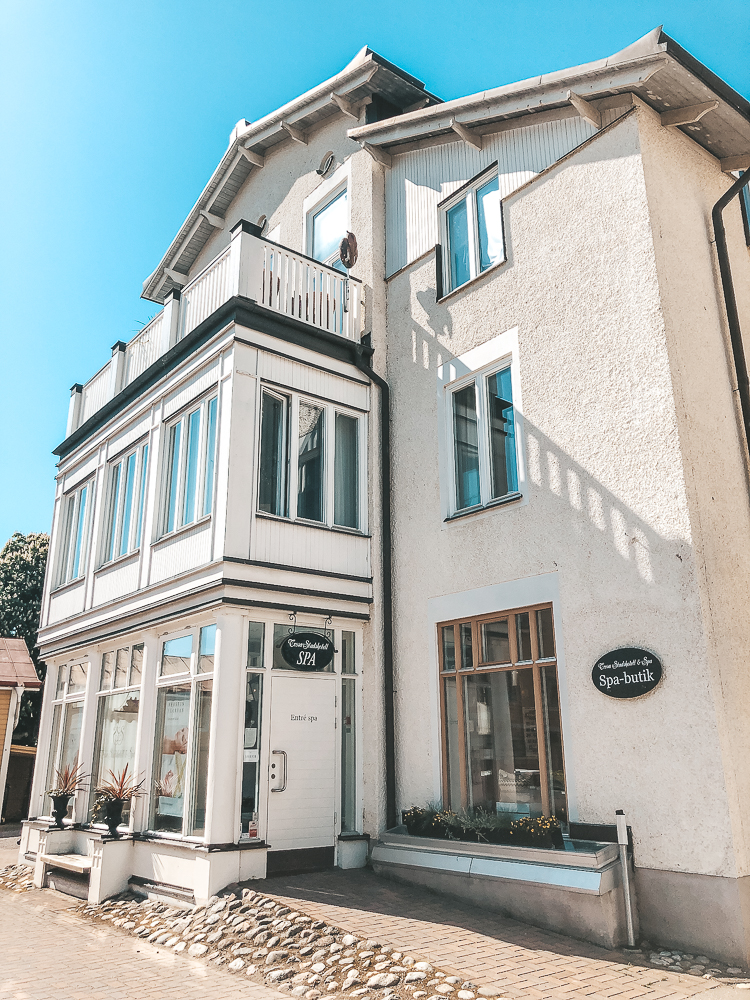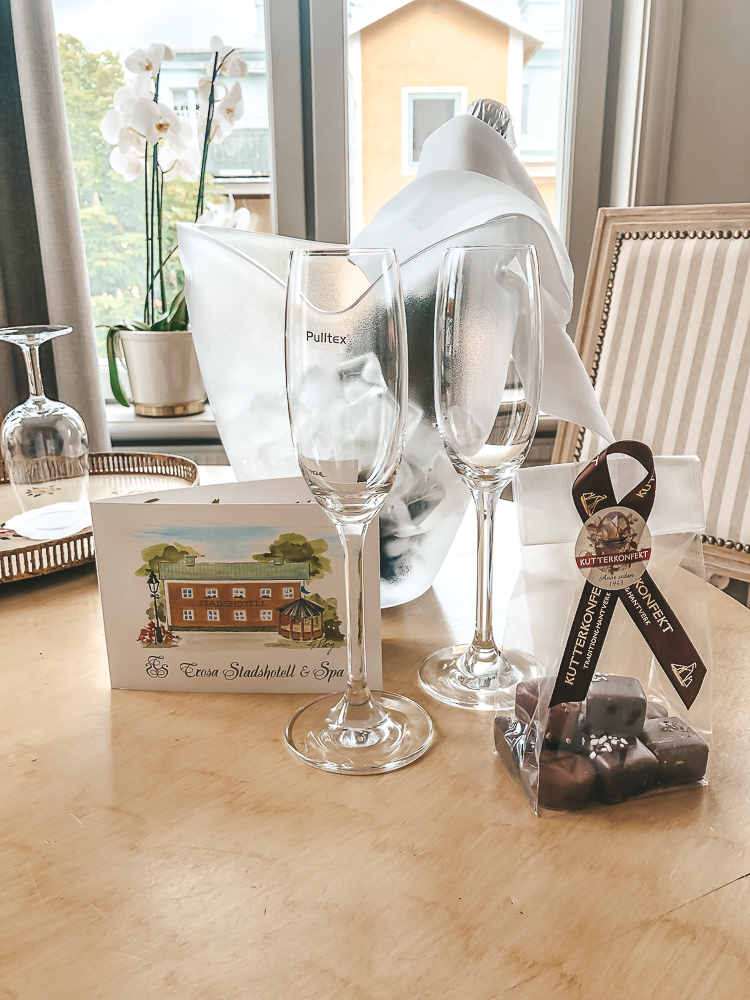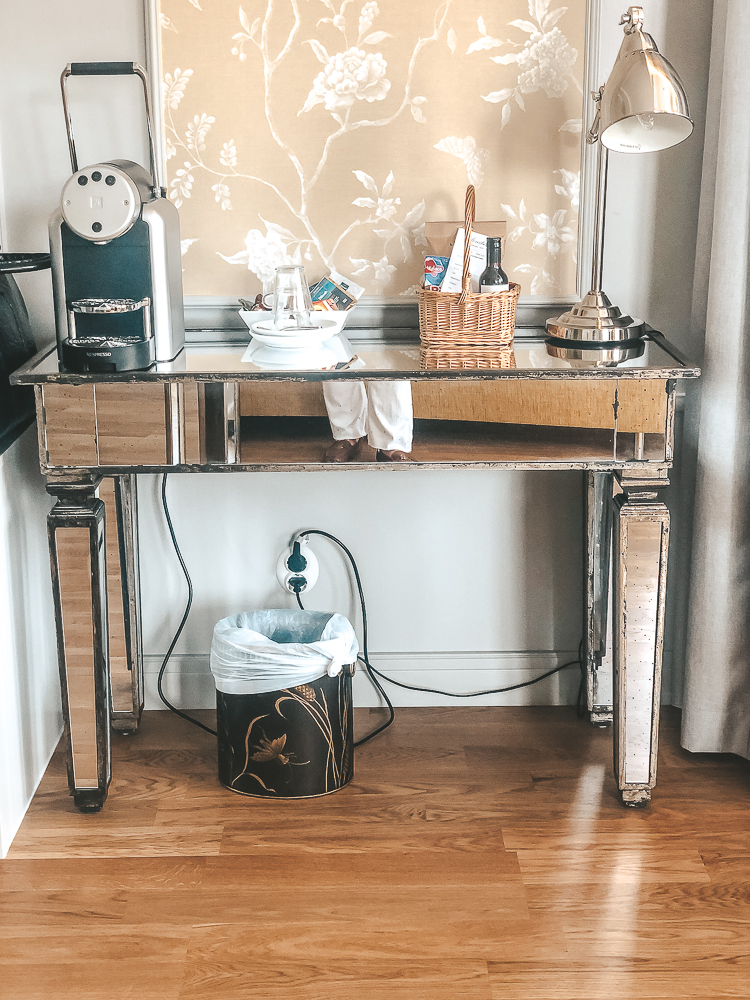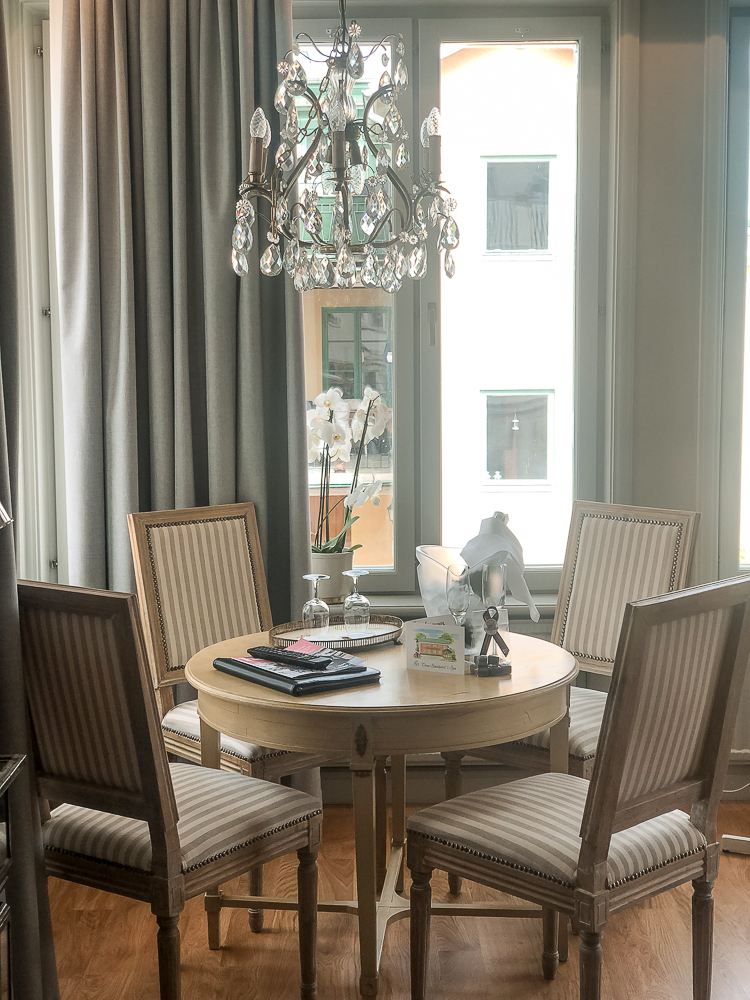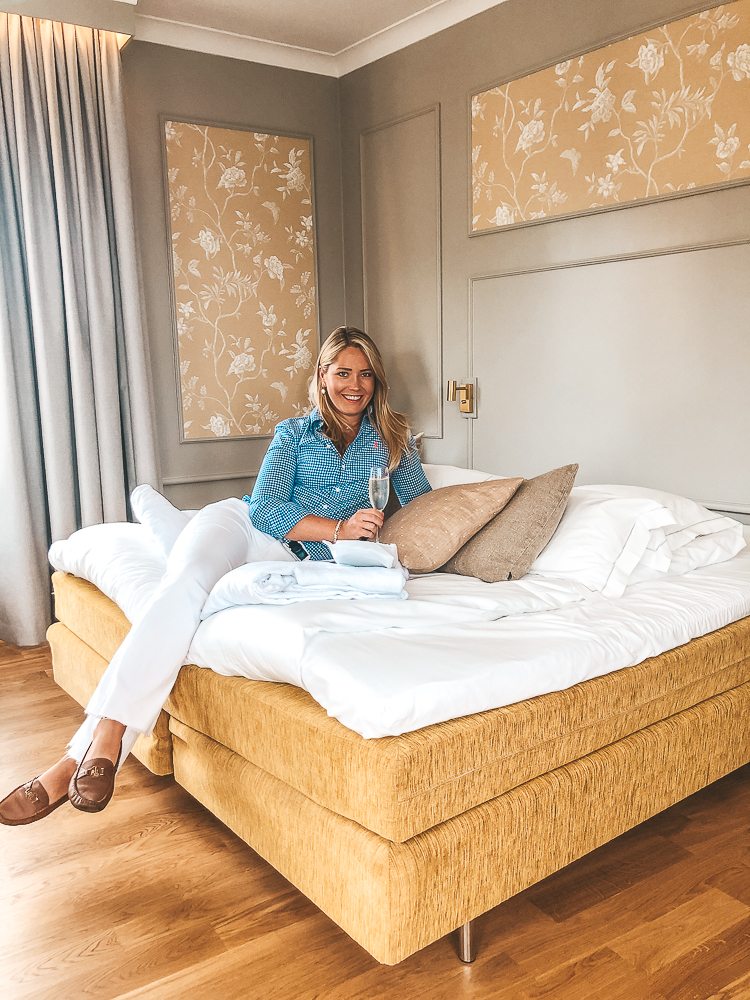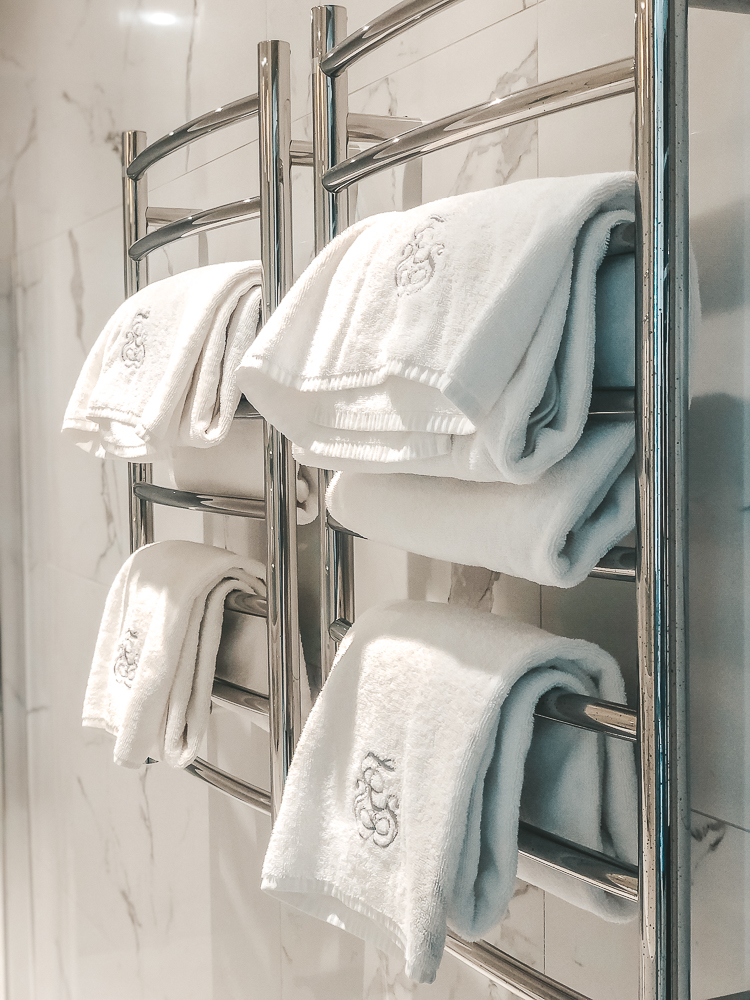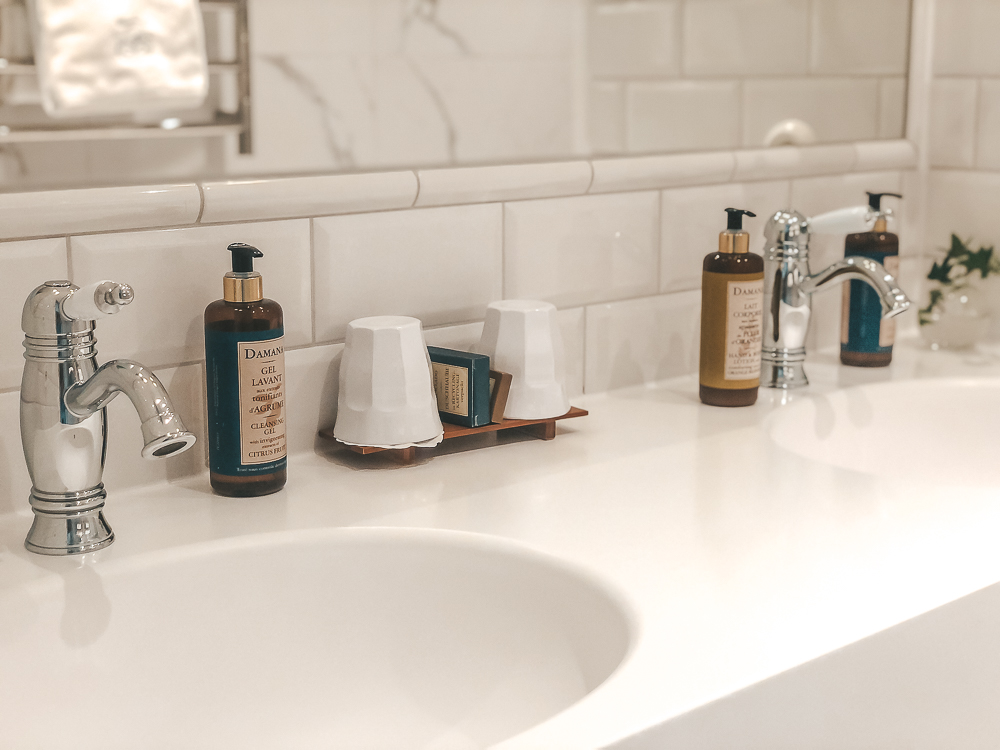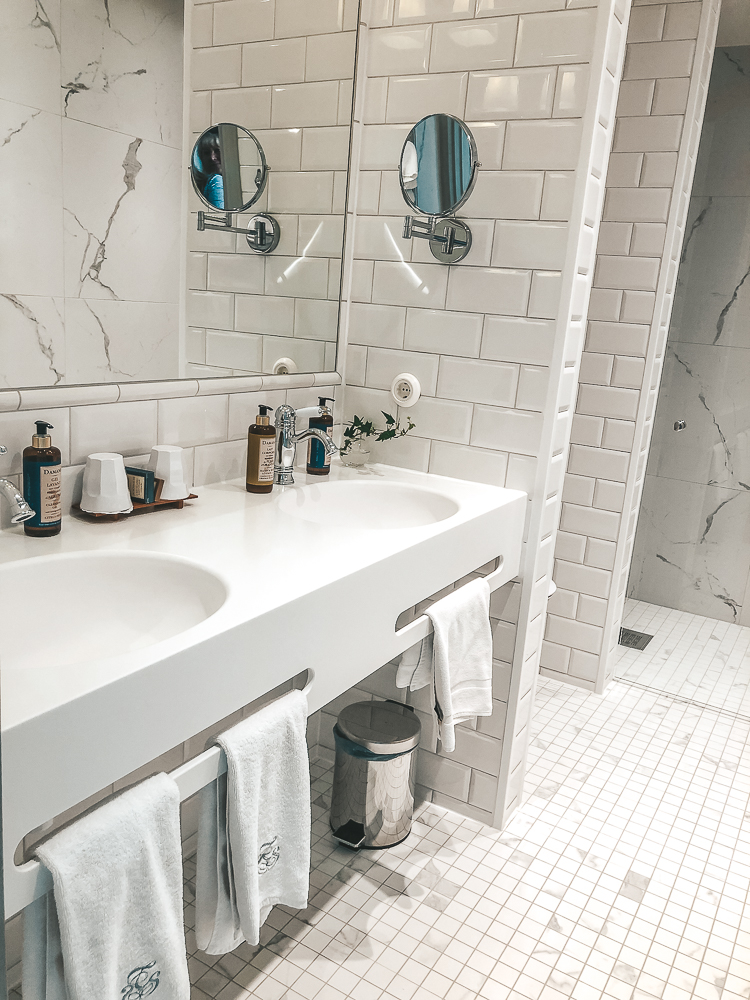 Romance package
Afternoon Tea
Trosa Stadshotell and spa offer many different packages and I had their Romance package which is their most popular package and that includes:
Afternoon tea that stands on Saturdays 14.30 – 16.00 and weekdays 15.00 – 16.00
Entrance to spa relaxation with bathrobe and slippers in the room (you can bring your slippers home)
Four course menu with wine package / non alcoholic beverage package
Accommodation in double room and breakfast buffet
Free access to the gym 24 hours a day
Would you like to read more about the Romance package I had and what it cost, you can click here.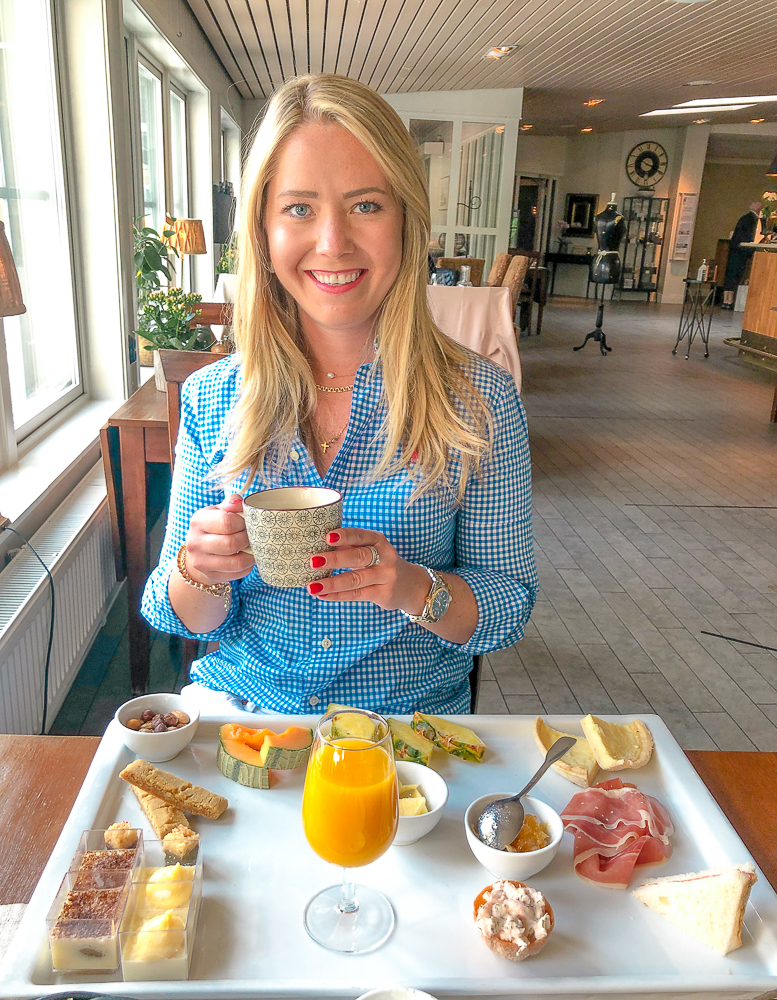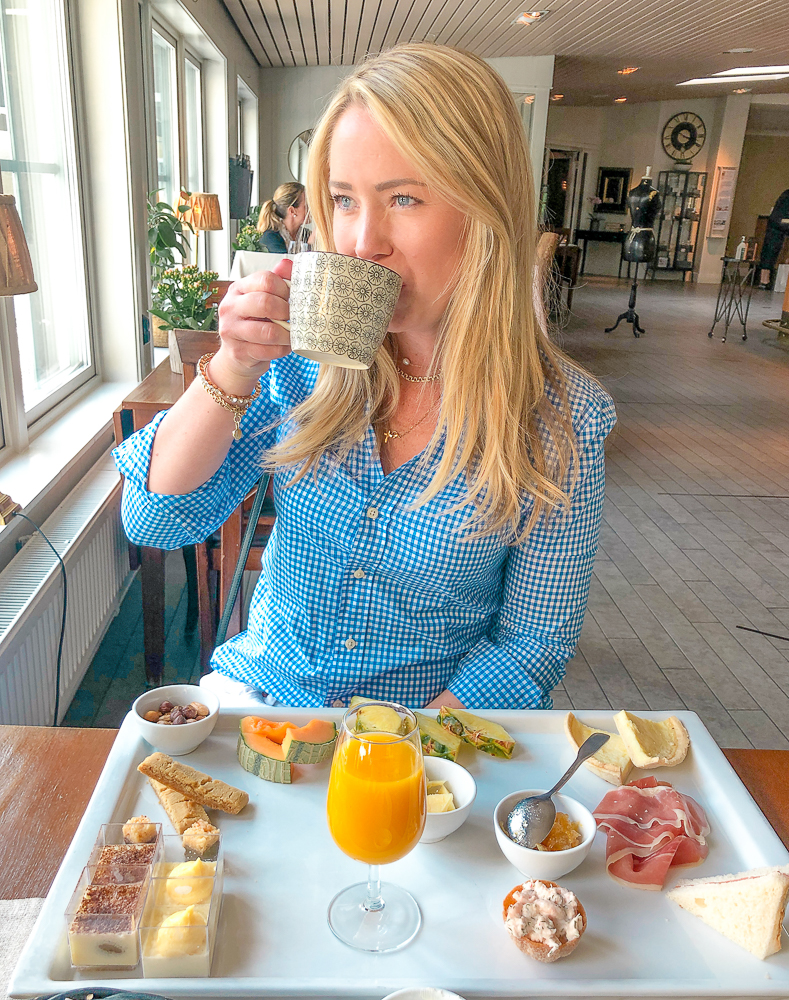 SPA department
The spa section of Trosa Stadshotell & Spa is absolutely wonderful and very relaxing. It is lovely atmosphere and you really feel harmonious in the soul when you are here. I would say that this too is unique in itself and extremely popular spa. Here is a relax area and a 38 degrees warm pool which was really nice to hang out in. In addition, you should not miss the cold bath shower from the tub which makes the whole spa unique if you dare 😉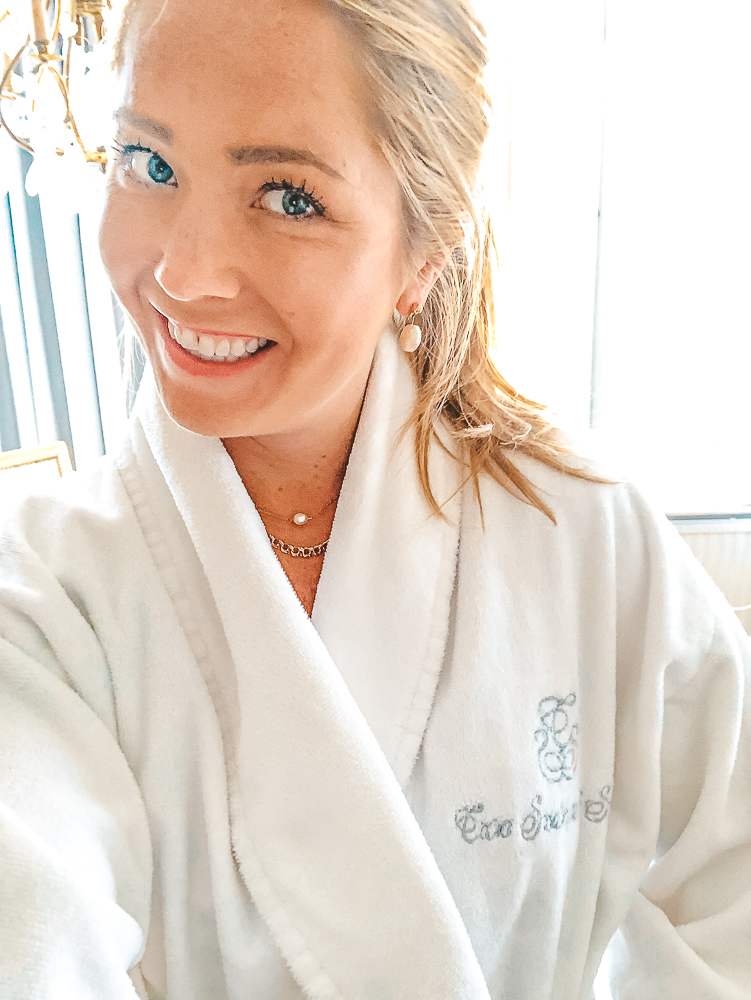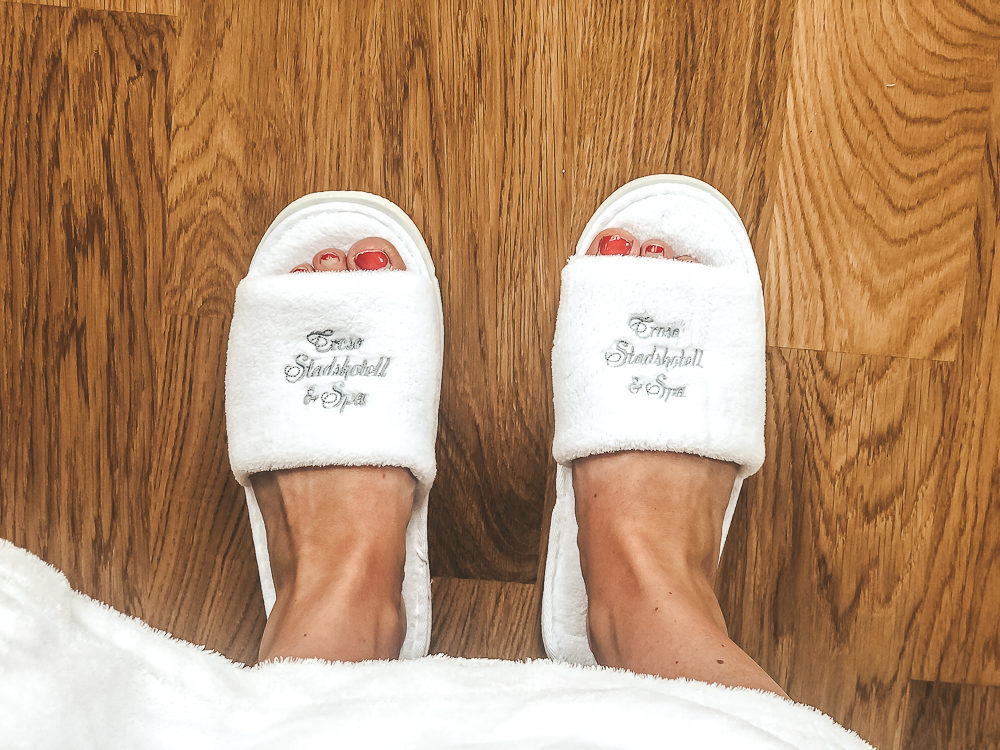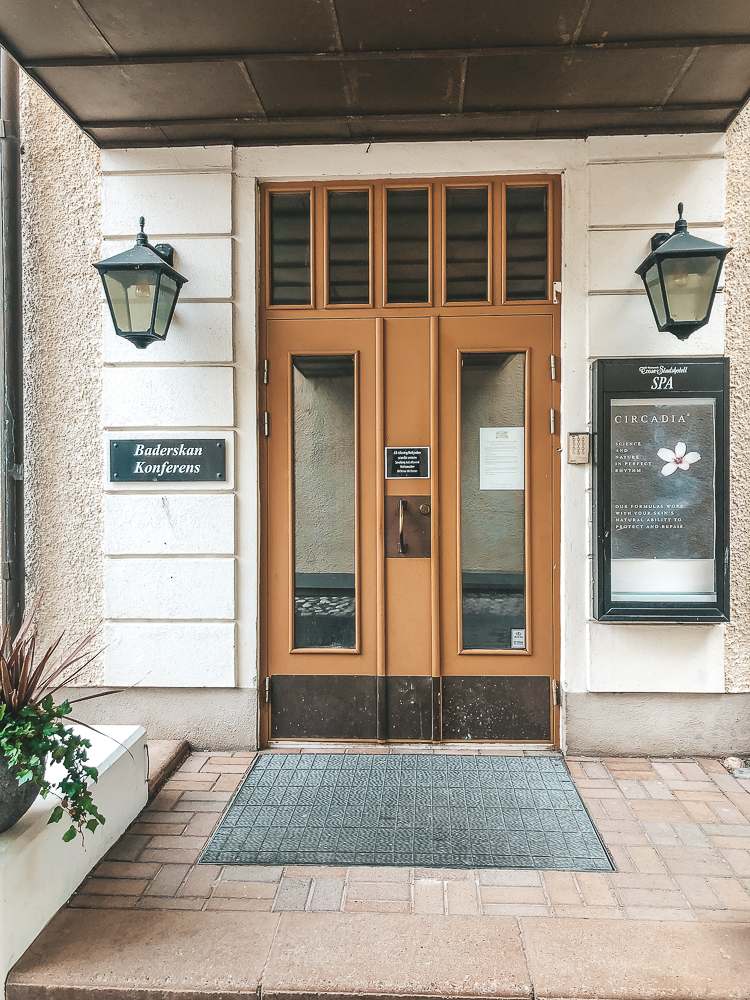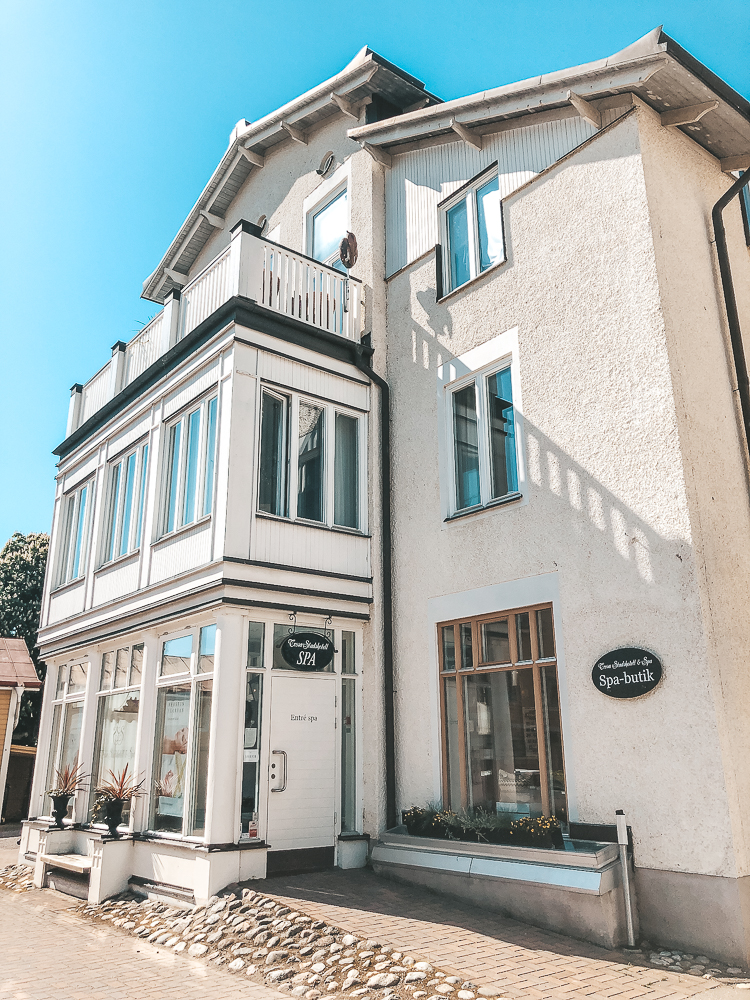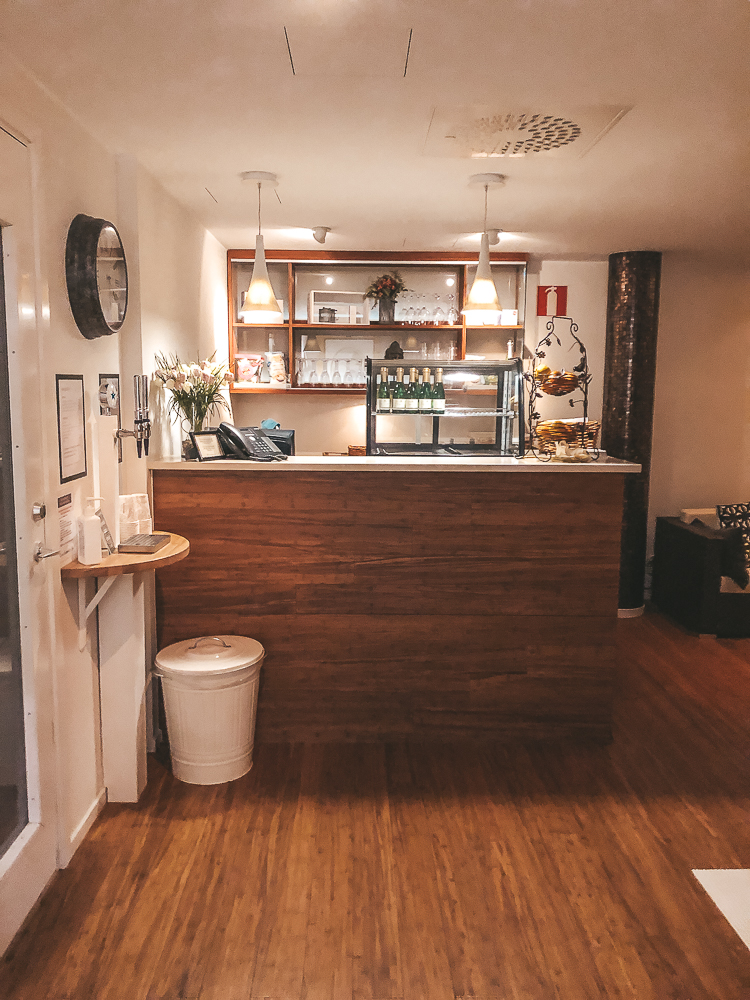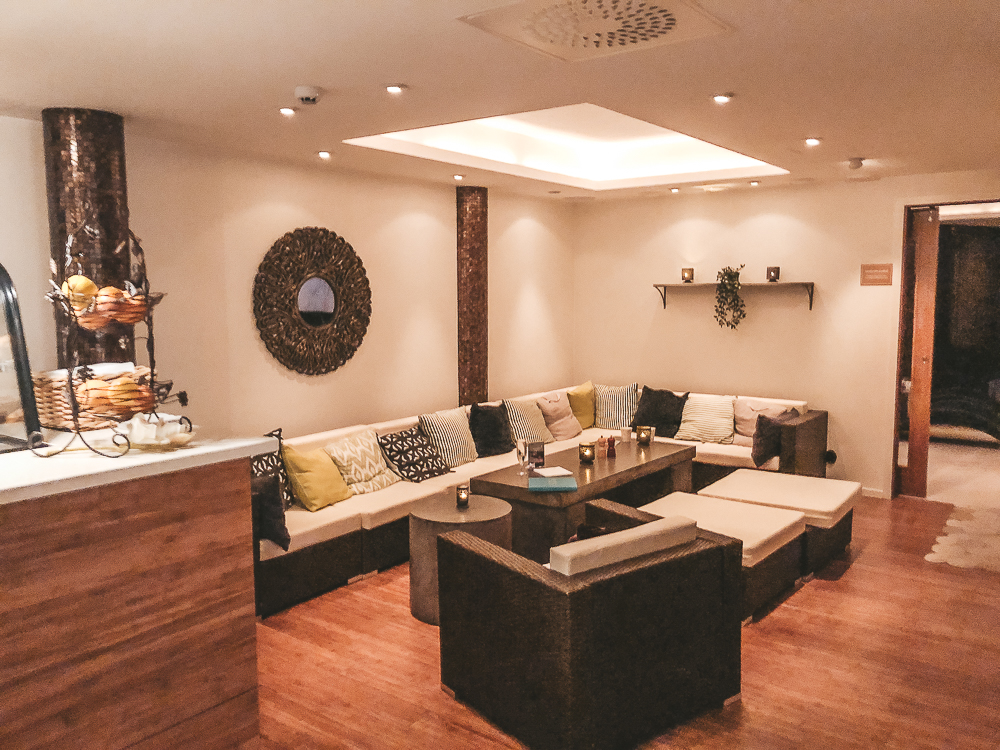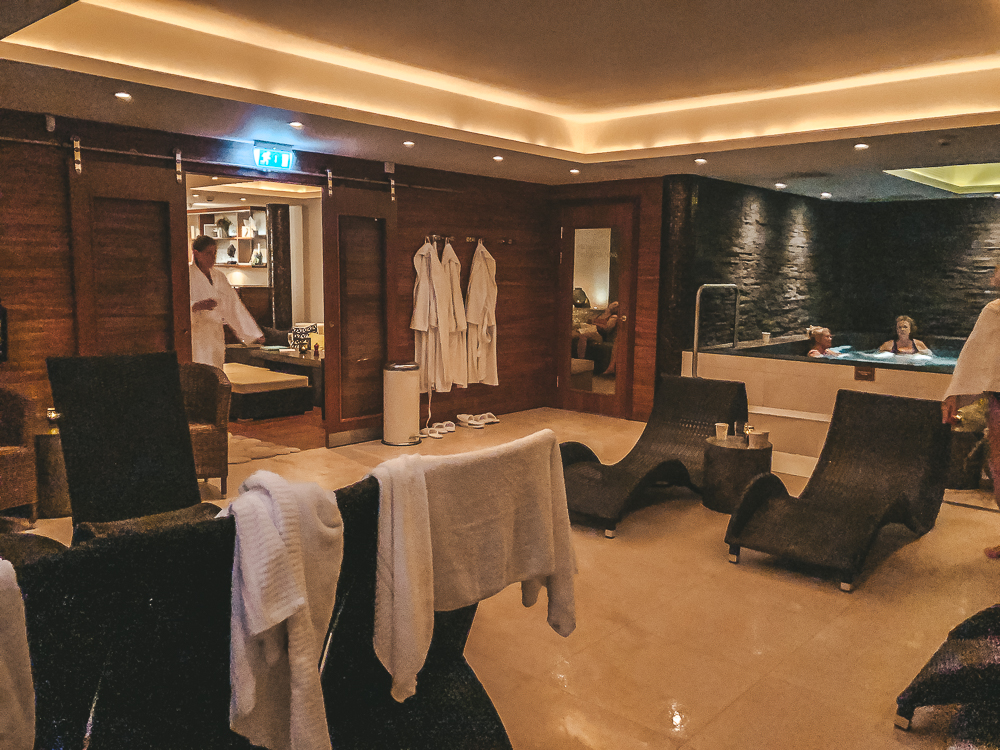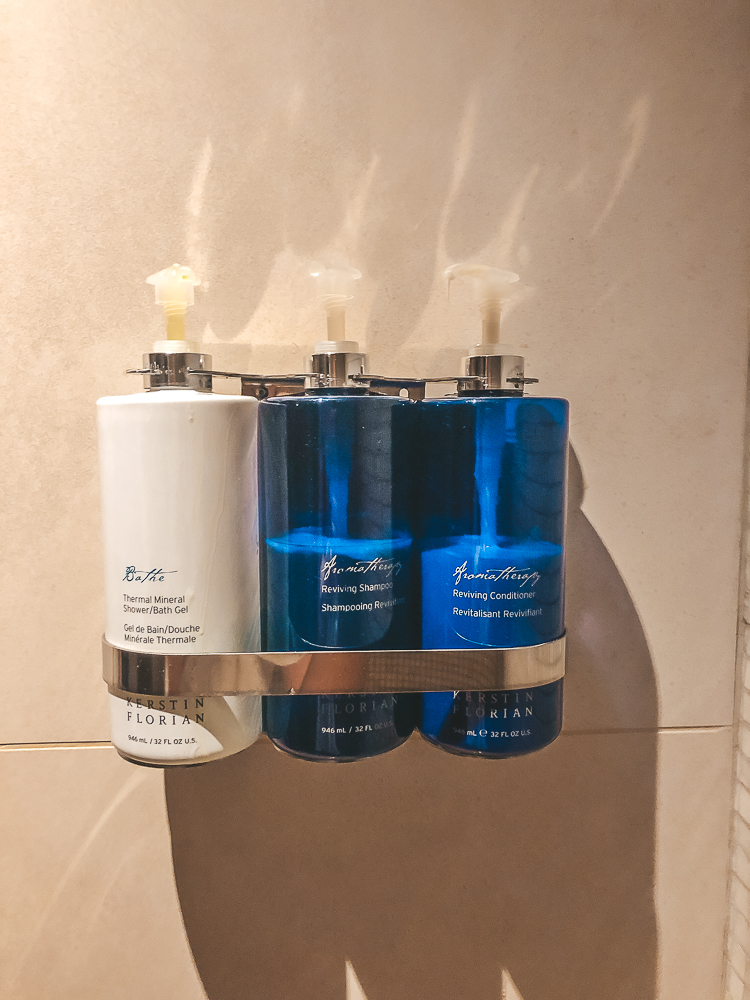 I duscharna finns det produkter från Kerstin Florian som doftar ljuvligt gott!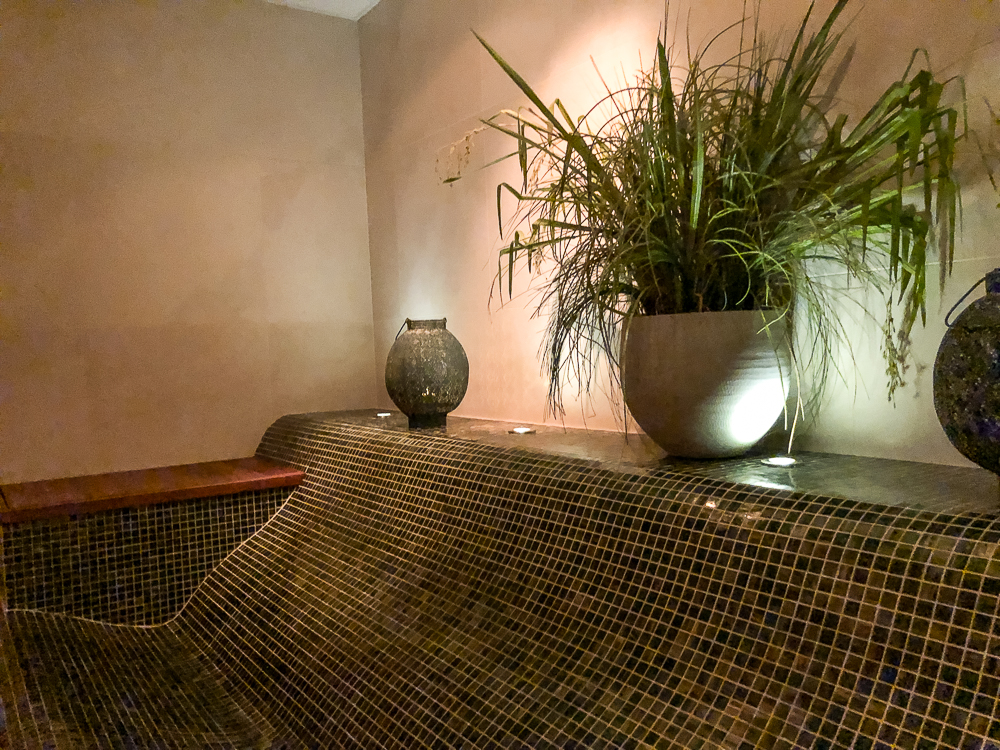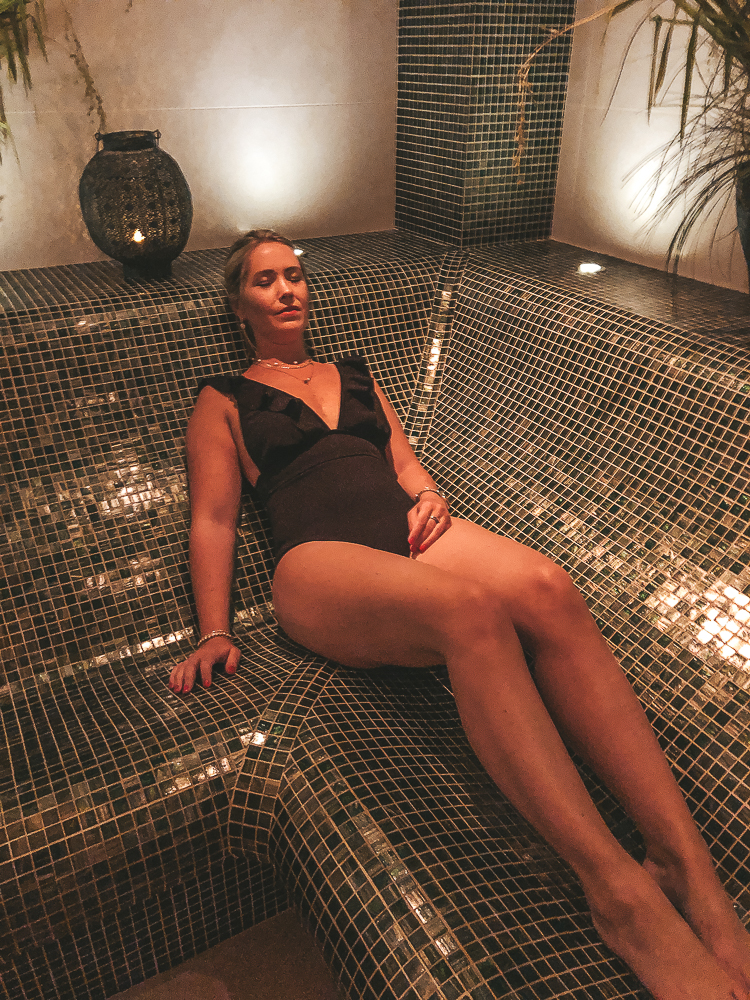 Here is the tub I talked about. Would you dare pull the cord and get a cold shower over you? I didn't 😉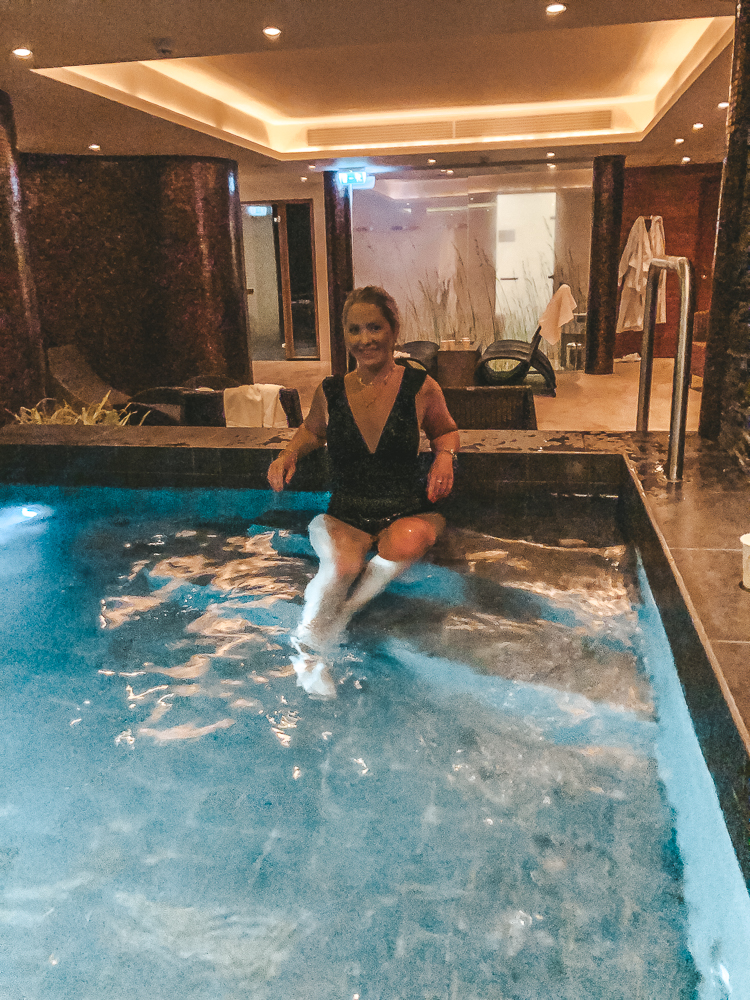 The hotel's gym is also located in the same building as the SPA, just before the SPA entrance there is a room on the left side where there is a gym sign on the door.
4 course dinner in the fine dining room
My god what a gourmet dinner I got at Trosa city hotel! My god! If you like food, you should definitely come here and have their dinner package. (There is also à la carte to choose from). I had their Romance package dinner which is a well thought 4 course menu, yes I would actually say a really gourmet menu with amazing food! Unfortunately I don't eat fish so instead I got an incredibly good chicken with risotto.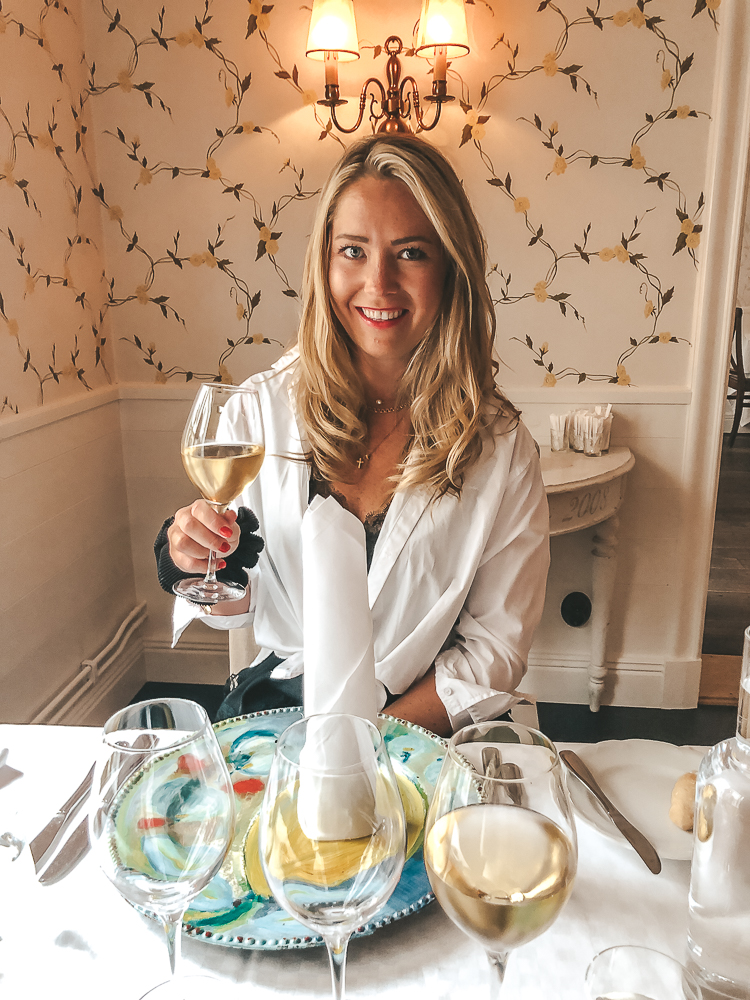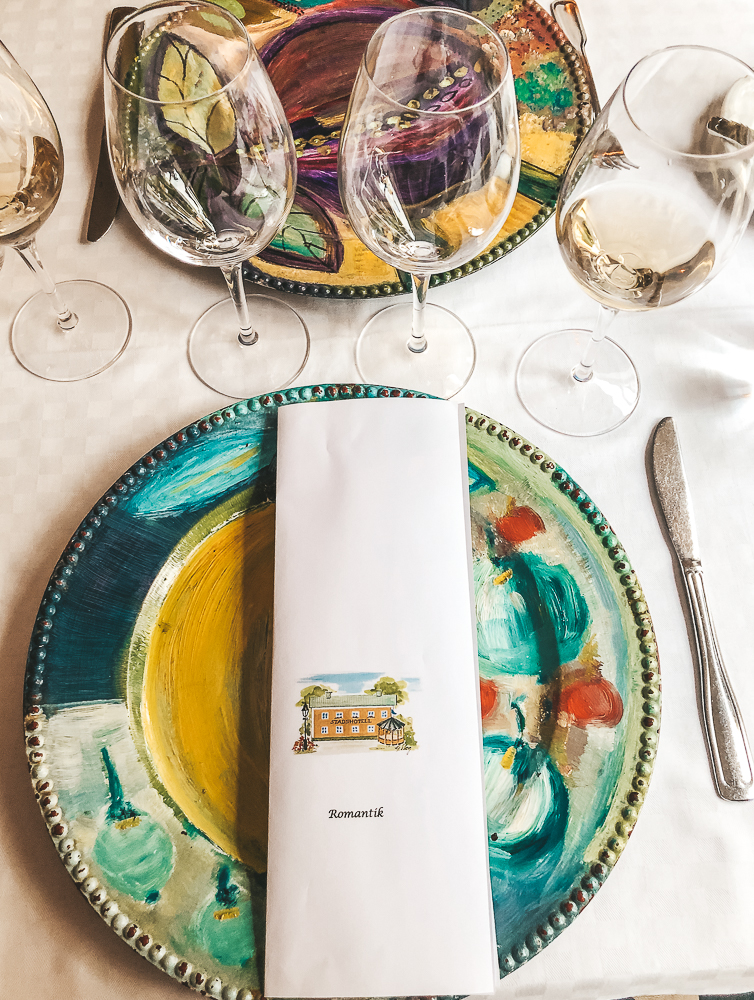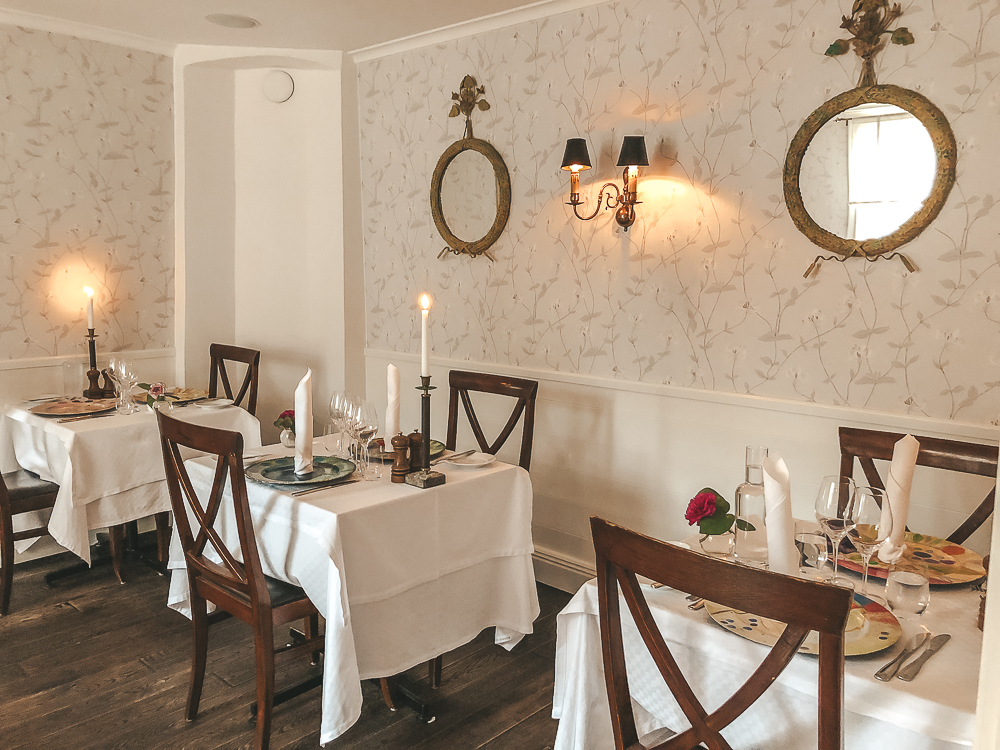 I think the environment is so cozy and romantic here in the dining part!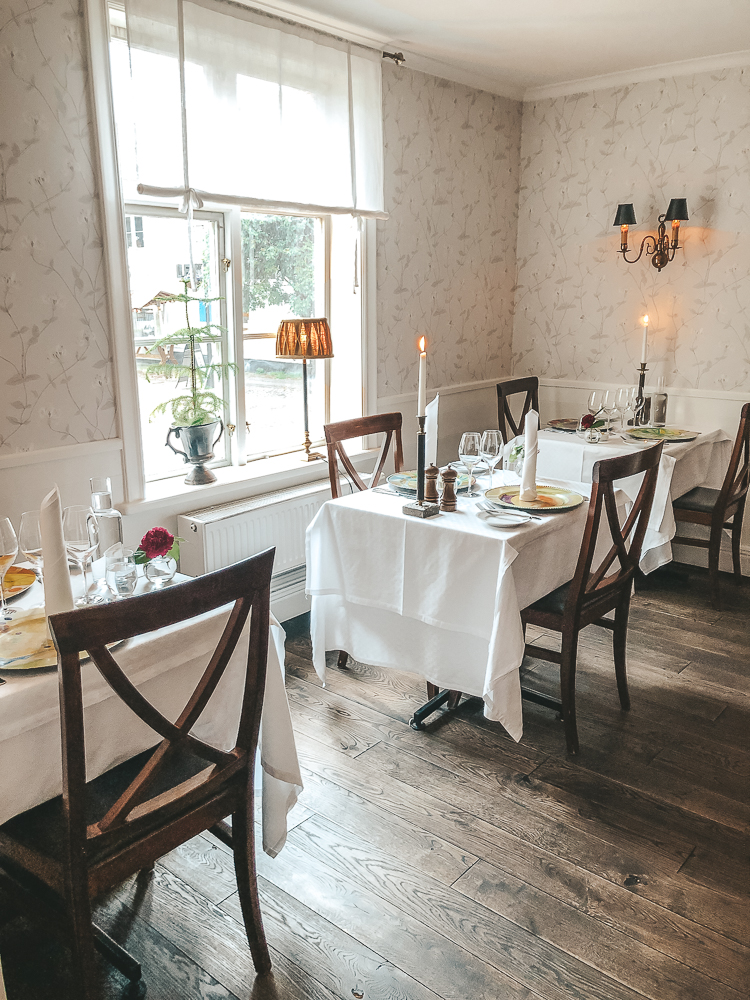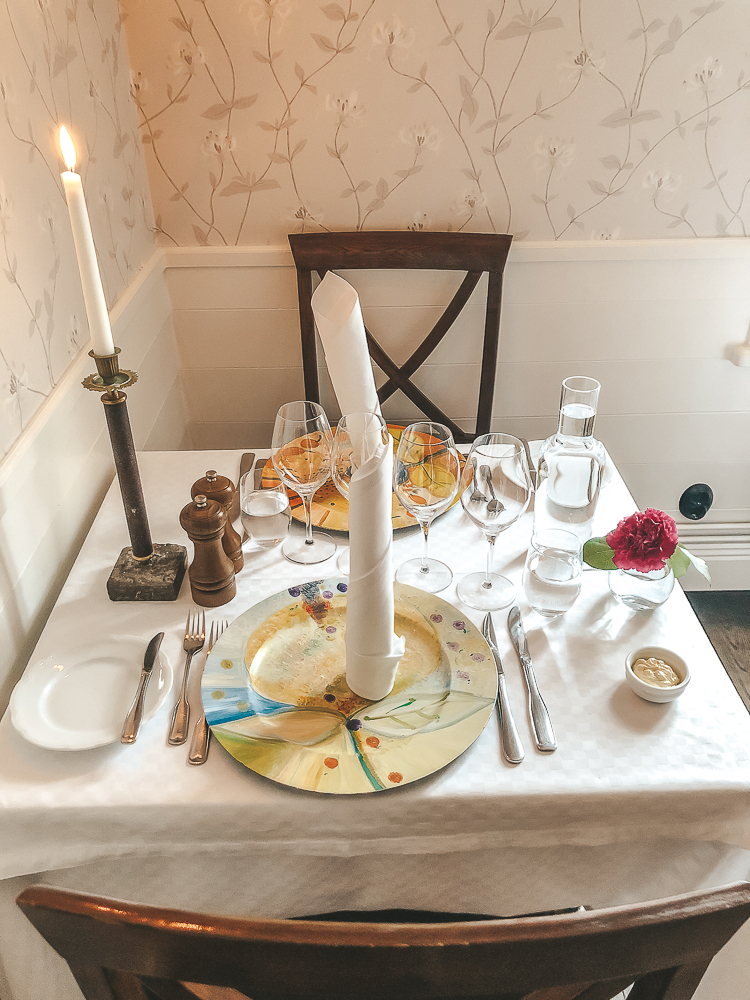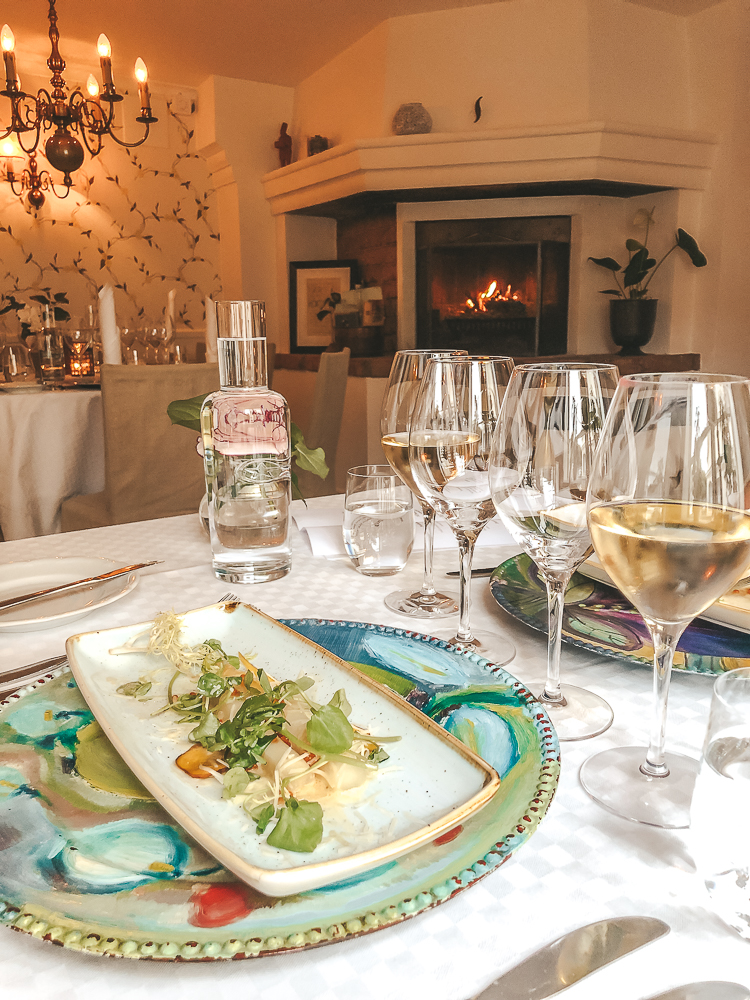 The starter consisted of white asparagus and a glass of Riesling to it.
For the middle course we got a tomato with wild boar fillet and a glass of Pinot Noir which was delicious!
My company had the roasted pike that was part of the menu while I got the chicken with risotto as a main course.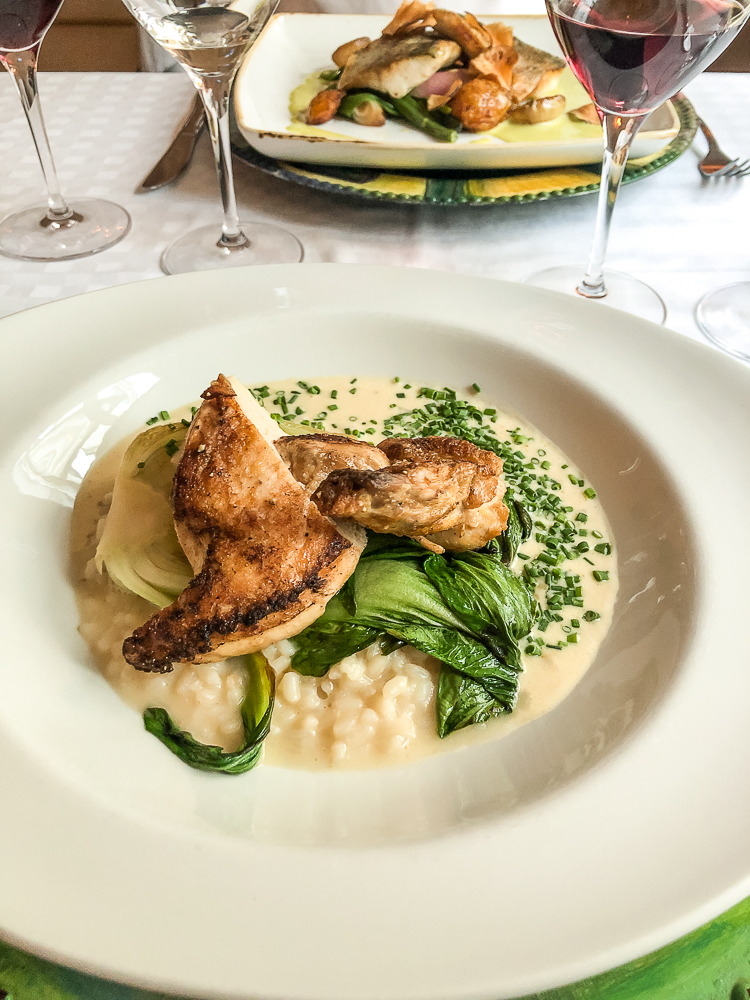 For dessert it was cheese and biscuits that you had to pick from their bistro yourself and I tried a lot of new cheeses that I became fond of 🙂 It was a good ending to this gourmet menu!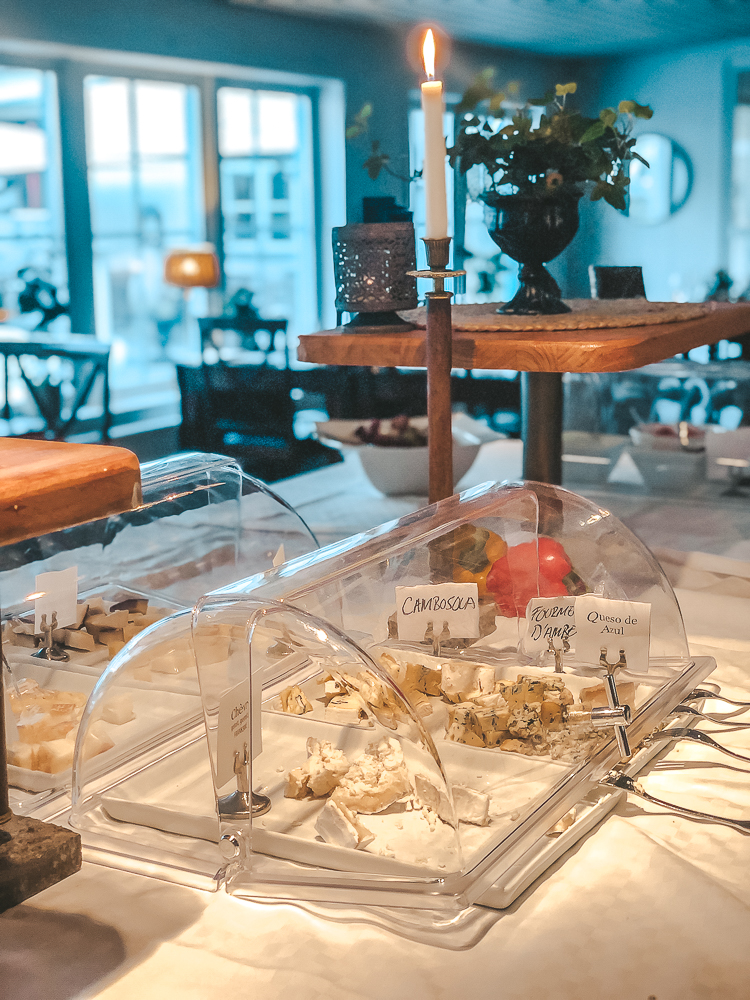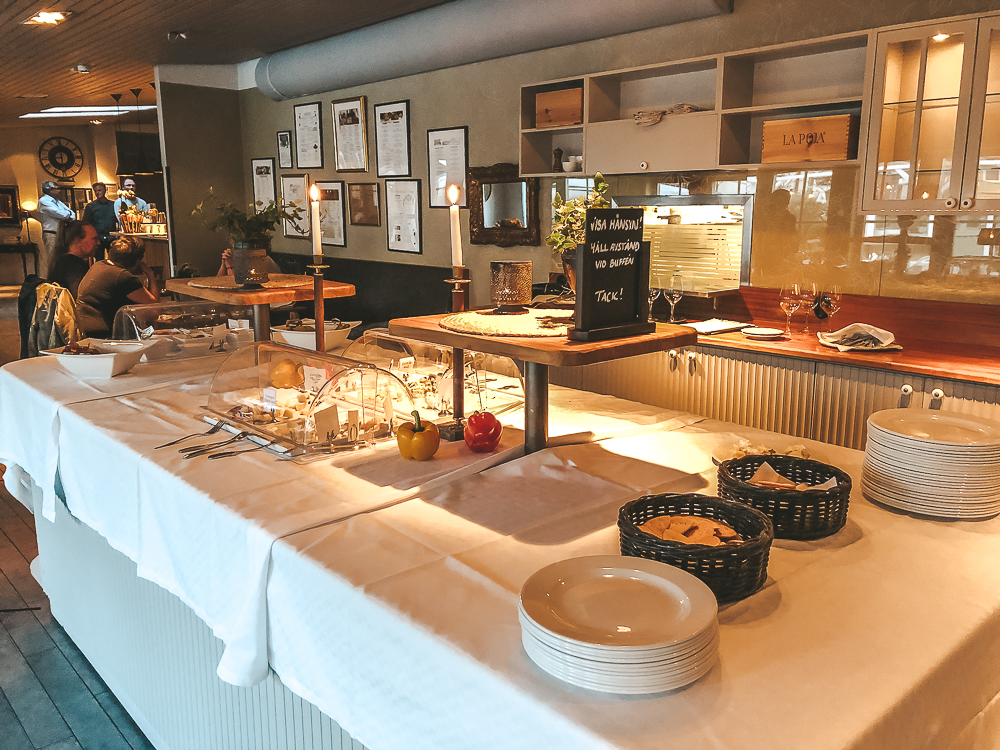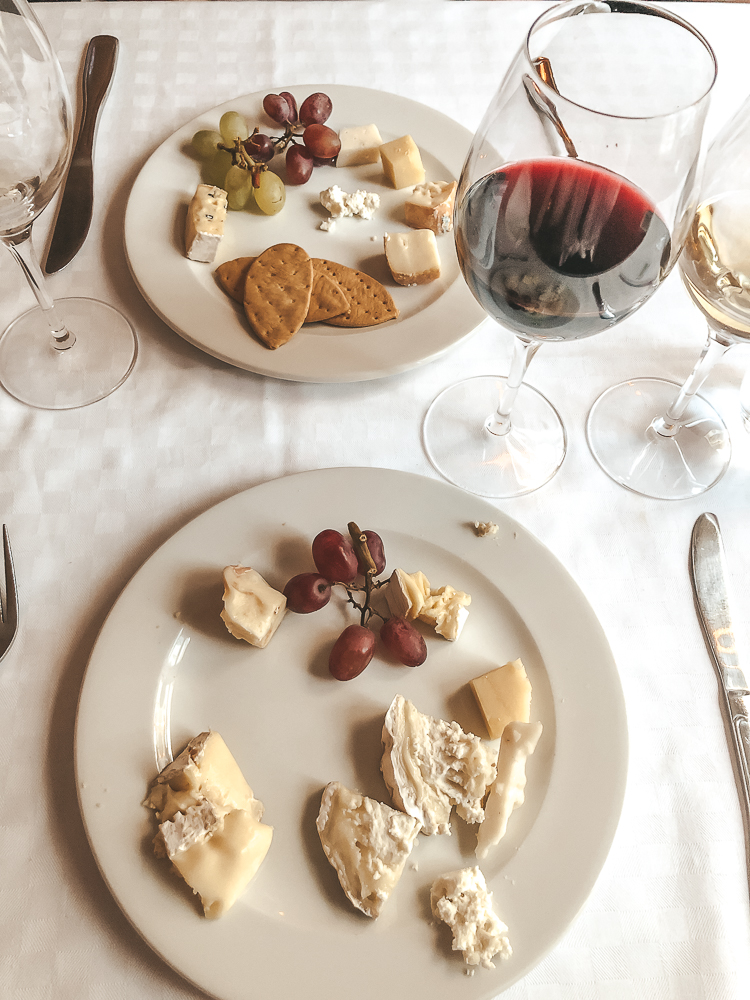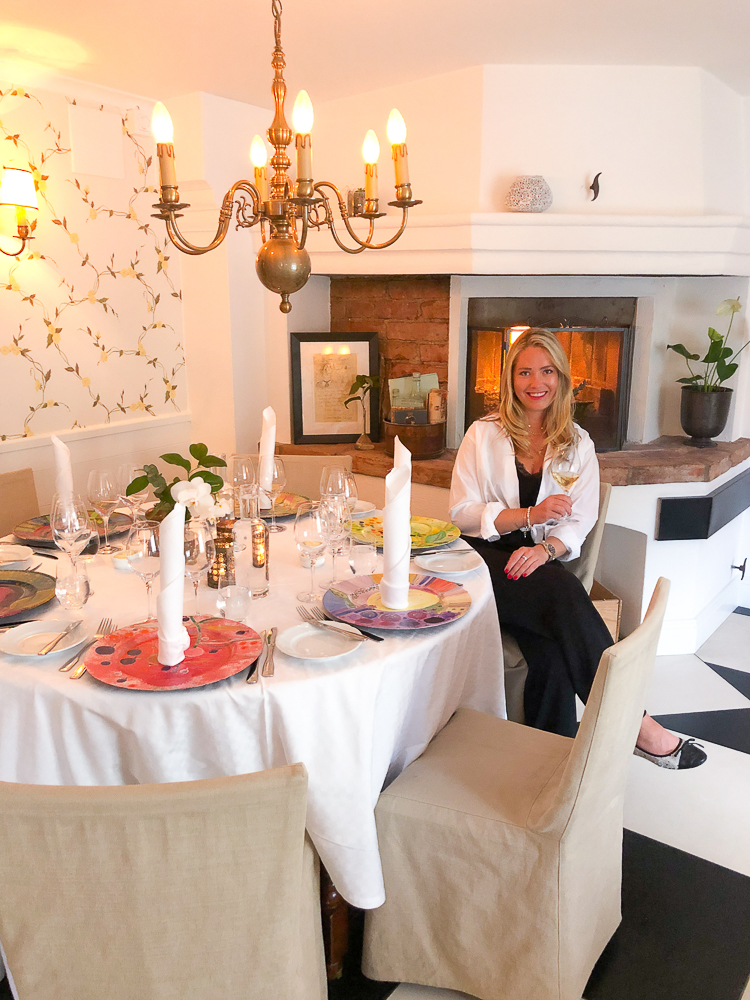 Breakfast at Trosa Stadshotell
I must say that it was a very good breakfast buffet they had here at the city hotel in Trosa. There was a lot to choose from and you could even choose if you wanted to sit outdoors or indoors but I thought it was so cozy in their old dining room with candles so I preferred that 🙂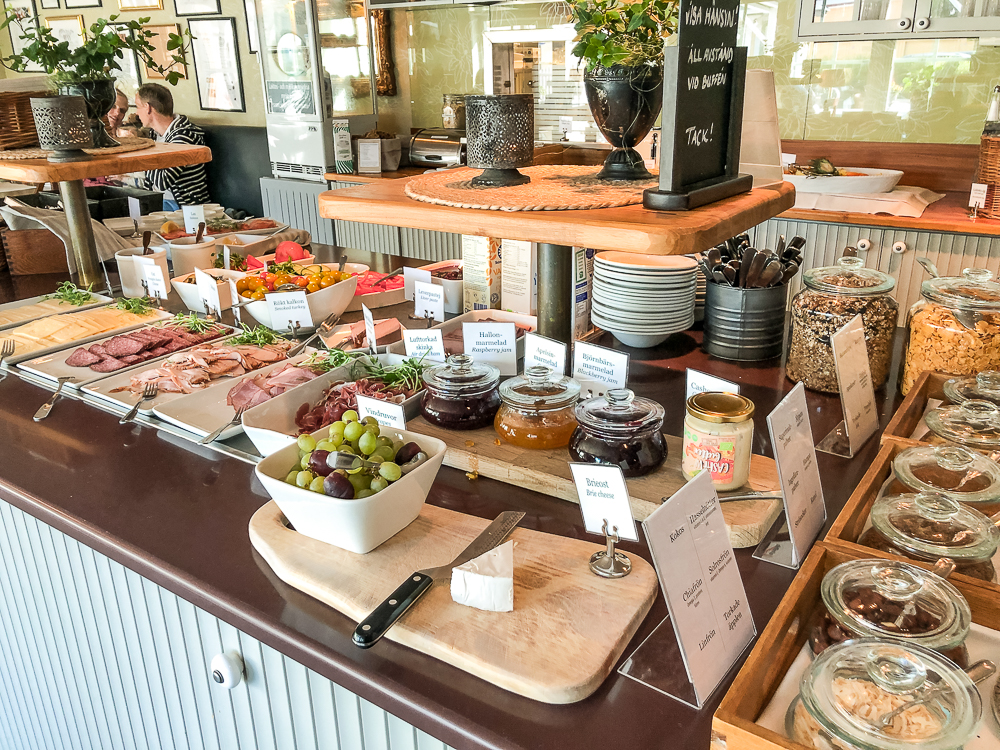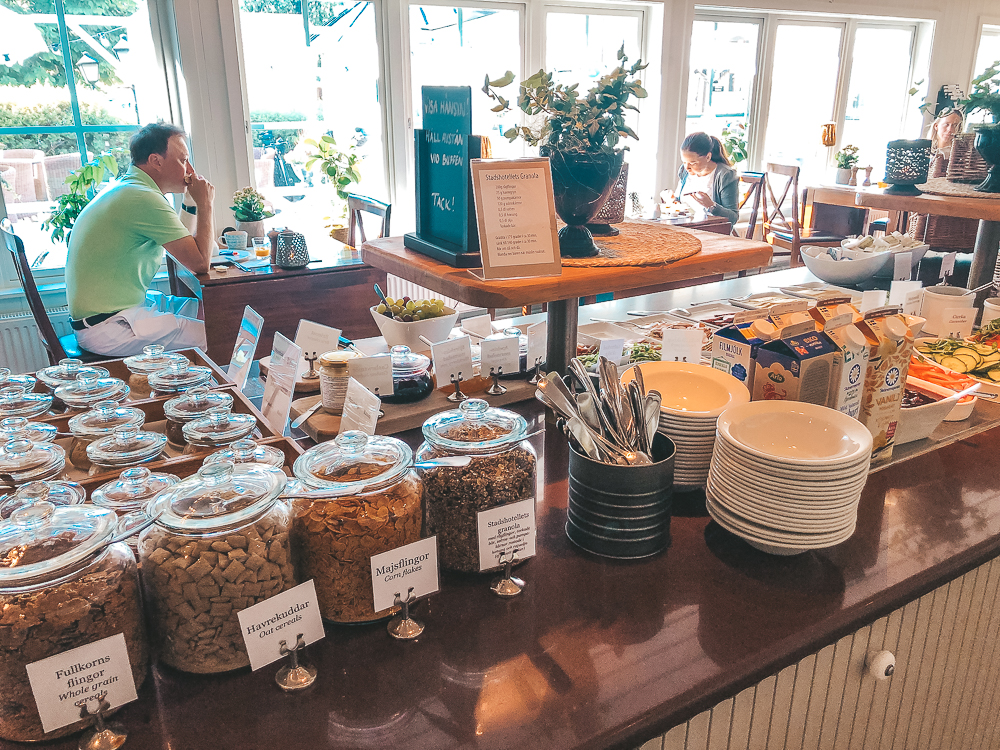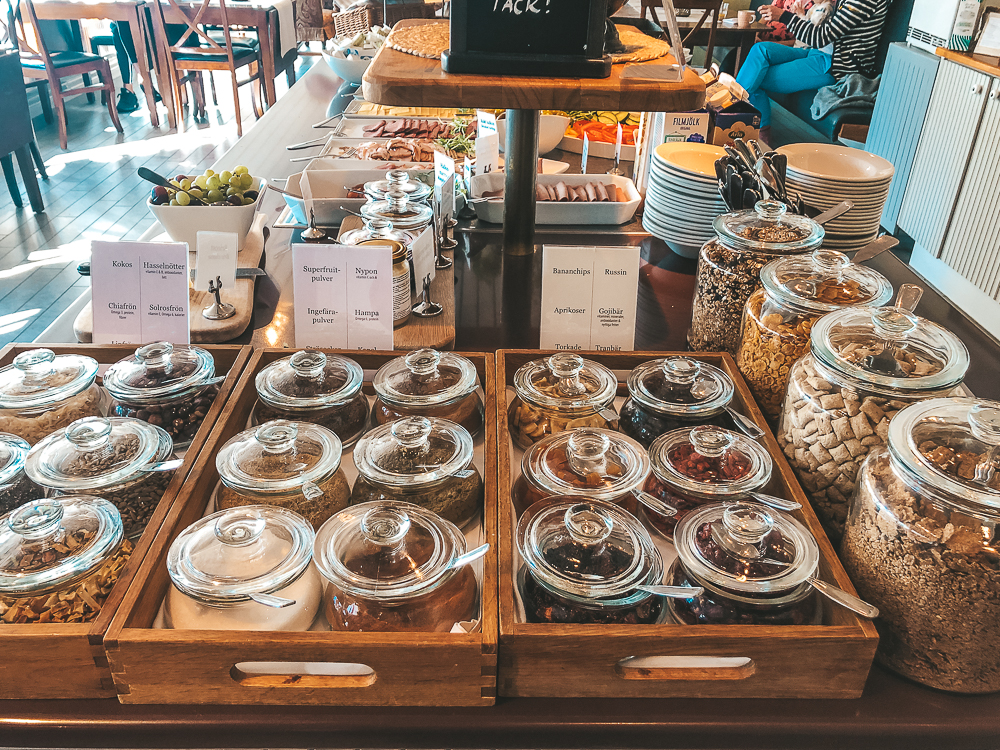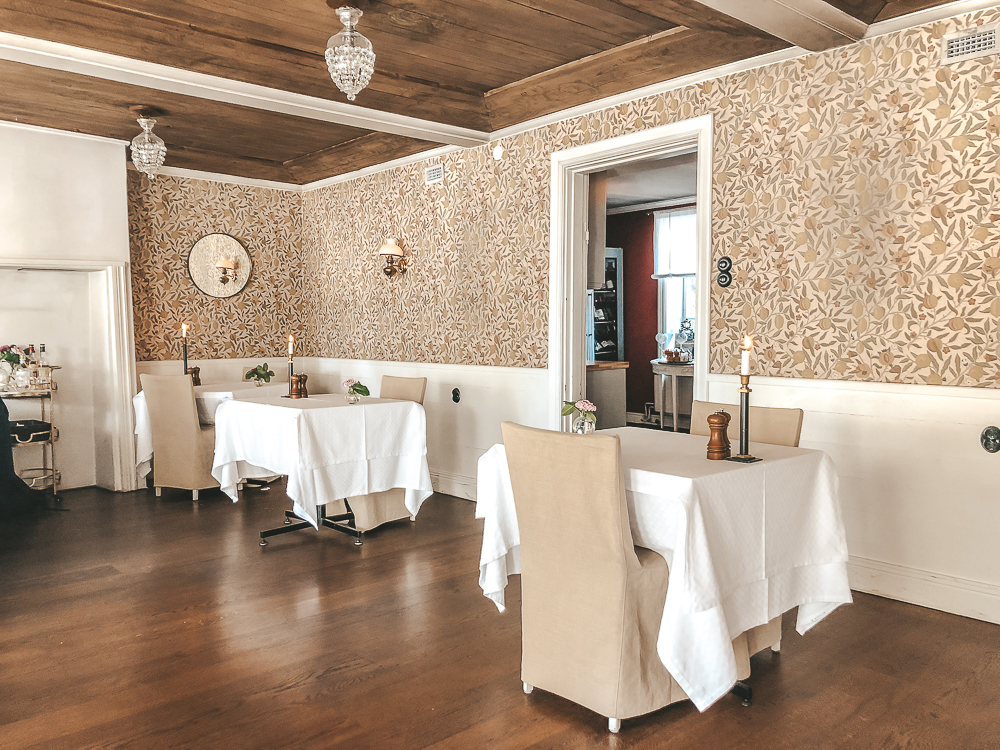 Check the roof, how nice it is and you see the drink car there in the background, I fell in love with it and thought it fit really well into the decor here! 😉 
Trosa Stadshotell & Spa allows dogs
This pleasant hotel not only has golfers and anniversaries as guests, but three rooms are available for our 4-foot friends and all are equally welcome. Just make sure to contact the hotel on time if you want to bring your dog with you. It costs SEK 350 extra and is really worth it as your dog can also join the restaurant's bistro, ie right next to the bar or up on the "plateau". I like that and is really big plus on the edge for us who are dog owners! 🙂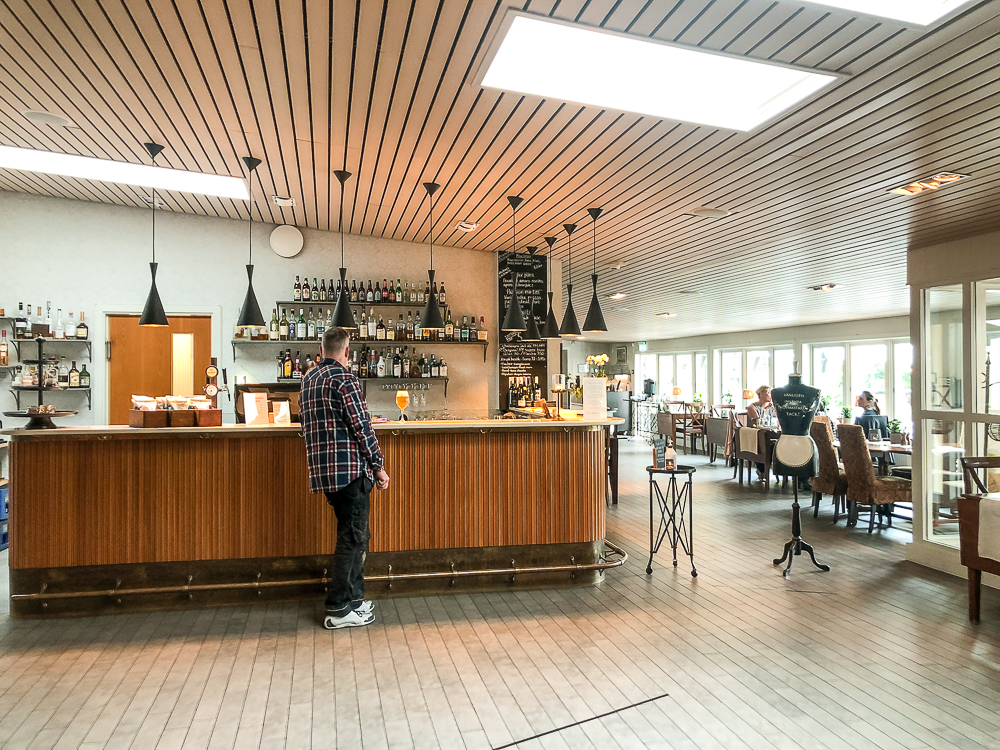 Own cafe by the river
Trosa Stadshotell and spa also has its own café which is located right next to the river and is super cozy to sit both indoors and outdoors in good weather to have a coffee and a bun. We did that the same day we arrived waiting for our room due to we arrived a little early before we had to check in at 15.00. It took just a minute to walk from the hotel itself, so close is it 🙂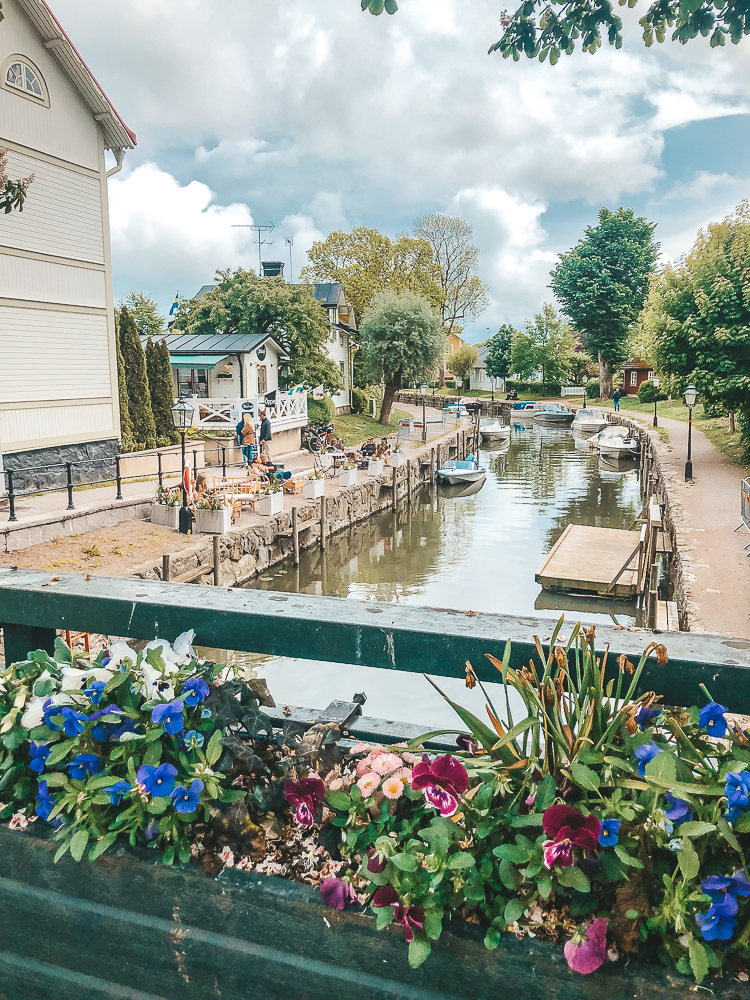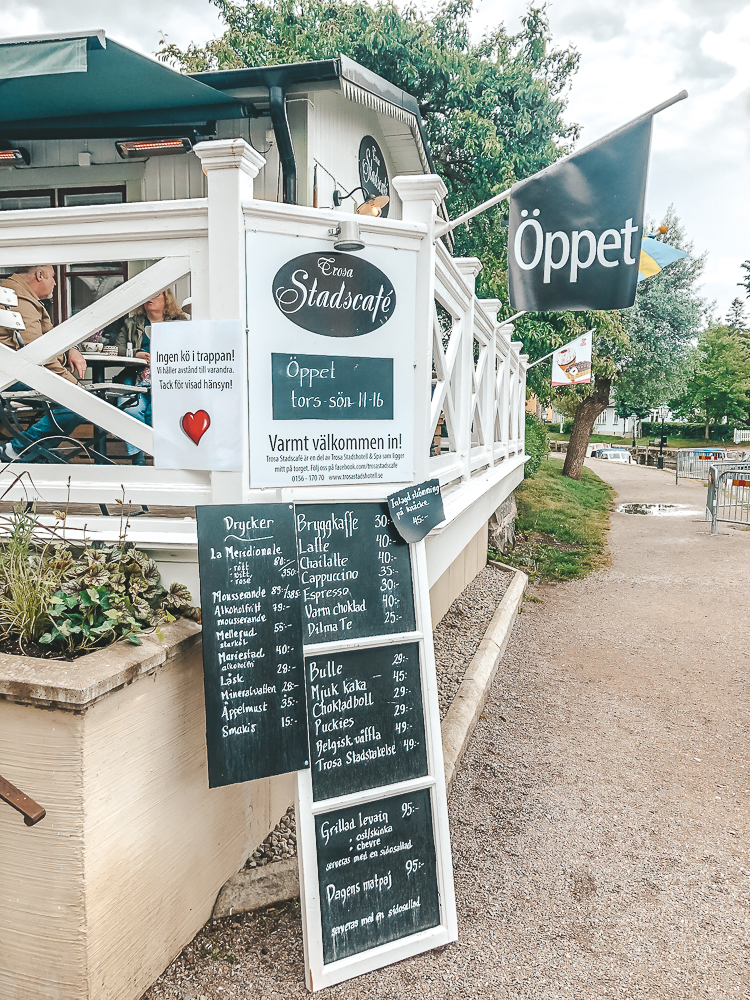 Summary
I am fascinated by how a hotel can have such an atmosphere as Trosa city hotel has, it is absolutely wonderful! You really feel harmony when you are here and that was exactly what I needed. Trosa Stadshotell & Spa also has its own parking for those who driving here by car, which I thought was great and that is included if you have booked an overnight stay with them. The fact that there is candle light not only on the dinner table but also on the breakfast table increased the cozy factor considerably and is something I think is very nice.
Have you been to this spa you will understand that people like to stay because you really feel a nice harmonious feeling I haven't felt for a long time, which was nice. However, slip protection is needed throughout the spa as it gets very wet everywhere and the risk of slipping is very high. I had wished for better slip protection throughout the spa area and not just by the pool, so be careful when you are here. There are many sitting areas with lounge beds which are really nice to relax in before jumping into the sauna 🙂
Contact Trosa Stadshotell & Spa
Do you also want to treat yourself with a staycation or why not a hemester weekend at Trosa Stadshotell I think you should check out all their package deals here  –> https://www.trosastadshotell.se/en/home
Västra Långgatan 19
619 35 Trosa
Phone: 0156 170 70
Mail: info@trosastadshotell.se
How to get to Trosa?
By Car:
Trosa is only 55 minutes by car from Stockholm City. Follow the E4 south.
Direct Bus:
There is a direct bus from Stockholm / Liljeholmen to Trosa. The bus takes about 60 minutes and has about 14 departures / weekday.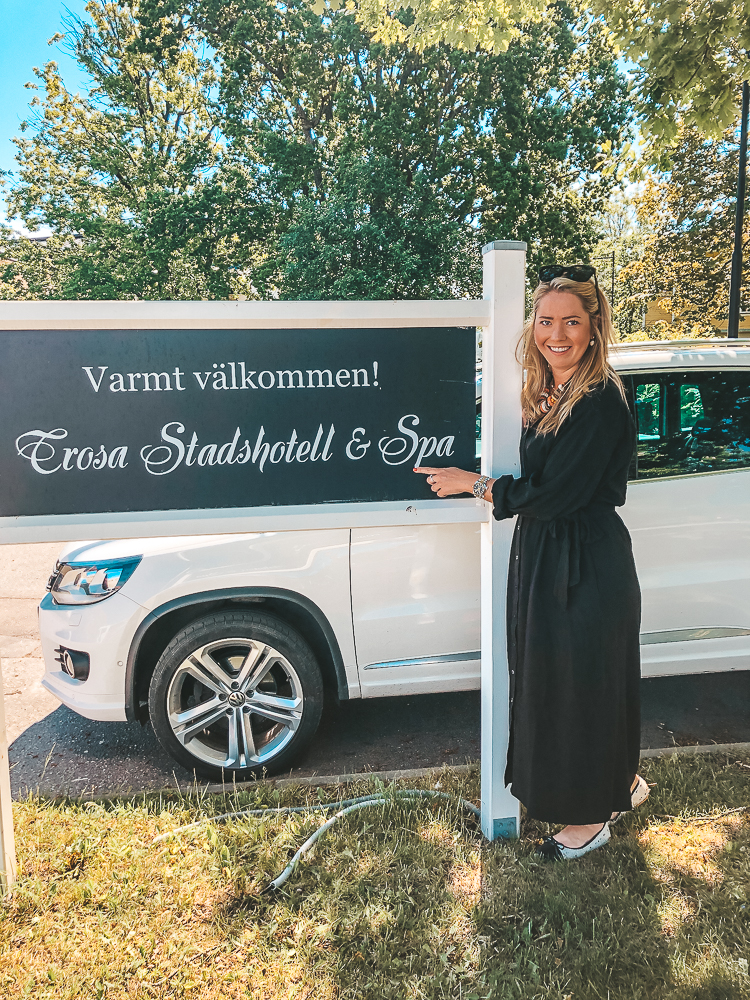 Have you stayed at Trosa Stadshotell & Spa, did you think it was as good as I thought? 🙂
Happy Travels!
// Charlotte