Visiting the Sheikh Zayed Mosque in Abu Dhabi
Sheikh Zayed Mosque in Abu Dhabi is the United Arab Emirates biggest mosque and was finished in 2007. This is the most beautiful mosque I have ever seen and one of the most magnificent buildings I have ever experienced. There is something special about this mosque as the atmosphere is special due to all the beautiful colors and the environment is so inviting. They have managed to create a unique atmosphere with the help of pools that reflect the white, gold adorned buildings in a tasteful way that I like.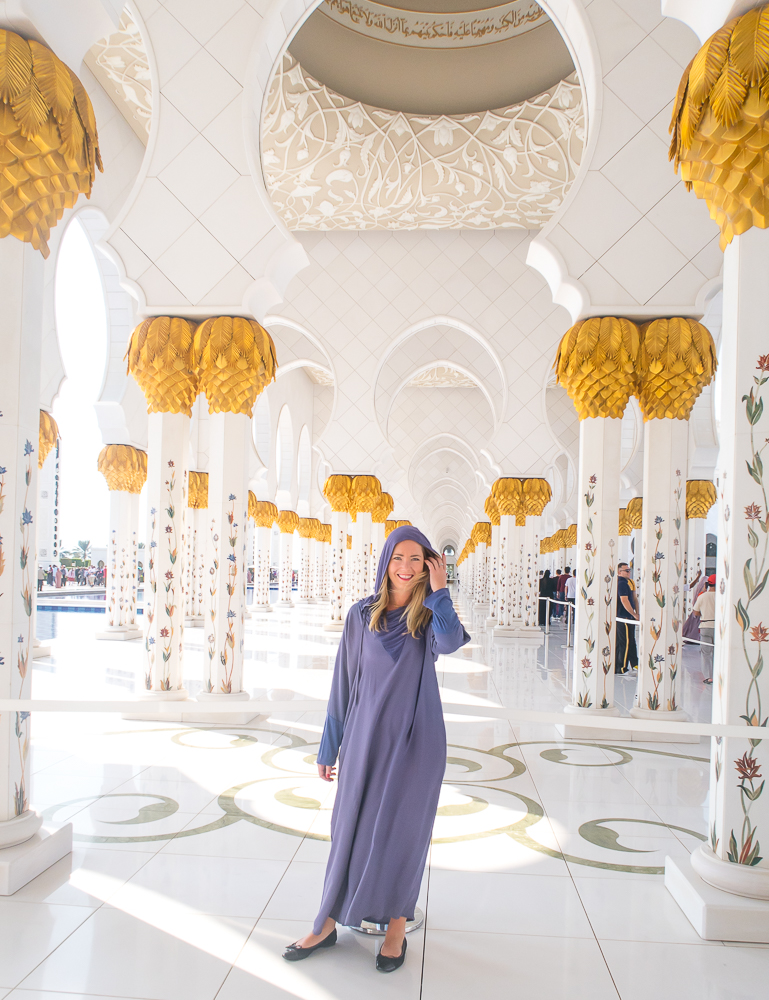 Sheikh Zayed Mosque
I have visited the Sheikh Zayed Mosque twice so far in my life and I promise that there will be more visits in the future 😉 The first time I was here was in November 2017 when Formula1 had its ending race in Abu Dhabi. At that time I took a taxi to the mosque and got into a white tent that stood on the white marble floor in front of the mosque, within the same area, to put on a blue abaya that I had to borrow due to I had to cover my entire body , from hair to arms and legs. (For men, you need to cover your arms and legs). The Abaya is free to borrow and from this white, small tent I was able to step into the main entrance to see this magnificent mosque.
However, I had to take off my shoes before stepping into the main entrance and kindly put my shoes on a shelf intended for shoes that were right there, something you don't have to do now, not in December 2019 anyway 🙂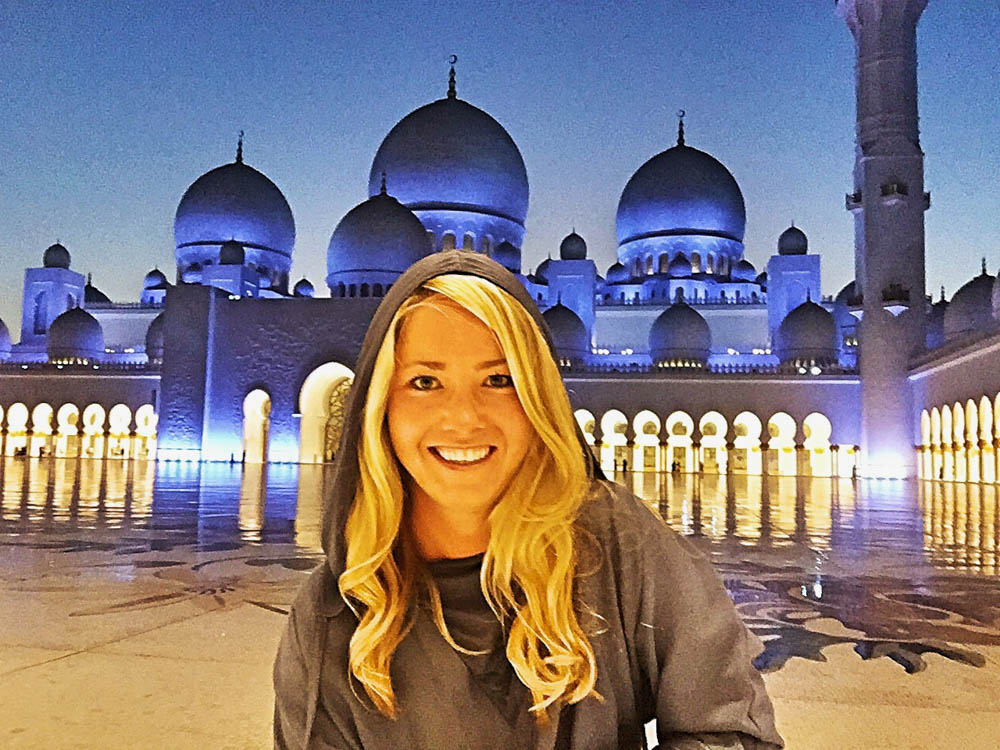 No restrictions
Back then I could walk around exactly how I wanted, there were no restrictions, no ropes that blocked off certain areas and I could photograph every corner if I wanted and I could take selfies at every possible angle and hold for how long I wanted to until I got tired. I could go the farthest with the pools, sitting on the edge as the sun went down to get perfect reflective pool pictures with the mosque in the background, something I couldn't do two years later unfortunately.
New area
The last time I visited the Sheikh Zayed Mosque in Abu Dhabi was in December 2019 when I wanted to show my travel companion this spectacular building. But this time was a little different to when I was here last time. This time I took the Hop on Hop off bus that took us here and we got to hop off in a confined area, with a good distance away from the mosque itself, in a parking lot that was now built for taxis and buses that weren't there two years before.
From here you will go down in an escalator that felt like I was going to the subway and then you need to walk for at least 15 minutes underground on proper marble floors with small shops and souvenir shops along the sides as well as some toilets. Finally you will arrive at the first the stop where women had to change to abaya which you can borrow and which is still free to borrow. You need it to cover your hair, arms and legs. We changed in a big and spacious changing room and after that we had to stand in a long queue which felt like a security line at the airport.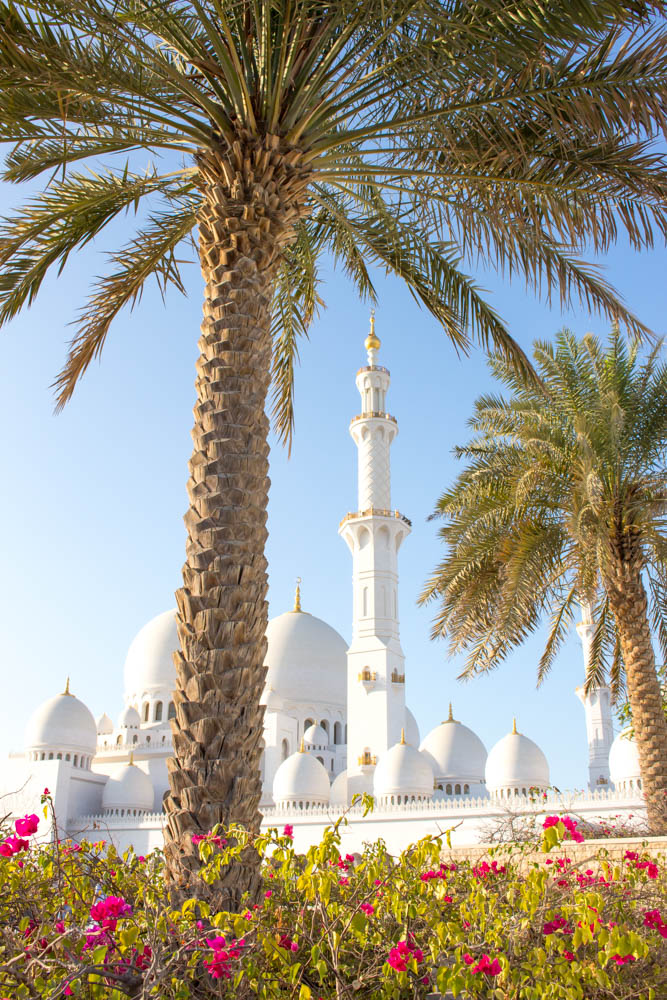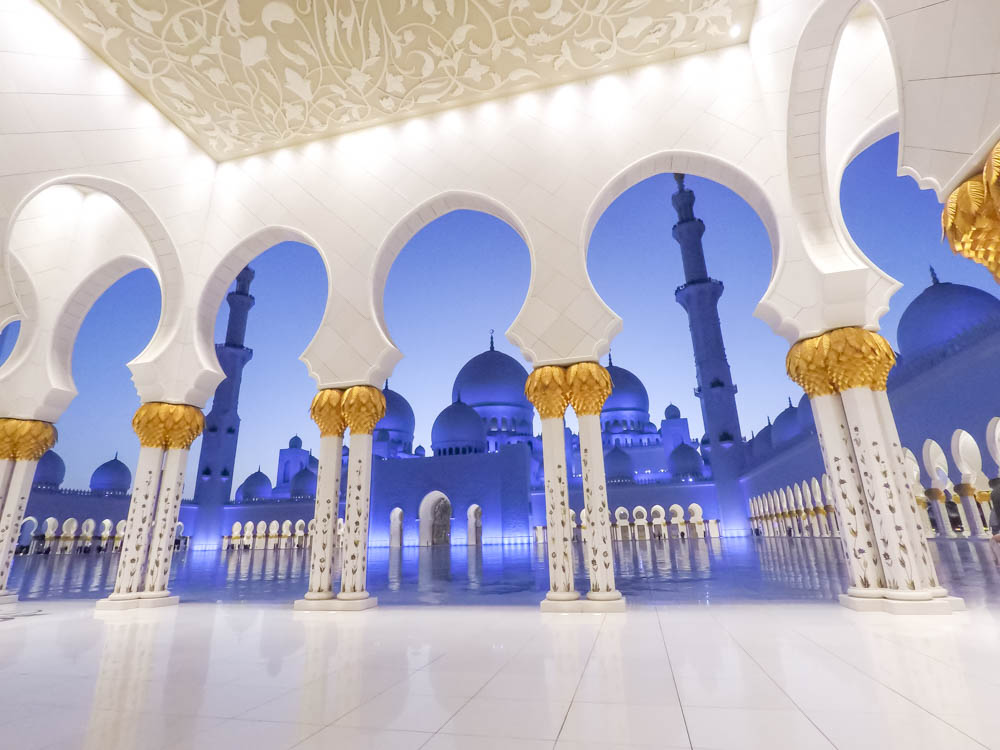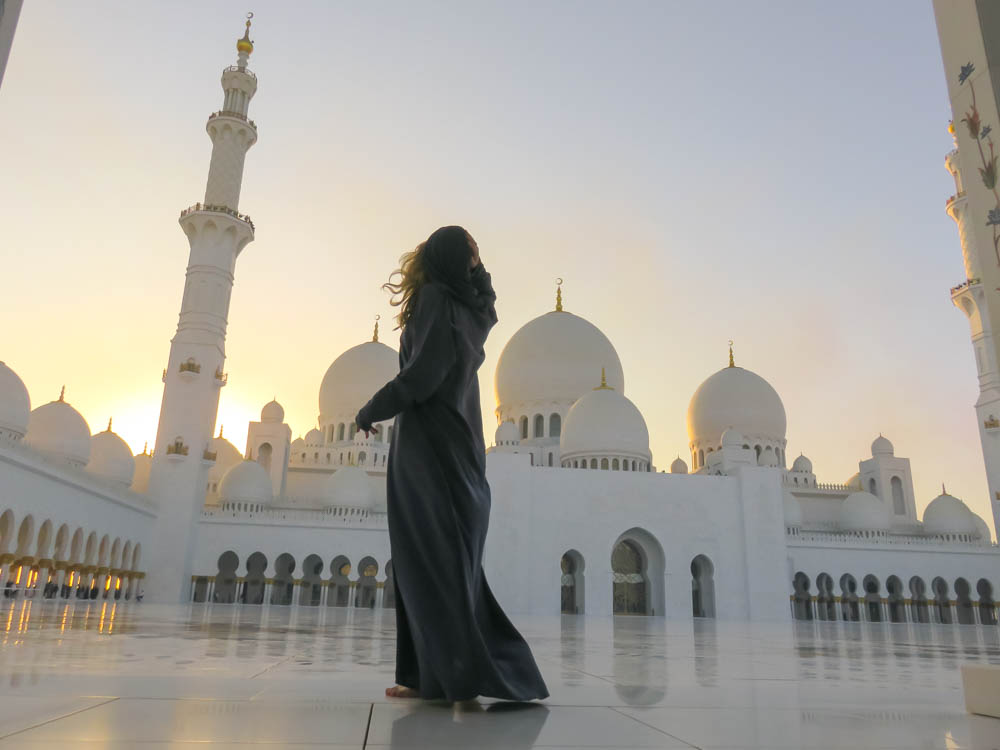 Long queue
What we queued for was that you had to register on a machine how many people you are, where you coming from, etc and each one received a receipt from the registration. Then you need to walk another 15 minutes underground where you could choose to either take the escalator that took you ahead or walk next to it, yes just like at an airport. This felt like an eternity to me, we walked and walked but never arrived which was very frustrating because I know I didn't have to do this last time I was here. One flat escalator replaced the other and it felt as if the mosque had passed us underground long time ago. All this was brand new due to get control of everyone who wanted to get in and out of the mosque, so it became a proper system, which I can understand that they need to have.
Finally we arrived at the end of the escalator which took us up to ground level again and directly to the white marble floor I was standing at the last time I was here, ie in front of the mosque itself, just a few meters from the large dome. Once in place you get to stay here as long as you want, but it usually takes about an hour, then you have seen what you need and taken the photos you need.
New Restrictions
This time I discovered a lot of new restrictions and barriers that have been set up since the last time I was here. Now you are not allowed to take pictures at all angles and corners or sit on the pool edge and have the mosque in the background, it was forbidden. In addition, some areas when walking around the mosque were barred, something that was not there before either. Now it was the ropes that made up where to go and not. You needed to follow the signs that were set up and the ropes to walk along if you wanted to walk around the mosque. It was not as free to move around here anymore, which is good to know if you want to visit the mosque in the future.
Here you see what it looks like in the exact same place I stand by as an example that they have set up barriers now 🙂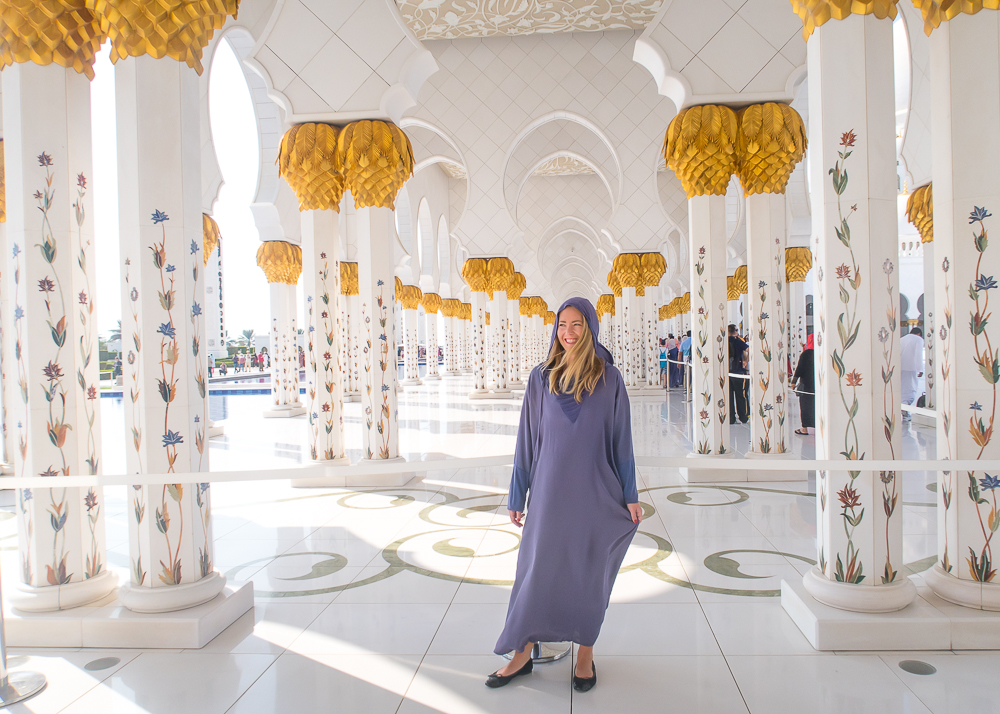 It is still worth going here, it is truly an awesome experience and I can highly recommend doing this as a day trip from Dubai or staying a few days in Abu Dhabi but to experience the Sheikh Zayed Mosque I would say is a must! 🙂
Practical information about Sheikh Zayed Mosque
Opening hours in Sheikh Zayed Mosque
The mosque has very generous opening hours for visitors, it is open daily except during Friday prayers when only prayer participants are allowed to enter.
Monday, Tuesday, Wednesday, Thursday, Friday and Sunday, the mosque is open from 9am to 10pm. On Friday it is open from 4.30 pm to 10 pm. Note that the last entry is at 21.30 pm.
Guided tours at no charge
One tip is to try to do one of the guided tours of the mosque, they are always free.
The tours run at the following times
Monday, Tuesday, Wednesday, Thursday and Sunday: 10am, 11am and 5pm.
Friday: 17.00 and 19.00.
Saturday: 10am, 11am, 2pm, 5pm and 7pm.
Is there an entrance fee to the mosque?
It is free to visit the Sheikh Zayed Mosque. It's free for everyone, both Muslims and non Muslims.
Is there any dress code?
Yes, as a woman, you have to cover everything from hair to arms and legs. Men need to cover arms and legs.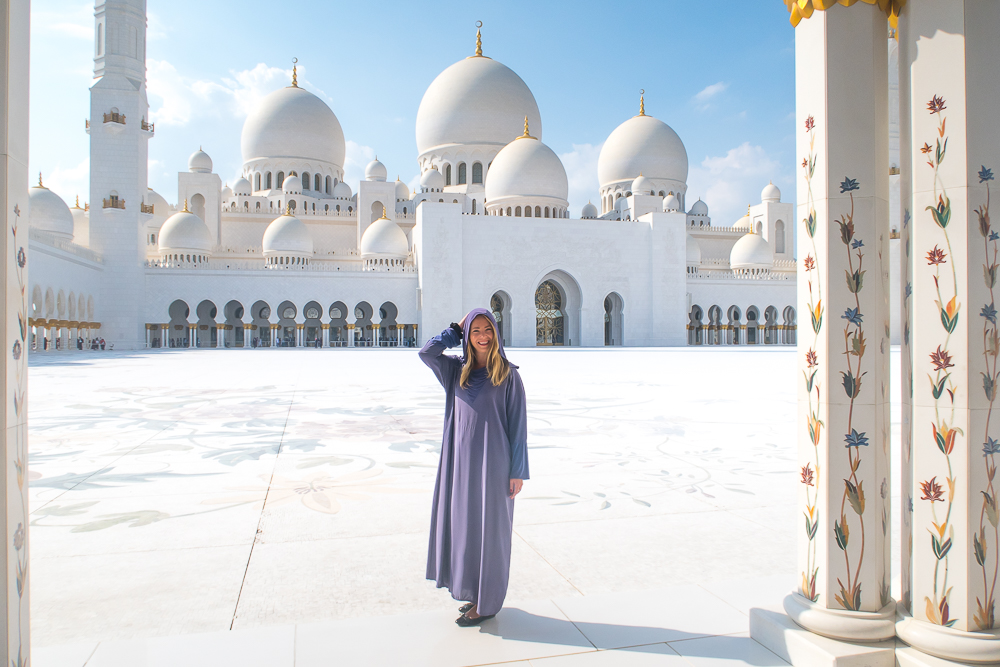 Can you bring food and drinks in?
No, you are not allowed to bring food or drinks into the mosque, not even water. You will need to go through a security check where they thoroughly goes through everyone's bags. There are cafes adjacent to the mosque you can eat at before or after your visit to the mosque.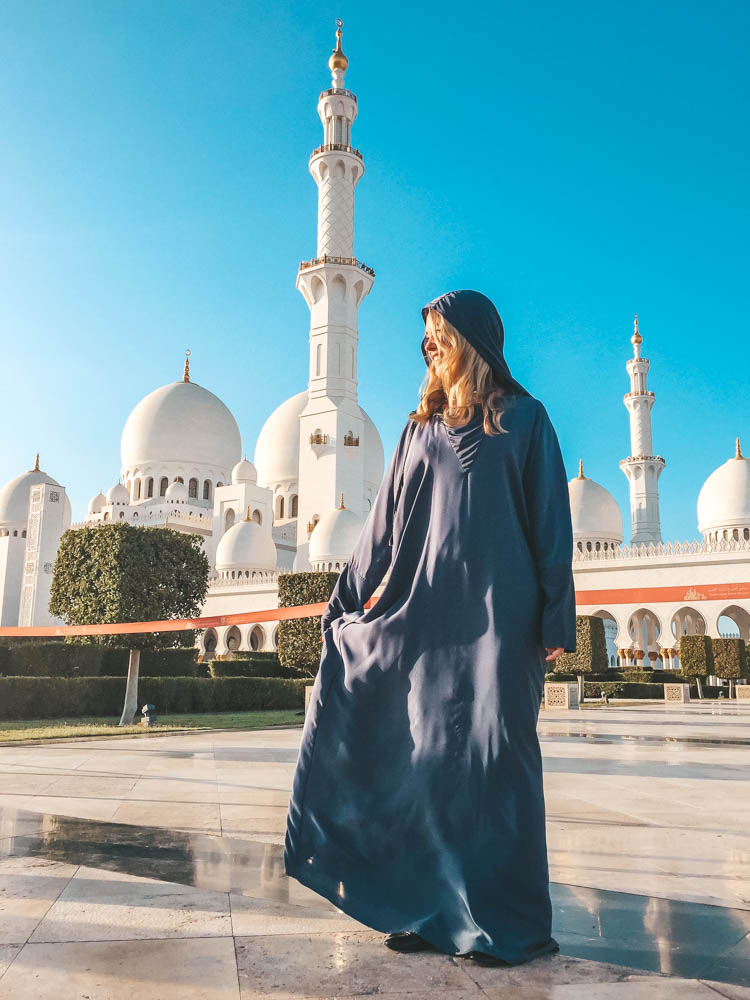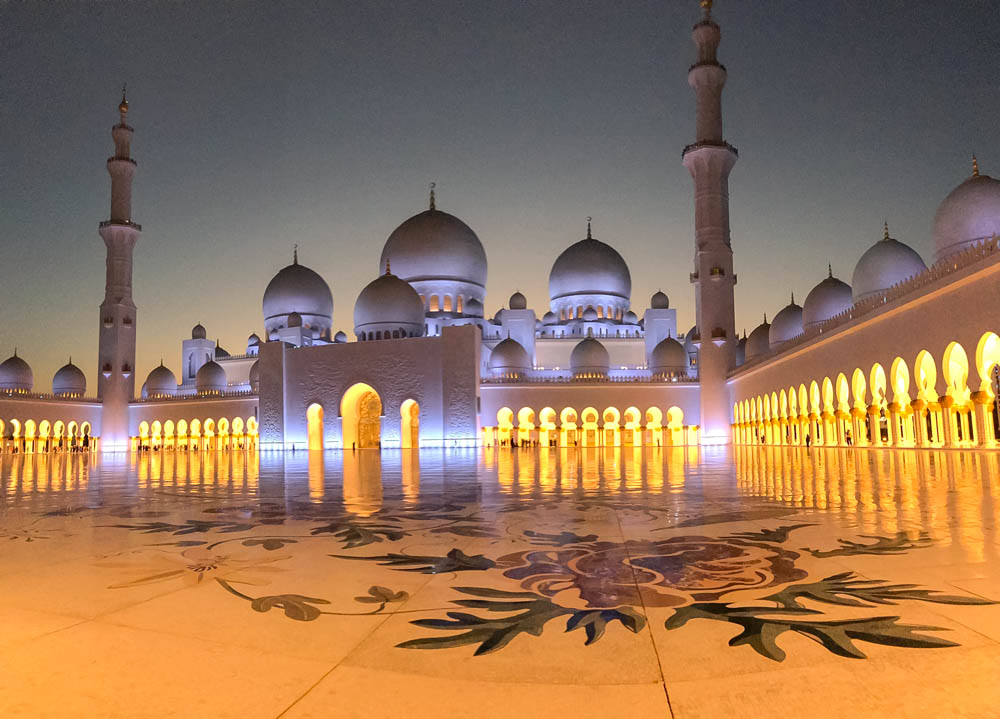 My tips!
If you can choose your time of the visit to the mosque, try to arrive around 16.00-16.30 in the afternoon. That time often gives a good light for photography and you can take the guided tour at 17. It is also good temperature in the air and not as many people as in the middle of the day. Stay for a while and experience the mosque even at dusk and evening darkness, it is magical!
Have you been to Sheikh Zayed Mosque, what did you think of it? Tell me! 🙂
Happy Travels!
// Charlotte
Here you can read more blog posts about Abu Dhabi: