My Experience with the Cruise Ship Costa Diadema
I have experienced something new that I've never done before, going on a cruise with the cruise company Costa and their boat Costa Diadema. I'm really happy that I got to experience this, my very first cruise!
I had heard so much about what it is like to go on a cruise, so I had quite high expectations before boarding the ship. In this blog post I will tell you about my experience with Costa Diadema, what I was up to, our daily schedule and what was included during the trip. In the end I also share a lot of tips so don't miss that! 🙂
My Experience with the Cruise Ship Costa Diadema
Since this was my first cruise, I didn't know at all what to expect or how things works on board a ship, but I thought this was going to be superexciting! 🙂
Day 1 Dubai + Boarding
We started our journey in Dubai. We landed early in the morning in Dubai and chose to leave our suitcases in a storage room at the airport for 40 rials per suitcase. Later in the afternoon, when we picked up our bags after touring around in Dubai, we took a taxi from the airport to Port Rashid, the marina where the Costa Diadema ship was located. It took about 30 minutes by taxi and it cost 65 rial.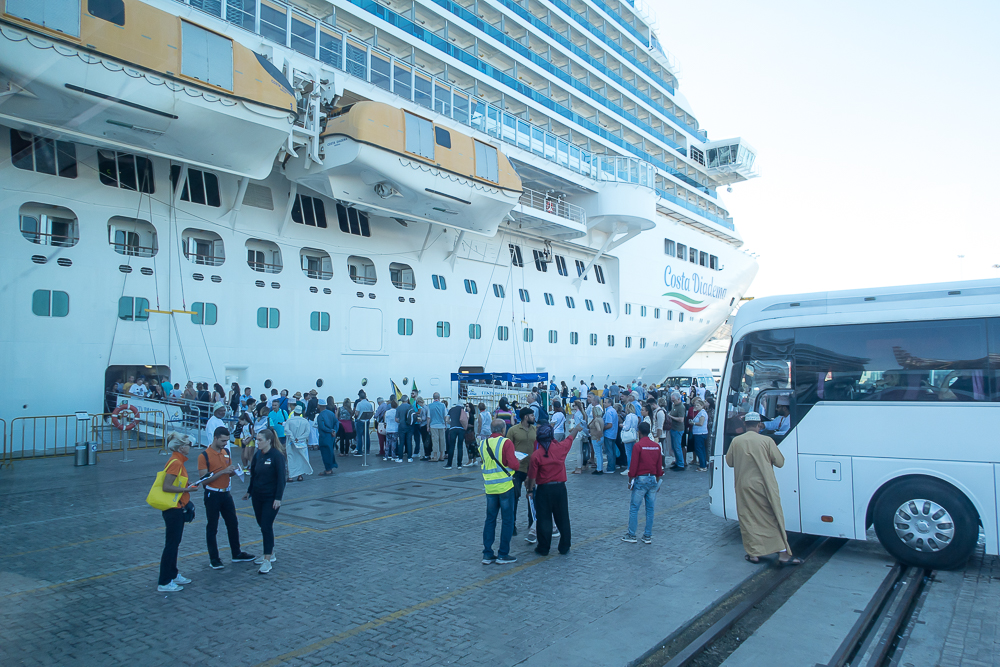 Check in at Costa Diadema opened at 15.00 pm but you couldn't access your cabins until 18.00 pm so we decided to arrive around 18.00 in the evening. When we arrived, we left our suitcases, checked into the terminal where they took our passports and photographed us for our ID cards that everyone needs to wear wherever you go. Good to know is that you will not get your passport back until you arrive in Abu Dhabi.
Then we boarded and found our cabin. Since I never been on a cruise ship before I thought the cabin was quite small for 2 people but during the week I looked into other cabins I realized that we had got a really good and spacious cabin 🙂 The rest of the afternoon and evening we spent through to walk around the boat and see what was there and we ate our first dinner in the restaurant we were assigned. This evening, it was the dinner buffet, because all passengers arrived at different times. By 02:00 am at the latest, all passengers had to check in.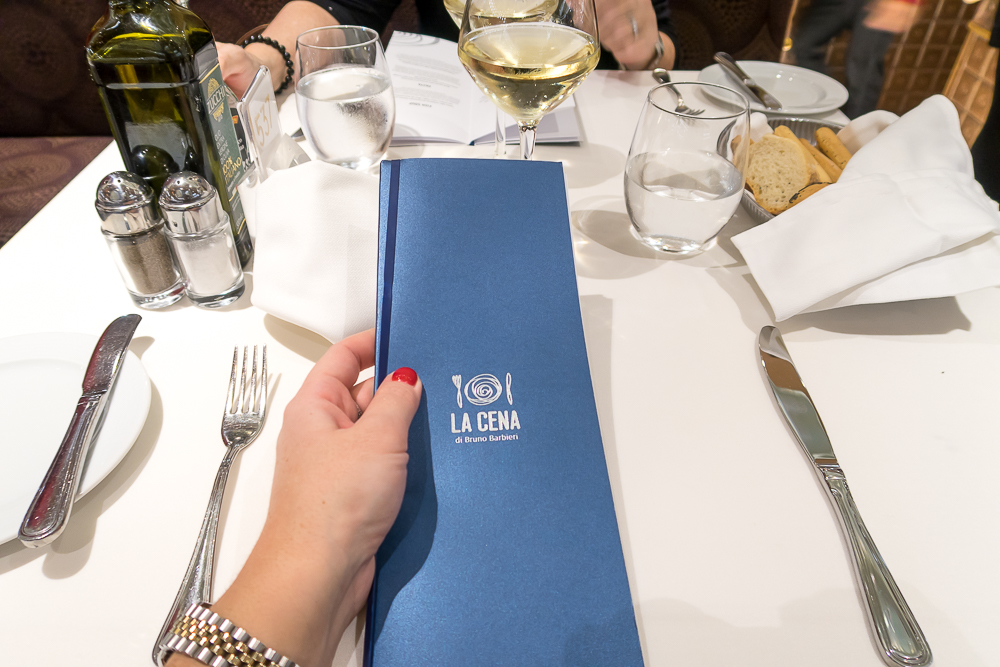 Day 2 Good Bye Dubai – Towards Muscat
At 13.30 in the afternoon we left the port of Dubai and headed towards Muscat, Oman. So we stayed overnight in Dubai and had the whole morning to spend how we wanted. When it was time to leave, we waved goodbye to Dubai on the upper deck along with many other passengers.
This evening, the dress code was casual and many guests were dressed for that. We had dinner in the restaurant we were assigned and from this evening we got a table for two which we had the rest of the week. It became our table and for each evening, you get to know the waitresses and the waiters more and more.
We had to choose food from a fixed menu that had both appetizer, antipasti, main course, cheese plate and dessert. This menu changed every day so it was exciting to see what it would be each night. The food was really good and always nicely arranged, I was super happy with the food at this restaurant on floor 3 where we ate every night.
Day 3 Muscat, Oman
At 08:00 in the morning we arrived in Oman's capital Muscat. This day we had booked an excursion to see different sights in Muscat. Our excursion didn't start until 14.00 in the afternoon so we spent the morning by the pool and had it to ourselves. It was really nice to actually be completely alone on the deck. It was really noticeable that people were off the boat, out on various excursions.
We started to see the Muscat Mosque, then we went to the Muscat Souk which is just next to the Corniche. After a while in the souk, we went to the royal palace to end with a sightseeing tour around Muscat. It got dark quite quickly which was a bit of a shame and in our bus we had both English speaking and Spanish speaking guides that they had put together, which wasn't that good unfortunately.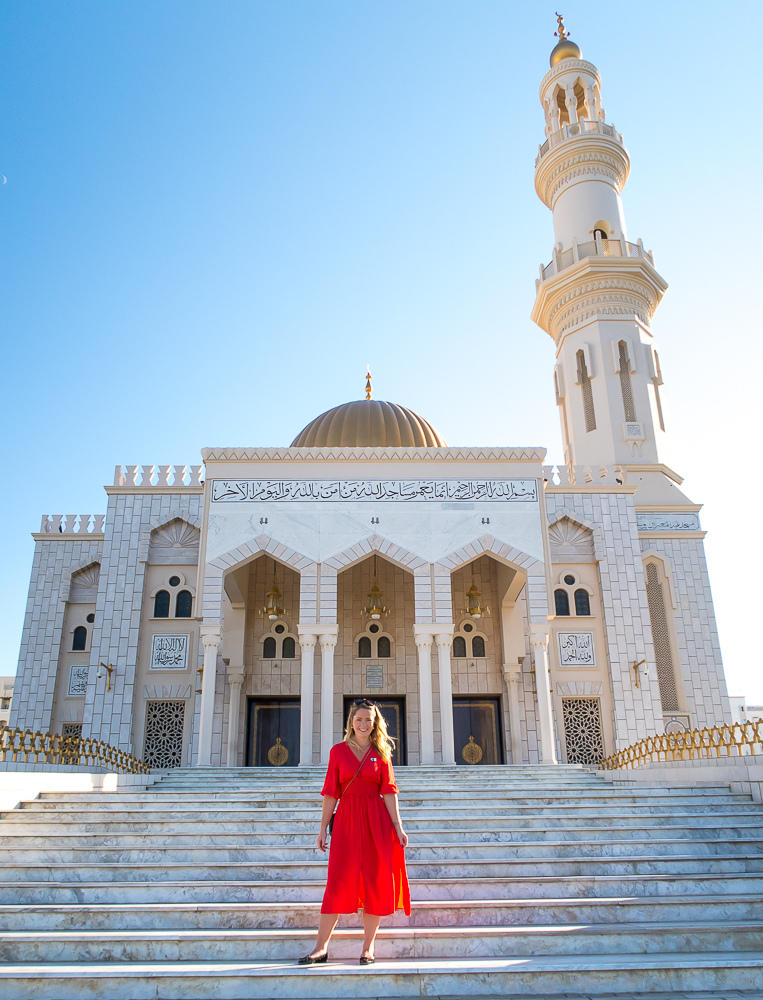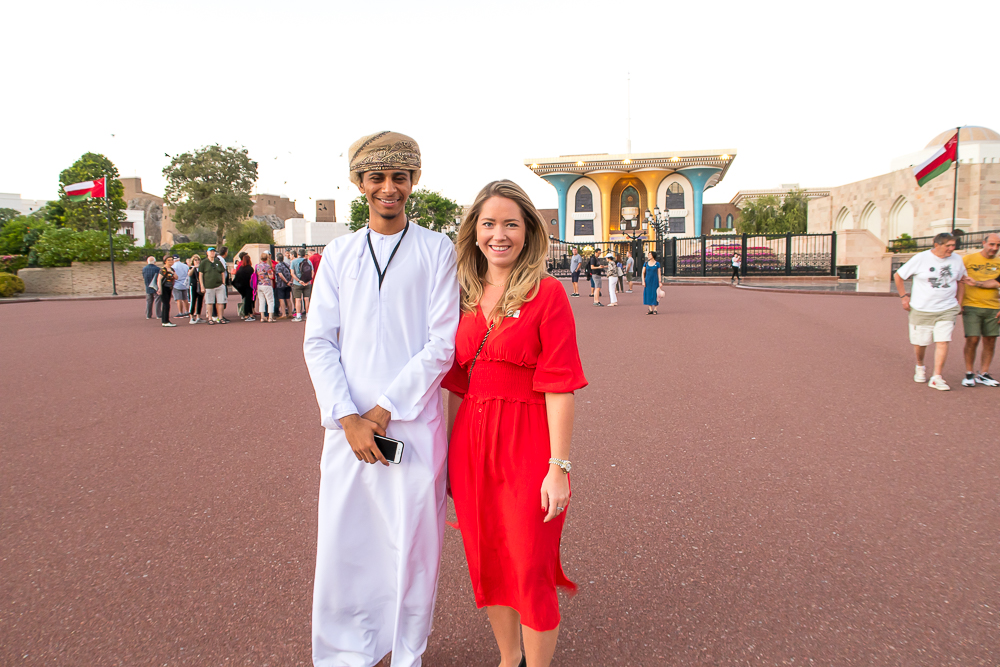 Tips! There are free shuttle buses from the boat to the terminal in Muscat for those who don't want to go on a group excursion but rather discovering the town by yourself.
Dinner was taken on the boat after we returned from our excursion at 18.00. The theme for this evening was "White" and there was a white party later in the evening at the top of the deck at one pool and all the serving staff and other staff were dressed in white, including many guests 🙂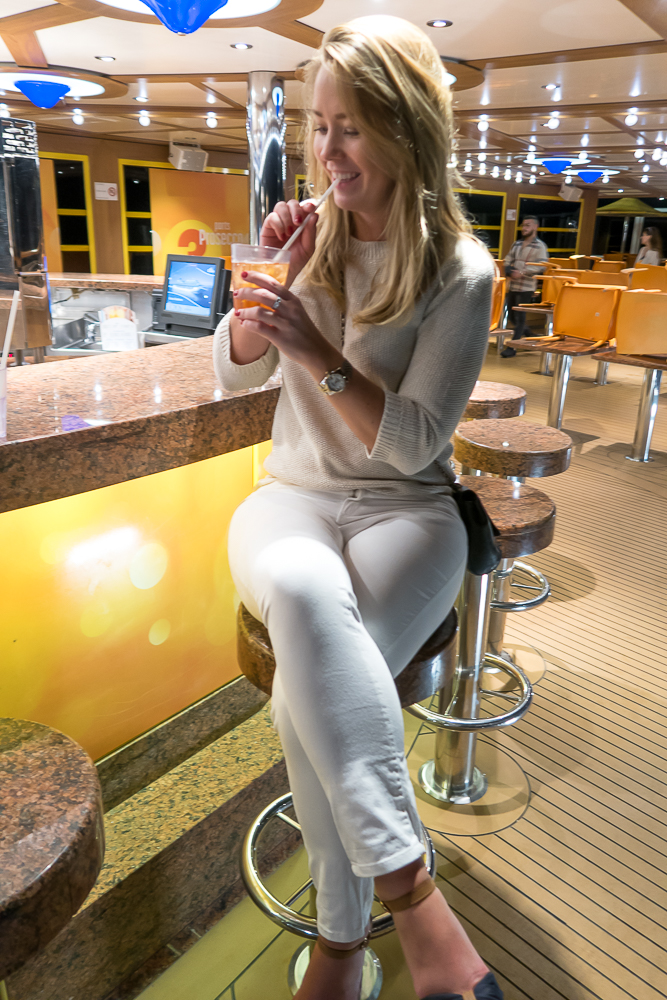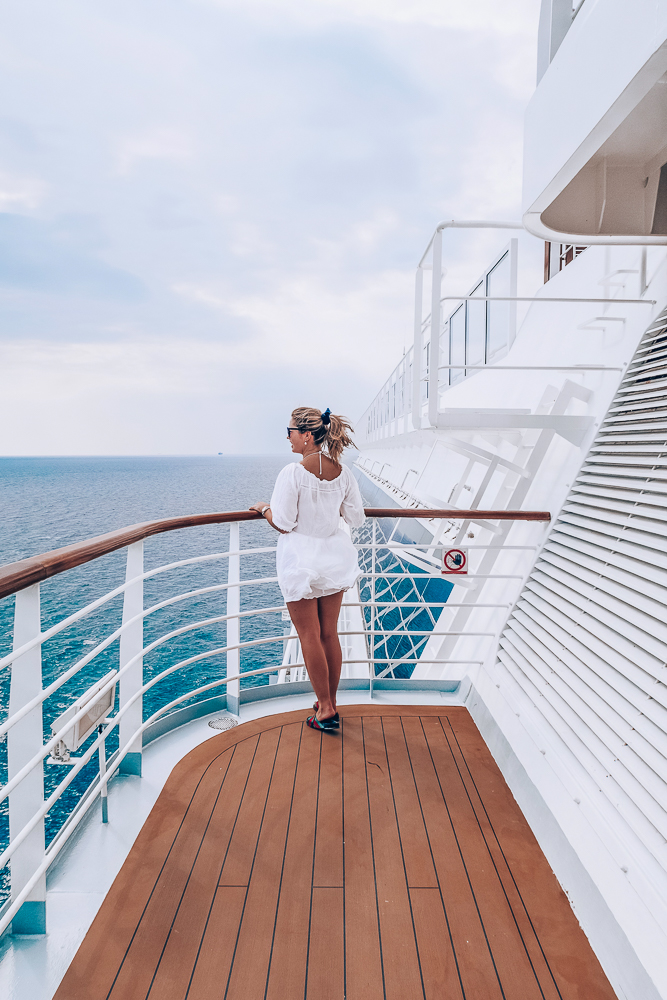 Day 4 At Sea
This day we spent at sea and all passengers were on board, which caused queues everywhere. The theme of this evening was gala / masquerade and many dressed up after that. It was really fun to see so many going in for the theme and being super dressed up!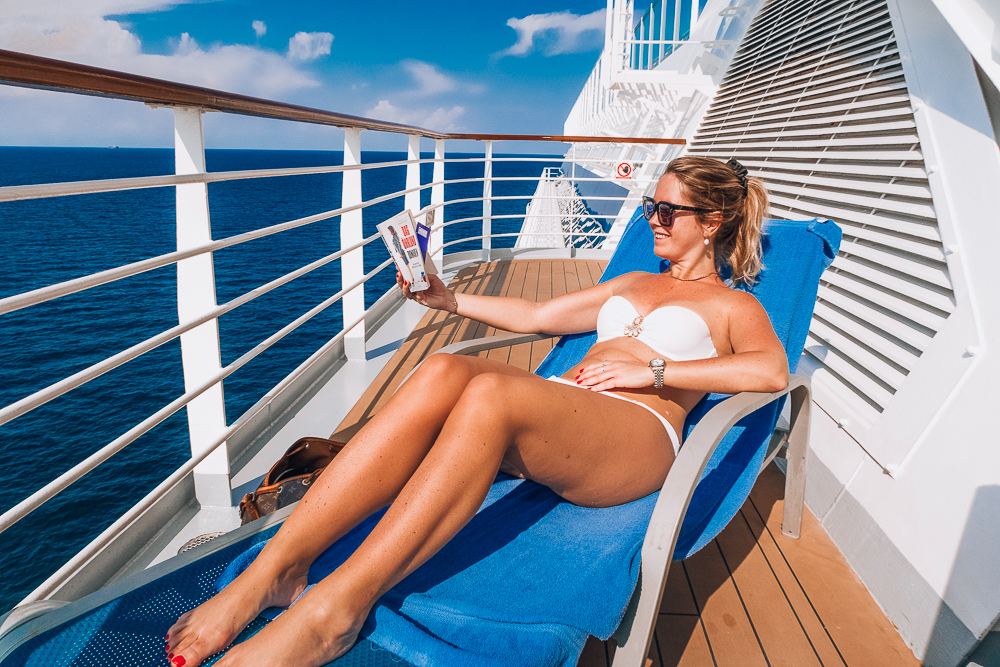 Day 5 Doha, Qatar
At 09.00 am we arrived at my old hometown of Doha in Qatar. I really felt so happy to see Doha again and this time from the sea side and not from the air. We chose to spend this day by ourselves in Doha because I find in this city but there were many different excursions here also for those who wanted to do that.
There are free shuttle buses from the boat all the way to the parking lot at the MIA Museum, which is the perfect starting point when discovering Doha. From here we went straight to my favorite spot for the best view of the Doha skyline, namely the park behind the MIA Museum, which took about 10 minutes walk from the car park where the bus dropped us off.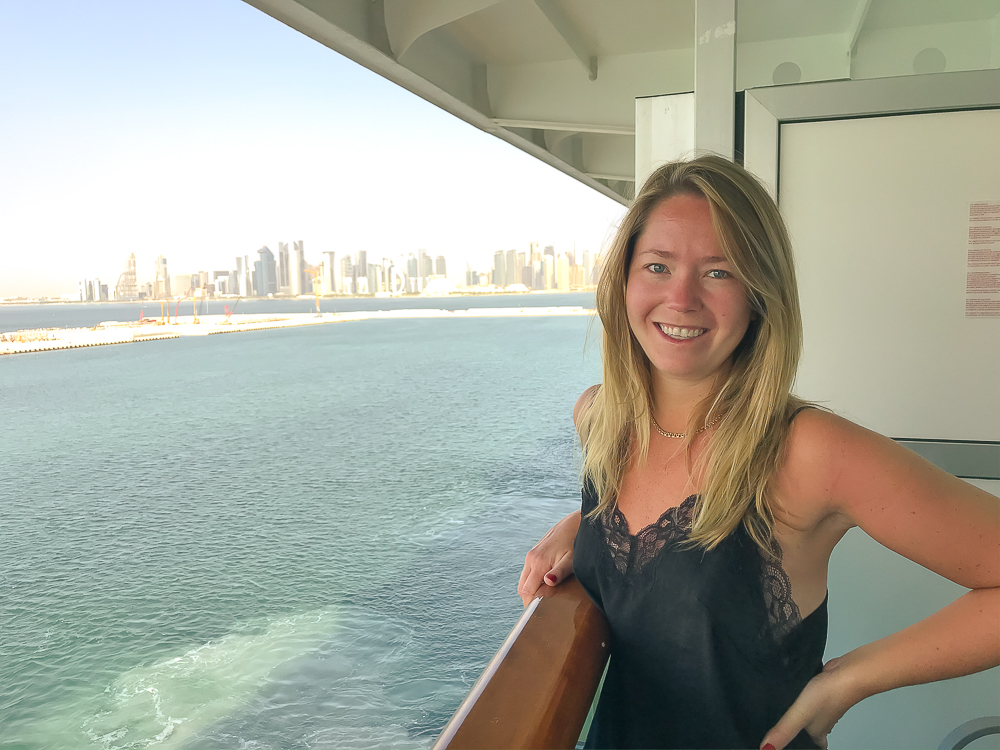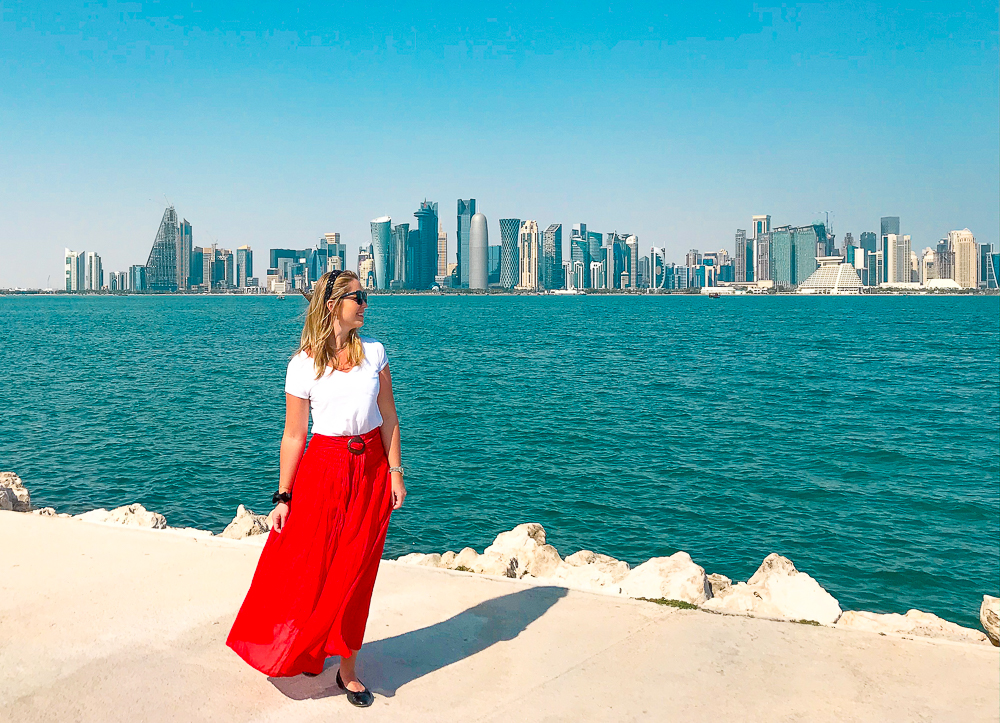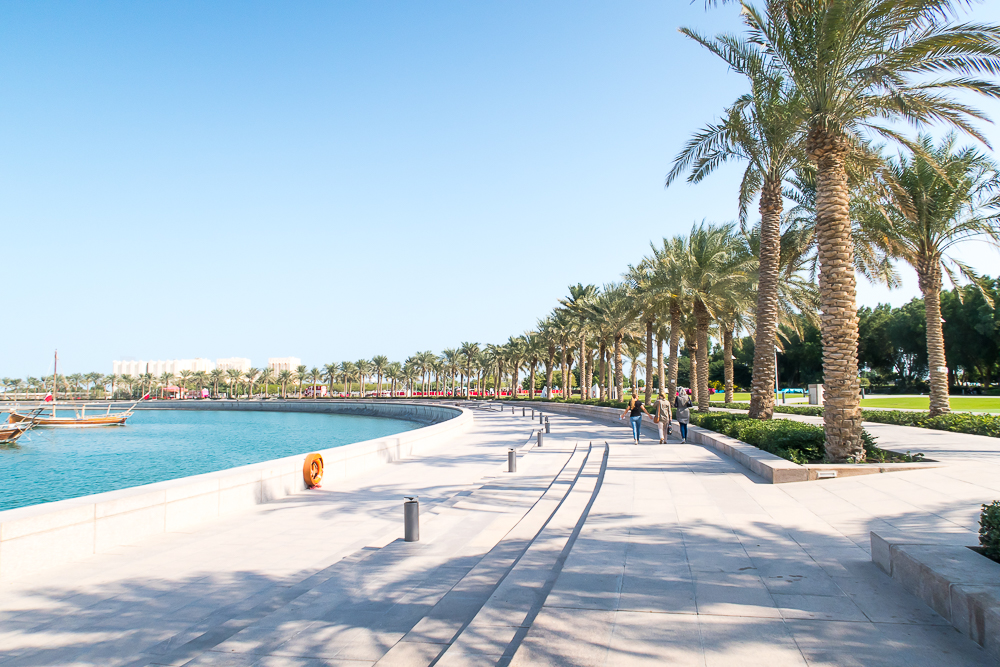 Then we went along the corniche and over to the Souq which is very close and which is a must to visit when you are in Doha. We visited the camels, saw falcons, had lunch and would walk around the souk to look for some shawls and souvenirs but all the shops were closed and covered up. It turned out that the souq in Doha closes for siesta in the middle of the day from 12.30 pm and opens again at 15.30 pm, which can be good to know if you are going here.
So we took a taxi and went to my favorite coffee shop which is at the other end of the Corniche, right by the skyscrapers, near the pyramid hotel Sheraton, namely Costa Coffee. The weather was really perfect in terms of temperature and the sun was shining. Here we sat down and had a coffee and just enjoyed all the skyscrapers and looked out over the water at Doha Corniche for a while.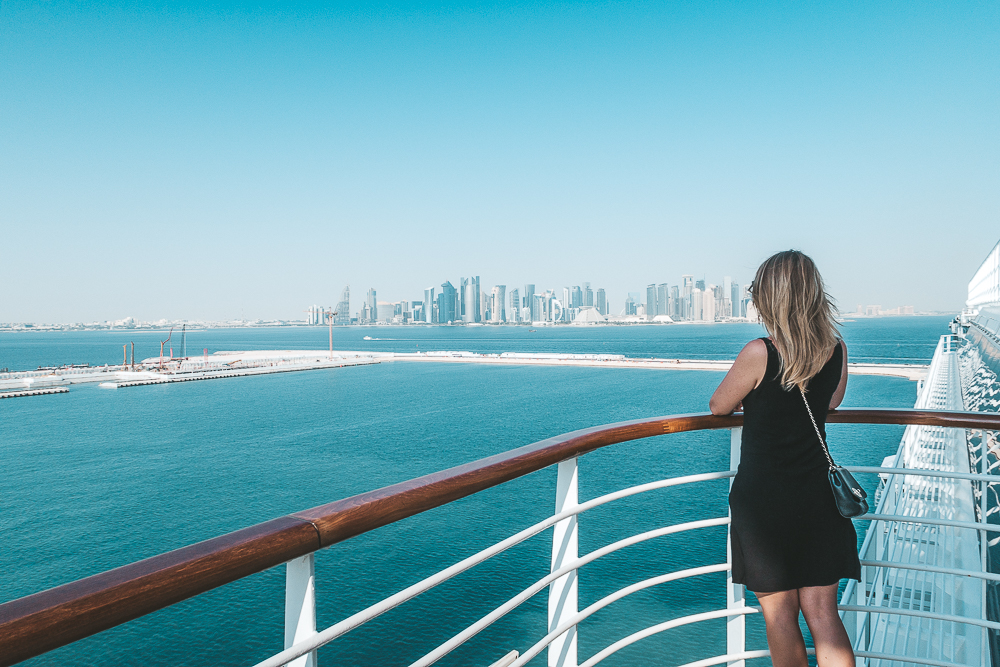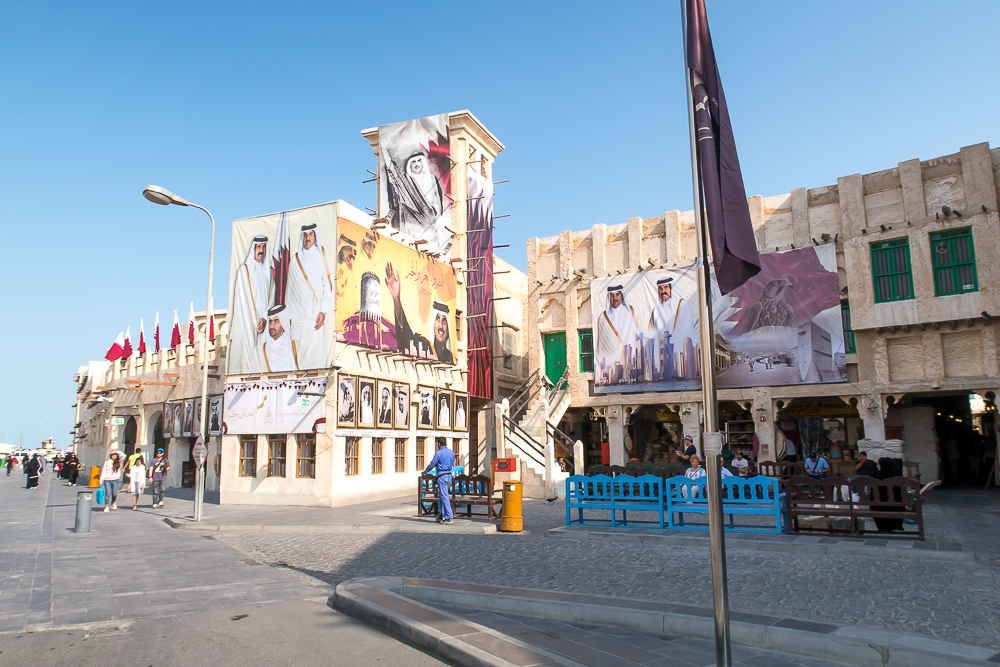 Later in the afternoon we headed back to the boat to get ready for the evening. The theme for this evening was Italian and the colors red, white and green. At eight o'clock in the evening we stood on the balcony and waved goodbye to Doha. I love Doha by night when all the lights light up the skyscrapers, I think it's so nice!
Day 6 Abu Dhabi
We arrived in Abu Dhabi as the next stop on this trip around 11 am. We had pre-booked an excursion here but that was canceled due to too few applicants so instead we had to re-book our excursion and then we chose to hop on hop off bus around Abu Dhabi. I love to go by these buses wherever I am in the world, because I think it is a really good way to see a city and get an overview of how the city looks like.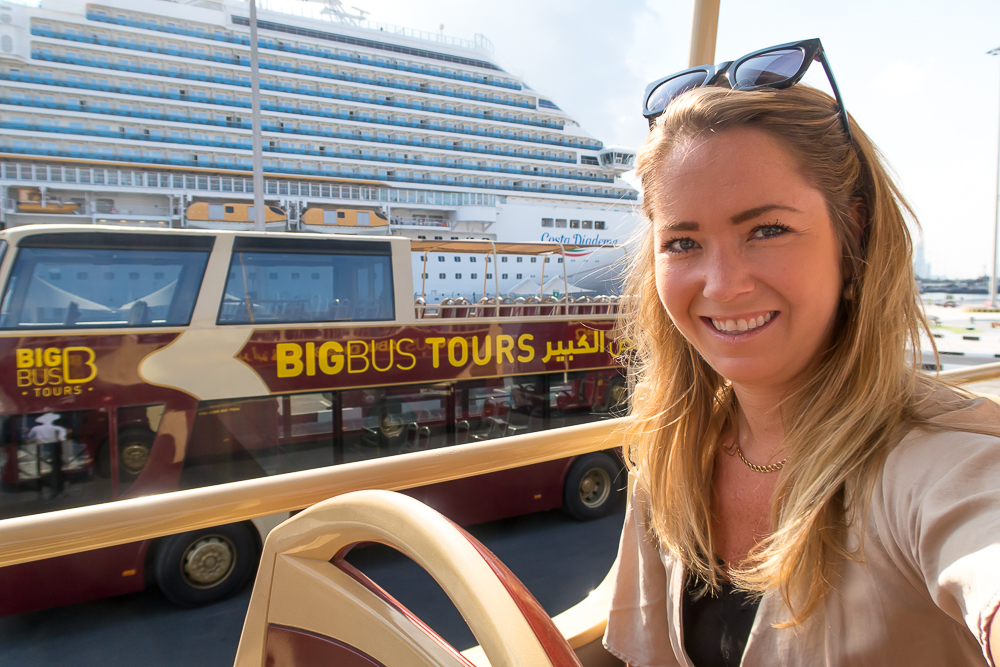 Also in Abu Dhabi there were free shuttle buses from the Costa boat into the harbor. But our hop on hop off bus was already next to the boat so it was really smooth.
The whole first day we spent on the Hopp on Hopp off bus as there were two lines and we wanted to do both to really see the whole of Abu Dhabi. We started with the blue line that took us to the Grand Mosque that I wanted to see. Although I have seen it before, my company didn't and I really wanted to show what the mosque looked like because it is one of the coolest I have actually seen! It's really worth going to!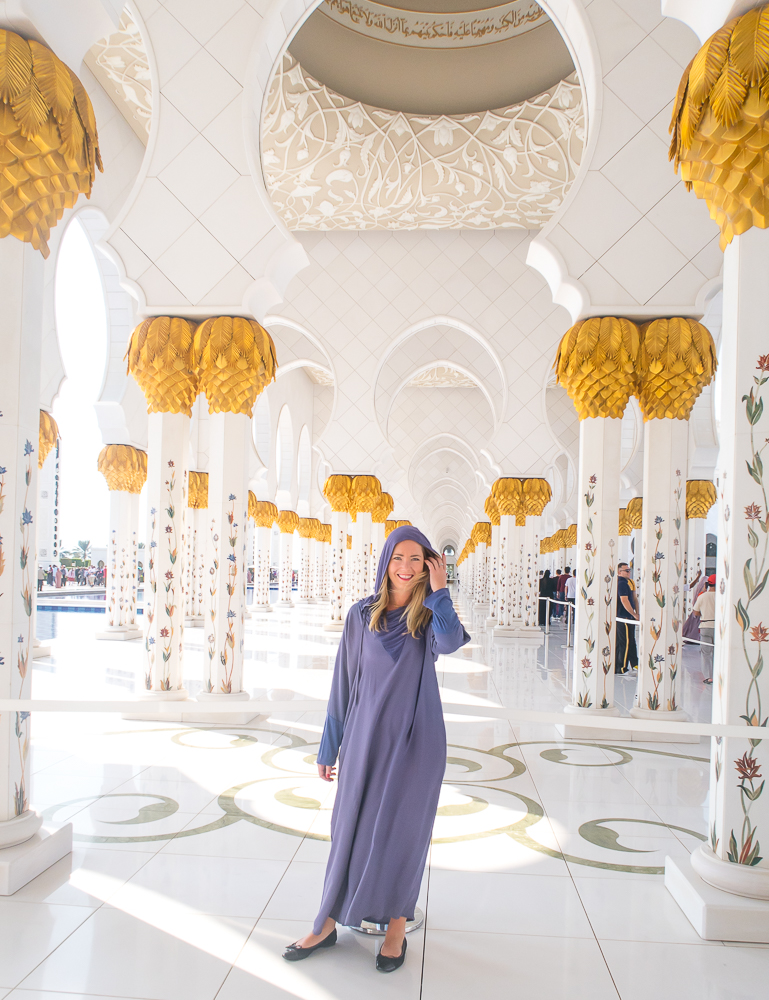 However, they had made the entrance in a different way this time since last time I was there (November 2017) and it took much longer now to get to the mosque from the entrance than it did before. The Grand Mosque in Abu Dhabi is free entrance but you have to cover hair, shoulders and legs and therefore you as a woman can borrow a costume that covers all this. It is available in different colors. Similarly, several photo points with ropes were arranged around fixed points now. The last time I was here I was able to stroll around exactly how I wanted to and take photos from all angles and corners, but that couldn't I do anymore.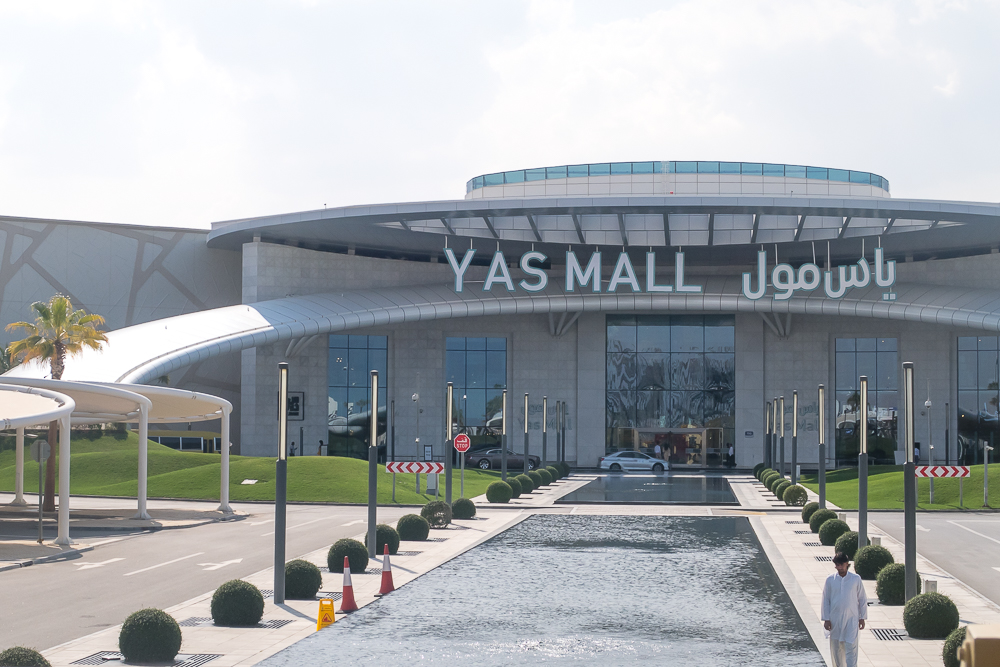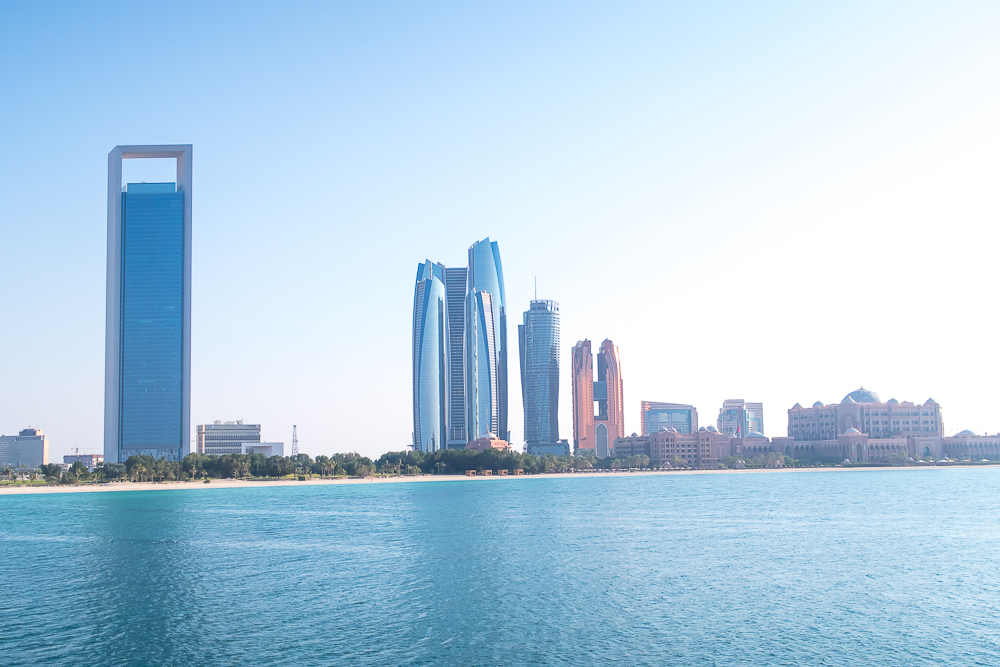 Then we took the red line that took us around Abu Dhabi city, which was also very fun to see. The buses runs about every 20 minutes on the red line and around every 30 minutes for the blue line so it is perfect to get off at one place and spend 20-30 minutes and then hop on the next bus that will come and continue its trip.
The evening's theme was Arabic theme and all shows and performances were Arabic dances and songs.
Day 7 Abu Dhabi
On this whole trip I had barely been able to lie down in a sun bed to relax so this day, which was also the last day on board, I felt that I wanted to relax and enjoy the sun and get some color. It had been intense days for us all week and I was completely exhausted and needed to rest. It was really nice, because there were not so many people on the boat that day. I think many people were out on excursions in Abu Dhabi so it suddenly felt like we had the boat all to ourselves almost.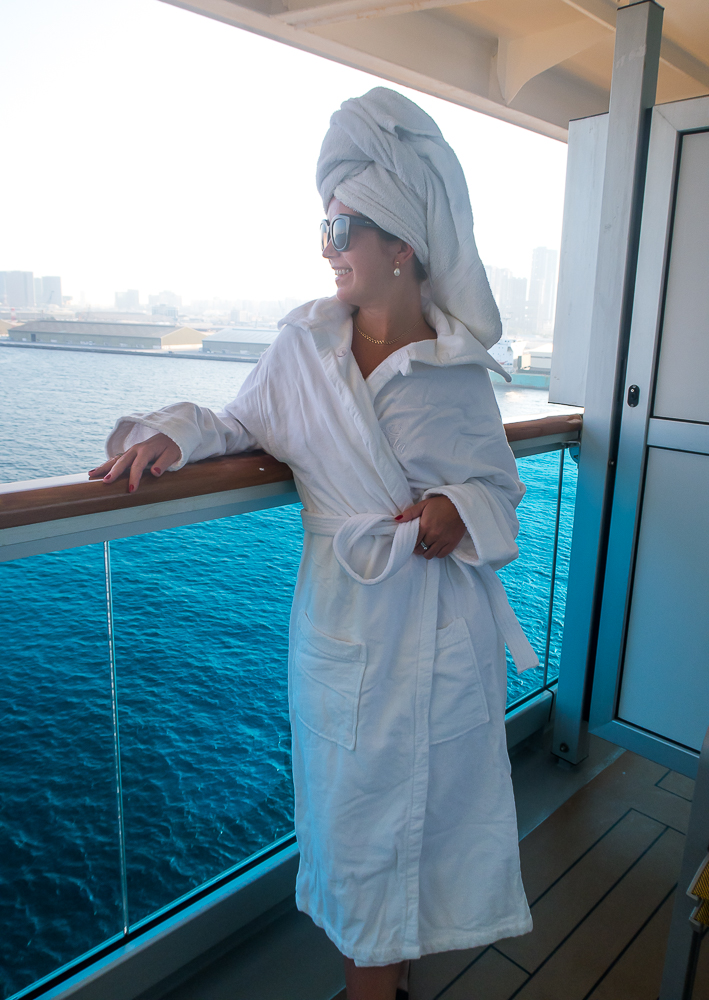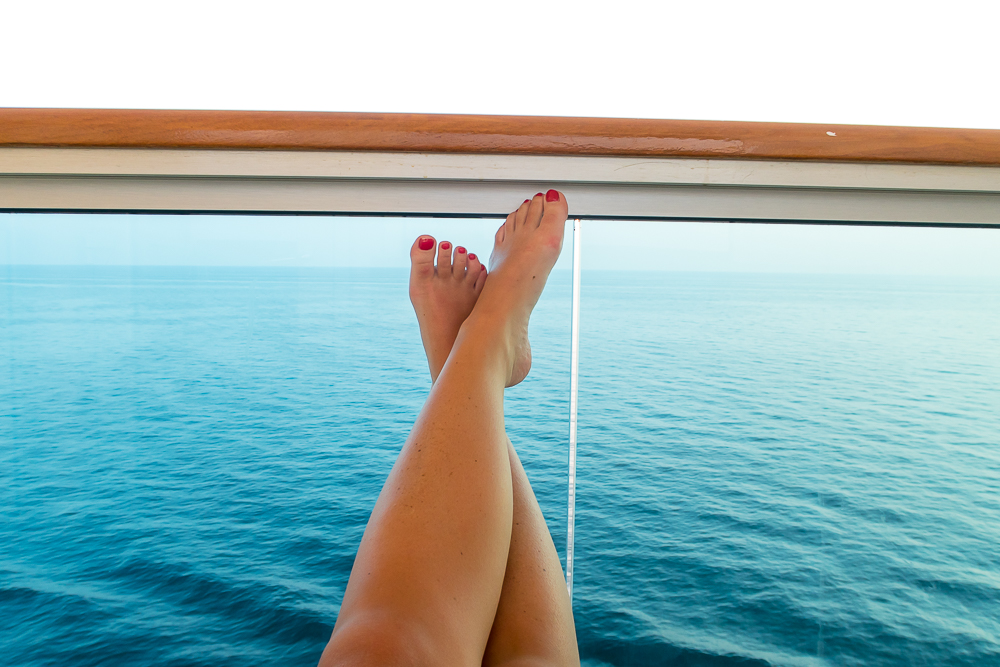 Tonight's theme was the 70's and all the music, performances and shows were 70's disco.
Day 8 Back to Dubai
We arrived in Dubai early in the morning, already at 08.00 am, but all passengers had been divided into groups, which meant that we were not allowed to leave the boat until 09.45 am. However, everyone was forced to leave their cabins at 8.00 am in the morning so there was some dead time in between which was a bit unnecessary I thought.
We had breakfast and then we left the boat at 09.30 am to then queue up to get our luggage. Even at the baggage drop-off, everyone had received a band of different colors, which symbolized what times they had to collect their luggage at the terminal. Then we waved goodbye to Costa Diadema and said thank you for a nice cruise week! 🙂
The best thing about Costa Diadema:
The dinner and food in general was really, really good!
The entertainment was awesome every night and the dancers were incredibly talented! Fun to watch!
It is worth adding the drinks package. Then almost all drinks are included and you can just go to the bar whenever you want. I really appreciated that! Everything from coffee, water, juices to prosecco, alcohol and non-alcoholic drinks.
Less good with Costa Diadema:
The information was quite concise throughout the cruise. You had to find out a lot by yourself what was going on and what times you had to be at a certain place.
Personally, I thought there were too much people on a too small surface, especially when we were at sea and everyone was on board at the same time. There were easily crowded and long queues everywhere for the food, the bar, the pool, the gym, etc.
There were 2 small pools. They were more like children's pools than for adults, which I thought was a bit sad. I was expecting a large and spacious rooftop pool.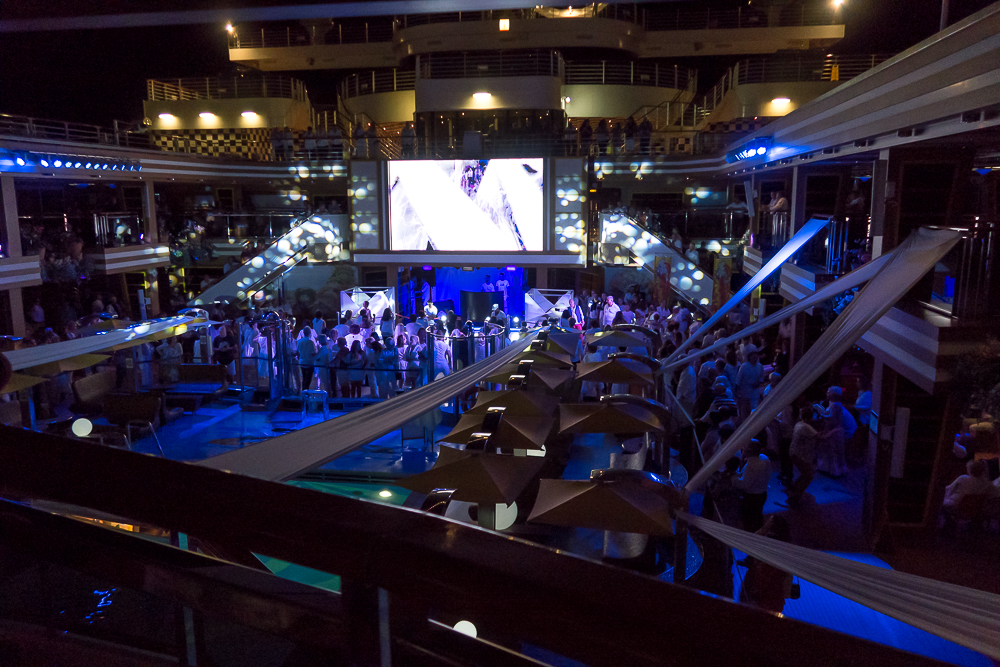 Good to know!
You will need to leave your passport and won't get it back until the evening before you arrive in Abu Dhabi. Once in Abu Dhabi, EVERYONE has to do a face-to-face passport control, whether you want to leave the boat or not. At the passport control you get a stamp in the passport and then the passport controller will keep your passport. You will get it back later. This, as I said, must be done before 15:00 pm on the first day you arrive to Abu Dhabi. Then you have to pick up your passport the next morning between 08.00-11.30 am, the last day in Abu Dhabi.
You don't need to exchange money for each currency before departure. At each arrival hall at the terminals of every place you come to, there are exchange offices. However, I brought dollars with me since before that I exchanged. So feel free to bring cash to exchange. Cash is king.
You will receive a Costa card which is your ID card throughout the trip. This card should be with you all the time, wherever you go because it shows who you are and what you have bought for different packages, like food and drinks packages. You also shop in duty free with this card and also in the bars when ordering drinks. If you lose your card, the reception can create a new card for you (it happened to me) and it didn't cost anything to make a new card.
The same morning as the cruise is over and you are back in Dubai you will receive an "invoice" on all your purchases during the week that has passed. The invoice shows what will be drawn on your credit card that you initially chose to link to your Costa ID card the first day, so you don't have to carry with you every day a debit card such as VISA or Mastercard when you are on the boat, which can be good to know 🙂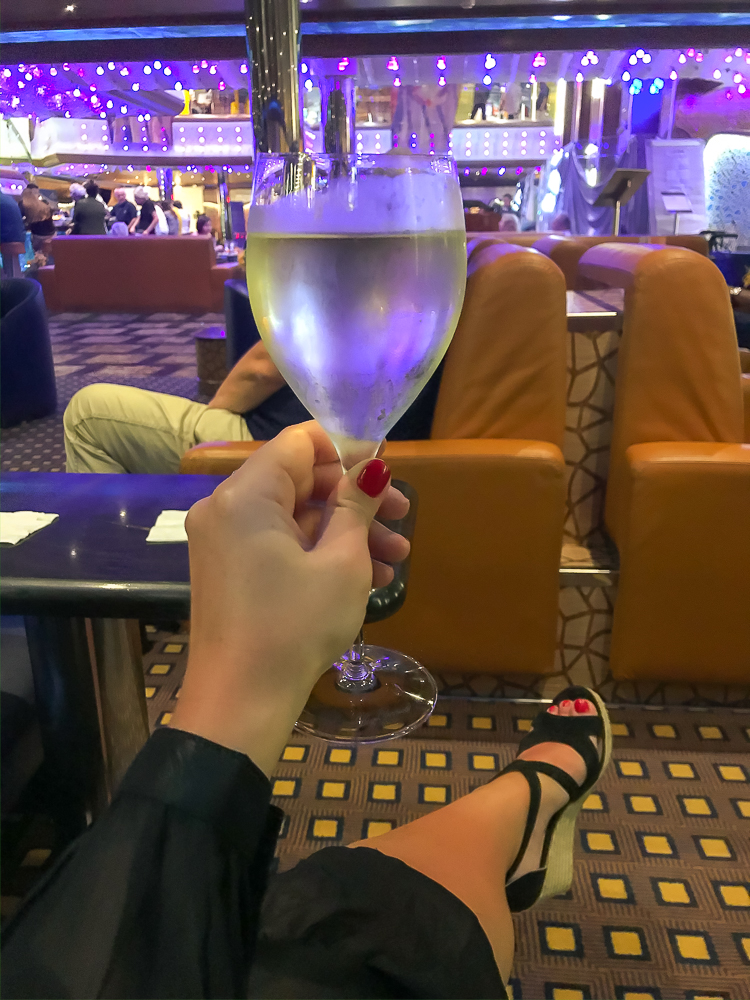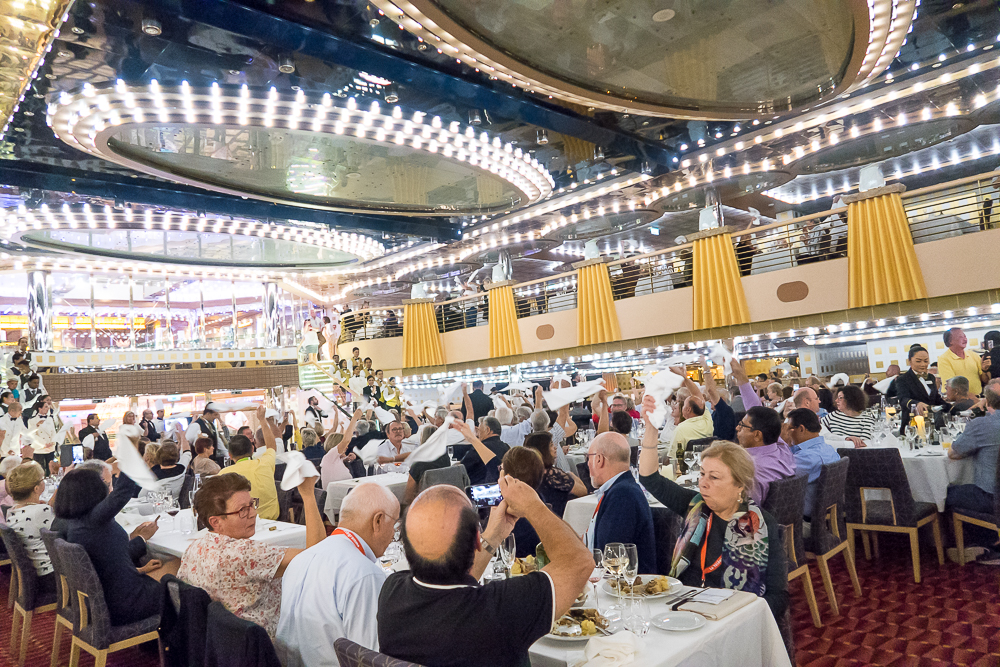 Summary
Overall, I had a nice cruise with Costa Diadema and I am very excited to go with their latest addition Costa Smeralda which will be launched at the end of December 2019. I can definitely think of going with Costa again and then gladly around the Mediterranean ocean next time. I can recommend Costa Diadema to families with children and retired people as it was mostly this clientele on board when I did this cruise.
This Costa Diadema cruise around the Middle East is perfect for those looking for a budget cruise. If you love to go on charter trips, this cruise is perfect. I got the feeling of being on a charter trip when I was cruising with Costa Diadema 🙂
If you want to read more about the cruise company Costa you can read more on their website which you can find here.
I have also made a video from my cruise with Costa Diadema – check it out here on my Youtube channel and don't forget to sign up on my channel for upcoming videos around the world! 🙂
Happy Travels!
// Charlotte