When I traveled to Hong Kong I flew with SAS and their new Business Class cabin going and coming back. I have traveled many times with SAS and it is the airline I prioritize to fly with when I´m flying. However, I have never tried to sit in their new Business Class on a long haul flight before but now I got the chance to do it, thanks to my American Express points.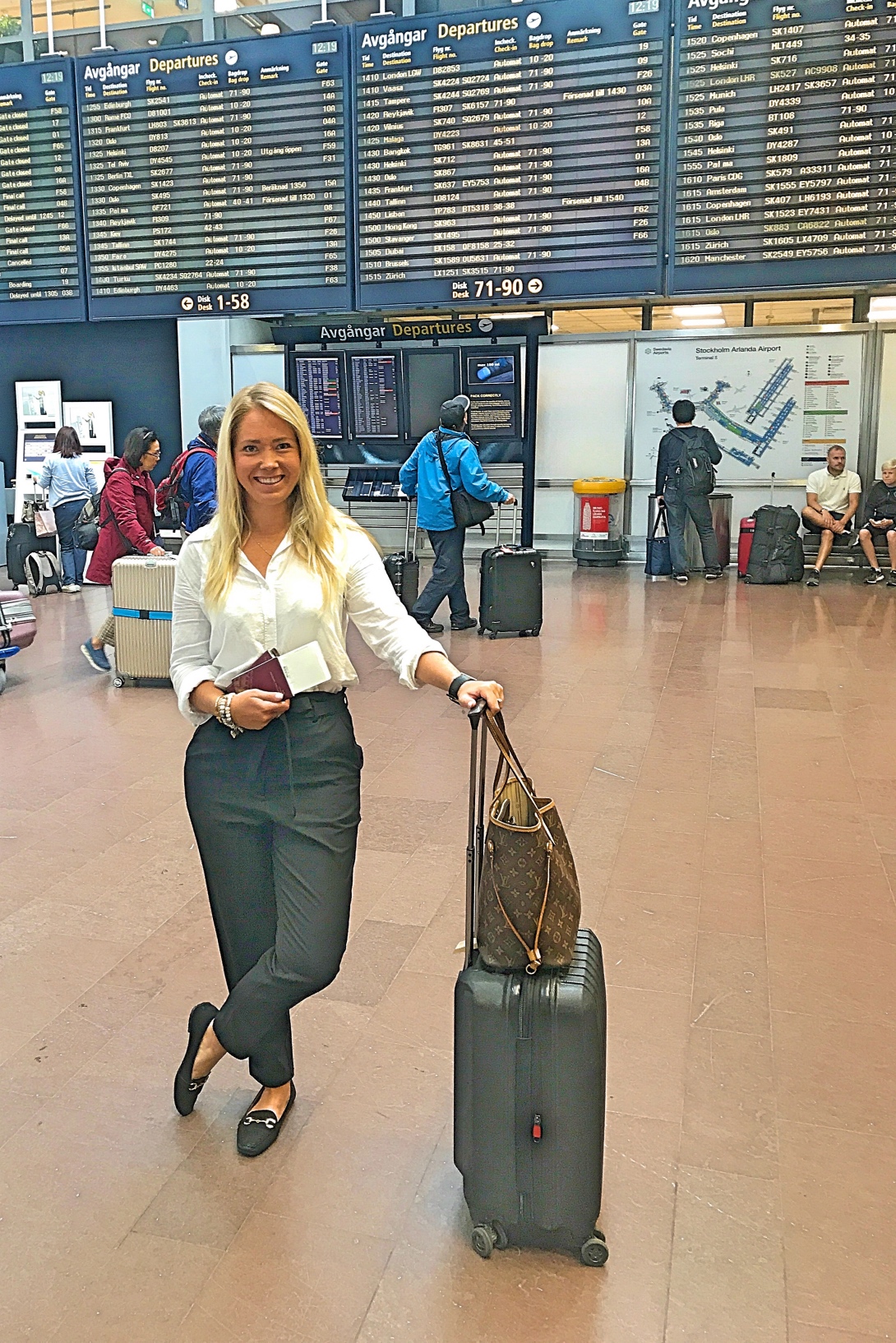 SAS Business Class Flight from Stockholm to Hong Kong
Flying with SAS in their Business Class on a long haul flight was a dream for me that came true due to I have wanted to try to sit in their new Business Class for a long time but it has never been possible until now. A few years ago, I flew with SAS to New York over New Year, and then I also sat in their Business Class but it was in their old cabin that was divided by the 2-2-2 seat configuration.
Business Class
I have traveled many times with SAS earlier to various destinations around the world as you can read more about here what I liked about it. Due to I've been flying a lot with Qatar Airways and in their Business Class, it was fun to compare these airlines to each other regarding the service, the cabin and what separates them in general. I think that's really interesting to compare 🙂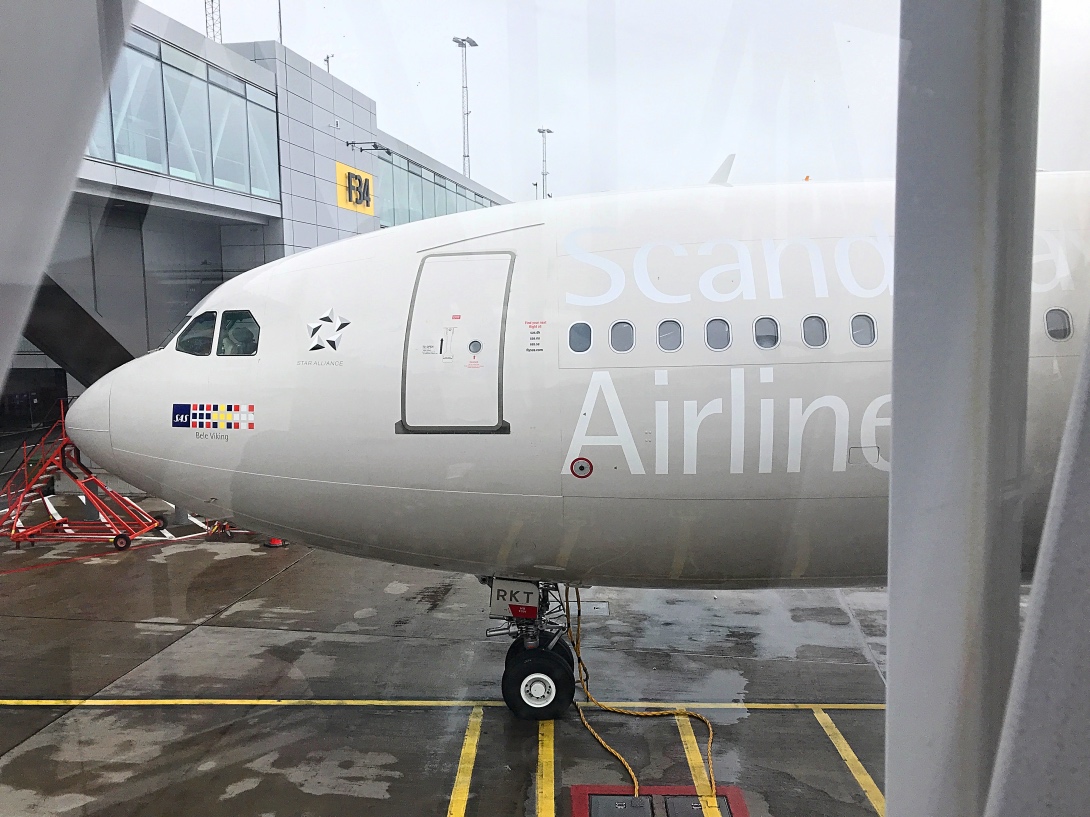 This is what it looks like on SAS Business Class to Hong Kong
The cabin and the seat onboard SAS Business Class
The cabin is divided by the seat configuration 1-2-1, which means that there is only one seat next to the window, two seats in the middle where you sit together and one seat at the other window on the other side of the aisle. There are two middle aisles and each seat has its own screen with touchscreen, something I think is a big plus!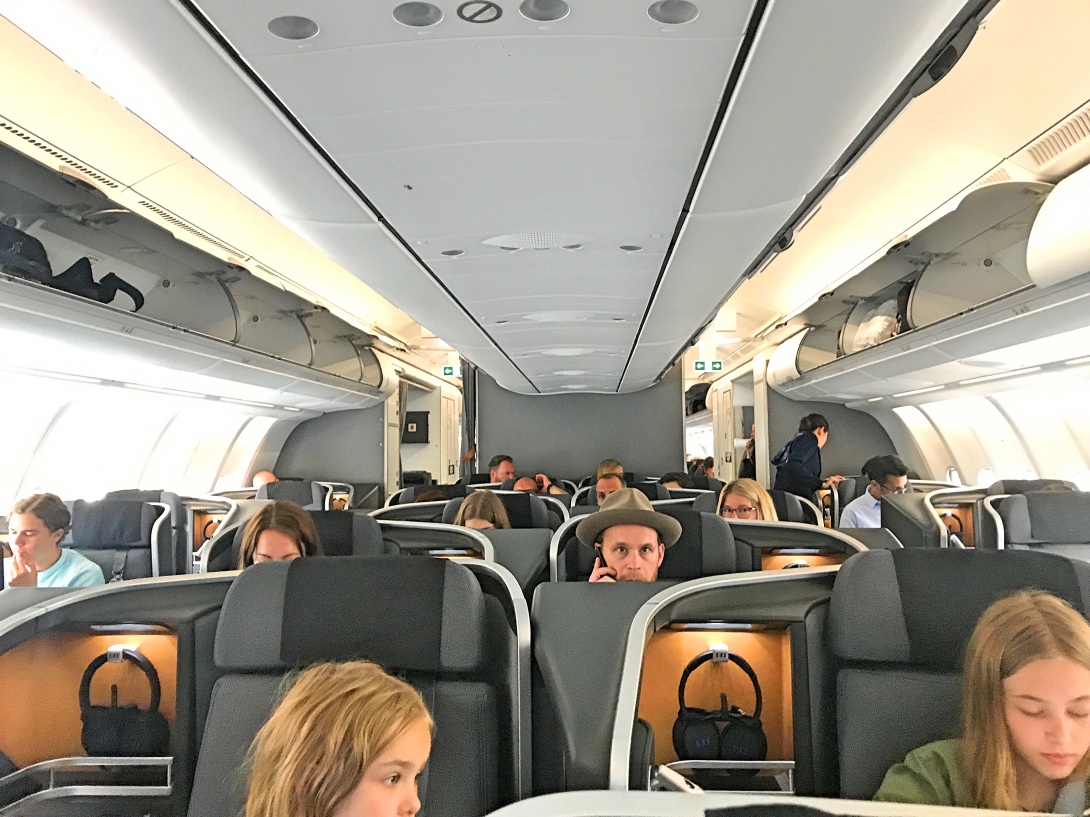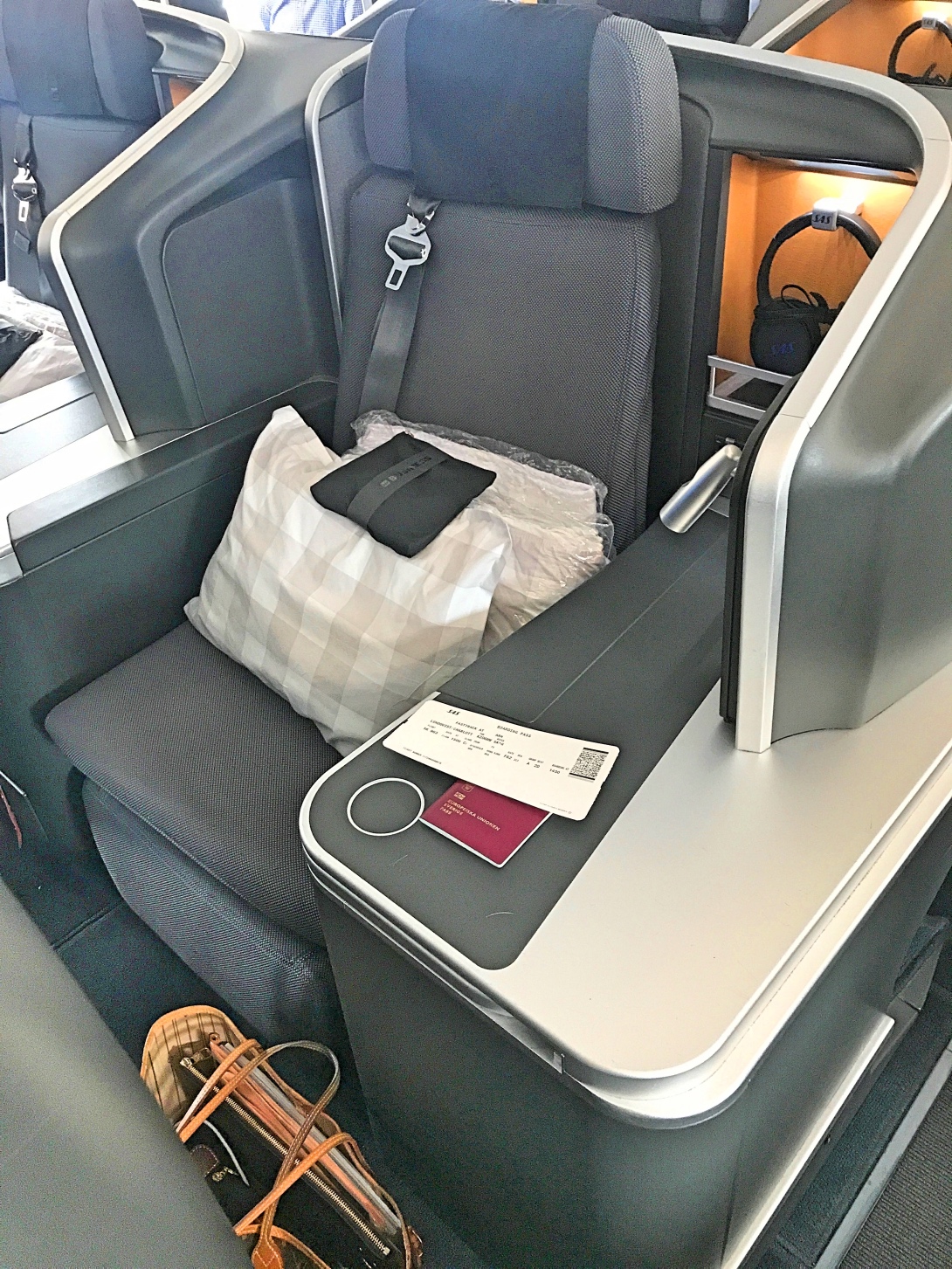 When I reached my seat there was a blanket, linen, pillow and a amenity kit. I also had my own bottle of water and noise cancellation headphones that was in the shelf next to my seat, just behind my shoulder.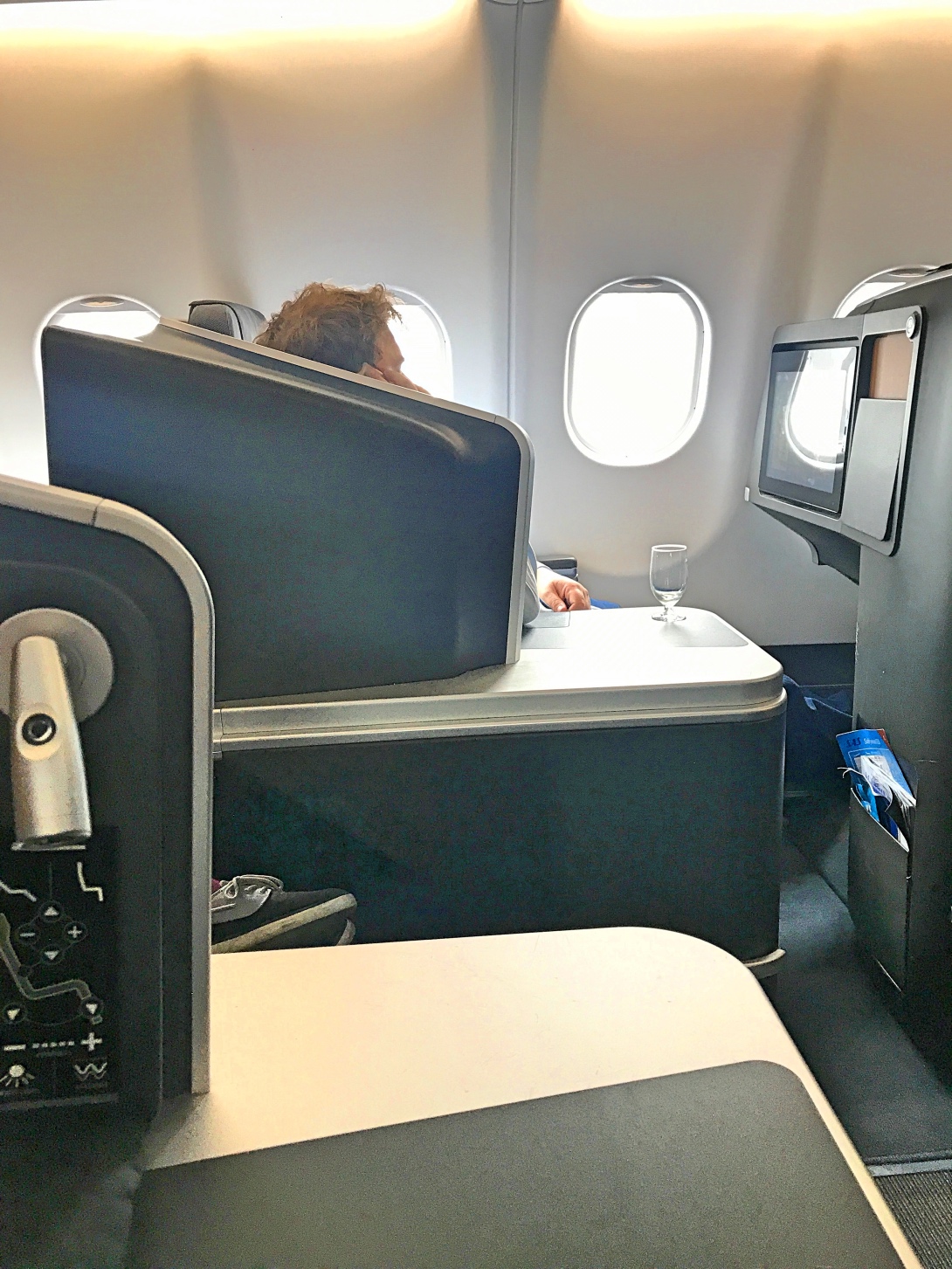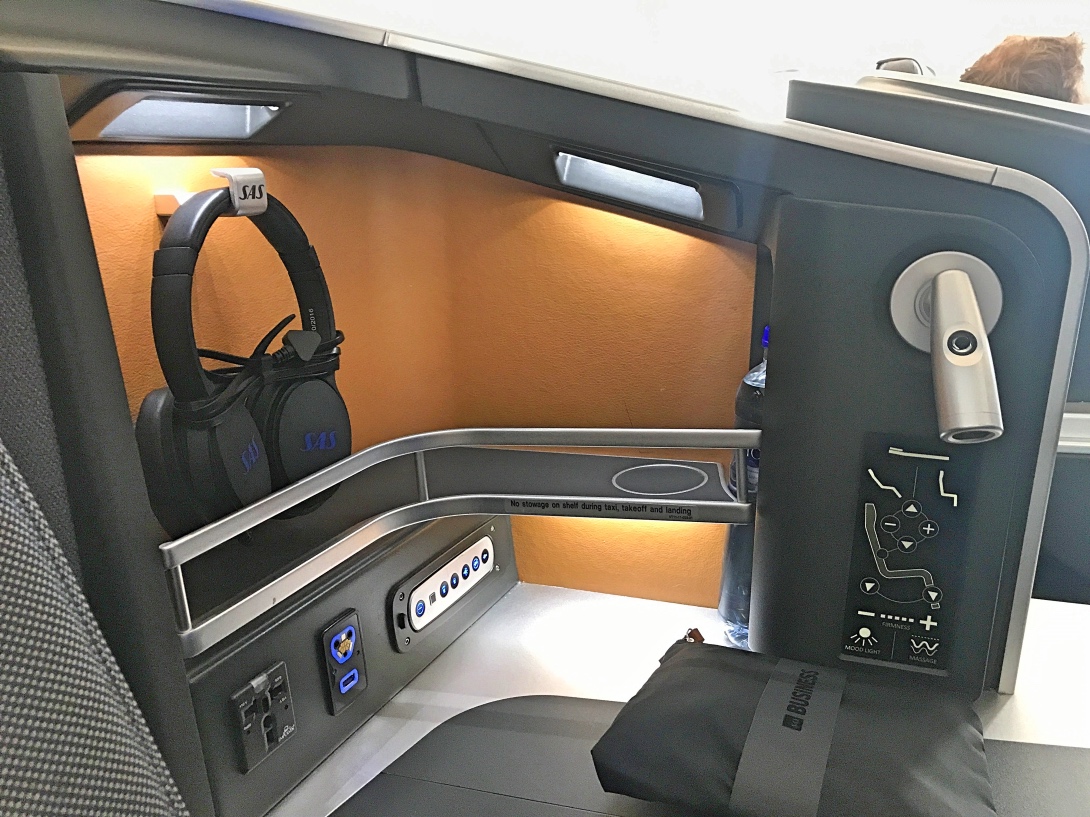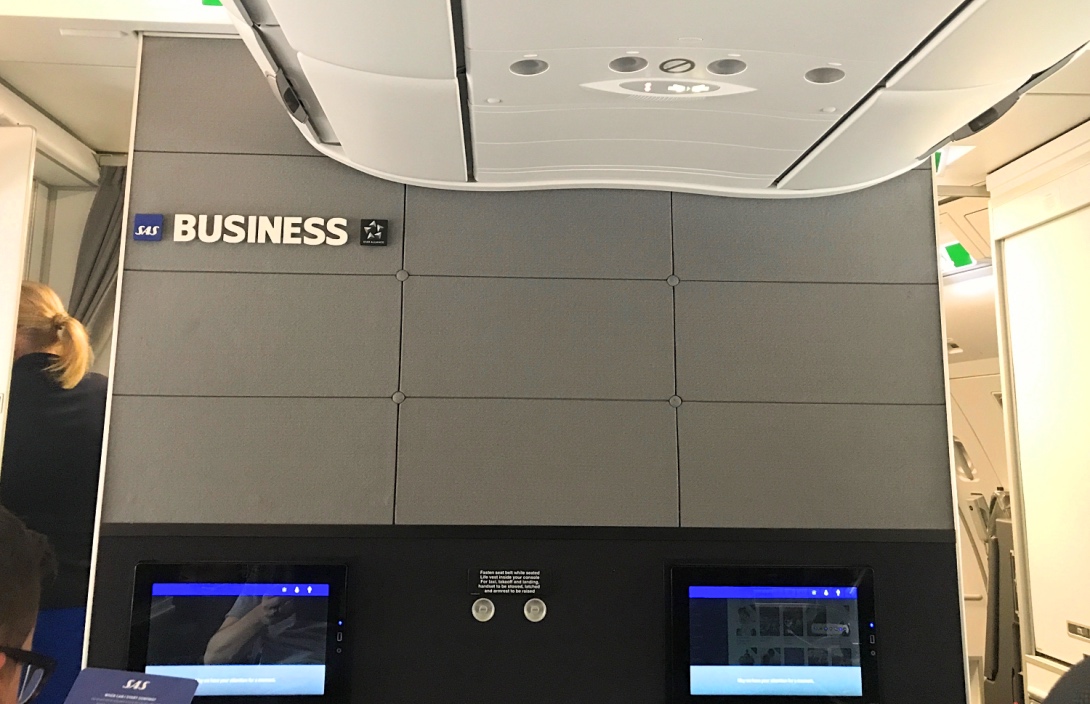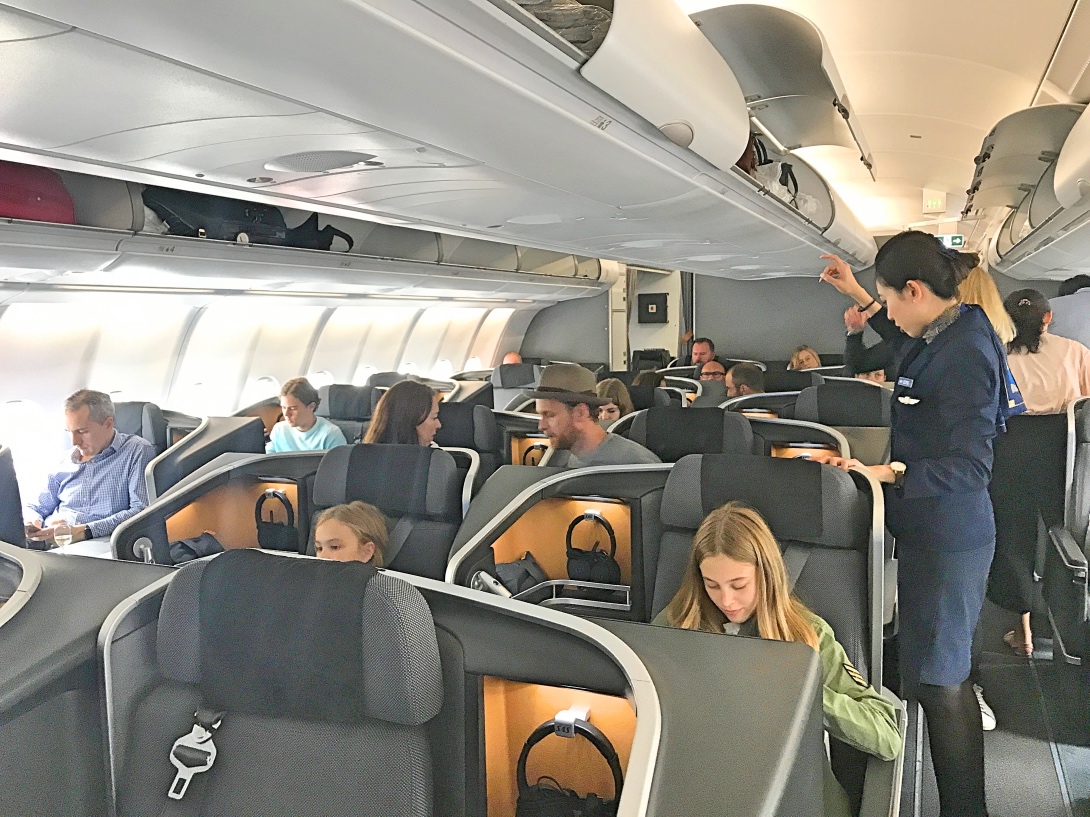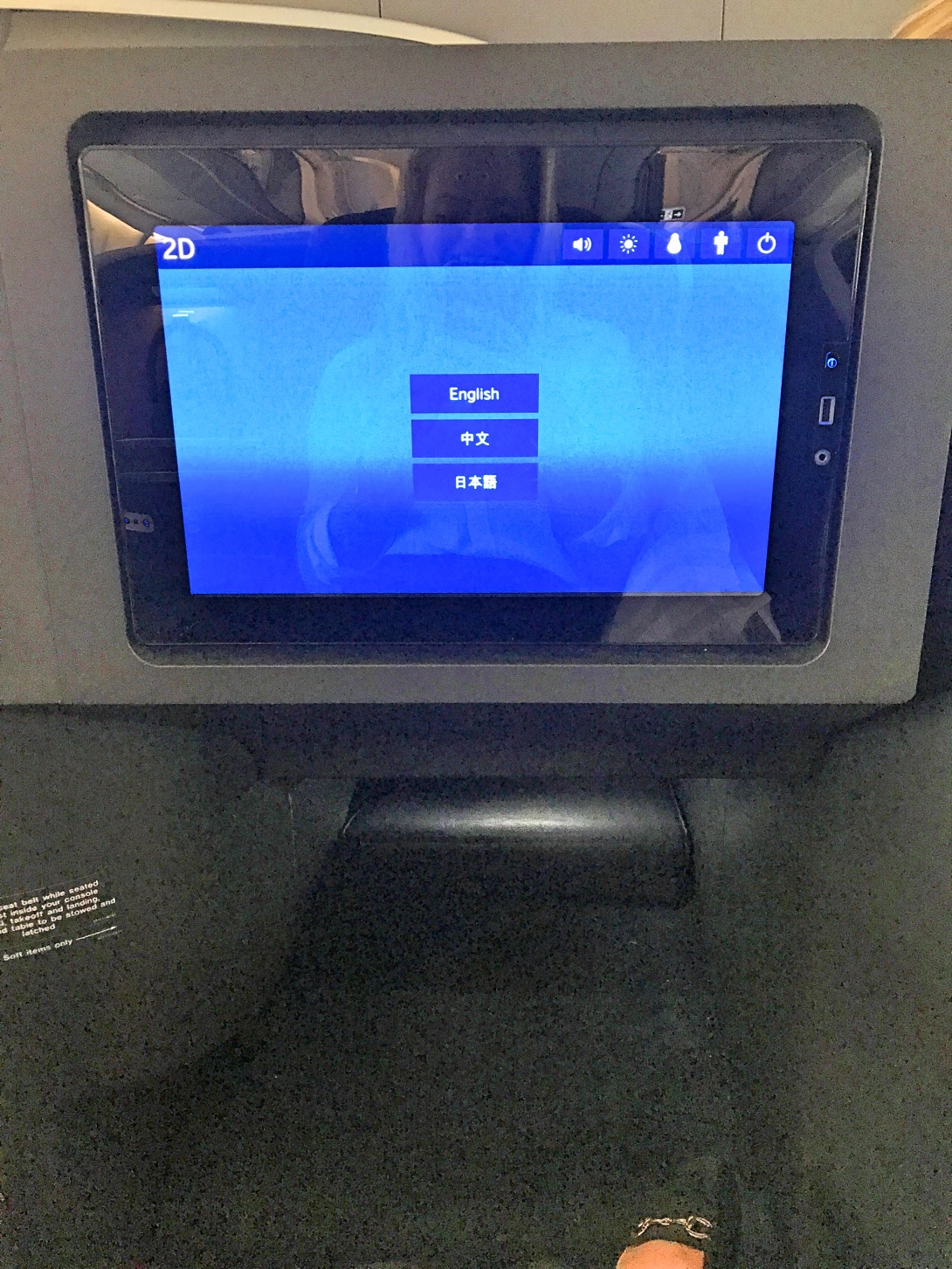 On my way from Stockholm to Hong Kong I had seat 2D and it was a very good seat with plenty of legroom!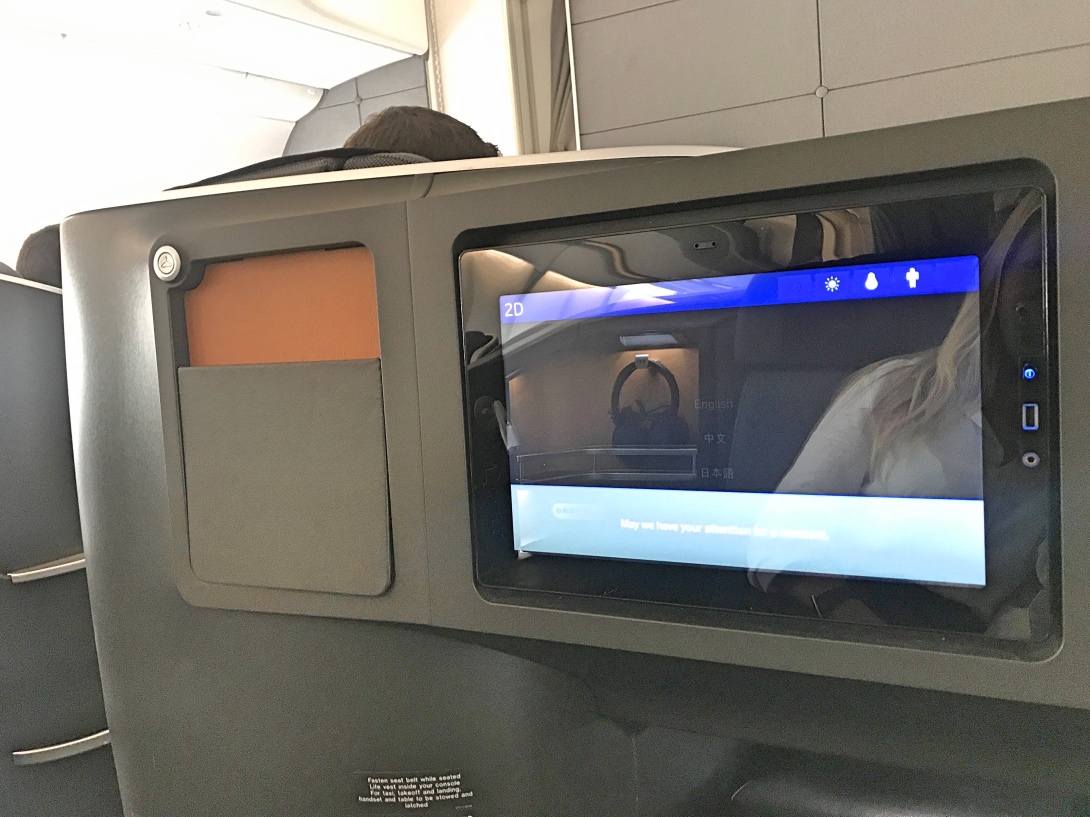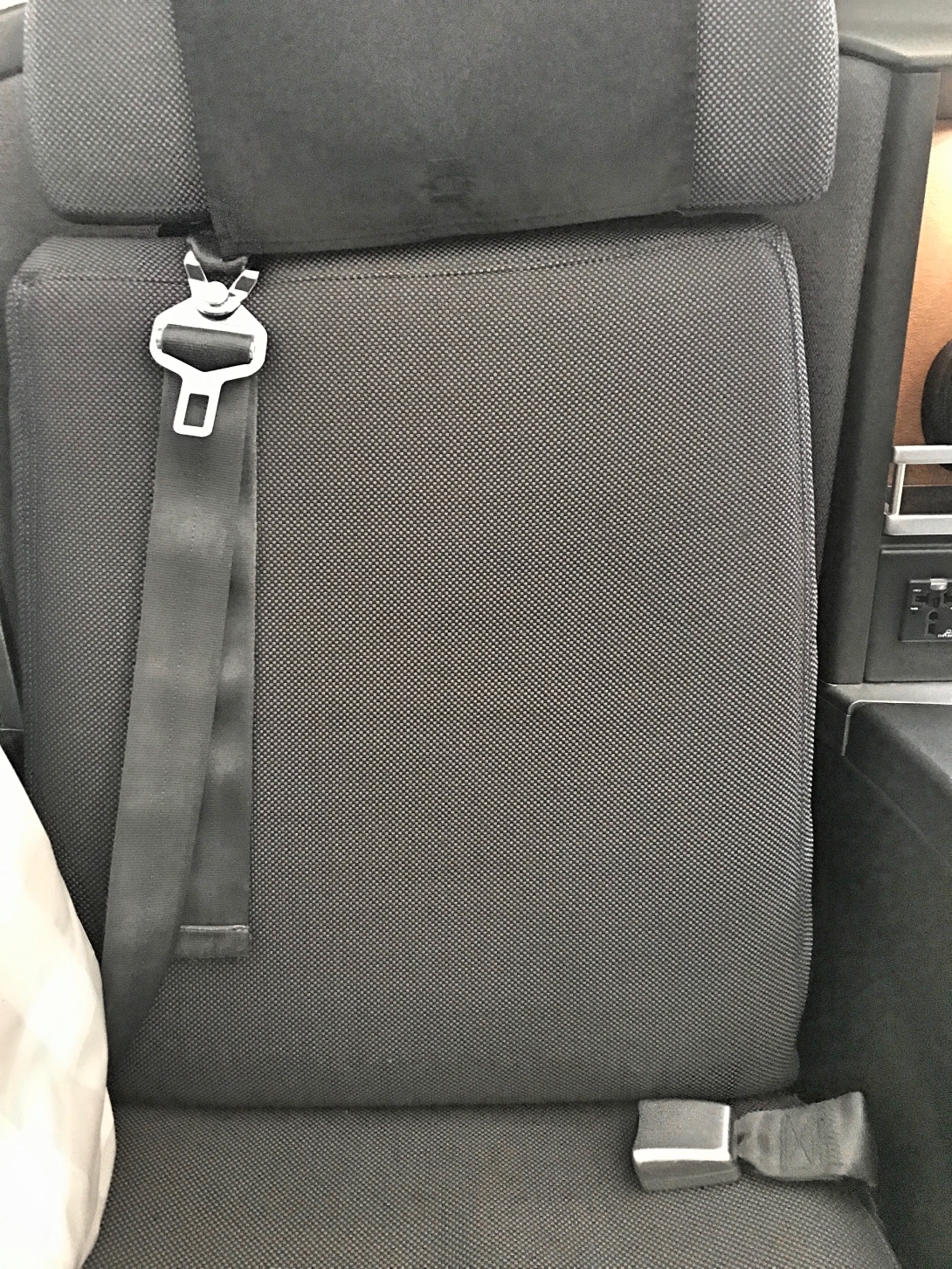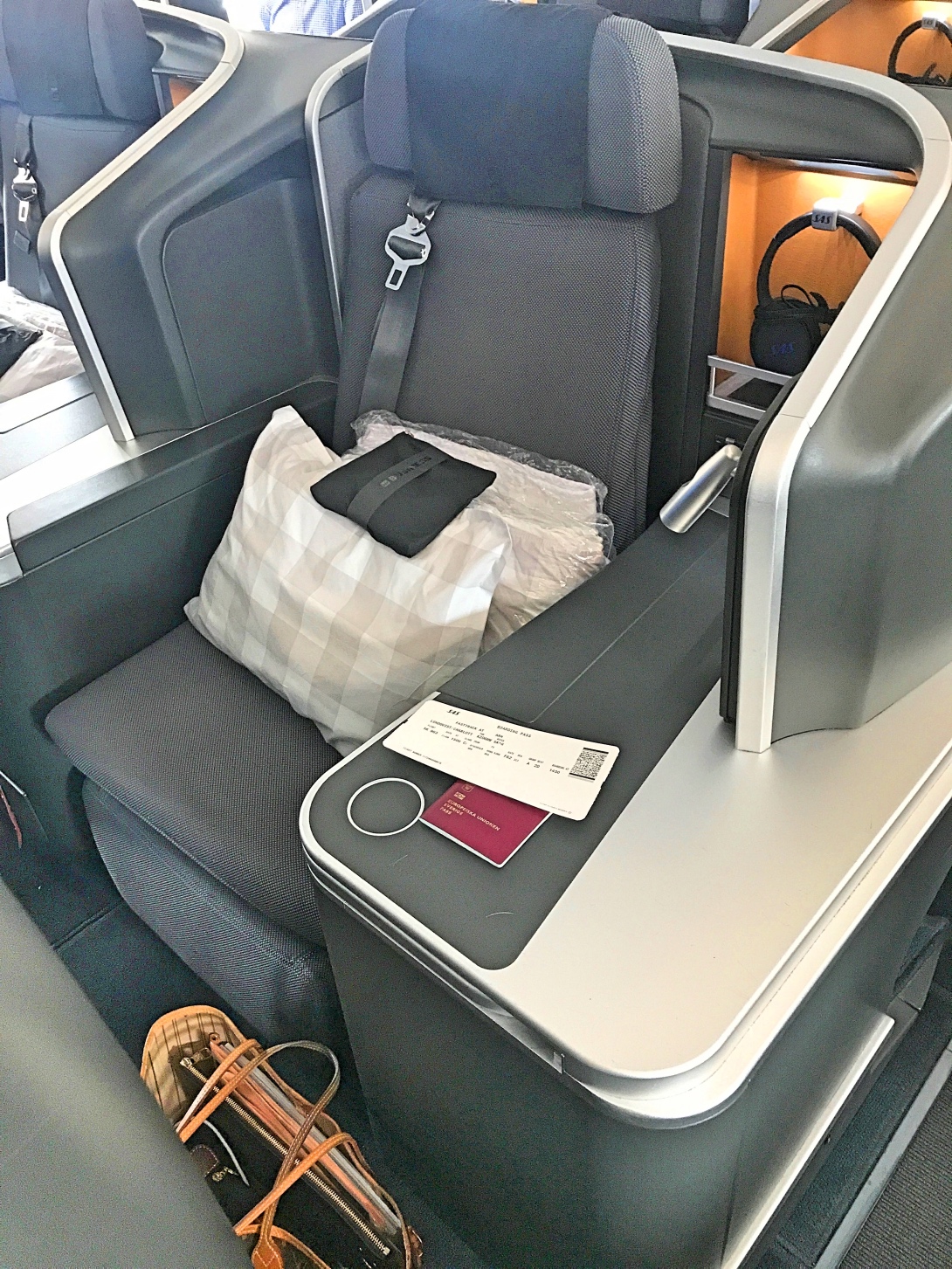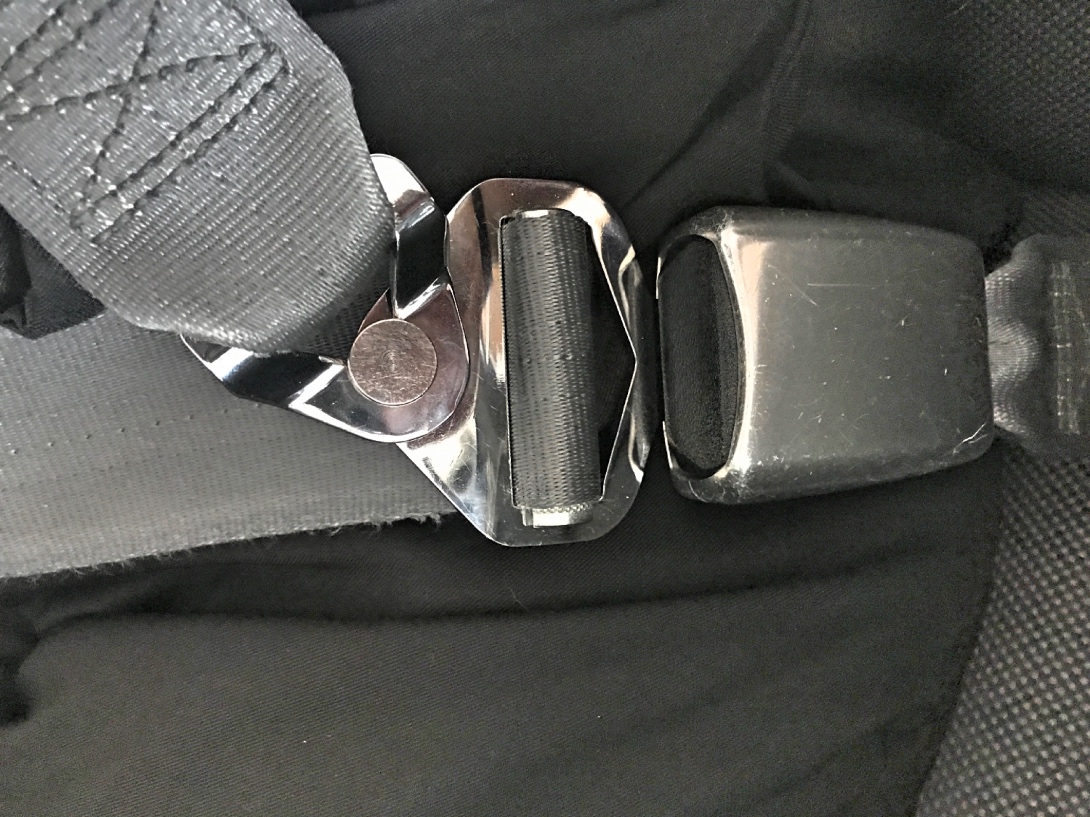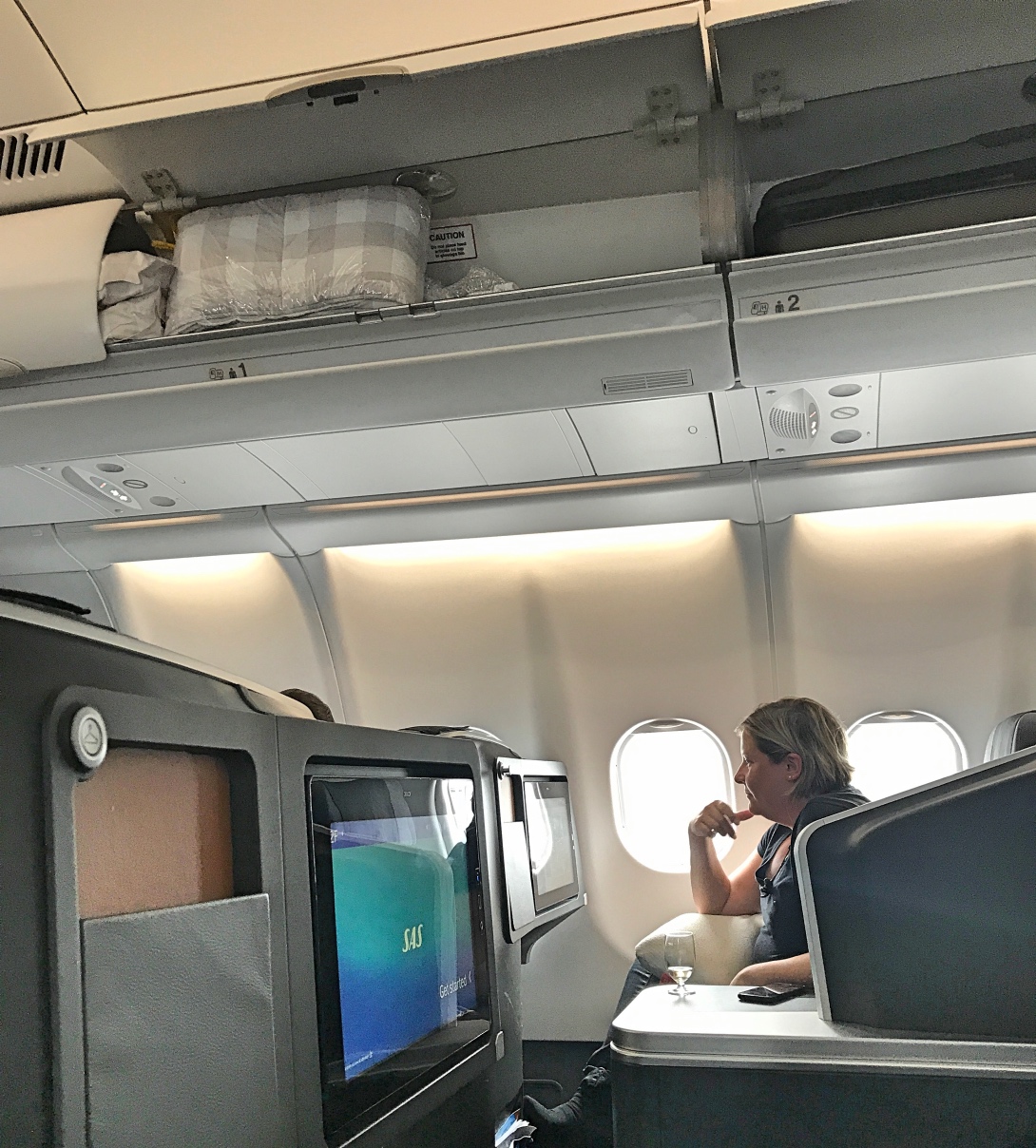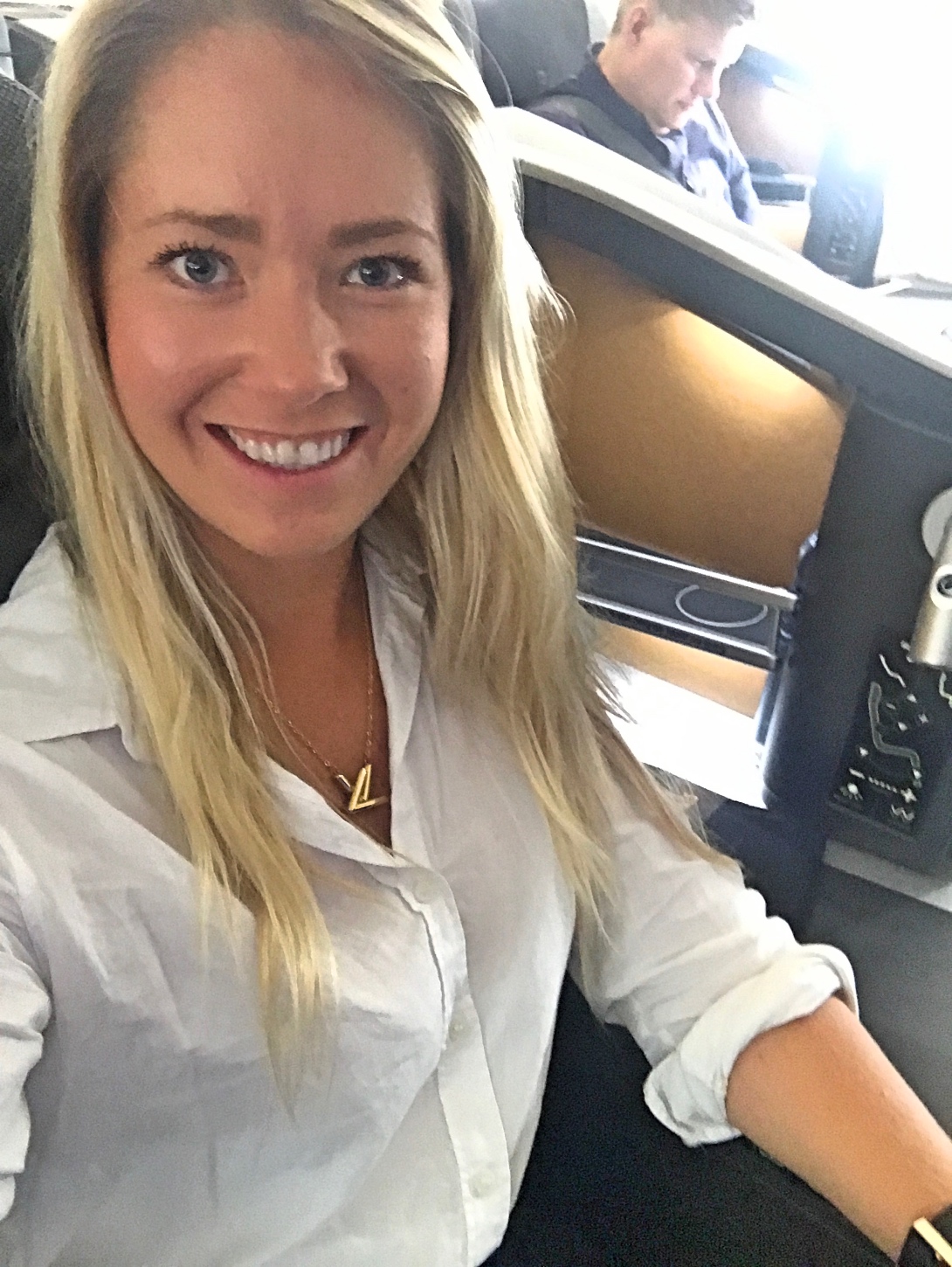 The amenity kit I received contained:
Toothbrush
Toothpaste
Earplugs
Eye mask
Socks
Skin cream/ Skin lotion
Lipbalm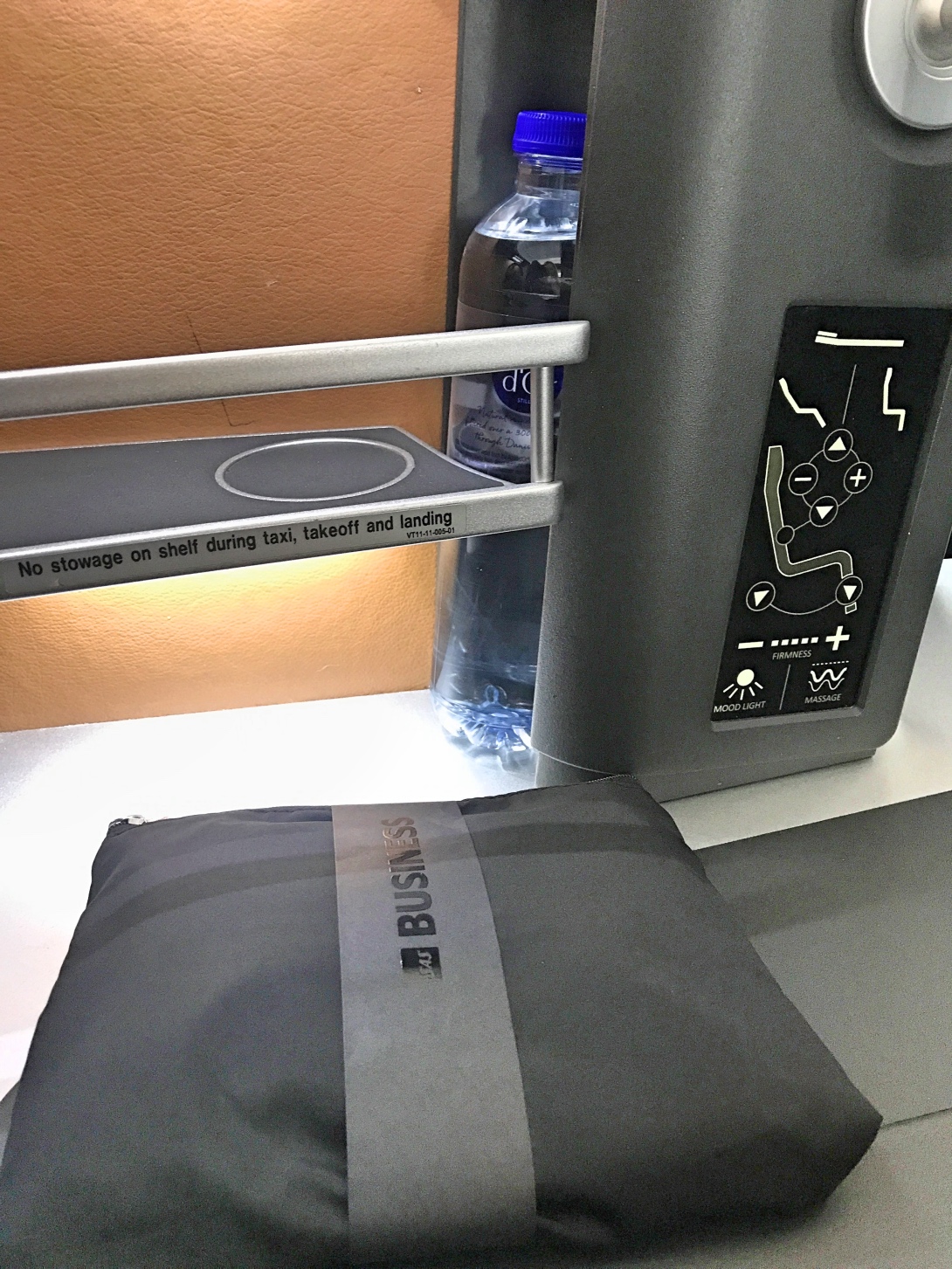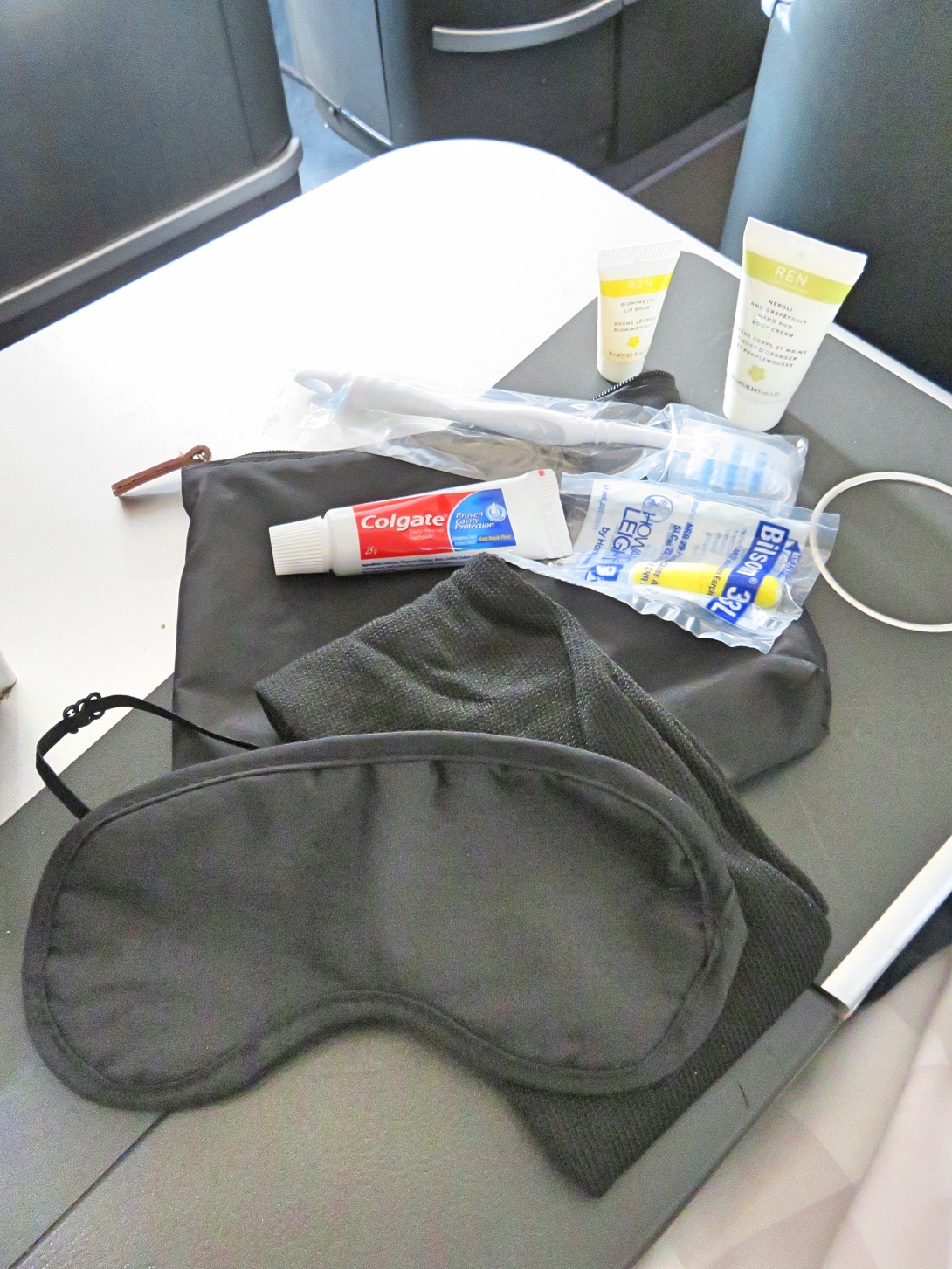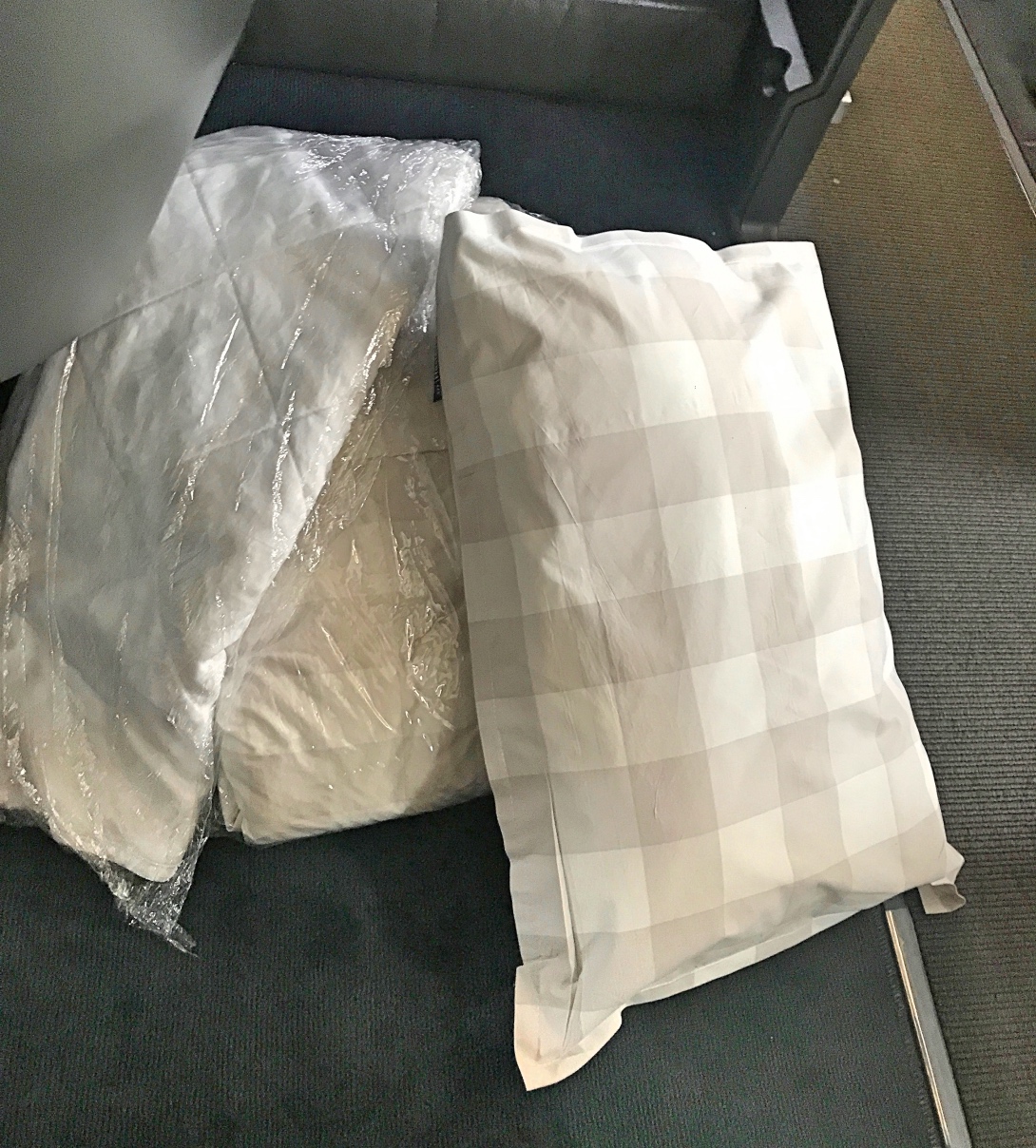 Welcomedrink
Everyone in the SAS Business Class got a warm welcomed with a welcome drink. In SAS Business Class the flight attendant goes out with a tray where there are different options in the glasses to choose from where you take the drink you are craving for. There is a choice of soda, orange juice or champagne. I chose their pink champagne which tasted delicious. (They didn't have any brut champagne).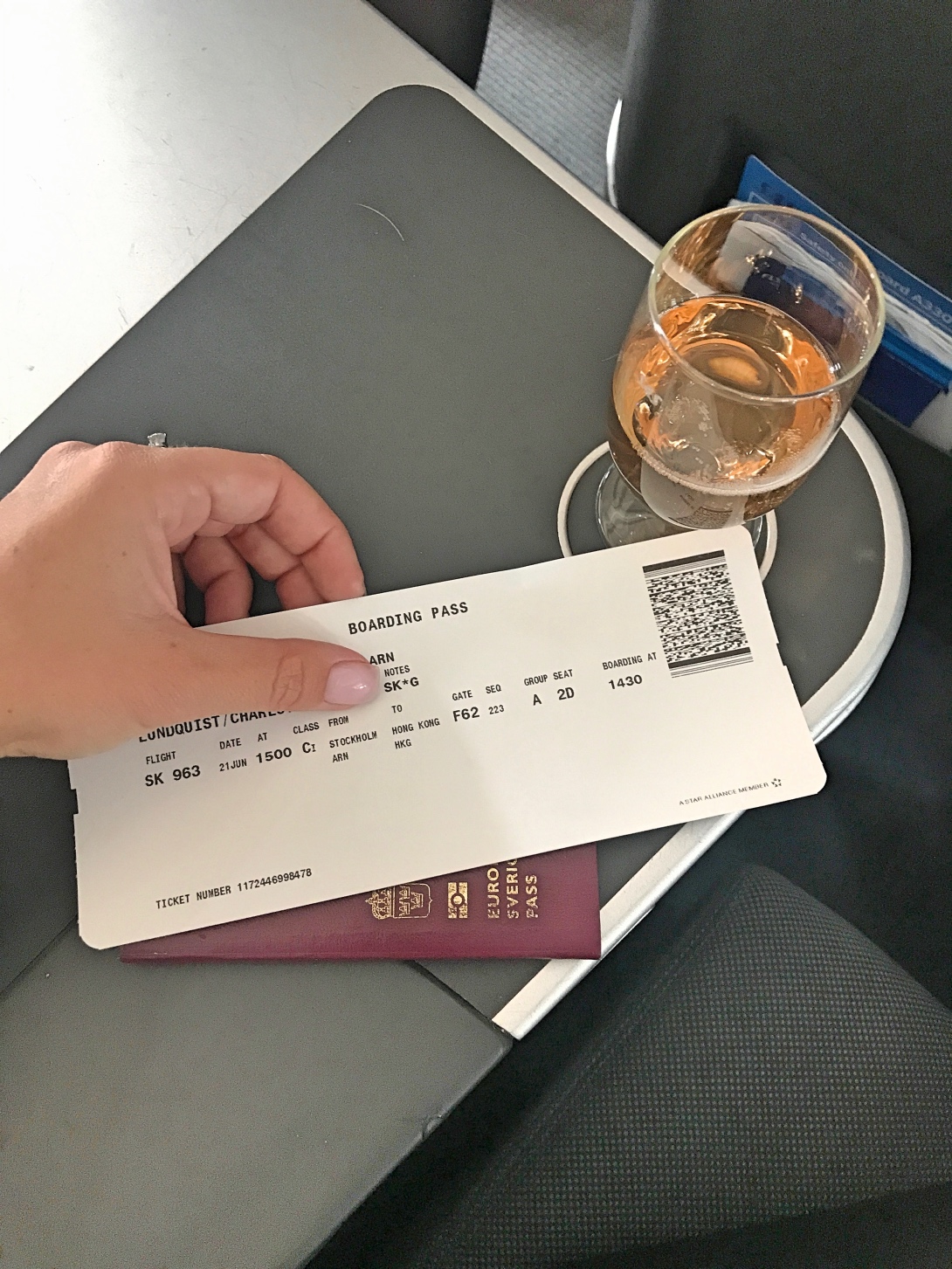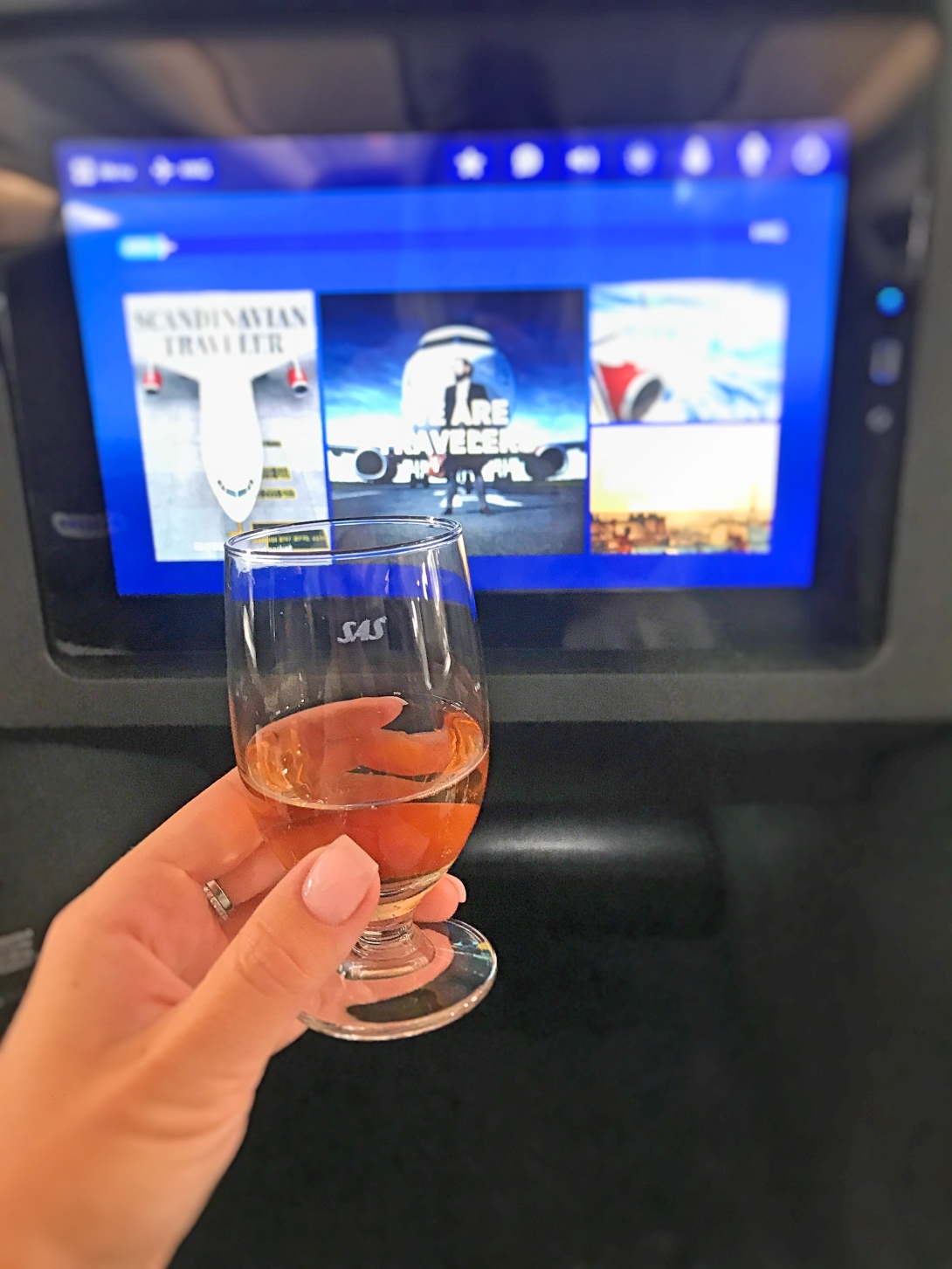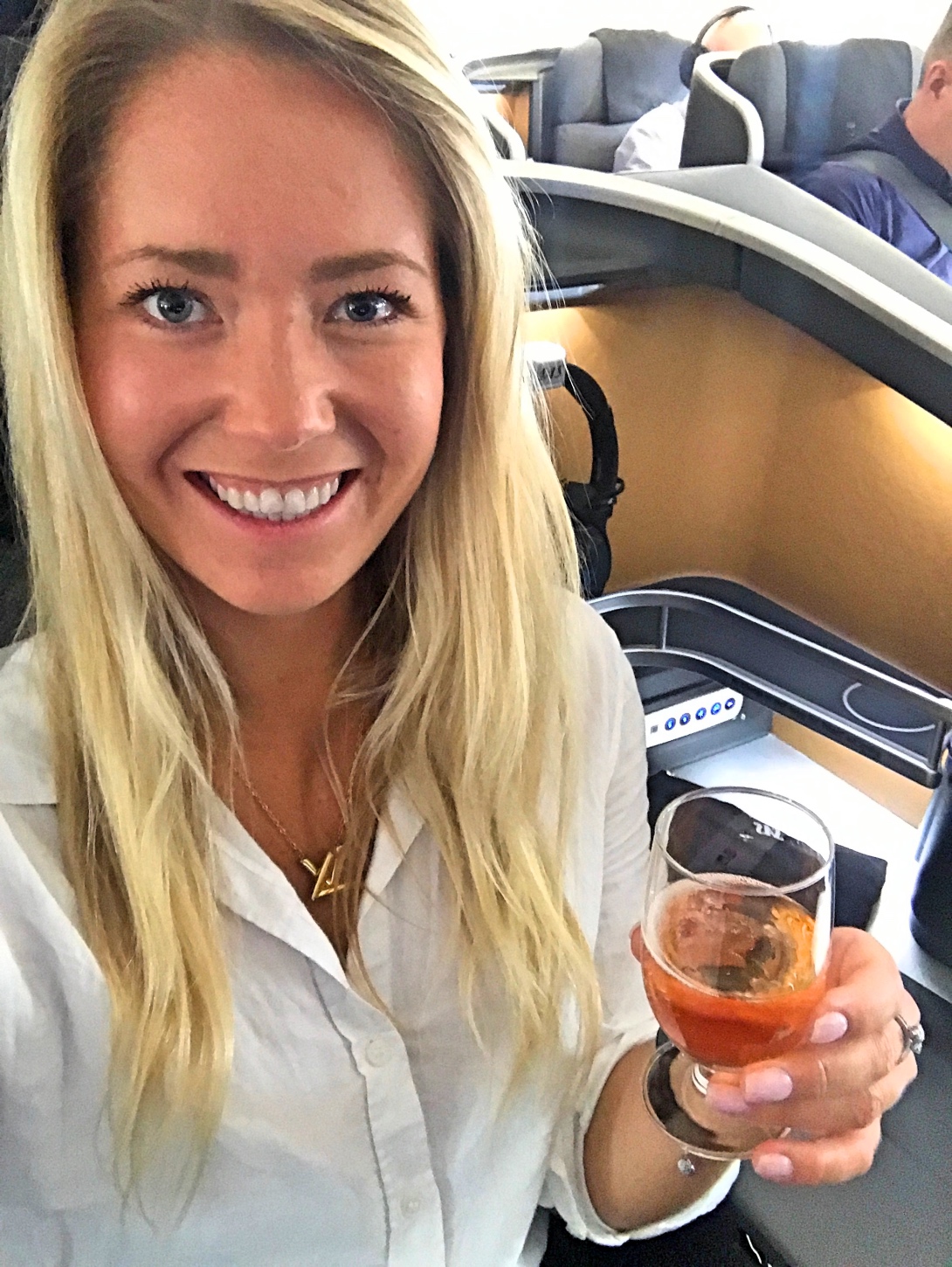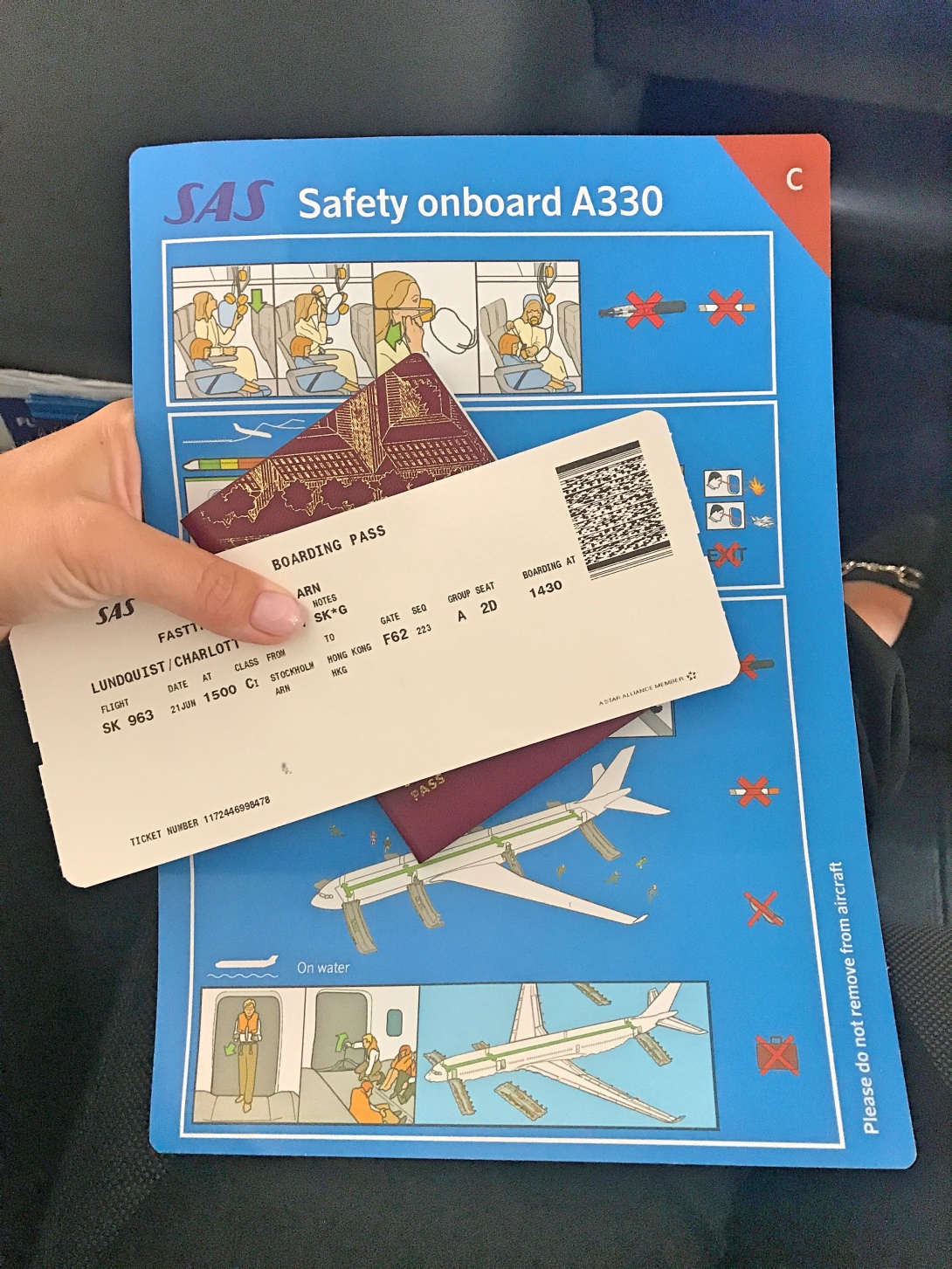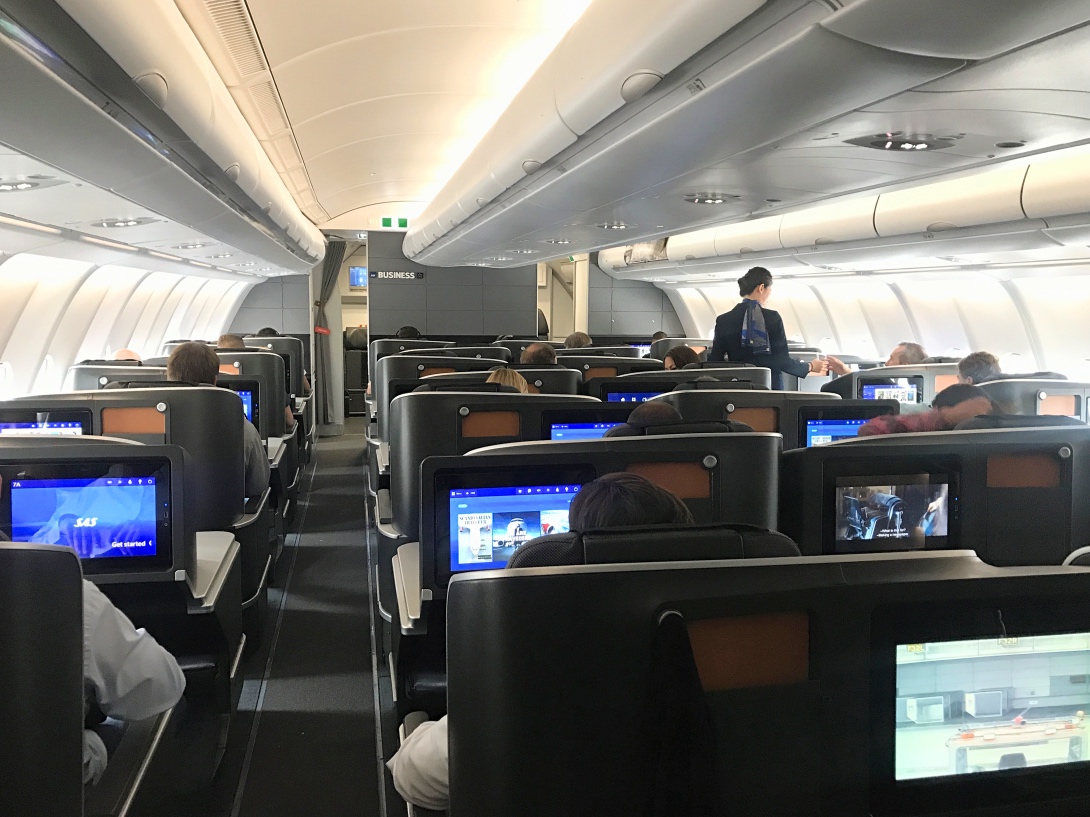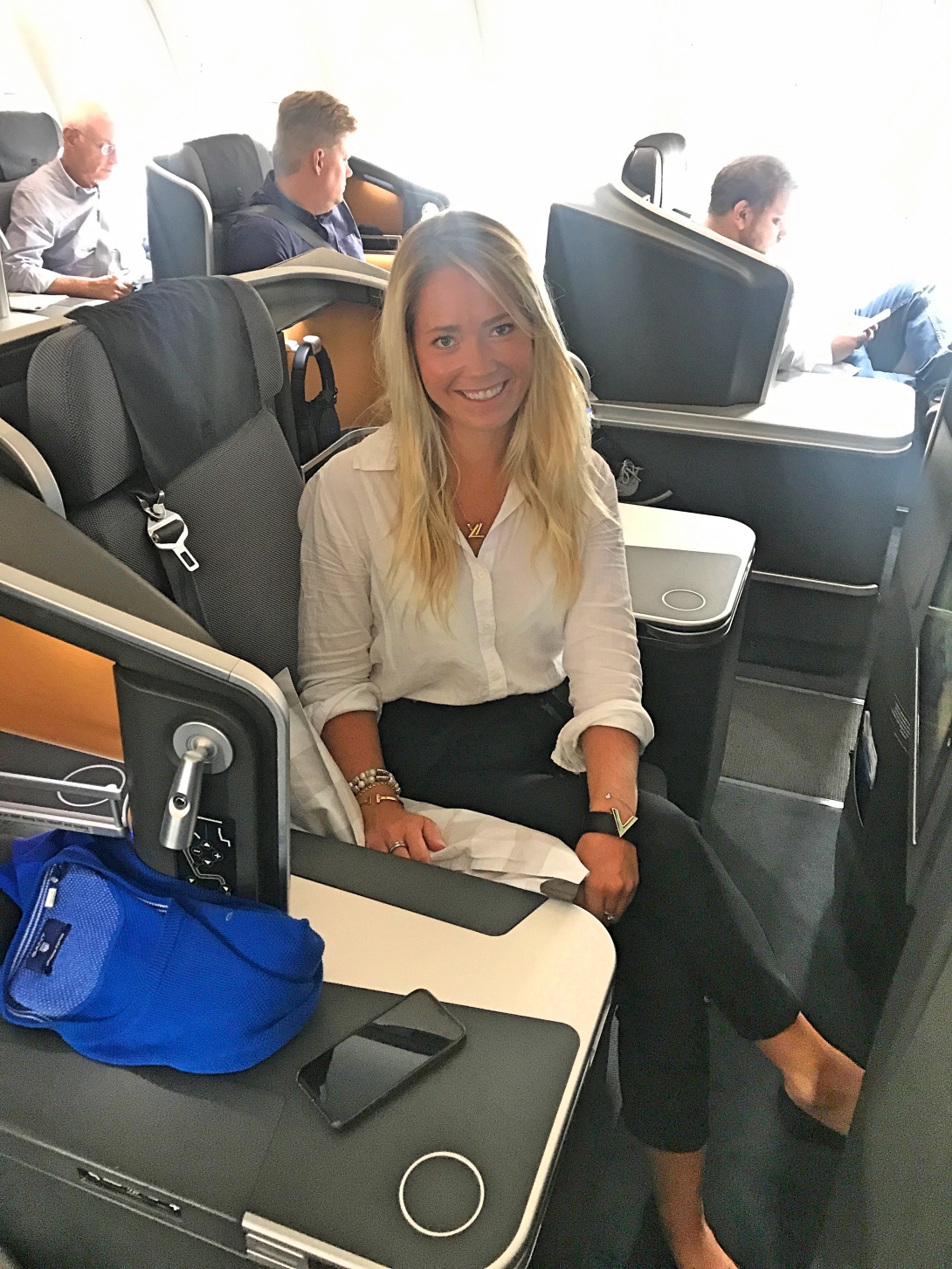 In the shelf next to the seat, you find your noise cancellation headphones hanging, and underneath them you will find different sockets, including USB socket and the socket to plug in your headphones to watch movies. To the right, you have the panel control, where you control your lamp, volume, and the button to call for the flight attendant.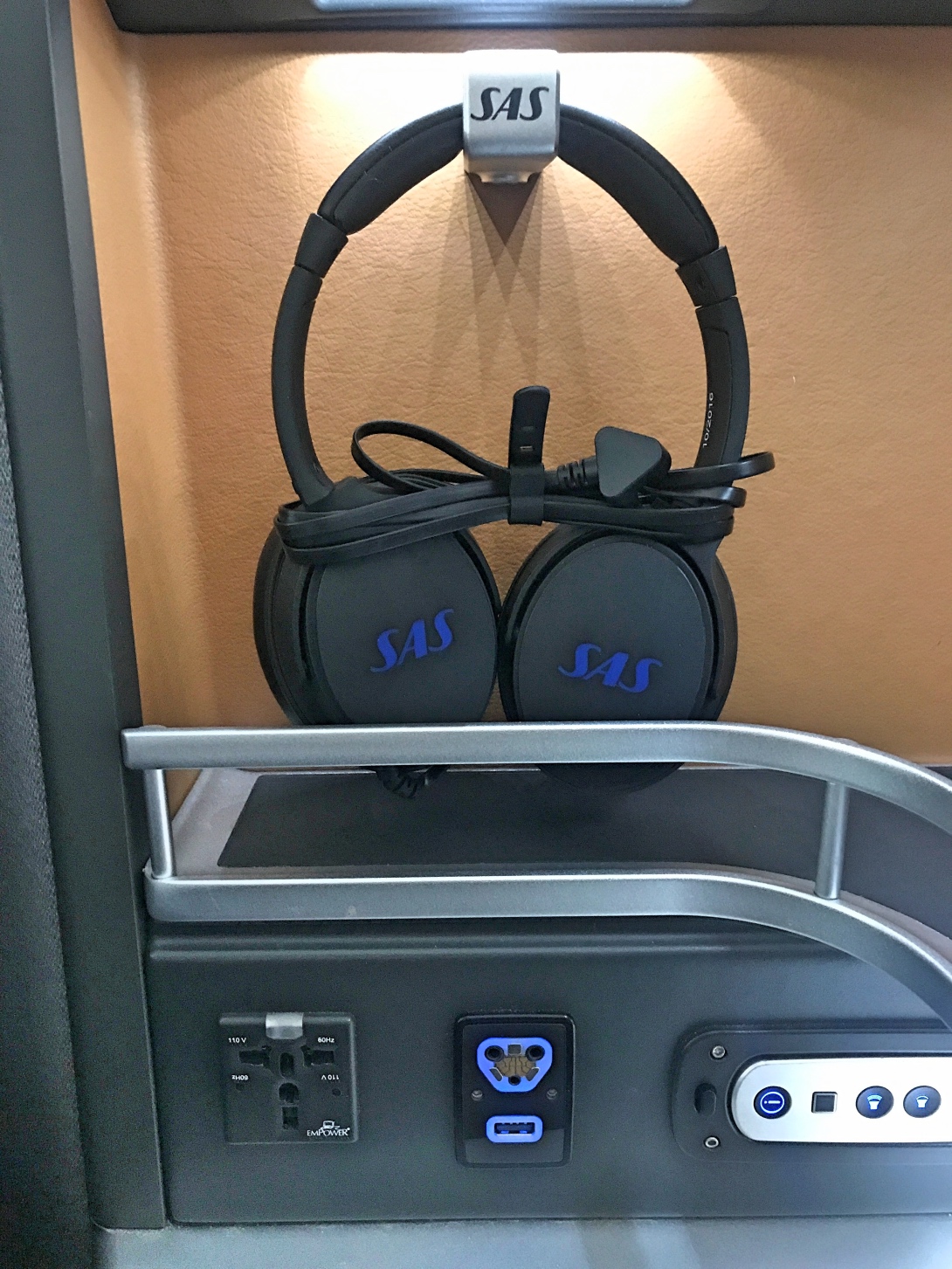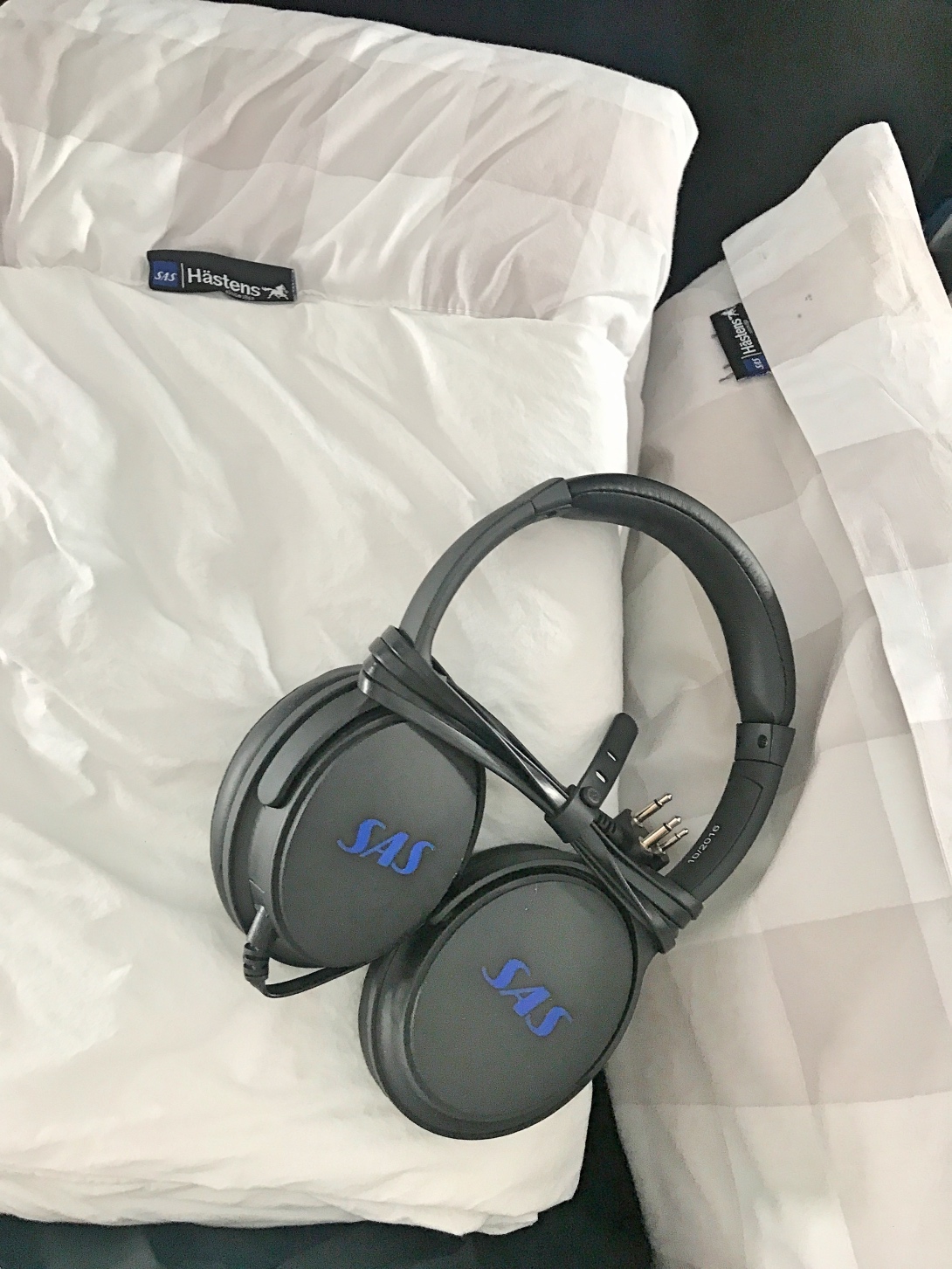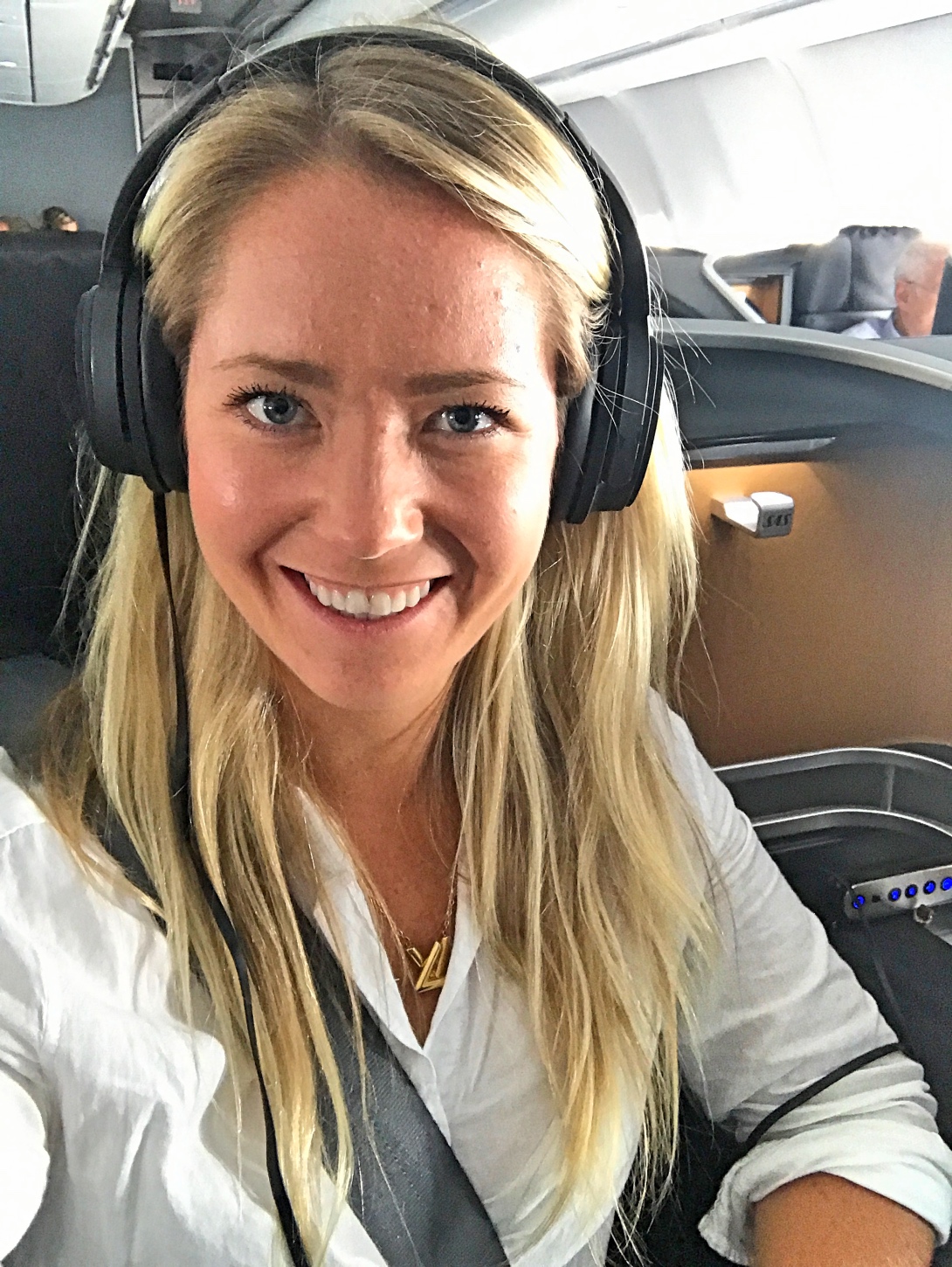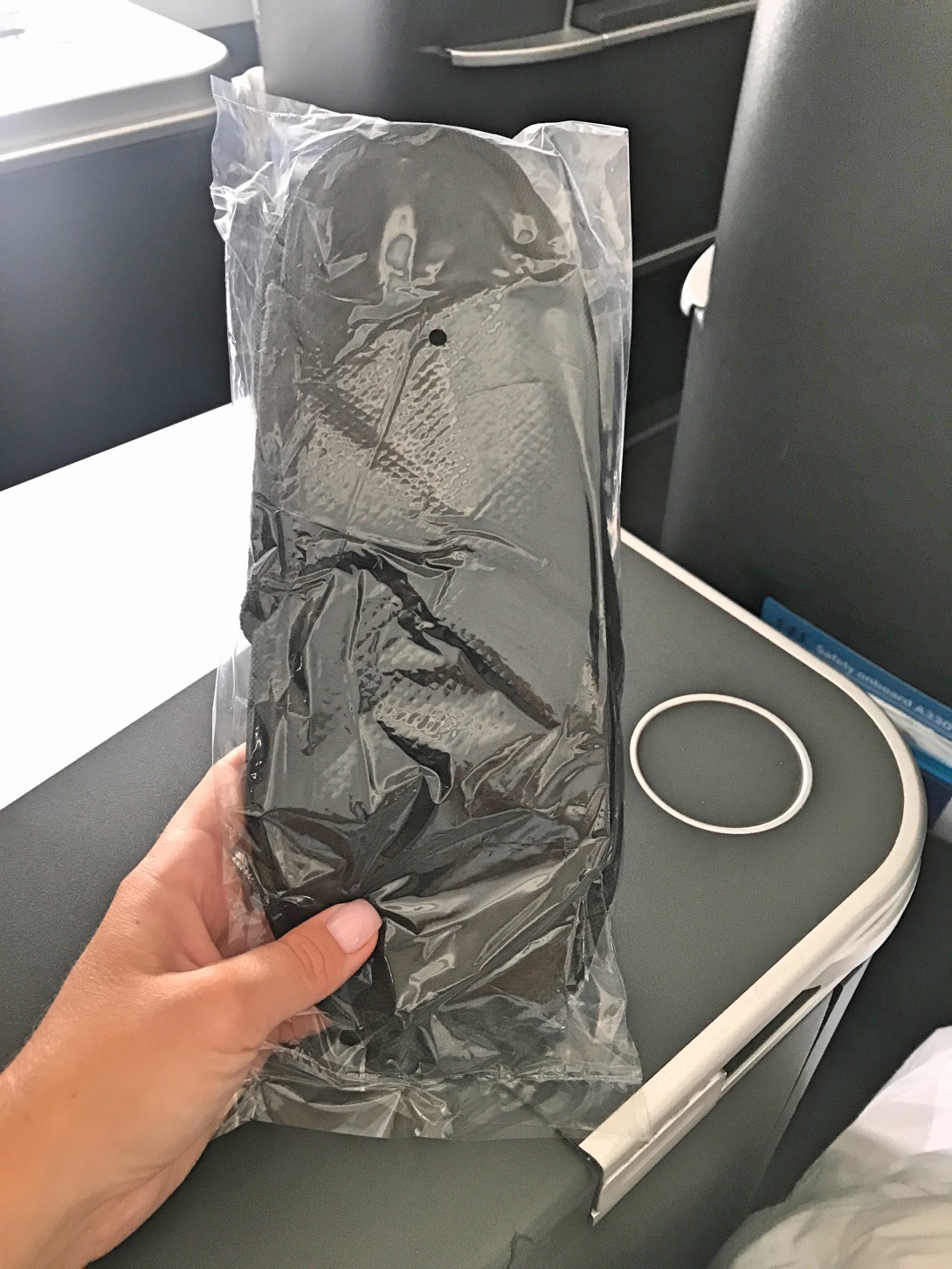 We also got our own slippers to use during the flight. I don't know if it's on all SAS Business Class flights but I think it's special to Hong Kong, due to they are using a lot of slippers in Asia.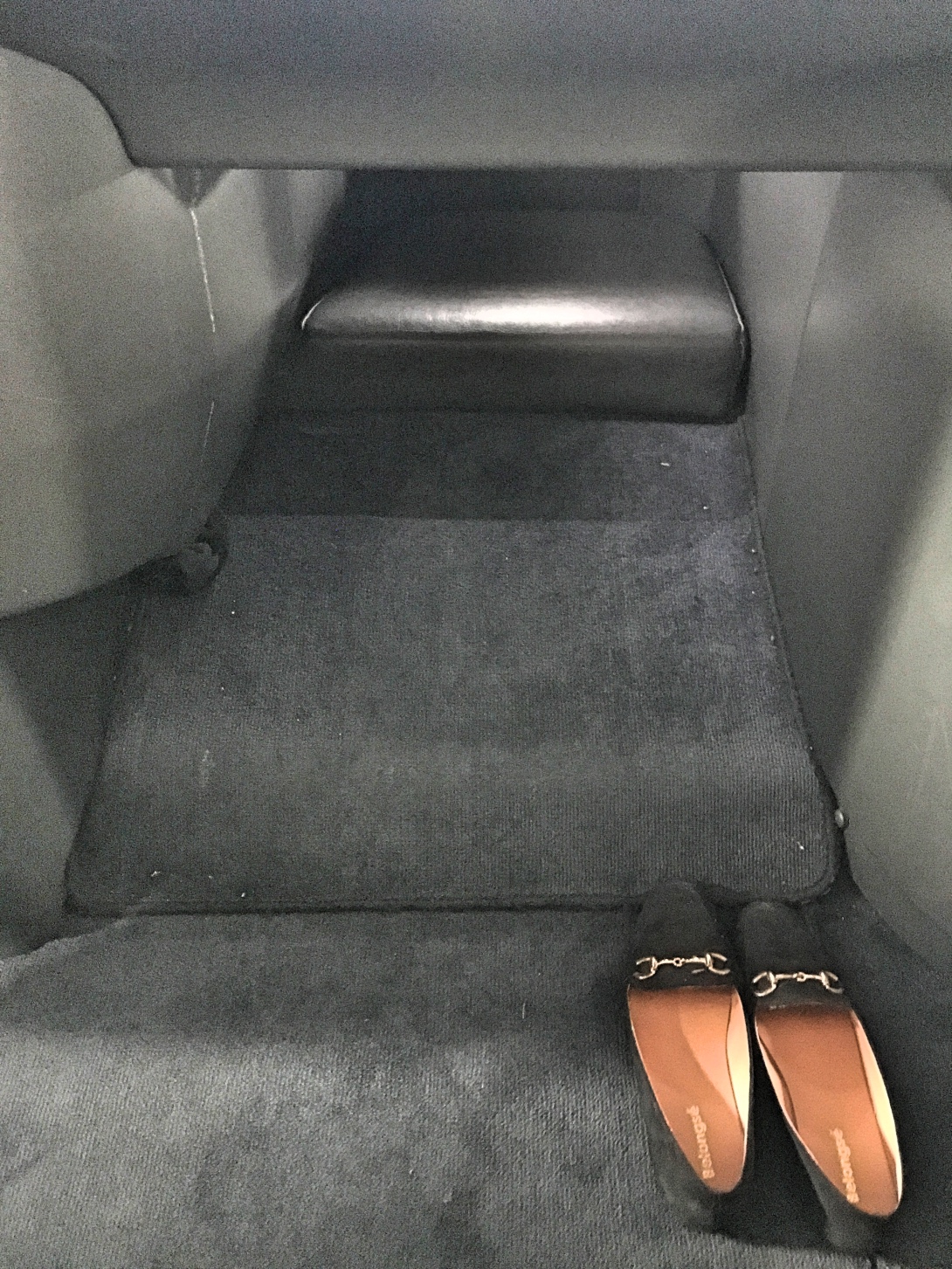 The leg room was really big! I could not reach the black pillow to put my feet on so I had to dangling with my legs instead, but I didn't mind. Its just a special feeling of having a lot of space for my legs, something I like.
The Service
In the seat pocket I found a menu I quickly looked through to chose what I wanted to eat and to see how the layout was. Since I'm used to how Qatar does, I thought it would work in a similar way, but it didn't. From the menu you choose an appetizer, a main course and then you can get all desserts if you want from a service cart with all the desserts at the same time.
At Qatar Airways you choose an appetizer, a main course and a dessert, where the flight attendants serve you your food individually. Since I have difficulty deciding in some situations what I want to have, I liked SAS concepts better when I got a little taste of each of the desserts that were available! 🙂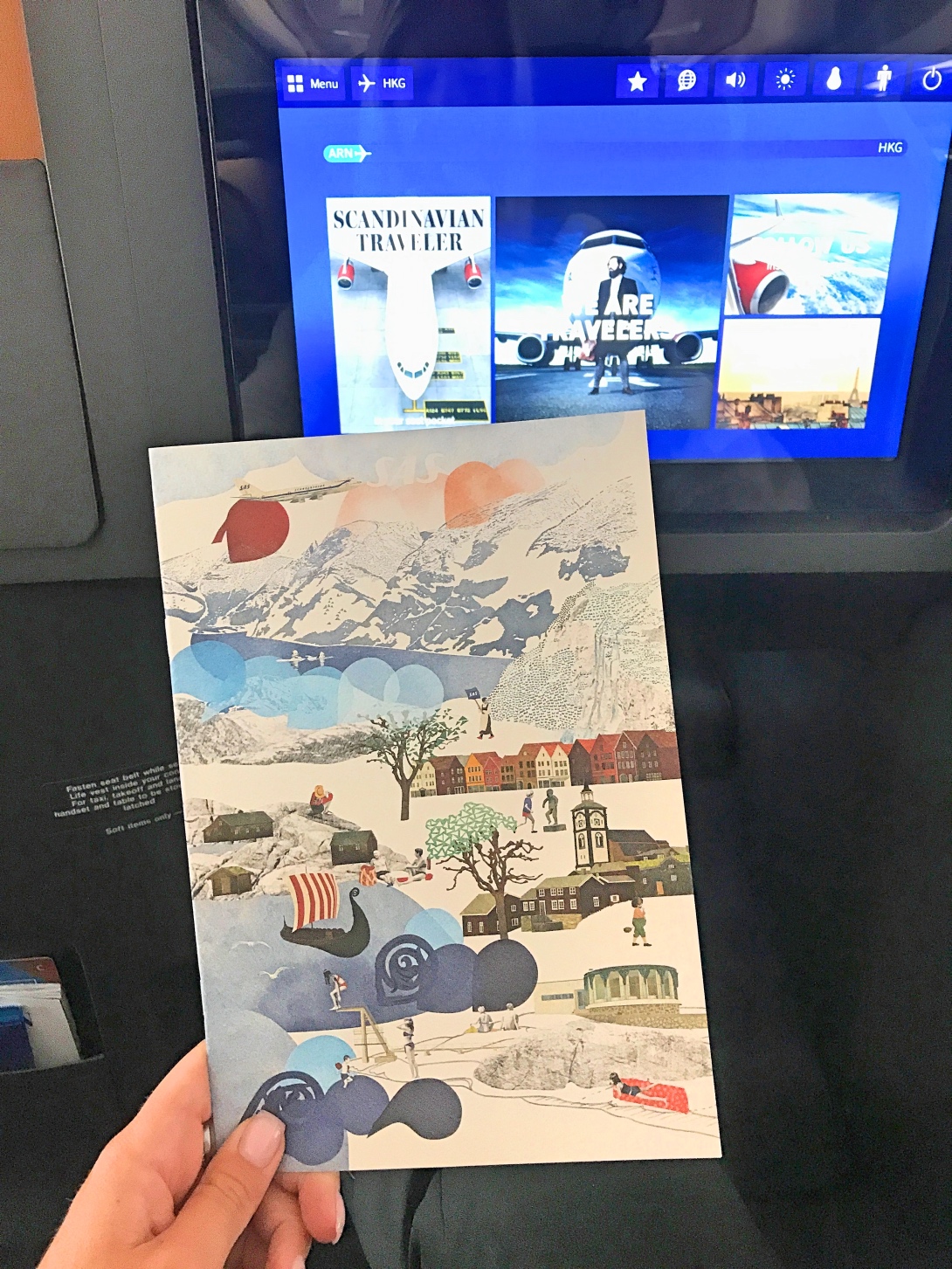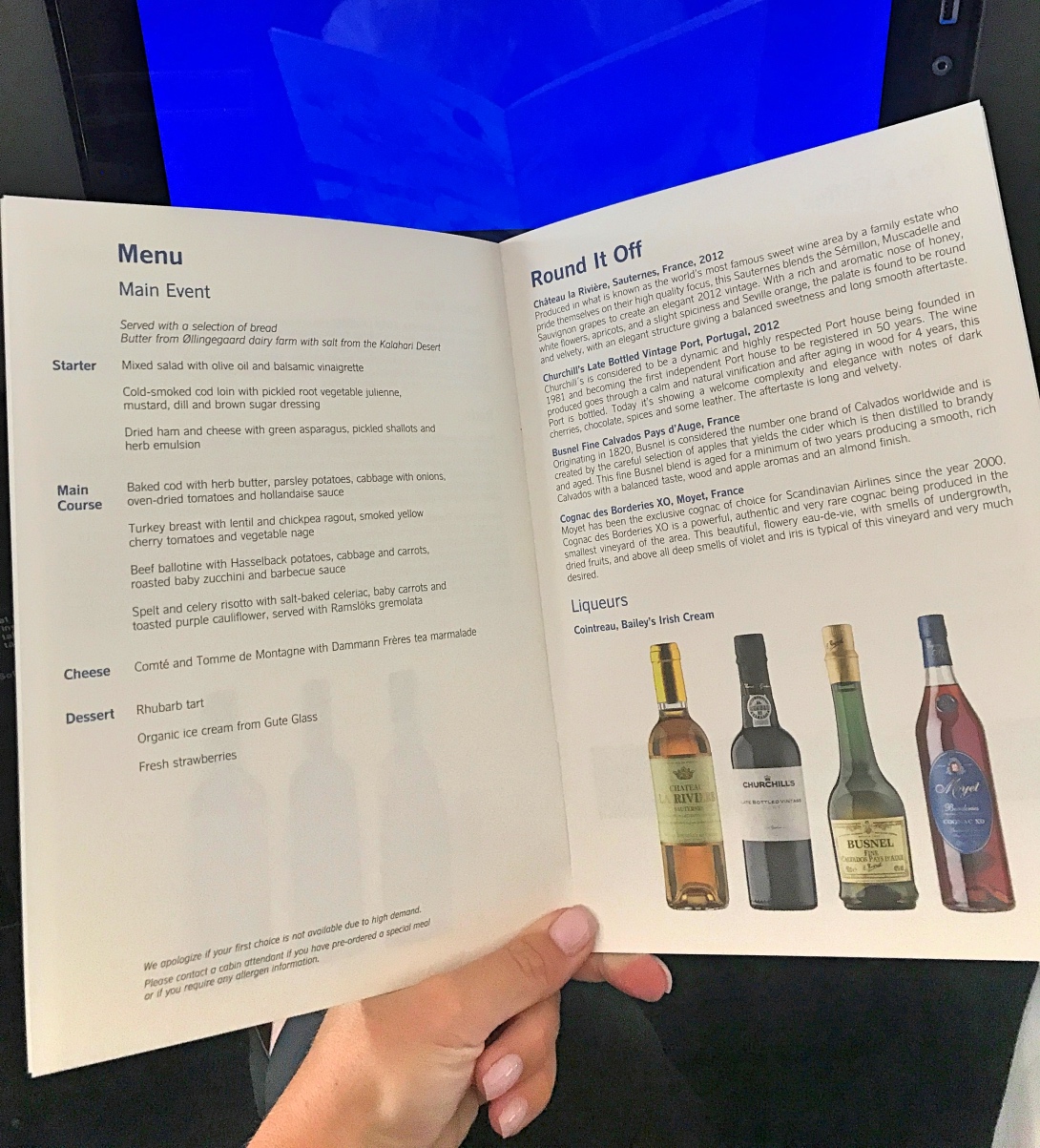 In SAS Business Class you can choose from only one champagne, their rosé, besides that there are two white wines and two red wines to choose from for those who want drink wine. They also had apple mustache, something that surprised me but fun with variety!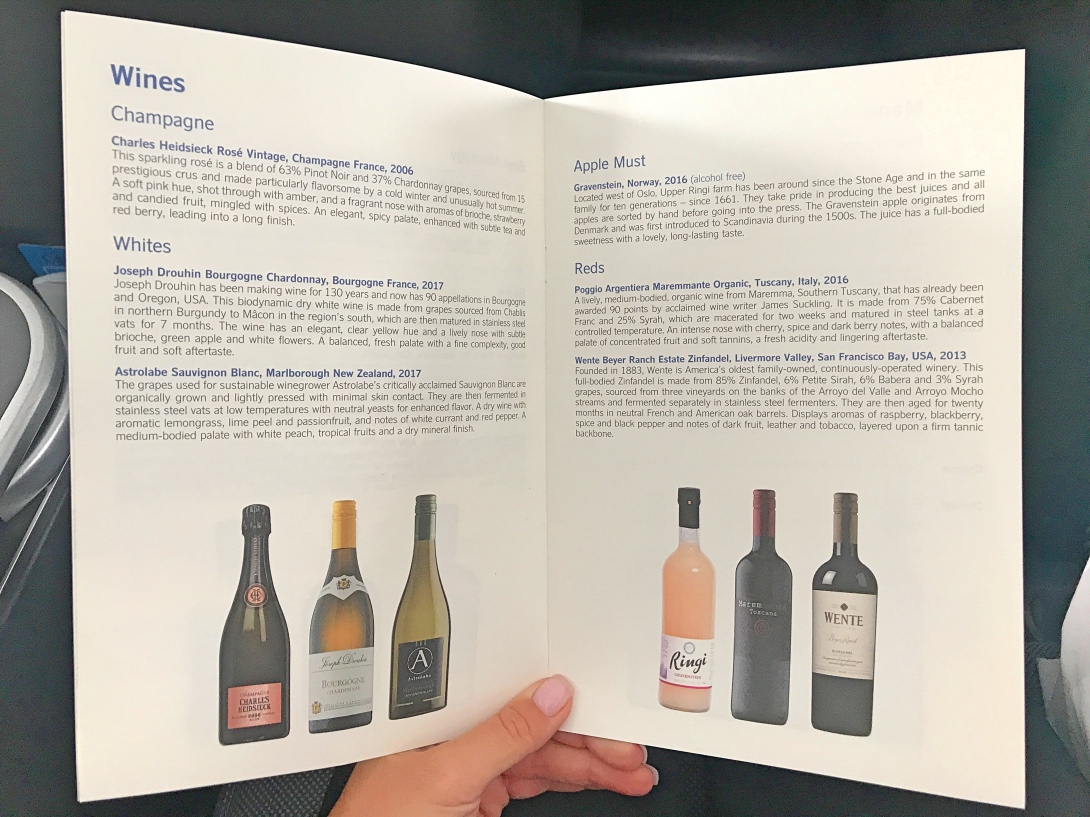 At first we had nuts and a pre-drink before the food. I chose to continue with their rosé champagne.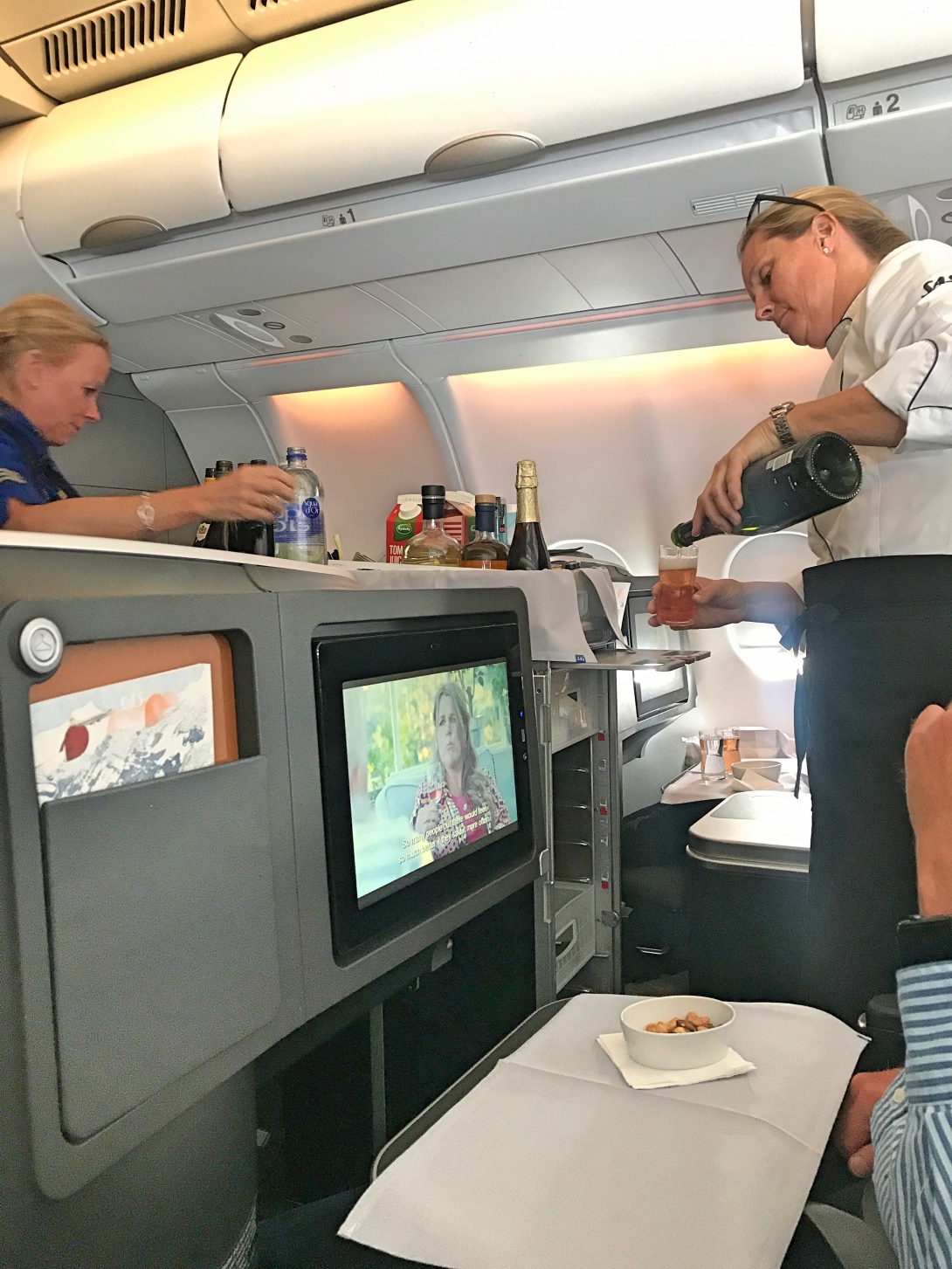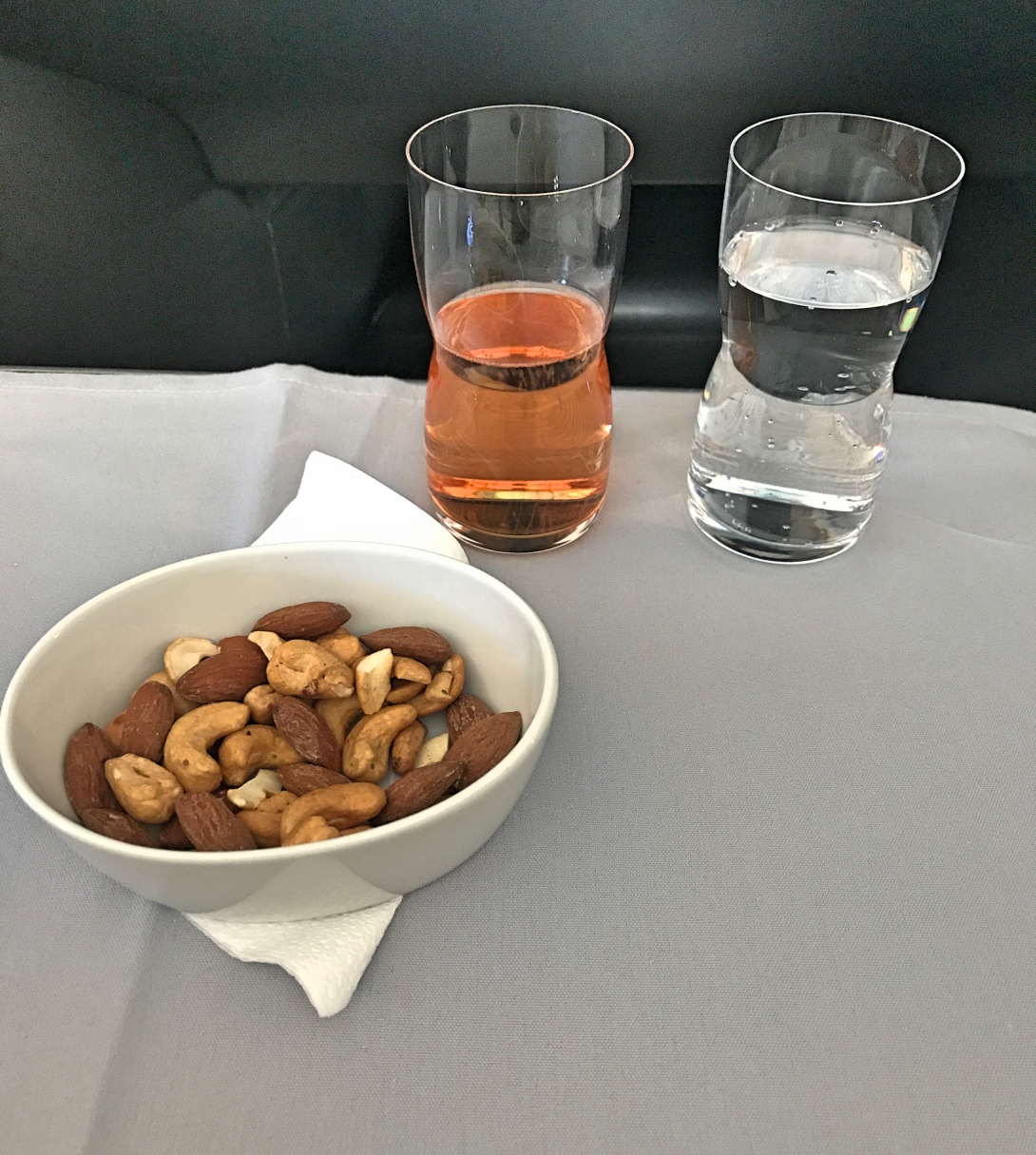 Immediately afterwards we were served dinner and it was done to everyone at the same time. One flight attendant came first to prepare my table and then another came afterwards with the drink cart.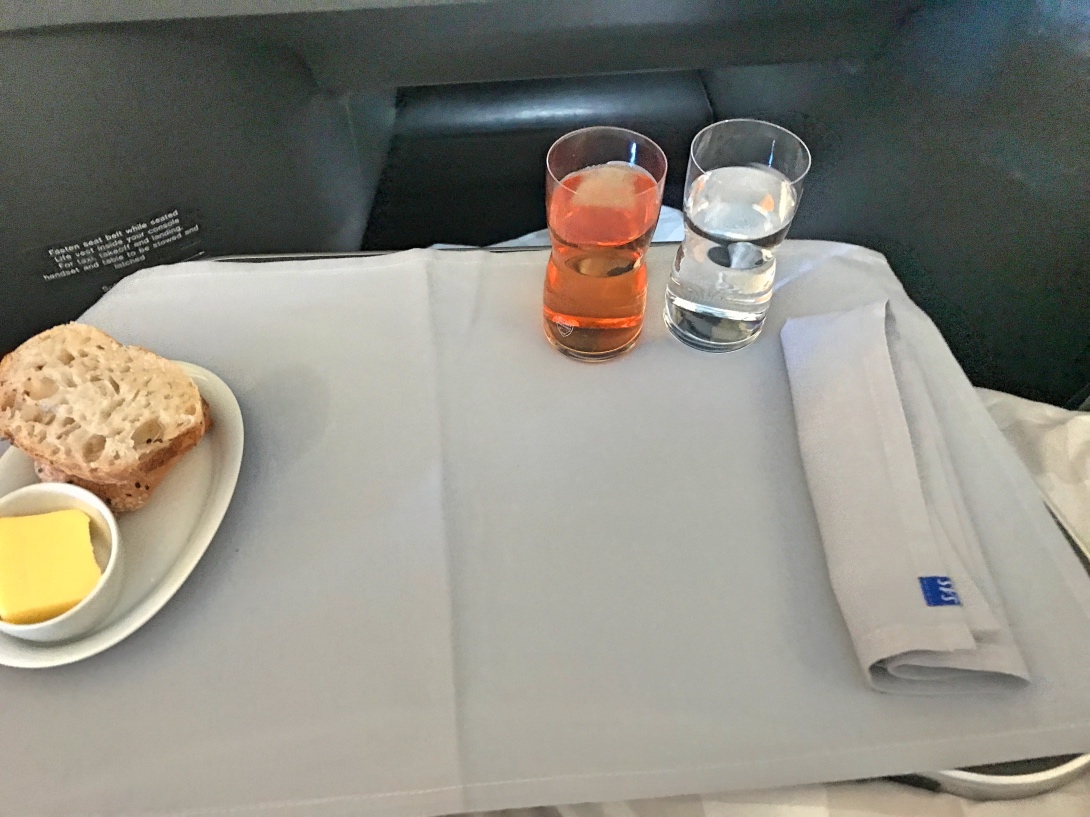 After that we got served the appetizer, then the main course came in and at the same time we got re- filled with drinks and last but not least came to the dessert buffet where I had a little of each to taste. There were both strawberries, ice cream, pie and cheese that were served, very good!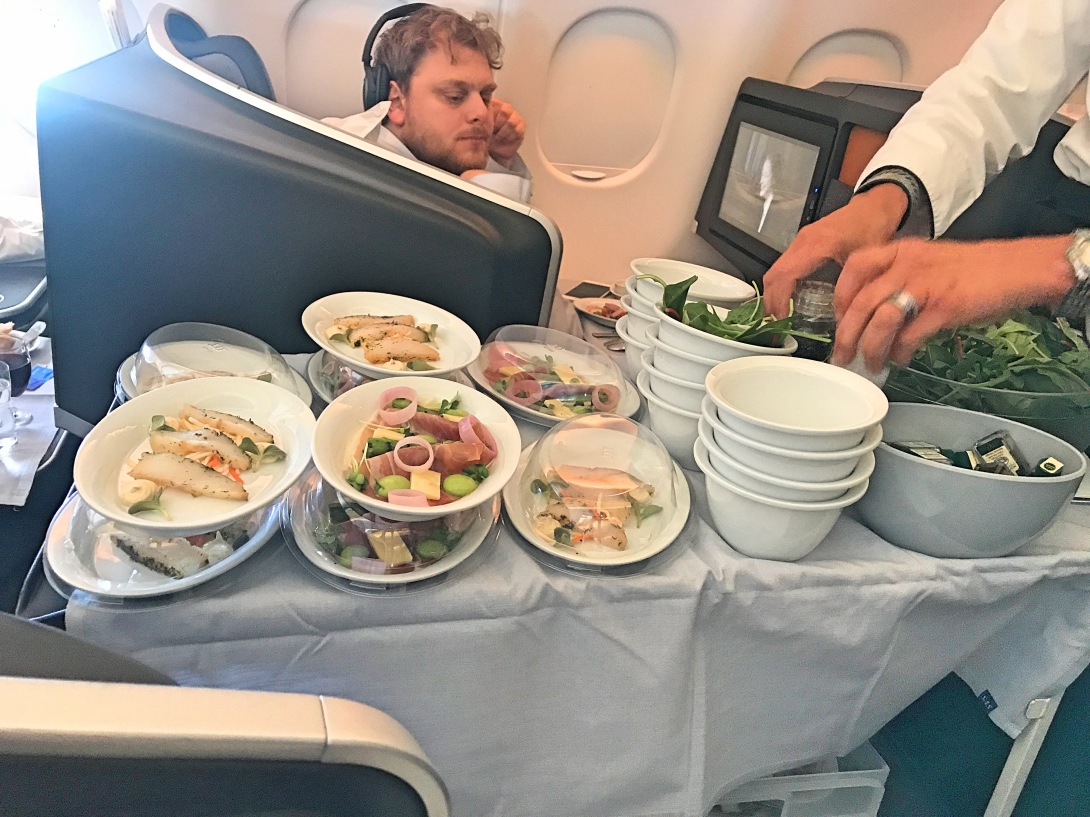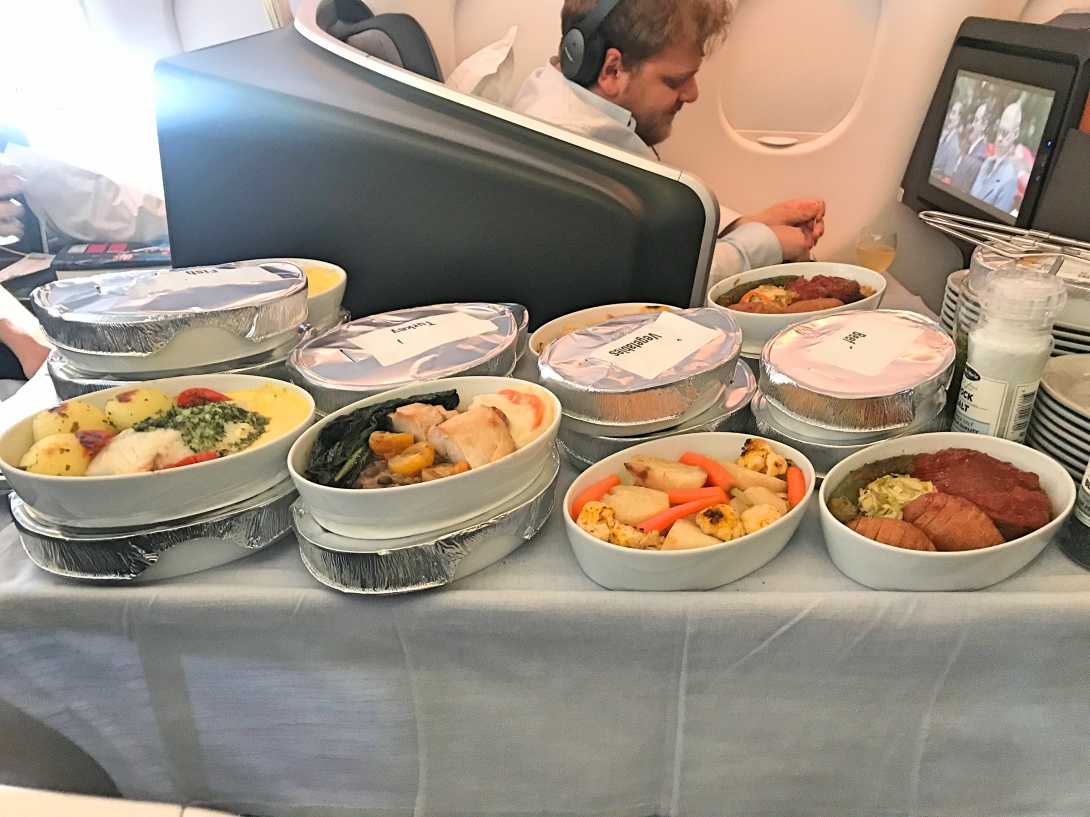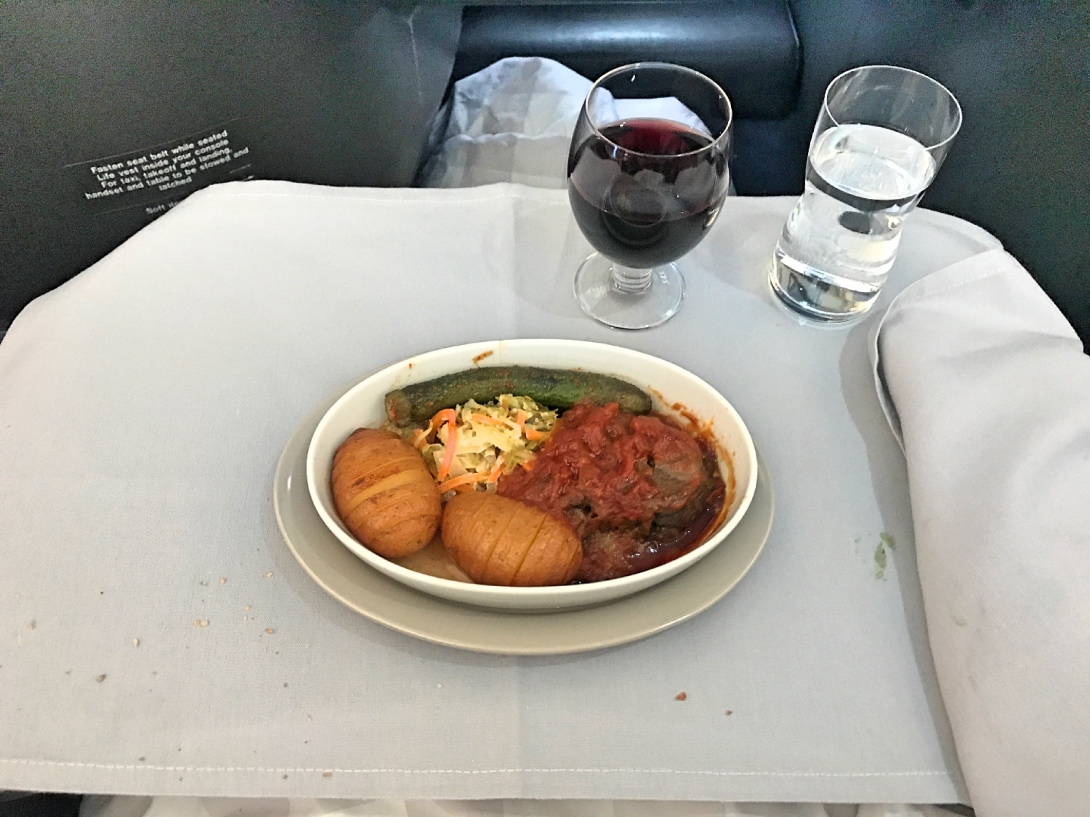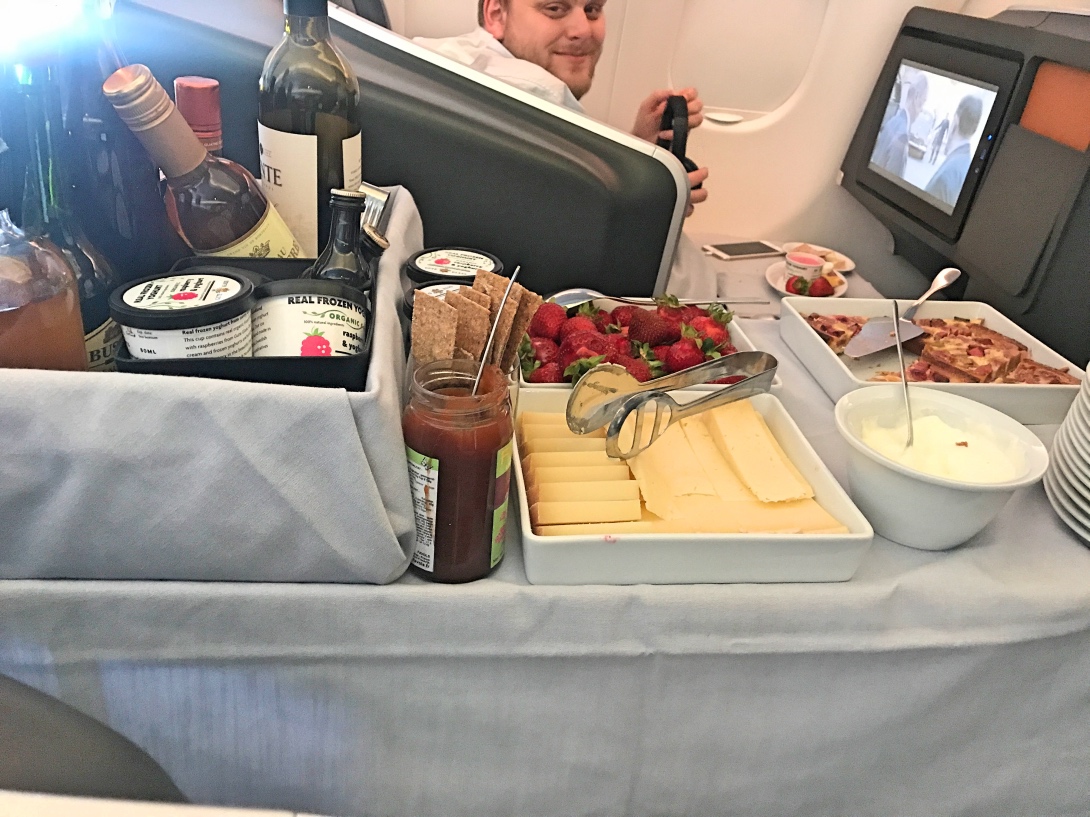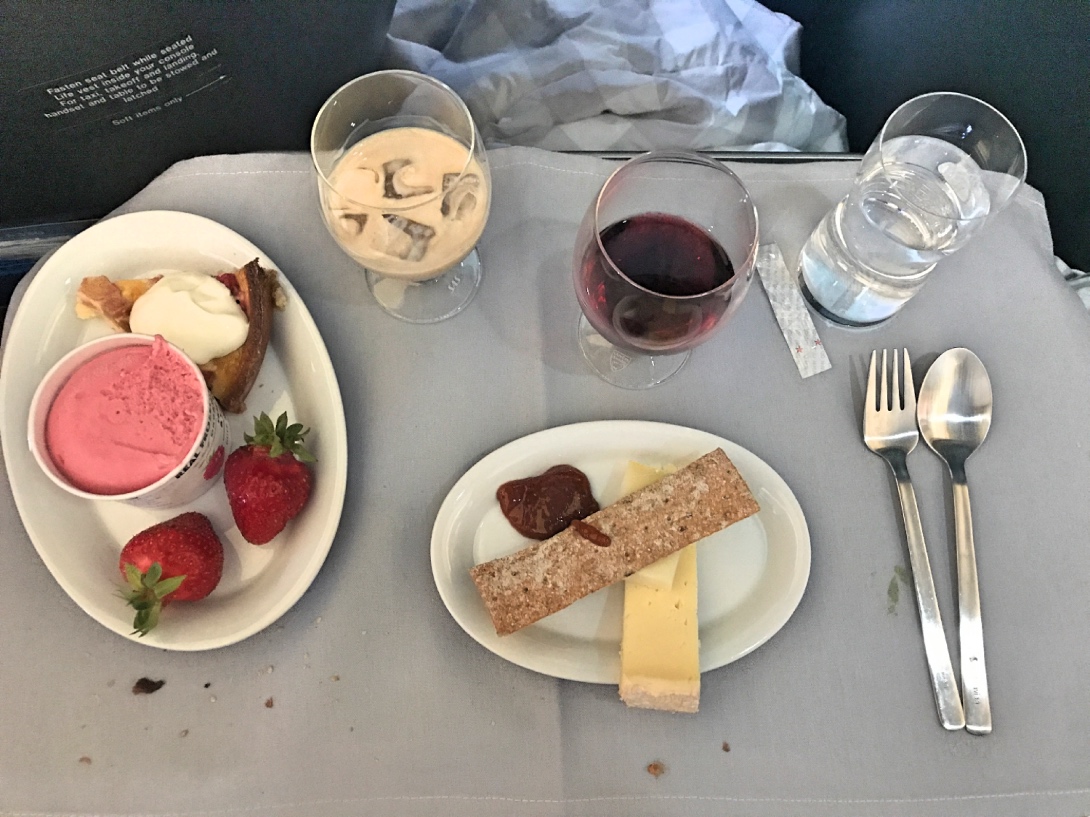 The Toilets
The toilets were huge to be a toilet onboard an aircraft, spacious and very fresh and it also had a window so I could look out over the engines and the weather. It also made the toilet lighter and looked bigger.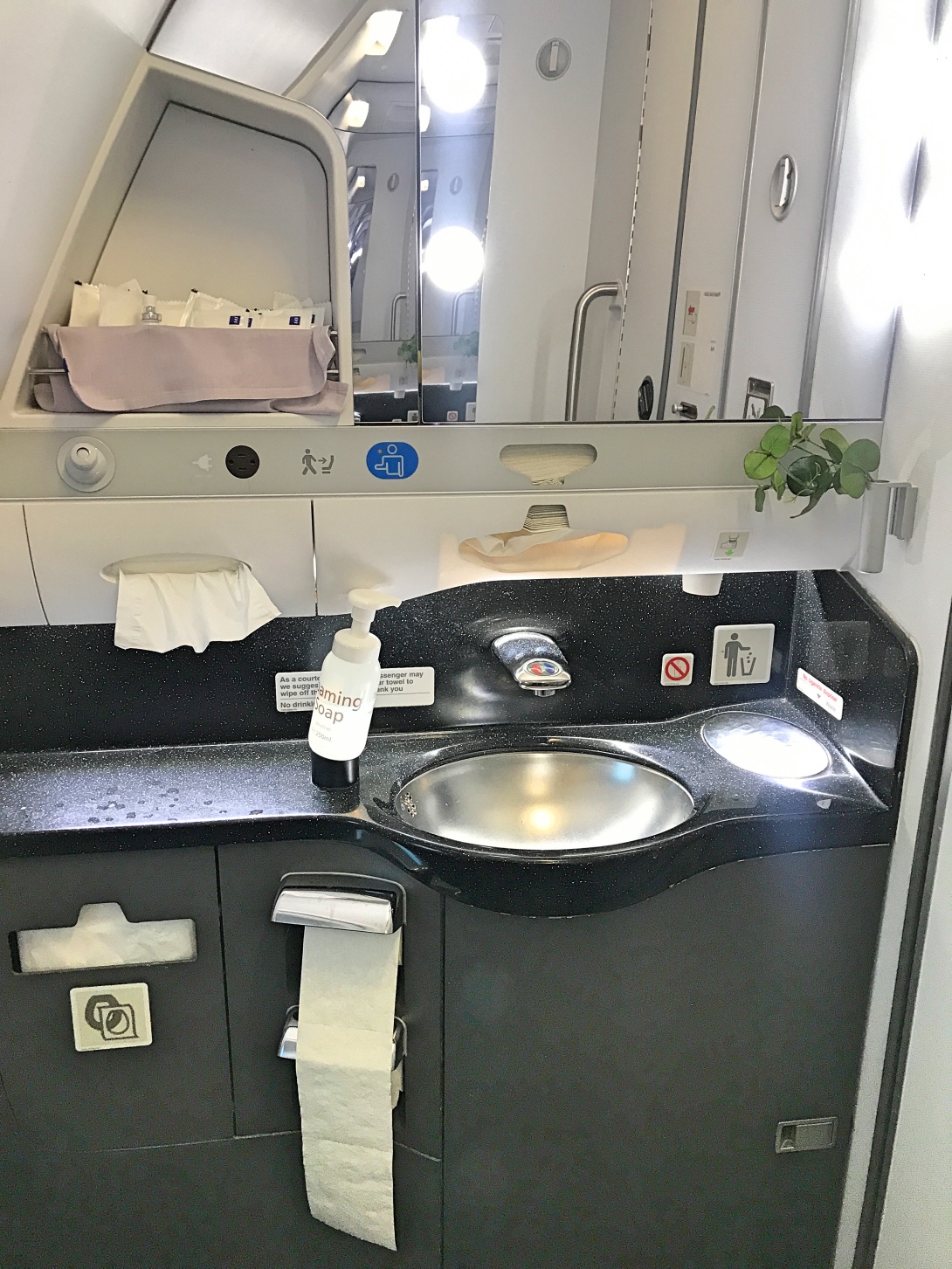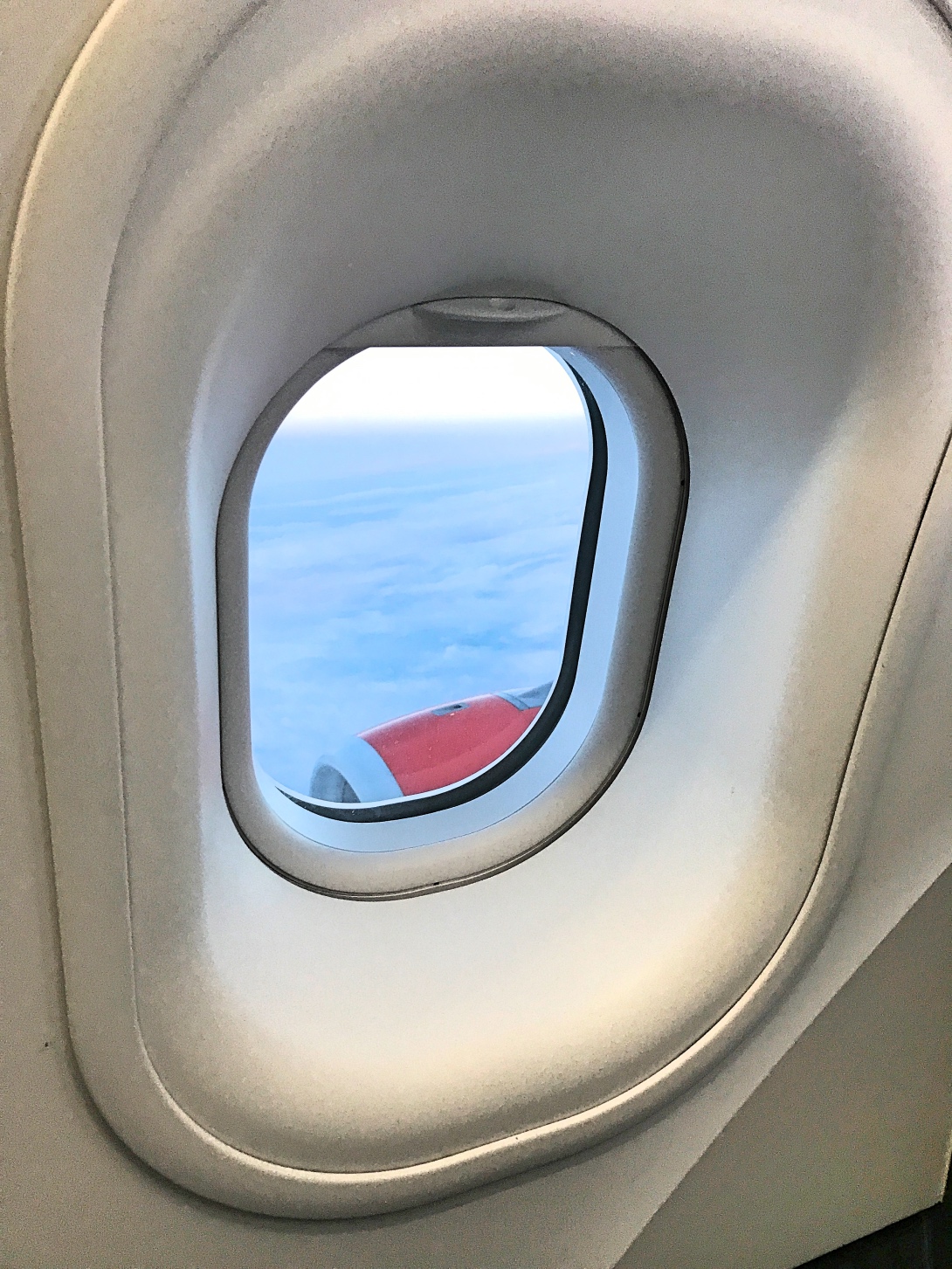 Sleeptime
After the dinner service, the staff turned off the lights in the cabin and it was time to sleep. Because it was my first time in SAS new Business Class on a long haul flight, I really wanted to try out everything here so I slept, watched a movie and woke up for a walk around the cabin.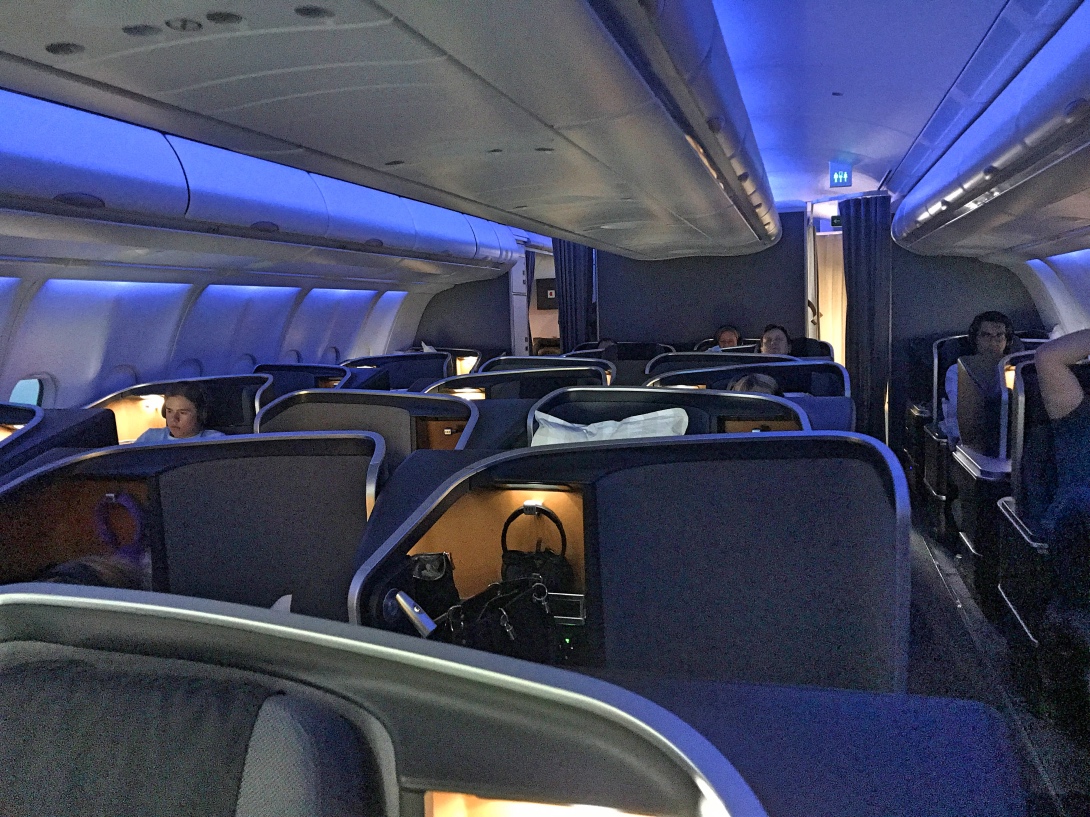 For those who were awake and hungry could get some snacks in the snack bar, both drinks and something to eat. The offer was well stocked and there was a lot to choose from, it was really good! 🙂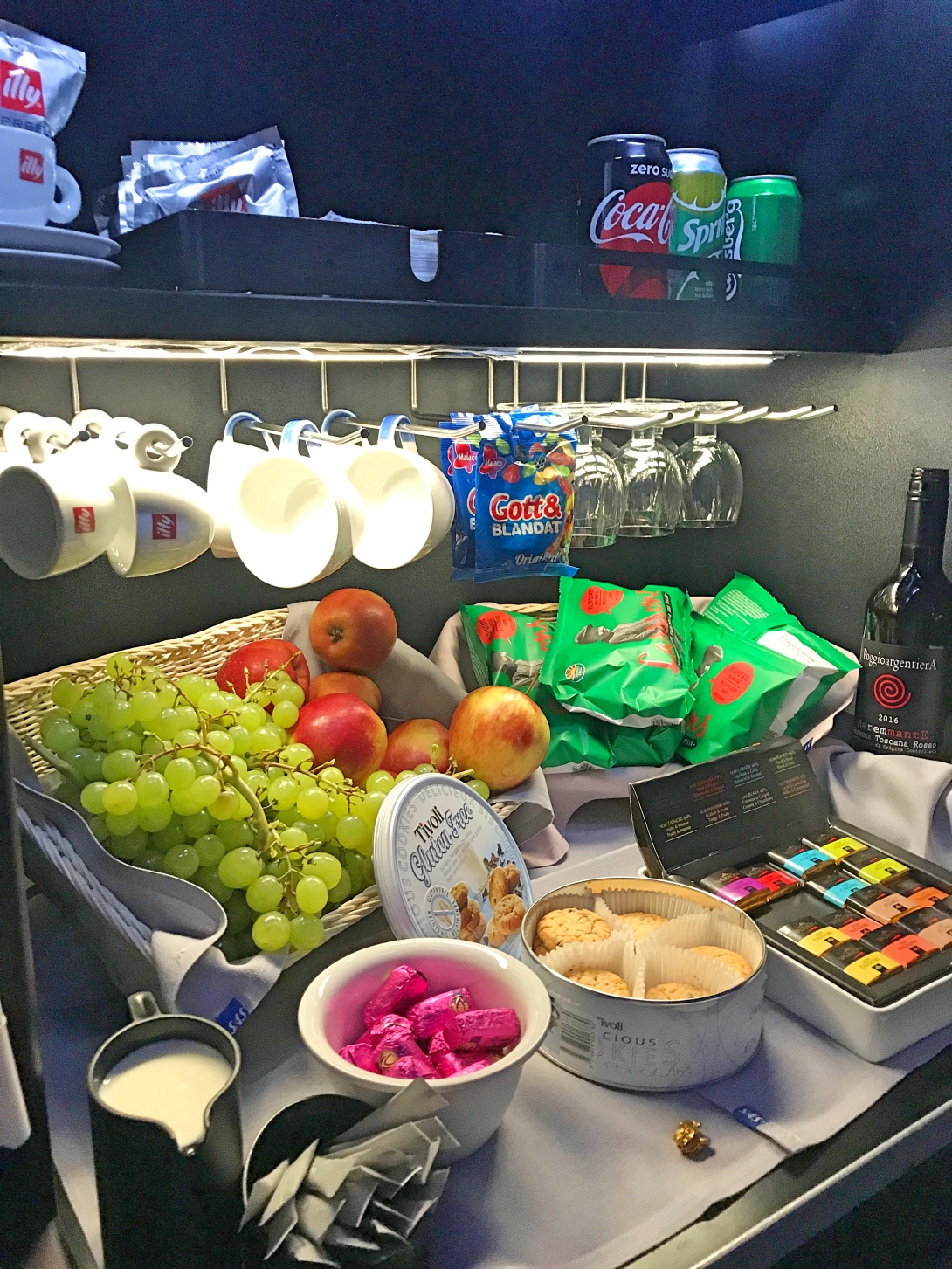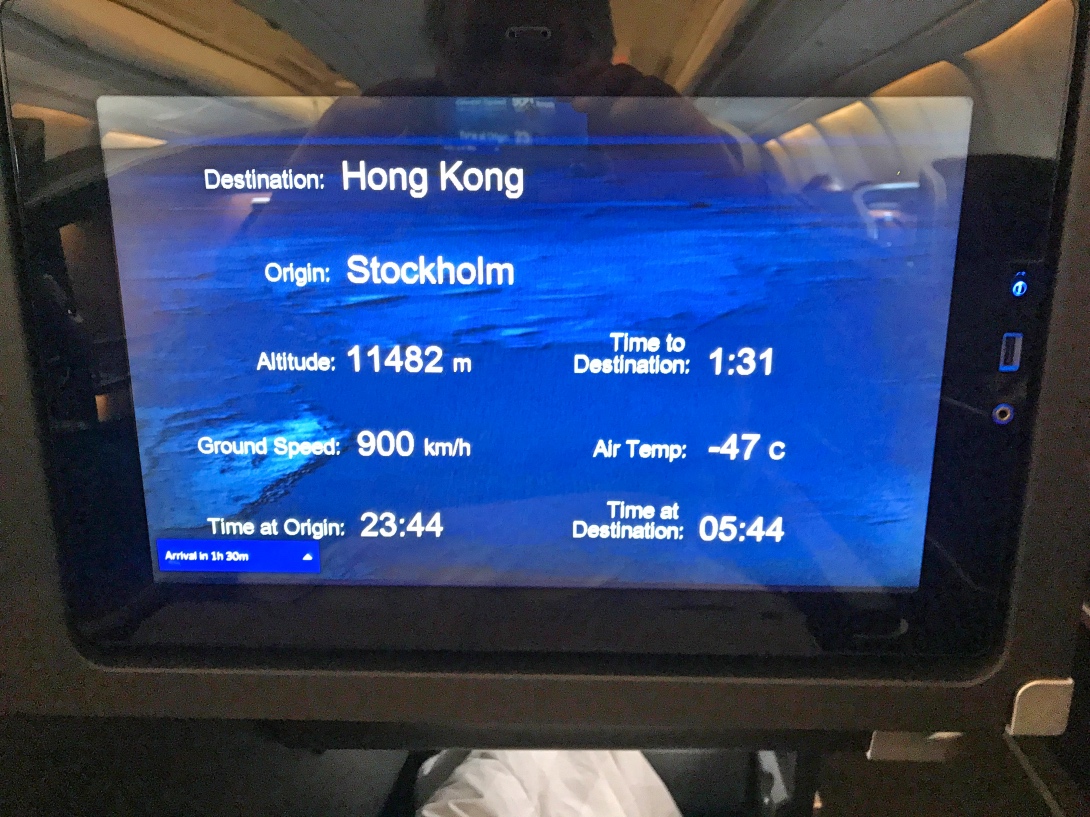 Breakfast
Before landing, about 10 hours after take off  it was time for breakfast aboard due to we landed around 7 in the morning in Hong Kong. The service went the same way even now, which is, one flight attendant set up the table and afterwards another comes and serving the breakfast to everyone at once, row after row. Even the breakfast I was able to choose whatever I wanted, a little bit of everything.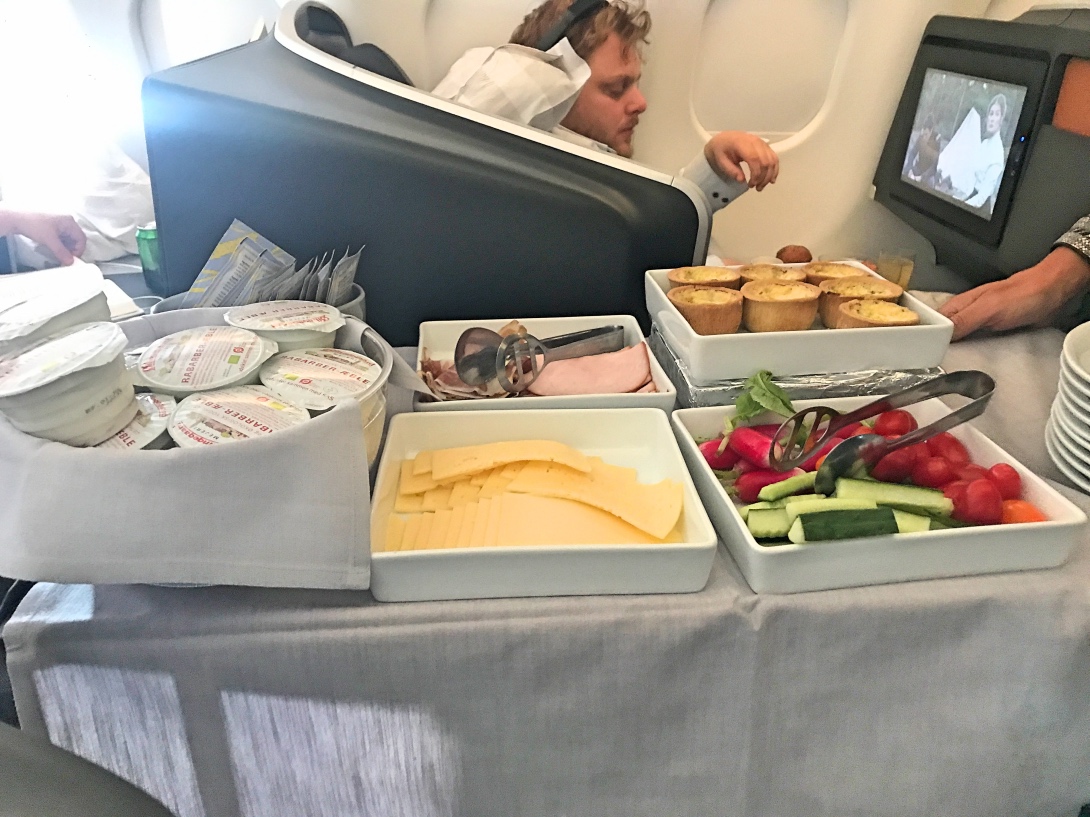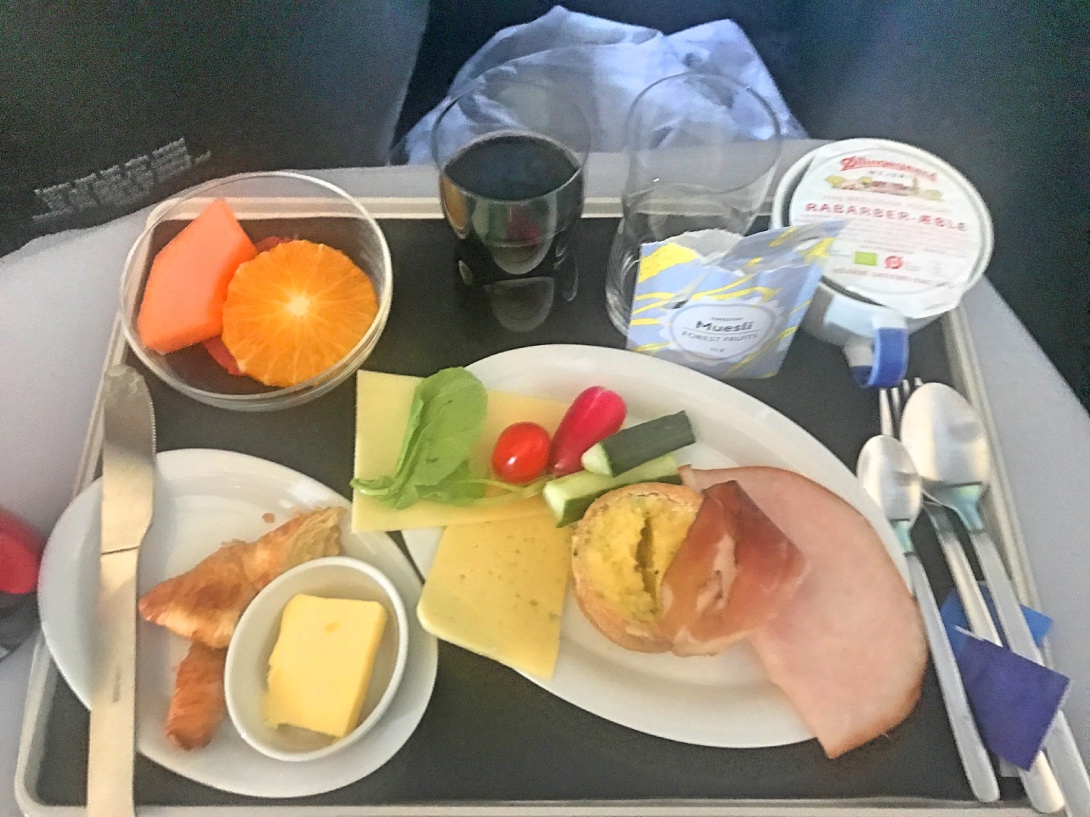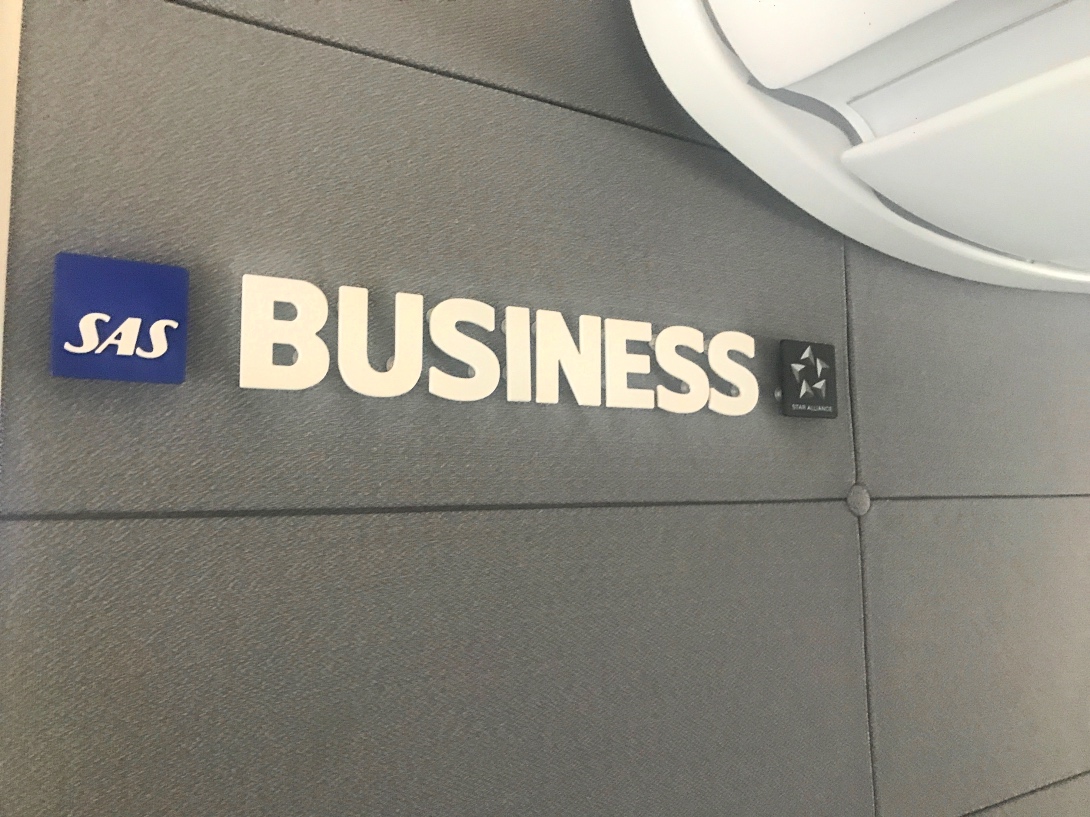 Evaluation
I have to say that I am pleased and surprised to fly with SAS in their new Business Class from Stockholm to Hong Kong. I had a very nice experience and enjoyed it very much! I really recommend 100% to sit in SAS Business Class as it is an experience for those who have never done it! I felt really spoiled and incredibly refreshed thanks to the comfortable seats they have. I hope to sit in SAS Business Class more times in the future! 🙂
The good part:
I strongly liked that I could chose several desserts to taste, a little of each and the same with the breakfast.
What was less good:
They only have one champagne to choose from, a rosé champagne. I would like to see that they also added a brut to be able to choose because they have two red wines and two white wines to choose from, why not two champagnes?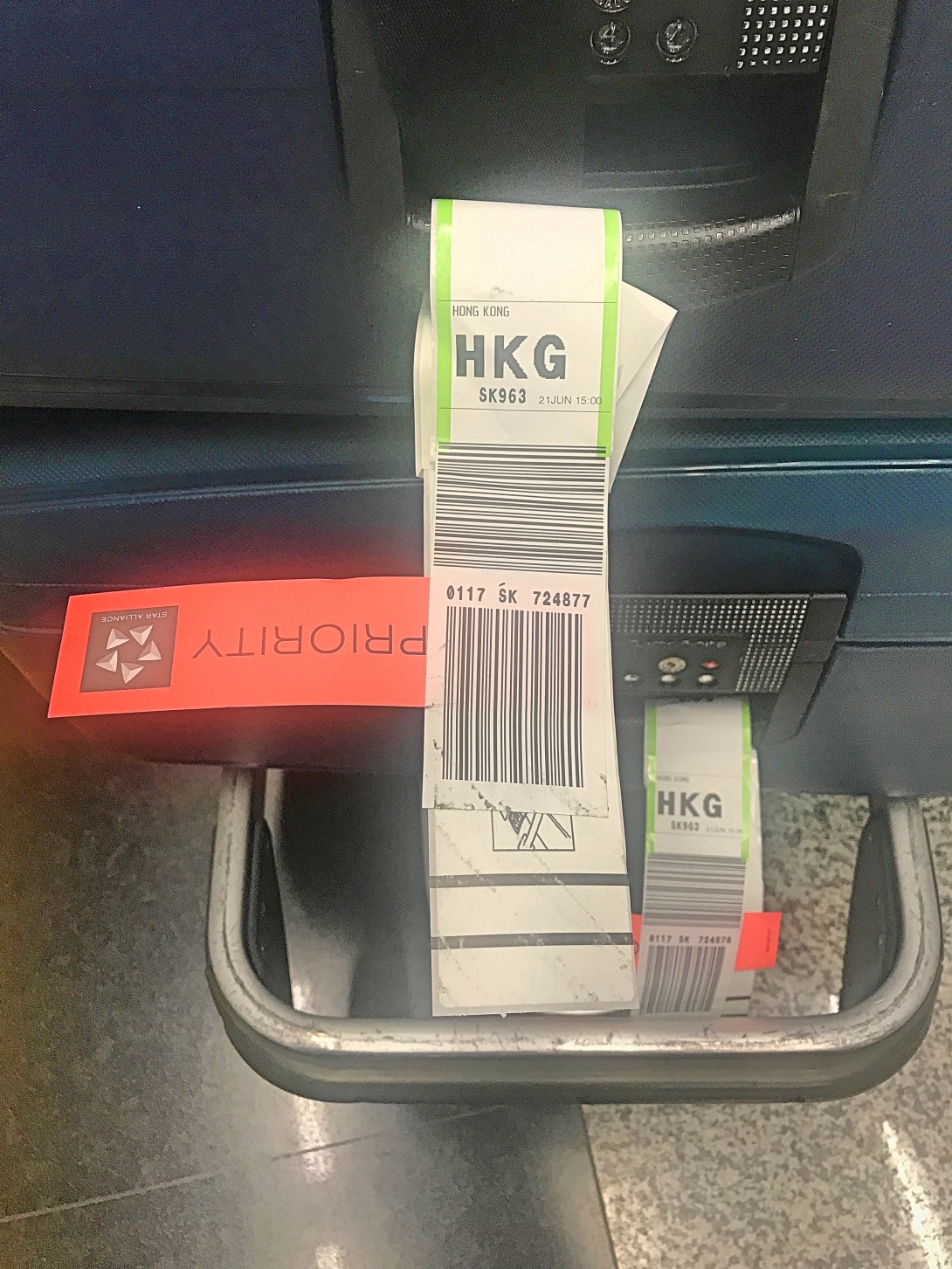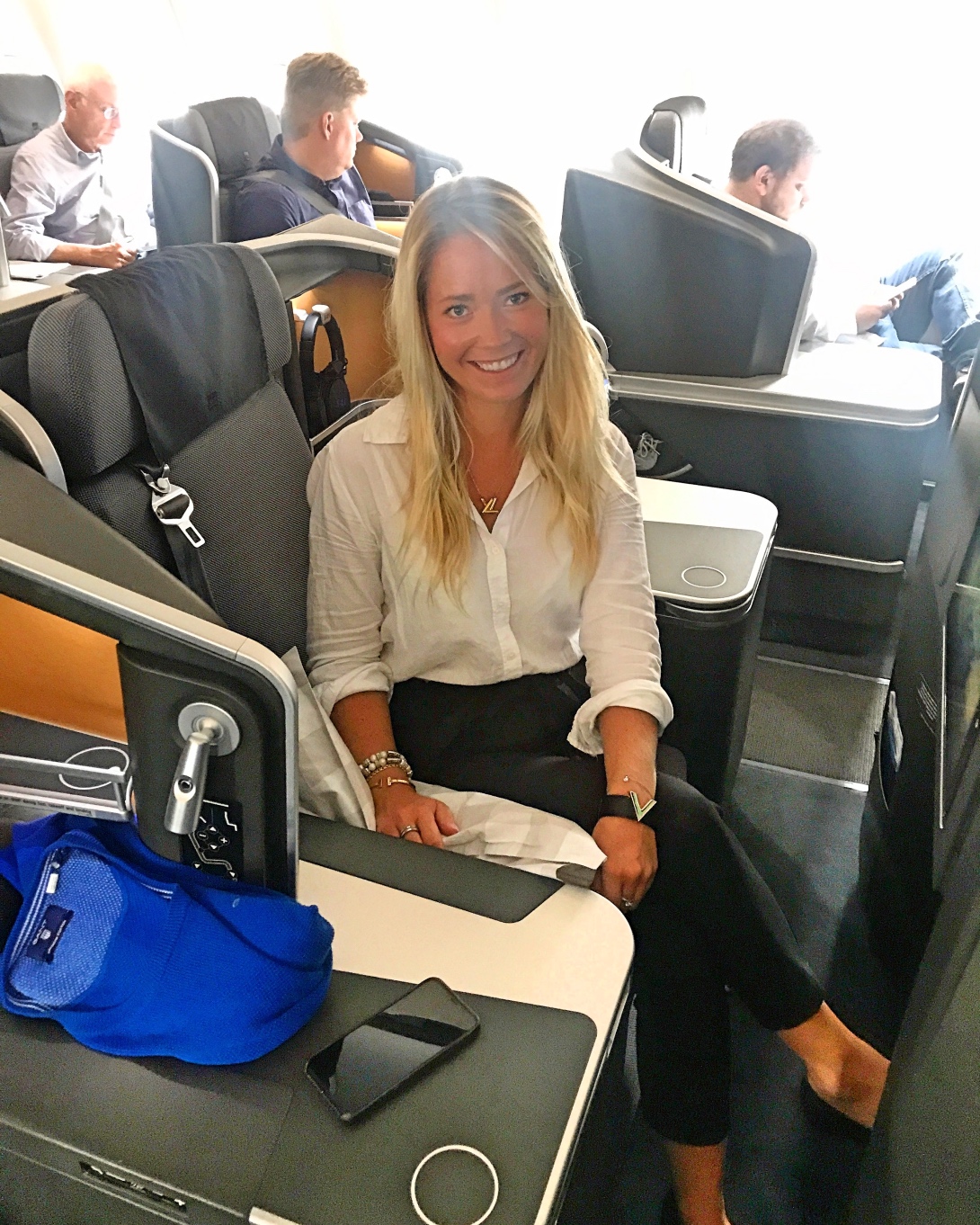 Have you travelled in SAS Business Class in their new cabin, what did you think about it?
You can follow my adventures on Instagram here, Facebook here, Bloglovin here or sign up on my Youtube channel here 🙂
Happy Travels!
// Charlotte