Restaurants at Hotel Tylösand
At Hotel Tylösand there are four specialized and fantastic restaurants to choose from and all are open during the summer. There is everything from classic Swedish dishes to tapas, grilled, pizza, sushi and seafood and everything that is served focuses on locally produced, flavorful, well-made and top quality ingredients. I've had the best seafood plateau ever here!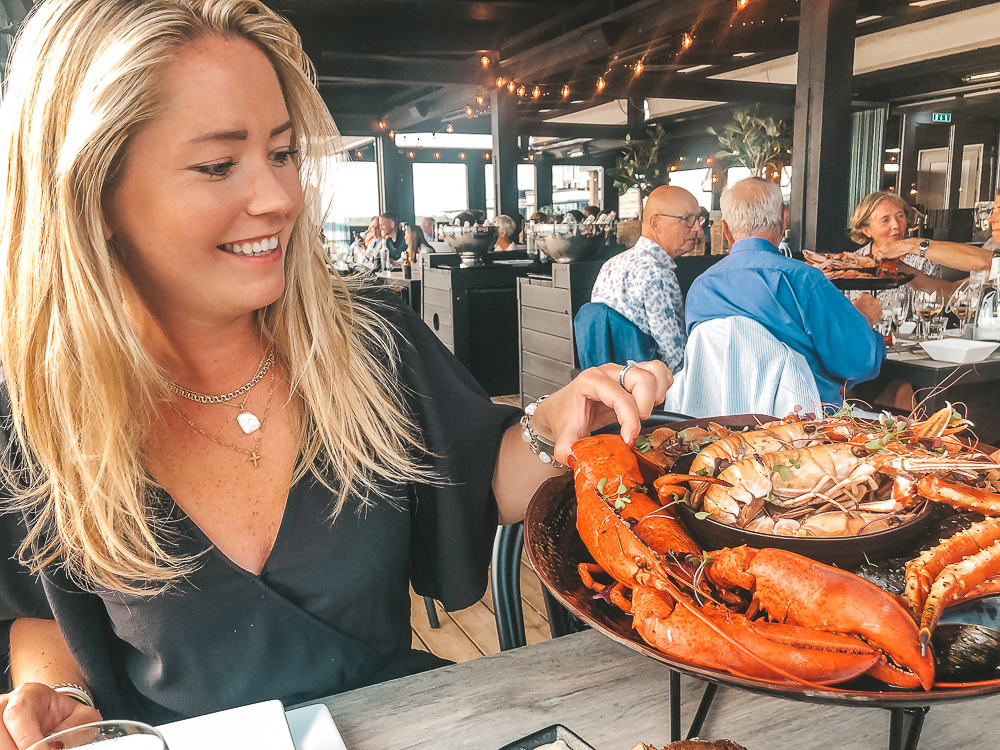 Breakfast
Breakfast is served in hotel Tylösand's largest restaurant called Restaurang Tylöhus and had a really good breakfast selection I must say. Both waffles (which I love and in addition they had their own chef who cooked the omelette to order, which made the breakfast extra luxurious I think as well as you could make your own freshly squeezed orange juice! 🙂 I have never seen any other hotel here in Sweden where you can make your own juice 🙂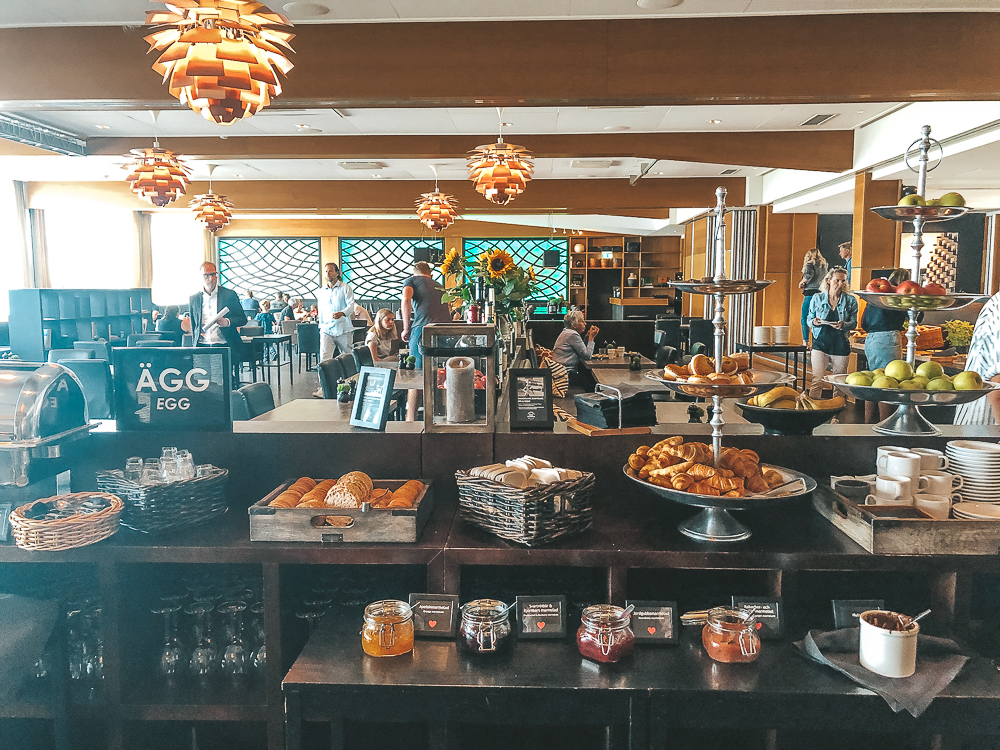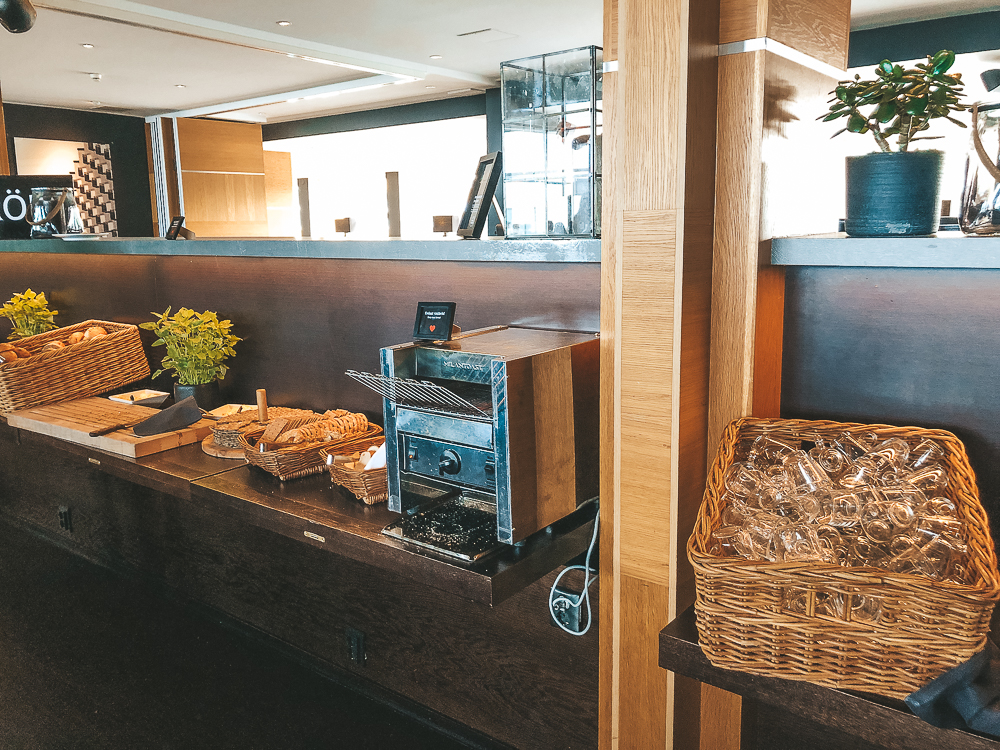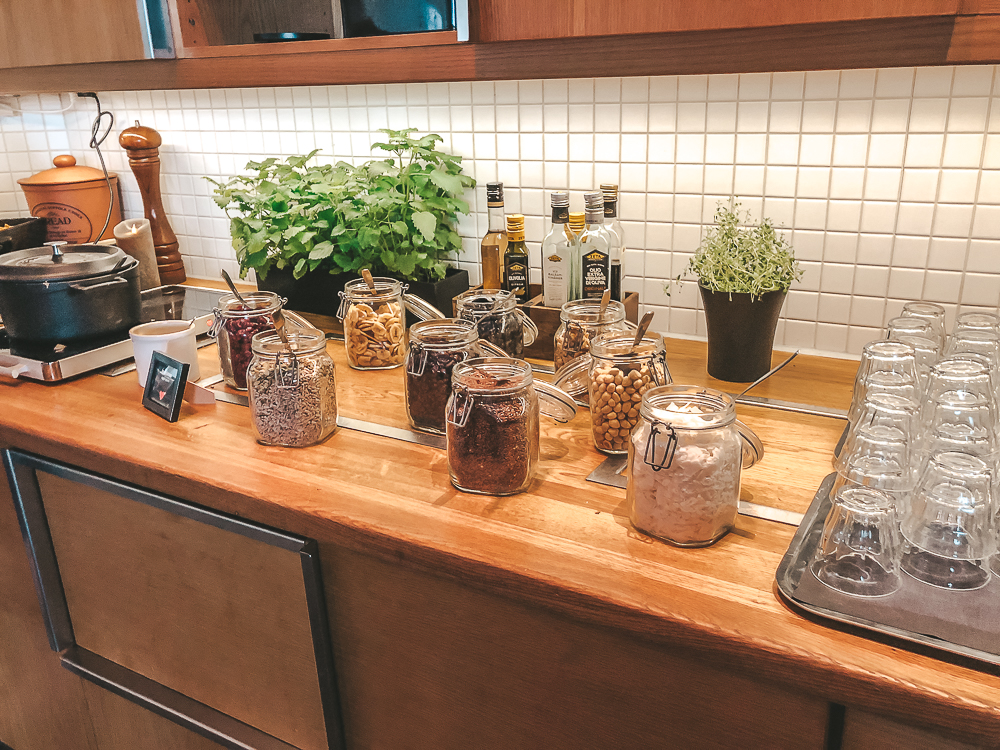 Lunch
Likewise, lunch was taken at Restaurant Tylöhus but unfortunately I was a little disappointed on the food itself. The á la carte menu at lunch should be reviewed because it wasn't good and also, according to me, it was too expensive for the food you get, which surprised me as all the other restaurants I tried here kept top quality of the food! I took a Caesar salad which was not at all a Caesar salad, it was a completely different salad that should have its own name.
Dinner
The first evening we had dinner at Restaurant Tylöhus which had a fixed three course dinner menu where you could choose between two starters, two main courses and two desserts, which I thought was superb! 🙂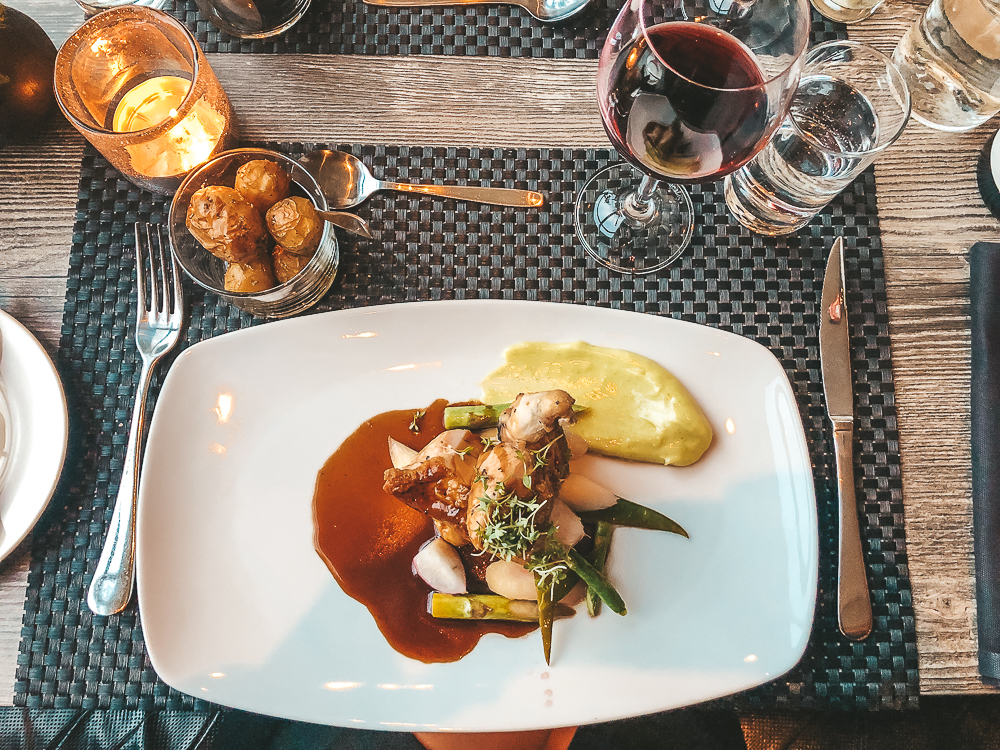 Hotel Tylösand Restaurants:
These restaurants are available during summer time at Hotel Tylösand:
1. Restaurant Tylöhus
Hotel Tylösand's largest restaurant, which is open all year round is called Restaurant Tylöhus and here is a classic Swedish à la carte menu with its own twist but also a set of 3 course menu for dinner that I tried my first evening here. Also, live music is played here during some weekends and it is also here in this restaurant you will eat breakfast 🙂
OPENING HOURS
All year round for breakfast, lunch and dinner.
OPENING HOURS SUMMER
Dinner from 6 pm
June 26 – August 8, Monday-Saturday.
The Piano Bar Artists from CMC-Music is live Monday – Saturday from 9 pm, only table seating and limited number of seats.
2. Leifs Bar & Grill
Leif's Bar & Grill is Hotel Tylösand's meat bar with grilled meat and pizza in a relaxed environment, where you are surrounded by gold records, posters and awards from Per Gessle's phenomenal careers with Roxette, Golden Times and as a solo artist. For those who don't eat meat there is a delicious stone oven baked vegetarian pizza as well as vegetarian burgers.
OPENING HOURS SUMMER
Lunch: June 27 – August 1. Every day at 12-15.
Dinner: June 26 – August 1. Wednesday – Saturday from 7 pm Extra open Tuesdays on July 14, 21 and 28. And Sundays July 19 and 26. The sun bar at the terraces is open from 5.30 pm.
3. Bettans Bar
The second day we had our dinner at Bettan's bar which was absolutely amazing! The view, the food, the interior and the staff were absolutely amazing! From here you have an amazing view and you see the sunset from here which is magical. Bettans Bar has a focus on seafood, sushi and Asian fusion with an exciting culinary twist. This is where I ate my best seafood plateau ever! 😉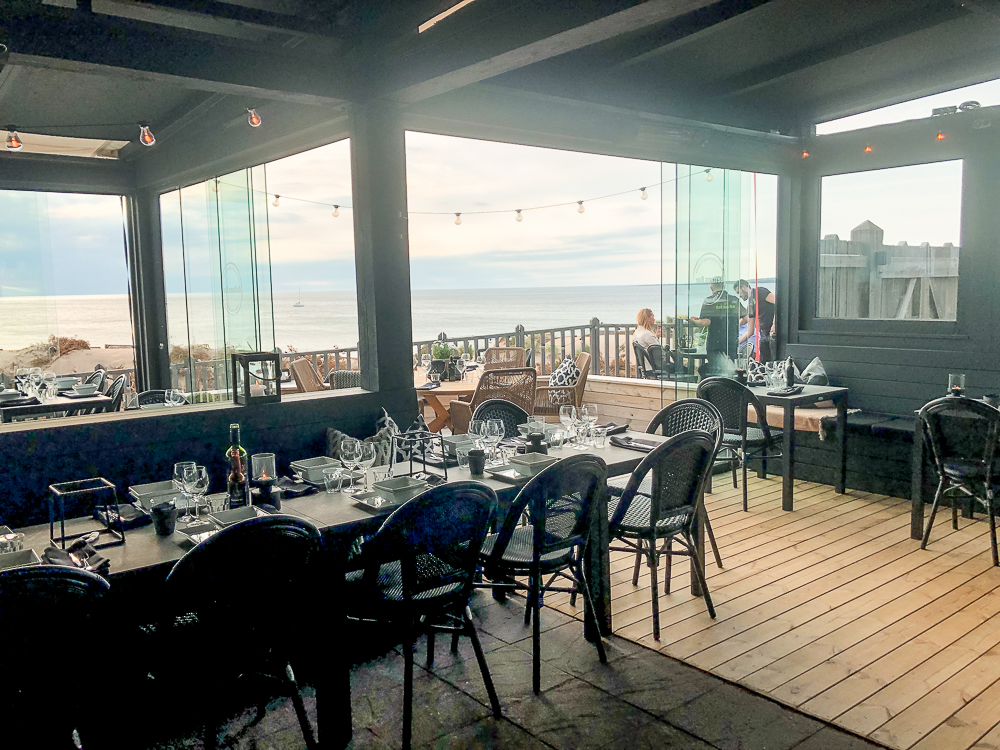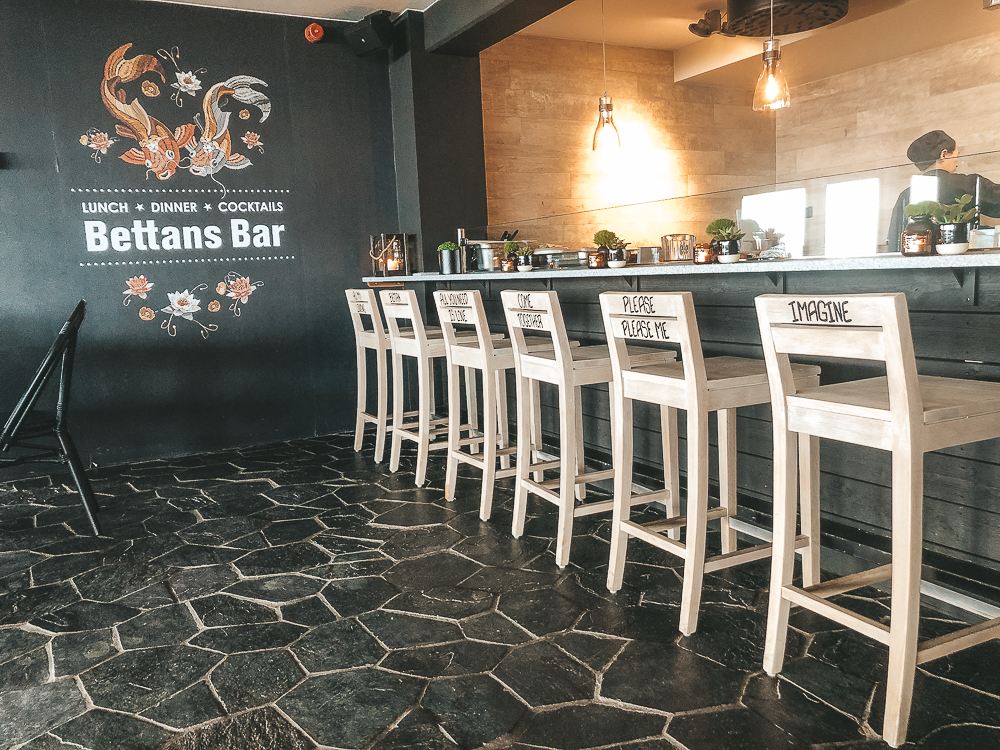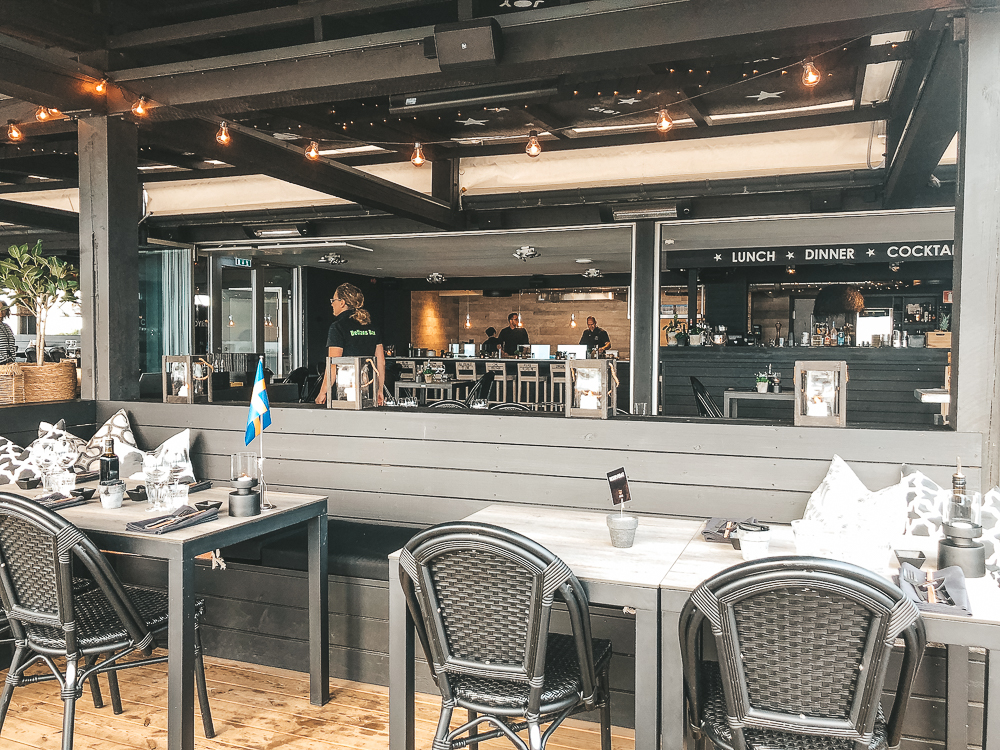 We started with a little appetizer and a drink called King of Tylösand which was among the absolute best in the drinking way I've ever tried! 🙂 Definitely a must as a drink when you are here!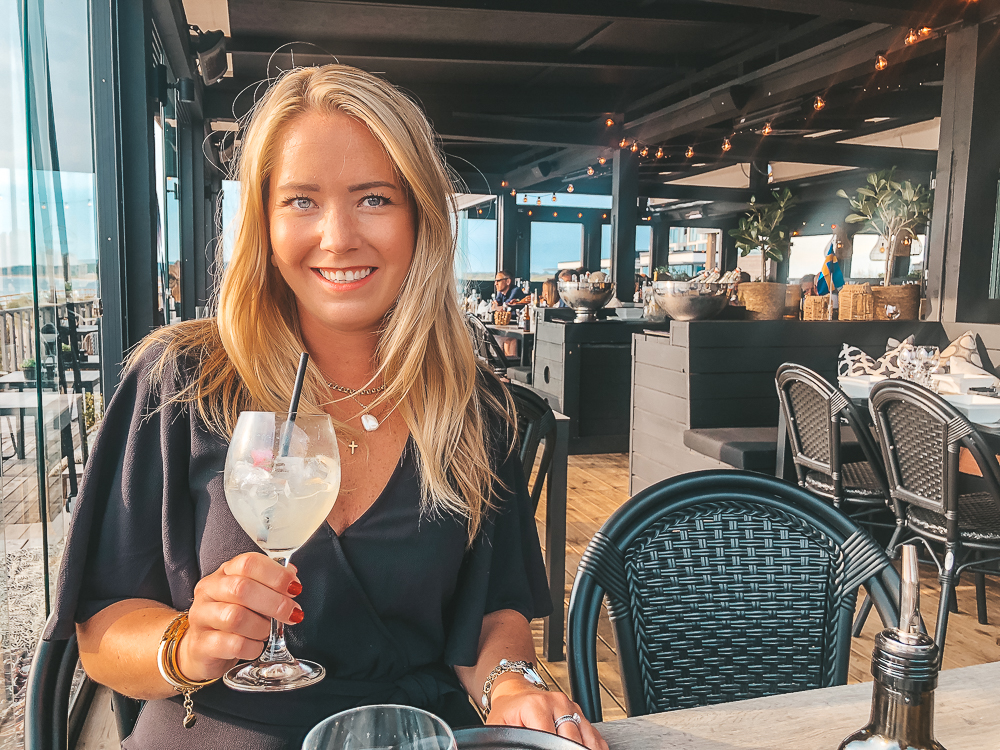 Then there were a few different picks consisting of both fish and shrimp and some pork which was really good!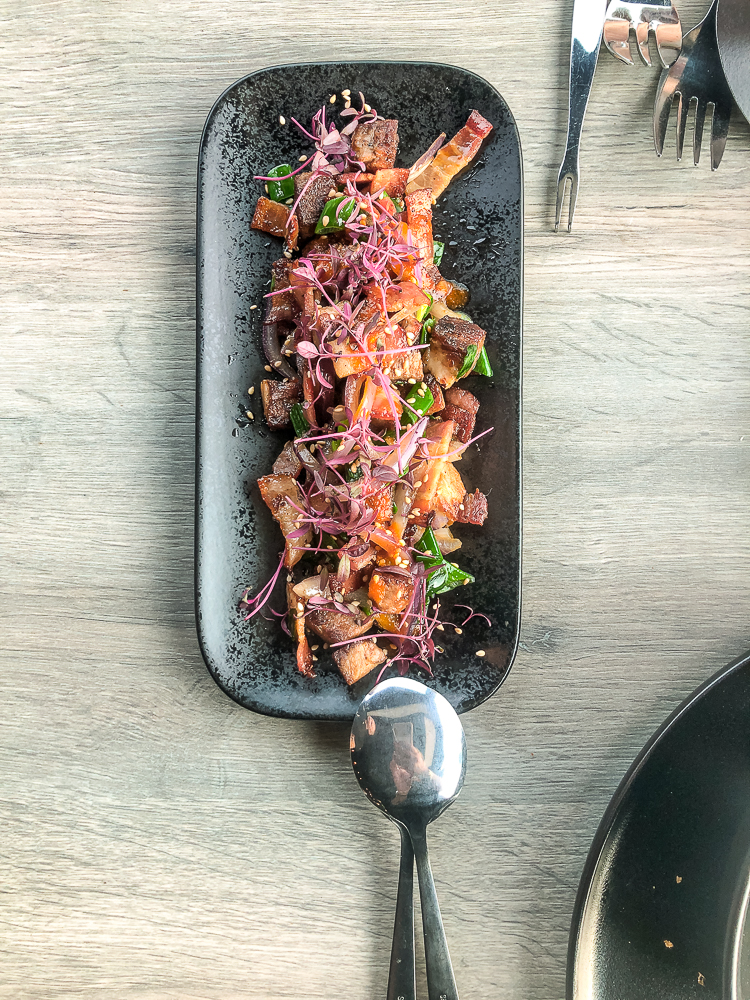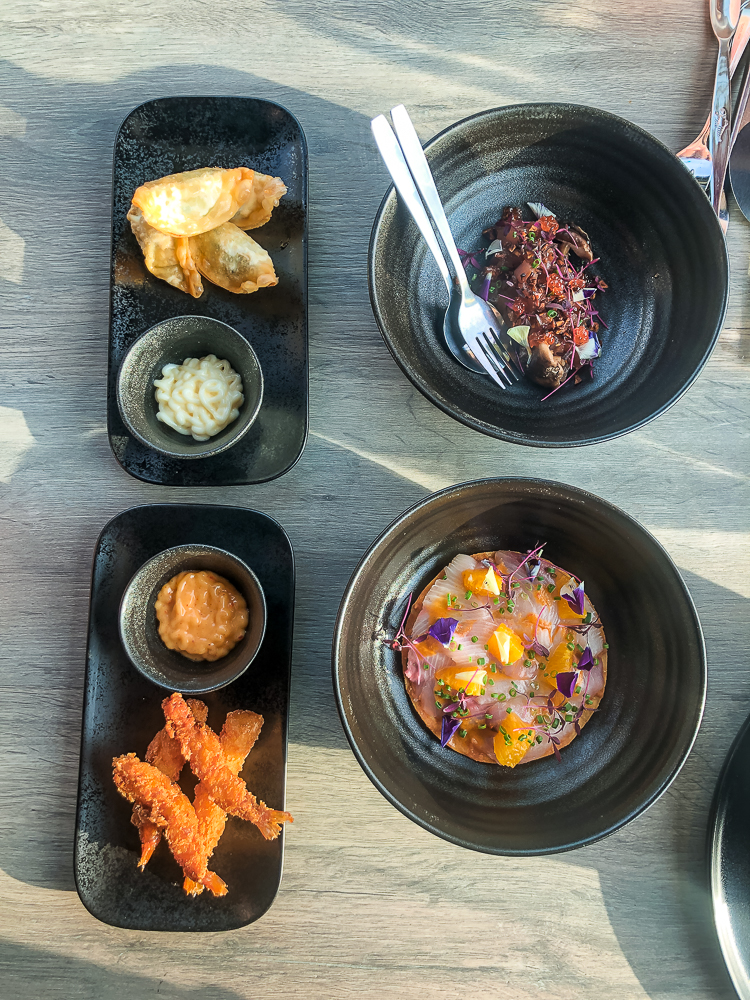 As a second meal, we got oysters which were by far the biggest oysters I have ever seen and eaten in my entire life. I don't like oysters so much and one usually suffices for my part but here I got two pieces (!) Because they were so good and I think they count as four due to they were twice as big against what I have seen and eaten before.
The main course was the seafood plateau which was heavenly good! I'm honest now when I say that this was by far the best and greatest seafood I've ever seen in my life. The lobster claws were the juiciest and meatiest I tasted. It was so much meat that I had never seen anything like this before. My God this was so good! 🙂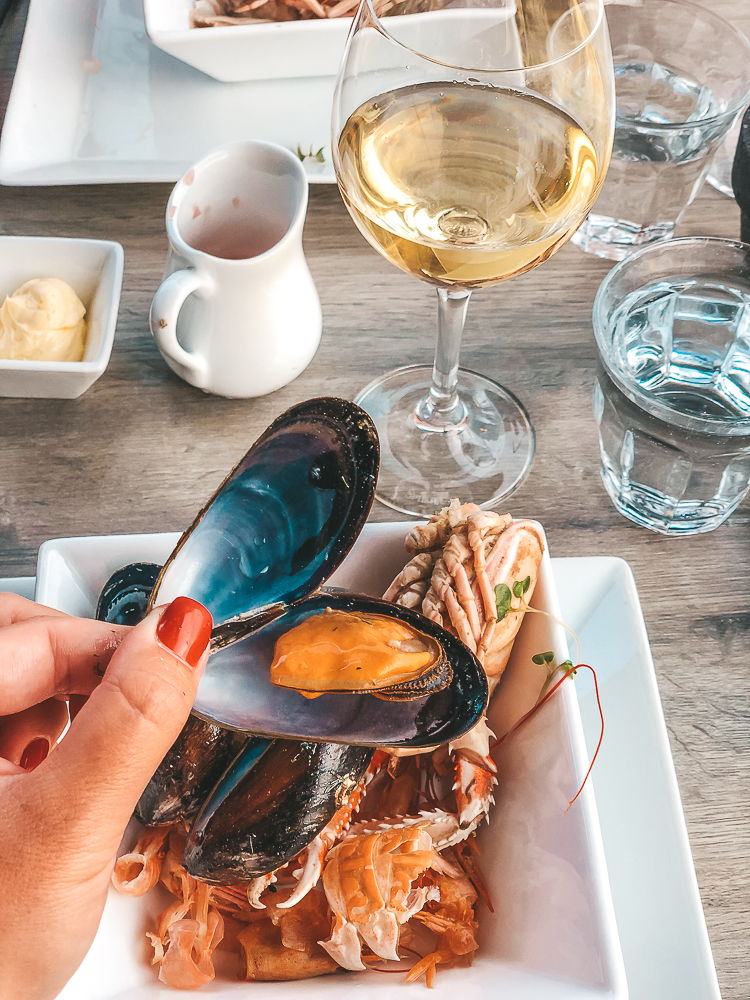 For dessert, we chose each of those on the menu to try both. One was Japanese inspired tiramisu which I thought was okey but the other with ice cream and caramelized popcorn was really good! You have to come here to Bettans Bar for dinner because it's really worth the top gourmet food that is served here! This menu at Bettans Bar is really hard to beat with the view, sea and beach while enjoying the world's best seafood buffet. I can honestly say that this is the best I have eaten as seafood! 😉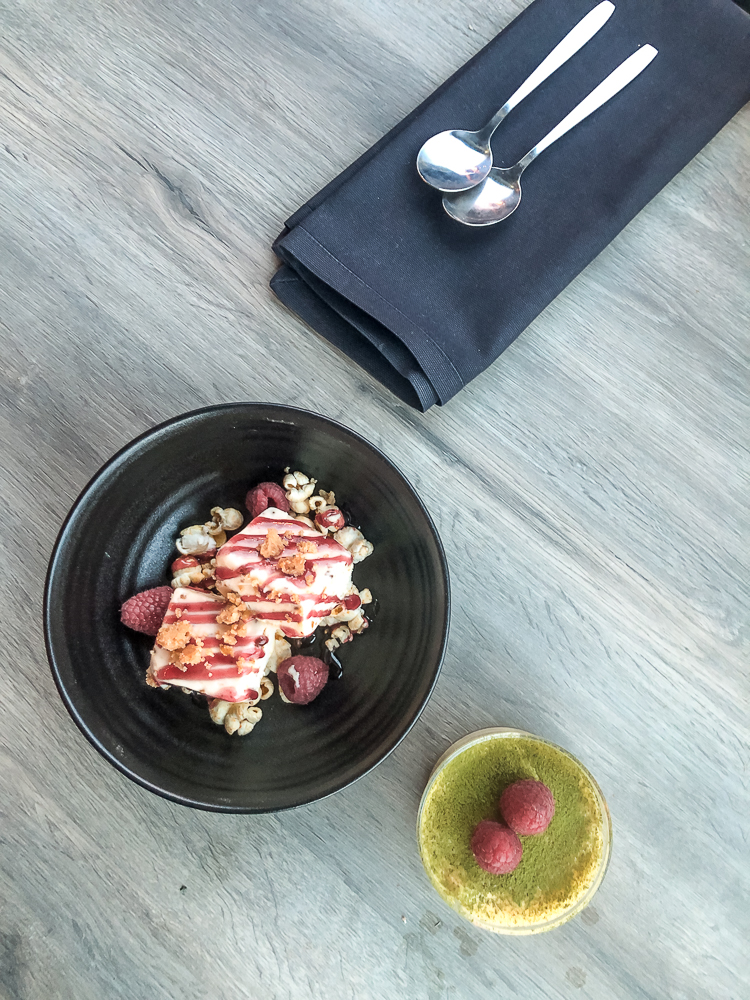 OPENING HOURS SUMMER 2020
Dinner from 7 pm
June 5-7, 12-14, and June 25-26
August 13-16, 20-23 and August 27-30
Lunch from 11am
June 19-21 and June 27 – August 9
Dinner from 6 pm
June 19 – 21 and June 27 – August 9 Tuesday – Sunday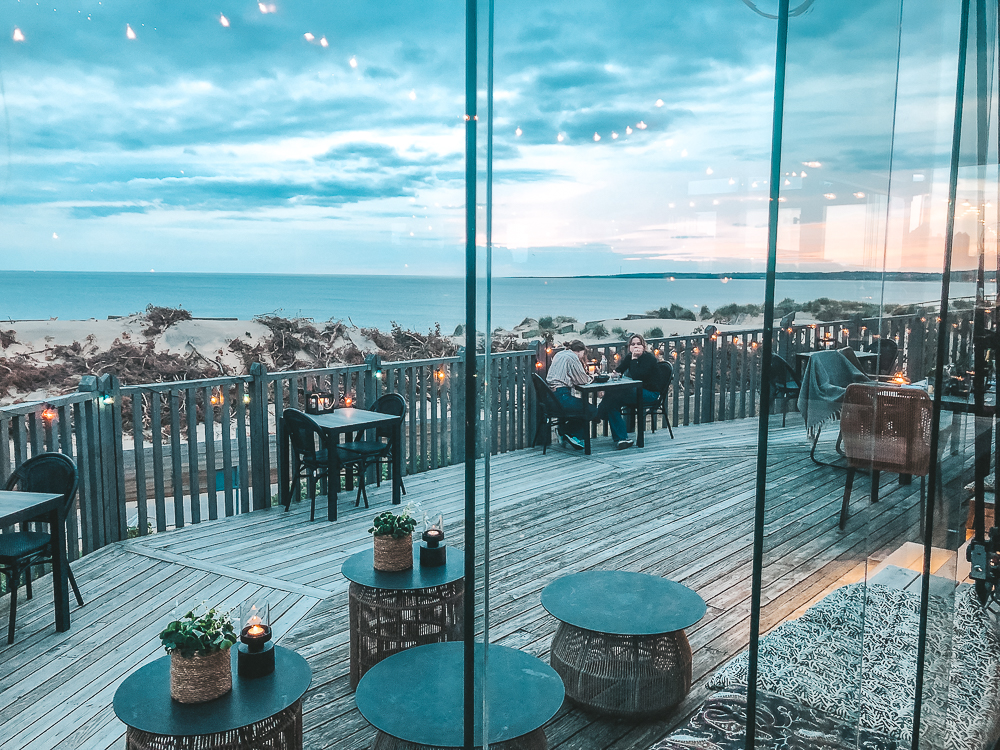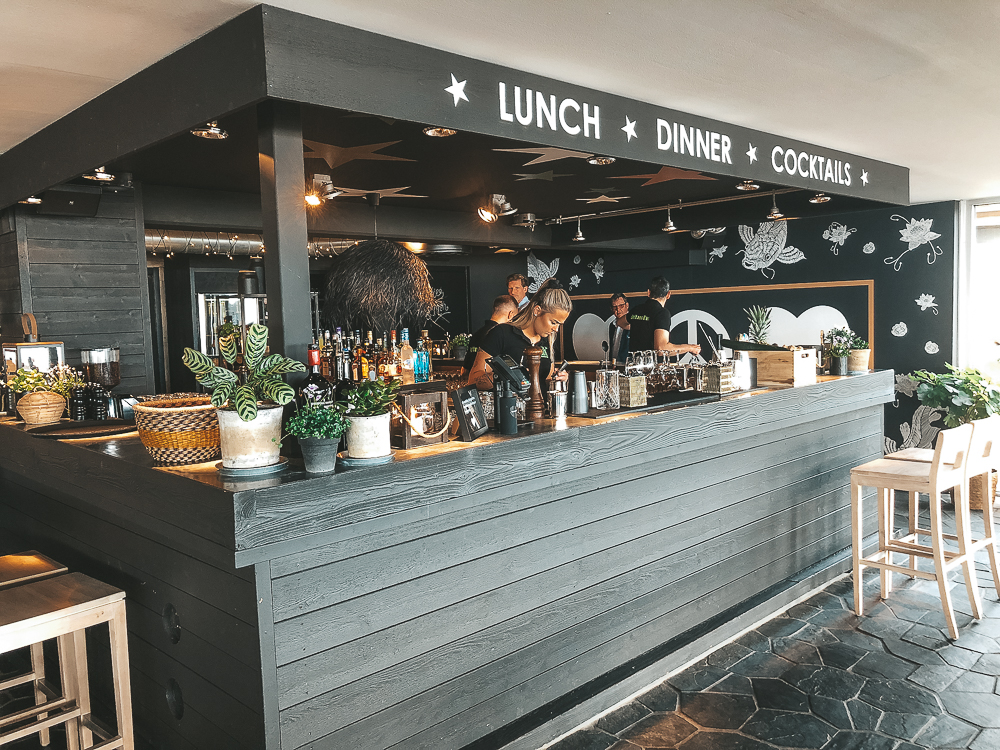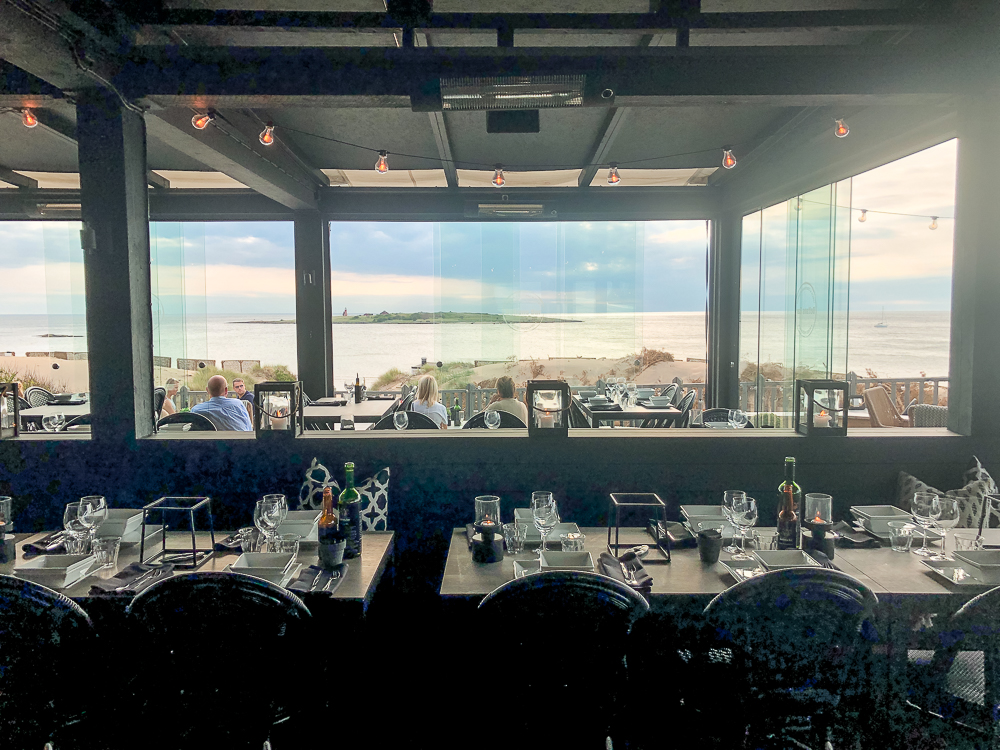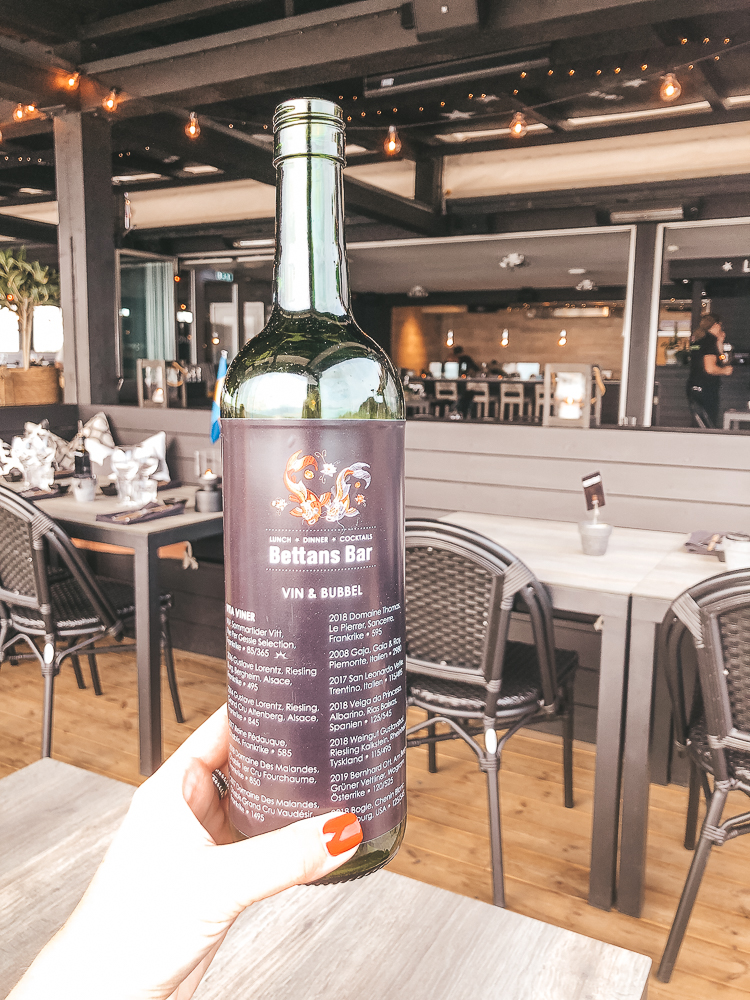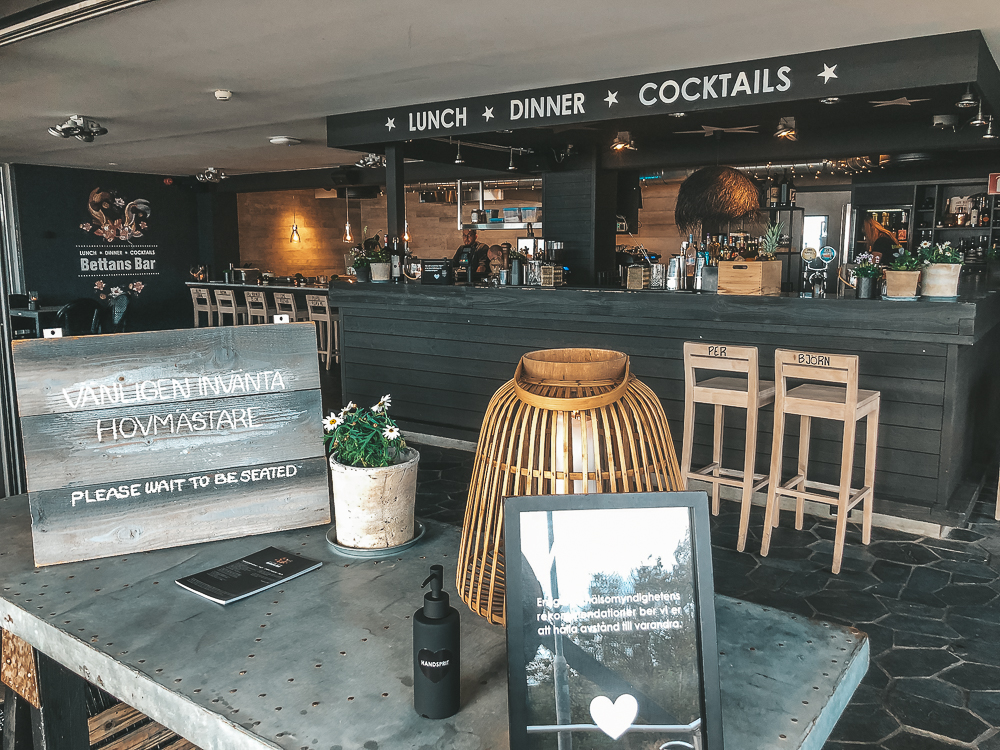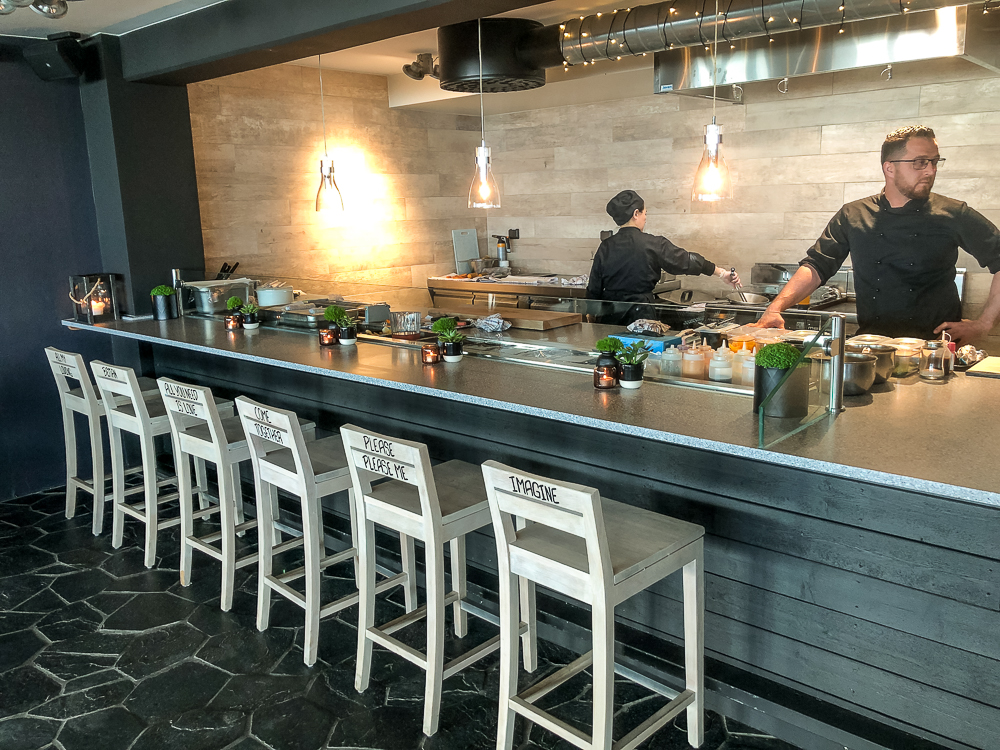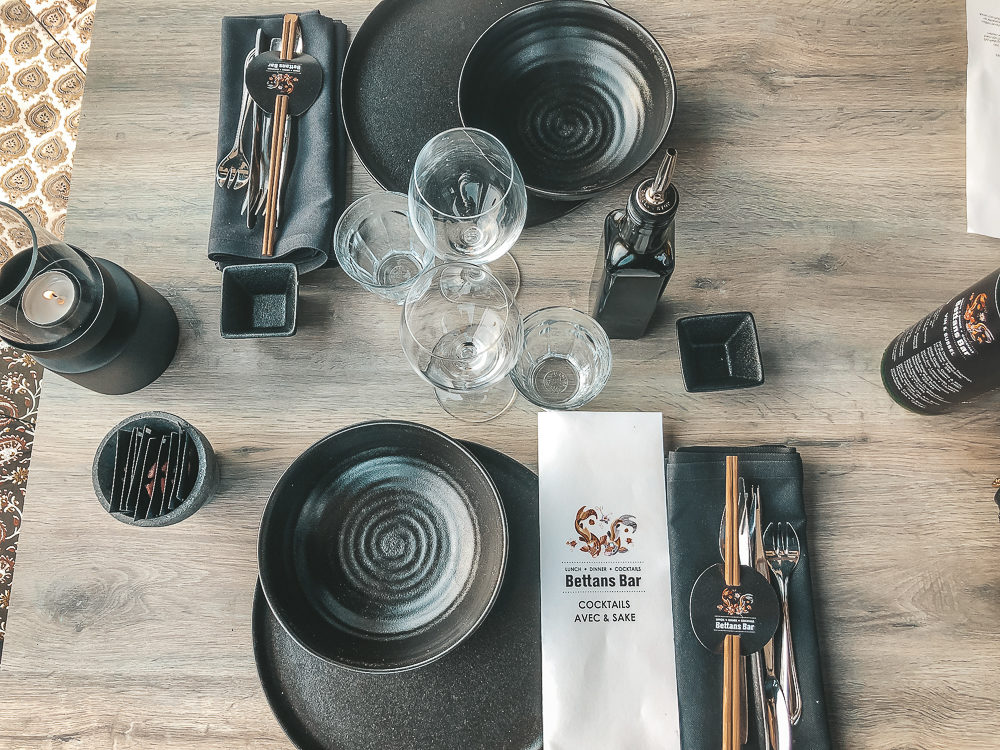 4. Titus Tapas
Unfortunately, Titus Tapas was not open when we were at Hotel Tylösand but I know they are inspired by the Spanish cuisine with delicious light dishes. Otherwise, come here for a glass of wine or enjoy all the delicate picks in a lovely atmosphere and magical view of the beach and the hotel.
OPENING HOURS 2020
June 25 – August 1, Wednesday – Saturday
Open from 6.30 pm.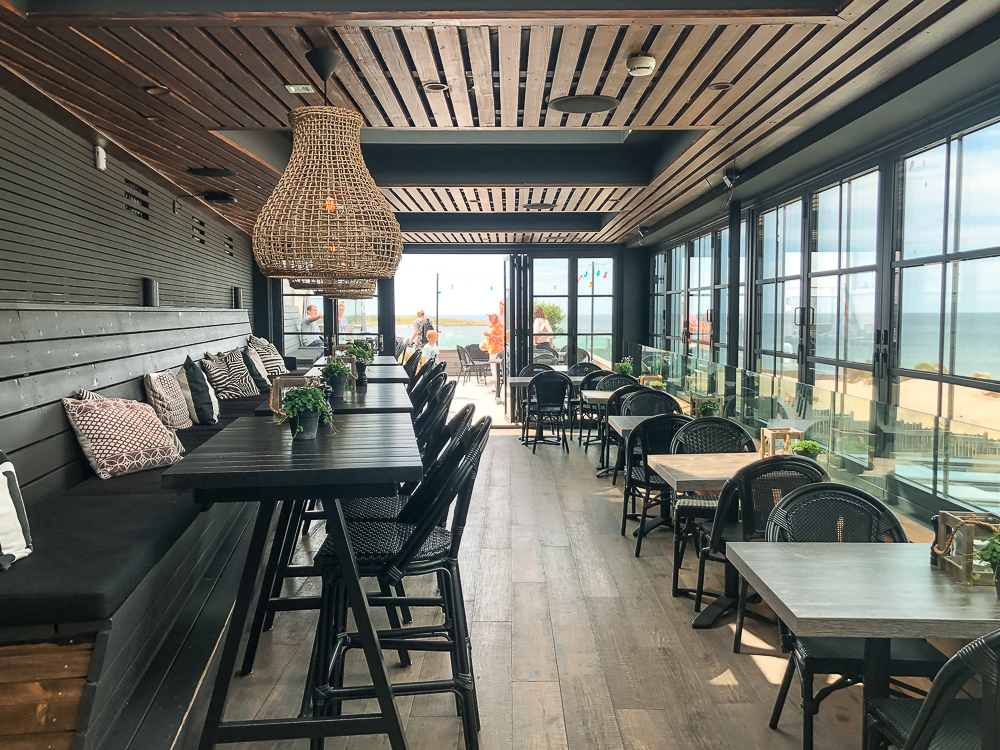 If you want to read more about hotels Tylösand you can click
HERE! 
If you want to read more about their summer program and what is happening this summer, you can click
HERE!
I promise you, you don't want to miss it! 😉
Happy Travels!
// Charlotte
Here you can read more about my stay at Hotel Tylösand: