3 Night markets You Can't Miss in Bangkok
There are lots of markets in Bangkok, both daytime and evening time and in this blog post I will recommend my three night markets which I think you should visit when you are in Bangkok. Everyone is not as good but if you have been to one of these or maybe all three then you have visit the best night markets in Bangkok 🙂
The first time I was in Bangkok and heard the night market, I thought it was a market in the middle of the night and didn't know if I would be able to stay awake until that time. But it is not like that. Most night markets begin to open around 6 pm and close at midnight. But already at 23 o'clock in the evening they start packing their stuff so I would recommend that the ultimate time to visit a night market is between 8 pm and 10 pm.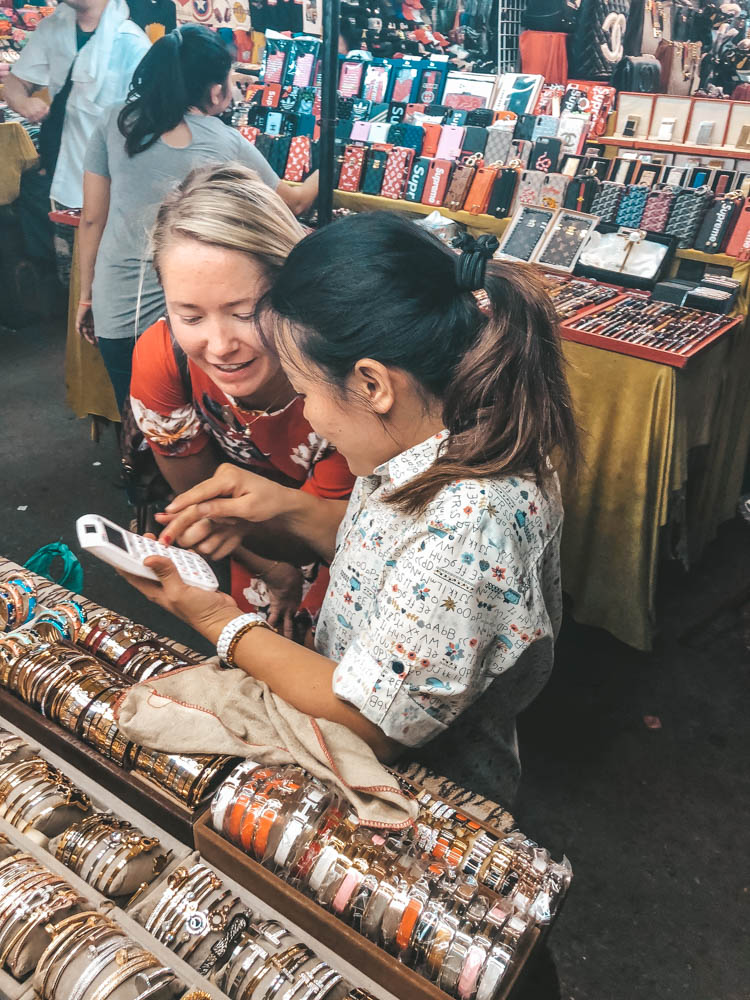 3 Night markets You Can't Miss in Bangkok
Patpong Night Market
Patpong night market is perhaps the most popular night market in Bangkok and also the one that I always choose to visit when I'm in Bangkok. This is my favorite and I always find something here 🙂 Here you find pirate copies of bags, sweaters, t-shirts, shoes, toys, watches, jewelery and speakers. Yes you can basically find anything here! Patpong night market consists of small stands with plastic ham as roof and is in 4 long corridors you walk in, whereupon each outside there are bars and nightclubs with dancing girls and thaipeople who want to attract you to their particular bar. It may seem pretty messy to walk around here but if you walk in the middle aisles you don't have to be confined to any bar and just try to stay focused on your shopping 🙂
Patpong is located between Silom and Surawong Roads and is open daily from 18.00 pm – 01.00 am but I would say that they start packing their things already at midnight.
Khao San Road Market
Khao San Road is also a well known and popular night market in Bangkok, but perhaps most visited by backpackers and young people. Personally, I don't like this night market as I don't think they have as good a range of things as I am interested in and also this is more messy with even more bars and nightclubs around. The entire Khao San road area is popular for both locals but also for backpackers because it is so incredibly cheap to stay here at hostels, bars and restaurants, which means that there are a lot of people here, which I think is a little bit pain in the as and too messy for my part.
Train Night Market (Ratchada & Srinakarin)
The train night market is located at Ratchada & Srinakarin, which is a short distance from Bangkok city itself. This is a very special night market that has its charm. Train night market is a crowded market with everything you can imagine and there are very good food stands too. The prices are quite low already, so there is not much room to bargain, just so you are aware of it. You will also find nice and cozy bars without a lot of young Thai people jumping on you that you can meet at many other places in Bangkok.
There are not that many tourists in this market, hence it is more difficult to find fake things here compared to other night markets. Here, as mentioned, there are many food stands and some bars and if you are looking for clothes you will find a lot of that product here, especially young Thai fashion clothes.
Train night market is open daily from 17.00 pm – 01.00 am.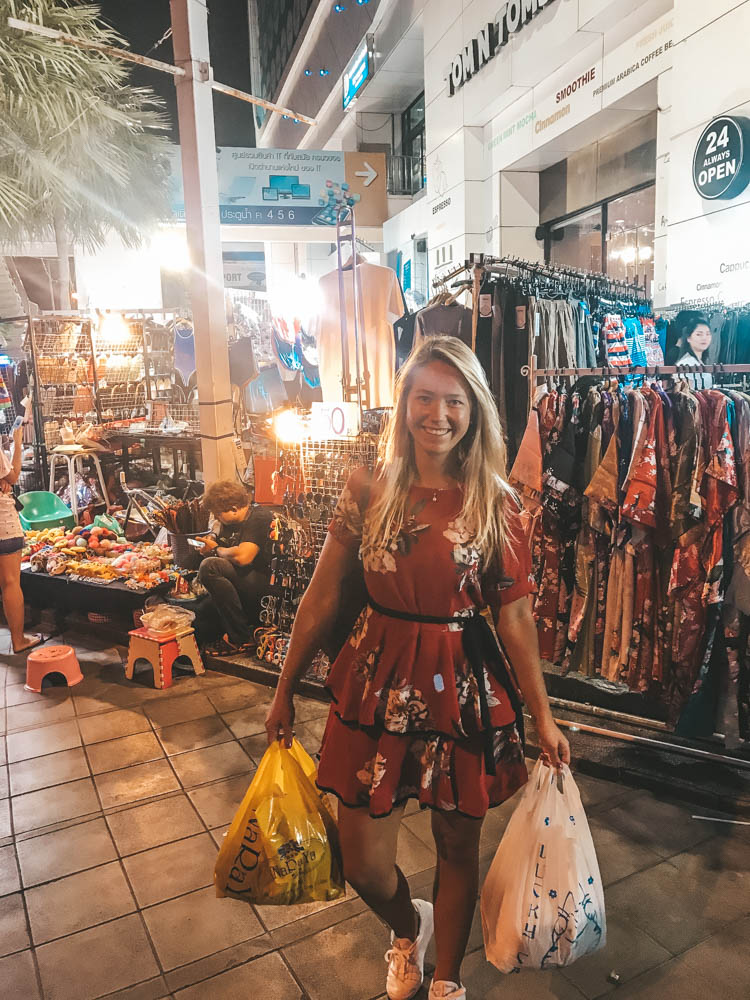 Here you can read more blog posts I wrote about Bangkok:
Happy Travels!
// Charlotte